Our shuttle from Copán Ruinas dropped us at our hostal in Antigua – yep, nothing less than a door to door service for us!!! We checked in… and yes, with an Aussie run hostal and heaps of backpackers around it was clear we were back on the well worn gringo backpacker trail…
Antigua is probably one of the most famous cities in Guatemala – it's a UNESCO world heritage site, it's the starting point for the famous Acatenango Volcano overnight trek, and it is commonly noted online as being heaps safer than the nearby Guatemalan capital – Guatemala City! All of those things mean it is a city in which you are never far from another gringo!
We spent three nights in Antigua and I have to admit that in spite of the cobbled streets, beautiful plazas, facades of historic crumbling churches and monasteries, and other churches and monasteries that were not in such a state of disrepair – that there was something about this small city that led us to being a little underwhelmed… I'm not sure why – maybe we were still pining for South America… maybe it was the weather… it was pretty grey most of the time, and therefore we didn't get to enjoy (most of the time) the fact that we were in a small city surrounded by volcanoes… Volcan de Agua  is infamous for being seen from every possible angle in Antigua… we saw this volcano twice – once as we arrived (and it was going dark) and once as we left – yep, we hopped out of the shuttle as it stopped to pick up more backpackers to take a picture… and in between there was nada 🙁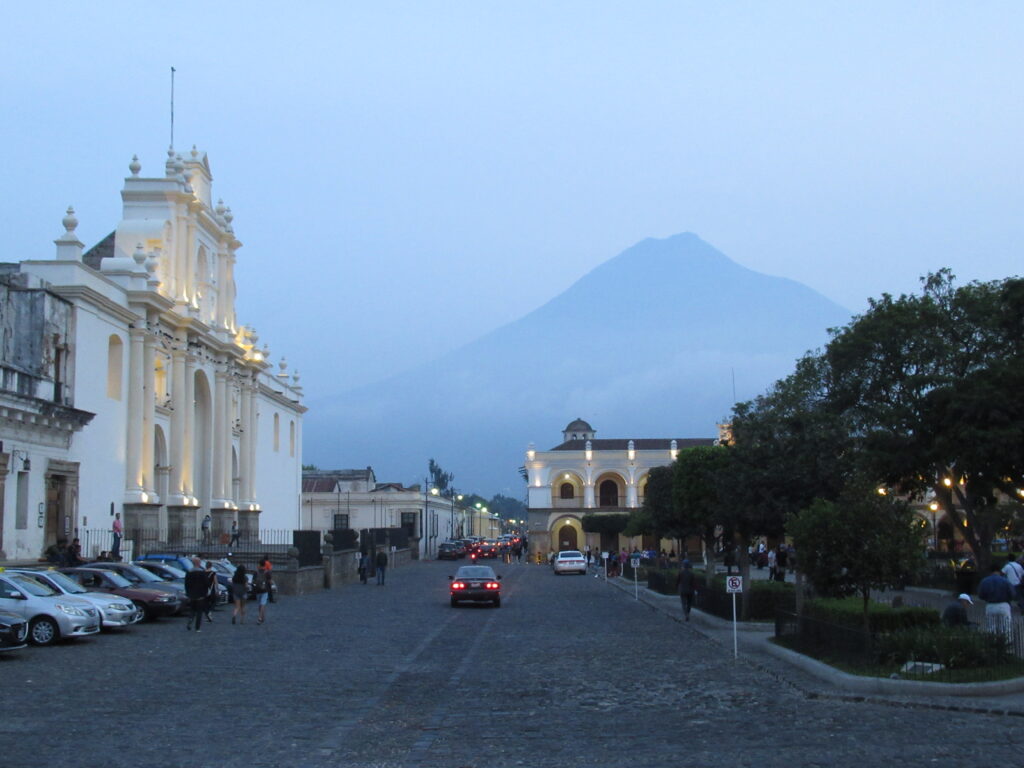 Most of our time in Antigua was spent wandering down the cobbled streets, passing rows of colourful single-story buildings – many of them shops, cafes and restaurants. We spent a lot of time taking photos of old colonial buildings – many were impressive, and others had a charm that only an old crumbling building can have!?! We also made sure that we strolled down the cobbled street with the famous Santa Catalina arch…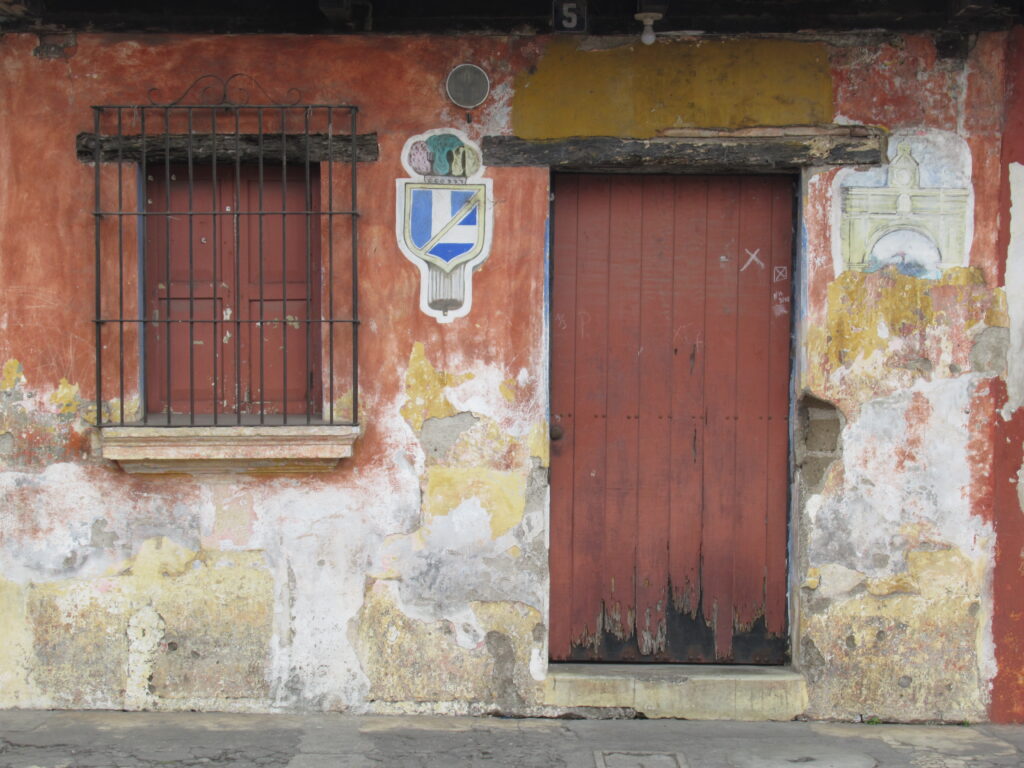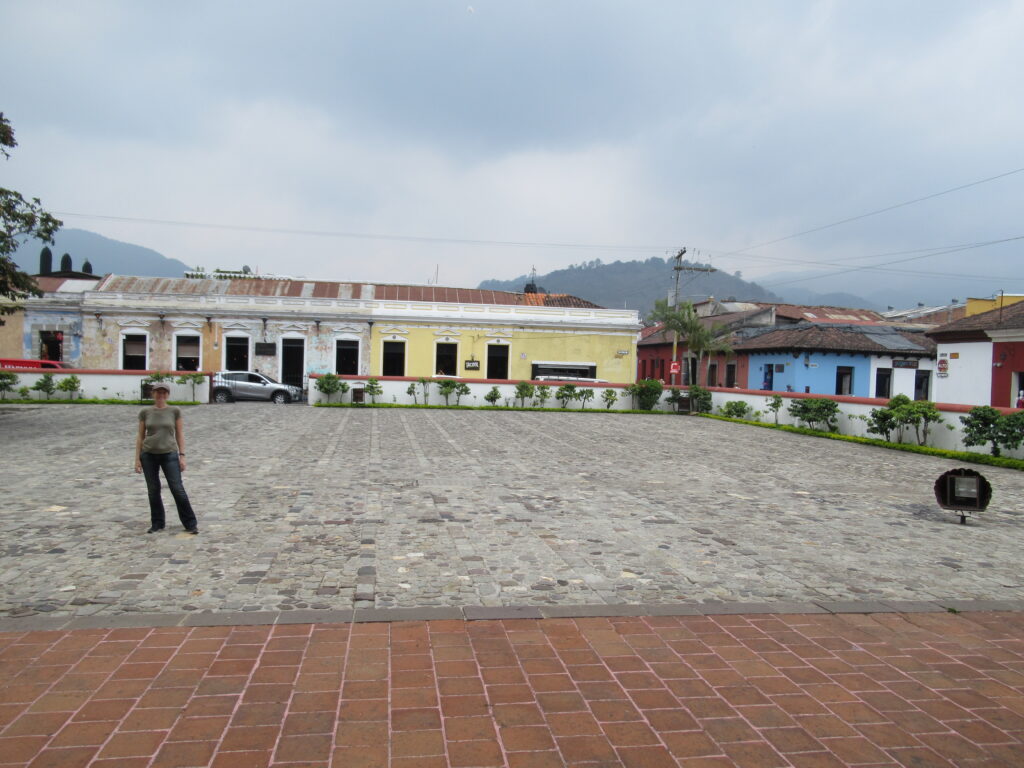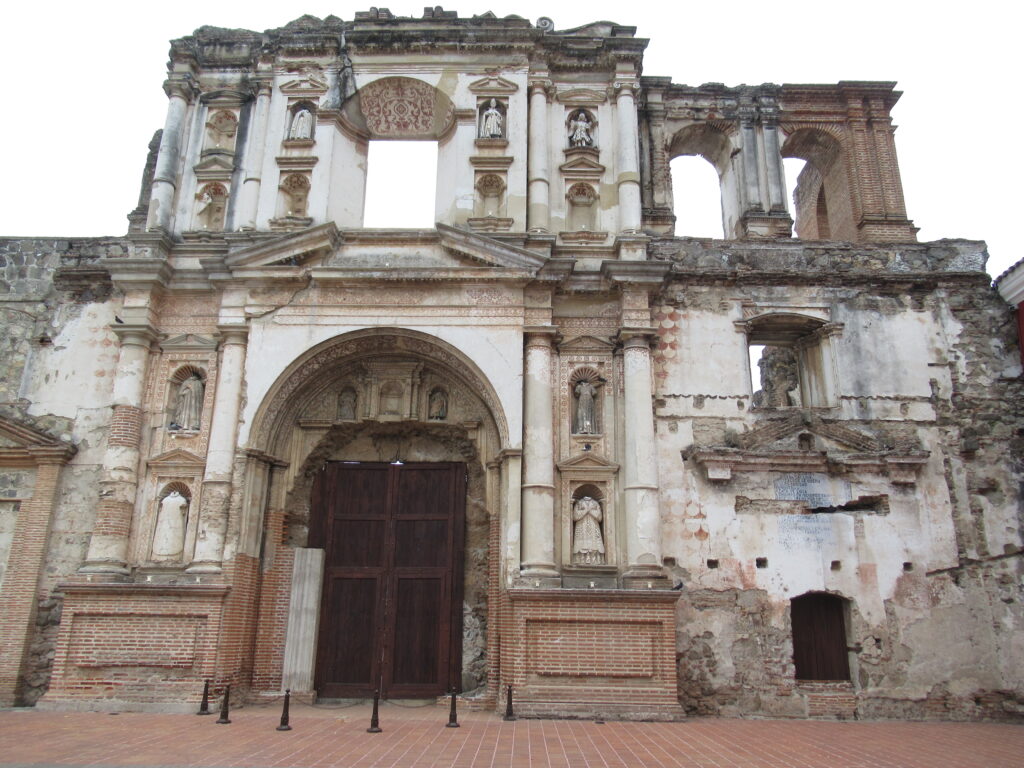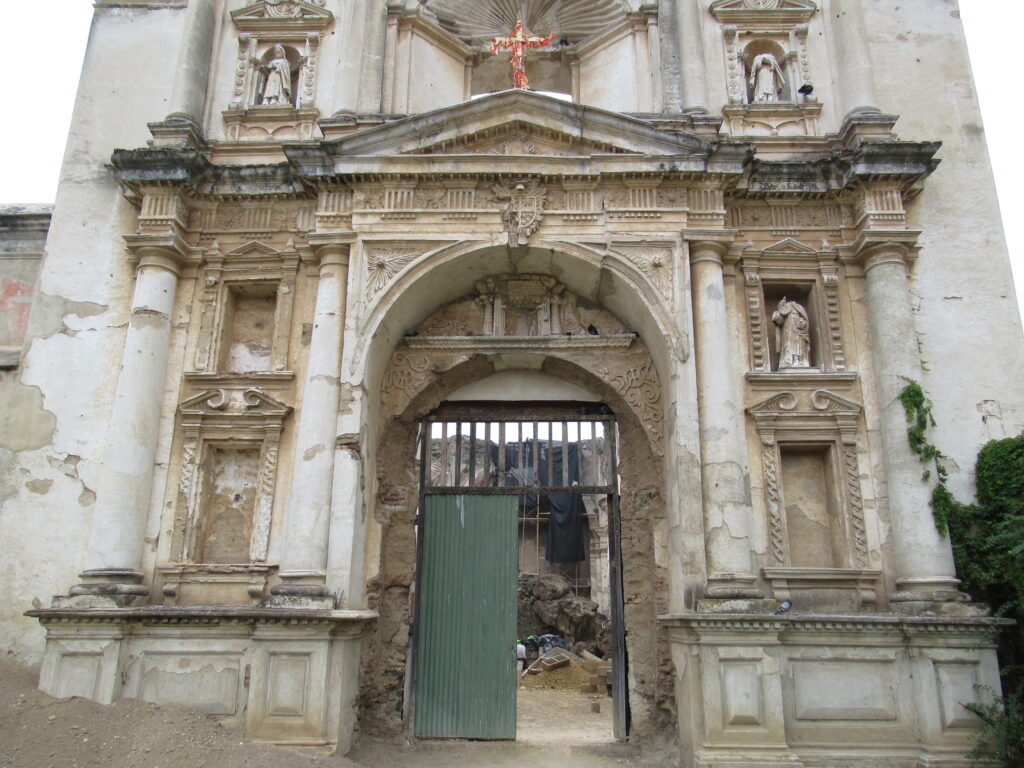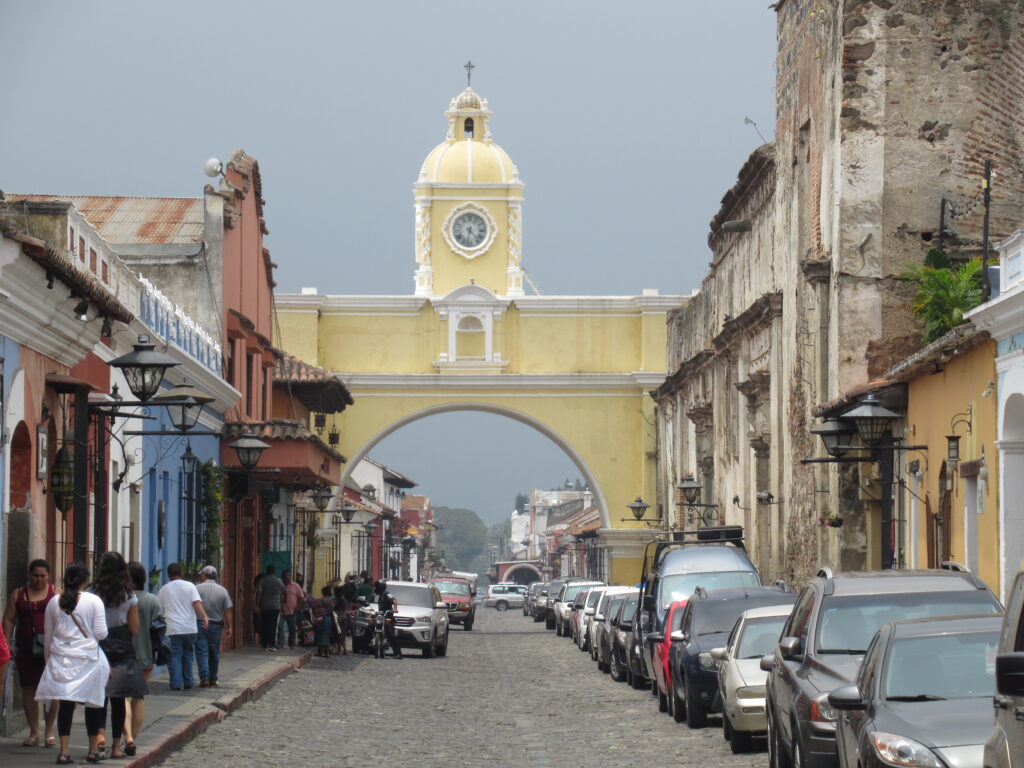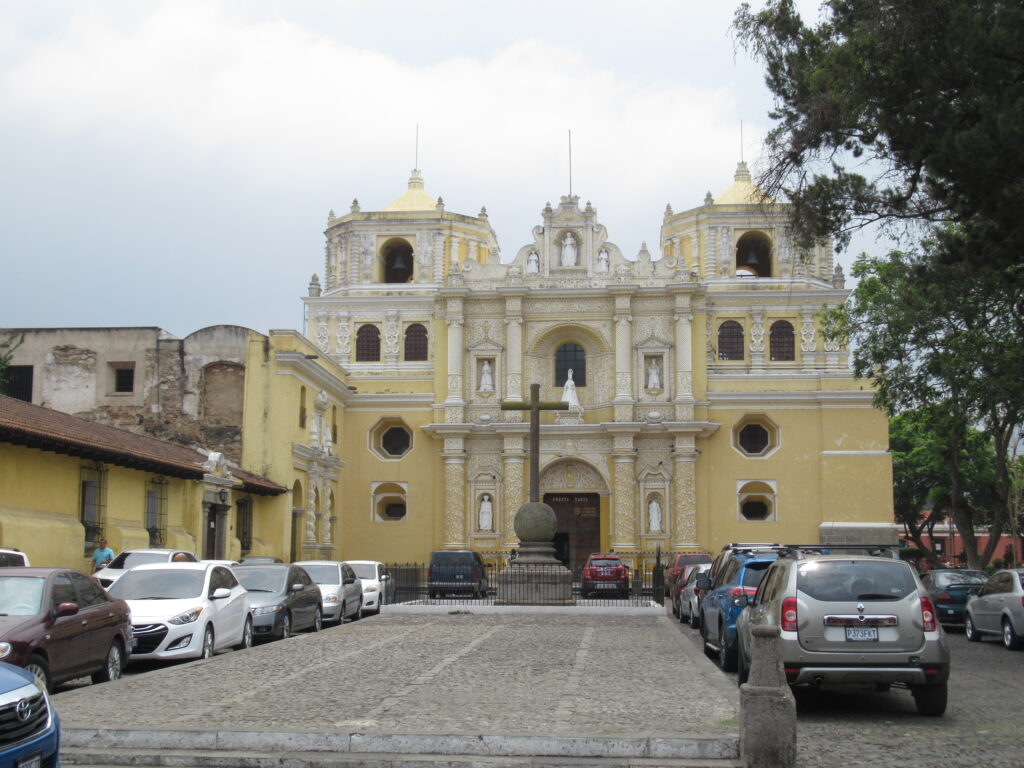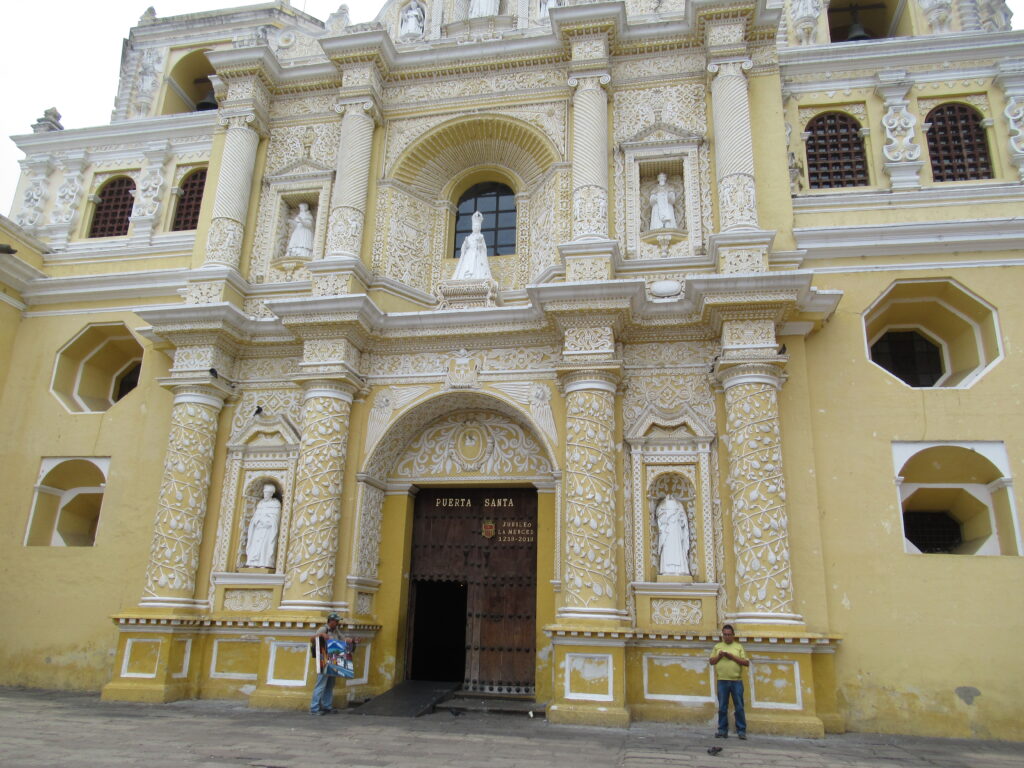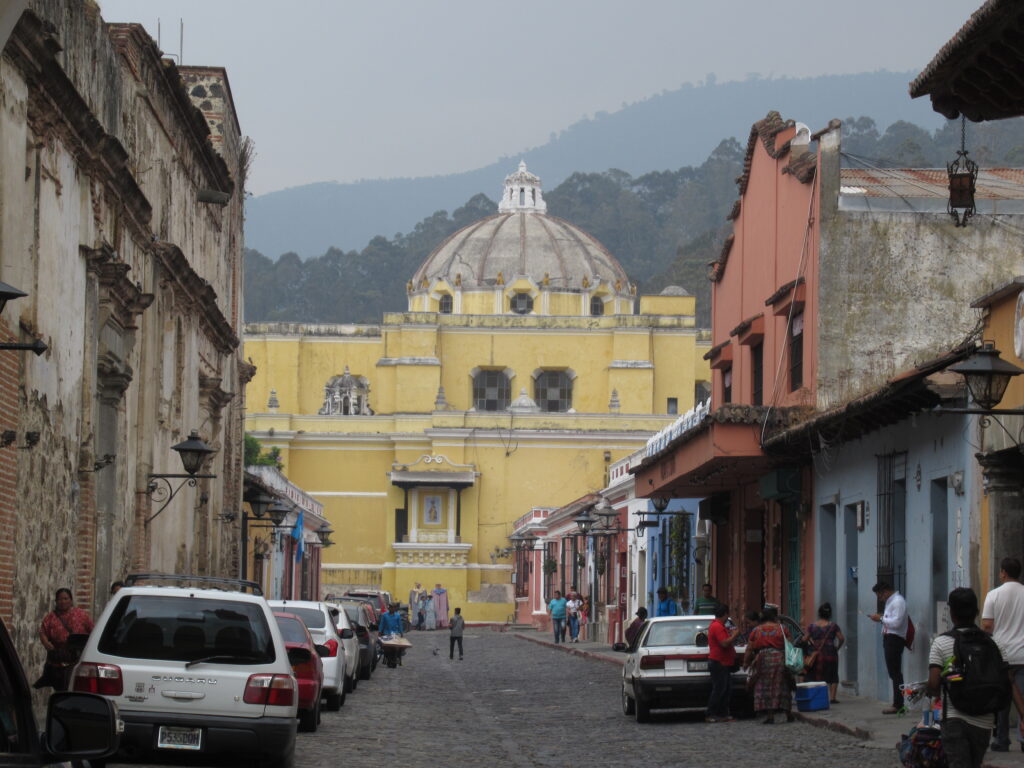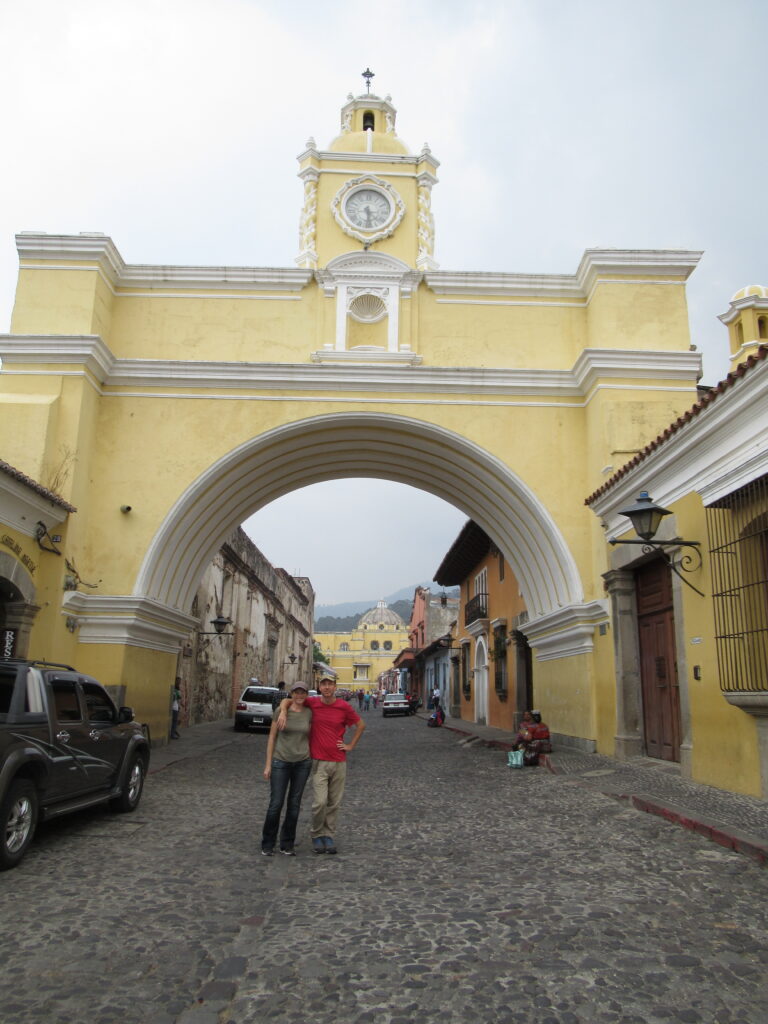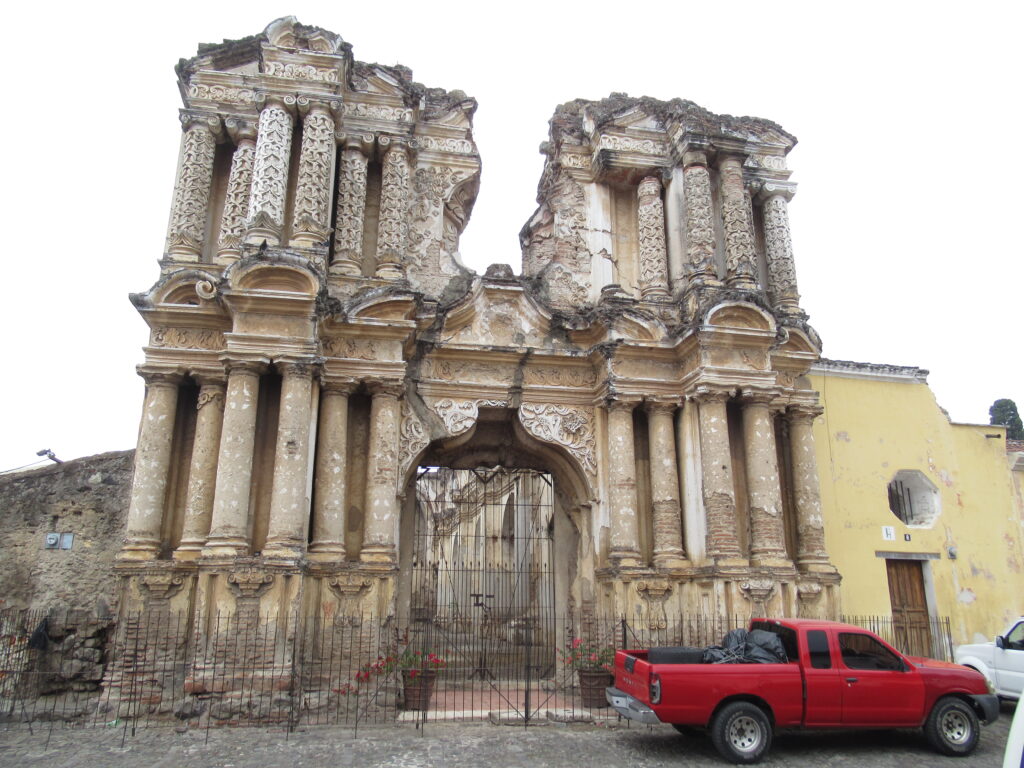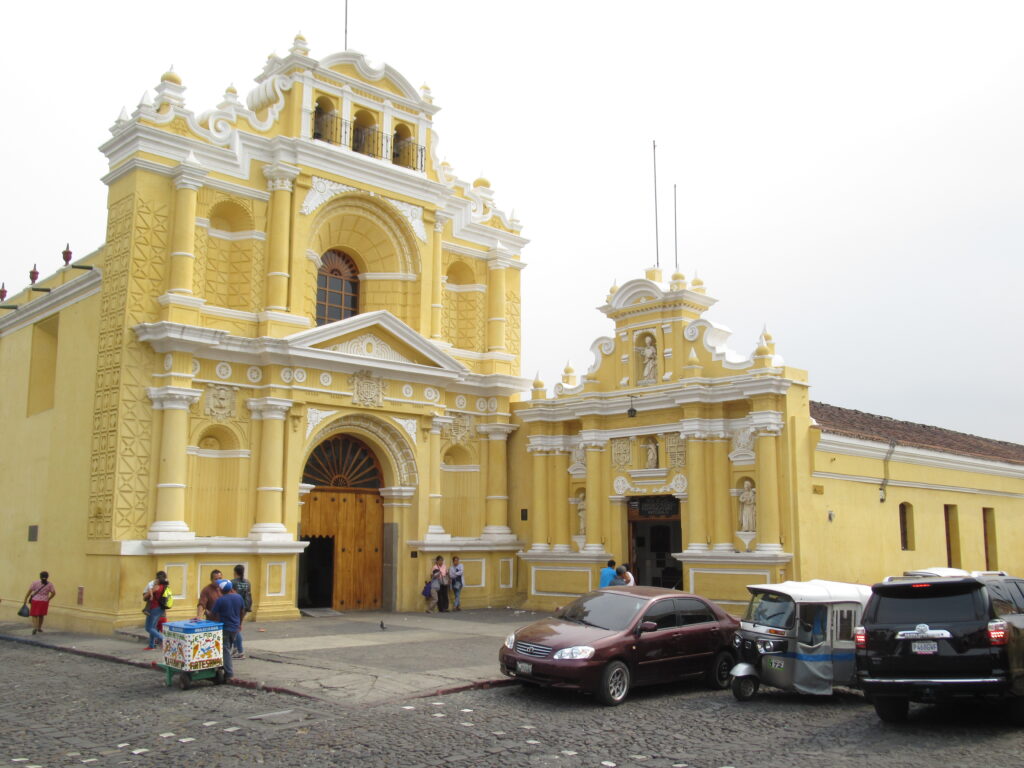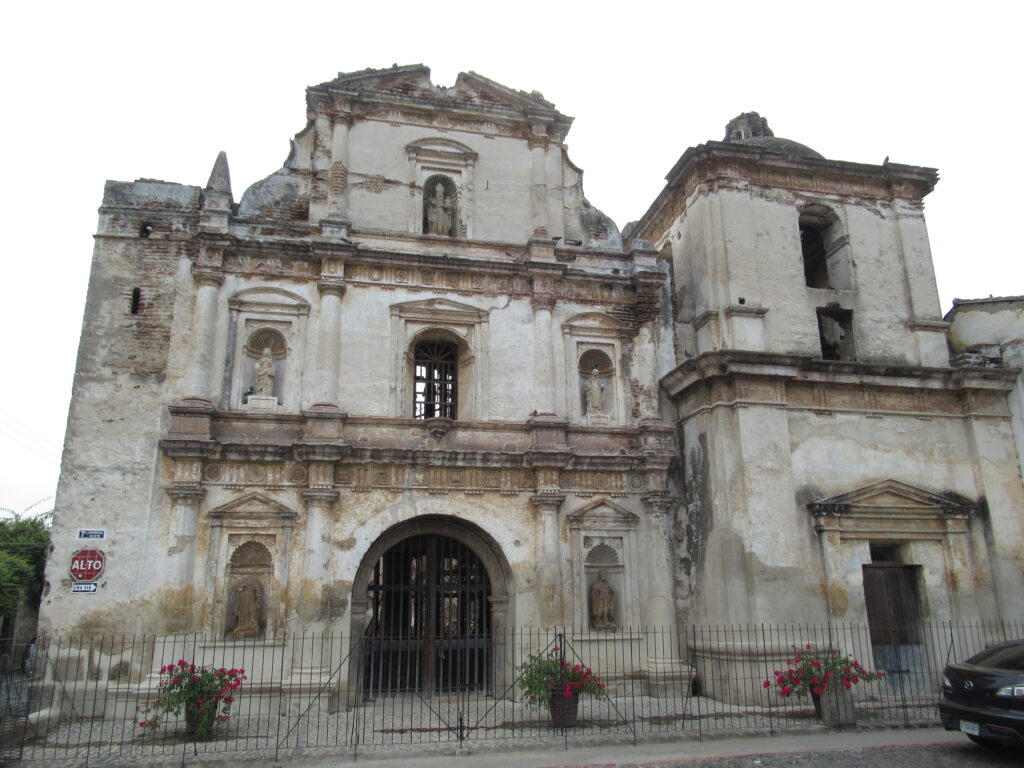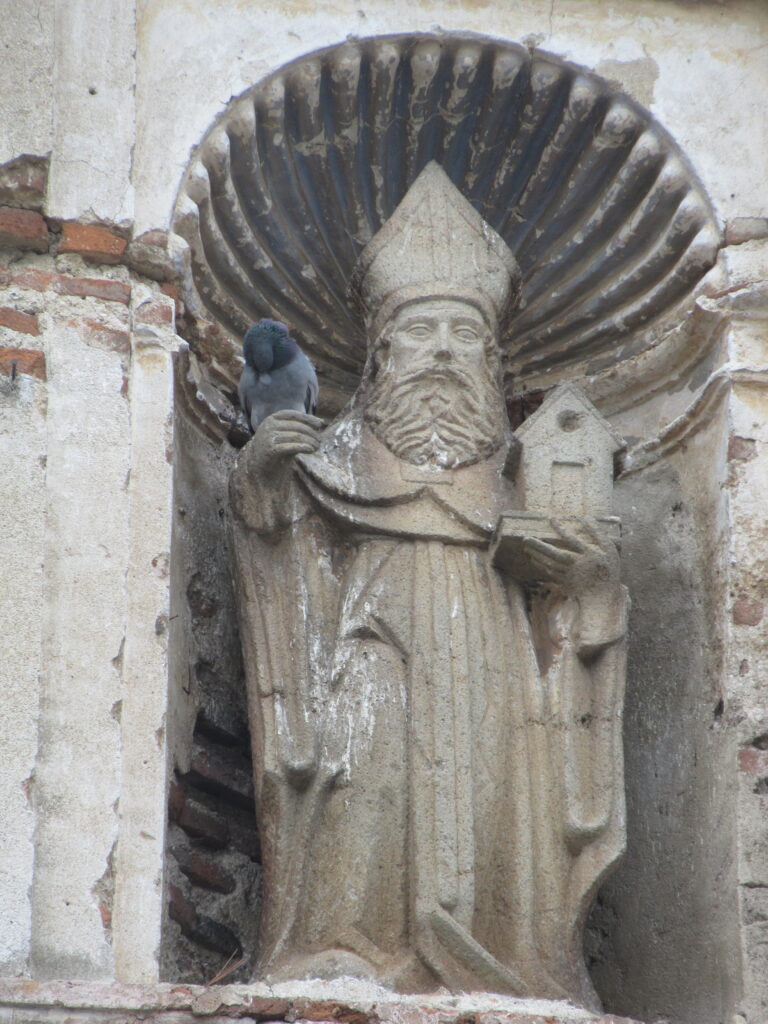 Antigua also had a pretty nice central square surrounded by colonial buildings – and strolling around we seemed to pass through it several times a day!! The square was full of trees and park benches… had it been sunny, I'm sure it would have been a welcome shady spot for a rest… regardless – even without the sunshine – it was a pretty good spot for people watching – it seemed that everyone passed through this area at some stage…. including locals wearing colourful traditional dress.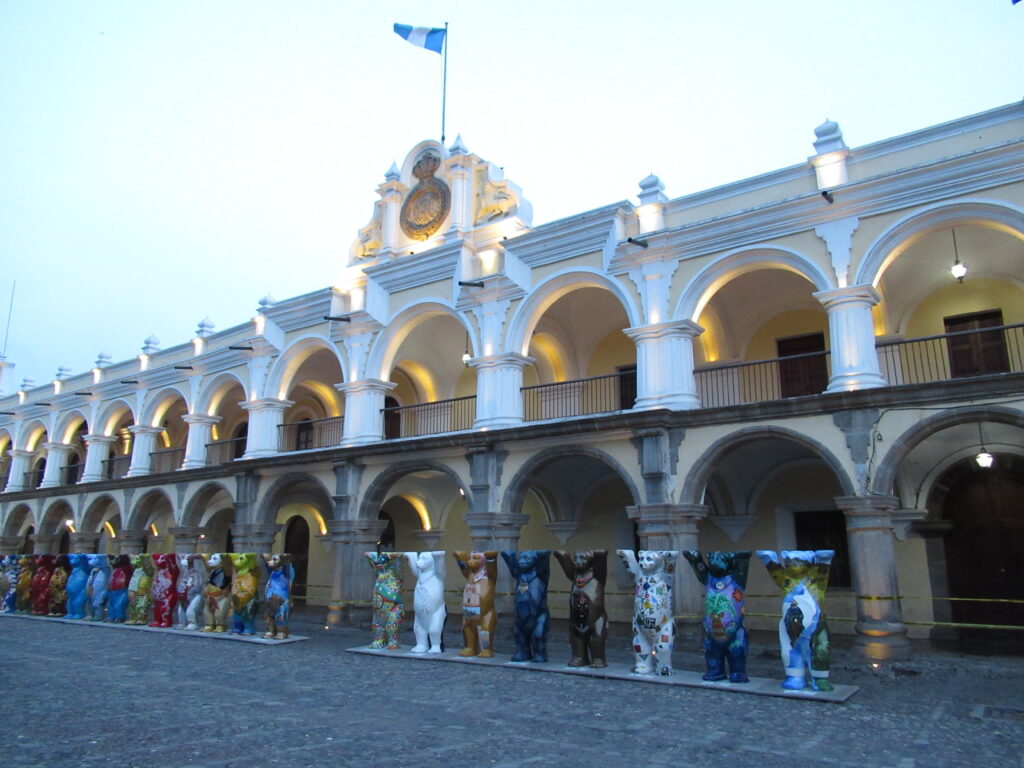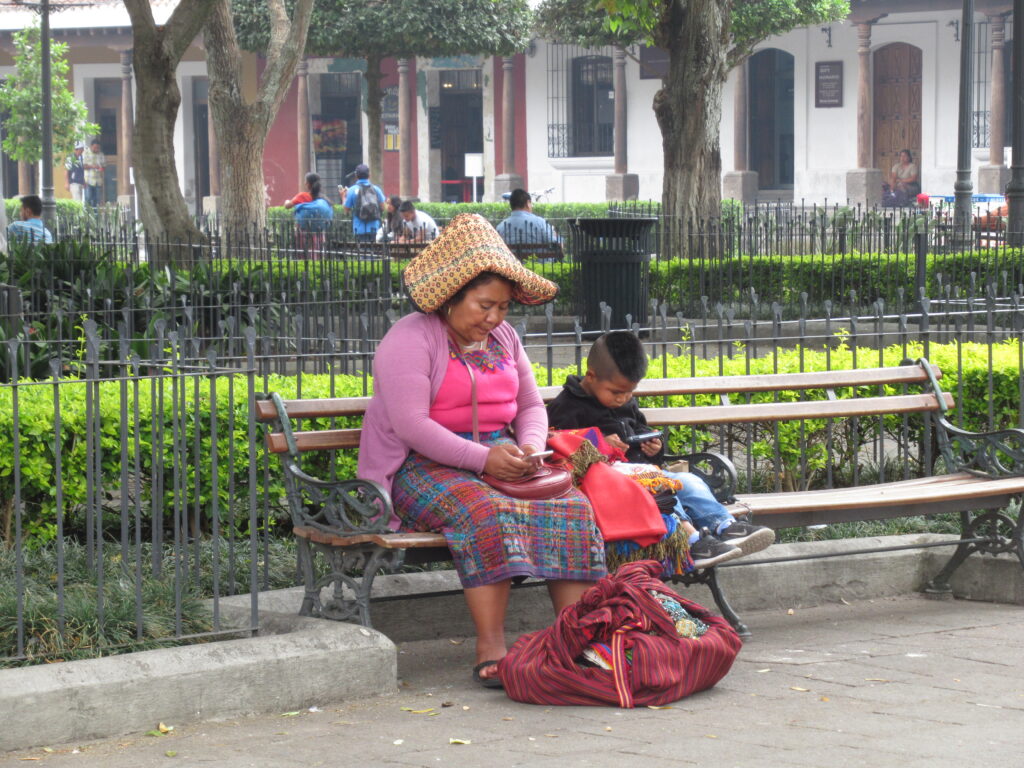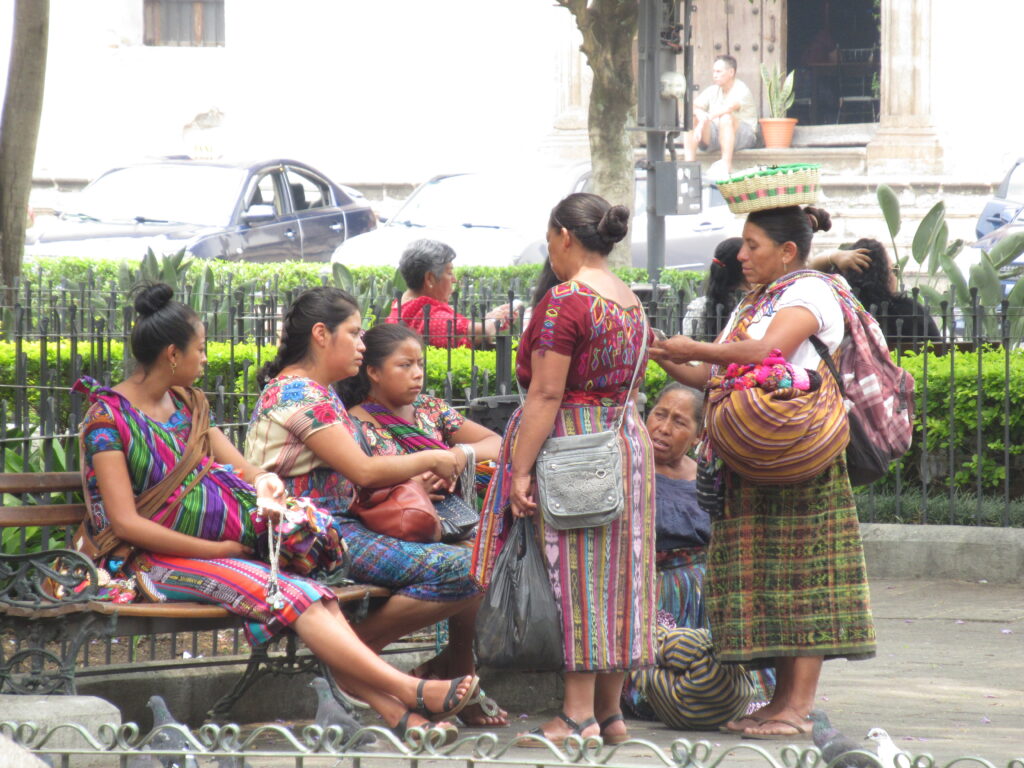 On our second day in Antigua – when we realised that the sun just really wasn't going to come out, and that we just had to go for it -because, well at least it wasn't raining – we decided to climb Cerro de La Cruz.
Cerro de La Cruz is a small hill that you can reach on foot easily from the centre of Antigua… it's a steep path to the top of the hill, but the views from the top were pretty good, meaning that we didn't regret it. From the top you get sweeping views over the city of Antigua, and on a clear day there are apparently spectacular views of Volcan Agua…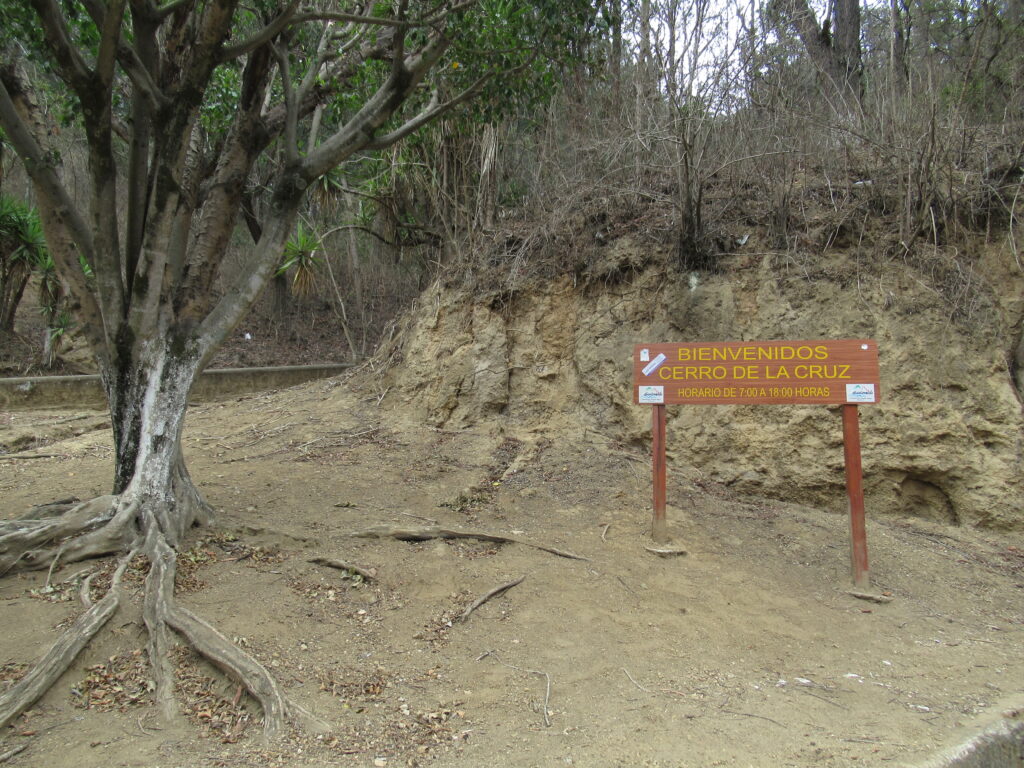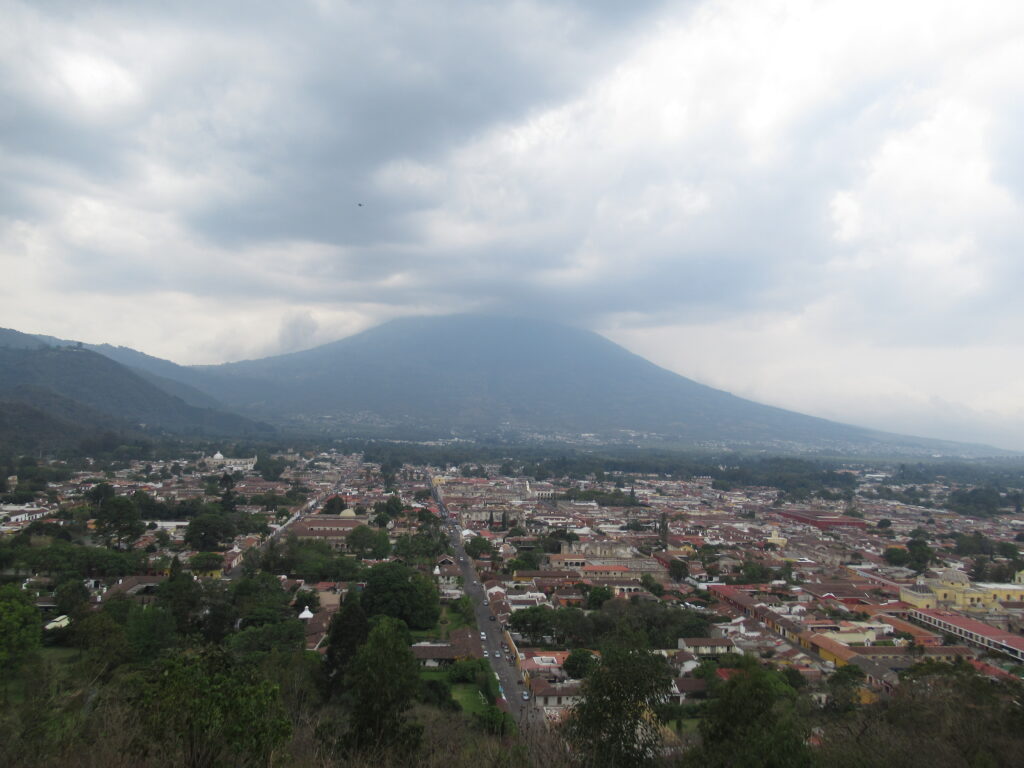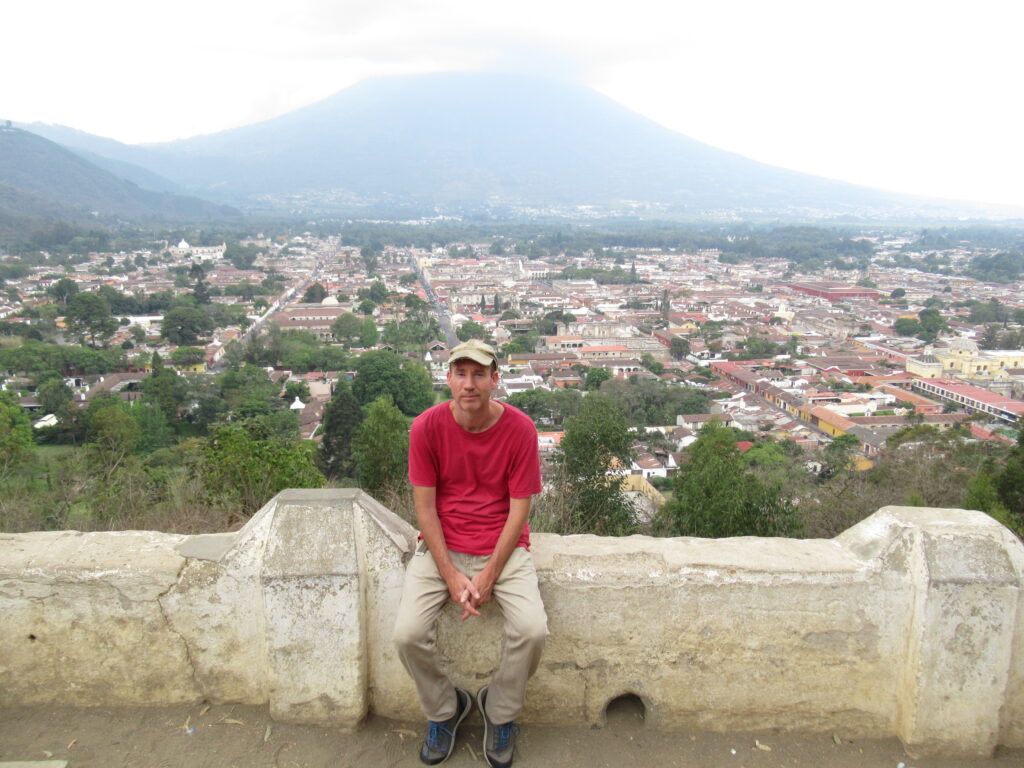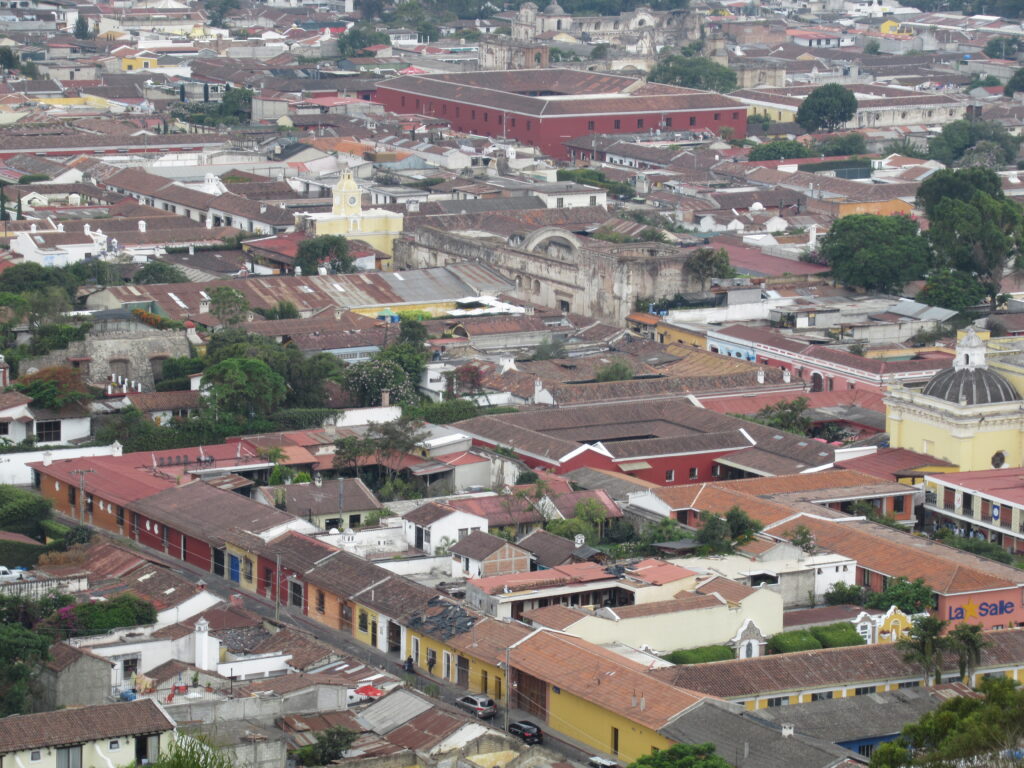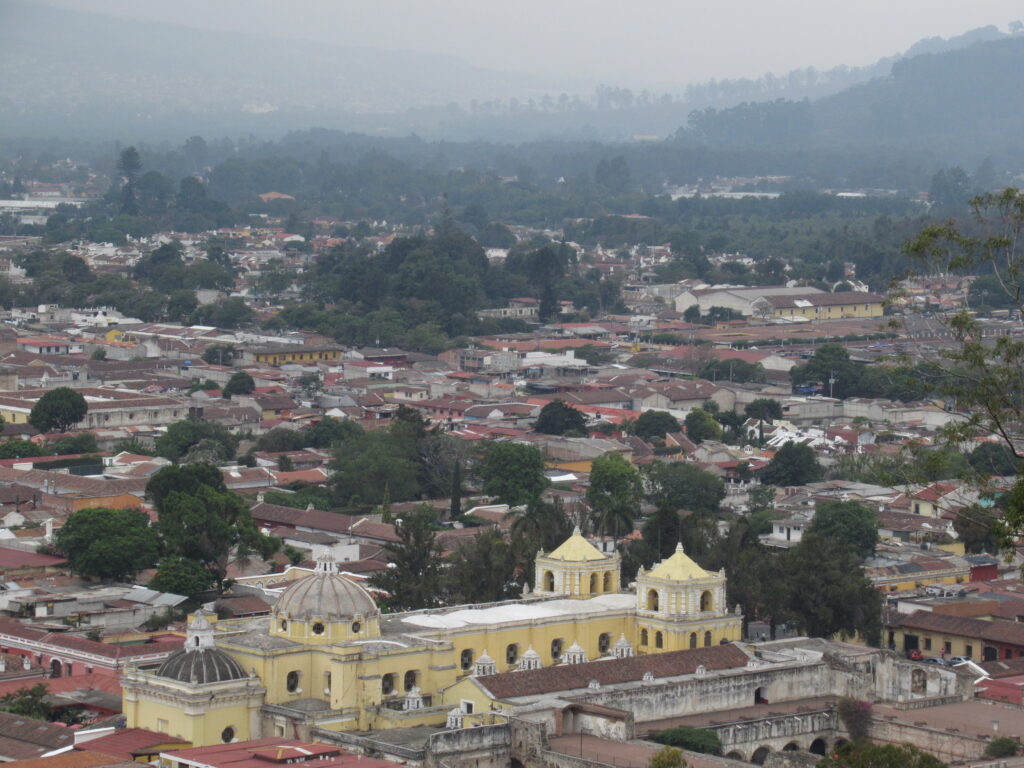 As Antigua was our first stop in Guatemala, it was also our introduction to Guatemalan food and drink!!!
After a pretty lame start in a taco joint – which with hindsight was just an expensive fast-food chain that charged extra for cheese and then sprinkled it on so thinly you couldn't taste it… we aborted dinners out… lunch menú del días seemed a safer bet!!! We found a place where heaps of locals were eating and went in… our first Guatemalan lunch – Pepián de pollo, a chicken stew… What can I say, except that I think it must be an acquired taste?!? The tortillas and avo on the other hand were spot on!!!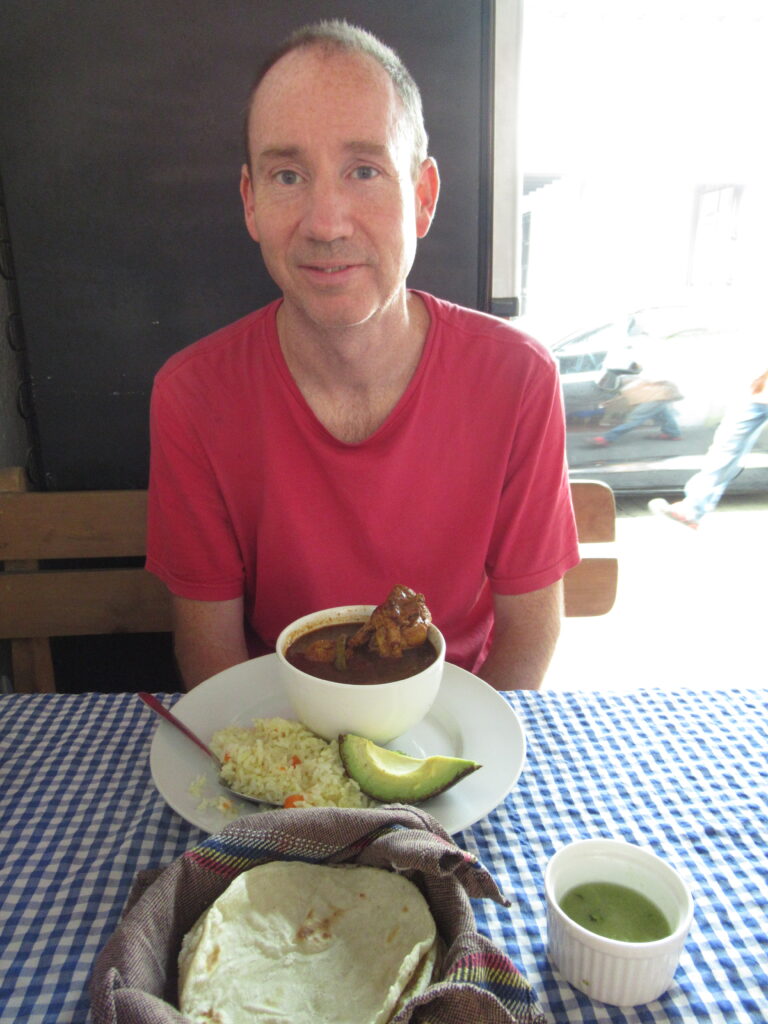 Antigua did however not fail at the first hurdle with its coffee offerings… we found an awesome cafe that served freshly roasted Guatemalan coffee in a french press… yummm…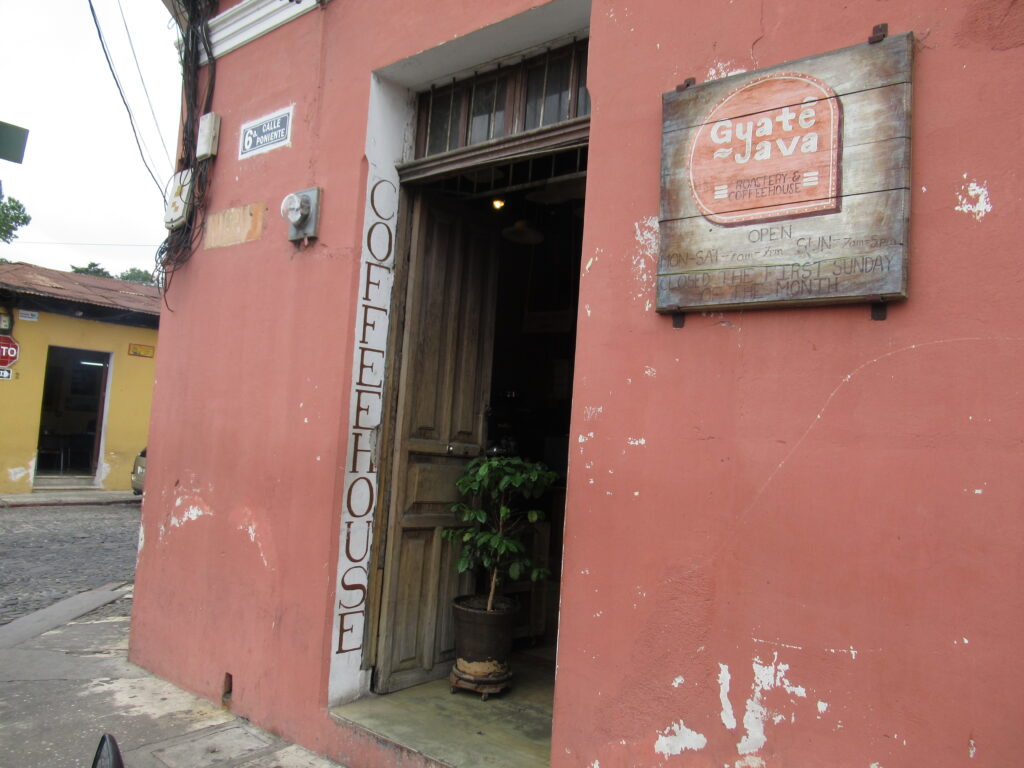 Moving on to beer… having crossed a border it seemed only right that we try Gallo – yep cock (as in male chicken) beer, the local and seemingly most popular locally brewed beer… It was well… a typical lager… BUT bought in super-sized cans! Yep, the smallest (and only size) can of Gallo beer we found in Antigua was 24oz – yep a single can with over 700ml of beer… not sure why to be honest – a smaller can makes more sense to me… that way you can keep the second beer in the fridge and not have to drink the warm beer!?!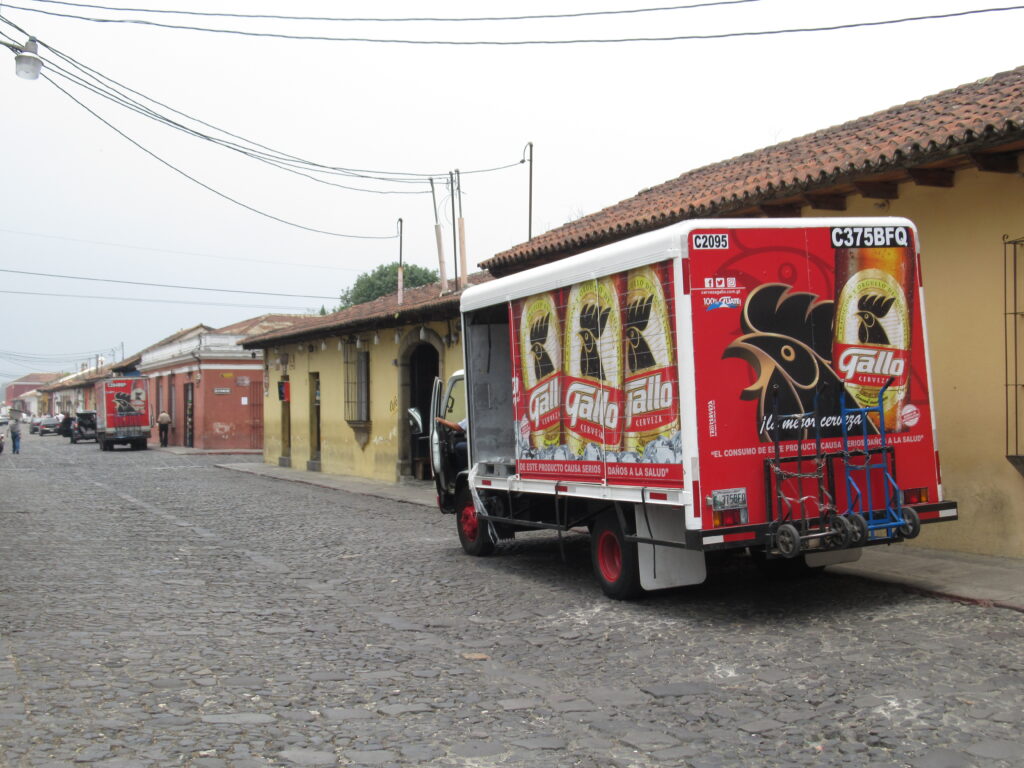 The next evening we treated ourselves – craft beer 🙂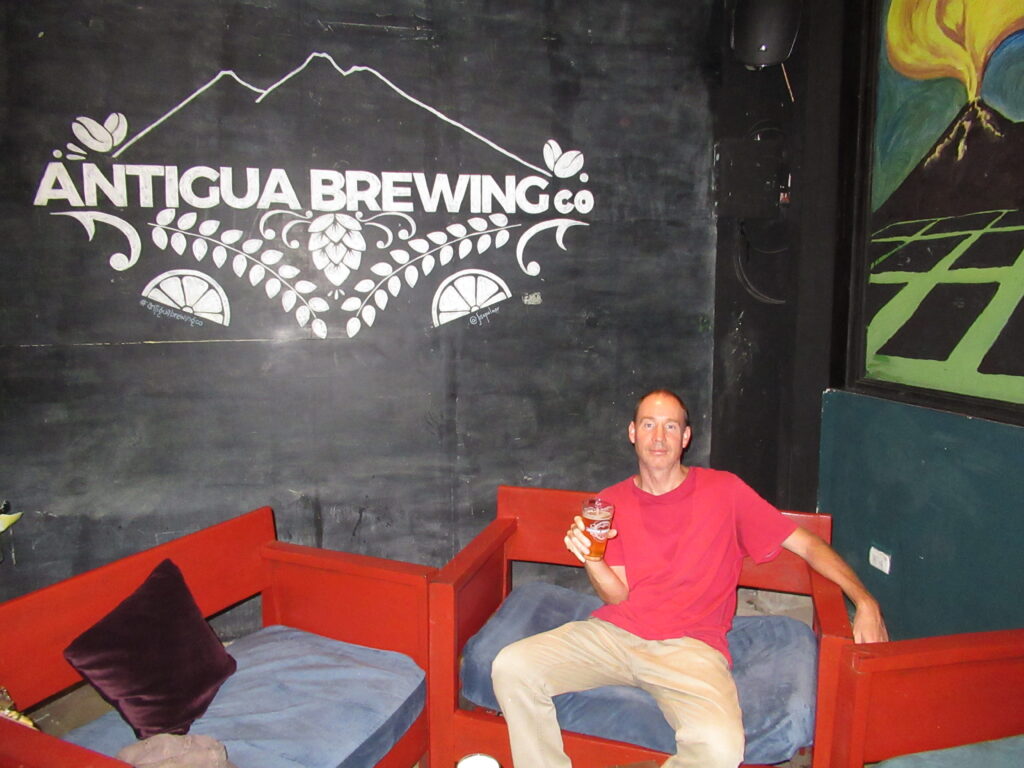 After three nights it was time to leave Antigua and head to our next destination on the backpacker gringo trail! However, the sun came out just as we were heading on the road – meaning that finally we got to see Volcan Agua in its full glory – would we feel differently about Antigua if the sun had been shining for the last two days? We will never know!!!