Estamos en San Agustín de Valle Fértil!
Well, not really, but we were 6 days ago, and we liked it heaps so I thought I should still write about it!
San Agustín de Valle Fértil is in the province of San Juan about 220km from the big smoke of San Juan itself, and was where we experienced our first stay in a cabaña – a self-contained unit with cooking facilities, which range from luxury units to ramshackle huts with a very rustic feel ( that's how ours was!)… but we still liked it! The lovely owner made us feel at home too and she even made us a cake… membrillo (quince) flavoured – as it's a traditional style… yum! What can I say – sometimes it's good to have the novelty foreigner factor!
San Agustín de Valle Fértil is a really friendly place where you couldn't walk down the street without someone calling out a greeting of hola, buenas dias, or ¿como andas? The dogs were friendly too – and as a cat person I say this with mixed feelings. On one walk we were befriended by one such dog which decided to join us on our afternoon stroll to the reservoir and view point… I am pleased to say we lost it before we arrived home though, otherwise we might have really had to run into our cabaña, lock the door and not come out till it had gone as we had spoken about on the way back!
It is also the land of the cactus – I can honestly say I have never seen scenery like it – the cacti here were amazing and even better – everywhere!
The main reason for visiting San Agustín de Valle Fértil is, however, Ischigualasto Park (also known as Valle de la Luna)… and this was really why we were there. We wasted no time and were booked on a tour the same day we arrived. The park was awesome and even better we saw a grey fox before we'd even really gotten through the gates! Grey foxes are very cute… much better than urban London foxes (the last kind of fox I saw, so bear with me and my comparison). A tour in this park is a bizarre experience – you can't help but think it would be awesome if you could drive around at leisure, stop to take pictures and really feel at one with nature and the scenery but oh no… off you go in a convoy of vehicles (there were about 20 in ours), stopping at the 5 fixed stopping points (along with everyone else). At the fixed view points everyone descends from the vehicles and gathers round the park guide who gives a bit of blurb about the stop, cracks a few jokes (the best one being that although there are pumas in the park they're very shy and the only type we'll see are tracksuits, trainers etc..)  – they sounded better in Spanish! – and then gives you a few moments to take pictures before getting back in your vehicle.
The highlight of the park was El Hongo… for the non-Spanish speakers among you, that's the mushroom! As you can see for yourself it was very cool 🙂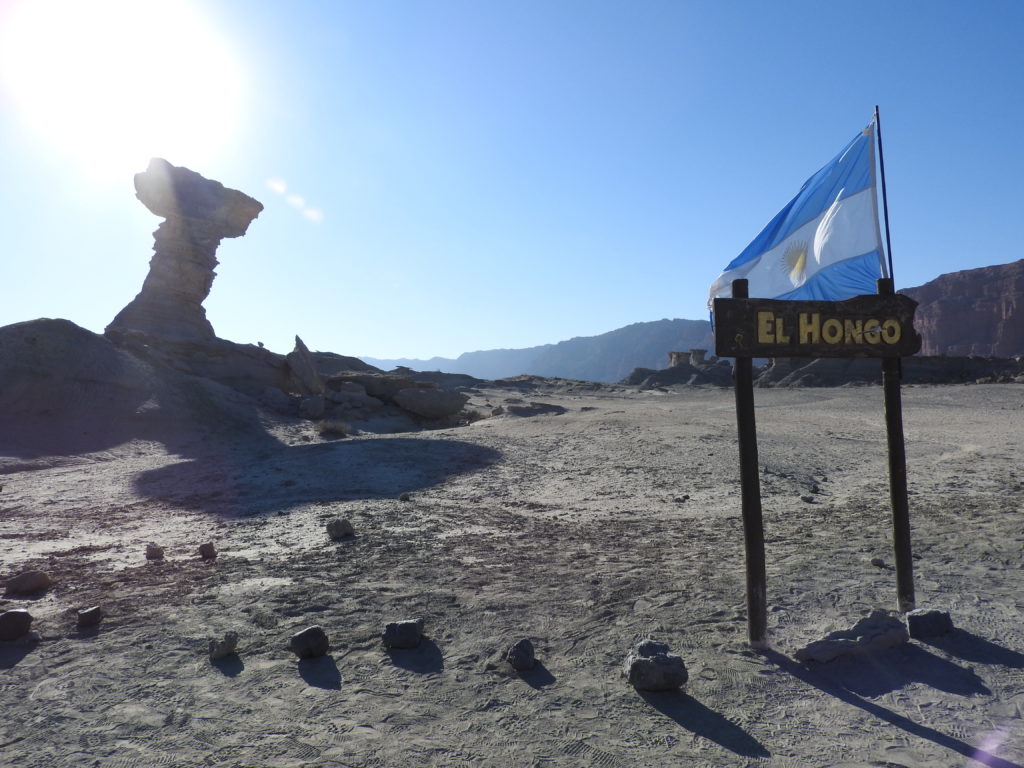 There is also a lovely river in the town, and we enjoyed strolling along its banks, taking it easy and soaking up the sunshine 🙂 We also got excited by the new (and good views of old) birds that Argentina has to offer…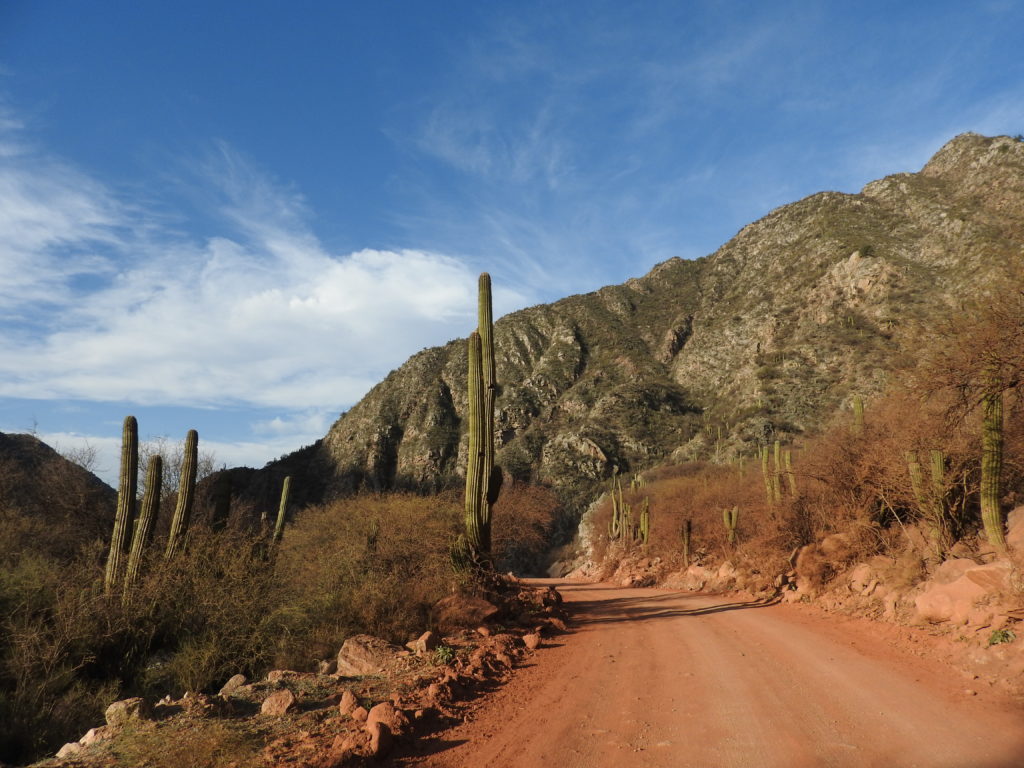 The final highlight of our stay was dulche de leche (it always comes back to food and drink for me!) – this time in the form of a liquor… mmm 🙂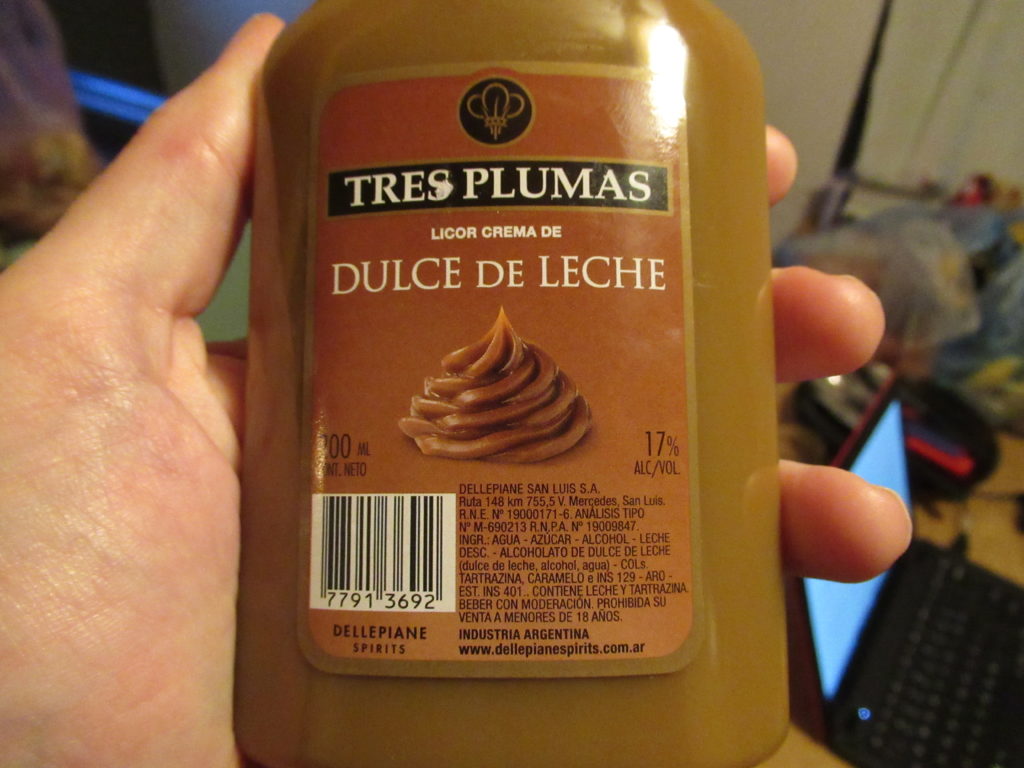 If you ever see a bottle of this in a bottle shop near you please don't think twice – just buy it! If you don't like it I'm happy to help out when I see you next 😉