From Popayán we headed on a long bumpy bus ride to reach our next destination – San Agustín – in the department of Huila.
The main reason everyone visits San Agustín is to see the pre-colombian archaeological sites in the area, that were declared UNESCO world heritage in 1995 – and like everyone else, that's why we were there too!
However, our visit to the archaeological sites had to be delayed as Duque was in town! Duque is the current president of Colombia – and although apparently in town on official business, he was having a side trip to visit the pre-Colombian statues in the area… therefore on our first day in San Agustín all the sites were closed  – and it wasn't clear if it was for a few hours or the whole day so we decided to chill in town instead!
We actually really enjoyed our day relaxing in the town….it was quite a small town, with not a lot happening – the main plaza felt like the central spot in town and it was a great place for people watching… there were always people in the main square 🙂 As with all main squares in South America it had the obligatory church on one side, and then cafes and shops around the others… but unlike other squares, this one was also home to a couple of the pre-Colombian statues that we would be able to see once Duque had left town! I'm still not sure if they were replicas or originals… but they looked pretty cool 🙂 There was also a set of shiny plastic letters spelling out SAN AGUSTíN 🙂 🙂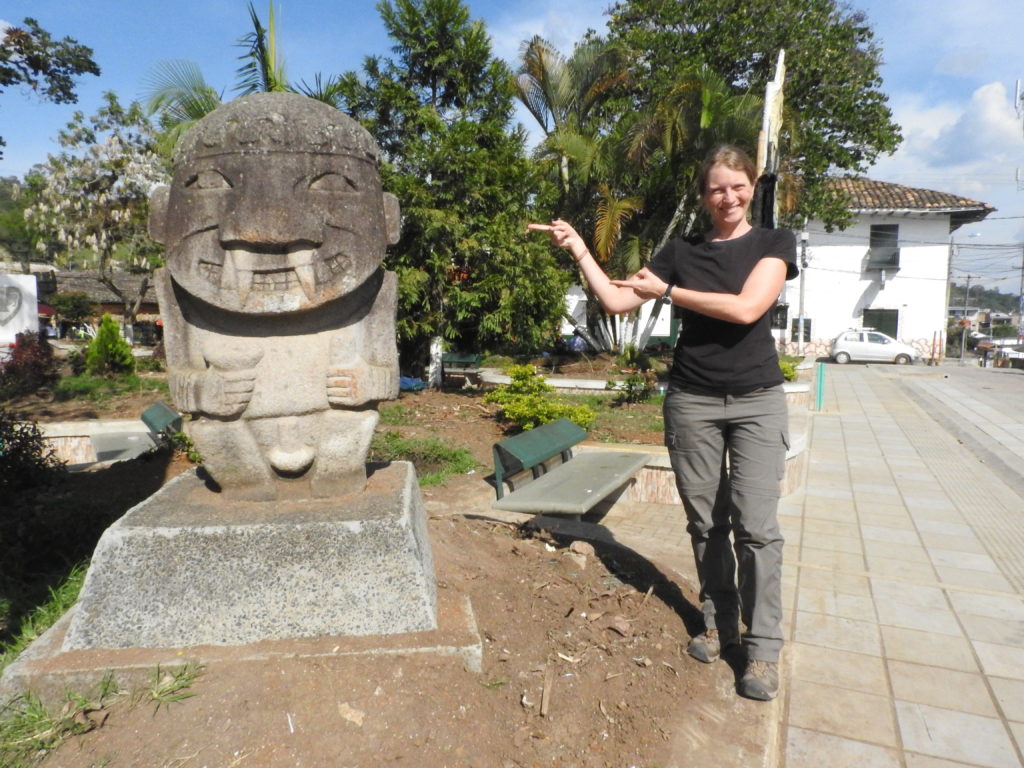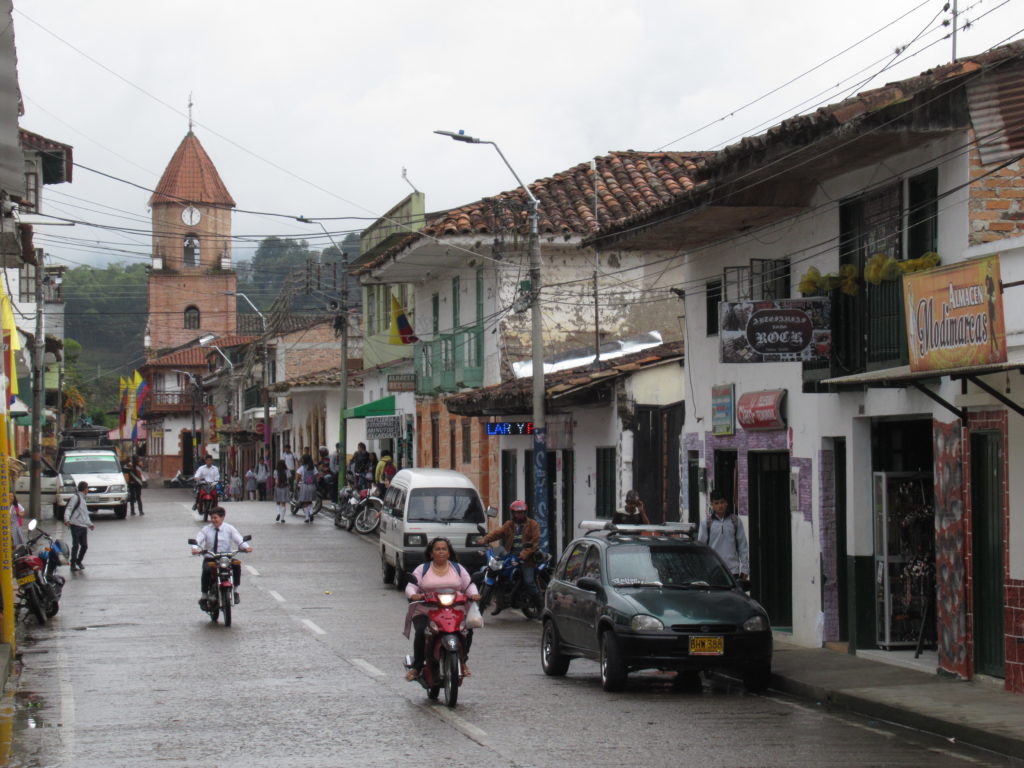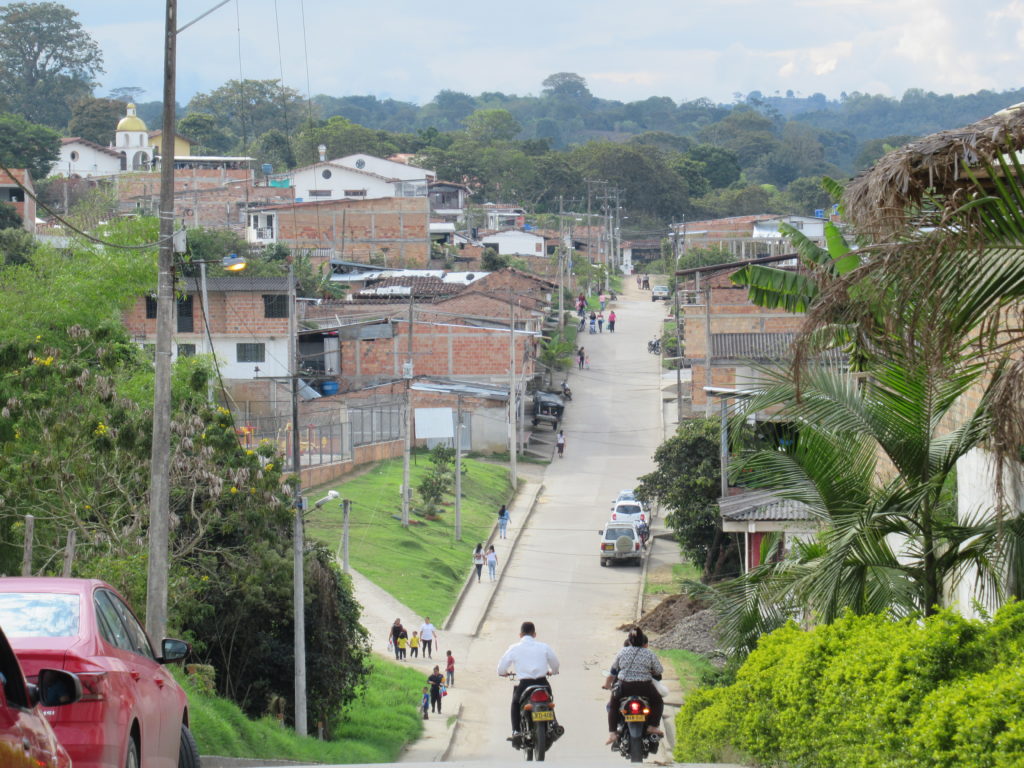 Strolling around we also found the local market and another church on a plaza by the market – I think I preferred this church to the main one in the main square! It also had a pretty eerie statue in front of it!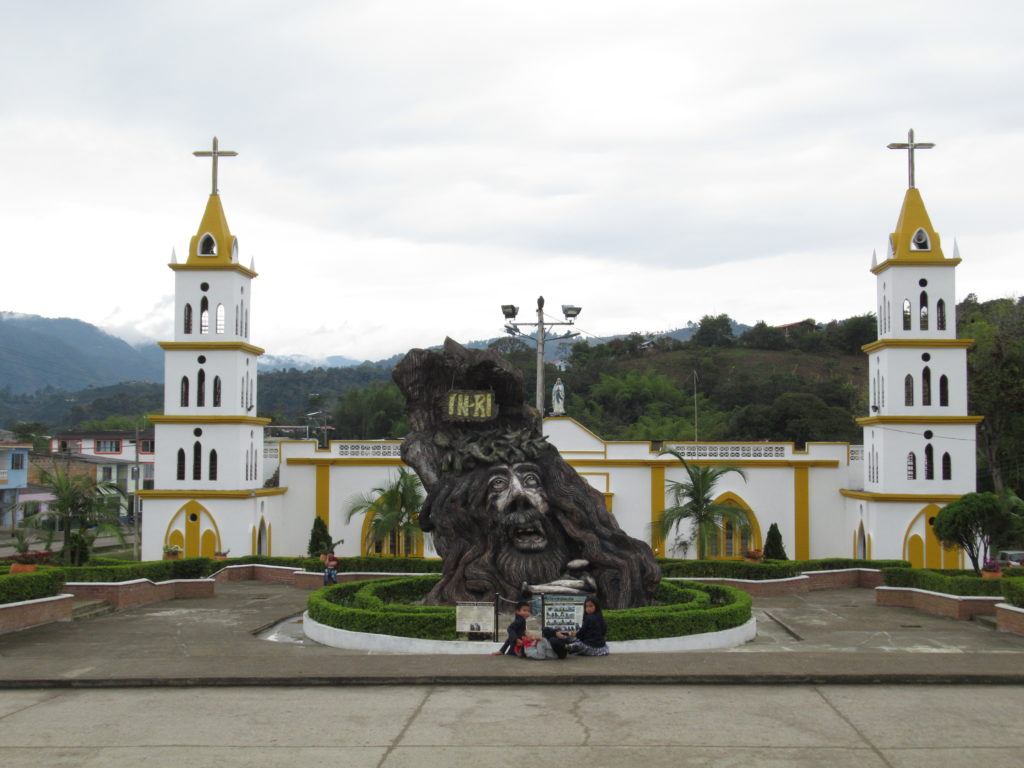 Even though it was a pretty pleasant town to hang out in – the best thing about San Agustín town itself – for me anyway – was the COFFEE… We had no idea before arriving that Huila was a famous coffee region of Colombia… if we'd have known we might have arranged to stay longer!!!! Regardless, once we found out we made sure that we drank a LOT of coffee in quite a few different cafes! We were even drinking coffee in a pretty chilled out cafe as Duque's convoy went past!!! We didn't actually see Duque – we were too busy sipping our coffees – but I'm assuming he was hidden in one of the cars with the blacked out windows being led and followed by the army!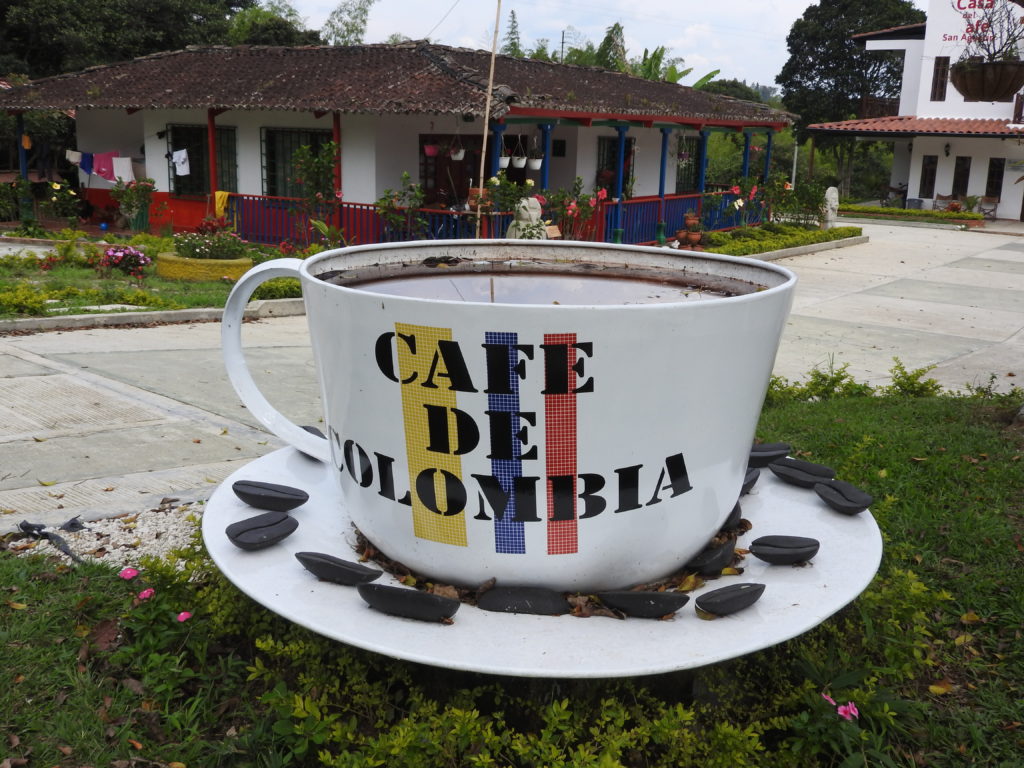 San Agustín also has a special place in our hearts as it was the first place that we tried a Colombian Arepa… As it's apparently a staple food in the Colombian diet that is eaten daily – for at least one meal – I'm not sure how we went TEN DAYS before eating an arepa – but we did!
Our first Colombian arepa was of the cheesy variety and it was really pretty tasty 🙂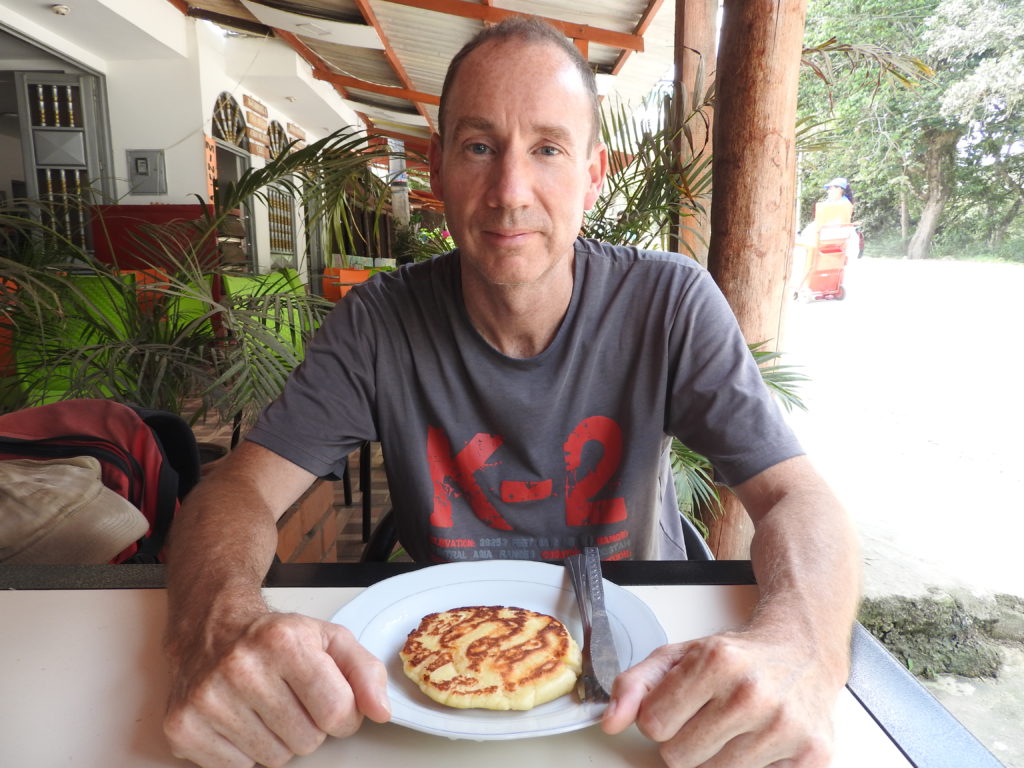 San Agustín was also home to some of the best pizza in South America!!! We weren't planning on eating out – our hostal had a shared kitchen and we were ready to go with our pasta supplies from the supermarket… but we were beaten to the shared-kitchen by some Chileans… and we figured that we would be waiting quite some time to get any space in the kitchen… hungry and unable to wait we descended the steps from the hostal… The aroma of cheese drifted past us first – it was coming from next door… we went closer – it was a pizza place… 'what the heck' we thought and went in! It did not disappoint… on that visit… or on our next visit, the following evening…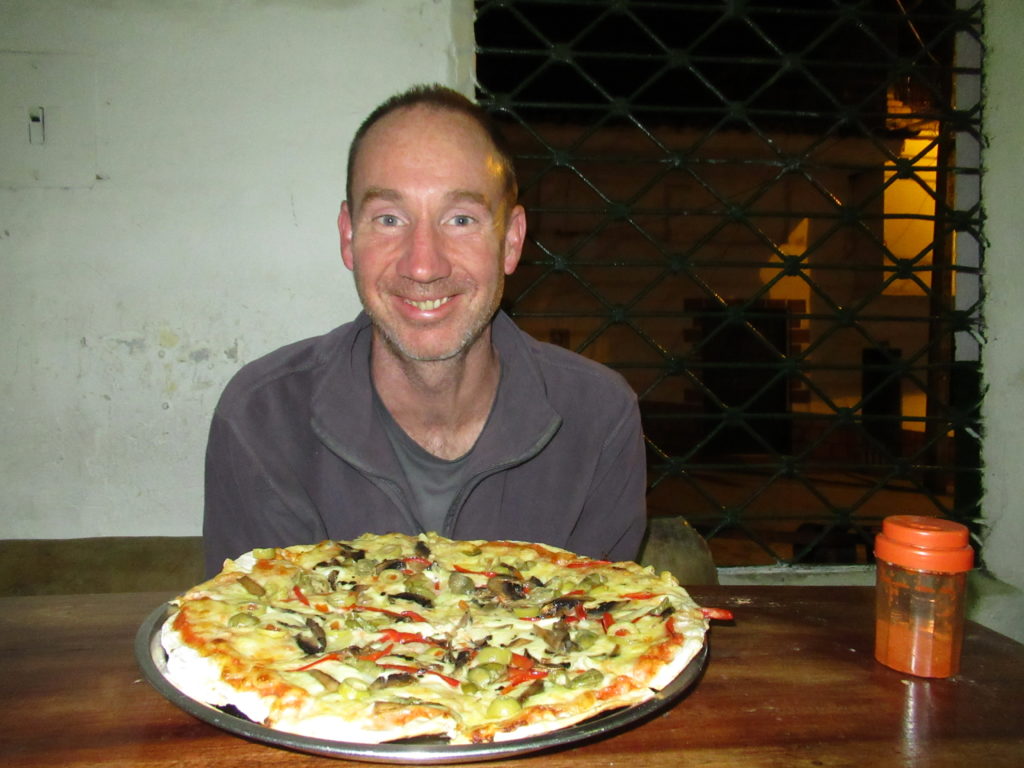 We couldn't help it – we lost our willpower to pizza and coffee in San Agustín!!! And when Duque left we got to visit some really pretty awesome pre-colombian archaeological sites too 🙂