It was border crossing time once again! This time we were going from Copacabana, Bolivia to Puno, Peru – a journey of only around 3 hours. Sounds easy? Well, despite what we had read about this crossing being a bit dodgy – it was actually very pleasant and straightforward.
Our border crossing 'policy' is to always try and find a direct bus between the main towns/cities on each side, as opposed to the generally cheaper method of taking a bus to the border town on one side, walking across the border, and then finding another bus on the other side to continue the journey. The direct bus option means that a) the bus waits for you (usually!), b) you can ask the driver where to go to get your passport stamped, c) you can see what everyone else on the bus does, and d) you don't have to find a bus on the other side and worry about getting ripped off or stranded at the border… so far so good!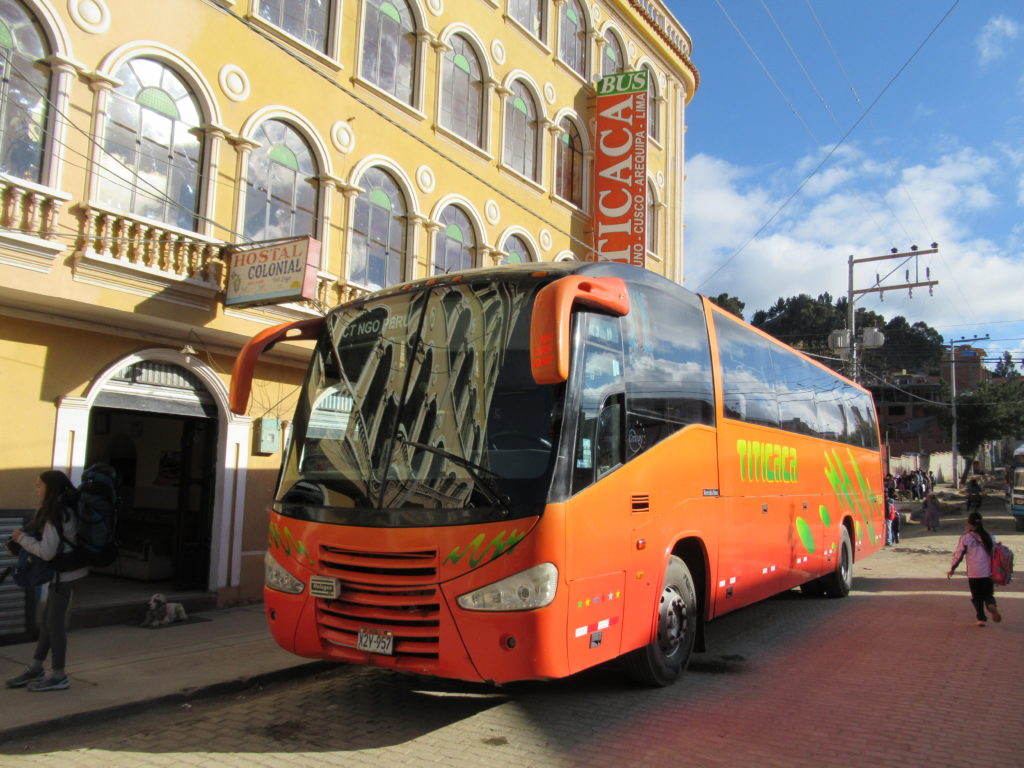 The 'crossing' part was the town of Kasani – a small town which is mostly in Bolivia. The process involved getting off the bus and walking to Bolivian immigration for the Bolivian exit stamp, and then going around 50 metres down the road to the Peruvian immigration office to get the stamp into Peru.
The town itself was pretty small and laid back – basically a few buildings and loads of market stalls. If you were on foot, there would be nothing to stop you crossing this border without any entry or exit stamps – there are no barriers except on the road, so you can wander freely between Bolivia and Peru. The bit of town on the Peru side didn't look a lot different, except that there was a row of brightly coloured mototaxis – the kind with a double seat built into them – this type of vehicle seemed to be totally absent from Bolivia.
The crossing was very quick and entirely without incident – apart from when the Peruvian border official asked CC where she was going and how long she planned to stay – difficult questions when you haven't made any plans yet?!? We arrived in Puno after only 3 hours, and because Peru was an hour behind Bolivia, it was actually 11am local time when we got there – pretty much the earliest time we had arrived anywhere at the end of a border crossing!