Crossing the Paraná (again)
So it was time to go to Brazil – in theory, a nice simple crossing as we were taking the 'posh' bus from Asunción, Paraguay to Foz do Iguaçu, Brazil which means that the bus would very kindly stop and wait at both border posts on the way over.
Before we could cross the Paraná, we had to go across Paraguay – so we stocked up on Chipas, and got on the 7.30am bus. The journey across Paraguay was uneventful, except for the usual frustration of people reclining their seats too far back. The other disappointment was that the Chipas we bought at the bus station were a bit hard, and a chipas seller got on the bus selling amazing-smelling hot, fresh chipas…. but we had already converted all our Paraguayan money to Brazilian Real… 🙁
Oh well… we arrrived at the Ciudad del Este border area around 1.30pm, and Foz is only 5km away across the bridge. However, it's a bit chaotic at the border and it took 2 hours to get across. Most of the delay was traffic, and border formaities were fairly quick. We ended up at the Rodoviário (bus terminal) in Foz, which sadly is 4km away from town, and so we waited for around 30 minutes in a semi-confused state for a bus to town – the problem being that the buses just had numbers on them, and we didn't really know which one to get.
We finally worked it out, and finished our journey at the Pousada El Shaddai at around 6pm Brazil time (Brazil being one hour ahead of Paraguay – time for a timezone change yet again…..)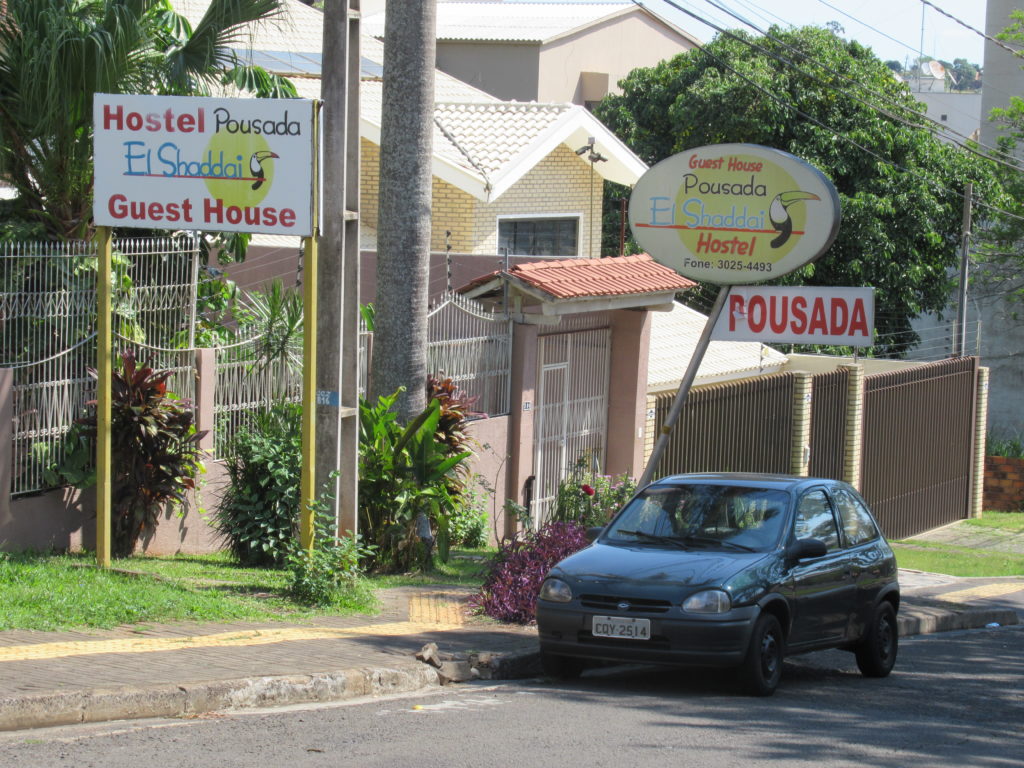 As is tradition now for border crossings, we celebrated with a local beer – this one a very cheap tin from the supermarket – but it had penguins on it which made up for the taste.. 🙂