Estamos em The Pantanal Xaraés Lodge
Our journey to The Pantanal Xaraés Lodge was bumpy to say the least… one might blame the state of the road, but I'm not sure all the blame lay in the road as the 4×4 used to transfer was also a little ramshackle to say the least… But hey although we got off to a bumpy start (pardon the pun) we soon had smiles back on our faces… I mean what better than a friendly Yellow Armadillo to welcome us to the Lodge 🙂 We weren't expecting it – a wild armadillo living in the area by the lodge – woo hoo, we were excited 🙂
The Pantanal Xaraés Lodge, was very different to the Pantanal Jungle Lodge…
1. It is actually a working farm, so we got to experience how the Pantanal and farming can survive side-by-side, and see that the Pantanal survives because it works for the farmers – A lot of the wildlife lives in jungle pockets on higher land within the farms that doesn't flood in the wet season…. the cows take shelter in these in the wet season, and therefore cattle farming can prosper…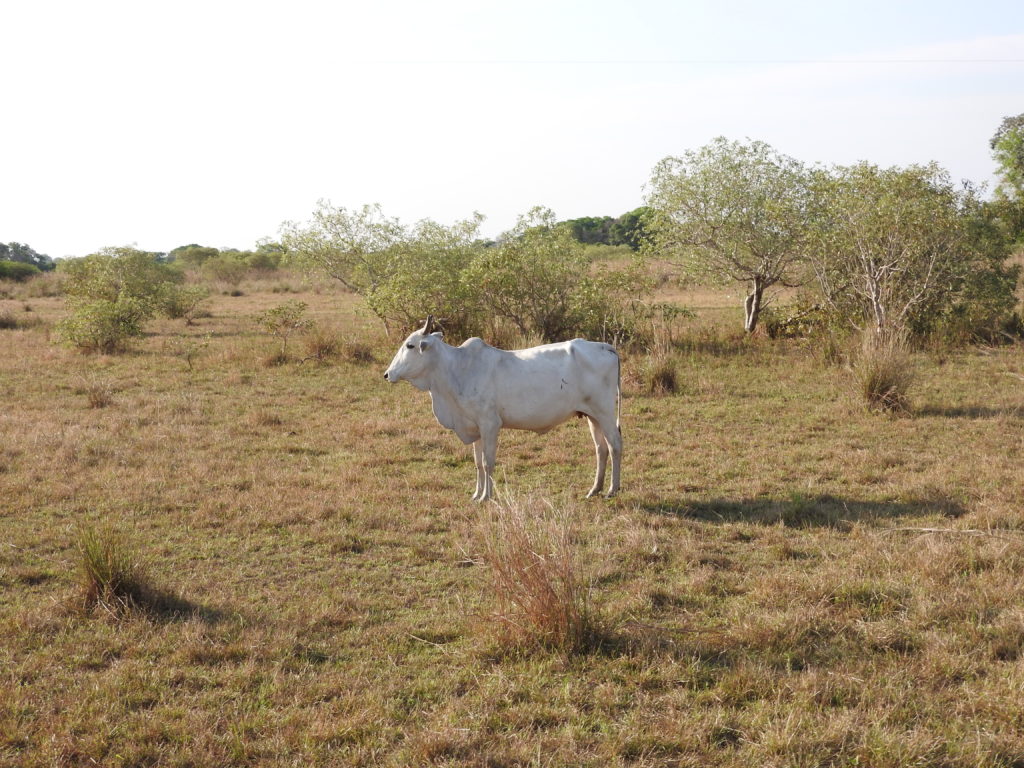 2..We were also no longer on the mighty river – we were staying by a trickle of a stream… so shallow, that we were told that we couldn't go on the boat trip down the river, but that we could go down it in canoes…. but by the way there would be times that we would have to get out… wade through the water and drag the canoe behind us until it was deep enough to get back in!!!
3..We were far away from the backpacker scene… our only company apart from the staff (which bizzarely included a girl from the UK!?!?) was a Dutch tour group!!!
Our activity schedule once again started not long after arrival… this time an activity that far exceeded our expectations… okay so we didn't have high expectations for horse riding – so it was probably easy to exceed them, but honestly we really enjoyed it! We explained to our guide Marcelo that we really weren't experienced horse riders and to help us out he picked 2 of the older horses for us to ride… PB's with a habit of biting the other horses, and mine with an attitude – if it couldn't be in front it really didn't want to go anywhere fast!!! Regardless, we really enjoyed it (I never really thought I would say that!!!). We only went on a short ride through the farm and it was all at walking pace…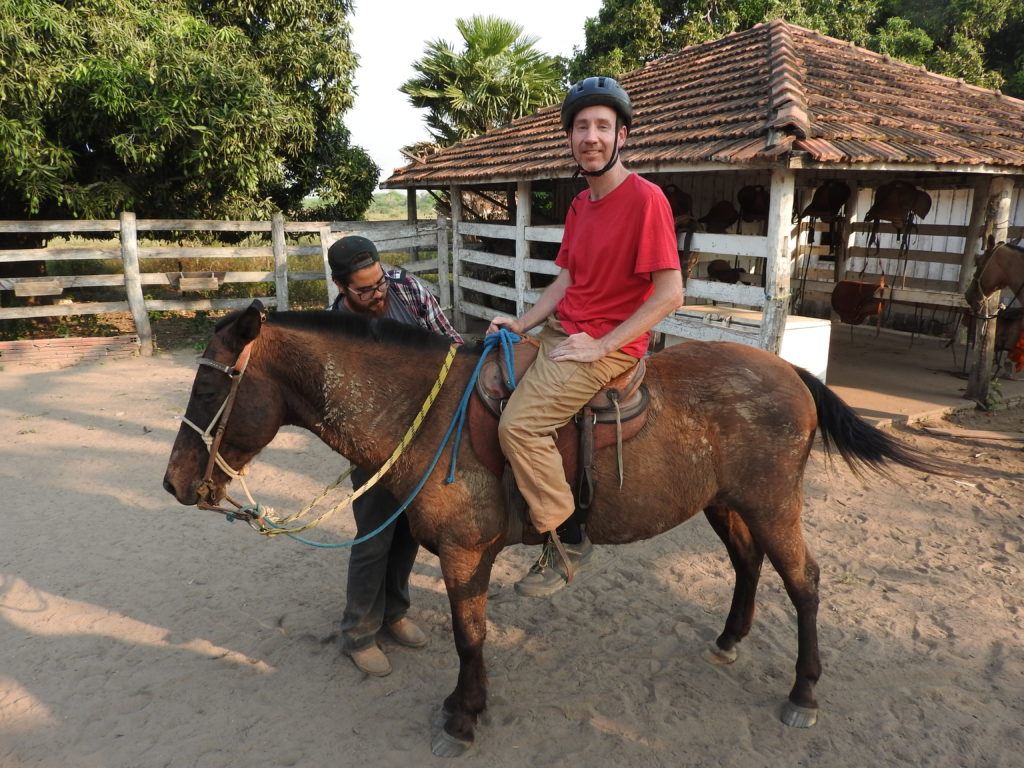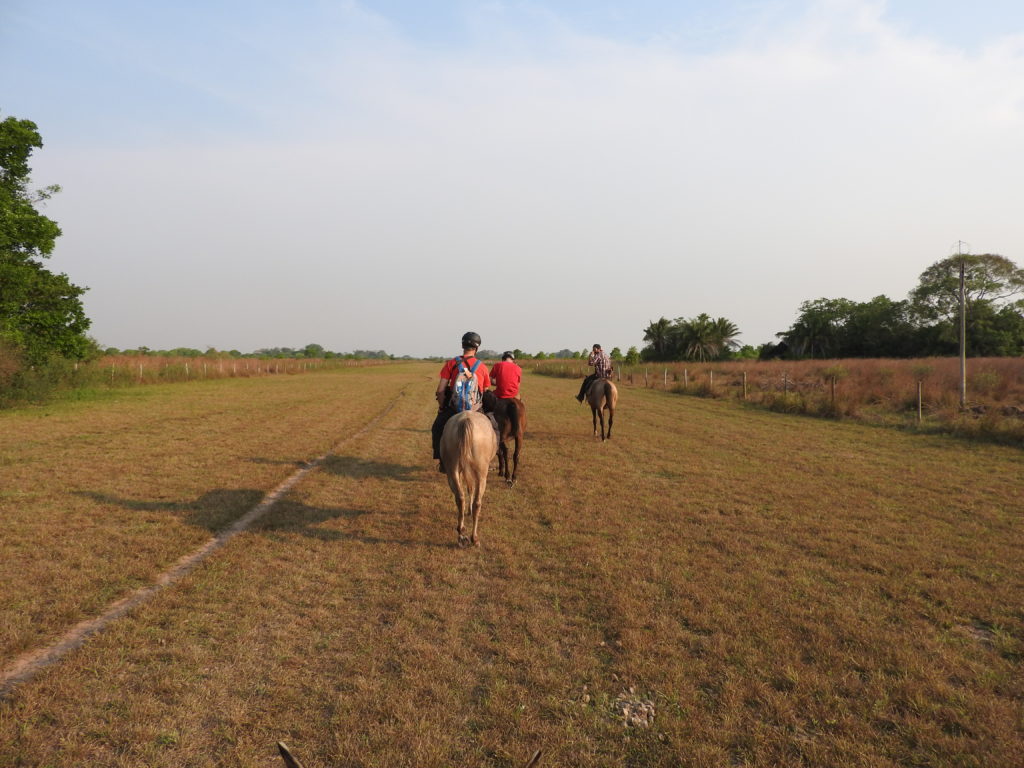 On our second day we once again joined our Dutch and Belgian friends from the big tour group… before lunch was a walk, and after lunch a safari drive, which returned to the lodge after dark to spot night animals – we spotted a big fat ZERO night animals – boo 🙁 But we did see some cool birds during the daylight bit 🙂
Our third day was canoeing… this was fun 🙂 It was so nice being out on the water watching baby caiman on the river banks and kingfishers diving into the water, that getting out of the canoe to wade through the shallow parts was just part of the adventure!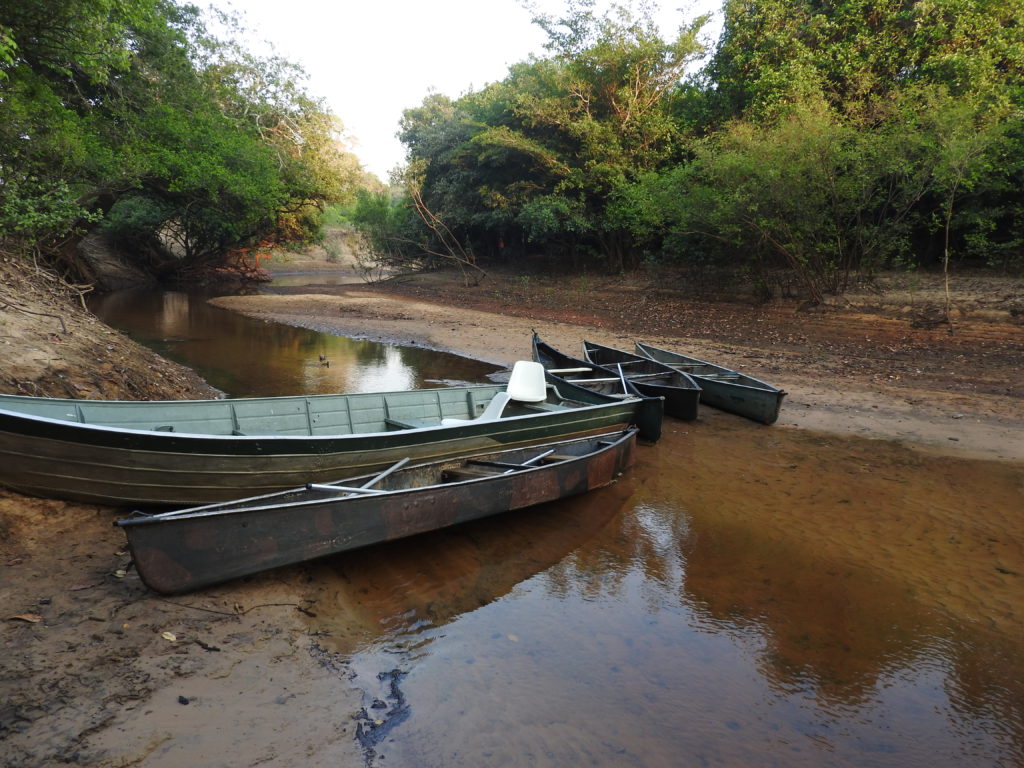 After lunch the tour group bade their farewells, and hey, it was just us!!! Well us and the staff… we had the lodge to ourselves… it was a bit eerie to be honest, although we enjoyed the chance to personalise our activities and chat to Marcelo the guide for the next 2 days 🙂
We decided walking was the way forward for us and we spent several hours exploring (with the guide) different trails across the land owned by the lodge… on our full day we were joined by the second guide  and his girlfriend  (the English girl… it's not that easy to find work in the Pantanal after all 🙁 ) Our destination was on the otherside of the farm where some groups stay in hammocks or tents… it was nice to explore a different area on foot, and to also have piranha from the lake there for lunch 🙂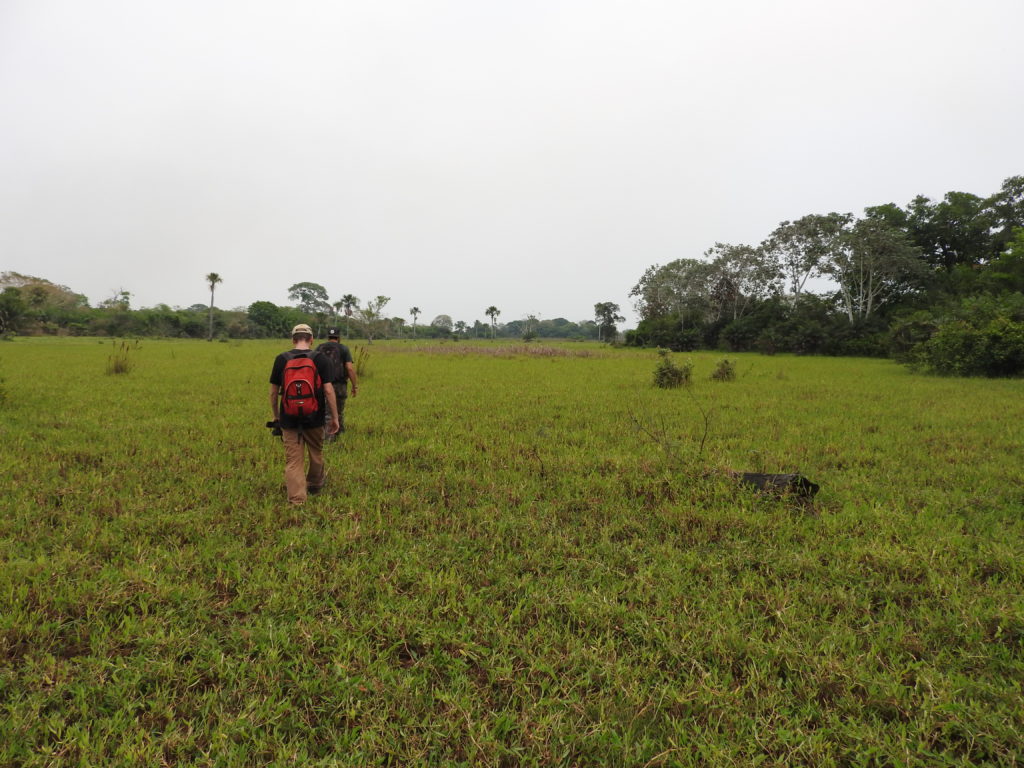 Our transfer out of the Pantanal was delayed a bit, but the driver made up for it by driving recklessly and extremely fast so that we were so scared we didn't notice we were late…. … but we made it back to Campo Grande excited by all we'd seen and hoping that our next adventure in the Pantanal (whenever that might be) would include an anteater and tapir sighting – as sadly this visit had not…
But we did see lots of other wildlife and birds, and the pictures are coming soon.. watch this space 🙂 🙂