After a bit of a bumpy inter-island ferry we arrived on the largest Island in the Galapagos – Isabela. Okay, so Isabela isn't a huge island – but with an area of 4,640 km squared it's actually bigger than all of the other Galapagos Islands put together!
Isabela might be the largest island in the Galapagos – but it's far from the most populated! In fact, the main town on Isabela – Puerto Villamil – has only around 2,000 residents (Puerto Ayora where we stayed on Santa Cruz had around 20,000 residents)…
After reaching the wharf, and waiting for a sniffer dog to finish inspecting our bags – we collected our backpacks, paid our $10 USD port tax… And then proceeded to try and find Lupita, who had come to meet us… as with San Cristóbal – to keep costs down – we had opted to stay in a room in someone's home… unlike on San Cristóbal, this was not through official channels such as Airbnb…
We had found our room in Lupita's house through Bella – our awesome host on San Cristóbal – she'd never met Lupita or visited her home, but had learnt of it through a mutual friend – whom had reassured her that Lupita offered tourists an experience very much like the one she offered her guests… We weren't the first people that she told about Lupita's – others had already trail-blazed the way and reassured Bella that it was a good place to stay, and that they had enjoyed their time on Isabela while staying at Lupita's… A couple who stayed at Lupita's had even sent photos of the house to Bella, and reported that Lupita prepared a really 'awesome breakfast'.
At the wharf, we found Lupita and her friend, and we all got in a taxi together to reach Lupita's place… The taxi pulled up outside a hostal – okay we thought – Lupita owns a hostal and we have reserved a room in the hostal – we were okay with that – it looked pretty nice 🙂 BUT when they didn't walk towards the hostal, but moved instead towards the house on the other side of the road we realised that this was not the case…
Our home for the next few nights was – well to put it politely – not even close to what we had been expecting… Passing through the front door, we saw a cabinet full of beauty products… and what looked like a hairdresser's table!?! – Yep, Lupita is a hairdresser and works from home. On the other side of the room was a dining room table and chairs and a TV, and a huge box-freezer… on closer inspection there was a single bed too!?! Behind the table was an open-plan kitchen…
We were directed upstairs to our room…The upstairs was like a mezzanine level… go up the stairs and you were directly in the room – Yep, no door! From the single bed downstairs you could see directly up the stairs and into our room – or should I say Lupita's room – it was very obvious that she'd moved out of the bedroom so we could stay and she could make some cash on the side!
There was a bathroom upstairs – which was good… BUT again NO DOOR!?! Instead there was a makeshift partition out of shower curtains… AND only a cold water shower…
Our looks to each other said it all – but we were hurried downstairs by Lupita to have breakfast – we'd already eaten breakfast, but given that was at least 5 hours ago we didn't tell her that!
What can I say – reports from Bella's former guests, that also stayed at Lupita's and stated that breakfast was really good, were spot on… In spite of everything else – Lupita made us a mean breakfast!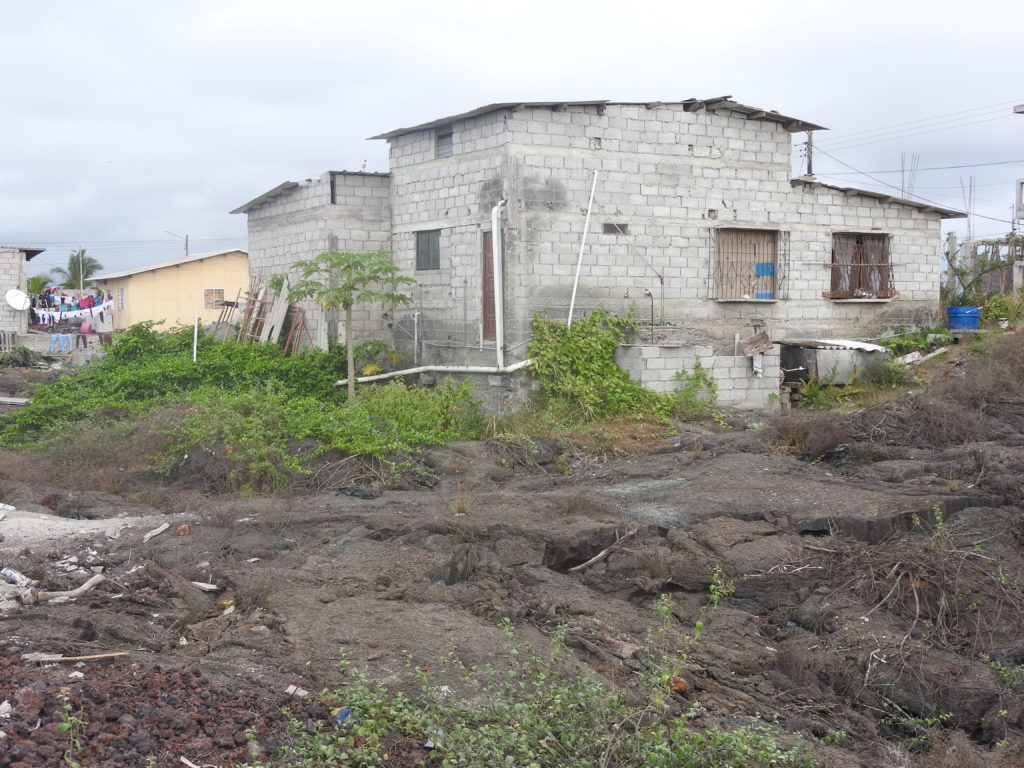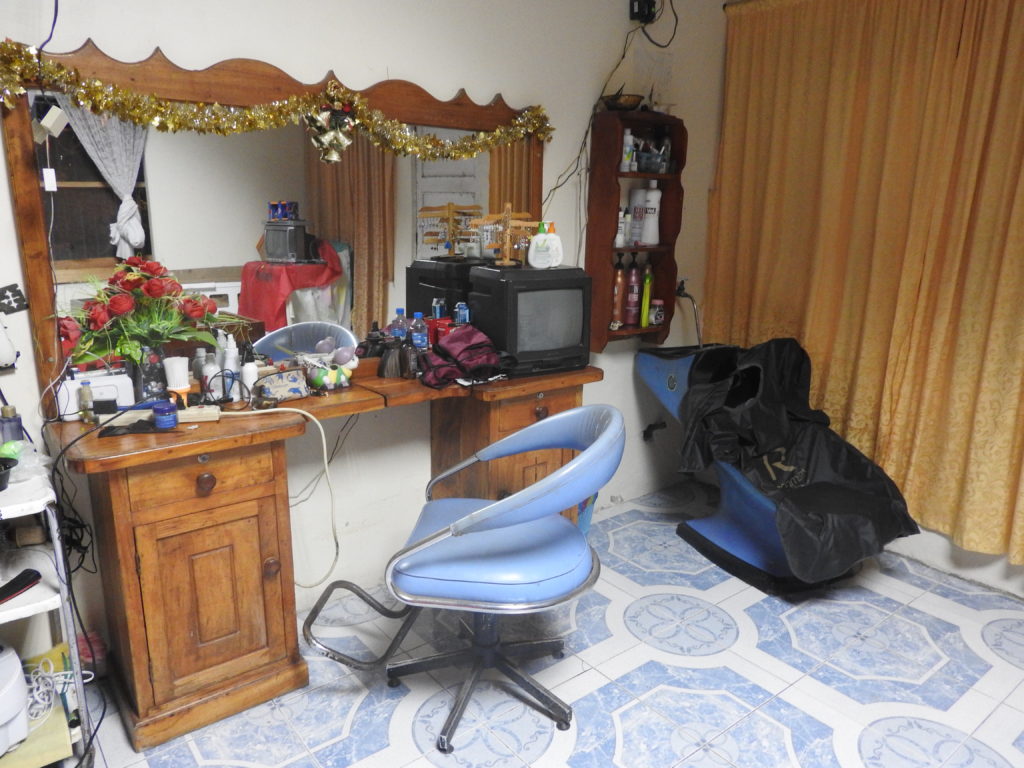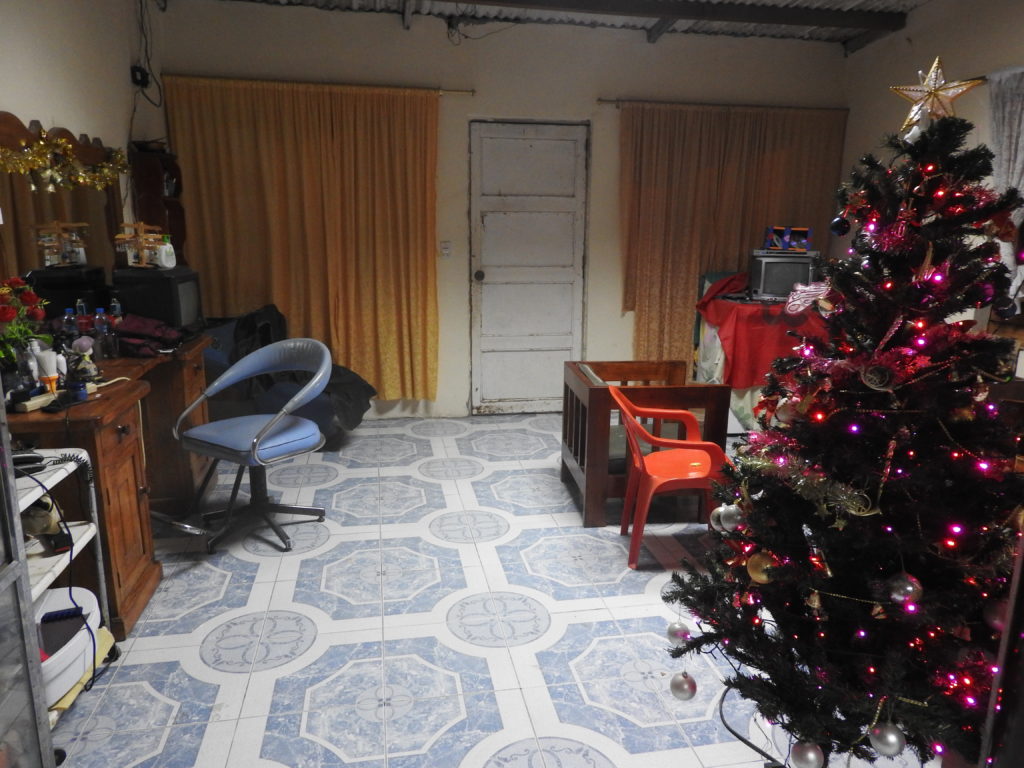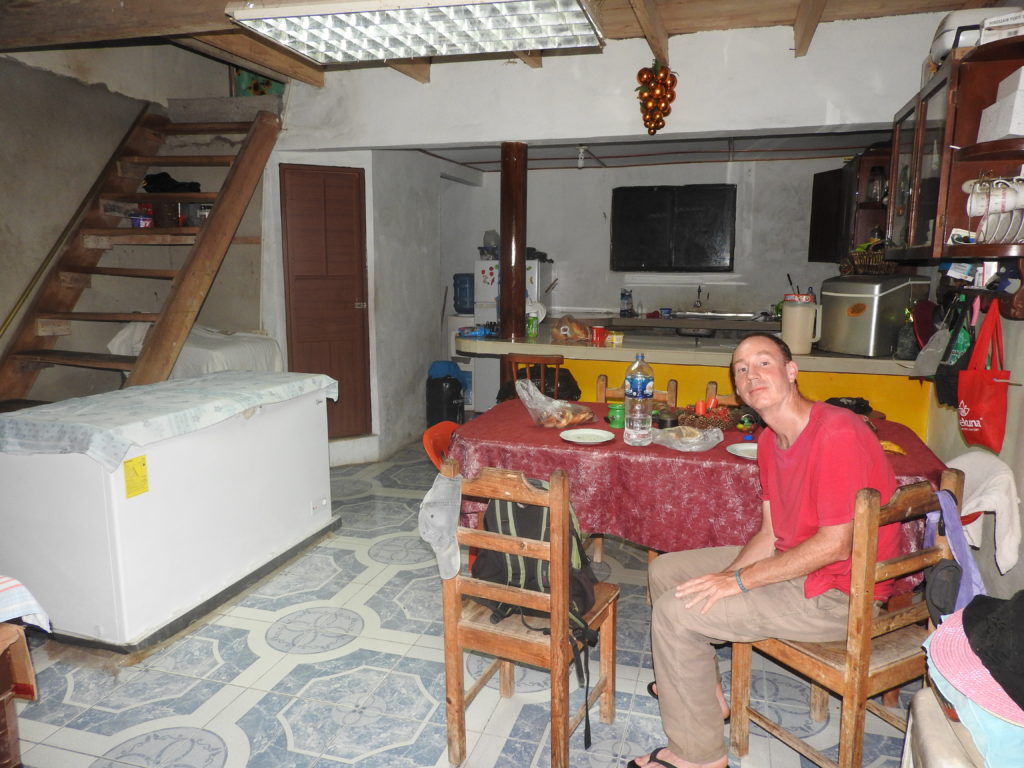 After breakfast – and a haircut (no not for us – a customer turned up for Lupita!) – Lupita and her friend walked us in to town to show us the way… Lupita also wanted to introduce us to another friend that could arrange tours for us while we were on Isabela.
After we parted ways, PB and I headed off for a 'debrief'… What were we going to do??? Could we survive staying in Lupita's? Where did she sleep? On the single bed downstairs – now that would be weird! Would we be able to get in when we got home – she hadn't even given us a key? Book tours with her friend? – but we didn't warm to her… how would we tell Lupita when we booked tours through someone else?
After quite a bit of ranting – mainly on my part 🙂 we went for a stroll around the centre of Puerto Villamil.
Puerto Villamil – in contrast to our accommodation – was an AWESOME place. If there hadn't been the weight of Lupita hanging around my neck, it was obvious it would have been a super relaxing place to be 🙂
The centre of Puerto Villamil is pretty small – set away from the water there were a few restaurants, cafes and small shops. There was also a pretty nice looking plaza – but unfortunately it was closed for works while we were there 🙁 The church – just off the plaza was open though, and was pretty cool…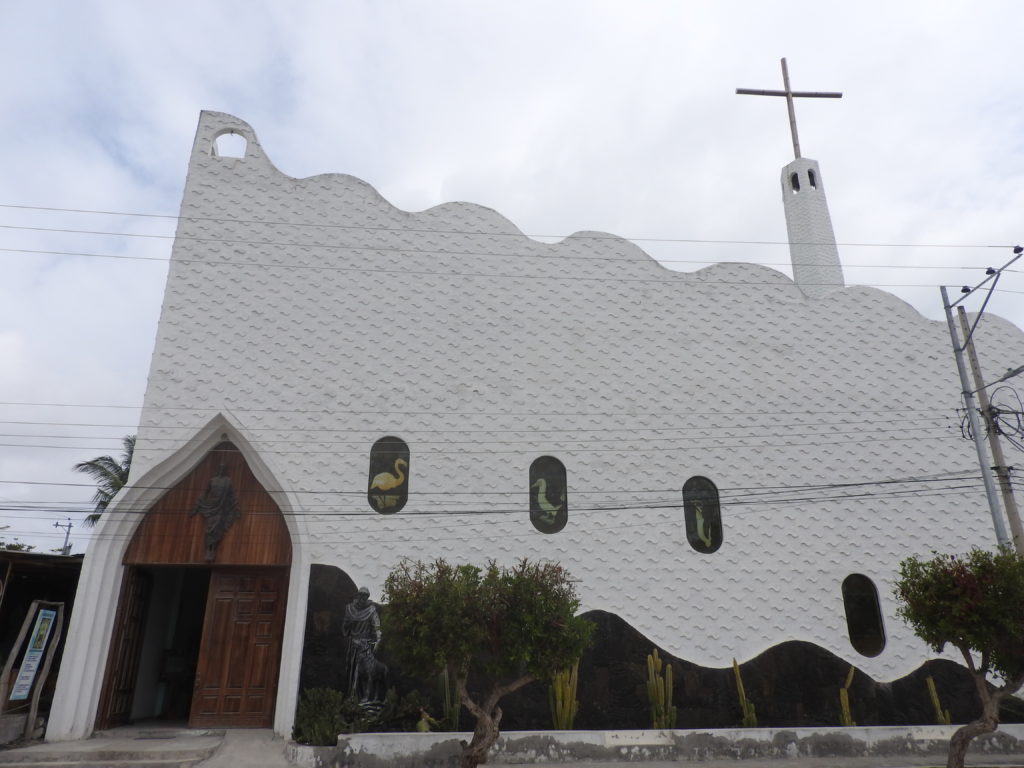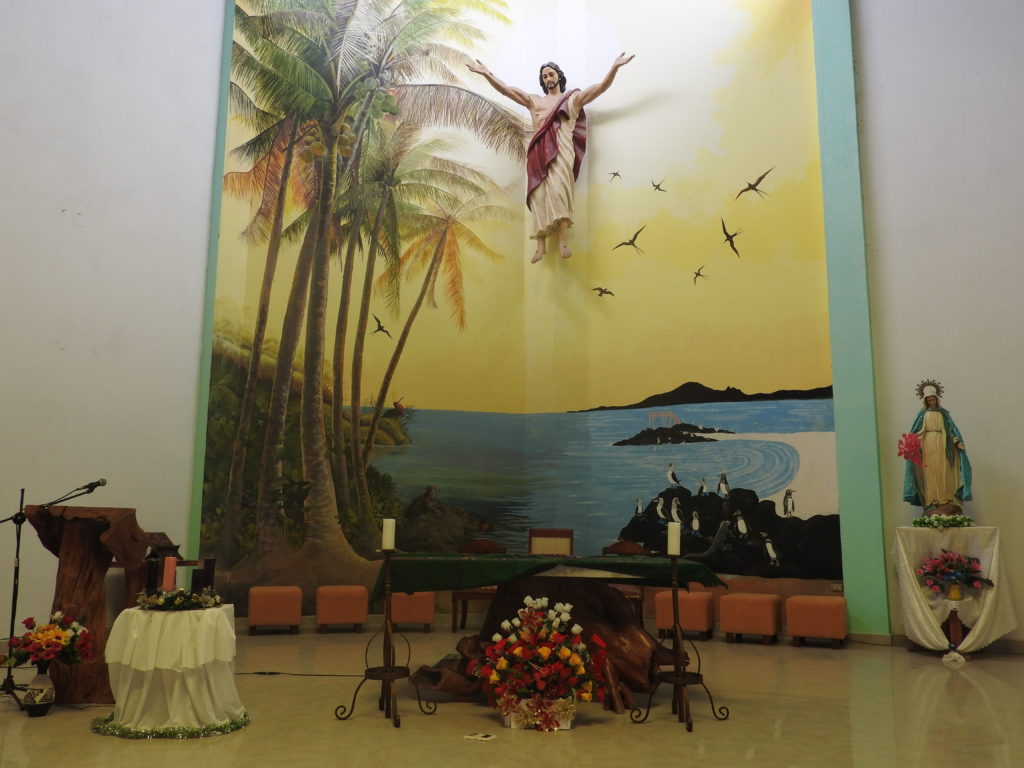 The place to be in Puerto Villamil however, was the waterfront 🙂 The vast expanse of white-sand beaches – in town – was unlike either of the previous two islands that we had stayed on. And just behind the vast expanse of sand was the road… But not a busy road that you expect in a town… this felt like a windswept place far from everything 🙂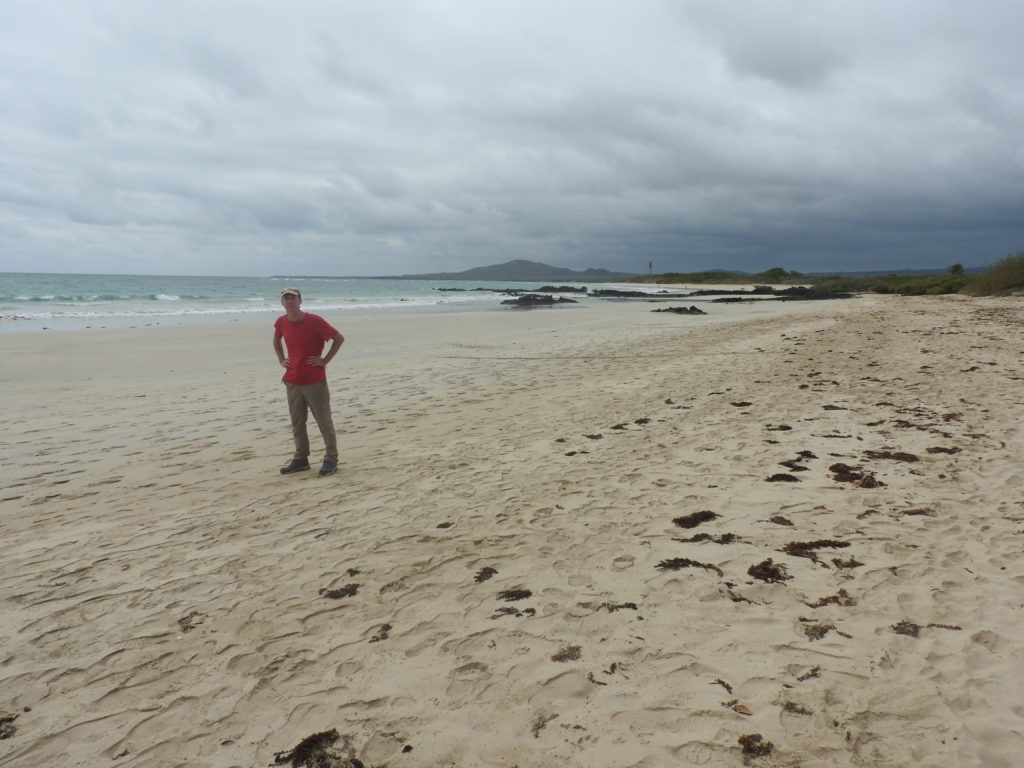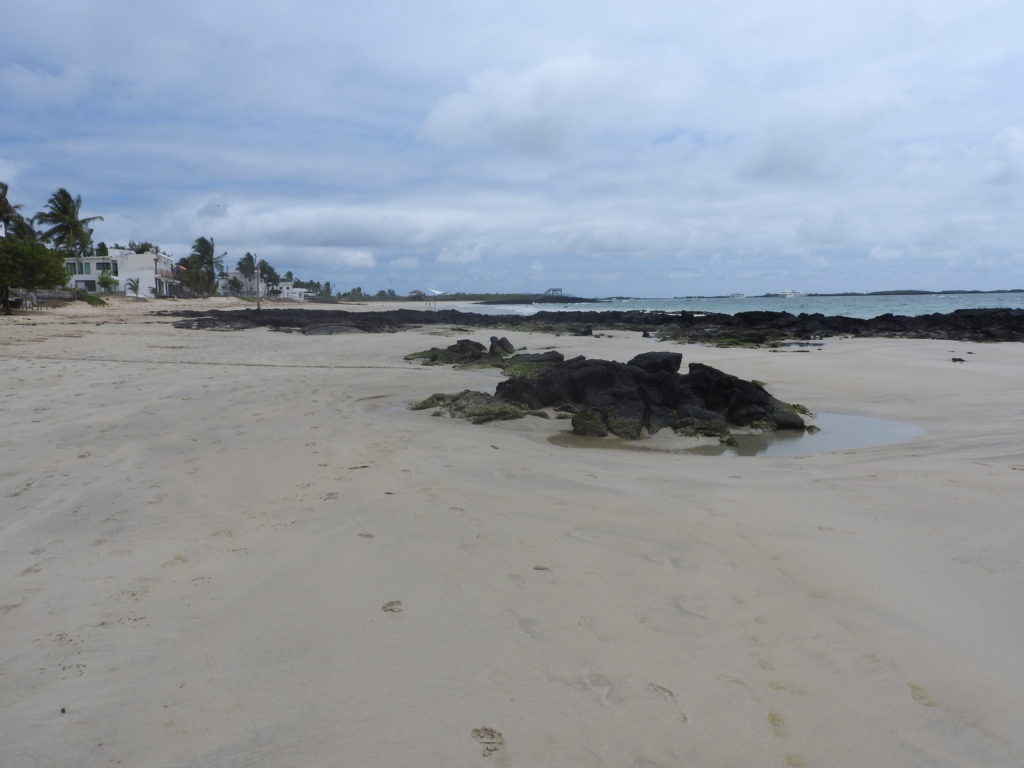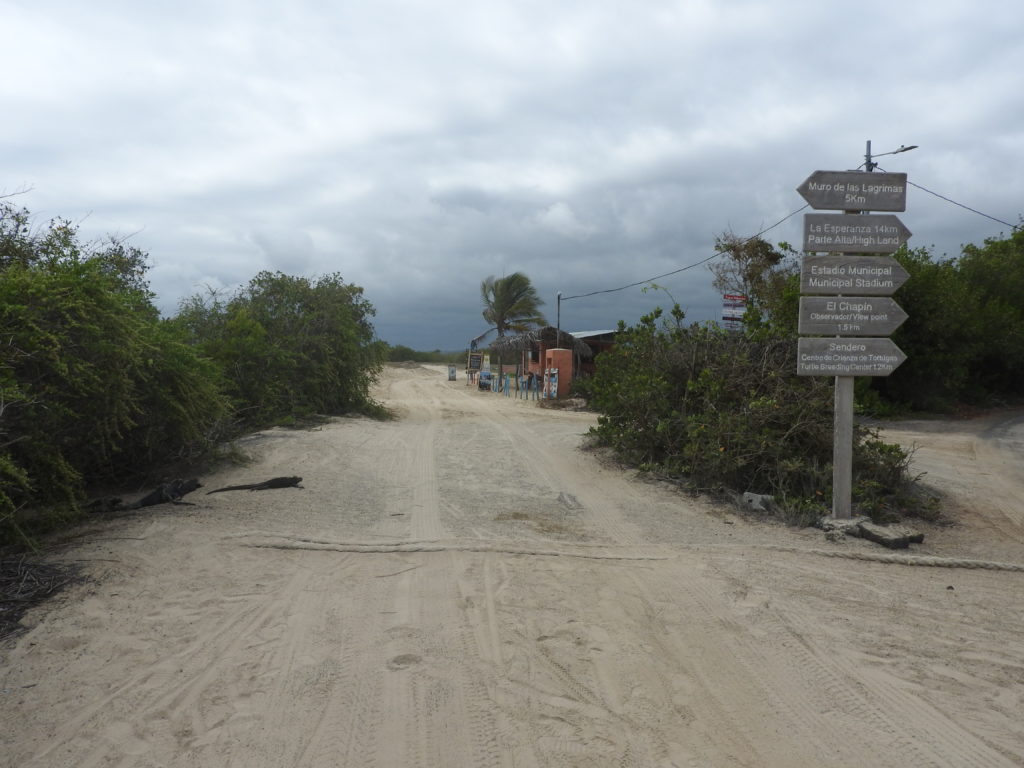 There was heaps of wildlife on Isabela too 🙂 In fact there were SO MANY marine iguanas in Puerto Villamil that they had created a special 'iguana crossing' for them to get between the beach and the boardwalk area… Although it didn't seem to work as efficiently as a pedestrian crossing – some of the iguanas preferring to use the crossing as a safe space to have a snooze or sunbake – instead of just taking a few moments to cross from one side to the other!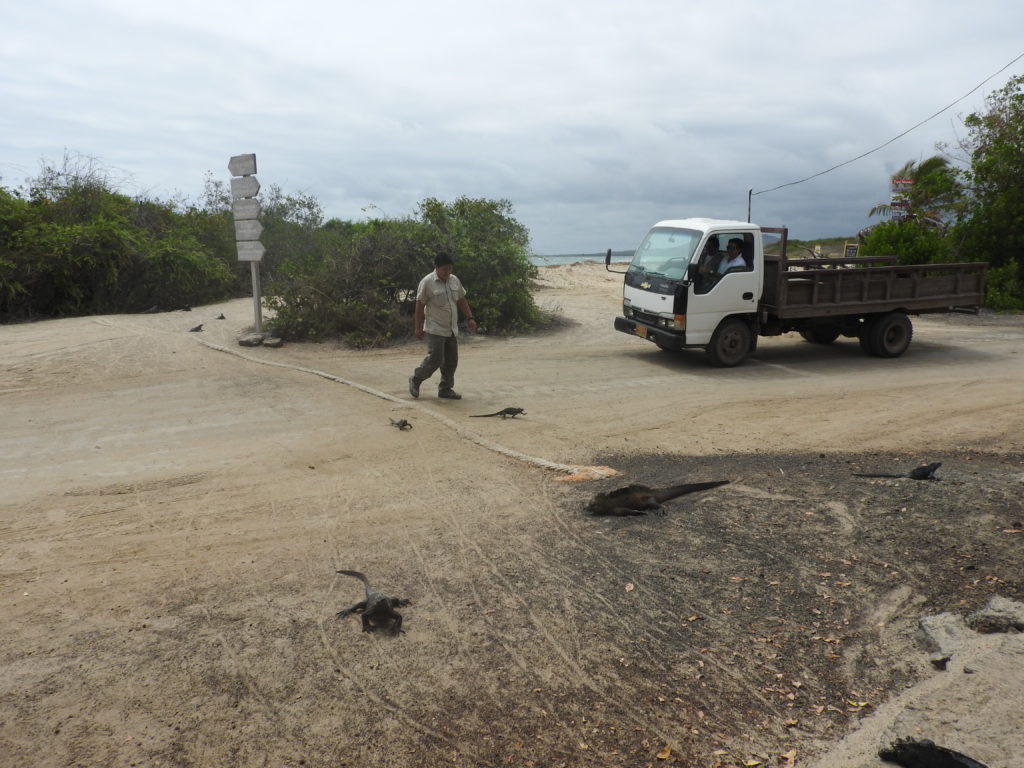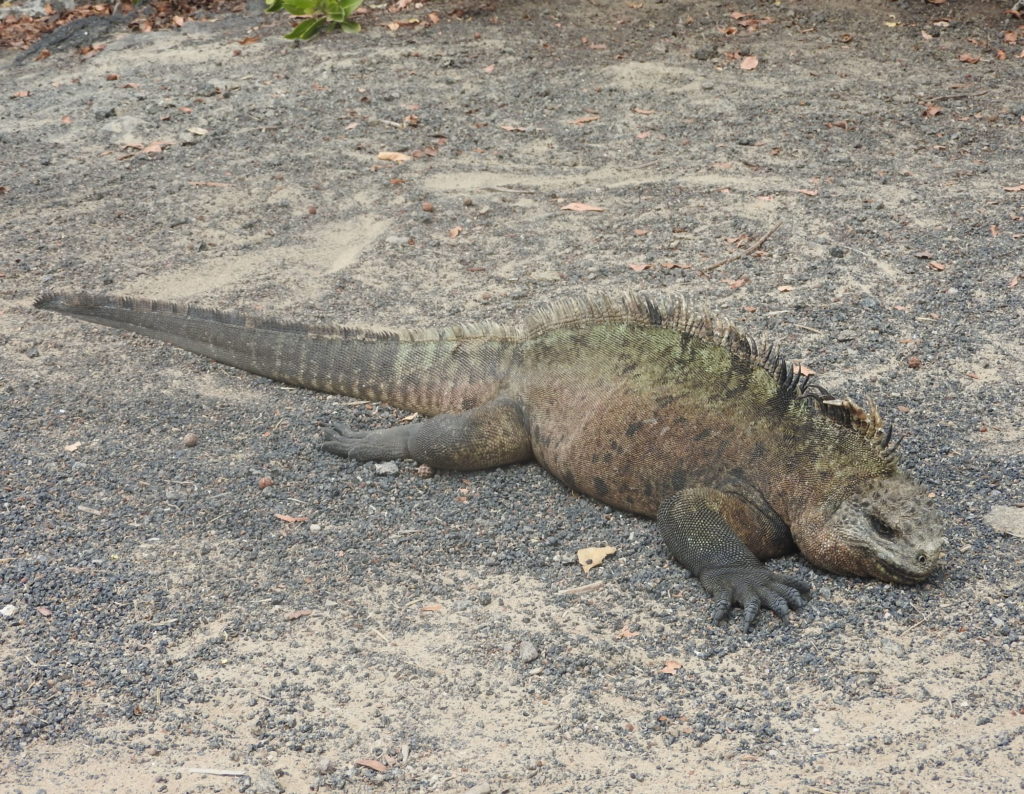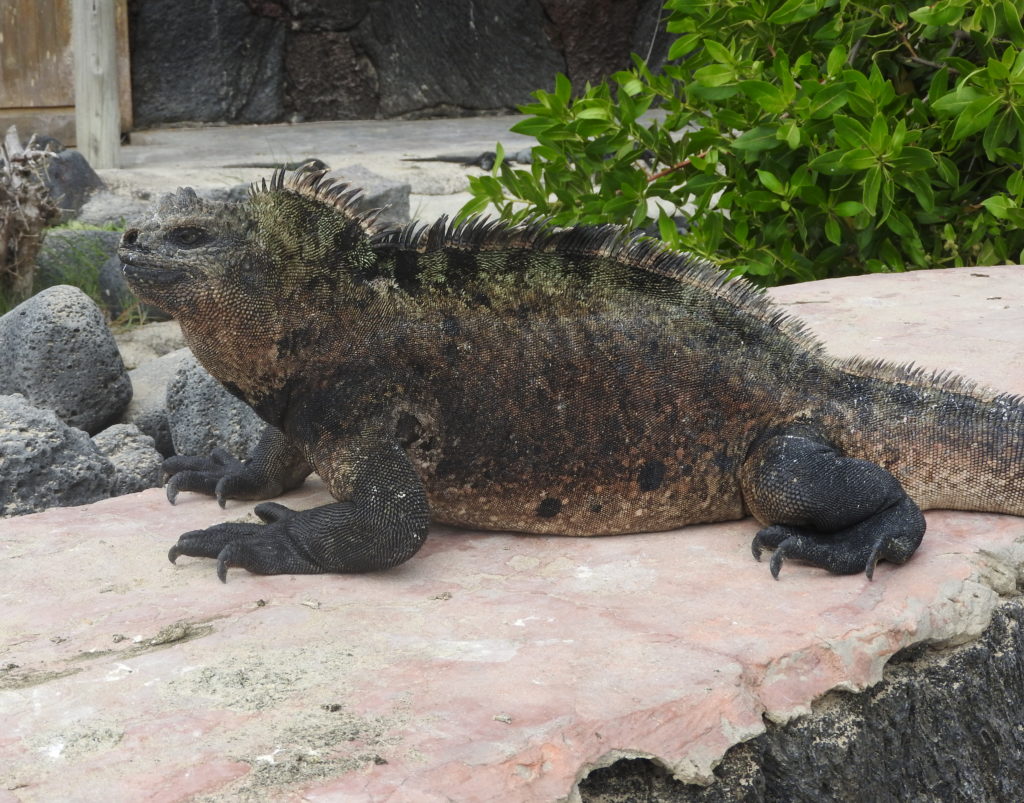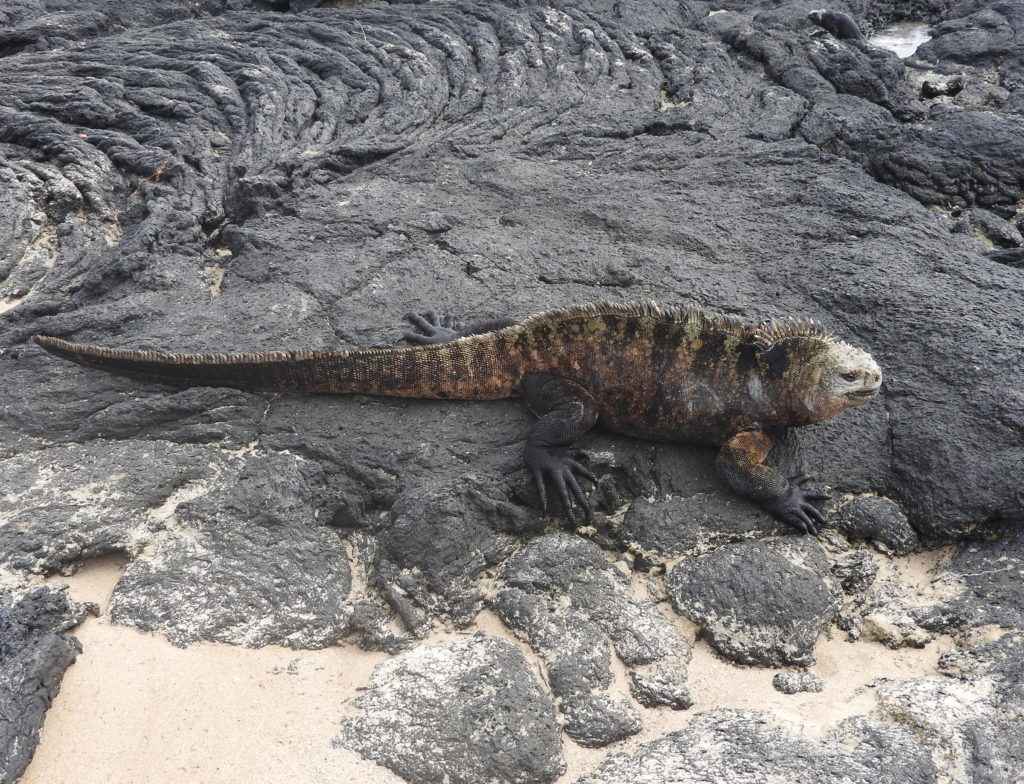 Continuing along the waterfront you reach a small bay with a pier – this pier ended up being our FAVOURITE spot in Puerto Villamil… We sat there for many an hour… it was very relaxing looking out at the water… This area was made even cooler by being the  favourite hanging out spot for the local population of blue-footed boobies… Yep, there were tons of them 🙂 And the pier was a most excellent spot to watch them diving for fish 🙂 Sometimes we even allowed ourselves to indulge in a local beer while watching the booby show 🙂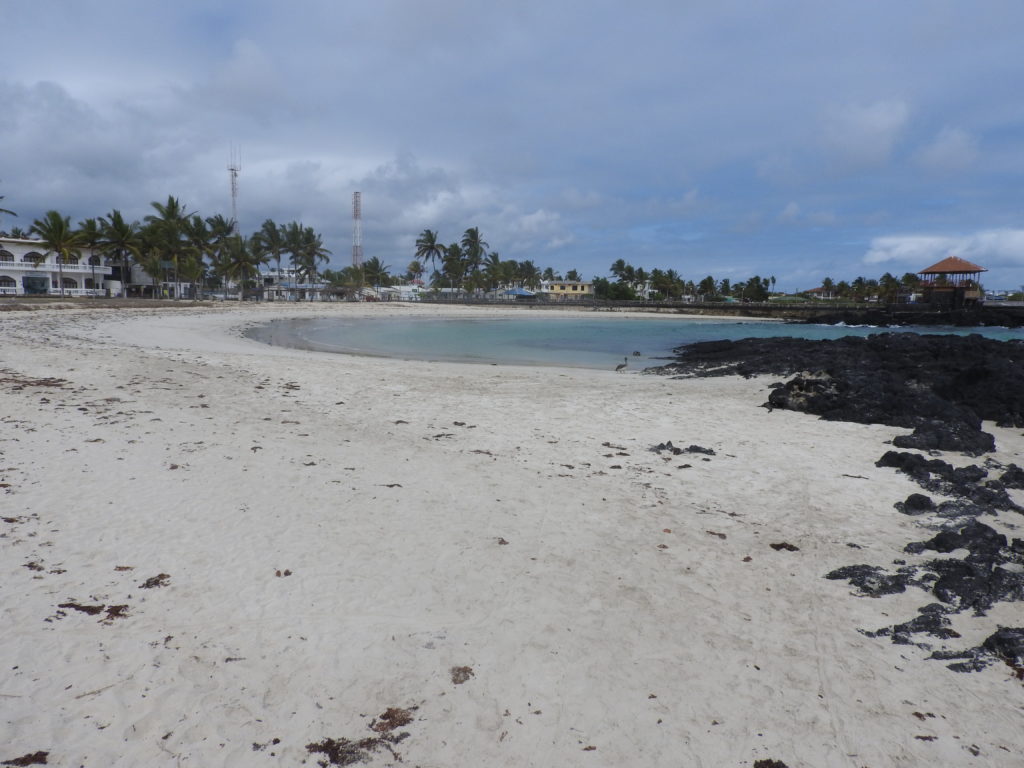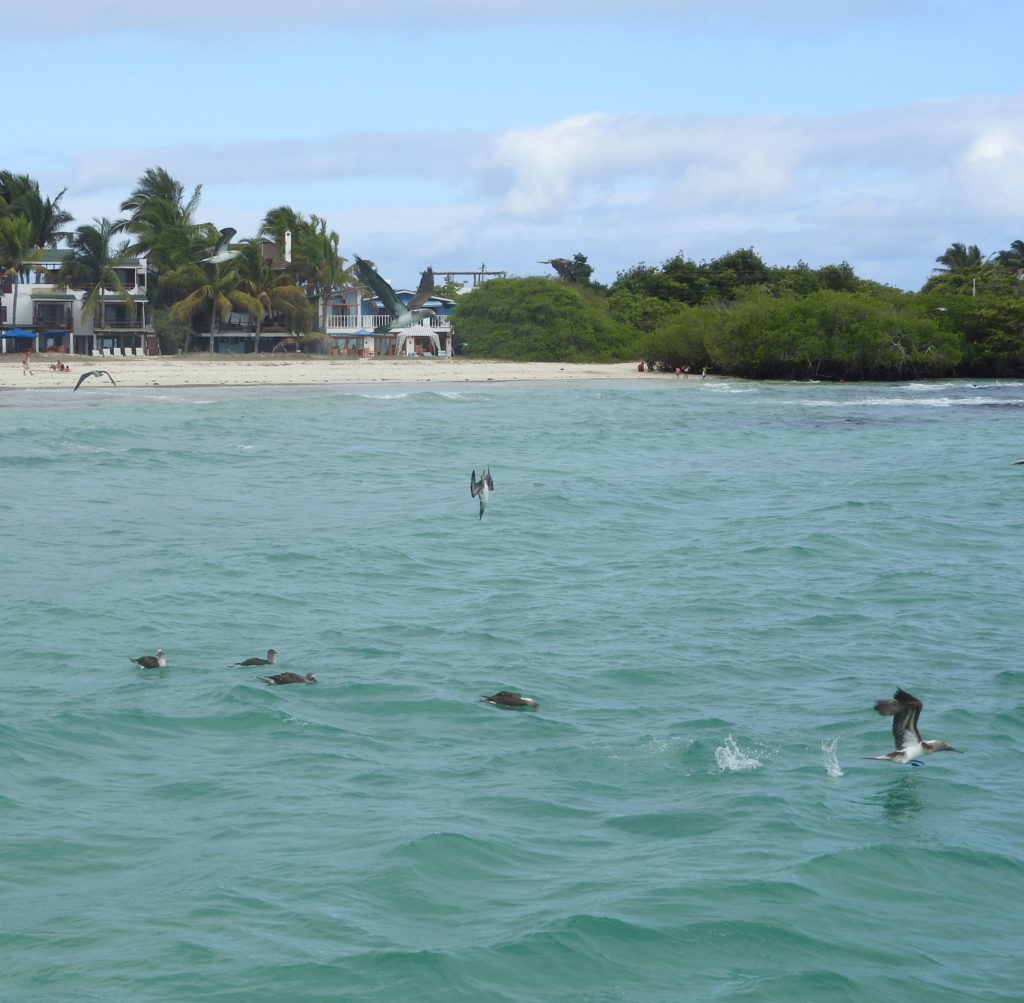 Also, check out the blue-footed boobies diving action in this video: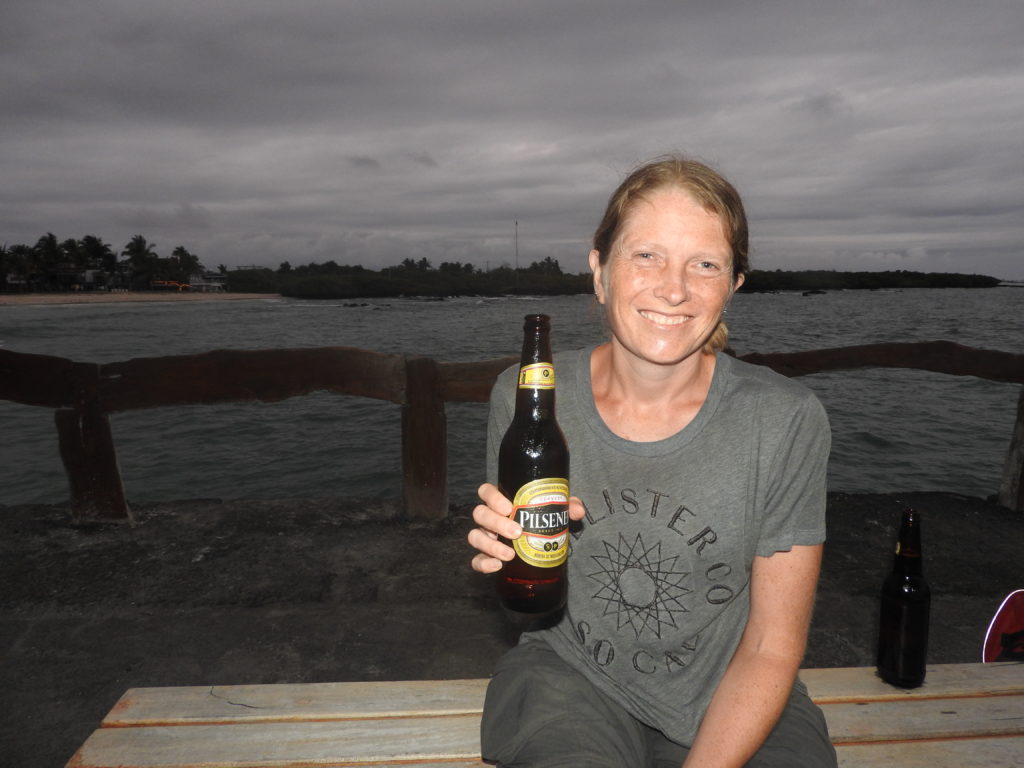 The bay was also a good spot to see brown pelicans 🙂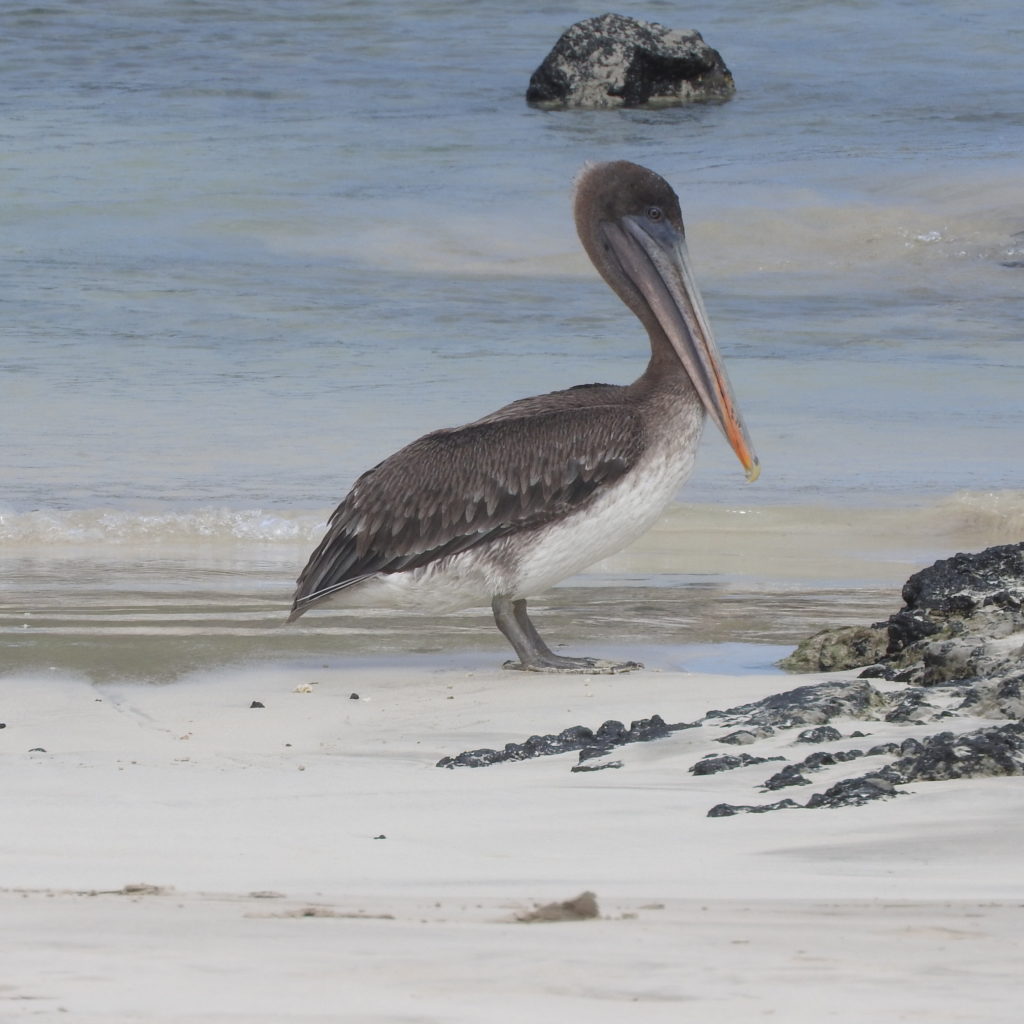 If you walk further around the bay, following the trail, then along the road for a bit… you finally end up at the wharf area where our inter-island ferry had come in. There's a small beach here and just around the corner from here is a popular snorkelling spot called – Concha y Perla… On our first day in Puerto Villamil we strolled over to Concha y Perla to check it out… it is a pretty nice boardwalk walk through the mangroves – although there can be obstacles along the way which can delay you getting to Concha y Perla…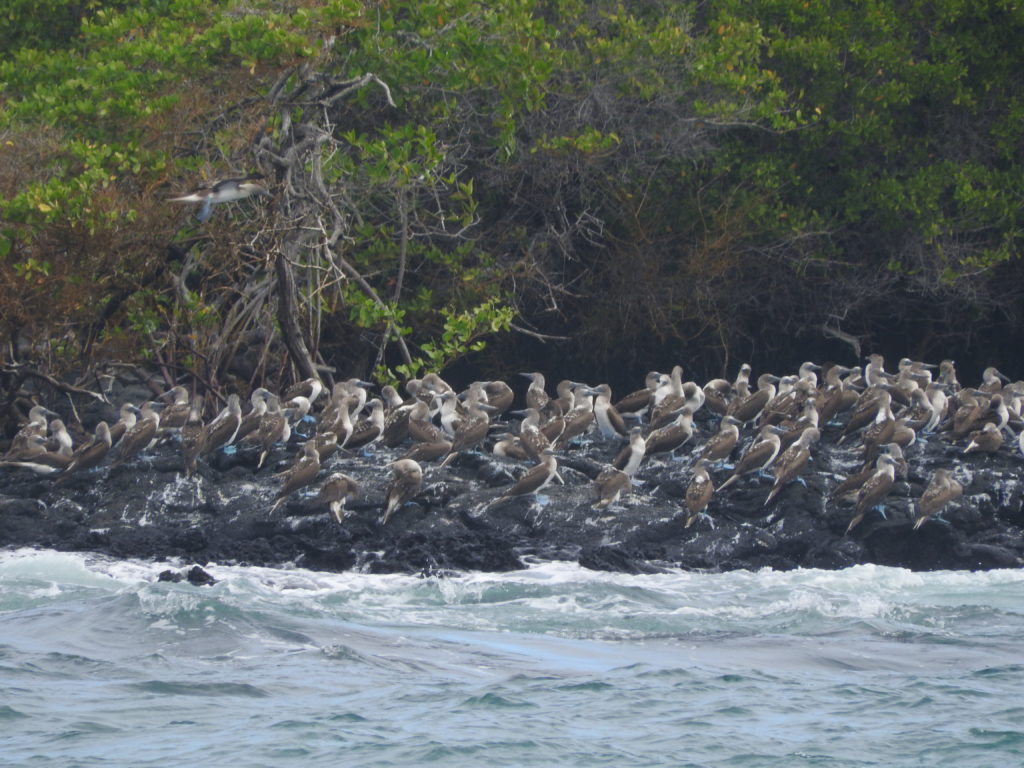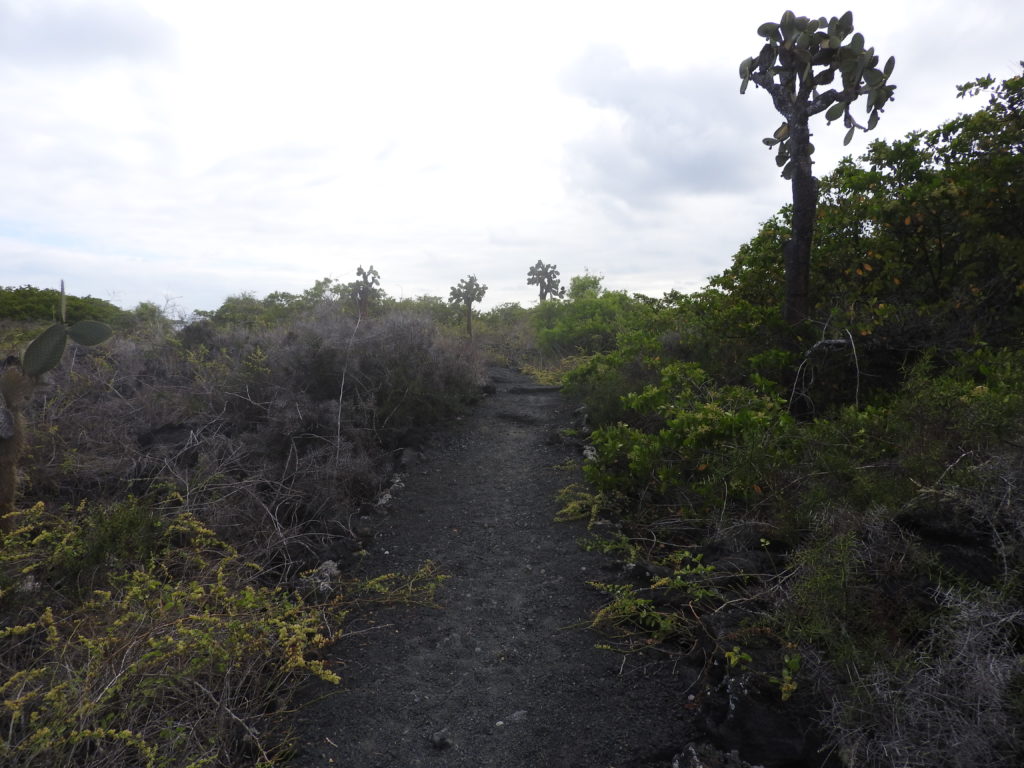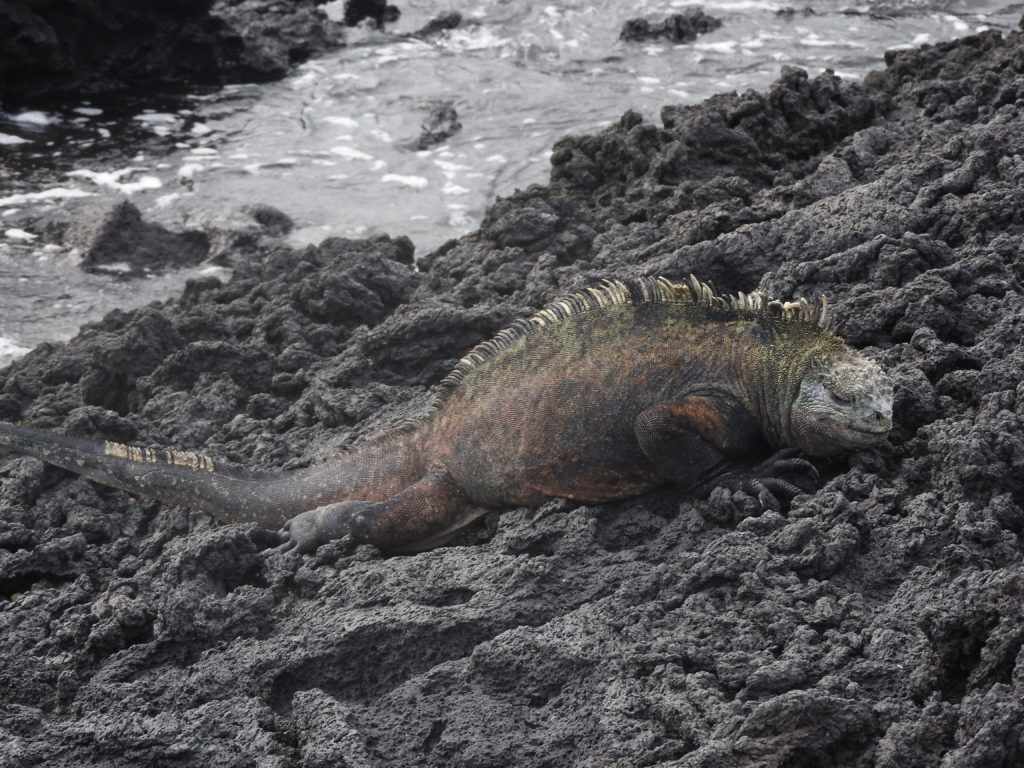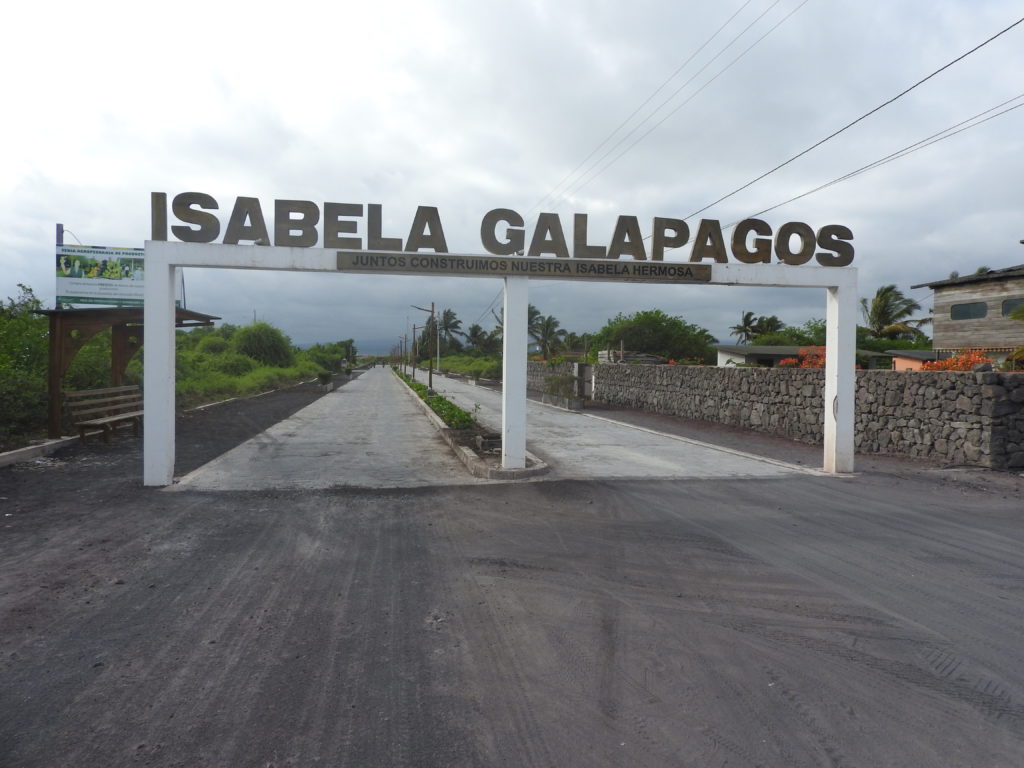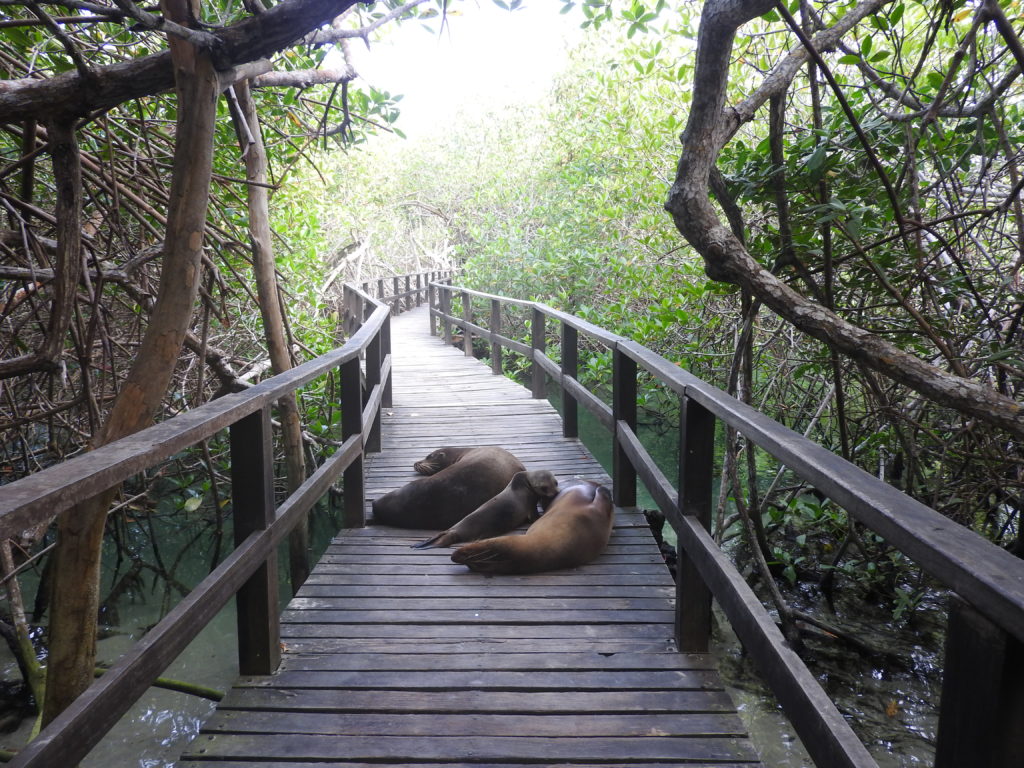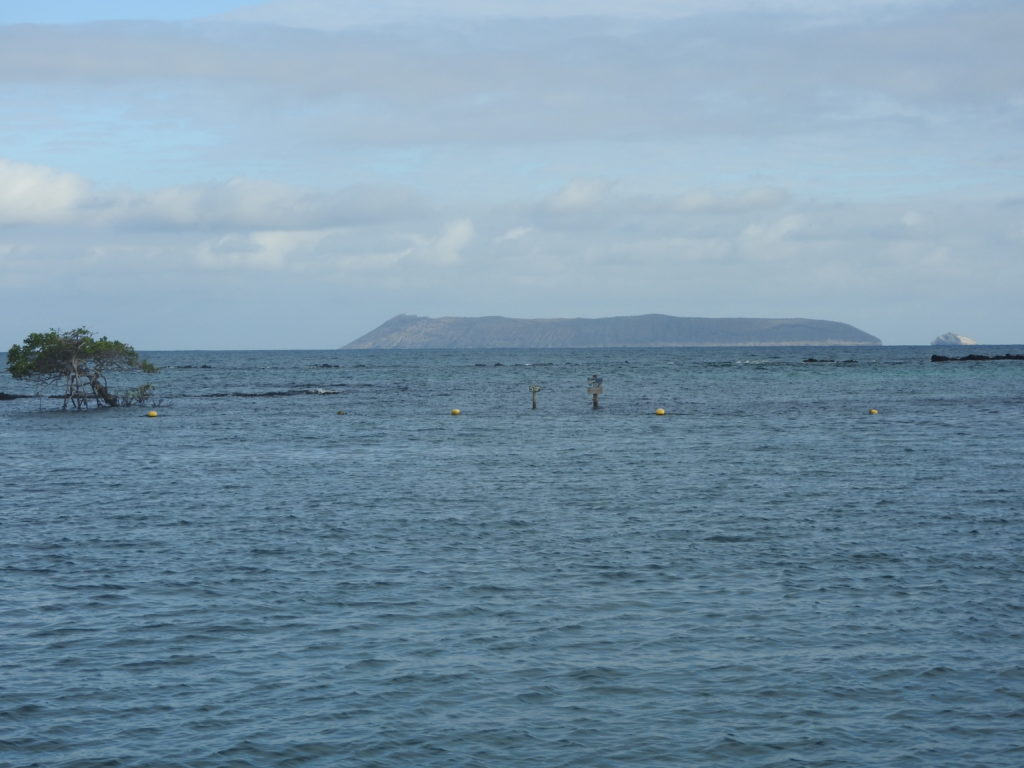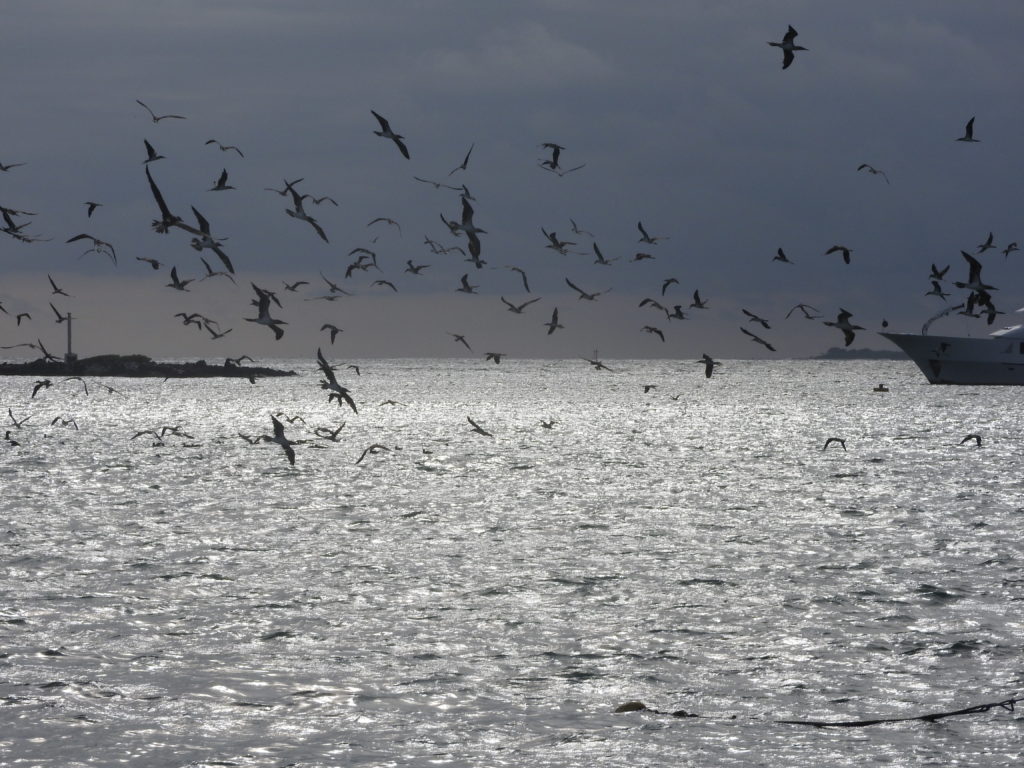 So, with all that Isabela had to offer – we decided to stay… not the full week that we had originally planned – but five nights… Enough time to take in all the sights…
You might be wondering how our 'quirky' accommodation turned out… did we survive the 'Lupita Experience'?!? I can report that – YES, we did 🙂 🙂 It was challenging at times – but we lived to tell the tale!
Was our time on Isabela restful and relaxing? – again, yes it was… when we were out and about anyway –  and totally distracted by animals and the other cool stuff that Isabela had to offer!!! We did find ourselves staying out and about longer than we otherwise would have…. and at times, when Lupita suddenly popped into our heads – it took a while to get over it!
Actually being in the house was a little bit stressful though – as communication was hard – we REALLY struggled to understand Lupita's Spanish – she had a VERY strong coastal accent, spoke WAY TOO fast for a foreigner with my limited Spanish, slurred her words, AND used heaps of colloquialisms… It was also never very peaceful… Lupita's house was a social hub for her friends – all of whom cooked, ate, socialised (or should I say participated in group moaning sessions about the hostal across the road for whom they used to work…), and showered at Lupita's! The downstairs area was literally occupied from 5am until 10:30pm… No worries about not having keys then!
As for the tours – she took it pretty well when we didn't book with her friend… I'm honestly not really sure that they were what I would call friends anyway – more aquaintances…
I can honestly say that we left Isabela with several unanswered questions though… who were all the people that spent all day at Lupita's? Where was Lupita sleeping while we were in her room? We ascertained that it wasn't on the bed downstairs – but that's as far as we got!!! How did any guests manage to take pictures that could convince Bella that this was a good place to recommend to others?
BUT in spite of everything, we left with some awesome memories of our time on Isabela 🙂