The next stop for us was Manizales – a pretty big town in the heart of the coffee area!!!
On arrival in Manizales we ditched tradition i.e. no long walk or taxi ride from the bus station for us to get us to our hostal – instead we opted for a ride in the cable car, and a short flat walk from the cable car station to our hostal in the centre of town! Yep, Manizales has a cable car running between the bus station and town centre – how cool is that! 🙂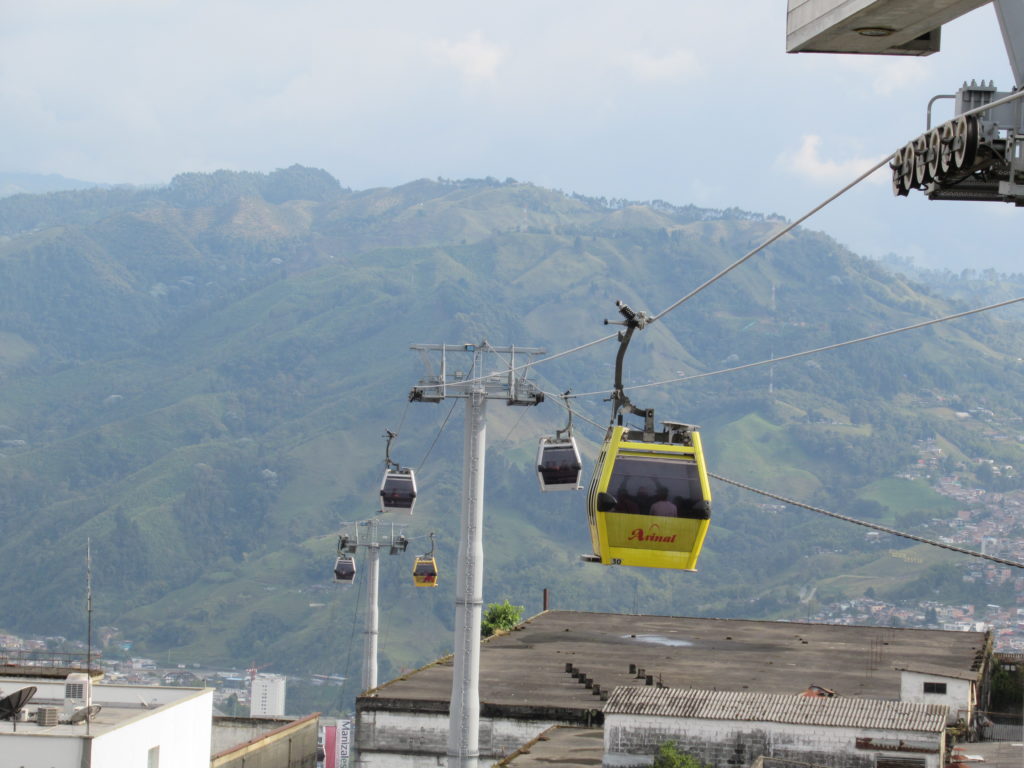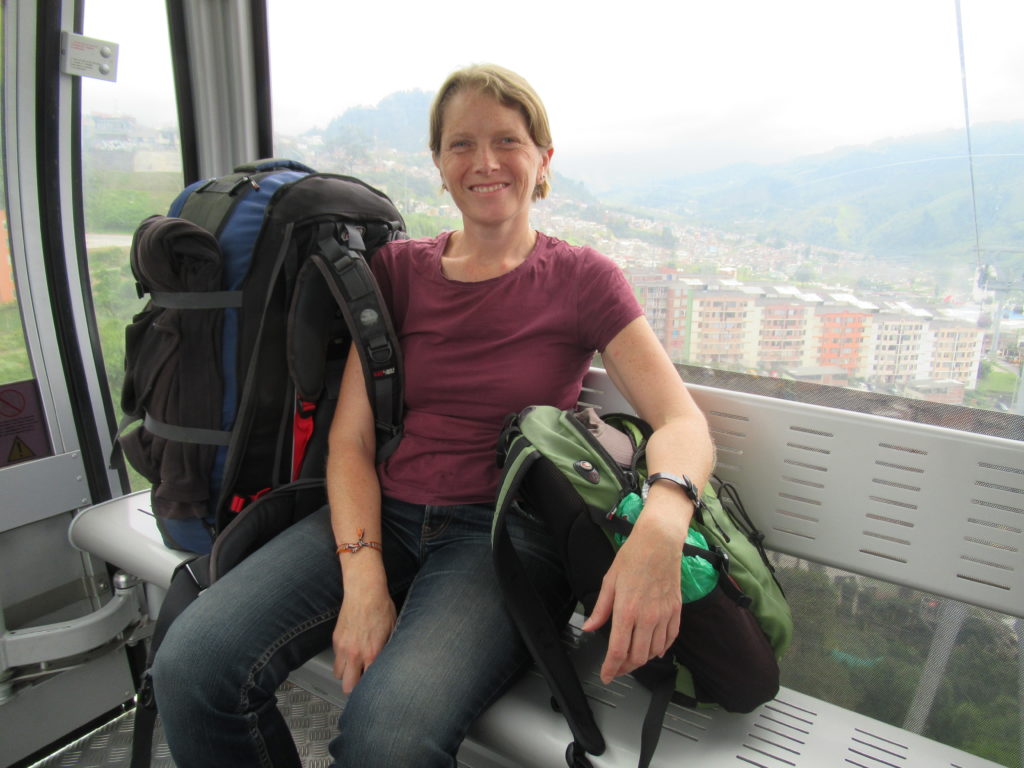 Being in Manizales we had planned to visit coffee plantations and get out and about in the surrounding countryside a bit too… BUT as it turned out the town of Manizales was a pretty pleasant place to just be – so instead of spending heaps of money on a visit to a coffee plantation or two we decided to have a more budget Colombian coffee experience and hang in town and drink coffee in a number of the cafes instead!?!
Some of the coffees we drank in Manizales were better than others… we found ourselves in one particular spot – Cafe La Terraza – on a daily basis. Not only did this place serve a good coffee…. BUT the cafe was on the 23rd floor of a building in downtown Manizales, so gave us some pretty good views while we were drinking our nice Colombian coffee 🙂
The only bad coffee came when I ordered a cafe Manizaleño – AND I only made that mistake once!!! – and that was more about bizarre flavours in the mix of espresso, rum, aguadiente, sugar and honey – I don't think any coffee shop could have made it taste good to be honest!!!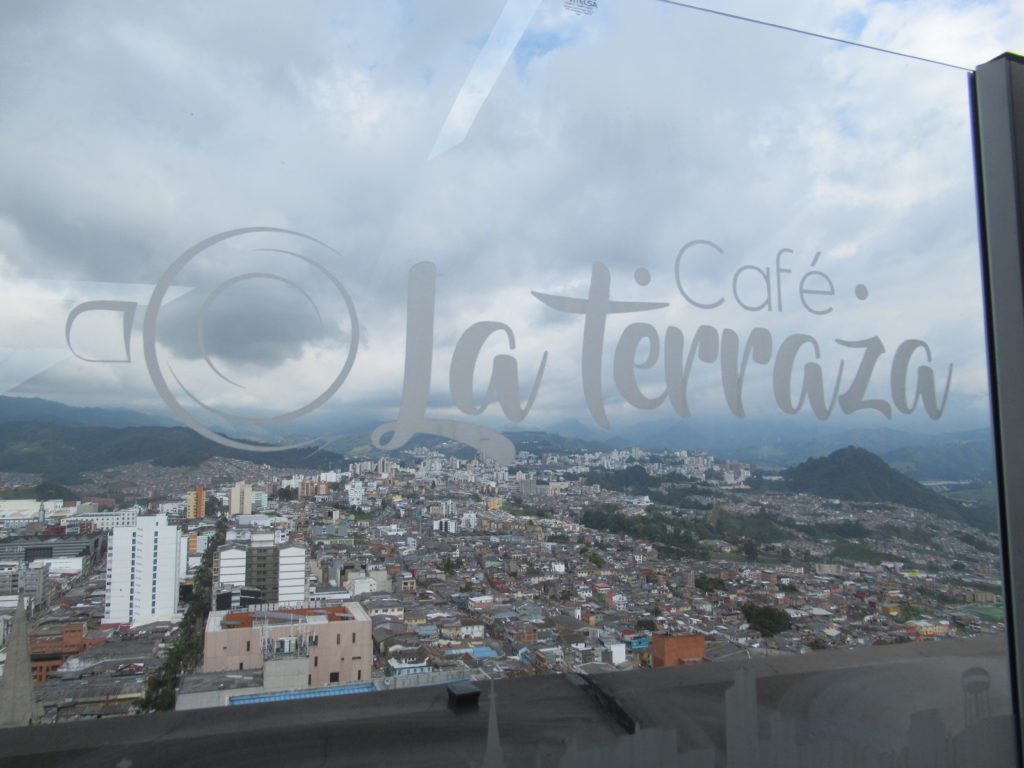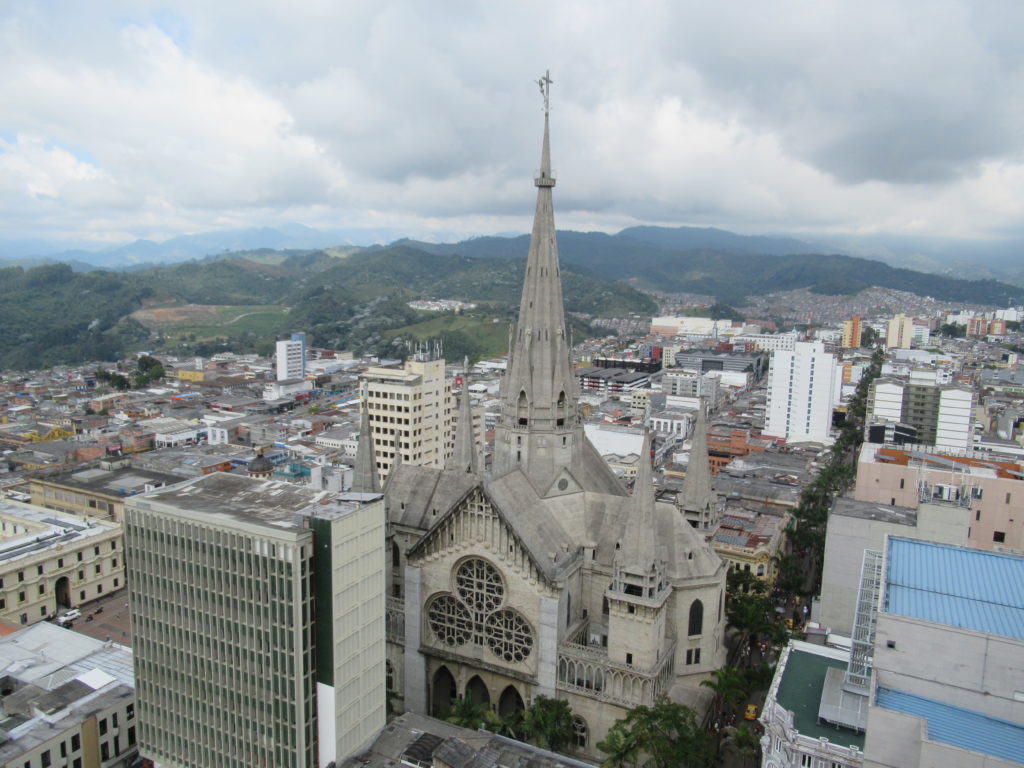 Manizales was a pretty nice place to hang out in, there was a really nice friendly feel to the place. It felt like a 'normal' town as opposed to Salento which felt pretty much like it existed for tourism! The streets of Manizales were filled with shoppers during the evening paseo time, and the police watched from overhead to ensure everything remained nice and orderly…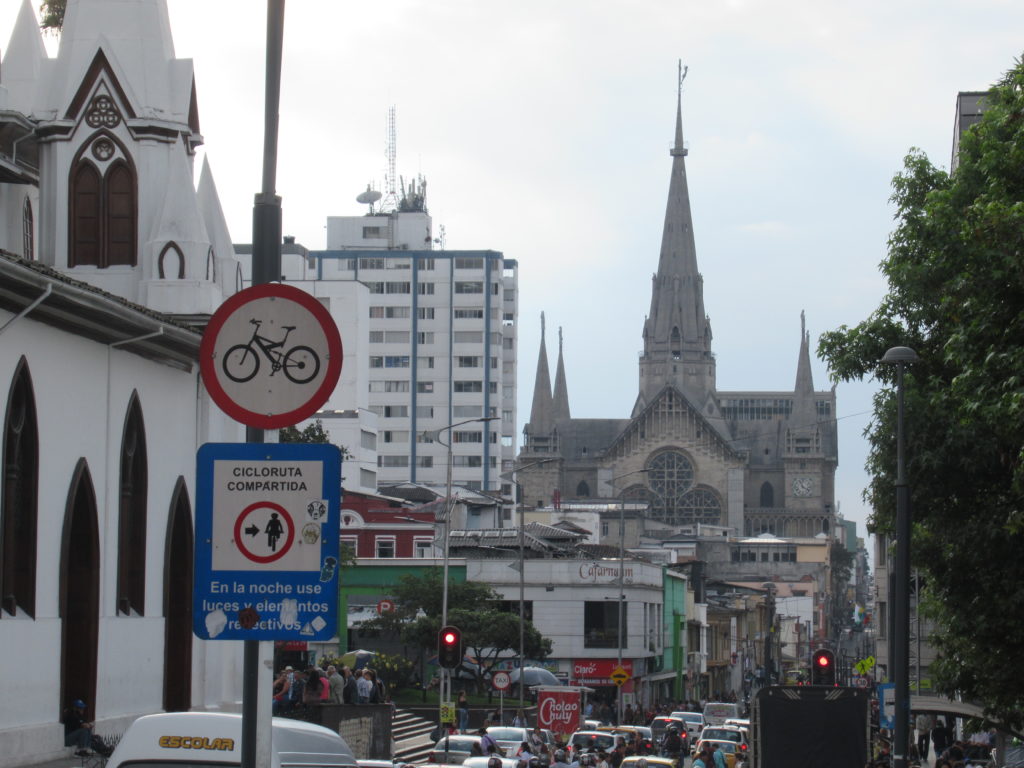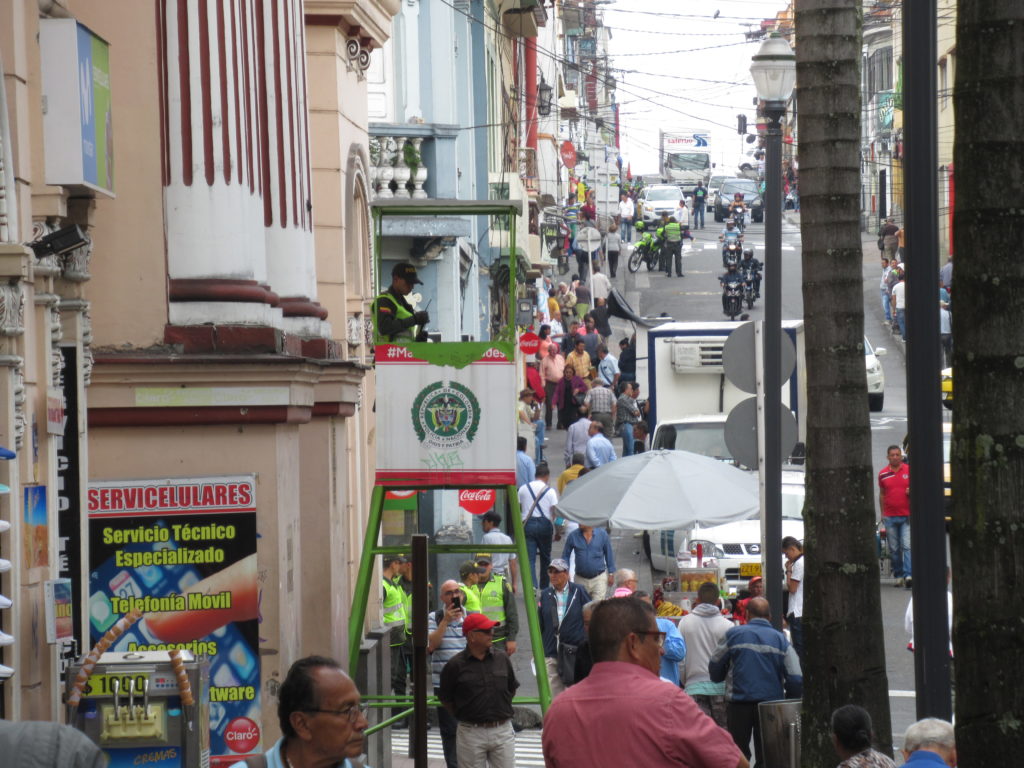 There were also heaps of really nice churches in Manizales, and also a cathedral to climb! For a small amount of money we joined a tour which took us up a long spiral staircase to the top of the cathedral where you get to walk outside in a cage and see the city of Manizales from the highest point possible – the observation deck on the cathedral tower… the views are pretty cool – even when it rains! Yes, we managed to pick the wettest day of our 4 days in Manizales to climb the cathedral!?! Although, to be honest I don't think it really mattered which day we went up the tower – there were no clear days while we were there – so there was no way we could have seen a backdrop of volcanoes… AND being a bit wet meant that it was a pretty small group – so maybe we picked the BEST day to go up!?! 😉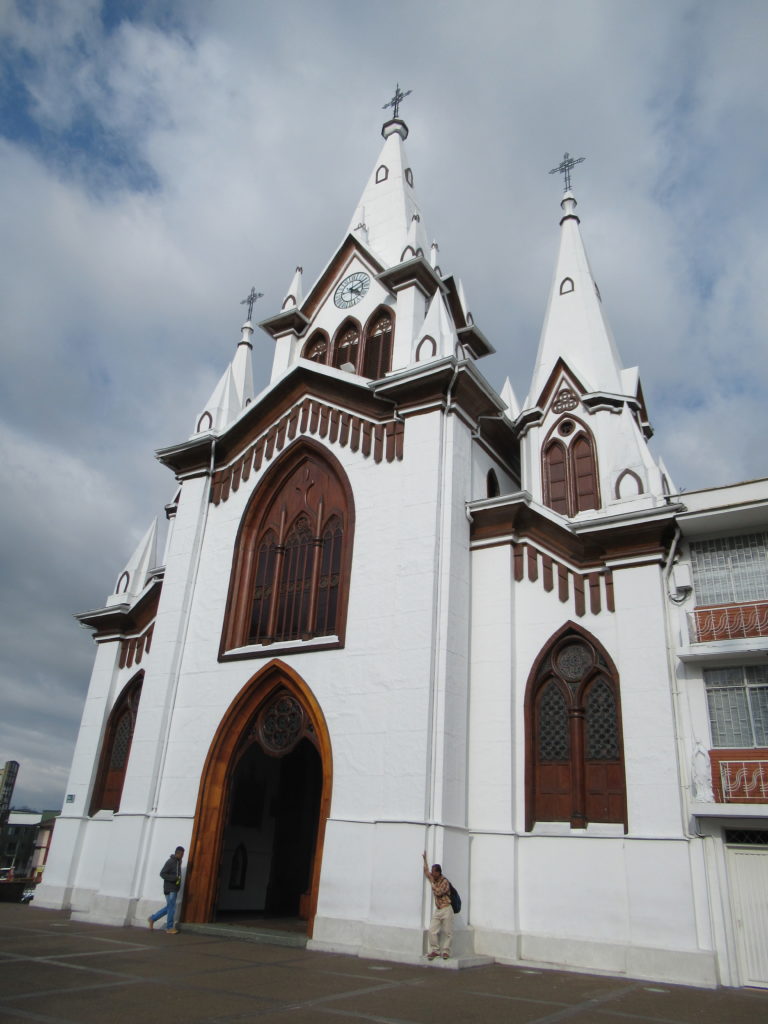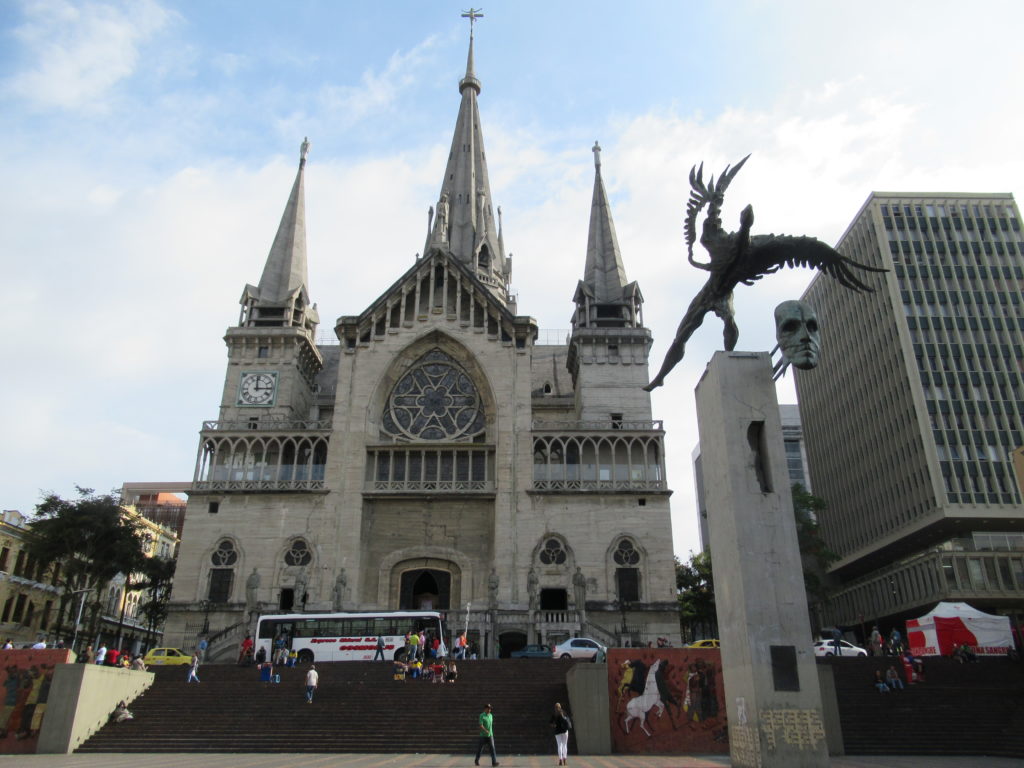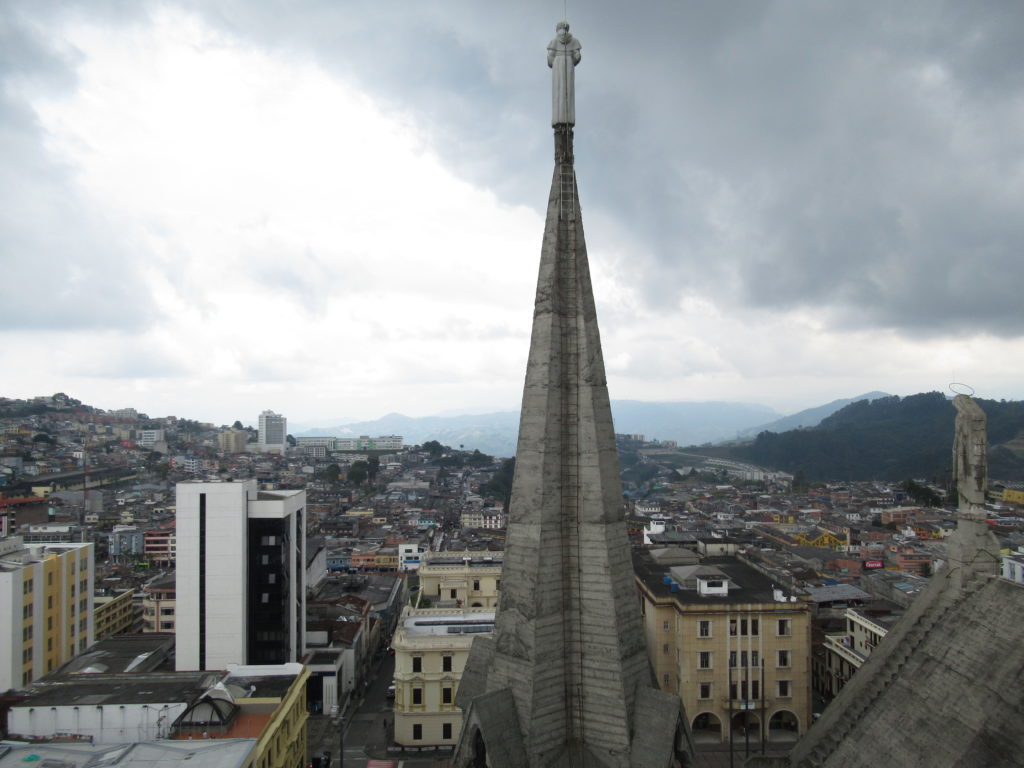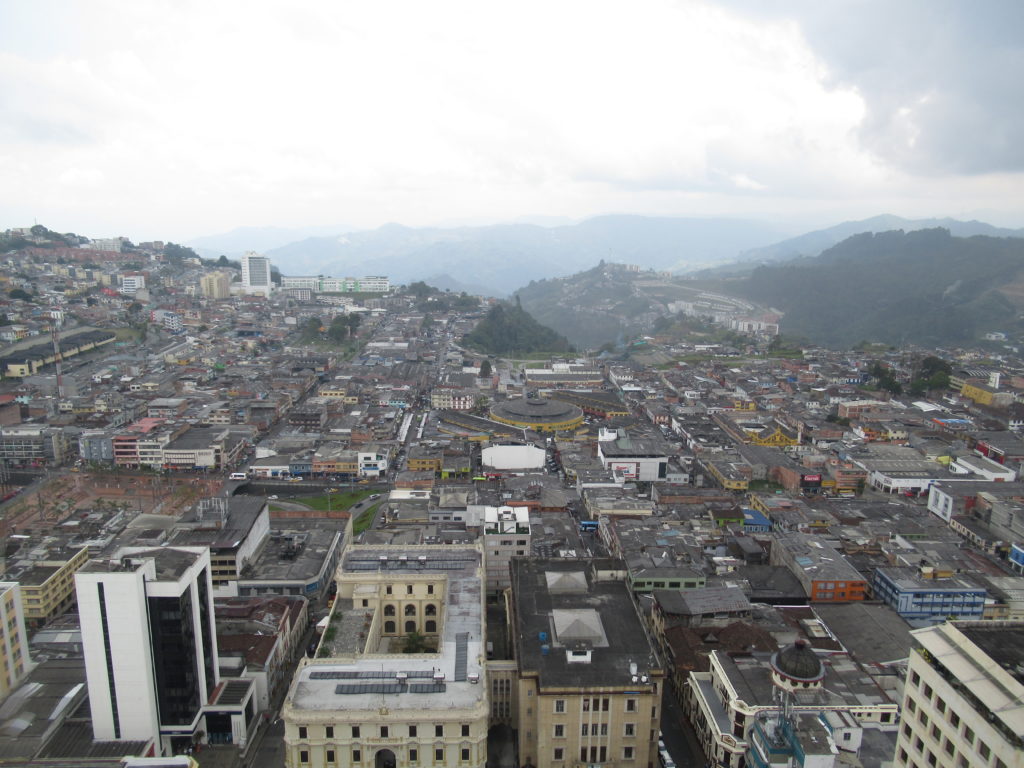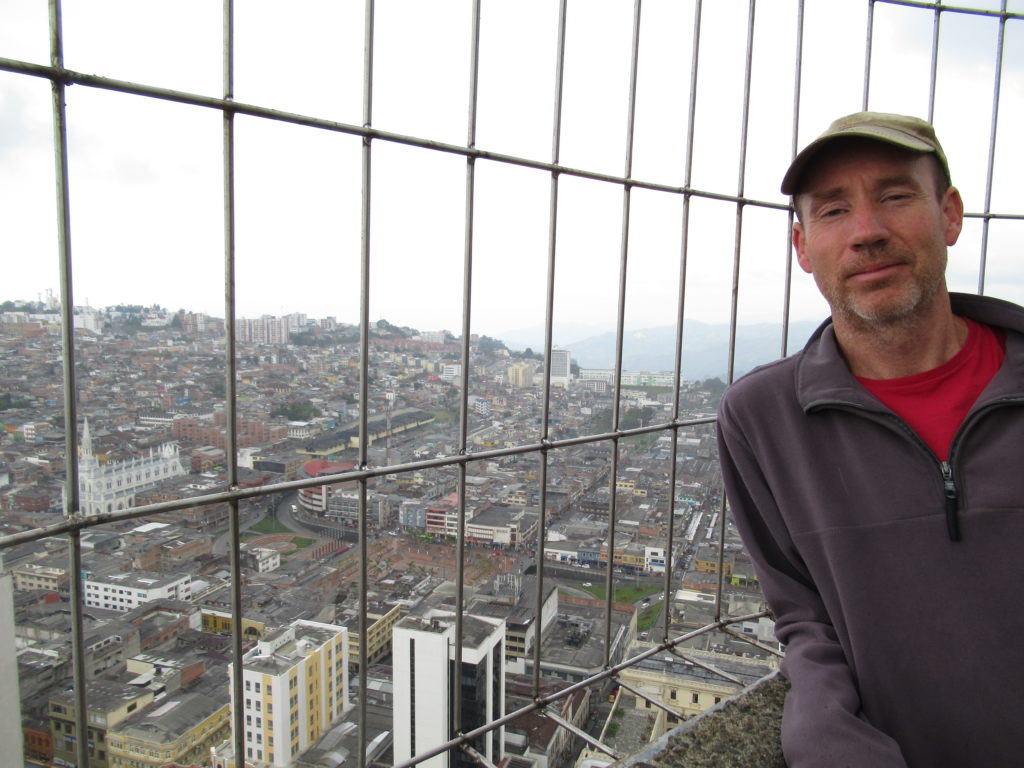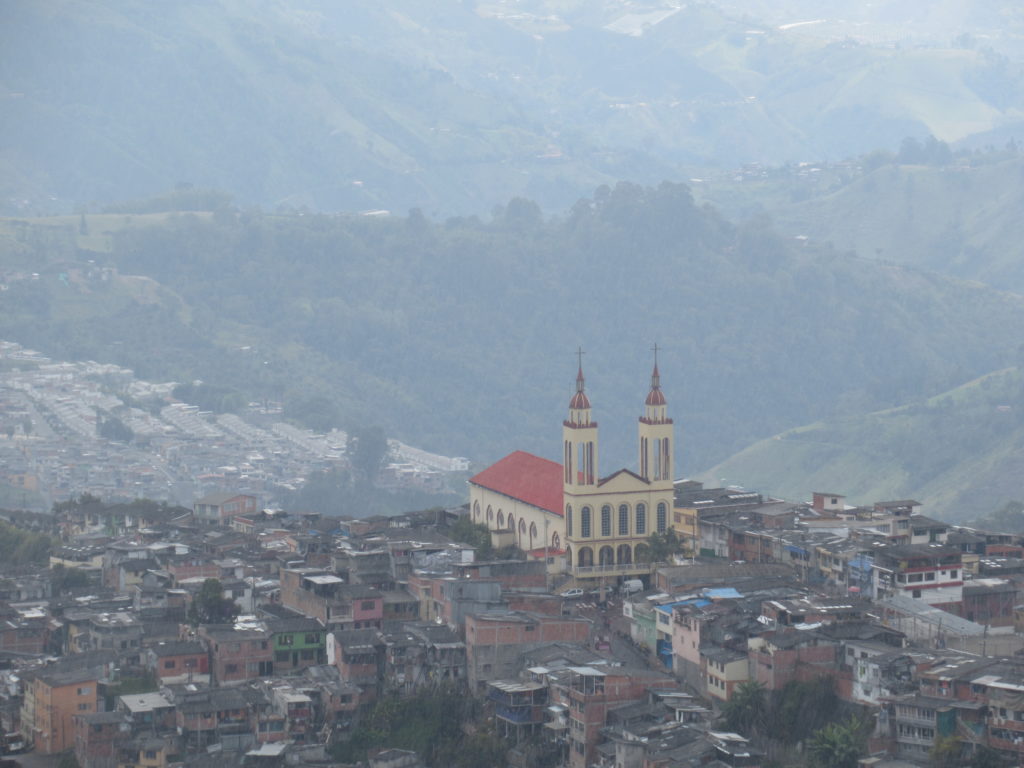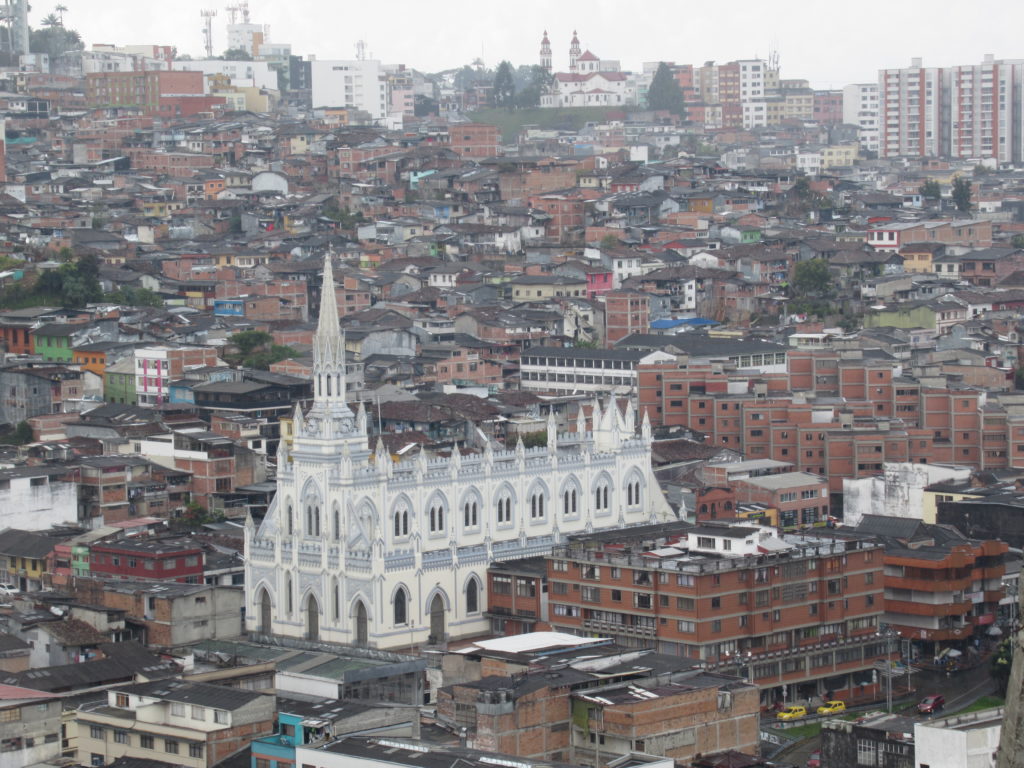 On a recommendation from our hostal we also took a stroll to the Chipre neighbourhood of Manizales. This neighbourhood is set high up on the hill behind the downtown area of Manizales and is home to the famous Manizales tower.
We really enjoyed our stroll to this area of town – sitting on the ridge of a hill the views were pretty spectacular – not only did you get a nice view looking back on town, but you could also look out onto the surrounding countryside and dream of all the coffee being grown there!?! If you want to get even higher… well a little bit higher anyway – there is also the Manizales Tower that you can go up… we decided being on the hill was good enough for us… maybe if it had been a clear day we'd have gone up… but we chilled with an ice cream instead!!! (seemed to fit with our eating and drinking rather than visiting paid tourist attractions approach to Manizales!).
The Chipre neighbourhood is also home to a really nice church and a monument to the colonisers of the city… the monument includes a bit of everything in its design – we quite liked it, but it seems that it gets somewhat mixed reviews!
The 'Manizales' signs were an added bonus of our walk to Chipre… we found two sets of letters spelling out Manizales… I wonder how many pictures we have of names of cities in big plastic letters from around Latin America?!?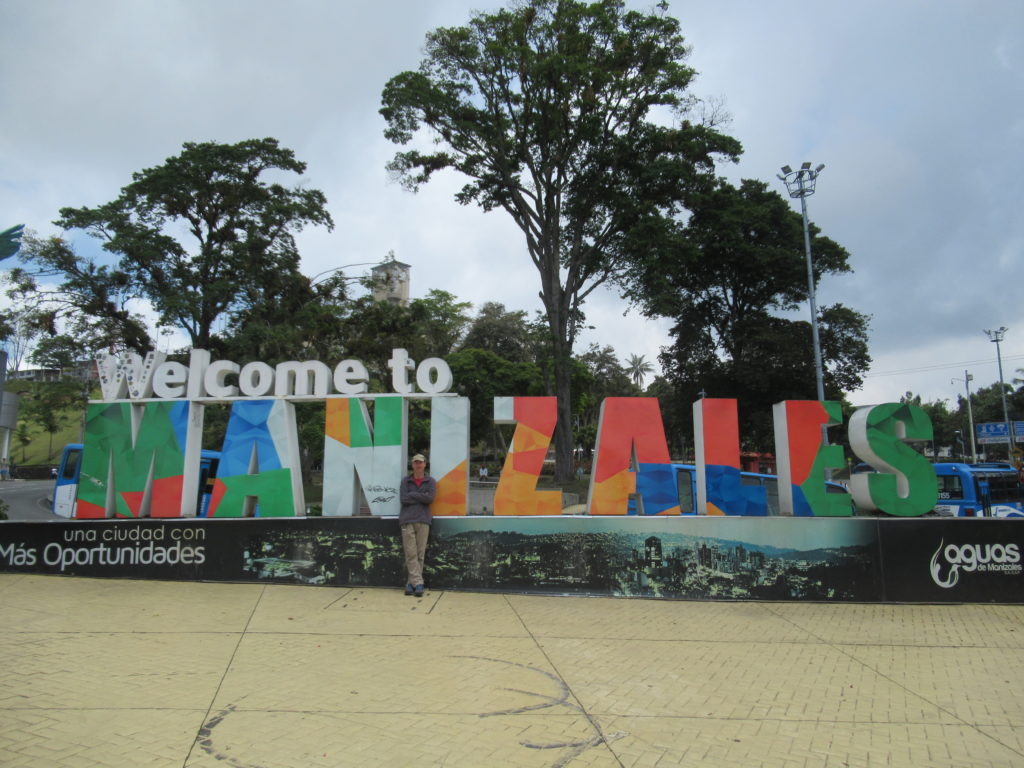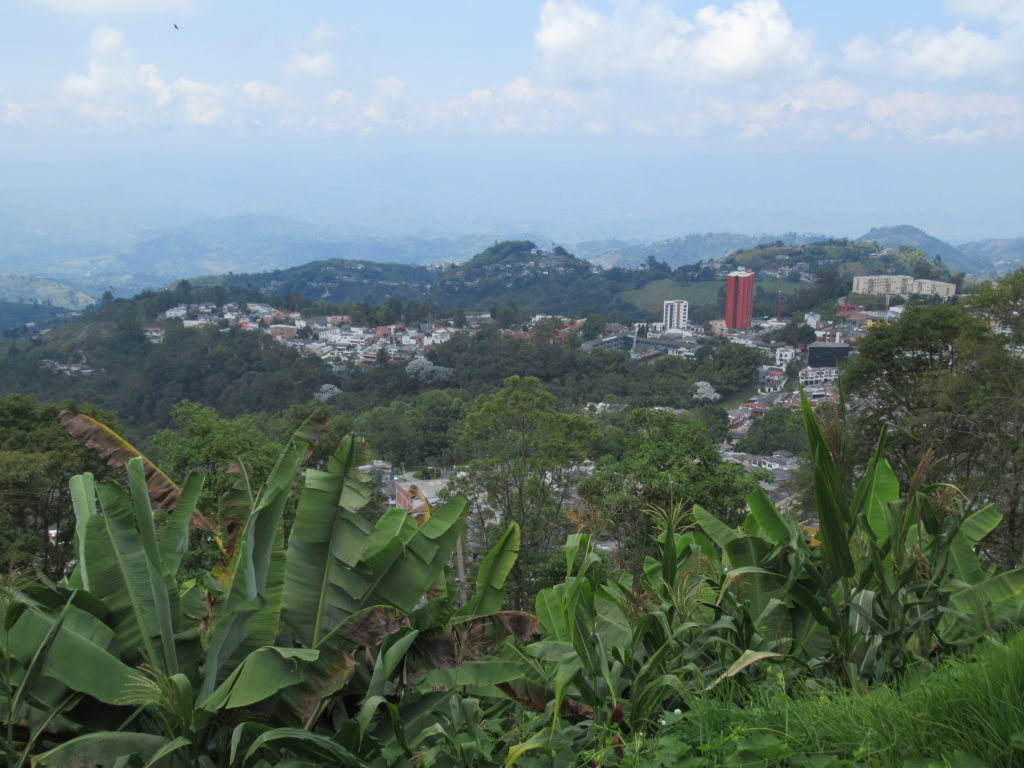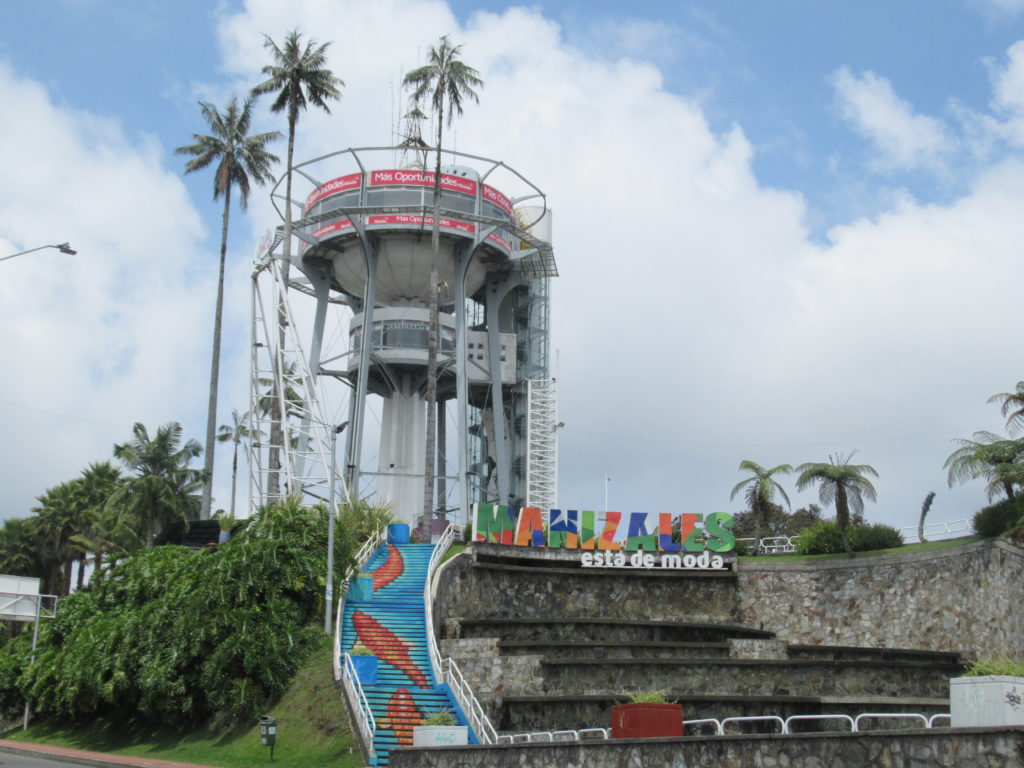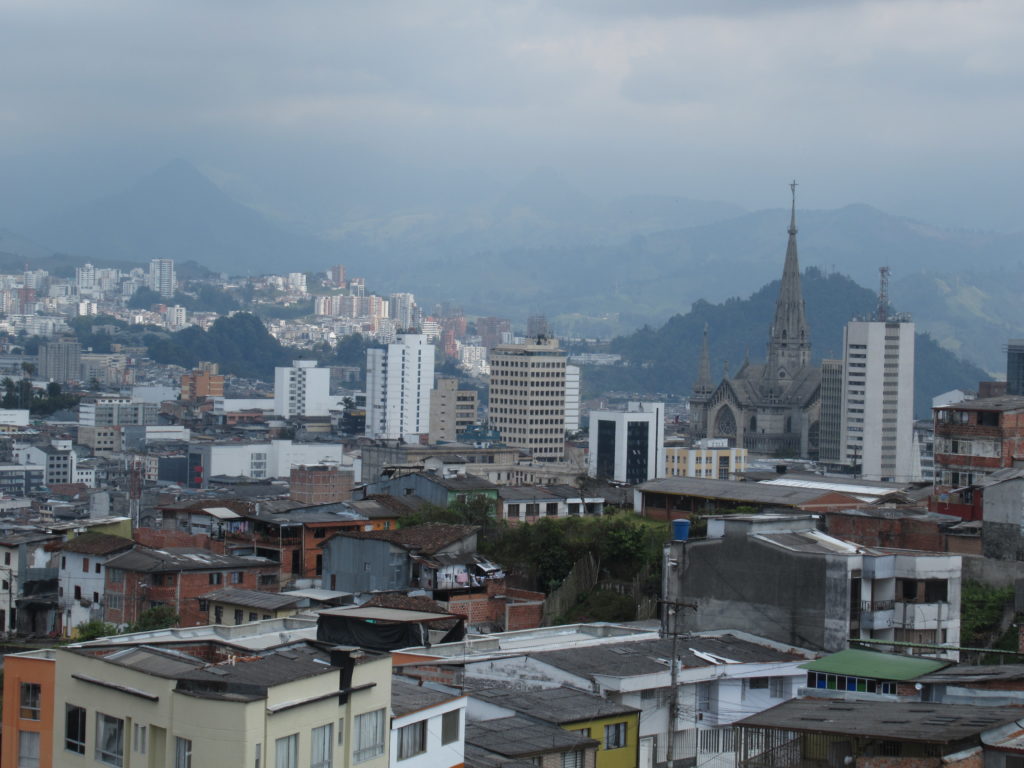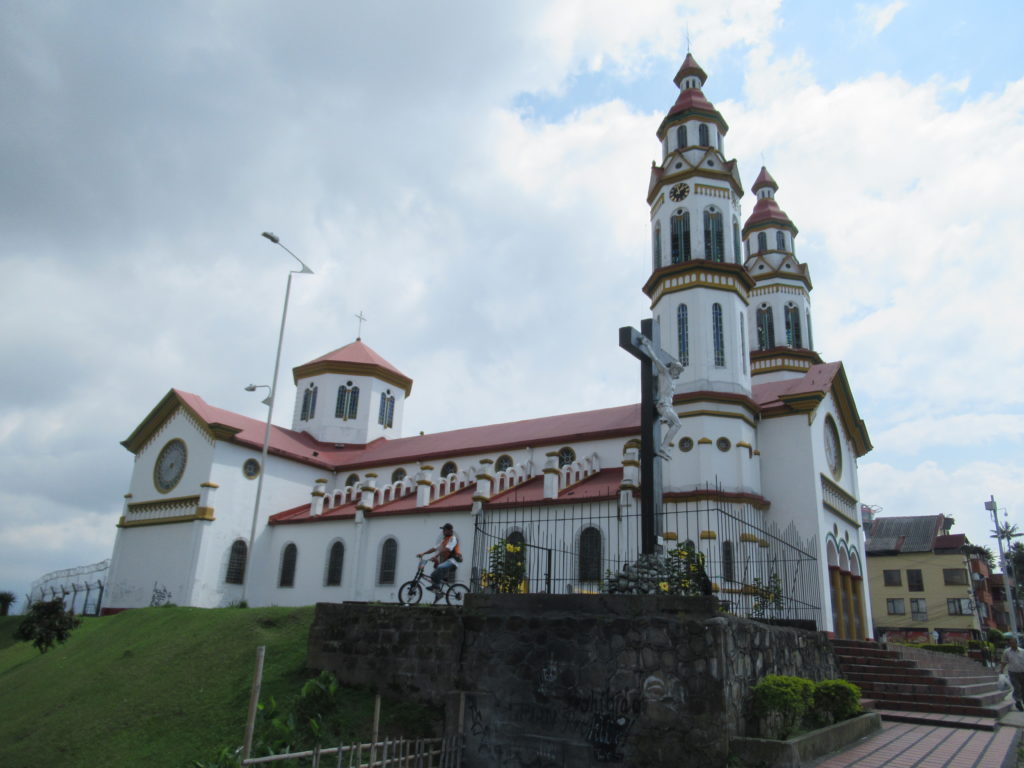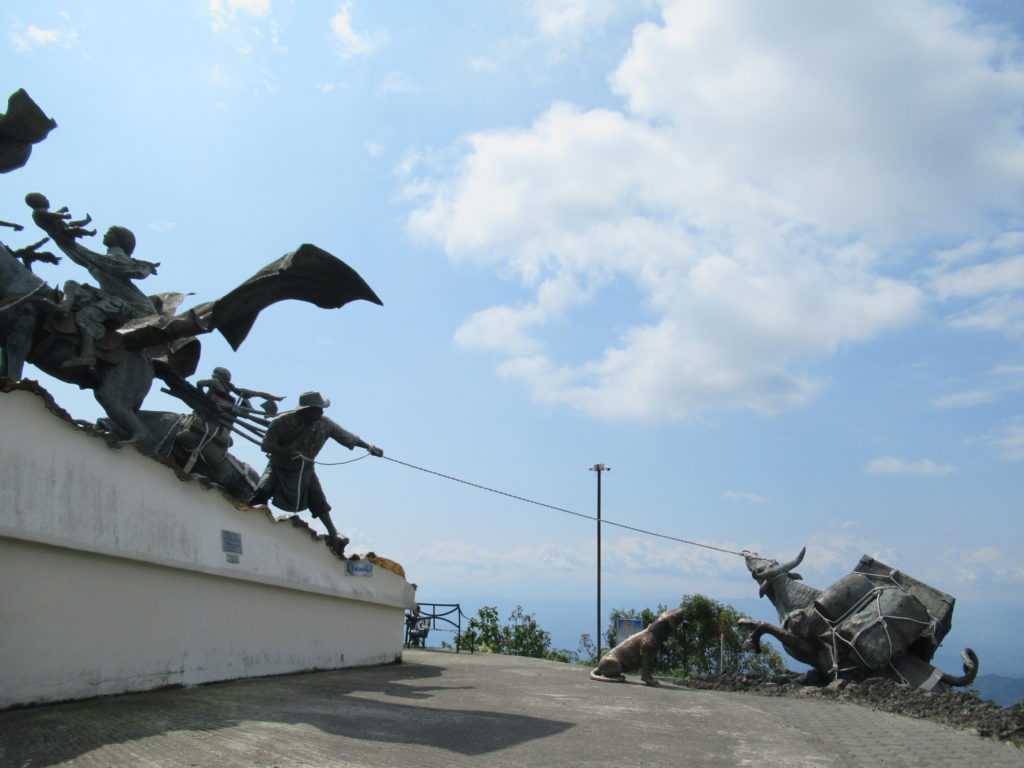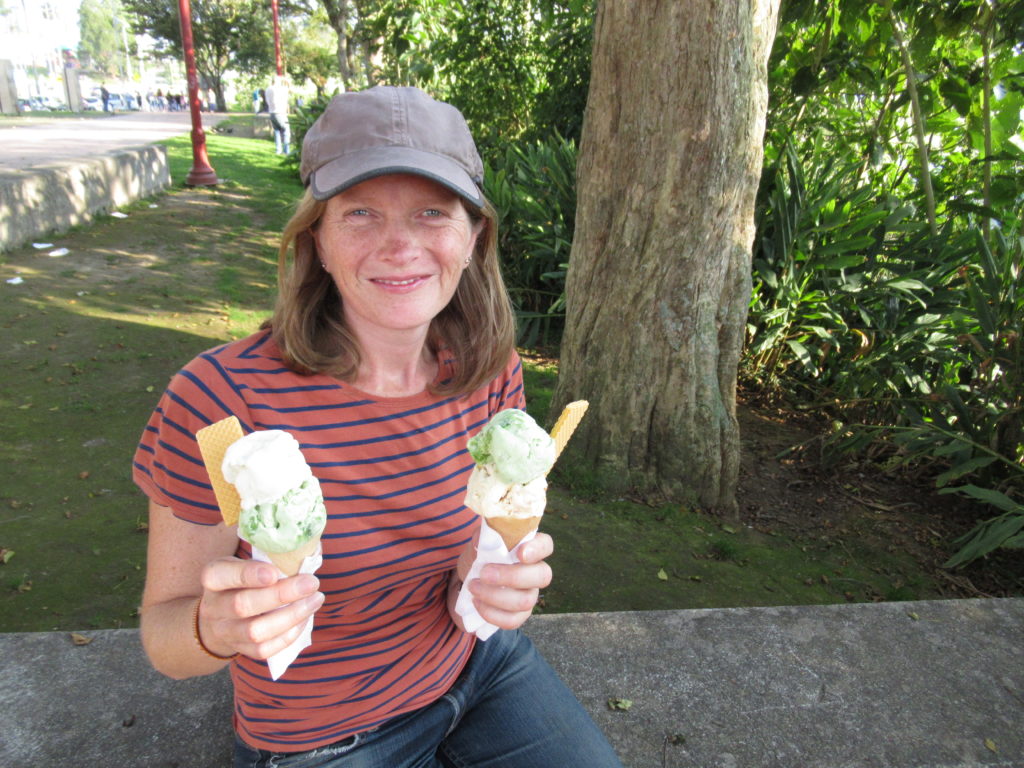 Manizales is the city that we like the most in Colombia to-date – with coffee and ice-cream and a relaxed chilled out feel and nice friendly locals, what's not to like?