It was time to visit Quito – like Guayaquil, this was another Ecuadorian city we'd been warned about – people from small towns in Ecuador like to warn you about the perils you're likely to encounter each time you mention venturing to a large city…
Quito is the capital of Ecuador, and is the second highest capital in the world – it sits at 2,850 metres above sea level (La Paz comes in at number one at 3,640metres a.s.l.)! We didn't need to worry about the altitude this time though – as our last stop had been Latacunga and that meant we were only going up an extra 50m 🙂
We had a smooth arrival into Quito 🙂 Our first stop was the tourist information office at the bus station – we were hoping to find out how much a taxi into town would be before we went to the taxi rank… it's always good to have a rough idea of what it should cost in advance in South America – or anywhere in the world to be honest!?!
The tourist info staff were super helpful – we left, map in hand and armed with assurances that the Trolleybus was not only way cheaper than a taxi (we already knew that part!) BUT that it was also  'muy seguro' (very safe)… and that there was a stop within walking distance of our hostal on the edge of town…
So, we ditched our idea of taking a taxi and hopped on the C4 Trolleybus to town… it went well… we were soon in town and had checked in to our hostal on the edge of the historic centre 🙂
The historic centre of Quito has been a UNESCO World heritage site since 1978 – AND according to wiki (yep, only reliable sources referenced on this blog!?! 😉 ) it is the 'largest, least-altered, and best-preserved historic center' in South America!
Maybe this is why it was such a nice place to stroll around… at every turn there was a beautiful ornate building to look at, a cobbled street to walk down, or else a pleasant plaza – usually with an impressive-looking church on it – to sit and watch the world go by. There was also the Panecillo (a small loaf of bread!?!) – which is a huge hill with a statue of the Virgin of Quito on top of it! The Virgin of Quito was really quite an impressive statue – and as you could see it from almost anywhere you went in the historic centre, we have quite an amazing array of pictures of both the virgin and the hill from every possible angle!!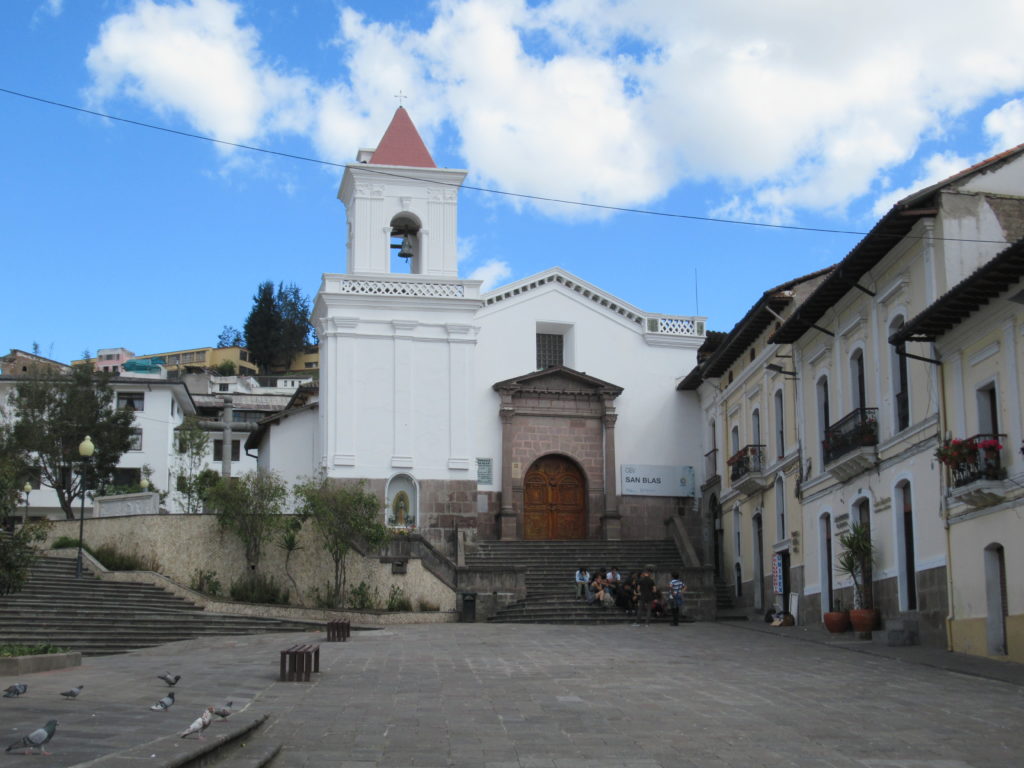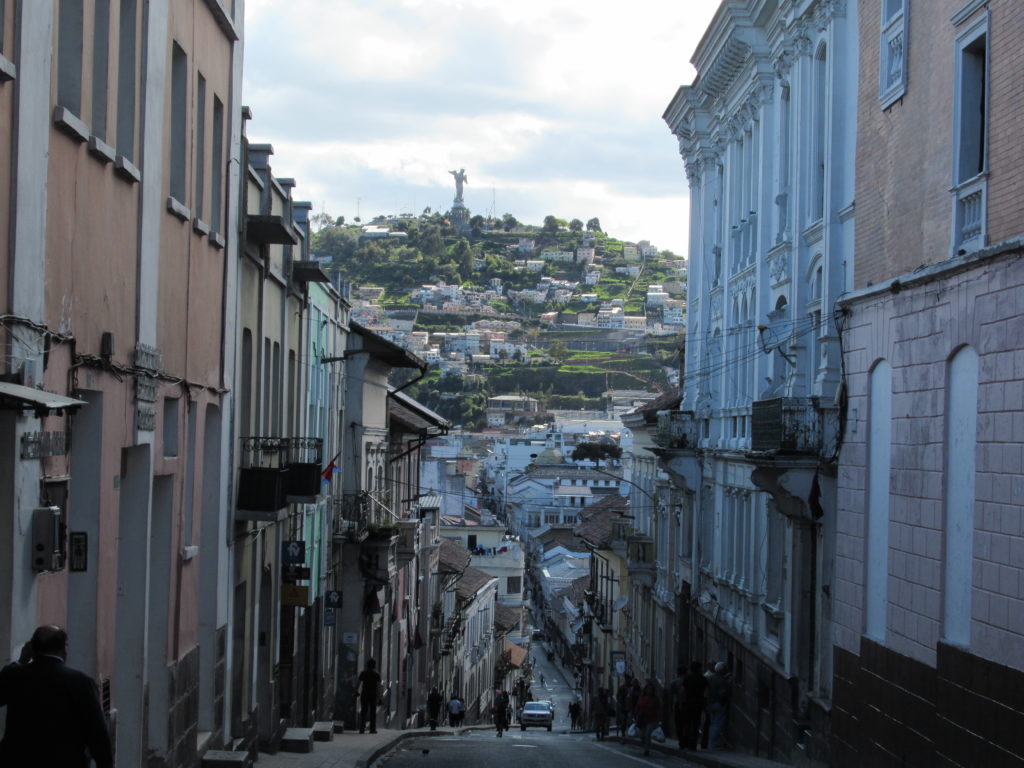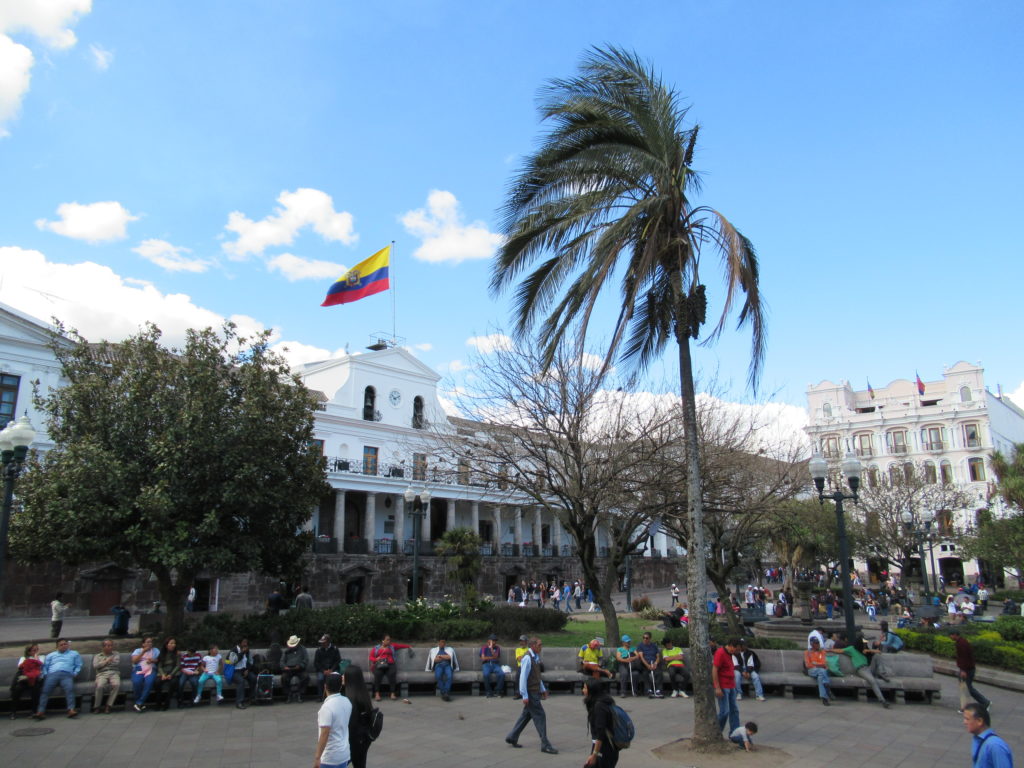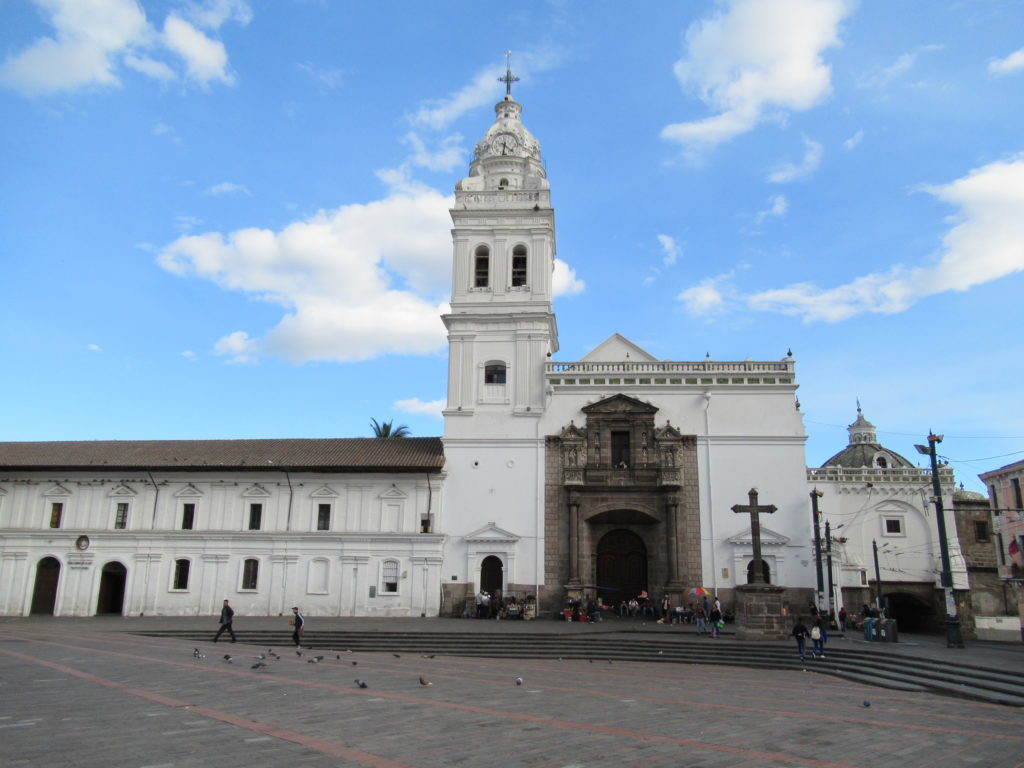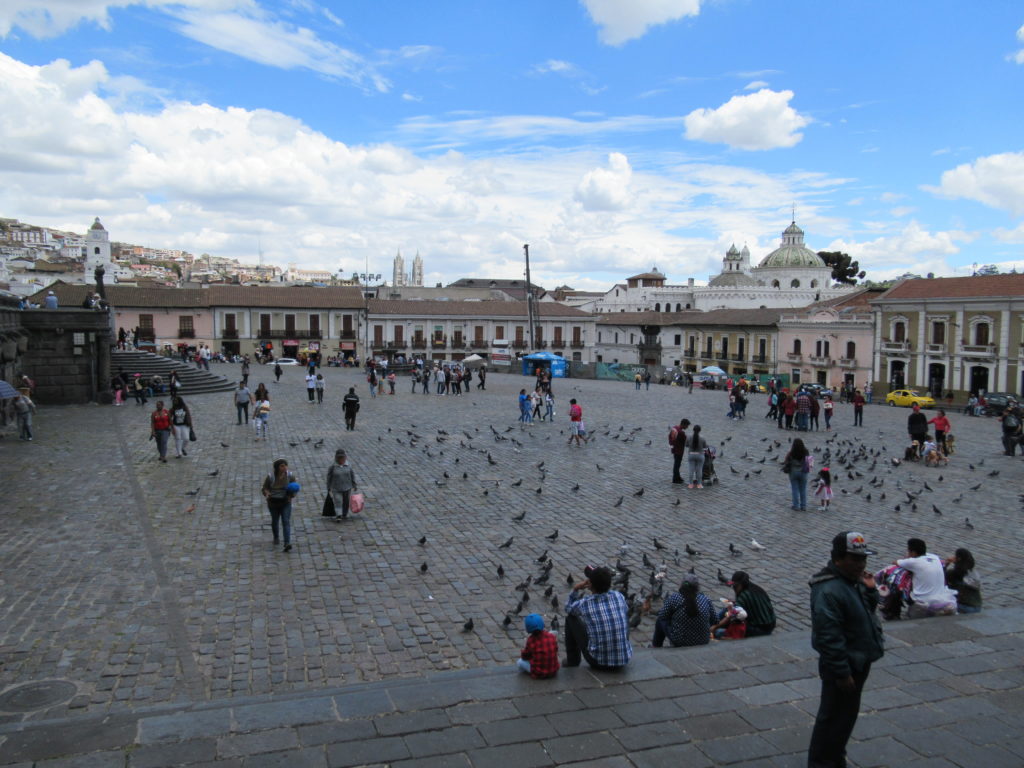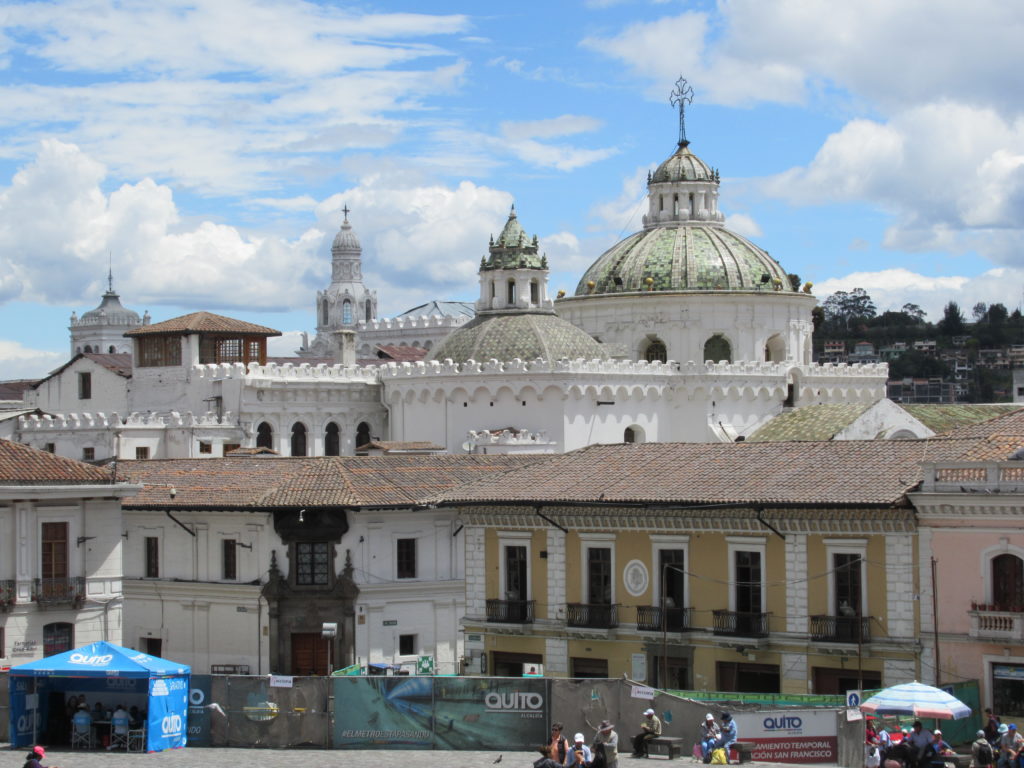 There were also quite a number of spots in the historic centre that you could access to get a pretty good overhead view – either of a street or of the whole of Quito… one of these spots was the rooftop of the Cultural Centre building. This was not only a great spot for a nice view over the street down below, and of the panecillo, but it felt almost undiscovered… Quito is a pretty bustling city, but up here you could escape the crowds – we almost had the whole roof top to ourselves!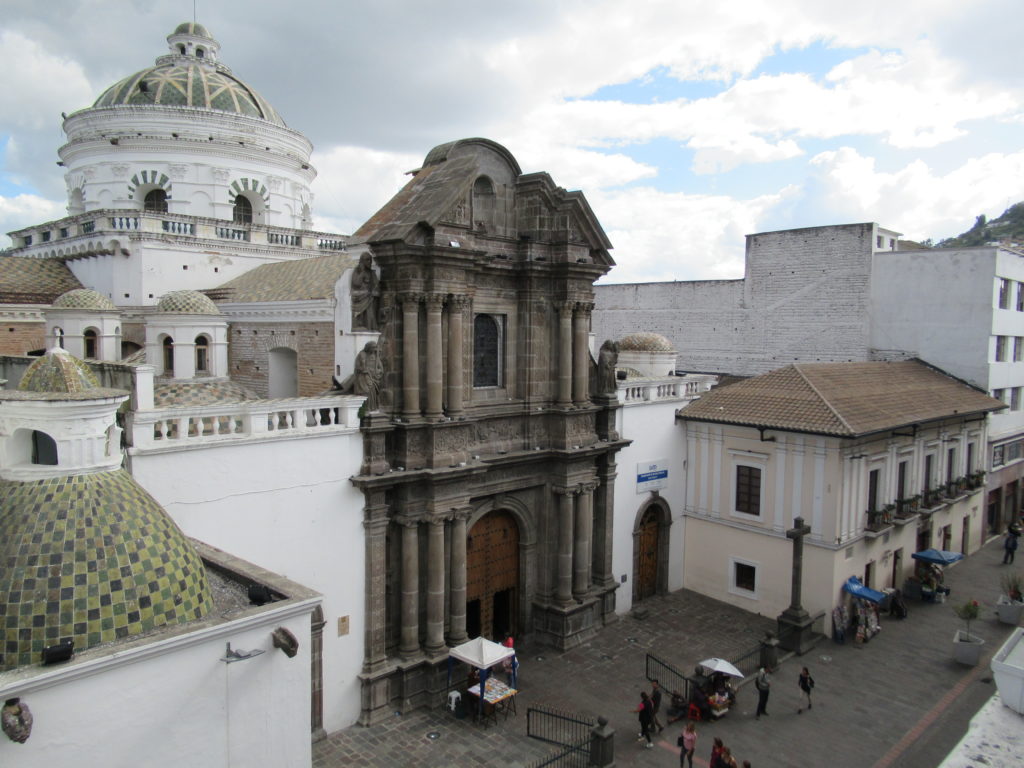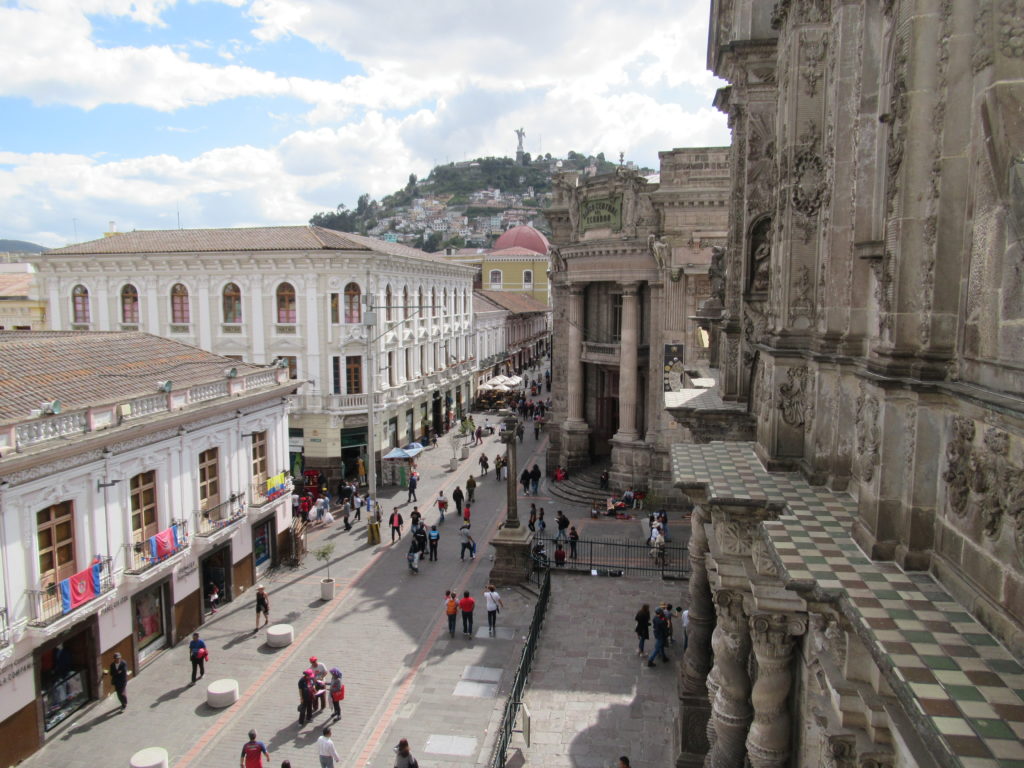 My favourite church was the Basílica del Voto Nacional – a huge neo-Gothic basilica. Not only did this church look awesome from the outside – BUT you could pay $2 USD to go inside and climb to the top of the condor tower, which afforded the most amazing views of the city of Quito – in all directions 🙂 Luckily for us, we don't mind heights as the climb to the top of the tower was via a rickety old set of ladders… some of the other visitors – on the day we were there – looked less convinced about making it to the top!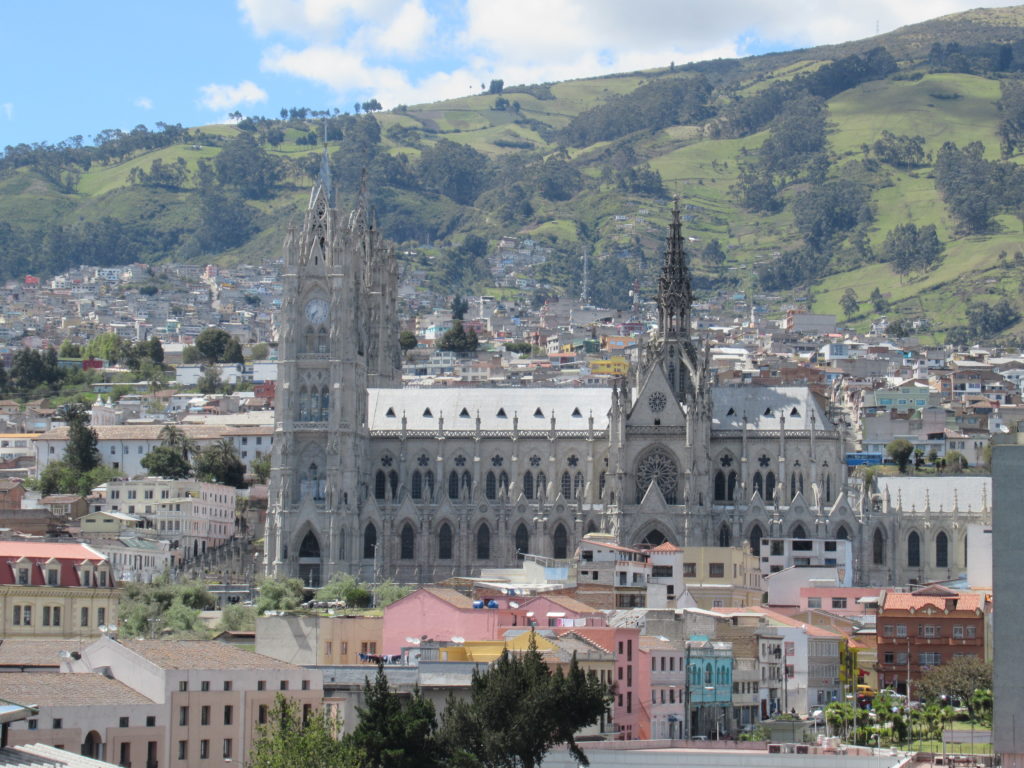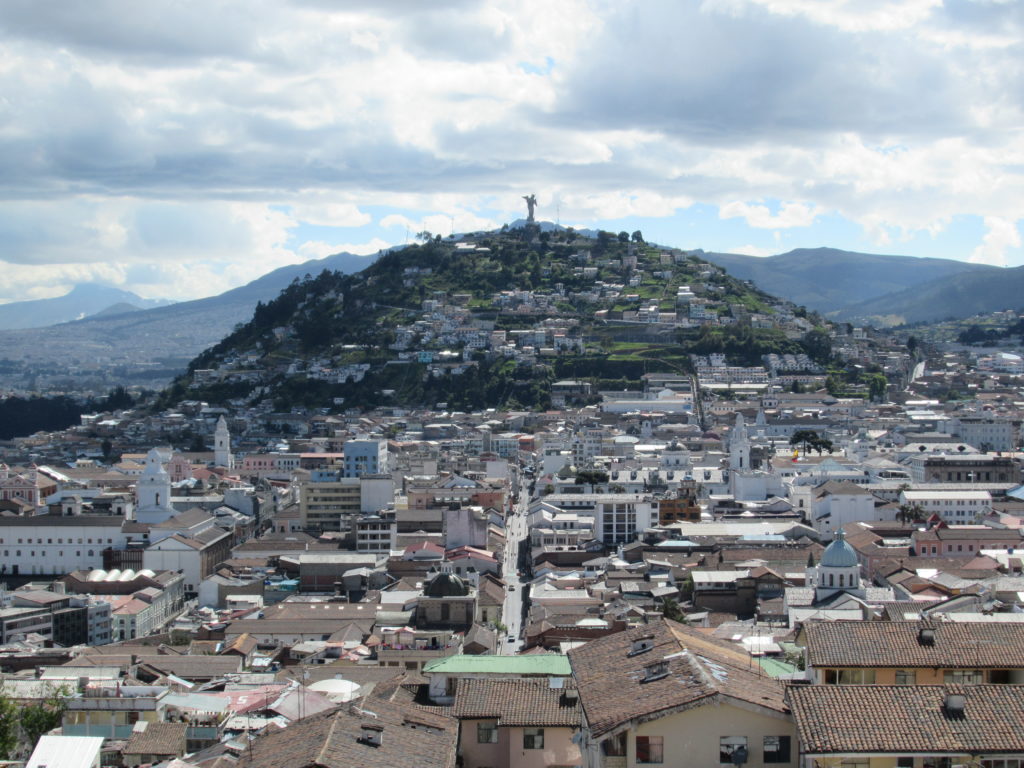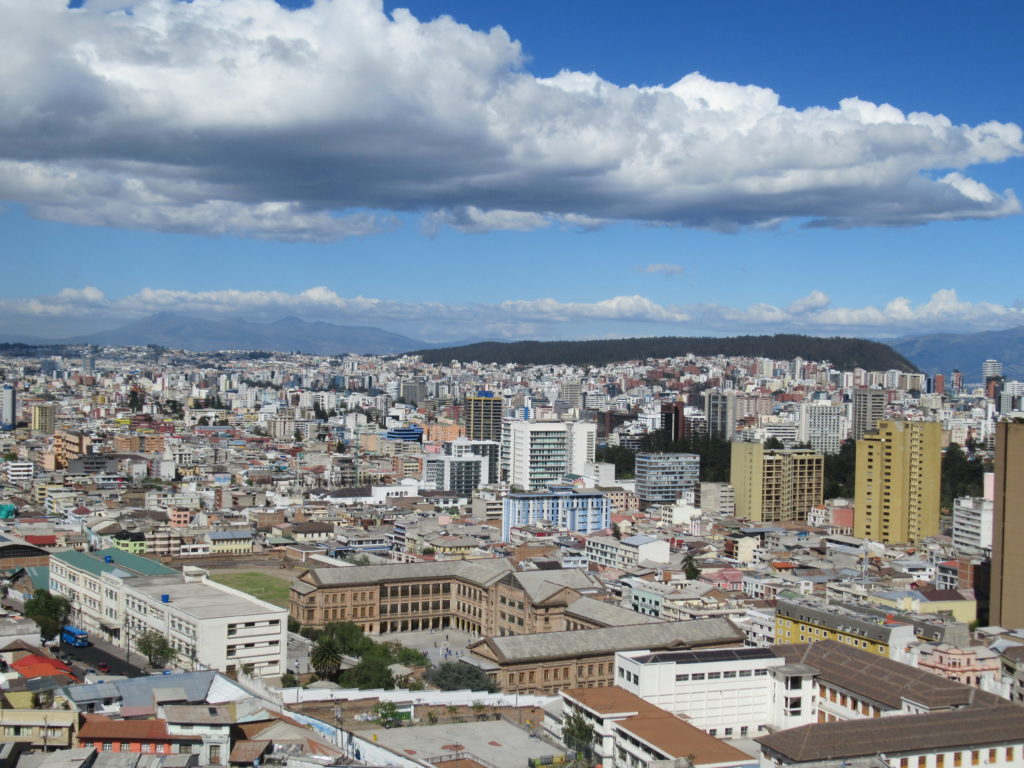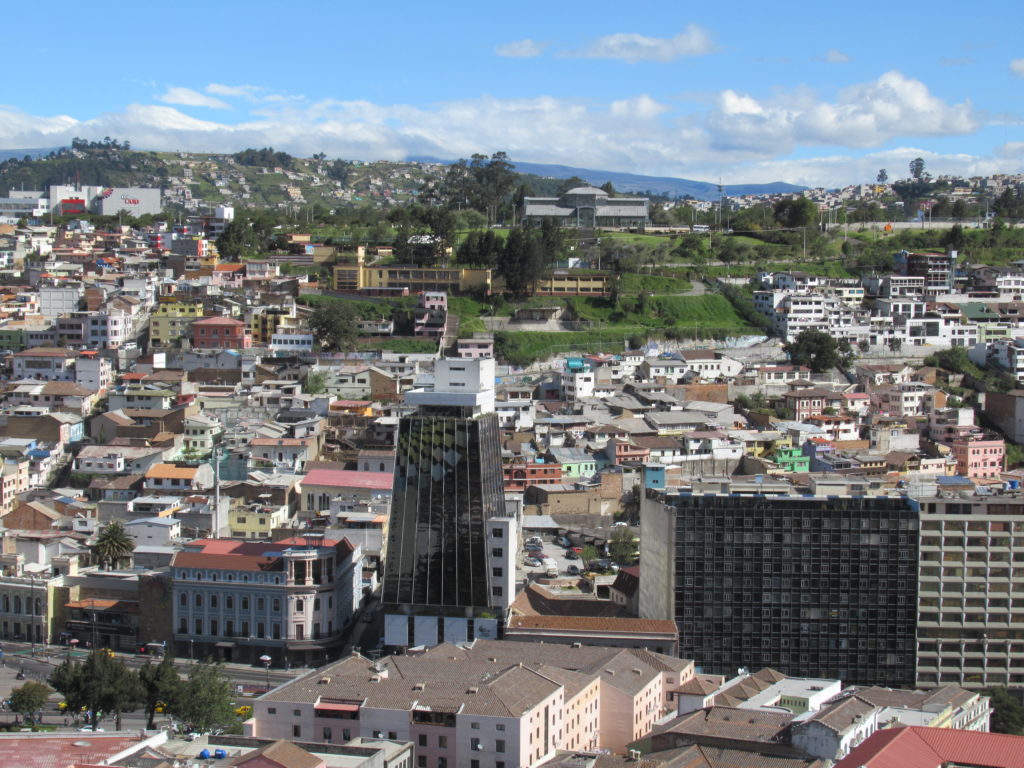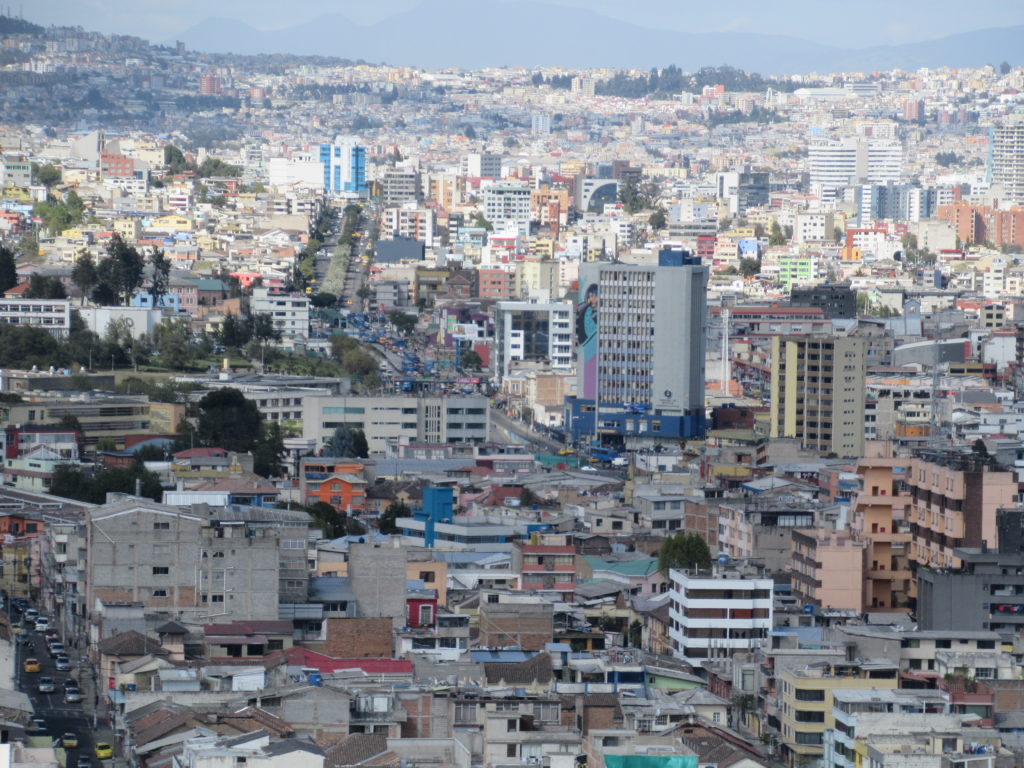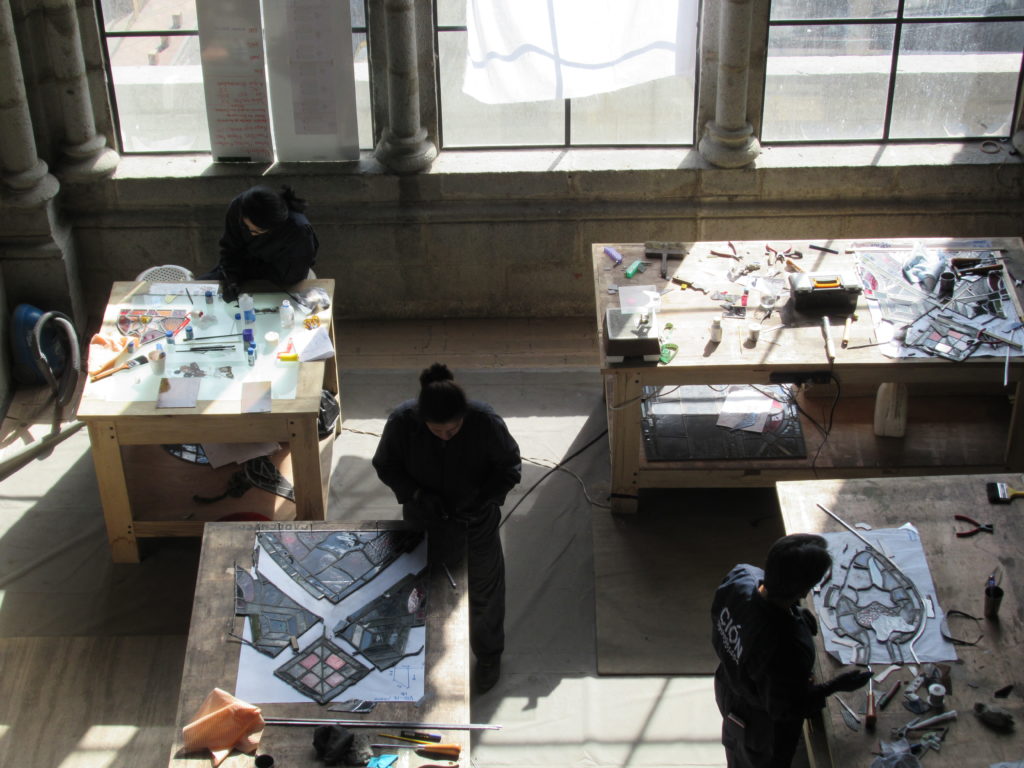 The final 'must-see' area of the historic centre of Quito is – a street called La Ronda… La Ronda is a street with a long history – it was originally built as an Inca road!!! Nowadays La Ronda is a narrow cobble-stoned street with old restored colourful buildings on either side of the road – these buildings once housed artists, poets and musicians – but today the buildings are primarily bars, shops and restaurants – and therefore a popular place for a night out in downtown Quito!!
We visited La Ronda during the day… it was pretty quiet – a lot of the businesses were closed!?! The colourful buildings were still there though, and we still got to see the same view of the Virgin of Quito 😉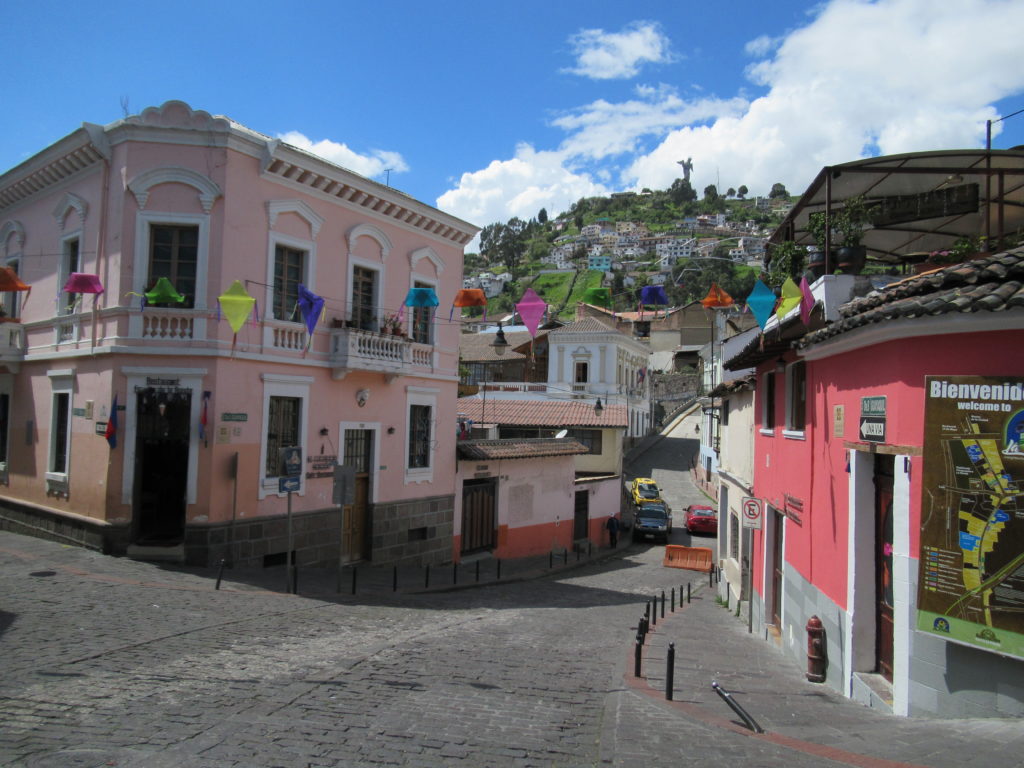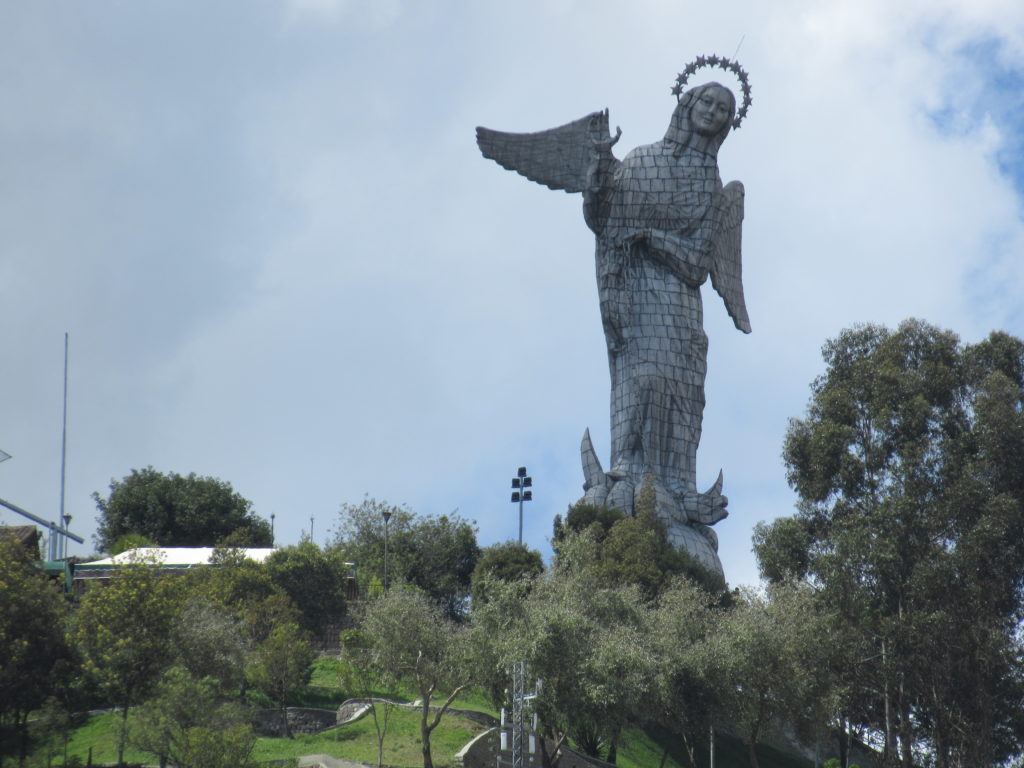 When we weren't sightseeing in the historic centre, we very much enjoyed eating and drinking our way around the area too – sightseeing makes you hungry!!!
Our favourite spot for an afternoon snack was a cafe – that going on its decor, and clientele – had been around a while! We didn't care though – this place did the best morocho and empanada in town AND sold quimbolitos – our favourite cakes from Loja 🙂
Then there was the $1.75 USD lunch spot… for just $1.75 USD we got a delicious soup, chicken main, dessert and juice… it was not only tasty but a bargain!
And finally there was IPA 🙂 Bandido Brewing's IPA at happy hour was awesome – I'm sure it would have tasted good at anytime of the day, but happy hour pricing made a pint taste even better!?!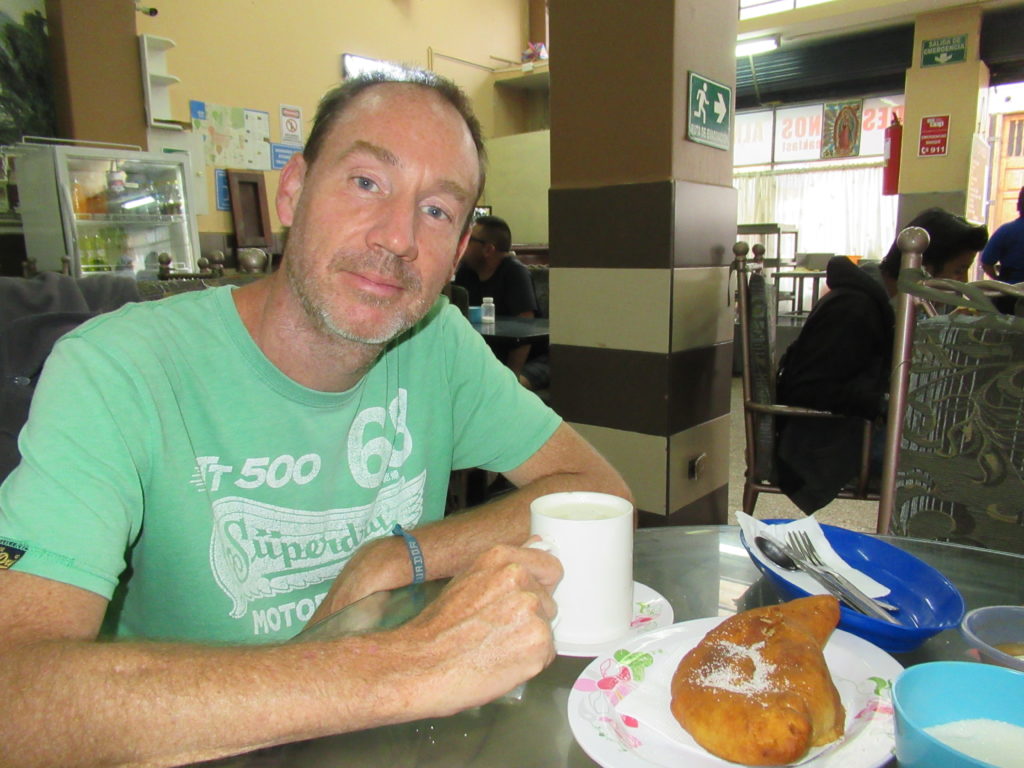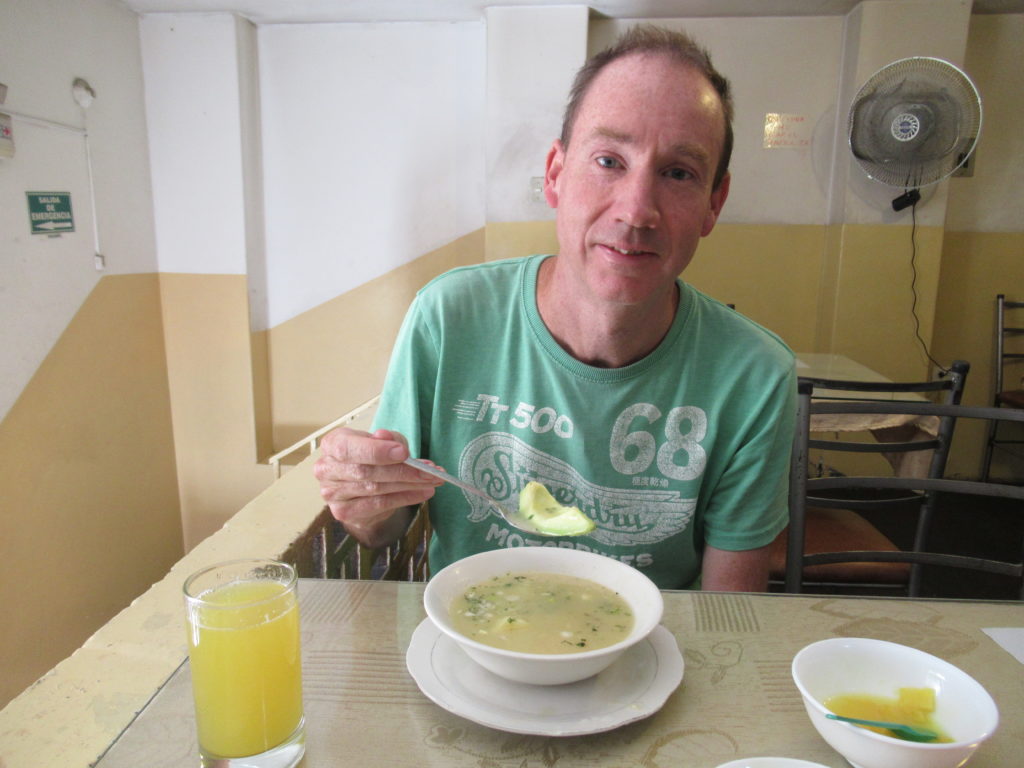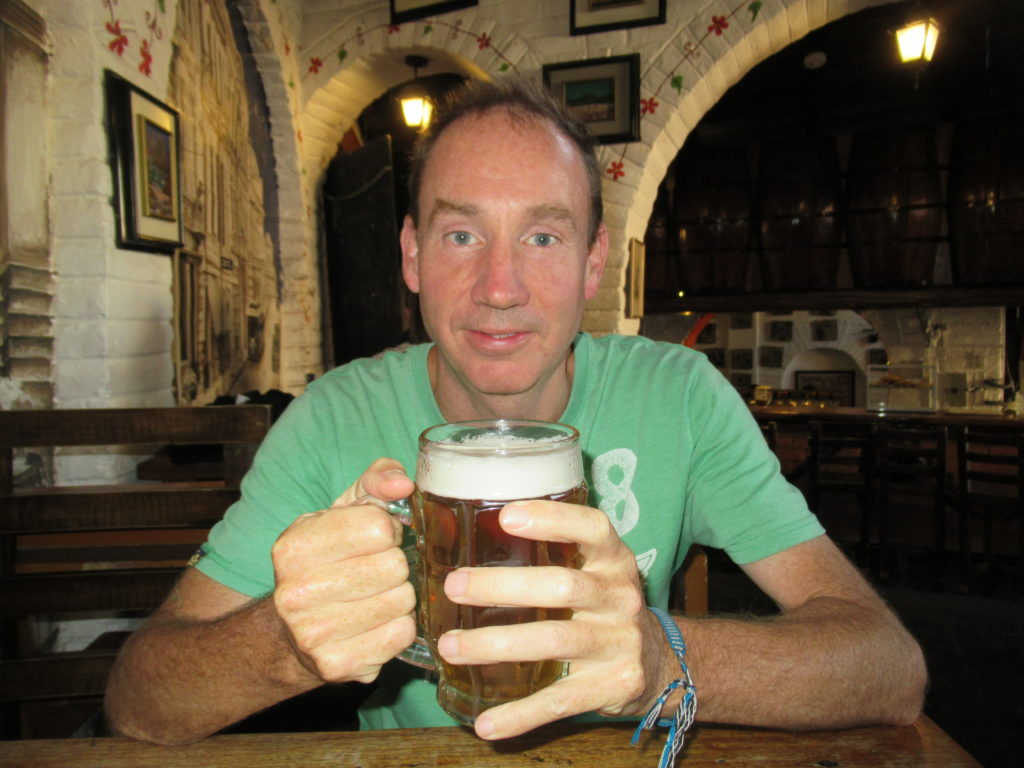 Our time in Quito was split – although not evenly 😉 – between the hostal on the edge of the historic centre and an airbnb in the La Carolina suburb – a more modern suburb with a big park, local shops and nearby glitzy shopping malls!
Our airbnb didn't look the most glamorous of places from the outside, but we liked it!!! It was secure and in a good location with good access to shops and public transport 🙂 Inside the apartment was nice and light, and we even had an okay view from the bedroom window 🙂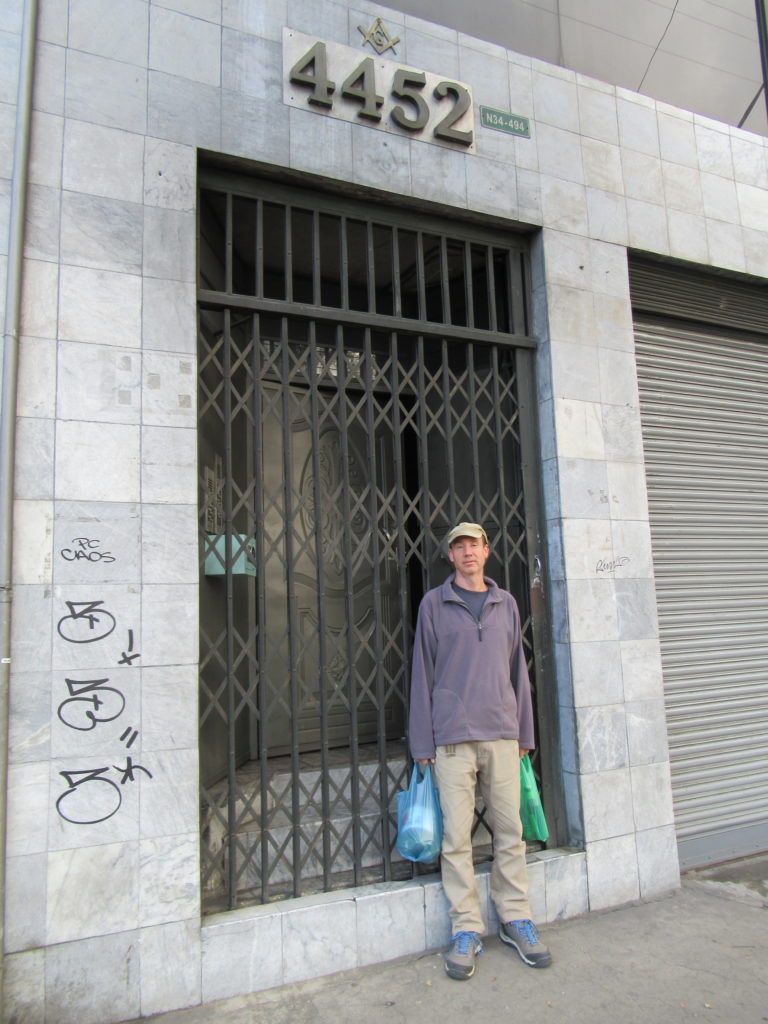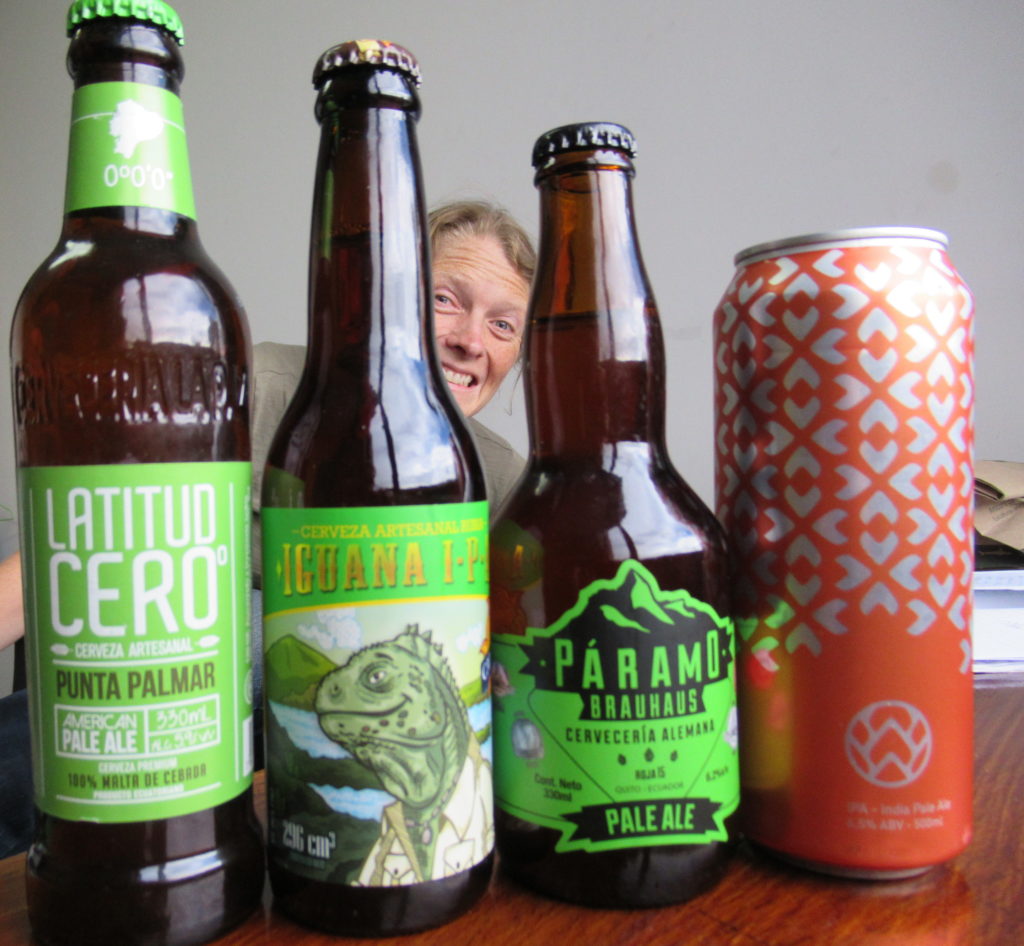 Our new abode in Quito was also within walking distance of La Mariscal – the 'heart and soul' (!?!) of the new town – so one morning we decided to stroll over to check it out… we'd read that La Mariscal was becoming known as gringolandia…but to be honest we didn't find that many gringos (foreigners) there – but maybe that was because it was too early… Turns out that La Mariscal is really just another eating and drinking zone and while we were there it was pretty quiet as most things were yet to open! Although the República chocolate shop WAS open… and they had quite generous free samples on offer… we left the chocolate shop no longer in need of a morning snack – yep, we ate that much!!! We also bought some… it felt wrong just to eat the samples and leave… that feels more than okay when there are other people in the shop and you can make a dash for it… but when it's just you and the sales assistant is plying you with samples it feels a little wrong!!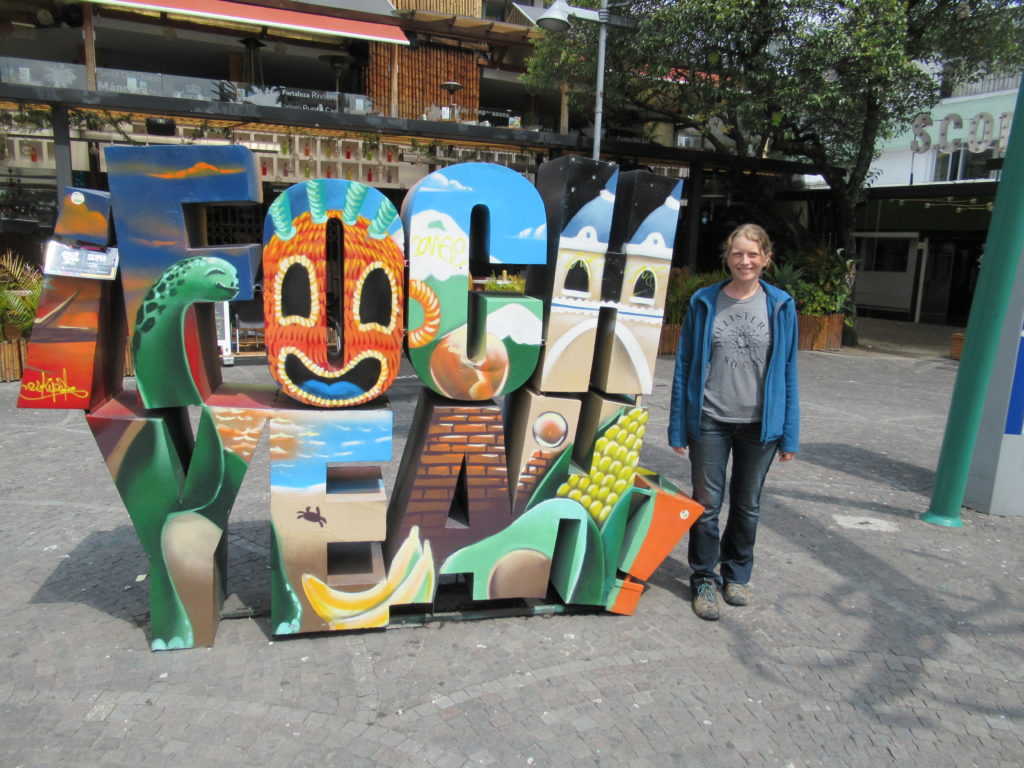 Around lunchtime things were starting to open in La Mariscal… and we got pretty happy when we found a Yemeni restaurant selling falafel… nom nom 🙂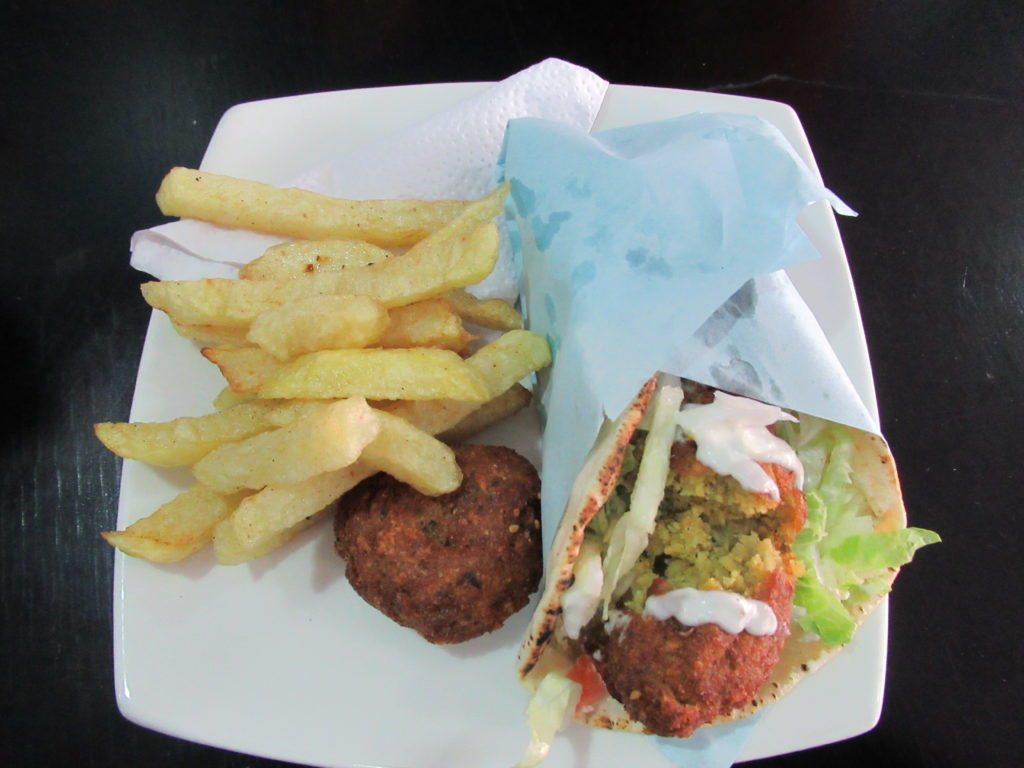 On the stroll home we passed a big government building, and in front of the building were some BIG PLASTIC LETTERS – that we've come to love in South America – so it was time for an obligatory photo stop!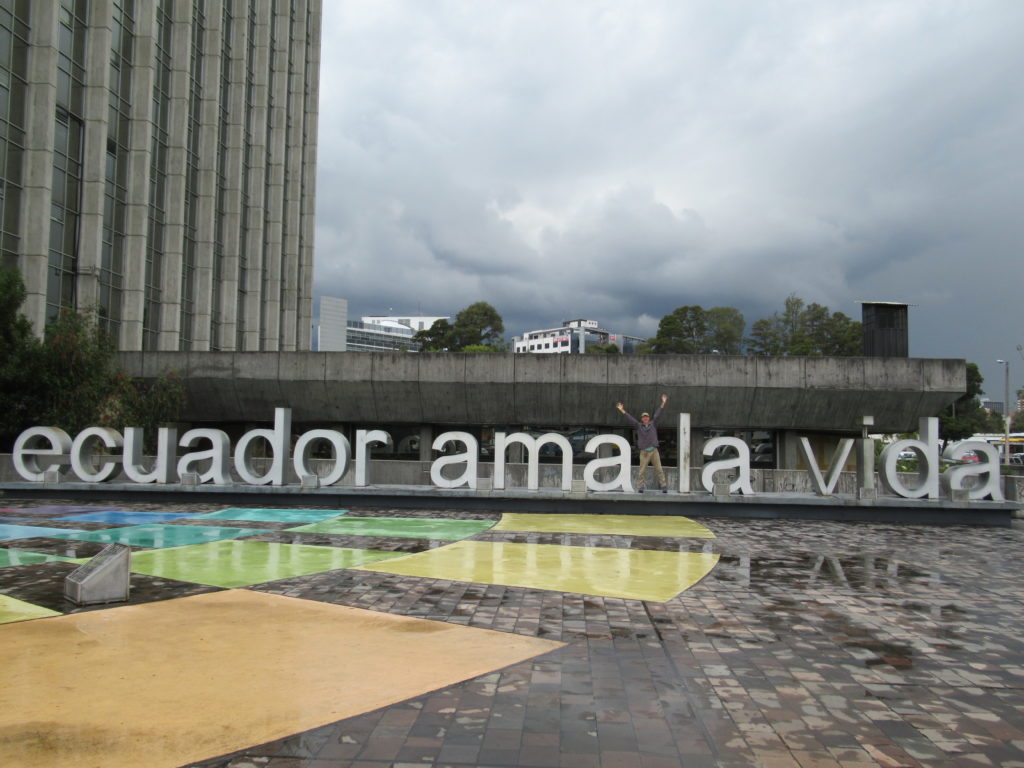 The final thing left for us to do in Quito was visit the park that we'd seen from the top of the condor tower of the basiilca on our first day – Parque Itchimbía. We really should have done this when we were staying in the hostal on the edge of the historic centre – from there it would have been about a 15 minute walk… as it was, from our airbnb it took us around an hour to arrive on foot!! But hey ho, being back in town did mean we could have morocho and empanada one more time 🙂 🙂
Itchimbía park is home to a big glass building – El Palacio de Cristal (Crystal Palace) – which is used for exhibitions. While we were visiting, the Crystal Palace was devoid of exhibitions… but we were okay with that – we were there for different reasons…
Firstly the view!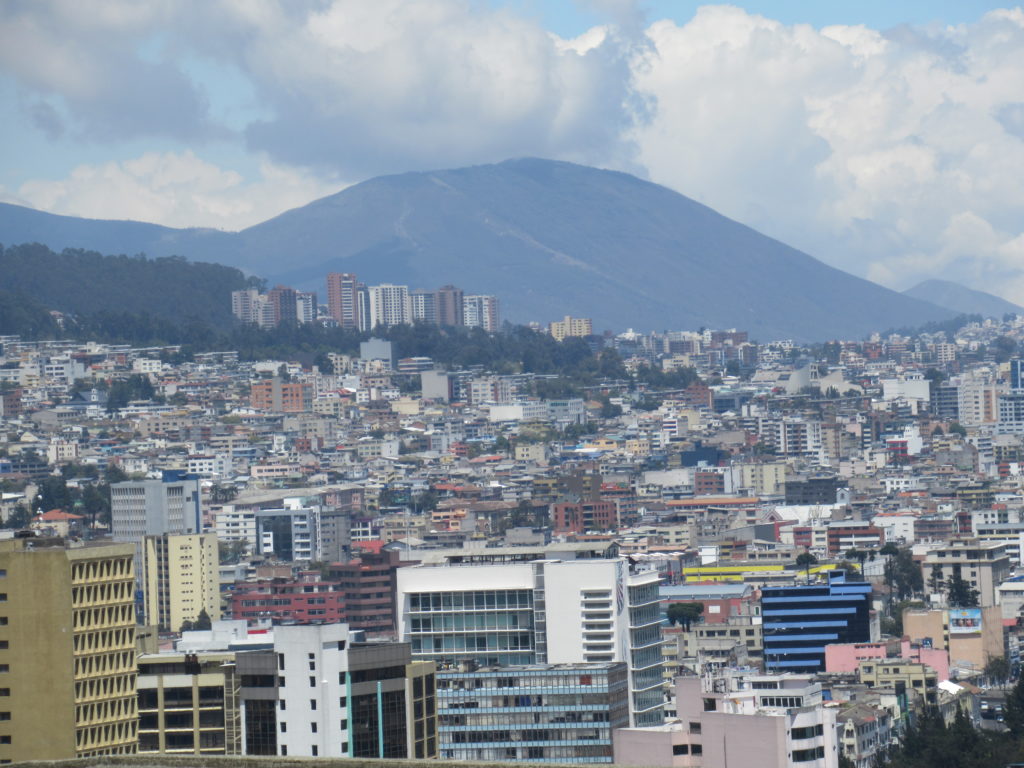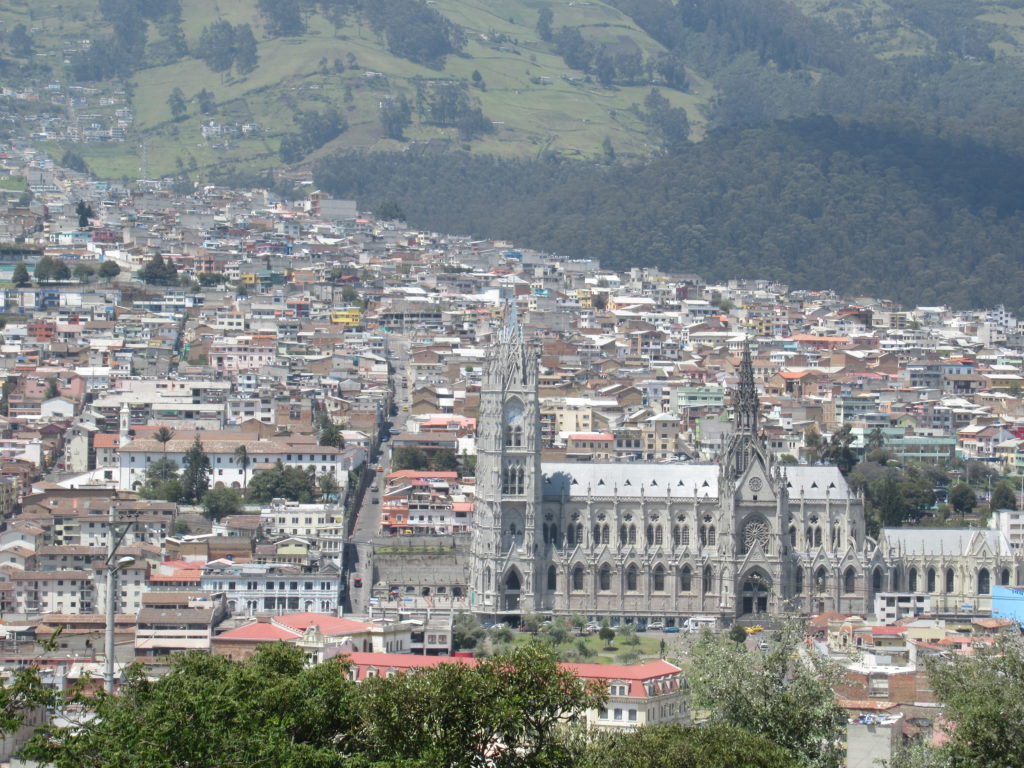 And secondly for the BIG ORANGE LETTERS spelling out Quito 🙂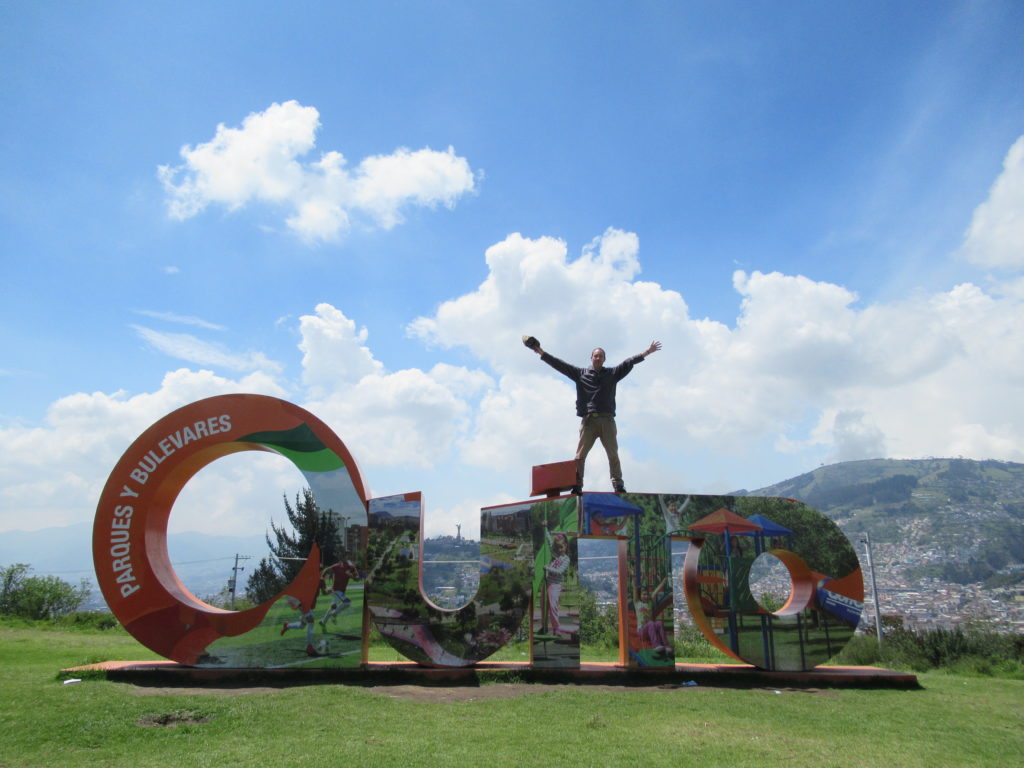 We had an awesome stay in Quito – we loved everything about it 🙂 But with the clock ticking on our Ecuadorian visas, and two more stops in Ecuador still to go – it was time to move on.