We made it to San Miguel – our first stop in El Salvador!
El Salvador seemed to be a country that most people we met – that were travelling in South and Central America – were missing out… the reason being that El Salvador has a reputation that precedes it – and not necessarily a good one! However, for us, having met someone from El Salvador while we were volunteering in Aldea Luna many months before, we were more than curious, and had decided that we should visit…
Our first stop was San Miguel – the second biggest city in El Salvador… I have to admit that I was a little nervous on arrival – well if not nervous, definitely a little on-guard! However, a conversation with the owners of the guesthouse where we were staying put things more into context… yes, there was a gang problem in El Salvador… but it had certainly improved and some previously no-go areas in San Miguel were safe and even being frequented by families… AND as tourist gringos with no connections to El Salvador at all, we were far from targets… Yes, it turns out that the gangs that run extortion rackets don't target tourists as they are extorting money from the foreign embassies and that this money could run dry if they cause trouble for foreigners! It's not such good news for El Salvadorians that live overseas and visit family in El Salvador – they're seen as fair game…
San Miguel sees relatively few tourists – there was one other gringo staying in the hostel we were in, but he appeared one evening and left the next morning! This behaviour is apparently more normal – choosing to spend 4 nights in San Miguel seemed to put us in a minority!!!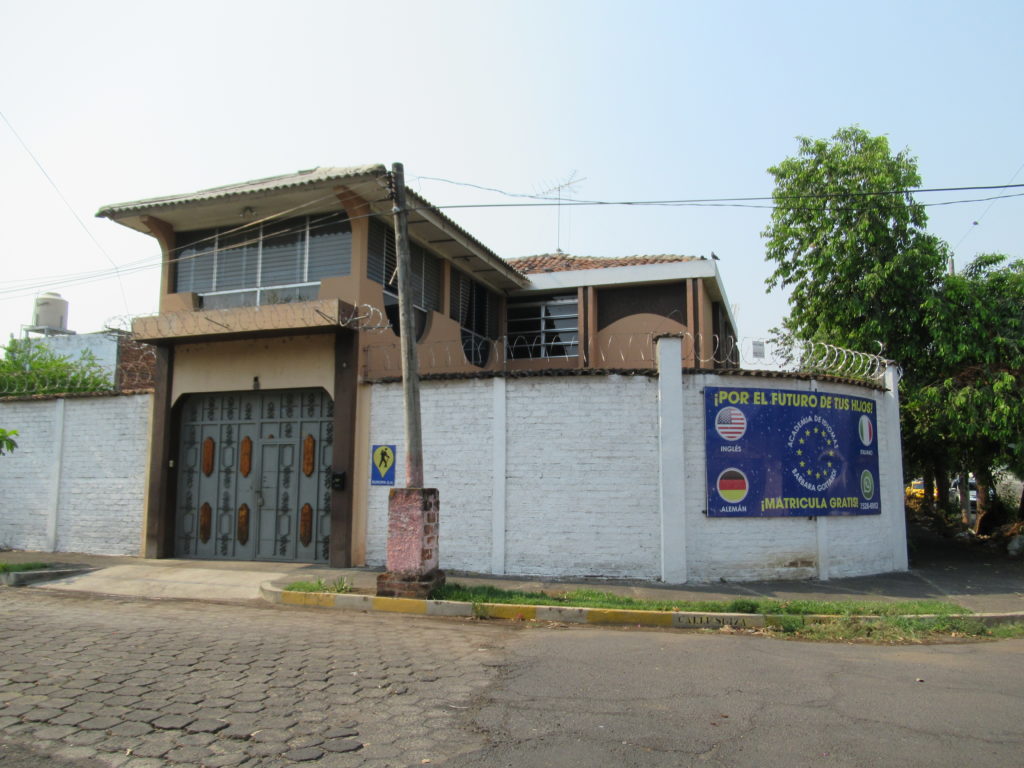 One of the best things about San Miguel was the food… and although the traditional El Salvadorian pupusa can obviously be found EVERYWHERE in El Salvador – having first tried it in San Miguel, and eaten it at least once a day while we were there – it is in my mind certainly one of the highlights of the city 🙂
Pupusas are the national dish of El Salvador – big fat savoury pancakes made with either corn flour or rice flour, they are filled with goodness (taste wise, not always health wise!?!) cheese, jalapeño peppers, mushrooms, beans, garlic, loroco – yumm!!! They are served with curtido (pickled cabbage – which is WAY tastier than it might well sound… EVEN PB liked it!!! 🙂 ).
What made pupusas even better… was the fact that it seemed like traditionally you drink a big mug of hot chocolate at the same time… heaven!!!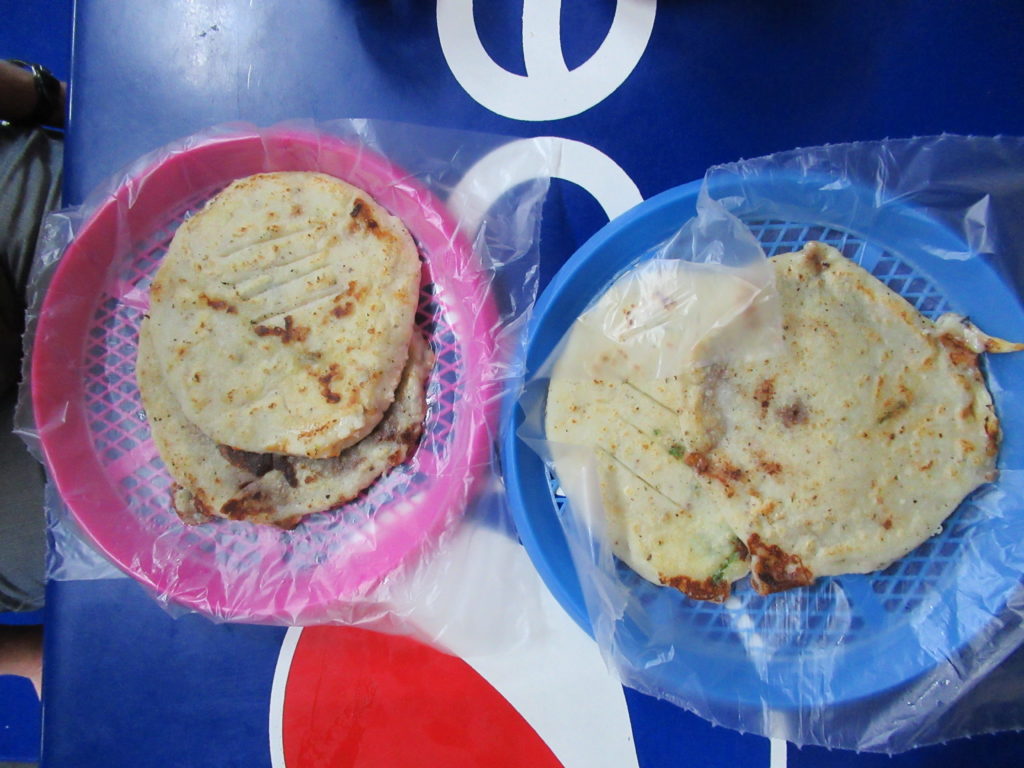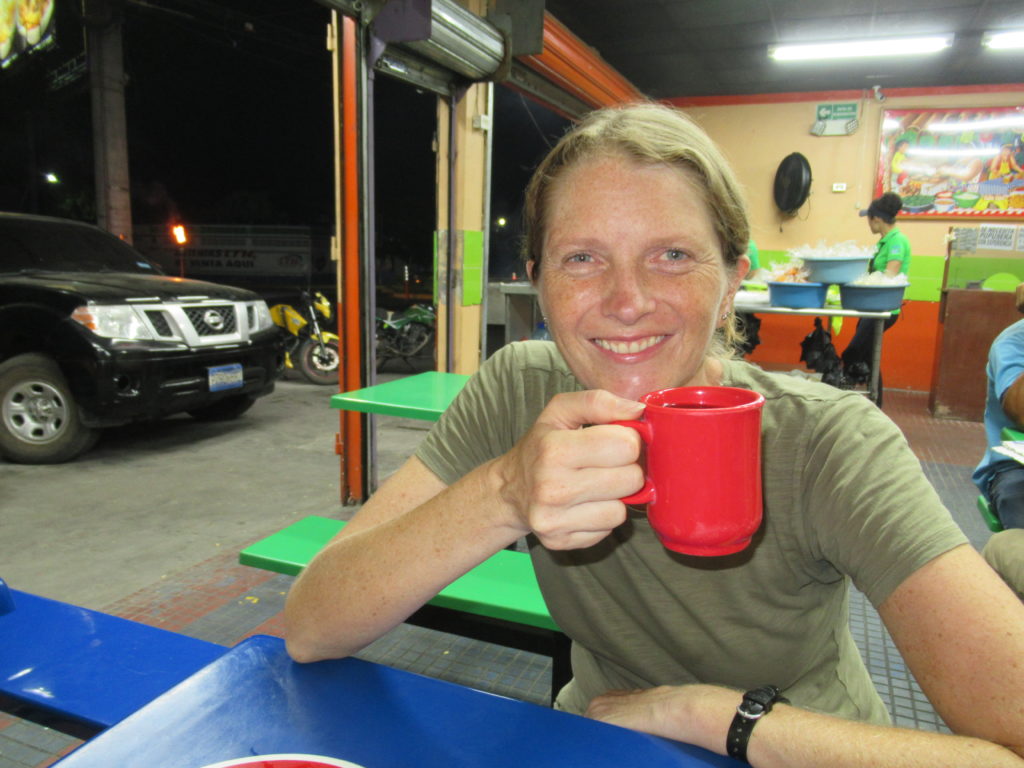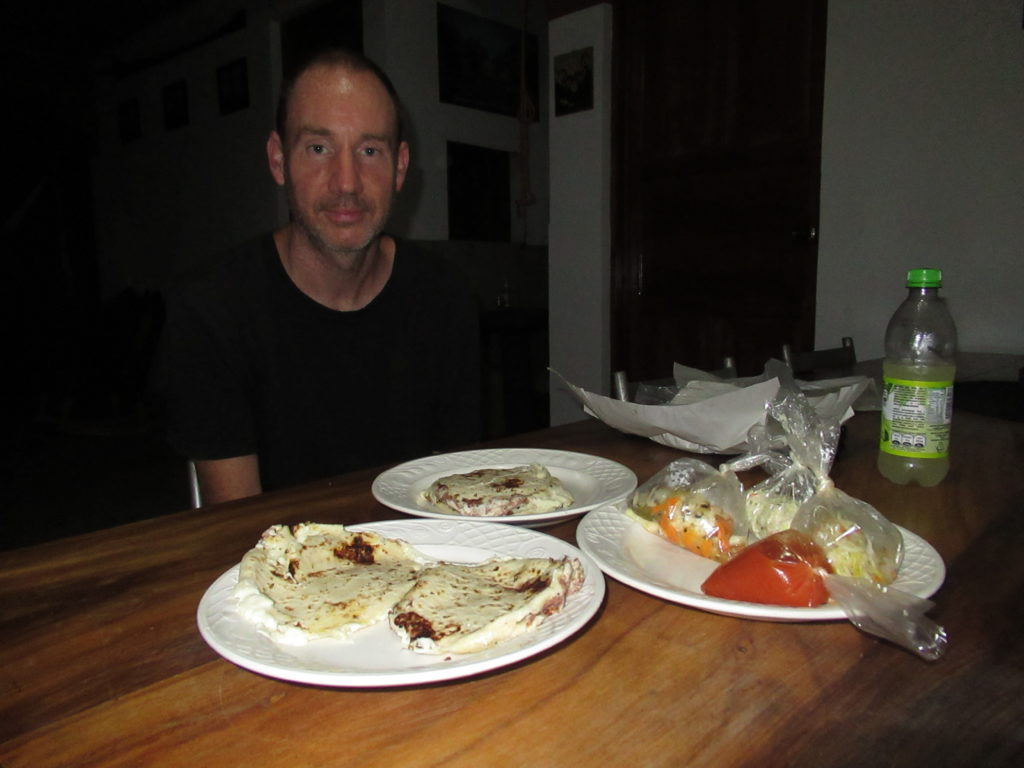 Our guesthouse had a walking tour map of San Miguel – so being good tourists we took a copy and followed the route 🙂 First stop – a cake shop!!! Apparently Pasteleria Vilma is an institution – we therefore, thought it rude not to go and try a piece of quesadilla – a cheesy cake – that it's best known for. The experience far exceeded our expectations… Before this day, I had never imagined that one day I would be sitting at a cafe table on a very cute square, eating delicious cake, watching the world go by feeling TOTALLY safe in a big city in El Salvador!
We followed the route into the centre of the city to the main Square, Parque Guzman. The square was surrounded by some pretty nice buildings including the cathedral and the town hall.. it was a nice spot to sit and people watch… and also be watched by other people – but given the lack of gringos in town I guess this was to be expected, we were a novelty!!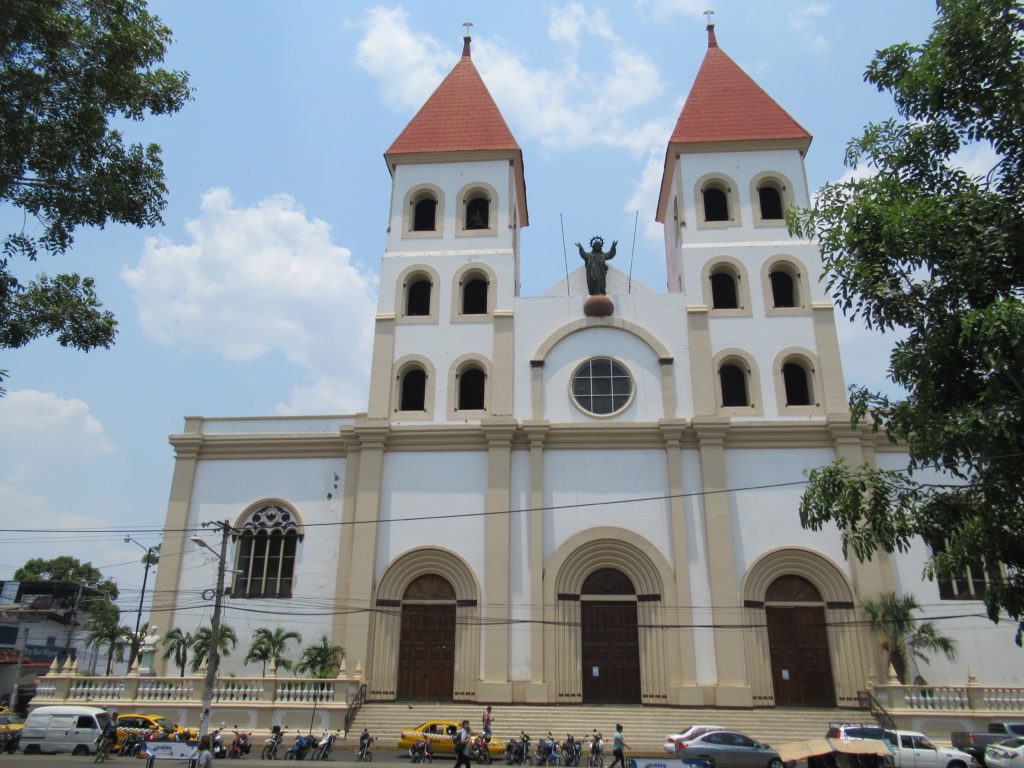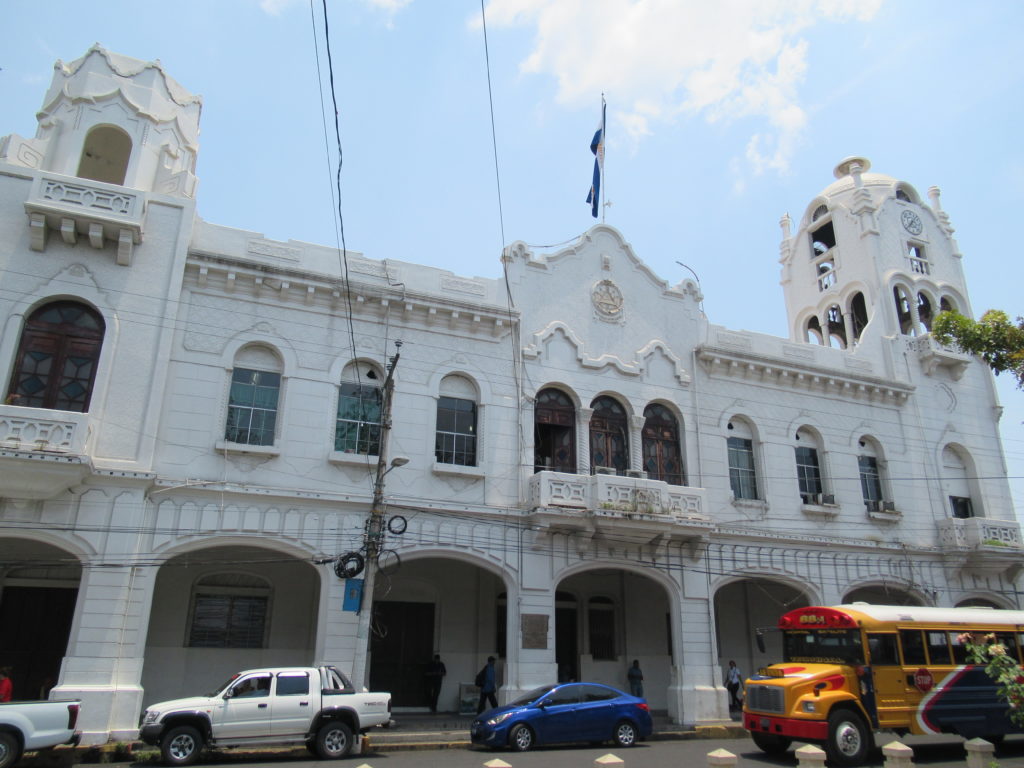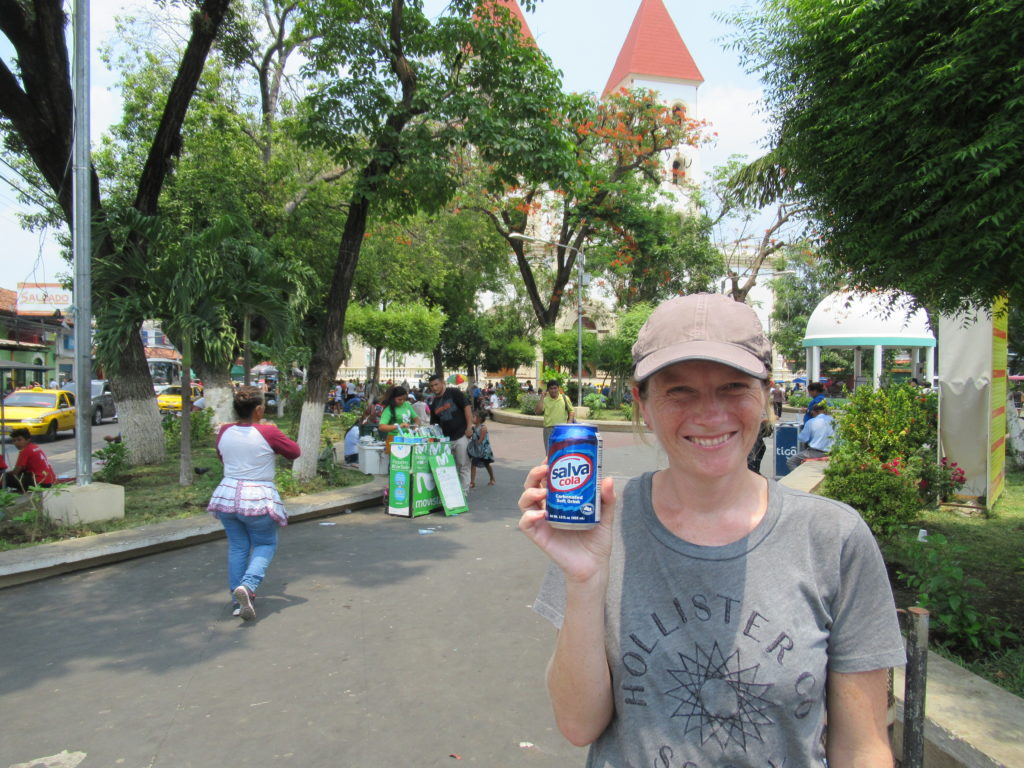 Our stroll continued past some cool murals, as we went on a hunt for lunch… It was at this stage we made an important discovery… La Pupuseria Roxy (Roxy's Pupusa shop!) is a chain 🙂 🙂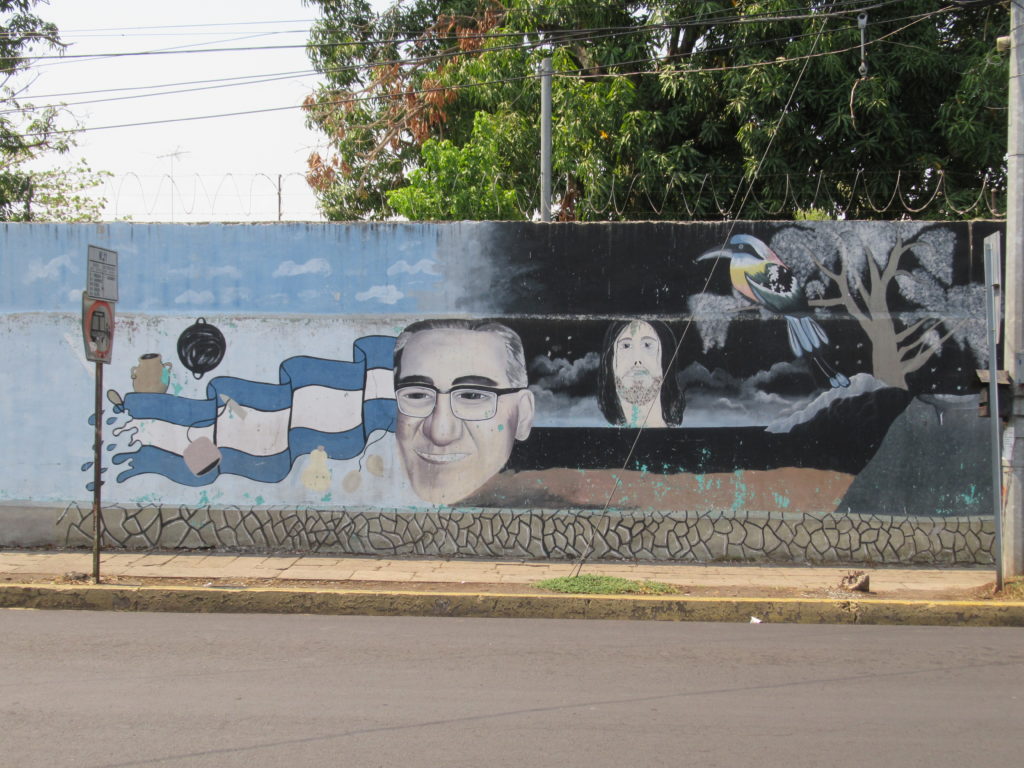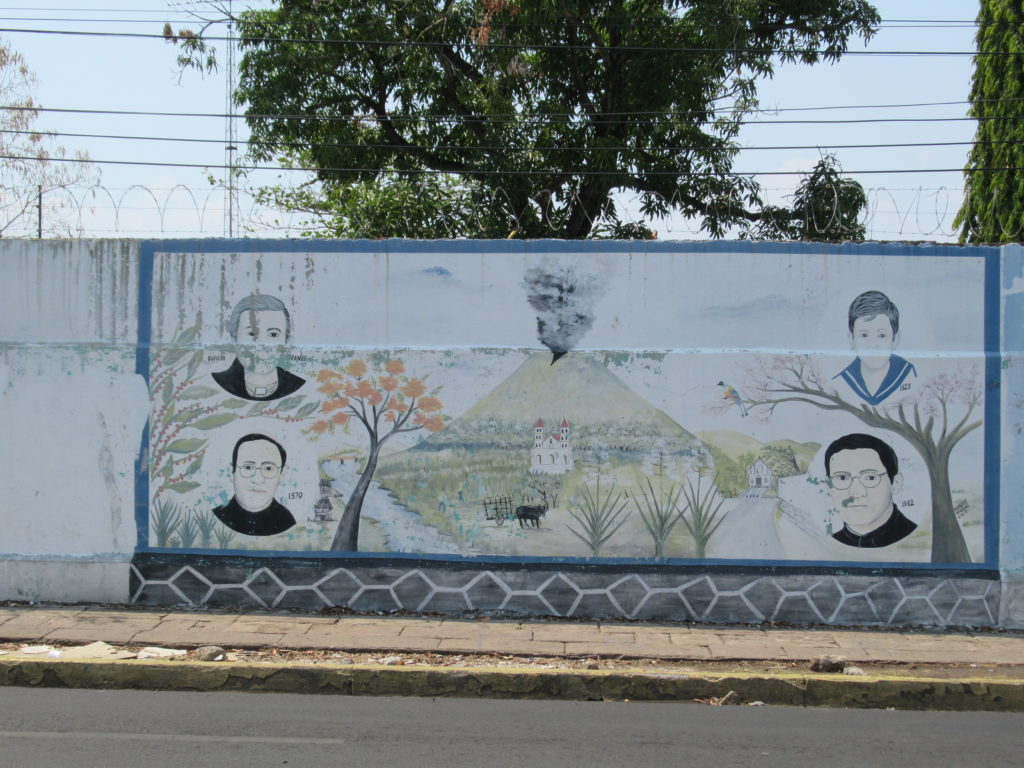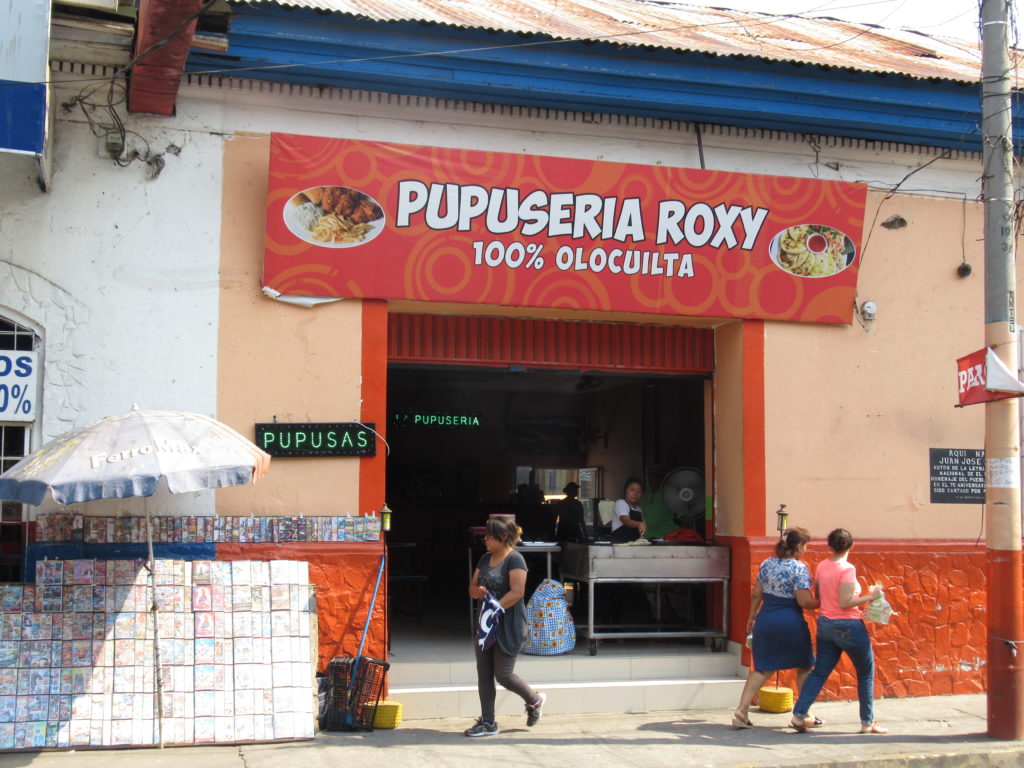 After lunch we did a spot of shopping… Groceries of course, but PB also picked up a new (well new to him!) pair of shorts… turns out El Salvador has heaps of secondhand clothes shops that are pretty good – heaps of branded stuff seems to be shipped over here from the States to sell in these stores. After our shopping trip we strolled home back to the guesthouse to hang out and chat.
I might have been dubious about heading to El Salvador, I guess anyone who has read about the gangs, violence etc etc would be… but El Salvador had a side to it that you just don't get to read about… and we had a most awesome time in San Miguel 🙂