A special day out from San Miguel
It turned out that during our time in San Miguel there was a public holiday. Yes, we can never keep track of these things – especially in Central America where we have been changing countries so quickly. Fortunately for us, we were the only people staying at the hostel during this time (yes, it's a bit light on tourists in this part of El Salvador) – and also the couple who ran the hostel didn't have to go out to work either (one of them teaches English part-time).
So, very kindly – they asked if we wanted to spend the day with them. Mauricio was born in this part of El Salvador, but his parents had moved to Spain when he was young. He had now returned with his wife Barbara from Switzerland and opened up the hostel in San Miguel. He had a vision of this part of El Salvador becoming a place where tourists would come. They had purchased an old property outside of town near San Miguel Volcano, and their dream was to turn it into a camping place/farm area and have volunteers come and stay, and to also run trips to climb the volcano. So, the plan was to drive up there and have a little walk on the volcano! 🙂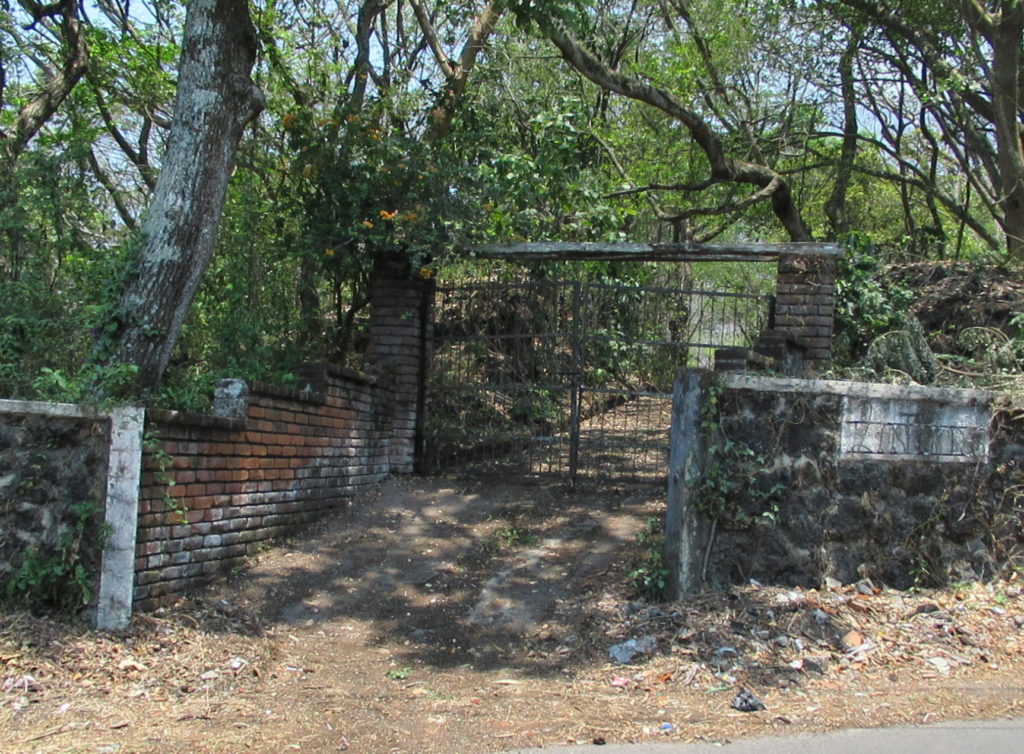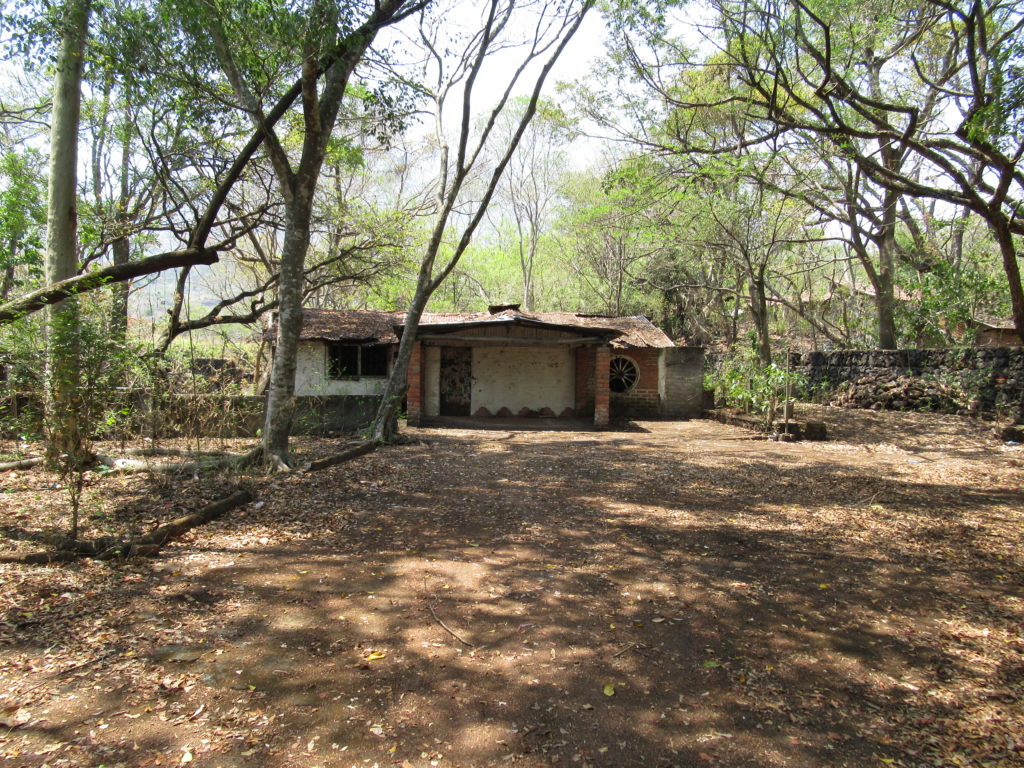 After a bit of a tour of the house and grounds, we headed over the back wall into the countryside. As we walked past the back of a few houses, we stopped by at a local family's house and picked up their kid as a guide to take us on our volcano walk. We were off! It was a bit surreal to be walking around at the bottom of a random volcano in El Salvador, and the scenery was lovely. As we headed slowly upwards, we crossed bits of old lava and got nice views of the volcano on the horizon.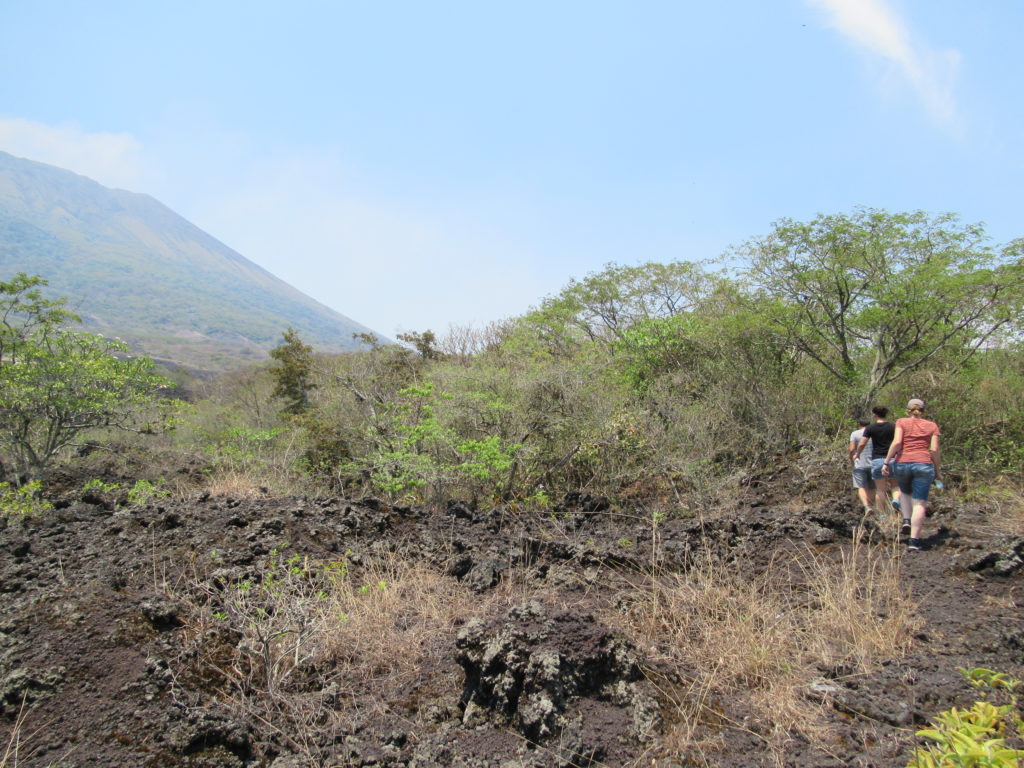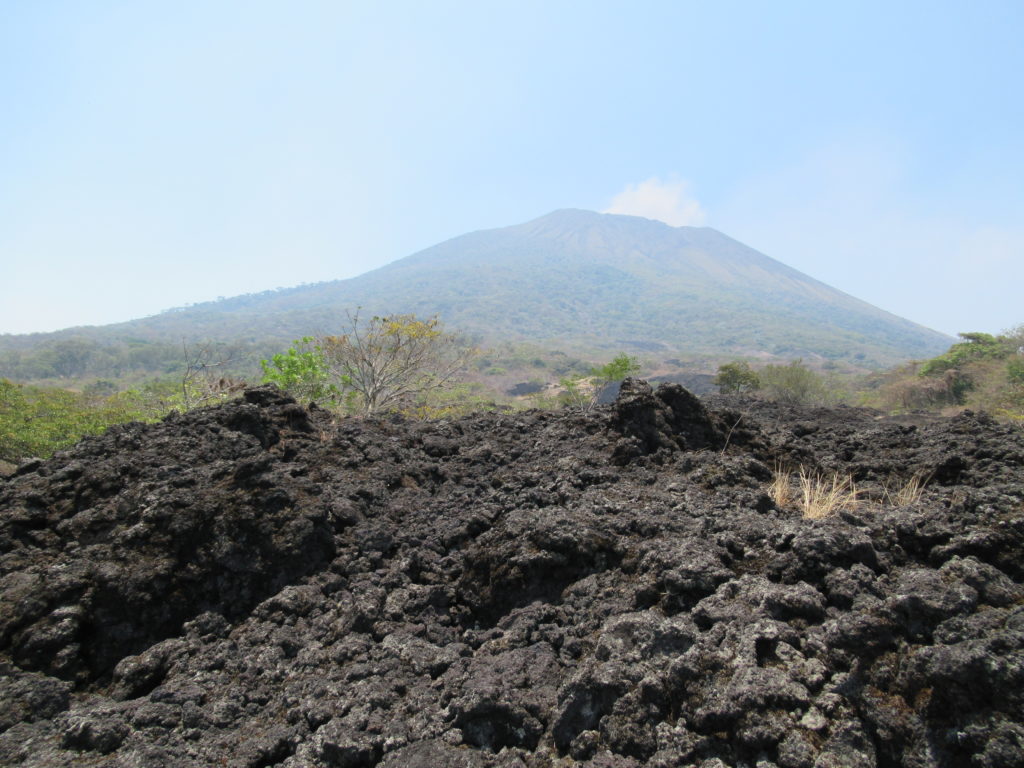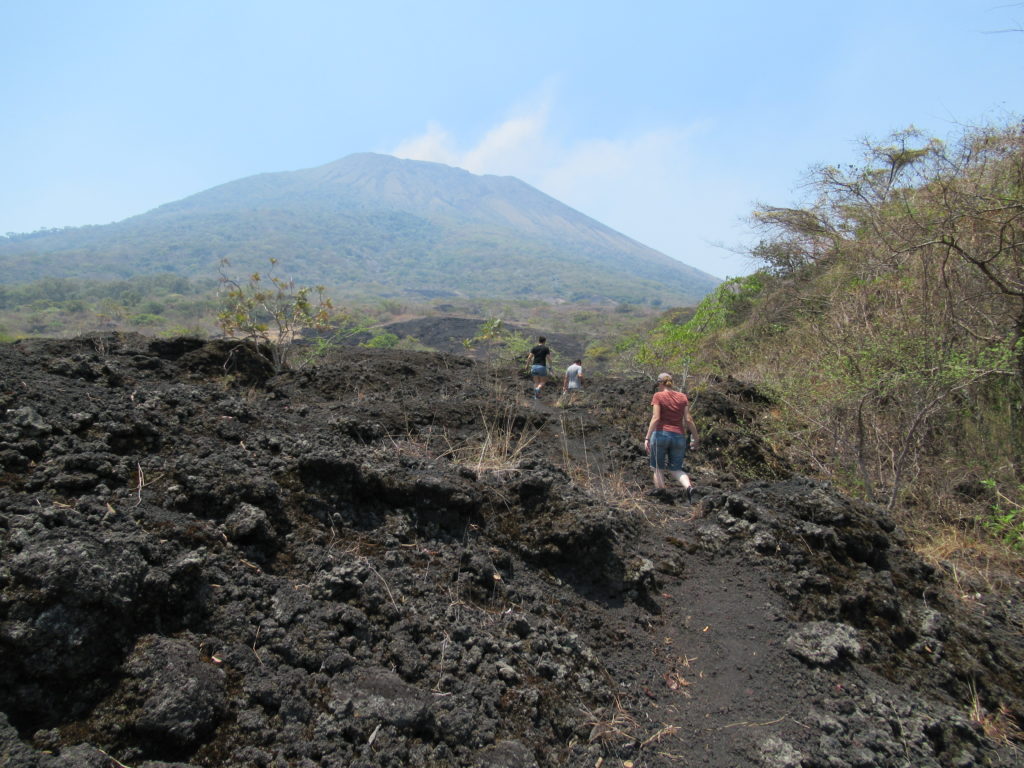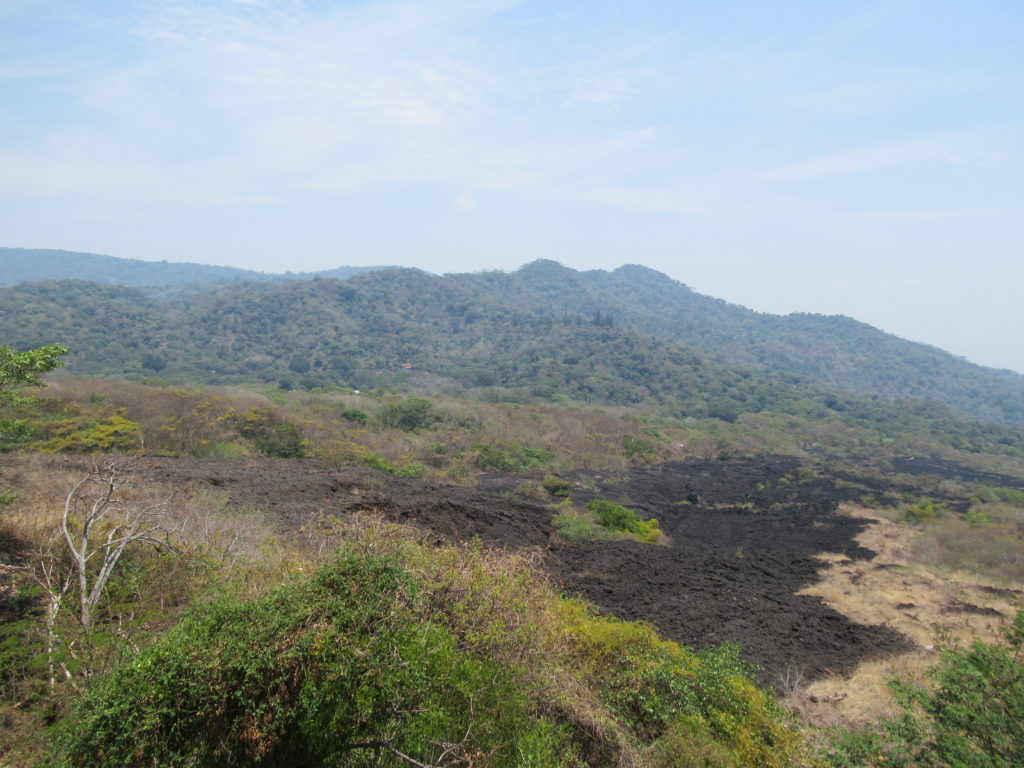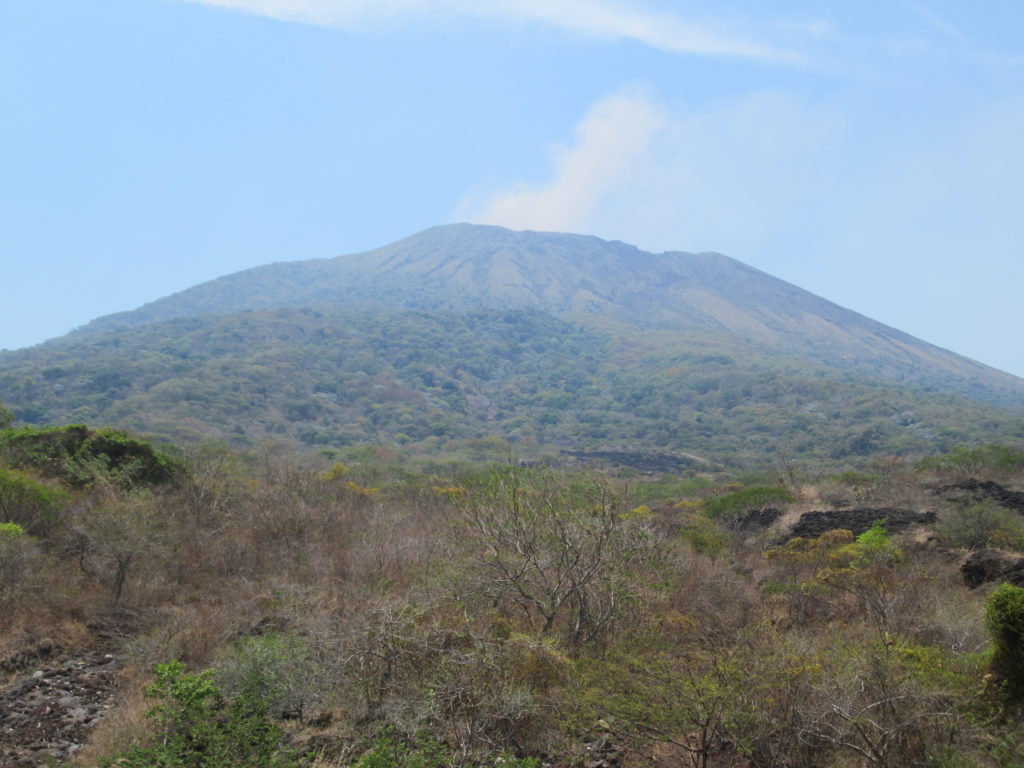 After a while we approached a forested area, and we descended into a lovely area of trees and crops. Next thing we knew, we were in a coffee plantation. We are always happy when we are near coffee! 🙂 It was a lovely area, and we stopped to chat with the coffee farmer for a little while. Our guide decided that we needed some avocados to take back with us, so off he went up a tree to get us some!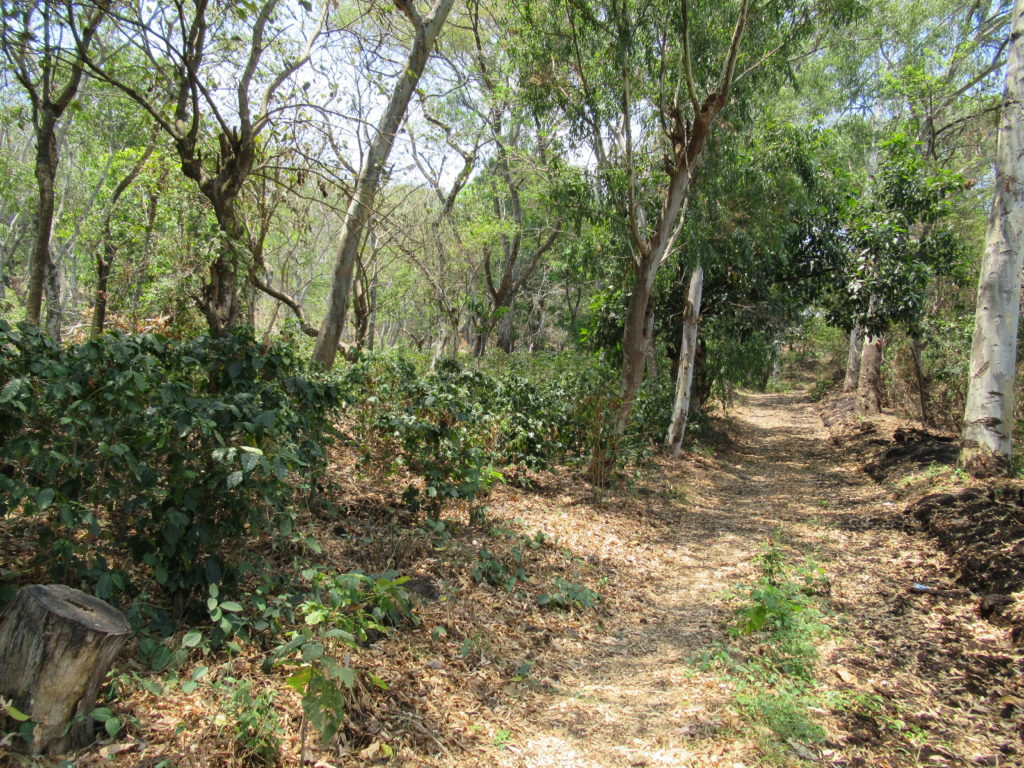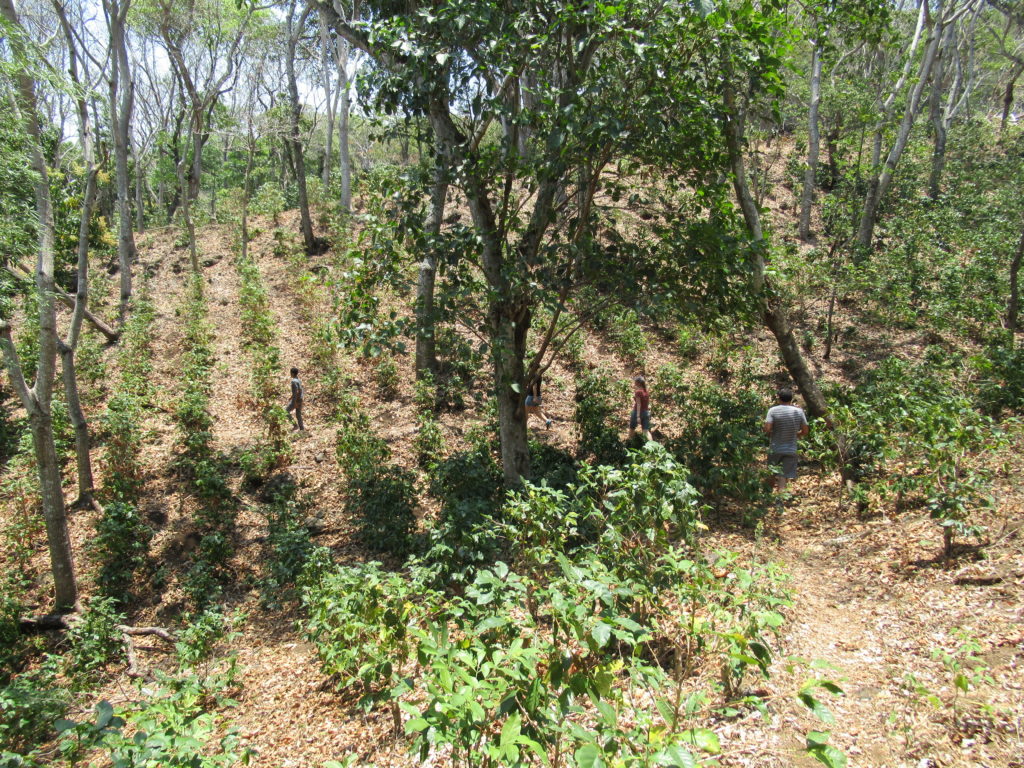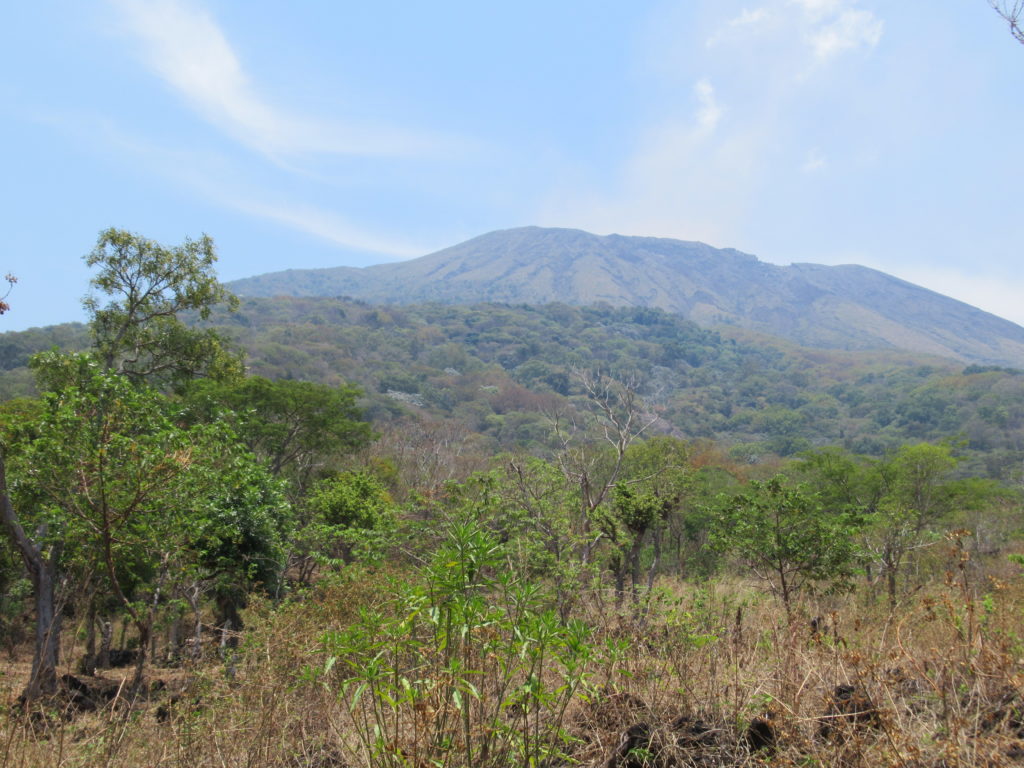 After a couple of hours we looped back around and headed back towards the old house. It had been a really enjoyable stroll in a beautiful area. We really hoped that Mauricio and Barbara would have great success with their new project, and that one day there would be a nice little campsite/hostel under the volcano.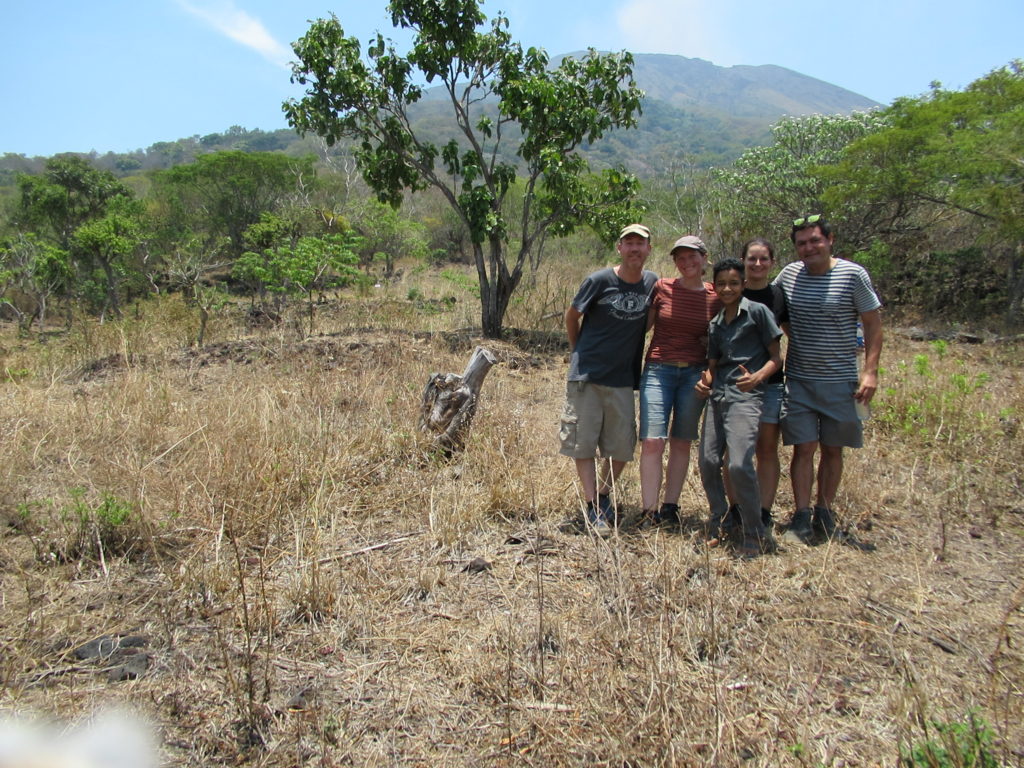 On the way down we had also discovered an exotic fruit – well, it was exotic to us! 🙂 It was called a 'marañón' – which turned out to be Central American Spanish for a cashew!? Yes, it was a fruit as well as a nut?! The nuts actually grow on the end of the fruit – they look a bit like peppers/capsicums with cashew nuts stuck on the end.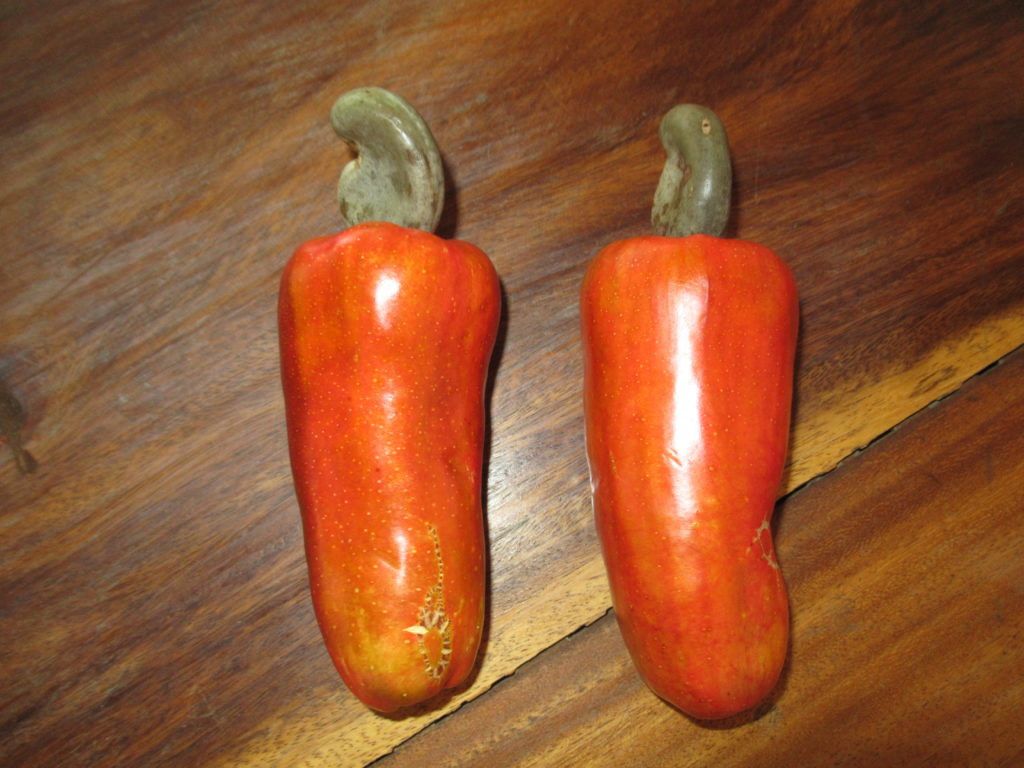 Technically and botanically speaking, the red part is not a 'fruit' at all – but it's edible, so that makes it a 'fruit' in my book! 🙂 We took our 'not-fruits' home and made juice out of them! MMM – not bad! 🙂
On the drive home we stopped for some delicious peanut juice – served in a plastic bag – making it a bit tricky to drink without spilling it…. my technique clearly needed work… ! Then the next stop was the market in San Miguel. The plan was to buy fresh seafood, and then we would have a delicious seafood lunch. Sounds good to me! 🙂 We bought fish and prawns and then headed back to the hostel. Barbara said that she was going to cook the lunch, and that we should just relax until 3pm and then lunch would be ready! How nice is that? 🙂 We offered to help, but Barbara insisted that we relax. Feeling slightly guilty… we went for showers and then relaxed and drank some mate. At around 3pm, lunch was ready and we settled down with some beers and a DELICIOUS home-cooked lunch of fresh seafood. 🙂 🙂 🙂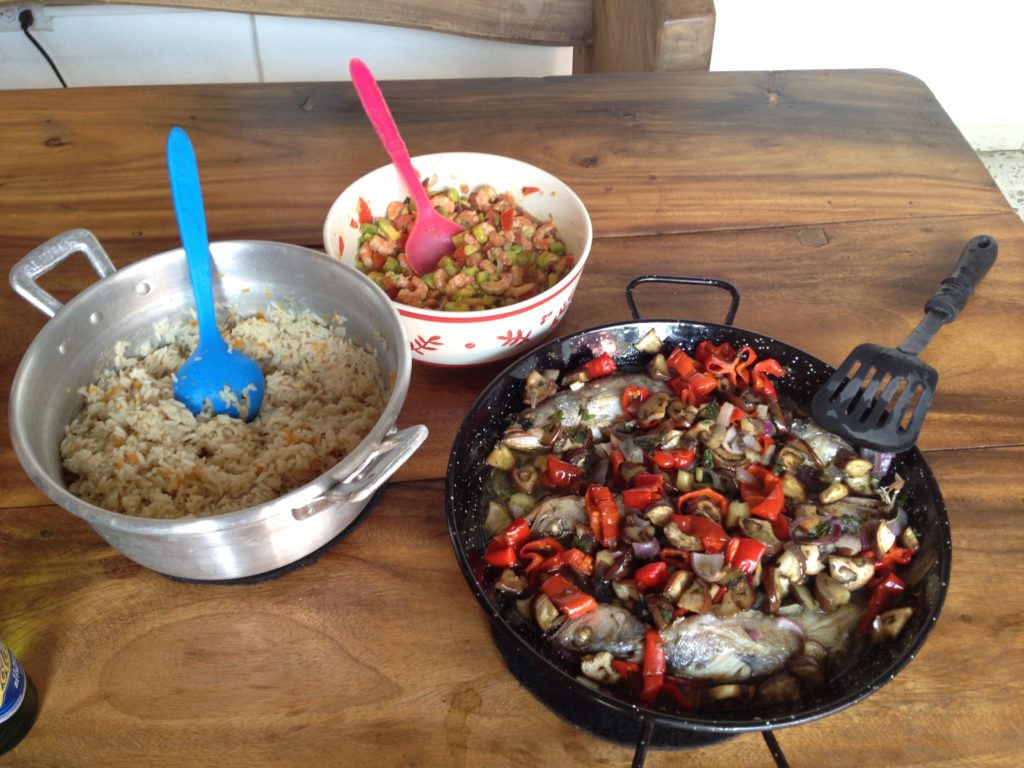 As we relaxed after lunch, Mauricio came up with another idea… "Let's go and swim in the lagoon!" This sounded like an interesting plan, so off we went!
The lagoon turned out to be a 30 minute drive away – along the main road out of town, and then down a gravel track for about 3km. Mauricio told us that he used to swim in this lagoon when he was a child growing up in a farm nearby. When we arrived, we found an abandoned and crumbling resort type building, a family, and a couple of groups of teenagers on motorbikes. It was a stunningly beautiful spot.
Mauricio told us that the resort used to charge an entrance fee, and that it was once a very popular place. But then gang members started hanging out in the area, and people became too scared to come. The resort was abandoned and left to crumble. He said that it still wasn't a very popular place, as people were still too scared to come because of the gangs. Despite this, he seemed confident that gang members did not come here anymore… yes, well we hoped he was right!
The lagoon was an old volcano crater filled with water, and you could see the old rim all around. Getting into the water required a short scramble down a slippery slope, but once we were in, it was wonderful! The water was incredibly warm, and we had a view of the sun setting behind the rim with San Miguel Volcano in the background.
We wondered how we had managed to end up floating in a random lagoon in El Salvador next to an abandoned building, in a location that most of the locals were too scared to come too?! Yes, it felt a bit strange, but it really was a great place.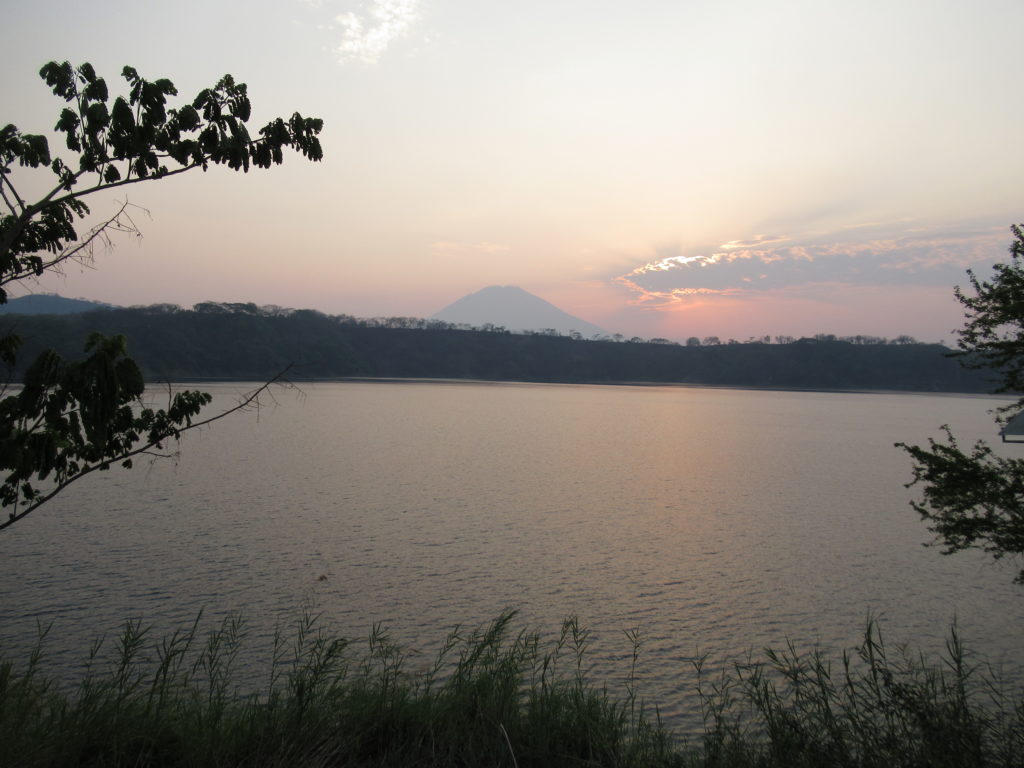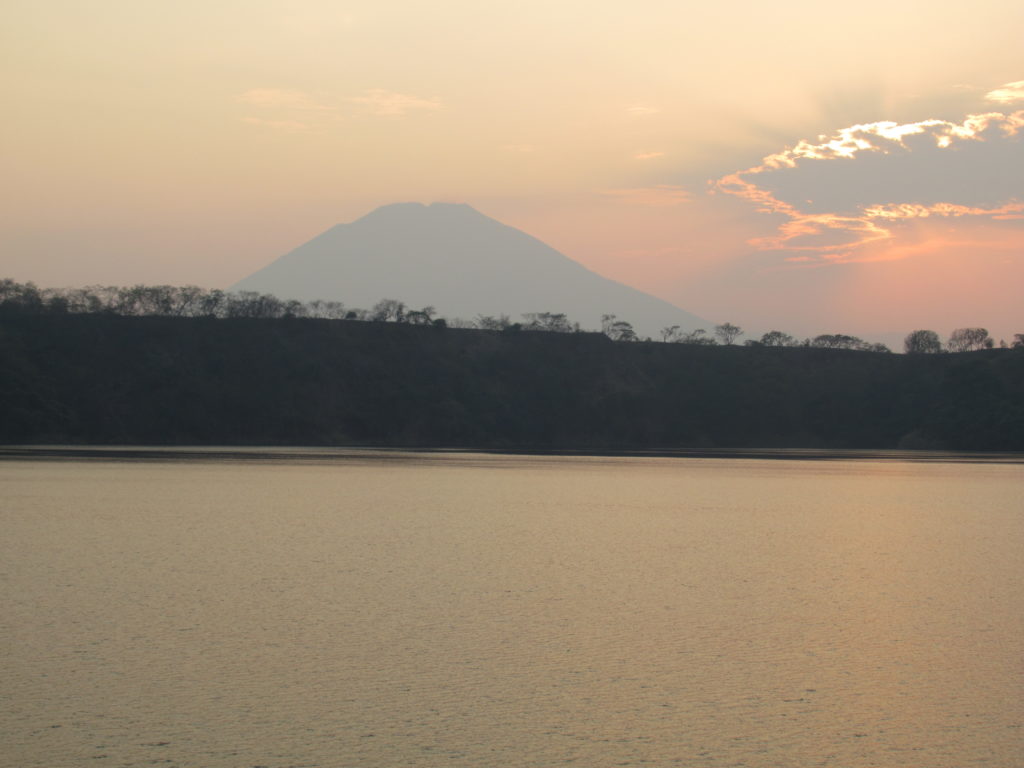 After floating about for around an hour, we exited the water and started the journey home. It had been a totally unexpected and surprising day – which had happened only because we had arrived during a public holiday, and Mauricio and Barbara had had no other guests staying in their hostel.
It was so nice of them to take us out for the day and show us some places that we could never have seem without them. It was a day that we will always remember! 🙂