Food in Central America – Tacos, Gringas, Pupusas and more…
So it's time to talk about the awesome variety of foods which started to appear in Nicaragua and continued northwards, and which could be described as 'stuff in a corn-based wrapping'. The most famous of these is the 'taco', and we were surprised to find so many different varieties and names – plus quite a lot of regional variations.
We enjoyed eating all of these immensely, as they were usually accompanied by spicy sauces, and often contained cheese – two of our favourite things! 🙂
So let's kick off with tacos. Tacos are originally Mexican and consist of a small tortilla and a load of filling of your choice. I'm sure that you all know that the tacos with the hard crunchy shells were invented later in the United States, and that 'real' tacos are made with a soft tortilla.
Next up, another famous one – quesadillas. Quesadillas also originate in Mexico, and are pretty much like big tacos with cheese in. Quesadillas are served in many different ways and there isn't much consistency – even in Mexico apparently.
In Nicaragua there were tacos and quesadillas aplenty, and also a local speciality of Leon called a 'quesillo'. This name is confusing all round, as it refers to either a dessert or a type of cheese in other Spanish speaking countries. It literally means 'little cheese' – hence the confusion I suppose…
So in Nicaragua a quesillo is a tortilla containing soft cheese, onions, and sour cream. Pretty good! 🙂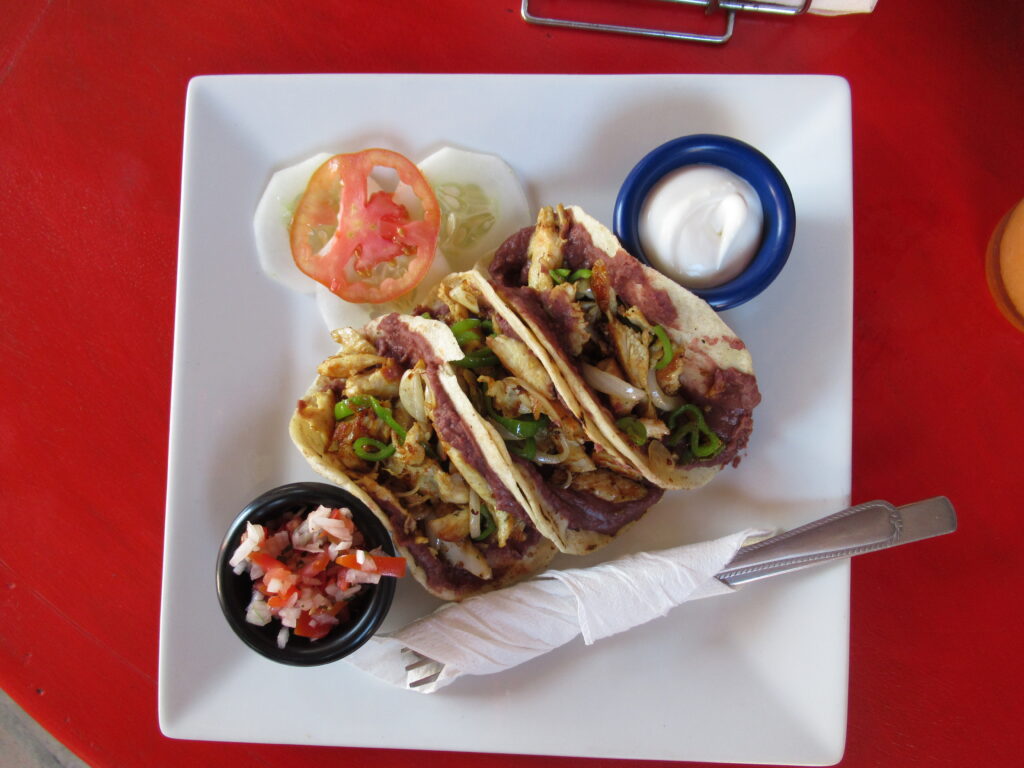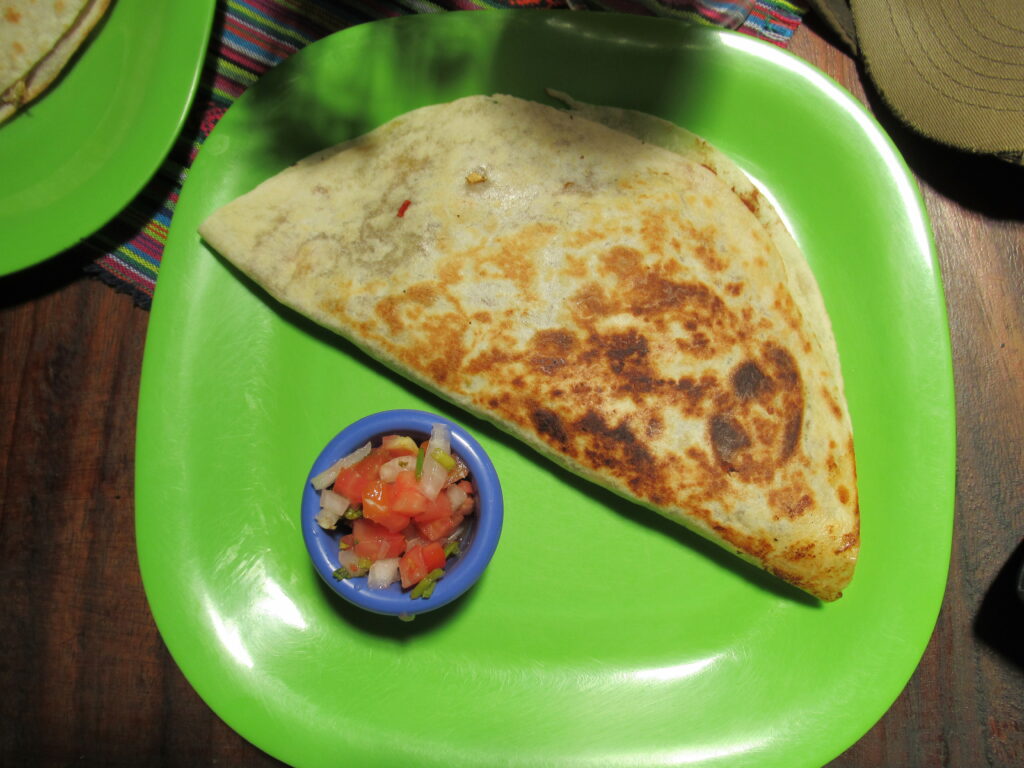 Moving on to Honduras, we encountered 'Tacos al pastor'. 'Tacos al pastor' – literally 'shepherd style tacos' – are tacos filled with kebab meat! Yes, how cool is that? Lebanese migrants to Mexico started making this in the 60s, and it's now one of the most common type of taco fillings.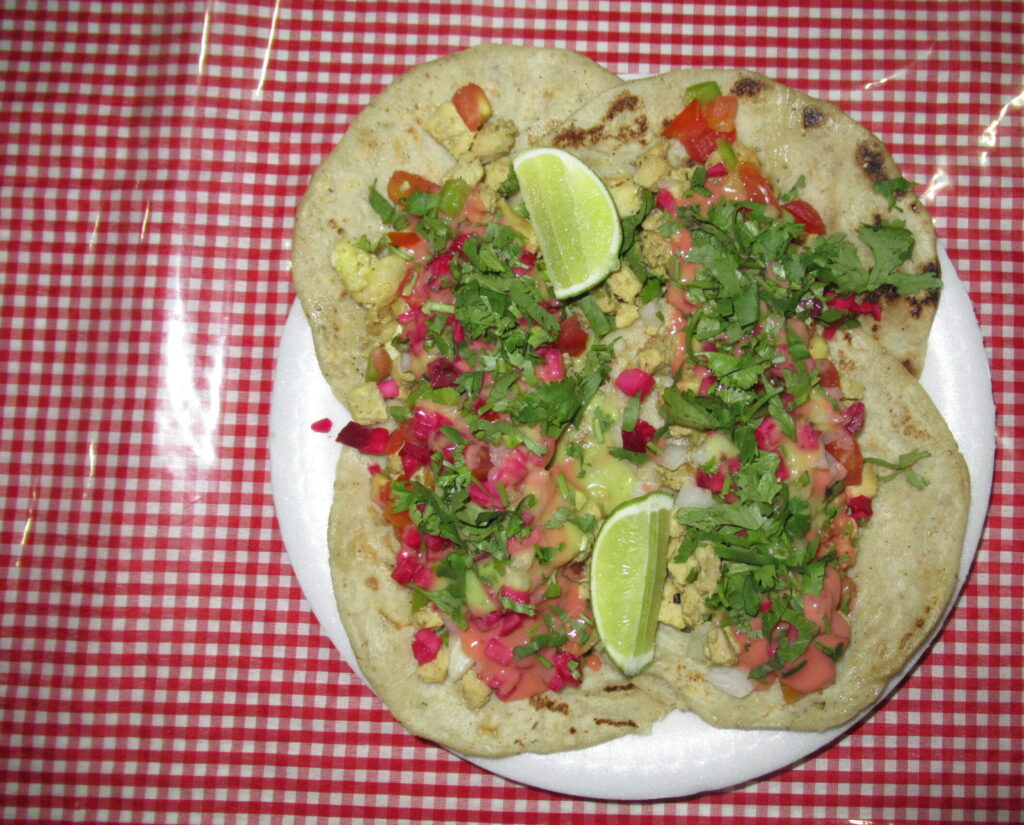 Next up we have 'mulitas'. 'Mulita' means 'little mule' and it's basically a small quesadilla. By this point we were starting to realise that there were going to be many names for very similar things and confusion would reign… (well for us it would anyway…! 🙂 )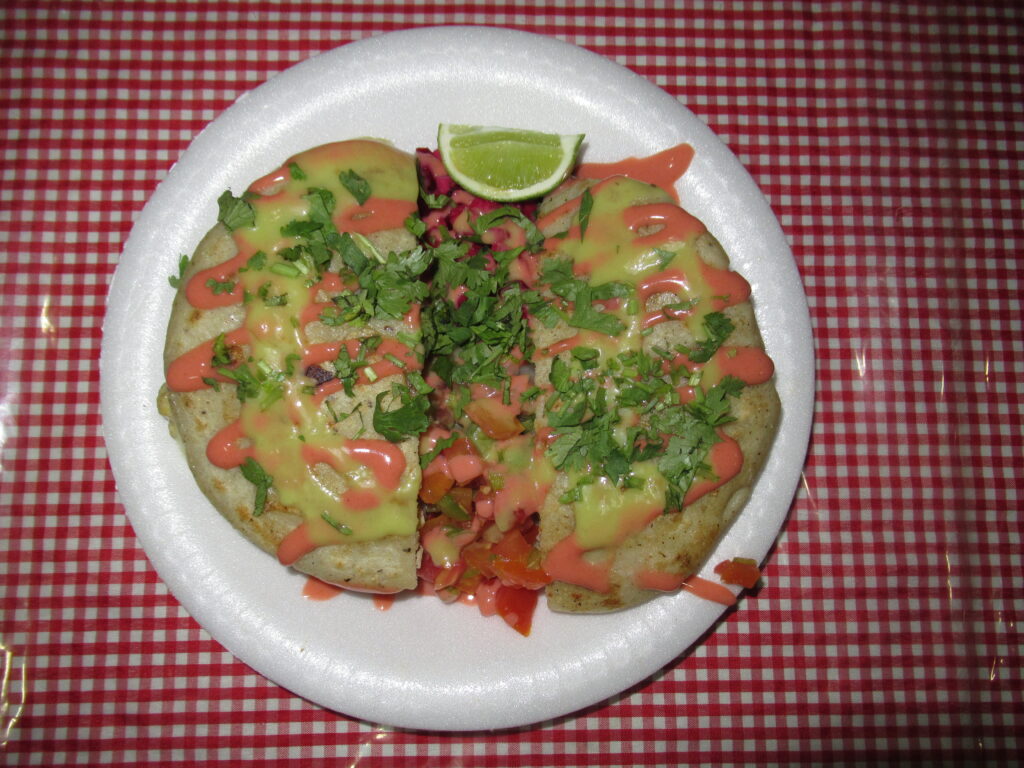 Now we come to a Honduran speciality – the baleada. A baleada is a tortilla filled with mashed red fried beans, thick cream, and crumbly salted cheese. YES! What's not to like? Sometimes the baleadas have additional fillings as well, but the fillings I just mentioned are in the original traditional baleada – known as a 'simple baleada' (baleada sencilla). They are super-delicious!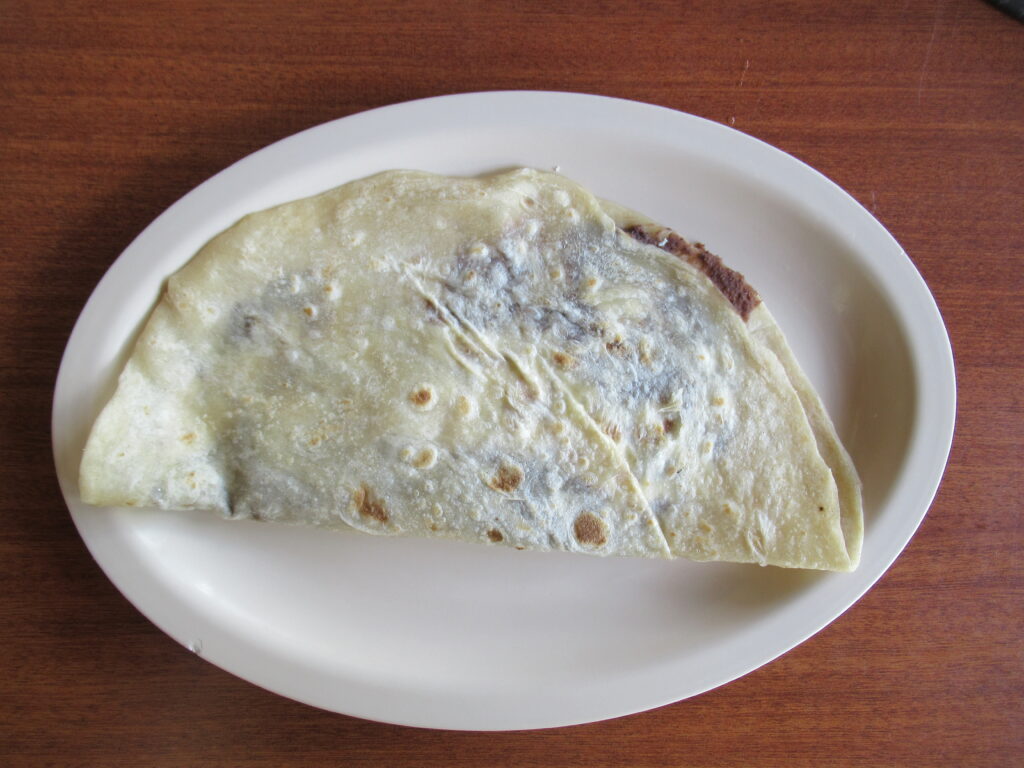 Moving on to 'enchiladas' – yes another name that sounds familiar – but what is it? Well, an Enchilada – like many other things – means different things to different people. In Mexico it would generally be a tortilla with filling, covered in cheese and spicy sauce. In Honduras they have their own definition of an enchilada – which is a flat, fried tortilla with a load of toppings on top – usually including cheese, salad, and tomato. Confused yet? Yes, you never really know what you are going to get the first time you order anything in a particular country in Central America…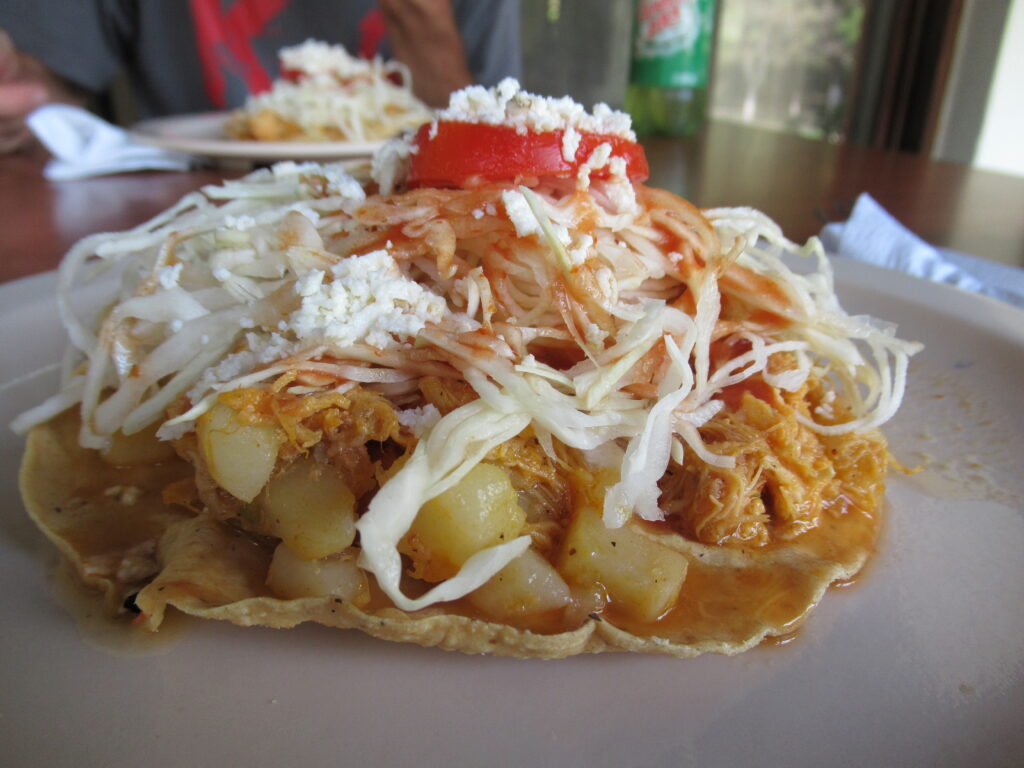 OK, so the next thing that we encountered was something called a 'gringa'. This took us by surprise, as in our mind the only 'gringa' around was CC :-). A Gringa is basically a grilled flour taco with cheese. Supposedly the name came about because a couple of students from the U.S. living in Mexico City started asking for flour tortillas instead of corn tortillas, and then other customers starting asking for their tacos to be made like this as well – eg. make it like the 'gringa' has it. Yes, well sounds like an urban legend to me… anyway, it seems that if you order gringas they will contain cheese – but the rest is up to you… Yep, more confusion…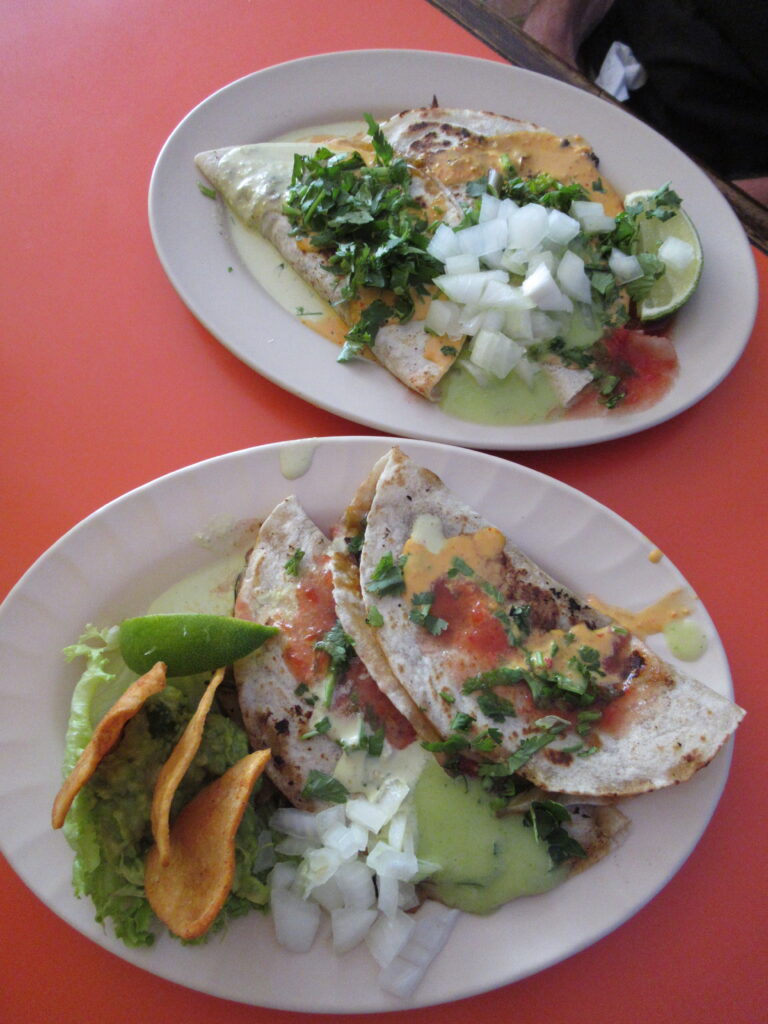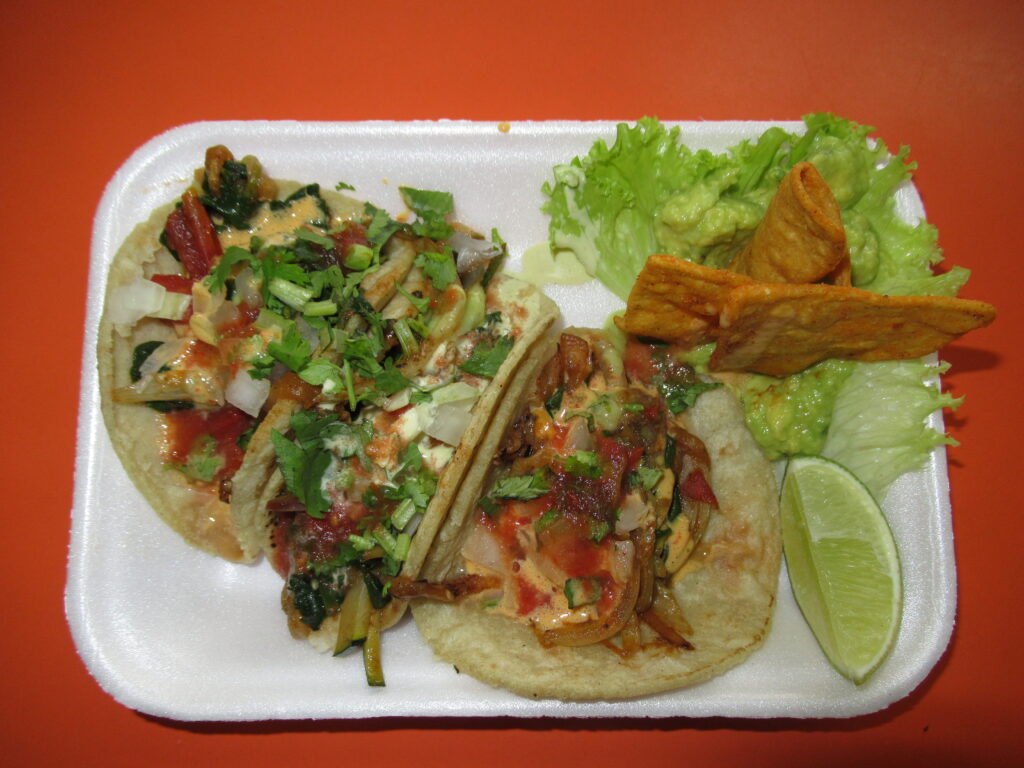 Next we come to a bunch of very regional specialities – similar to the above lot, but all found in Belize. So once again we found ourselves having no idea what we were ordering most of the time..
First off, we have 'garnachas'. A garnacha is a fried corn tortilla topped with refried beans and cheese – which makes it similar to an enchilada in Honduras. It might be the 'level' of the place that we went to eat them in Belize – but the toppings on the garnachas were pretty weedy compared to what we got on the enchiladas in Honduras!
We also have 'panades'. 'Panade' is the Belizean word for 'empanada' – so like a deep fried turnover (empanadas are also slightly different everywhere you go…). Strictly speaking therefore, I don't think that panades belong in this section. But seeing as they are in the photo I am giving them a mention… 🙂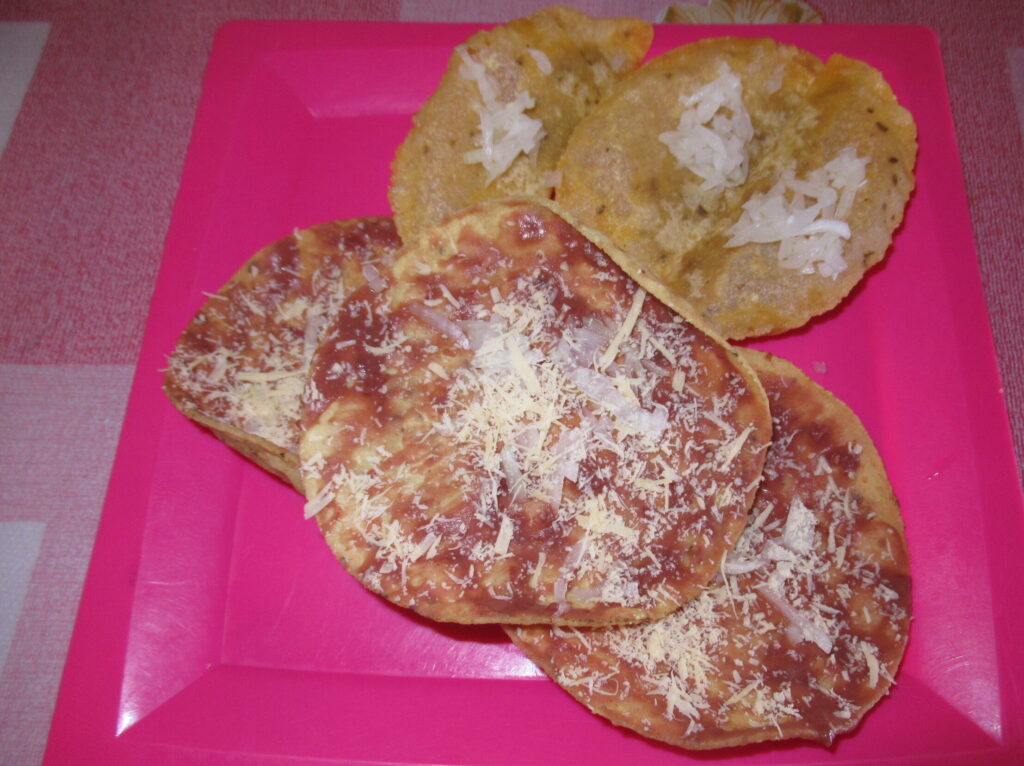 Also in Belize we have the 'salbut'. A salbut is a puffed deep fried tortilla with a variety of toppings. I think once again we were given the very 'basic' version… not surprising given the establishment that we visited I guess…. 🙂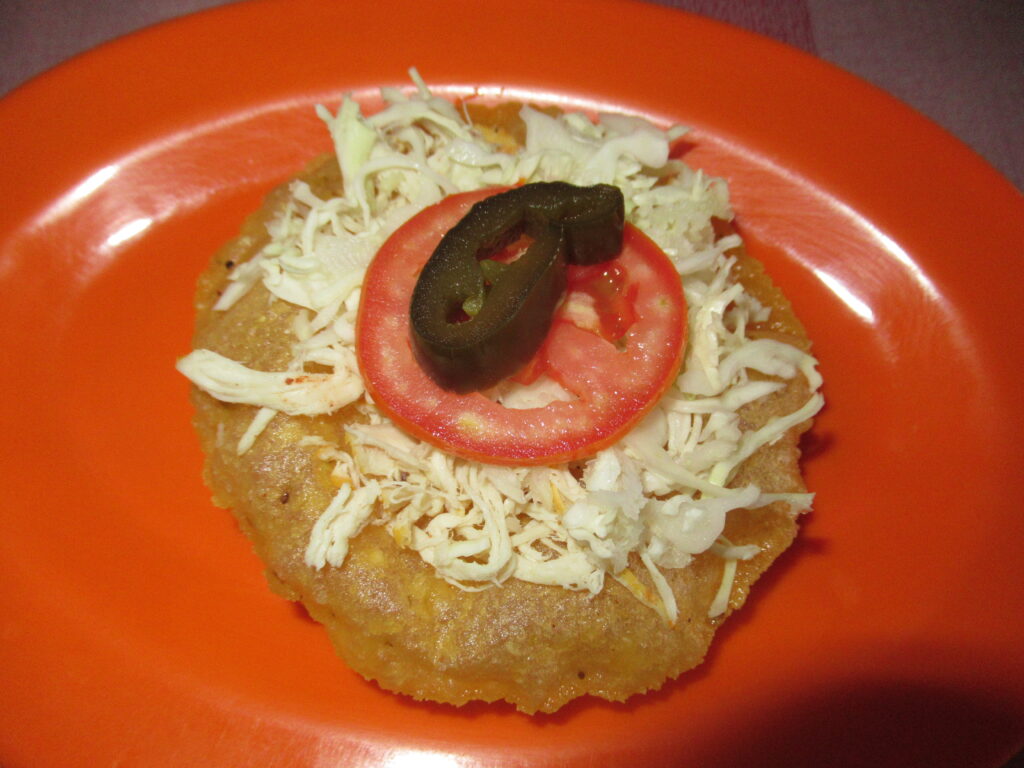 Pupusas
And finally we come to the VERY BEST of all of these types of food. Yes, the alert amongst you may have noticed that there is nothing mentioned so far from El Salvador – and this is because El Salvador is the home of the 'pupusa' – the greatest of them all! 🙂
Pupusas are available everywhere in El Salvador and the places that sell them are called 'pupuserias'. It would be fair to say that we ate at least one pupusa every day that we were in El Salvador (except perhaps one…). We could not get enough of them.
So, what are they? They are a kind of bread made of corn or rice flour – cooked on a griddle and stuffed with various delicious ingredients. They are then covered in a spicy coleslaw called 'curtido' – which is kind of like Kimchi. They supposedly originate from the indigenous Pipil people of El Salvador.
We ate pupusas with a variety of fillings – including: beans/cheese, jalapenos/cheese, mushrooms/cheese, and garlic/cheese. It's possible to get pupusas without cheese – but why would you do that!! 🙂 A special mention is deserved for 'loroco' and cheese. Loroco is a very traditional filling for a pupusa. It is a vine that grows all over Central America which has edible flowers. The flowers from this vine are one of the most common pupusa fillings. Although it's quite a nice filling, it's difficult to beat garlic or hot jalapenos…
Pupusas are usually made with cornmeal, but in the east of El Salvador a regional variant – 'pupusa de arroz' – made with rice flour – was developed, which is now available as an option across the whole country.
So without further ado, I present to you the gallery of pupusas…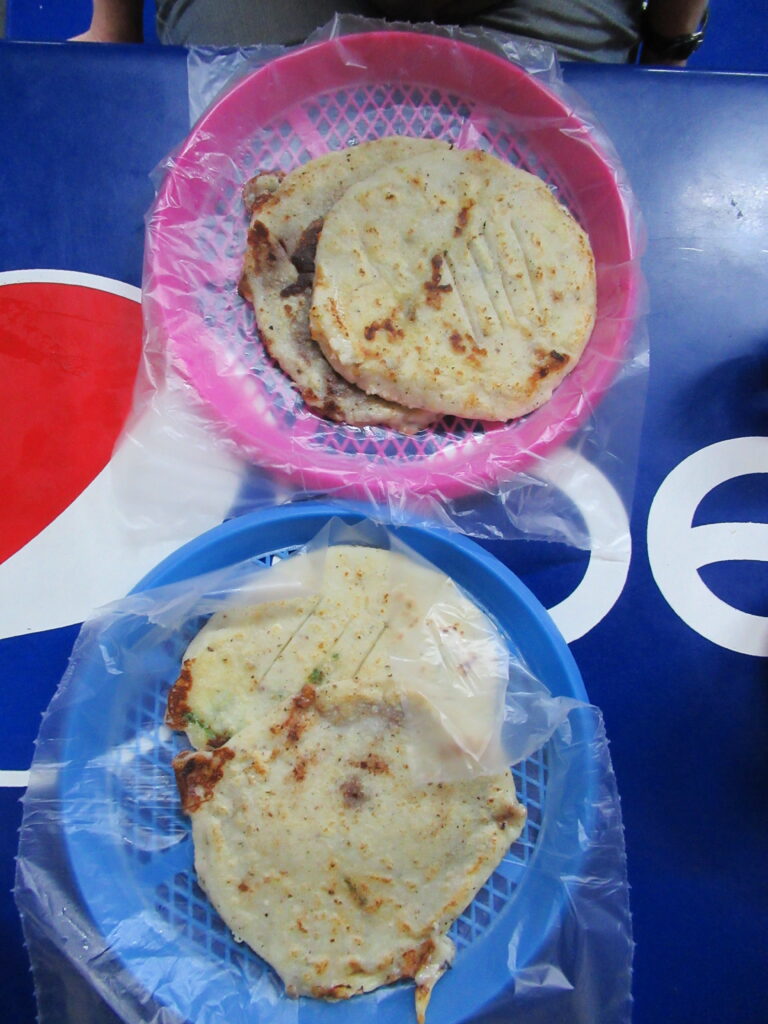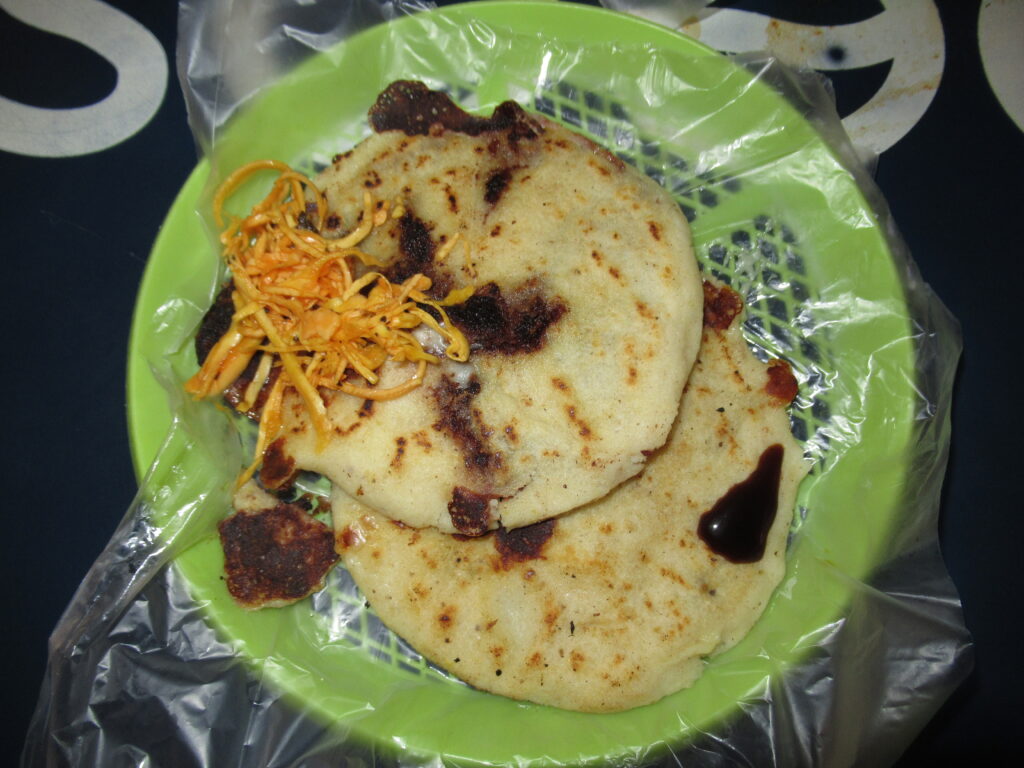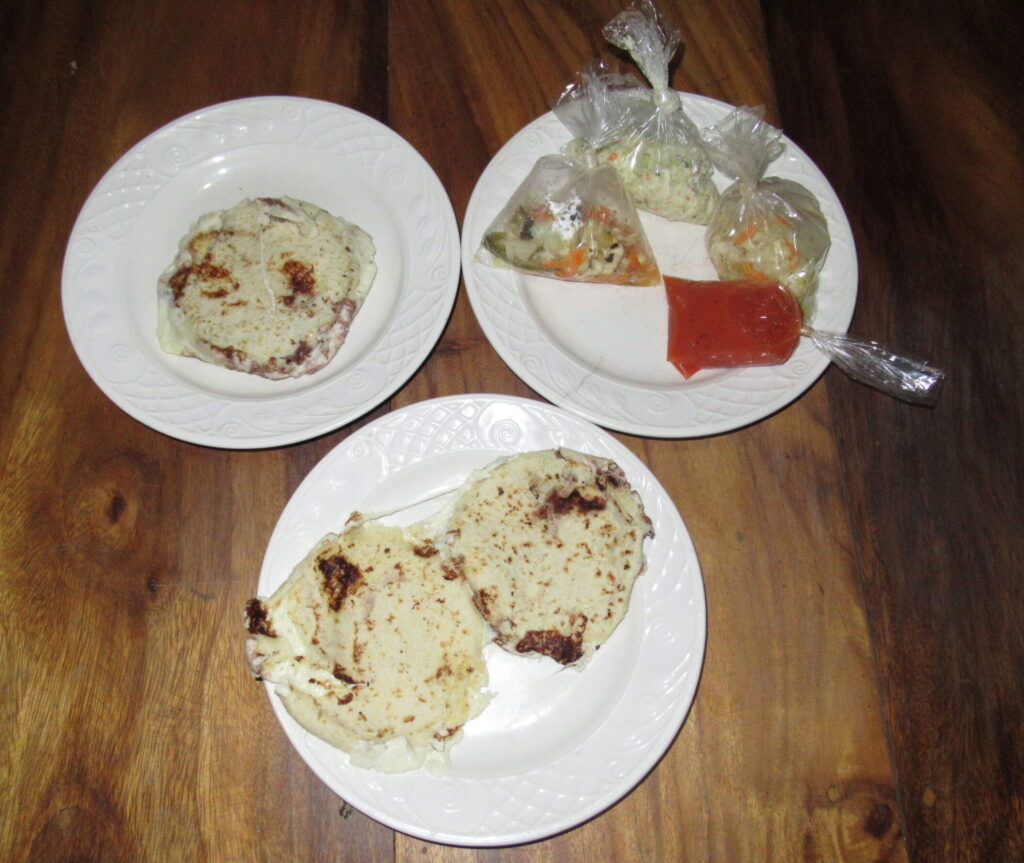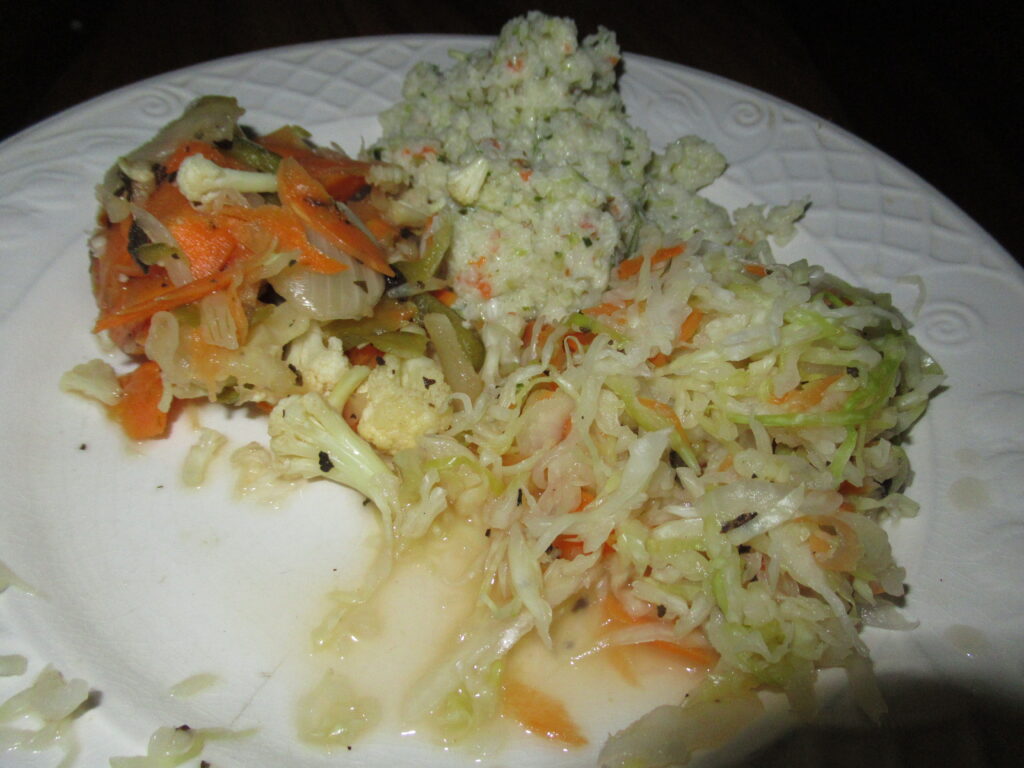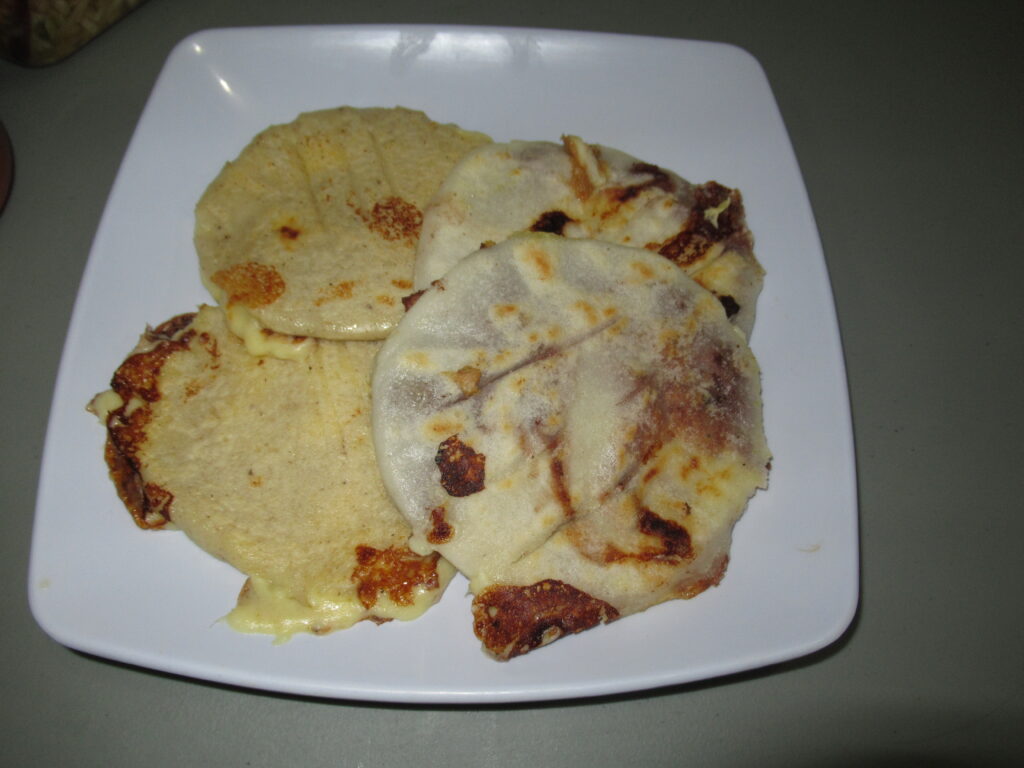 Sauces
And so we come to the thing that makes it all complete…. YES – HOT, SPICY SAUCES! 🙂  With all of these types of food, you are pretty much guaranteed to be able to get your hands on some spicy sauce to pour all over it… 🙂
So I will finish here with a few pics of spicy sauce… mmmm