Food preparation and tours
CC got to spend two days on the food prep and tours section… PB spend ZERO days on ths section… boys rarely get to chop food as there's too few of them – and therefore this seems to be a section that girls get to do while boys get to be with the capuchins…
The food prep section is headed up by someone that we only met briefly, as her two weeks of leave.pretty much coincided with our two weeks at La Senda Verde.. when I was on this section there therefore wasn't really anyone in charge!?! BUT there were two vet interns that had been on this section for about a week, so there was someone to tell me what to do 🙂
When volunteer numbers allow, there are two volunteers on this section – one Spanish speaker and one English speaker (this is so that all tours can be covered!) – when volunteer numbers are low, no-one gets rostered on this section…. and any volunteer that Edgar can find gets to do the tour!?!
There are lots of animals and birds to prepare food for… and each day the food prepared is slightly different… The work on this section starts after breakfast… although if you're feeling diligent you can always lend a hand before breakfast too – the 2 vet interns started between 7am and 7:15am in the prep room and had a late breakfast at around 10:30am… volunteers ate breakfast at 7:30am… tended to meander into the prep room at around 8:30am and work for 2 hours… then have their first break while the vet interns ate breakfast… a tad unfair if you ask me!
Most of the animals and birds were fed three times a day, so after the break it was back to the prep room to continue chopping!! Most of the fruit and vegetables looked REALLY good, and by the time lunch came I was really hungry as I'd been working with food all morning… dreaming of all the things I could make if I had a kitchen with all this fruit, vegetables, quinoa, rice, pasta, seeds etc. readily available…
It wasn't all about chopping vegetables and fruit… honey sandwiches are prepared in the prep room (for the Andean spectacled bears), as is pasta and quinoa (for the capuchins), not to mention jelly for the animals… I got to make a cucumber, carrot and dog food jelly for the tortoises 🙂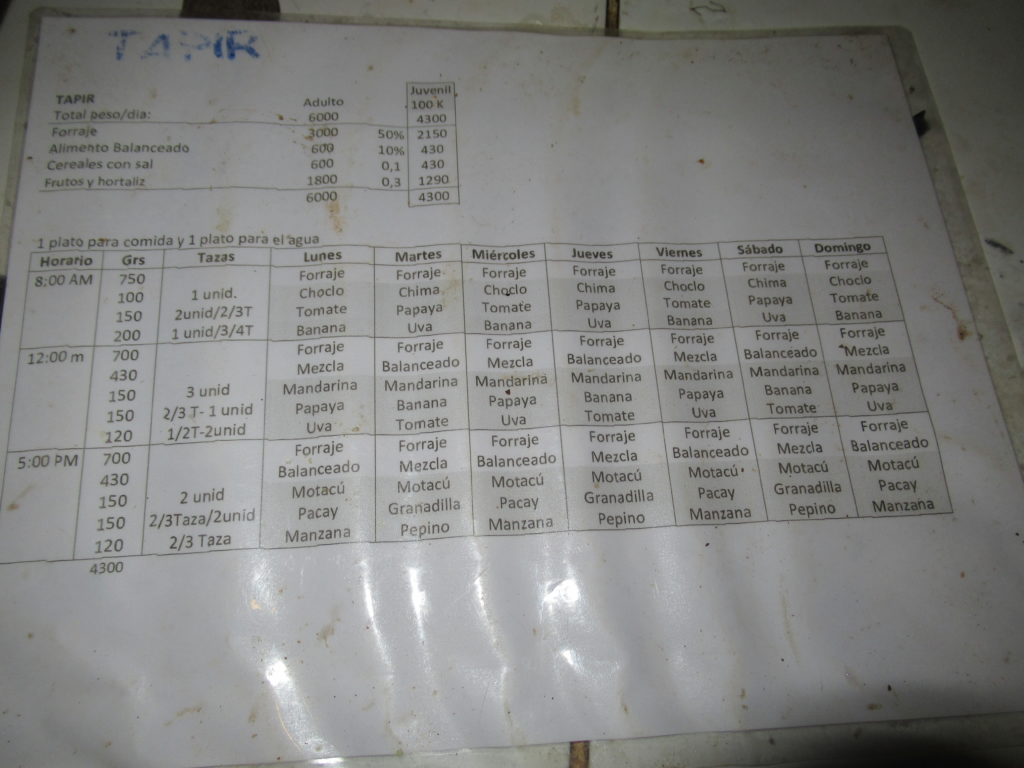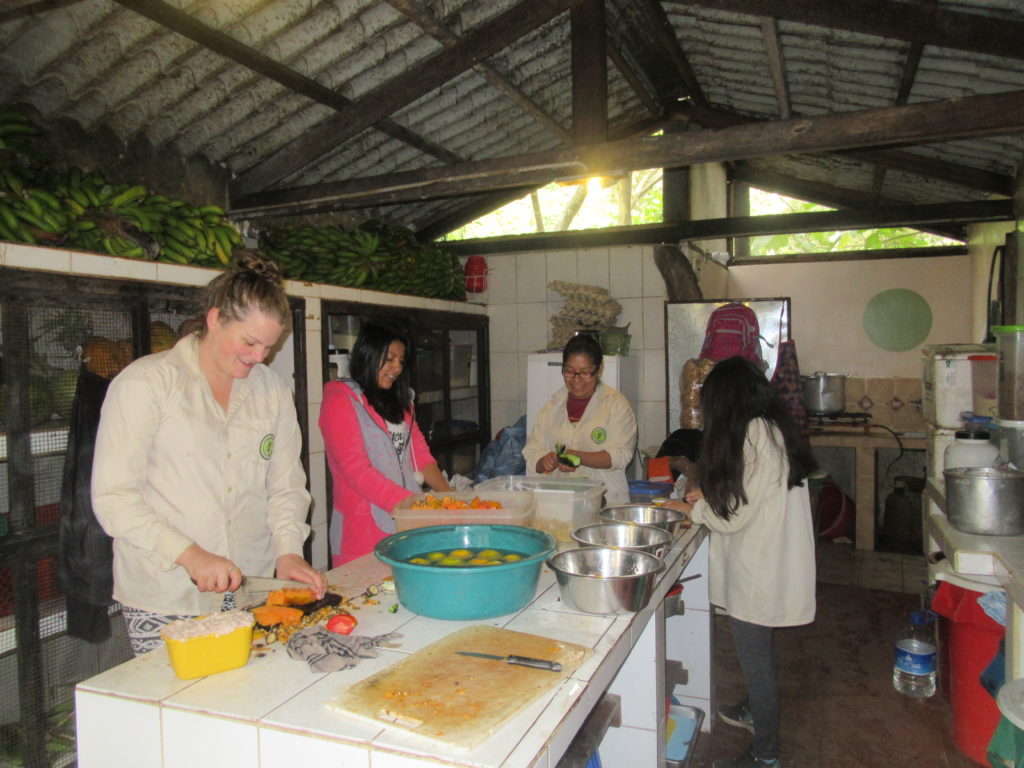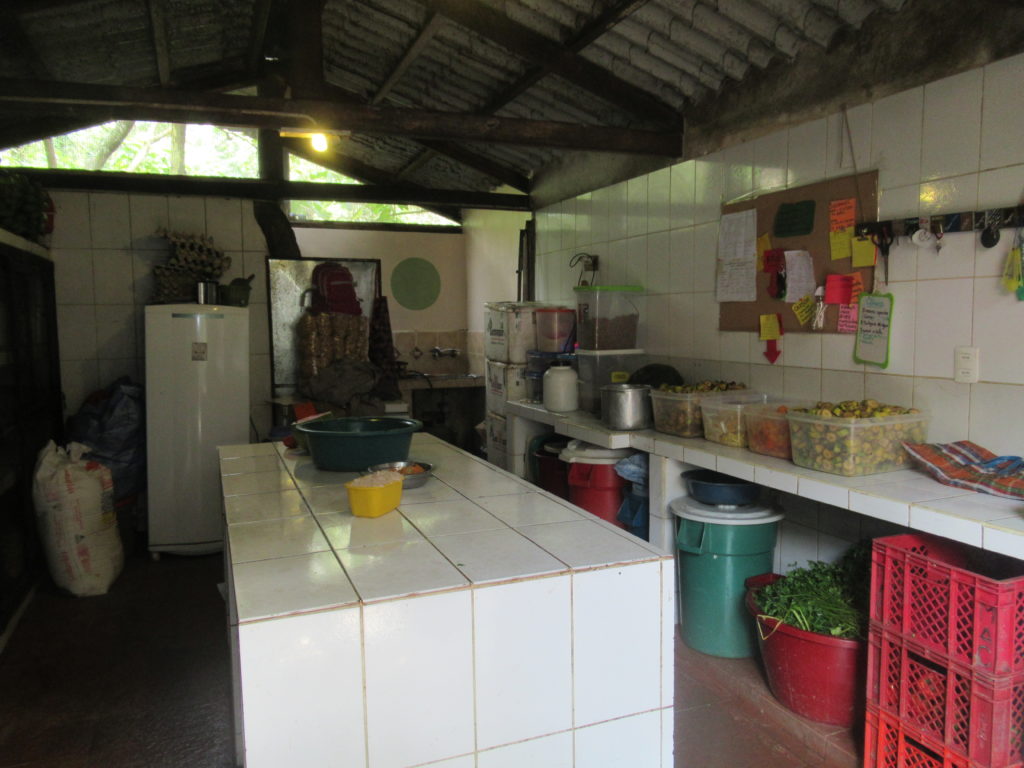 Apart from preparing the food for the animals and birds, tours was another major part of this volunteer role…. tours are supposed to be according to a fixed schedule – 10am, 11am, 12pm and 3pm… however in reality tourists rock up and expect – and usually get – a tour regardless….
While on this section you have to be prepared to leave the prep room to go on a tour at the drop of a hat… Although while I was in the prep room, most of the tourists that arrived were Spanish speakers – meaning that I didn't have to do any tours – that was the job of the Spanish speaking volunteer…
In fact in 2 days I only got to do one tour… and it wasn't a proper tour at that…
A proper tour is a 45 minute tour of all the areas – you even take the visitors into a couple of areas OUTSIDE the human cage (and keep fingers and toes crossed that none of the spider monekys approach – tourists love having a monkey climb on them, but don't realise they can turn aggresive at the drop of a hat and bite! or else Tormenta, one of the capuchins, approaches and rumages through the pockets of all the group removing anything that the tourists forgot to remove before they came on the tour (Tormenta was a trained pickpocketer before he was rescued)…
The tour I got to do was a 'monkey tour'… Tourists arriving with Gravity after a ride down Death Road don't have time to do the comptete tour – so they can pick between a bear tour and a monkey tour… I got to take a group of three to see the monkeys – first stop the newly arrived monkeys by Marcelo and Vicki's house, second stop a platform that looks over the area that the capuchin monkeys call home… all these stops are firmly within the human cage 🙂
PB – even though never officially on this section – actually got to do a 'proper' tour. He was between tasks on specials, and wanting a change from cleaning an enclosure, volunteered when Edgar was in need of an English speaking volunteer to do a tour…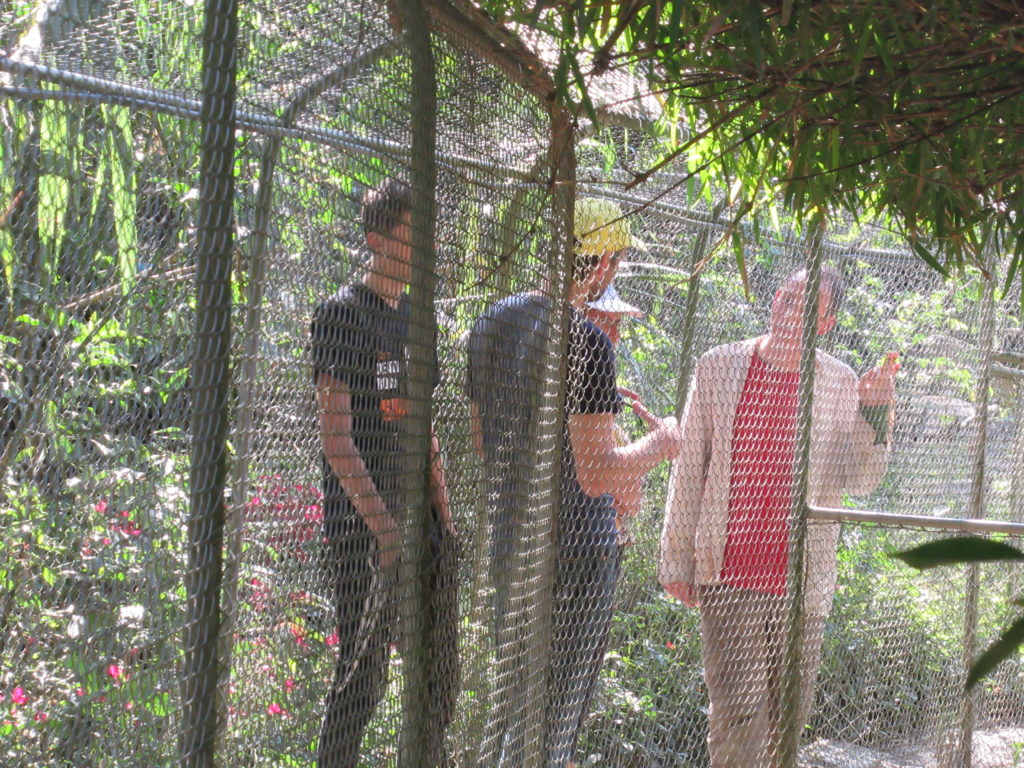 The other thing to mention is that with this section came free time 🙂 When the food was prepared, and there was no demand for tours you could relax… there was heaps of time for coffee drinking, reading the fact sheets about the animals, and even time for a stroll into Yolosa…
It might not have been everyone's favourite section, BUT for me it was a pretty good experience… heaps of Spanish practice, learning about what the animals eat, AND plenty of time for drinking coffee 😉 😉