Daily life at Chuchini tended to start early (well, depends on your definition I suppose…  🙂 – 7am was a usual start – which is not long after the sunrise. If the tourist group was smaller then it was 7.30am, and on days with no tourists (which we only had one….) it was 8am.
This is basically because the first task of the day is always to set up the breakfast buffet and place settings for the guests. When there are 24 guests this takes the longest…. when there are no guests, we only have to set up breakfast for ourselves! 🙂
Our living conditions were a lot more 'civilised' than at the last volunteer place – we had our own room in the main house, next door to the intern's room (the intern was there was 5 months), and around the corner from the rooms where the owner's lived (husband and wife and the two children)
The bathroom which we only shared with the intern was a few steps away at the end of the corridor. There was no need to gather wood to make a shower like in the last place 🙂 …. but that's because Chuchini has NO HOT WATER AT ALL ANYWHERE ! 🙂 🙂
This was actually fine most of the time, as it was generally 30 degrees throughout the day, and an afternoon shower produced 'tepid' water as it came out of the tap 'warmish' due to the hot climate. BUT – little did we know that 'cold fronts' pass through this area in winter, and one day the wind changed and the temperature dropped by 10 degrees and we were confronted by a strong, constant howling wind. It actually felt very cold at 20 degrees during the day and around 14 at night, and as our room didn't have windows (only 'window holes' covered with insect-proof mesh), the wind kept blowing our things everywhere…. SO… we have to confess that we didn't take showers during the two cold days….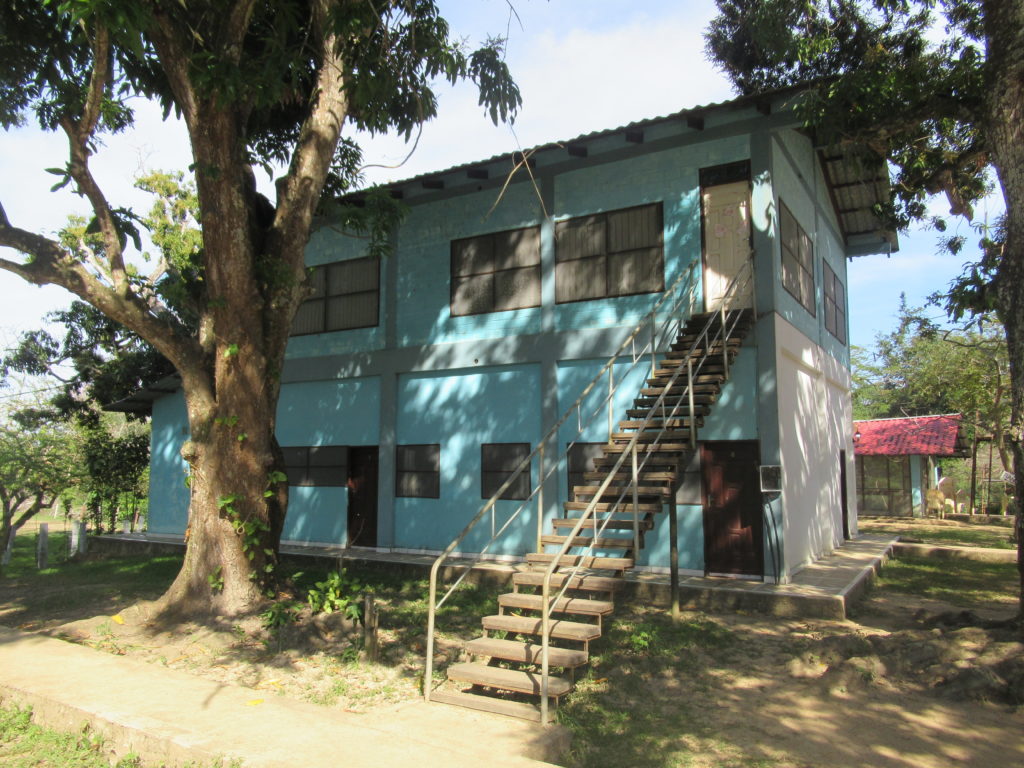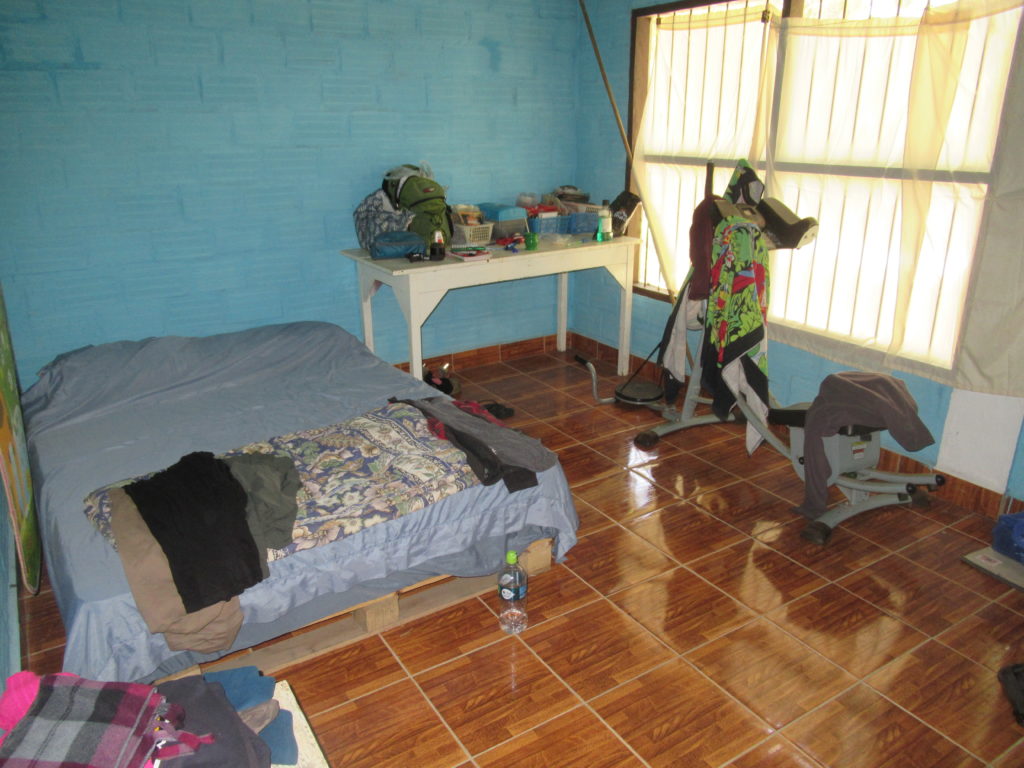 After a few days, we realised that we were actually sharing the bathroom with a few other visitors….. FROGS! Yes, there was a wide variety of frogs that would appear in the bathroom on a regular basis 🙂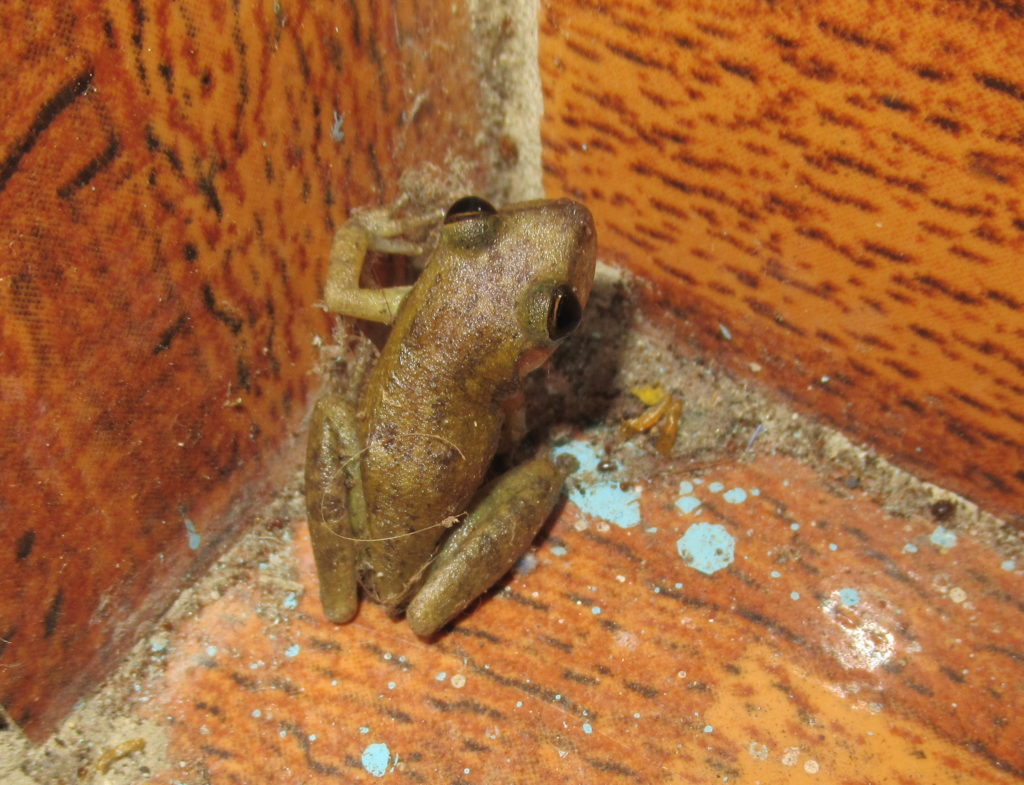 Although our room didn't have glass windows, or a door (just a curtain hanging over the doorway!) and the mattress was on a wooden palette – it was actually very comfortable indeed! 🙂 On the warm nights, a light breeze would blow through, and we slept well most nights..
The work schedule was not really a 'schedule' as such… it used to be that there were not that many guests at Chuchini, so volunteers did various different maintenance projects – but now that the lodge had guests nearly all the time (the capacity is 24 guests)  then the schedule revolved around guest meal times – setting and clearing tables and washing up and so on.
I would say that our working day was around 7 – 7.30am to 8 – 8.30pm BUT with various gaps and breaks throughout the day. Some days we probably worked around 10 hours, but other days maybe only 5 hours. When we were joining the activities with the guests, it didn't really feel like 'work' 🙂
So daily life was in fact fairly unpredictable! It depended on what needed doing between guest meal times, and what activities were being run for the guests.
When we got long breaks, and on our day off we went walking the jungle trails – but in the many short breaks throughout the day there wasn't time to do that – so drinking mate by the lagoon and looking for birds was a good way to spend a break! 🙂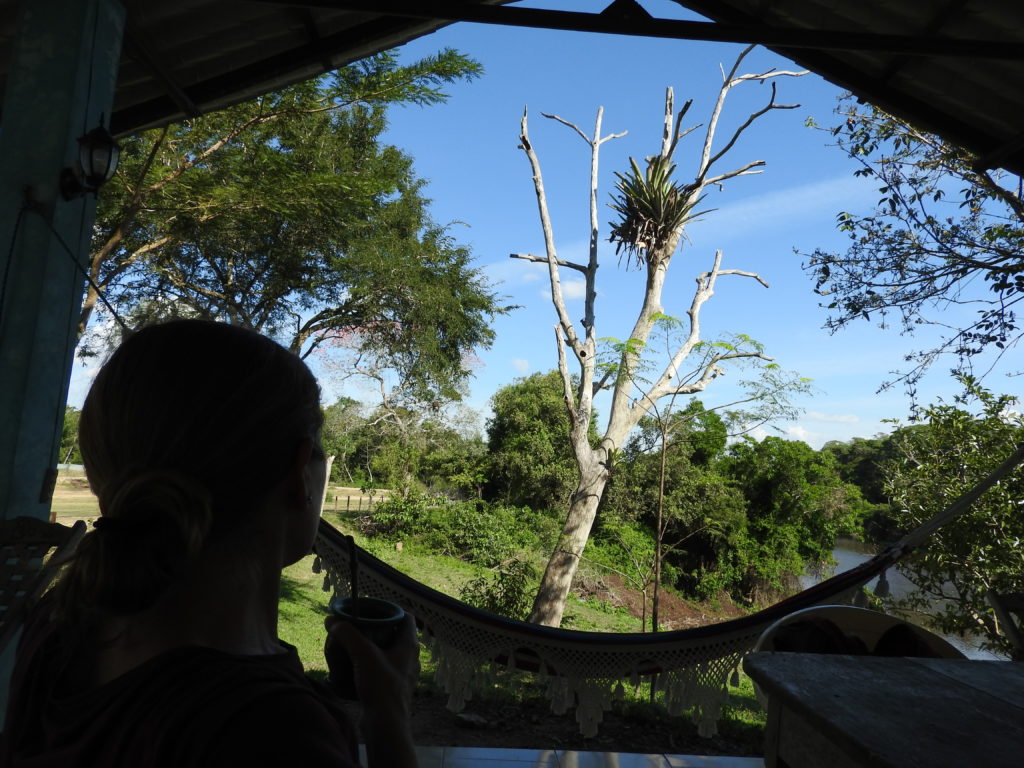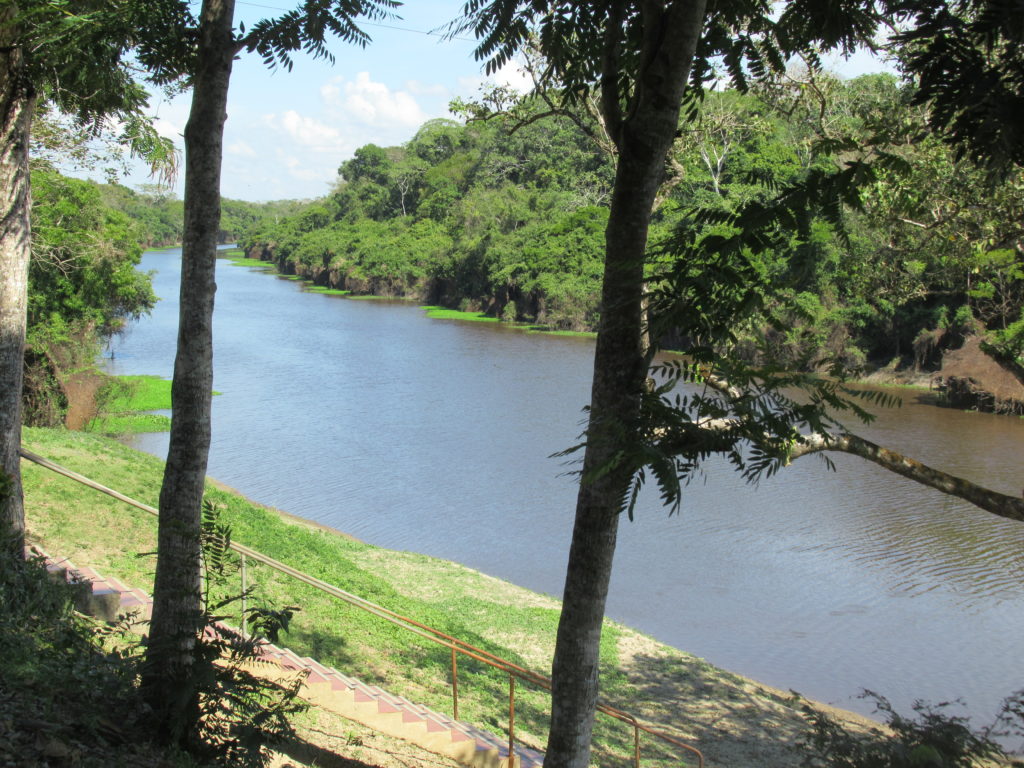 Now… on to something very important… FOOD!
Well, to be honest, I would say that the volunteer food was the 'weak' point of Chuchini….  volunteers eat with the family in the kitchen, which is really nice (and always entertaining with the kids constantly saying that they were 'winning' because they were eating faster 🙂 ) Meal times were directly after we had put all the guests food out and they had started to eat.
But I think because the owners were always really busy, and didn't really pay much attention to what they ate – then the food was pretty much the same all the time. Some of it was quite nice, but a lot was not particularly flavoursome…
The owners ate the same as the volunteers, so it's not like it was deliberate or unfair – the main thing really was that there wasn't really any effort to provide anything vegetarian at all. CC coped because she is now a chicken eater?! 🙂 But the poor intern (who was a vegetarian), I saw over and over again having to just eat plain rice or something equally bland because there was nothing vegetarian….
By the time we left, we were definitely ready to eat something different! And also some vegetables – as they were not really part of the diet at Chuchini!
One thing we did like a lot was the 'Masaco de Platano' which was the regular breakfast. It's a traditional dish of the eastern part of Bolivia and is made from mashed fried plantain with flour and cheese. There is a version that comes with meat, and a more 'cheesy' version. The 'cheesy' version was better – but unfortunately we got the meat version more often!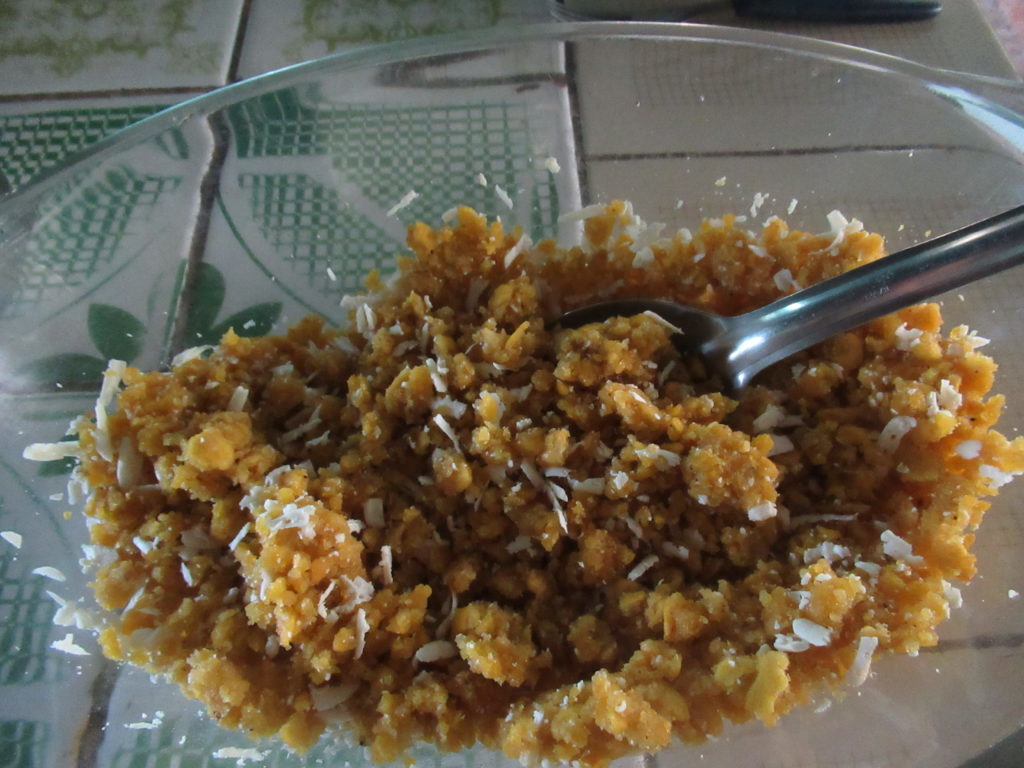 Generally we supplemented all of our meals with bread (reheated to make it soft! 🙂 ) and lots of dulce de leche – we quite liked the Bolivian version of dulce de leche. 🙂
Sometimes we also got fritters – a mix of banana, plain dough, and occasionally apple… these were also VERY good with dulce de leche on… yes.. very healthy eating! 🙂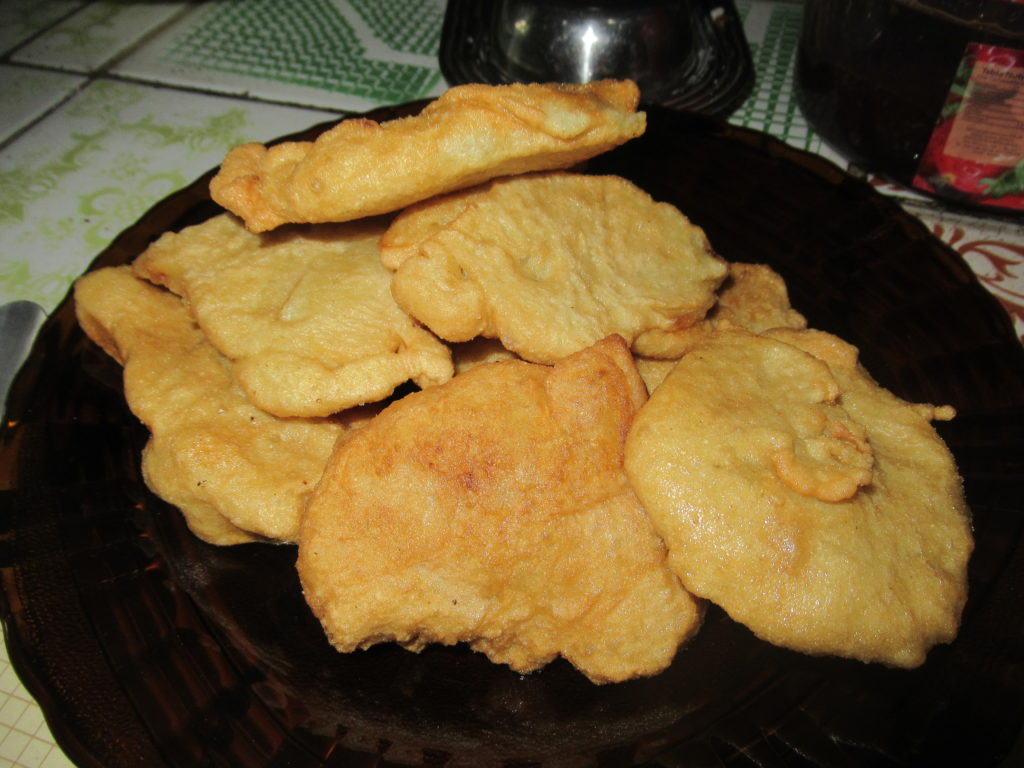 The other main food highlight was fish – which was really good and very fresh – as it was usually what had been caught recently during the fishing activity.
During our stay at Chuchini, we were the only two volunteers until the last couple of days when an Italian couple arrived. To be honest, there's probably not enough work for four volunteers doing the day-to-day catering stuff – and the owners don't really have time to organise other projects for the volunteers. So it worked out fine for us to be the only ones for most of the time. There was also an intern there from the Netherlands who was staying for five months. She helped to run the activities as well as all the catering stuff.
Tuesdays were meant to be the day that Chuchini was closed to day visitors – but in reality quite a lot of people turned up on Tuesdays – even though there are two large signs that declare 'CLOSED TUESDAYS – ENTRANCE BY APPOINTMENT ONLY'.
At night, there was always electricity which was provided by a generator. This stayed on until the last guests went to bed – this was always WAY after we went to bed! So there was always power up until the time that we went to sleep. Apparently when there are no guests they don't always have it on.
After dinner, we often got a special visit….. from a Kinkajou!
Kinkajous are related to racoons and live in the rainforest, and are nocturnal. Generally you would not expect a visit from a Kinkajou – but this one wasn't wild. It had been a pet since it was little, and it had been dropped off at Chuchini to see if it could go back in the wild. Apparently when it came to Chuchini they didn't see it for around a month – but then it decided that it was easier to break into the kitchen and get food there, than it was to find it in the forest…. so it started coming every night. Because it was previously a pet it didn't have any fear of humans, and felt quite at home indoors….
What this meant was that it constantly got into the kitchen, and had to be coaxed out or caught and put back outside. It was a bit of a pest…. but very CUTE…!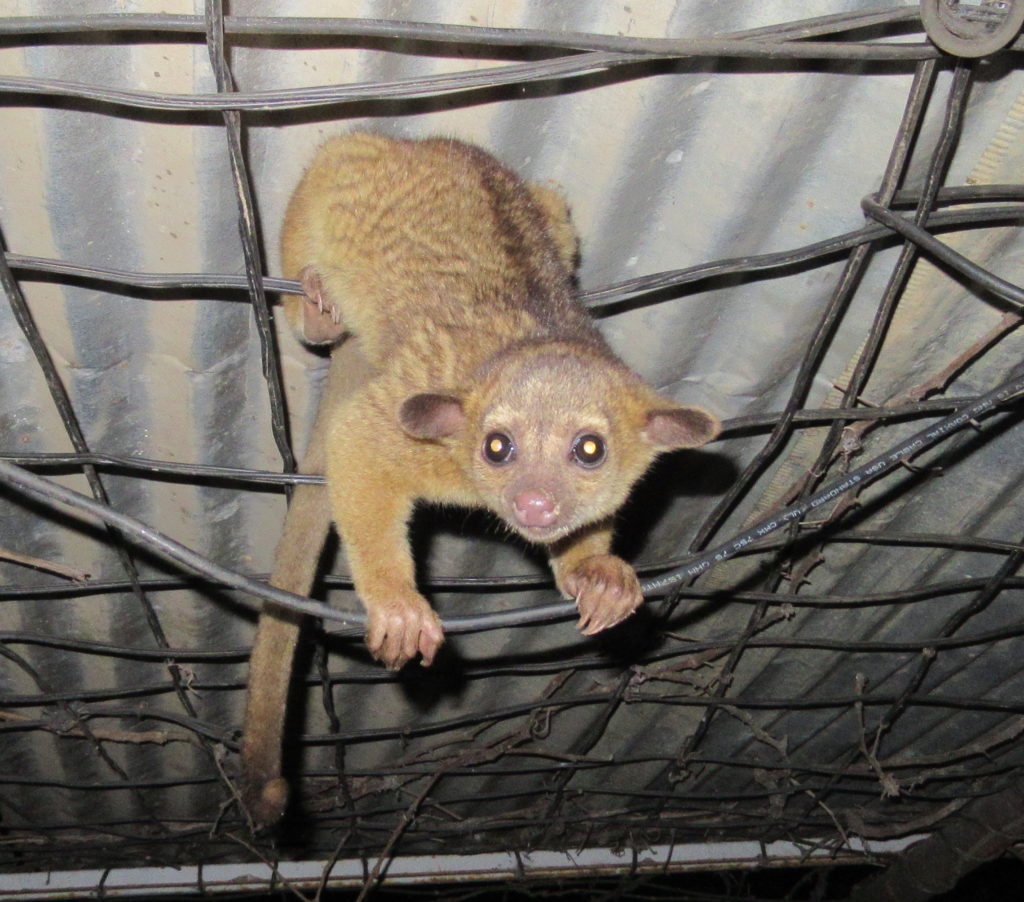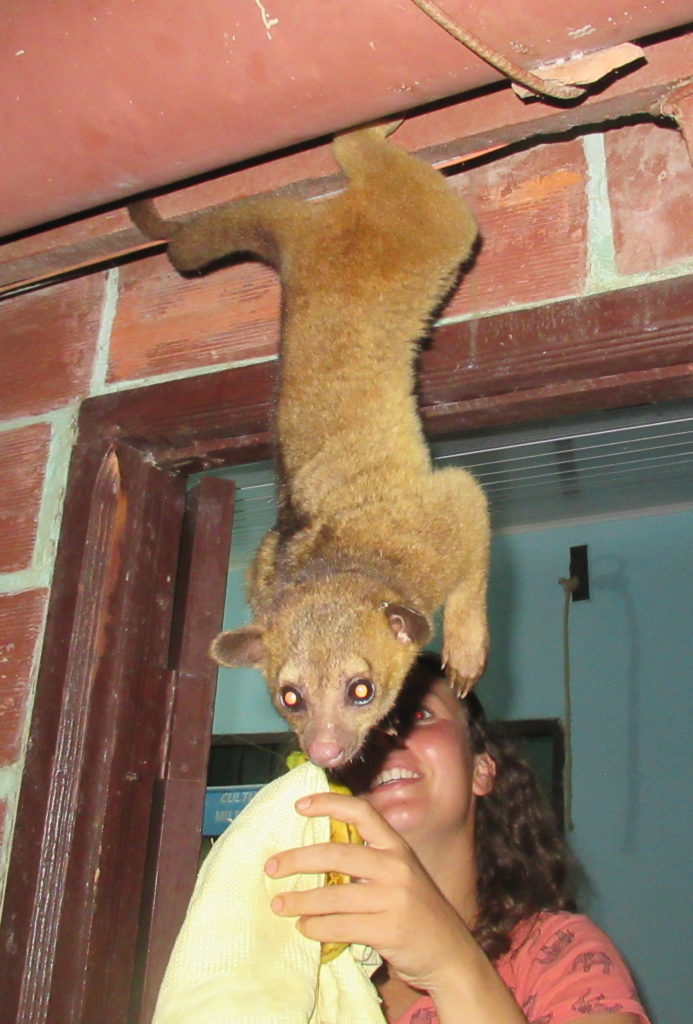 So, all-in-all never a dull moment as they say… but my favourite moment was when a big group of scary policeman came to visit Chuchini to 'check the paperwork'… apparently they come regularly so they can hang out by the lagoon when they are 'working' 🙂 yes, who wouldn't….
The owner told CC that if she saw any of them knocking fruit out of a tree to take away with them, then she needed to go over and tell them that it was 'NOT PERMITTED' .
The look on CC's face was hilarious – I could see her thinking 'you want me – a foreigner – to go over to a group of six, heavily armed policemen in Bolivia, and tell them that they are not allowed to take the fruit from those trees?!?!?!?'.
At this point, I was glad my Spanish was not up to this task, so it would have to fall to CC 🙂
Bizarrely enough, they did actually start trying to get the fruit…. and to her credit, CC went over and very politely asked them not to do it!!!! Rather than ending up putting her in jail, she said that they were actually very nice about it….. 🙂 🙂