Nohelia Finca coffee tour
It was time for our second Colombian coffee tour!!! This time at the Nohelia family run finca on the outskirts of Jericó.
Luckily for us we didn't need to work out how to get to the finca as the tour included transport 🙂 – instead we just waited patiently for someone to pick us up from our cabaña at around 10am and whisk us away from the pueblo on a very scenic drive into the surrounding countryside…
On arrival at the finca we were greeted by a worker who introduced herself and then we got to enjoy a glass of home-made lemonade while waiting for the tour to begin.
The tour was all in Spanish – yikes! – but thanks to the patience of our guide who spoke very clearly and slowly especially for us 🙂 – and to the fact that we had already taken a coffee tour in English and therefore knew the basics – we managed to pretty much understand what was going on!!! Yep, we've come along way since Chile!!! 🙂
The tour started with a bit of an introduction to coffee, and then the basics of the 'farm to cup' process i.e. what happens to the coffee cherries on the coffee trees in order to have that lovely tasty cup of coffee each morning – and also a bit of the history of the coffee farm we were visiting.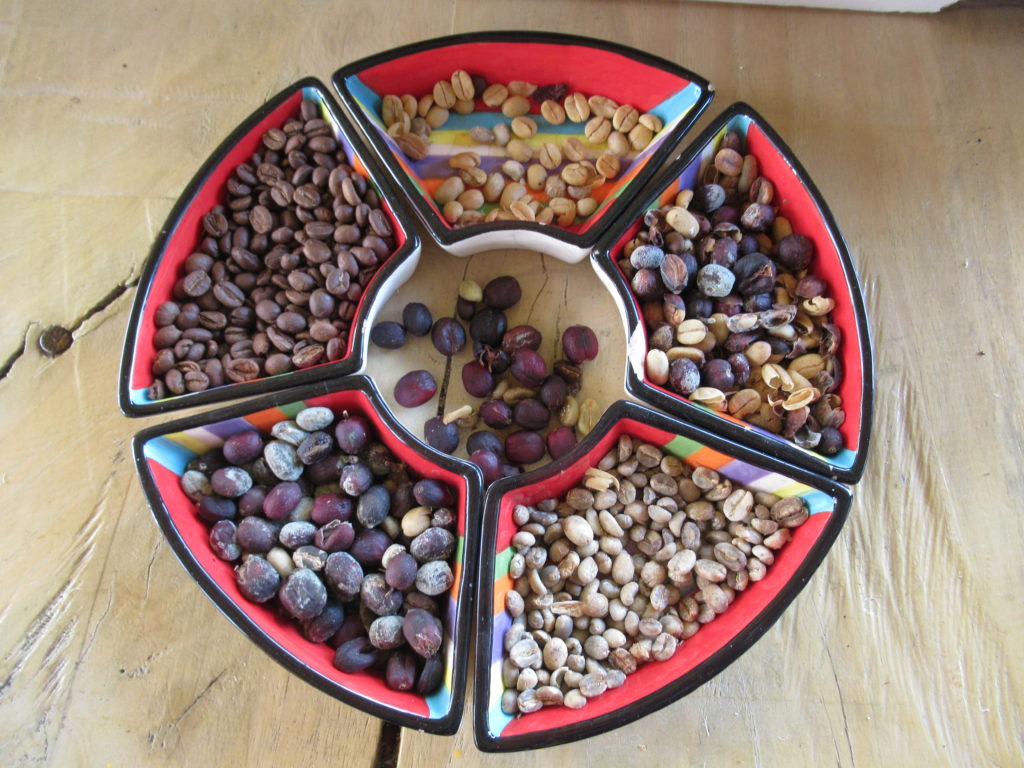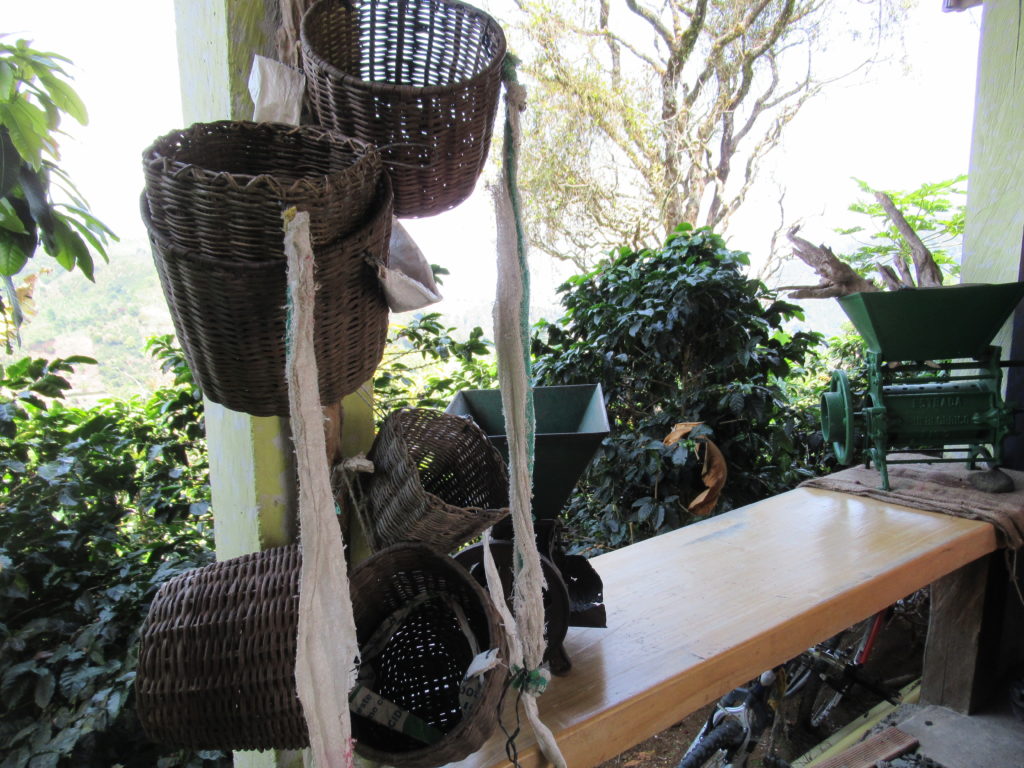 While there are heaps of small family run coffee farms in the area around Jericó, Nohelia coffee farm is unusual in that it has its own roasting house on-site…
Having the ability to roast and package coffee has led to Nohelia coffee having its own brand and being able to sell Nohelia branded coffee locally – as opposed to producing coffee beans and then selling the beans to larger companies for a not very good price….while the companies themselves then go on to make heaps of money.
Nohelia's ability to roast and package coffee has also helped other small coffee farms in the area,  as it has encouraged them to also stop selling their coffee beans to large corporates – in favour of creating a coffee brand for their coffee farm and selling their own coffee to tourists and locals in Jericó.
After learning the basics it was time to go coffee cherry picking!!! We were given coffee picking baskets – of the traditional variety (apparently nowadays plastic buckets are used rather than woven ones) – and off we went deep into the coffee plantation to see if we could find some ripe red coffee cherries to pick! We found some, but let me tell you that it's not as easy as you would think getting coffee cherries off a coffee bush – in fact quite a technique is needed! By the time I had managed to put maybe two or three of the lovely ripe coffee cherries in my basket, our guide had already picked a BIG handful of the cherries… but as she explained, she had grown up living and breathing coffee, so it was okay to be slow at picking if you've never done it before!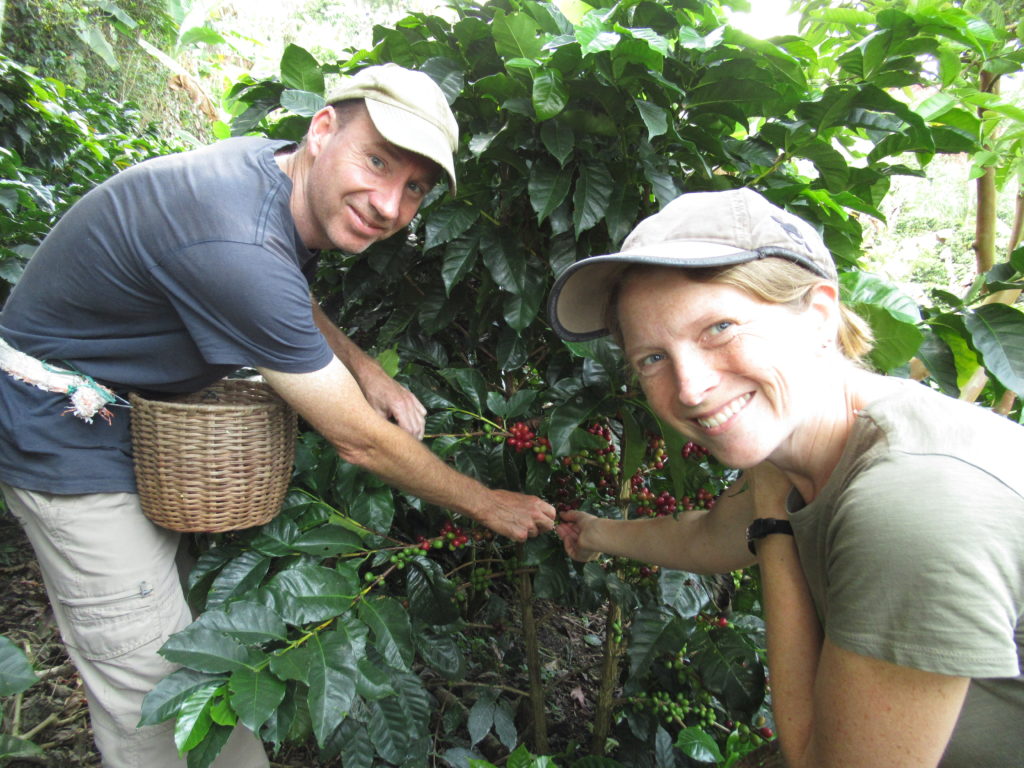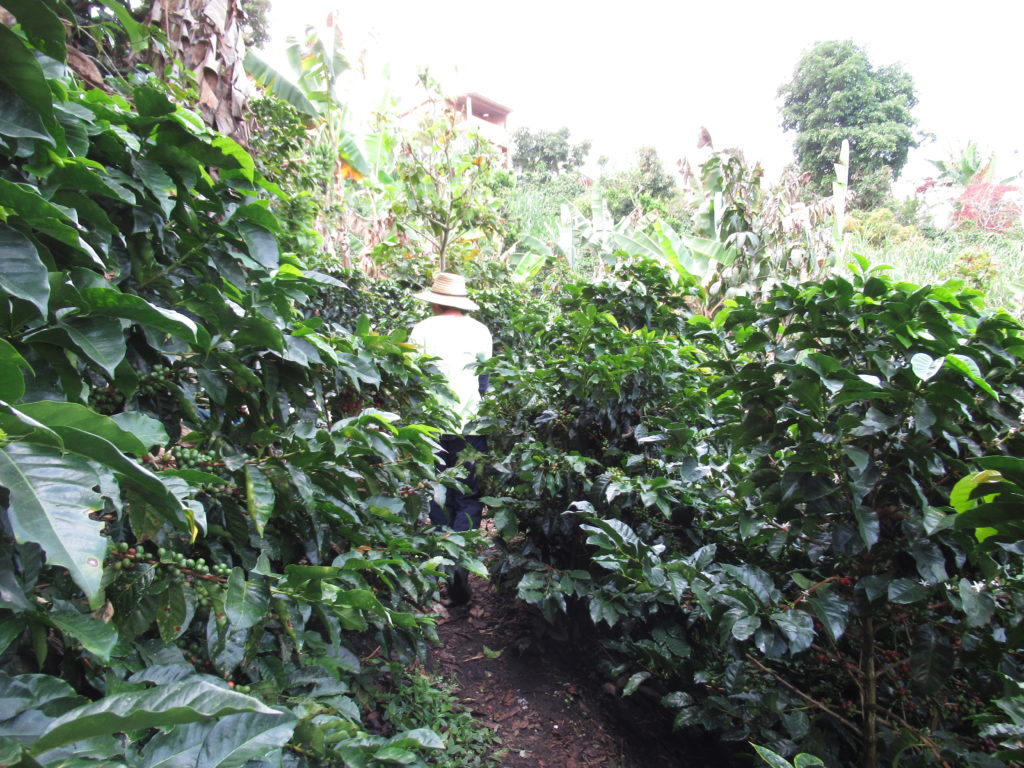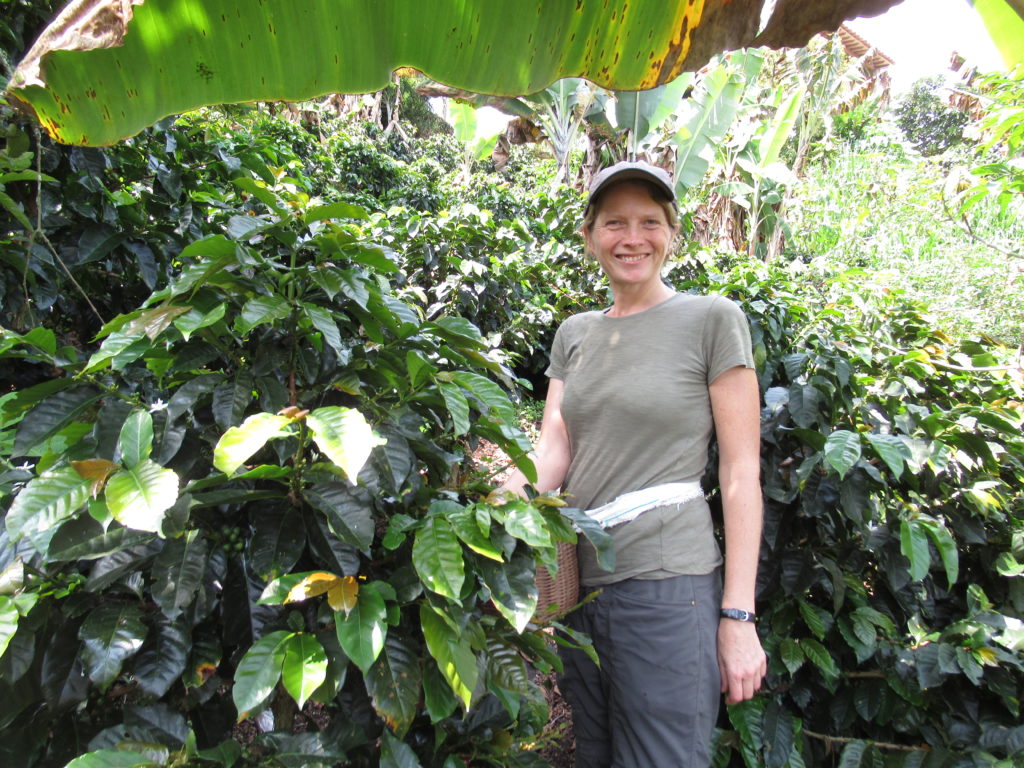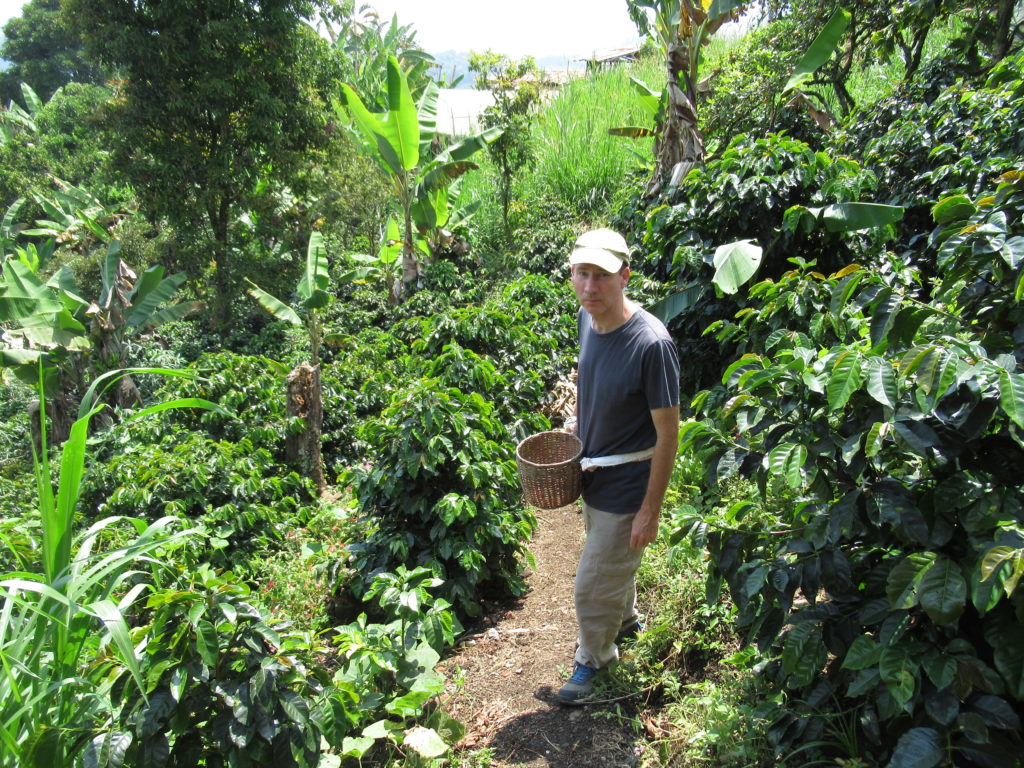 After experiencing the coffee picking aspect, it was time to see the rest of the process – from removing the pulp from the coffee cherry, to the washing and drying stages… This part of the tour entailed a lovely walk through the property with stunning views over the surrounding coffee growing area.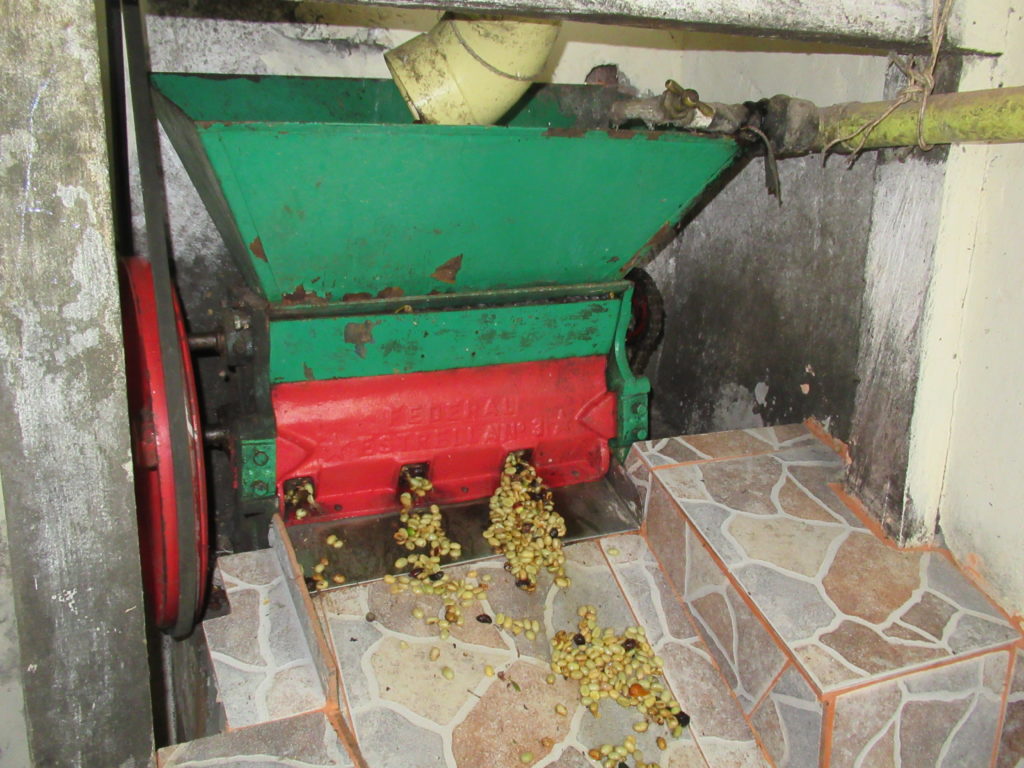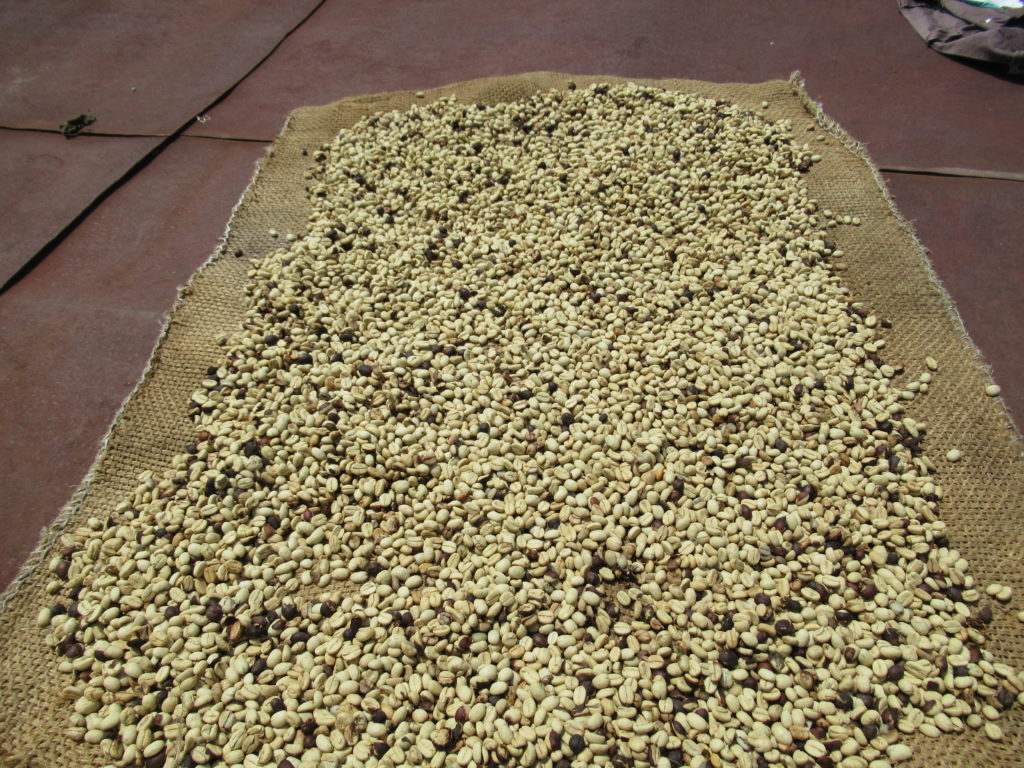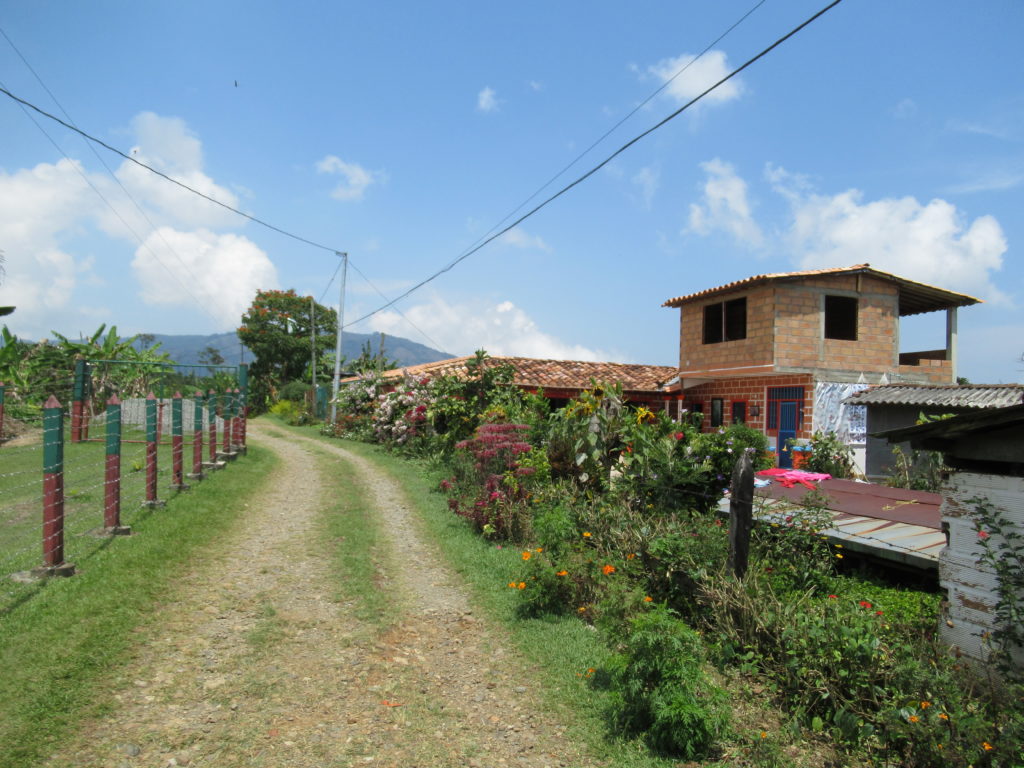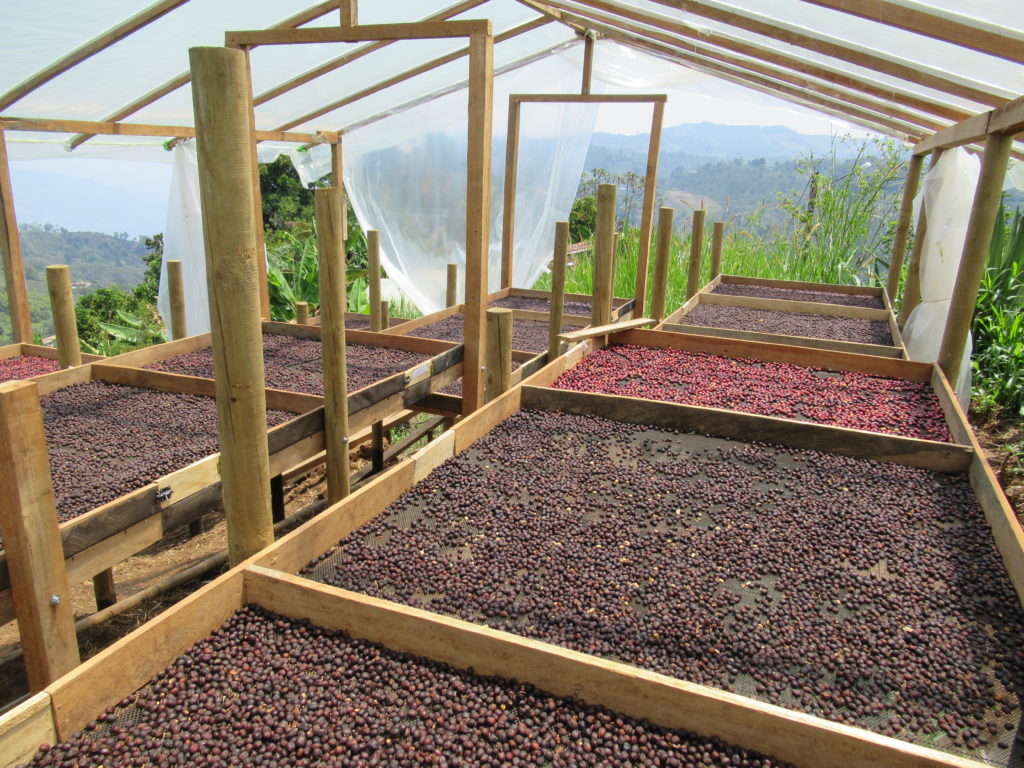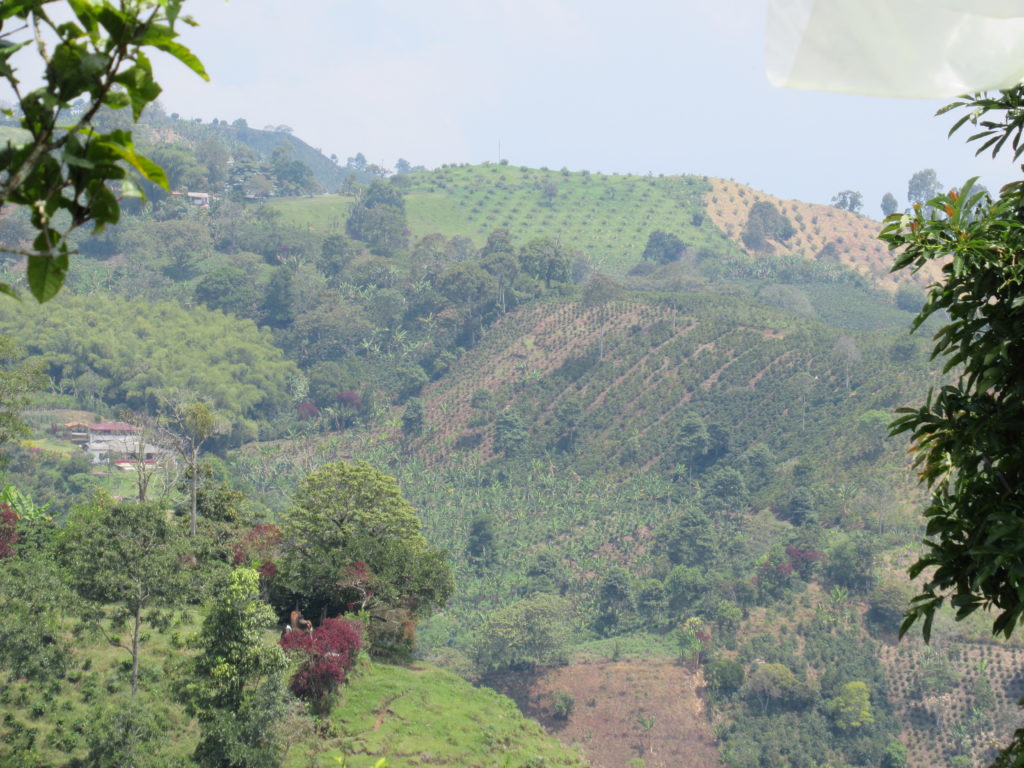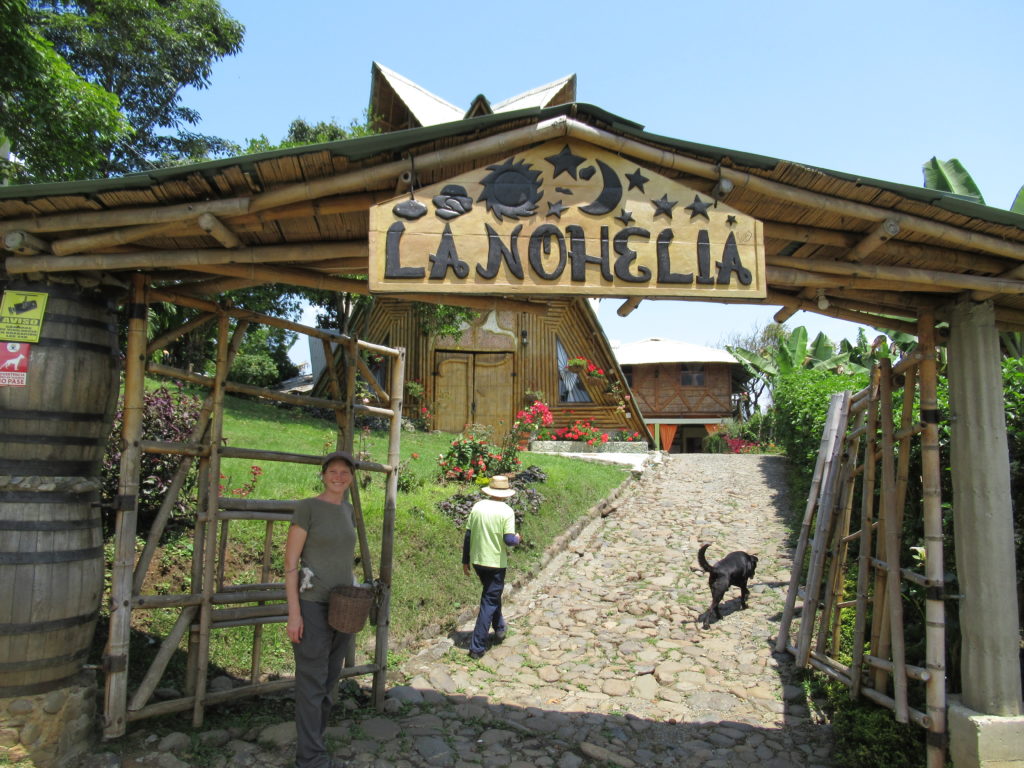 Back in the main area it was time to visit the roasting house, and be tempted by all the bags of freshly roasted coffee that were available to buy!
Nohelia's has also set up some eco-accommodation on their land, so before the final part of our tour – lunch!!! – we were shown around the accommodation – it was VERY nice, and even had a small deck at the top which had awesome views of coffee growing in the countryside 🙂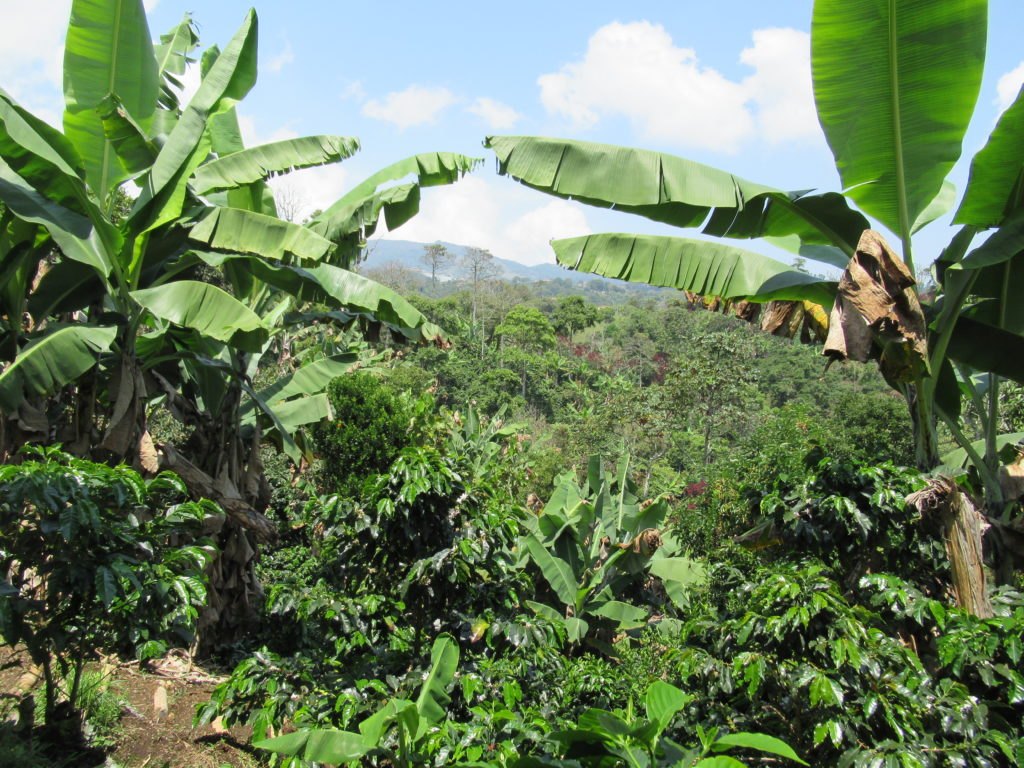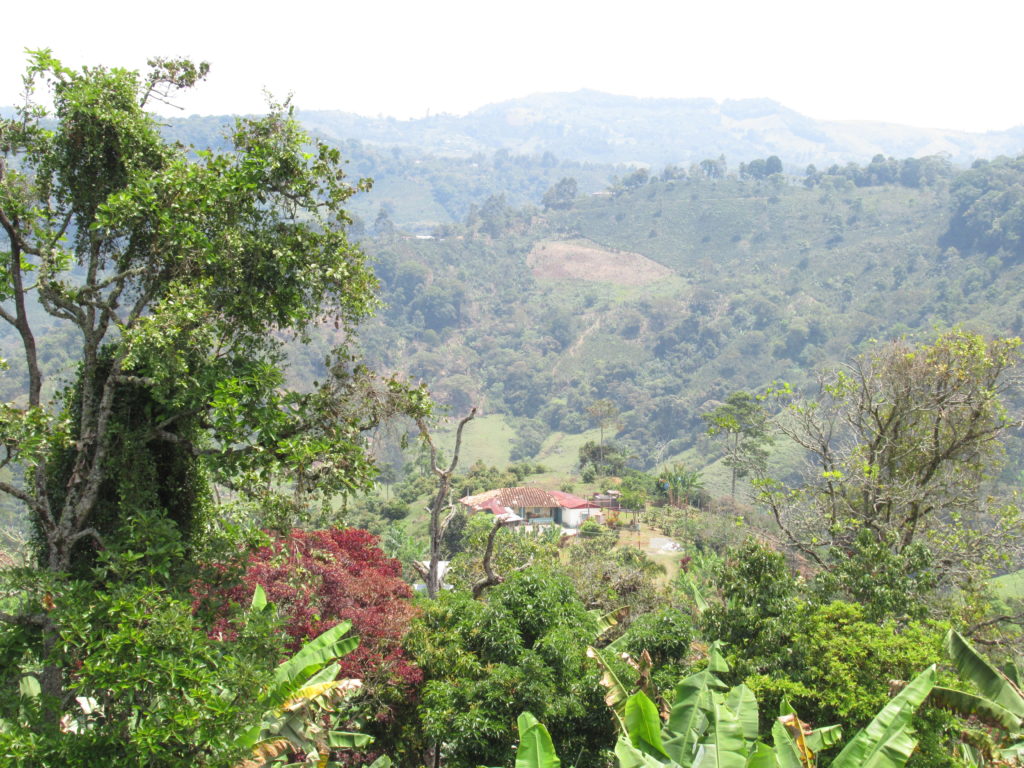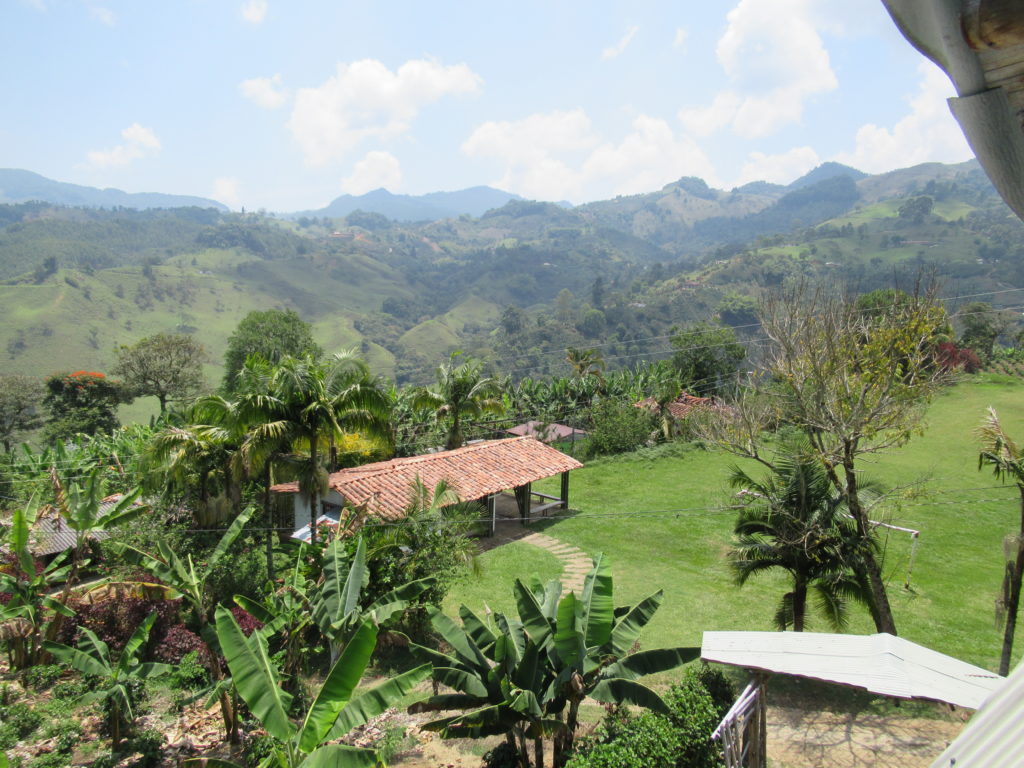 It was then time for lunch… but this was no ordinary lunch 🙂 First of all a natural fresh juice made with blackberry, carrot and tree tomato – yes, I admit it sounds like an unlikely combo, but it was the best 🙂 Next came a delicious vegetable soup…. But the main course was the highlight – chicken in a coffee sauce 🙂 We quickly awarded this lunch the best lunch to-date in Colombia… and that was even before we rounded off the meal with a French press coffee made with home-grown, home-roasted Nohelia coffee beans 🙂 As the coffee was brewing I contemplated the fact that I had NEVER seen a french press with so little water in it before – normally a french press will provide us with a healthy sized mug of coffee!?! However besides the small size of the coffee it tasted GREAT – I just wanted more!! 🙂 🙂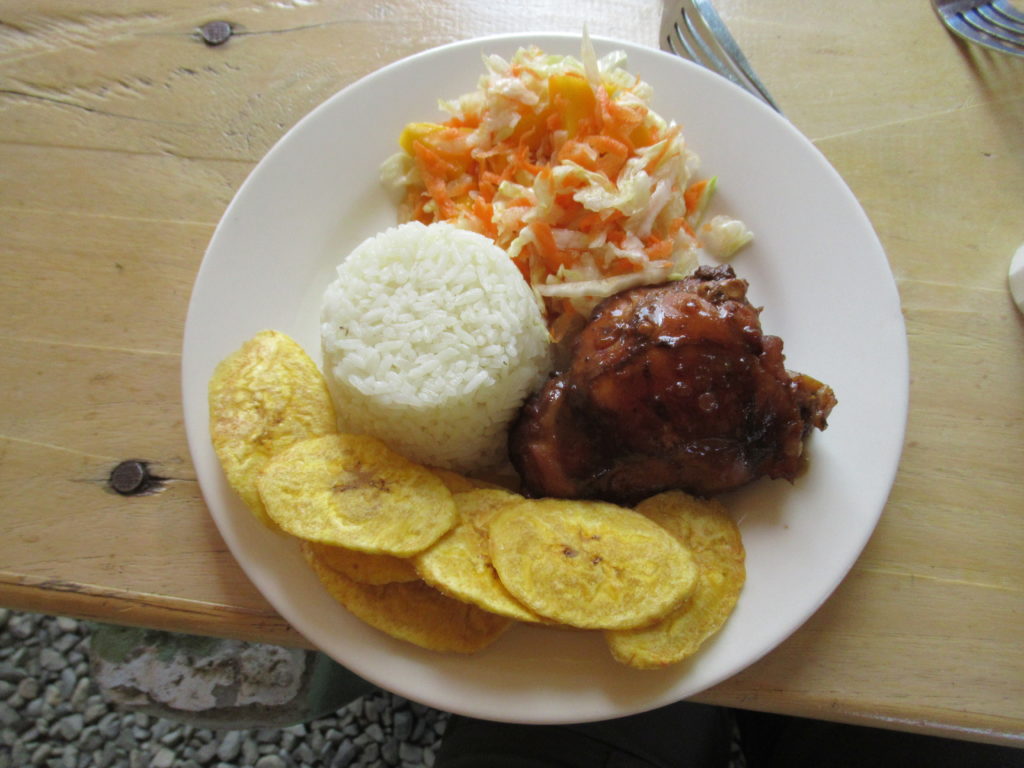 After lunch the tour was over, and it was time to head back to Jericó…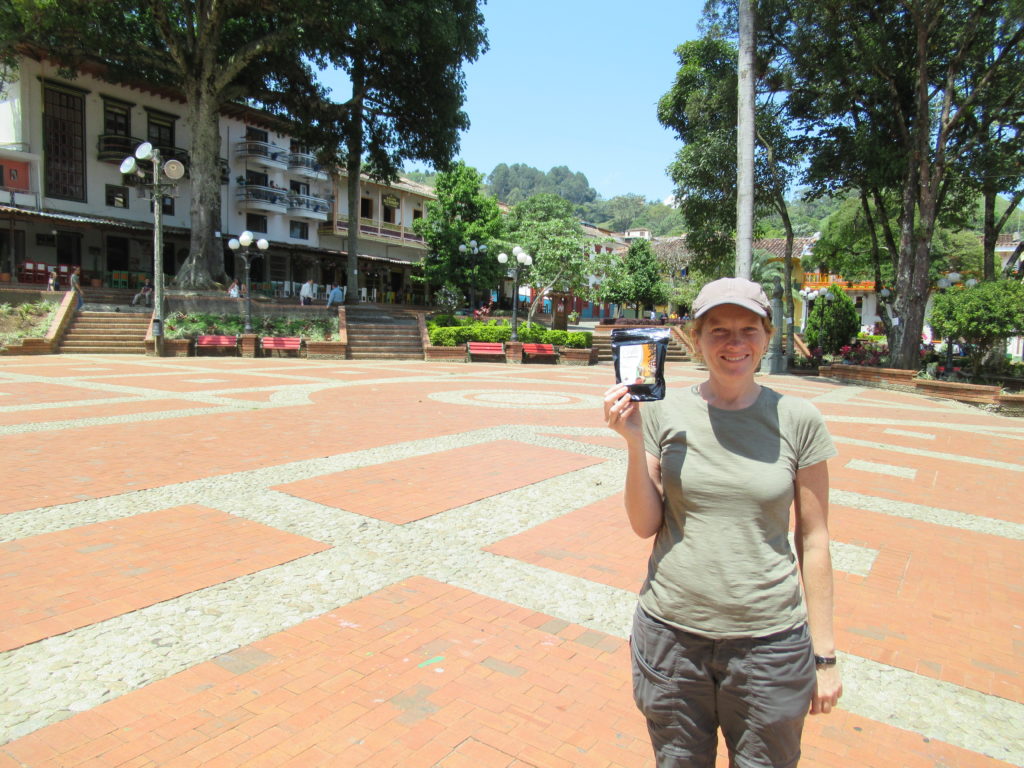 It had been an awesome coffee tour! So different from the first coffee tour that we had been on in Salento… We left Nohelia's feeling really moved – the guide's passion must have been contagious!