First of all let me start by saying that 'buses' in Colombia are mostly not actually buses – yes, we could only DREAM of going on an actual bus… in most places the 'buses' are either minivans, minibuses, chivas, jeeps, or shared taxis. Yes, more about all of those later…
Secondly, I have to say that Colombia was the only country where we were lied to and ripped off by bus drivers and ticket sellers 🙁 Yes, that's sad isn't it – but what can you do….
So, it all started reasonably well on our first 'non-bus' – the minivan from Ipiales to Pasto. This journey is a mere two hours down the Pan-American highway, and it was fairly uneventful.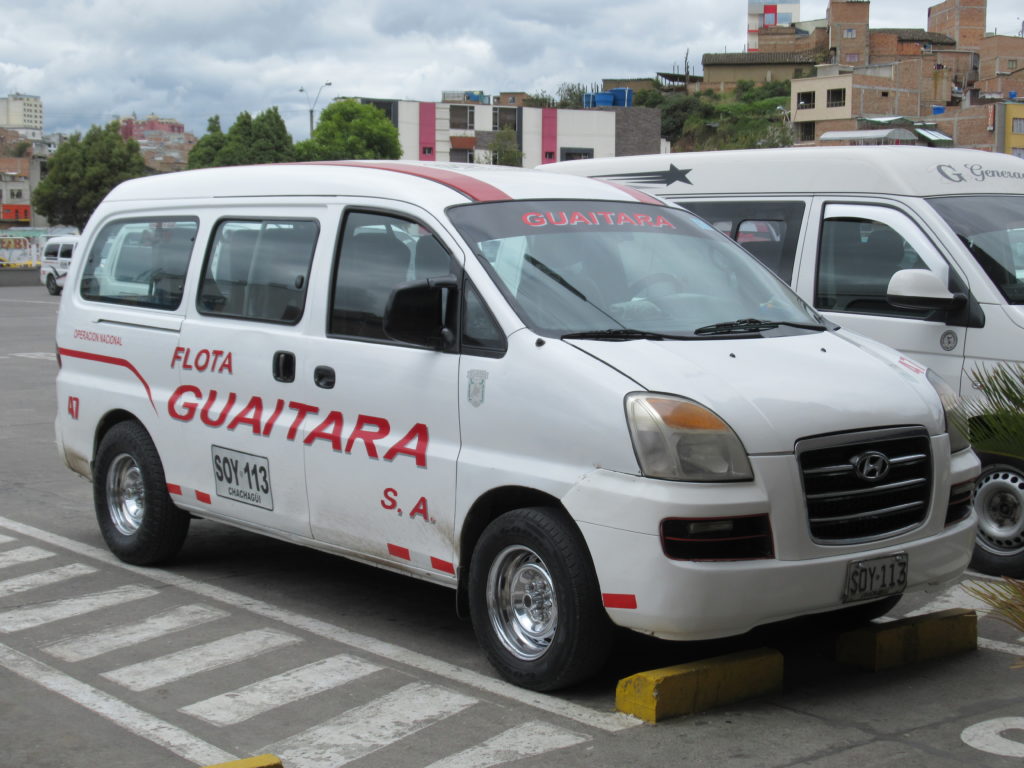 Following this, we took another minivan from Pasto to Popayan. This is a six hour journey. They told us that the minivan went to Popayan – however there was a slight fudging of the truth, as the minibus did not in fact go to Popayan bus station.
Yes, we were somewhat alarmed when the driver suddenly pulled up at the edge of the highway in what looked like the middle of nowhere and opened the doors. We looked at him blankly. 'Popayan', he said. 'But, what, wait, where's the bus station?' we replied. 'You need to take a taxi' he said. 'BOO – YOU SUCK', we thought as we exited the minivan INTO THE RAIN 🙁
What now? We headed into a nearby fried chicken shop – and asked them if they could call us a taxi. It was at times like these that we regretted not ever getting local SIM cards – rendering our phones useless except for wifi.
The man behind the counter said that he would help us, and then the guy who was WORKING at the back of the chicken shop came around to the front, took us to the car park, evicted his wife from the car (yes, she didn't look too pleased), and then said he was going to drive us to town?!. Generally speaking, if people know anyone with a car, they will call them as an 'uber' rather than use an actual taxi company. So off we went…. he had a bit of trouble with the address – but it only took around 20 minutes and we were there. We had made it, but 'strike one' for the Colombian buses.
Lesson one: 'Always check that the bus goes to the actual terminal'.
After Popayan, we were heading to San Agustin. This journey is spectacular, and goes over a high mountain pass through a National Park. It takes around 5 hours. Unfortunately the minibus for this journey was battered and cramped. It turns out, that the worse the road is, the worse the bus is… Yes, the logic is that bumpy gravel roads can damage the bus, so you just send the most rubbish bus that you have. Of course this means that the worst bus gets worse and worse – so you end up with a comfortable brand new van on the main highway, and a battered tin can on the gravel mountain roads…
Yes, well the scenery was awesome – although mostly obscured by torrential rain. I was unable to have my usual 'bus snooze' – as the road was so bumpy, everytime I dozed off I would be woken up when my head crashed into the window 🙁 Also, as it was mostly through wilderness – we had to wait for three hours for the toilet stop… Ah well, WE SURVIVED! 🙂
Leaving San Agustin, we needed to get to Cali – this is back the same way over the mountain via Popayan, and then a further three hours – making it an epic eight hour journey. We went into three bus companies in San Agustin, but only one of them said that they go direct to Cali.
Well, guess what?? They LIED… yep, we arrived in Popayan and everyone left the bus except for us. We spoke to the driver, and he said he was finishing in Popayan. We showed him our 'tickets', and he said he had to go and 'swap' them for different tickets. By now we were extremely annoyed….
He came back with tickets from A DIFFERENT BUS COMPANY, leaving in FOUR minutes, and only valid for a destination about 25km BEFORE Cali. We started complaining but he just gave them to us and walked off. So we ran for the bus and got on just in time. There were only two seats left on the bus and they were not next to each other. Our tickets had seat numbers on them, and were at the back next to each other – but nobody looked like they were moving… until they saw the look of RAGE on CC's face as she unleashed a torrent of words indicating that we would DEFINITELY be sitting in our allocated seats….
So, off we went to Cali – on a very uncomfortable bus/van with tickets to a destination that wasn't Cali….  CC declared that she HATED Colombia and that all the bus drivers were CROOKS. It was noted that this was the first time on the trip that we had been deliberately lied to about a bus journey.
We later worked out that there were 'unofficial tickets' issued by bus drivers/ticket office staff, where you would be charged for a journey from A to B, but the bus would only go some of the way, and then they would put you on a cheaper bus for the rest of the journey and pocket the difference in the fares… yes, very clever…
Lesson two: Always ask if it's a direct bus – and even if they say it is – it still might not be! 🙁
After Cali, things got a little better – we still didn't get to go on any proper buses – but at least they didn't manage to trick us again 🙂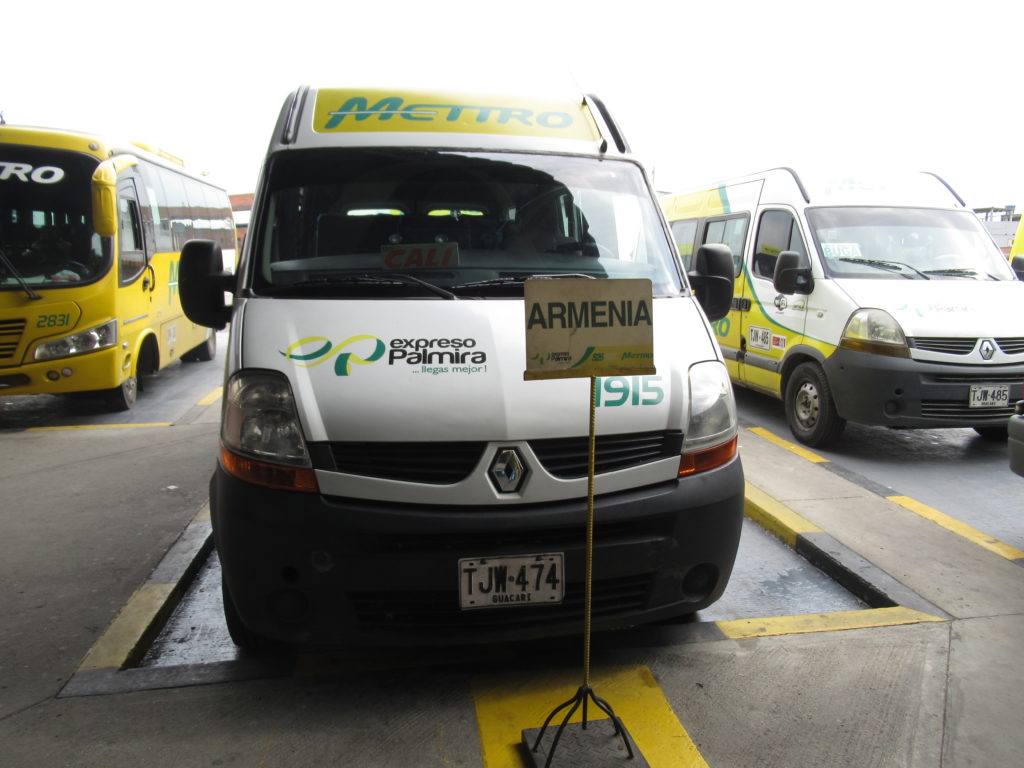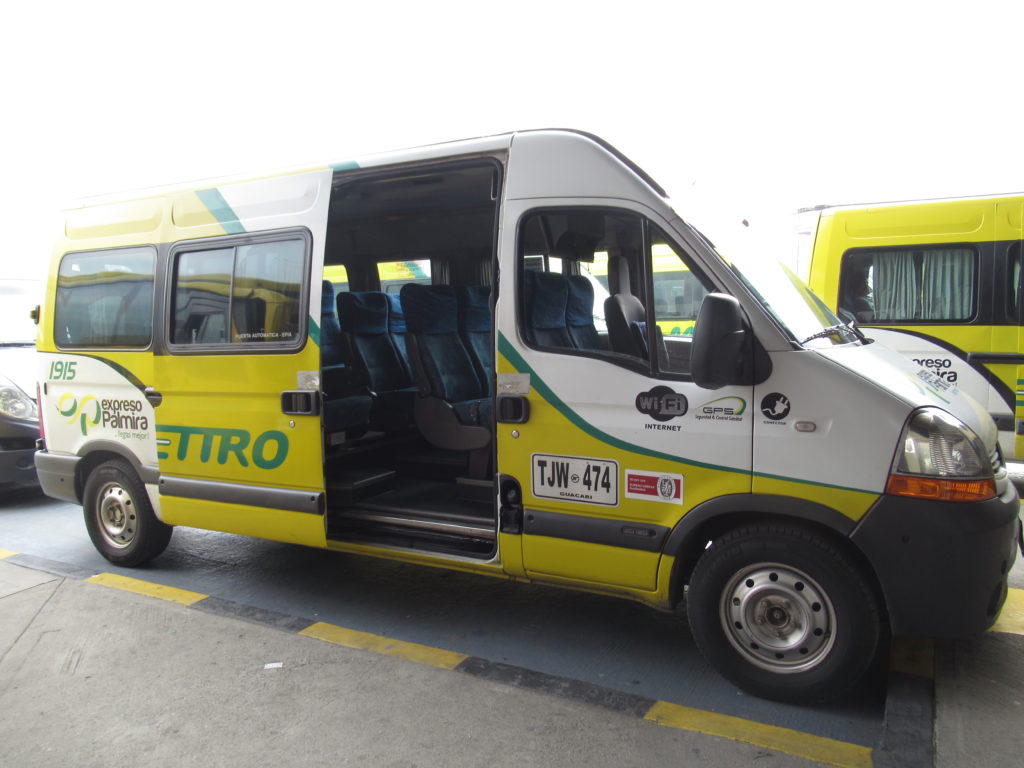 Once we were in 'coffee' country, things began to get a bit more interesting 🙂 Yes, along with the minvans there were a couple of other modes of transport which were commonly used between rural settlements along steep, gravel roads. The first of these is called a 'WILLY'… yes, that's right – let me explain…
A 'Willy' is a Jeep – and not just any old jeep – no, it's a jeep from the Second World War. Both Ford and Willys were companies that manufactured jeeps for the US Army, and when the war was over they sent some to Colombia. Due to their extreme power and ruggedness they are ideal for hauling stuff around the steep slopes of the Colombian coffee region – and before long every farmer wanted one!
In modern times they are an integral part of the culture of the coffee regions of Colombia, and as well as farm work vehicles they are now taxis and buses. When used as public transport they can carry around 14 people – as the back area has two benches down the side, people can crouch in between the benches, and also four people stand on the back plate and hold on to the roof. Usually the drivers are kind enough to excuse old ladies and scaredy-cat foreigners from this position… 🙂
We had to catch a 'Willy' for two journeys, and although they were a little bit cramped, they did look super-cool and we certainly enjoyed riding in them! 🙂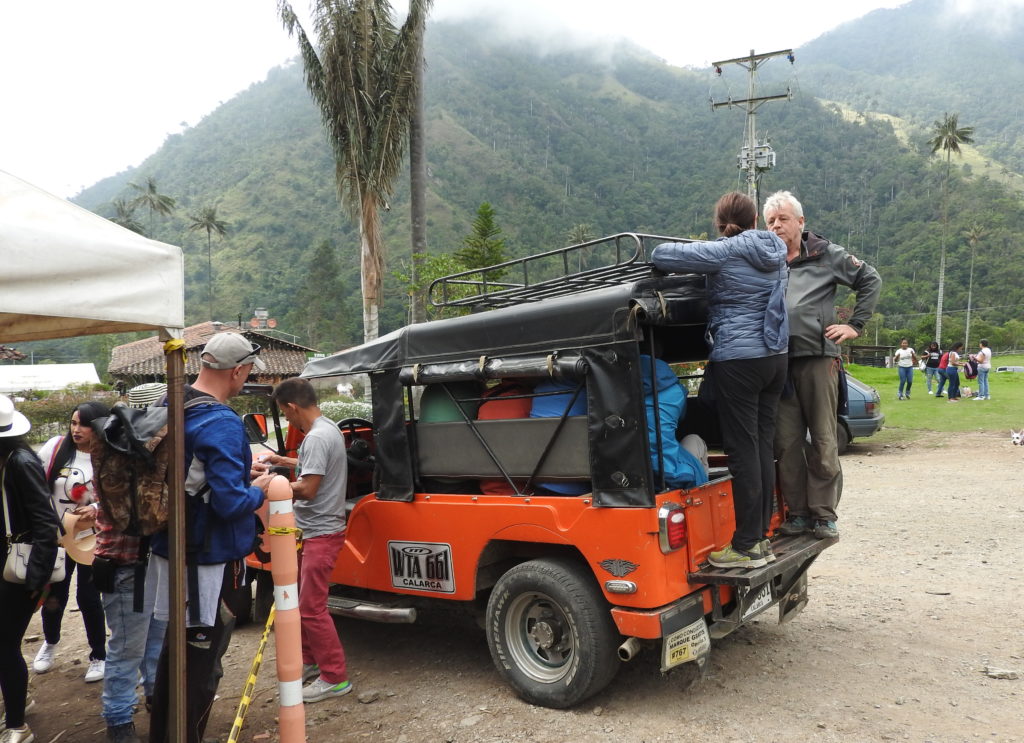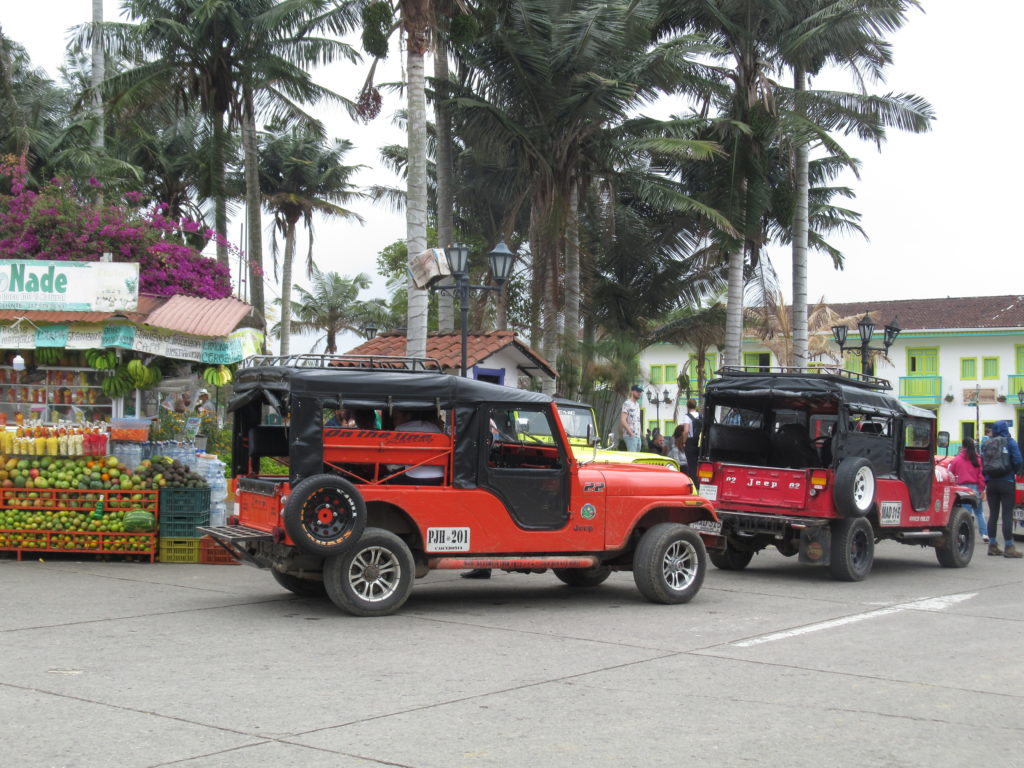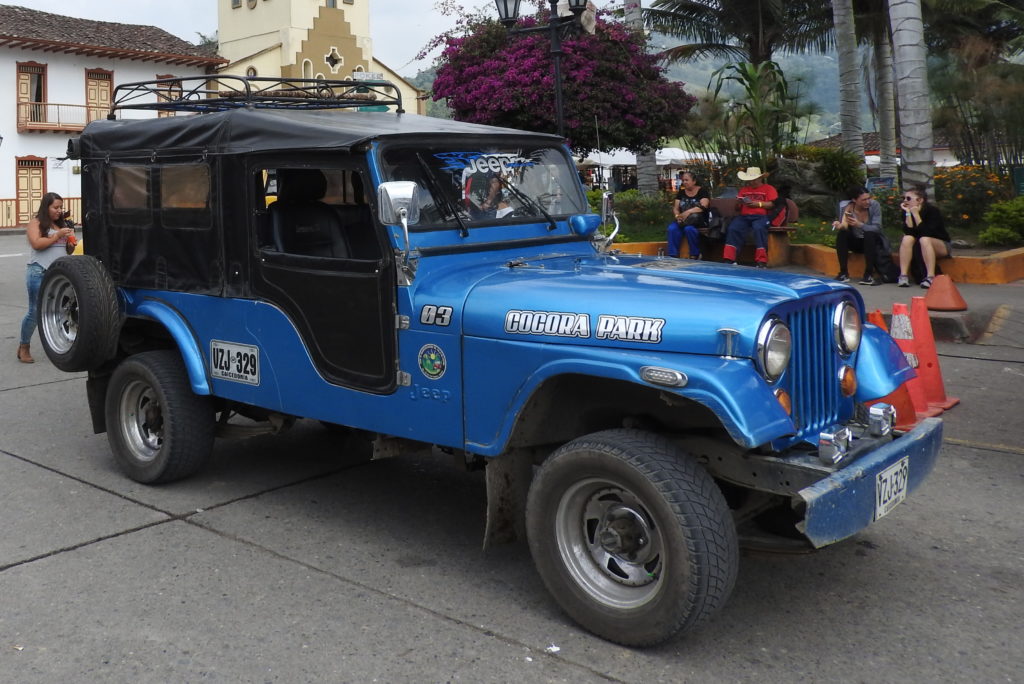 The Colombians love these jeeps so much, that they have annual festivals where there is a 'jeep parade' called a Yipao, and they compete in categories for carrying the most stuff! Yes, there is no limit to jeep worship in Colombia!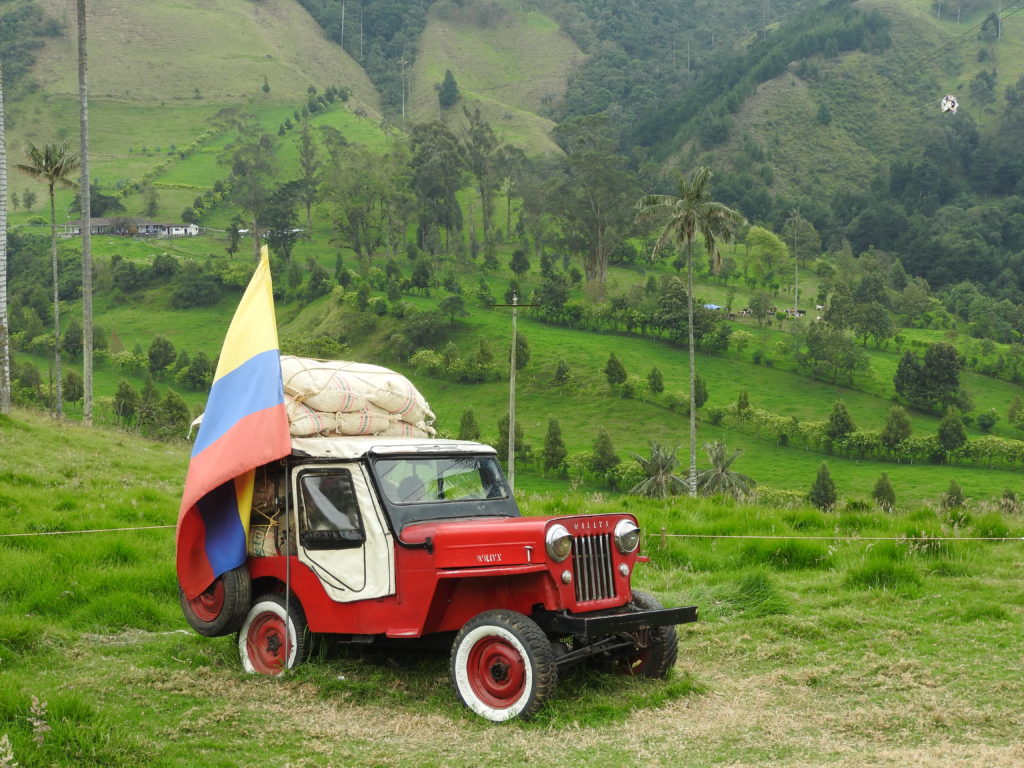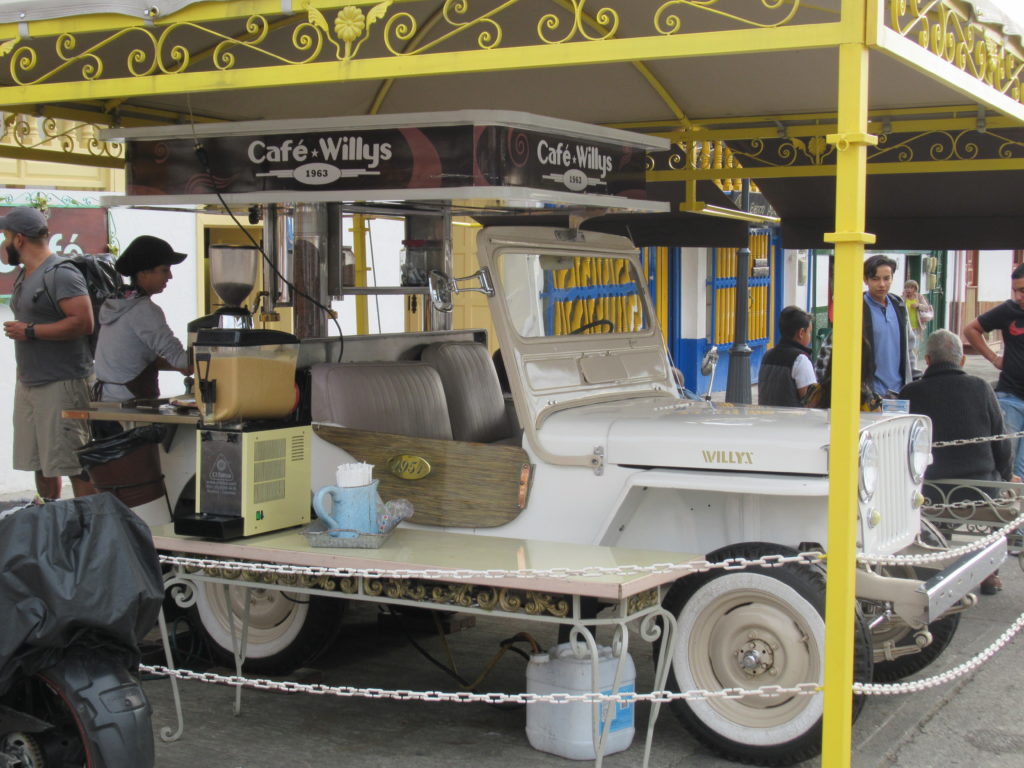 OK, so I've digressed a little from 'buses in Colombia' – but I couldn't mention that we had travelled by jeep without some kind of extra explanation could I…..?! 🙂
So moving on, we come to my FAVOURITE mode of transport in Colombia. Yes, what could that be? Well, it's called a 'chiva' – and we did take one in Ecuador – but the ones there really aren't a patch on the style of the Colombian ones!
They are constructed from old buses and trucks – and consist of the lower part of these vehicles with a customised wooden top part made for passengers. They have wooden benches and no doors or windows, and are generally very brightly coloured. They look awesome – and actually were not that uncomfortable to ride in :-). Although that's because I prefer a very bumpy ride with legroom, to a smooth ride with no legroom 🙂 I'm not sure if I would go on one of these if I had a bad back! 🙂
We had to take one of these to get from Andes to Jeríco, and it was a lovely ride! Beautiful scenery, the wind blowing through the truck, plenty of space… 🙂 They usually only run in very rural areas along unpaved roads – and they take absolutely ages to get anywhere as they can't go very fast. There was only one per day between Andes and Jeríco – so we made sure we were on it! 🙂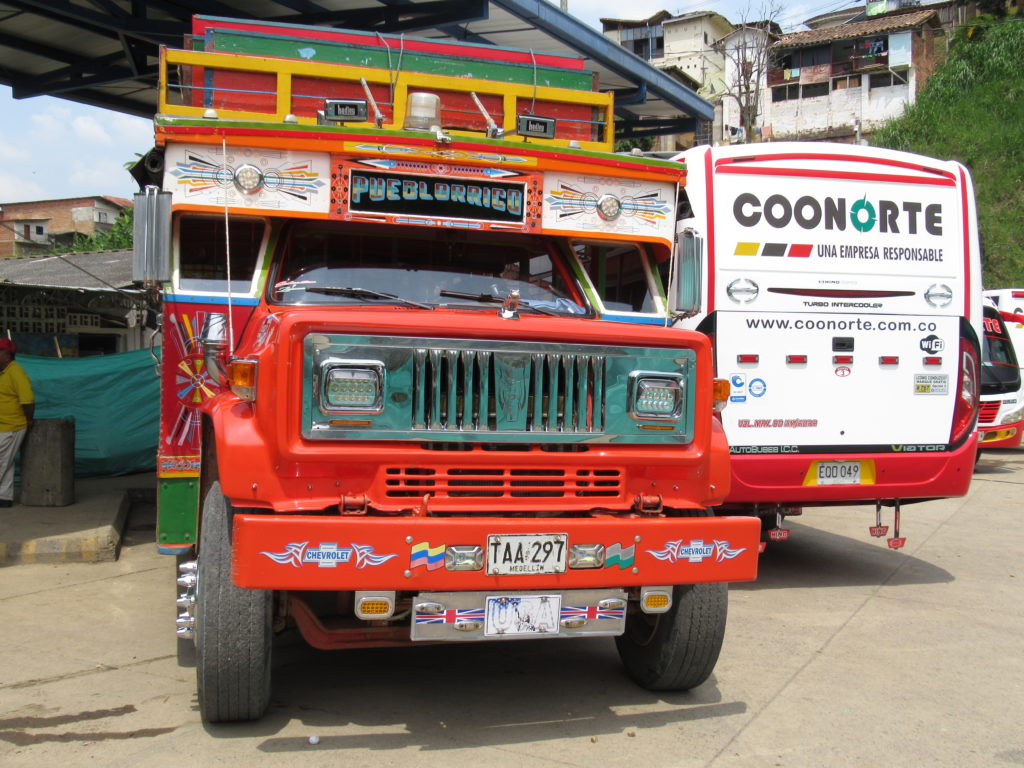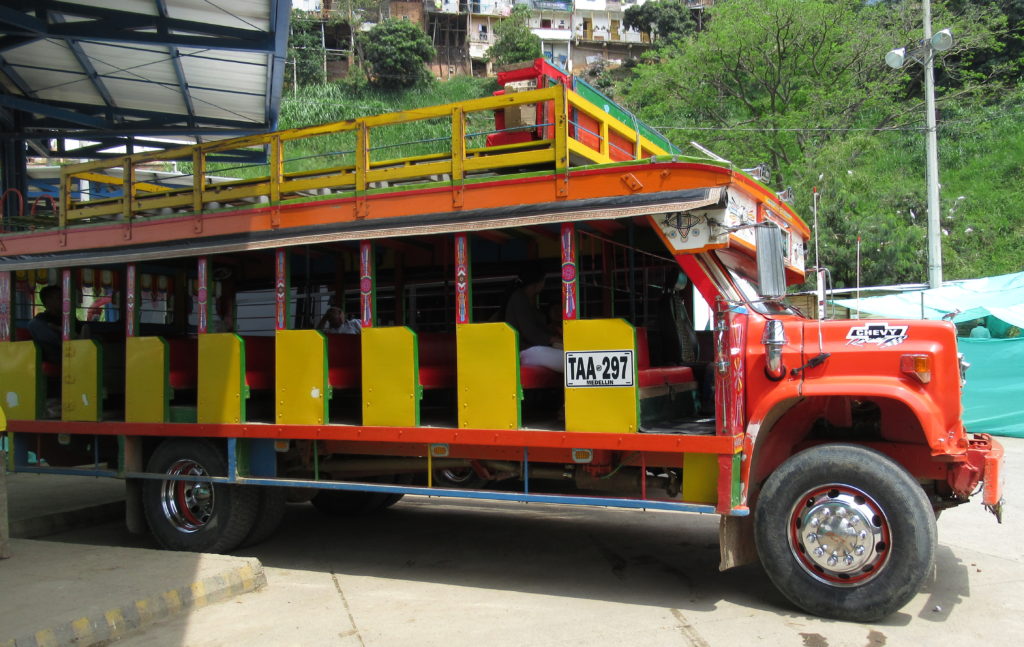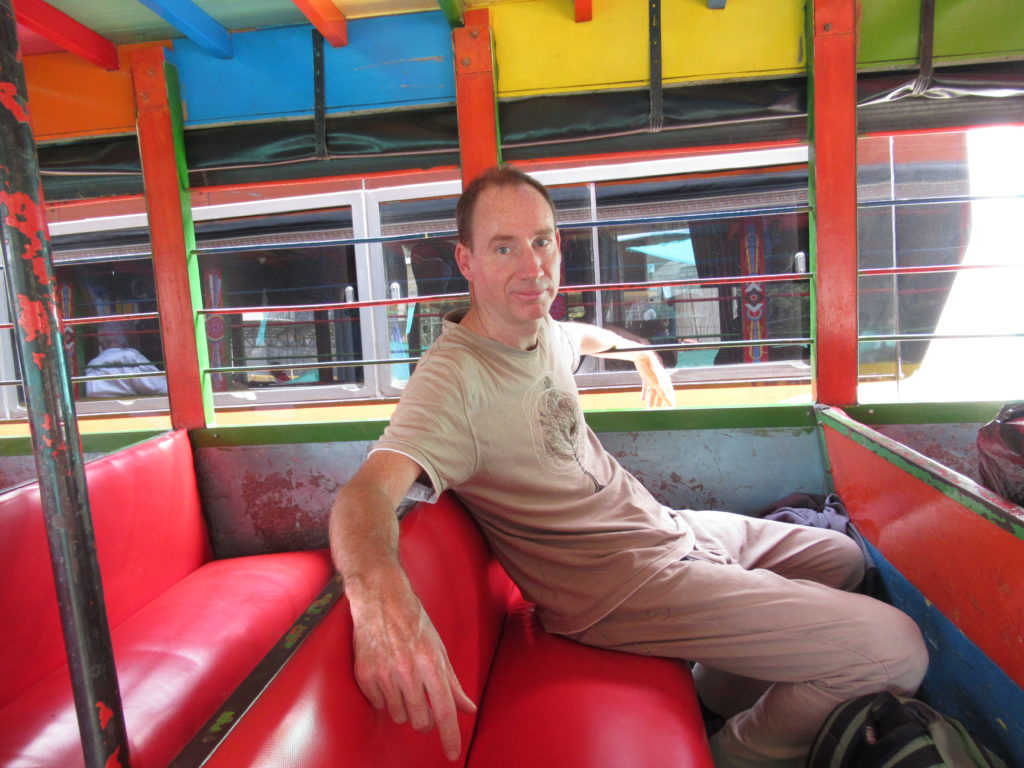 Around halfway through the journey we met the chiva coming the other way back towards Andes. I looked out the front window and thought to myself that there was NO WAY that these two vehicles were going to get past each other…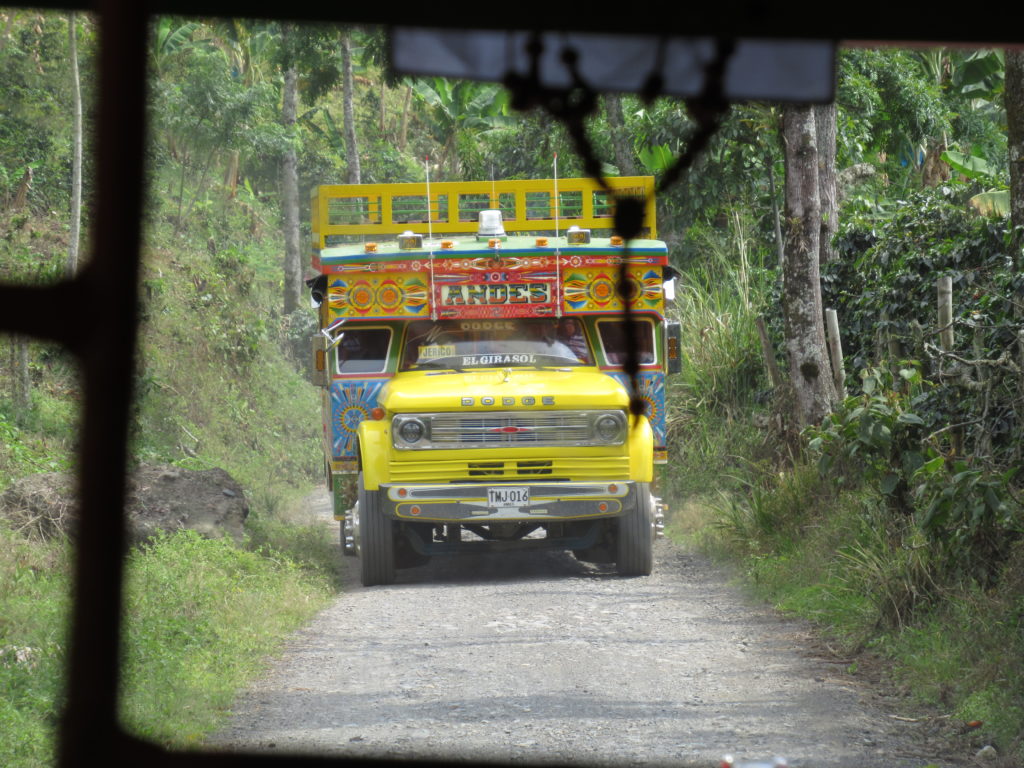 Well, our very competent chiva driver managed to get past – and we arrived in Jeríco only 15 minutes late on a journey of three hours – NOT BAD! 🙂
We liked the chivas a lot 🙂 – so we took photos of them even when we weren't riding on them…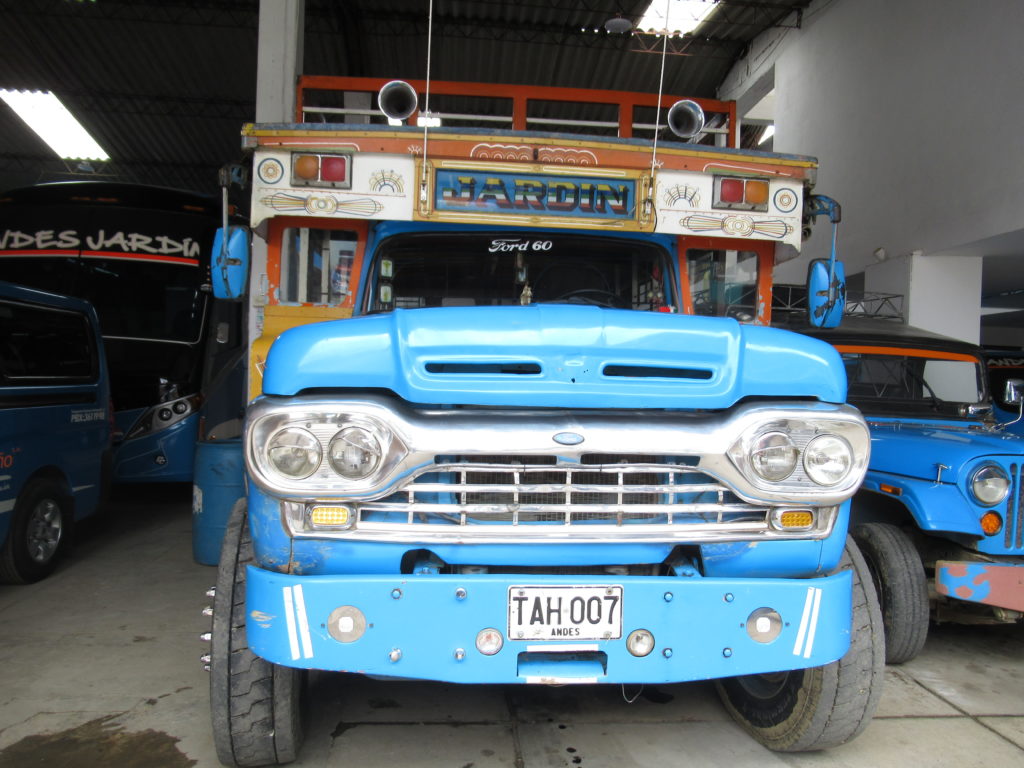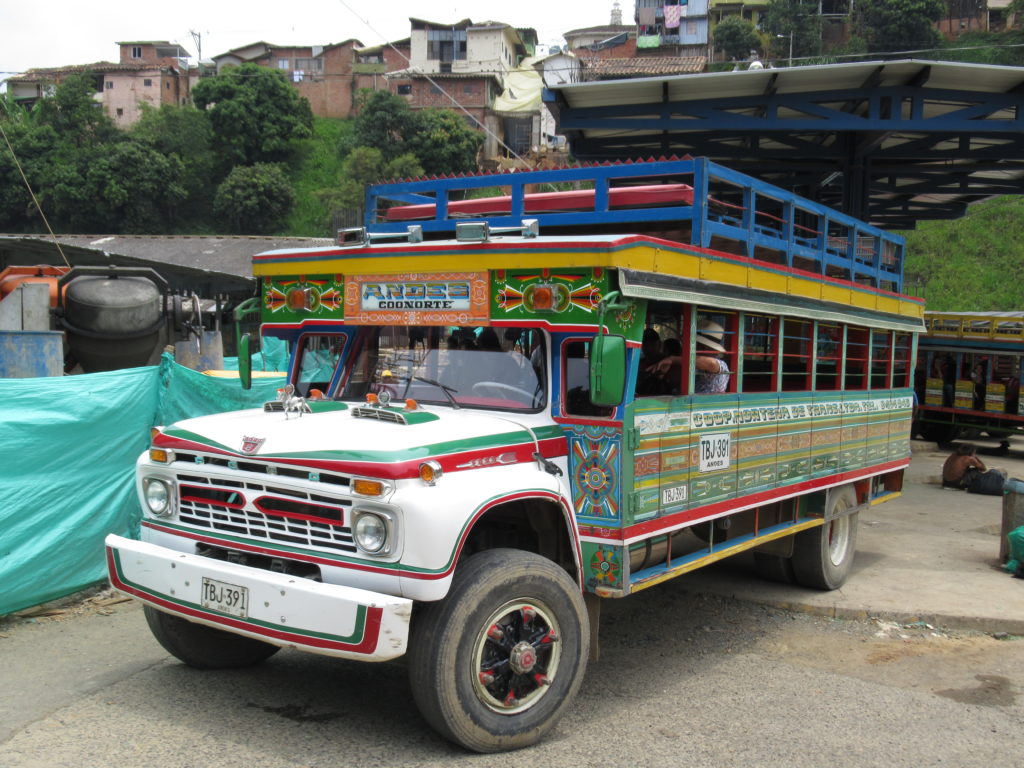 In all our time in Colombia, we only went on ONE vehicle that you might actually call a 'coach' – and that was on our journey from Medellín to Jardin. This was a bit of a crappy journey that instead of taking 3 hours, ended up taking FOUR AND HALF HOURS….?!
I have to say that it was not the fault of the bus or the driver – there were roadworks in place that meant that we had to take a 90 minute detour…. YES, what can you do….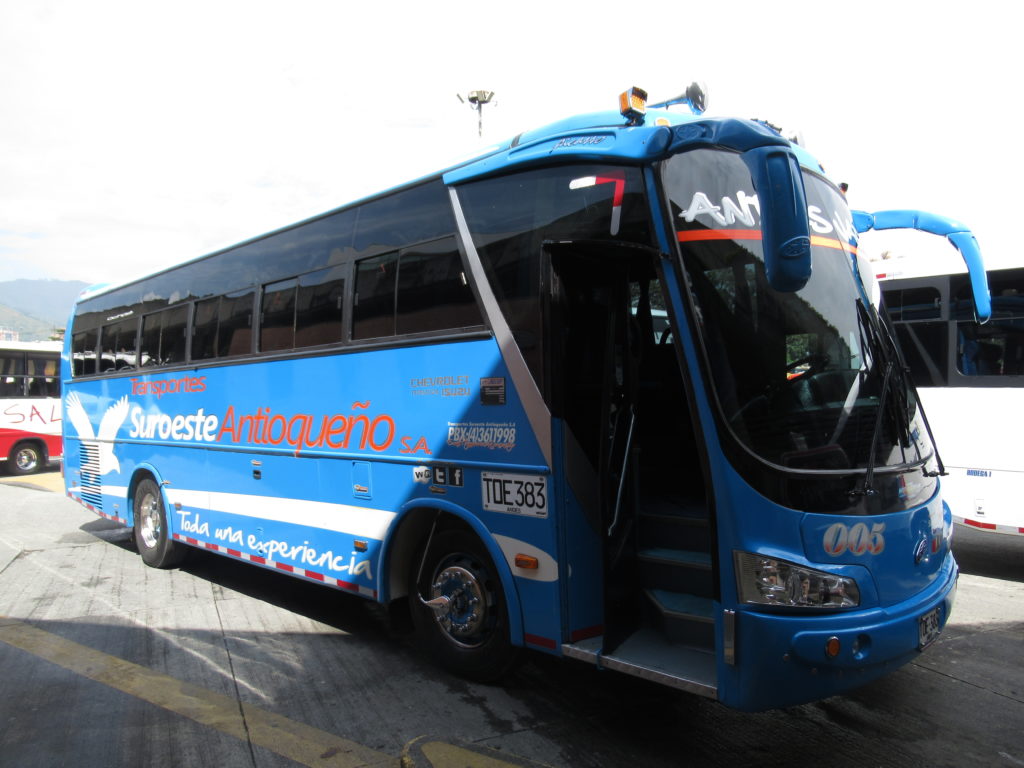 So our 'bus experience' in Colombia was definitely a bit of a mixed bag – ranging from scamming bus drivers to enjoyable chiva rides through the mountains. Only Bolivia could really compete for unpredictabilty – so well done Colombia for giving Bolivia a run for its money! 🙂