Food in Colombia was a bit of a follow-on from food in Ecuador – with plantains and beans playing a big part. We were mostly thankful for this – as we were worried we could end up in the bad old days of Peru – with hard rice, cold chips, and no beans…..!
So overall it was not bad at all. There was not a lot of a variety, but it was generally very good – and we discovered a few new interesting things.  Also drinks-wise Colombia had a LOT to offer – more about that later…
Colombia is also where the 'arepa' (kind of like corn-cakes) made a star appearance. Arepas are pretty much IMPOSSIBLE to avoid in Colombia… luckily we liked them 🙂 (Although some kinds were a lot better than others!).
Breakfast
We had quite a few included with our accommodation in Colombia – so we got to sample quite a lot of locally-cooked breakfasts. They were usually very good and based on eggs and arepas.
'Rice and beans' is also very popular for breakfast – and it's made from… YES – RICE AND BEANS! (But you knew that right…..). They put other stuff in it to make it taste good as well…
And finally I should mentioned buñuelos – which in Colombia are cheesey/doughy things. These are also popular for breakfast, and we were awakened many times by salesmen shouting 'buñuelos' at the tops of their voices at 7am in the morning….
When we weren't being given breakfast, our breakfast of choice was All Bran with papaya or mango… mmmm – very nice fruit is available in Colombia…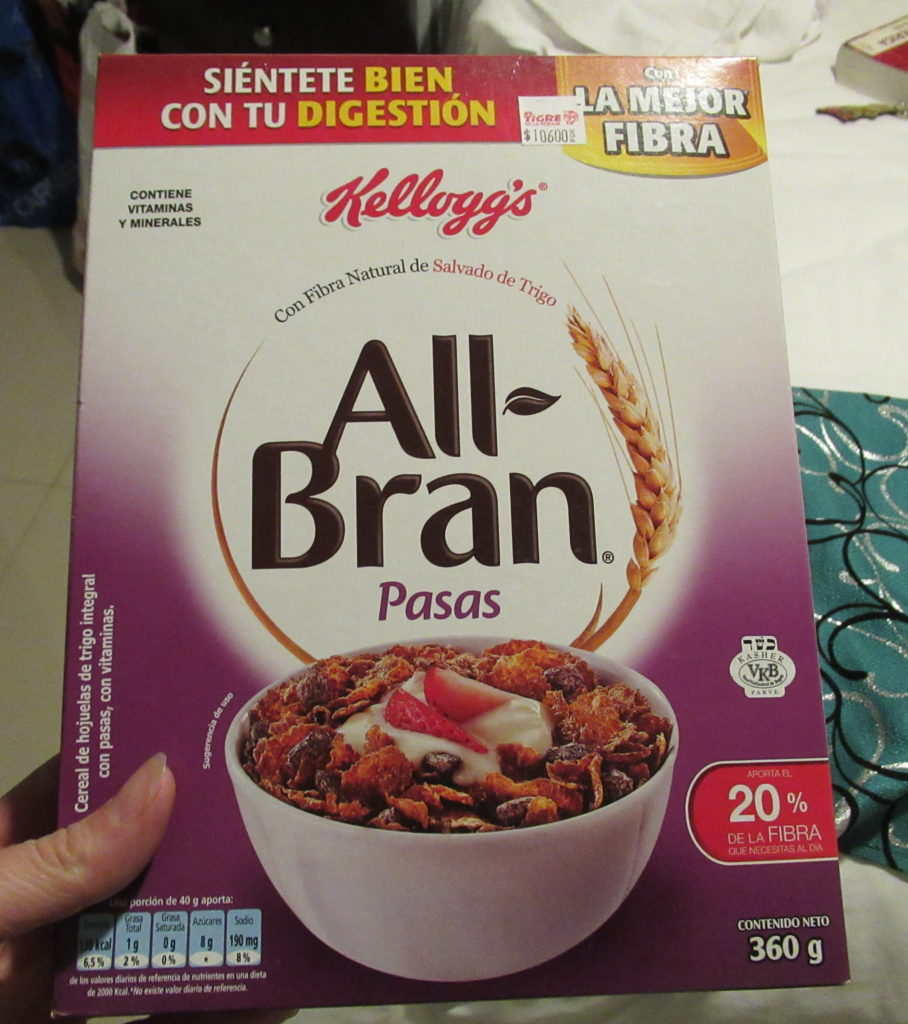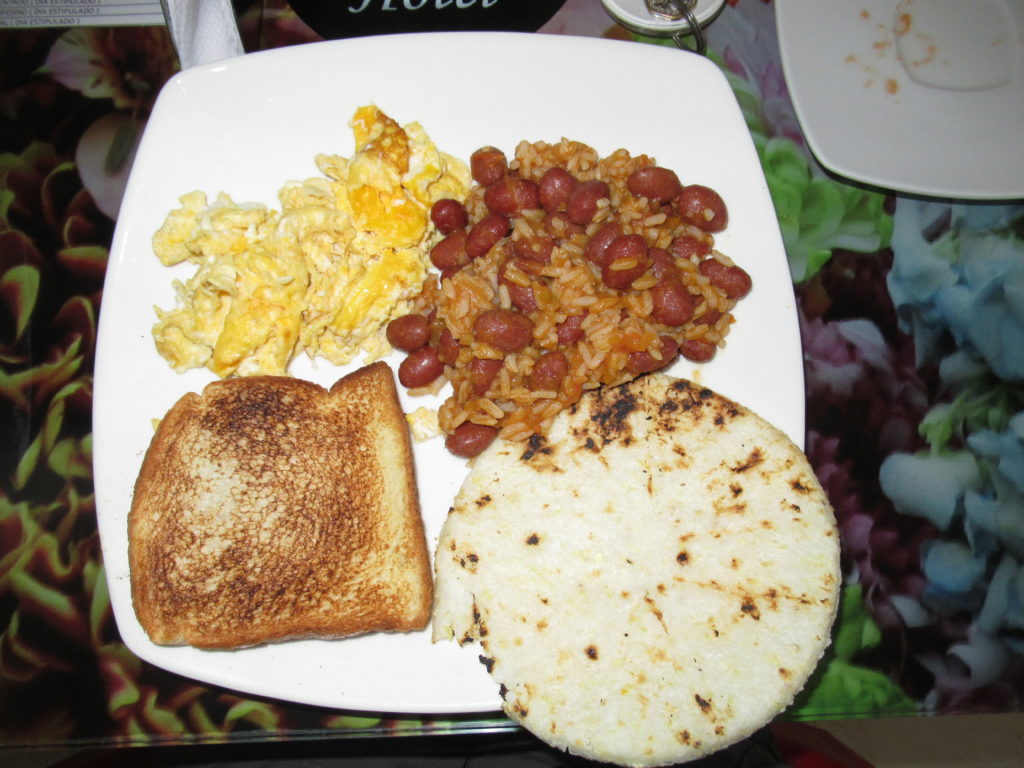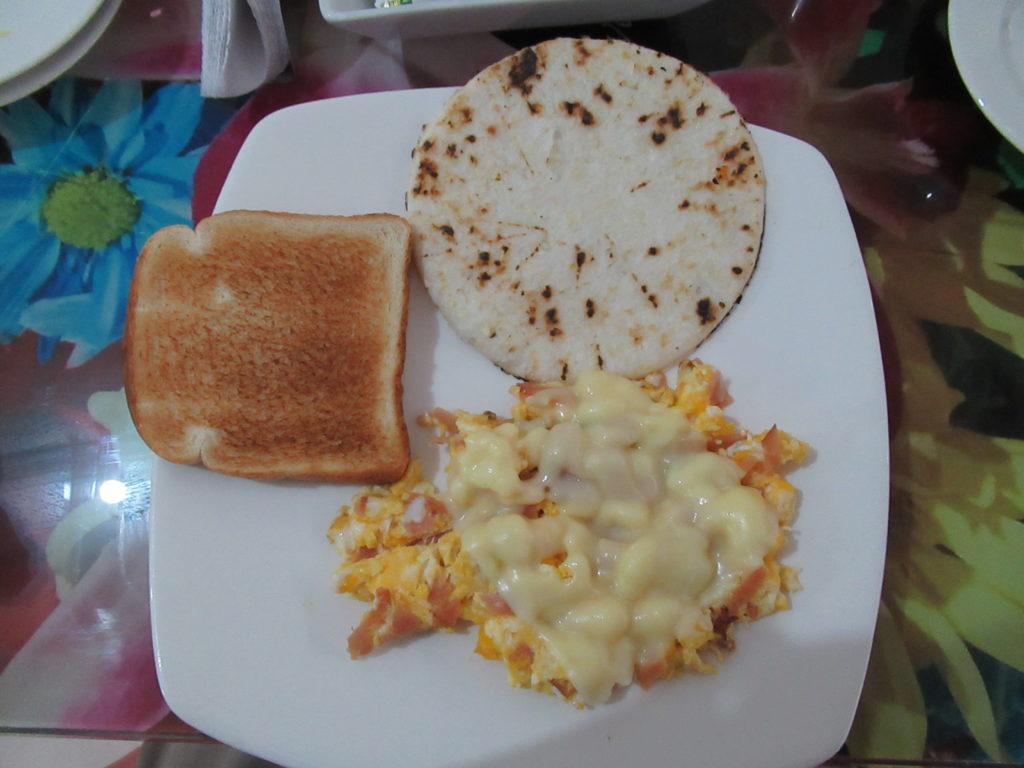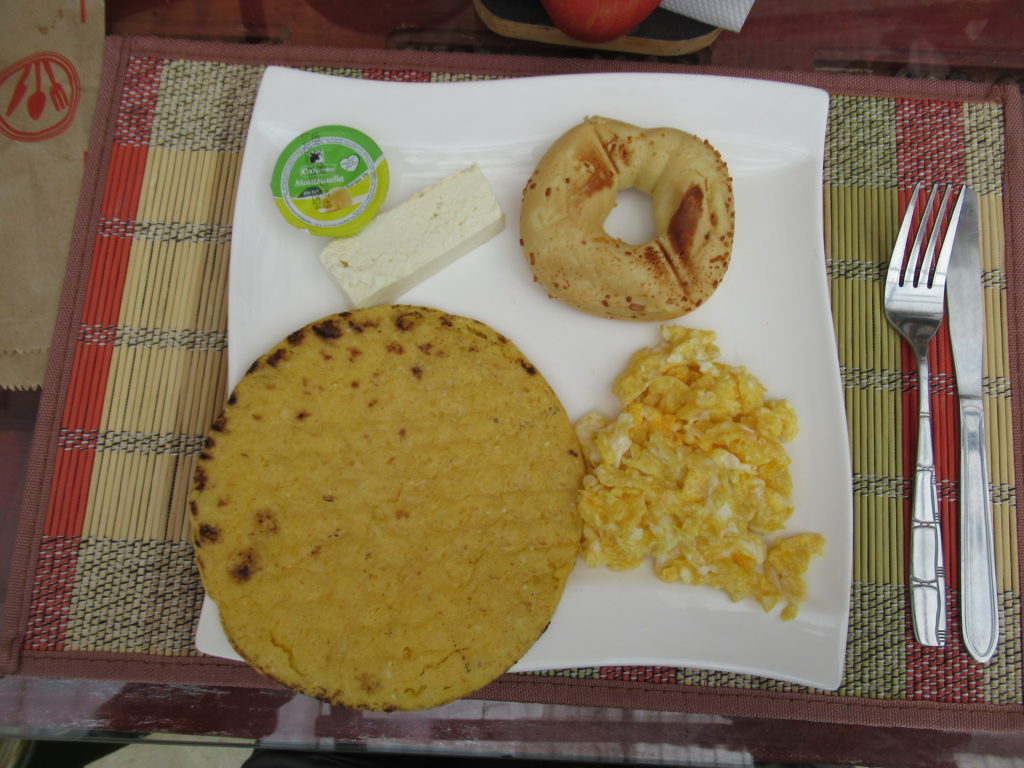 Lunch and Dinner
Moving on to lunch and dinner, there were fewer 'menu del dias' available than in other countries  – but what they did have was a thing called a 'bandeja paisa' – or 'bandeja' for short. Bandeja means tray or platter, and it's basically a giant tray of food. In fact it's such a large tray of food that we never actually ordered one! Yes, luckily for us they had such a thing as a 'half platter'…. even that was plenty big enough for us! 🙂
When selecting a platter you could choose your type of meat – eg. chicken, pork, beef etc. and then you got the rest of the plate piled with accompaniments – rice, beans, plantain, coleslaw, and a few other bits and pieces depending on the place.
I will point out now that these 'bandejas' are not strictly speaking TRUE 'bandejas paisas' – because those are very traditional and have to have the right ingredients and come from the correct area of Colombia (Antioquia). But in modern times, the term 'bandeja' has been adopted all over Colombia to be a big plate of food that is 'traditional Colombian food'.
So, let's check out some bandejas…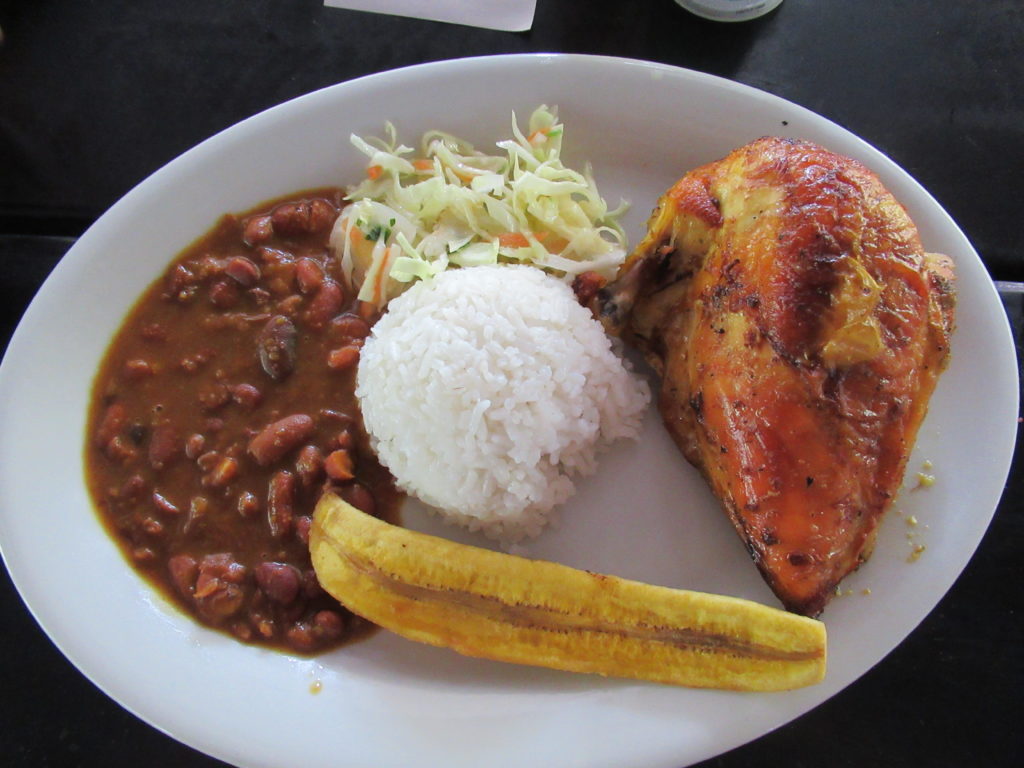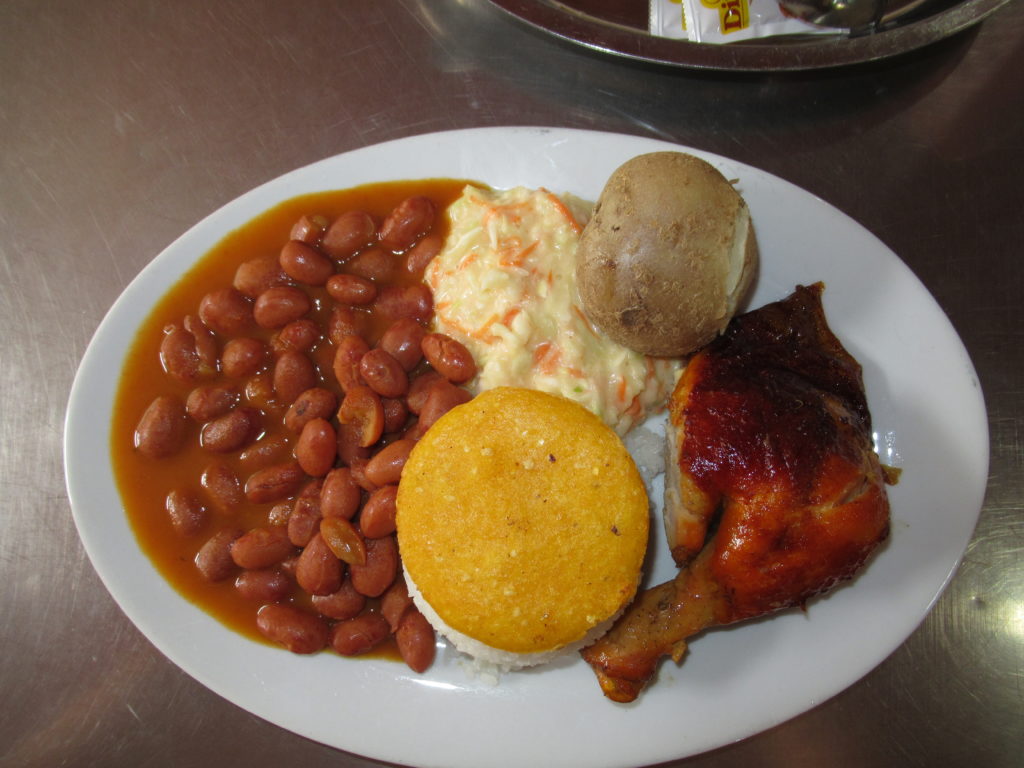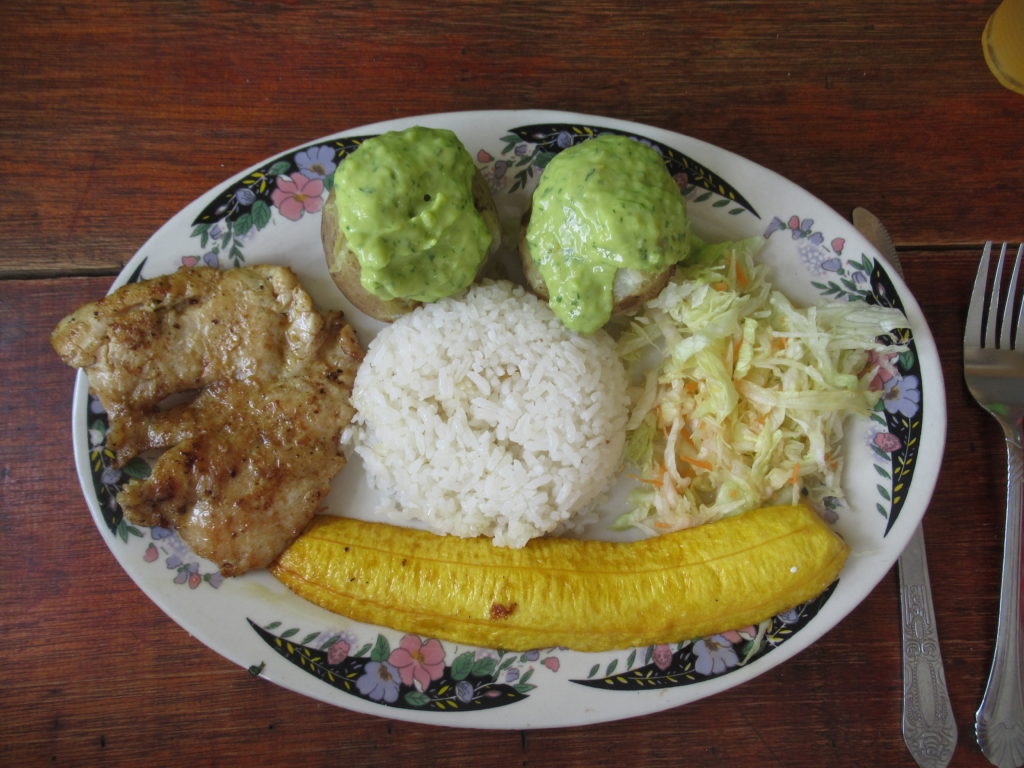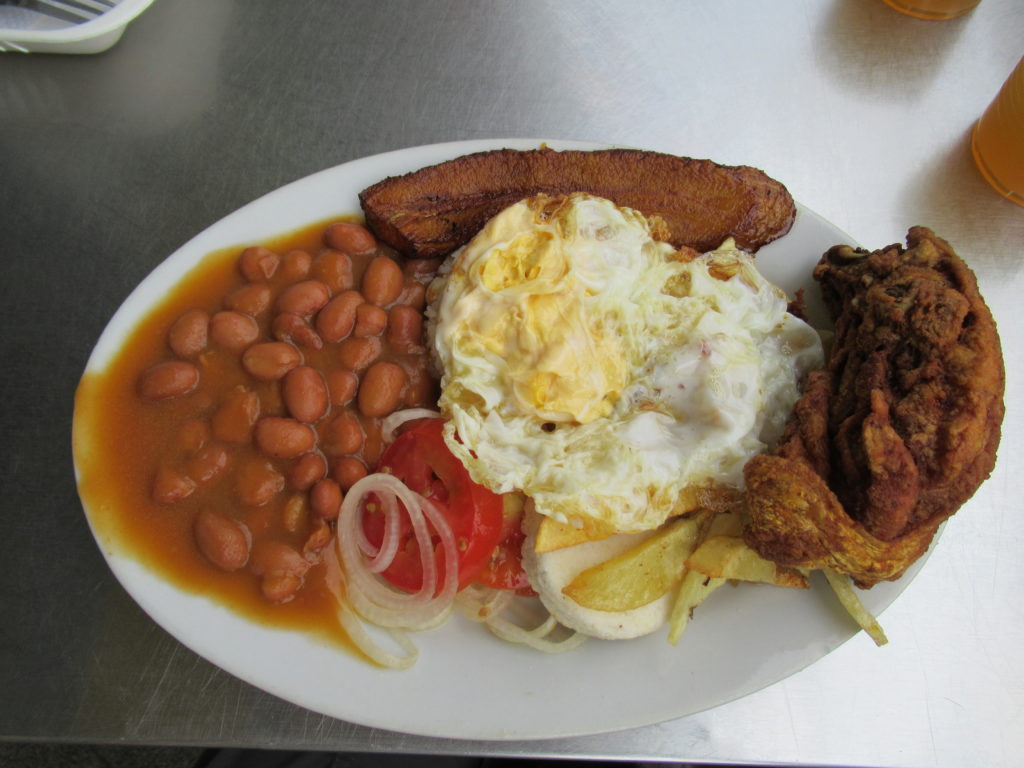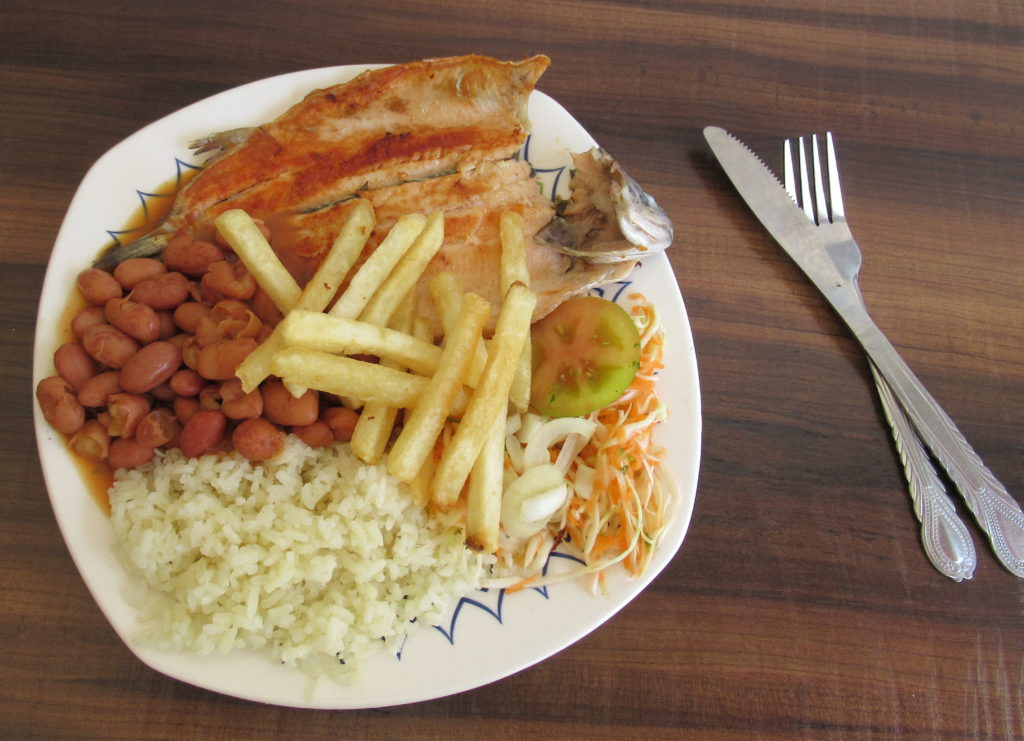 Moving on to 'menu del dias', there is a bit of blurring between the 'bandejas' and the menu del dias – with some places offering menu del dias which are pretty much bandejas plus soup. Most of the mains that came with menu del dias were not a lot different from the bandejas. Luckily we really like beans and plantain! 🙂
When we first arrived in Colombia we were totally confused –  as the way you work out where to eat lunch is quite different from Ecuador and Peru. In Colombia they don't seem to like the idea of putting menu boards up – or even having a menu at all?!. So you pretty much have to walk in everywhere and ask what's for lunch. (Well you do at the cheap places we eat in anyway… 🙂 )
Our first attempt in Popayan ended up with us getting soup as a main, and a starter as the side dish…. or something like that…?! We later worked out that the soup was a speciality and so was deserving of 'main' status. It was a pretty good soup at least… it was called Ajiaco, and is a soup made of chicken, potato, and a special herb called 'potato weed' in English! Yes, well I'm going with the Colombian name which is 'guasca'…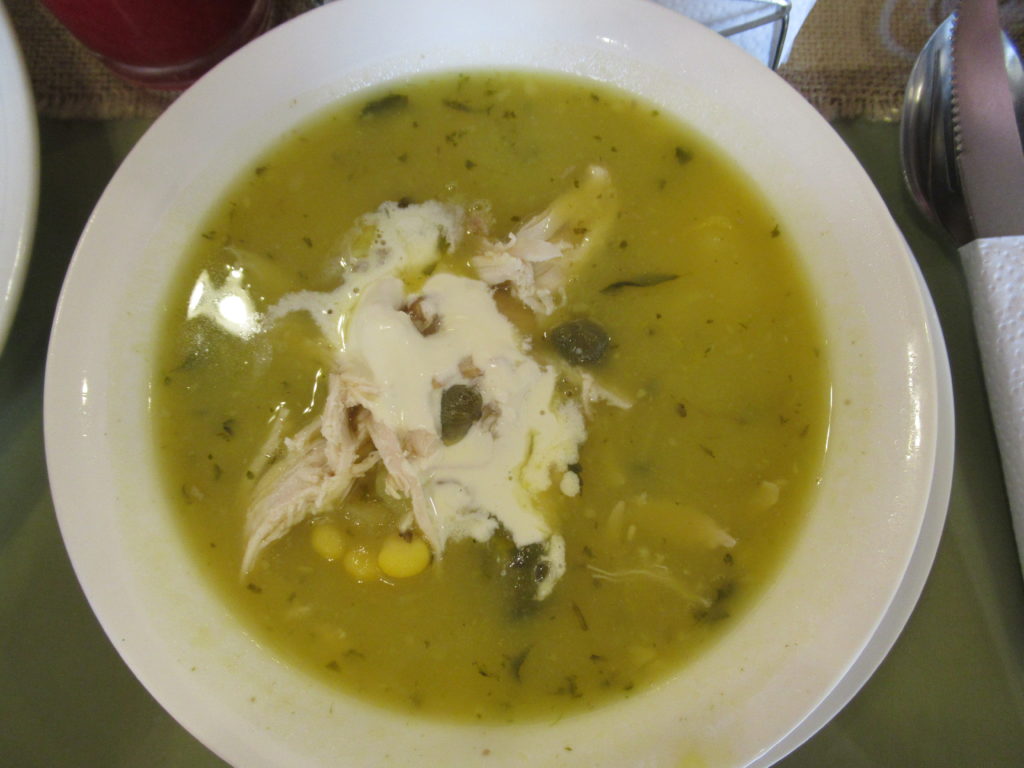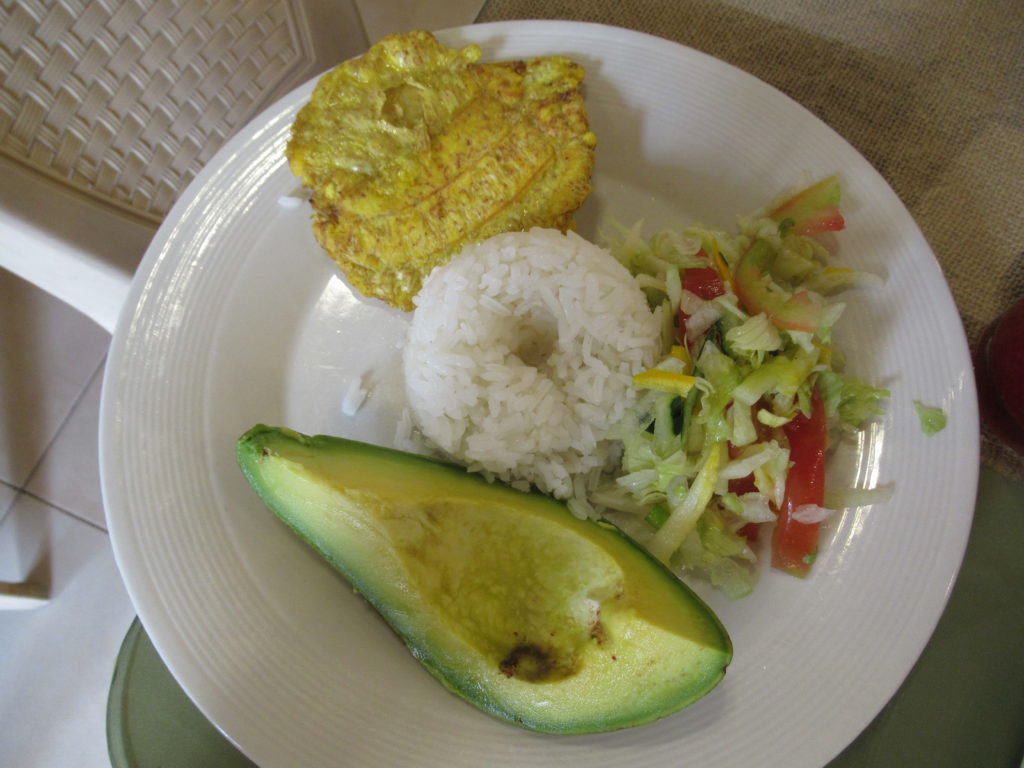 Later on we settled down into a routine of bandejas, and menu del dias that were just like bandejas…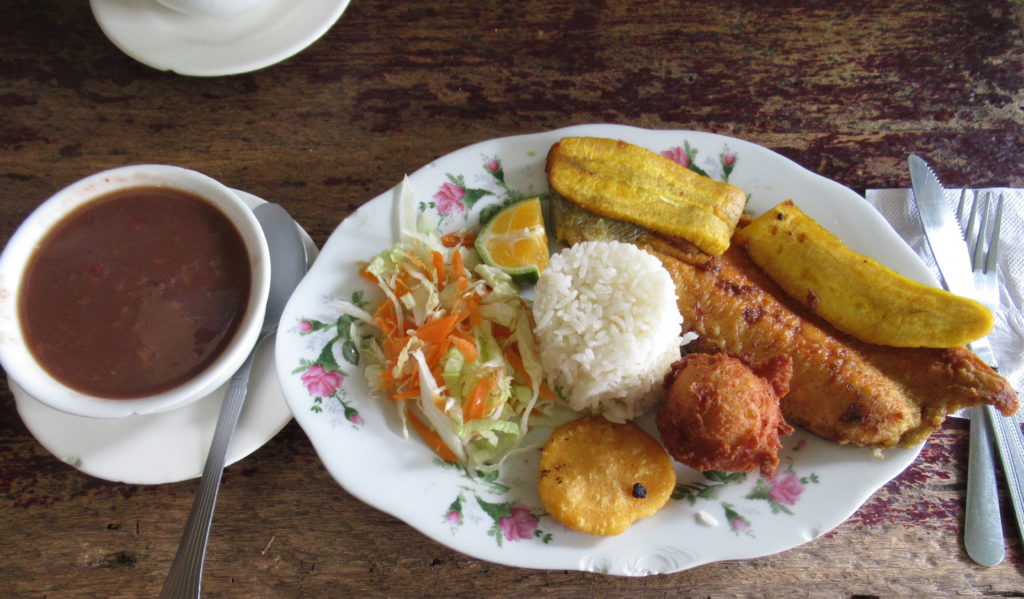 We did venture into a 'posh' place for a menu del dia in Manizales (not really very posh actually, except that they had a menu outside and air-conditioning) . We were hot and tired and there was nowhere else around – but the food there was actually pretty good, so we didn't mind the extra couple of bucks 🙂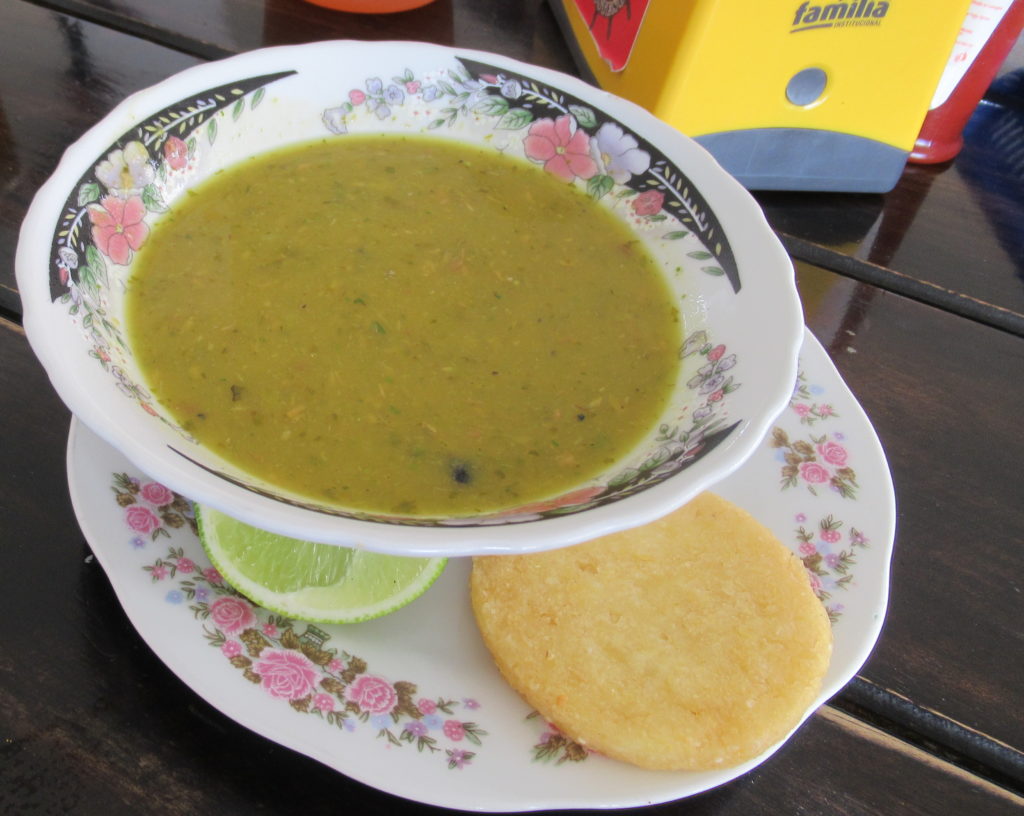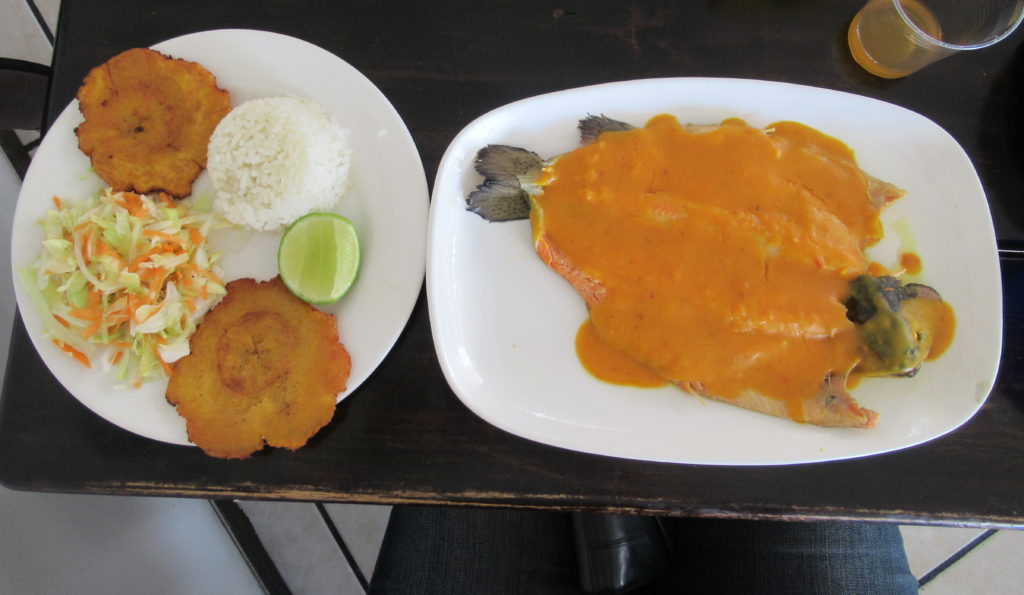 Now we must move on to talk about patacones. Yes, patacones are VERY important in Colombia. They are fried green plantain and they come in many, many forms. First of all, all the plantains that you have seen on our dishes so far have been fried plantain – so therefore 'patacones'. So patacones are a mandatory accompaniment to most meals.
But also you can order patacones as a main dish in its own right. What happens then is that you get a very large slab of fried mashed plantain, and you can also choose what you want on top. The options are limitless and confusing….! We went simple and had a 'vegetarian' style patacone, and a 'meat' style patacone.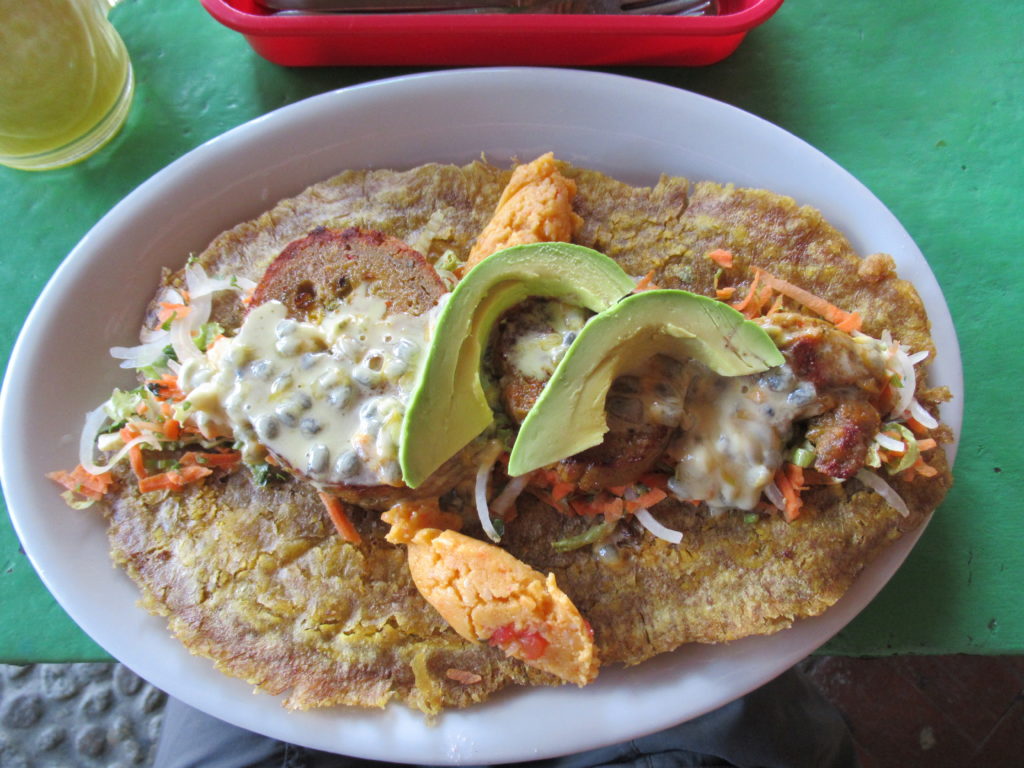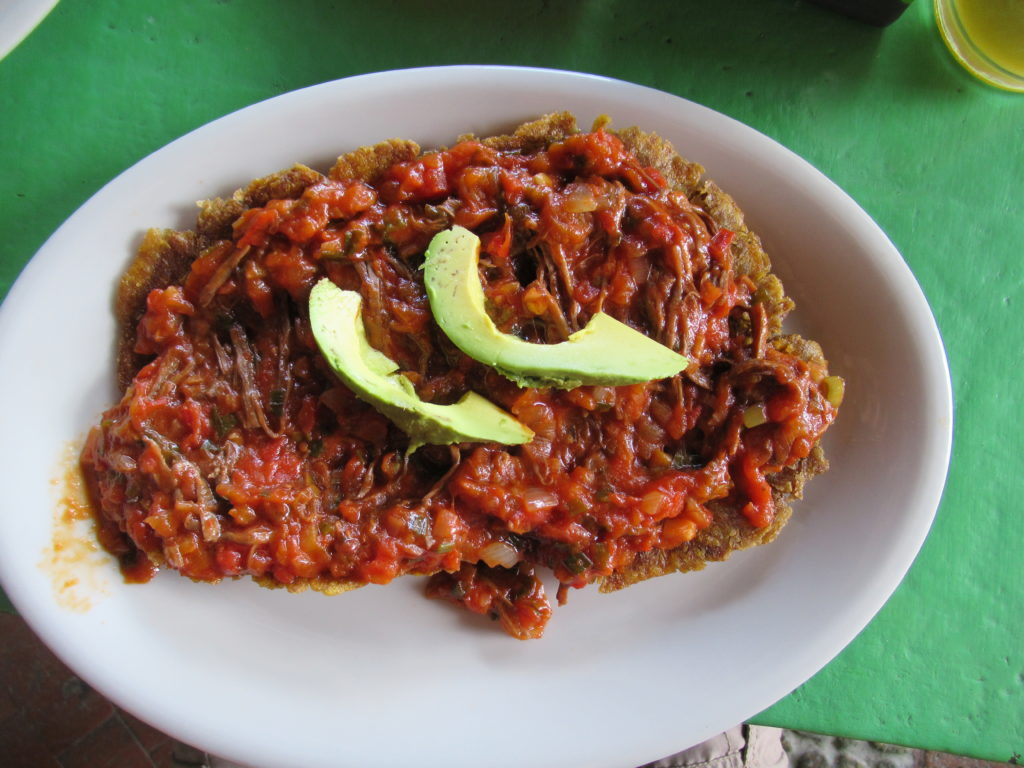 Unlike in some countries, it was often hard to find a menu del dia that included a soup. But when we did they were usually quite nice.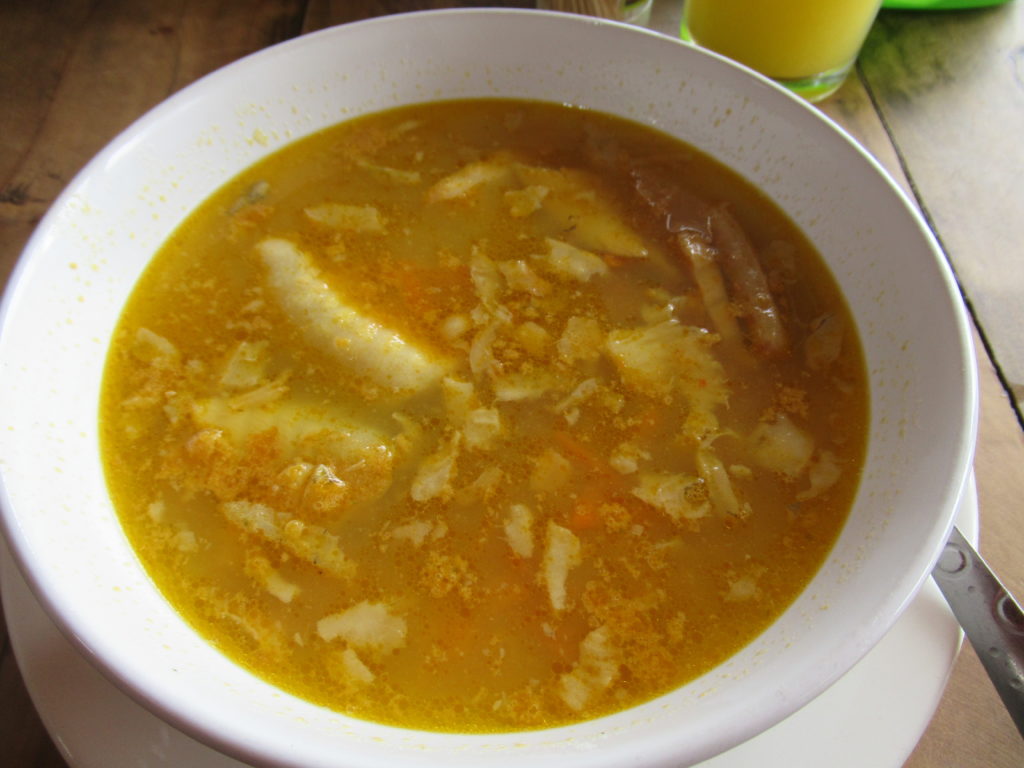 So overall we were pretty happy with the food in Colombia. It could be a bit samey as far as lunches go – but as long as you liked patacones and beans then you were in the clear! 🙂
But just like everywhere else on the continent, the snacks, street food, desserts and drinks were a whole other world to explore…