Before arriving in Bolivia, if someone had told me that the chocolate there was as good as, or better than, some of the stuff that you could get in Australia, I'd have said 'yeah right…'
I was soooo wrong – Bolivia's chocolate is a hidden gem just waiting to be discovered and blow your budget… well if you eat it in big enough quantities (we did!!!)… or maybe it just blew our daily budget from time to time as we hadn't allocated accordingly!?! Next time we travel each country is getting a seperate chocolate budget just in case!?!
Our love of Bolivian chocolate got into full force during our time in Sucre, as with at least one chocolate shop on each street it was impossible not to be intrigued and start thinking about chocolate!?! On holiday, 'thinking' would not have come into it… it would have been, 'hey there's a chocolate shop let's try some…', but at about $4 a bar – which would have bought us two chicken meals – chocolate purchases felt somewhat frivolous…
It wasn't long, however, before we ventured into Para Ti and from then on the Bolivian chocolate obsession just spiralled!?!
Para Ti has a HUGE range of bars of chocolate, and I will start by saying that I'm sad to announce that by the time we left Bolivia we still hadn't tried them all! – In fact we only tried 5 varieties, but I'm going to share our thoughts on them with you anyway!
Chocolate con Maní (Chocolate with peanuts)
This was pretty good and gets the thumbs up… but in my humble opinion if you can only try one – pick the chocolate with quinoa over this one…
Chocolate Amargo Intenso – 75% (Intense Dark Chocolate)
Awesome – the first good dark chocolate we've eaten since we left Australia…
Chocolate with Quinua (Chocolate with quinoa)
In a word – AWESOME 🙂 🙂 The perfect balance of chocolate and quinoa…
Chocolate con sabor a Pistacho (Chocolate with Pistachio flavour)
'con sabor a…' my first schoolboy error – I didn't take this in and was expecting crunchy pistachio pieces in among the chocolate… of course there were none. After the initial disappointment, the pistachio flavour was actually pretty intense and we quite liked this one 🙂
Chocolate Amargo con Coca (Dark chocolate with coca leaves)
Dark chocolate filled with cream of coca. There wasn't a whole heap of coca flavour – in fact it tasted more like a chocolate liquer! The excitement of finding this unique chocolate was way more intense that the enjoyment given when eating it….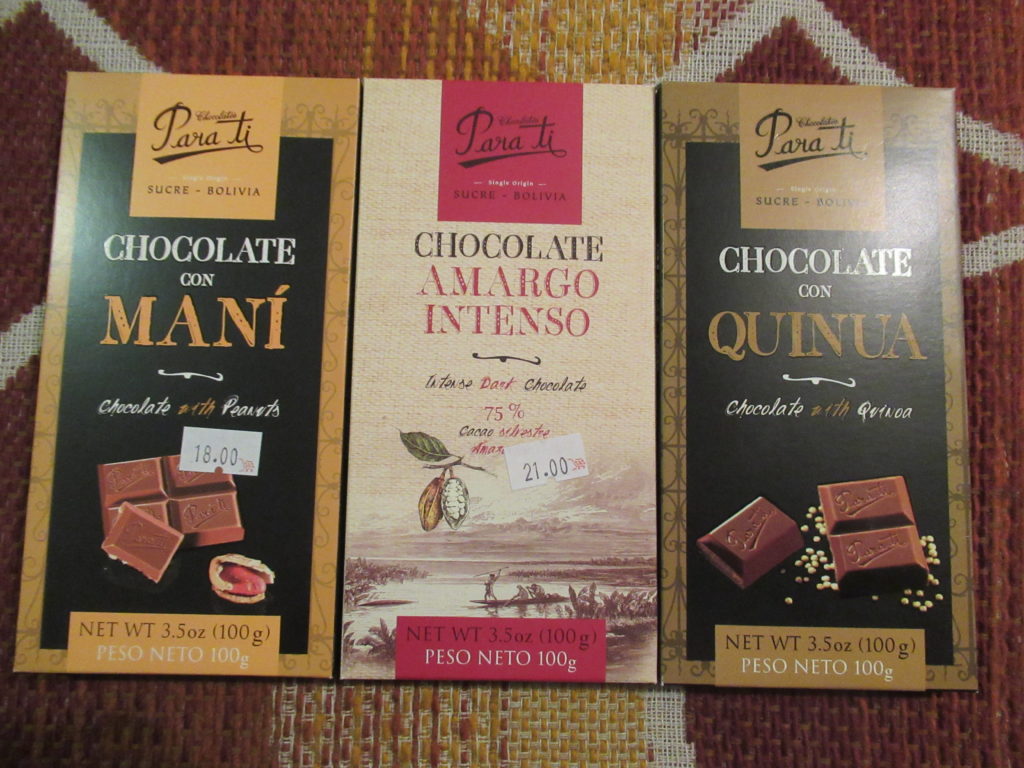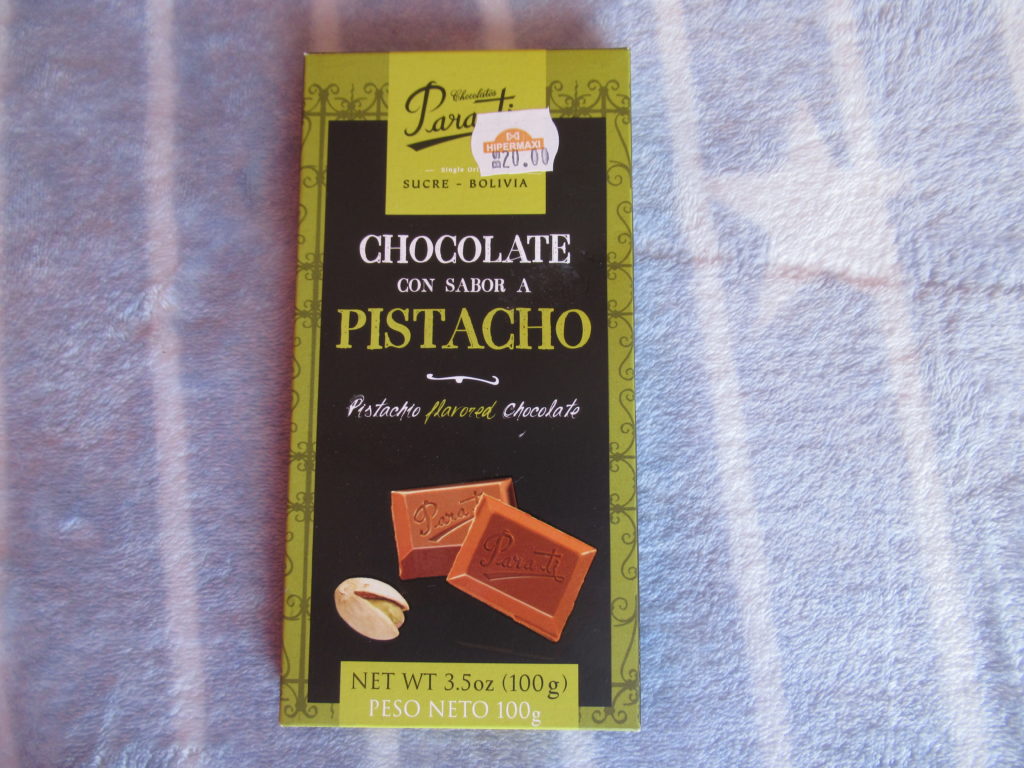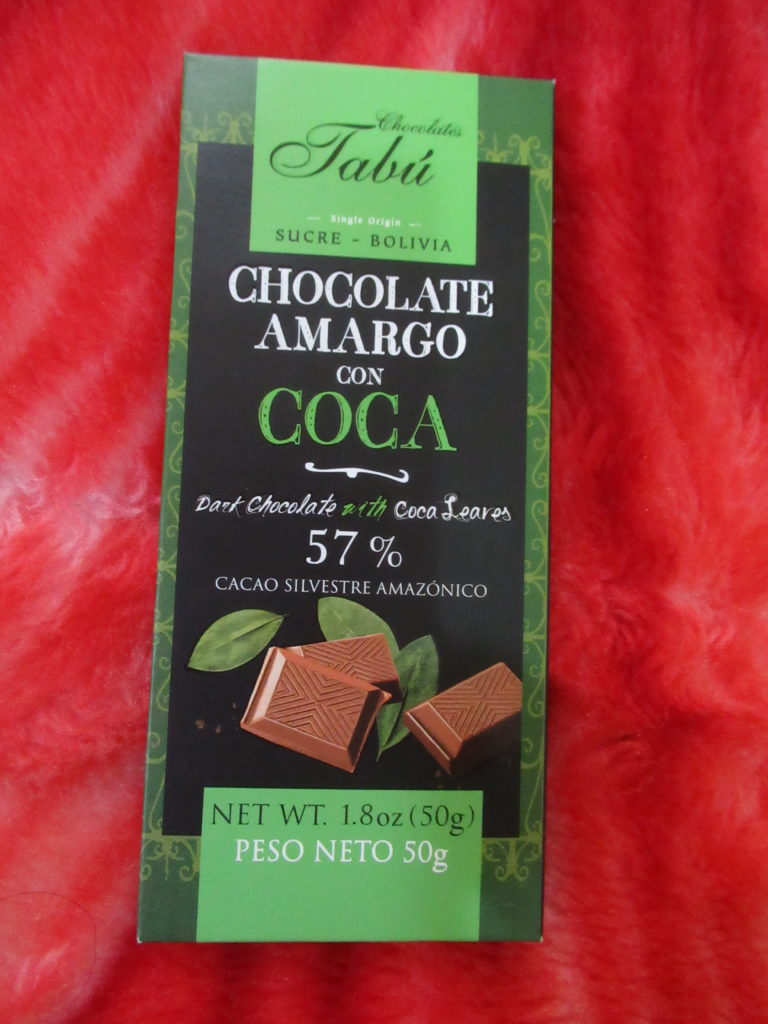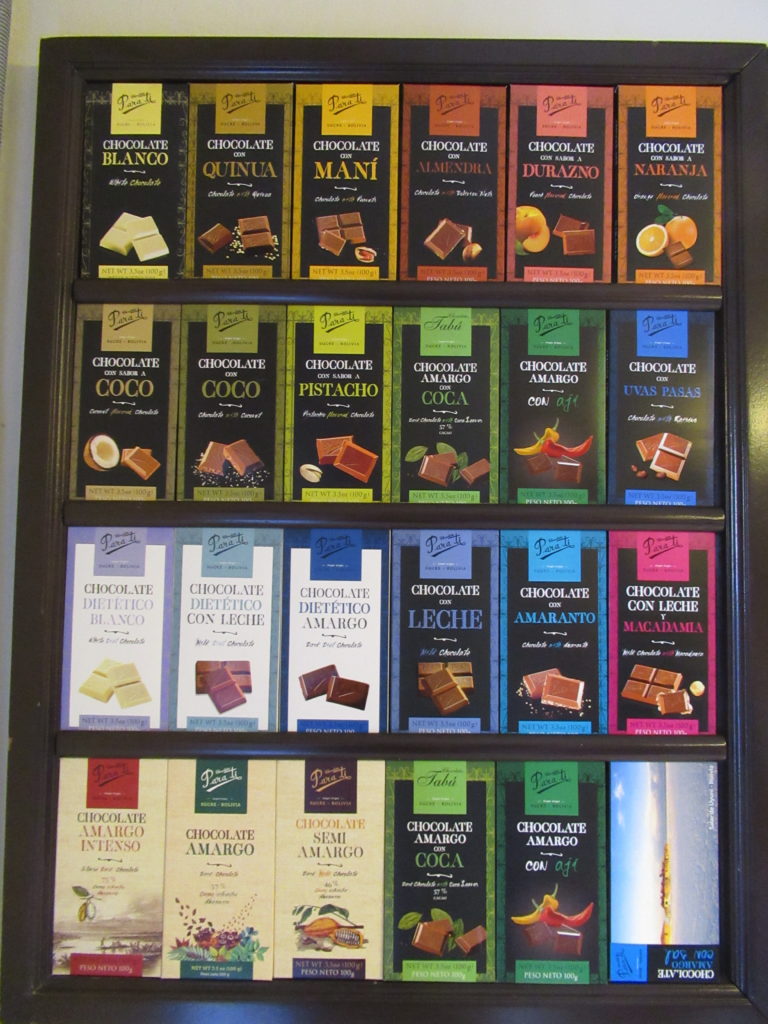 Needing to know whether Para Ti were the exception, or whether Bolivia in general just made good chocolate – we tried two other brands as well…
First came Chocolate Baure… we managed to find three different bars for this company…
Chocolate con asai (Chocolate with acai)
Very disappointing – labelled at 70% cocoa but to me it tasted like cheap horrible cooking chocolate 🙁 Brazilians would have been upset too as it didn't really taste of acai either, it was more a flowery perfume flavour… PB remains surprised by my review – he didn't think it was terrible, he just said that it wasn't amazing… I voted with my feet and PB got to eat the rest of the bar…
Chocolate con locoto (Chocolate with chilli)
Another chocolate bar that tasted more like cooking chocolate than amazing dark tasty chocolate. BUT you could taste the spice, and spice is always good 🙂
Chocolate 86% Wild Cocoa
Bitter yet delicious.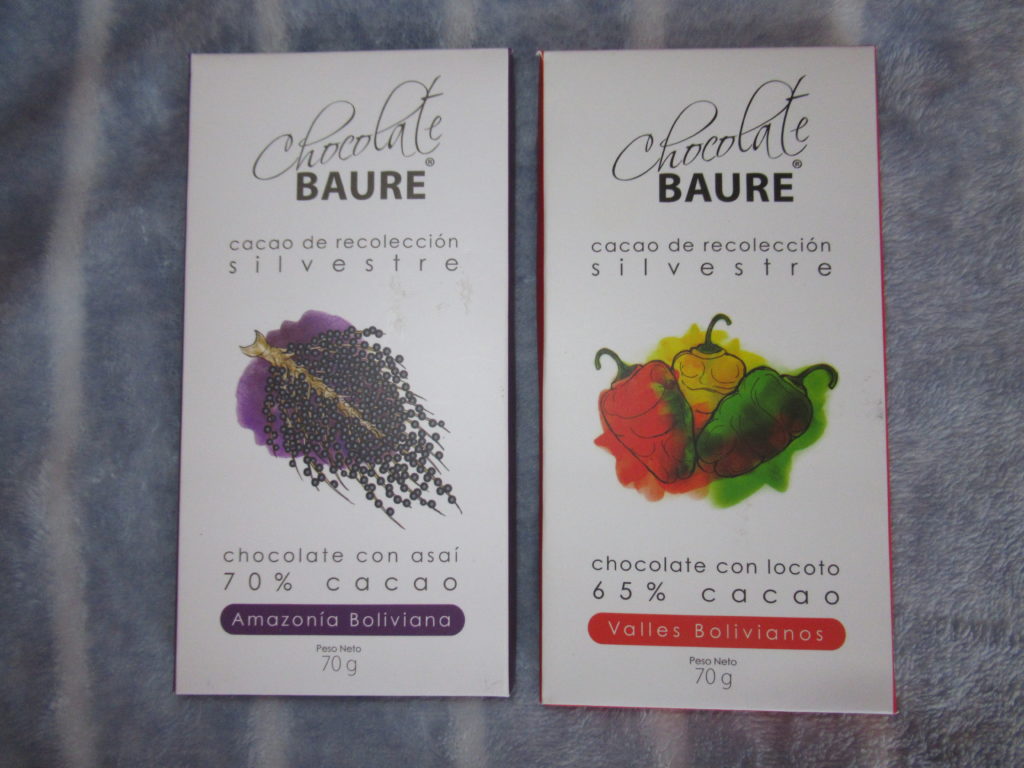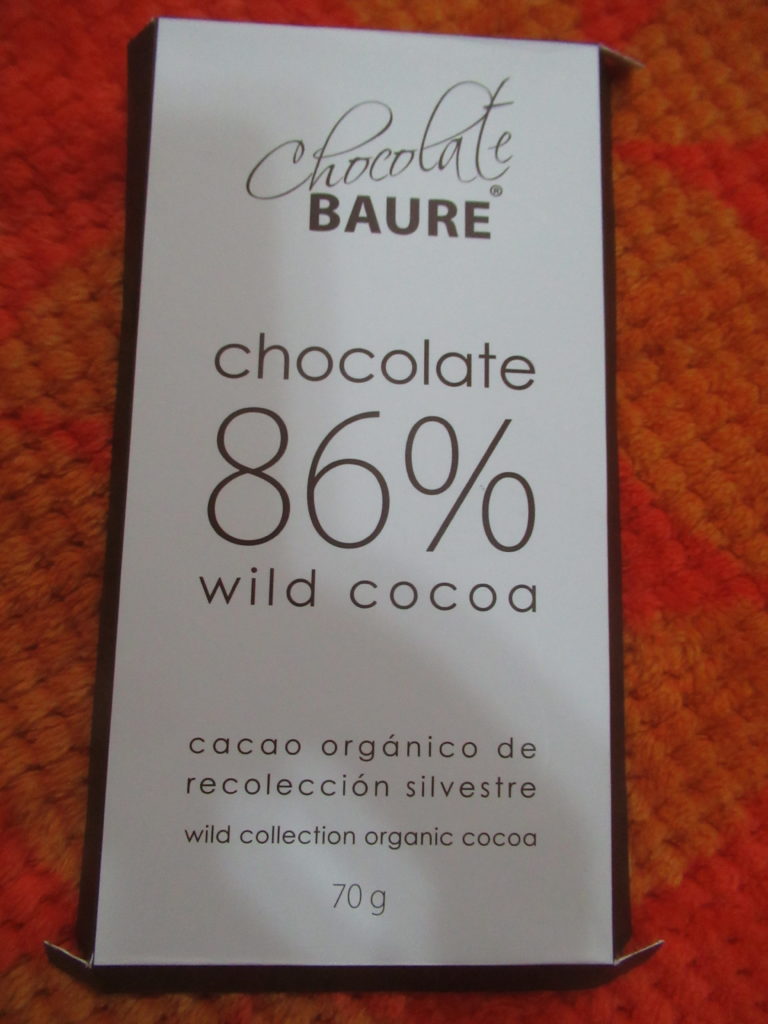 We then moved on to chocolate made by the company El Ceibo…
Andean Royal Quinoa and Uyuni Salt
This was lacking in both salt flavour and quinoa…
Bolivian Speciality Coffee
This chocolate exceeded all expectations. It had a really great coffee flavour (and I don't like chocolate and coffee mixed normally…)
Heritage Coco Beans, Fine Dark Chocolate 75%
Awesome – another company that can make really good dark chocolate 🙂
Fine Dark Chocolate 75%
I'm not sure that in a blind taste test I could tell the difference between this and the Heritage Coco Beans version – this one was equally as good – I would eat both again 🙂
Cocoa Nibs and Uyuni Salt
A delicious dark chocolate taste with bursts of salt and nibs that PB reckons taste like cocoa powder…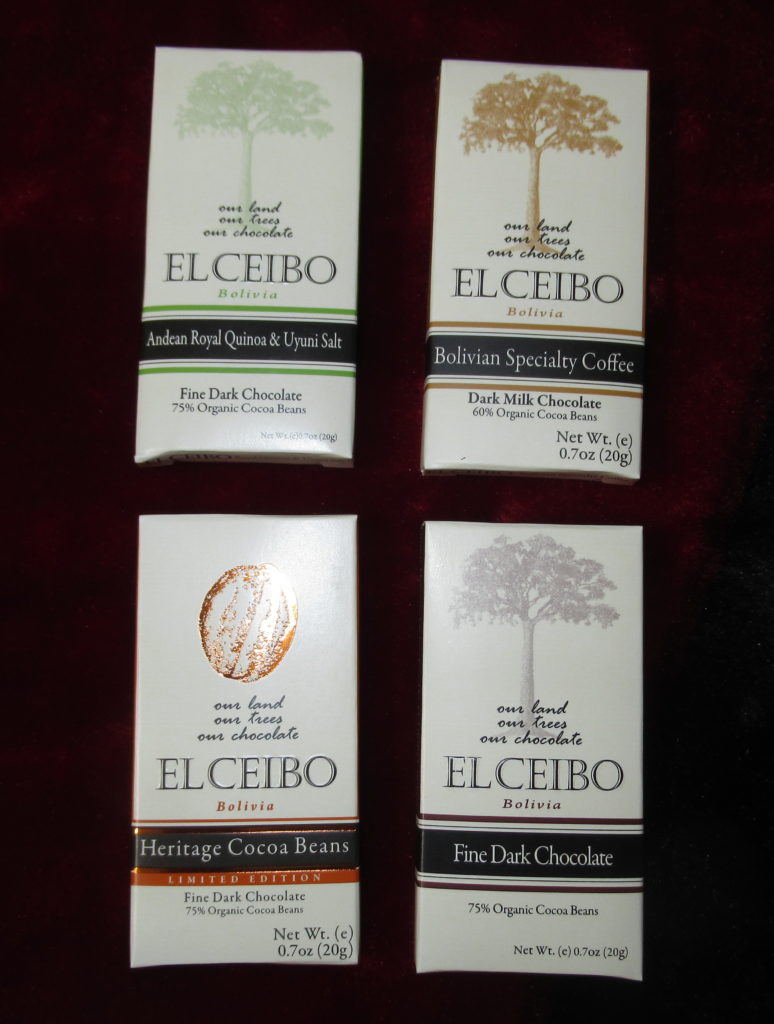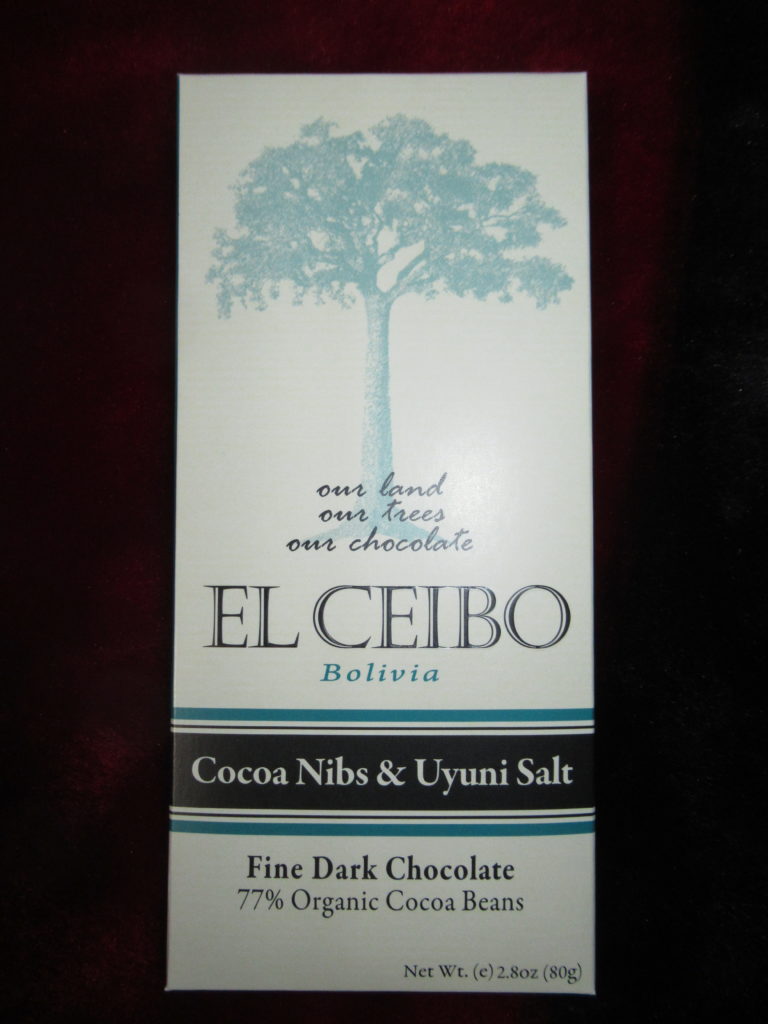 So, which chocolate is the best that Bolivia has to offer?!? And which would get the wooden spoon and come in in last place?!?
In last place – it has to be – Chocolate con asai (Chocolate with acai) by Baure – I don't think I've ever turned down chocolate before… BUT I managed it with this one as it was SOOOO BAD!!!!!
First place is harder to give… there are so many contenders… so I'm going to take the wussy way out and give you the top three… The top three chocolate bars in Bolivia are:
Para Ti – Chocolate with Quinua (Chocolate with quinoa)
El Ceibo – Cocoa Nibs and Uyuni Salt
El Ceibo – Heritage Coco Beans, Fine Dark Chocolate 75% OR Fine Dark Chocolate 75% (as previously mentioned they were both awesome and I wouldn't be able to tell them apart in a blind taste test!)