It was time for our first Central American border crossing! Gone were the days of taking an international bus and having it wait on the other side of the border. In Central America there are a few international buses, but they cost a fortune and only go between the big cities – so it's pretty much the 'bus to border, walk across border, find another bus' method.
In this case we wanted to travel from Boquete, Panama to Puerto Jiménez, Costa Rica – and so it was going to be a bus to David, a bus to the border at Paso Canoas, walk across the border, a bus to Golfito, and then a boat to Puerto Jiménez… yes that's 3 buses and a boat…! 🙂
The crucial stage in this journey was the ferry – which only ran twice a day at 1pm and 4pm (because it was Sunday). We thought we should aim for the 1pm ferry – just in case the 4pm ferry got cancelled or something delayed us. It's difficult to get anywhere quickly using public transport in Central America, and so we set off at 8am.
The first leg from Boquete to David was straightforward enough – we got a bus at 8.25am and were in David at around 10am.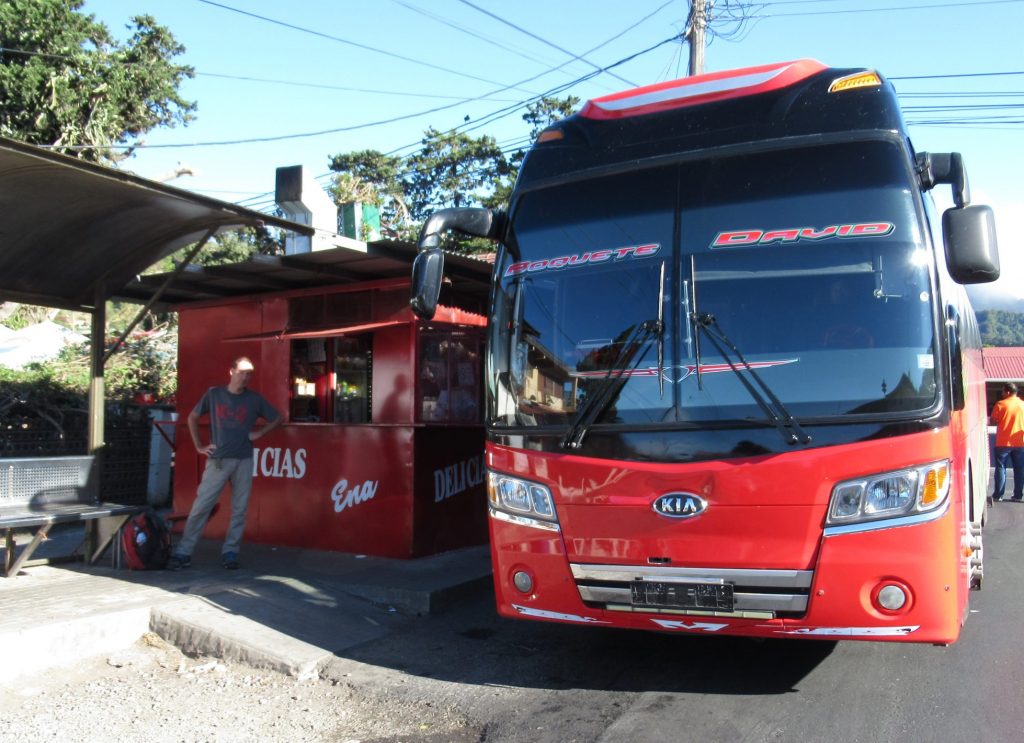 At David bus terminal, we needed to find the minivan to the border at Paso Canoas. Conveniently for us, they had destination signs in this bus station (unlike a lot of other bus stations I could mention), and the minivan was almost full and ready to go! One hour later we were at the border! 🙂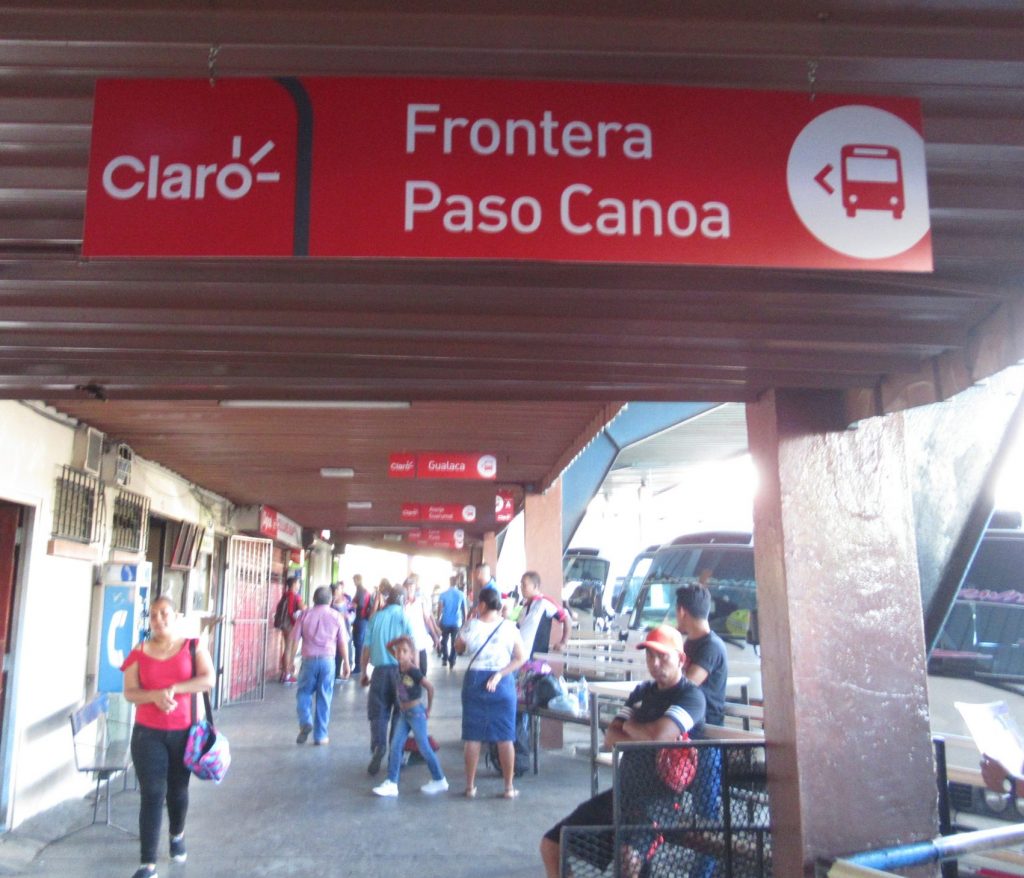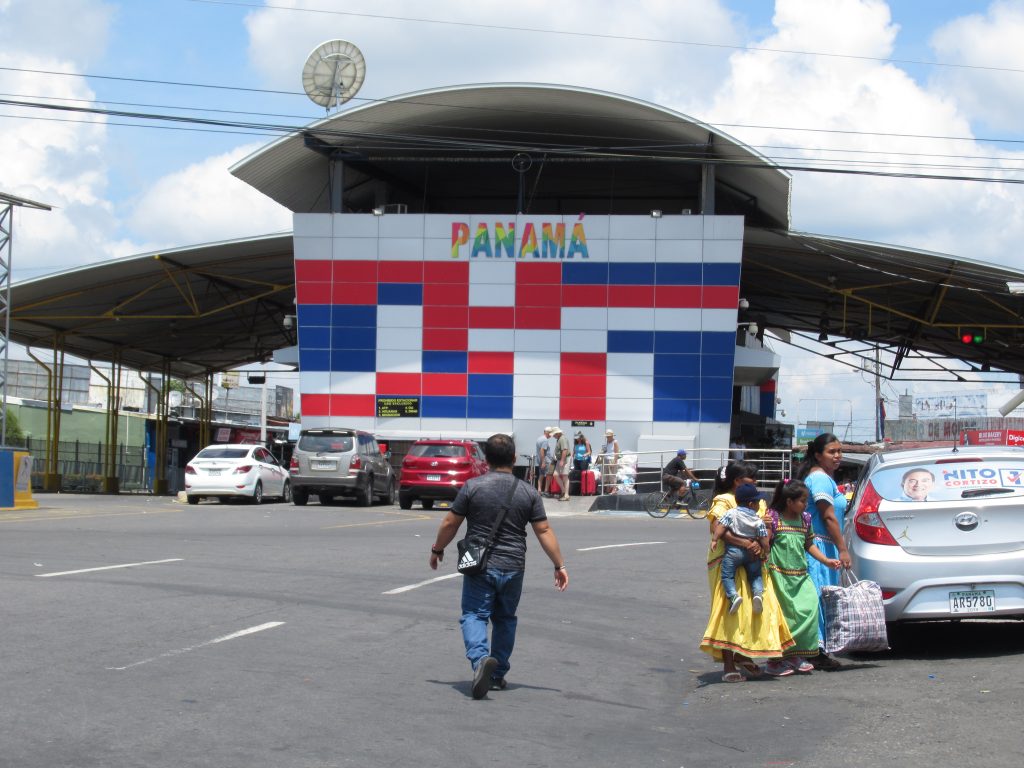 Leaving Panama was very easy – there was no line at all and we got our exit stamp straight away. Paso Canoas was like a giant market – it's one of those border towns that is in both countries, and so is a tax-free shopping haven. At the Costa Rica border station, there was a small line of foreigners in front of us, and one very small window for immigration checks. Like Panama, Costa Rica is an enforcer of the 'outward ticket' rule, and so once again we had our pretend onward ticket out of Costa Rica.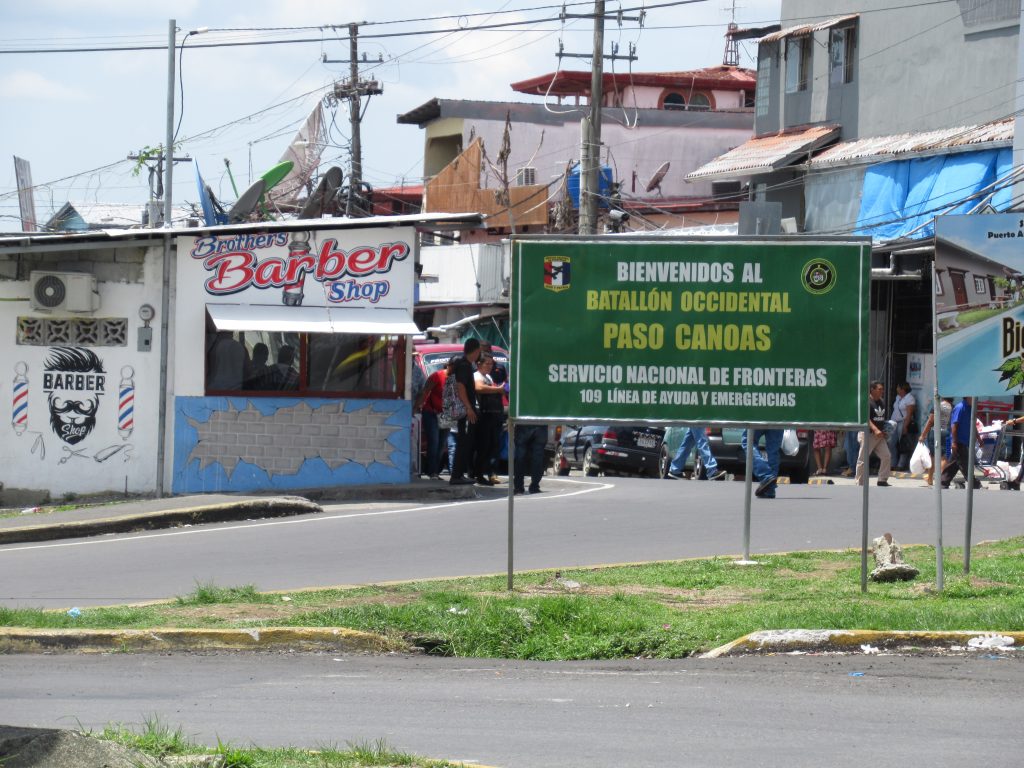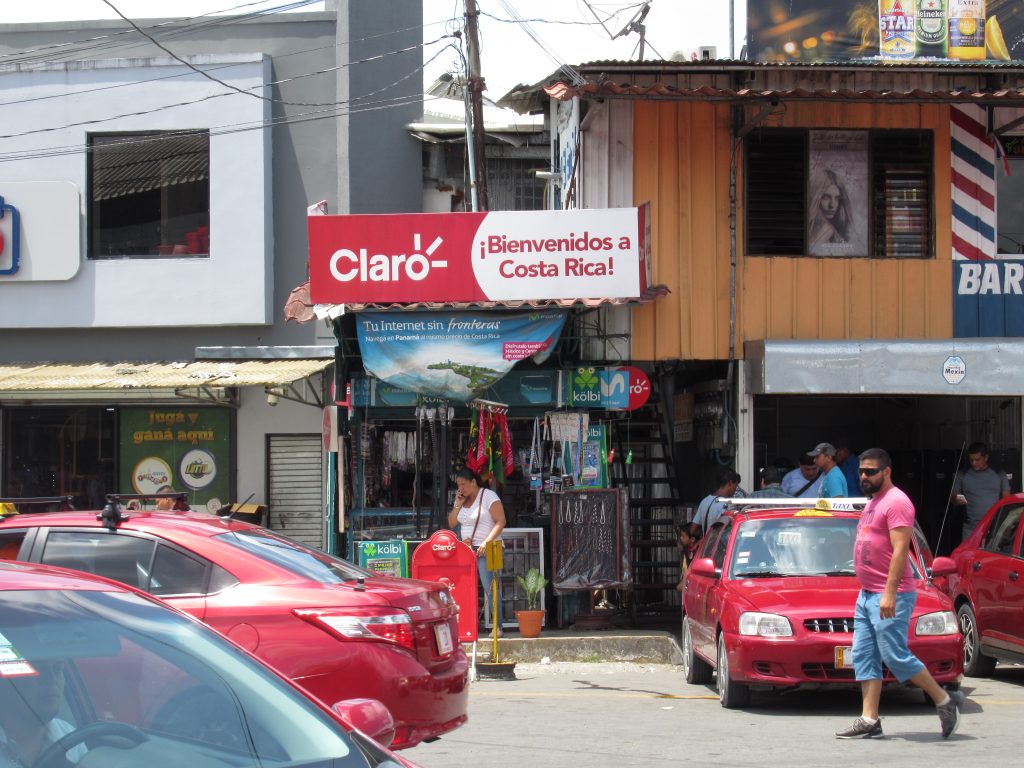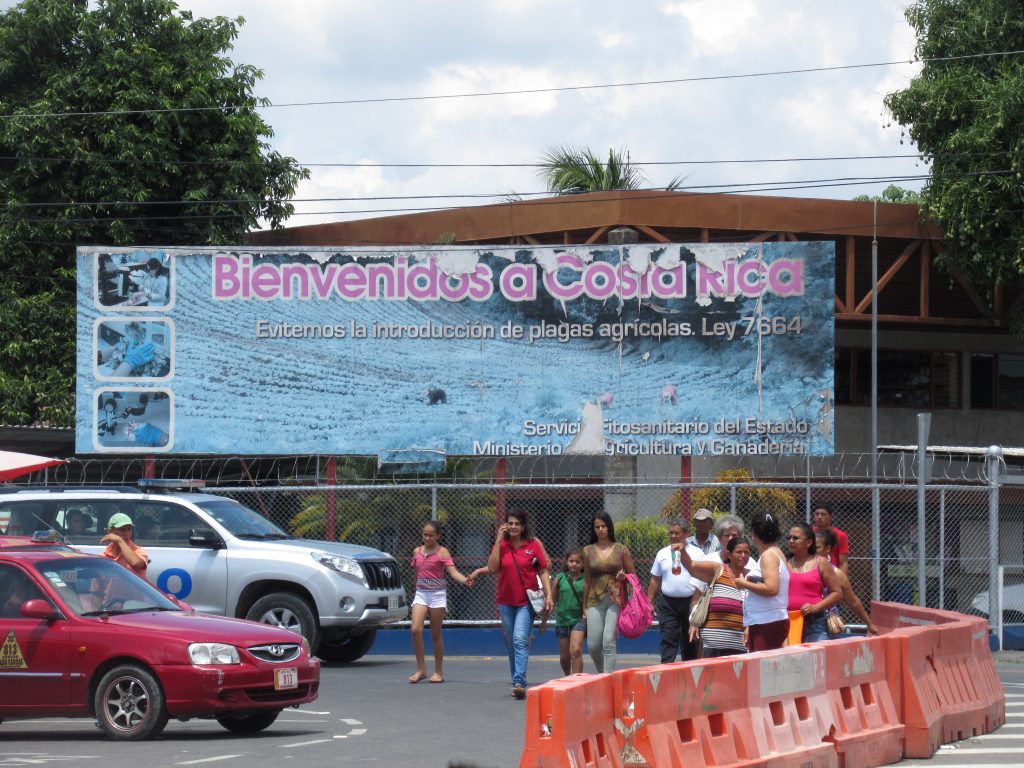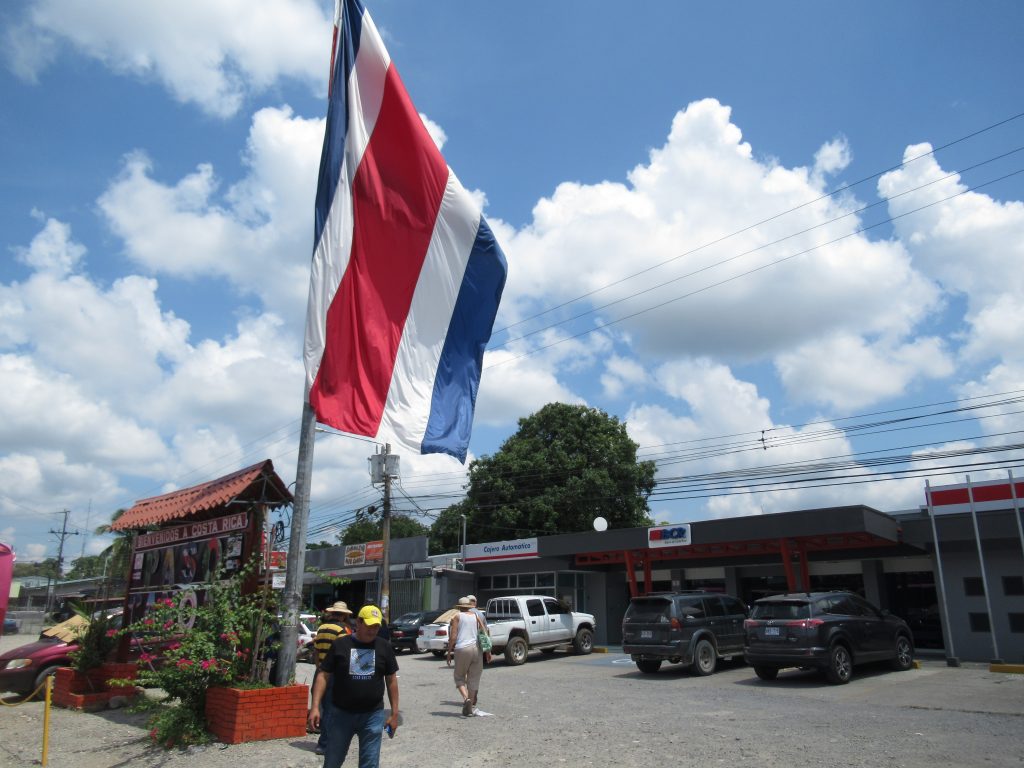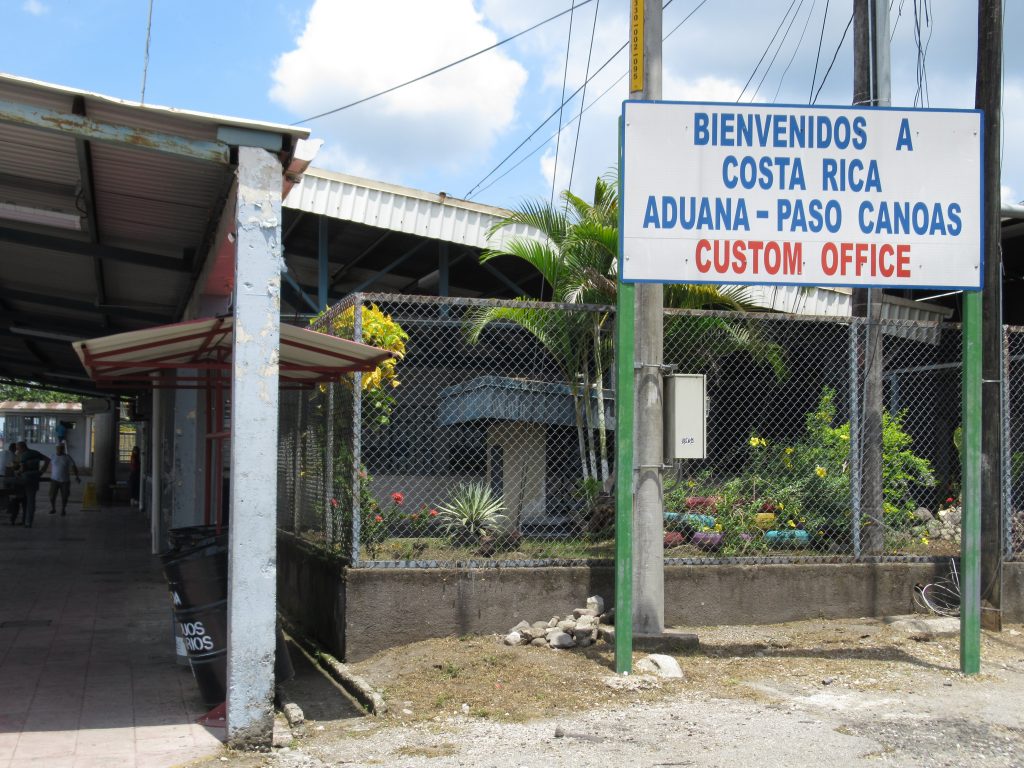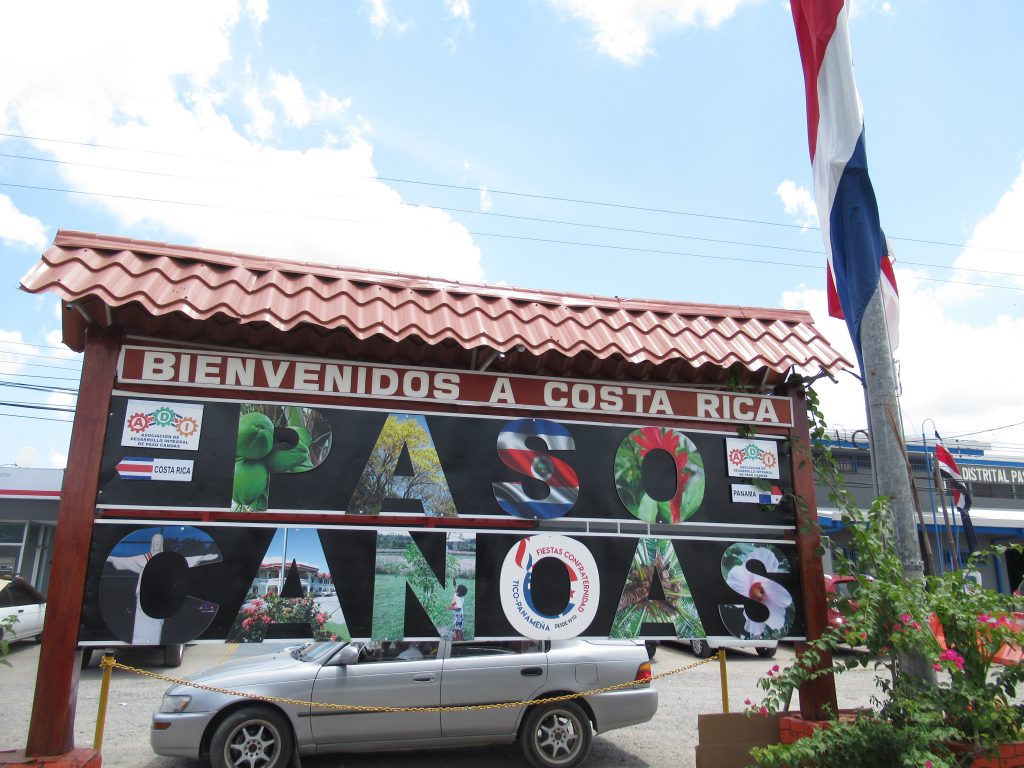 The immigration man turned out to be fairly friendly – although he did ask to see our onward tickets. He gave us a look that said 'We both know that you are not going to take this flight, but I have to do my paperwork exercise…'. Supposedly they started being strict on this rule because tons of foreigners live illegally in Costa Rica on tourist visas, and so every three months they cross into Panama and then come back into Costa Rica to get another three-month stamp. The system doesn't really work though – as once you know about it, there are ways around it – as we have demonstrated. So you are hardly likely to stop any foreigners living in Costa Rica, as they all know about it. It's more likely that some poor, unsuspecting first-time backpacker will get stopped and made to buy an international bus ticket for $50 USD… but we don't want to feel sorry for them do we! 🙂
Once we were through, it was time to go to the ATM to get some Colones (Costa Rican money), and partake of snacks to keep us going. After this we made our way to the bus terminal, and found the bus to Golfito. The buses here were like inner-city type buses that you get in Australia, with plastic seats and a button to push when you want to stop. Our bus was air-conditioned and modern – welcome to Costa Rica!
We had to wait 45 minutes for the bus to leave, and it took around 90 minutes to get to the ferry dock at Golfito.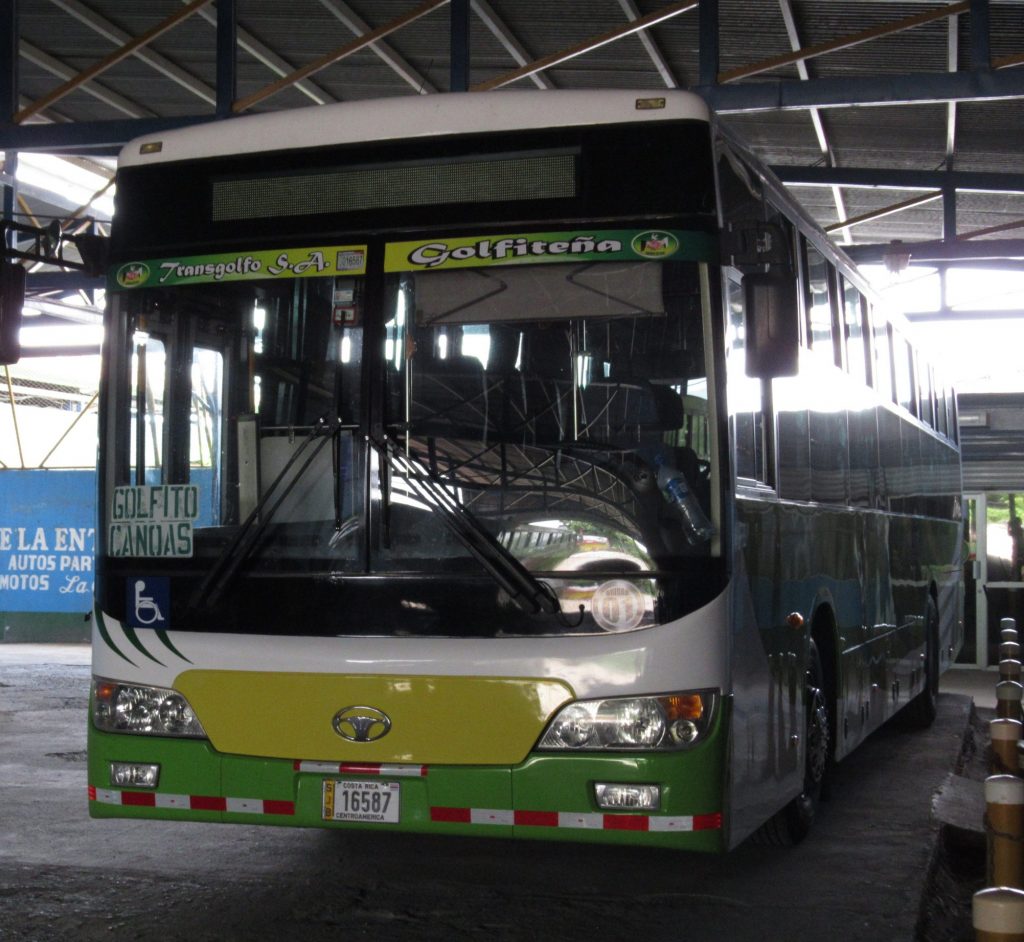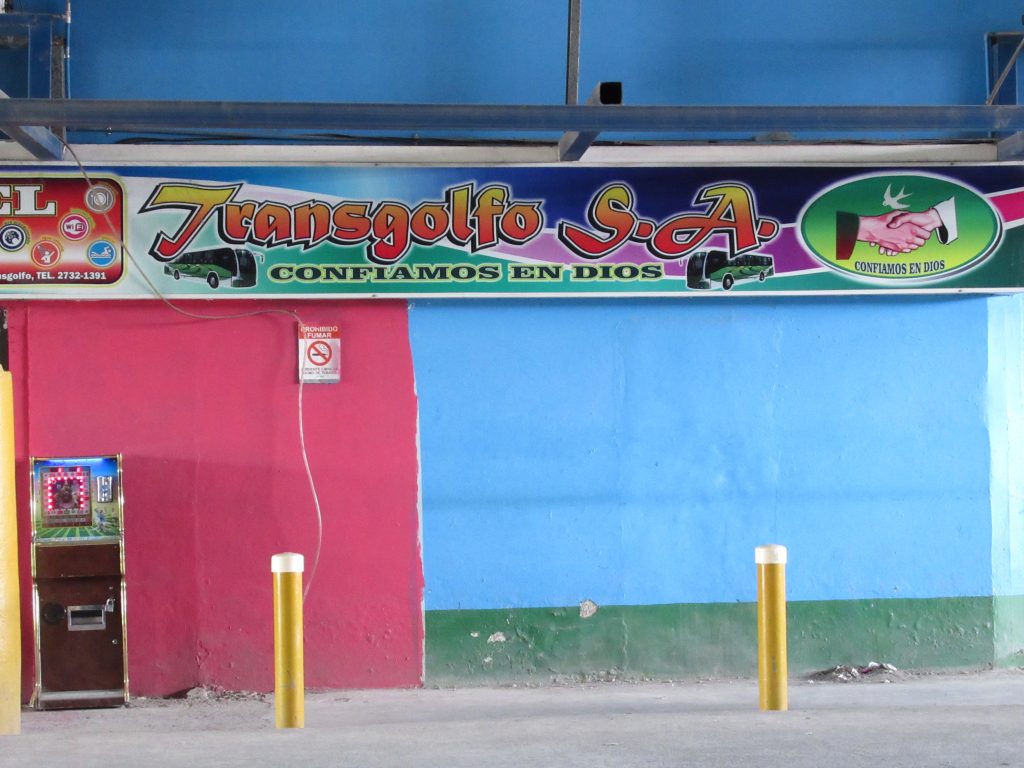 As we arrived on the edge of Golfito. it was around 1pm – it looked like we were just going to miss the ferry by about 5 minutes 🙁 Sure enough, when we got off the bus, the ferry had just departed. We were a bit disappointed to have missed the ferry… BUT…. it turned out that our late arrival was not actually a problem for the man in charge of the wharf…
Yes, believe it or not he started running down the wharf and shouting at the ferry and waving his arms frantically – telling the ferry to come back!! We ran after him, wondering if the ferry would actually turn around – it was about 300 metres away already!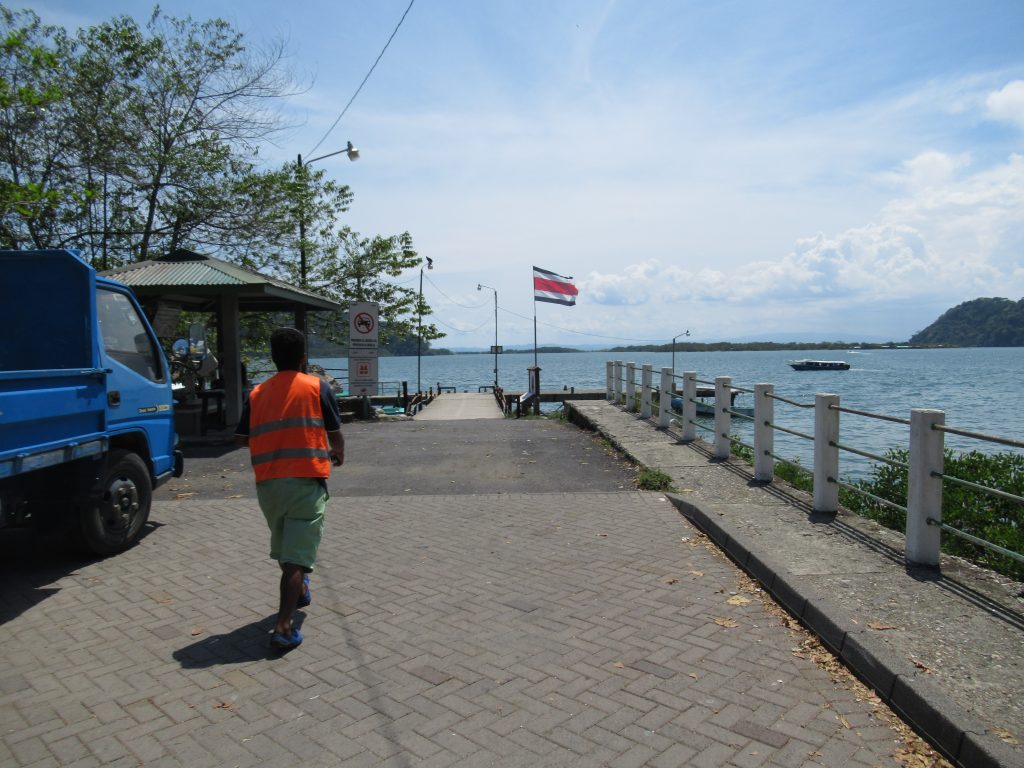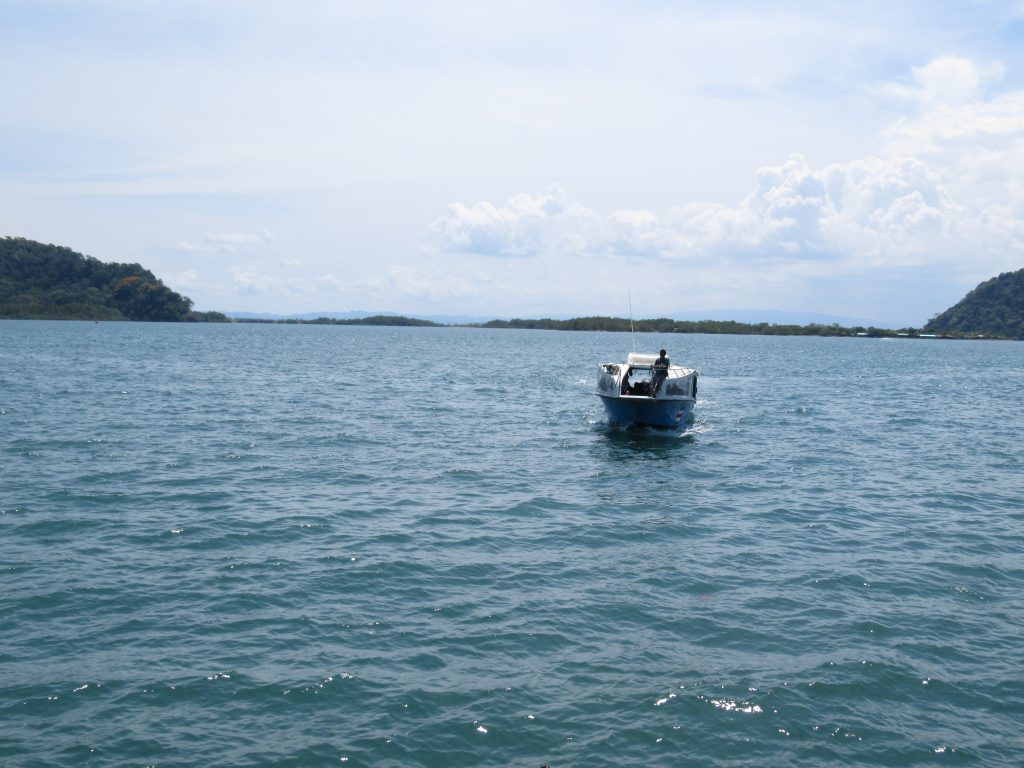 Yes, believe it or not – the ferry came back for us! We were well pleased – unlike the ten or so scowling tourists who were already on the boat… 🙂 I felt sure that they were giving us dirty looks – but surely they should be happy for us! 😉
The ferry was actually quite a small boat, and had around 20 people on it. It was a pleasant enough journey and we arrived in Puerto Jiménez around 40 minutes later.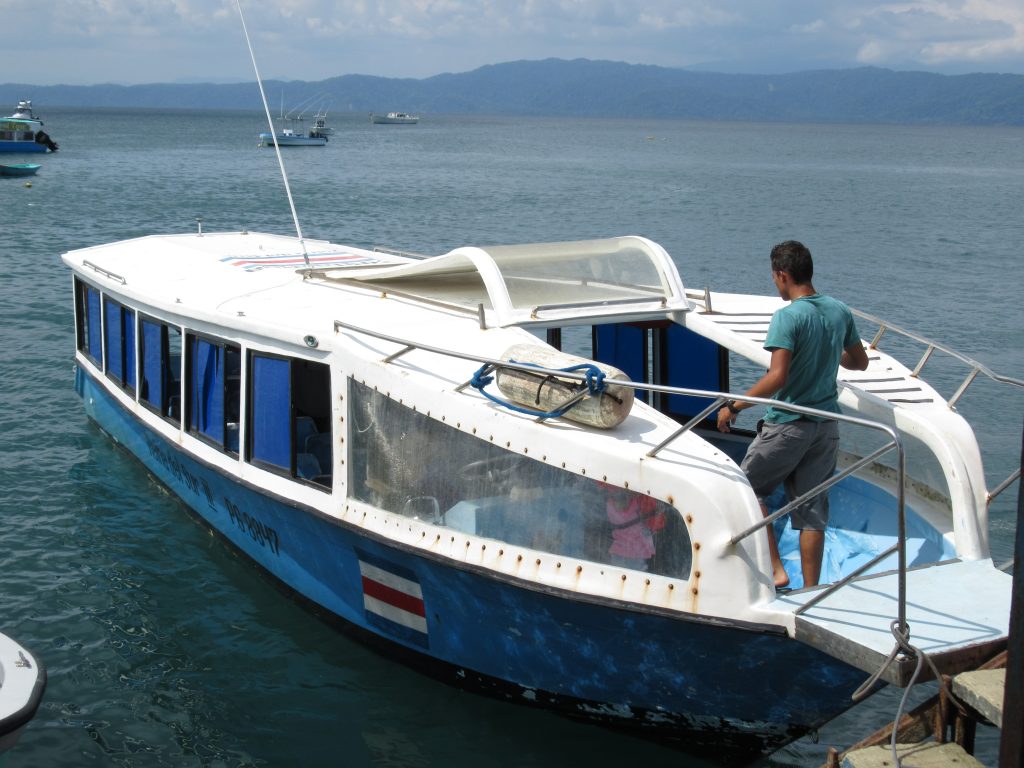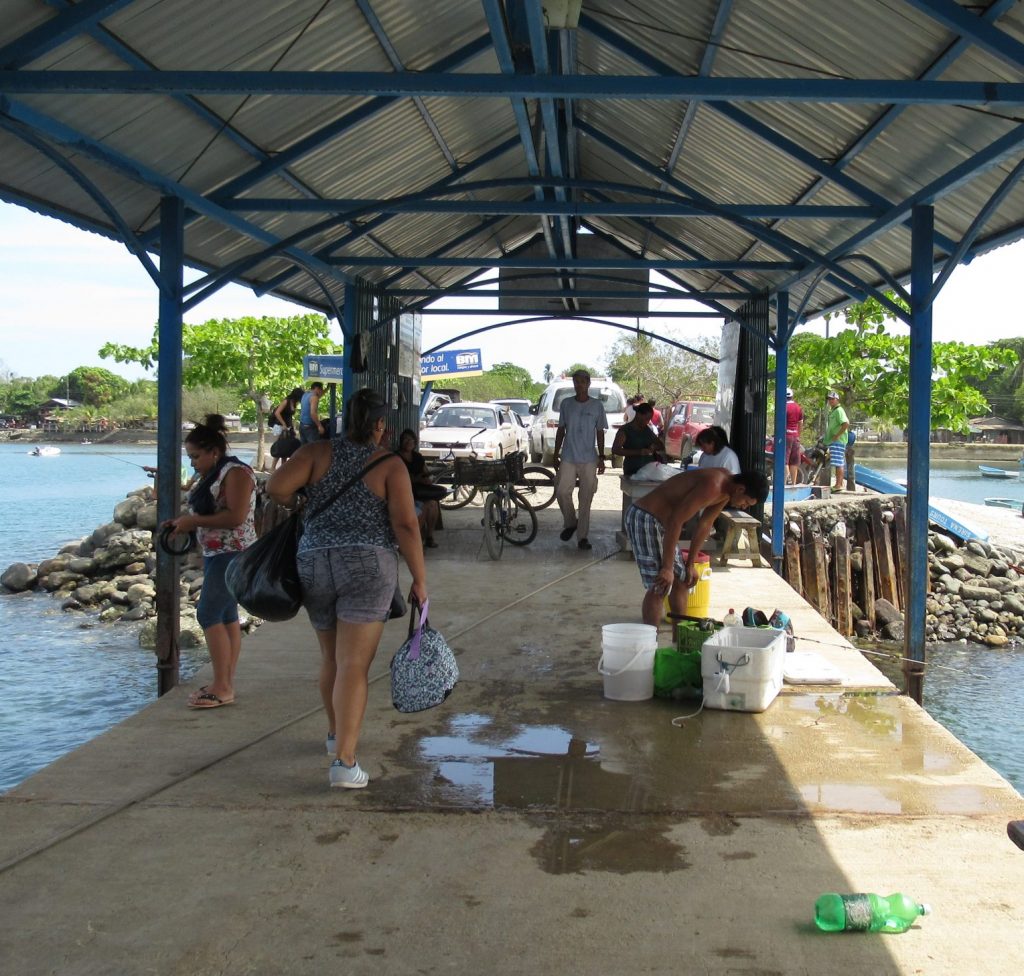 It had been a bit of a trek, but it had all gone relatively smoothly – we had made our first border crossing in Central America – only SEVEN more to go…. 🙂