Our next stop in Mexico was Mérida – the largest city on the Yucatán Peninsula. Our agenda there was to see a few historic buildings, take tourist photos, eat tasty food, and pay a visit to an old friend of mine – henceforth know as NY – who had moved to Mérida over 10 years ago.
NY lives in a nice old Colonial building, part of which was an AirBandB that he ran for the owner of the building. There were heavily discounted rates available for friends of his – and so we took the opportunity to stay in one of the rooms there. It was very nice indeed, and a bit more fancy than what we were used to on this trip.
Yes, this was the reason that we ended up taking more tourist photos than ever while we were in Mérida – staying at a fancy place made us feel even more like we were on holiday! (Yes, any excuse…)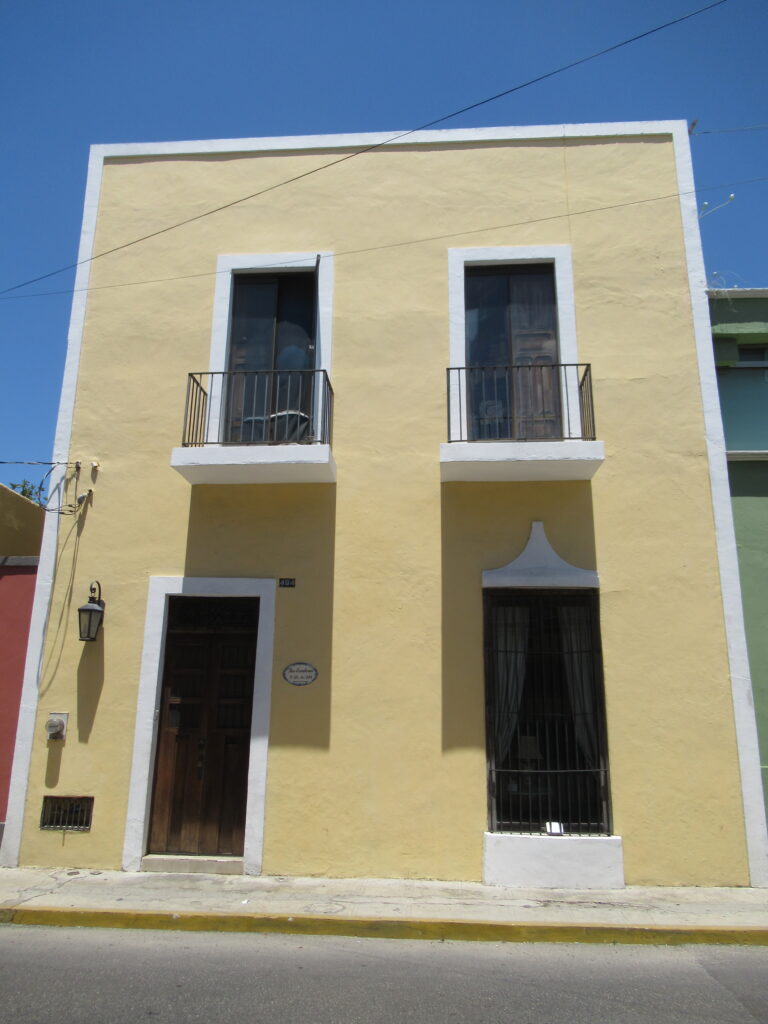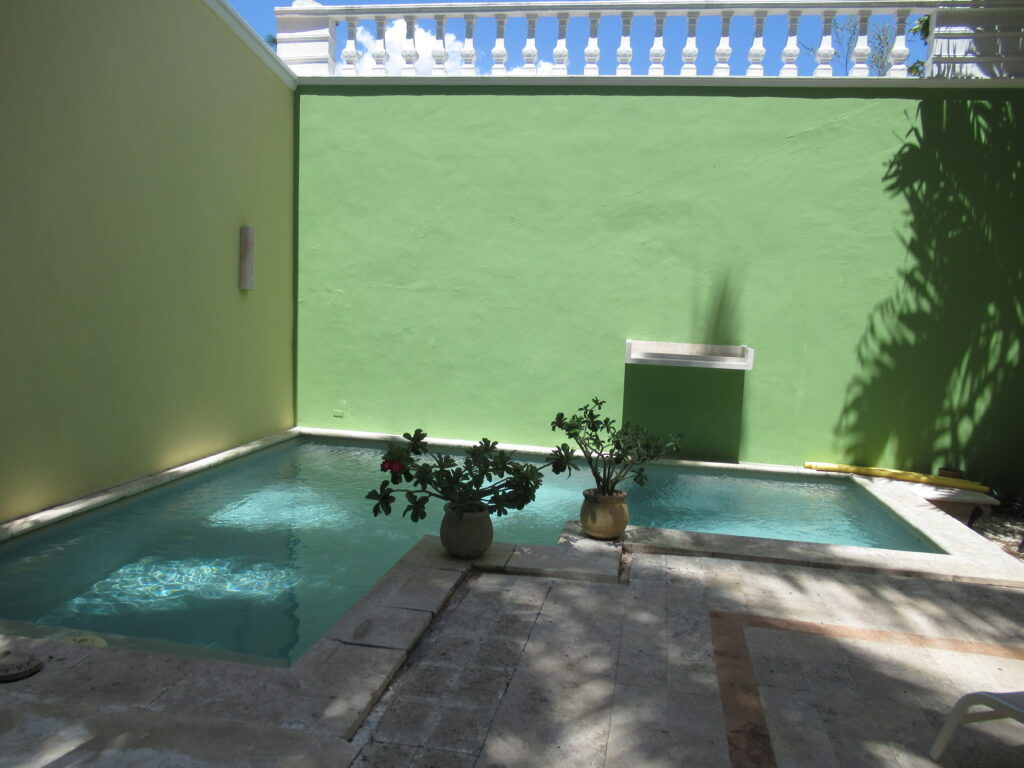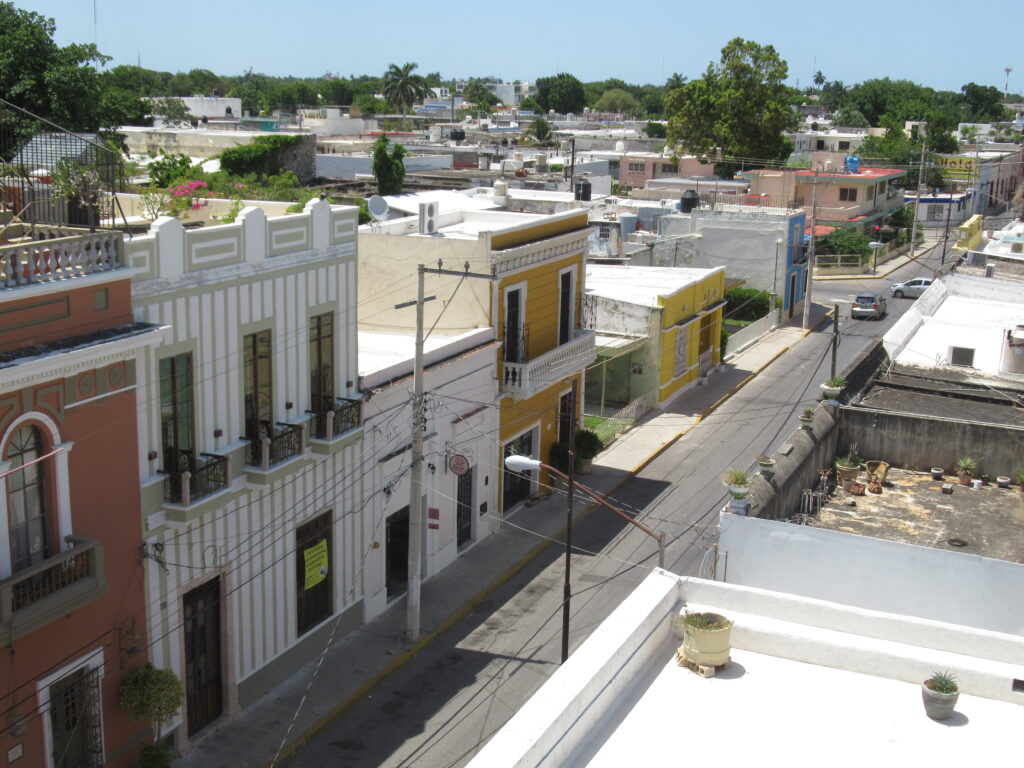 First order of the day was catching up with NY and drinking some beers. Second order of the day was eating some lunch. Third order of the day was drinking some more beers. Then suddenly it was 10pm – dinner time! Yes, they eat late in Mérida…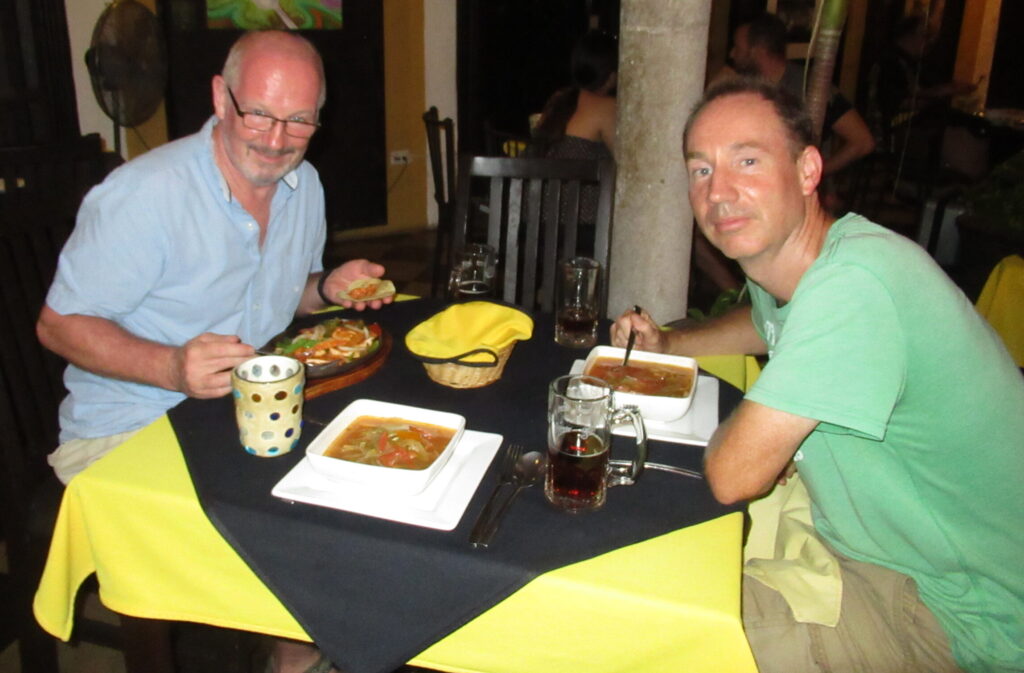 The next day it was time for us to explore Mérida – and we headed straight for the main square – our usual first port of call in any Latin American city.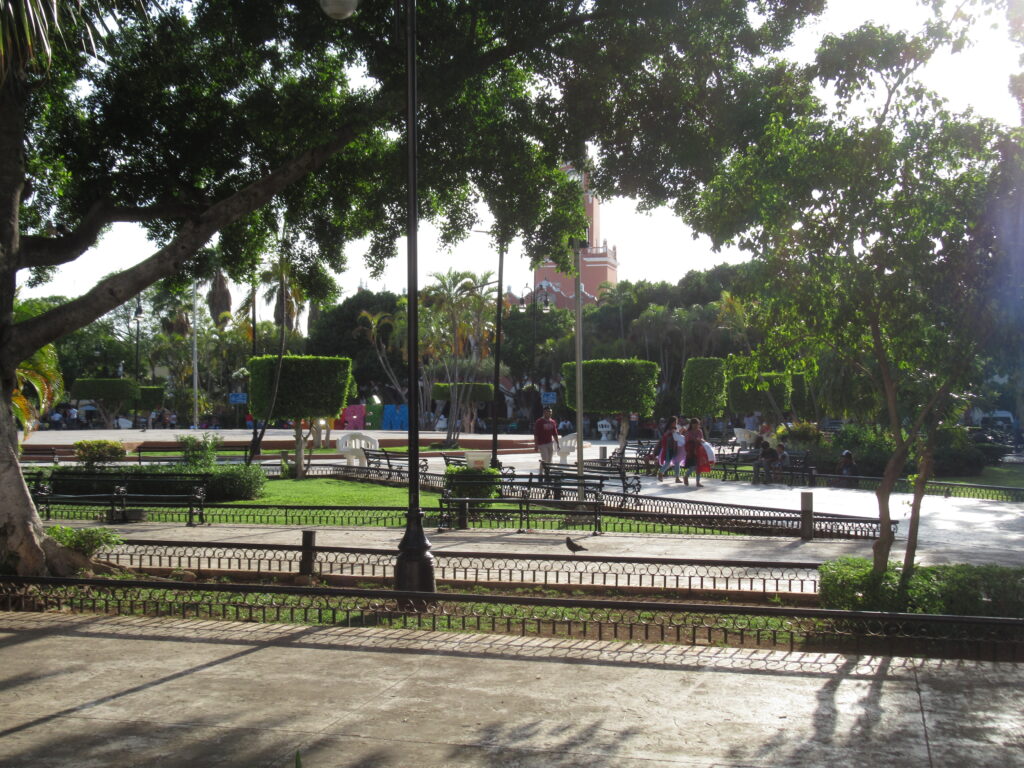 Next stop was the Parque Centenario – which is a bit of a stroll – and along the way we found a cool mural. Yes we like a good mural 🙂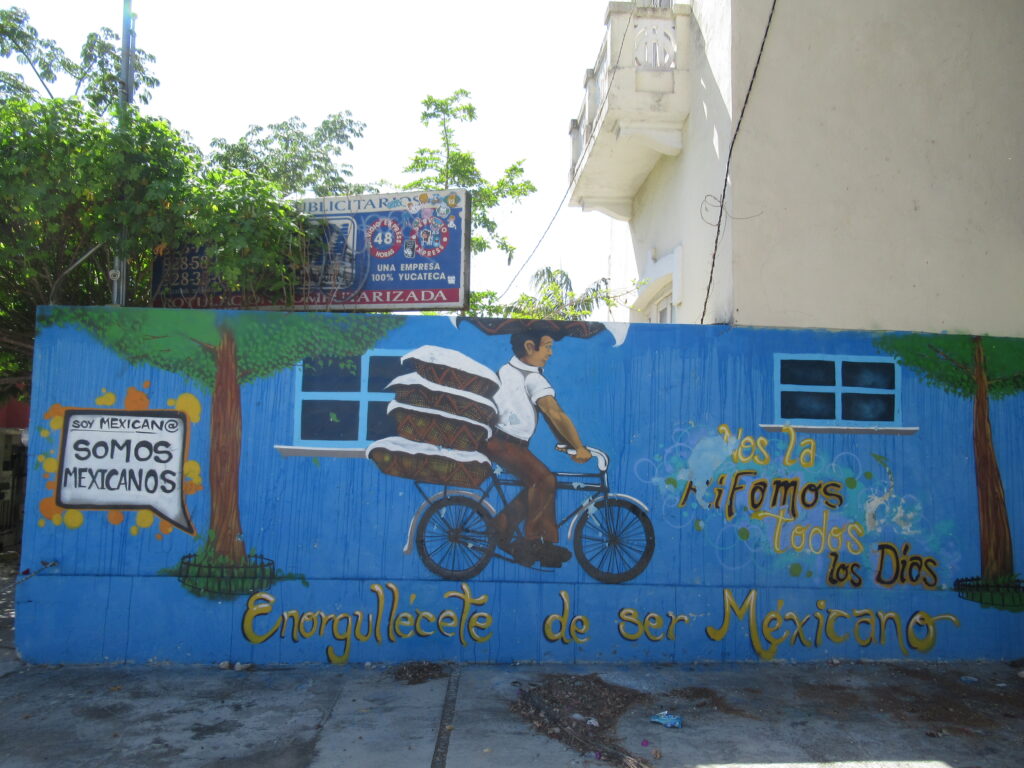 Parque Centenario contains a zoo, but we didn't visit that bit as we came to see the topiary and of course look for a plastic Mérida sign and take some tourist photos! 🙂 Mérida is in fact a very touristy place – popular with both Mexican and international tourists, and the main square has quite a lot of people trying to persuade you into restaurants or to buy stuff.
Parque Centenario however was very relaxing – probably because it's a bit away from the main town centre.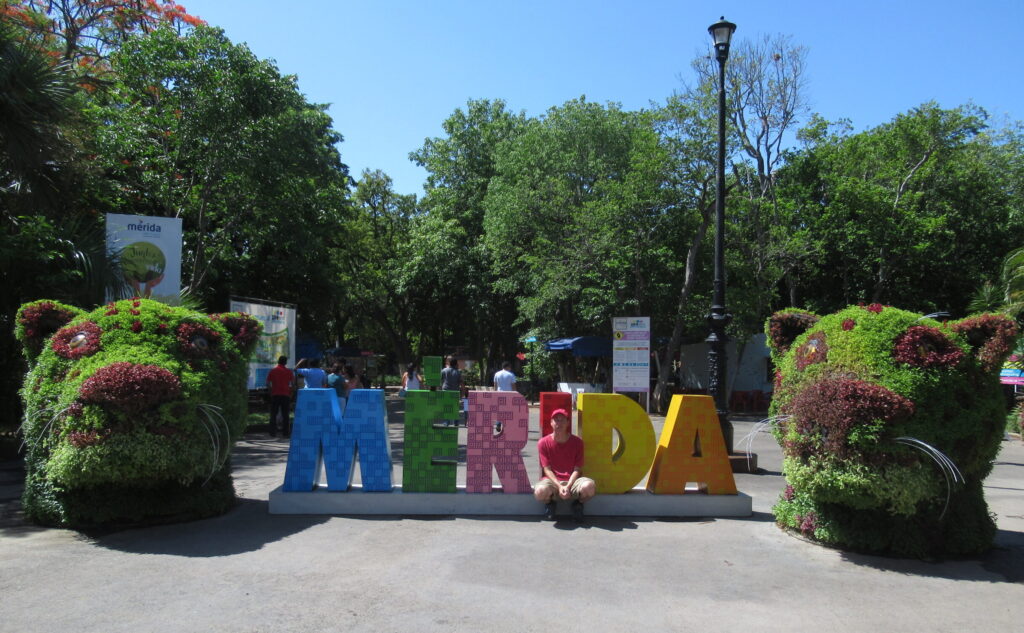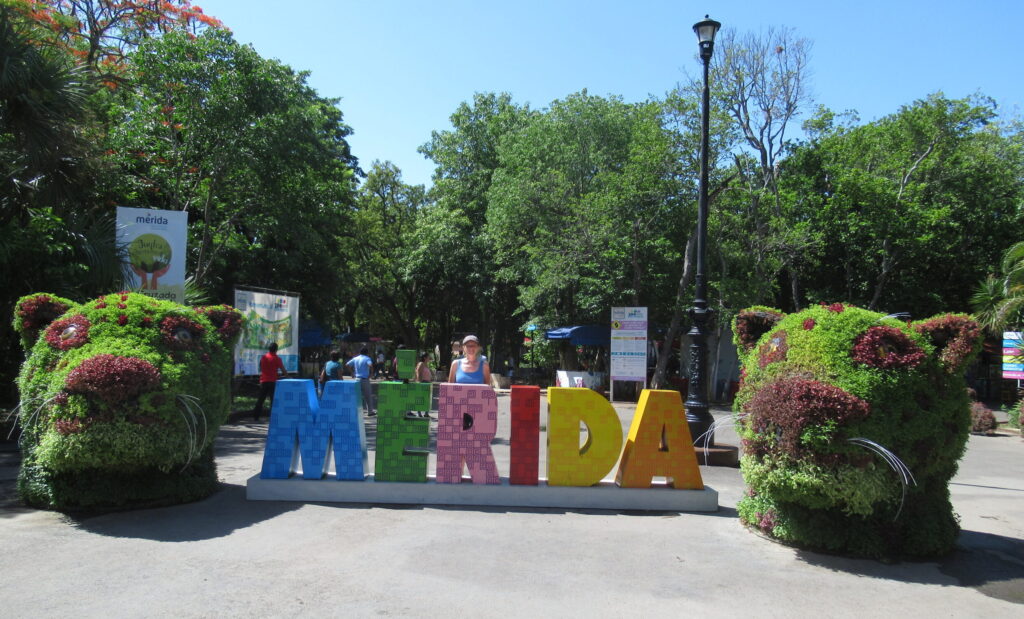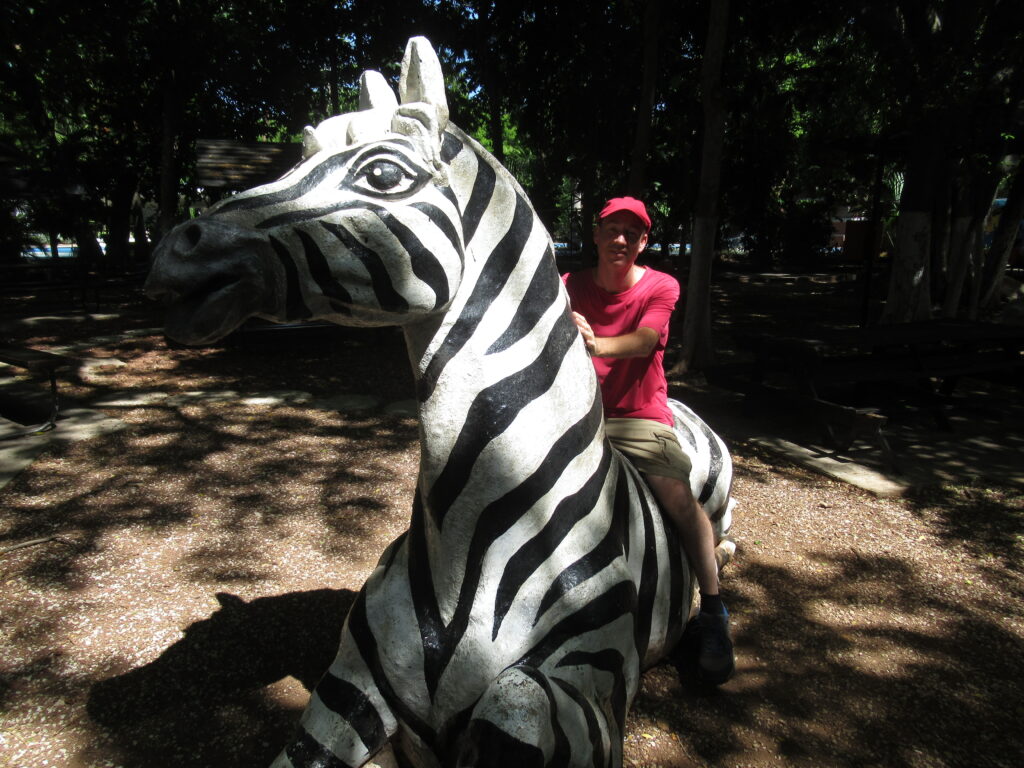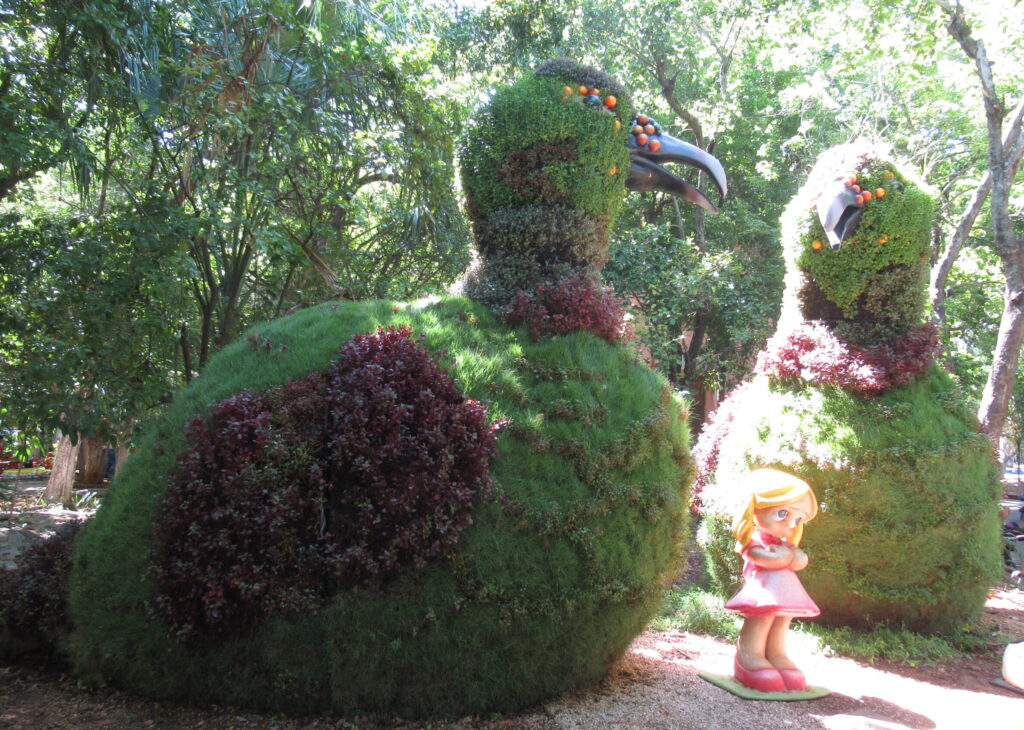 Moving on from the topiary and tourist photos, it was time for refreshments! We had been recommended the fish tacos at El Cangrejito – either by NY or the Lonely Planet – I can't remember which… the fish tacos were very nice indeed – but a bit small for our liking…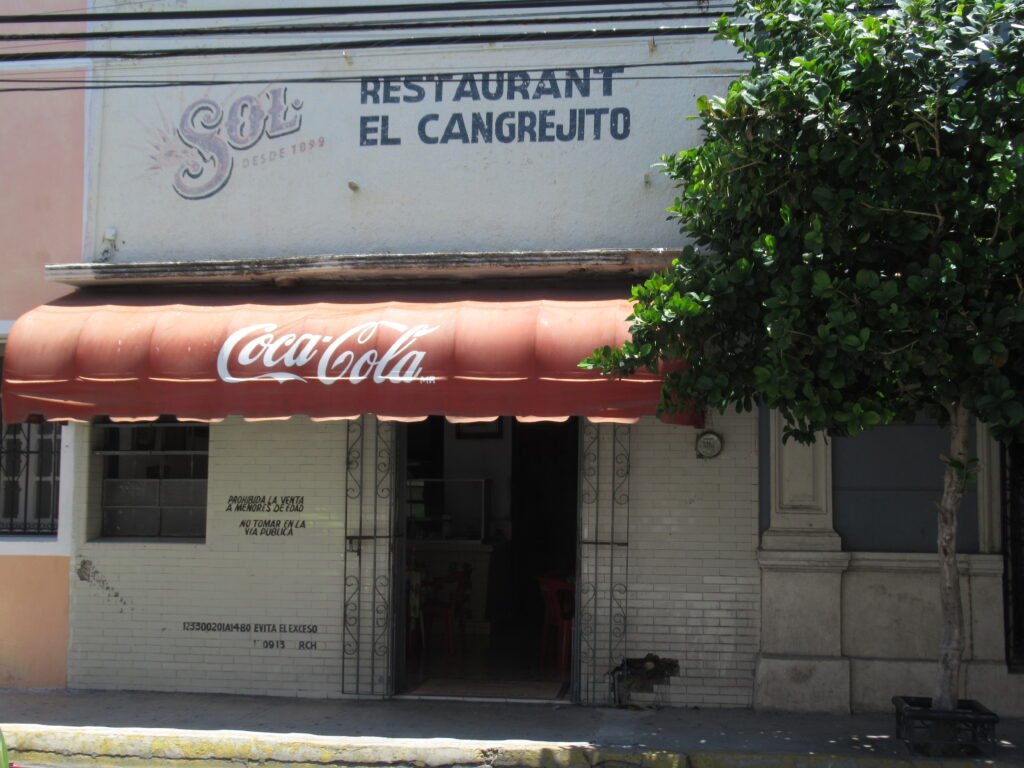 After lunch we went back to NY's place and then went over to his friend's house. We spent the afternoon drinking beer and swimming in their swimming pool.
The next day was Sunday – and something cool happens every Sunday in Mérida. Yes, they close loads of the streets to traffic so that everybody can go around on bikes! 🙂 What's also cool is that NY had bikes in the airbandb, and so we got to borrow them and hit the town on bike day. And of course, whenever we get our hands on bikes, it is obviously mandatory for us to take tourist photos of us on the bikes…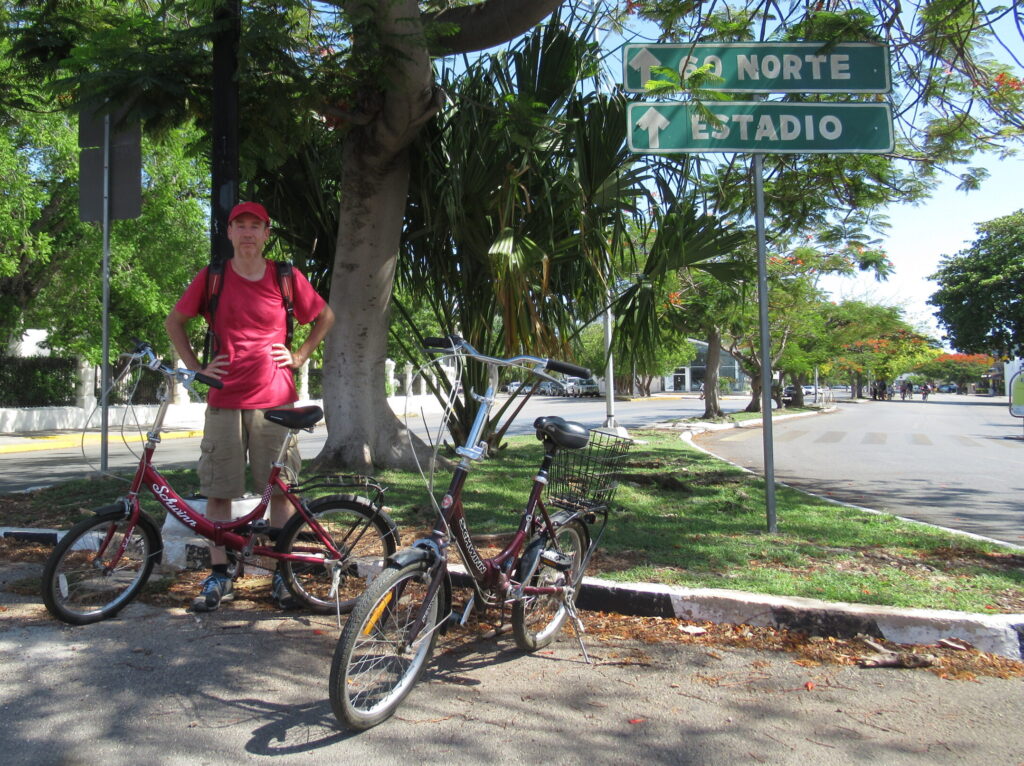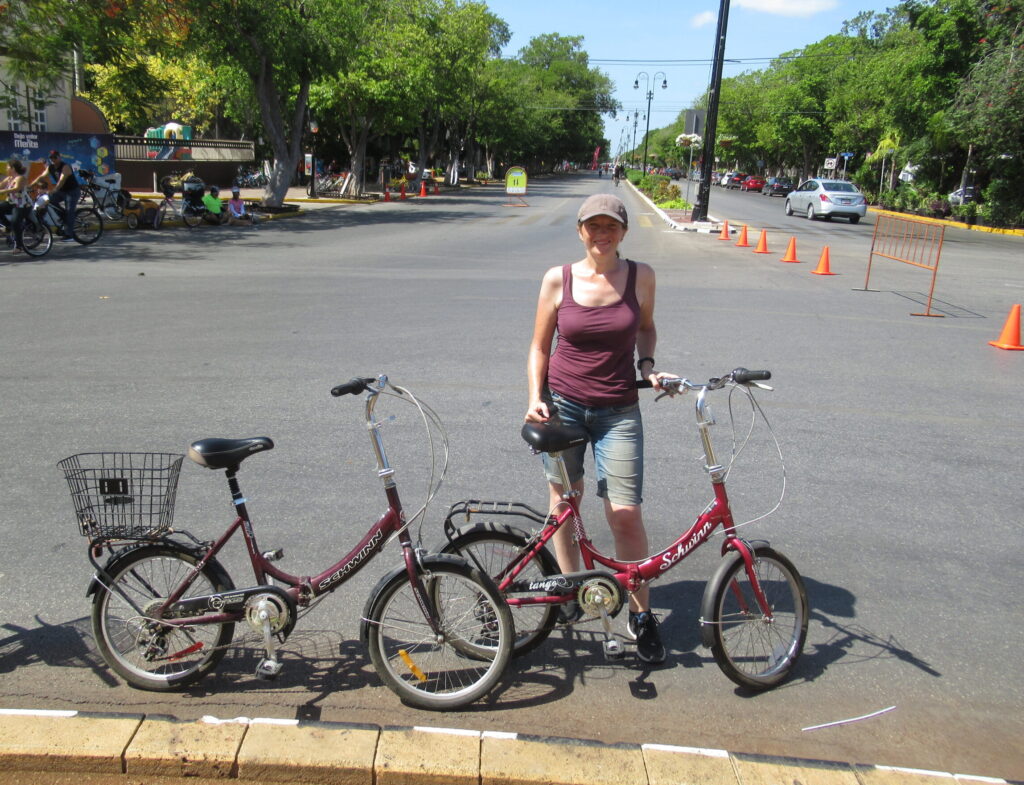 Our main goal on the bikes was to cycle along the Paseo de Montejo to look at the Monumento a la Patria – an amazing sculpture that took 11 years to build and was finished in 1956. It has over 300 carved figures representing the entire history of Mexico, and is 14 metres tall.
It was well worth the cycle, as it was an extremely impressive monument indeed!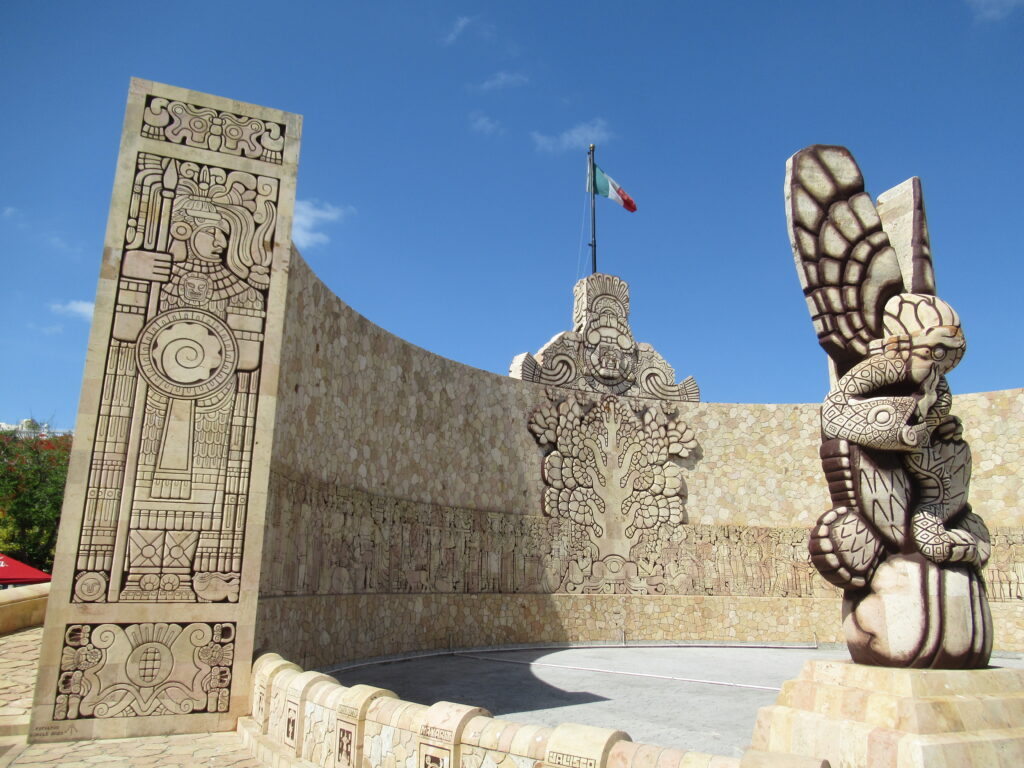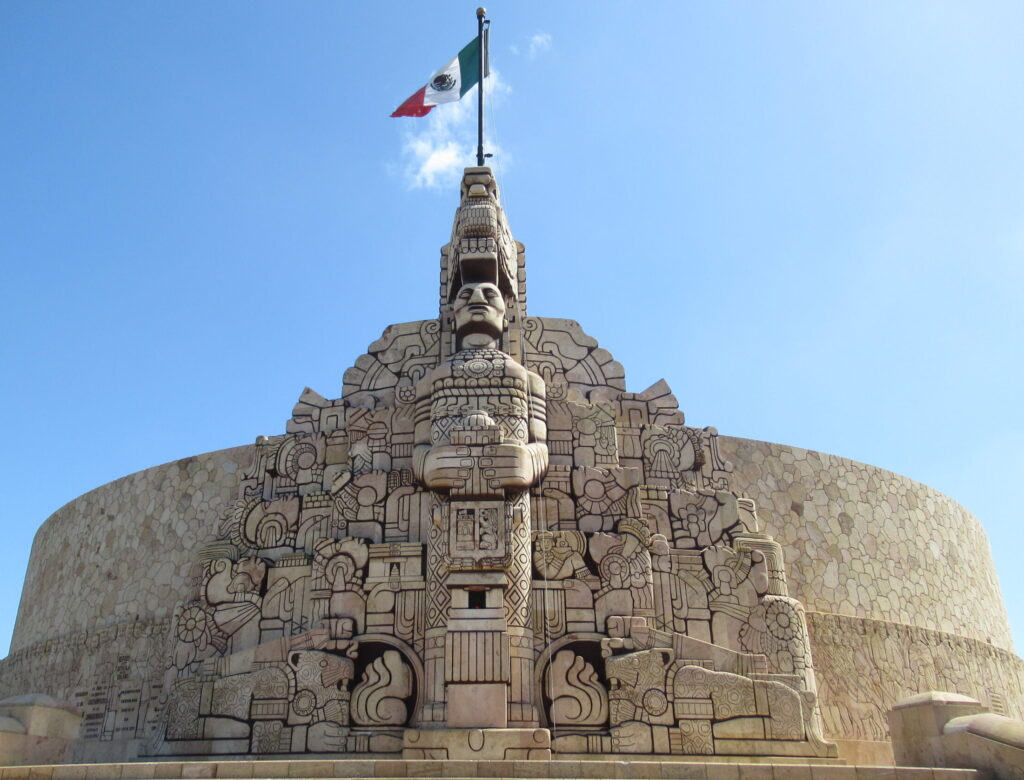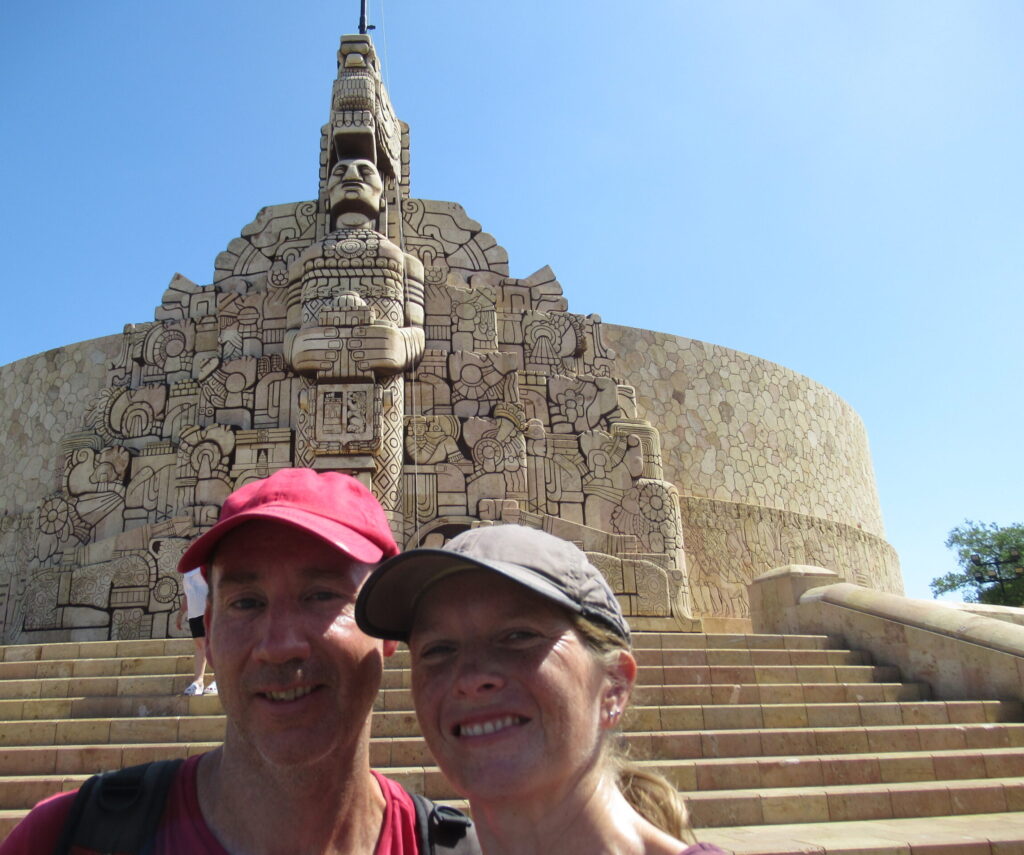 There were quite a lot of interesting buildings along the Paseo de Montejo, but we had a bit of trouble taking a photo of our favourite row of buildings as they were no longer inhabited and nowadays formed the back wall of a car park.
This would have been fine, except that when we went into the car park and tried to take a photo of the buildings, a woman came running across and shouted at us to get out of the car park – it was FORBIDDEN to take photos in this car park, and possibly even FORBIDDEN to be in the car park if your car wasn't there… Anyway, we ran away timidly and sneakily took a photo from the outside…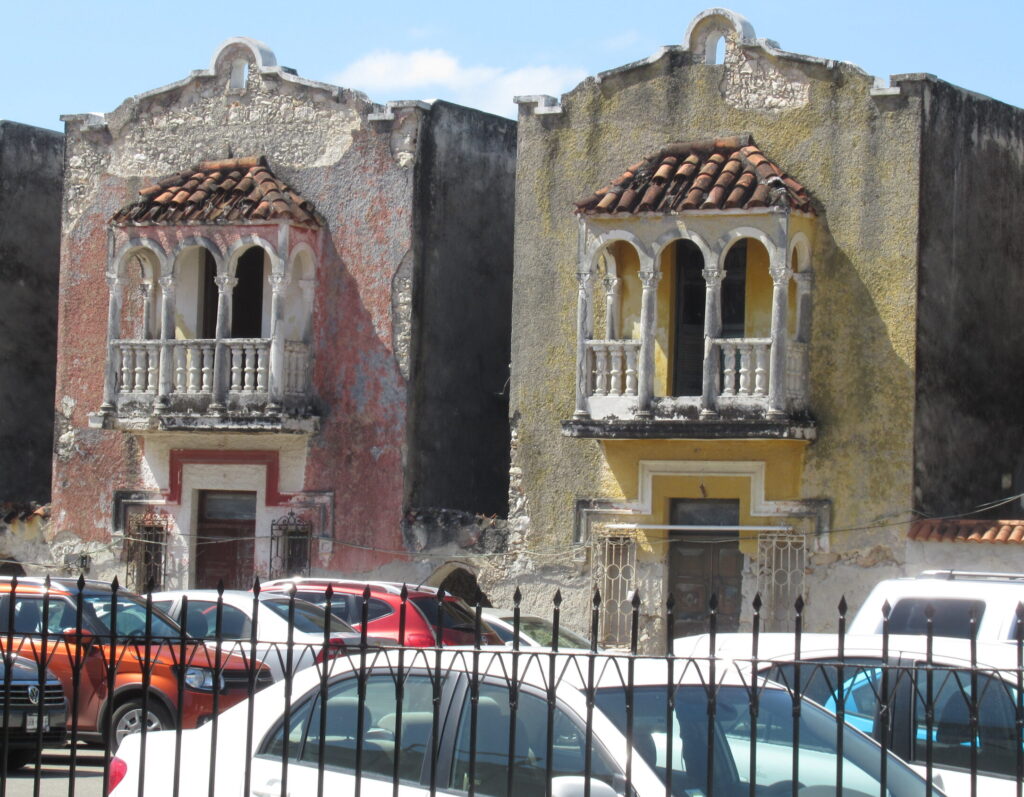 The next stop with the bikes was another plaza in Mérida – Parque de Santa Lucía –  which is famous for its 'big chair' sculpture. Did I say 'big chair'?! Can you sense more tourist photos coming…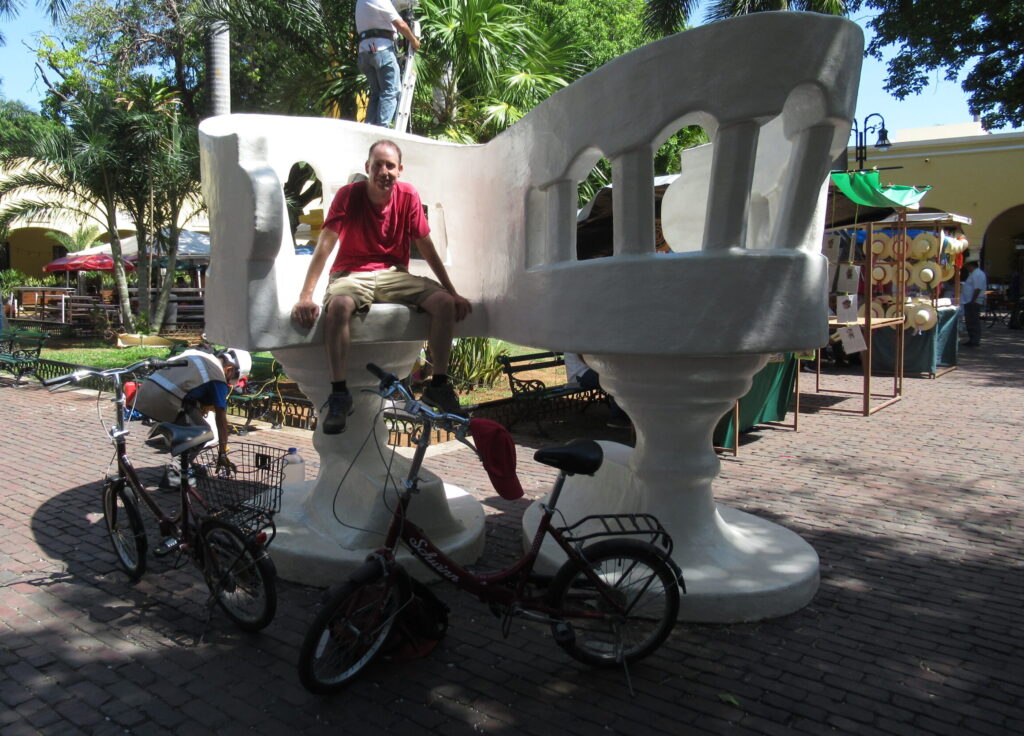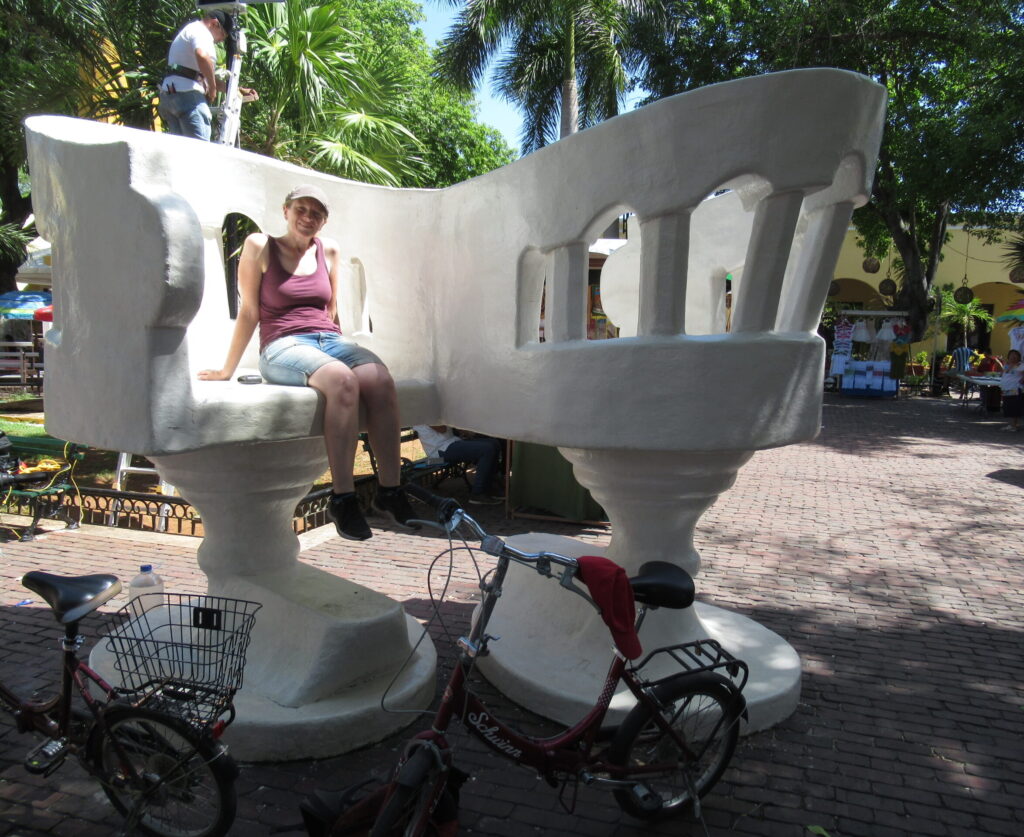 OK, so now it's time to talk about food – and I will mention 'Gorditas Doña Gorda' – the best gorditas in Mérida. So good that once we had found it we went back there every day for lunch 🙂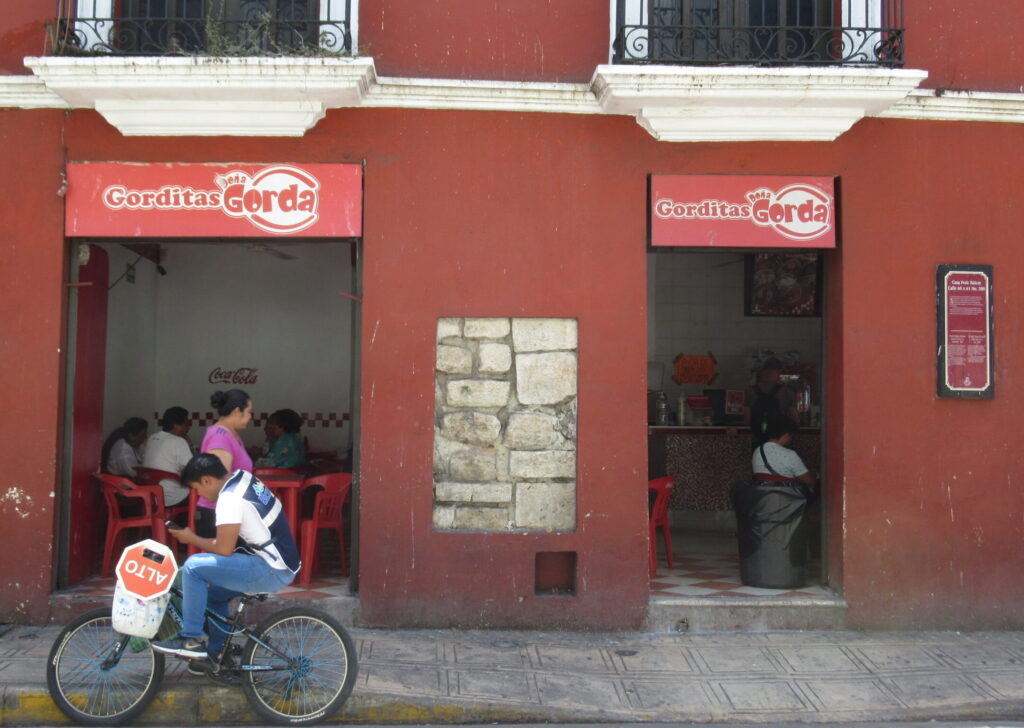 And also 'Pola Gelato Shop' – the best ice-cream in Mérida, and another excuse for a tourist photo…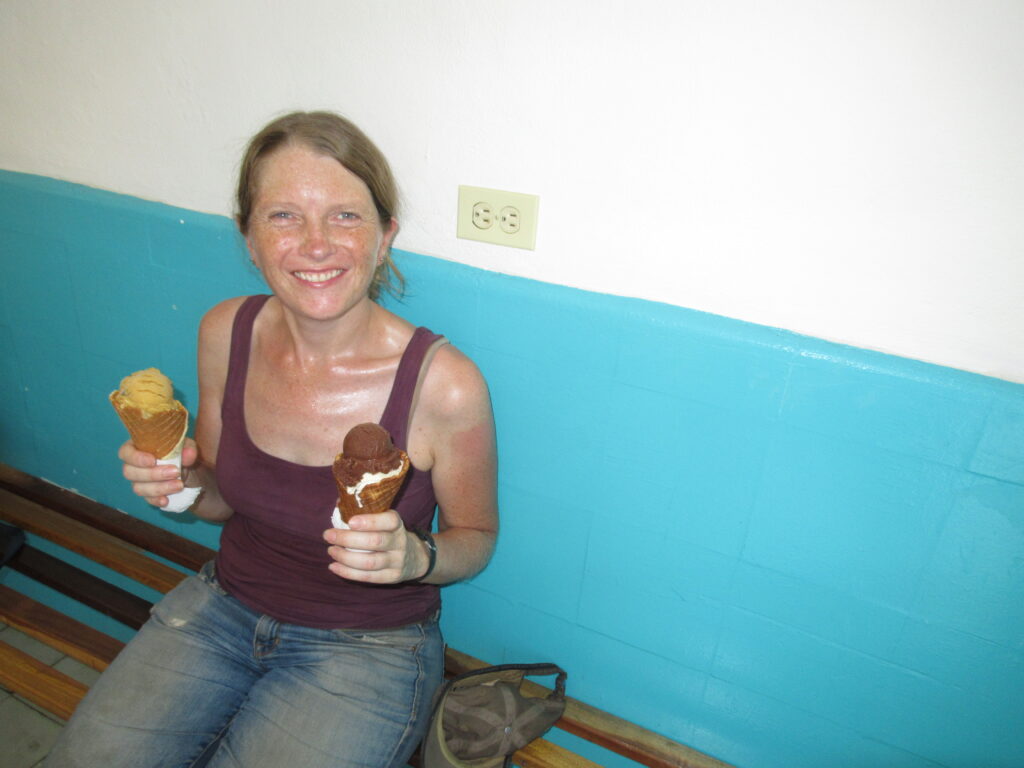 All in all, Mérida was a pleasant place to wander around. During our remaining time there, we took in a few more historic buildings and made a trip to the Gran Museo del Mundo Maya – which is a large modern museum dedicated to the history of the Mayan people.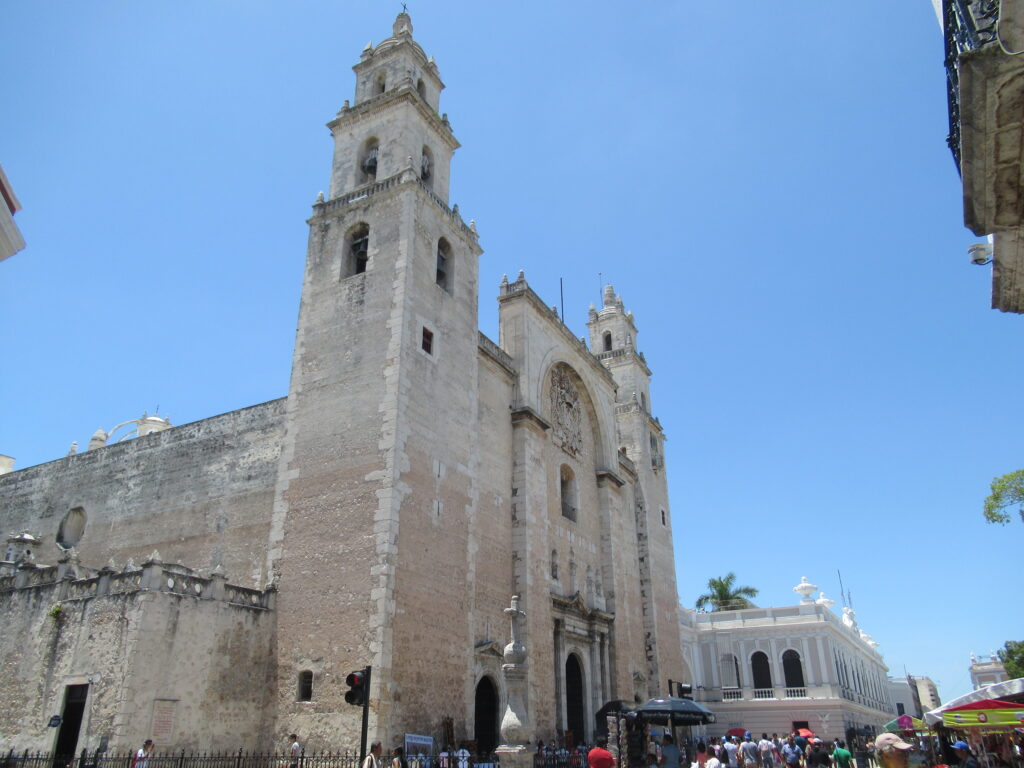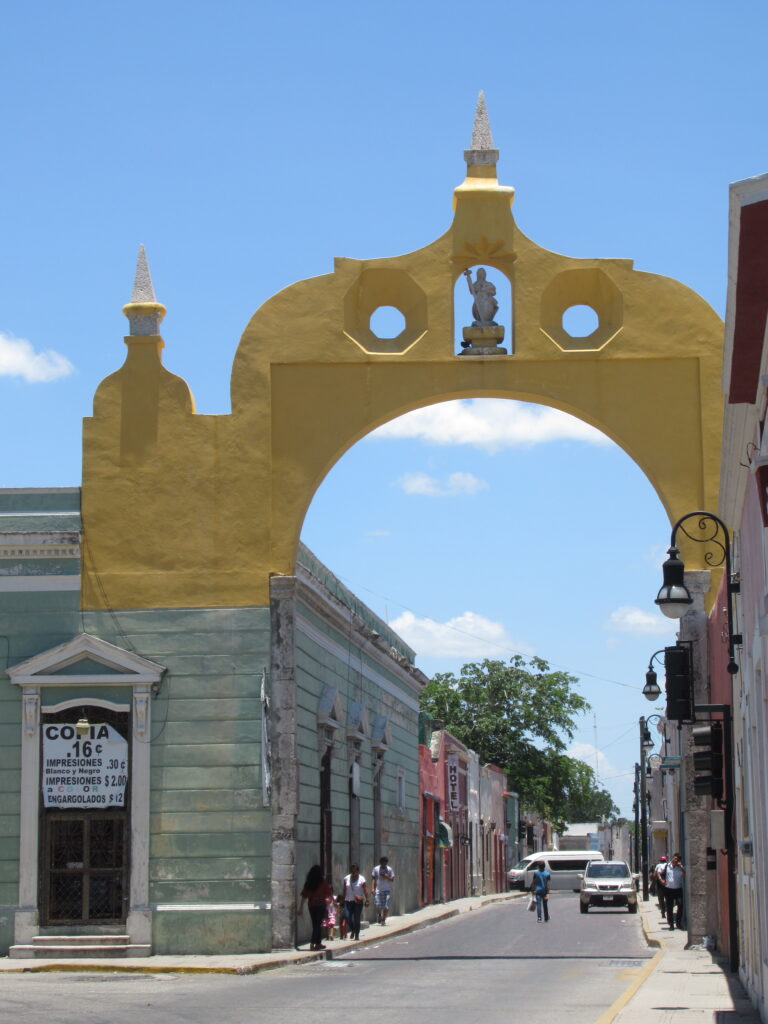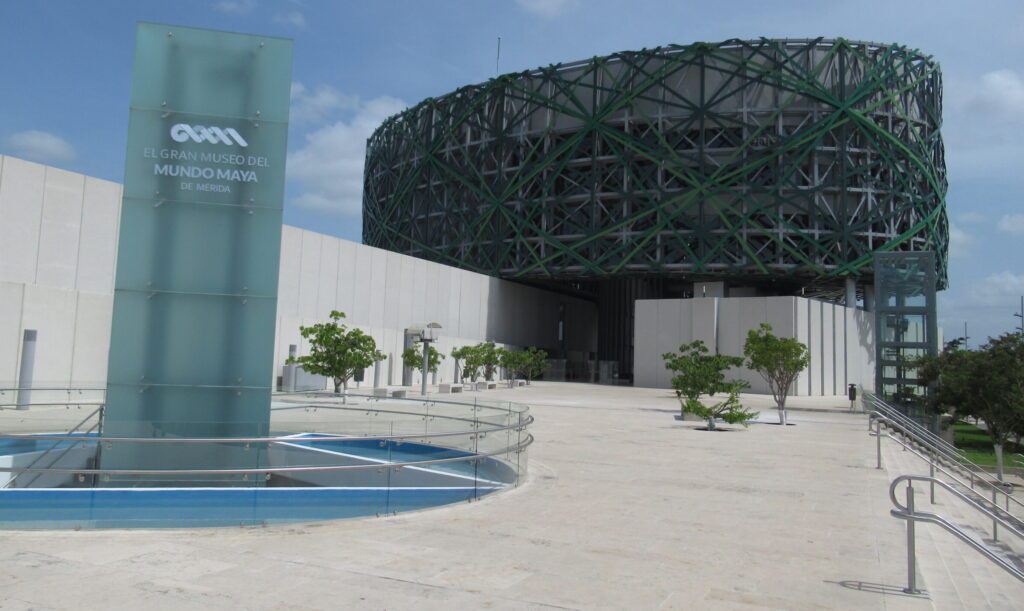 In between the sightseeing, there was a lot of eating and drinking with NY and his friends, and we were pretty tired a lot of the time – yes us poor tired travellers… 🙂
So I will leave you with a photo of all of us partaking in some 'Don Julio 70' – which according to their website is 'the culmination of 70 years of knowledge, expertise and innovation that brings the smoothness of a Blanco tequila and the complexity of an Añejo tequila together for a totally unique tequila experience.'