Yes, the time had finally come – part of the trip that we were really looking forward to – visiting the Galapagos Islands! 🙂
The Galapagos islands are part of Ecuador, and no direct flights that originate outside Ecuador are allowed to fly there – therefore you need to fly from either Quito, or Guayaquil. For us – coming from the south – Guayaquil was more convenient. It's also cheaper and quicker to fly from there rather than from Quito, so that was the first easy decision made – flights from Guayaquil.
The Galapagos Islands consist of 18 main islands, and 3 very small islands (plus lots of rocks and tiny islets). Four of the islands are inhabited, plus one of the islands (Baltra) has the aiport on it. All of the rest of the islands are uninhabited, and have very restricted access. Each island has specific 'sites' that you are allowed to visit, and sites are classed as either 'general access' – meaning that you can just go and visit by yourself, 'tour guide only' – meaning that you can go when you want to as long as you take an official guide, and 'licenced access' – meaning that a certain number of visiting licences have been allocated, and you can only visit at the time specified in the licence that is held by the tour operator. This last category covers nearly all of the sites on the uninhabited islands, and is designed to protect the islands and wildlife.
Therefore to visit the Galapagos takes a bit of planning, and there are really only three options:
1) Book a cruise. This is the traditional way to visit the Galapagos. Doing it this way you pick a boat and itinerary, and then you cruise between the islands visiting the key nature sites as you go along. You spend each night sleeping on the cruise boat. The main advantage of this method is that you have more access to the pristine, wild places on the islands. Quite a lot of sites are licenced only for cruise ship visitors, and some islands and sites are too far away to reach without sleeping on a cruise boat nearby.
The downside? Well, first of all the price – the cruises are VERY expensive. There is a massive range from super-luxury to 'budget' – but even 'budget' is quite pricey. Then you have to pick the route that you want to take, and the size of the boat – and finally you have to spend all that time at sea, and you have a fixed non-changeable itinerary. The excursions are a mix of snorkelling and walking on the islands – so if you don't like going in the water, then this option also may not work too well.
Due to the way that the visiting licences are distributed, it's not possible to 'custom-build' an itinerary of the islands that you want to visit – you need to basically choose from 'east', 'west' or 'north' for the short 3-5 day cruises, or choose two out of three areas for an 8 day cruise, or to visit all of the main islands, you need to do a 15 day cruise.
2) Book a land-based tour. This method is becoming more and more popular, as there is a process underway to try and encourage visitors to stay on the inhabited islands instead of on cruise ships. This is so that the local economy can get some benefits – as visitors on cruise ships can visit the Galapagos without actually spending any money in the Galapagos – as it's all pre-paid to the cruise ship operator. There are around 35,000 people living on the four inhabited islands, and until relatively recently they didn't get much benefit from any of the tourism.
With a land-based tour you stay in hotels on the inhabited islands, visit the sites on these islands, and sometimes do day trips to the sites on the uninhabited islands. Packages include all accommodation, transport, guides, and some meals. The advantage of this method is that you get to spend more time on the islands (the inhabited ones), you can avoid sleeping on a boat if you don't like boats, and it's significantly cheaper than a cruise.
It's still pretty expensive though! Plus, there are some sites that you are just not going to be able to visit as they are not accessible by day tour. Also, these tours tend to focus on the sites on the inhabited islands, which in general are less 'wild' and 'pristine'. There is also the downside of being led around in a big group.
3) Do it yourself. This is the least common option – primarily because a lot of people don't realise it's possible. It's becoming a lot more popular, and it's pretty much like the land-based tour except that you have to make all the arrangments yourself. It can be a LOT cheaper than a tour because you can choose where to stay and where to eat – and also pick which sites you want to visit.
The downside is the same as for the land-based tours – there are some places that you are just not going to be able to visit.
So… our initial plan before we looked into it, was going to be a bit of DIY visiting on the inhabited islands, and then a cruise to cover off the parts that we couldn't visit ourselves. It soon became clear though that we would need to spend a huge amount of money on a cruise just to visit a couple more islands. In the end, we made a list of all the islands, and the wildlife that is found there – and then tried to work out what we would miss if we didn't go on a cruise. There are two islands that you just can't get to on a day trip (Fernandina and Genovese), and one island (Isabela) where you can only visit one side (the other side is too far away for boat day-trips)
In the end, we couldn't justify the cost of a cruise, and we worked out that there would only be a couple of species that we definitely wouldn't be able to see if we skipped the cruise. So DIY all the way it was – all we had to do now was book our flights to the Galapagos! 🙂
Of course, we still had to spend hours doing research to work out what sites and day trips we could go to on each island.  You cannot visit the Galapagos on a one-way plane ticket – you must show your return ticket in order to be issued with your entry permit (an entry permit is required by all visitors to the Galapagos – this applies to Ecuadorians as well – it can be obtained at the airport – as long as all of your paperwork is in order 😉 ).
So we couldn't just book a one-way ticket and take it from there. We needed to work out how many days we wanted to spend in the Galapagos before we booked our flights. In the end, we came up with 25 days – 15 days of activities, 4 travel days, and 6 spare days (yes, we like to have plenty of time up our sleeves! 🙂 )
We booked a flight to San Cristobal (the second most populated island), and a return flight from Santa Cruz (the most populated island) for 25 days later. We also booked seven nights in an airbandb on the island of San Cristobal to get us going. We had a mild panic the night before flying, when we read about new rules that said that the entry permit would only be issued if you showed proof of accommodation for every night you were in the Galapagos… OH NO! 🙁 In the end, they just asked for proof of return flight… phew…. 🙂
So that was it! We were off to the Galapagos! 🙂 🙂 🙂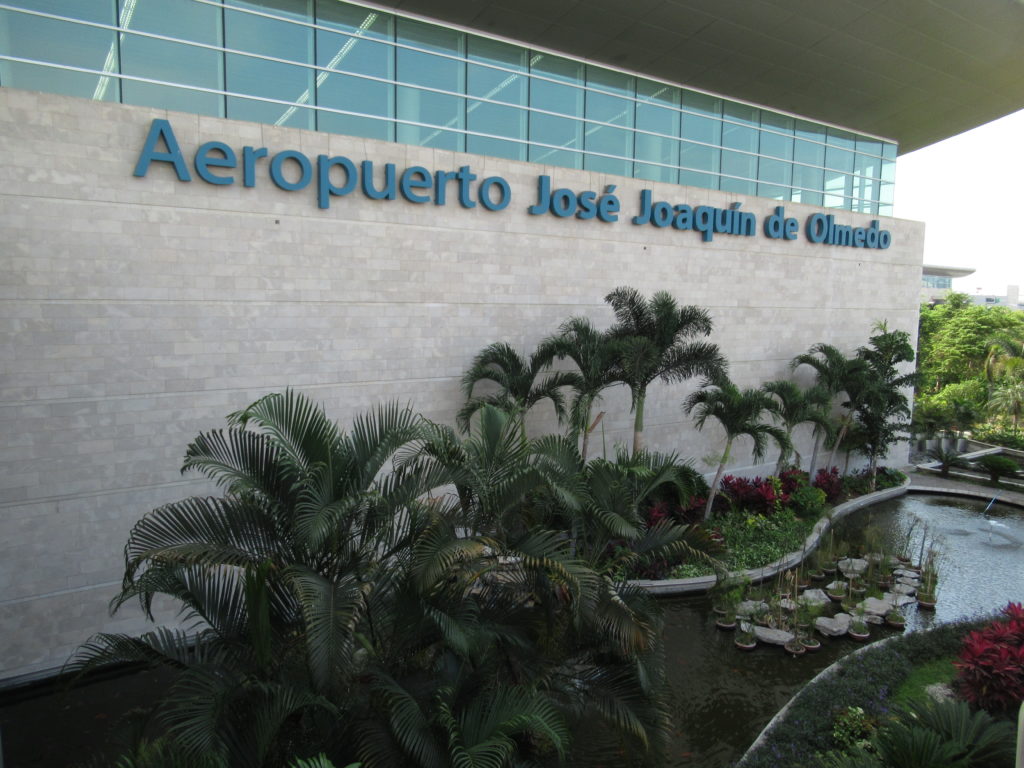 Although they are part of Ecuador, the Galapagos islands have their own visa and quarantine restrictions to help protect the wildlife and fragile ecosystems. Therefore at the airport we had to go through quarantine (no fruits, meat, vegetables etc), and also apply for our entry permits. After that, we were ready to go!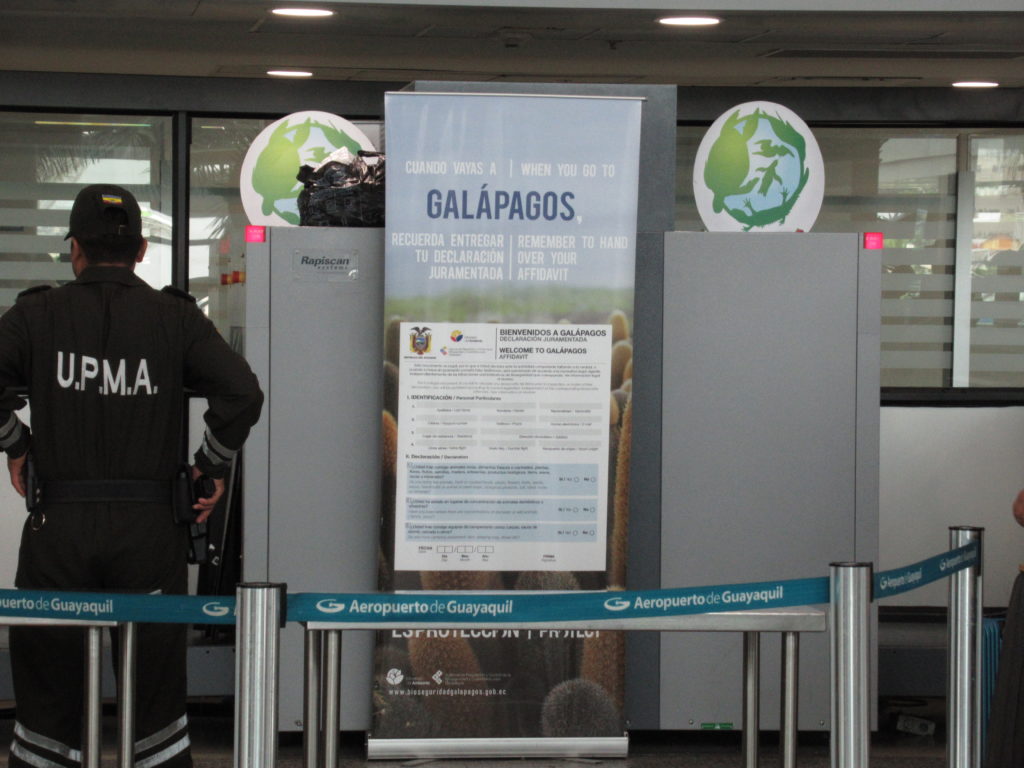 Being at an airport after all this time – it felt like we were on holiday! 🙂 We also had a 'special' separate budget for the Galapagos – so we could 'act' like we were on holiday as well! 🙂 (That meant that we could buy, eat, and drink what we wanted –  without paying attention to how much it cost :-))