So… the question is – why did we spend 2 weeks in Sucre? Well, we had a bunch of stuff to get done, and we like to have airbandb spells every now and then so we can cook and eat something that has some vegetables in it – in order to prevent us from getting vitamin defeciencies and to keep CC sane 🙂
But… we had also decided to try some Spanish lessons! And Sucre is the place where everybody likes to do that (it's the cheapest place in South America for Spanish lessons, along with Guatemala)
So, we signed up with Sucre Spanish School (yes, very imaginatively named), and started our lessons – 9am to 12pm every morning except Sundays.
Now, CC has good Spanish already – and so was looking for a bit of advanced material and the chance to get some practice chatting with a native speaker. My Spanish is basic and so I was looking to learn a bunch of new stuff, and also for conversation practice – I can understand quite a lot, but am totally crap at saying anything – it takes around 10 seconds per word….so a lot of patience is required from the other person in the conversation 🙂
The lessons are one-on-one, as that's the way they do things – but unfortunately CC's allocated teacher turned out to be a bit rubbish 🙁 CC was basically 'talked at' for most of the lessons and didn't get any chance to practice talking herself – she did learn about all the problems in her teacher's life though…..also her teacher didn't really spend any time working out what CC's level was and what she knew already, and so just went over stuff that CC already knew really well. CC has been an English teacher, and also was not that impressed with her teacher's professionalism…  Yes, CC is a hard person to please – but in this case, when she told me about her lessons, it was a total contrast to the way that my lessons were being done – and it was clear that her teacher was far inferior to the teacher that I had been allocated.
So… CC quit her lessons after 3 days, but I continued, and ended up doing 9 days of lessons, with 3 hours on each day. In the end, it did help me a lot with being able to talk in sentences – and now it only takes around 5 seconds for me to say each word instead of 10 🙂 🙂
Yes, I will get there one day….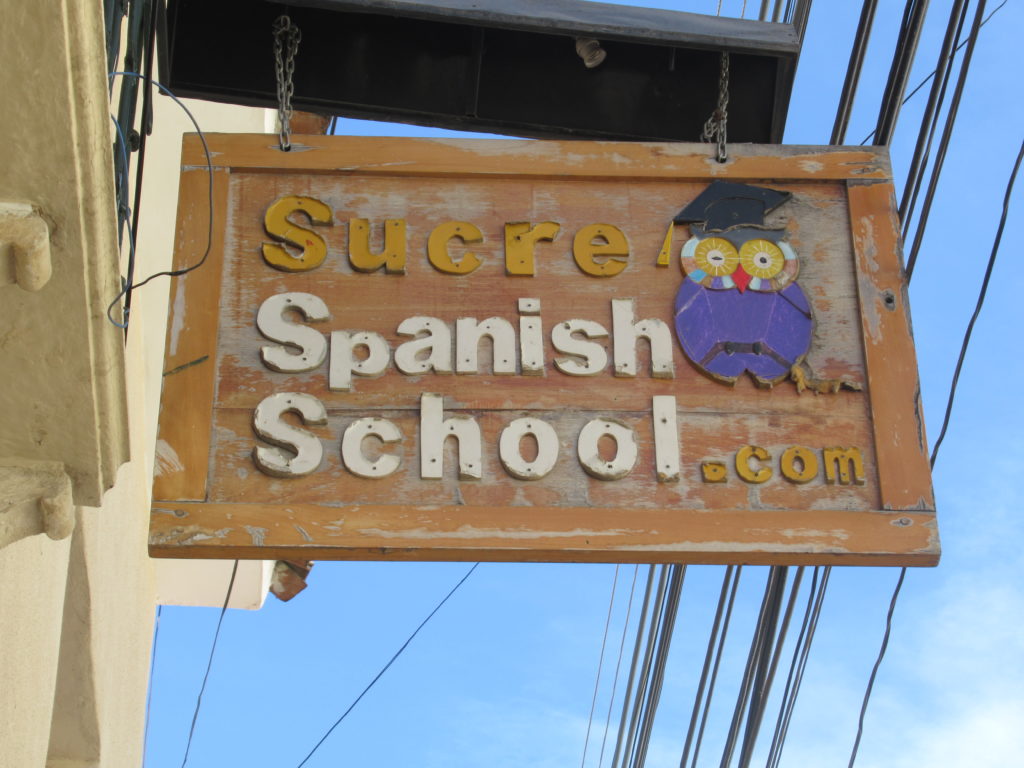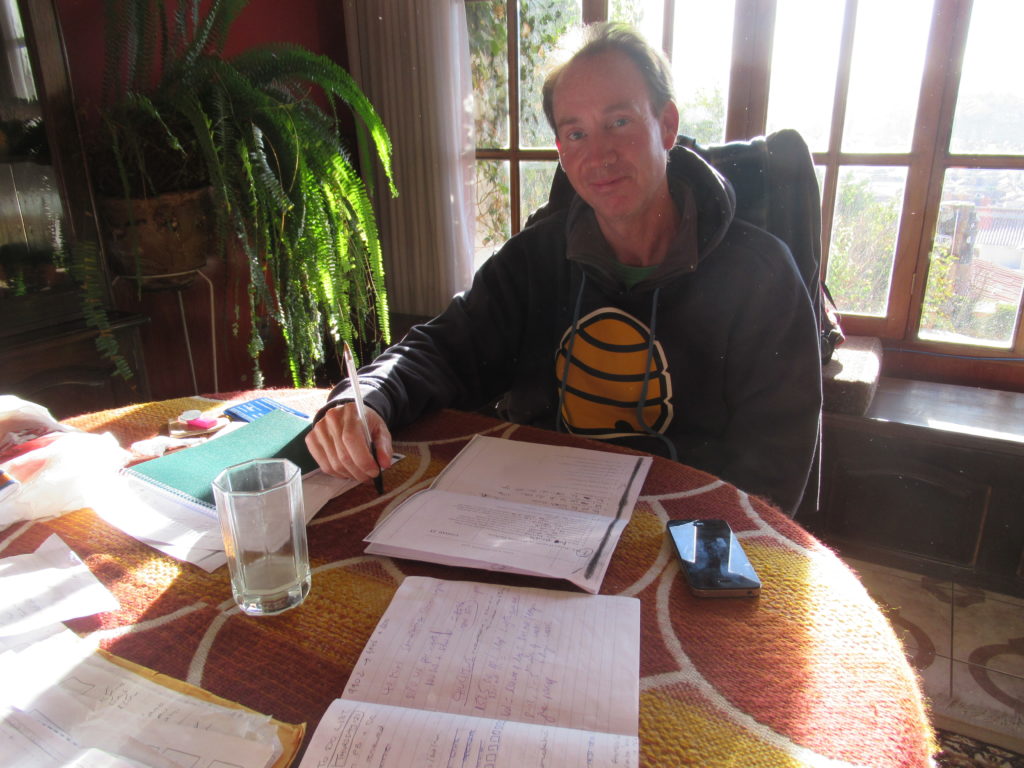 After CC quit her lessons she did self-study while I was in class. Yes, she is very diligent – if it had been me, probably I would have lazed around and watched TV … but CC got a book in Spanish and started to read that, and therefore learnt lots of new words.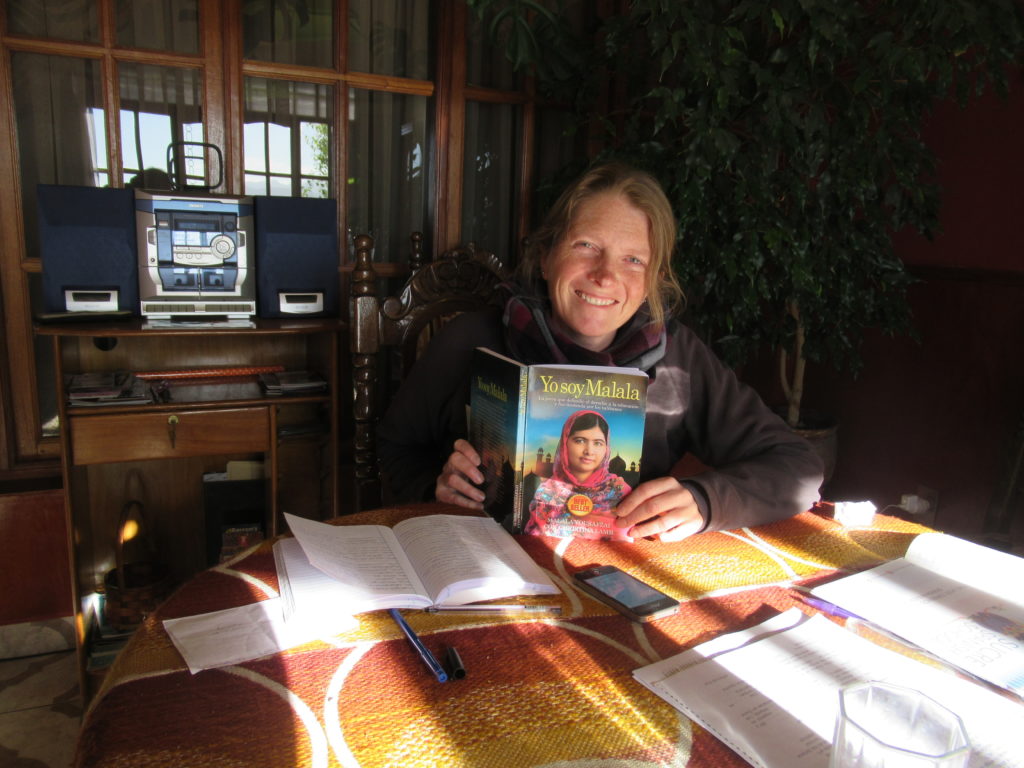 In case you are wondering how we got such a nice dining table to do our study on – let me tell you about the airbandb we had in Sucre… it was AWESOME 🙂 It was in a suburb called Recoleta on the edge of Sucre, and we had lovely views over town and all the surrounding hills. It was one of the nicest airbandbs we have stayed in.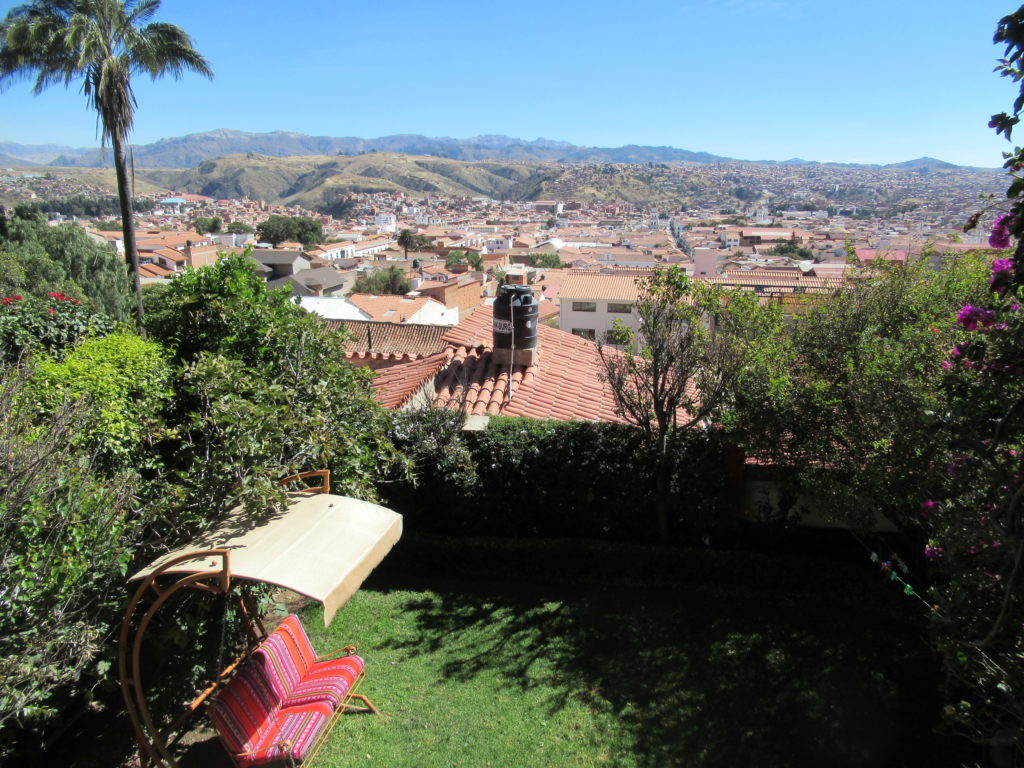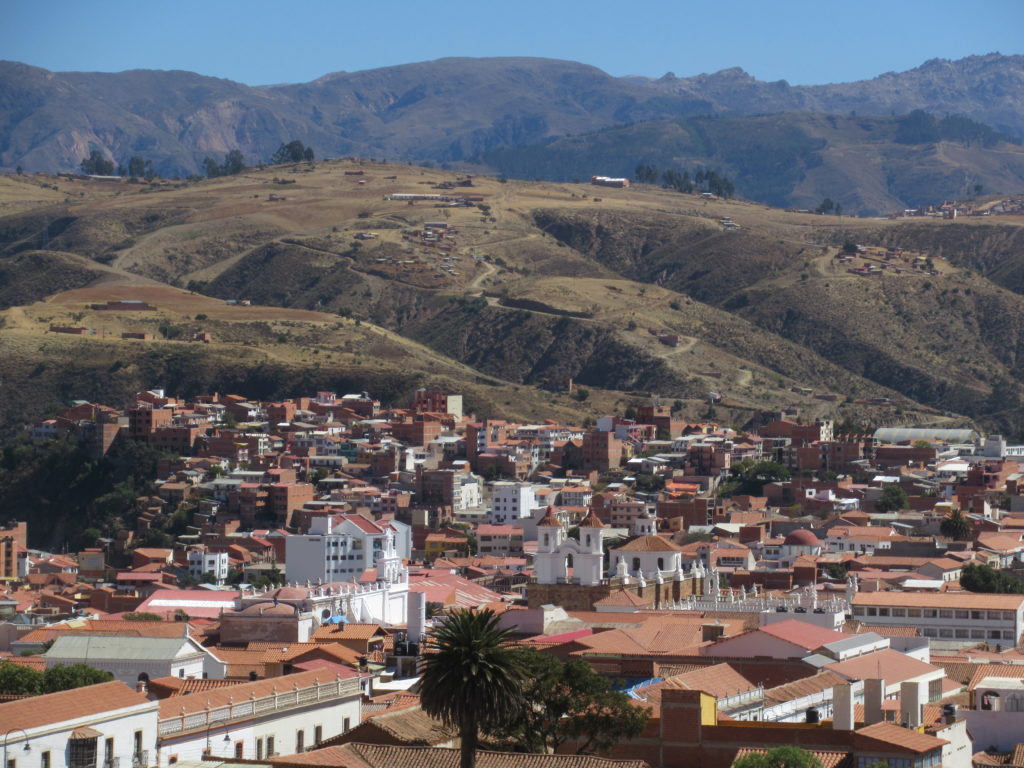 Now, there were a few other important things to do while we were in Sucre (besides doing our laundry) – one of which was watching the World Cup. The owner of the airbandb informed us that we had the correct cable channel to view the games – and the kick-off times were reasonable (generally 8am, 11am, 2pm for the group games) – so I could even watch some first halves before I went to my Spanish lesson.
Most Bolivians seemed to be supporting Brazil or Argentina….why not Peru? I think they just like to support winning teams… that's not the right spirit! Of course we couldn't support Peru because they were in Australia's group….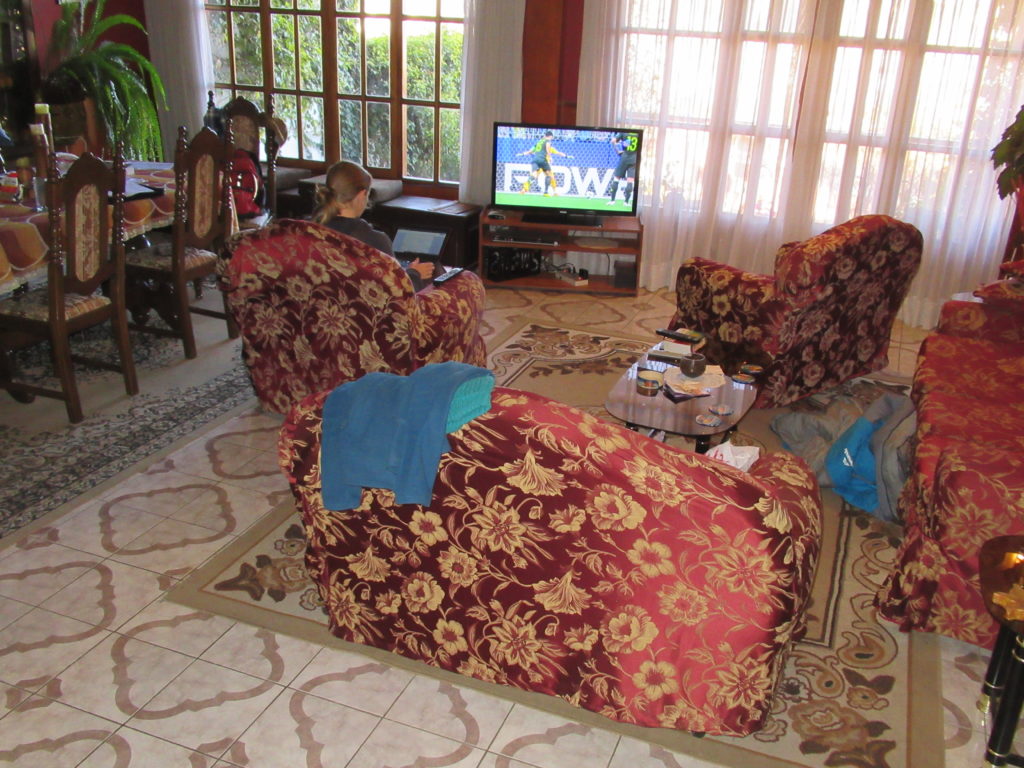 Another important thing that we undertook in Sucre, was to try all the different cheeses that they had available…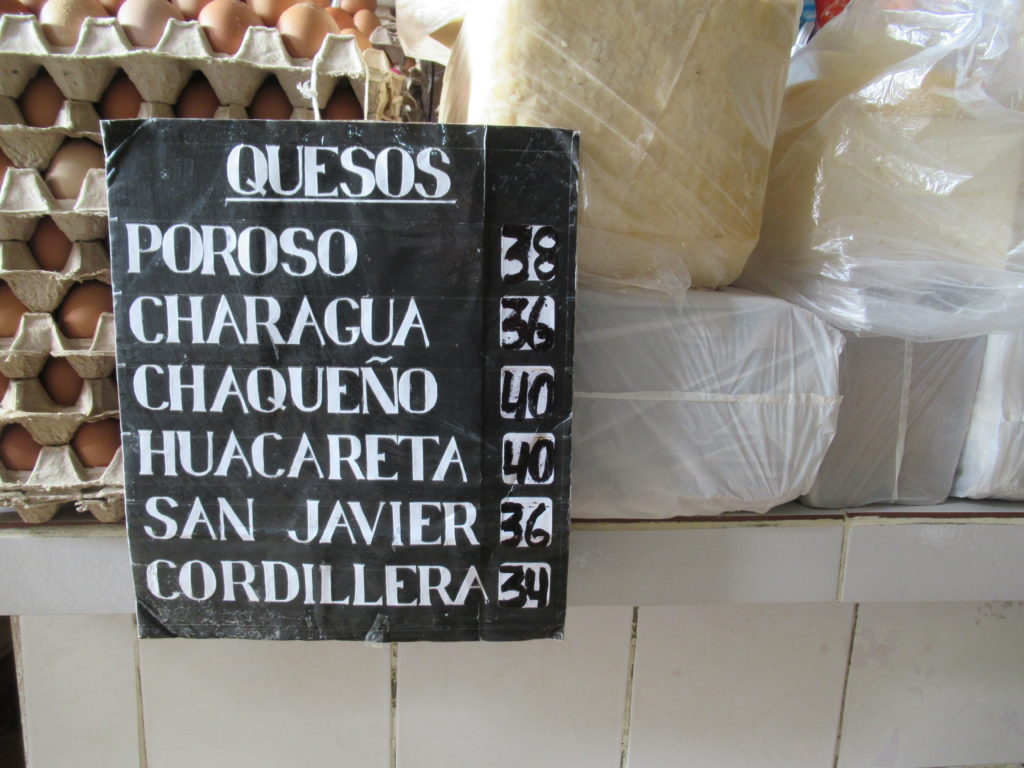 We also tried out some desserts….they were pretty good… however when we got back to the apartment and looked up what one of them was, it turned out to be made from cow's feet?!? No I'm not joking – made of actual cow foot – yes, but you couldn't taste any cow in it I promise you… it was called Gelatina de Pata.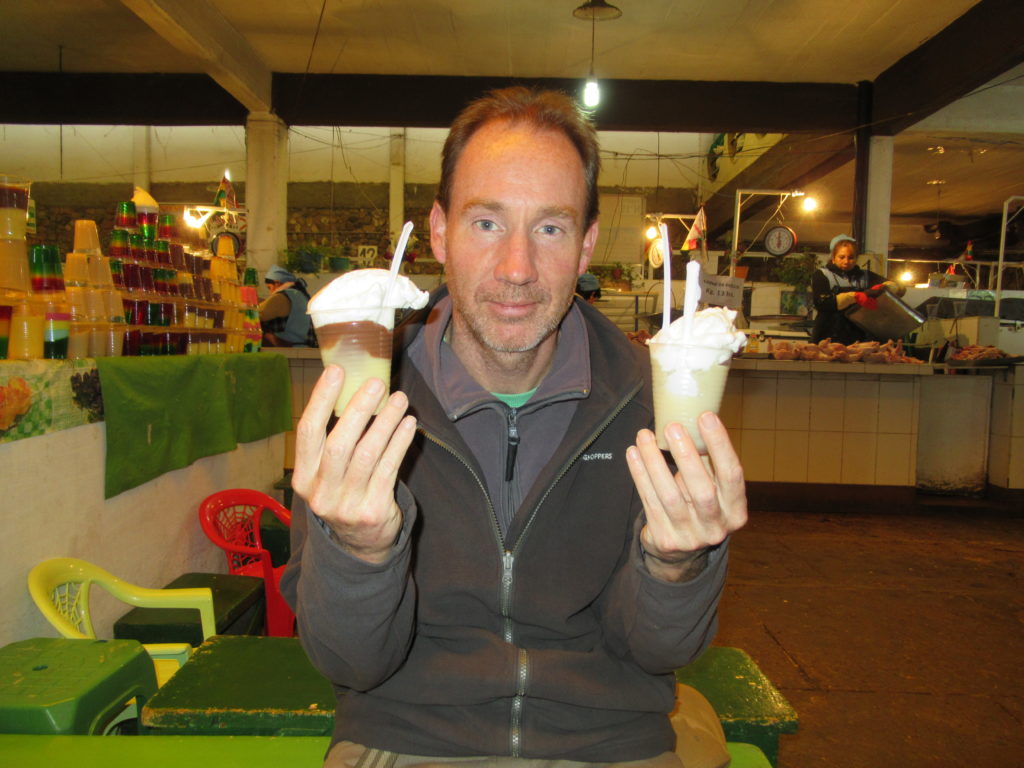 The next very important task, was another haircut for PB! Yes… it just keeps growing (but not on the top of course, only on the sides….). ANYWAY, the best place in town was supposedly Jaime's hairdresser….
Well, Jaime seemed liked a nice fellow – but there were two problems during my haircut…. the first being that Argentina were playing a match at the time  – this was fine for me as I could see the TV from the barber chair – but it was a little distracting for Jaime – especially as Argentina were losing – he kept laughing and saying that 'Argentina were out' if they lost this game (which they did lose in the end…) (but actually they weren't out at all – Jaime may be good at cutting hair, but working out the mathematical combinations of a World Cup group was clearly not one of his strong points….)
The other, some would say 'more important' problem, was that Jaime's hair clippers had completely stopped working – no power…. he tried a few times and then shrugged his shoulders. I was about to get up and leave, but then he pulled out some contraption that looked like normal electric head shavers on one end, but with scissor handles on the other end?!?! Yes, no joke – he had a pair of manual head shavers and he proceeded to shave my head to number 2 level by labouriously going over my head again and again with this contraption…. it took AGES…. and although it looked 'fairly' even when he had finished – once the hair grew a little it became obvious where the missed bits were…. OH WELL…. I know that you really want one of these contraptions in case you have a power cut and need to cut your hair – so here is a link to buy manual hair clippers on Amazon.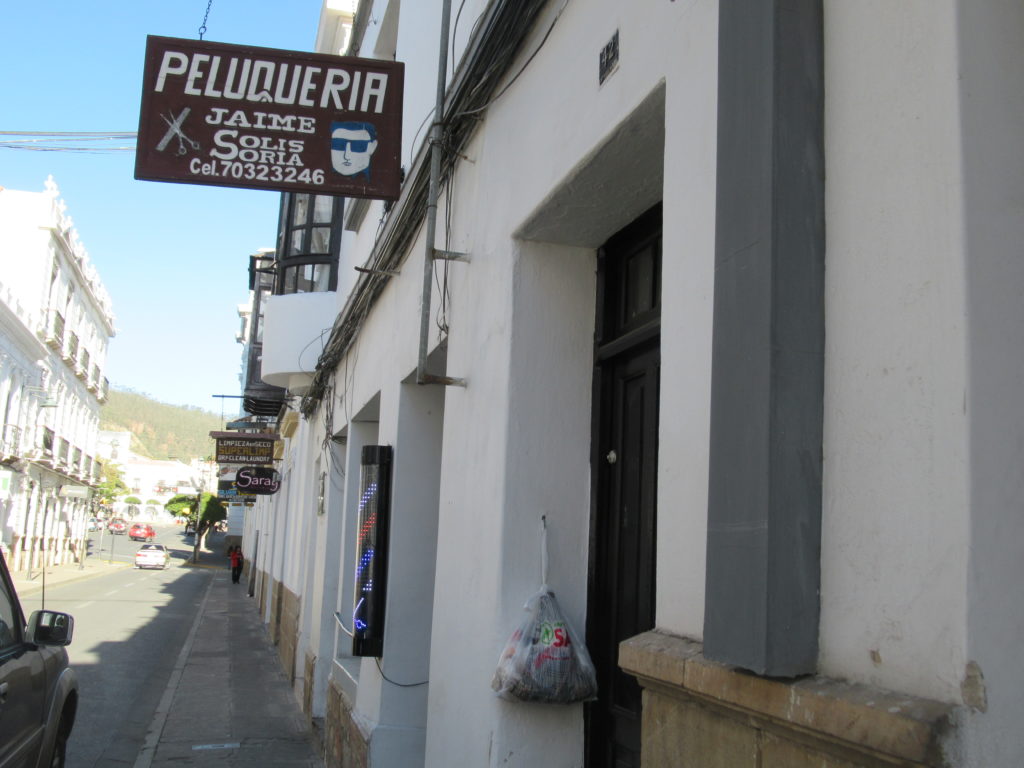 The next important thing that we had to get done was to send some birthday postcards to people. CC duly purchased and wrote said postcards, but then upon arriving at the Post Office was told that international items could only be posted from La Paz, Cochabamba, or Santa Cruz…. 'but this is the capital of Bolivia….' I heard CC murmur…
To cut a long story short, the Post Office in Bolivia got shut down completely (yes, seriously….) and we were left holding on to non-postable postcards for the rest of our time in Bolivia….
AND FINALLY…. for some reason Bolivia gives you a 30 day stay when you arrive in the country, unlike all the other countries in South America where you get 90 days. What is even more strange is that it is free to extend the stay up to 90 days in total (for most passport holders), but to do so you need to attend an immigration office within 5 days of when your current stay expires, and then they give you another 30 days…. so you need to make sure that every 30 days you are in a city with an immigration office, and not out in the sticks somehere where your entry stamp will expire and you will become an OVERSTAYER….
So, Sucre was the place for our first 30 day extension – and off we went to the immigration office…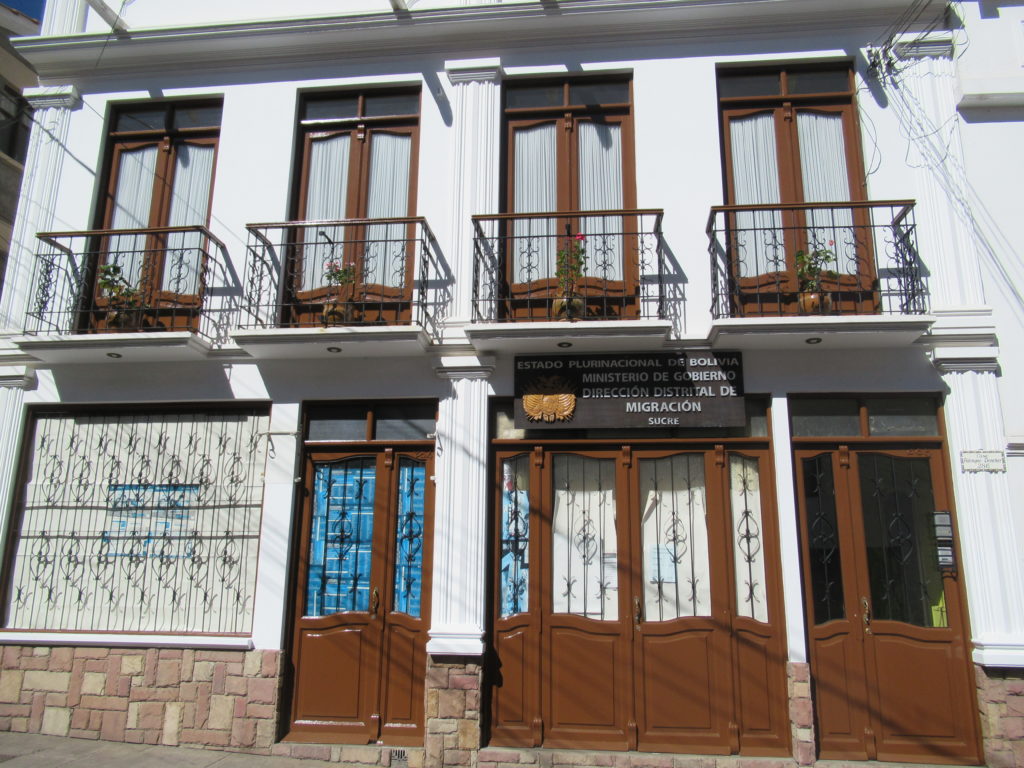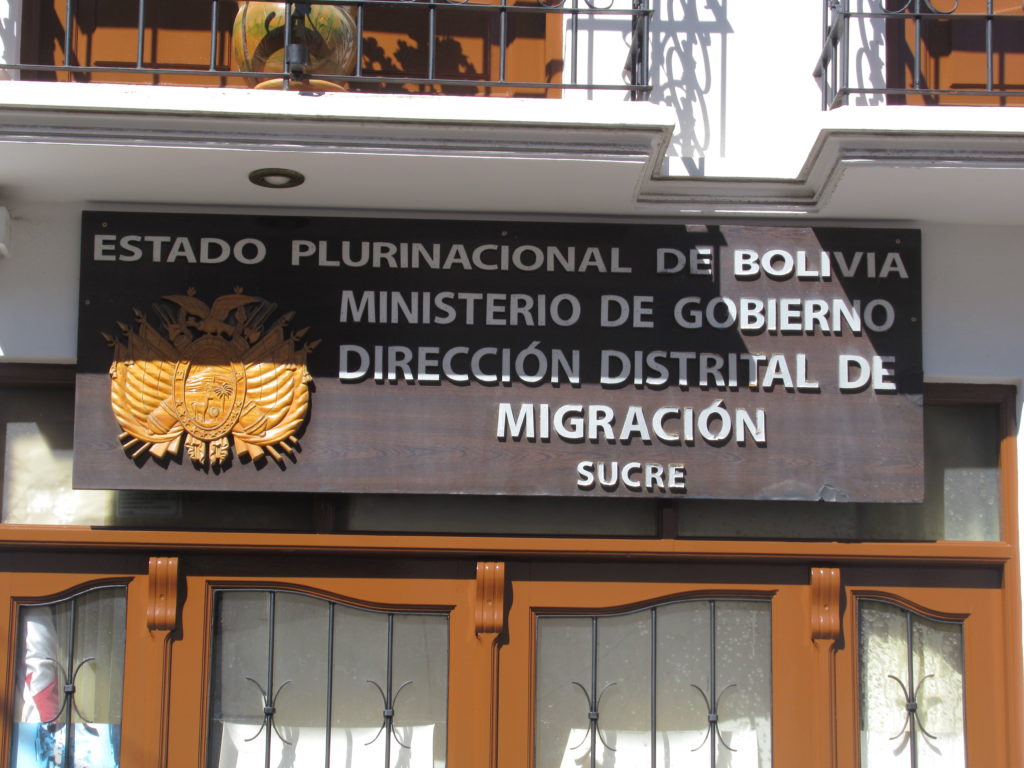 The process is fairly painless – you just ask for 'more days', give them some photocopies of your passport and migration card, and then they stamp your passport and migration card with another little circle that says '30 days' on it….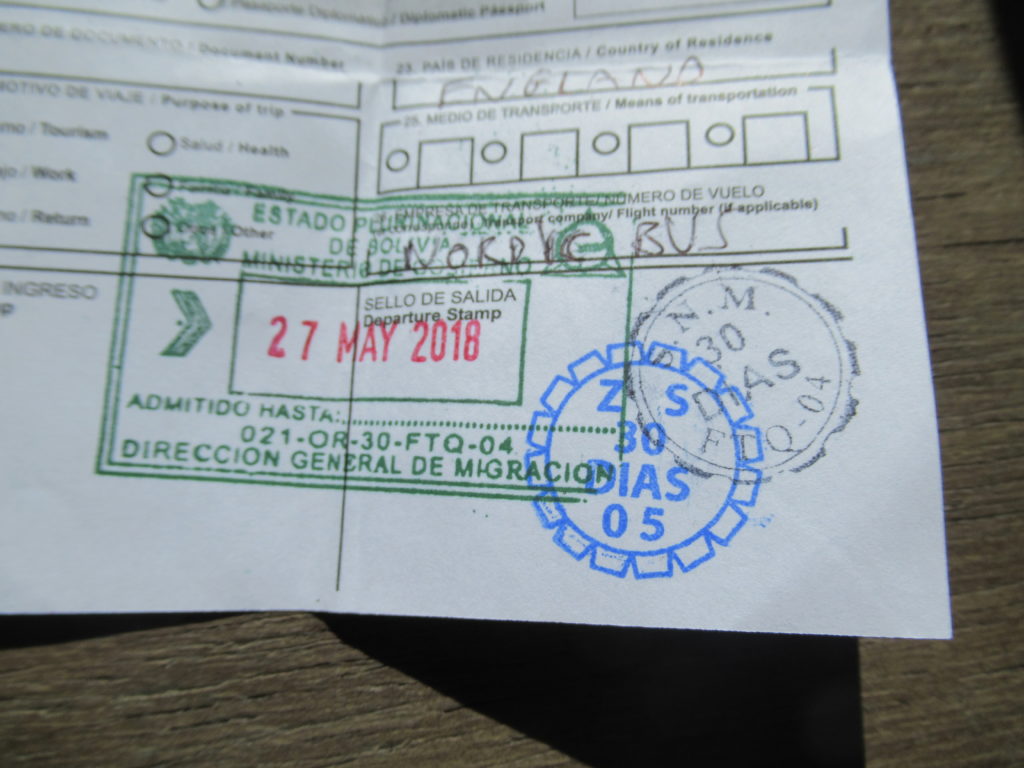 So, all in all we had a very productive two weeks in Sucre 🙂