It was time for a daytrip to the town of Villarrica – only around 45 minutes or so from Pucón, and so a perfect place to go for lunch.
We had read about somewhere that supposedly had really good Asian food (yes, I know we are in South America, but it's been a while…..we have the occasional craving…), but when we got there, we decided that it was too expensiive, and so we roamed the streets looking for an alternative.
But let me start by telling you that you can still see Villarrica volcano from Villarrica – which is of course very important to us – the obsessive volcano picture-taking people that we are… 🙂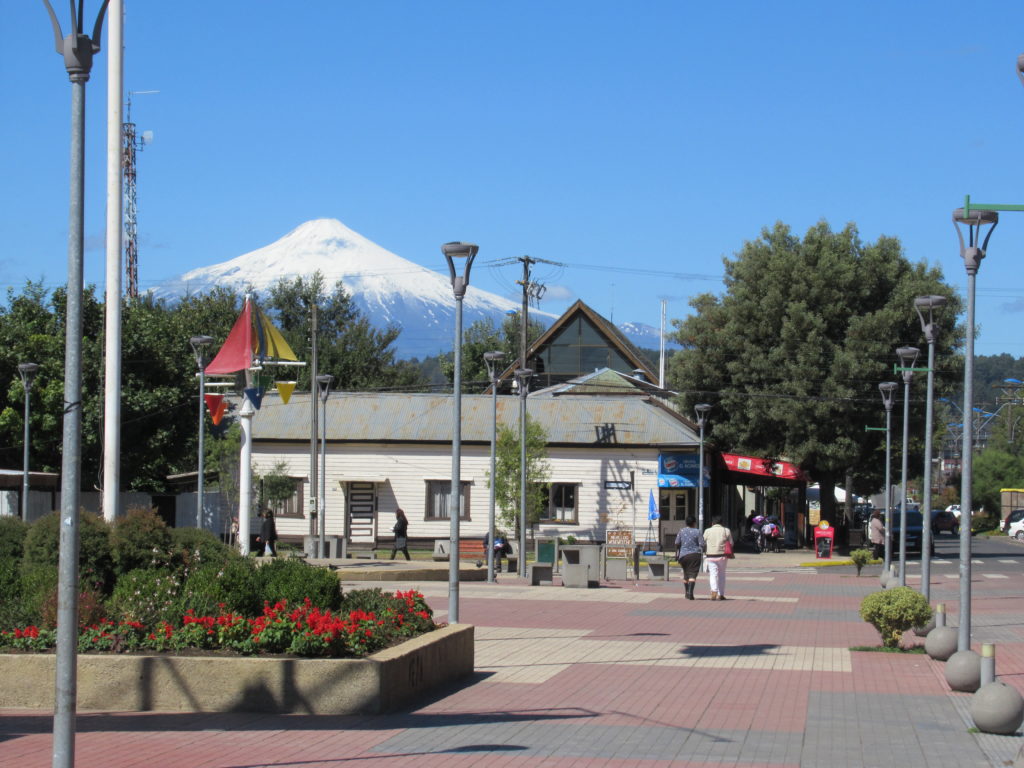 Villarrica is bigger than Pucón, and we really liked it – although Pucón is nice, it's a bit heavy on the tourist shops, and is a fair bit more expensive. Whereas, Villarrica is a bit more like a normal town.
We had a quick wander around, and then started the quest for some lunch. After a while we came across 'Onde la Nana'. There is a habit here of naming restaurants in the format 'Dónde xxxxx', where xxxx is anything they can think of. It means literally 'where xxxxxx' – so 'Dónde la Nana'  means 'where the grandma' – yes it doesn't really make sense in English literally… . so, I take it to mean something like 'the place of grandma'.
'Where is the letter D?', I hear you asking… well in Chile (maybe in other places,too? ..not sure..) they sometimes abbreviate 'Dónde' to 'Onde'…  Yes, it took us a LONG TIME to work this out… Some examples we have seen are 'Where the gringo', 'Where the auntie', 'Where the Uncle Willy' etc. etc. Yes, you get the picture… ANYWAY, here is the restaurant…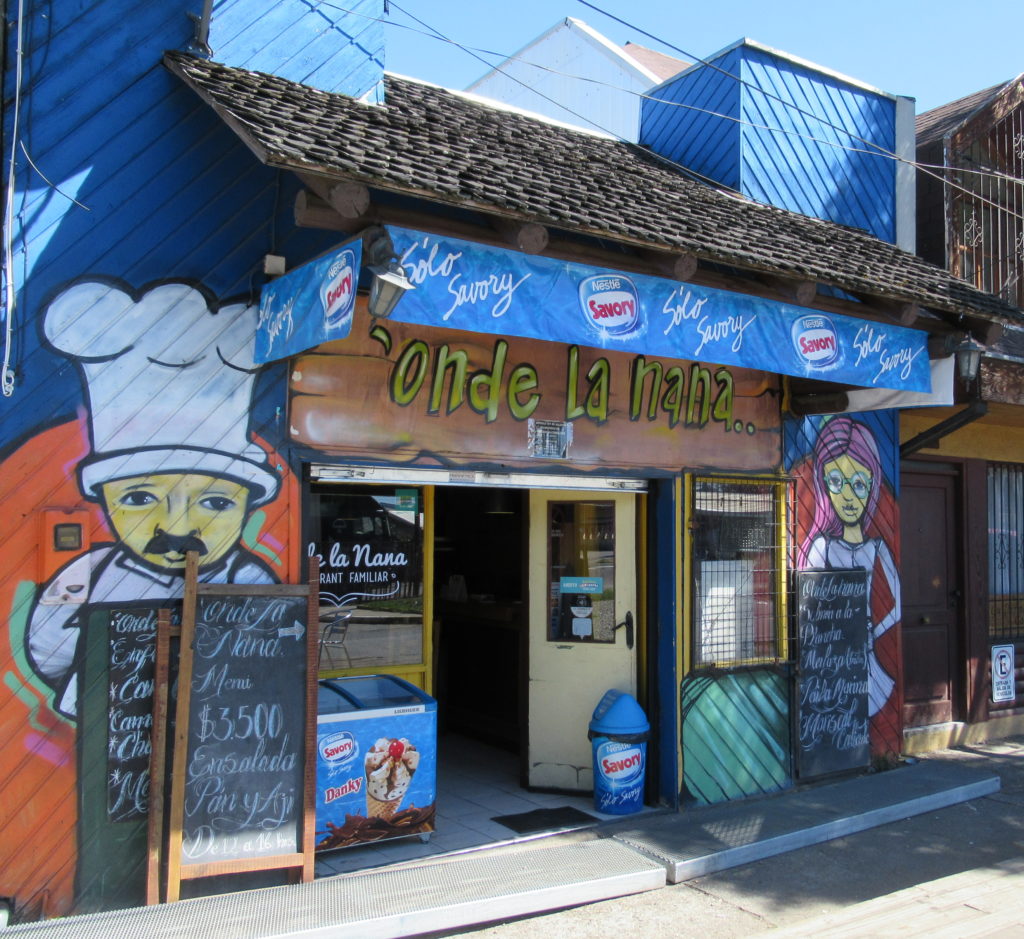 We chose this restaurant because it had Porotos Granados – a Chilean speciality that is also meat-free, and so CC loves it! (It tastes pretty good too!) (It was also very cheap… 🙂 )
Anyway, CC had Porotos Granados, and I had the Cazuela – which is basically 'Stew' – named after the pot that it is cooked in. It has a few variations, and is very popular in Chile.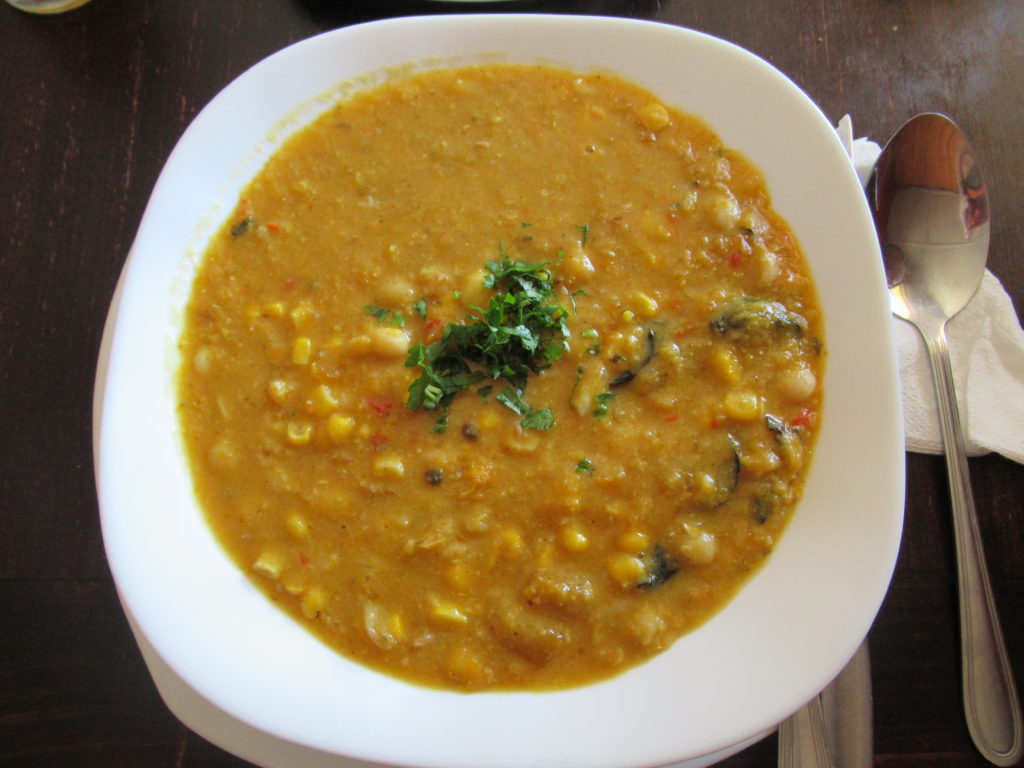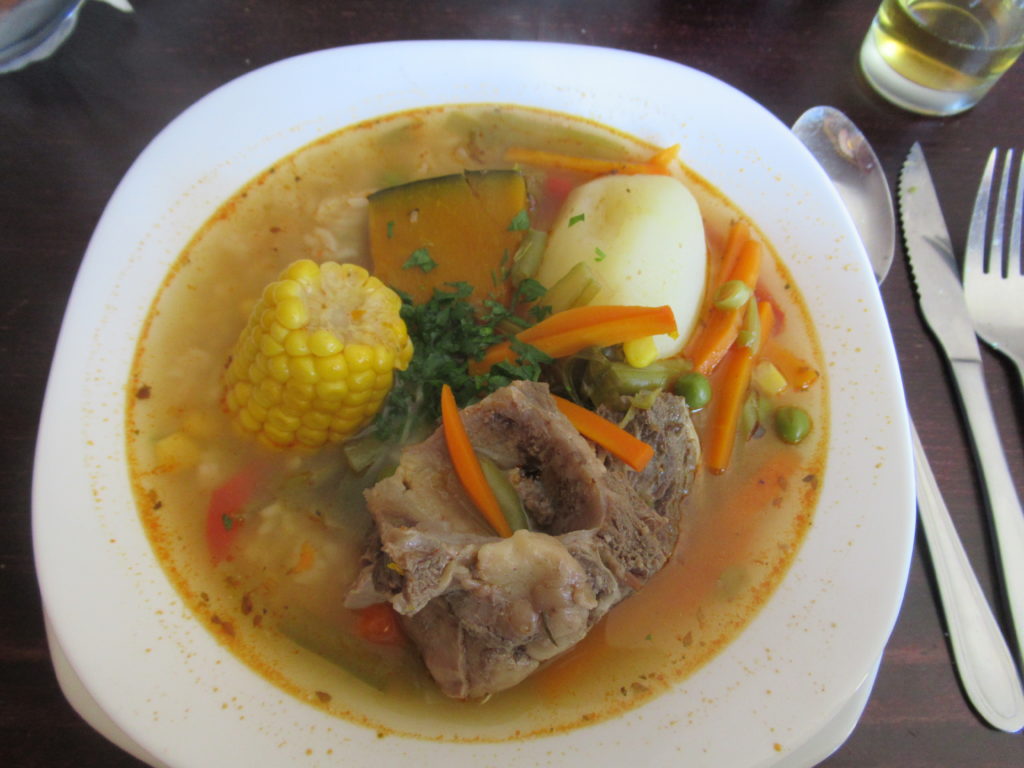 They were both really excellent – and so cheap that we had a sneaky lunchtime beer as well 🙂
So far, our trip to Villarrica had been a roaring sucess – so we continued with a stroll around the lake to look at the volcano again (of course 🙂 )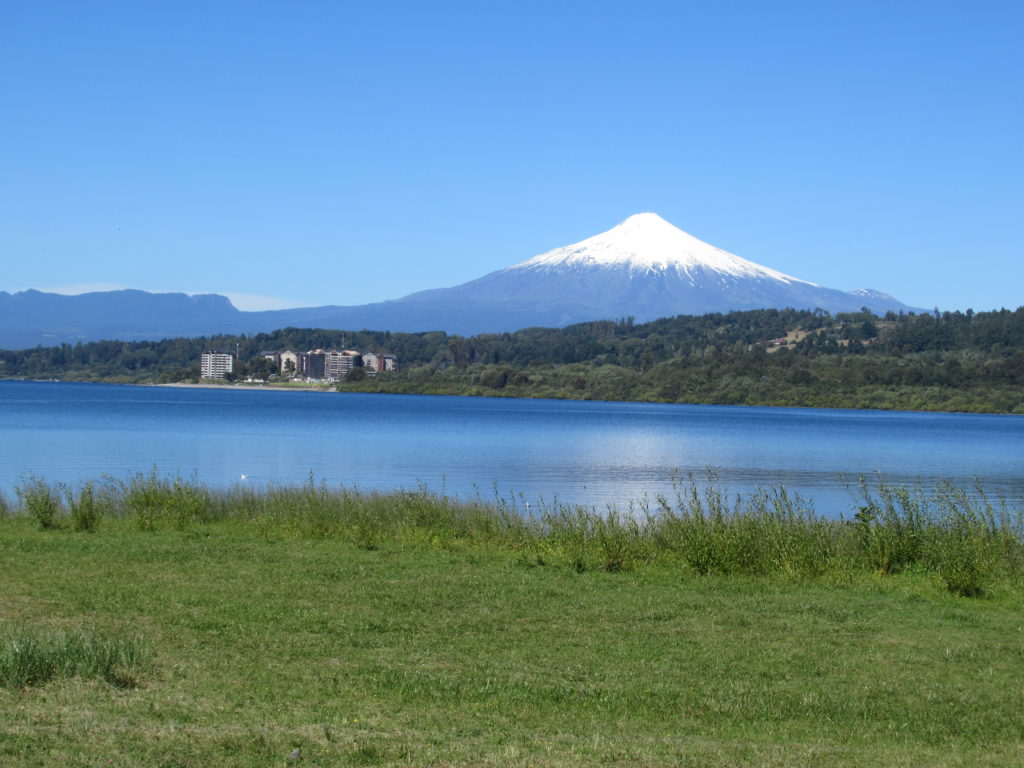 But GUESS WHAT?! Excitingly, you can also see ANOTHER volcano from Villarrica – YES – double volcano action….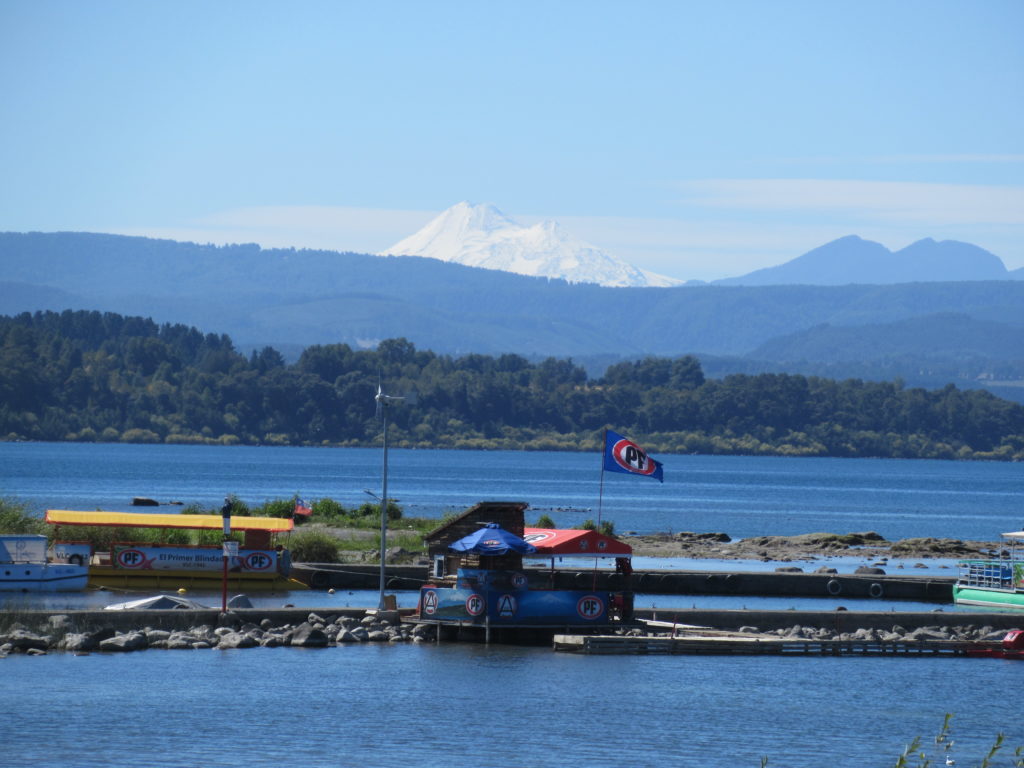 After the excitement of seeing two volcanoes, we had worked up our appetite again – so we went in search of dessert and found DELICIOUS pieces of fruit crumble (not sure what fruit – but very tasty….)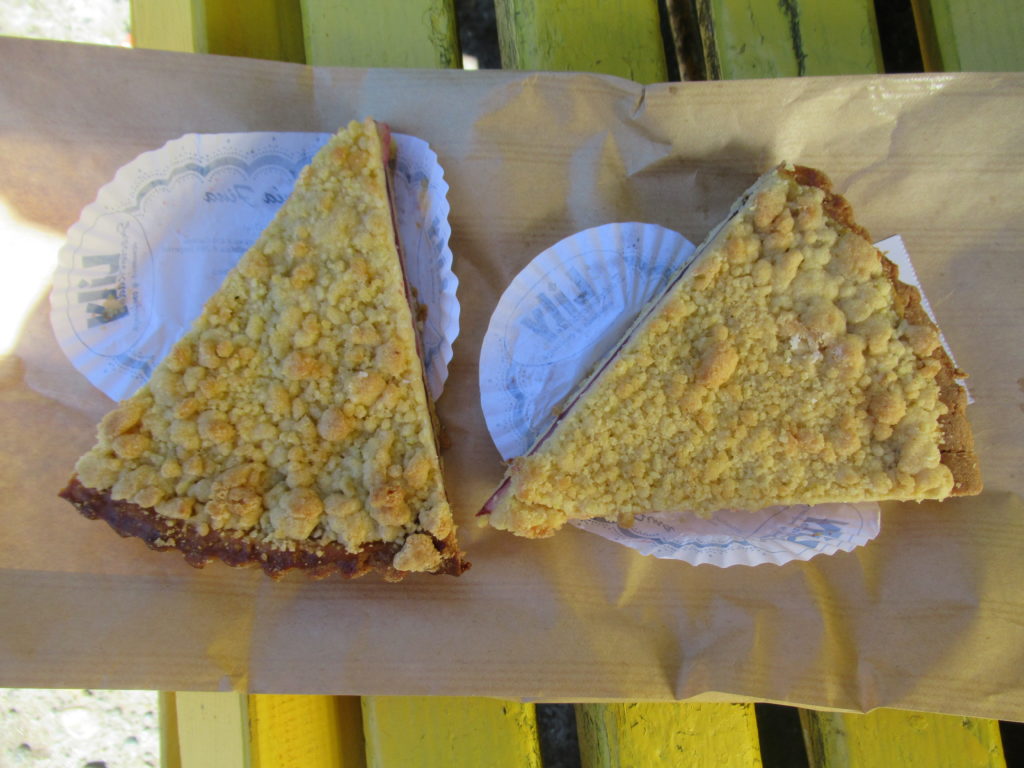 Our verdict: Villarrica gets a massive thumbs up for cuisine and volcano viewing….:-) 🙂