Don't be confused by the title, it's not a friend of ours, it's pronounced like 'MARTAY' – I realise that's not official phonetic notation, and also not really exactly how it's pronounced – but hopefully you get the drift….
It's a drink, and I could tell you all about what it is, who drinks it, how it's drunk, where it grows etc. etc. but that would take me a long time and would be factually inaccurate, so that job can be done by wiki:
https://en.wikipedia.org/wiki/Mate_(beverage)
If you've skipped the above link, some of the below might not make sense. If you've read to the end of the above link then you will be too tired to read the rest of the post – but you will be able to keep people entertained at parties with your in-depth knowledge of Mate culture…
So, let me tell you about our journey of Mate drinking…
First taste
We actually first tasted Mate back in Sydney, as we have some friends who keep some in their house – and so we drank it with them a few times (hello J and A). It was quite pleasant, but we weren't about to rush out and buy some, if you know what I mean. So before we came to South America we were aware of what it was.
Early signs
The further across Argentina we went, the more the Mate become apparent. People drinking it everywhere you look, whole aisles in the supermarket stacked to the top with the stuff, special bins to empty out the used Mate, and hot water stations to refill your thermos.
Even street artists love their Mate: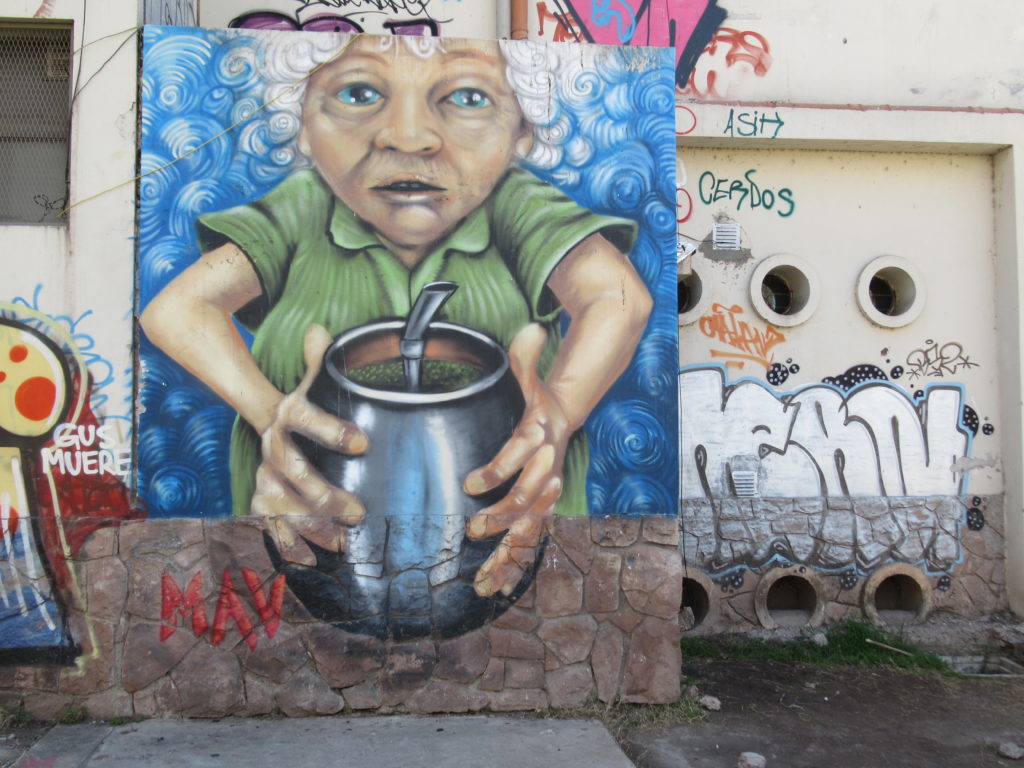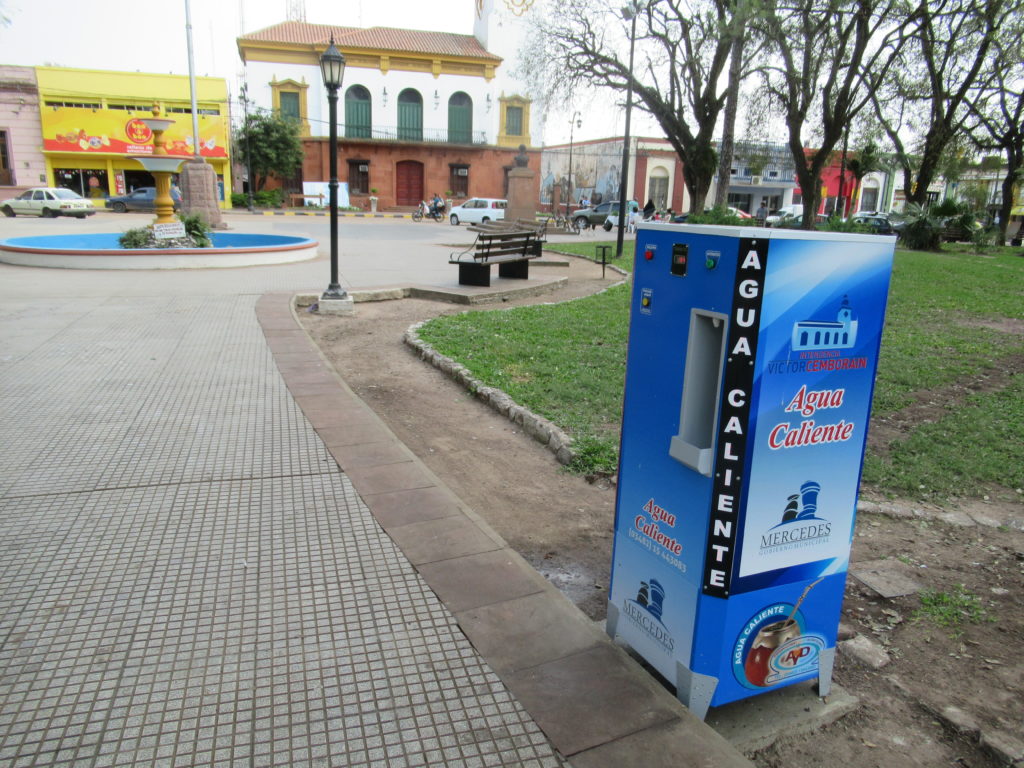 First Mate in South America
Our first taste on this trip was at a breakfast one morning. If you are a Mate connoisseur, please look away now…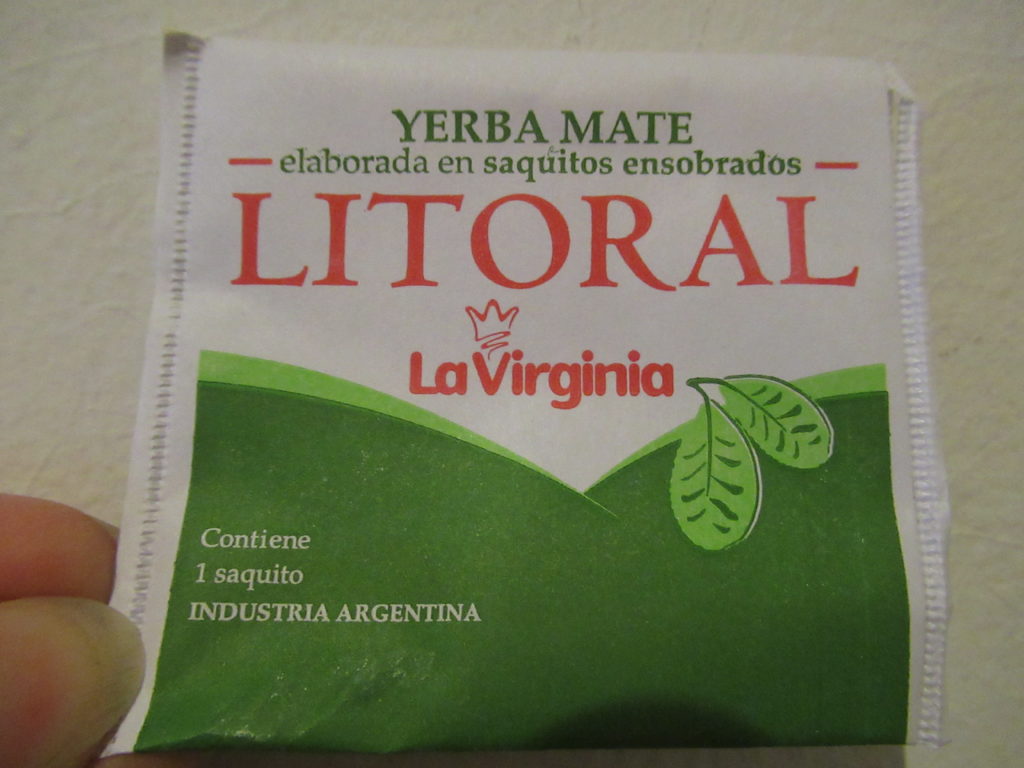 We were a little ashamed that we had drunk Mate made from a bag, but we had no special equipment to drink it in the proper way… what could we do?
We got our lucky break when we were staying at a hostel, and the guy on the reception desk asked us if we had tried Mate. We lied and said that we hadn't, as we knew that he would probably then go and make some for us – yes we are sneaky, but it was necessary.
He prepared the Mate for us, and we had a happy half hour drinking Mate. He said that some people added sugar because it was too bitter – but the tone of his voice implied that that would make them losers, but it was probably OK for foreigners. We decided not to be losers, as we had had it without sugar before and it was fine.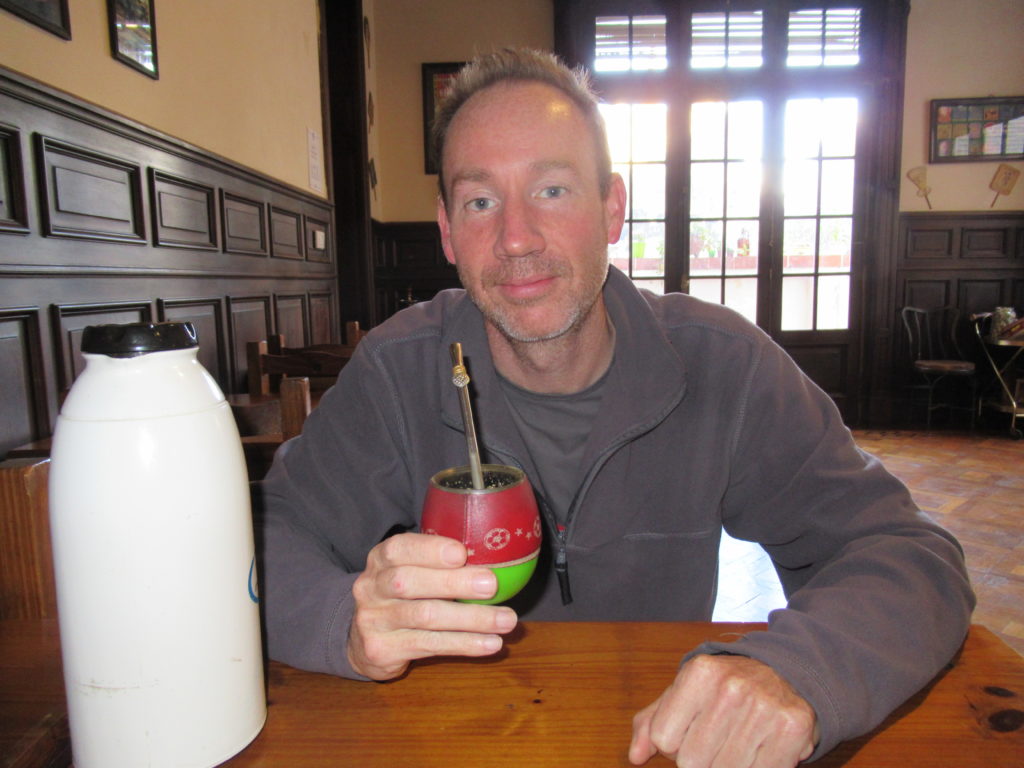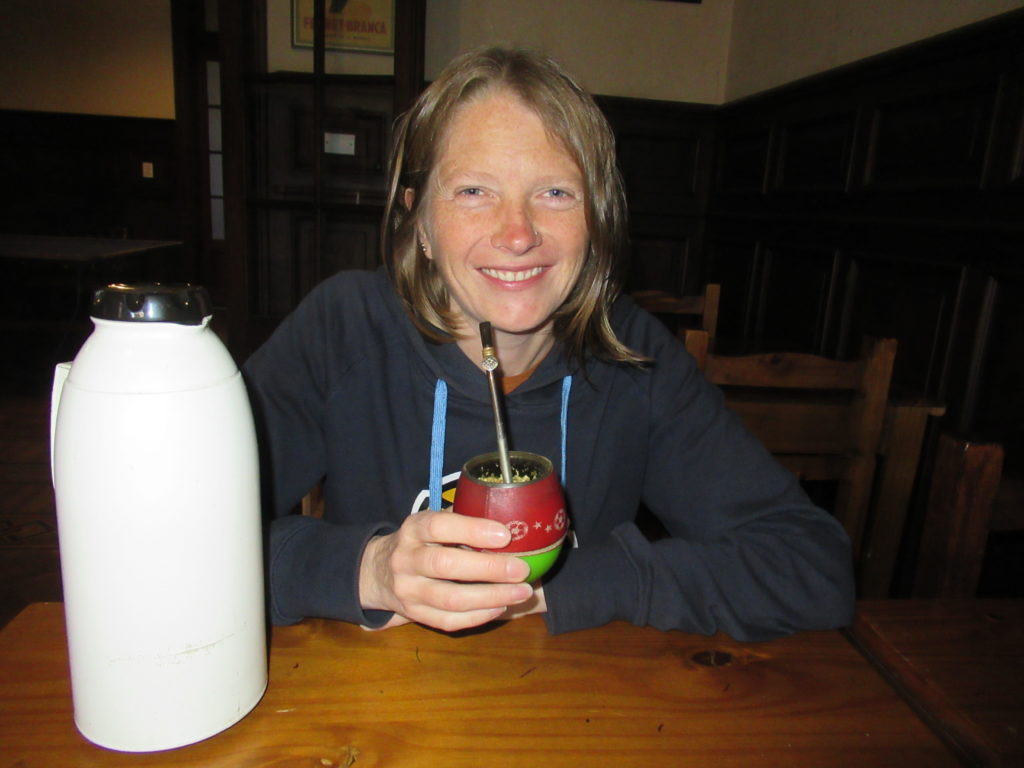 Entering the Mate heartland
As we went further north, the Mate intensity increased and increased as we entered some provinces where Mate is actually grown – Corrientes and Misiones.
Up here, even the bus drivers drink Mate while they are driving the bus, and we soon got another Mate: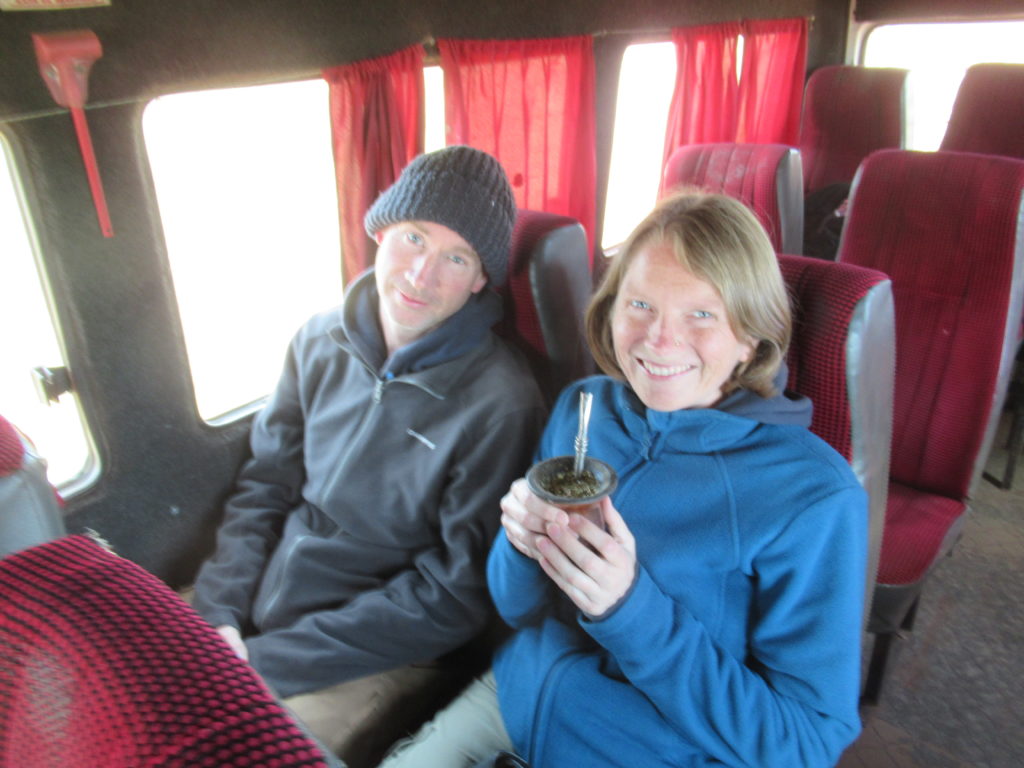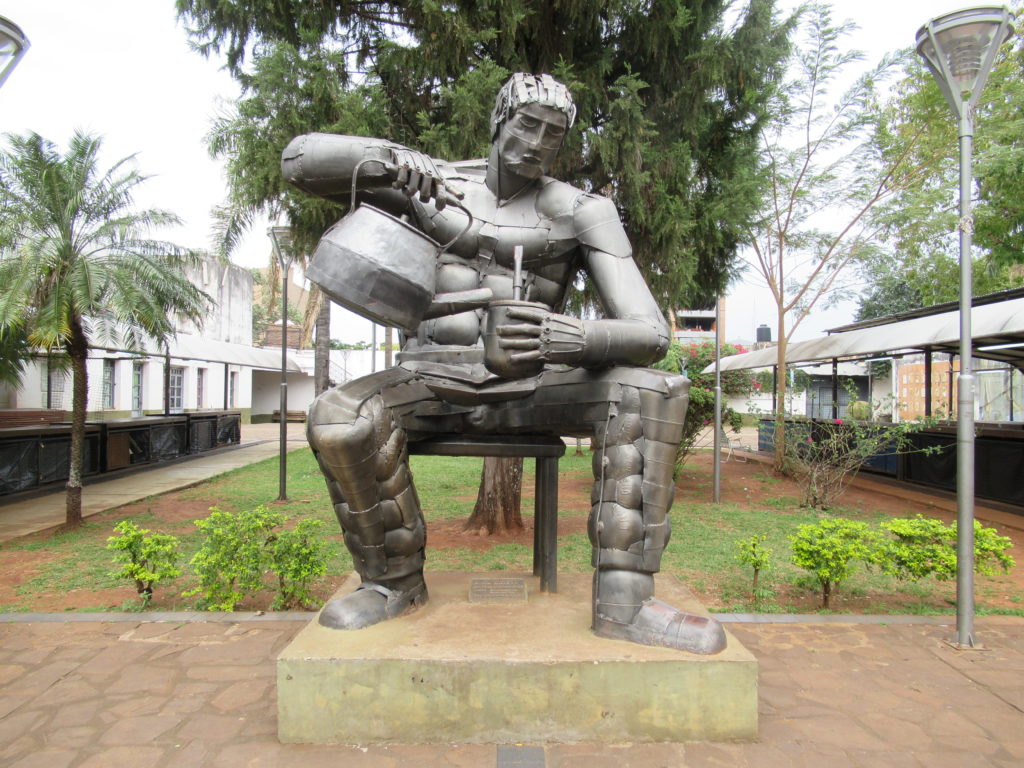 The Capital of Yerba Mate
The time had come to take it a step further. We were now in Paraguay and there was more Mate than ever. We needed to get closer to the Mate, so we took a bus to Bella Vista, which is officially 'THE CAPITAL OF YERBA MATE'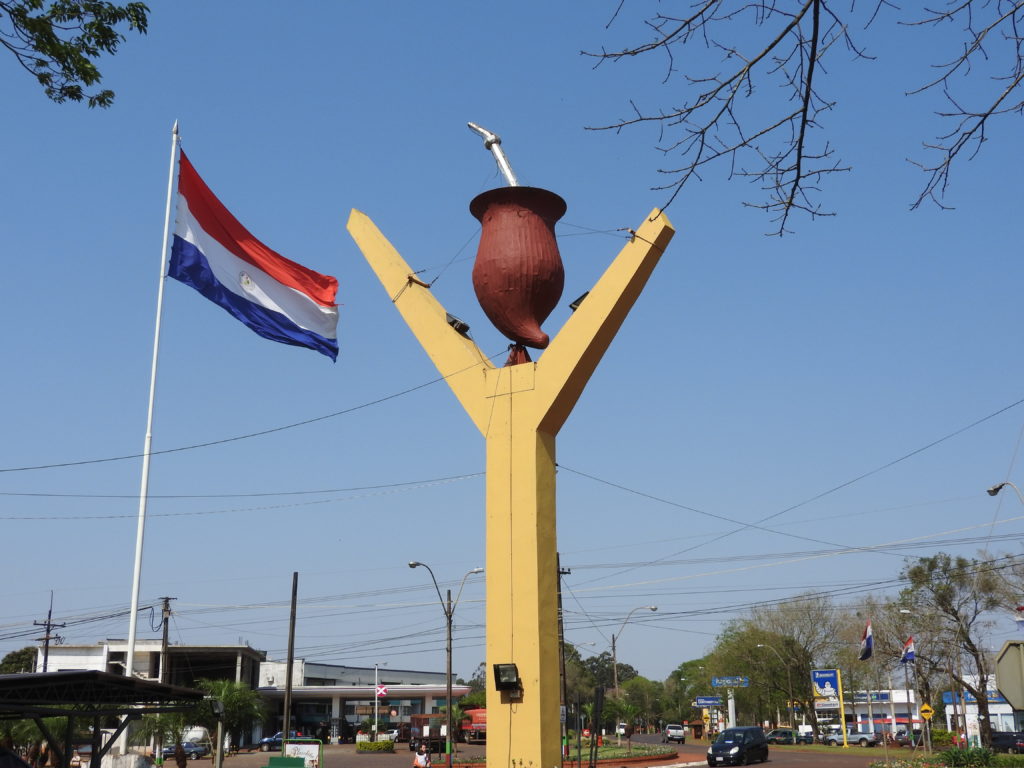 We arrived and the polite young man in the tourist office gave us some free Mate samples – YES – result! We asked about visiting the Mate factory in town, but unfortunately the factory wasn't open for a tour until 2pm, so we went for lunch.
Cold Mate
What's that I hear you say? COLD MATE?!? Yes, apparently it's a big thing in Paraguay, and it's called Tereré
As luck would have it, the lady in the place where we had lunch was quite excited to have some people from Australia in her cafe, and so she insisited that we sit on her sofas and drink Tereré while we wait until 2pm. Not only that, but her husband had to go to the factory anyway and so would give us a lift.  So good result all round! In my view, the Tereré is not as good as hot Mate – but maybe that's beause I'm not Paraguayan…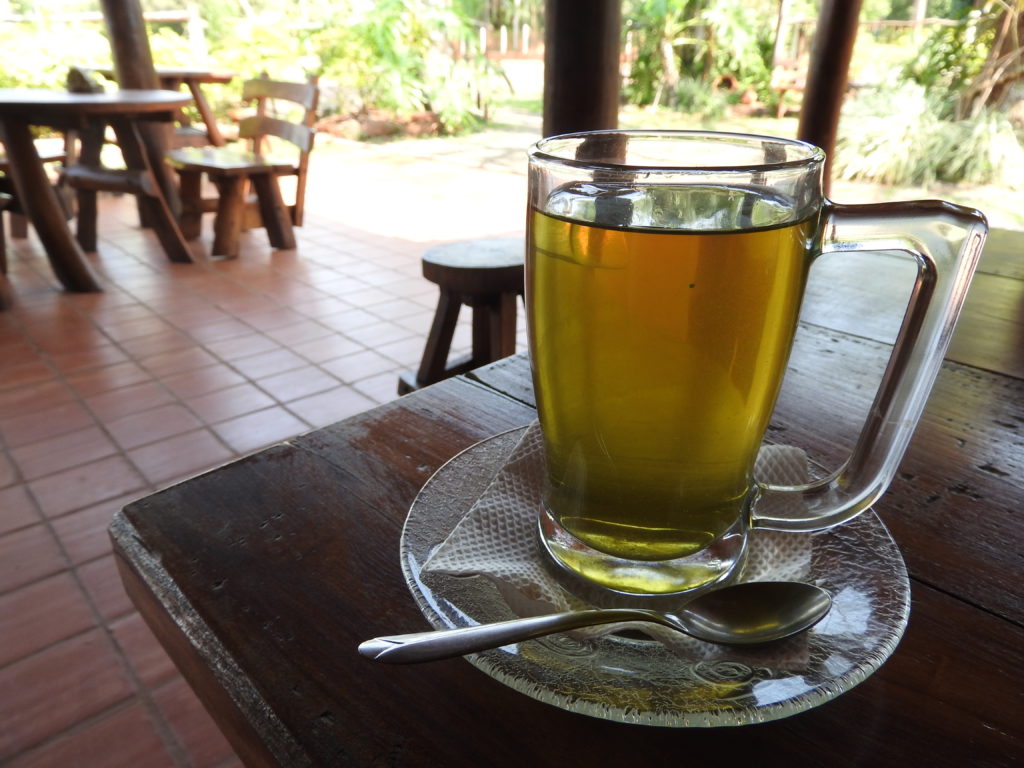 The Mate factory
At last! The time had come to visit the Mate factory. We arrived, and there was minor confusion when the lady tried to speak German to us – because apparently she had been told that we were from 'Austria', not 'Australia'… oops – anyway, she only spoke Spanish and German, so we went for the Spanish. CC undertstood most of it, and I just nodded my head and said 'Si' when I heard a word I recognised.
The tour was really good – considering that it was free, and we also scored more free Mate samples – YES!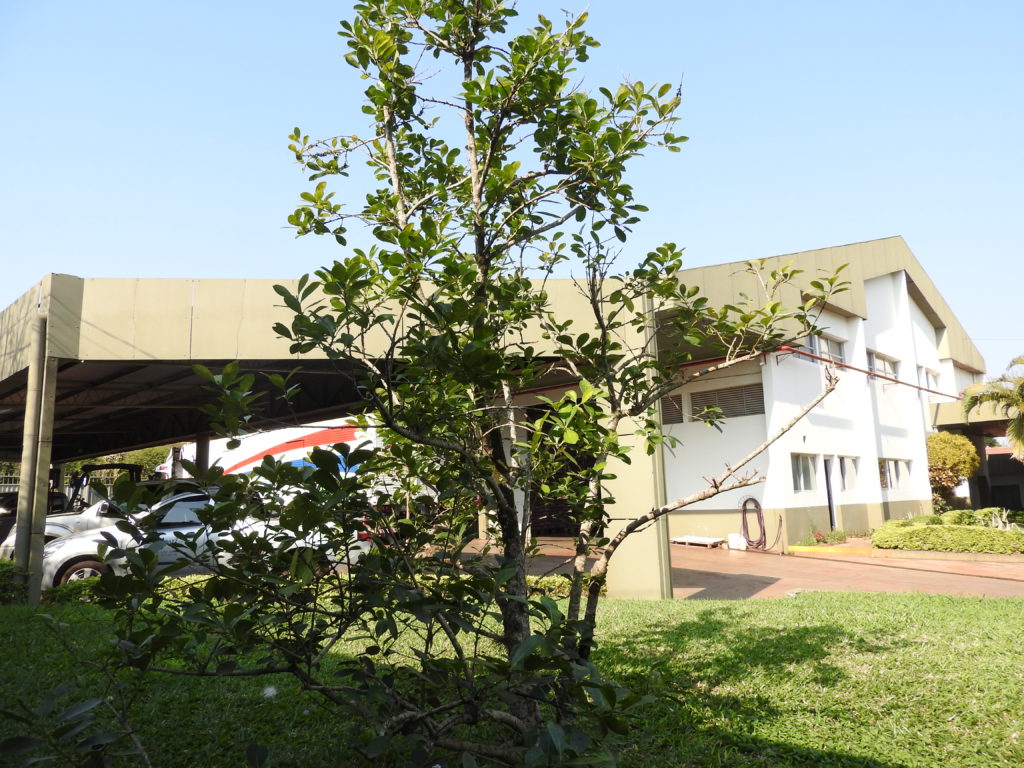 All in all, it was a very satisfying trip out, and when we went back to the tourist office to use the toilet, it was a different guy in there from before, and so he gave us even more free samples – how could it get any better!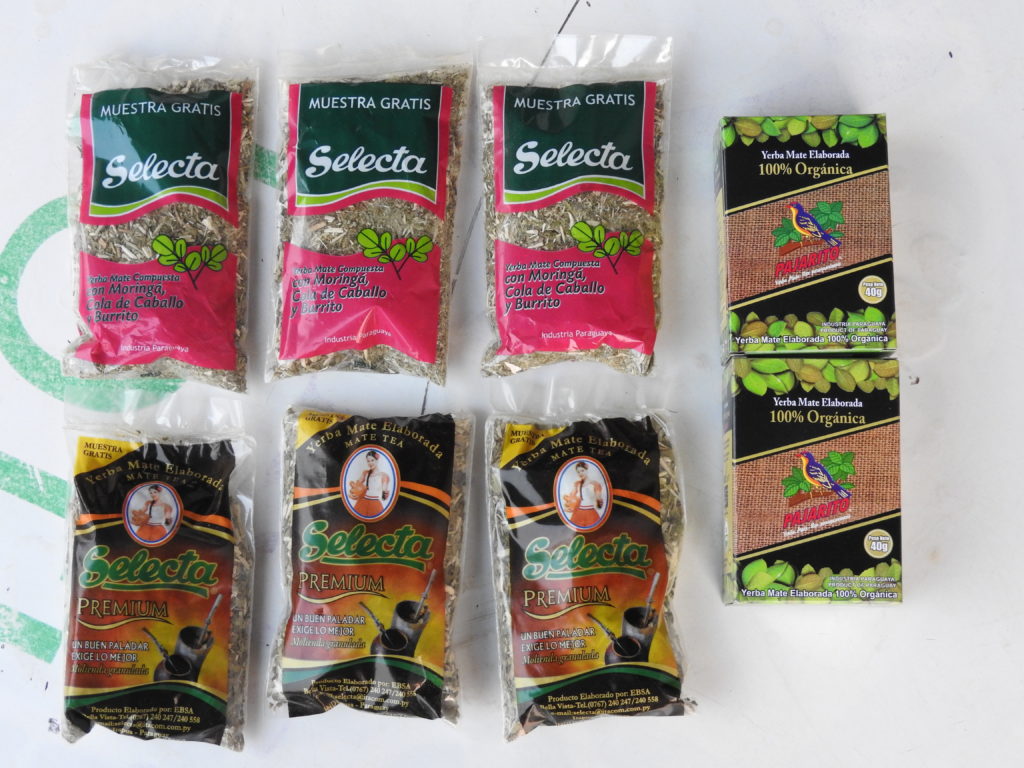 The final stage of the Mate journey
It was only a matter of time before we consumated our relationship with Mate. With all the Mate that we had been given, we had no choice but to go out and buy some proper drinking equipment.
Being in Paraguay, we opted for the most touristy (and cheap) that we could find – a lovely Mate container emblazened with the word 'Paraguay', and a silver Bombilla.
Now that we had a way to drink Mate, we spent every afternoon in Asunción drinking Mate on the sofa or balcony of our AirBandB (courtesy of Pablo) This is the life! 🙂