Our second big day out from Bariloche was to make the ascent to Refugio Frey, which is way up in the mountains – yes, we were heading for the snow! (But of course, we weren't going to walk in any snow…)
Refugio Frey is 1700m above sea level, and you get to the start of the trail by bus to Catedral ski area (which is not actually a ski area in summer). The base area is around 950m above sea level – so we were heading for a 750m ascent, with a trail that is 12km long. But of course, we have to walk back down as well – so it was going to be a 24km mountain hike.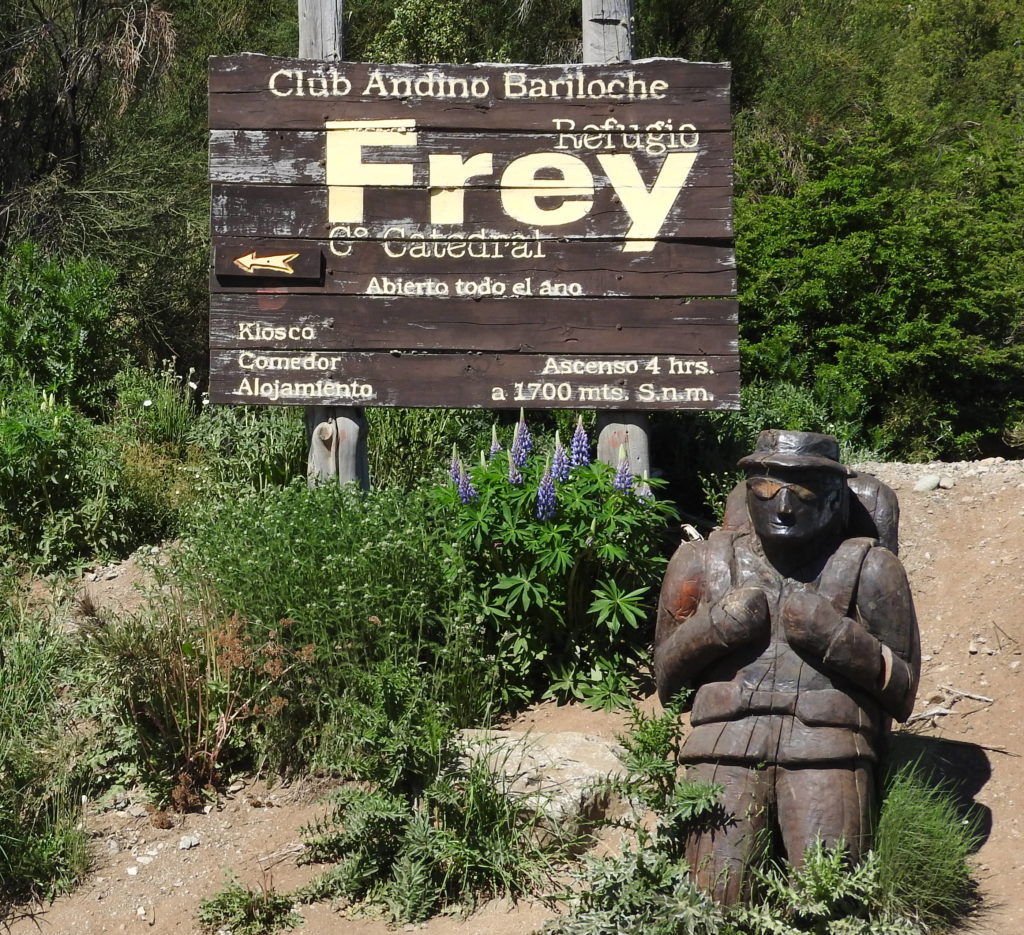 The first part of the trail was quite flat, but it had nice views and followed the side of the mountain for around 6km. It was pretty easy so far.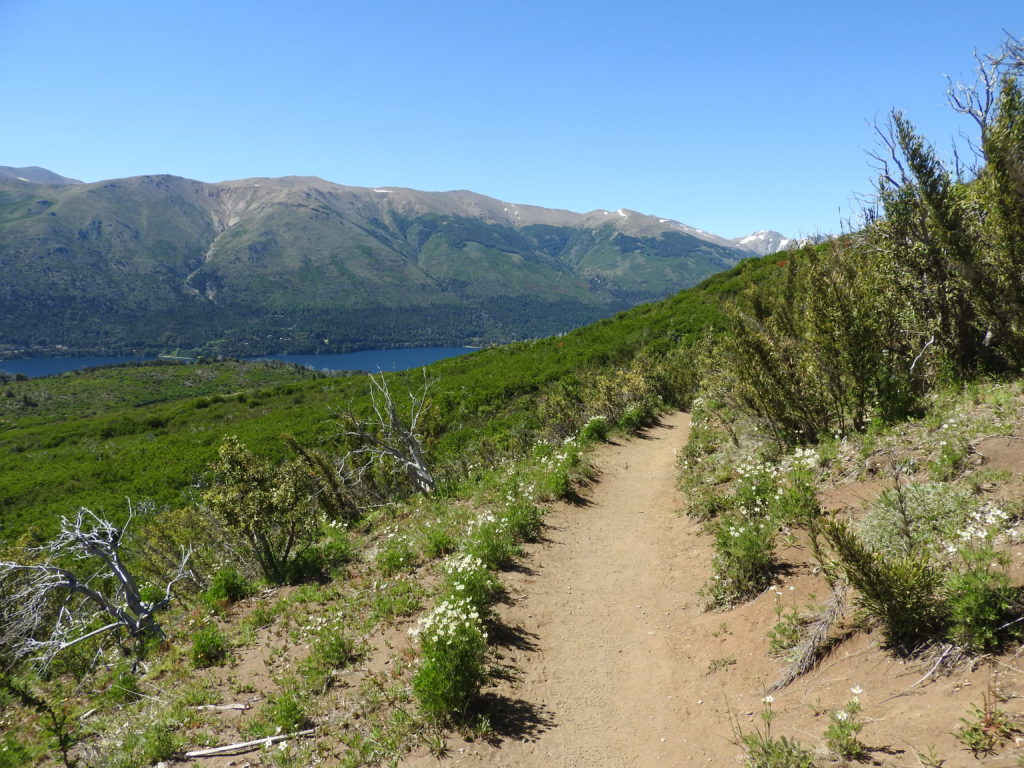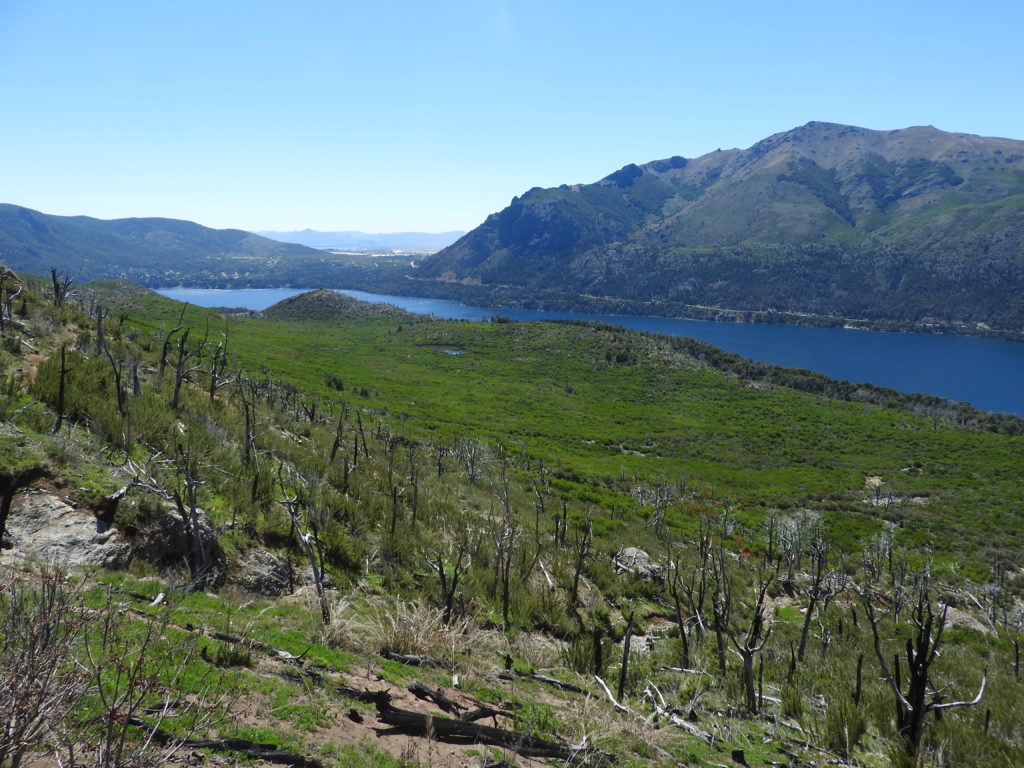 'I thought we were going up a mountain' said CC. 'Are you sure this is the right trail?' said CC. 'Surely we need to be going uphill soon?' said CC. CC was doubting my navigation skills – even though we were following a clearly marked trail. 'Oh ye of little faith' I said, 'Patience is a virtue – the uphill part is coming soon'. (Perhaps not those exact words…)
As we entered a more forested part of the trail, our woodpecker alert mechanism kicked in, and we started scanning the trees for the elusive Magellanic Woodpecker – we still NEEDED to see this woodpecker – we had been almost a week in the Patagonian Andes, and STILL NO WOODPECKER 🙁
Unfortunately the woodpecker was yet again not out to play 🙁 , and as we went through the forest the steep uphill ascent started. 'Are you happy now CC?' 🙂
As we continued upwards, we came out of the trees and into the bare rock areas, and the snow started to appear around us. YAY SNOW! Despite what we had thought earlier, we did have to walk a bit through some snow, but nothing too serious.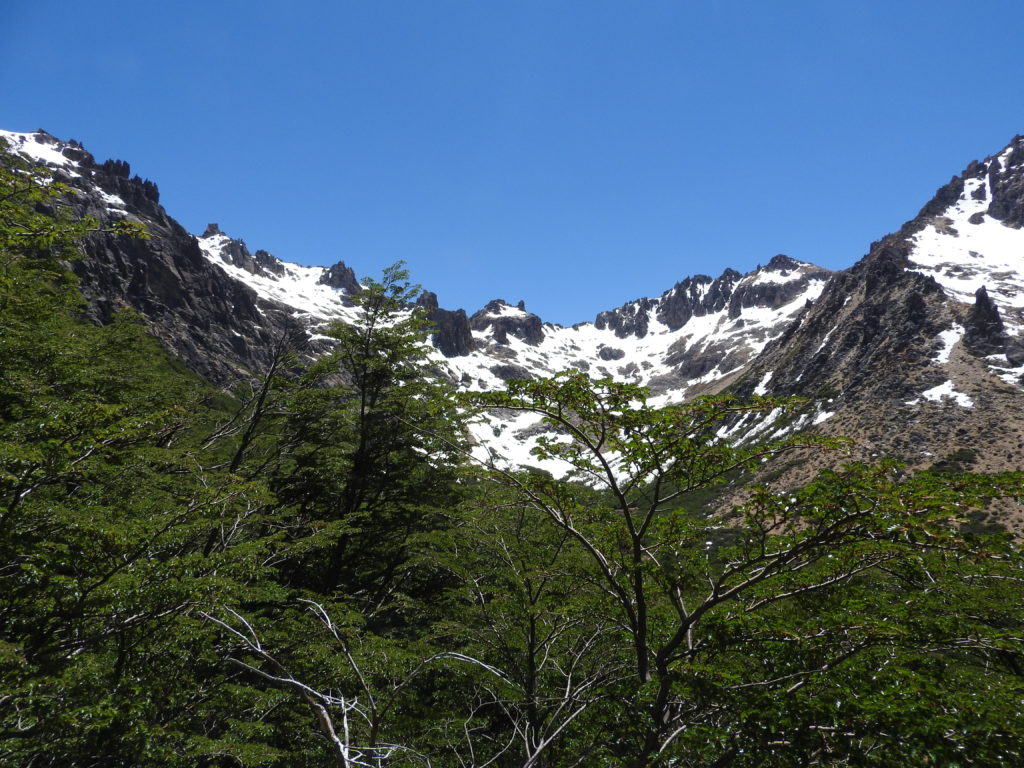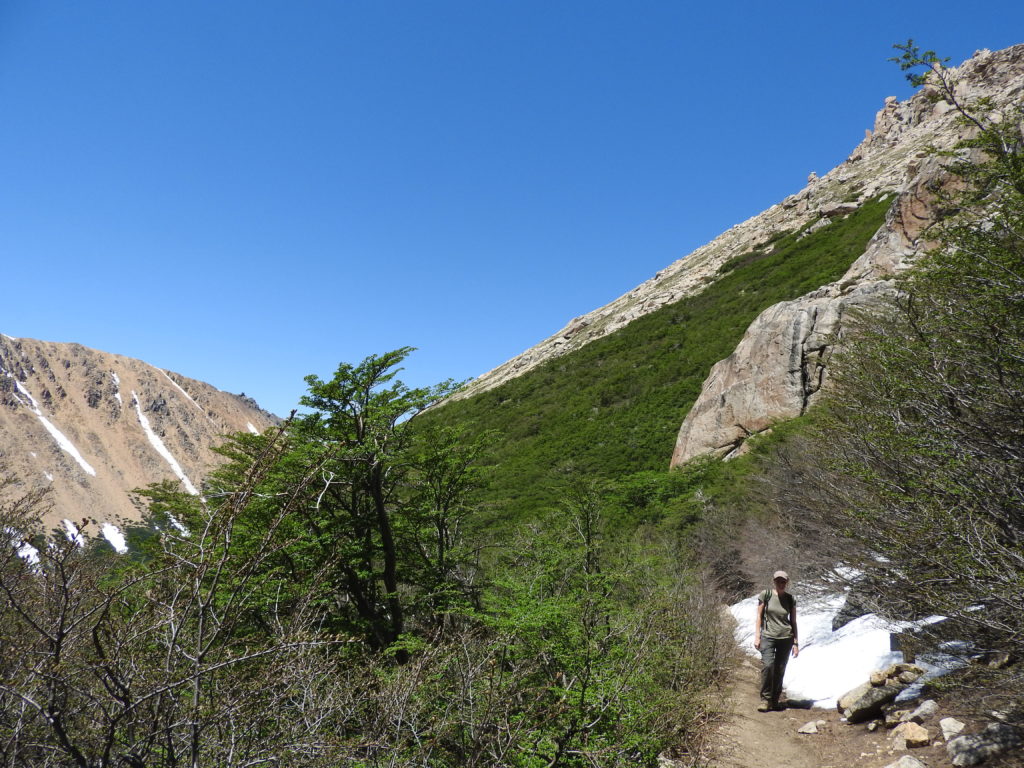 As we were approaching the Refugio – nearly at the end of the walk up, I turned a corner and got a bit of a surprise…. there in front of me was a massive river, half covered in snow, flowing very fast, with no bridge, full of slippery stones, and only a rope hanging across the top to help people get across…..
'Oh dear…', I muttered (or perhaps it was a swear word), as I waited for CC to come around the corner. CC historically has a great aversion to crossing rivers or streams (even very tiny ones) while out walking, so I was prepared to finish the walk here, as based on previous refusals to cross any running body of water without a bridge, then THERE WAS NO WAY ON EARTH THAT CC WAS GOING TO CROSS THIS RIVER.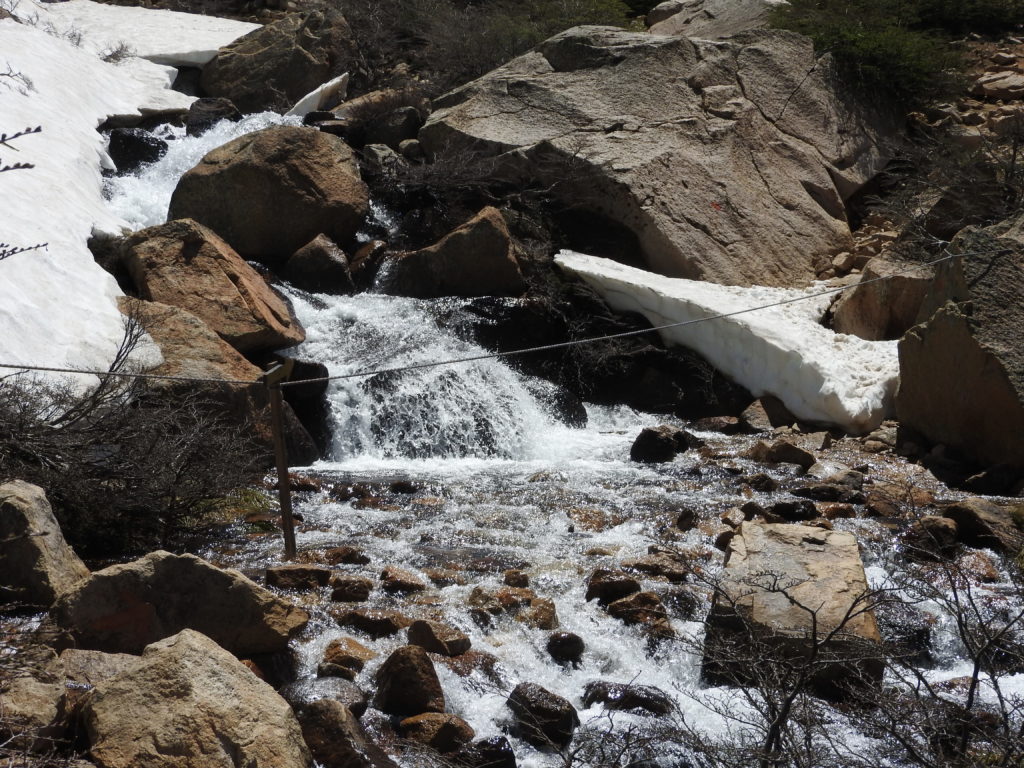 As CC approached, she looked at the river and said 'That's not the way the trail goes is it?'… 'Really?'… 'You mean you have to hold onto that rope to get across?'….. We could see the Refugio about 100 metres away on the other side of the river. 'We can just stop here' I suggested.
CC looked at the river, and then something really weird happened, like she had become possesed by an alien or something – as she declared that 'we've come this far, we may as well try and cross it'.
'Really? What did you just say? Is that you talking CC? Are you sure?'
I COULD NOT BELIEVE IT, but over we went – without even getting our feet too wet. YAY US!
A miracle had taken place, and CC had become a RIVER CROSSER. Afterwards, she declared that she didn't quite know what had made her willing to do it – so I'm sticking with the 'temporary possession by an alien' theory.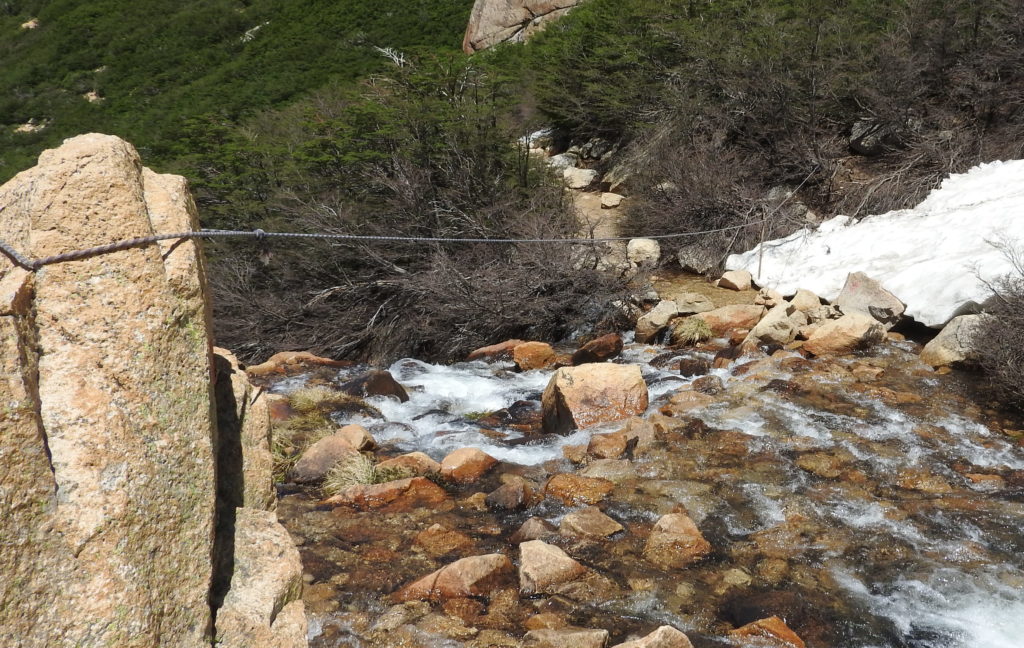 Full of triumph, we arrived at the Refugio, and there was a beautiful lake surrounded by steep cliffs and snow – it was definitely worth the river crossing.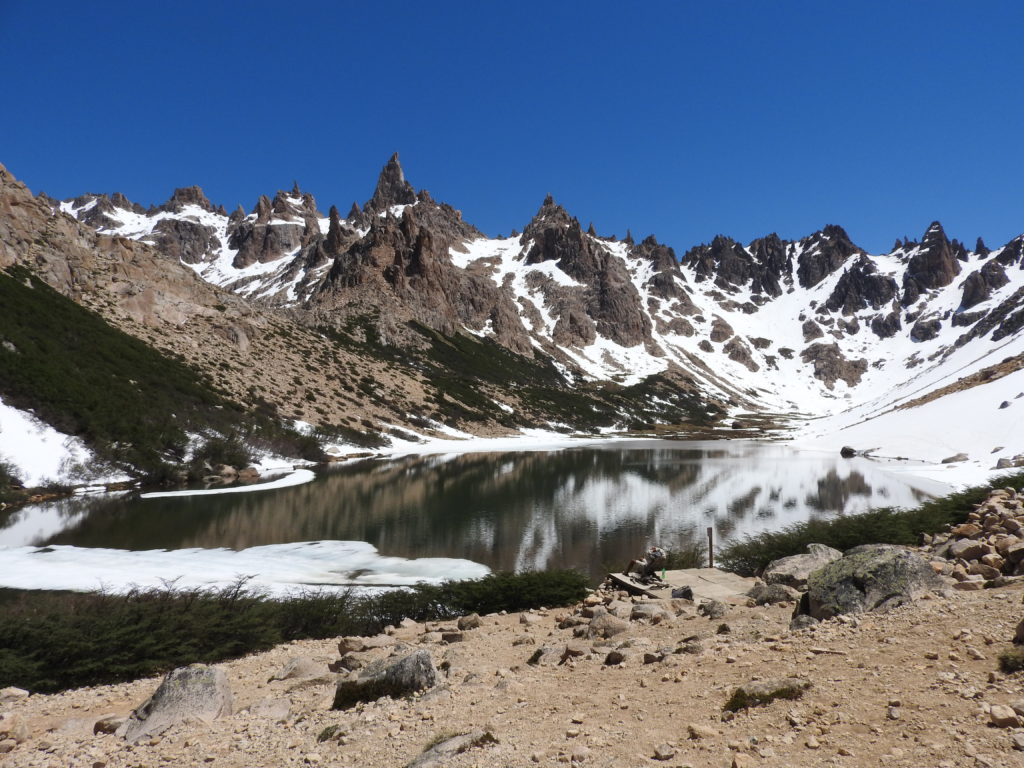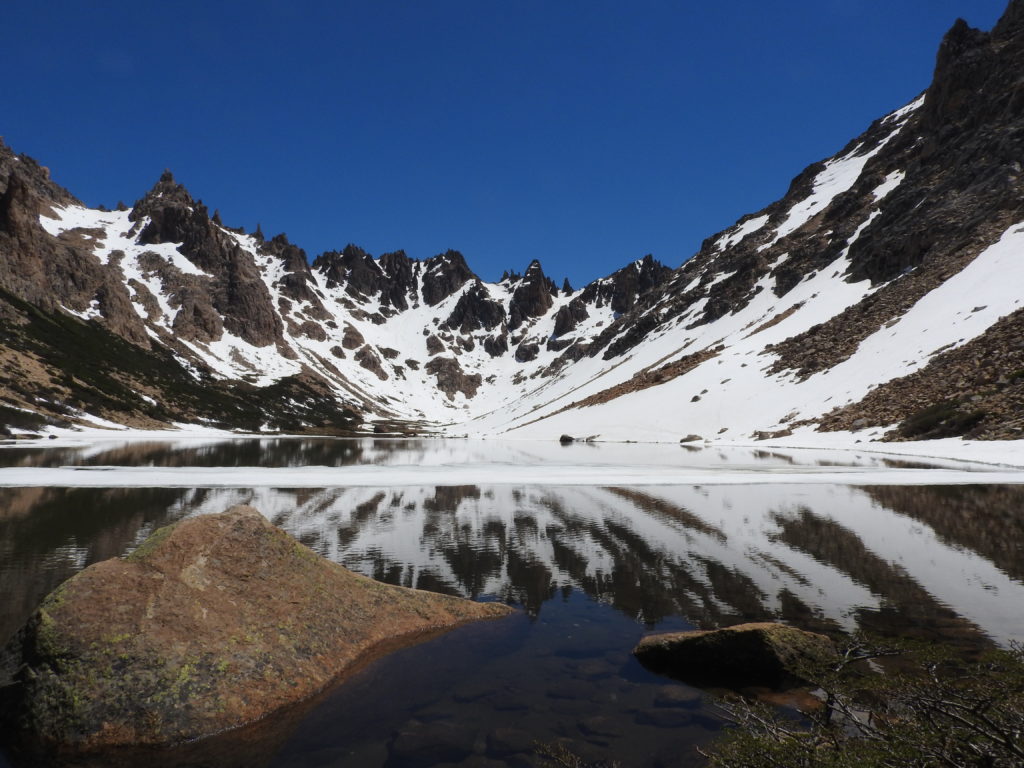 We sat down to admire the view, and what better way to celebrate than with an overpriced can of Pepsi…
After refreshments, we made the descent, and CC had conquered the mountain! She declared it one of the best walks she had been on, and was ready for more…