The main reason to come to Panajachel is to explore Lake Atitlán – which is the deepest lake in Central America, and is yet another lake formed in the crater of an old volcano. The lake itself is around 18km long and 8km wide, so it's a pretty big lake! It also sits in the highlands area of Guatemala at around 1500m above sea level, so it has a pleasant warm climate.
The local area is traditionally Mayan, and the countryside around is dotted with volcanoes and Mayan towns and villages. All of this has led to the area becoming the most popular tourist area of Guatemala – for both locals and foreigners.
There are many towns and villages around the lake, most of which can be reached by boat – so all we had to do was pick where we wanted to visit, and see what was there 🙂 At this point I should mention that I had actually visited this area before – a mere 18 years ago in 2001! So you might be expecting me to mention that things have changed a lot since then… well, if truth be told… I find it hard to remember… ! 🙂 At the time though, I thought it was pretty overrun with gringo tourists, but I don't remember too much detail… so maybe it hasn't changed at all…
So, the first place we picked to visit was called San Marcos la Laguna, and off to the boat dock we went to find a boat to get there. The boats run fairly frequently, so we didn't have to wait too long to find one. We were off! 🙂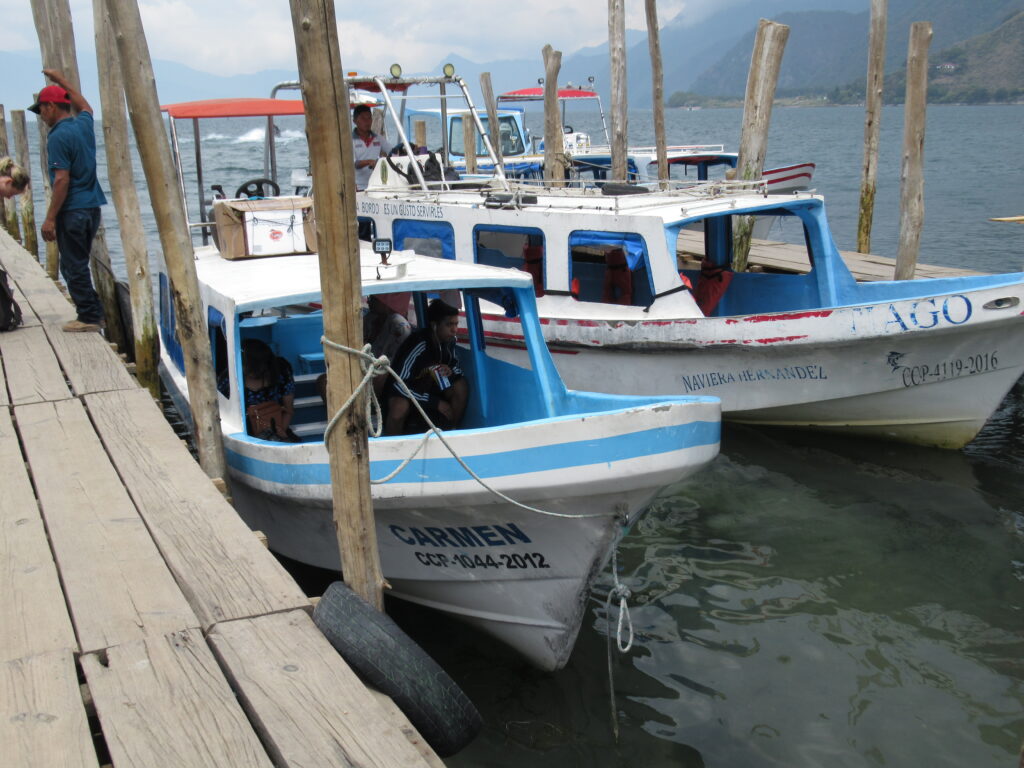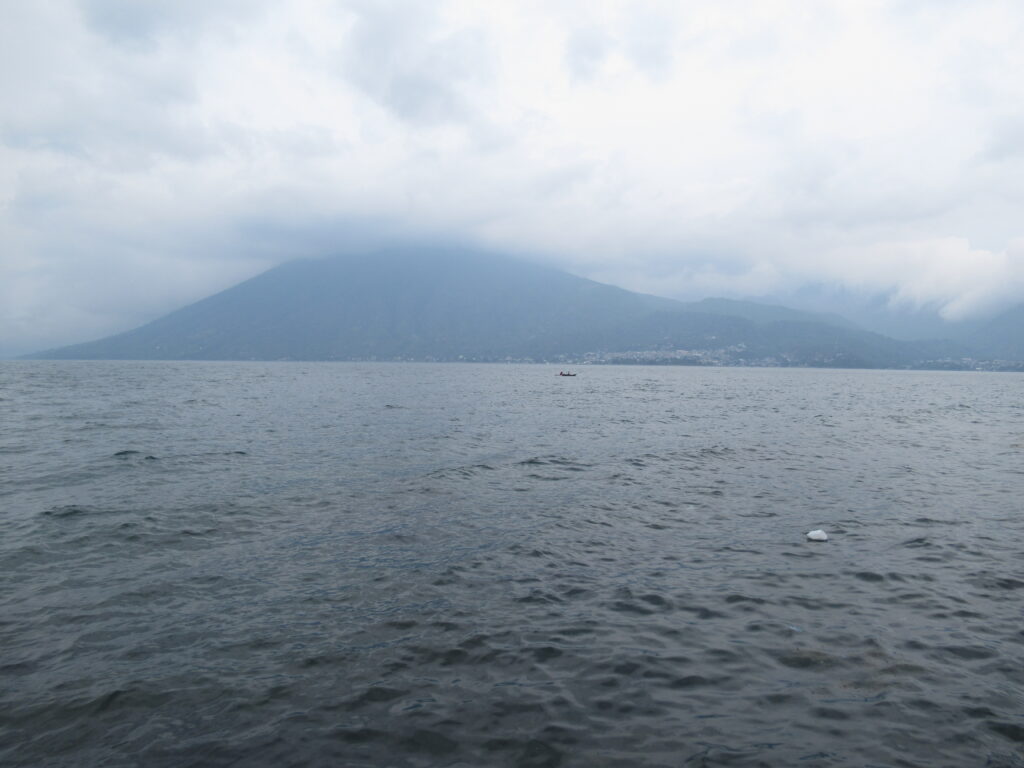 After a couple of stops at smaller villages, we arrived in San Marcos around 45 minutes later… time to explore.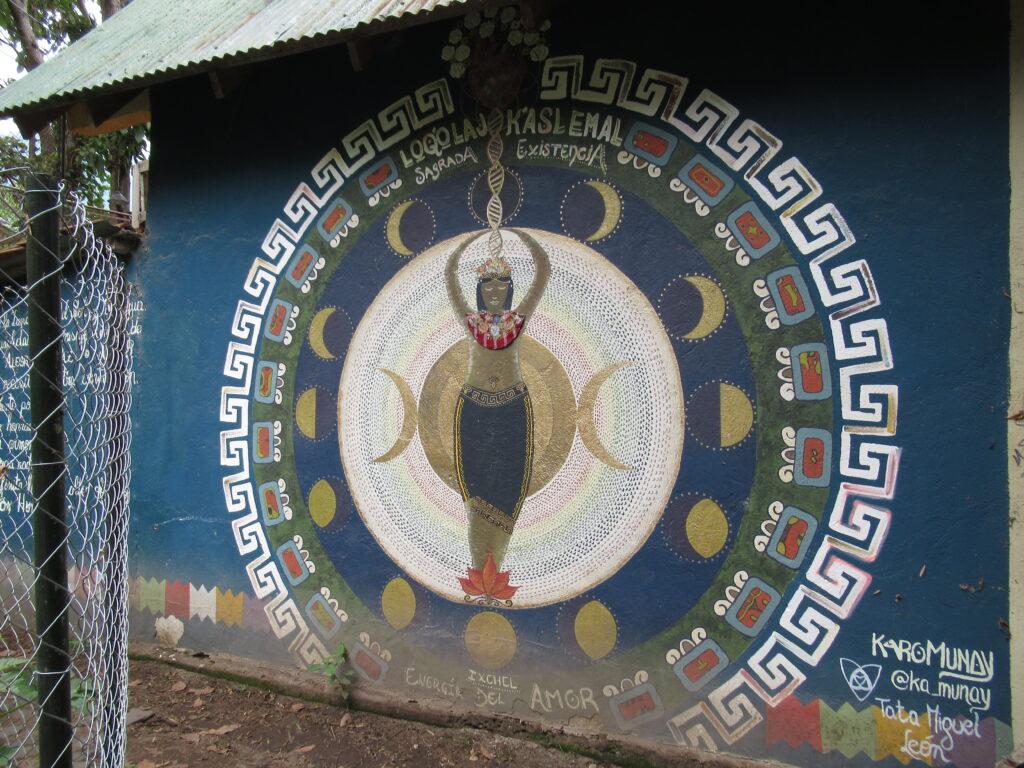 Our first destination was Cerro Tzankujil, which is a mini nature reserve with some trails and viewpoints. It's not much of a 'nature reserve' to be honest, but it had a few views over the lake. It is most famous for an area where you can jump from a great height into the water. It was pleasant enough, but a little underwhelming to be honest…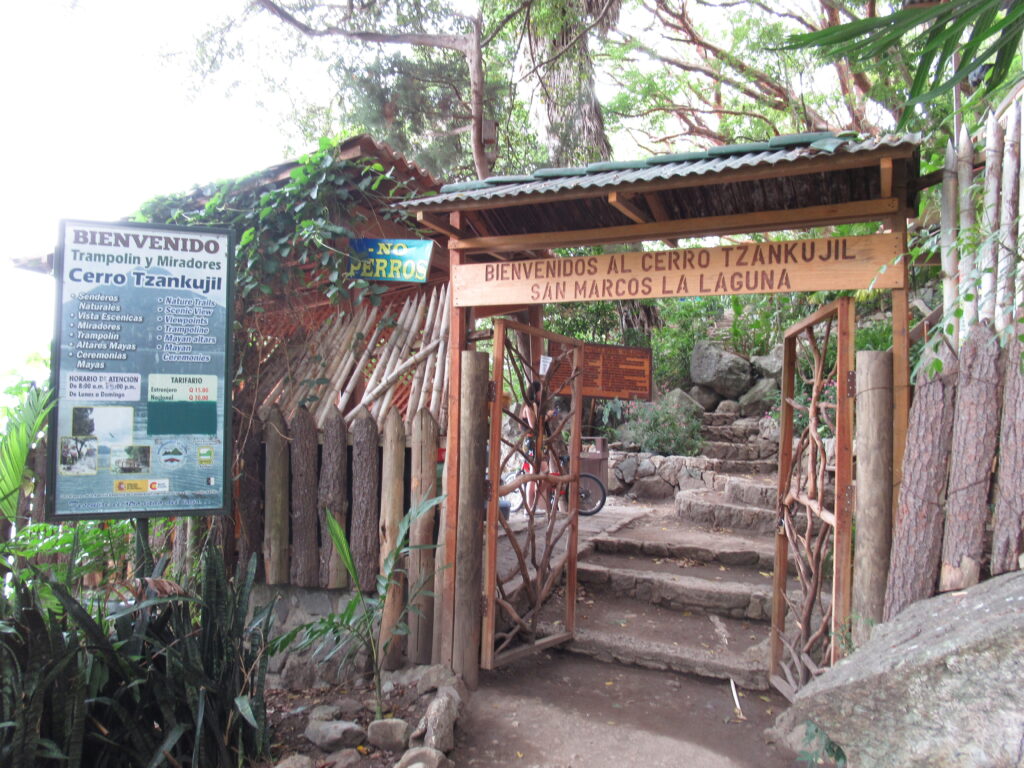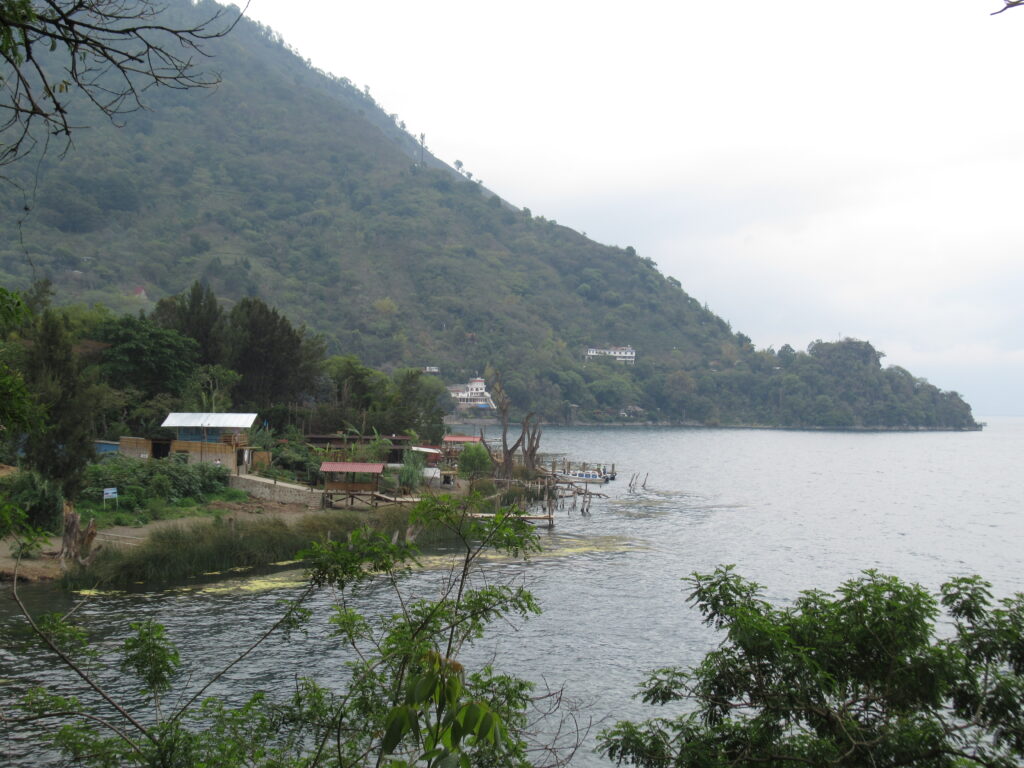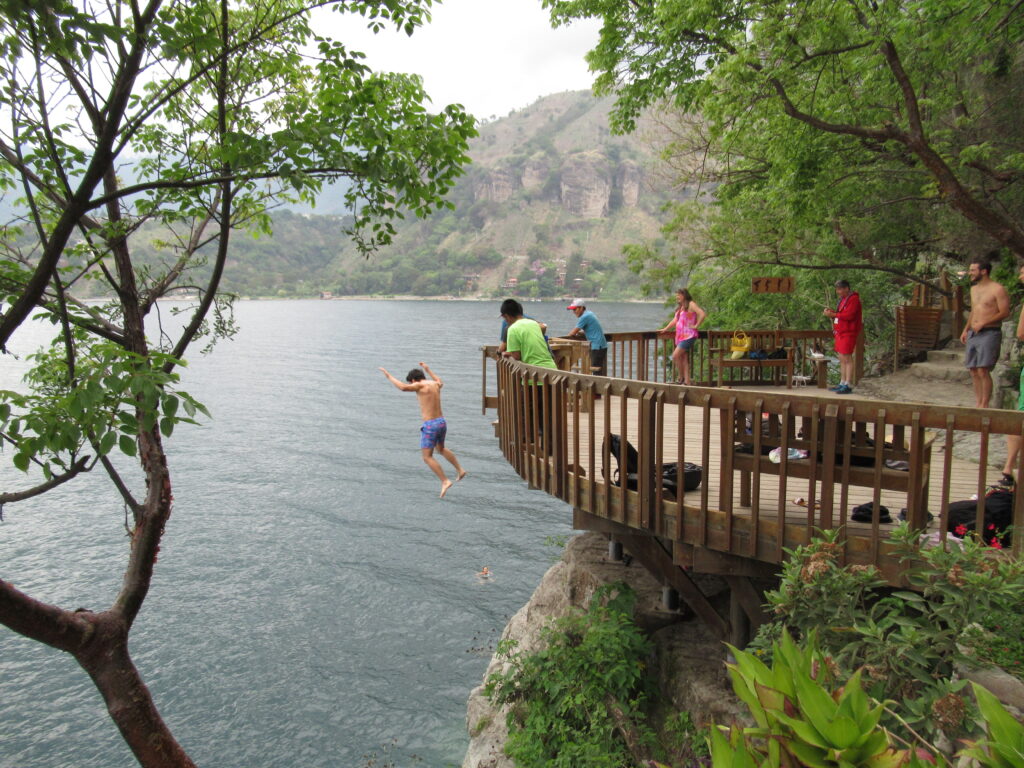 Although the views were not what you would call 'spectacular' (yes, we are very hard to please 🙂 ), we had a pleasant time watching the fishermen out on the lake.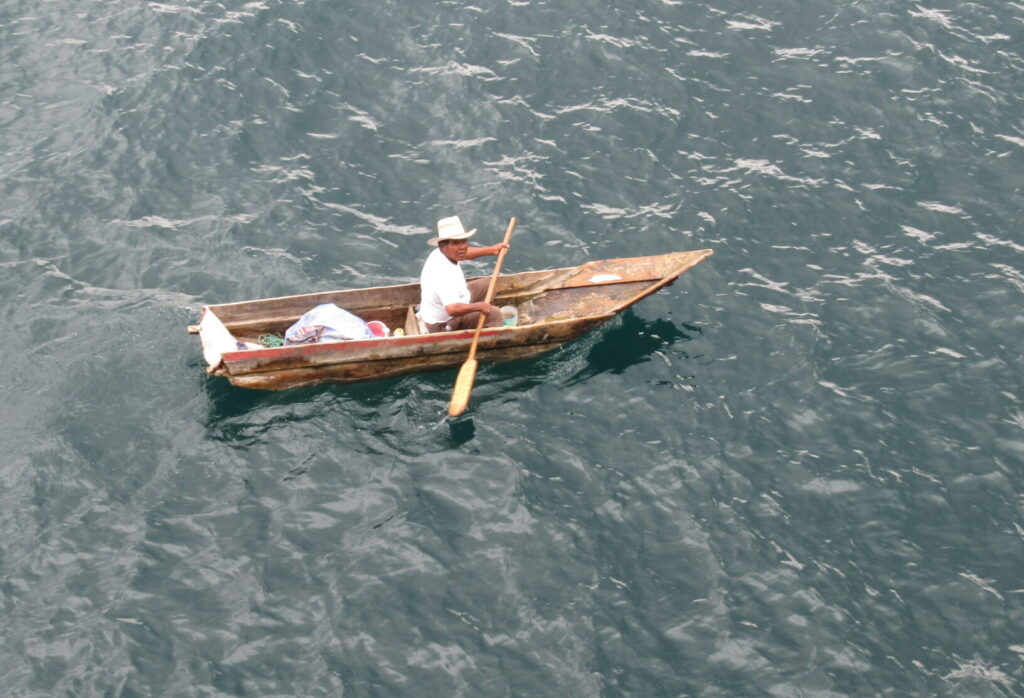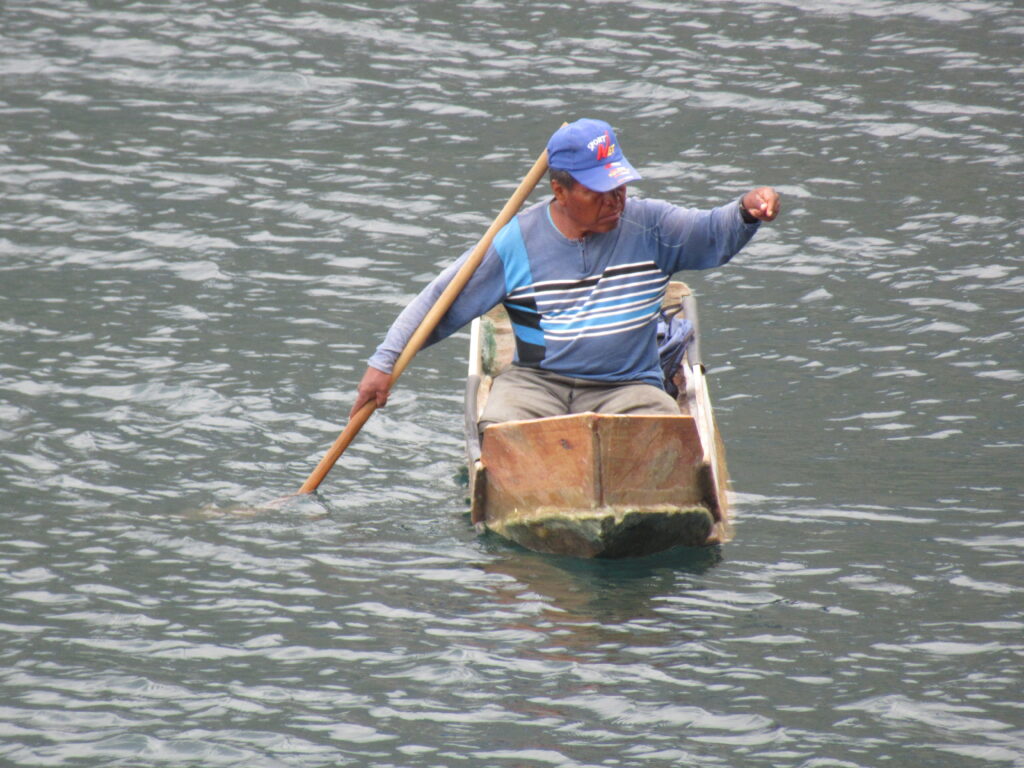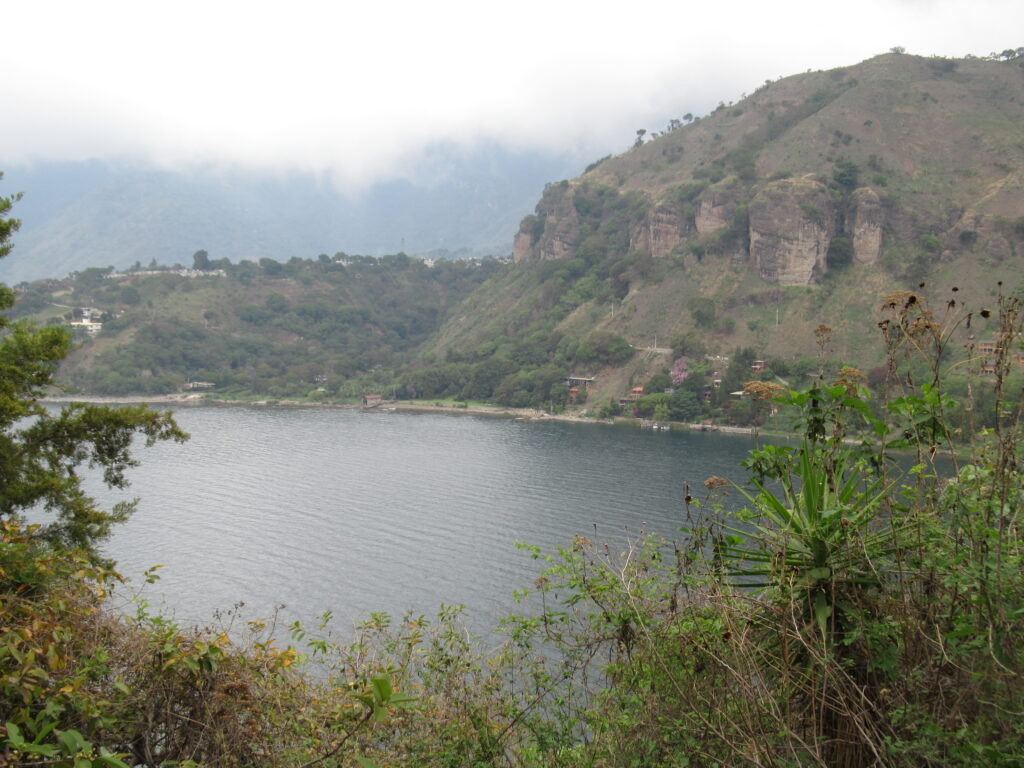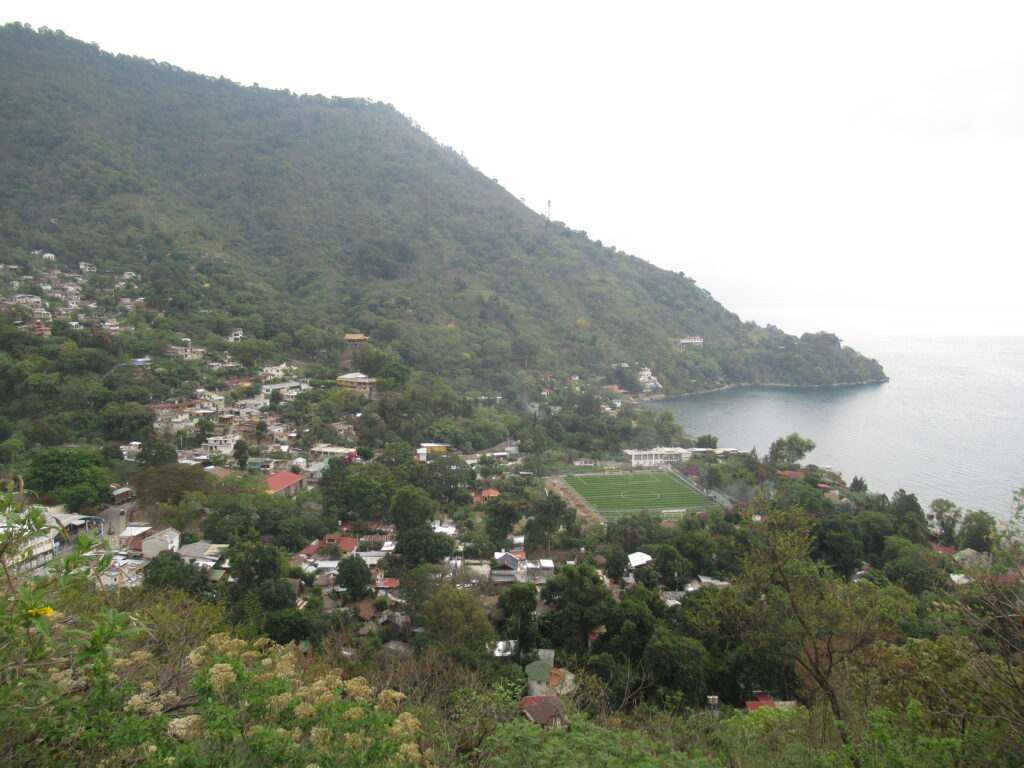 After visiting the reserve, we were ready to visit the village itself – and hopefully have some lunch. The weather was closing in, but we figured we could find a nice place to eat and shelter from any rain that came along.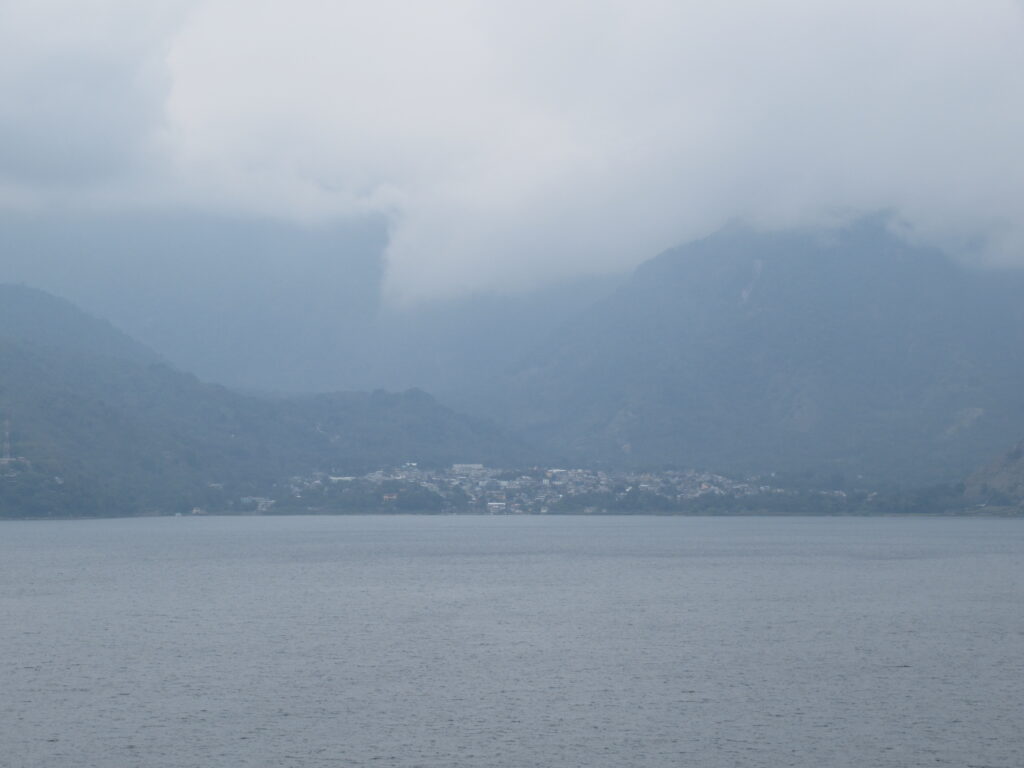 The village seemed to be split into two areas – a hippy gringo area by the lake, and a Mayan area further up the hill. A sign informed us that 3675 people lived in the village, and that the language spoken was called 'Kaqchiquel'. I wondered if the stats included all the hippy gringos living there…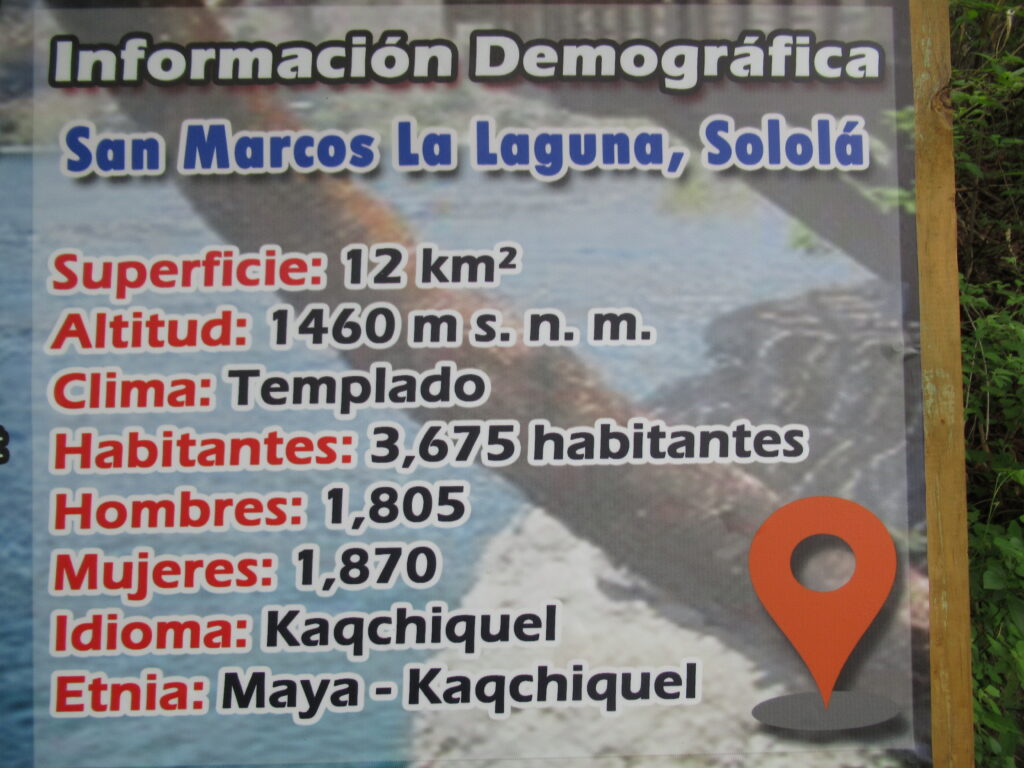 As we strolled into the village we noticed an abundance of yoga courses, vegan restaurants, reiki services, massage parlours, meditation centres, spiritual awareness courses, 'chill-out' areas… yes, you get the picture… The streets were full of hippy-looking backpackers wearing colourful trousers, and our quest for lunch didn't look promising – every cafe seemed to be full of overpriced pizza and banana pancakes. I'm not saying that the place was a stereotypical backpacker ghetto, but… oh wait, yes I am saying that!
So, I'm going to come right out and say that we hated this place and thought it was terrible. Yes, that's our offical verdict. For a while afterwards we thought that it was just because we were old, jaded, tight-with-money, miserable anti-backpacker curmudgeons – but we later met another couple who felt exactly the same way about it, and they were only in their early 30s – so we figured that we must have been right all along! 🙂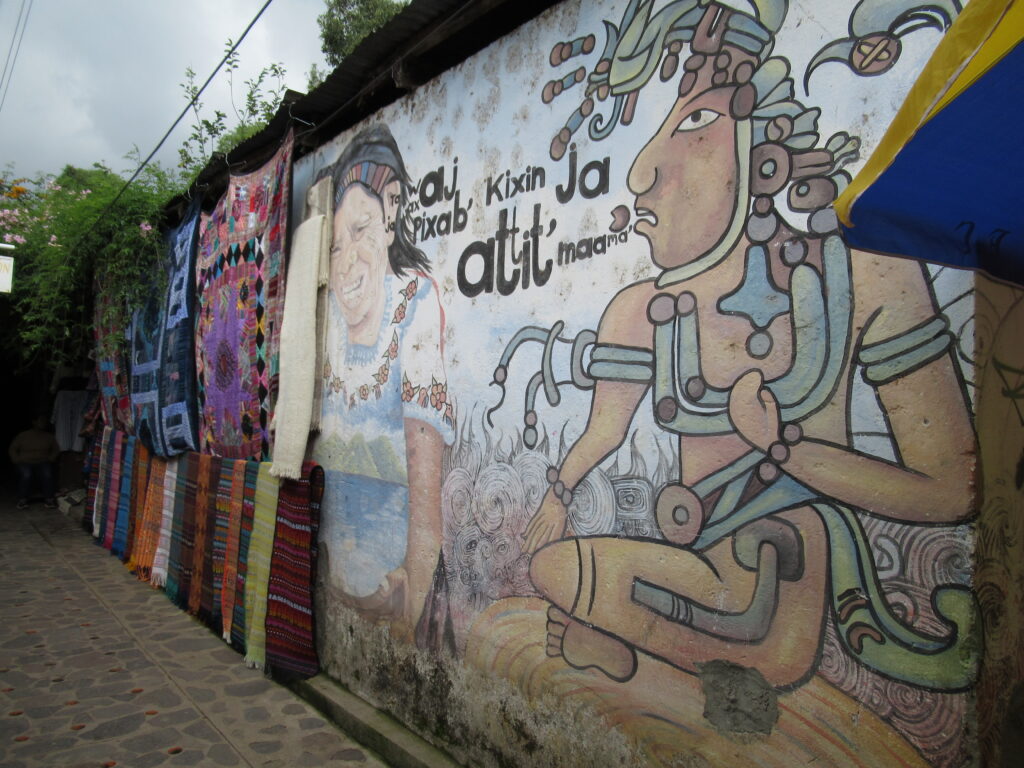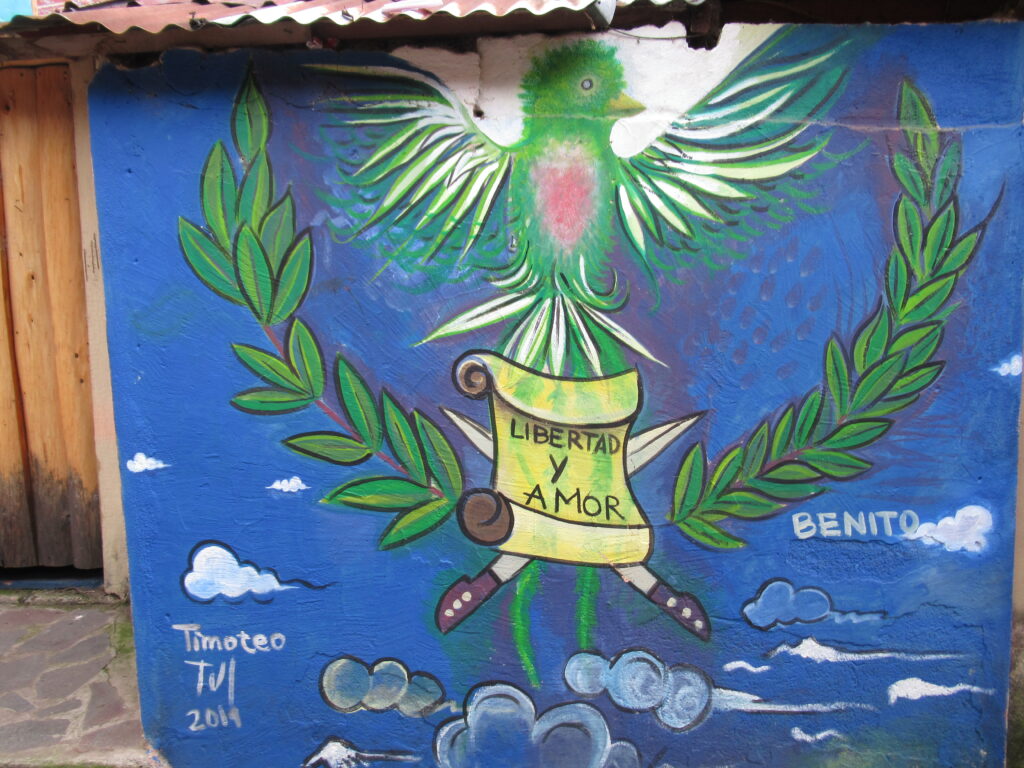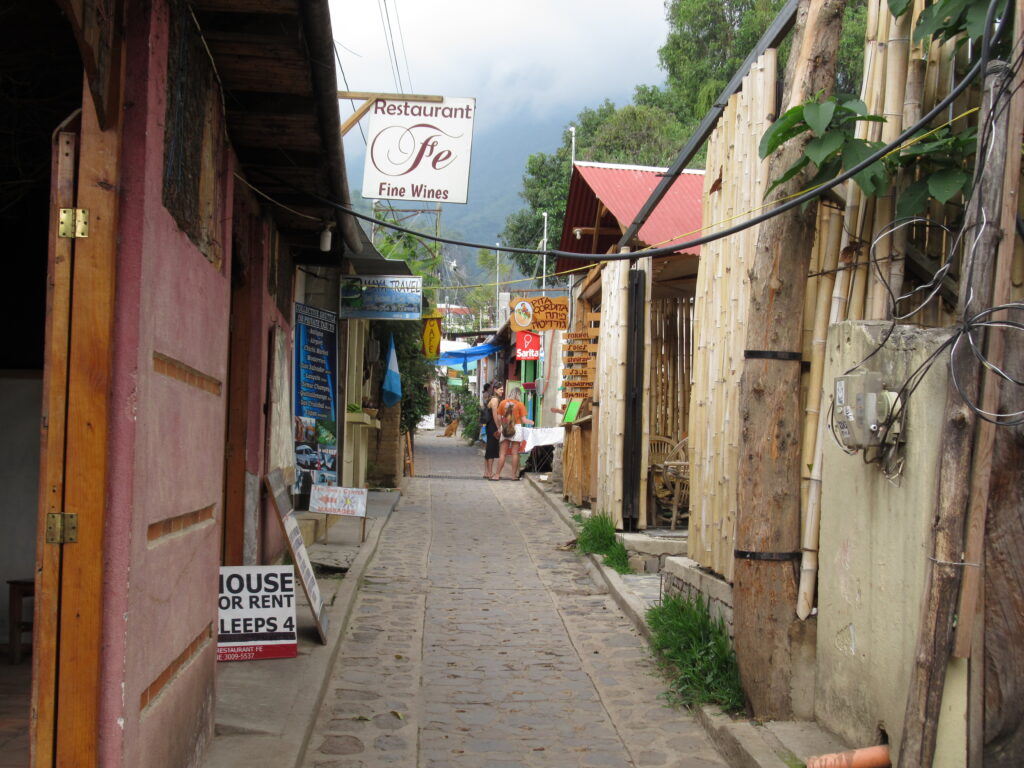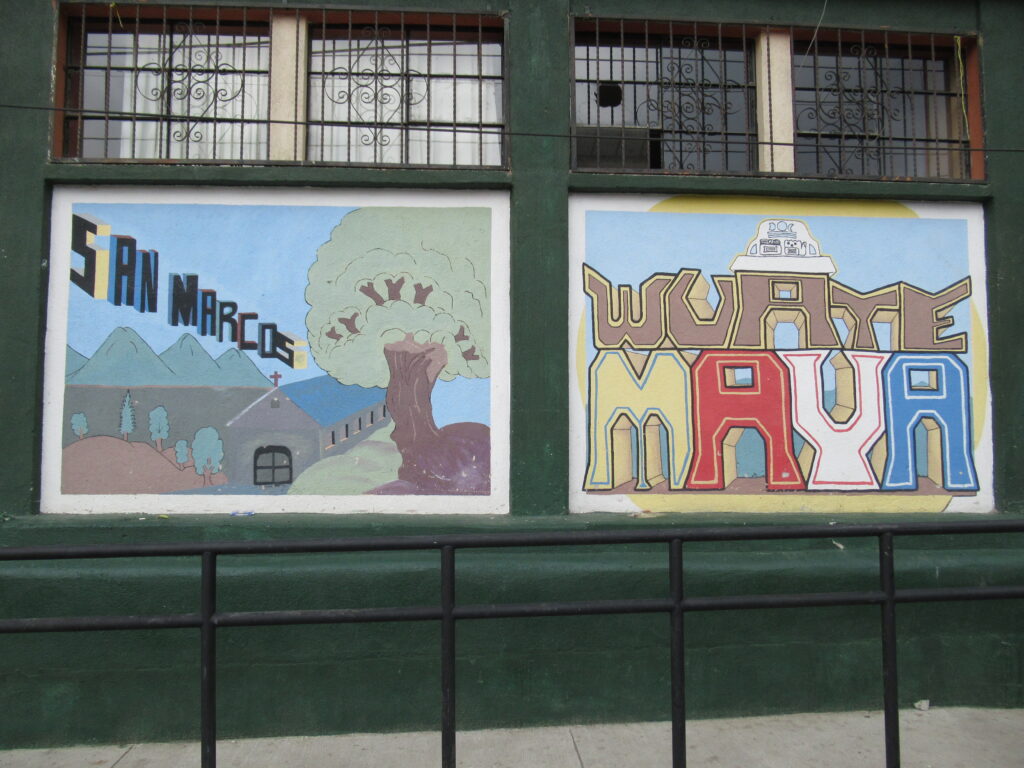 We strolled past the cafes and restaurants, getting hungrier by the minute – but we still couldn't bring ourselves to actually eat in one of them. Suddenly the backpacker strip ended, and we found ourselves in the main square of the local part of town. Our hopes lifted at the prospect of perhaps finding a good lunch up here – but alas, the village itself is very small and doesn't really have any eating establishments.
The village up here was quite a contrast to the streets below – it was pretty much a rural Mayan community just getting on with its daily routine. We had a quick stroll around, and checked out the main square.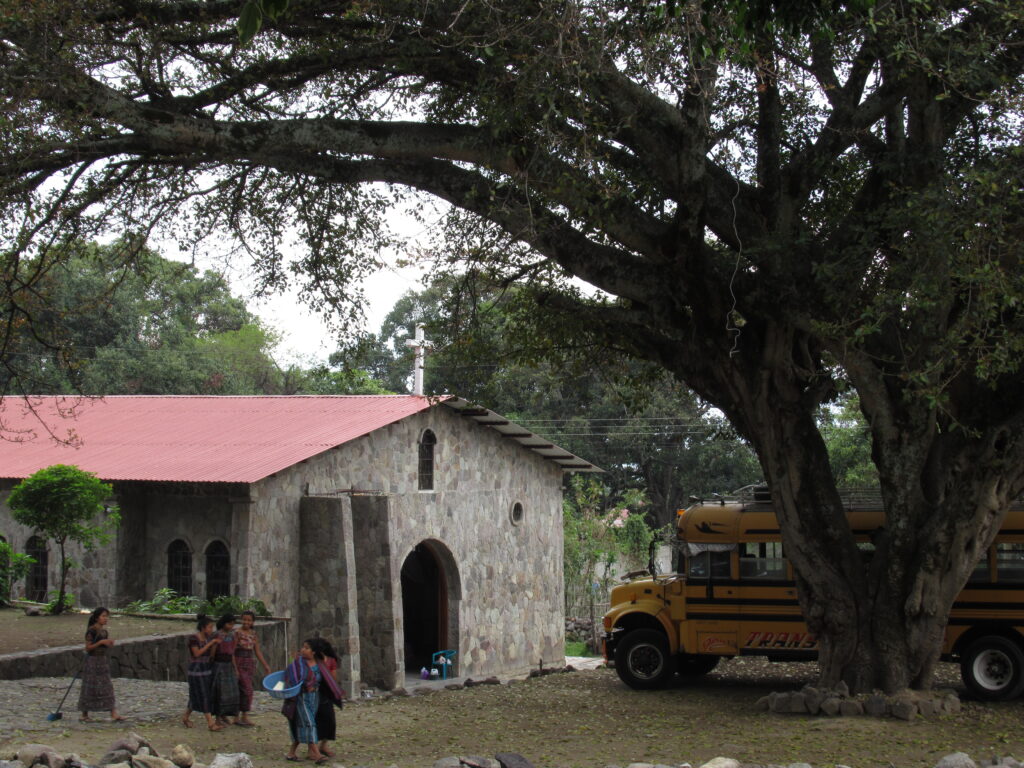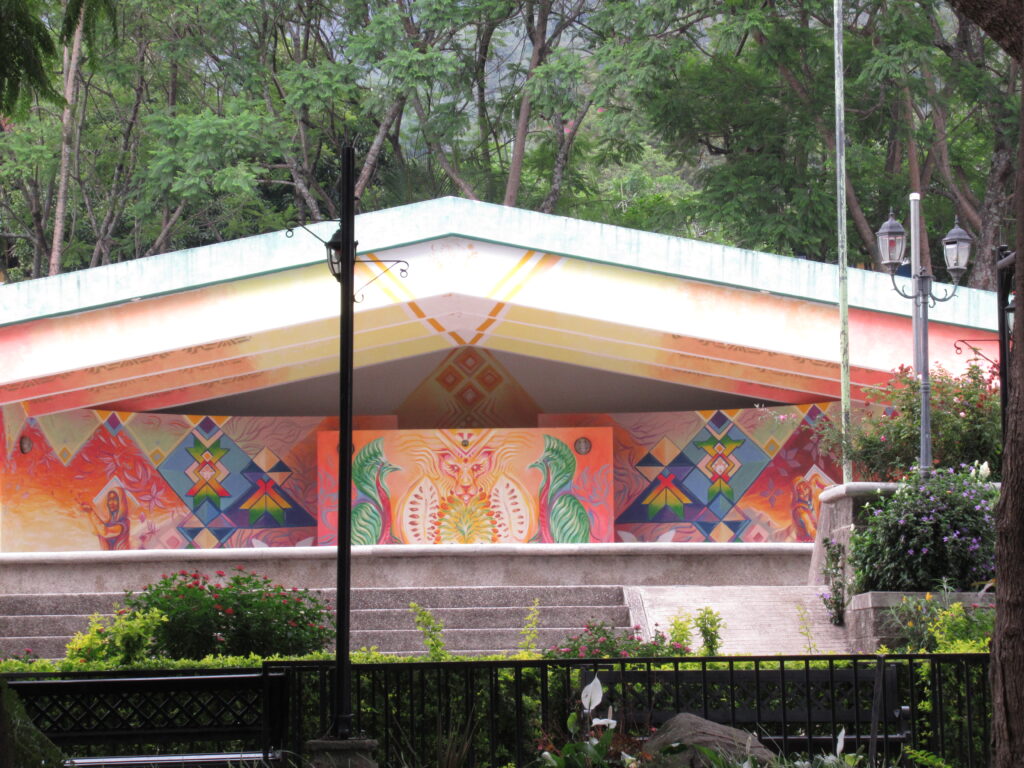 After our quick stroll our hunger levels were even higher. We had two choices: Either go back down to the backpacker ghetto, or have chicken and chips from an old lady with a cart in the main square. It started to rain…
Despite the rain, we still decided that we would prefer to stay up here… chicken and chips it was! 🙂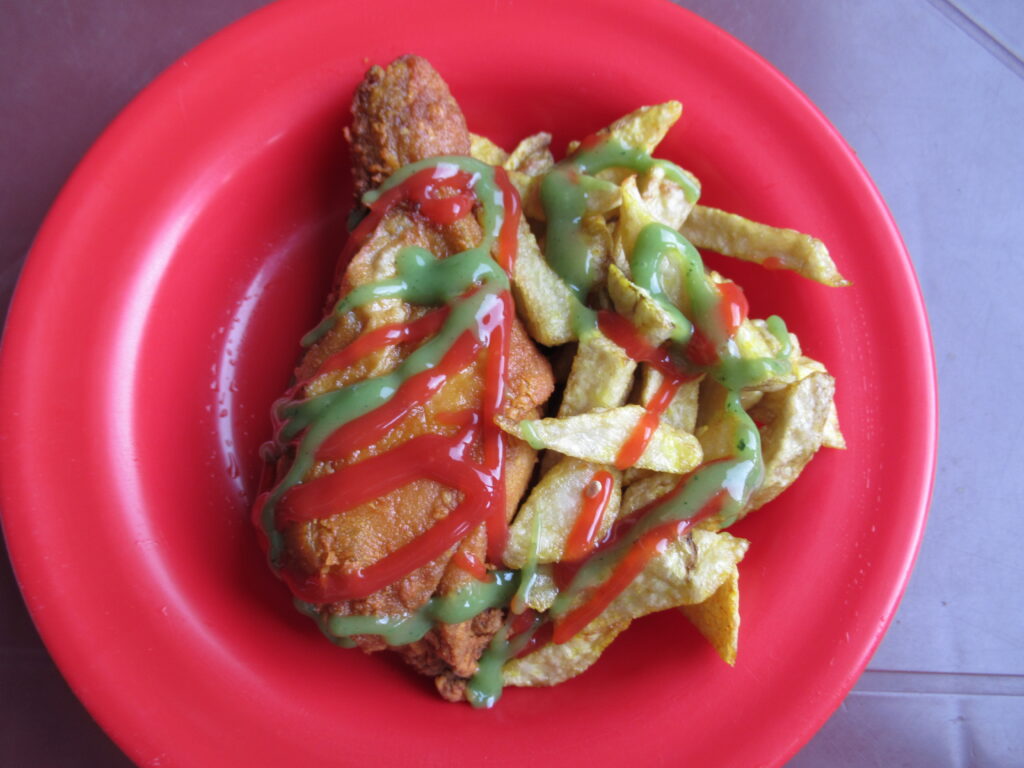 As we finished our lunch and the rain got heavier, we headed back down towards the water. We had originally planned to take another boat to a second village, but we were wet and deflated – San Marcos had defeated us… we decided to just take the boat back to Panajachel.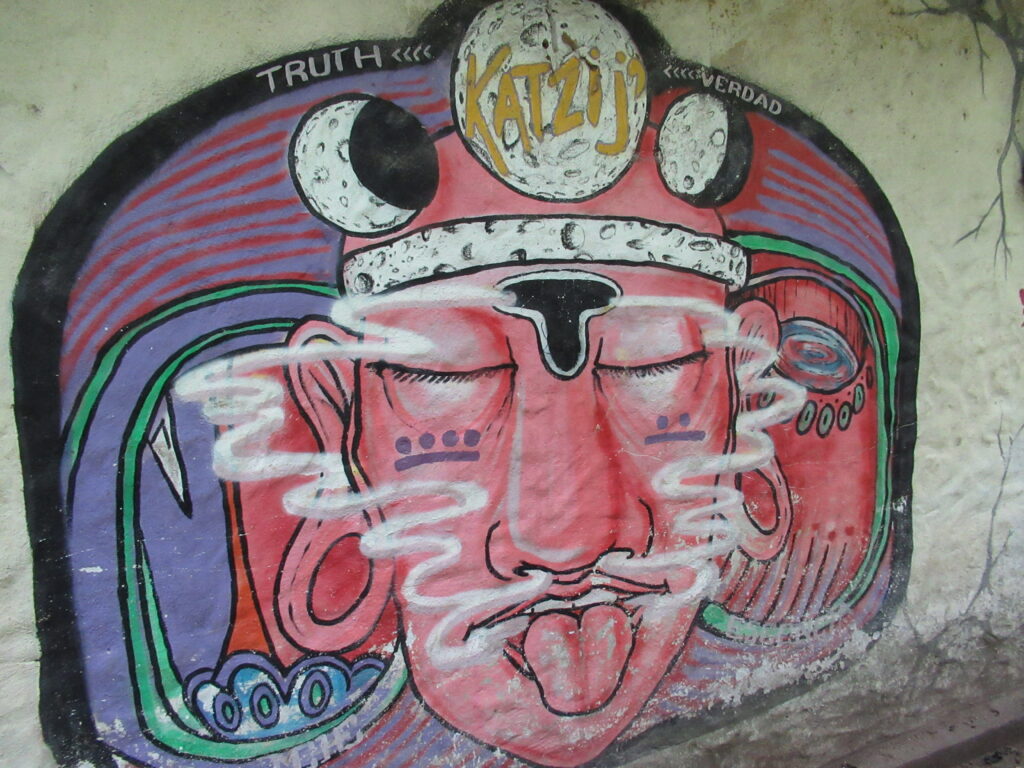 As we boarded our boat back across the lake in the heavy rain, we took one last look at San Marcos, and officially declared the day to be 'a big disappointment'…. 🙁