Our next trip out from Panajachel was to visit the town of Santiago Atitlán, which is the largest town on the lake. The weather today was a lot better and we had nice views of the volcanoes around the lake. Our main reason for coming to visit was to see the famous(ish) 'Maximón' – a Mayan deity and saint, who is revered in the local area. How do you visit a deity? More about that later….
The boat journey took around an hour, and we soon found ourselves approaching the town.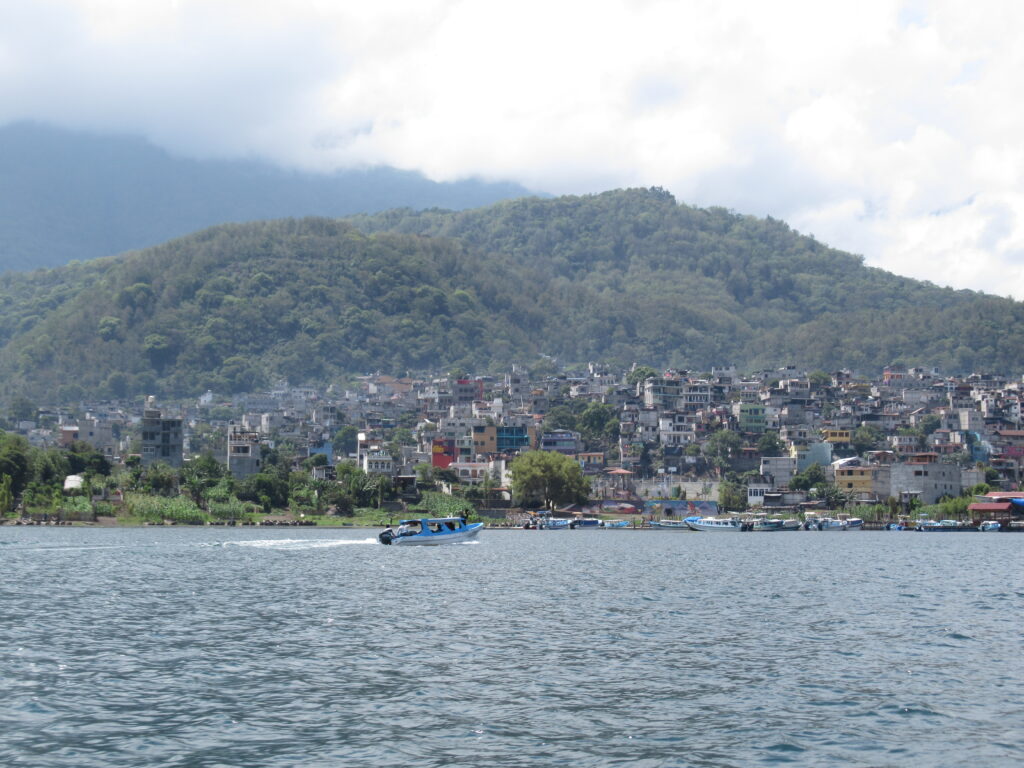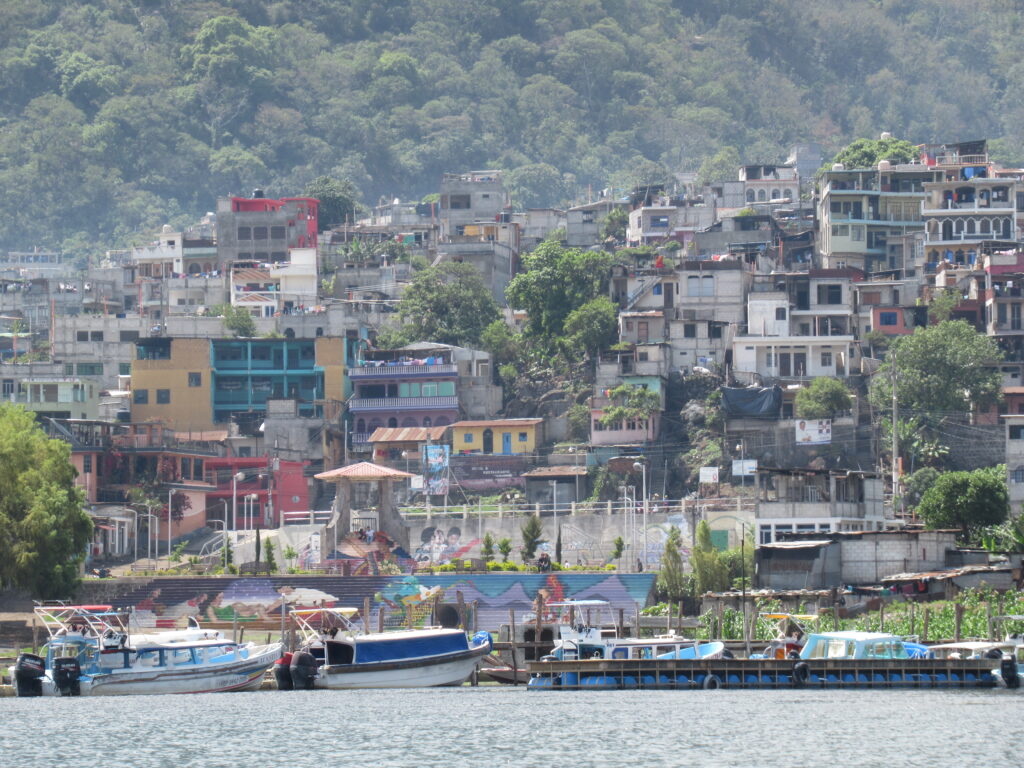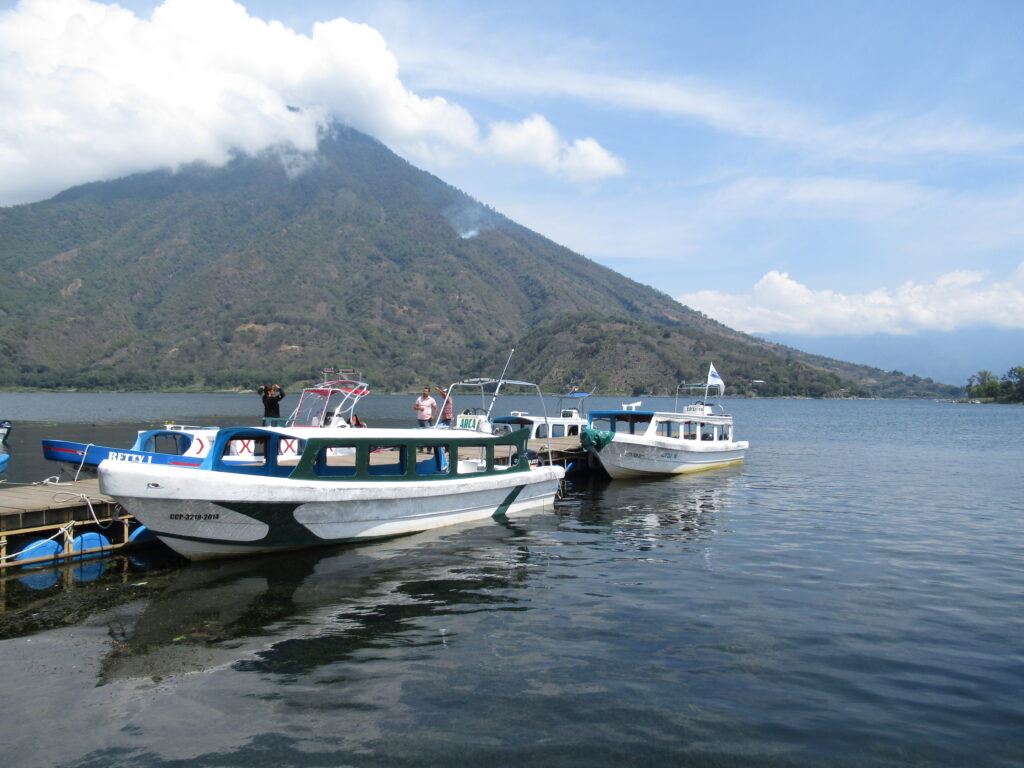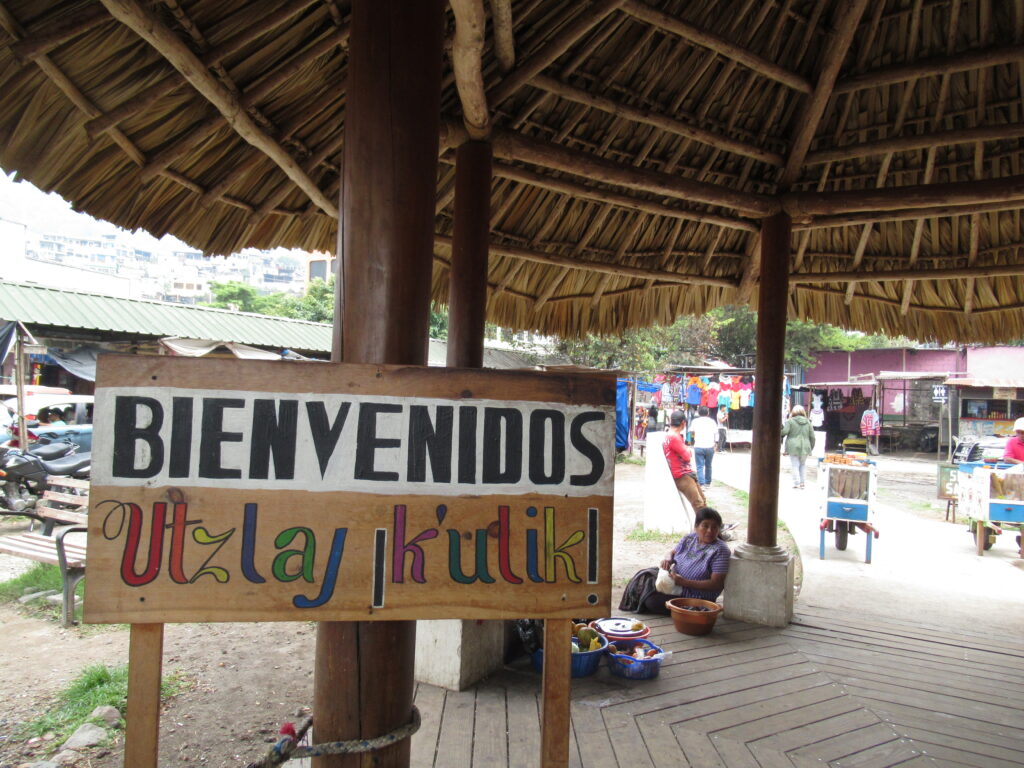 At the dock there were a fair few tourist touts and moto taxi drivers – we figured that they wouldn't be offering us the best prices to take us to Maximón, so we ignored them and strolled up the hill into town.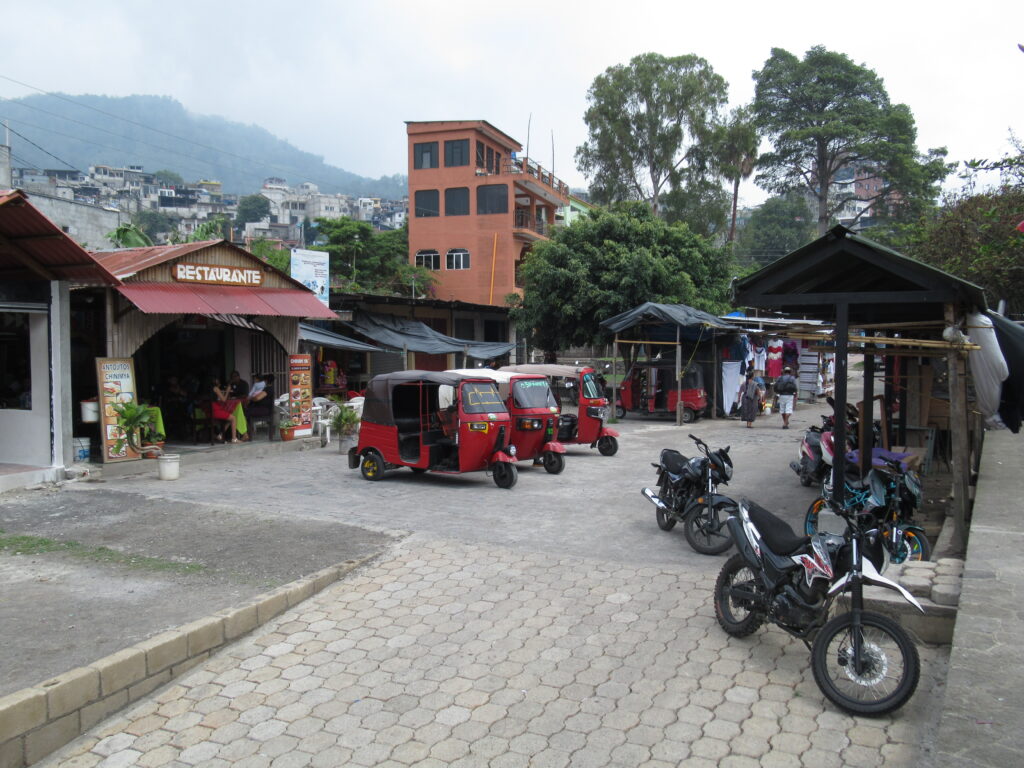 The town itself was great for wondering around, there were shops, markets, and people everywhere – it was full of life (and also largely devoid of hippy backpackers 🙂 ) We spent a good hour or so looking around the streets, market, and main square.
The town is a Mayan cultural centre, and was the ancient capital of the Tz'utujil Mayas. Most of the residents are indigenous Mayans, and it has a long and tumultuous history. It was the scene of a massacre by the Guatemalan Army, and the assassination of a priest during the civil war in the 1990s.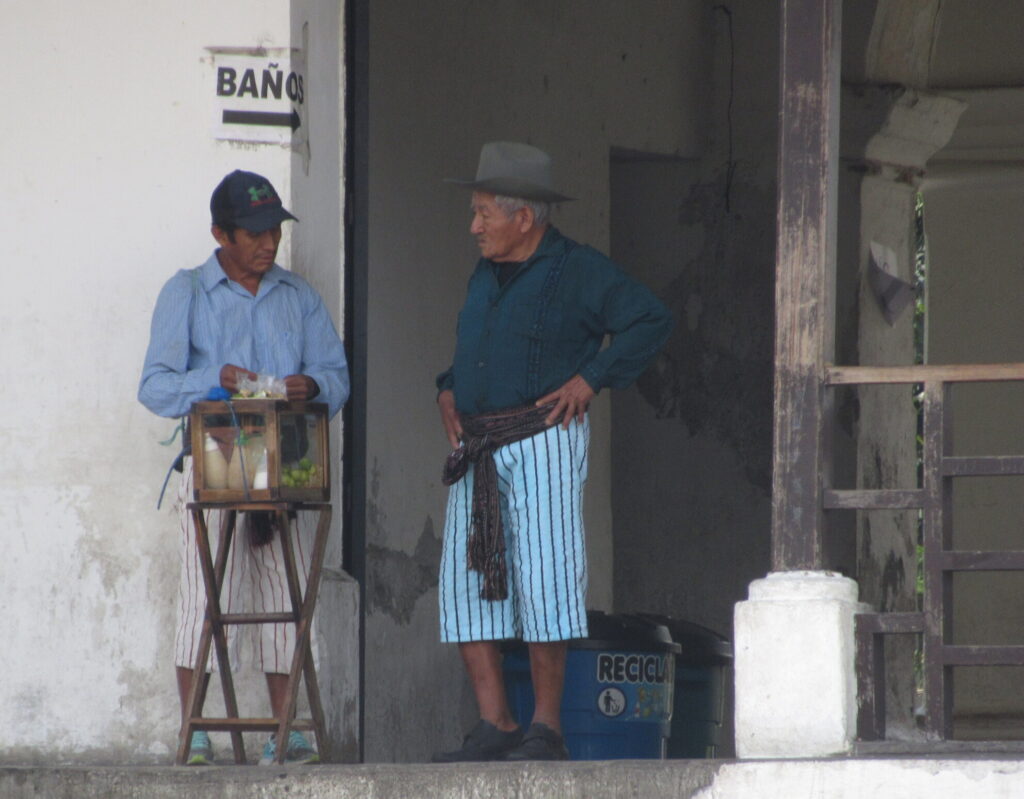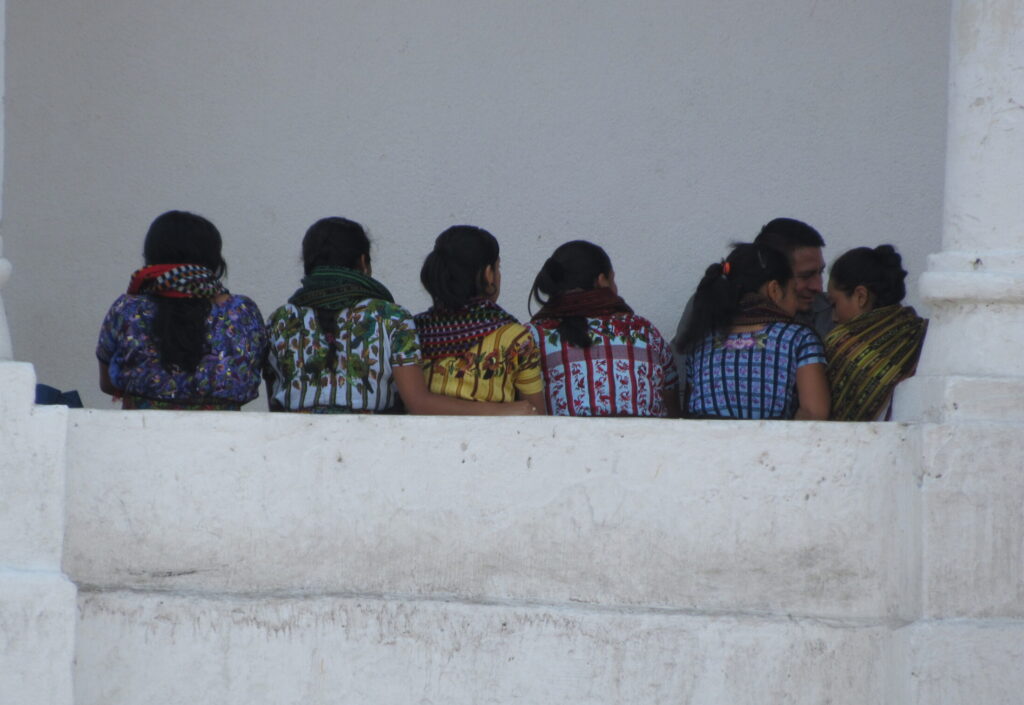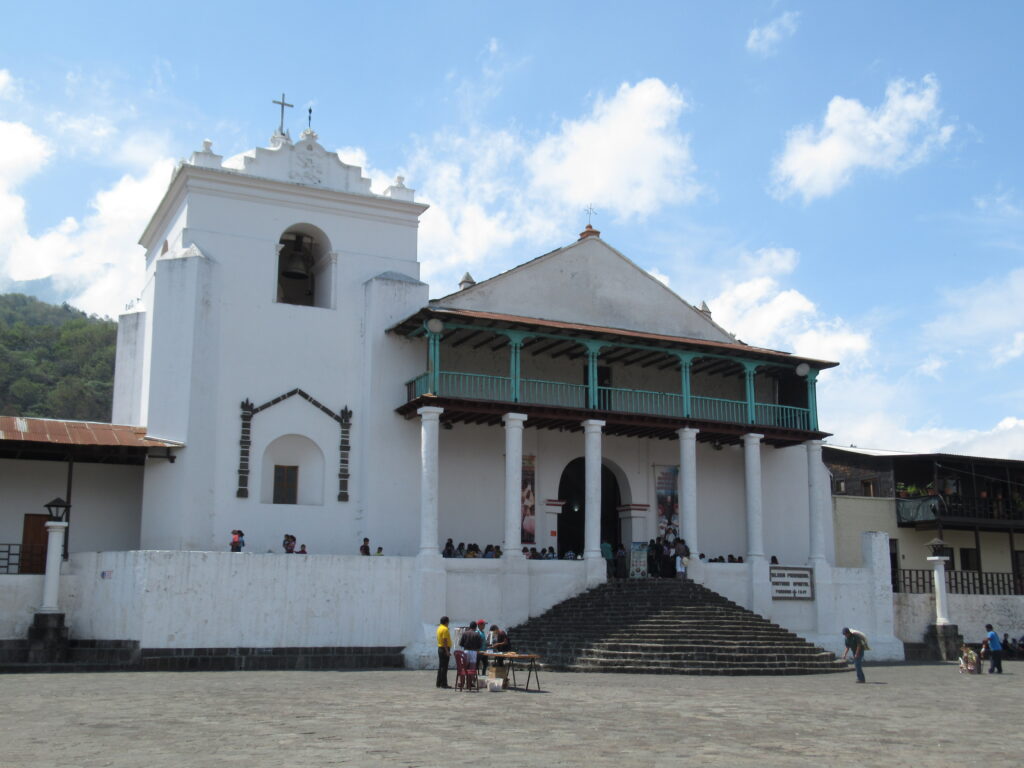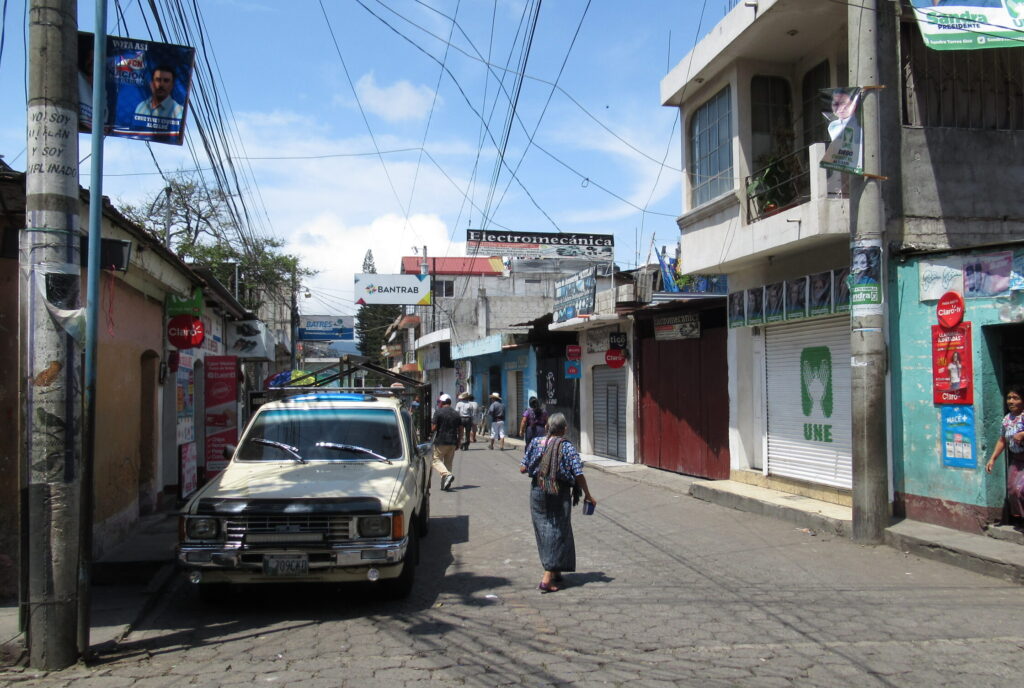 After our stroll, it was time to try and visit Maximón! I say 'try' and visit, because in fact Maximón is moved to a different secret unmarked location every year…  Only locals know where Maximón is, so if you want to find him then you either have to keep asking people to point you in the right direction, or take a moto-taxi there (the driver will know where he is…). We opted for the moto-taxi option, and soon we had arrived at the secret location…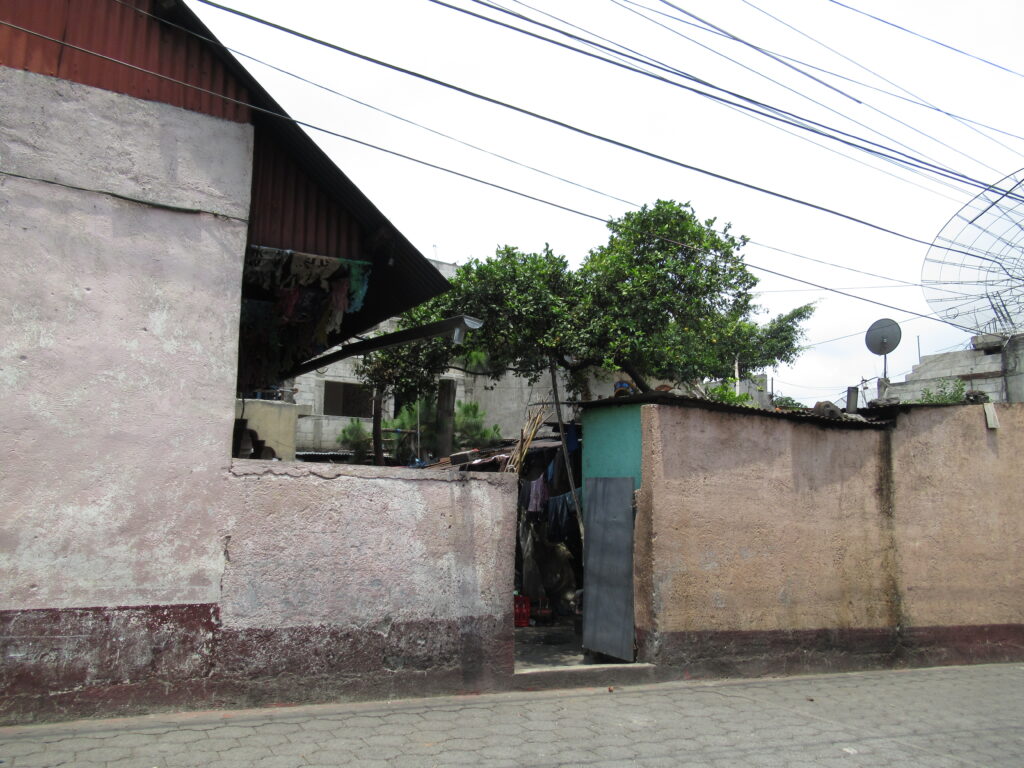 Maximón is also known as San Simón, and is supposedly a blend of many different historical figures, both from Mayan folklore and from Christianity. He is worshipped and represented in many different ways amongst the Mayan communities of Guatemala. In Santiago de Atitlán he is taken out into the streets every Easter, and taken to a new household where he will spend the year.
Maximón has designated 'attendants' who must sit with him at all times during the day. The attendants take turns, and there must always be one person sitting on either side of him. This is lucky for Maximón, as he is a chain smoker and somebody needs to keep flicking the ash from his cigarette and replacing his cigarettes when they are finished (no, I'm serious…). Maximón also likes to drink rum and is apparently a bit of a womaniser. So obviously a perfect candidate for veneration! 🙂
Making a pilgrimage to visit Maximón is a popular pastime, and because of the 'touristy' nature of the area, it is quite set up to also allow tourists to pay their respects. This takes the form of 'official pricing' – whereby you can visit Maximón for 2 quetzals (around 30c), and also pay 10 quetzals for permission to take 3 photographs. This money is used to keep Maximón supplied with cigarettes and rum.
You can also make direct offerings of cash, cigarettes or rum to Maximón whilst asking him to grant you good health, love, or whatever else you might request from a saint. Shamans are also available to perform special ceremonies in your name.
Maximón is made of wood and covered in bright scarves. He has a hole in his mouth for a cigarette, and also a small cavity behind the hole so that he can drink rum! 🙂 Yes, Maximón drinks rum by being tipped backwards and having it poured into his mouth. 🙂
As we entered, we found a room filled with incense smoke and a heavy odour of rum. There were the two attendants sitting by Maximón, and quite a lot of very drunk looking people sprawled along a bench at the back…. perhaps they had been drinking some of Maximón's rum…
There were a couple of other tourists in there, five or six locals, and luckily for us – a shaman – who was about to perform a ceremonial offering. The whole experience was quite surreal, and we stayed for quite a long time as the ceremony was pretty long! We really wanted to see Maximón drink rum and we felt that we couldn't leave until we had seen him drinking! 🙂
We also learnt that Maximón doesn't chain-smoke and drink rum 24 hours a day, as he has a 'bedroom' upstairs and at night they put him to sleep in his bed!
The whole experience was interesting, enjoyable and somewhat strange, and here I present our 'three official photographs'…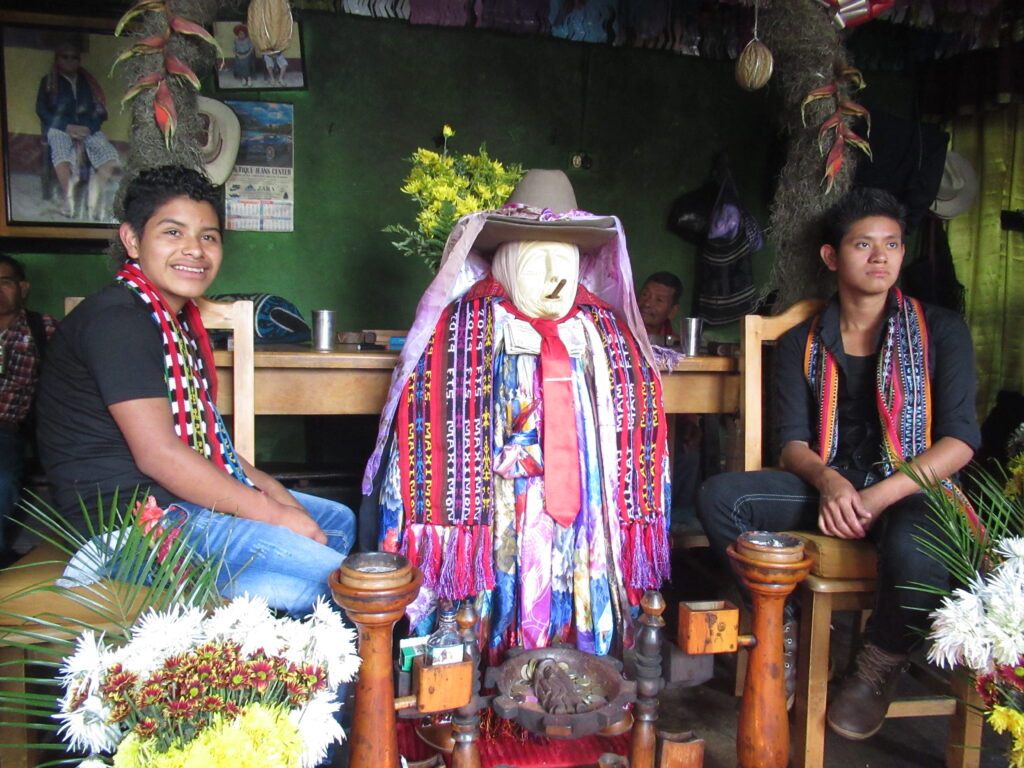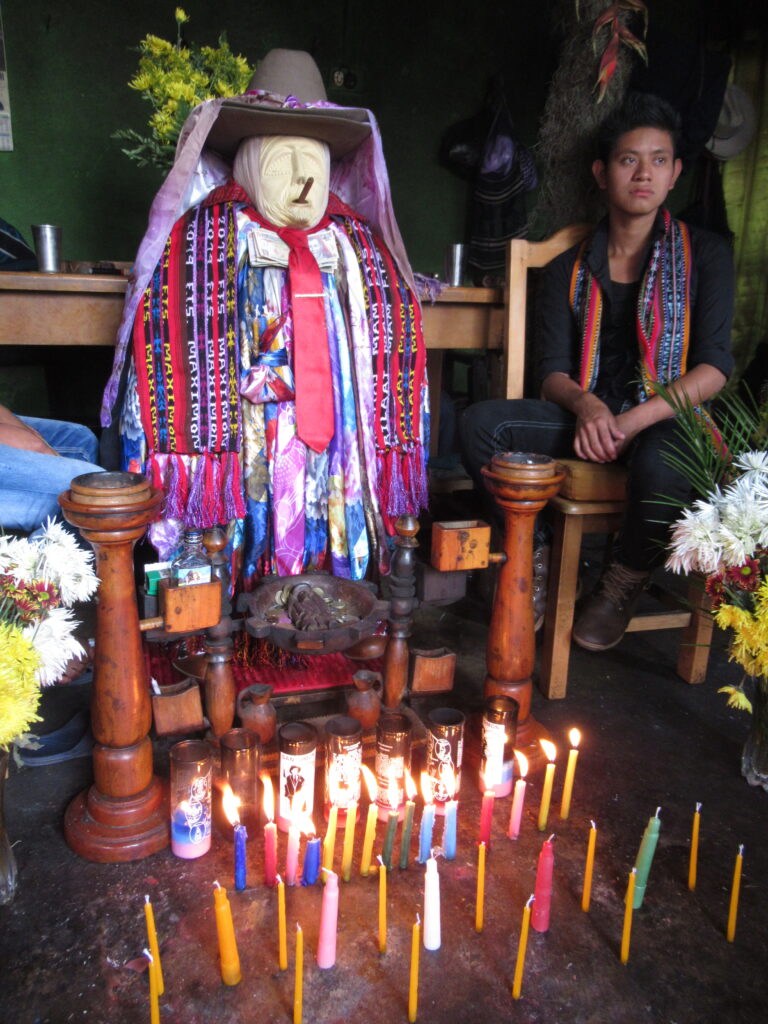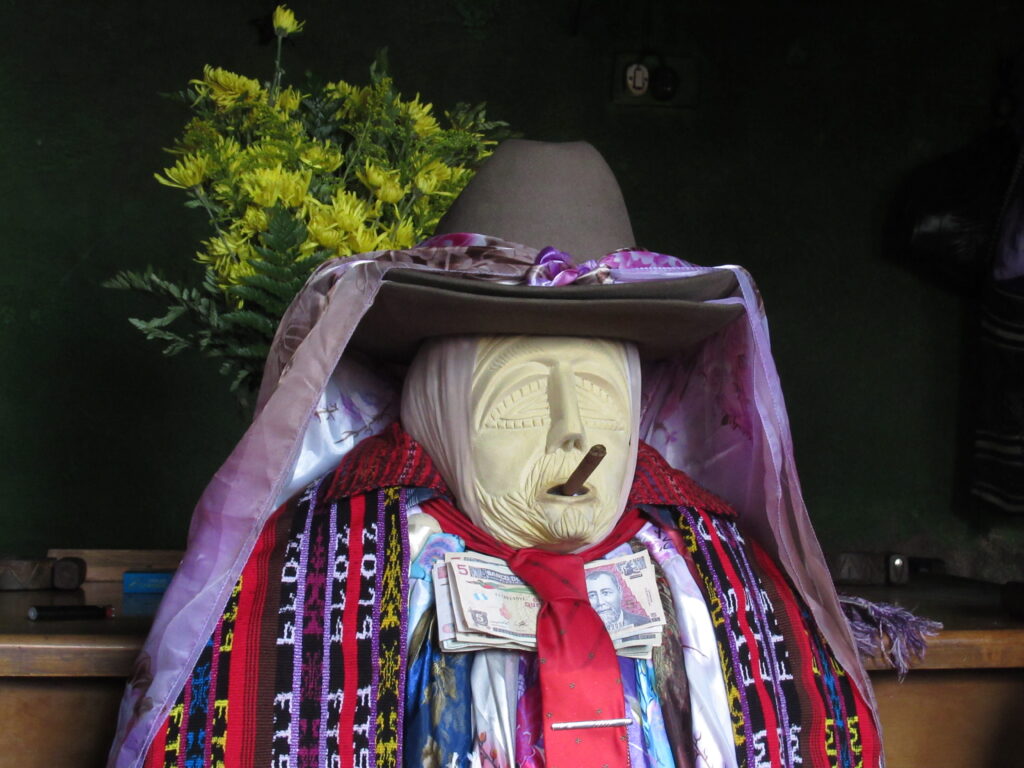 During our moto-taxi ride to the house of Maximón we had noticed that we hadn't come particularly far from the centre of town, so when we left, we strolled back down towards the main square in search of lunch.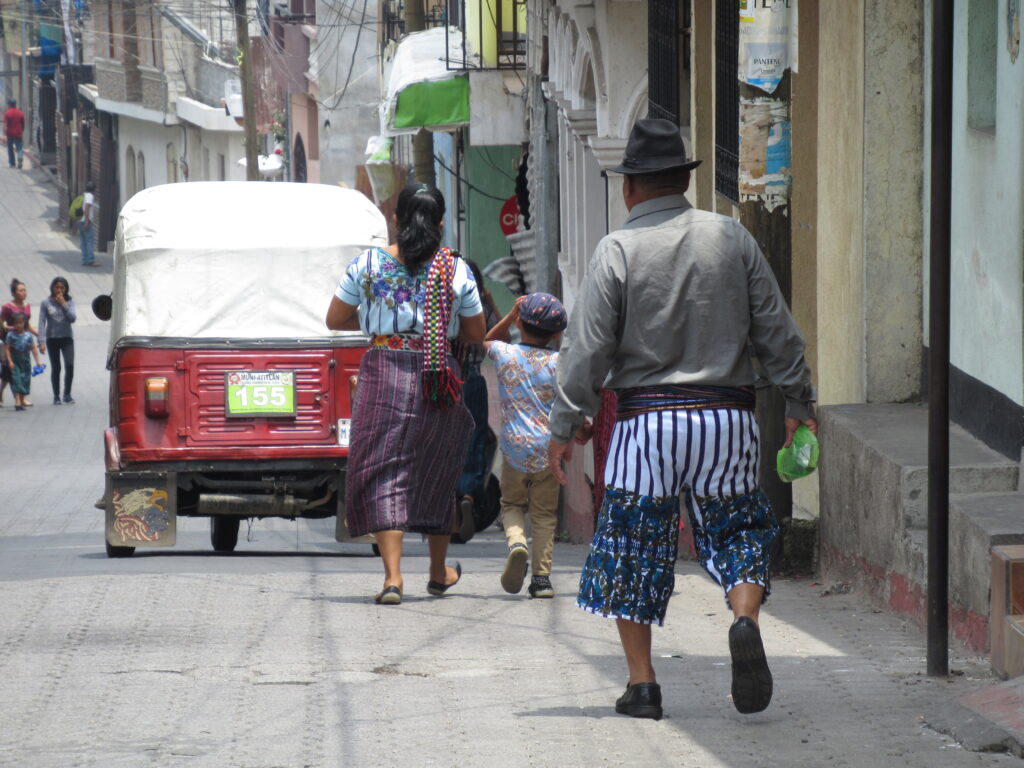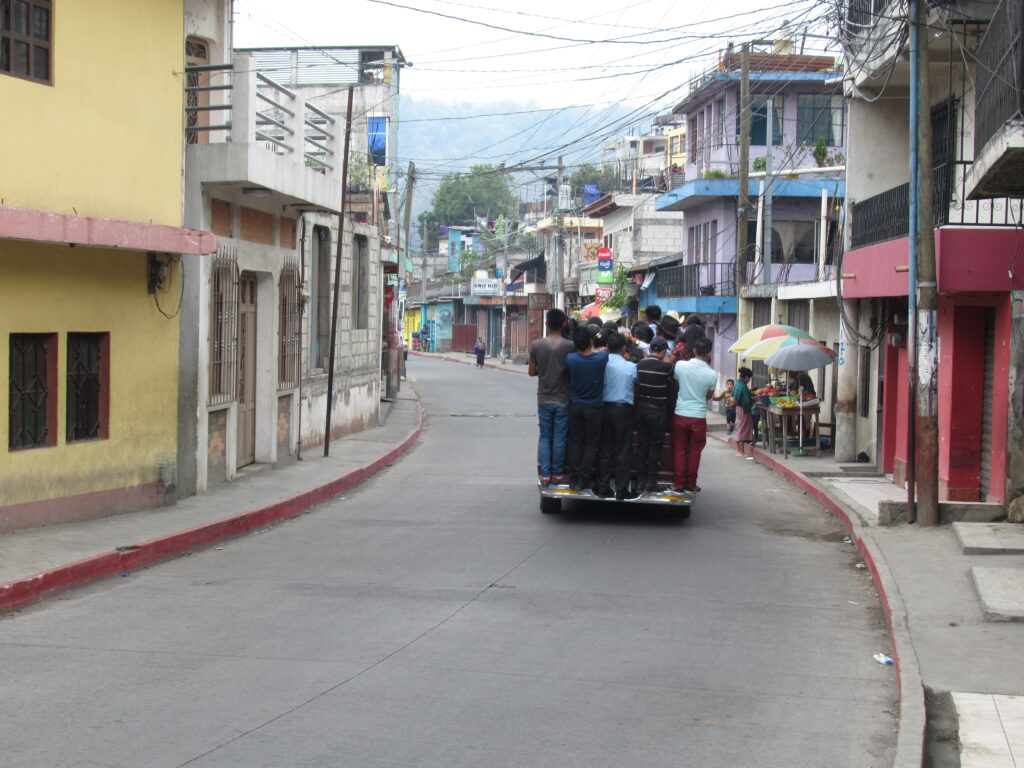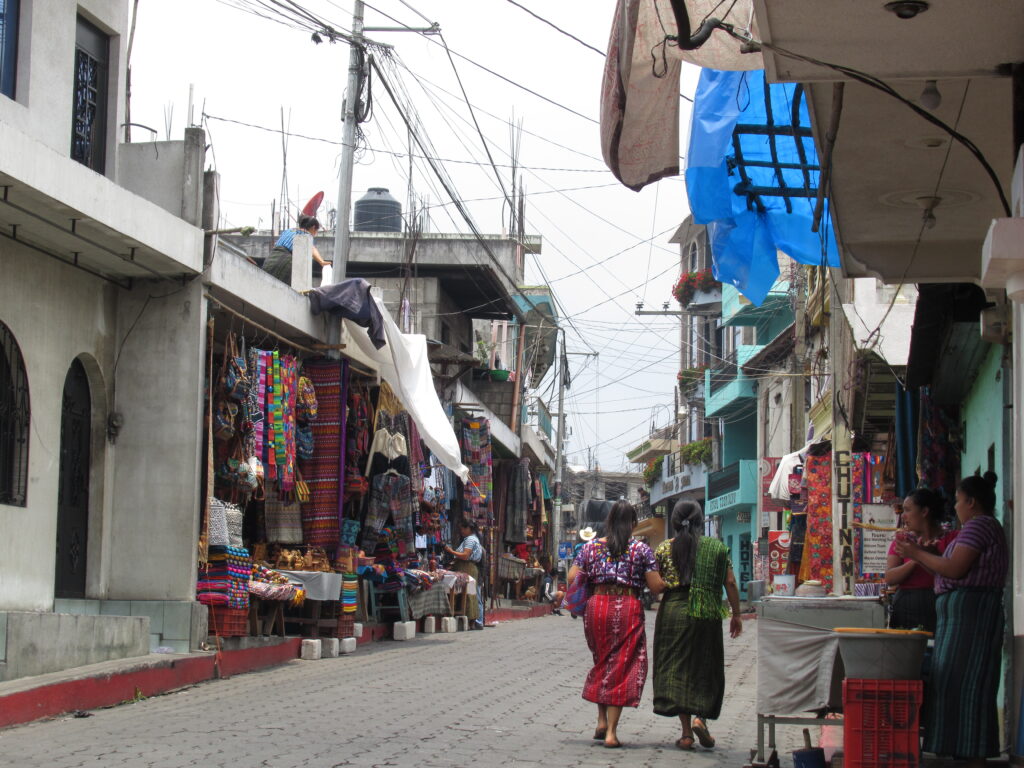 It didn't take us too long to find a nice place for lunch, and then of course another place for coffee… We were very much enjoying the sights and sounds of Santiago de Atitlán, and so were quite happy just wandering around the streets with stops for eating and drinking.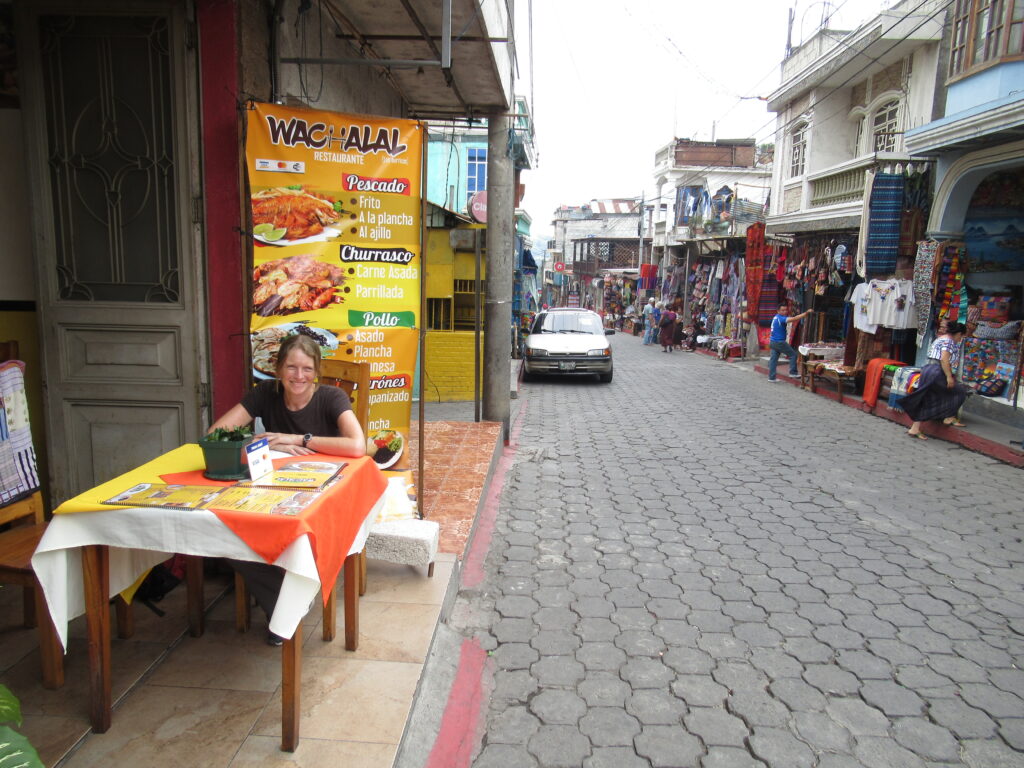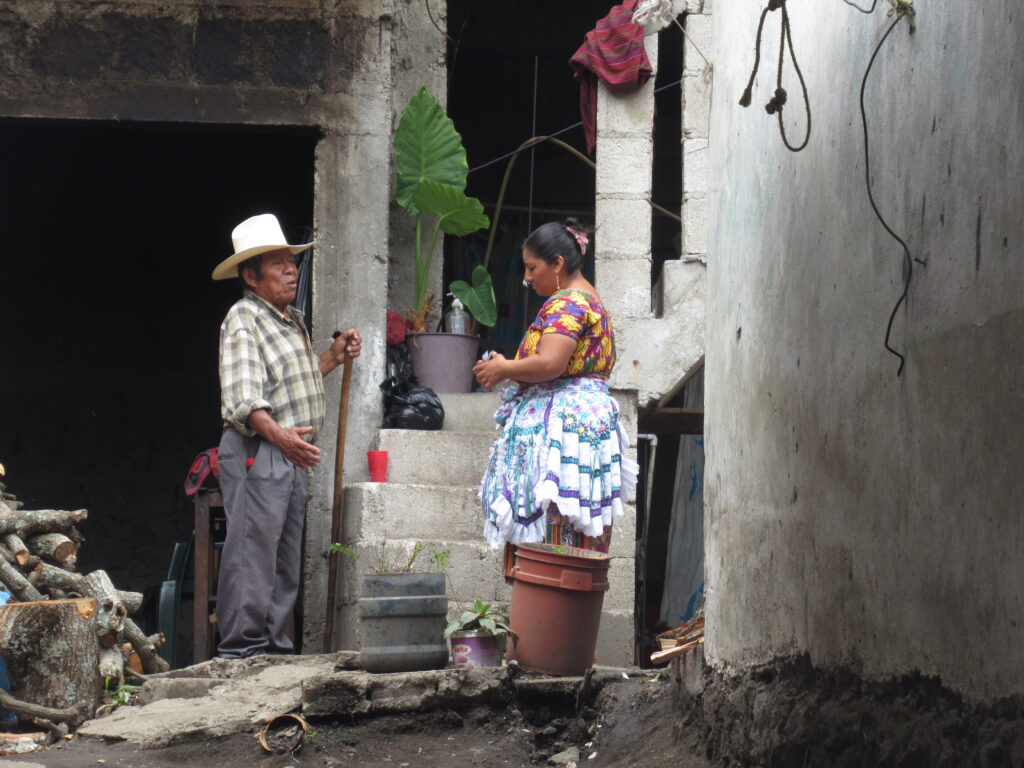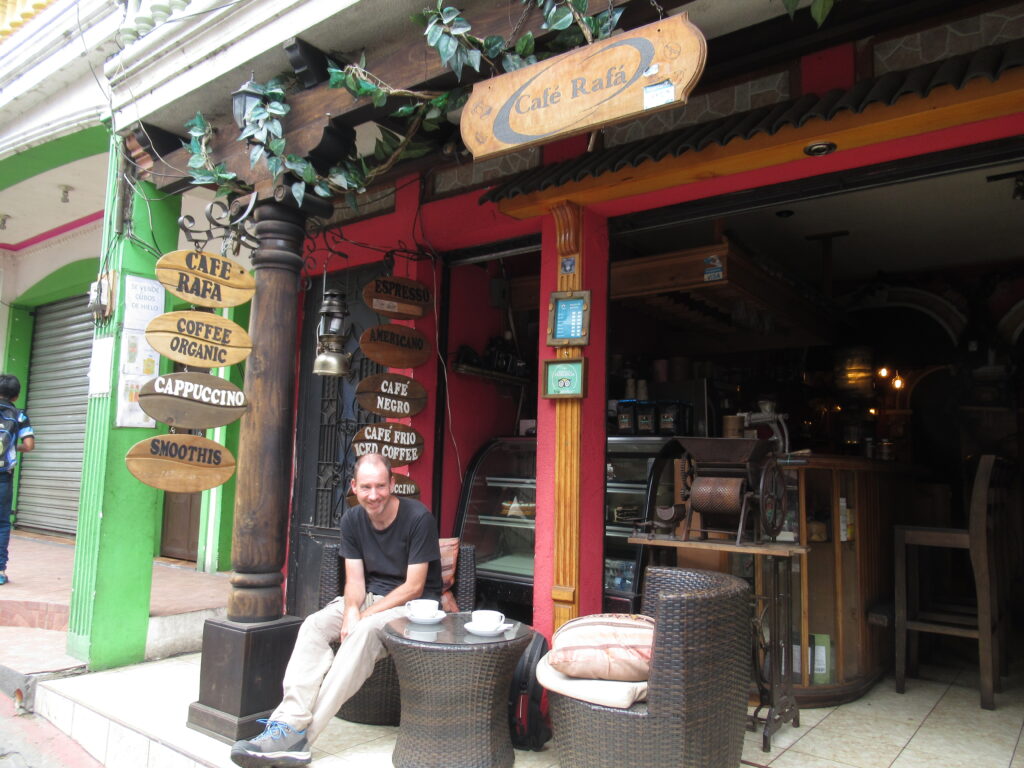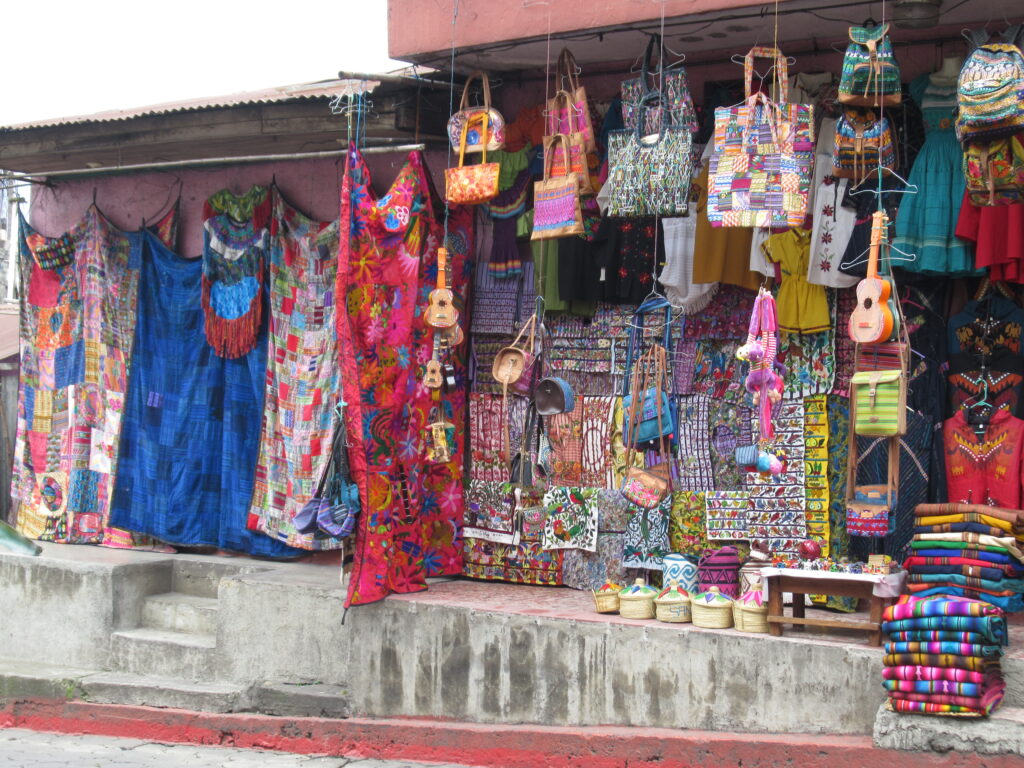 Soon it was time to take the boat back to Panajachel and we headed back down towards the wharf.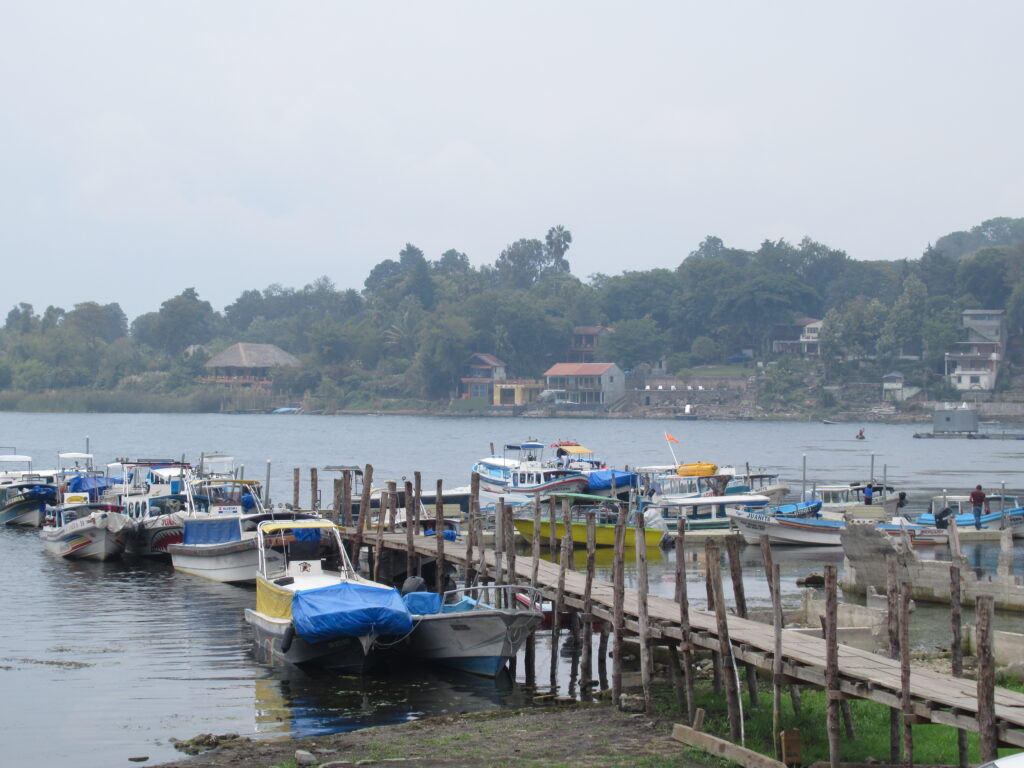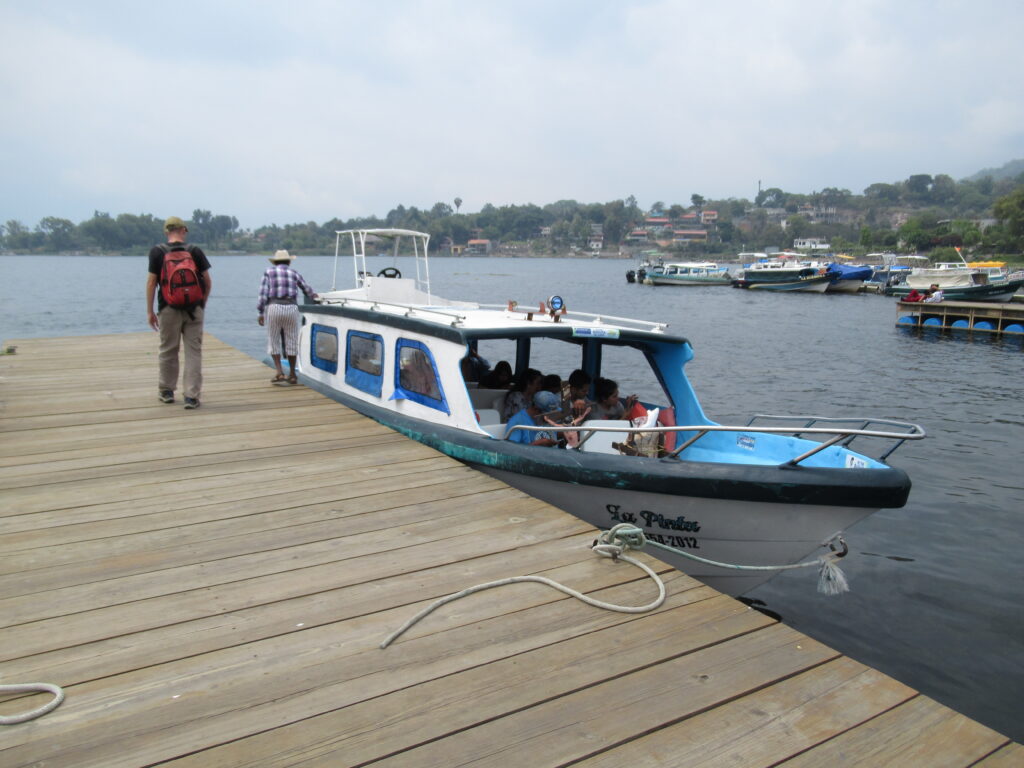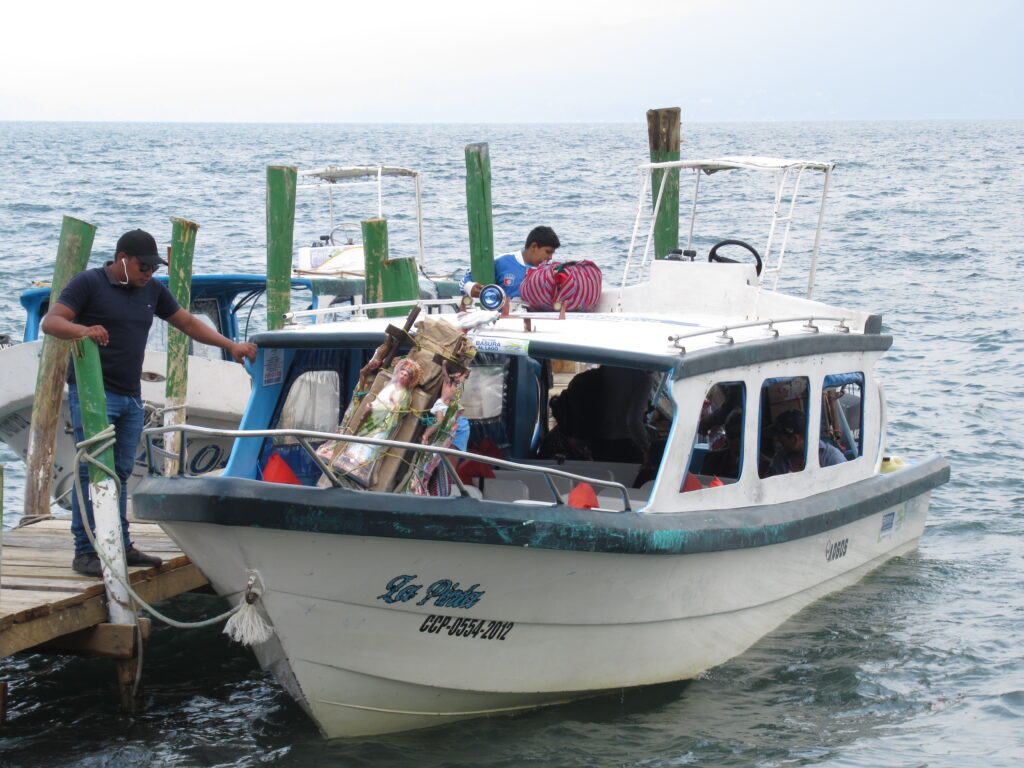 This day out had turned out to be a lot more enjoyable than the previous day's trip to San Marcos, and we were relaxed and content as we rode the boat home. 🙂