Often we stay in places where they don't provide breakfast. Some of these places don't have a shared kitchen either. So…. what are we supposed to do about breakfast?!?
Of course we could just go out and get some breakfast…. or we could get some fruit and cakes the night before and eat them in our room when we wake up… BUT, what if we want cereal? BUT, what if we want coffee?
TOUGH – you might be thinking… well… actually we invented a genius method to deal with this – yes, we created a 'breakfast kit'. To an untrained eye, the 'breakfast kit' might just look like some old take-away containers, plastic spoons, and polystyrene cups… BUT no, it was a lovingly crafted thing of beauty.
We had HIGH QUALITY plastic trays left over from some pieces of quiche from Uruguay, and we had MEDIUM QUALITY polystyrene cups from the northwest of Argentina. This means that we had had some of our breakfast kit for a WHOLE YEAR…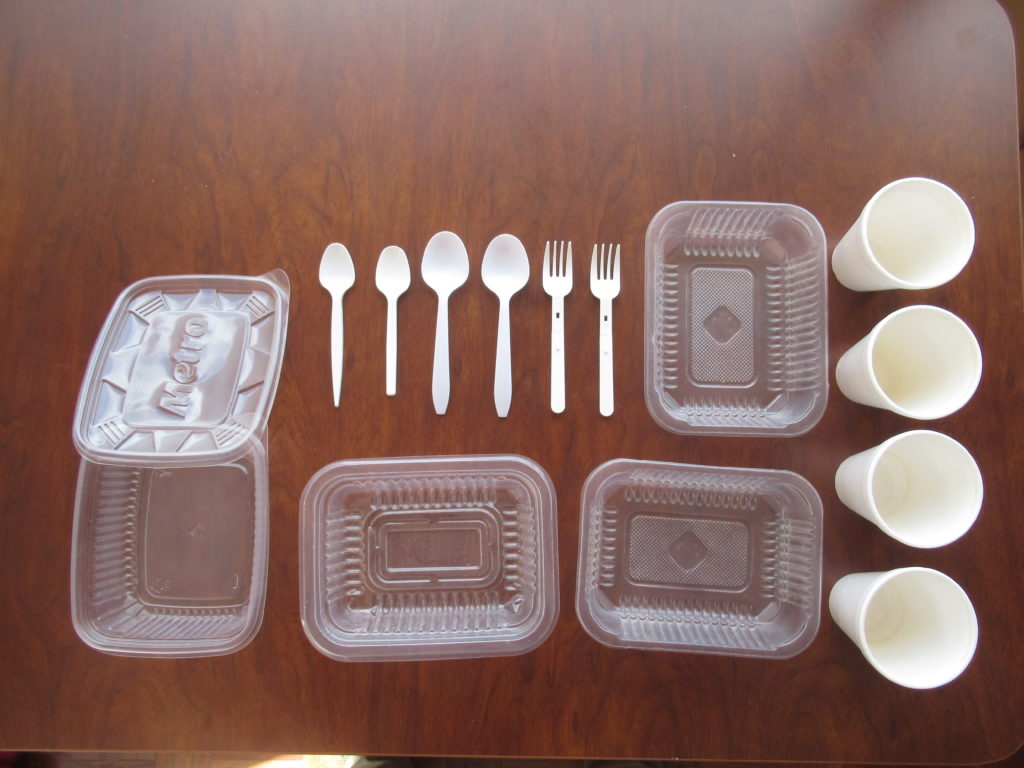 I say 'had', because a tragic event took place in Guayaquil. Yes, a VERY OVERZEALOUS hotel room cleaner actually threw our breakfast kit away 🙁 🙁 🙁
We were mortified… it seems that she thought it was old takeaway containers that we hadn't bothered to throw away..!
So, that was the end of the breakfast kit….
After a brief period of mourning though, we managed to assemble another breakfast kit! 🙂 🙂 We had a helping hand to get started – as Bella our airbandb host in the Galapagos gave us two Galapagos mugs as a leaving present! 🙂 These were a bit heavy compared to the original polystyrene ones – but they looked a lot better 🙂
Then we discovered a supermarket in Latacunga that sold portable lightweight coffee filters. These are popular in South America for making coffee, and are kind of like a 'sock' on a ring. The other requirement for making 'sock' coffee is a container to put the coffee and water in while they mix together. We found these at a supermarket in Latacunga as well.
These containers could also be used as cereal bowls – so we were NEARLY THERE! 🙂 All we needed was some spoons. This was resolved when we bought some cake and they gave us a couple of sporks to eat it with. DONE! Well… I thought that we were done, but CC didn't think that sporks were appropriate for cereal. She wanted some actual spoons….
We figured that 'real' spoons would turn up eventually, so we made do with sporks, and declared the breakfast kit officially resurrected!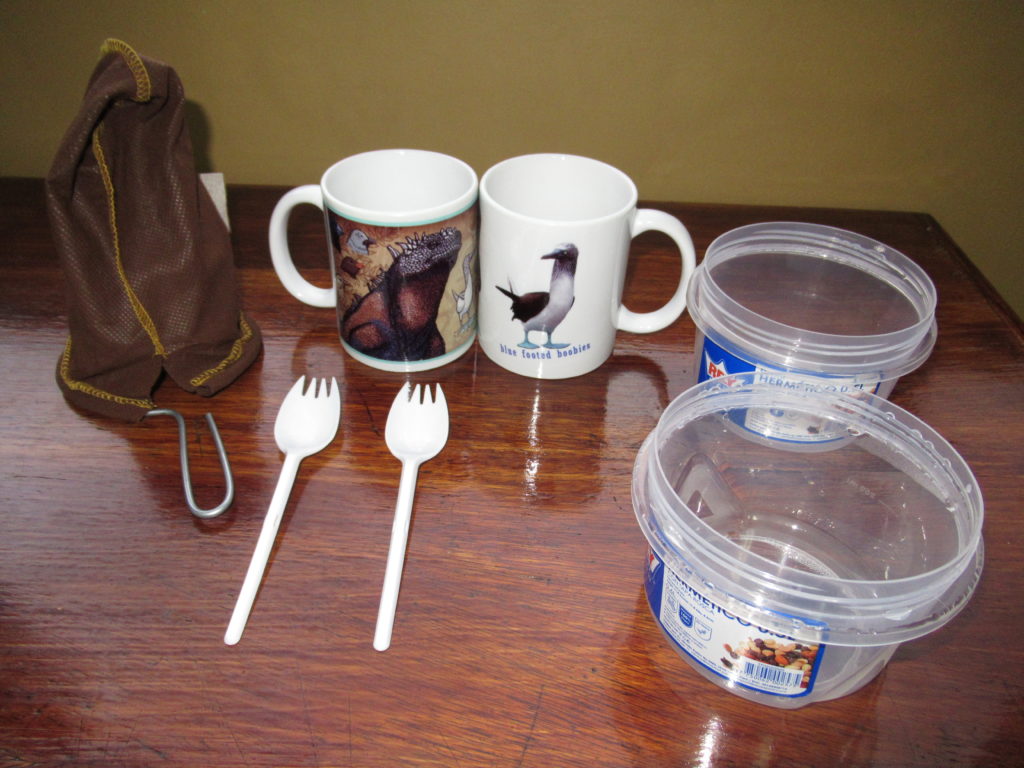 Hopefully this one will last until the end of the trip…