One of the BEST things about La Paz, is that it has a cable car system – yes! It's a cable car system used for public transport, and it's called 'Mi Teleférico' ('My cable car'). It's relatively new (the first lines were launched in 2014) and it is already the LONGEST cable car system in the world! When it's completed (in around 2020), its total length will be about 33km.
When we were in La Paz not all the lines were open – but enough of them were open for us to have an AMAZING time riding them 🙂 There are incredible views all the time, and you can see lots of interesting nooks and crannies of the city as you go along.
Technically it's a 'two-city' system, connecting La Paz with El Alto – the geography of these two cities makes it ideal for a cable-car system, as there is almost nowhere flat at all in La Paz, and the altitude of the city ranges from around 3200m to 4000m. Once you get to 4000m, there is a plateau, and El Alto sprawls for miles in all directions.
Because it's a subsidised public transport system, the fares are very cheap indeed – around 60c AUD (30p GBP) for a journey on a single line for any number of stations. Transfers to change from one line to another cost 40c AUD (20p GBP).
Needless to say, there was NO WAY we were leaving La Paz without riding every single kilometre of this cable car system at least once! 🙂 🙂
So at the time we were in La Paz, that meant riding 23km in total along 7 different lines. We enjoyed pretty much every minute of it. The cars themselves hold 10 people, but outside rush hour they are not very busy, and we often had a cable car to ourselves.
Not all the lines actually go anywhere that you would want to get off – so for those lines we just rode them to the end, got off, and then got straight back on again. Some of the lines went to interesting parts of the city, or parts with good views – so we picked a few stops on some of the lines and got off as well.
The first three lines to open were the Red, Yellow, and Green lines – because these are the colours of the flag of Bolivia! The lines that were not open yet when we visited, were the Gold, Silver, Purple, and Coffee (or if you prefer – 'brown'….) lines.
In the interests of neutrality, I have picked three pictures from each line – yes, nobody can say that we are not fair on this blog! 🙂
The red line
The red line goes between La Paz and El Alto. The views from the line itself are not so scenic as some (although still pretty damn good), but the views available at the top looking out over La Paz are amazing – although you do have to walk around a bit to find them. This line is used to get to El Alto market (Sundays and Thursdays), so the lines to get on the cable cars can get quite long on these days.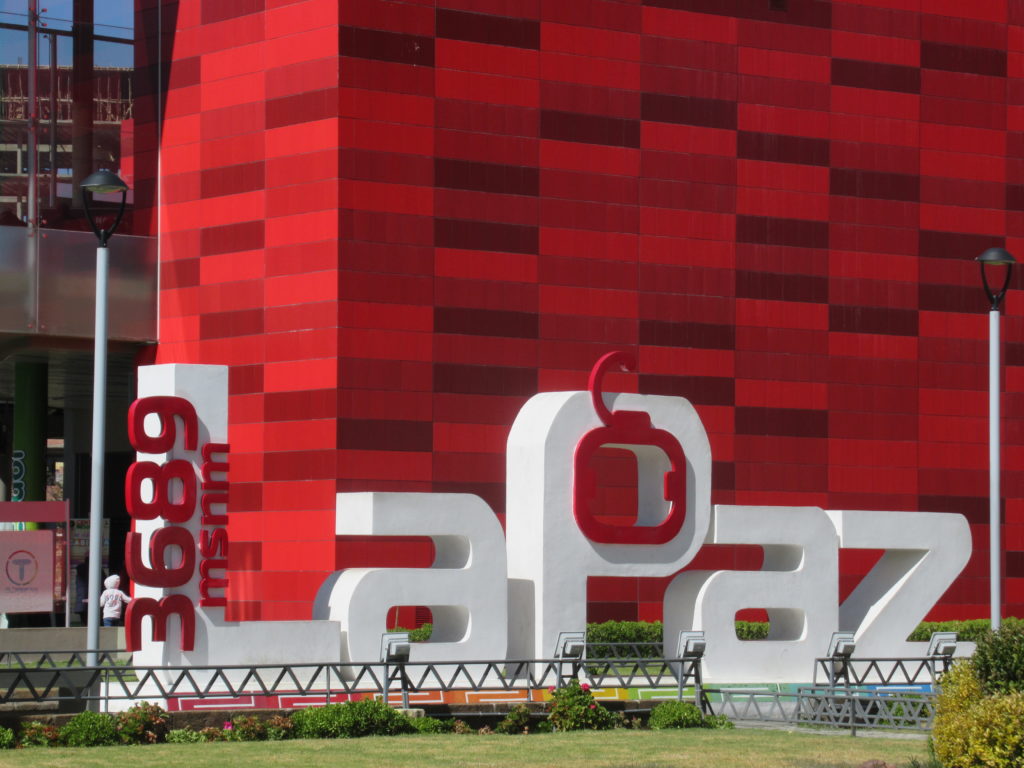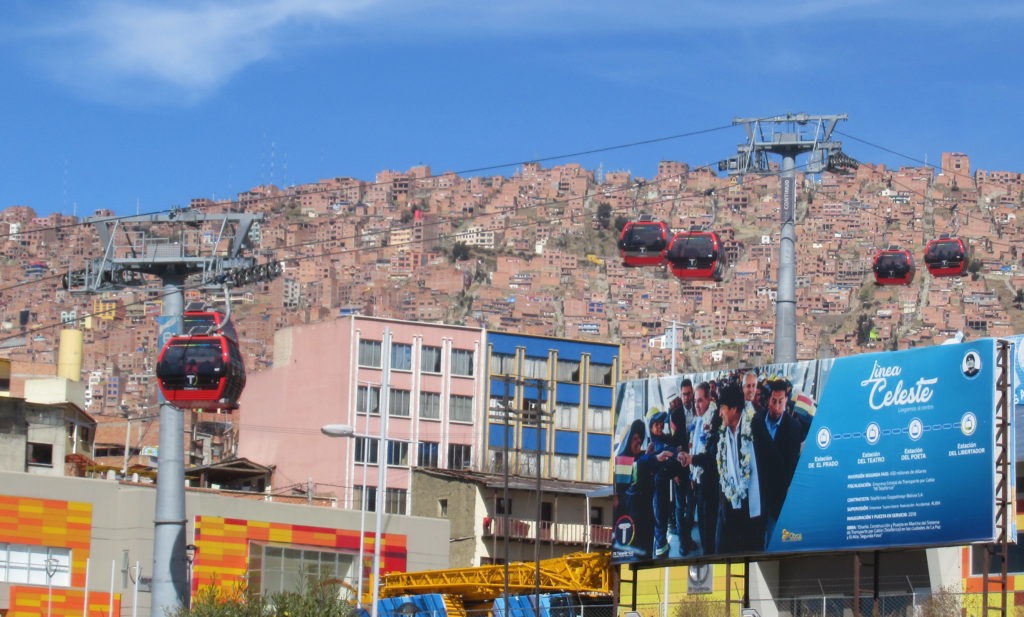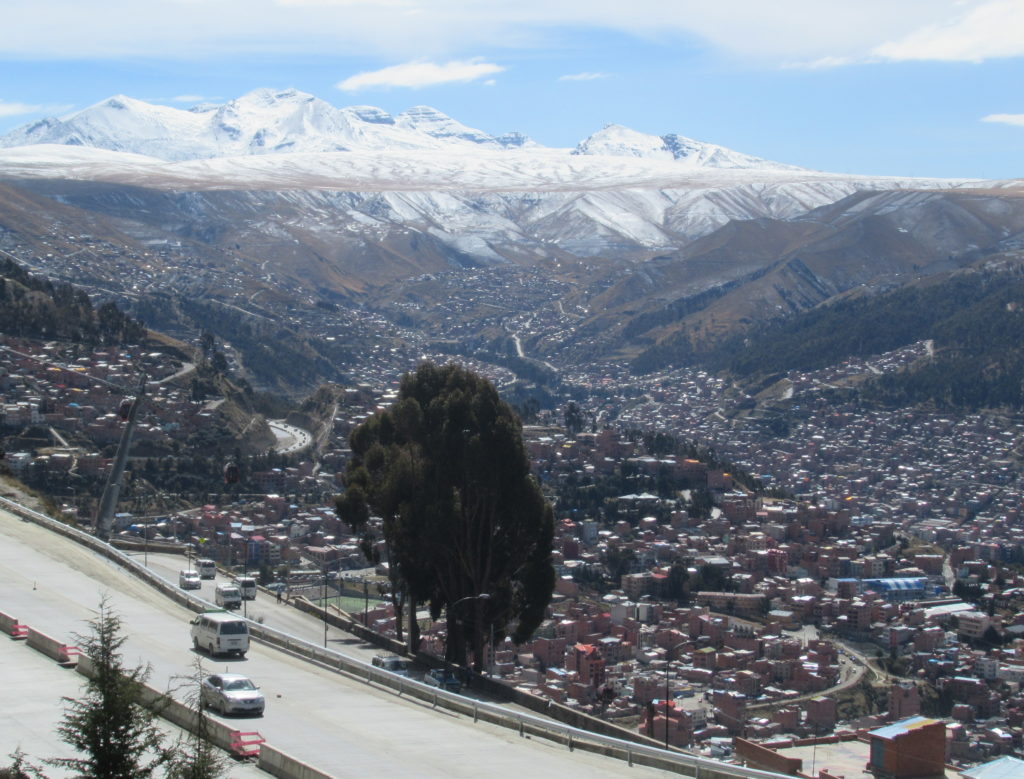 The yellow line
This line links Sopocachi with El Alto. Sopocachi is a trendy well-off part of La Paz, and is also walkable from central La Paz – so you can take a stroll to Sopocachi and then catch the yellow cable car up to El Alto. This line has the greatest difference in elevation from the bottom to the top (around 800m)
It goes to a different part of El Alto to the red line, and here it's harder to find a clear view over the city (lots of buildings in the way, you need to go down some lower side streets), but the views as you go along are really great! 🙂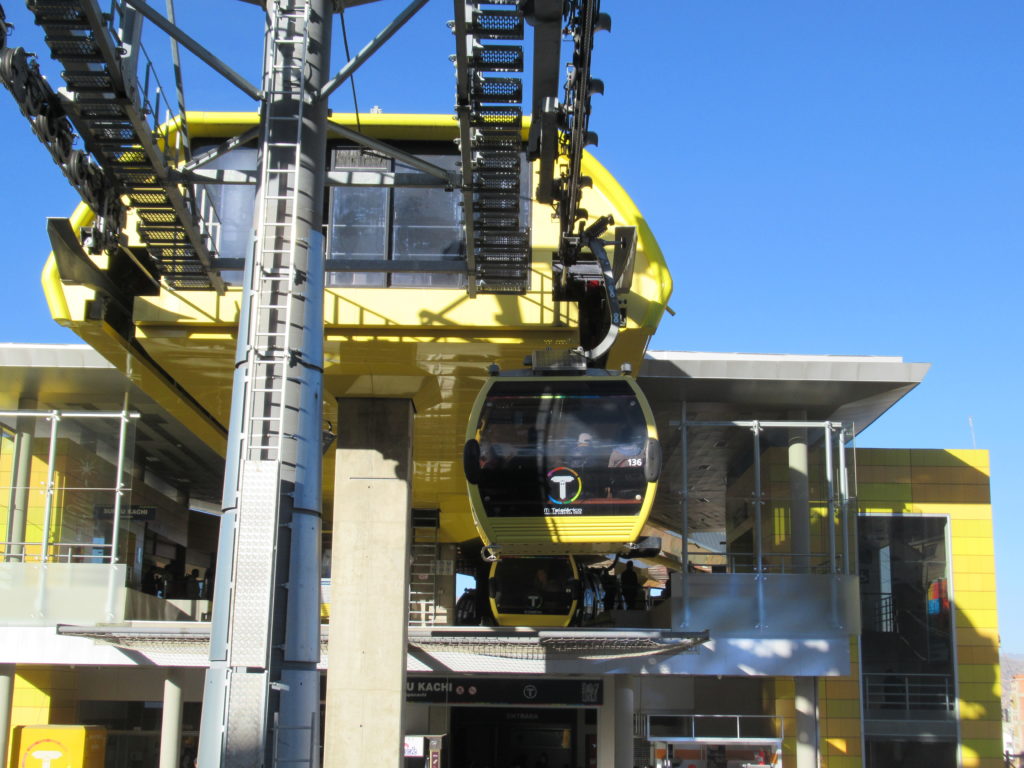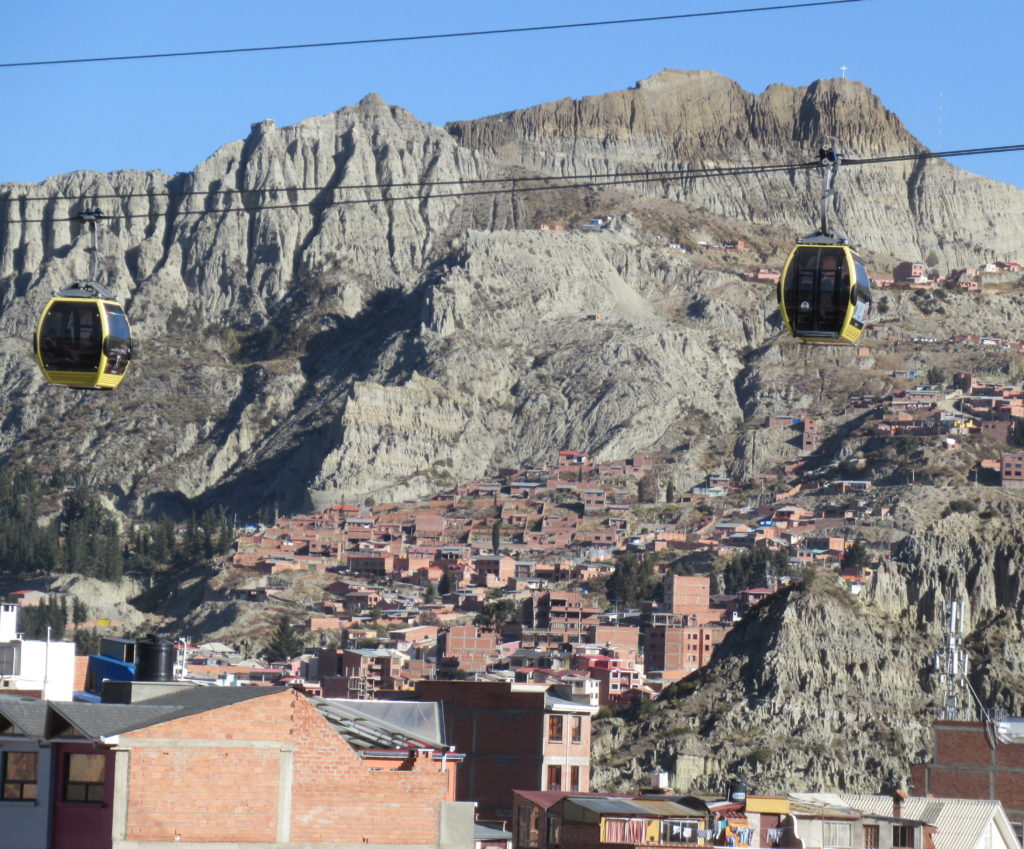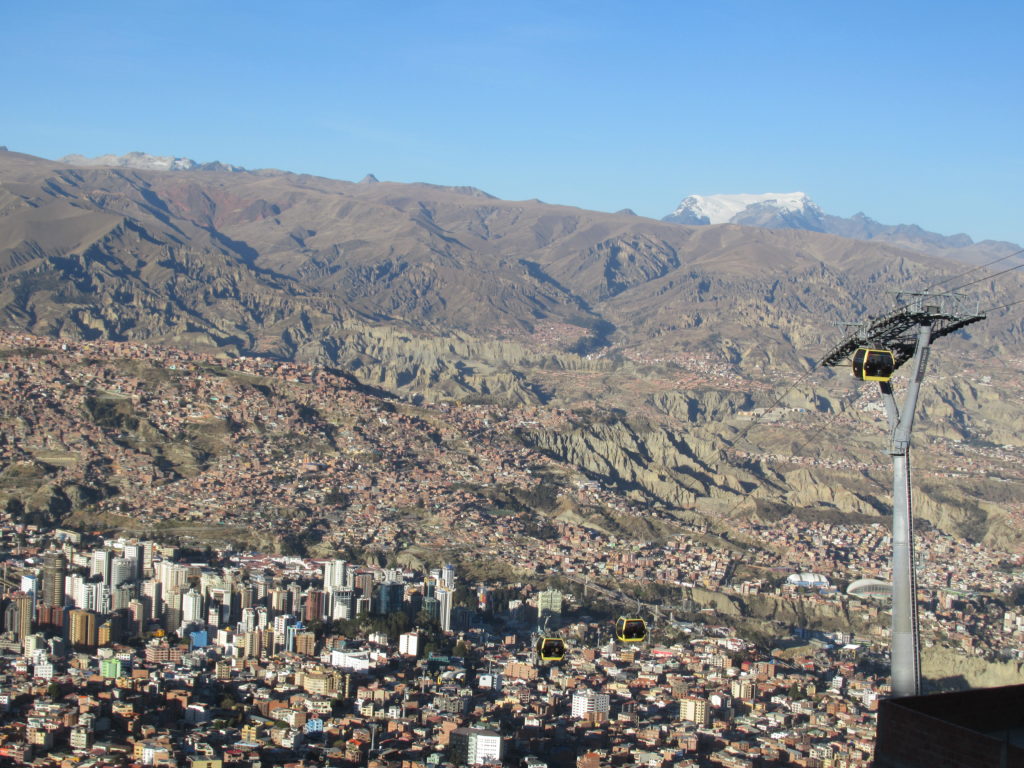 The green line
The green line is one of the most interesting lines, as it goes down to the 'Zona Sur' of La Paz, and so you can see a different set of mountains on the horizon, as well as passing over both really rich and really poor neighbourhoods.
Zona Sur (Irpavi) is also a good place to get off and have a wander around – it's almost like a different city, as it's at the bottom of the valley and the terrain is a lot flatter. It's a fairly posh neighbourhood in general, with quite a few shops around.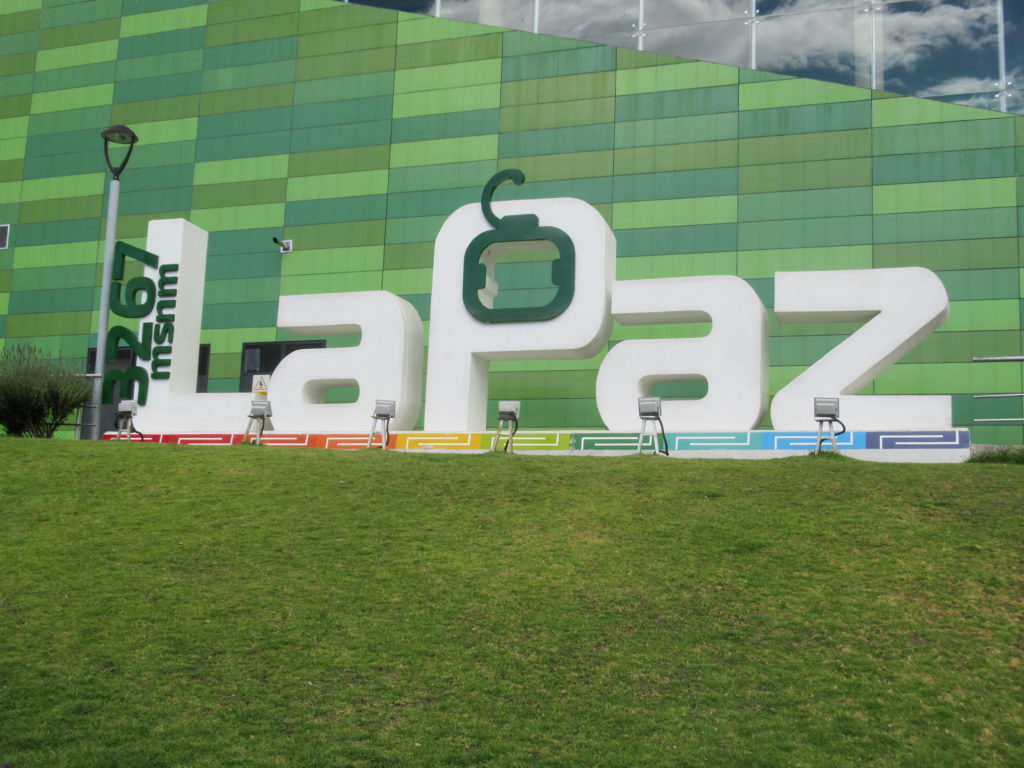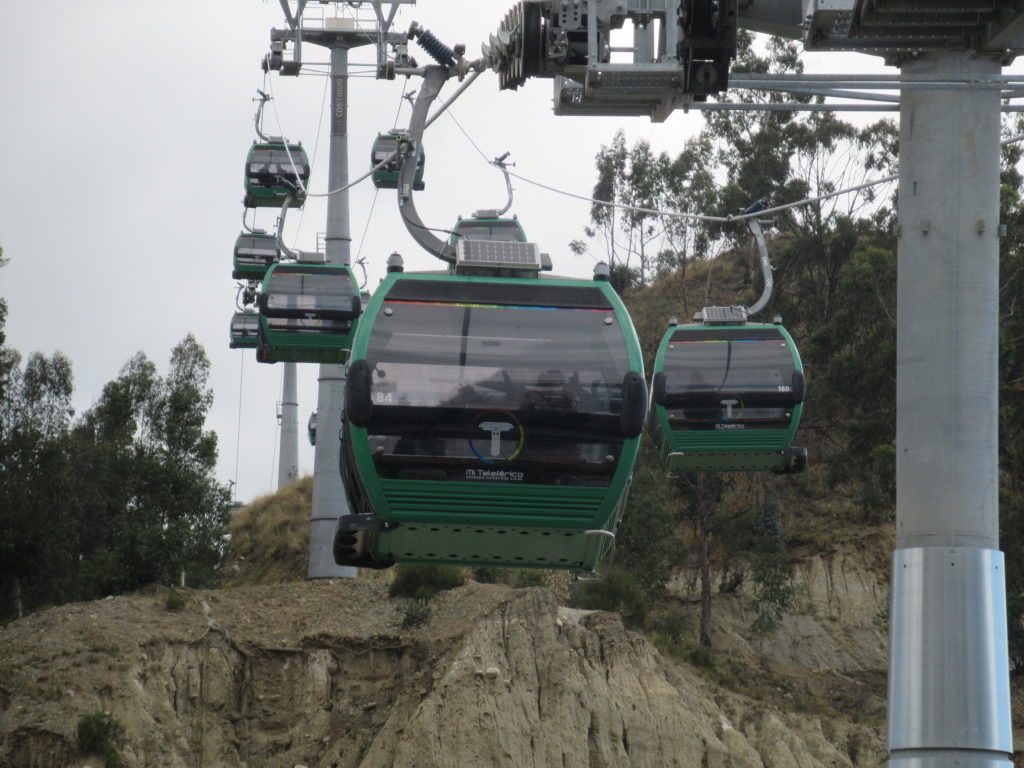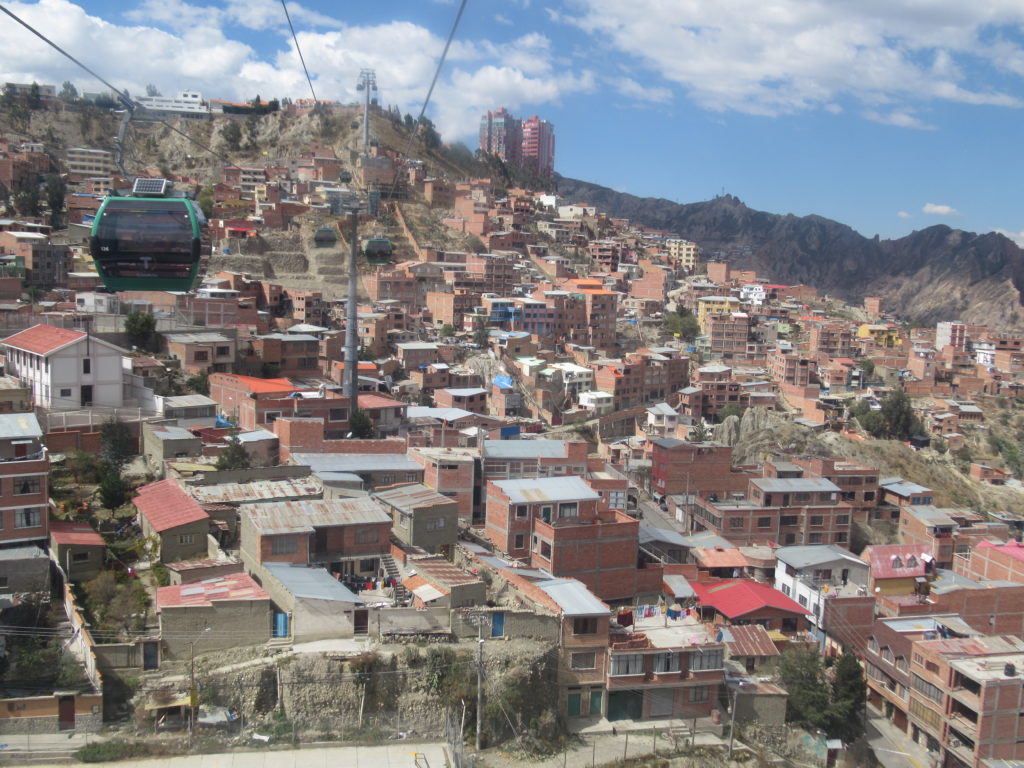 The orange line
This line we liked because it was the one that we could see out of the window of the hostel we were staying in :-). Also, because it basically goes up and over the east side of the city, it has a dramatic views pretty much the whole way. It starts from the same place as the red line near central La Paz, and goes to a neighbourhood high on the east side of La Paz (where you can connect to the white line if you desire…)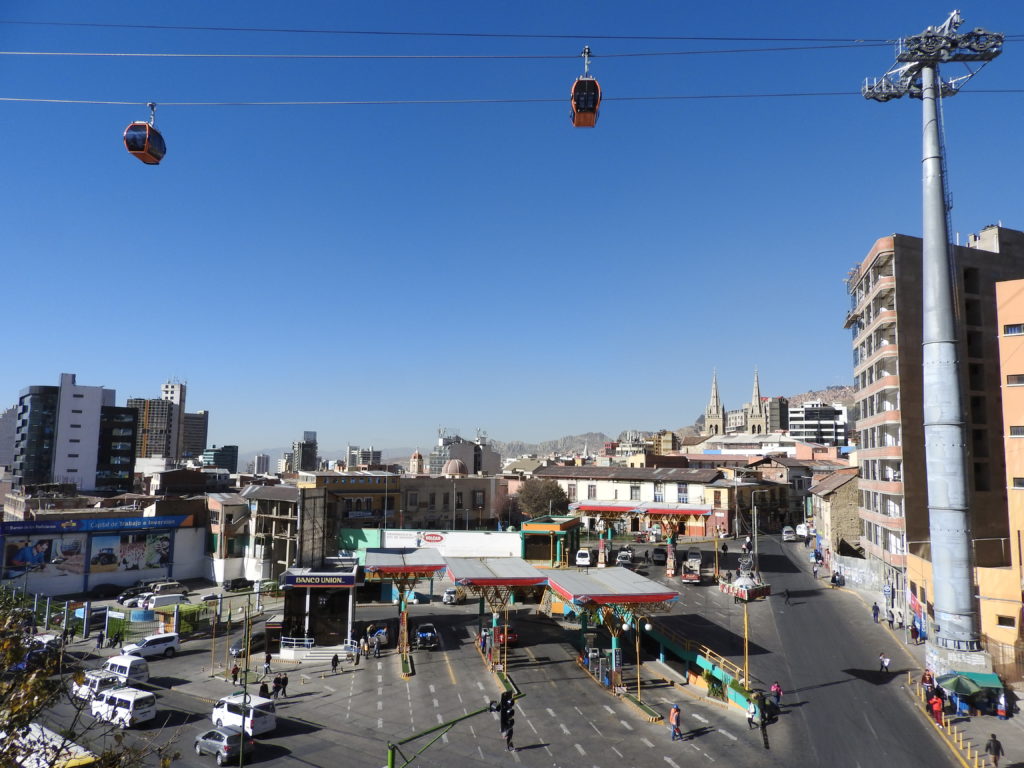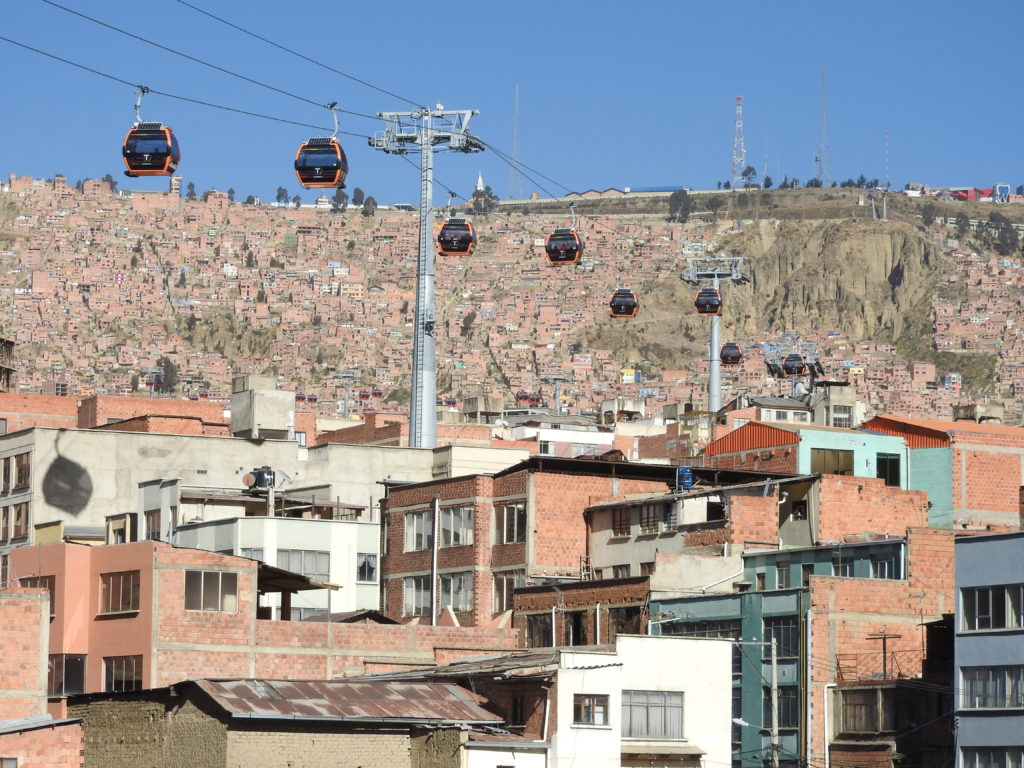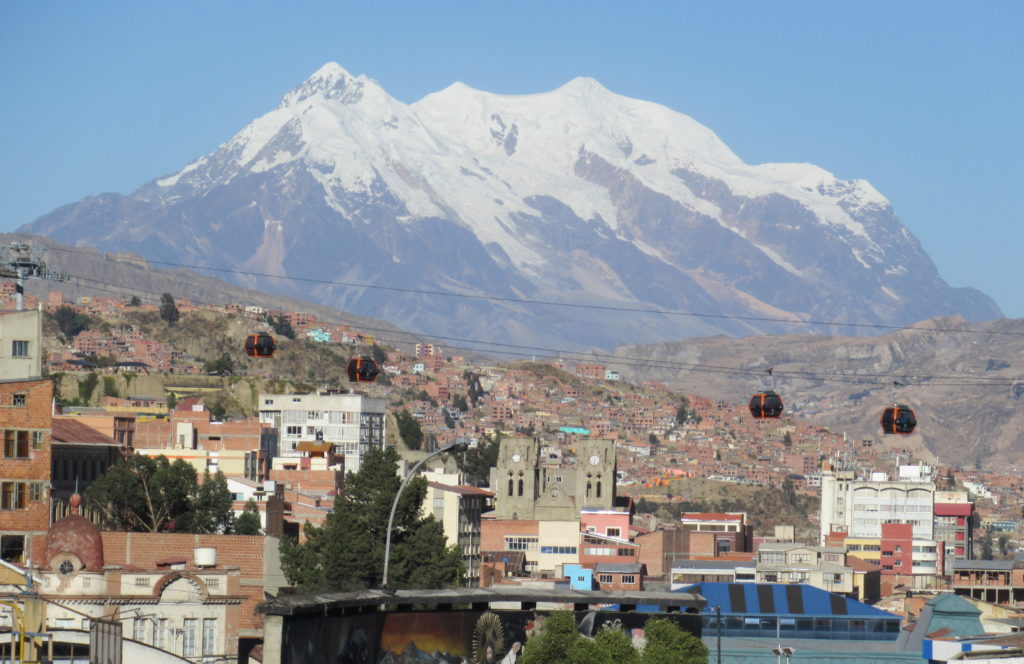 The white line
This line was kind of cool because it travelled lower down than the tops of the buildings around it. It follows a main boulevard, with skyscrapers down the side – so you are level with some of the floors of these buildings.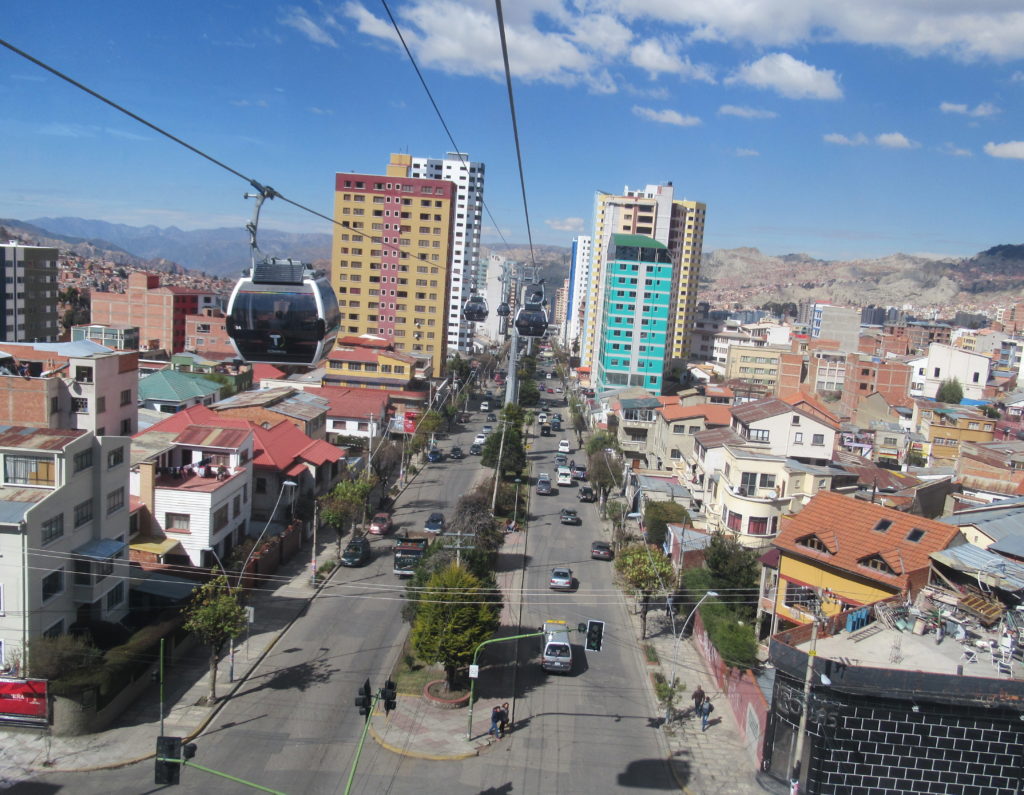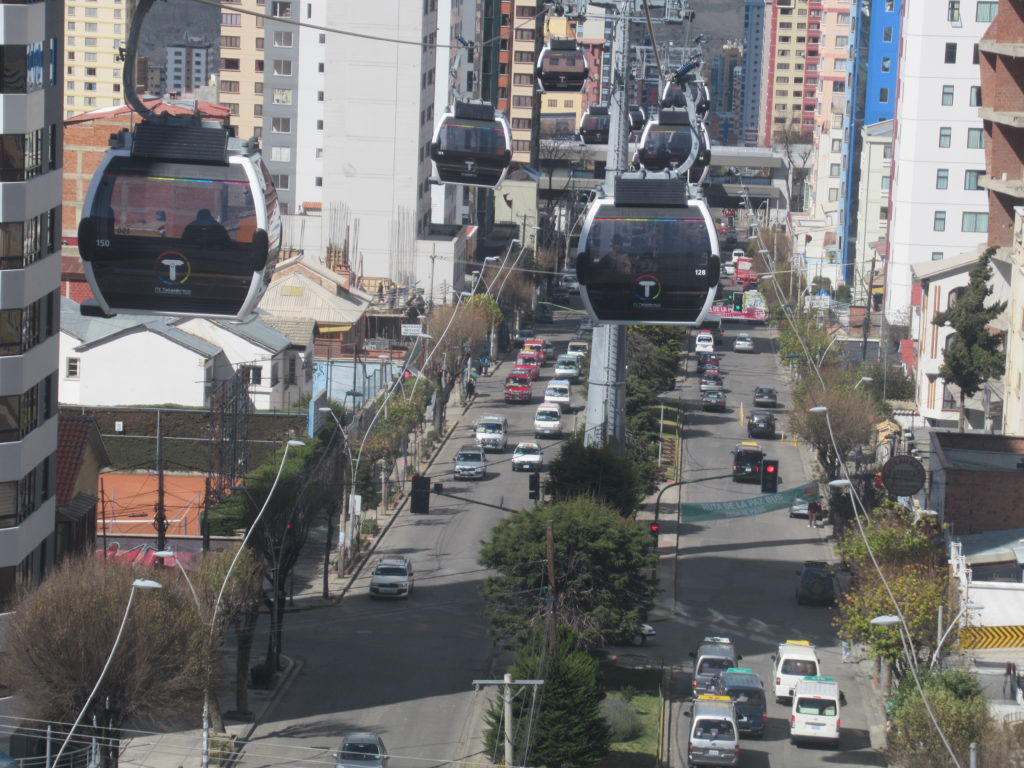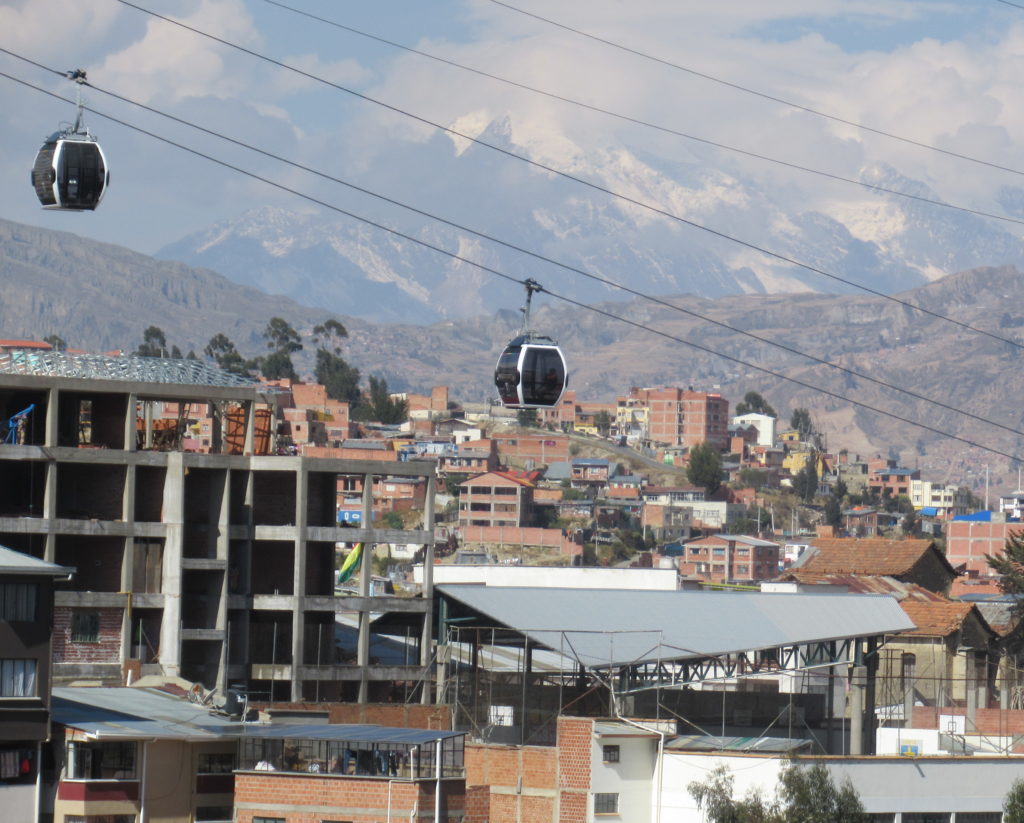 The sky blue line
This line is not quite as scenic as the other lines, and also fairly short. It's basically a connector line from central La Paz. It was still good to go on though 🙂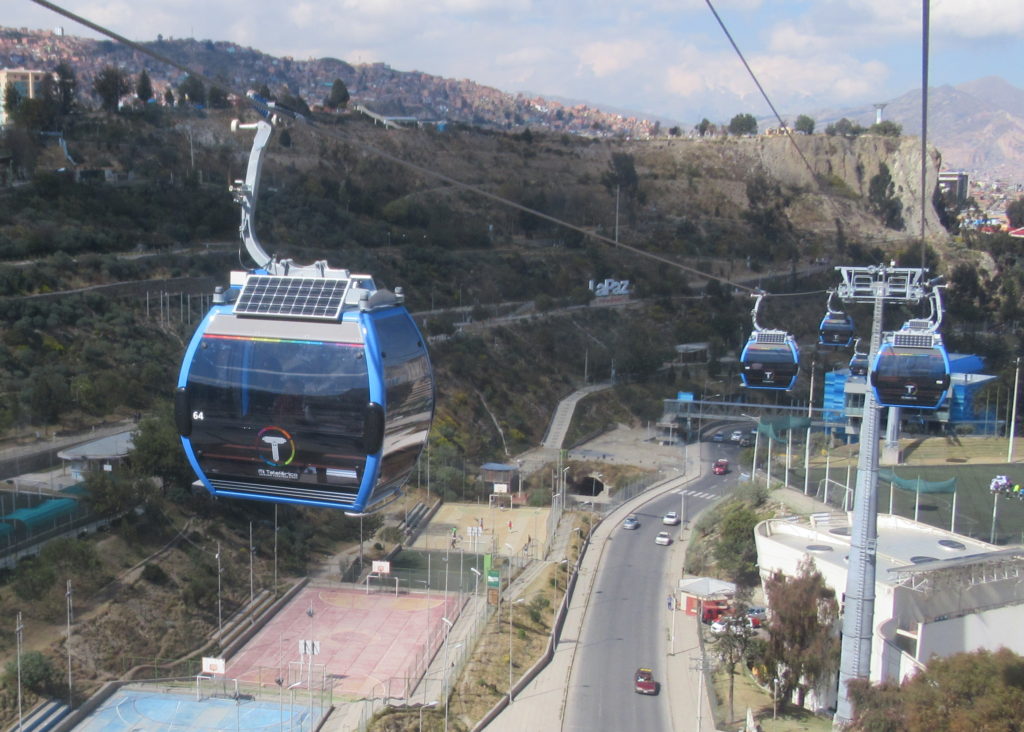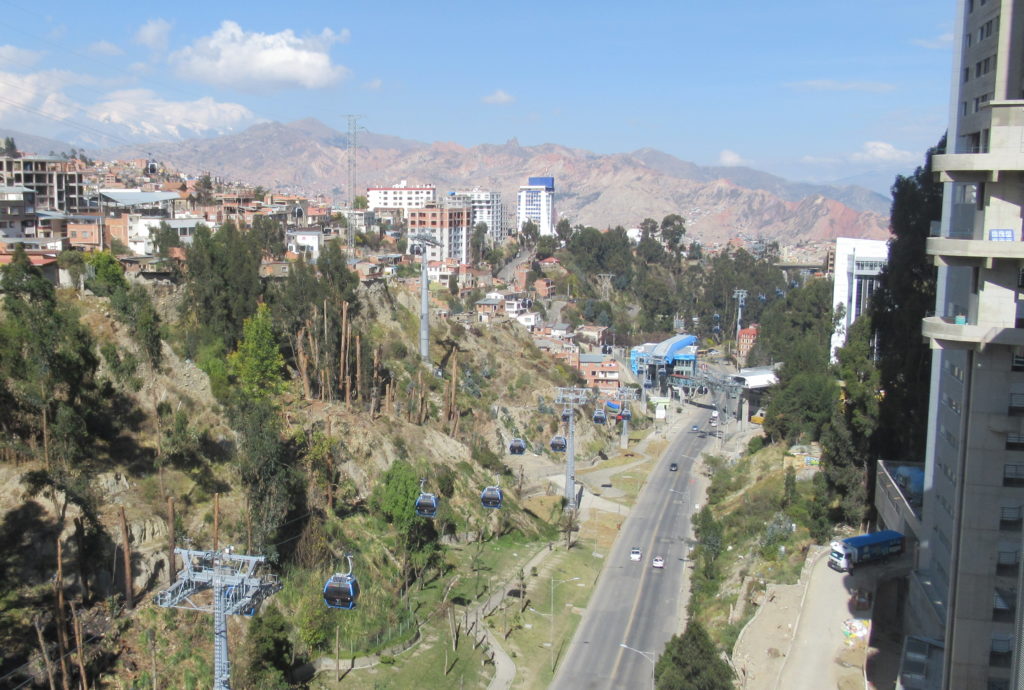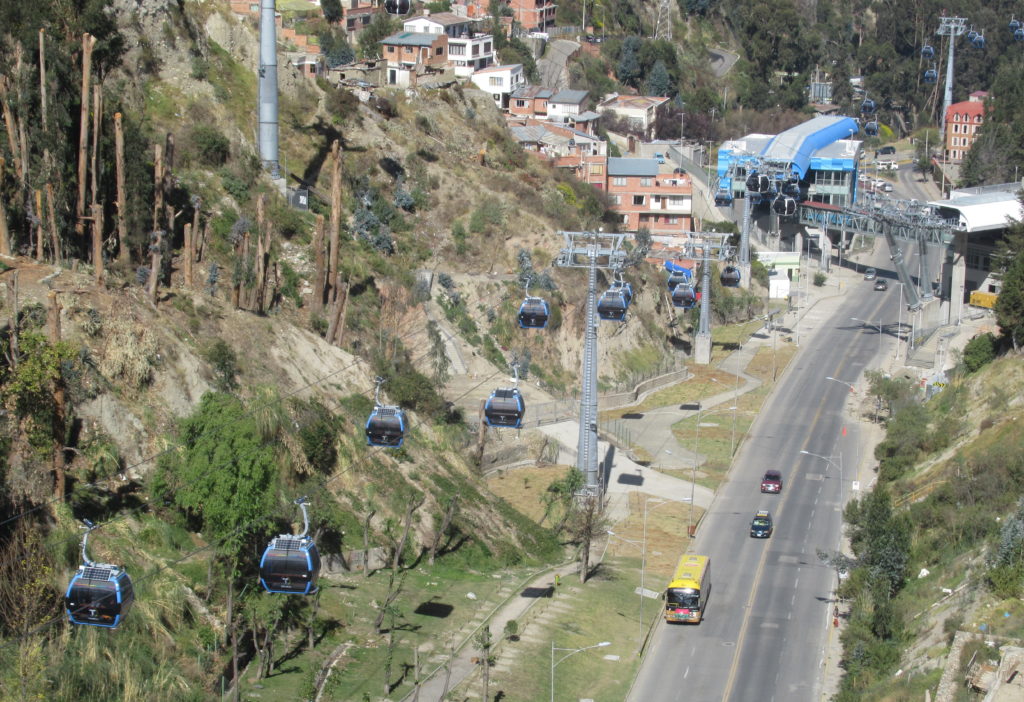 The blue line
And finally, last BUT NOT LEAST! – the blue line… this line is not like any of the other lines – it's pretty much horizontal the whole way – and that's because it's entirely on the plateau in El Alto.
This line is kind of amazing because you can see the whole of El Alto spread out underneath you, and also right out across the altiplano to the snow-capped mountains around. On market day in El Alto, you can also see just how absolutely giant-sized the market actually is!
Some people skip this line because it's in El Alto, and so people think that because it's flat it's not scenic, and also because El Alto has a reputation for crime. It starts from next to the red line station in El Alto, so it's not like you have to wander the streets of El Alto to get on it.
It goes on for around 5km in a straight line over El Alto, and takes around 20 minutes (it's the longest line). When it got to the end of the line, it certainly didn't look like a place that we would want to get off! 🙂 But you can get off and straight back on again without leaving the station – so that's what we did – and we enjoyed the journey in reverse just as much as the way there 🙂 🙂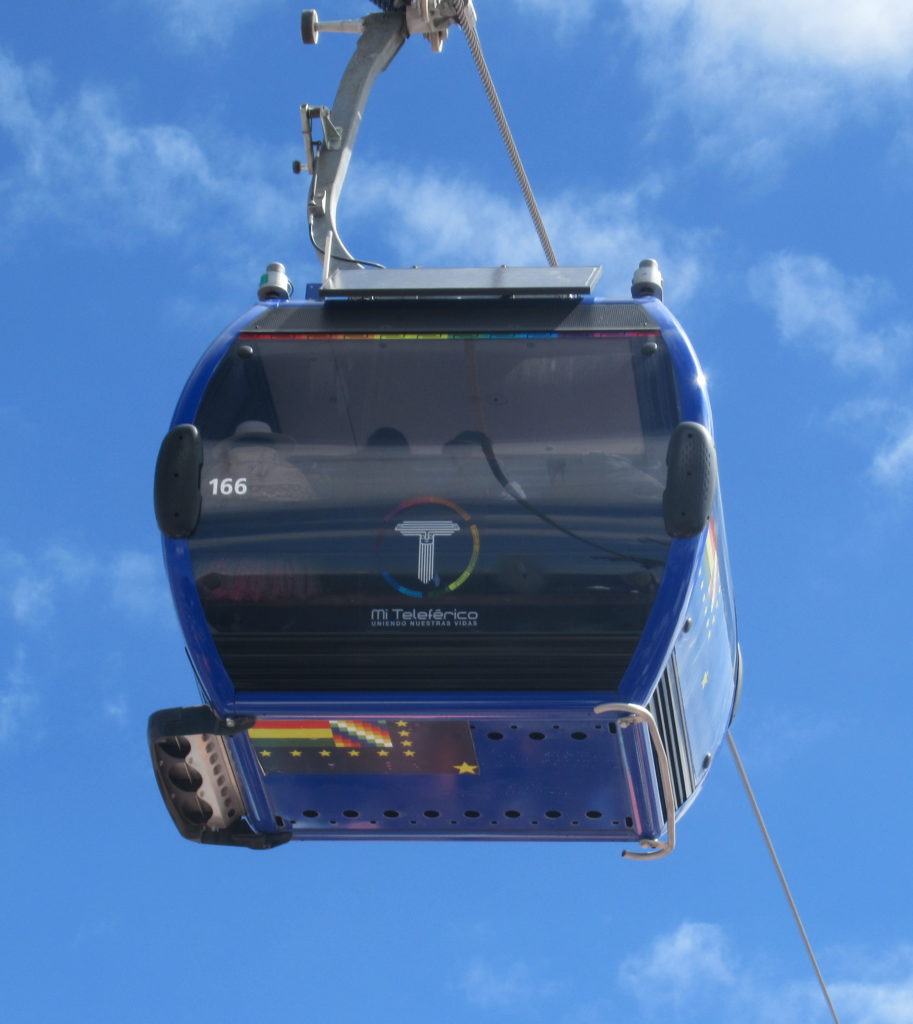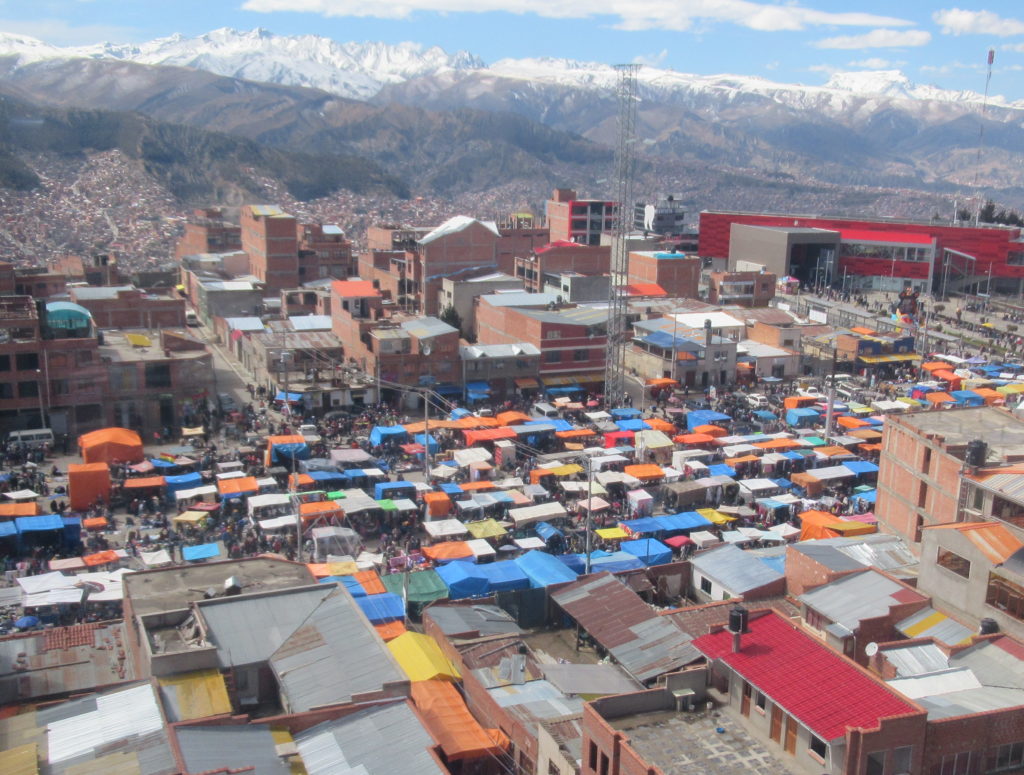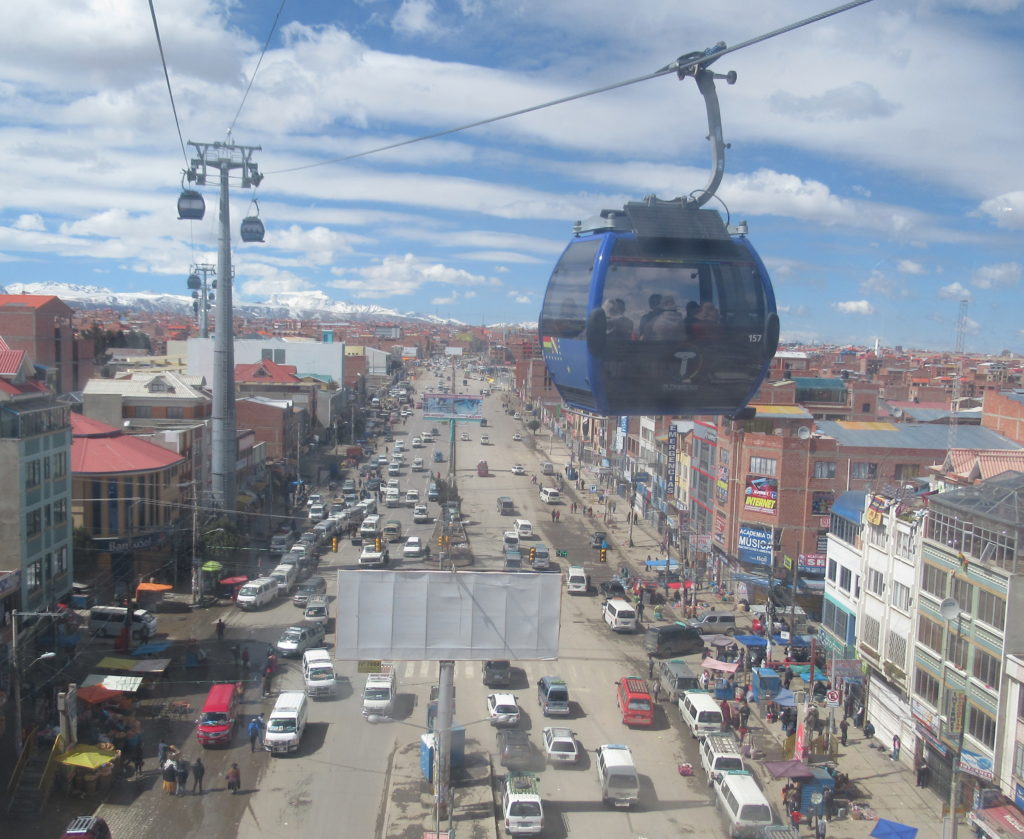 So… there you go – the cable cars of La Paz are totally great. We have made a vow that we are coming back to La Paz when the rest of the lines are finished – so we can ride them all again, PLUS all the new ones 🙂 🙂 🙂