The second day of our day trips out to Ruta de las Flores towns was to Apaneca and Salcoatitan. The first stop was Apaneca – only around 25 minutes by bus from Juayúa. Apaneca was another town of murals and cobbled streets, but also had a lake nearby that was supposedly worth a visit – Laguna Verde. Upon arrival, we decided to check out the town first, and did a quick tour of the churches, murals, and cobbled streets.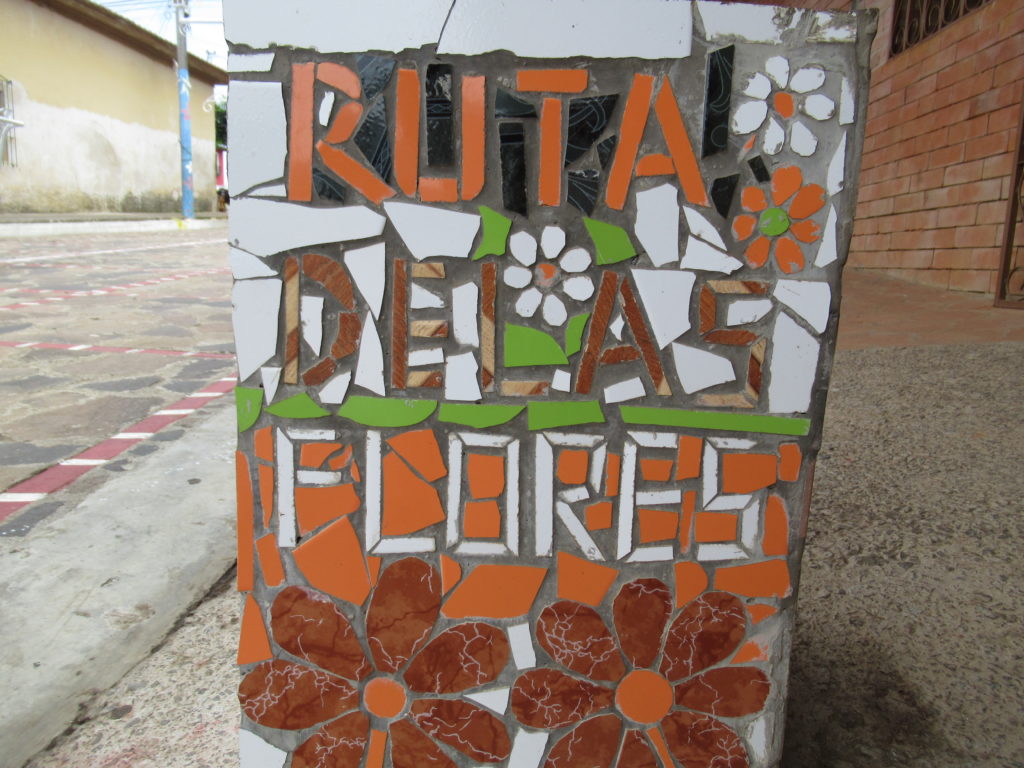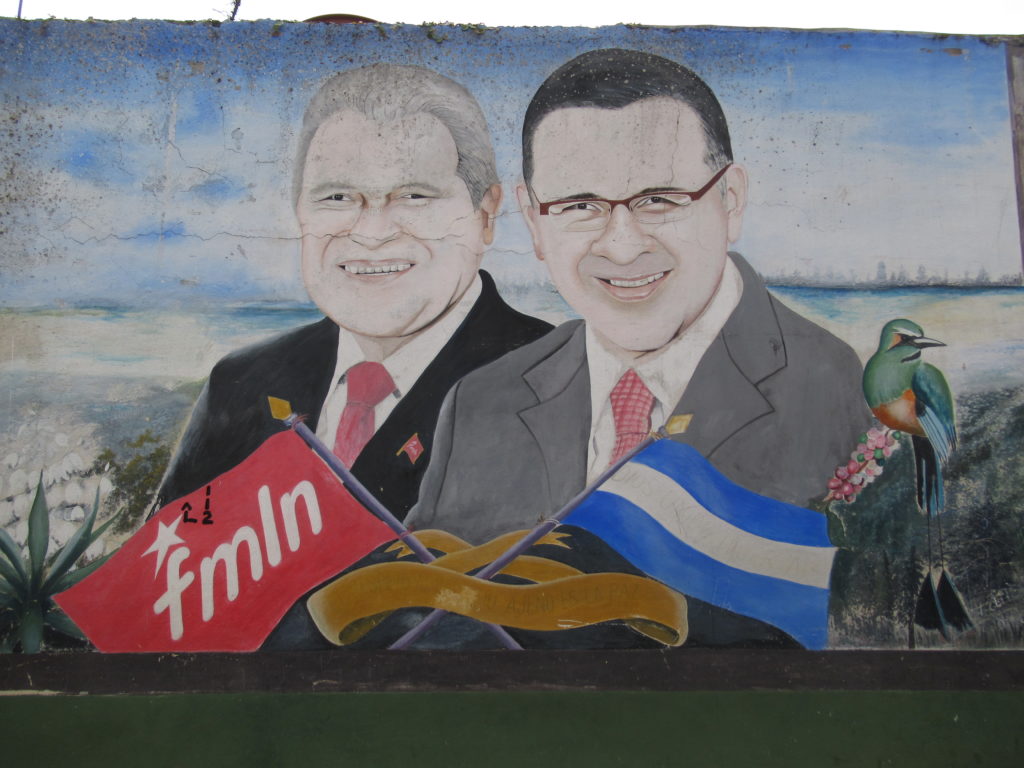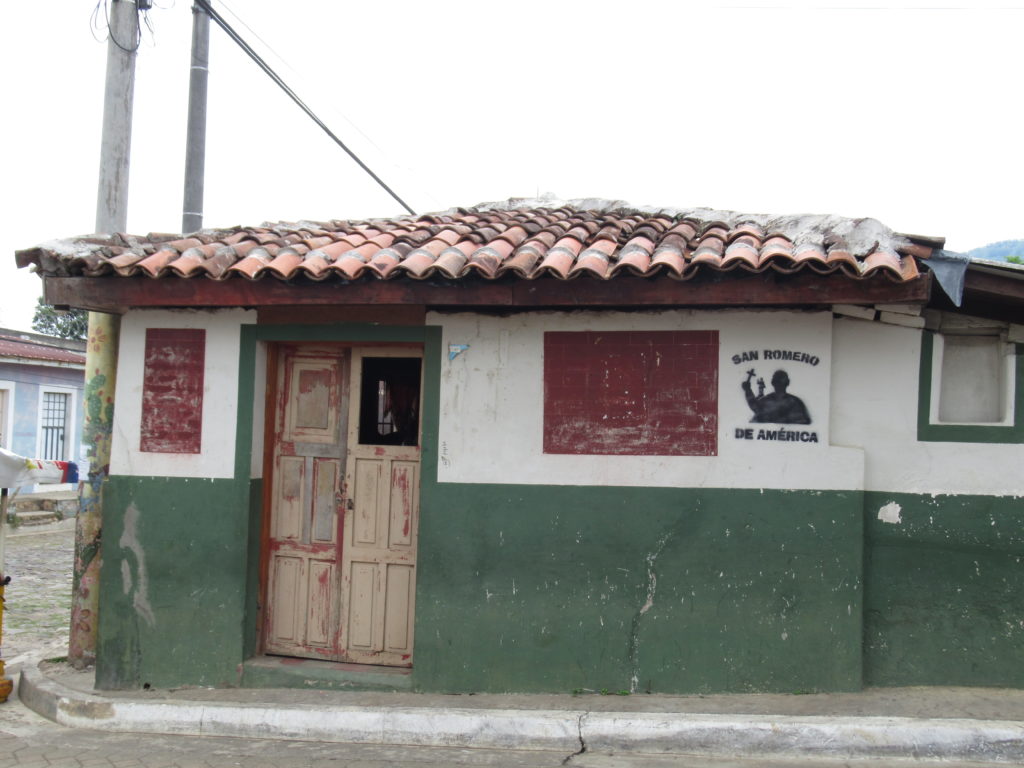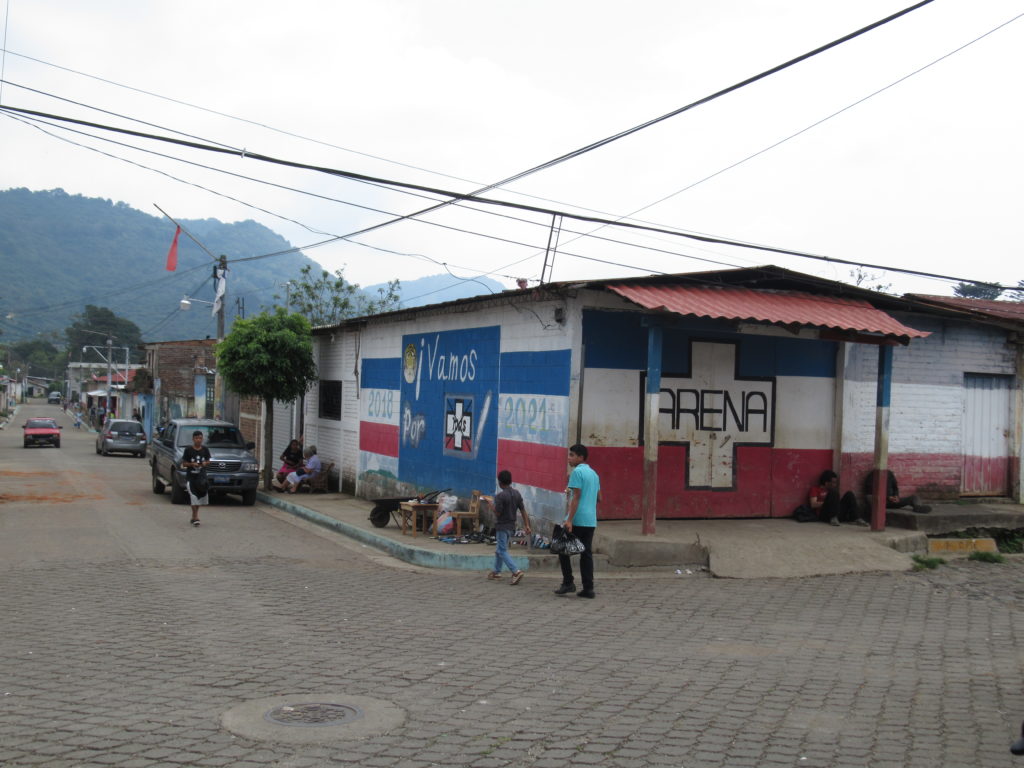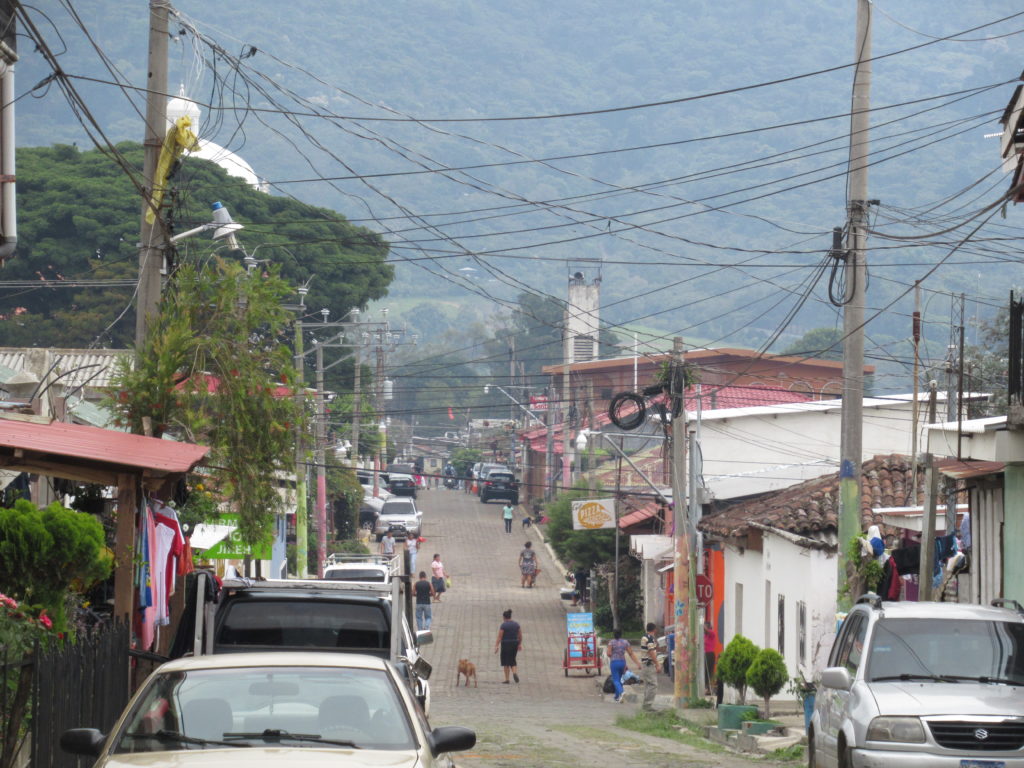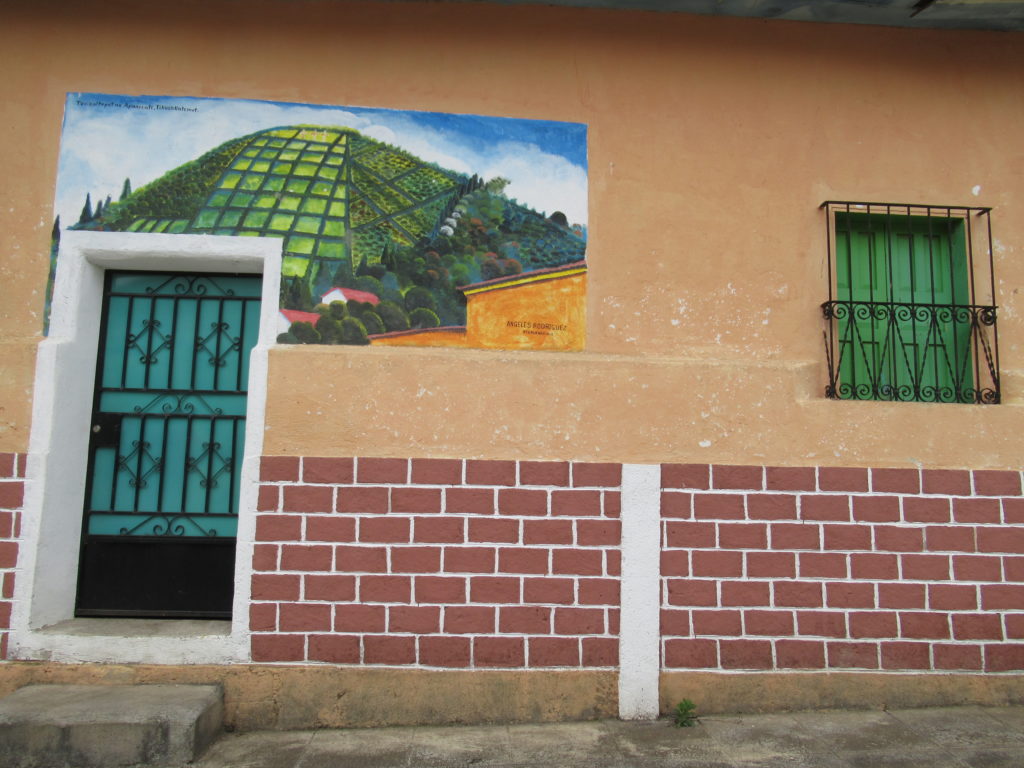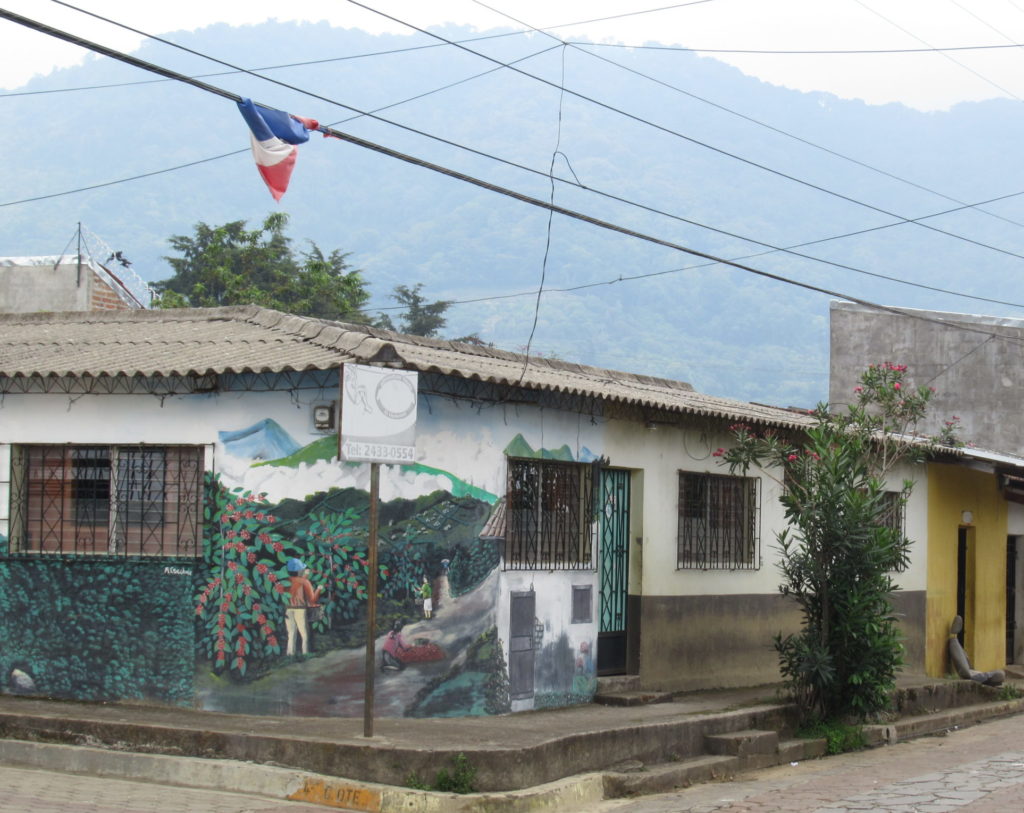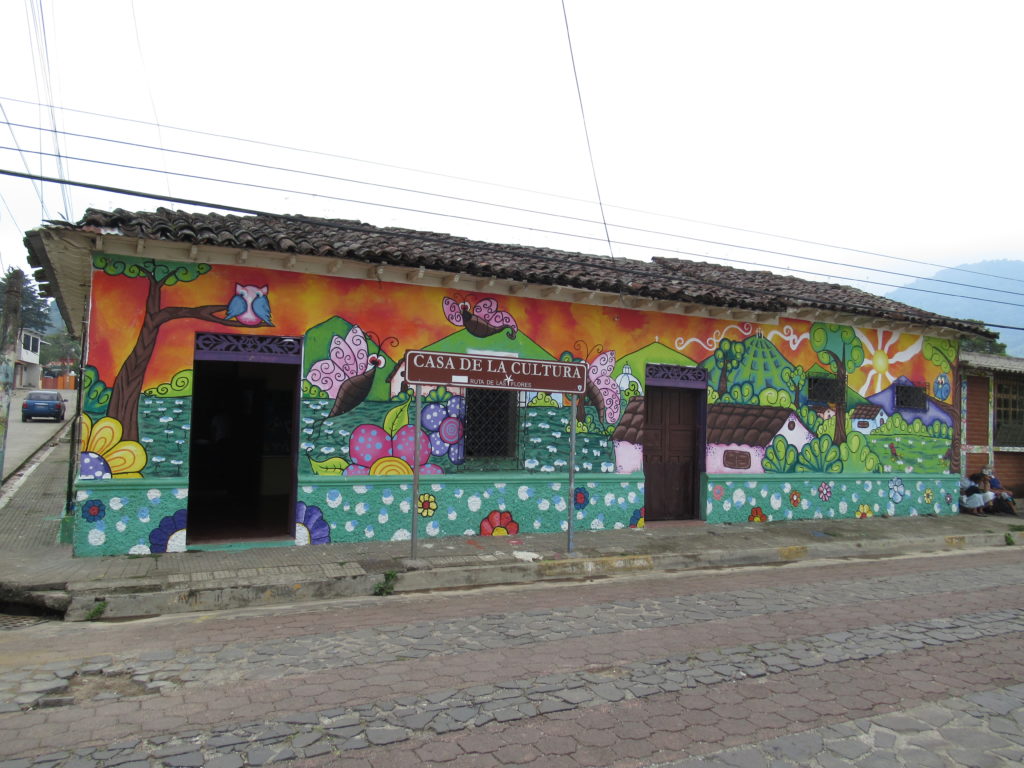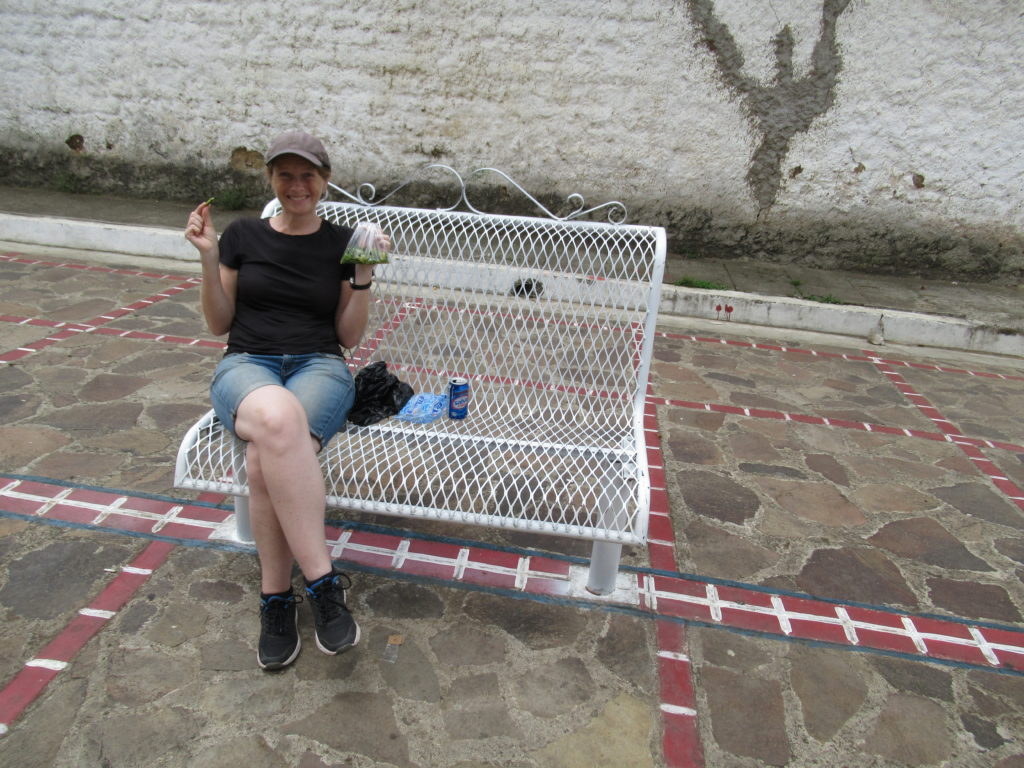 After being invigorated by our snack of beans, it was time to head out to the lake. There was contradictory information about how far it was to the Laguna Verde from the main road – in theory it was somewhere between 2km and 5km away… yes, well it turned out to be 5km! We found the right road by asking a few people as we went along, and it was a fairly pleasant walk down a country lane past hills covered in coffee and a few villages.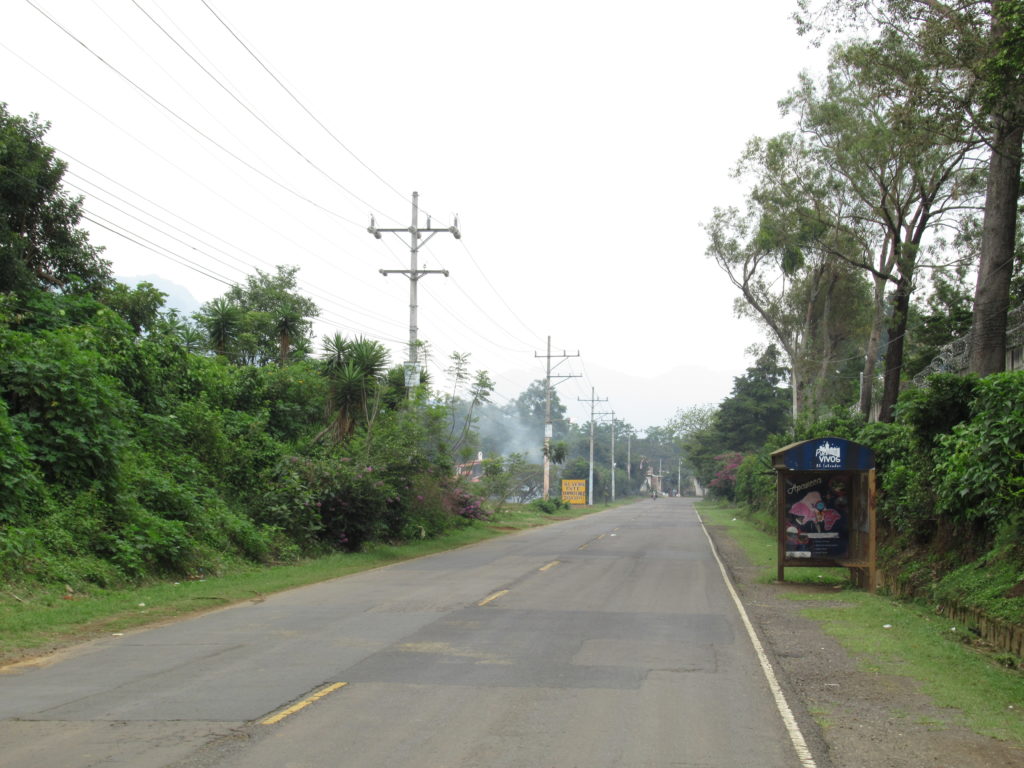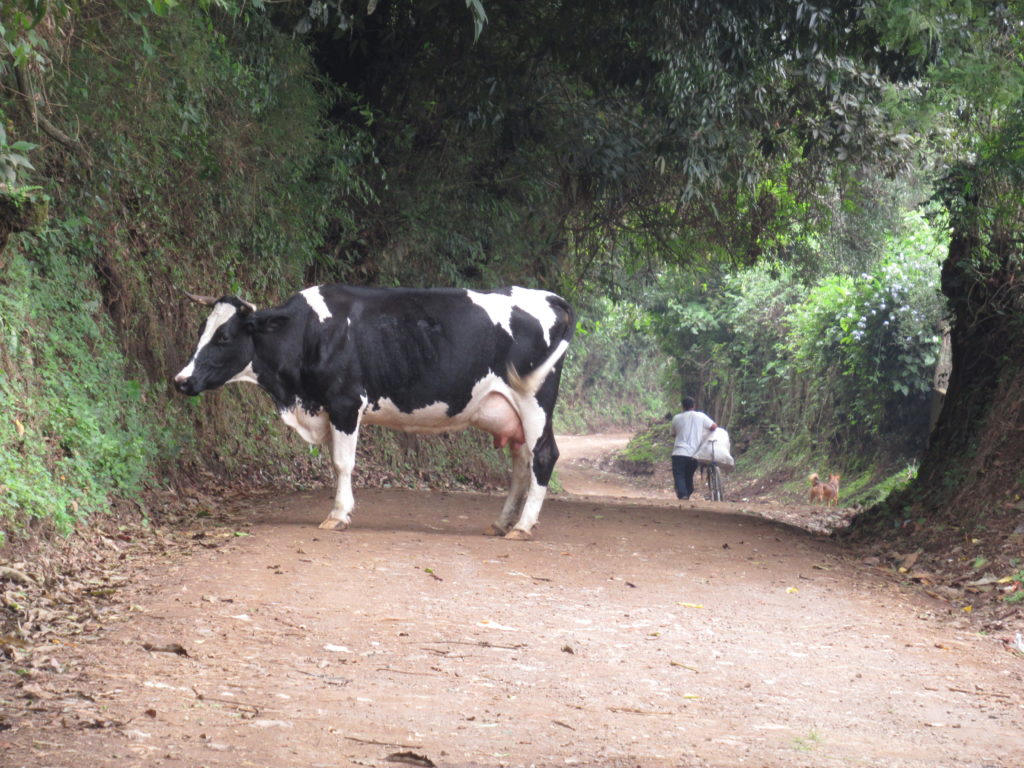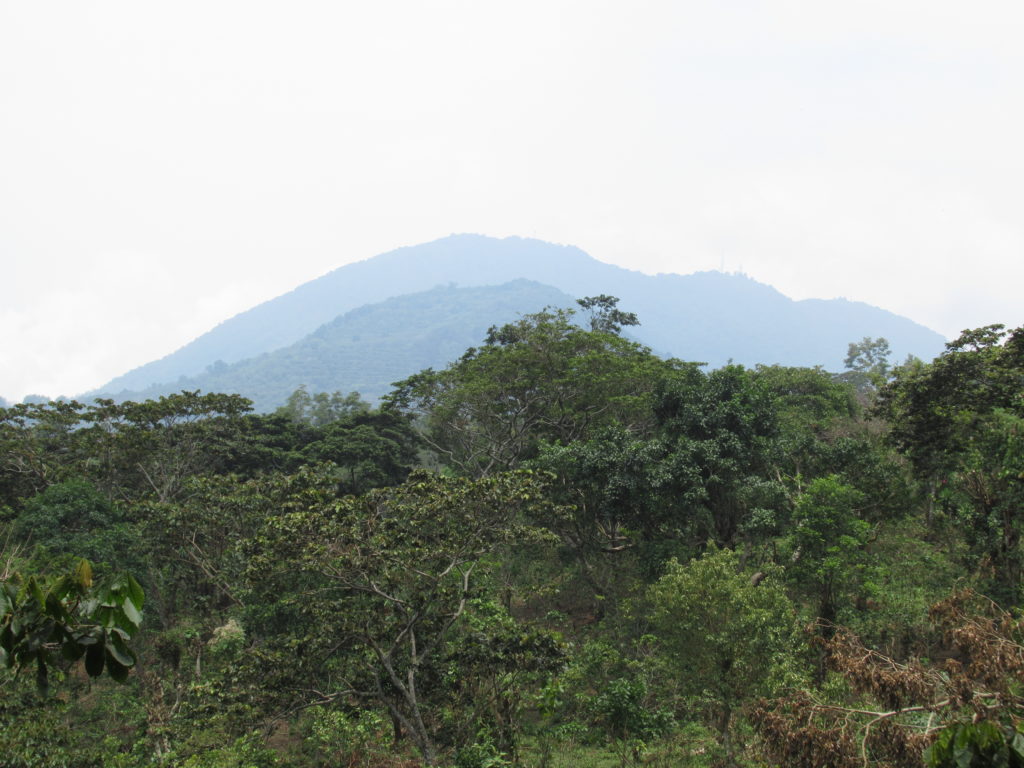 After around an hour we arrived at the lake, which I would describe as 'pleasant, but not spectacular'! There were a few villagers around and some boats on the shore.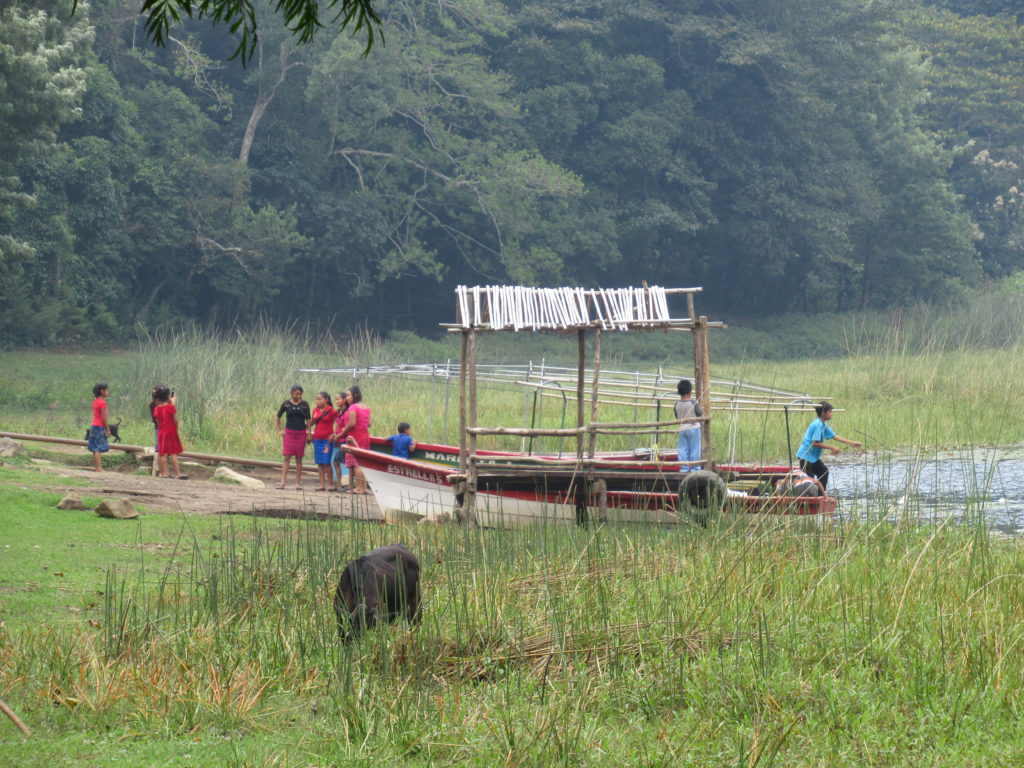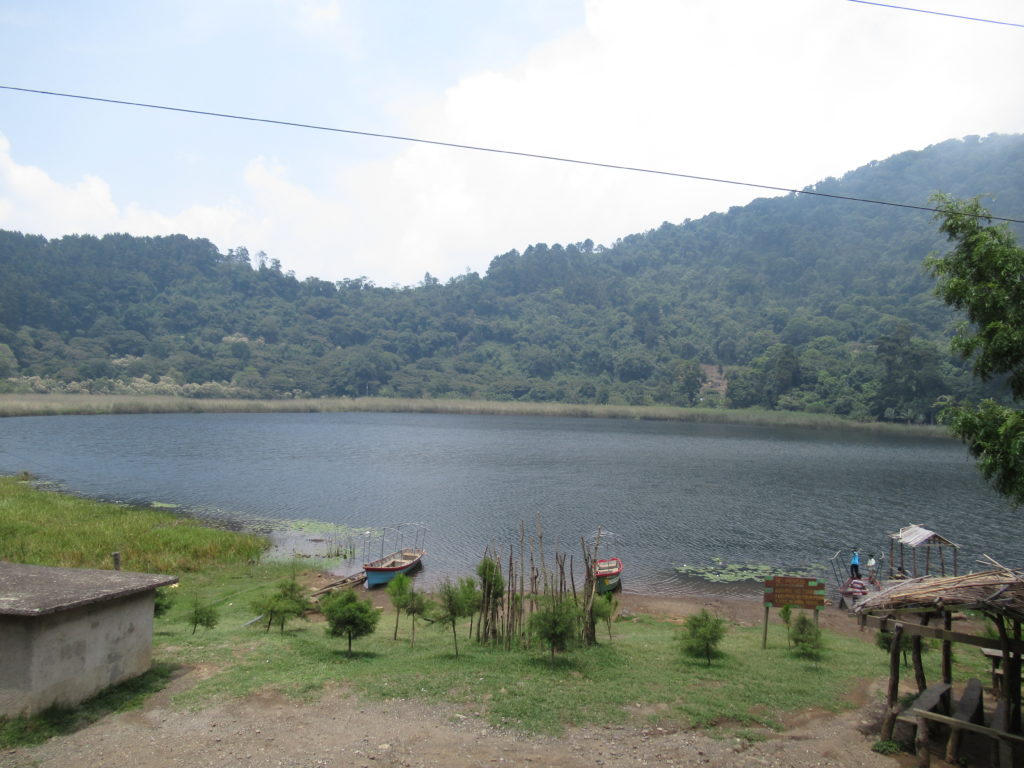 By now we were getting pretty hungry, and it was an hour back to the main road. Luckily for us there was a wooden kiosk by the lake where the villagers sold supplies! We settled down for a very healthy 'pre-lunch' of chilli flavoured crisps and bright orange soft drink.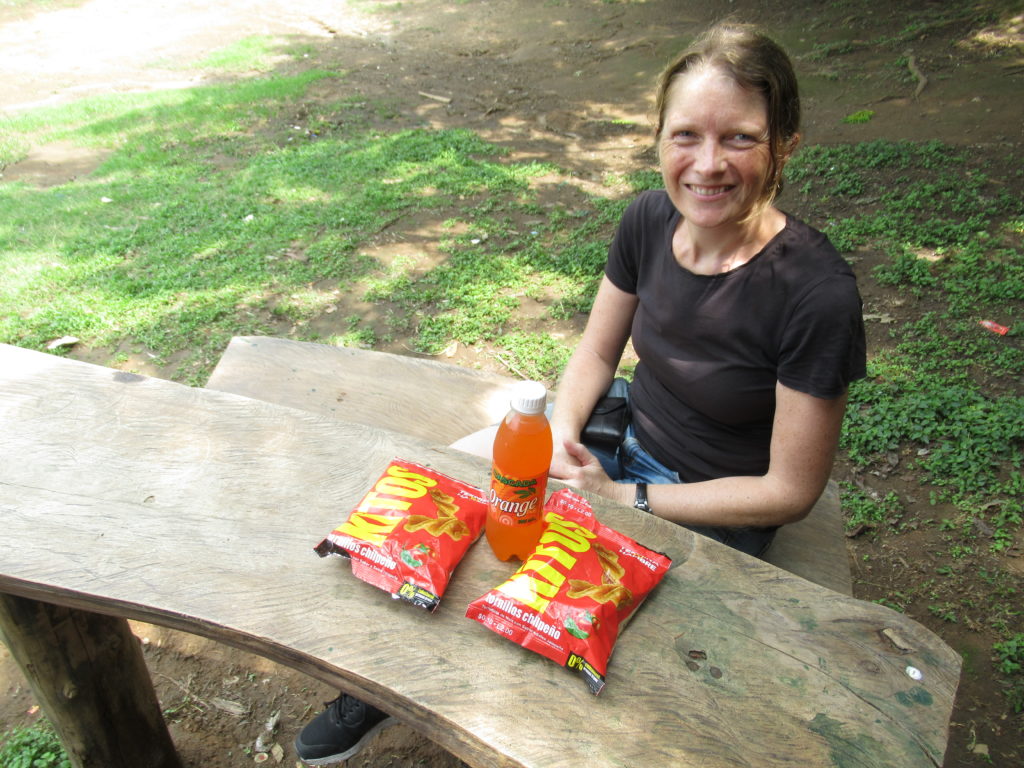 Due to being a bit short of time, we opted not to walk around the whole lake, and just had a quick wander around before we headed back down the country road towards Apaneca. An hour later we were back on the main road, and it was time to catch the bus to our final destination – Salcoatitan.
Salcoatitan is known for its beautiful church, a large tree, and local food specialities. When we arrived we set about the most important business of the day – which was to have our 'proper lunch'! 🙂 There was an 'official' tourist building there, which had various restaurants and kiosks selling the local speciality food, so we ordered 'riguas con queso', 'tortitas con queso', and 'atol de elote' – I will save the details of these delicious foods for a future 'food' blog post, but suffice to say that there was a lot of corn and cheese involved! 🙂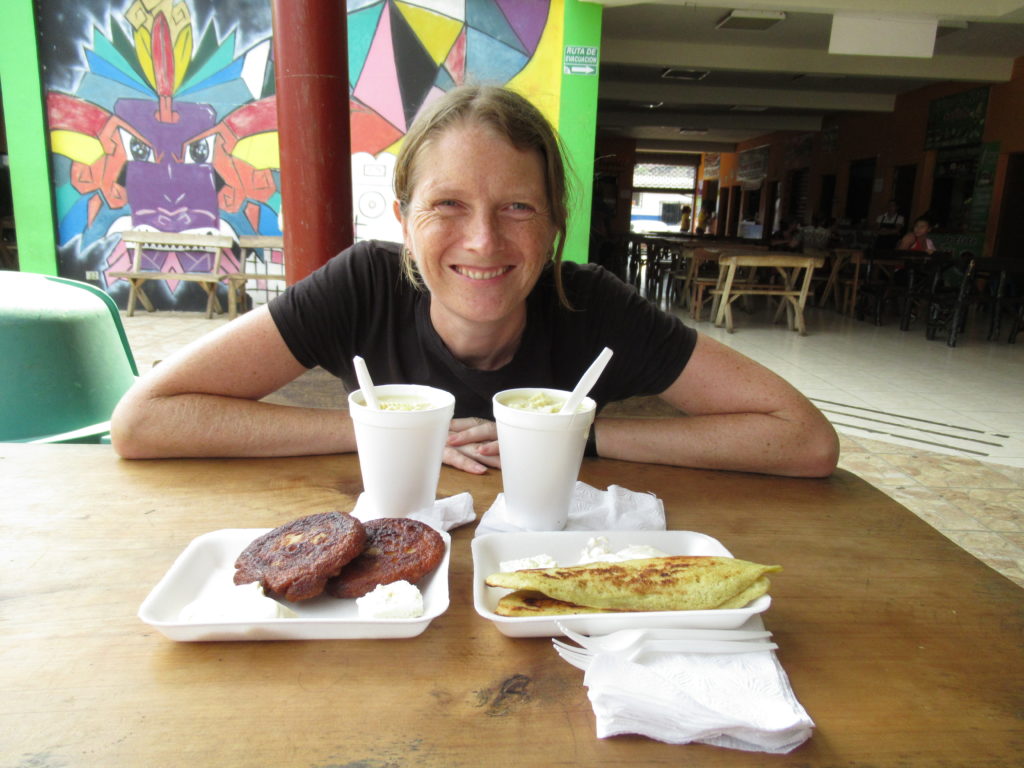 With our bellies full, it was time to head out and check out the church and the tree. The church was pretty easy to find as it was right next to the tourist food area. We had a bit of a stroll and found plenty of murals as well – yes, the Ruta de las Flores certainly has plenty of murals!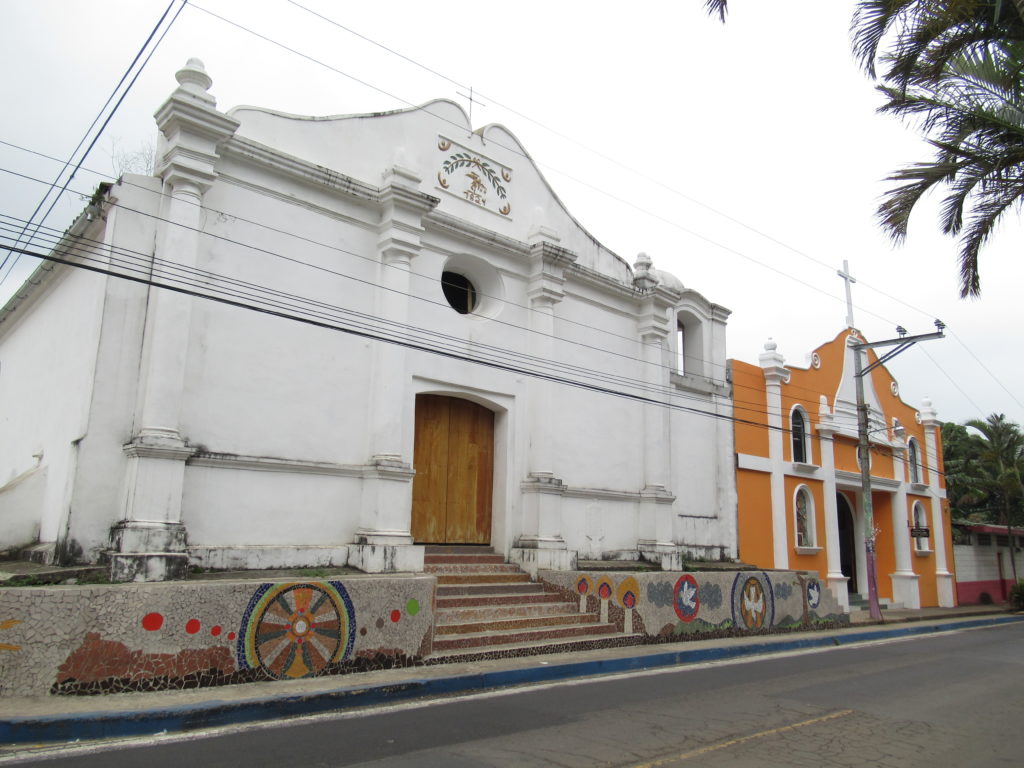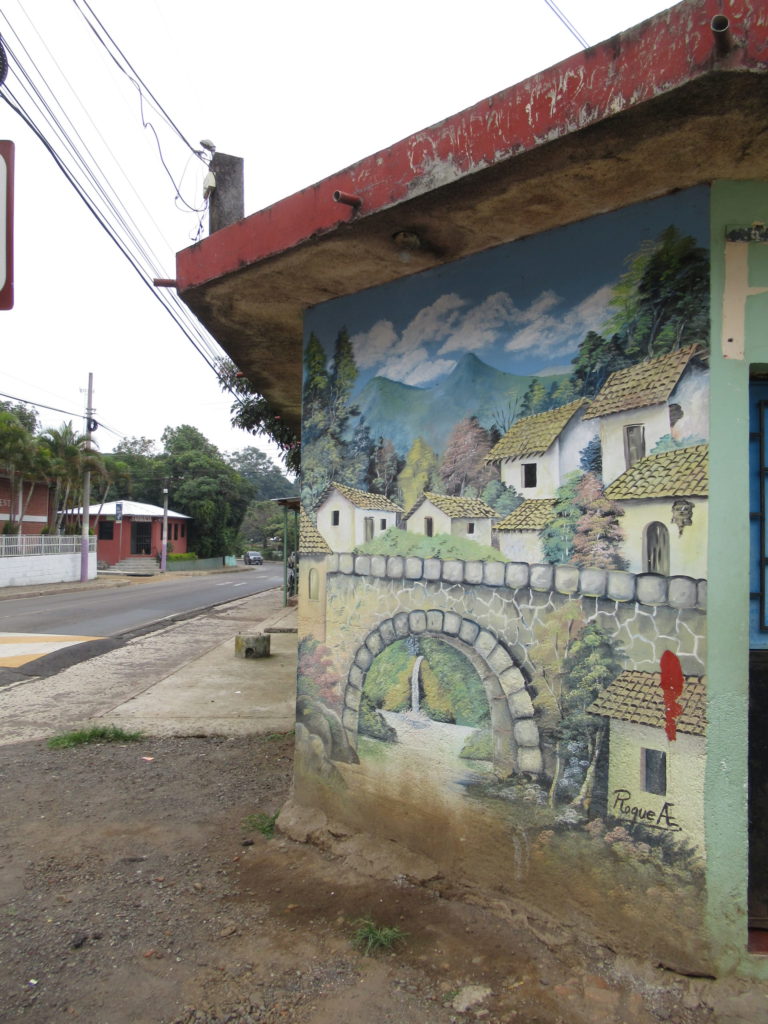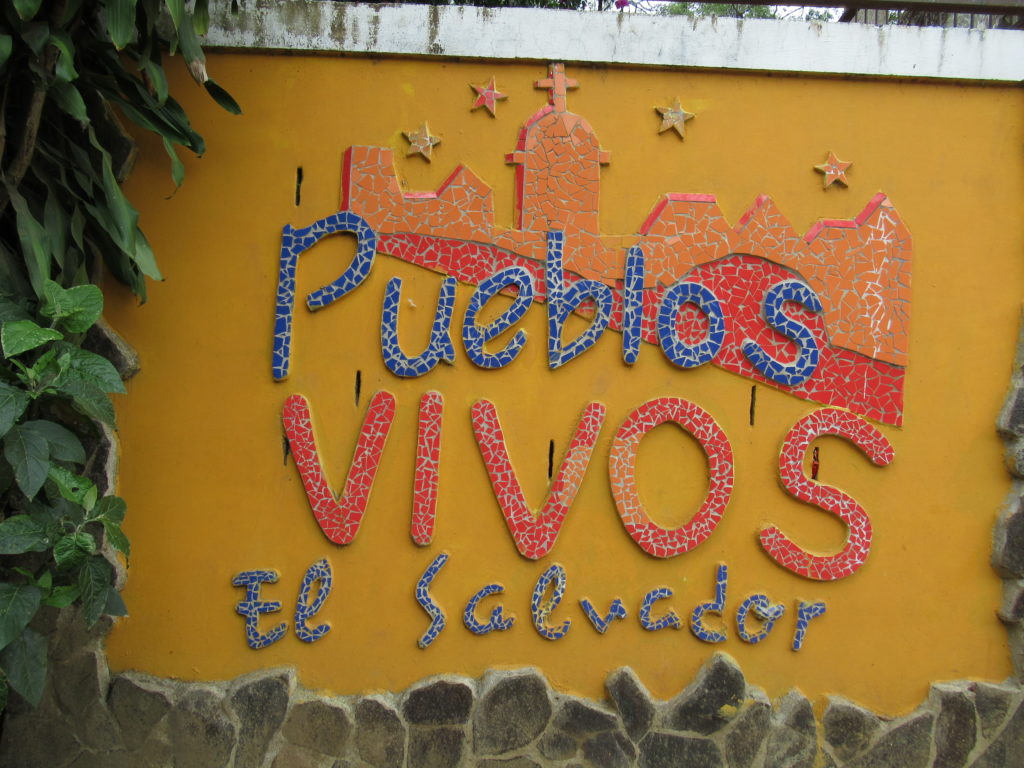 Satisfied with the church and mural situation, there was only one place left to visit – La Ceiba Park. A Ceiba is a type of tree that is sacred to the indigenous peoples of the Americas. Because of this, they were often left standing when other trees around were cut down. They grow very large and live for a long time, and the tree that we were about to visit was around 350 years old!
In the early 1900s, traders would meet under this tree to set up stalls and sell their produce – with people even coming from neighbouring Guatemala. When we arrived at the tree, there were no traders there – in fact, there was no-one there at all! We had the tree all to ourselves. 🙂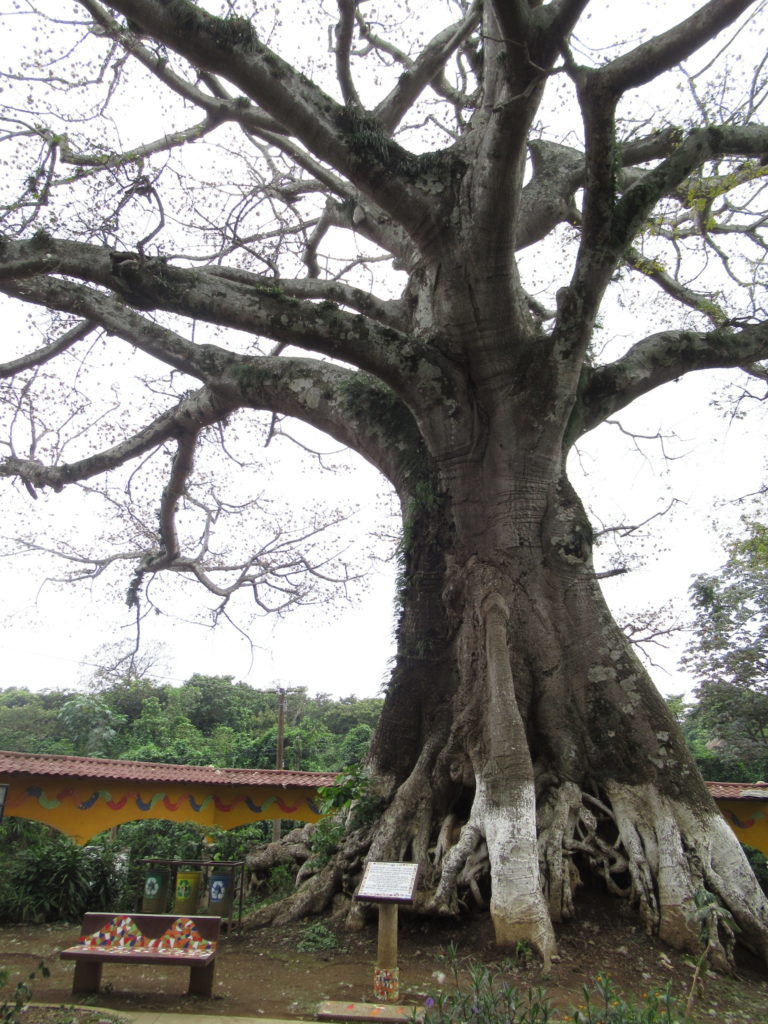 The visit to the tree marked the end of our day out, and also the end of our time on the Ruta de las Flores – tomorrow it was back to Santa Ana.