Yes, how time flies – it was time for CC's SECOND birthday of the trip – this time in Peru. After the not-quite-organised-near-mess-up of CC's birthday in Brazil, this one went very well thanks to my fluid and seamless organisation 🙂 Or perhaps because we found nice food and drink all day… one or the other…. 🙂
We were in Trujillo on the date of CC's birthday – but that didn't mean that we had to spend the birthday in Trujillo… no… we were going to the seaside! 🙂 Yes, not far from Trujillo is the seaside town of Huanchaco – but before we headed there we needed to start the day off right with a nice coffee – and fortunately Trujillo is one of the few cities in Peru (maybe the only one?! ) where you can find very nice coffee at a low price – so off to the market we went for coffee.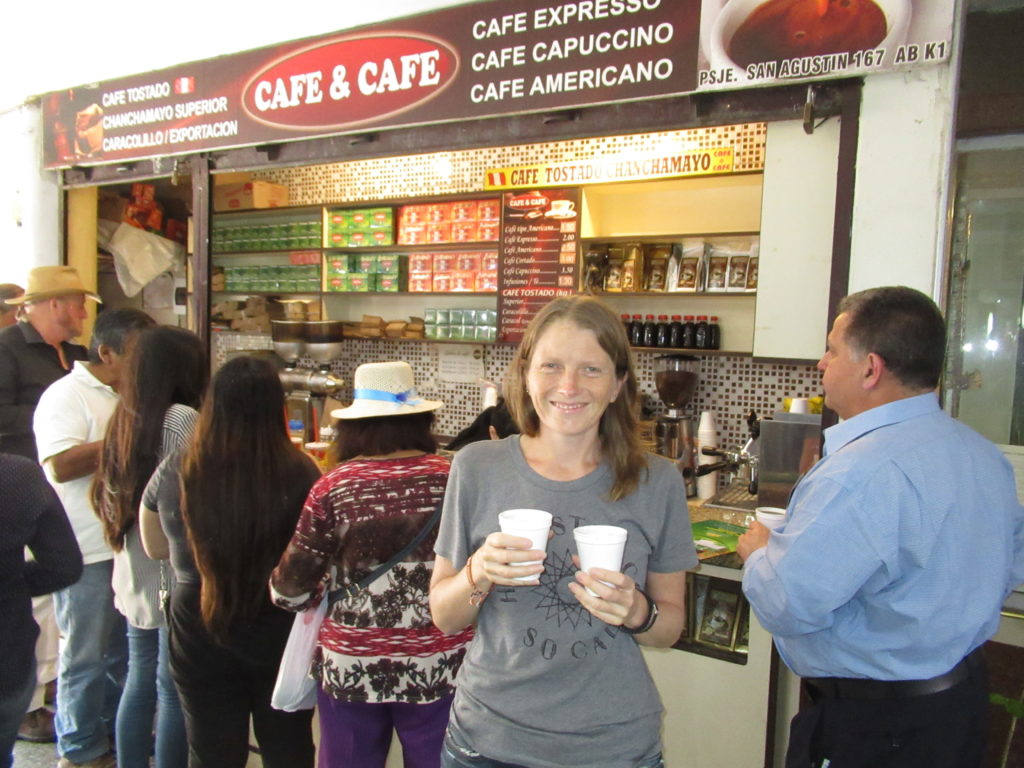 The theme of the day was 'food, drink, and the seaside' – yes, that's my theme – I invented it – good eh? So to enact the theme, we simply had to visit a place by the sea and walk around looking for places to eat and drink. It only took around 45 minutes in the minibus to get to Huanchaco, so the seaside bit was easy…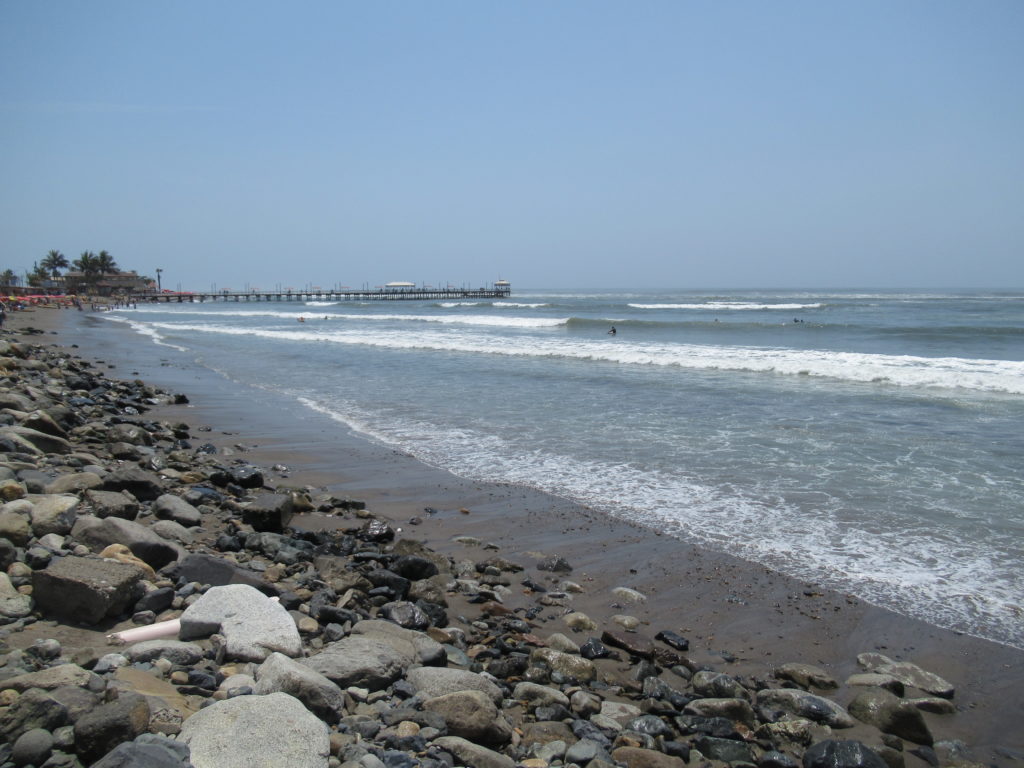 Of course, looks can be deceiving – you may be looking at the above photo of Huanchaco and thinking that it's a lovely tranquil beach…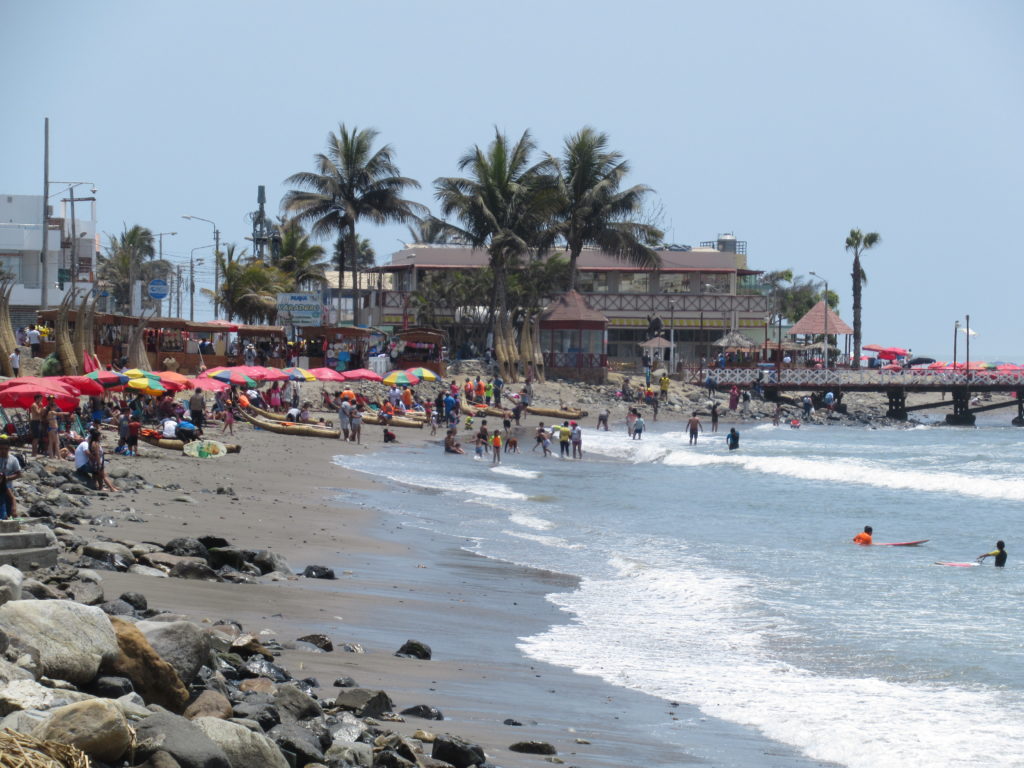 In truth, we didn't have high expectations for Huanchaco, as it's a 'tourist hotspot' as they say in the business – but parts of it were quite relaxing, and we enjoyed strolling around. One of the main tourist draws of Huanchaco is the Caballitos de totora – loosely translated as 'little reed horses' – they are boats made entirely out of reeds from the nearby swamp – which have been made in the traditional way for about 3000 years!
The fishermen of Haunchaco still use these boats in modern times, and there are loads of them all along the beach propped up in various states of repair and disrepair. Nowadays there is also a sideline tourism business, where tourists get taken out in these boats to ride the wild waves! It looks kind of surreal, as the tourist sits on the back of the boat, facing backwards, wearing a bright orange lifejacket – while the fisherman sits on the front facing the other way and paddling.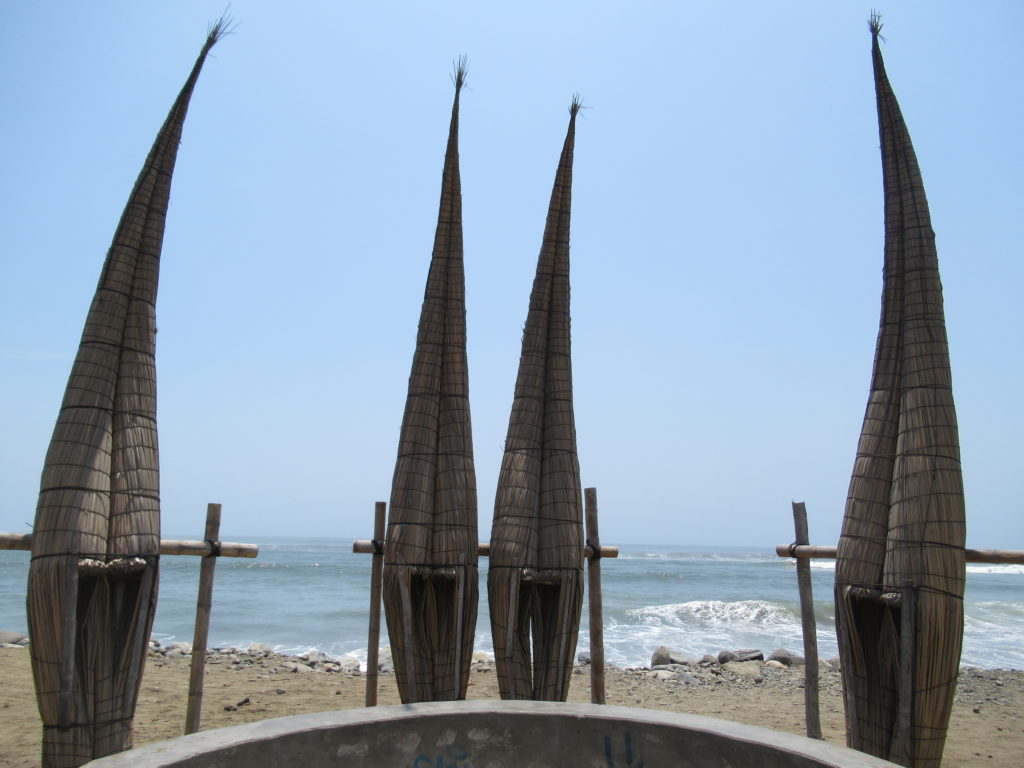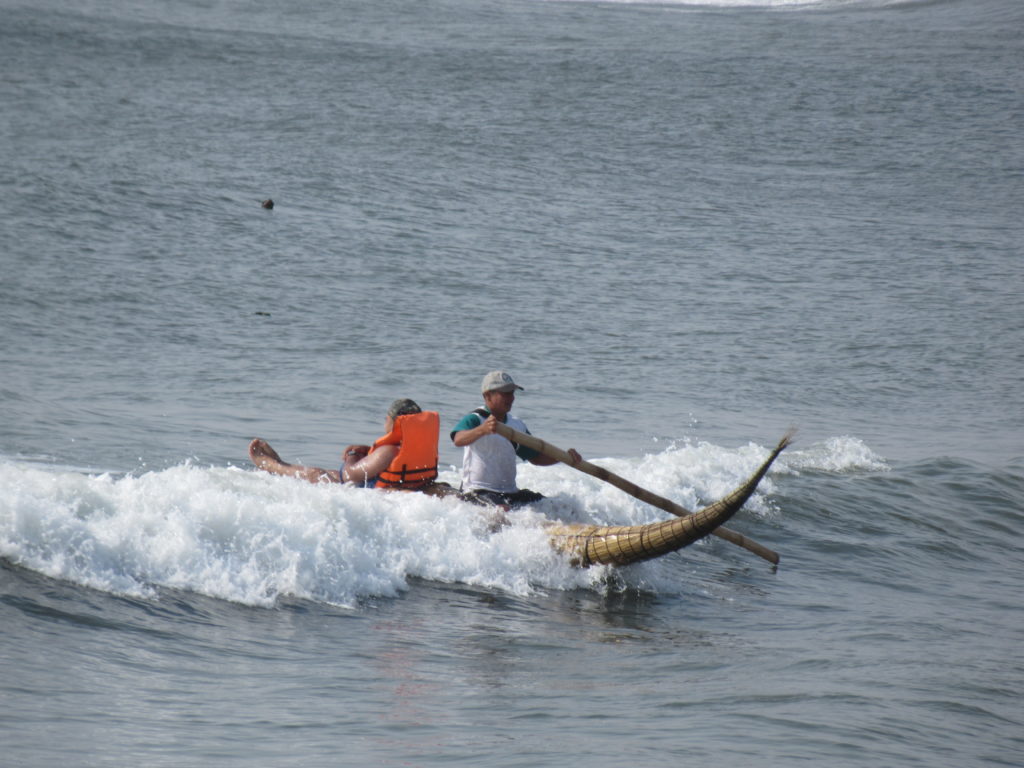 Now, on to the eating and drinking part of the day! 🙂
We had scoped out a possible restaurant for lunch on the internet, but on arrival were not impressed with the menu on offer – so it was time for plan B. We had decided against both chicken and 'fish with lots of bones in it' as options – which in Peru leaves pretty much nothing except for 'tough meat' – also off the menu as CC doesn't eat meat (tough or non-tough). BUT, being in a touristy type place there were other options available – a bit more expensive of course – but as it was CC's birthday, then money was no object – so we went for vegetable burritos for $6.50AUD (3.60 GBP) – that's TRIPLE what our lunch normally costs – but CC's happiness was worth it 🙂
Yes, it was a gamble – often this type of tourist food in Peru is a bit hit and miss – but they were delicious and flavoursome! YES! 🙂
After lunch, it was time for the serious business of walking along the shore and finding a nice cold drink.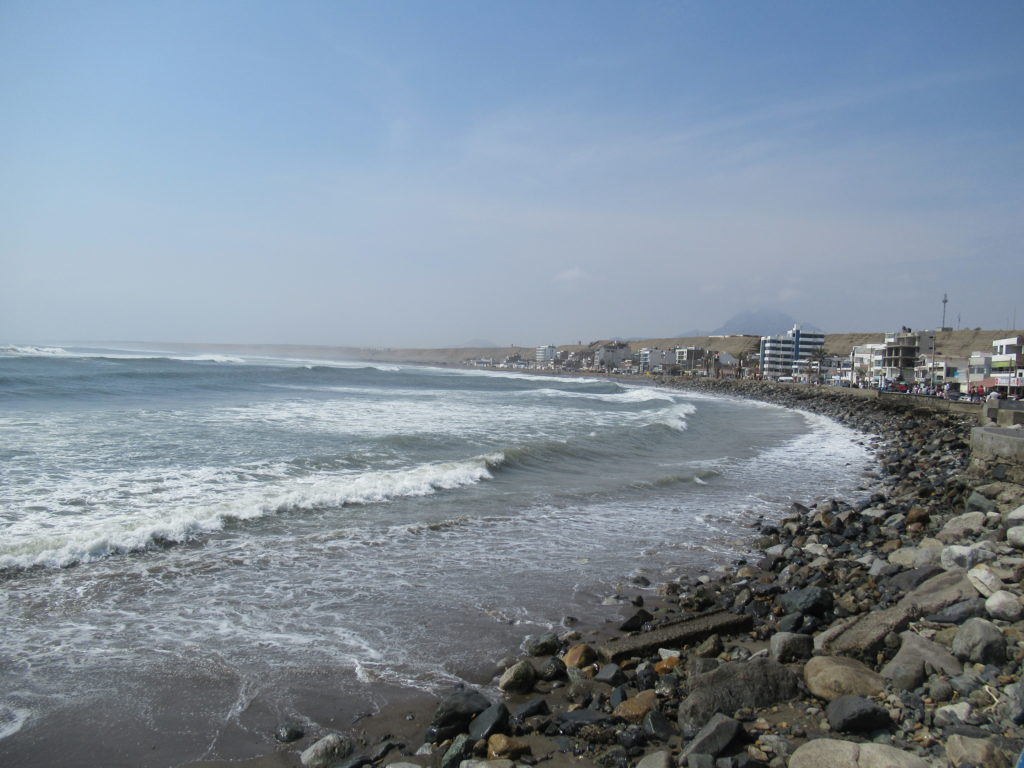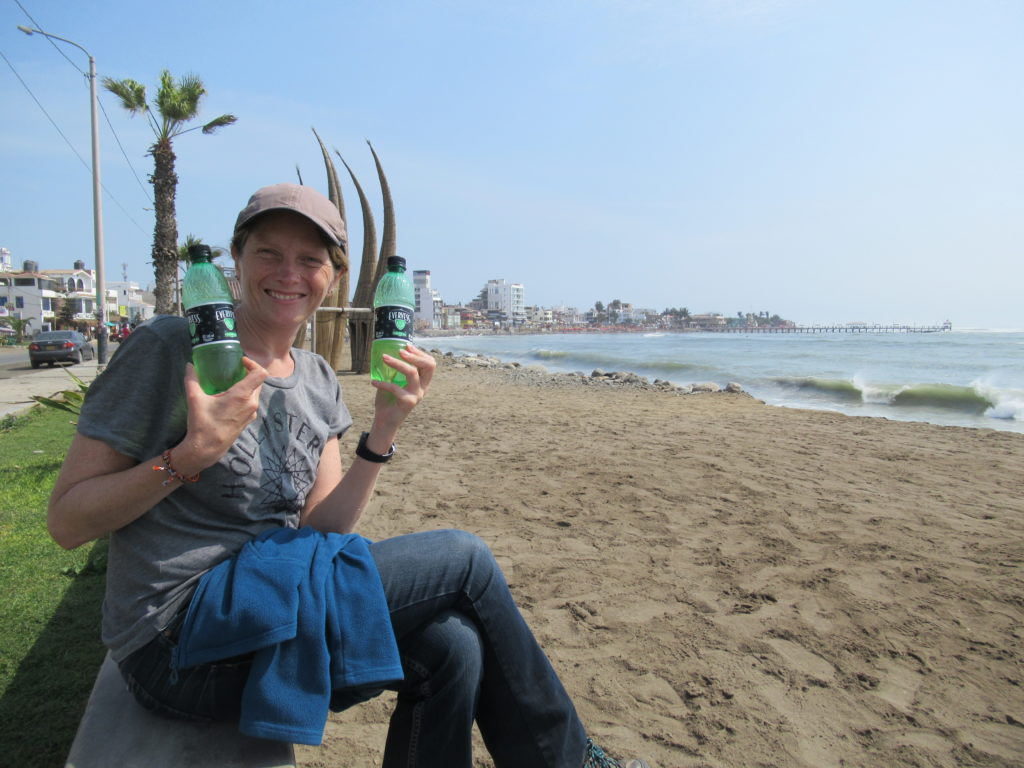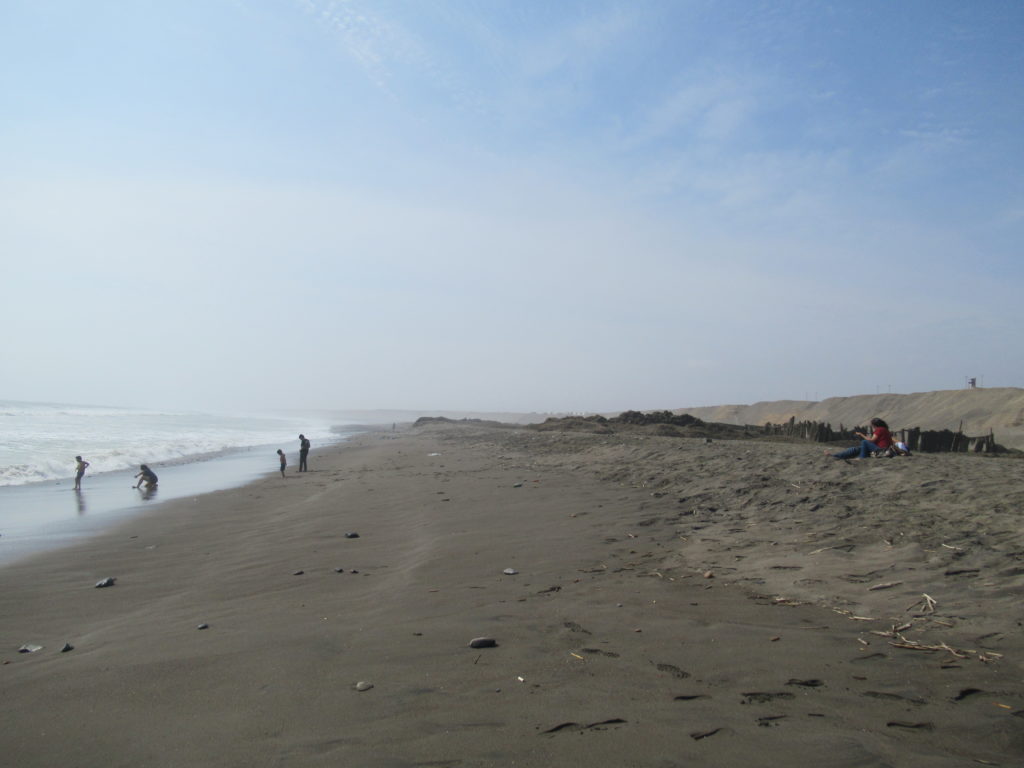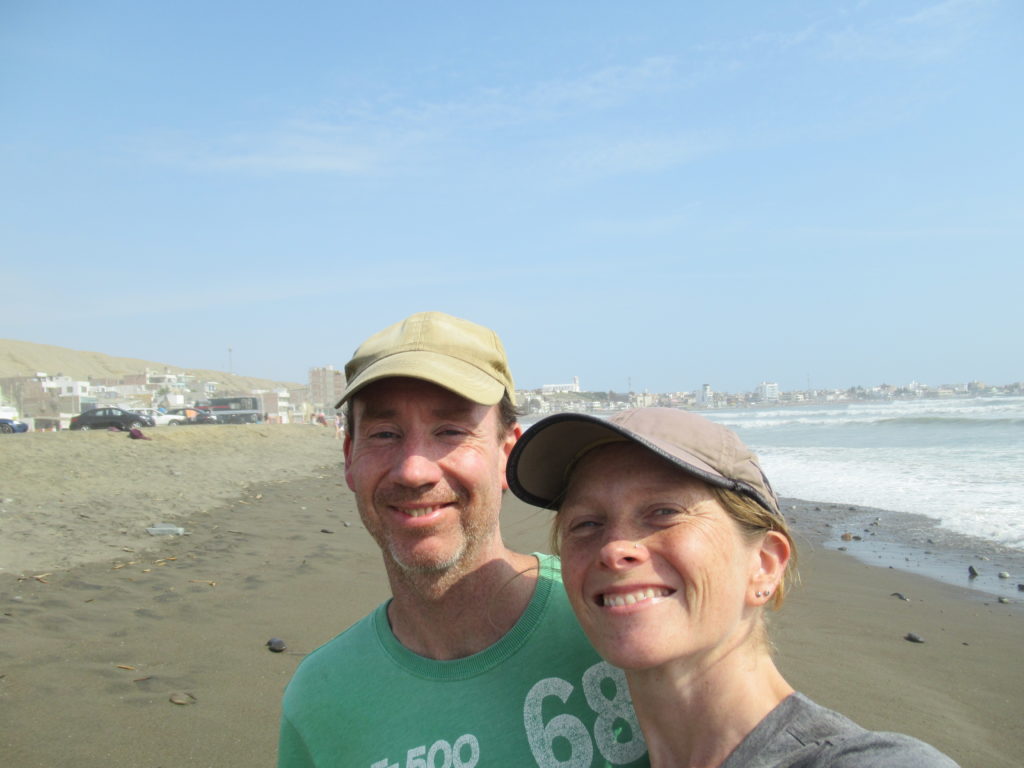 It wasn't long before we were ready for more eating and drinking – so we headed back to the busy end of the beach and discovered something very excellent – 'picarones con higo' – which are donut type things (but made with sweet potato) with a lovely sweet fig sauce all over them. They were SO good 🙂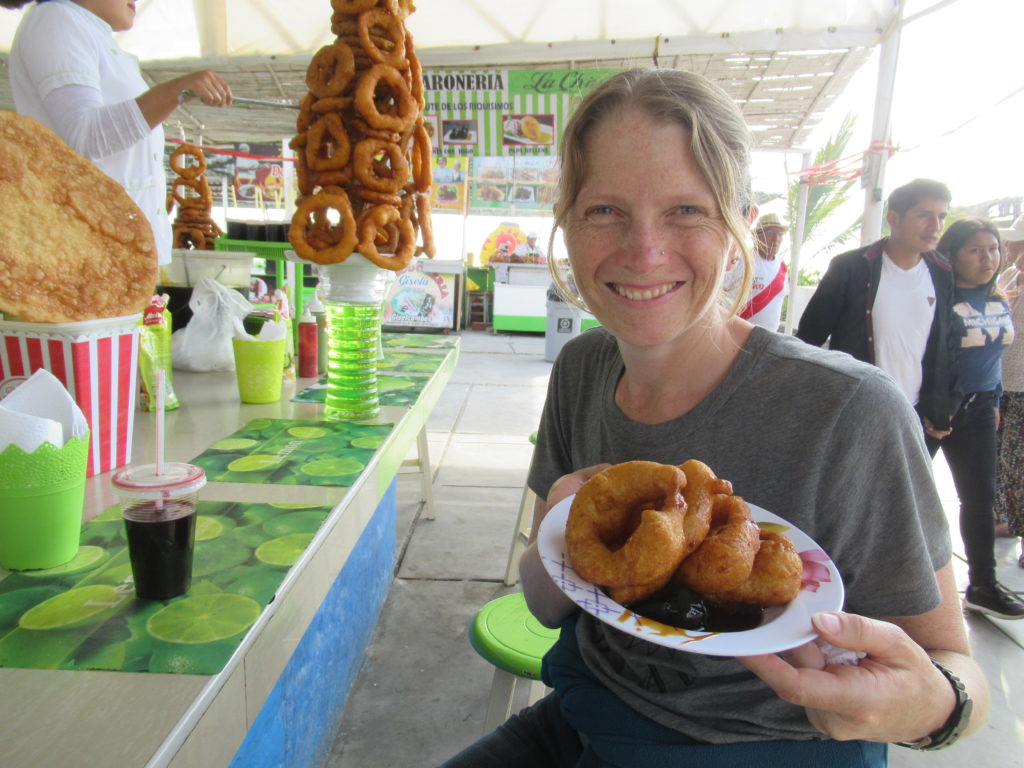 Next up… beer! Of course if you are going to drink a beer at the seaside, it's important to find a spot with a water view. In this case, there was a great place right on the edge of the beach.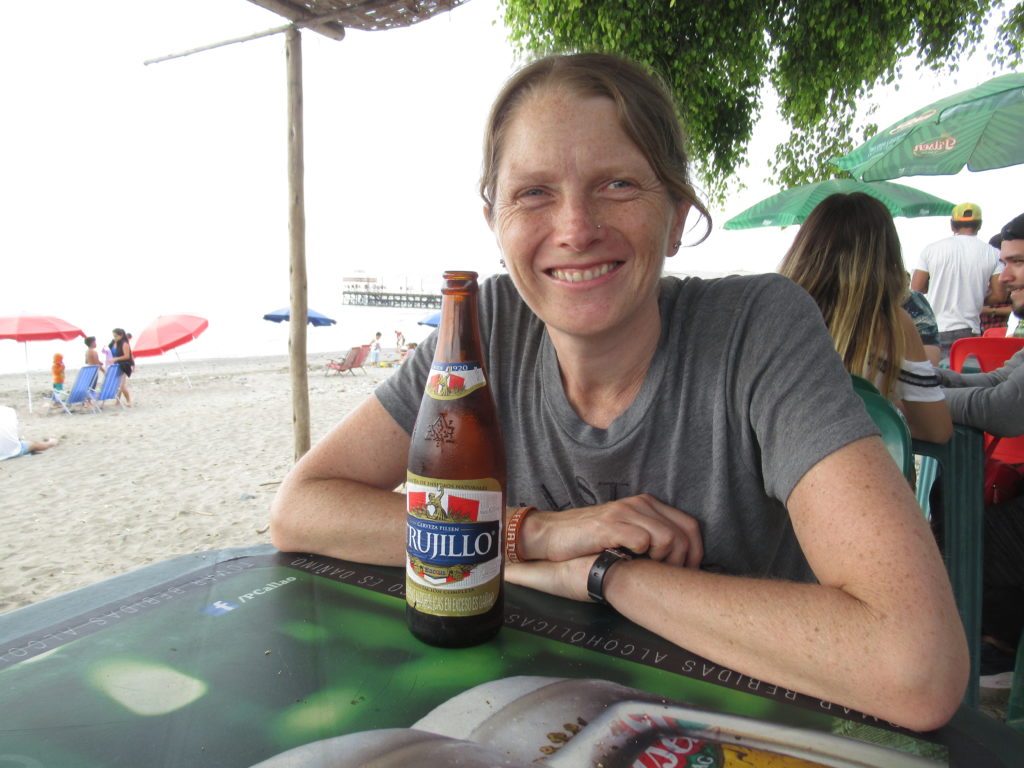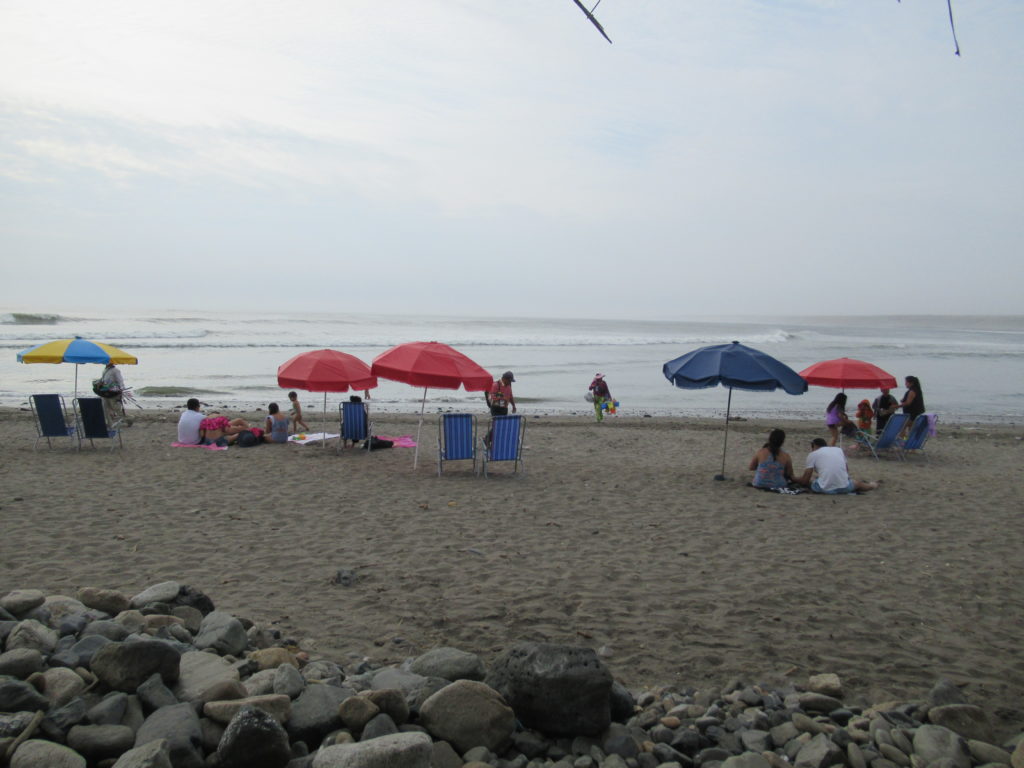 Before we knew it, it was time to head back to Trujillo after our succesful day at the seaside. BUT, the eating and drinking wasn't over yet.. OF COURSE NOT! It would continue back in our room in Trujillo…  with first of all, some cake! 🙂 Not just any old cake, but very delicious 'tres leches' cake.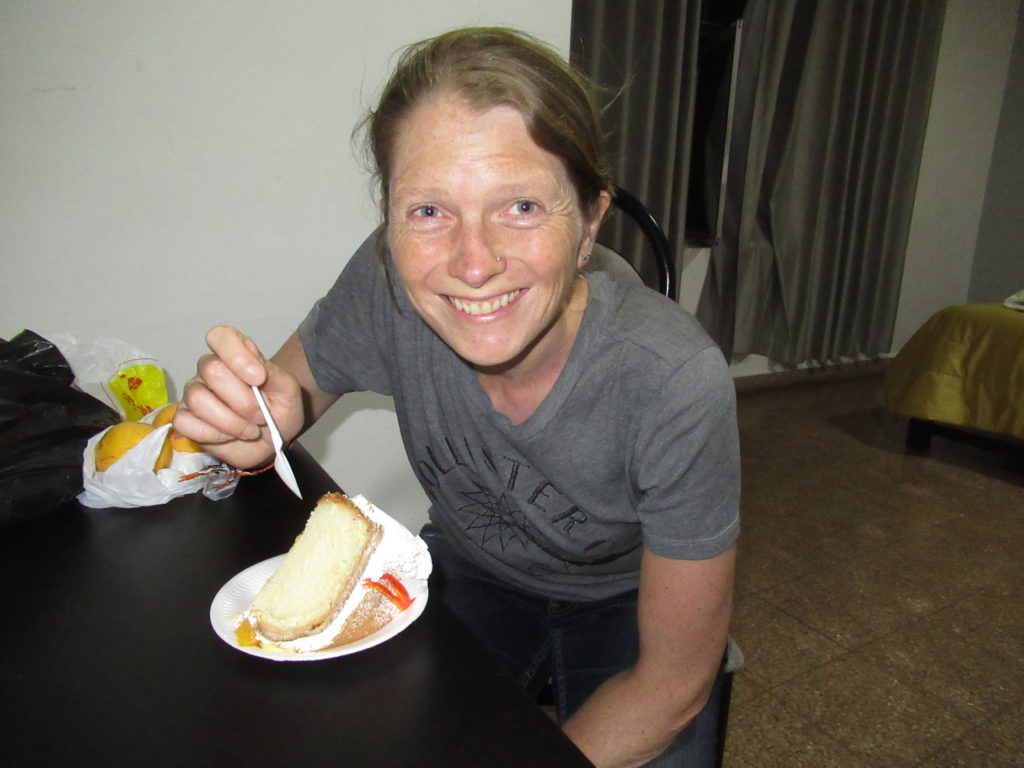 Next up – more beer!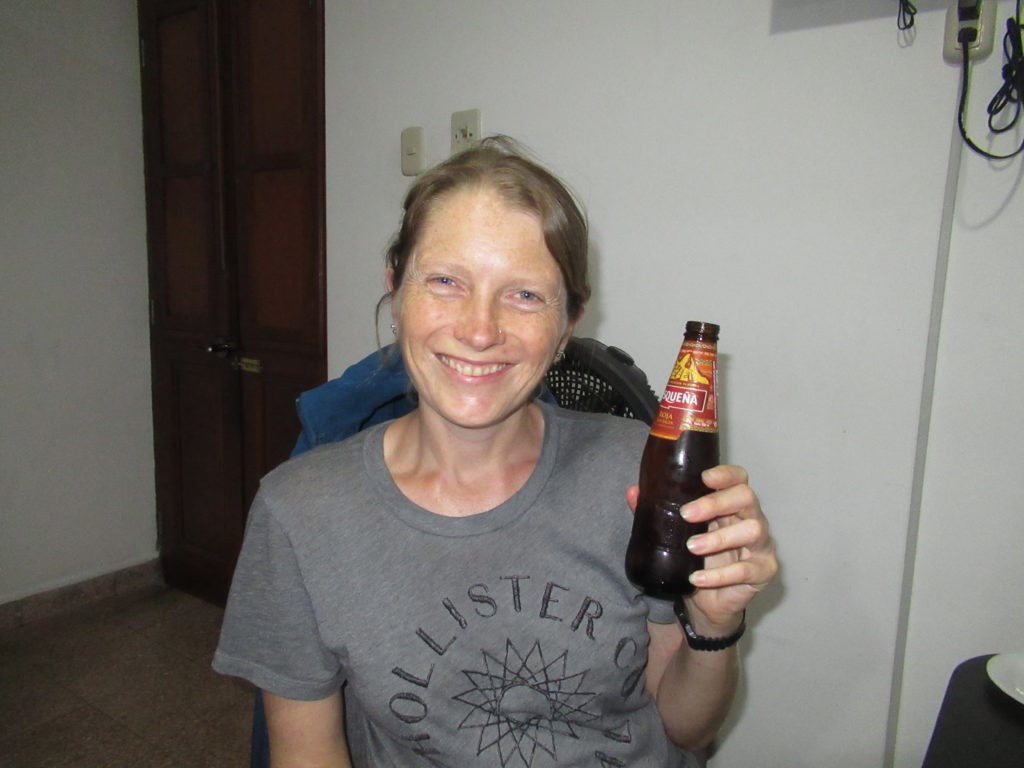 And FINALLY… dinner time! A PB and CC special of vegetables, tuna fish, and chifles (fried, salty plantains).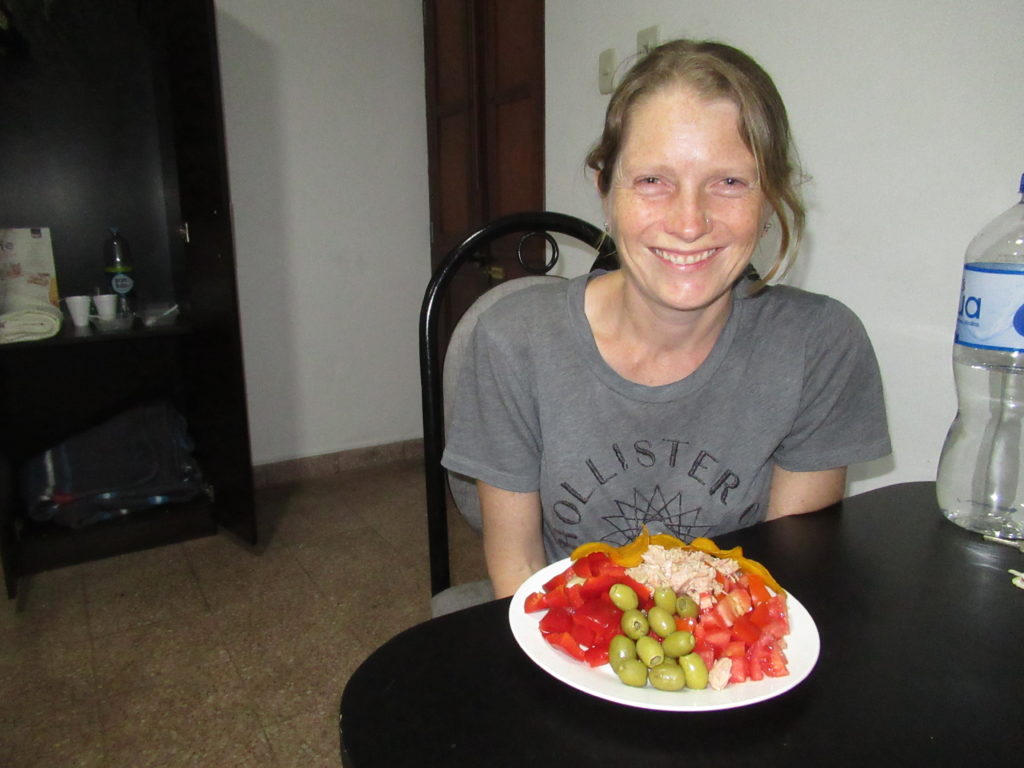 CC was delighted with the food, drink, and seaside of the day – as evidenced by her comments – 'Huanchaca exceeded my expectations', and 'I never thought that I would be able to enjoy everything I ate and drank on a day in Peru'.
She also got a very lovely artistic birthday card…