Cholula is part of the municipality of Puebla, and is just a short colectivo ride away from where we were staying in Puebla. It is famous for the Great Pyramid of Cholula – which is an ancient Toltec pyramid dating back to 3BC, which was built upon century after century until by 9AD it was the largest pyramid or monument ever created in the world! YES, you would think it would be more famous wouldn't you?
Its total volume is estimated at over 4.45 million cubic metres – which is almost double that of the Great Pyramid of Egypt (which is actually taller, but not as big volume-wise). At its peak it was the second largest settlement in Mexico with around 100,000 people.
I think its lack of fame comes from the fact that it is no longer recognisable as a pyramid, as it was abandoned and became overgrown – and by the time the Spanish arrived it looked just like a hill – which they built a church on. Because of this it has never been excavated and it looks just like a hill with a church on top!
However, it is a pyramid full of tunnels which are open to the public – so you can go inside. The ticket also includes access to more ruins below and entrance to a museum. This all sounded awesome to us – so off we went to Cholula.
The colectivo dropped us off at the main square, which had a very pretty church on it. From the square it was possible to see the pyramid with the church perched on top.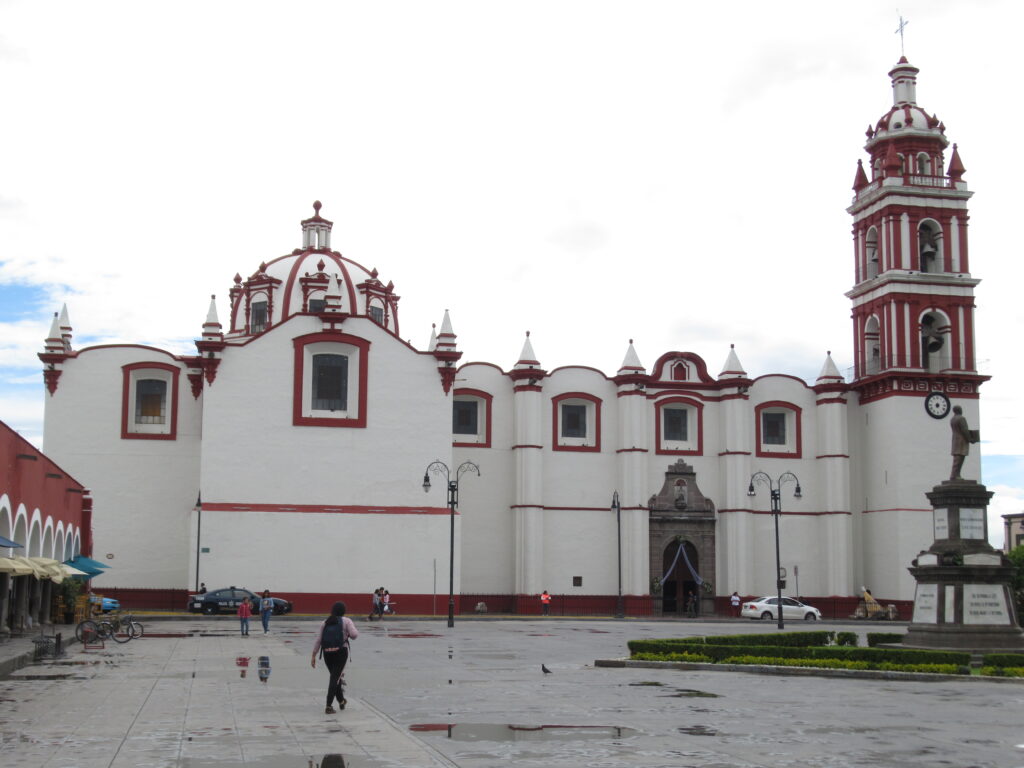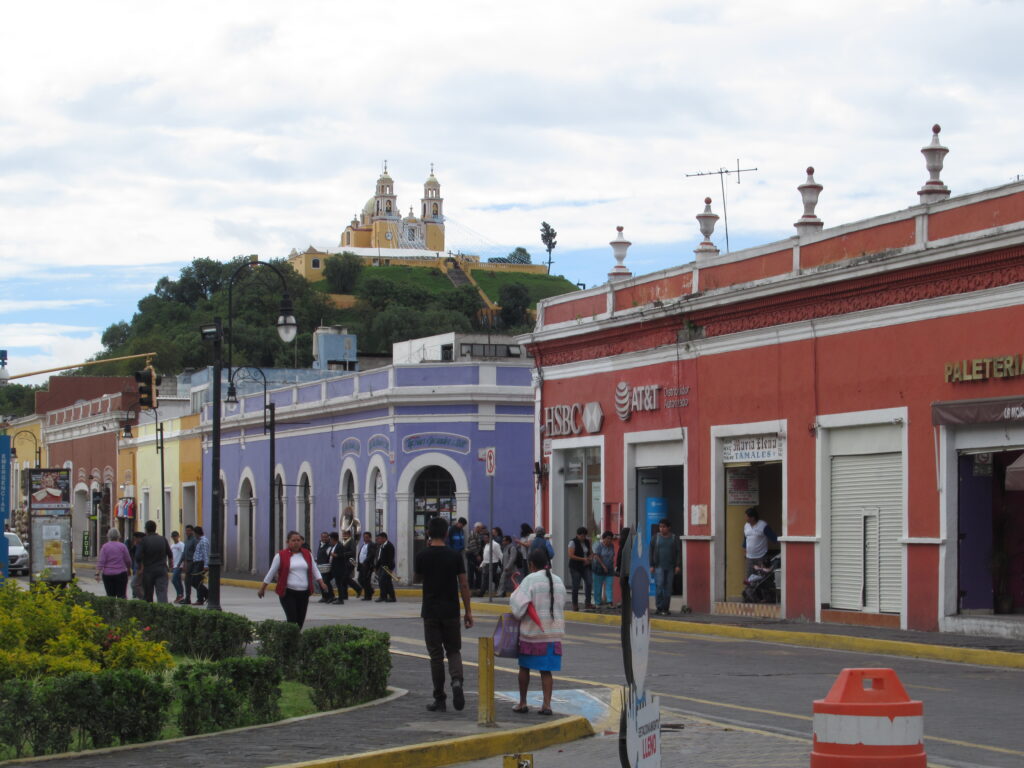 The church at the top of the pyramid is called Iglesia de Nuestra Señora de los Remedios, and we decided to first go up to the top of the pyramid to check out the church, before we went inside the pyramid and museum. On the way to the church, we saw two very cool things – a volcano, and a squirrel. I will leave it to you to decide which of the two is better 🙂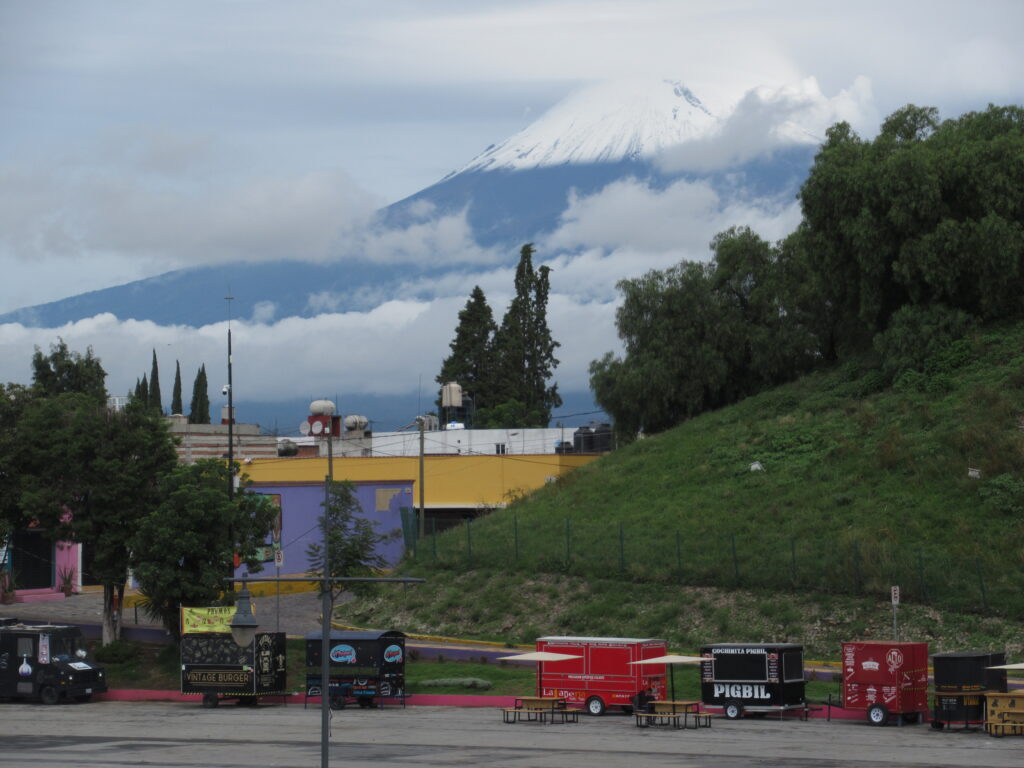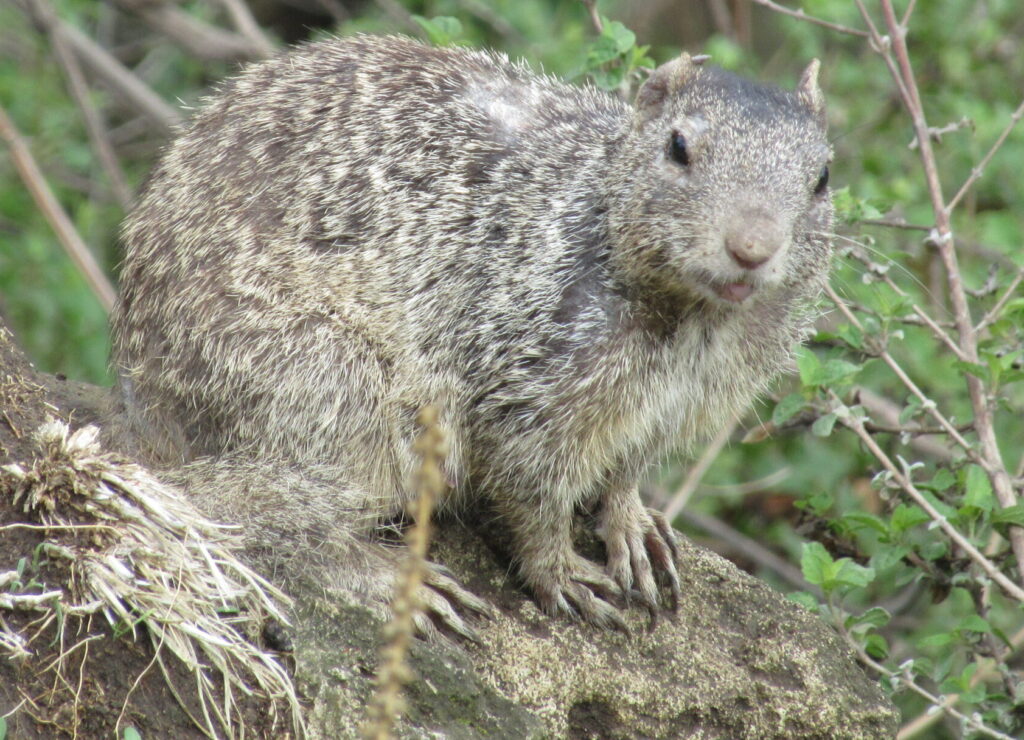 OK, so I'm going to say that the volcano was more exciting. It was quite a spectacular site on the horizon with it's snow-capped peak. Popocatépetl stands at 5426m above sea-level. Pretty impresssive! It is the second highest peak in Mexico. It is a VERY active volcano and has minor eruptions almost every year, and reasonably frequent major eruptions – such as in the year 2000 when they had to evacuate around 10,000 people from the area.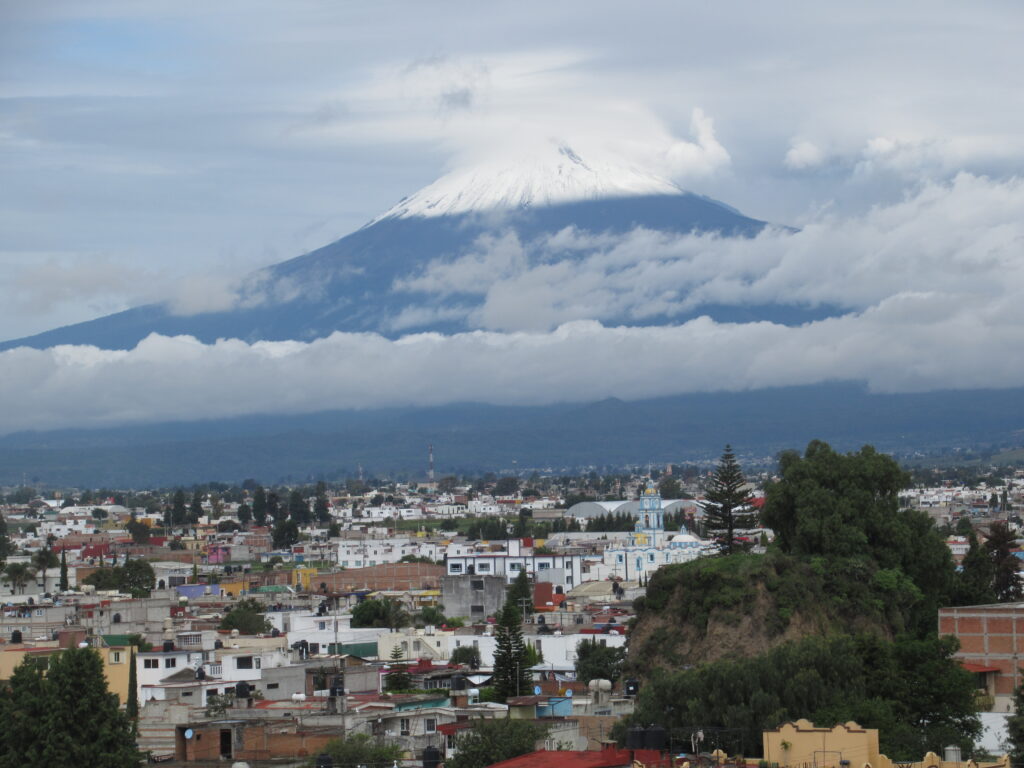 It didn't take long to walk to the church at the top of the hill/pyramid – and although the church was nice enough, the views from the top were a bit more interesting to us and so we set about our usual practice of taking hundreds of very similar photos of the same view 🙂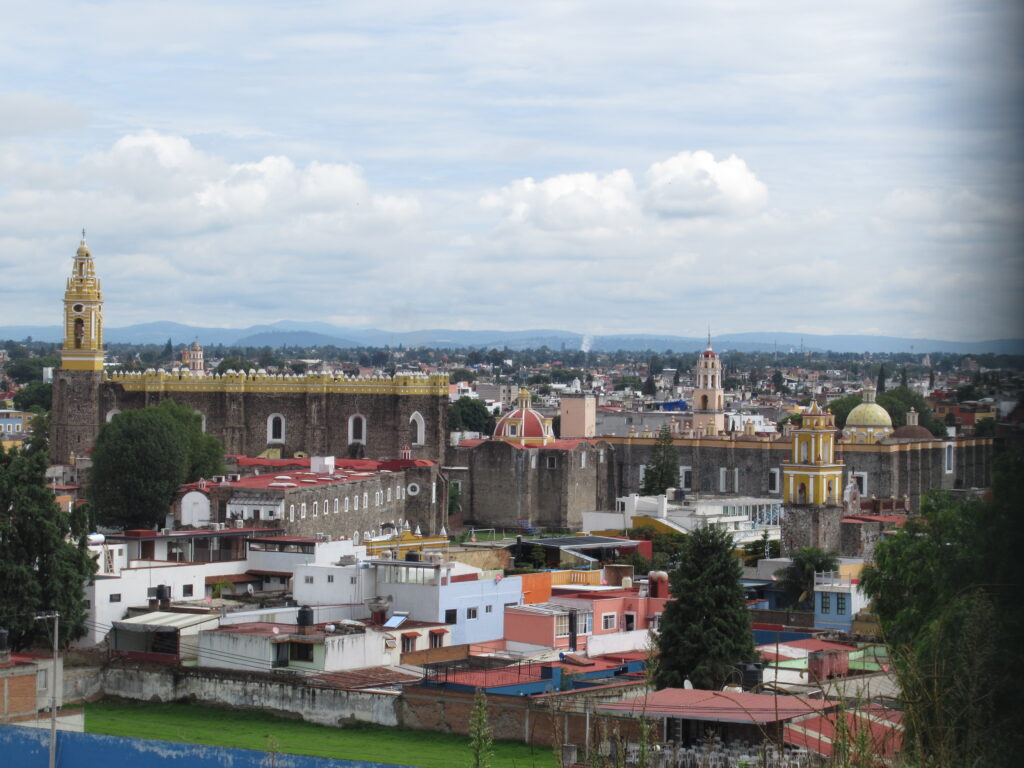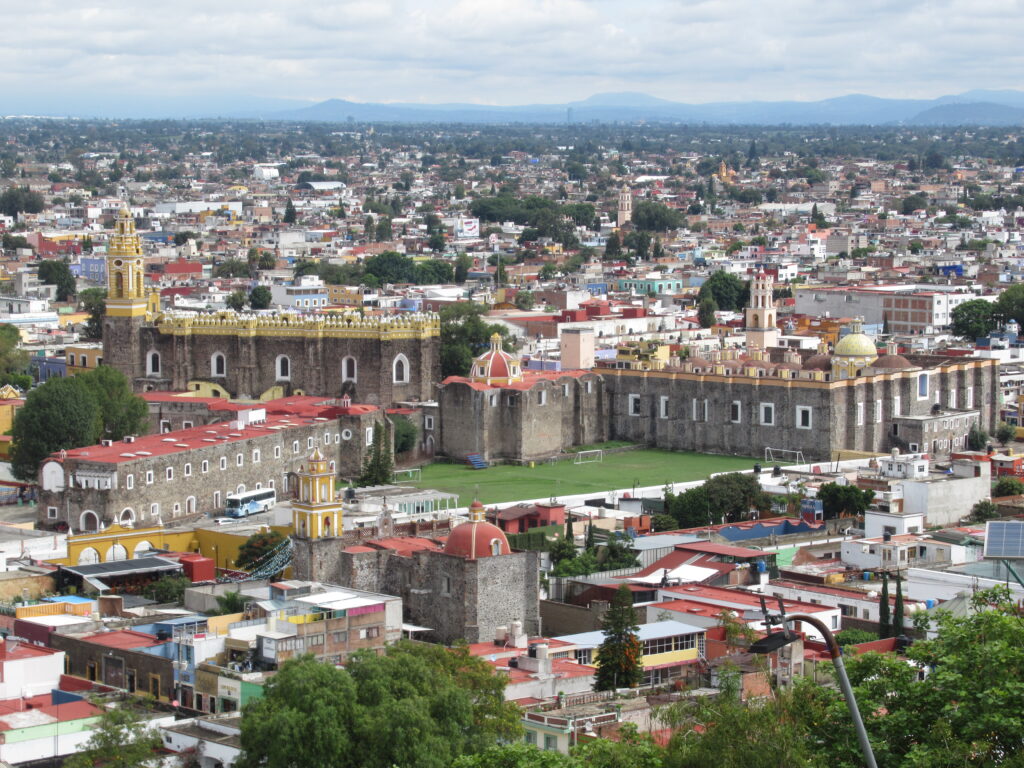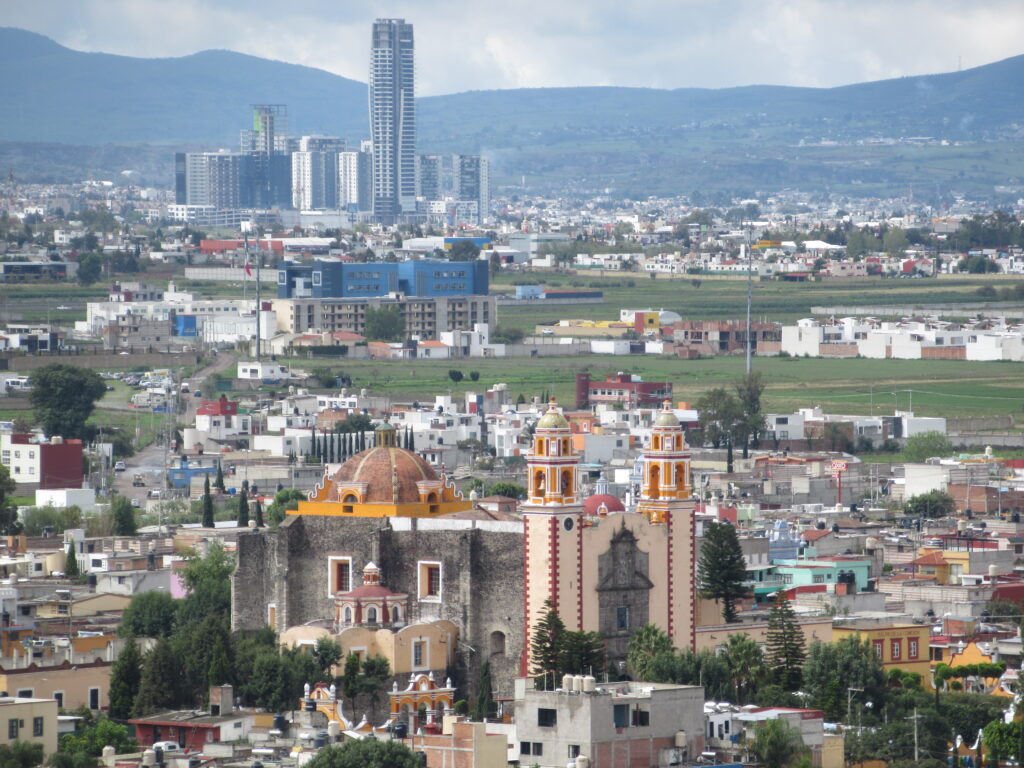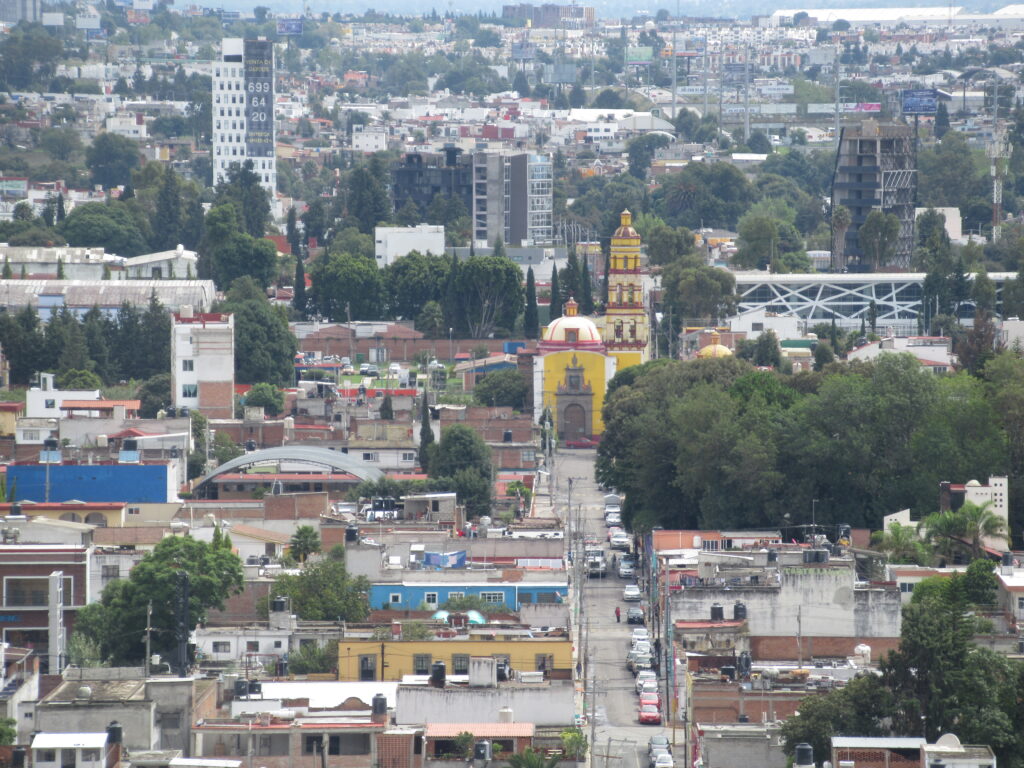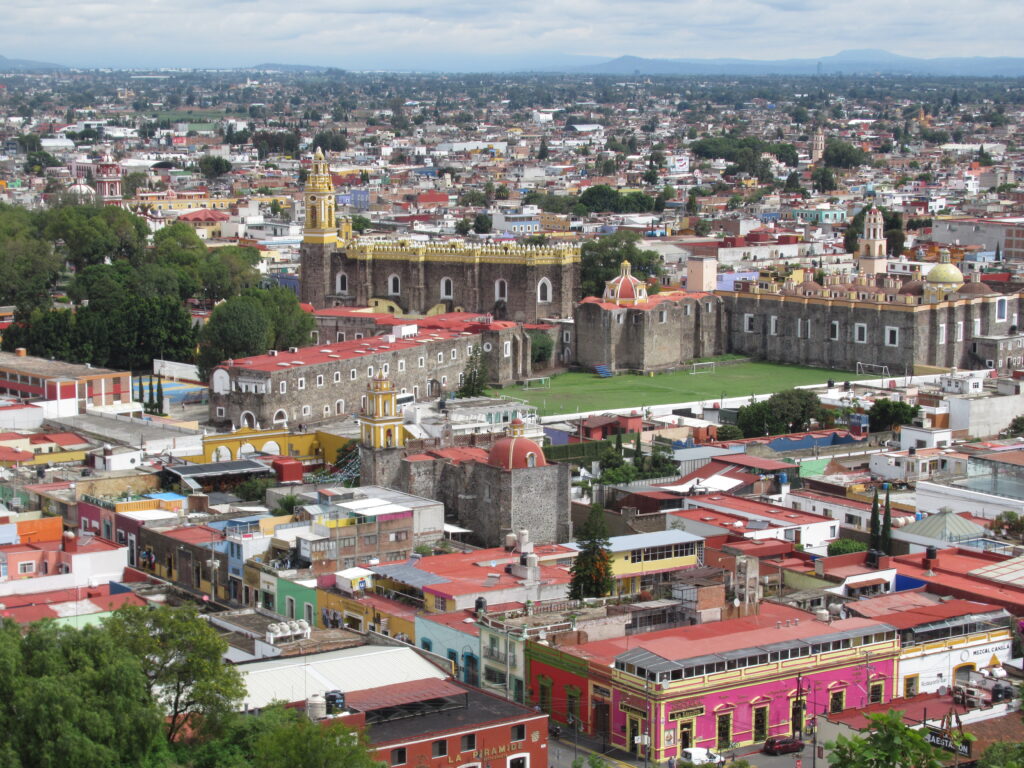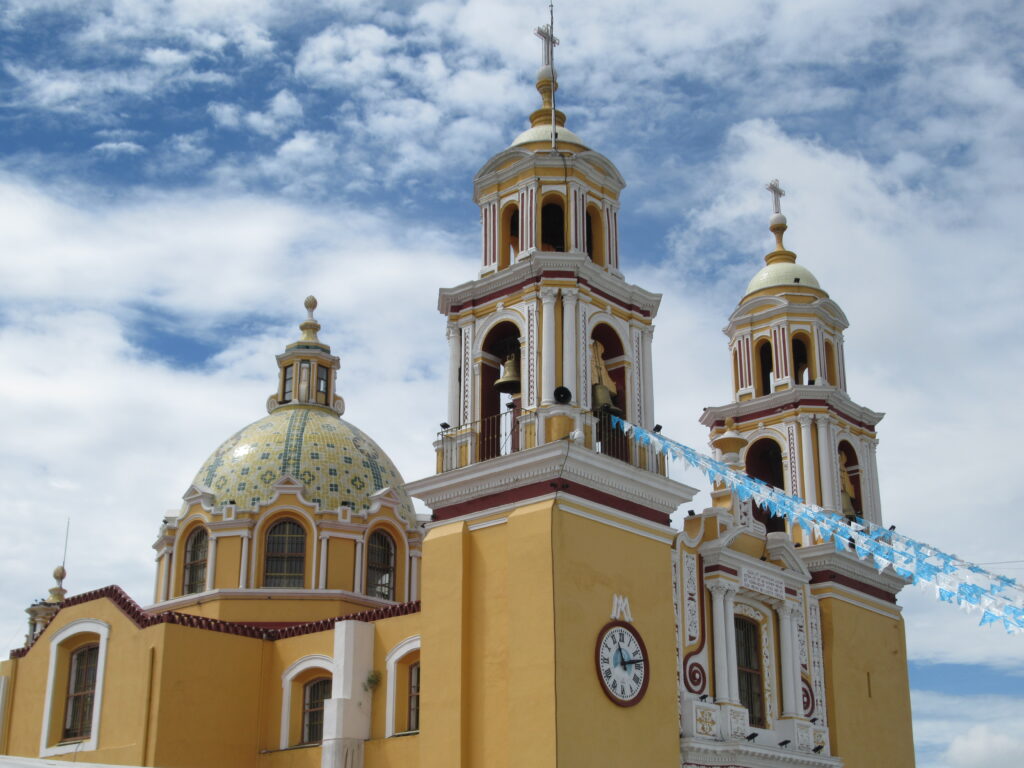 After the extensive viewing and photo taking it was time to head down to enter the pyramid. The pyramid actually forms part of an extended complex of ruins, and you enter the pyramid through one entrance, and come out of the pyramid in a different place where you can see some of the ruins and then access the museum. It was really well done and we had a very enjoyable time exploring and learning (a bit) about the ancient city.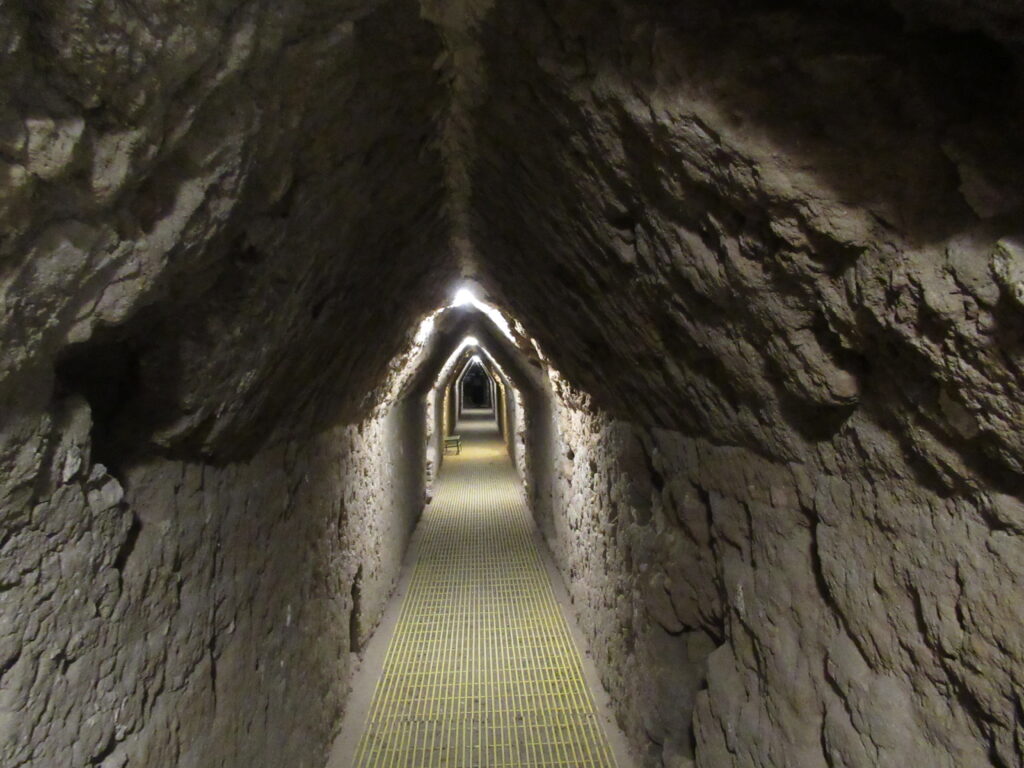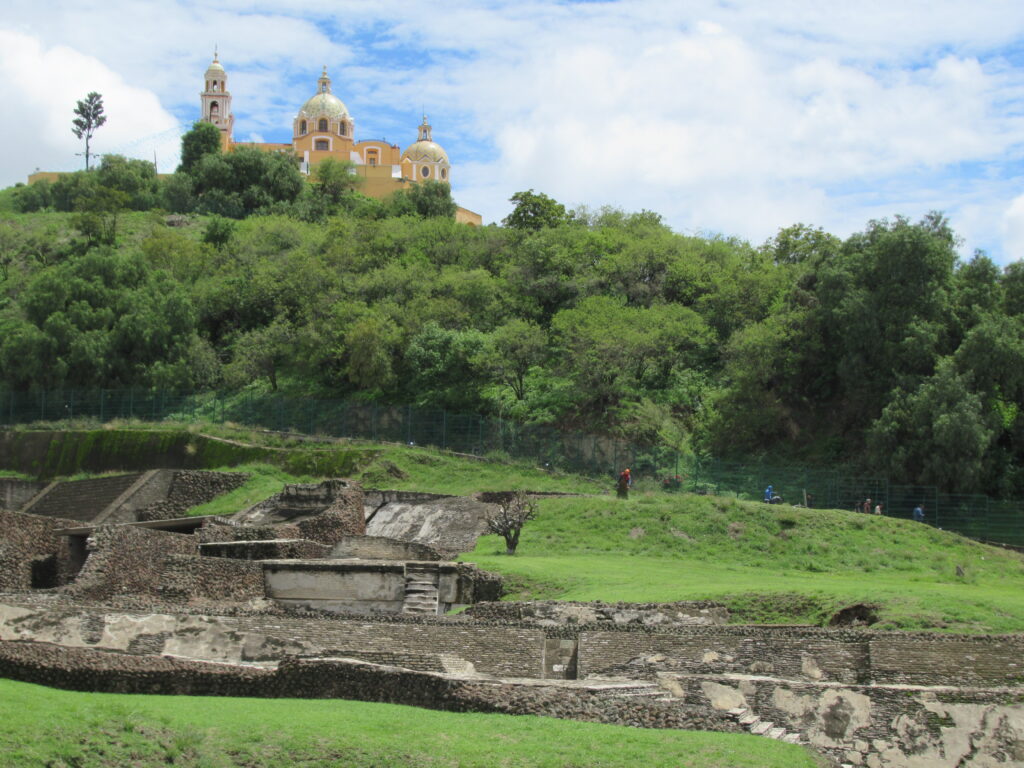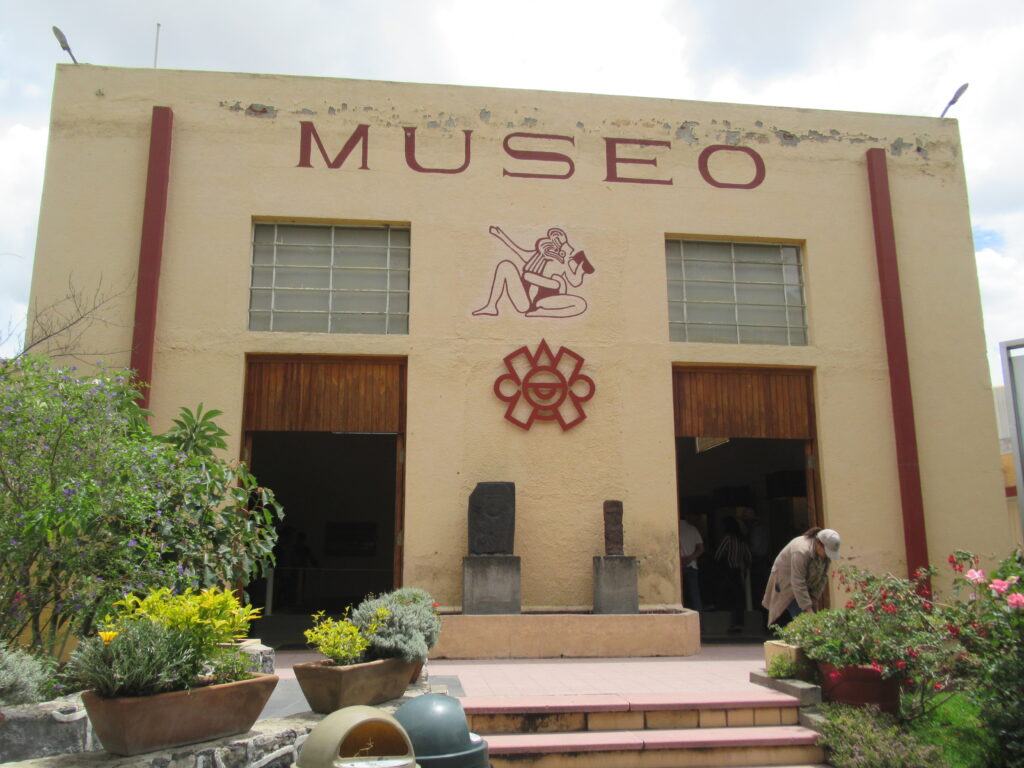 It was quite a cloudy overcast day and had even drizzled a little bit when we arrived, so we counted ourselves very fortunate to catch glimpses of  Popocateptl  volcano every now and then. Cholula receives quite a lot of tourists and there were lots of souvenir stands in a big tourist market area – but it was pretty much deserted and the stands were empty. I guess a cloudy weekday is not peak time around here…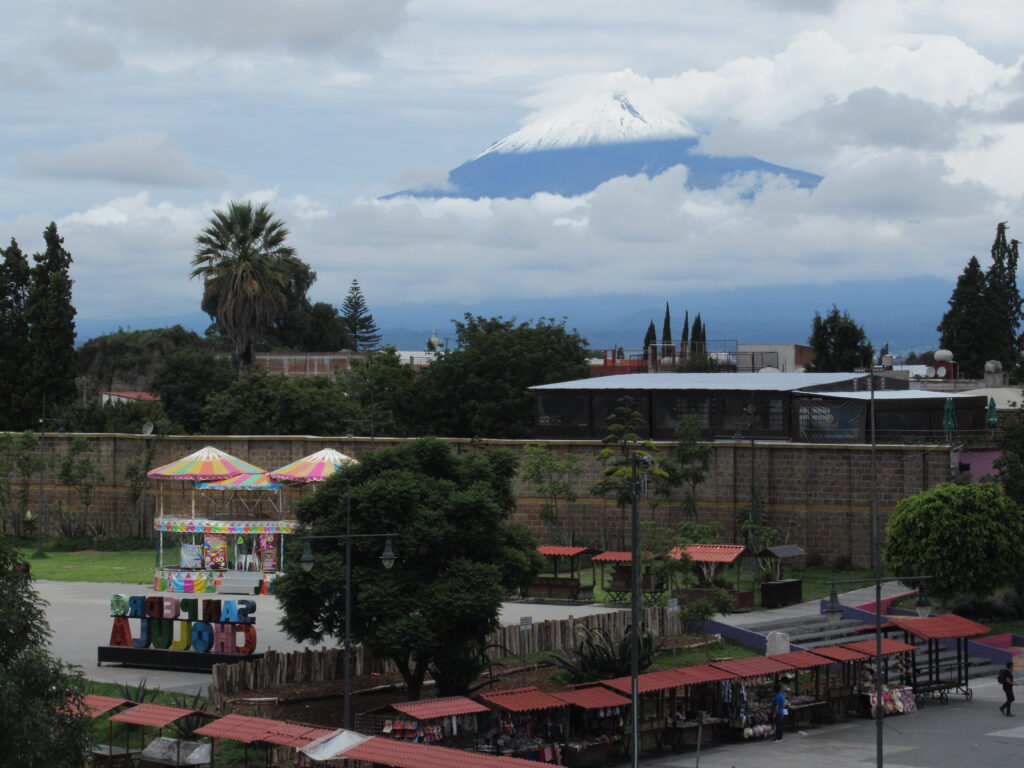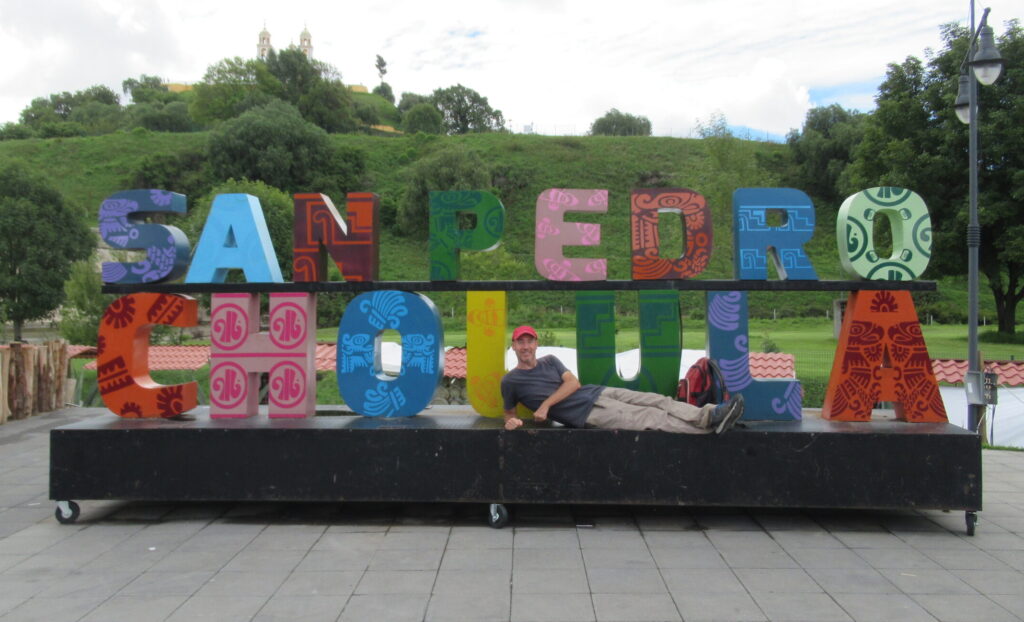 All hard working tourists need a good lunch, but unfortunately in this case we didn't find one… the range of options looked awesome as did the photos on the outside menu – but the final product was lame 🙂 We reminded ourselves that this is what usually happens when you eat right next to a famous tourist attraction…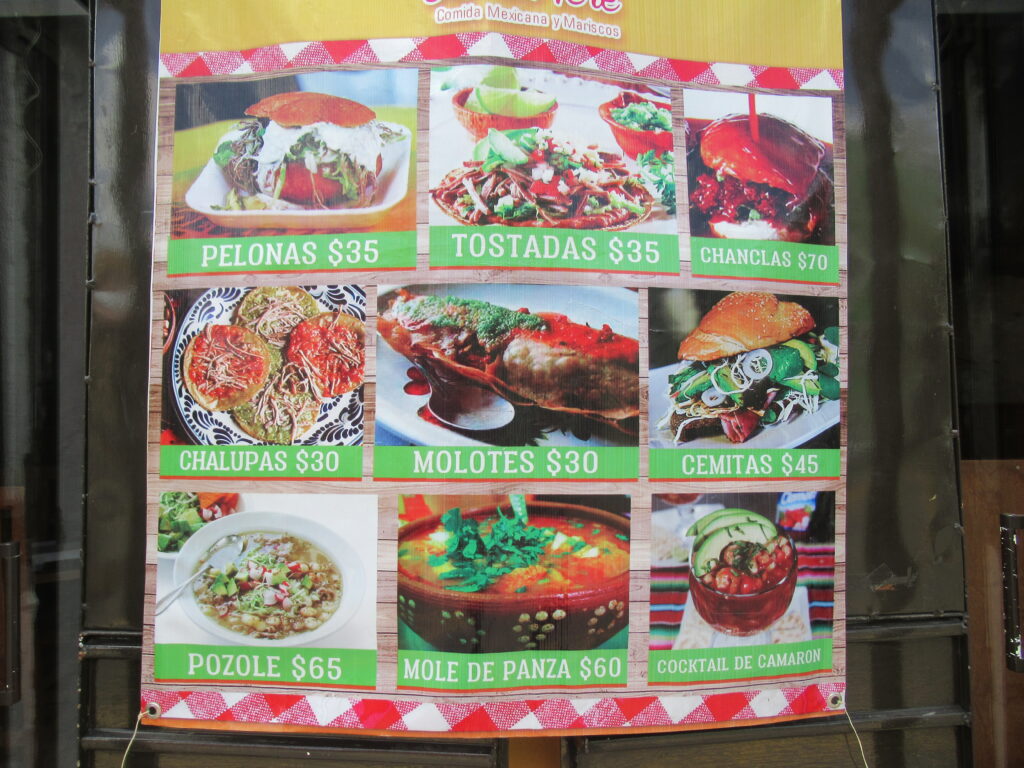 Before heading home we decided to have a little look around the rest of Cholula, which is also famous for its multitude of churches. Sure enough we found some very nice buildings and had a good afternoon stroll. The most famous site in Cholula apart from the pyramid is the San Gabriel friary – dating from around 1540.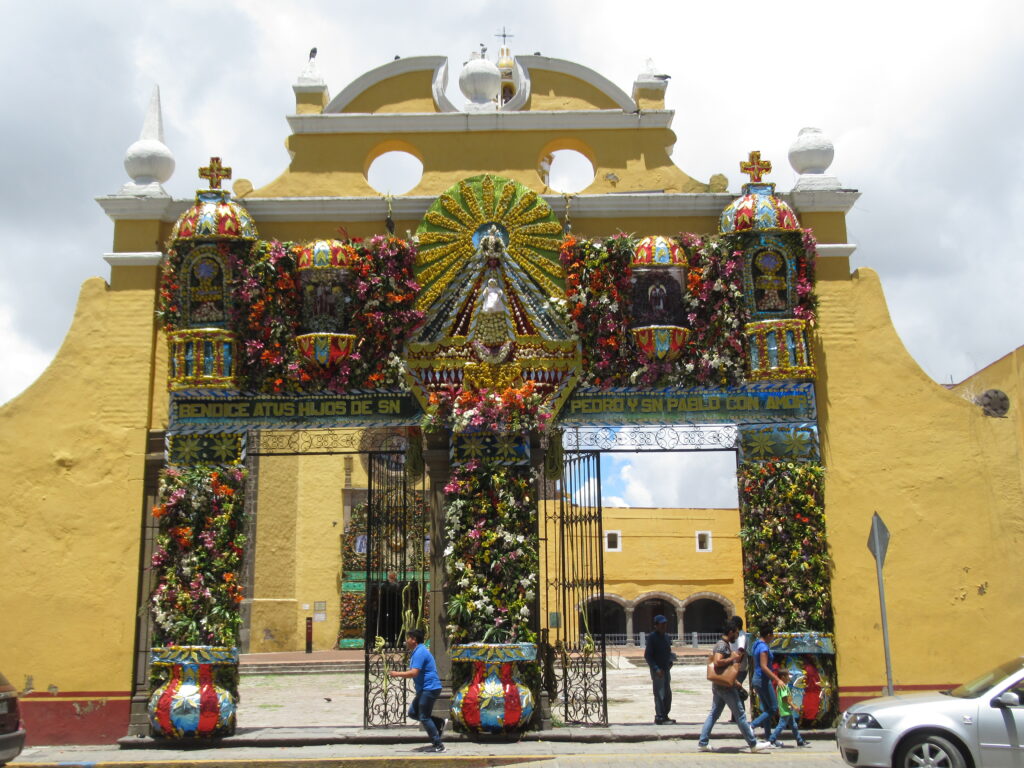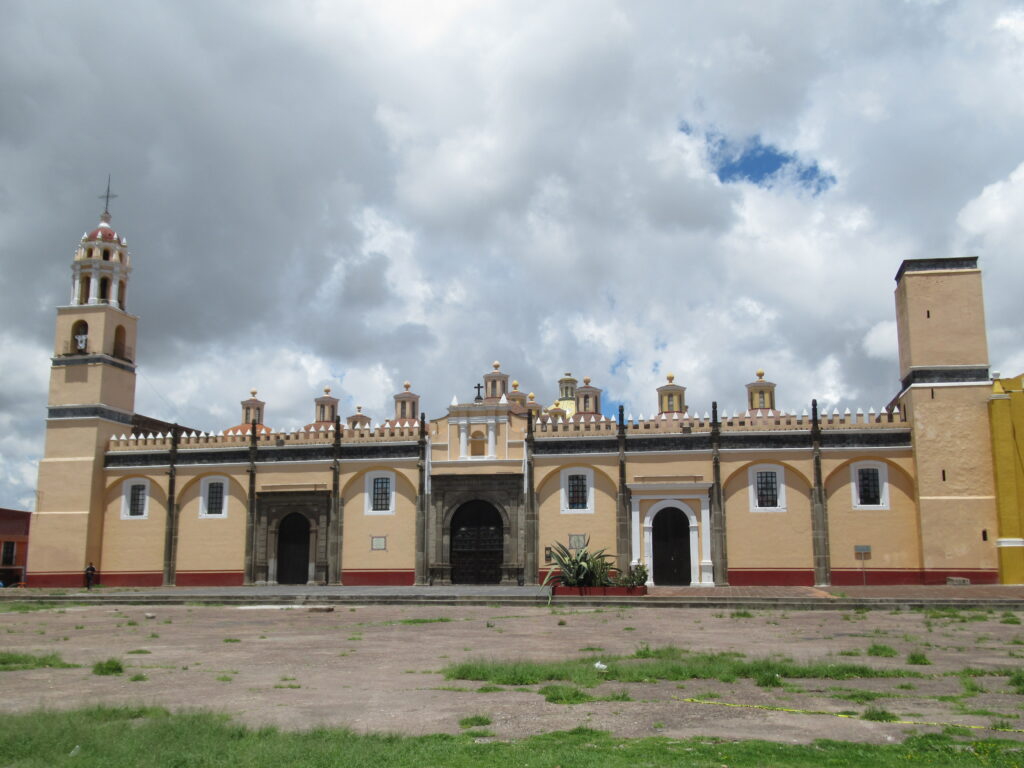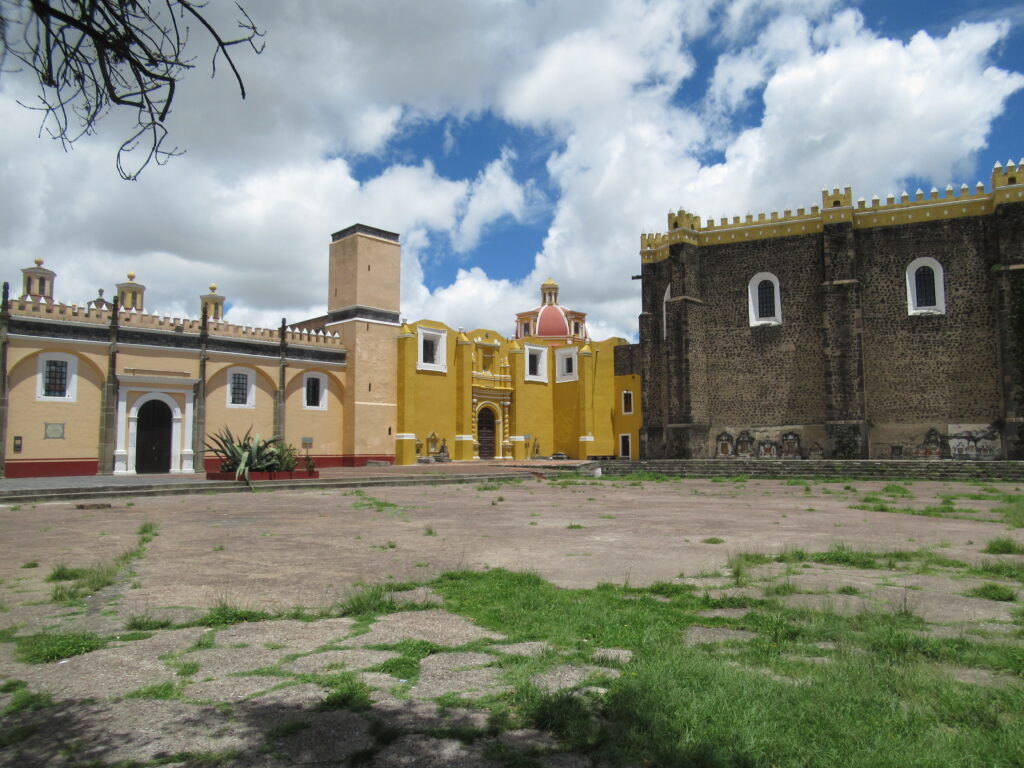 After the friary it was time to leave – apart from the lunch it had been a great day out.