Last, but certainly not least came Mexico City – also known as CDMX (Ciudad de Mexico). This was our final city of the whole trip – and it was a great way to finish the trip. We spent 6 nights there and we really enjoyed it. We did a lot of different things in the city and so there is going to have to be separate blog posts for a few of them – La Torre Latinoamericana, the murals of Diego Riviera, and the Templo Mayor. So more about them in later posts – for now it's all about everything else we did while we were there….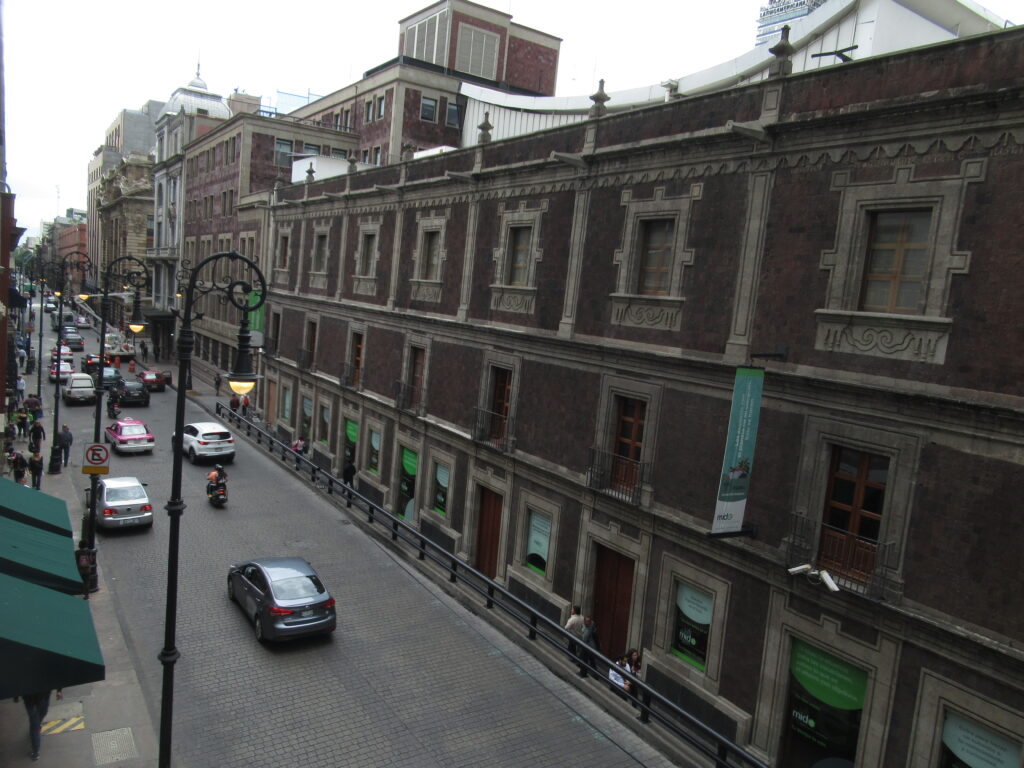 We arrived early enough to have an afternoon for strolling around, and so we headed straight for the Zócalo – which is the main central square of Mexico City. One of the things that we wanted to see was the famous ceremony where the giant Mexican flag over the square is ceremoniously lowered at sunset. It's supposedly quite a spectacle, with the military police parading in and performing a flag-lowering ceremony – complete with a band playing the national anthem.
We were shocked to arrive at the square and find that there wasn't even a flag flying on top of the pole?! WHAT! How can they lower it if it's not there?! After some investigation we learned that if it 'looks like rain' then they don't raise the flag in the first place?!  Yes, we couldn't believe it either… Worst of all, it turned out to be a very overcast week, and it must have 'looked like rain' every morning – because we didn't see the flag flying until our very last day in the city. Excited that we might finally see the ceremony, we returned at 5.30pm only to find the flag already gone?! WTF – the lowering time is listed as either 'sunset' or 6pm – I can assure you that 5.30pm in June is neither of those….
Our only compensation was that we did get to see a flag lowering in a different place – on top of a high building. Obviously the staff that lower that flag are made of tougher stuff than those of the main flag, as it involved climbing up the actual pole! Yes, and rain doesn't scare them off…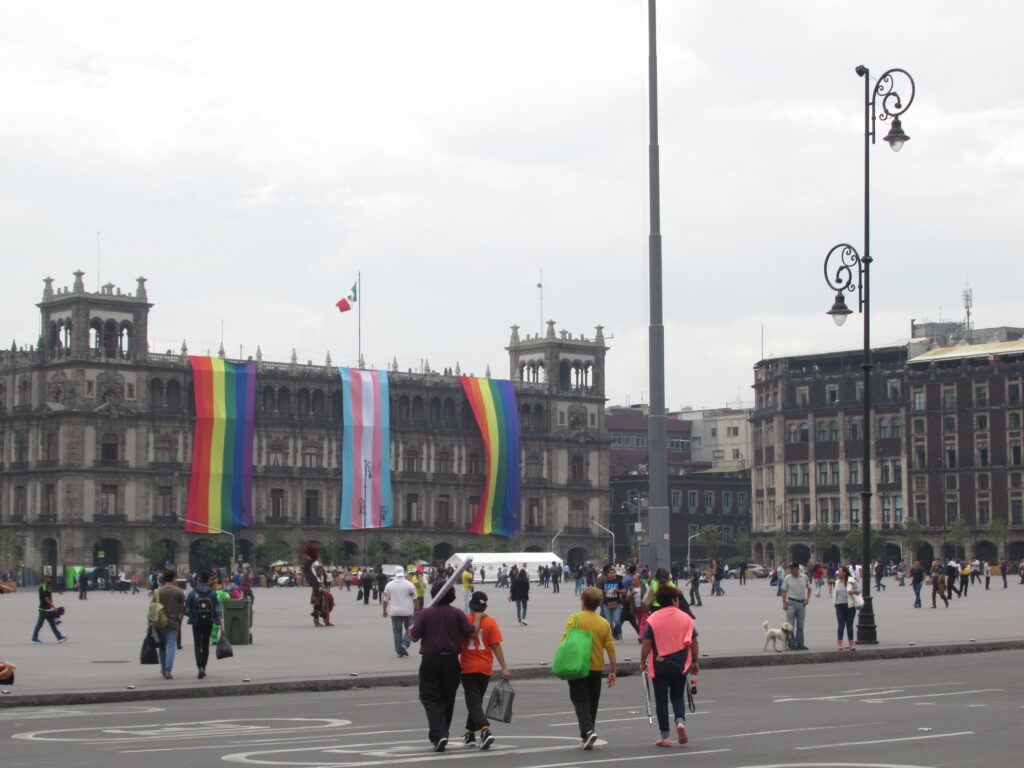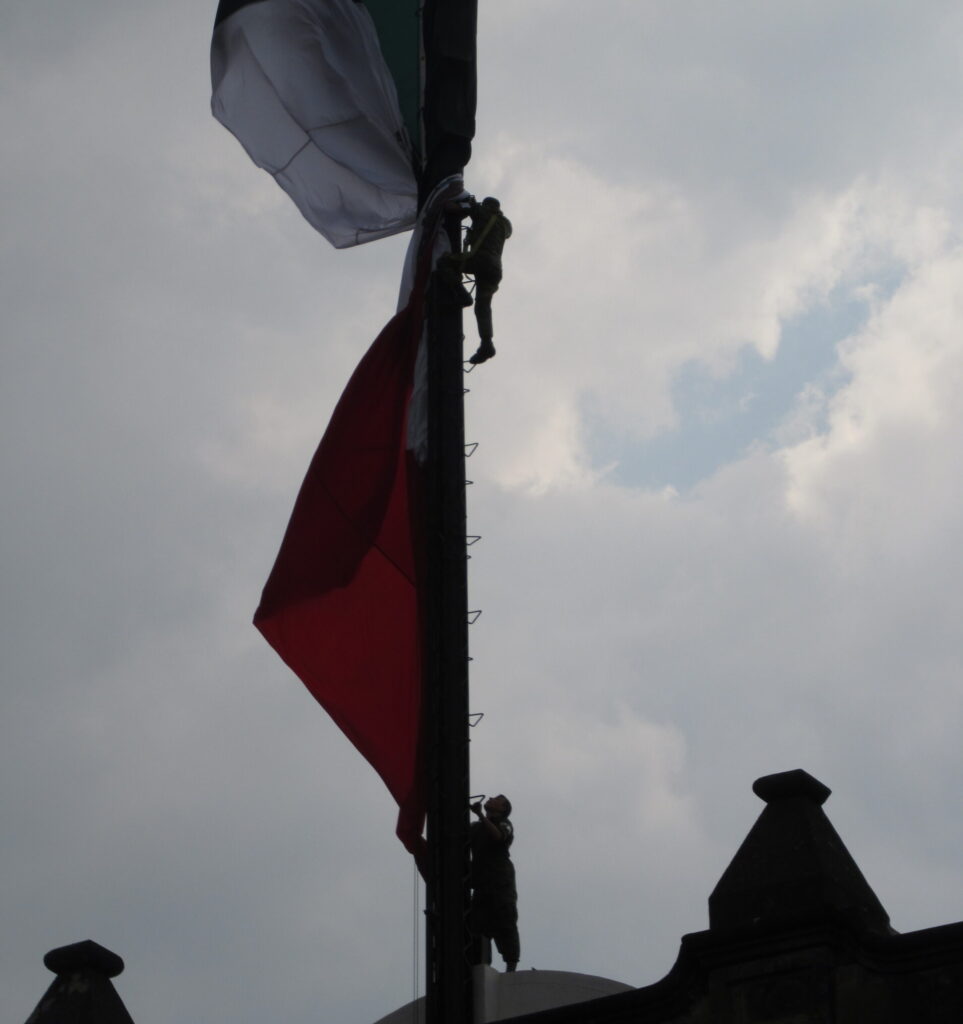 After the main square, we had a bit of a wander around and discovered a few more buildings and the shopping area.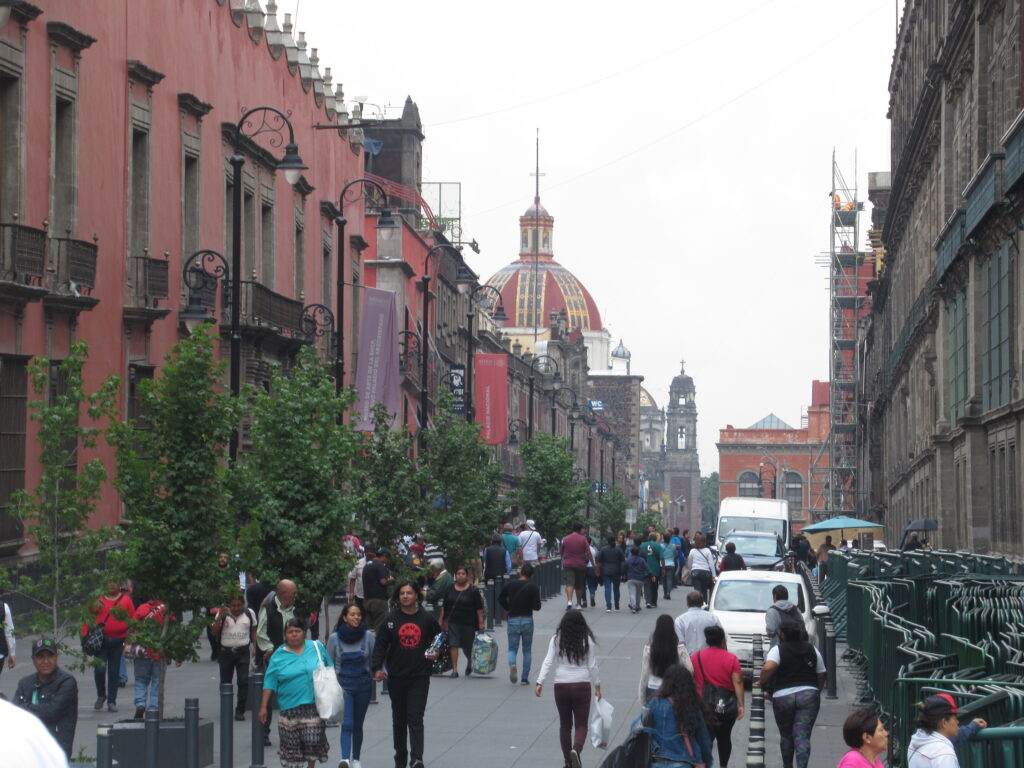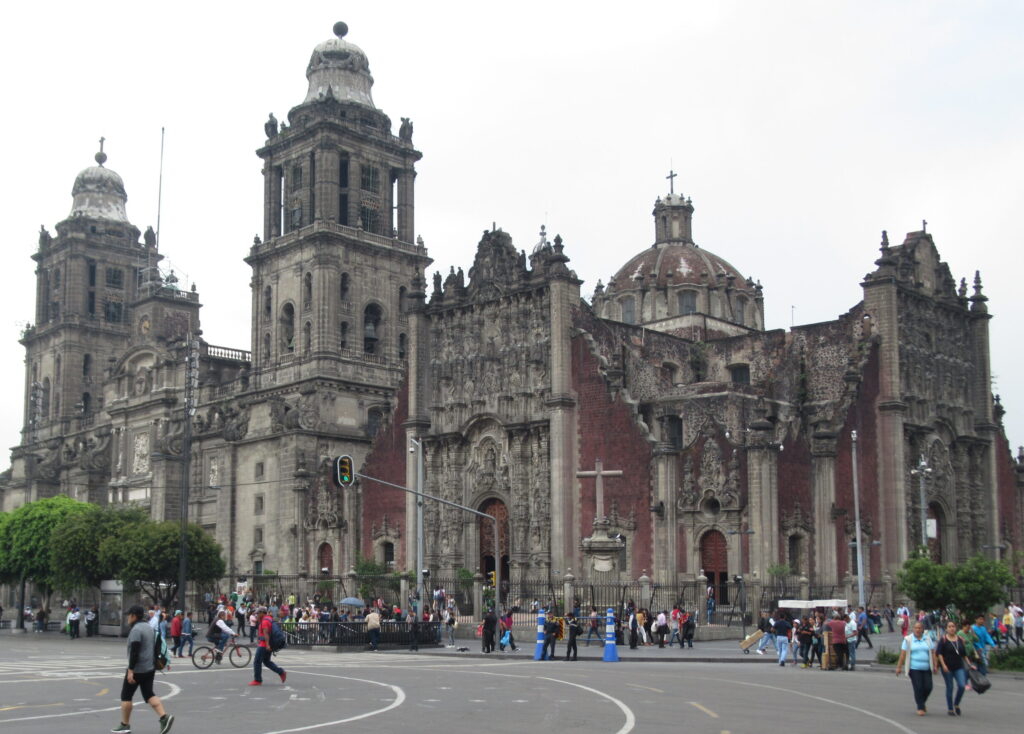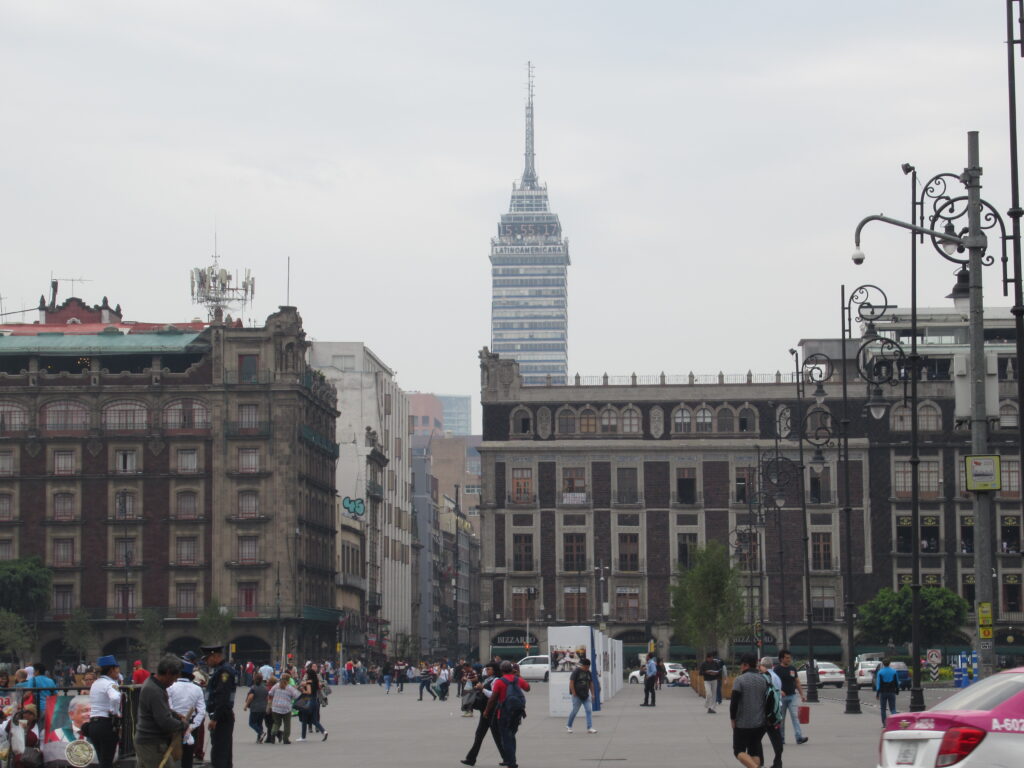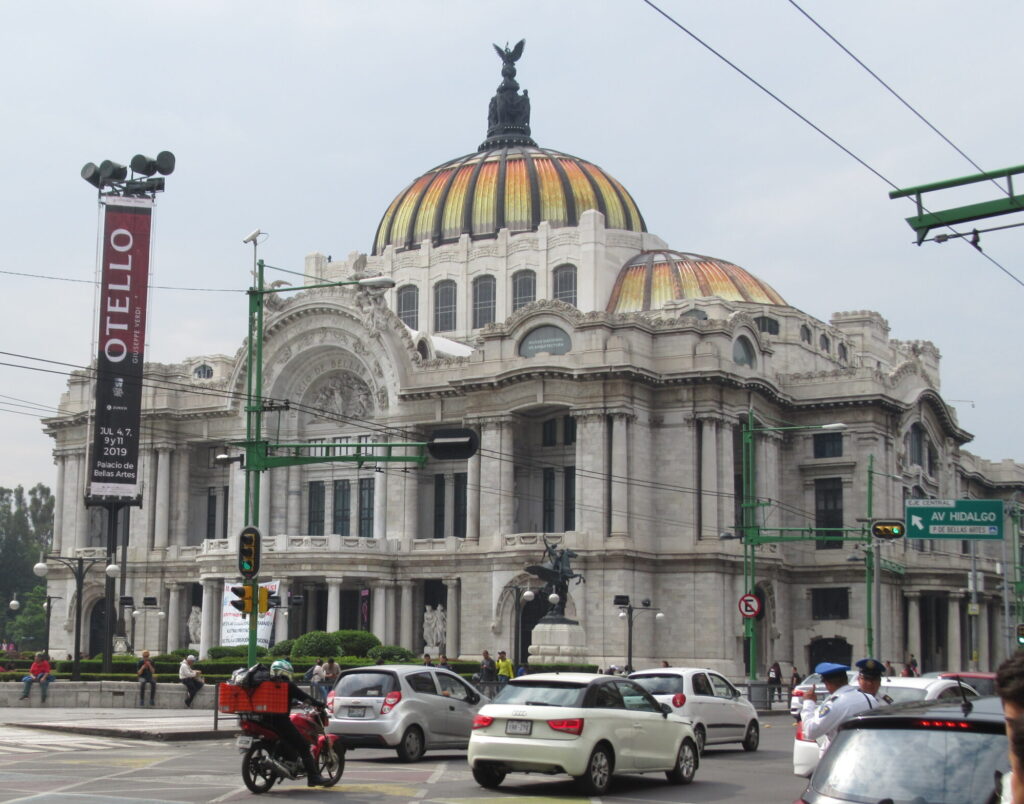 We also saw quite a lot of murals and street art as we walked around the city…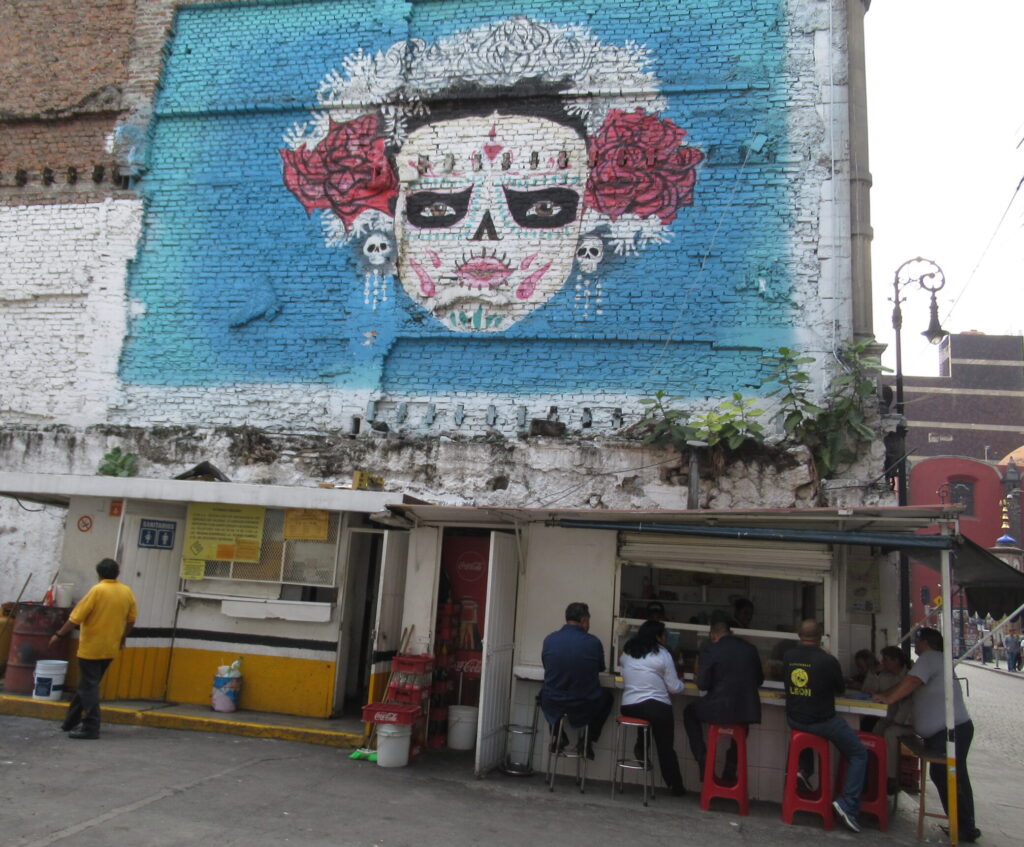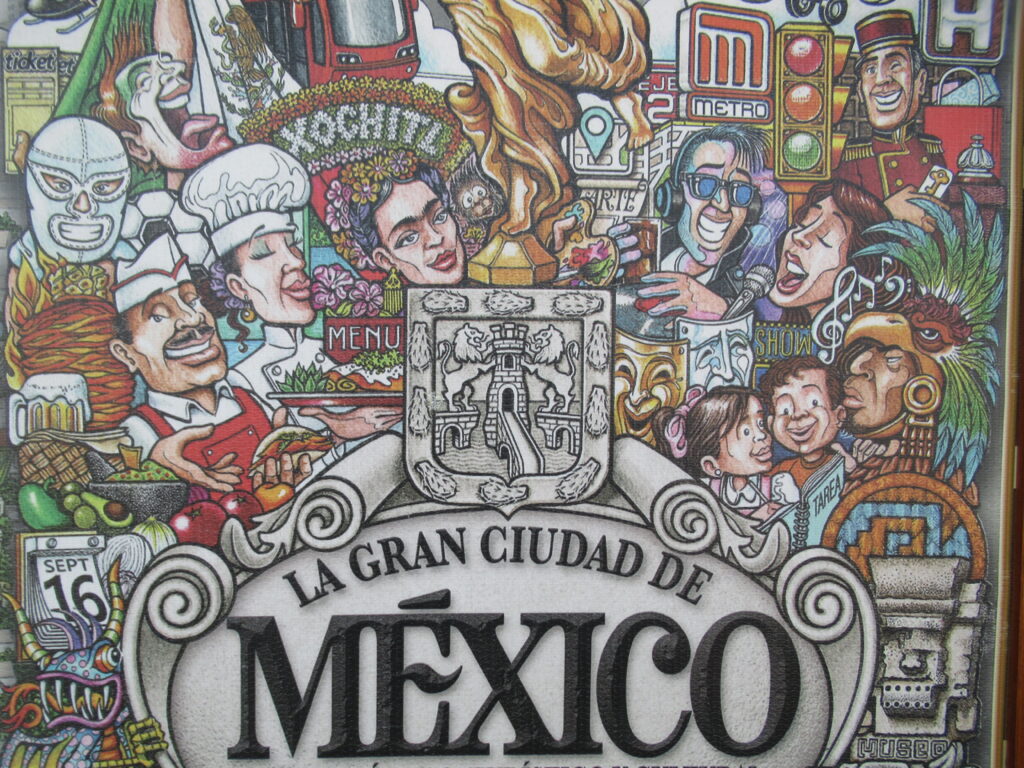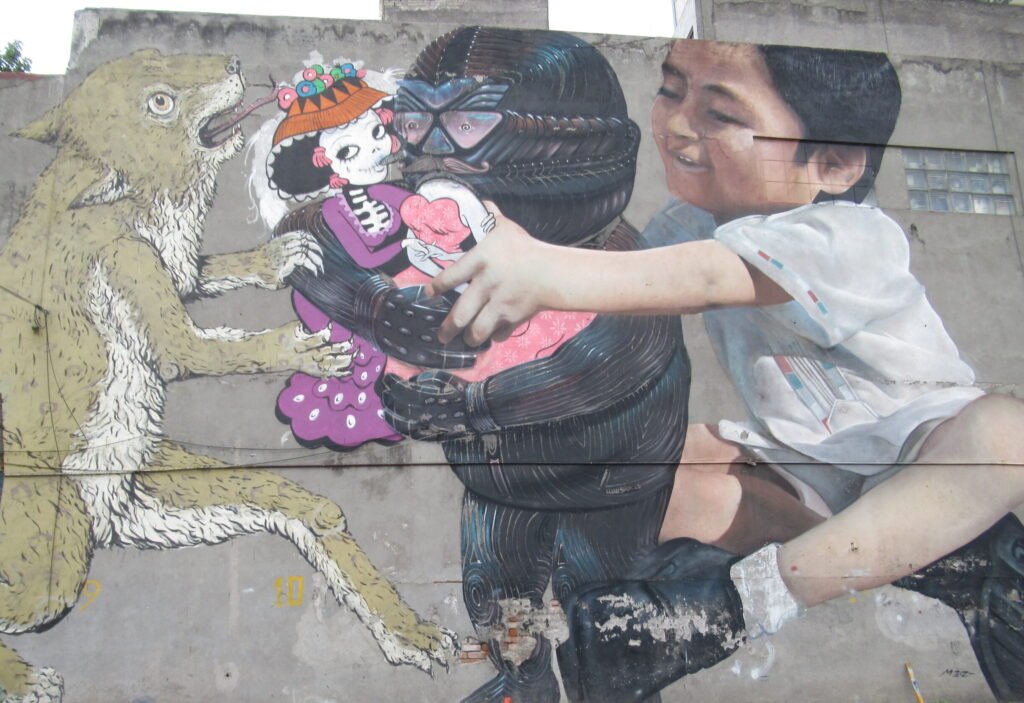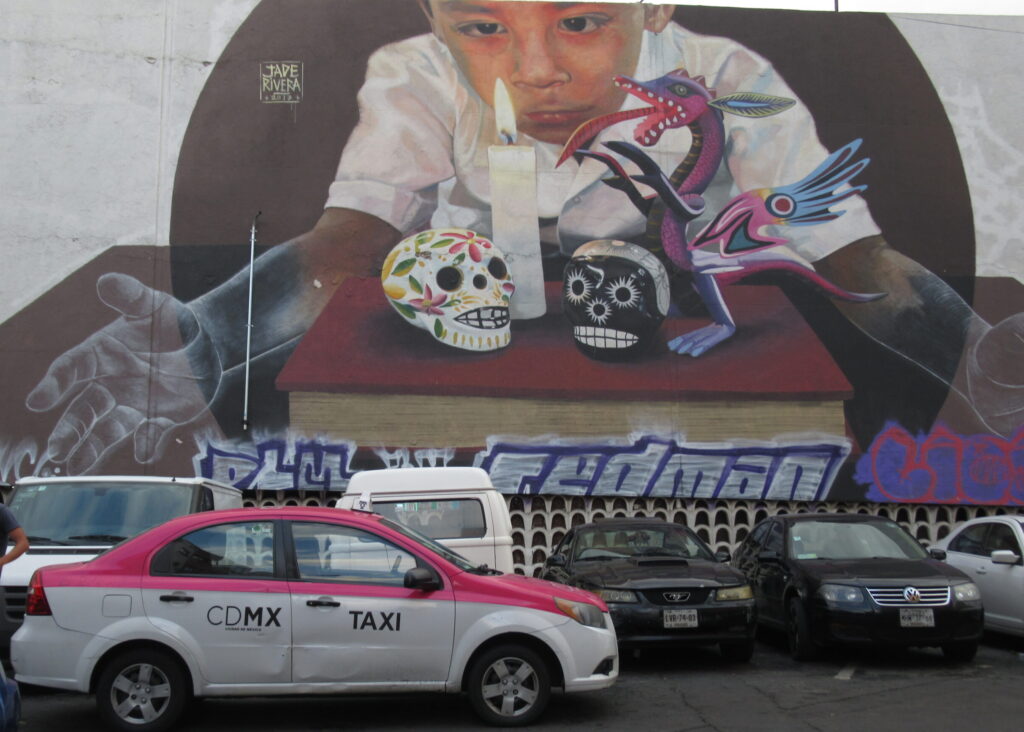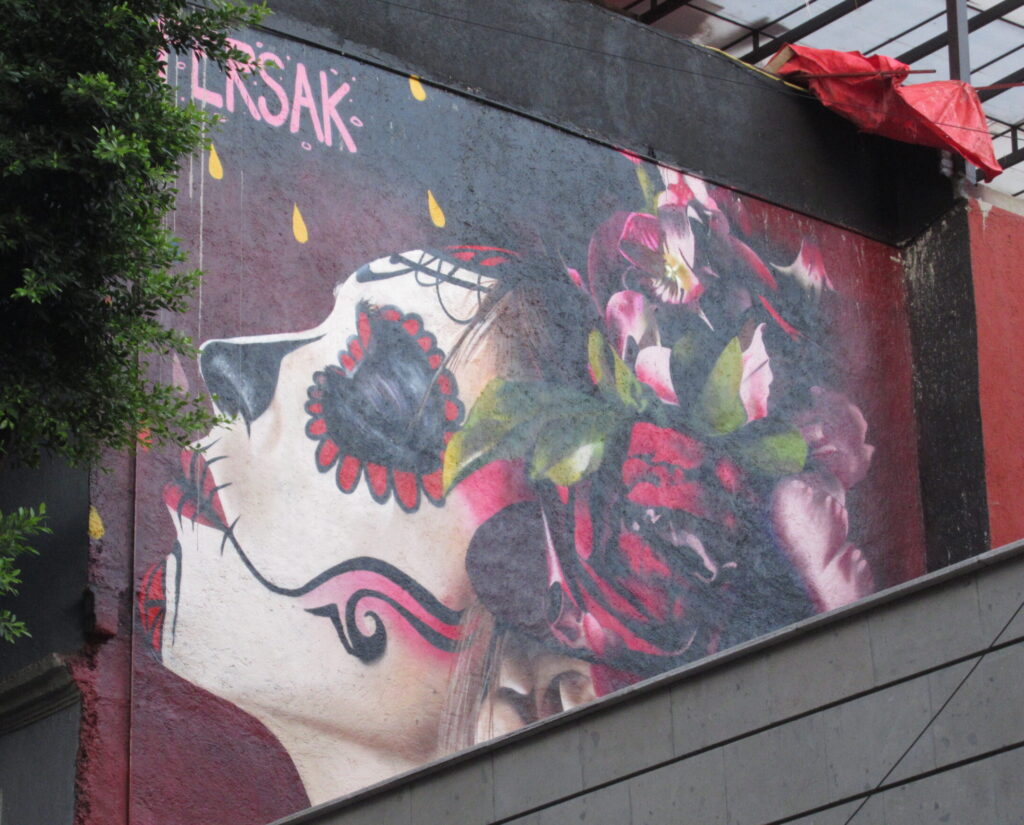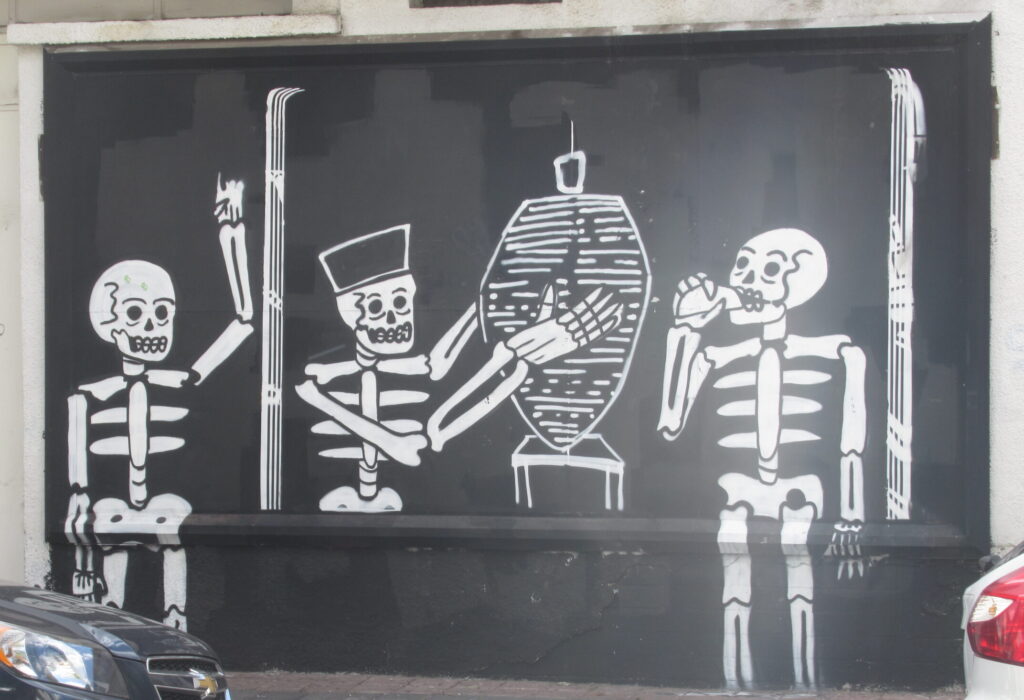 We decided also to check out the famous La Lagunilla Market, which is about 10 blocks north of the main square. It consists of a formal market, but also tons and tons of informal street vendors who just set up in the area – especially on Sundays. It has been a commercial area since the times of the Atzecs and supposedly you can buy anything and everything here. The market is considered safe to visit if you stick to the market stall areas and don't flash valuables.
The market area is absolutely huge and we walked for blocks and blocks taking in all the different stalls. After a while we decided to head back, and so we picked a different street and headed back along that. Unfortunately something went wrong with our sense of direction and we ended up walking further and further out instead of back in the direction we came…
Our first sense that something was not quite right was when we started seeing market stalls selling porn videos, and people openly drinking beer at various beer stands. Drinking beer on the streets is not permitted in Mexico. We imagined that maybe there was an exception for the Sunday market? We continued on and the stalls and streets started looking rougher and rougher. We thought about turning around, but instead we stopped and bought cakes from a nice old lady. 'It can't be that bad if there is a kind old lady selling cakes', we thought to ourselves….
Within two blocks of the kind old lady the market stalls abruptly ended. We decided to go one block left and then left again to return to the market area. We were starting to have doubts about the wisdom of this choice as the street steadily started to look rougher and rougher – and then suddenly on the other side of the road we saw about ten men all sitting in a row on the curb. All of them were shirtless and had skinheads, and were covered all over in tattoos – including on their faces. They all looked up at the same time and saw us.
I will never forget the surprised look on their faces, nor will I forget the sudden fear that I felt! They were clearly gang members. Instinctively we decided not to suddenly turn around, but to continue along and pretend that we knew where we were. As we walked, we didn't look over, and none of them said anything. We took the next left and breathed a sigh of relief. We were still on edge as there were no market stalls on this street either – but we knew that if we walked for a block and then turned left again, we would be back near the kind old lady.
Our tension levels didn't remain low for long, as the next thing we saw was the sight of several heavily armed police officers breaking down a door with a battering ram. They didn't see us, and on we went. When we got back to the kind old lady, we remembered that she had waved us off and said goodbye as we headed off. We wondered why she didn't tell us gringos that perhaps that wasn't the best direction to head in….
After a very long walk in the correct direction, we made it safely back and were very relieved. We decided to work out where the hell we had actually been by looking at a map. It turned out that we had visited Tepito – a place that many Mexicans consider a 'no-go' area – and we had also managed to stray away from the market stalls as well – not recommended… OOPS!
So, moving on to safer areas – check out the plastic letters! 🙂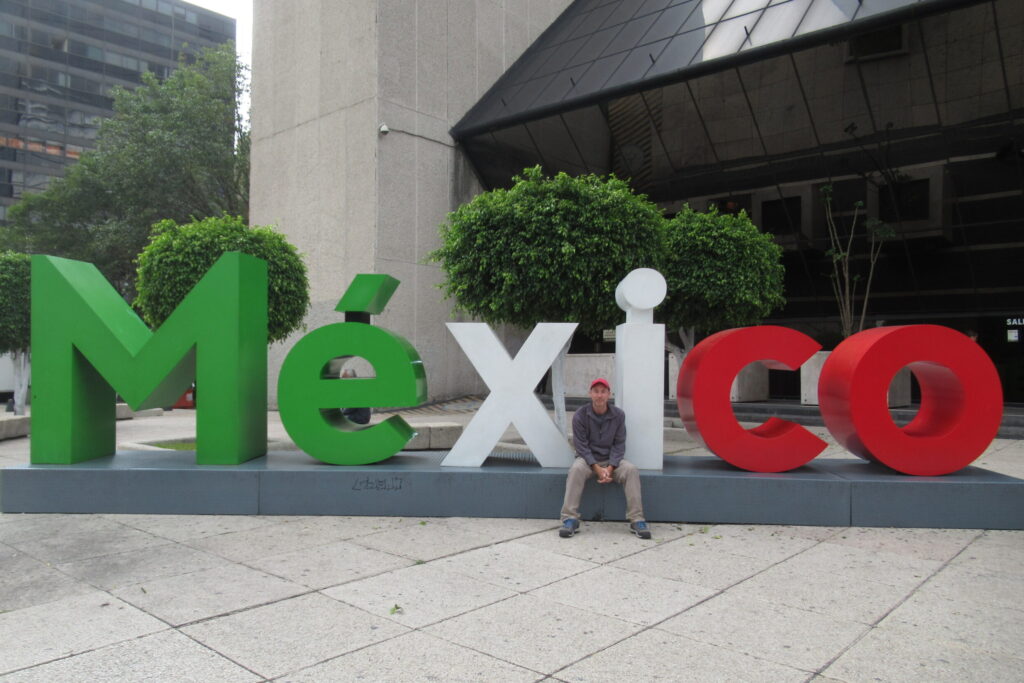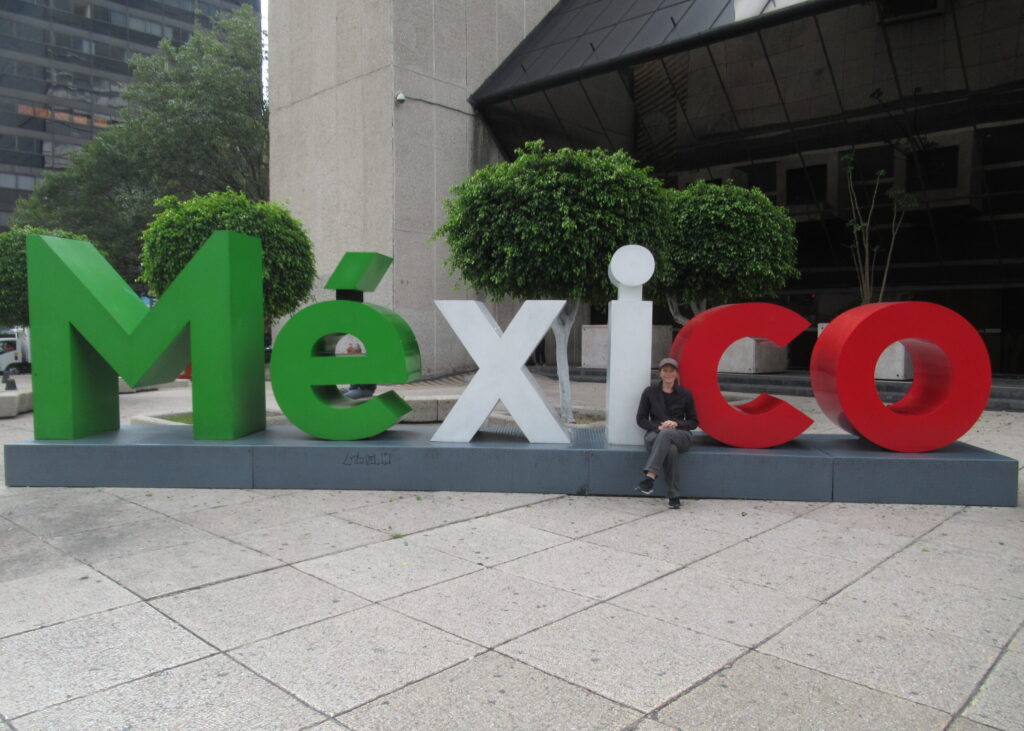 We found the big plastic letters near a sculpture, which is meant to represent a horse head (you have to use your imagination…). This area to the west of the centre has a lot of skyscrapers and monuments, and so we took a stroll to check some of them out.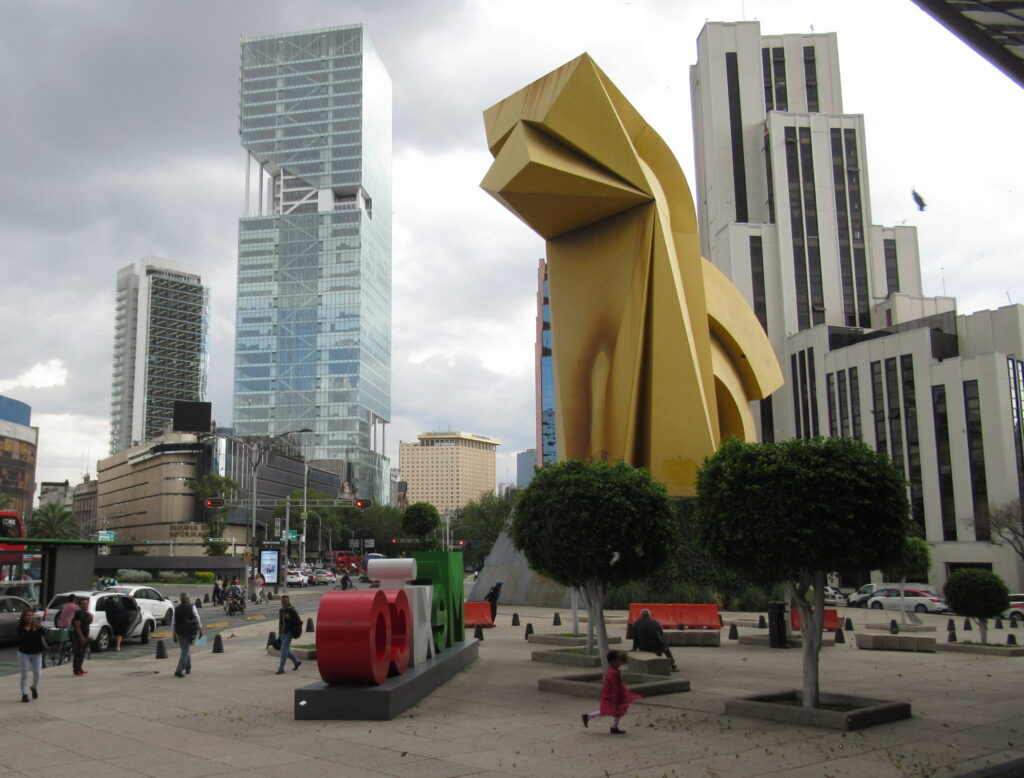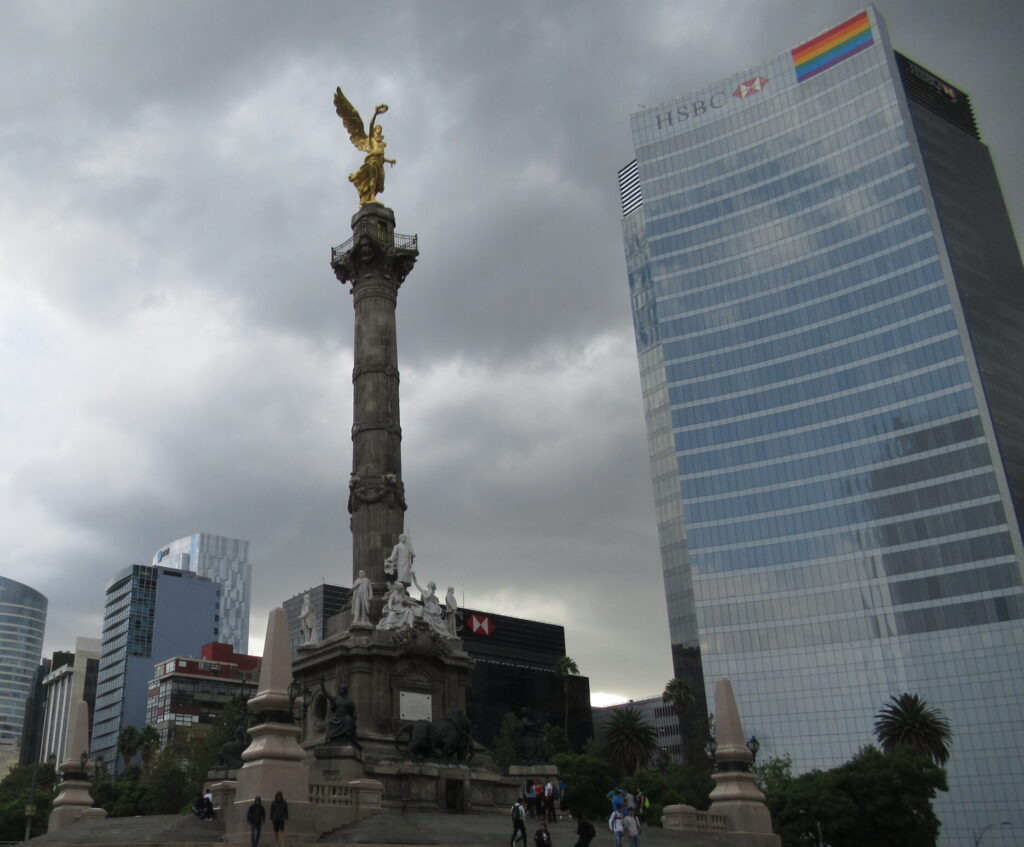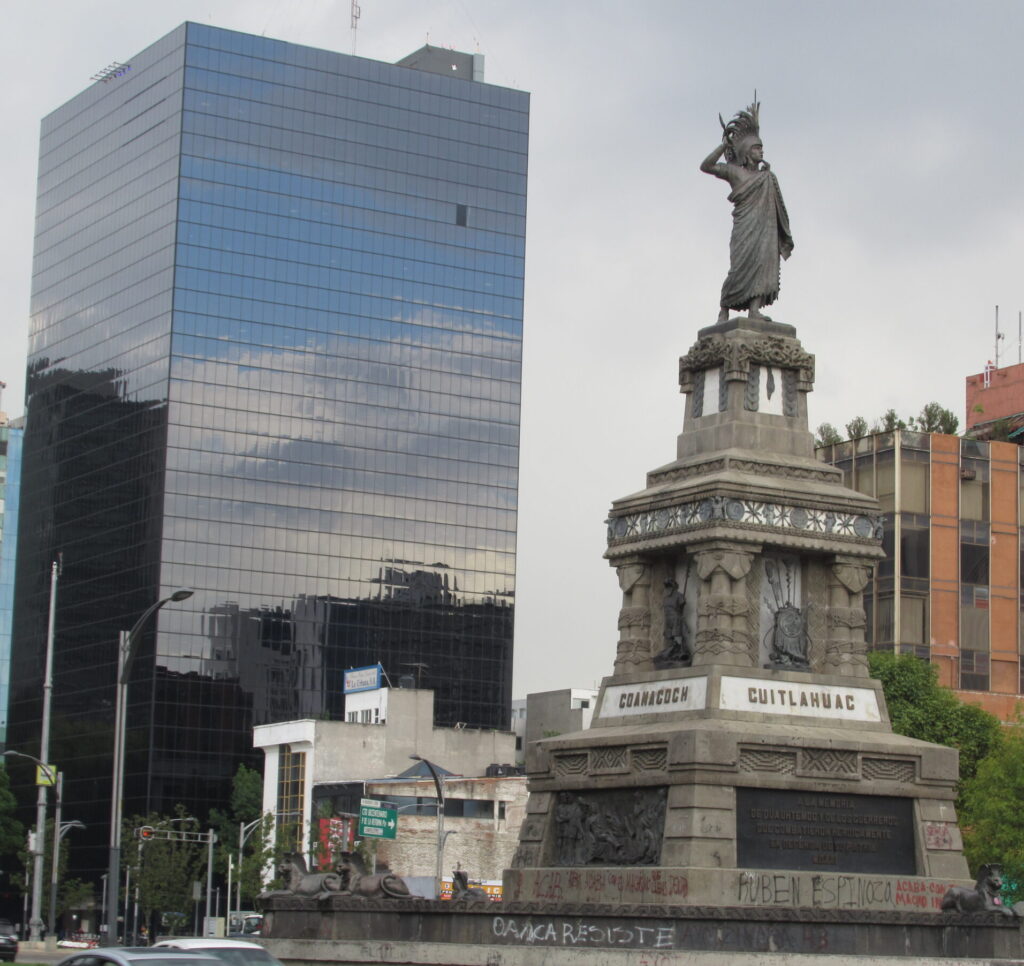 We also took a stroll out to La Condesa, which is supposedly a kind of 'hipster' area. It is around 5km from the centre, and we enjoyed our stroll over there. It was a pleasant enough area, but we didn't find it that interesting – so we stopped at a couple of craft beer places and then headed back. We did enjoy our lunch from a food stand on the way in though – Tortas Pollo Adobado – delicious chicken sandwiches with homemade sauce.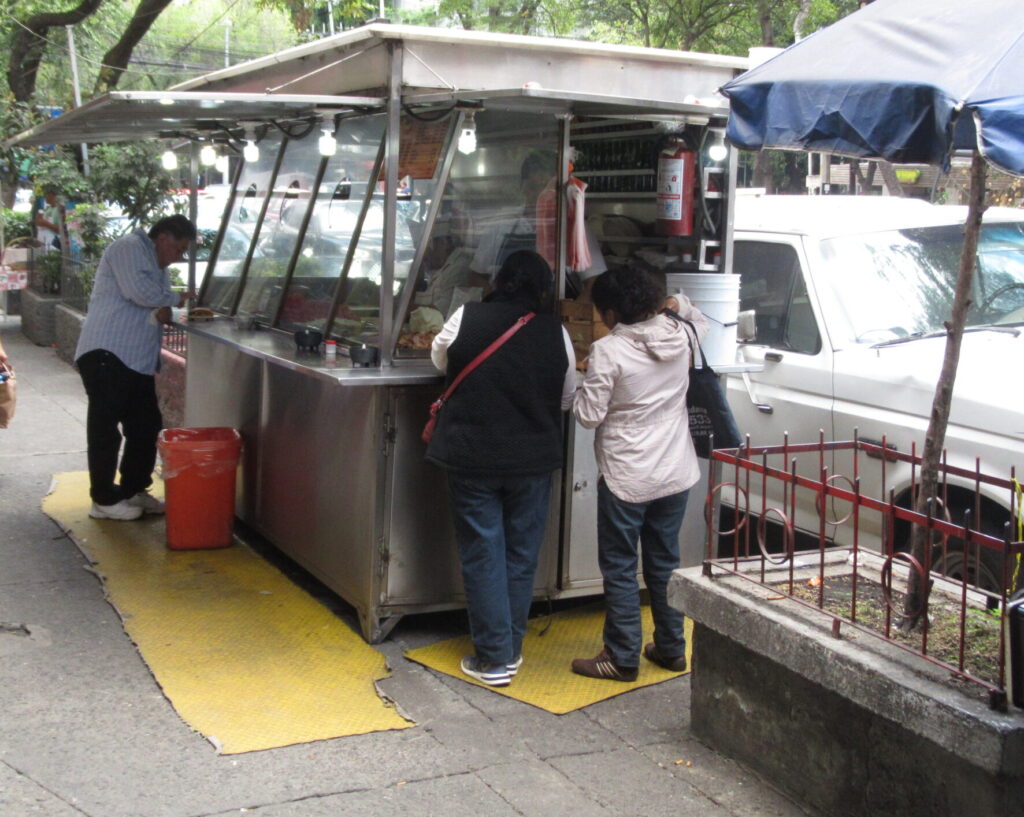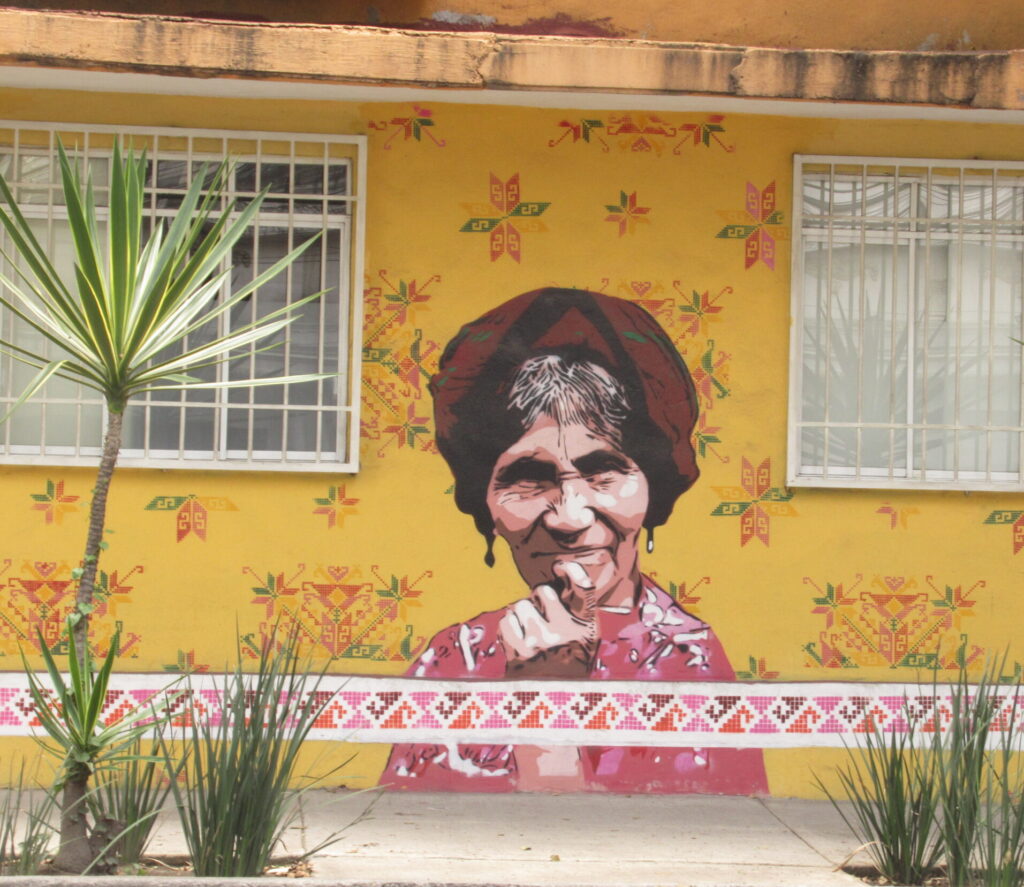 Another famous part of Mexico City is Plaza Garibaldi. This plaza is the home of mariachi music in the city. Mariachi music has deep roots in Mexican culture and history going back over 200 years, and it has become a famous symbol of Mexico. Its foundations are in the countryside, but it was introduced to Mexico City in the early 1900s. The typical mariachi band has violins, trumpets, and a selection of string instruments. They often wear 'charro' style outfits – kind of like traditional cowboy clothes.
They perform at weddings and events, but also can be paid to do impromptu performances on the spot. They roam Plaza Garibaldi looking for customers, and so we went to check it out. It was quite a touristy place (for both Mexicans and foreigners), but it was fun to see the mariachi bands strolling around. There were police on horseback stationed there, and they were dressed in 'mariachi' style police uniforms.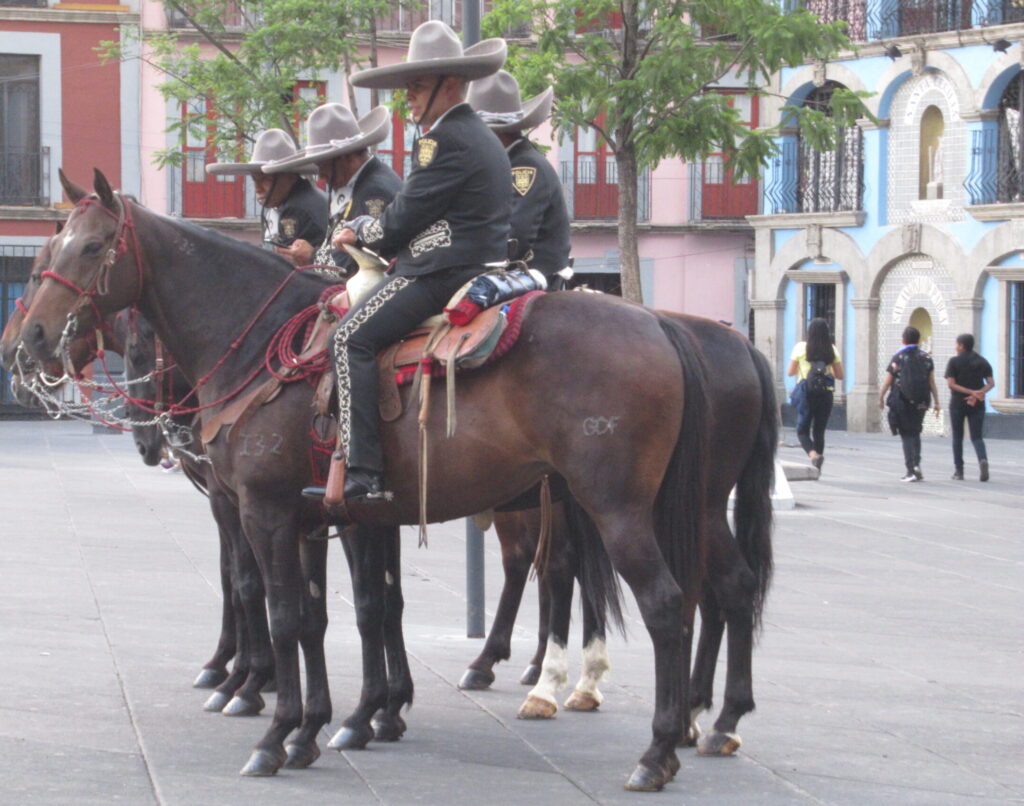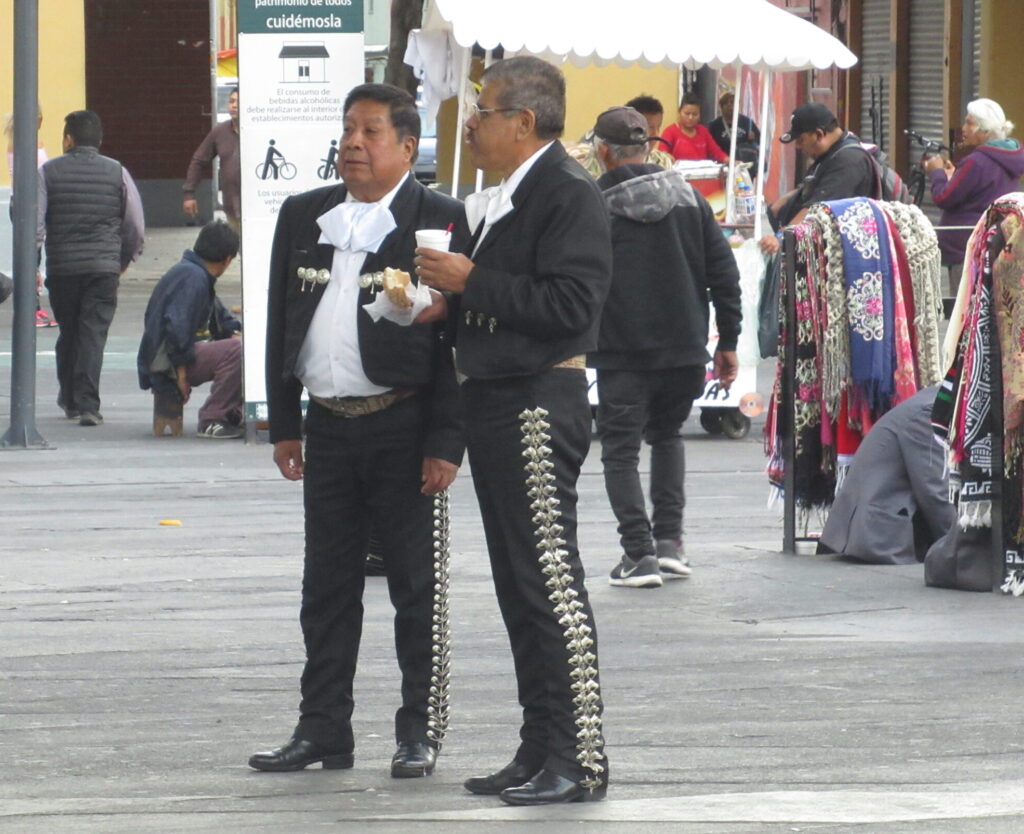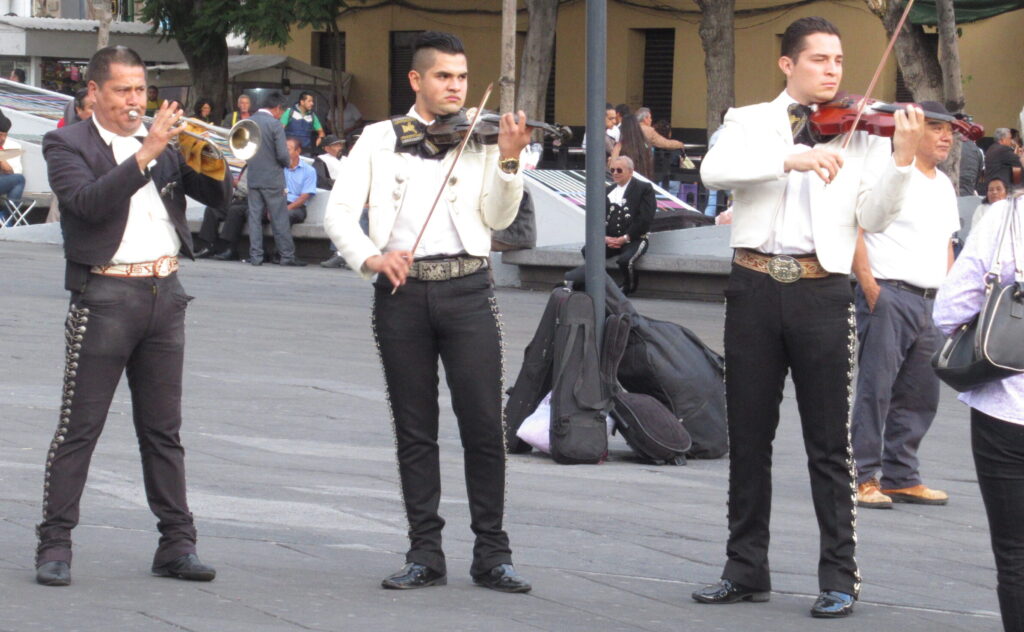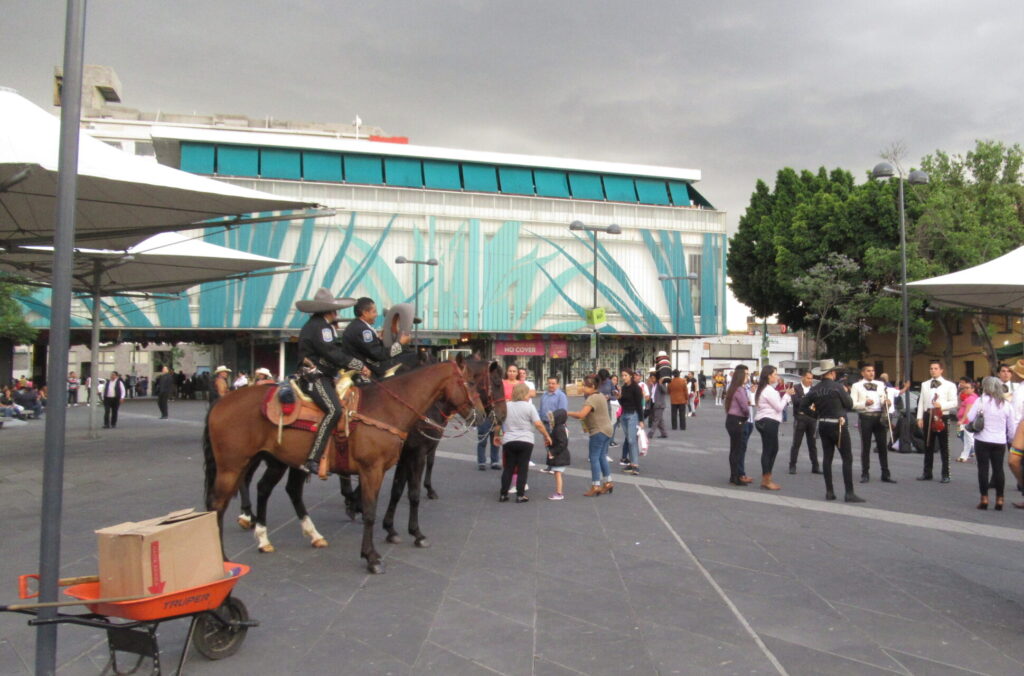 Now that we were about to leave Latin America, we realised that any tourist junk that we bought wouldn't have to be lugged around in our backpacks… Yes, this meant that we could go wild on souvenirs! And there was no better place to do that than Mexico City – the home of thousands and thousands of colourful skeleton related tourist objects! There was an entire market dedicated to this – the Ciudadela Market, and it was especially good because it was an artisan market – meaning that all of the goods were hand-made or hand-painted. So every skull (of which there were thousands…) had a slightly different colour scheme. We ended up going twice so that we could carefully select the best merchandise! 🙂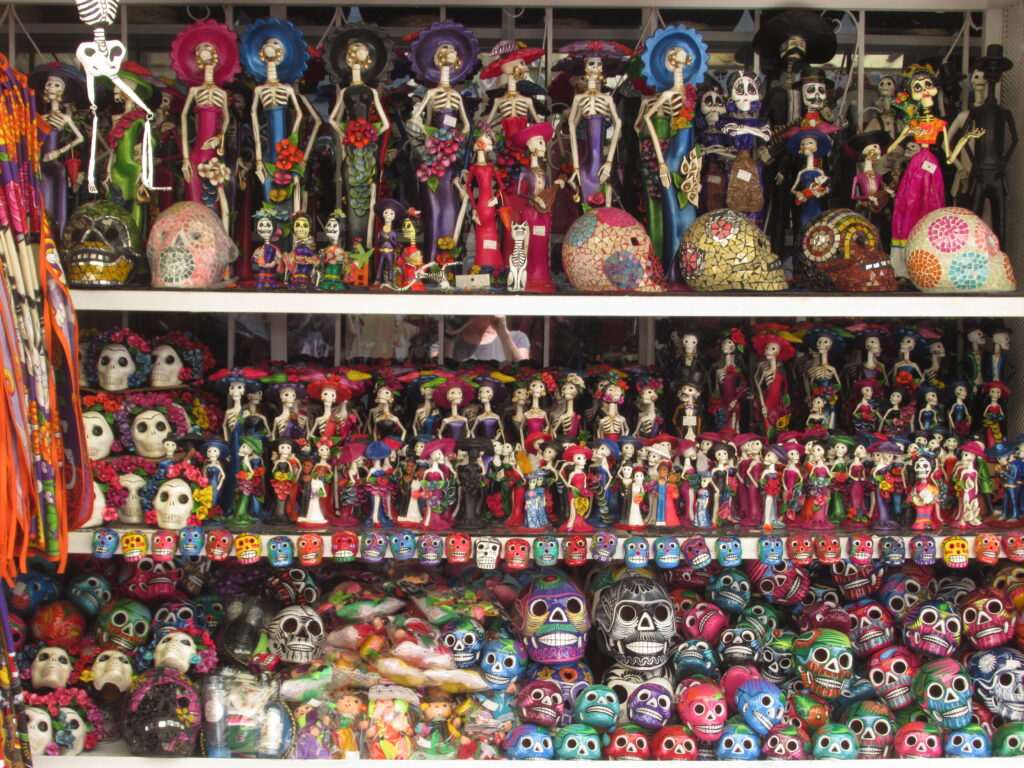 And finally, moving on to eating – there are going to be several posts about all the delicious food and drink in Mexico coming shortly – but in the meantime, I will mention the two places that we ate the most while we were in Mexico City. The first was on Calle Uruguay, and didn't seem to have a name – as it was one of several stands set up in a courtyard type area. The fried quesadillos there were AMAZING! It was quite a long walk up there from the centre, but we couldn't resist going back every time that we could.
The other place I will mention is Cafe La Pagoda – just around the corner from where we were staying. We ate there quite a lot in the evening, and it was where we had our last meal of the whole trip….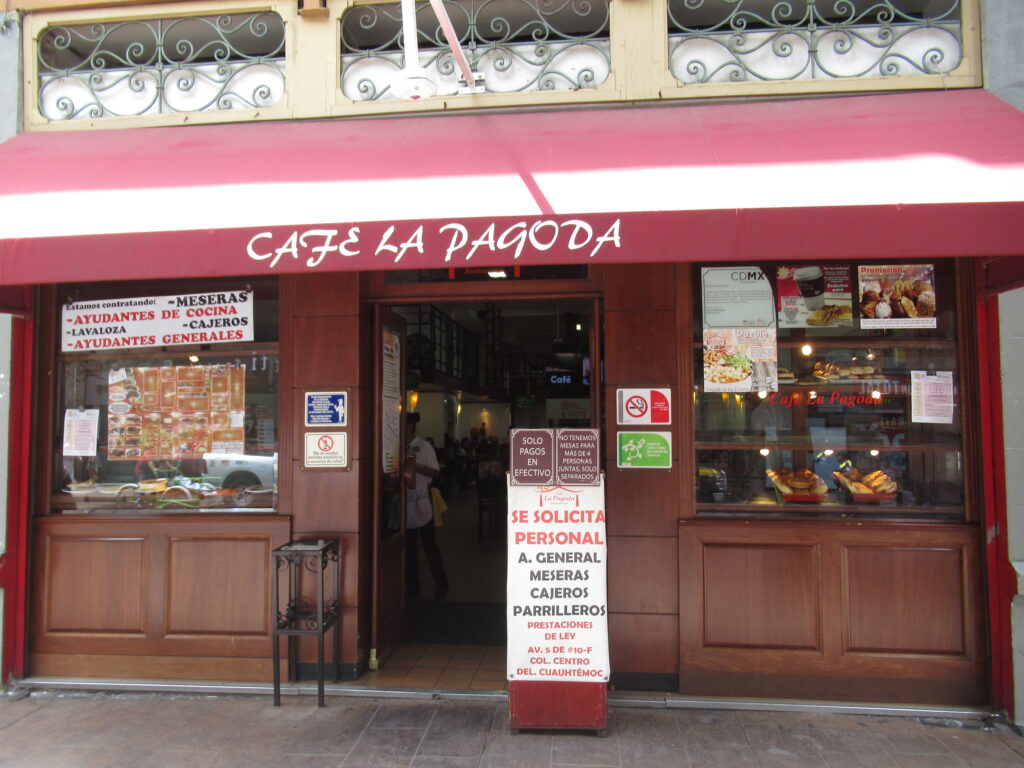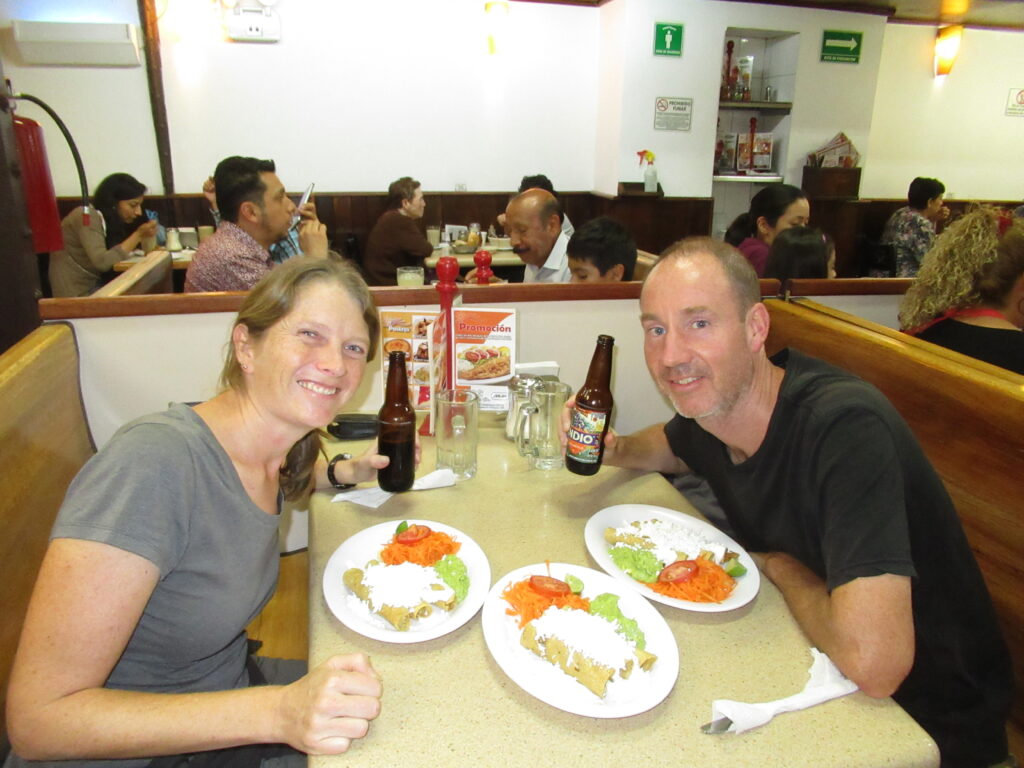 Yes, that really was our last meal in Latin America – our trip was sadly over. But the good news is that the blog isn't over – plenty of posts to come about food and drink and the bits of Mexico City that there weren't space for in this post…