Food in Colombia – Snacks and Street Food
Yes, just like everywhere else in South America it was very important for us to eat lots of snacks and street food 🙂 – and I can happily report a high standard in Colombia… 🙂
So, where to begin… well of course with 'arepas' – they are made of corn and are the iconic food of Colombia. As I mentioned previously, arepas are provided at breakfast, lunch, and dinner – usually as 'plain' arepas. But they are also available to eat as snacks with all kind of accompaniments.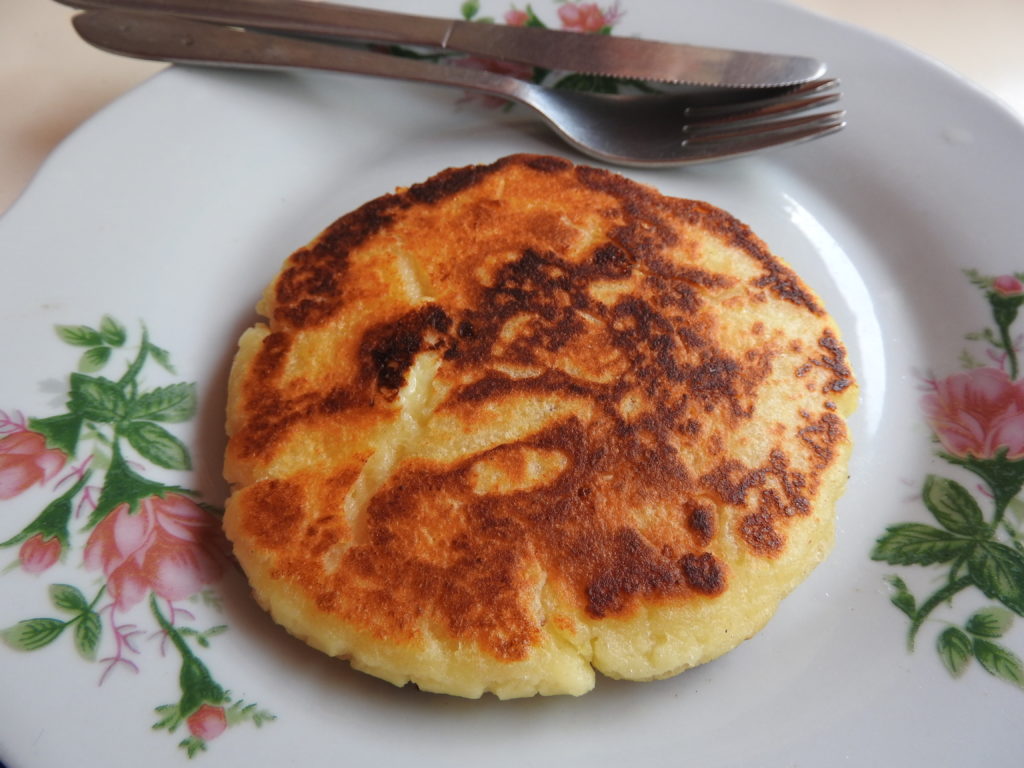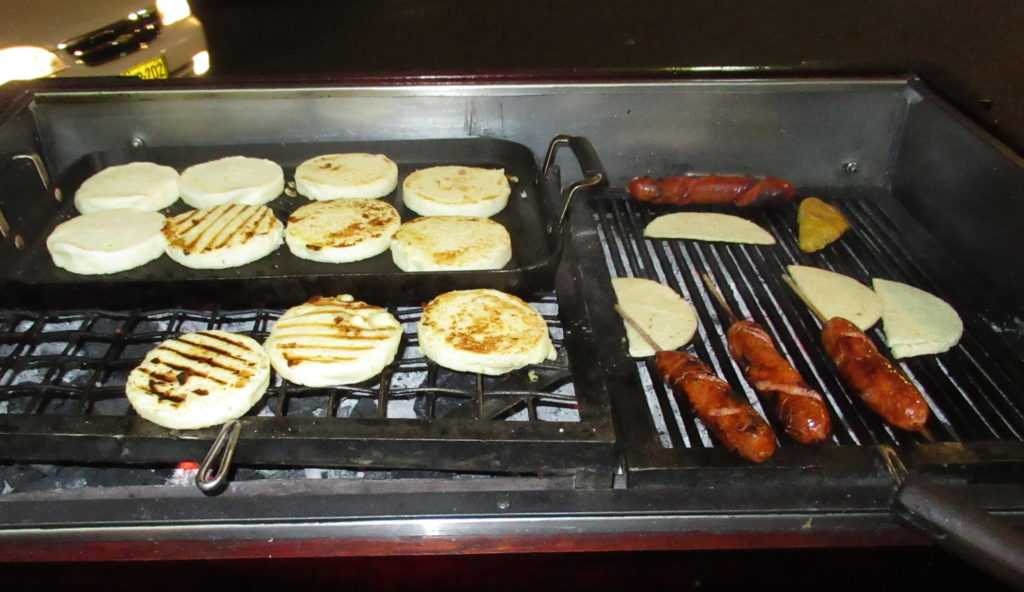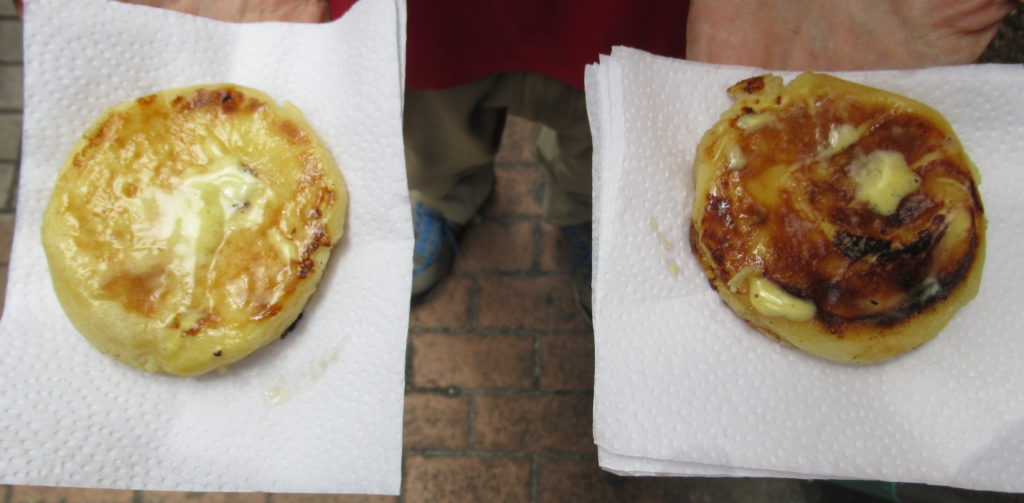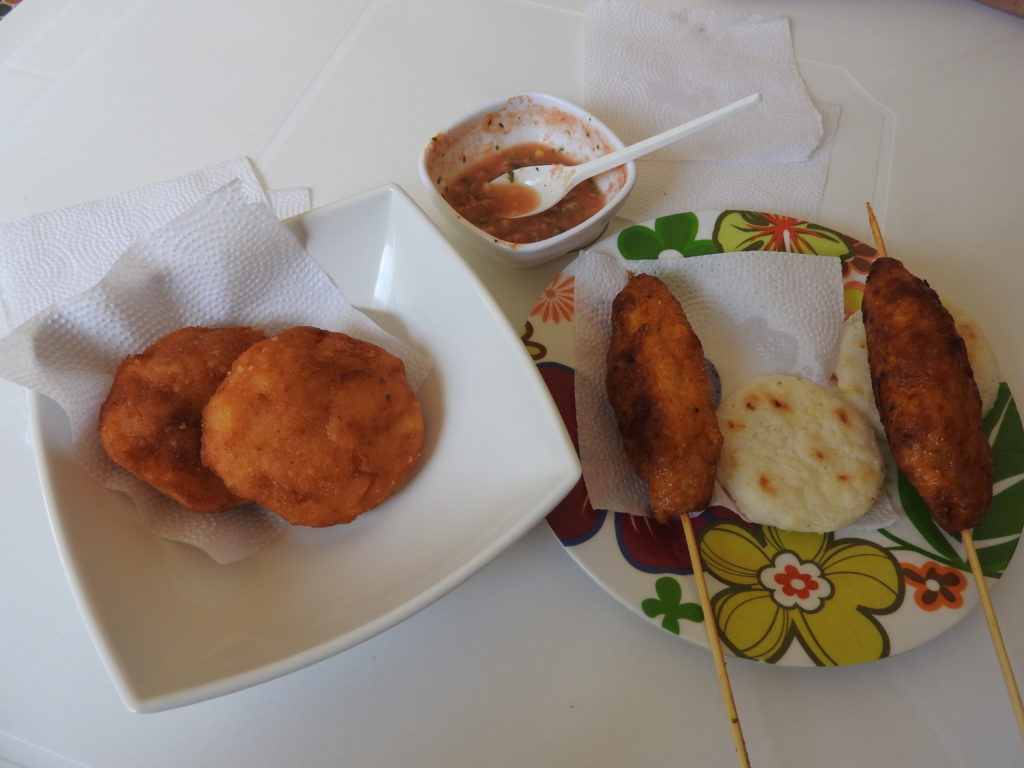 As well as arepas there were plenty of other options – including the above mentioned 'chicken sticks' – which of course are chicken on a stick…! 🙂 Most options are deep-fried.
We found a couple of 'gourmet' street snacks which are local specialities in Popayan – although it's debatable if they are technically street snacks, as we had to go inside a restaurant to eat them…. BUT ANYWAY, I'm putting them in this section 🙂
The first is called 'empanadas de Pipián'. These are empanadas which are stuffed with a special filling made from a couple of varieties of local potatoes, garlic, tomato, onion and a few other bits and pieces. They are served with a spicy peanut sauce. Yes, what's not to like! 🙂 They were awesome…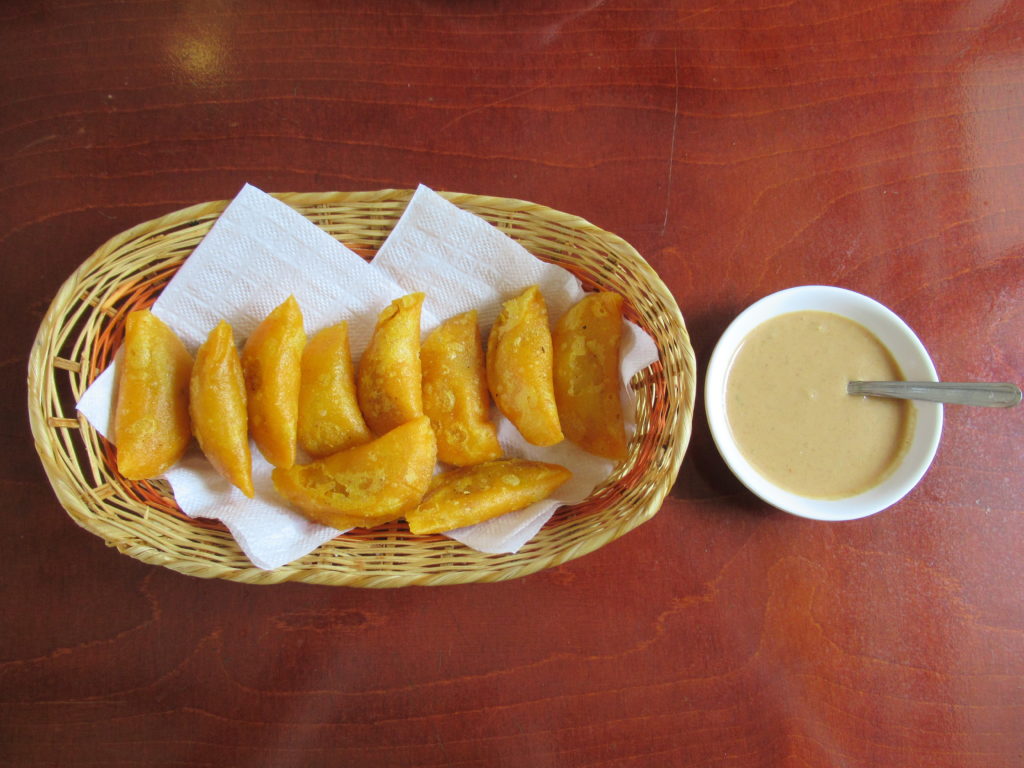 Next up in the Popayan specialites was Carantanta con Hogao. This is made from cooked ground corn, and looks like a kind of like a corn version of prawn crackers! These were pretty nice as well, but not so filling as the empanadas. The sauce was a tomato and onion sauce – not as good as the spicy peanut sauce – but we're not complaining!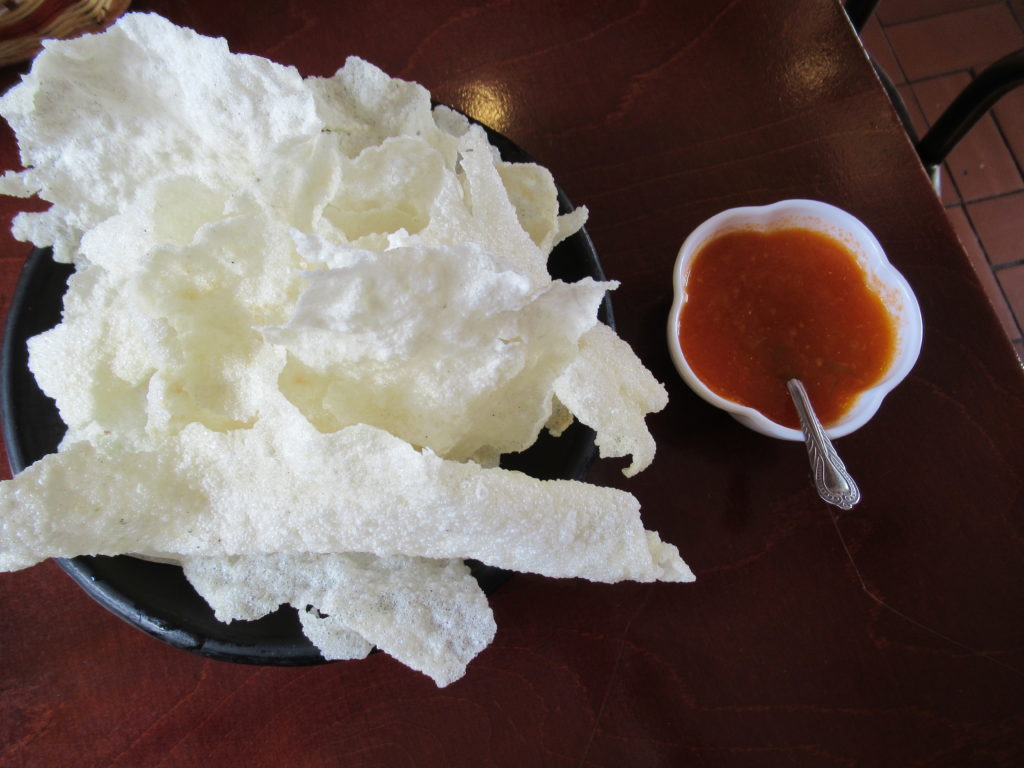 The Popayan snacks were definitely 'high-end' snacks, but most of the time in Colombia the street snacks couldn't really be considered 'high-end' – as you can see from the selection below – BUT they could all be considered highly enjoyable…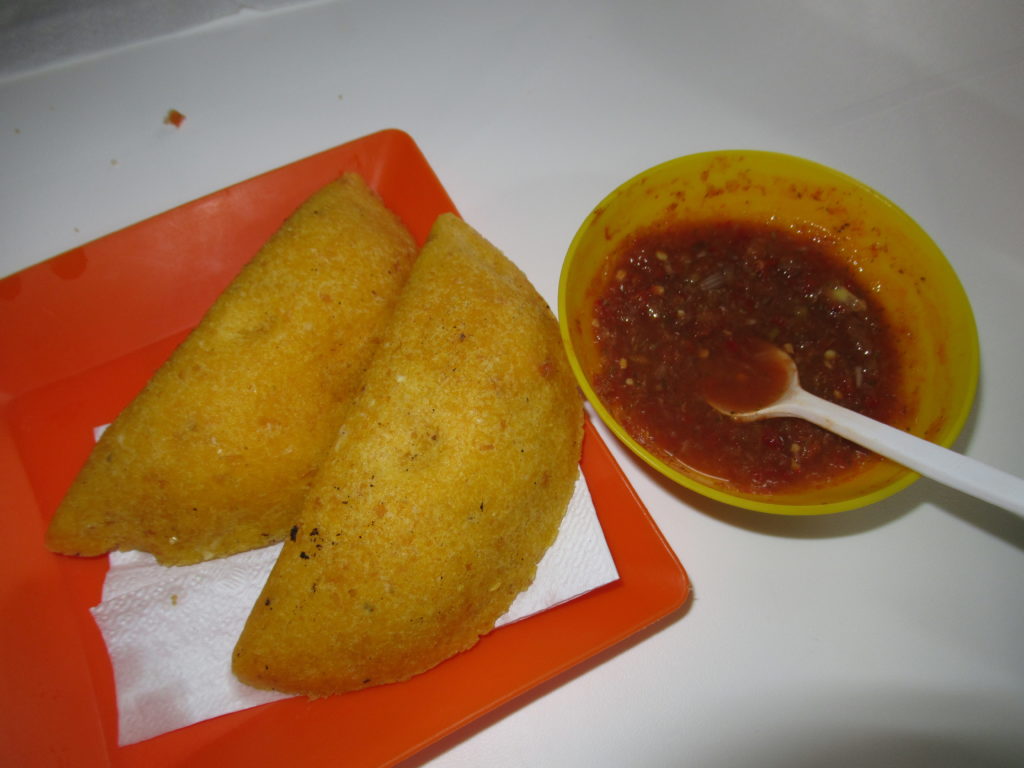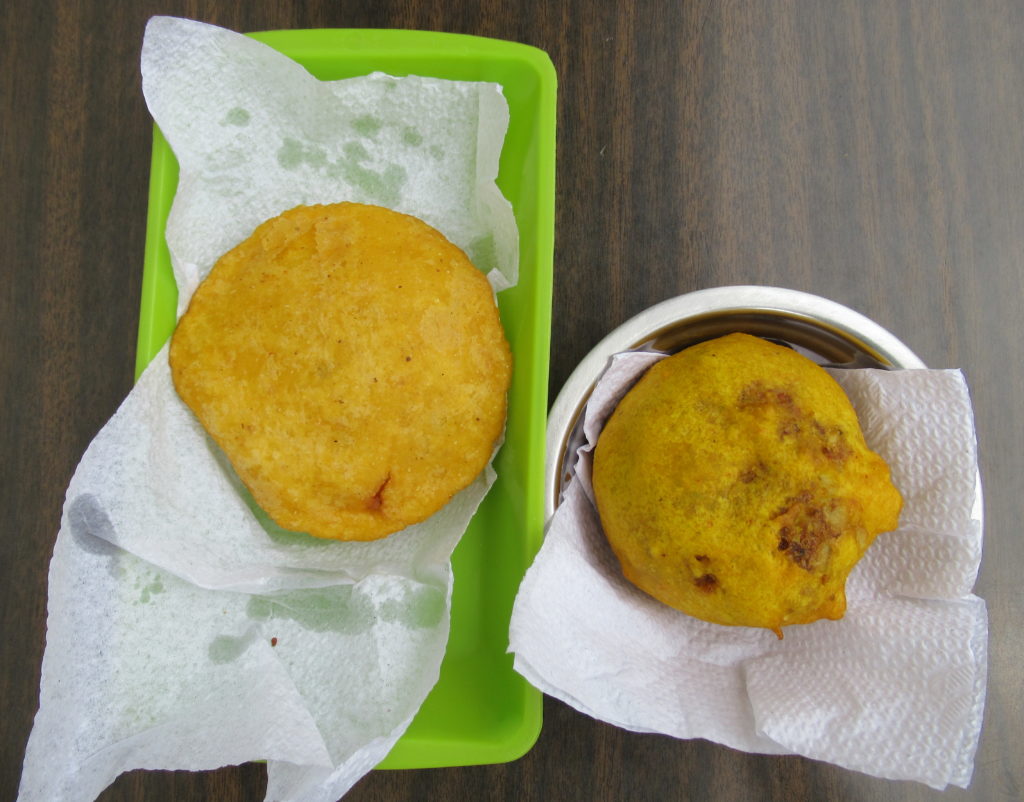 But a special mention must go to the lady who sold fried battered potato with spicy sauce in the main square of Jeríco. THE BEST! We ate them for dinner THREE NIGHTS IN A ROW! 🙂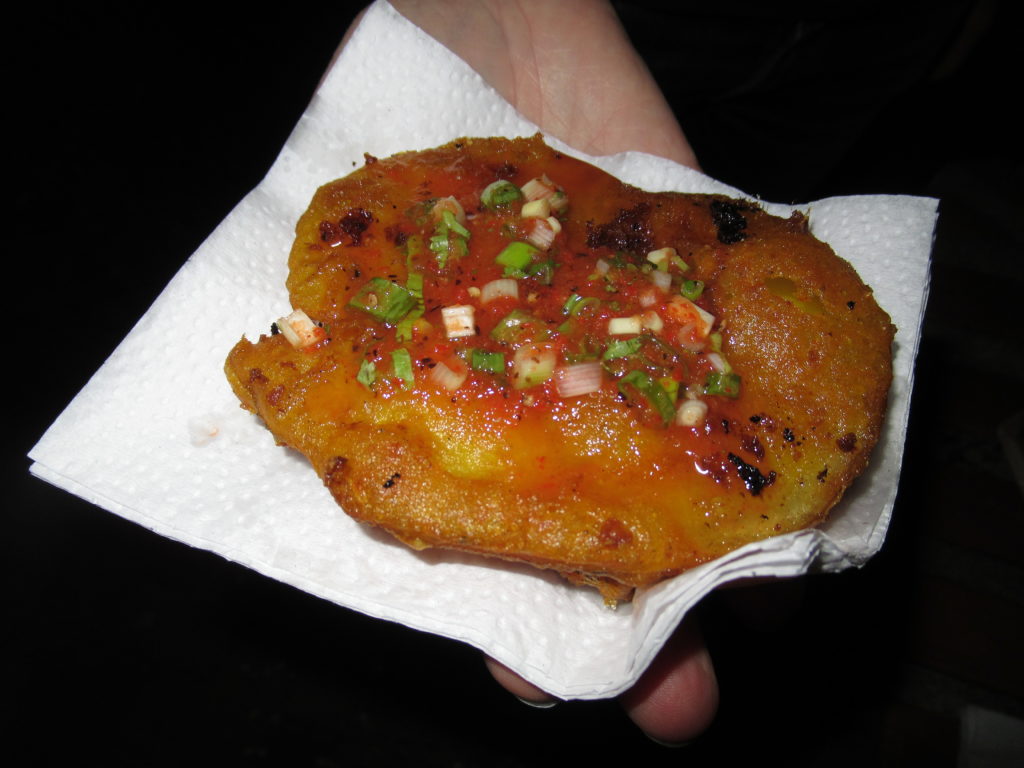 As well as all the fried stuff there are a couple of sweet things that need a mention. First of all we have 'obleas'. These are also a bit of a Colombian institution and are for sale in most town squares. They are a bit 'junky' and not that tasty in my opinion….. (and also CC's opinion). They are made of giant wafers with a filling of choice – fruit flavour, dulce de leche etc. They tend to be a bit sickly sweet whatever filling you choose…. or, on the other hand maybe it's that CC and I are BITTER…. because the lady that we bought ours from ripped us off (serves us right for not shopping around…) and was also stingy on the filling… ah well….es la vida as they say…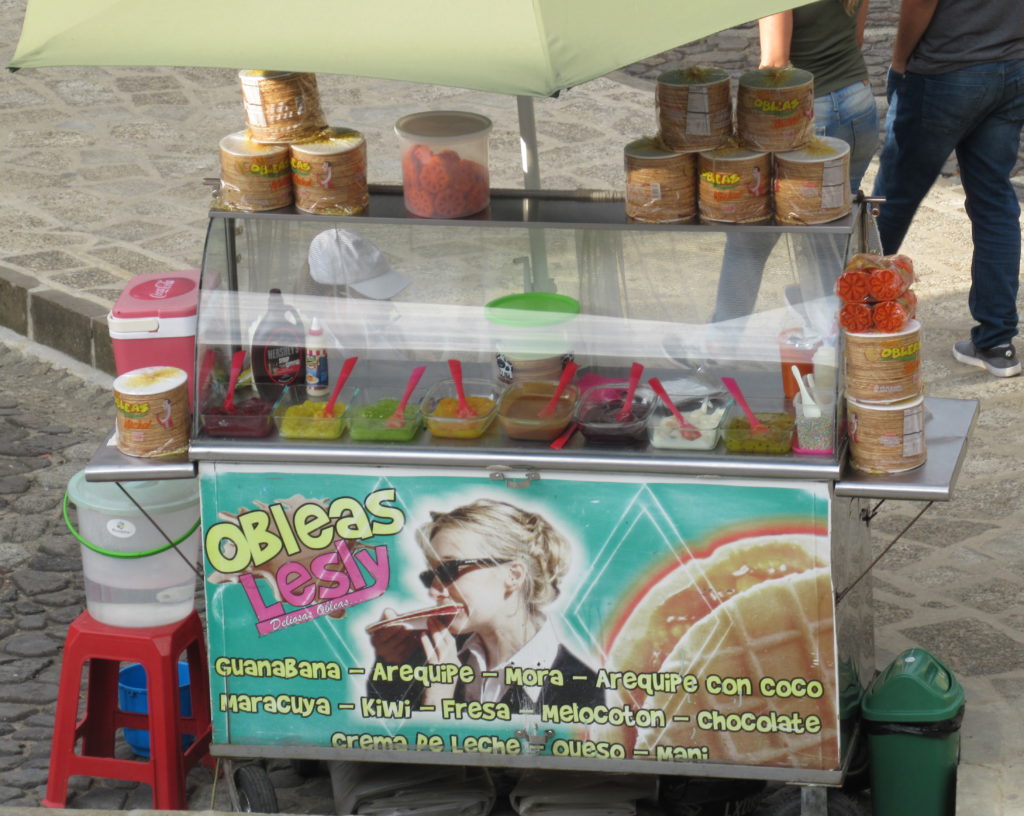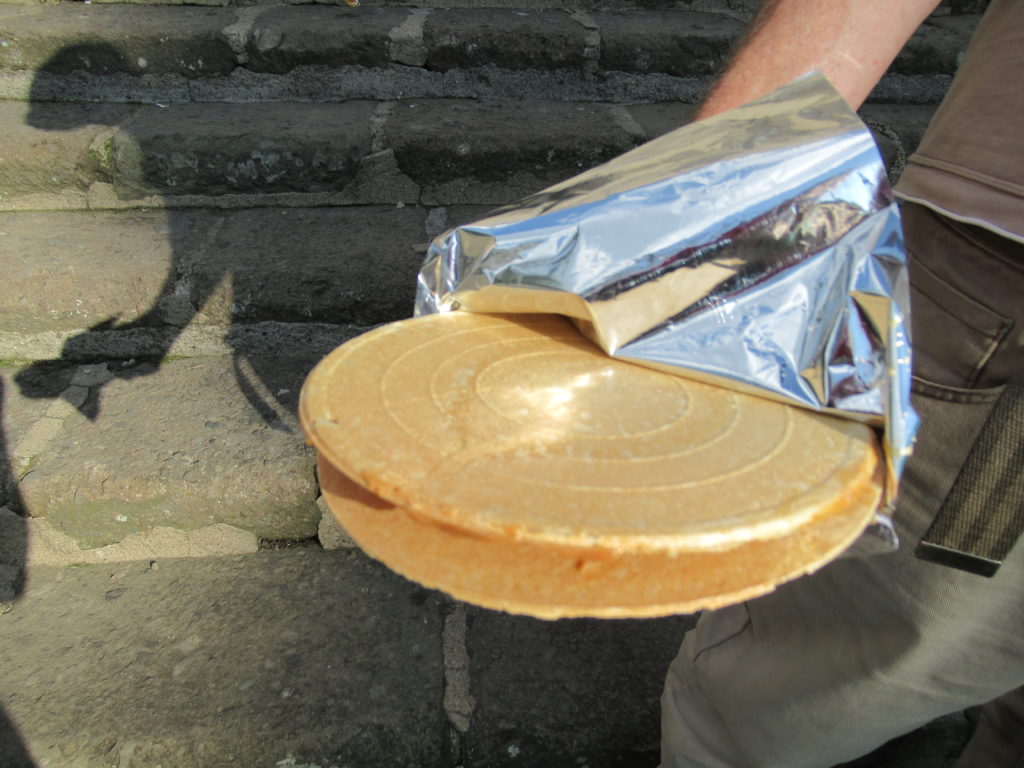 And finally, we found something in Guatape called a 'Solterita'. This is a Colombian version of a Spanish traditional pastry made with wheat flour and egg called a 'Flor Frita'. In Colombia though it is covered in a special sauce which is usually orange, and is made of corn and condensed milk. It's then also topped with cream… Yes, this item is all about what's on top of it – you can barely notice the pastry-type thing underneath! It was sweet, but good – hundreds of times better than any oblea… 🙂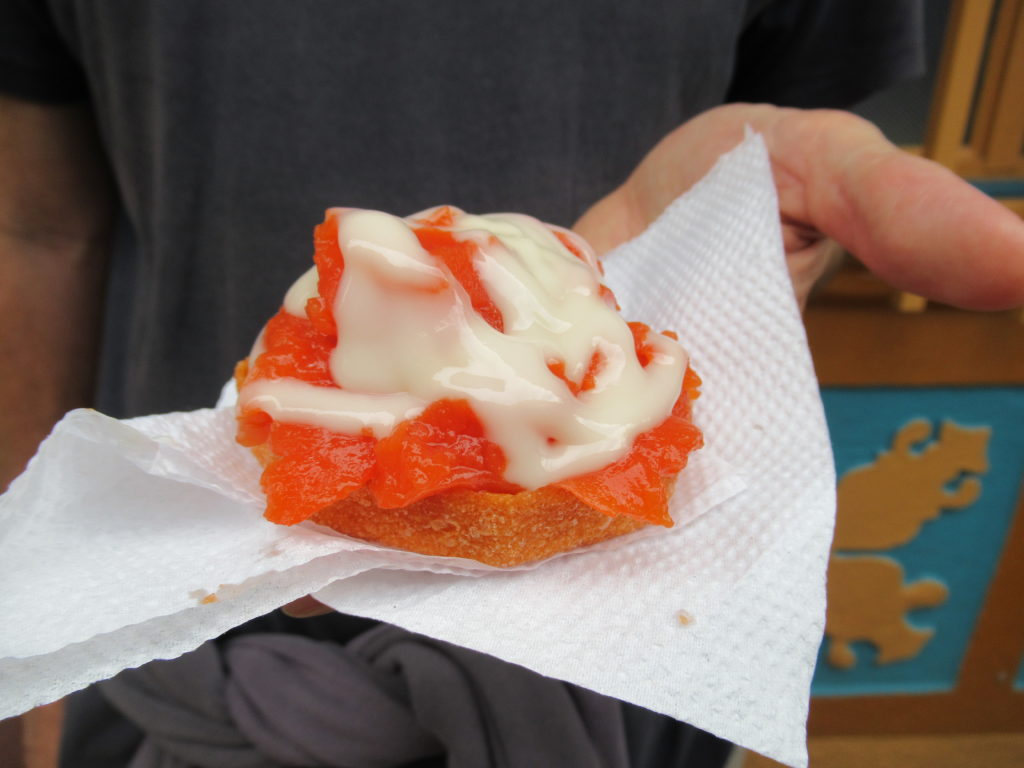 Supermarket snacks
Colombia has it's fair share of decent supermarket snacks, so here is a selection for your perusal…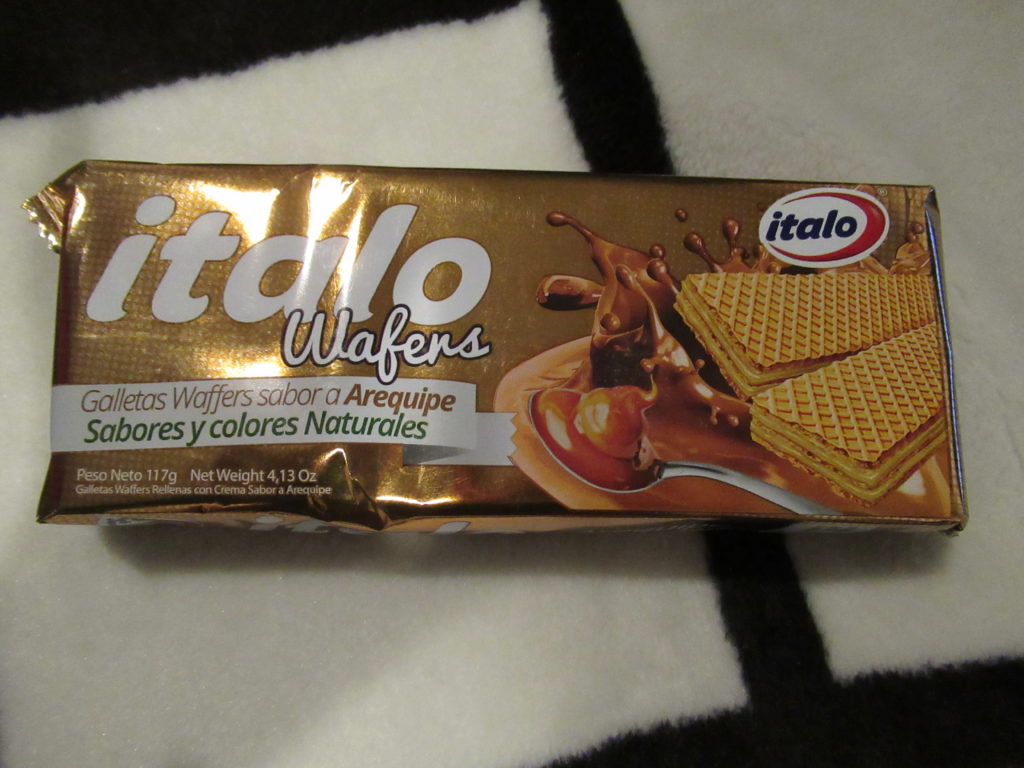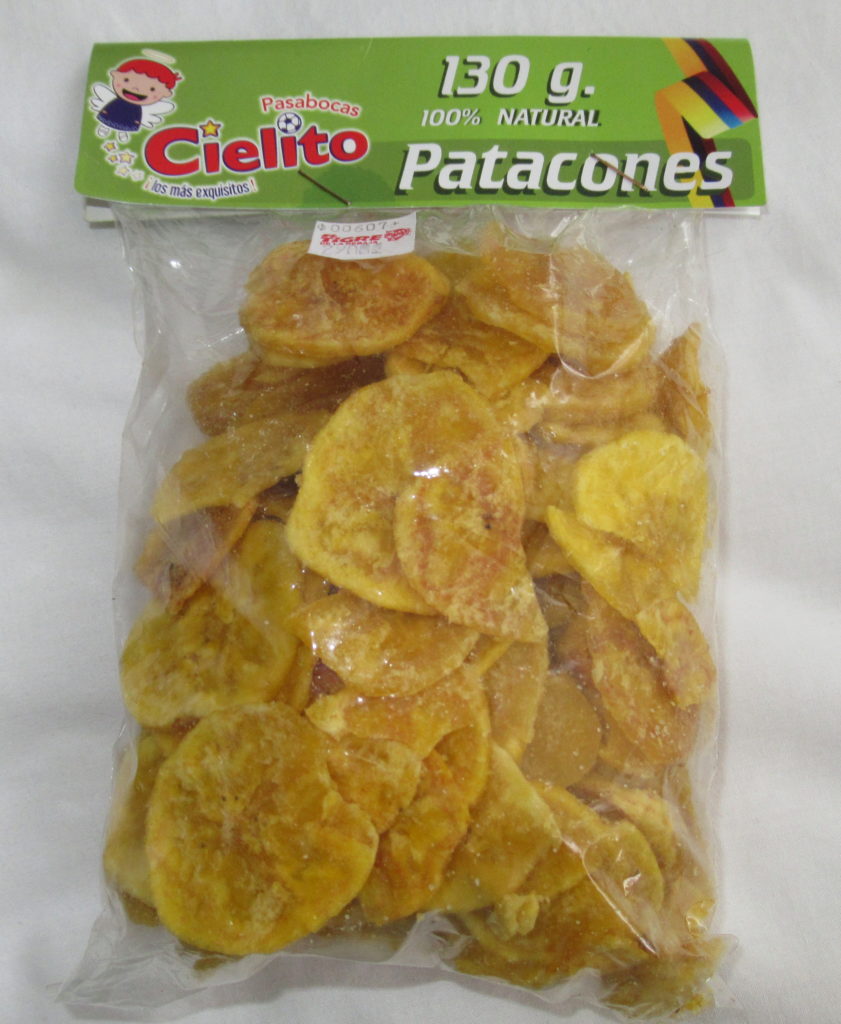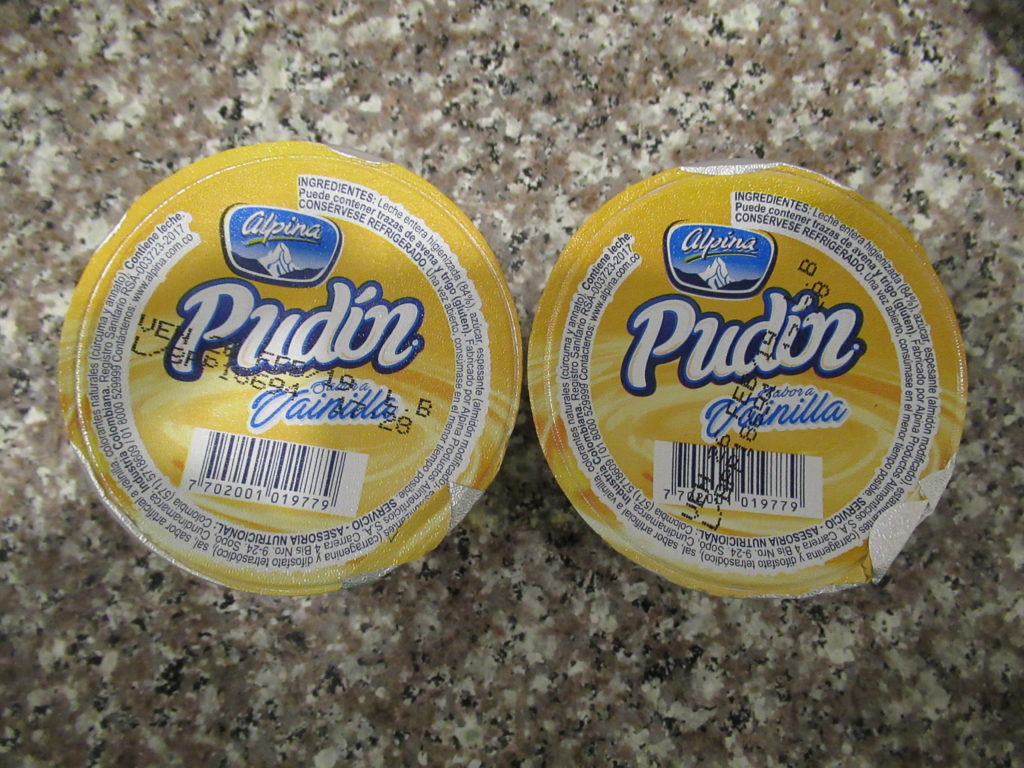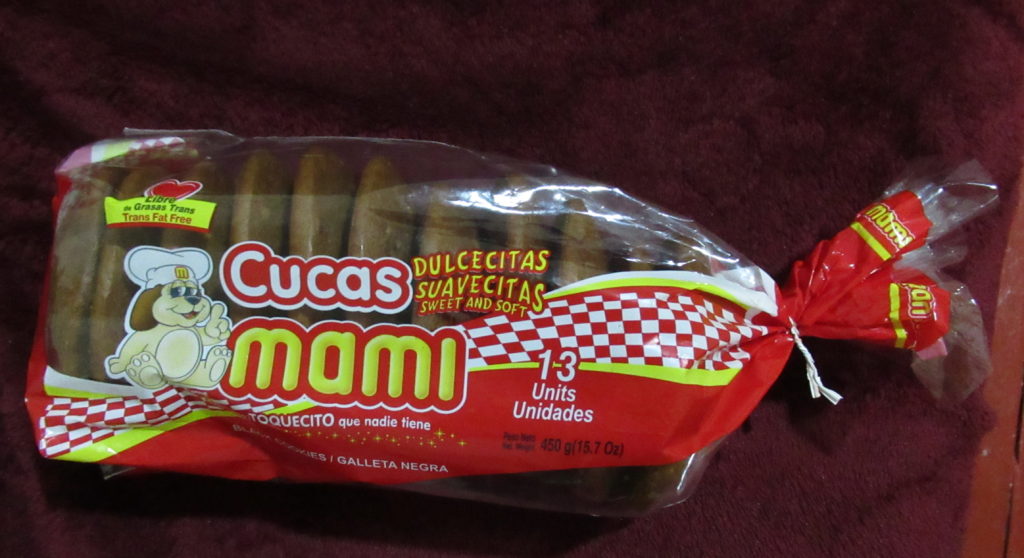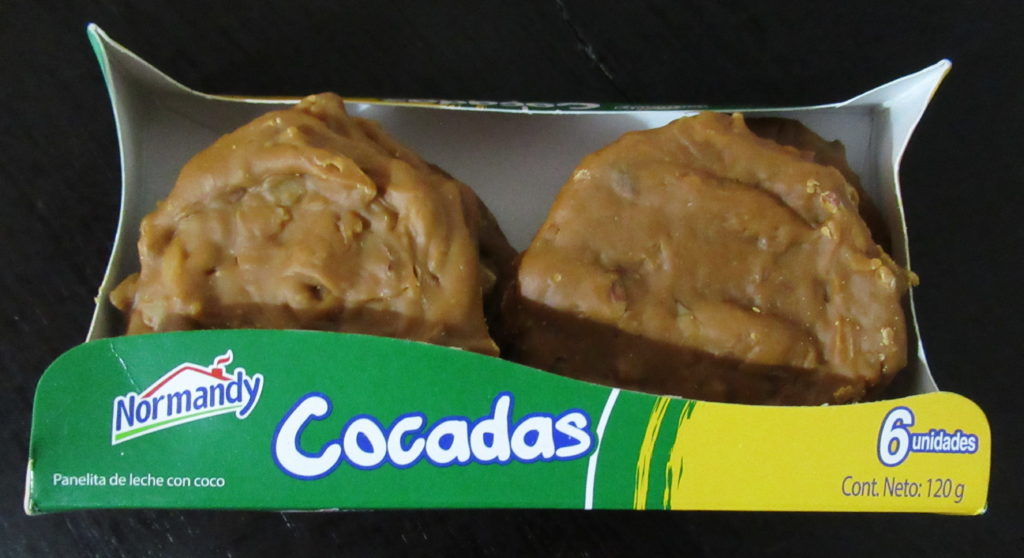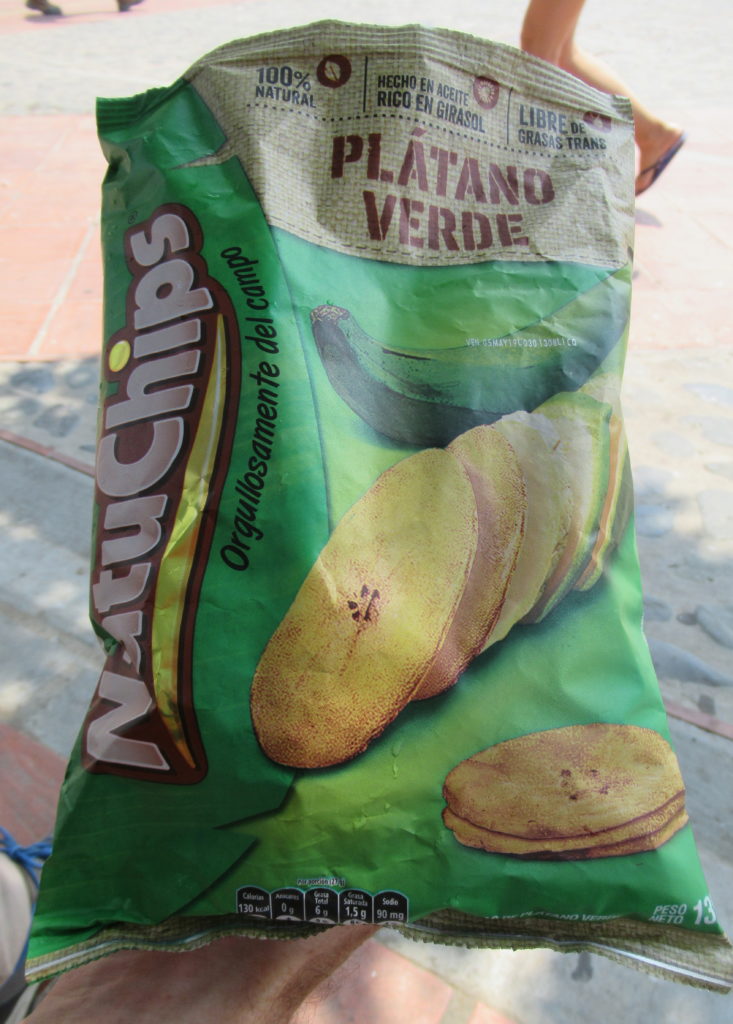 Cakes
And so we come to cakes…. yes we ate a lot of cakes in Colombia! Once we found a good bakery there was no stopping us! 🙂 The overall quality was pretty high and there was quite a variety. Yes you know that you are about to look at a whole bunch of pictures of cakes don't you…! 🙂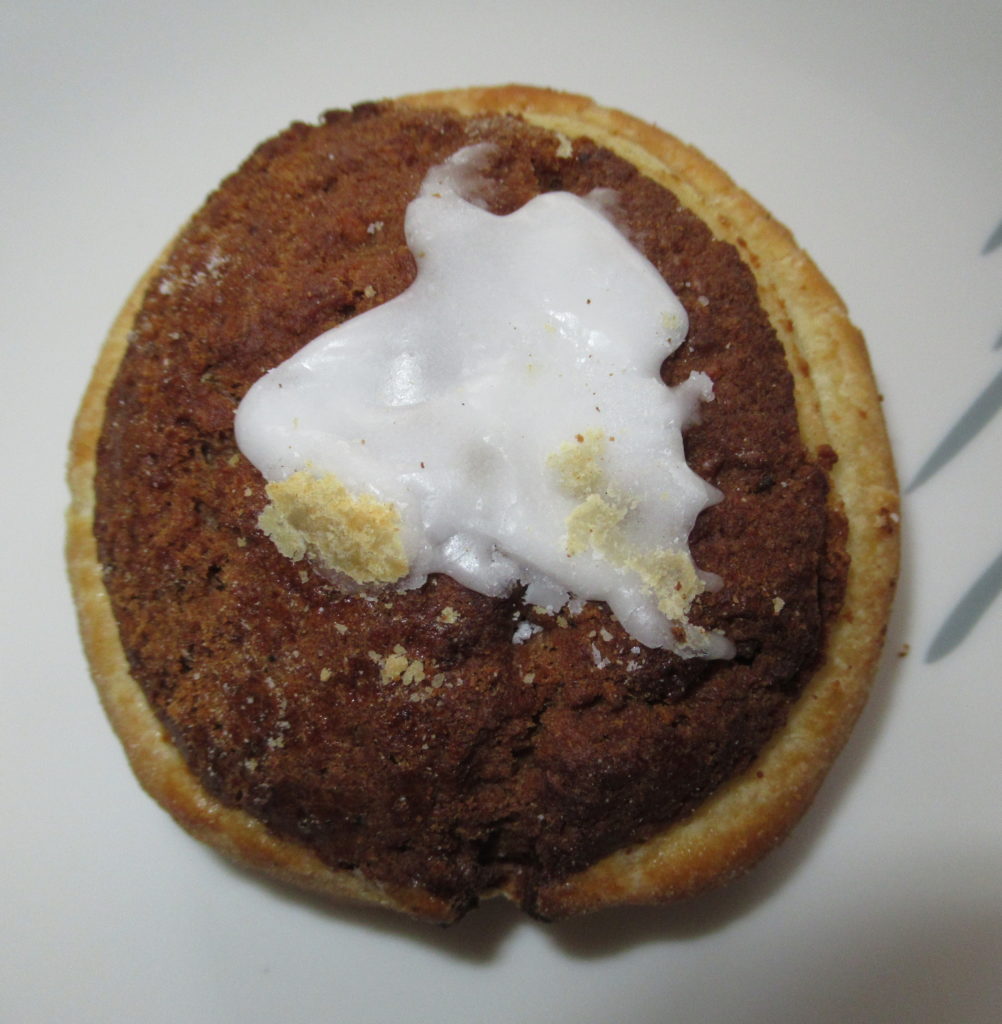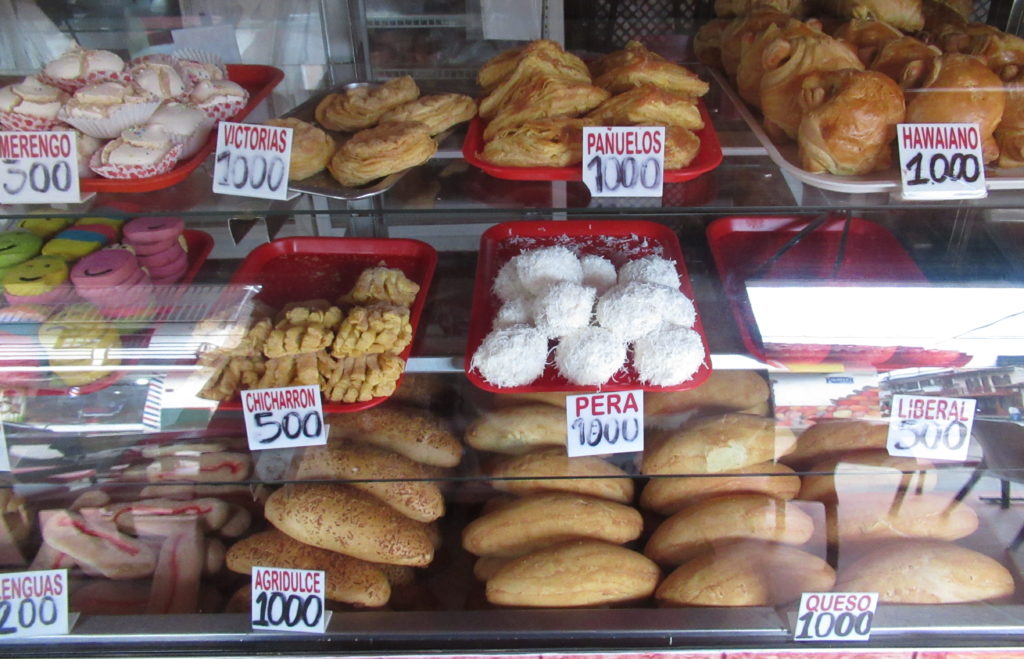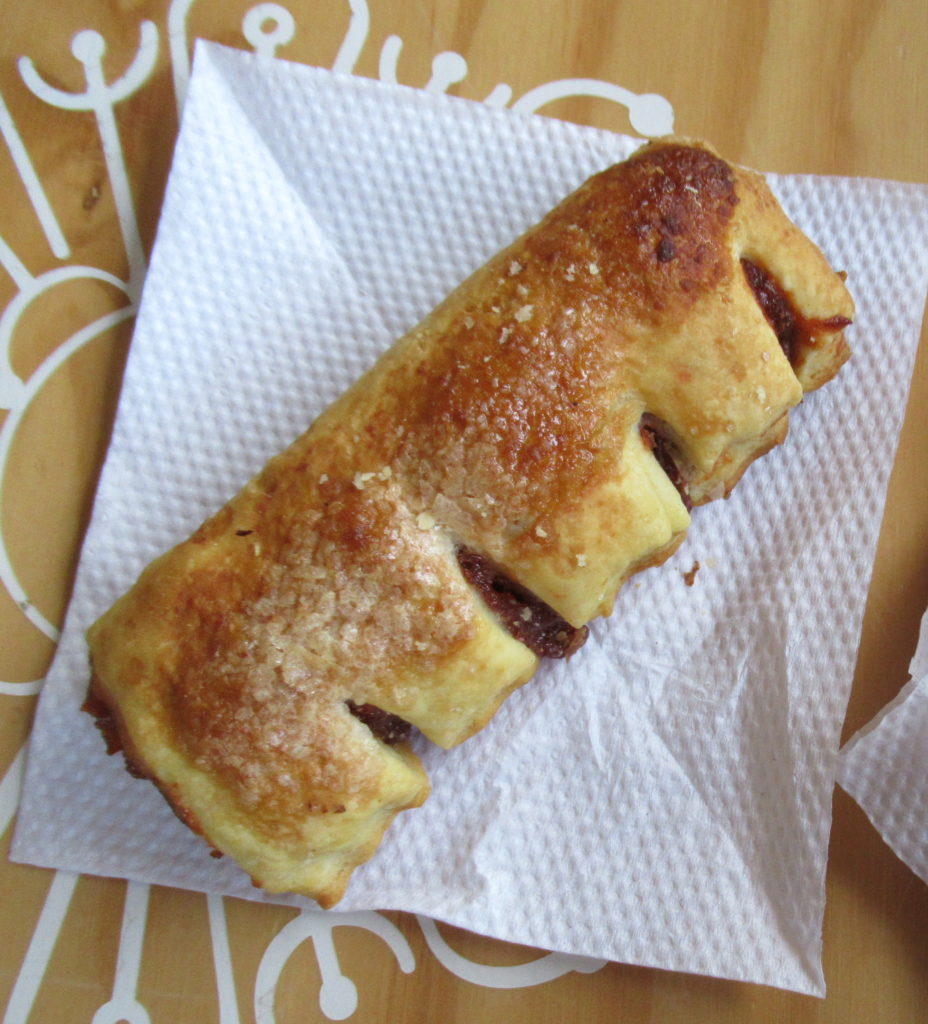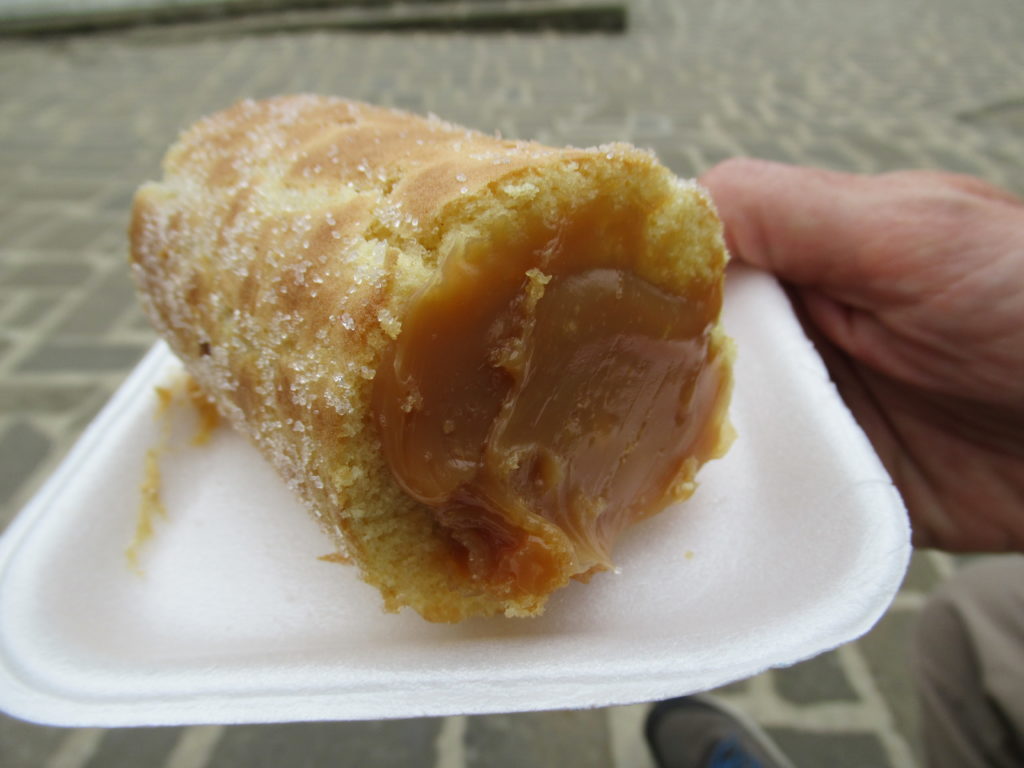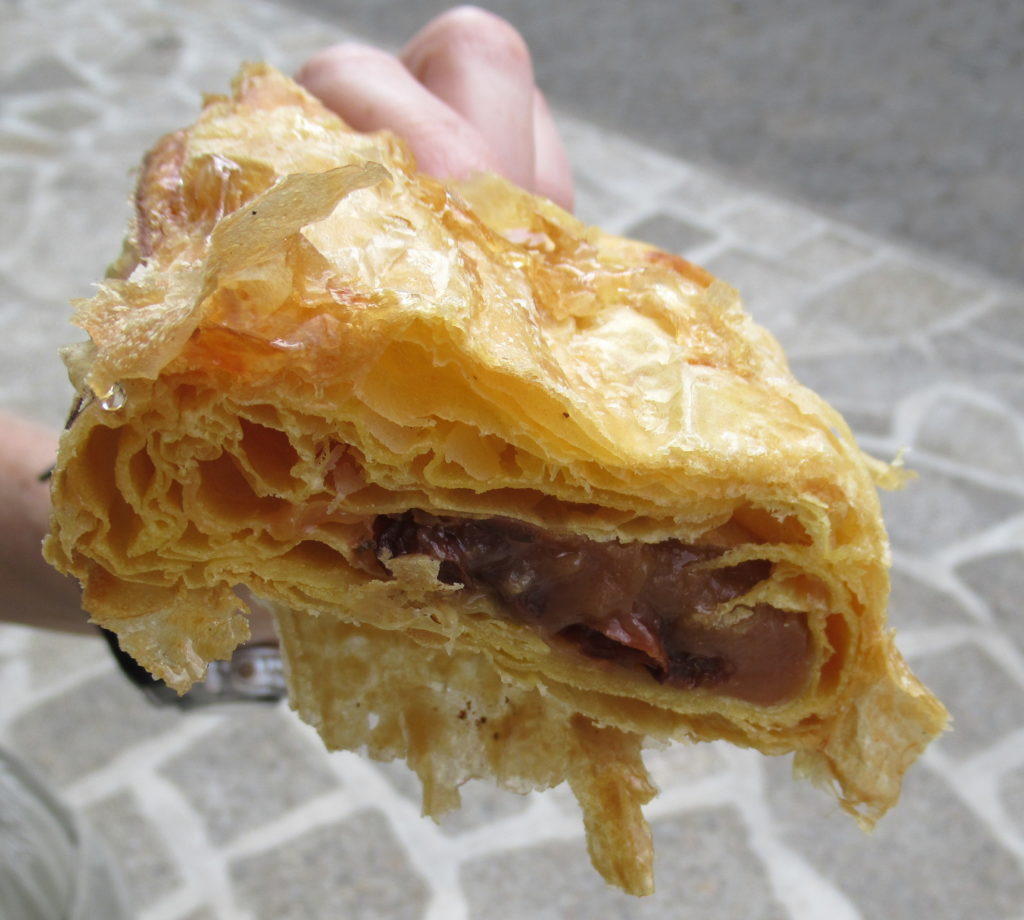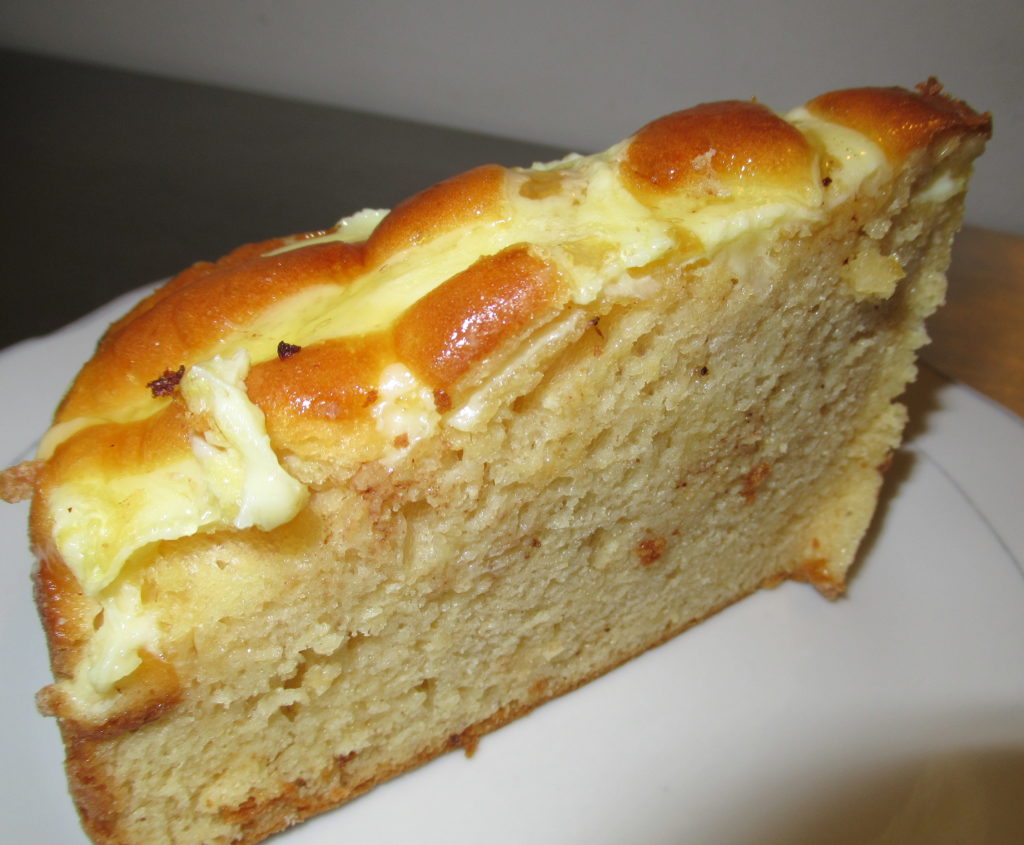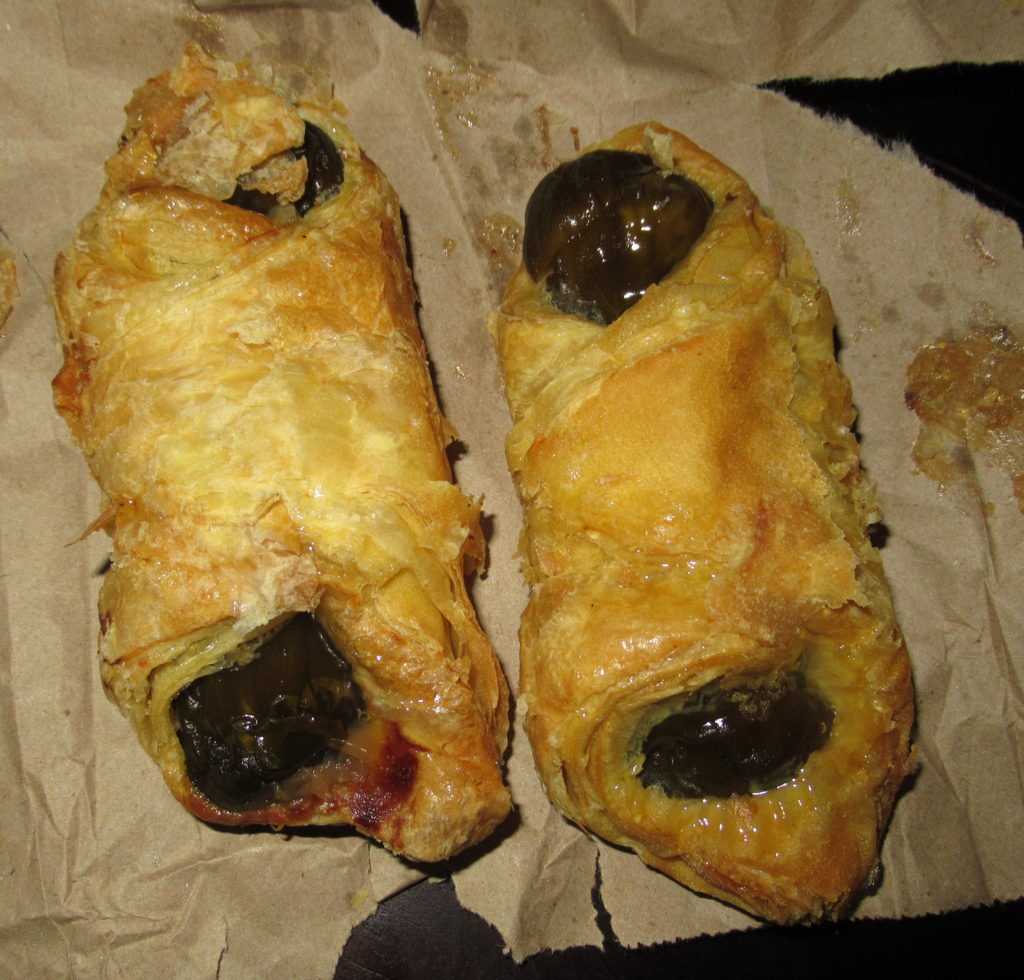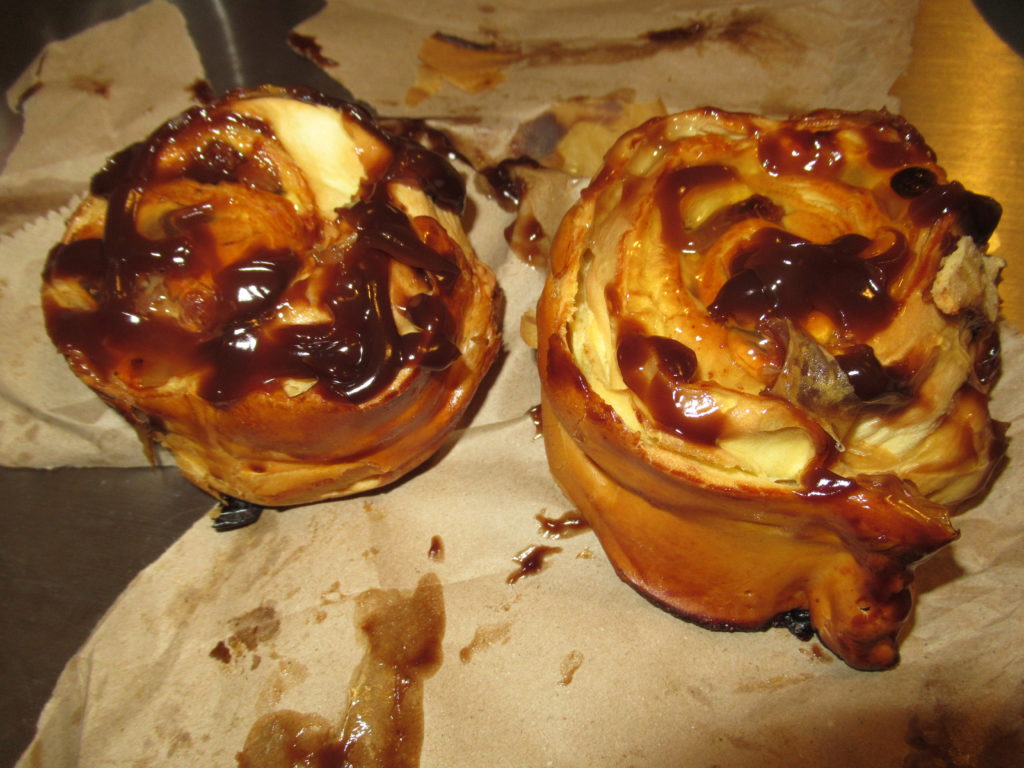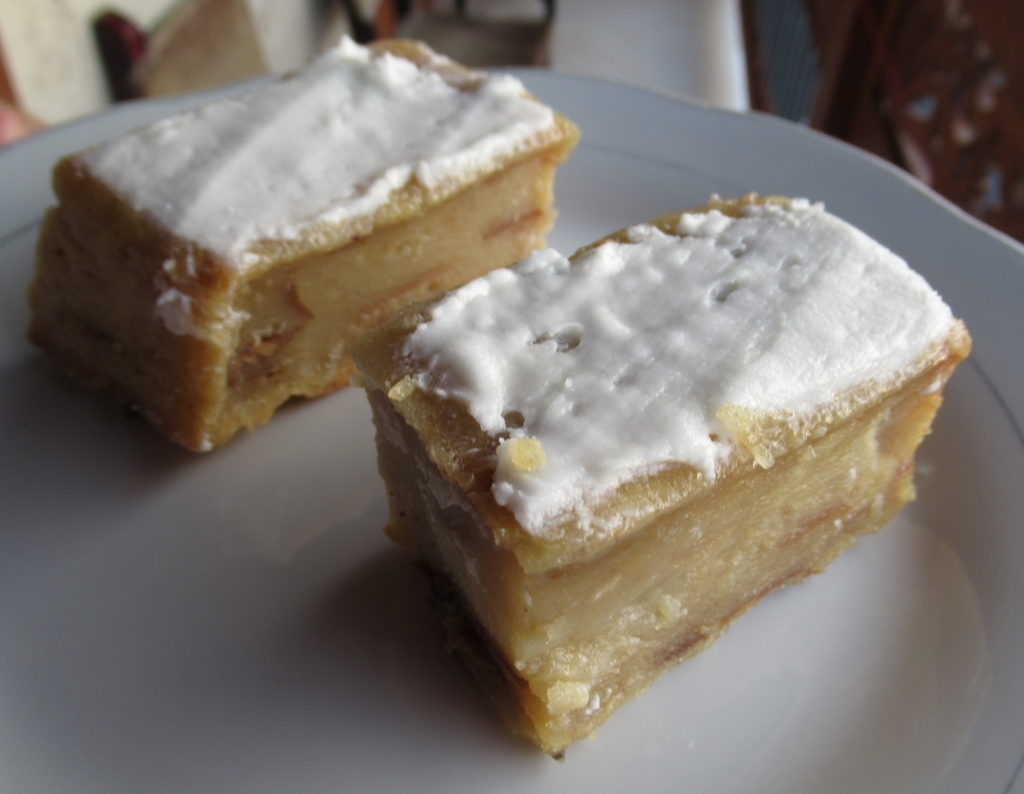 Chocolate
So as is right and proper, we needed to test out Colombian chocolate to see if it could compete with the very high standards of Ecuador and Bolivia. Sadly, no it couldn't… We tried three different chocolate bars – and although they were pretty good, after the heights of Ecuador and Bolivia they couldn't quite meet the standard…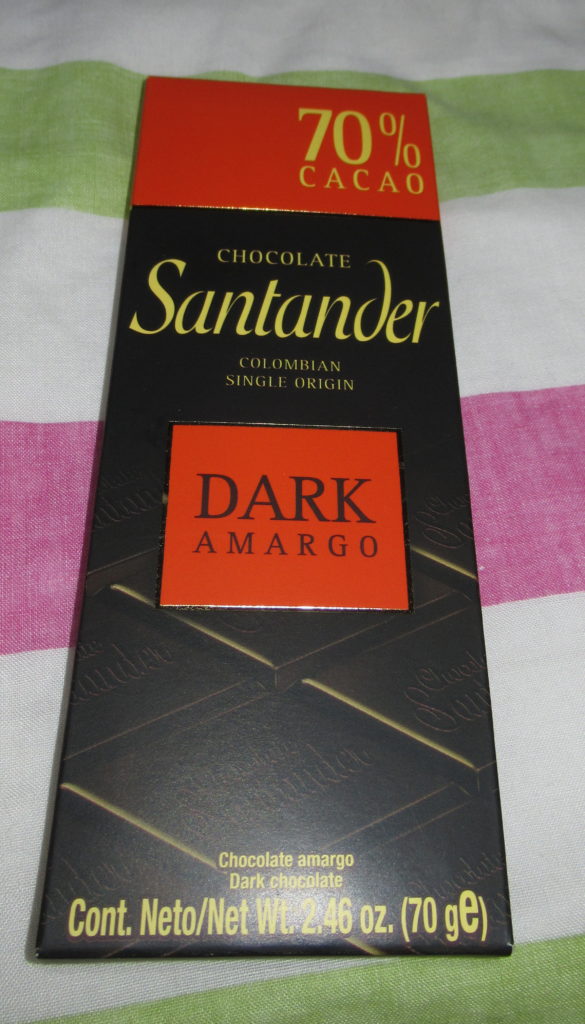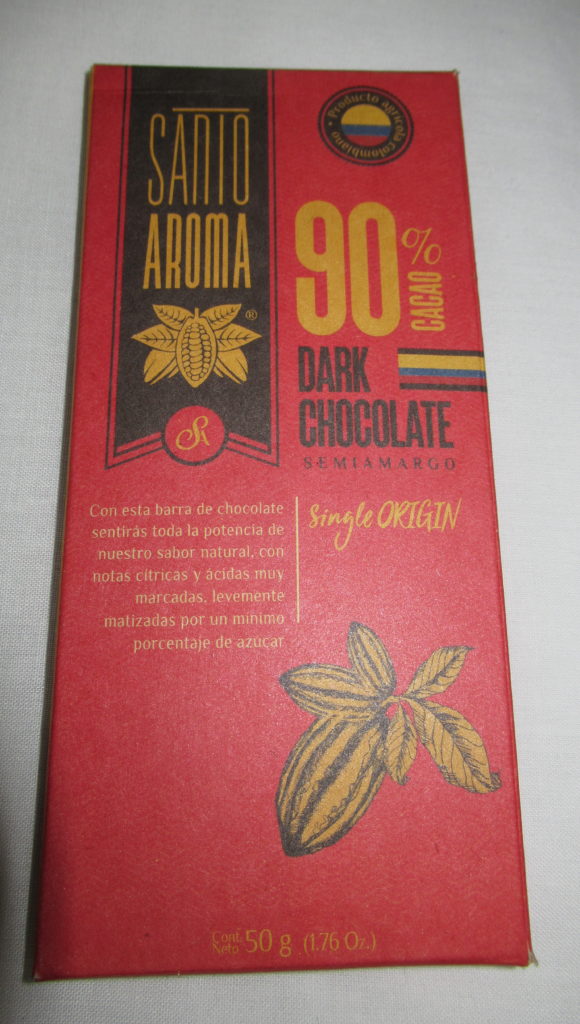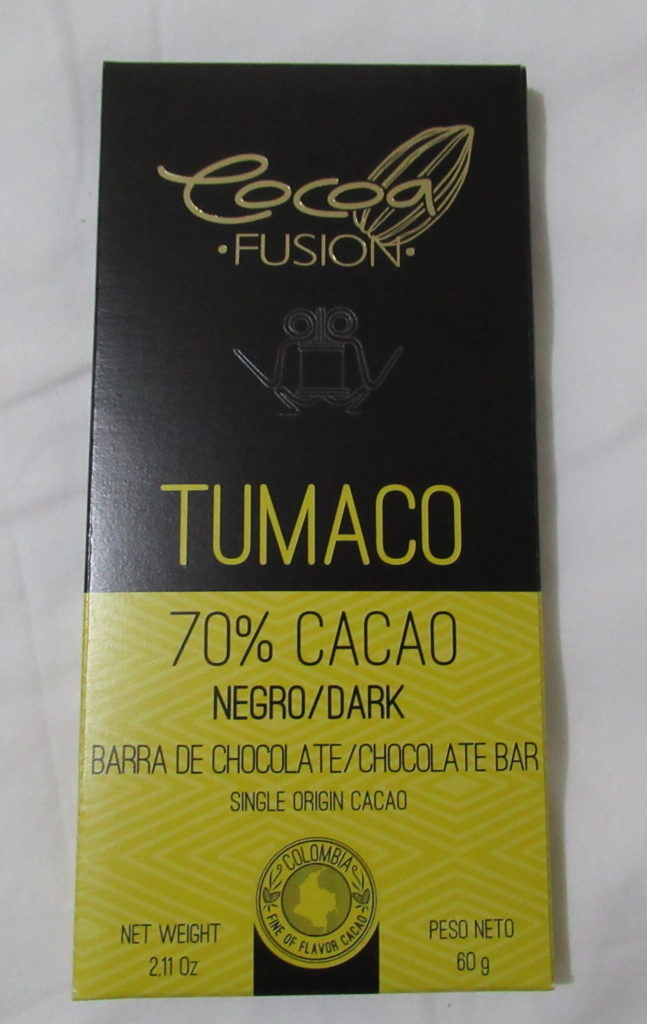 So there you have it – a good all-round performance from Colombia in the snacks, street food, and chocolate category! 🙂