Yes, it's time for the out of sync food post – this time we are in Peru. You might notice that this post is not actually  'Food in Peru' – but only covers 'lunch'… well, let me tell you, that's because there is a lot to say about lunch in Peru… and it's mostly not good I'm afraid!
We were looking forward to Peruvian food, as it has a reputation for being spicy – and yes, we like spicy food! BUT, I will tell you here and now – it is a MYTH…. yes, the food in Peru is NOT SPICY AT ALL… 🙁 🙁 🙁
There are a couple of Peruvian dishes that are usually a bit spicy – but even these dishes are not always that spicy. The way it works, is that there is a spicy sauce provided on the side – so you can add your own spice – but this happens all across the Andean countries of South America – and Peru has the worst spicy sauce 🙁 It can be very hot at times – but it's almost always a bit tasteless..
What can I say, except that the food in Peru was quite a disappointment for us..
Now, a bit of a disclaimer – Peruvian cuisine is actually quite famous around the world, and people come to Lima just to eat Peruvian food?!? Yes, there are actually a lot of Michelin starred restaurants in Peru. So, maybe the 'posh' food is pretty damn good in Peru – but we don't really like much of that even when we are NOT on a backpacker budget – so we weren't about to try any fancy schmancy Lima restaurants… 🙂
No, we are talking here about the 'menu del dias' – the simple, cheap, set lunches that you get all across South America. We had a LOT of these in Peru, and they were definitely worse than in Chile, Bolivia, Ecuador, and Colombia…. yes, that makes them the worst of all!
The main issues were: hard rice, chips always cold, chicken often chewy and unedible, no salad, no beans, mayo added unecessarily, weird sloppy sauce over everything, weird lukewarm drinks, soup consisting of water with a giant chunk of inedible meat in the middle…
Sounds good? 🙂 We did have quite a few nice lunches as well 🙂 But there were an awful LOT of rubbish ones. Luckily for us, outside of set lunches there were quite a few good things to eat and drink in Peru… but that's for a separate post. Also, on the plus side for Peru, they do have a few dishes that are uniquely Peruvian – which are not bad when done well – so there is a bit more variety than in some places.
Anyway, without further ado, lets look at some lunches! 🙂
Lunch 1 – Puno
This lunch was Quinoa soup, trout, cebada, and mazamorra. The soup was pretty average, and the fish was full of bones and very greasy. The rice was rock hard, the chips were cold, and the spicy salsa accompaniment had a pretty weird flavour…. FAIL.
It was our first taste of 'cebada' – this is a Peruvian drink made from barley – we were not fans – it tasted like warm cough mixture… FAIL AGAIN.
For me, the mazamorra dessert was the best thing about this lunch – and it was only 'OKAY'. For CC, the mazamorra was 'disgusting' – just as bad as the rest! Mazamorra is a dessert made from purple corn – we have loved EVERYTHING made from purple corn so far (eg. api morada) – so we are not sure how Peru could have messed this one up….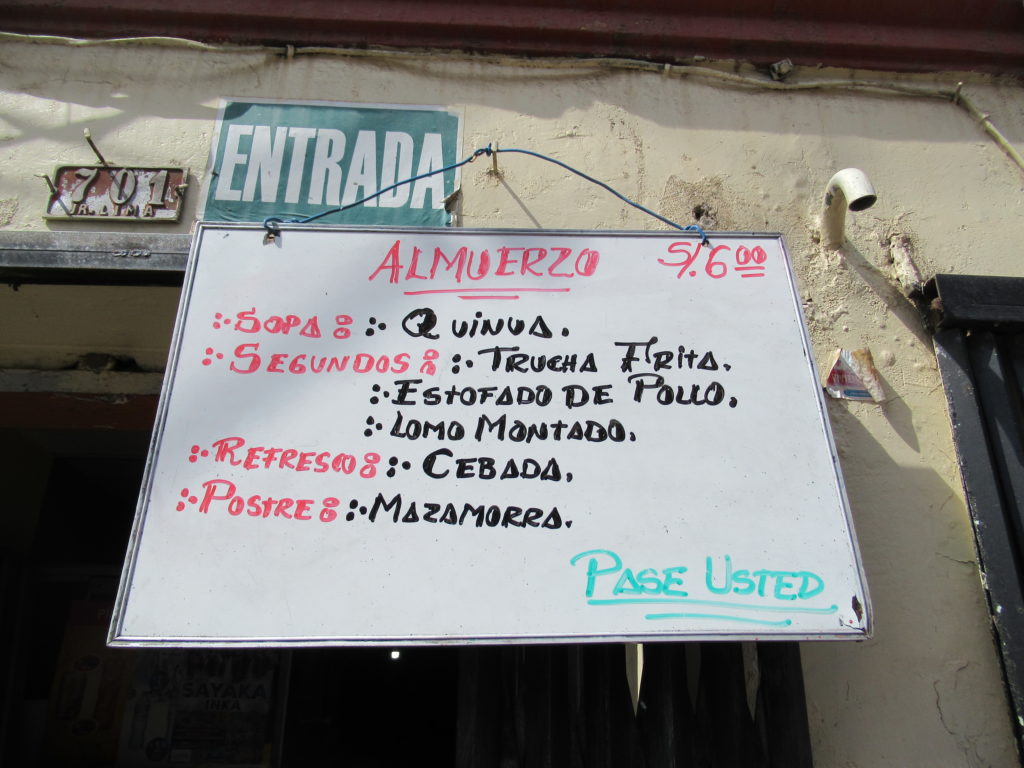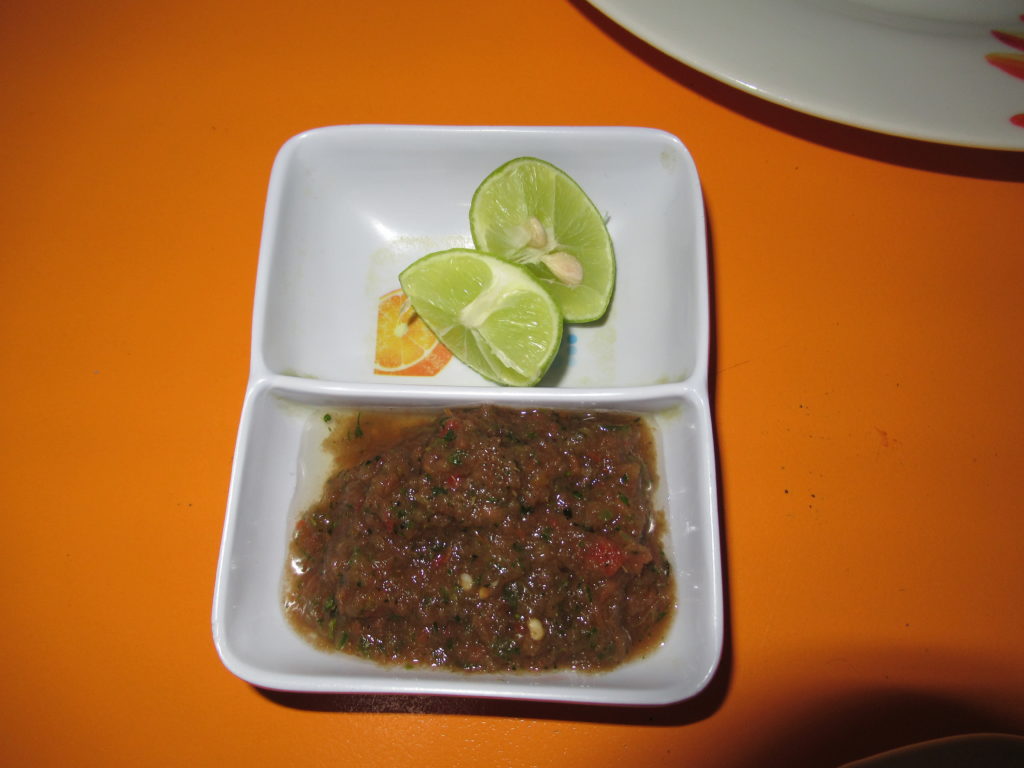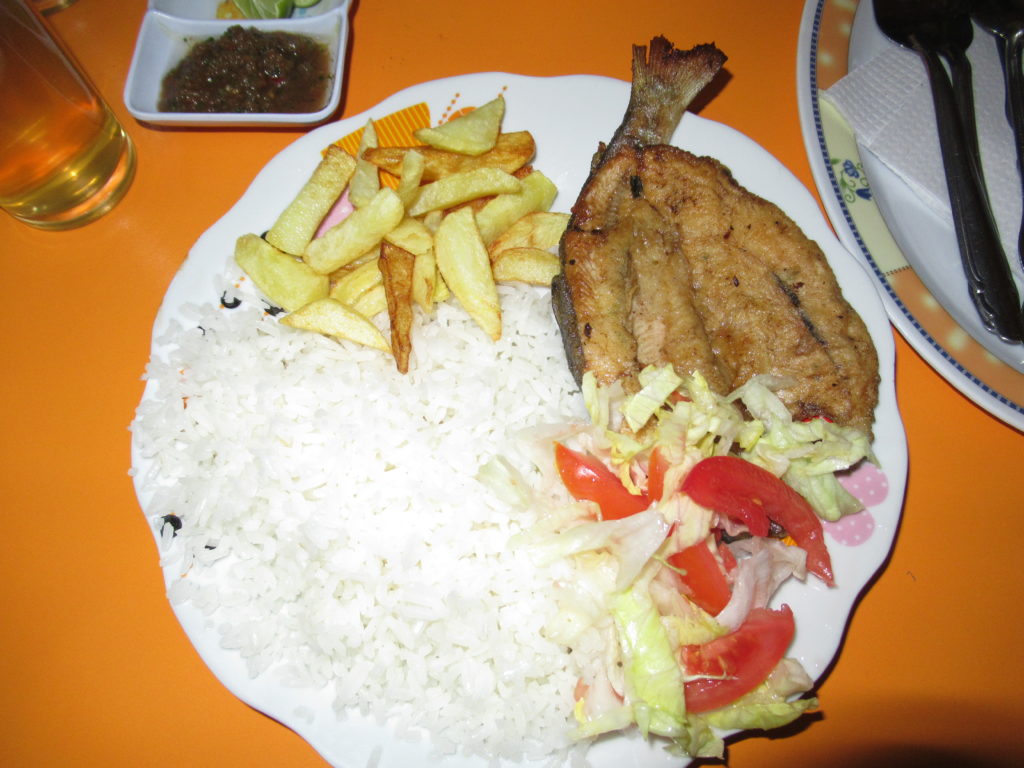 Lunch 2 – Puno
This lunch was chairo soup, papa rellena, passion fruit juice, and mazamorra. They started well by giving us some 'canchita' – toasted corn – as a starter. The toasted corn in Peru is REALLY GOOD! Better than popcorn – we consumed a lot of it 🙂
However, they spoilt the papa rellena (stuffed potato) by putting mayo on it – EVERYONE knows that you put spicy sauce on papa rellena, NOT mayo… it seems that the Peruvians need to learn a thing or two from Bolivia….
The juice was not too bad, and the mazamorra was OK ish – so this lunch was a lot better than the first one – but still pretty lacking…..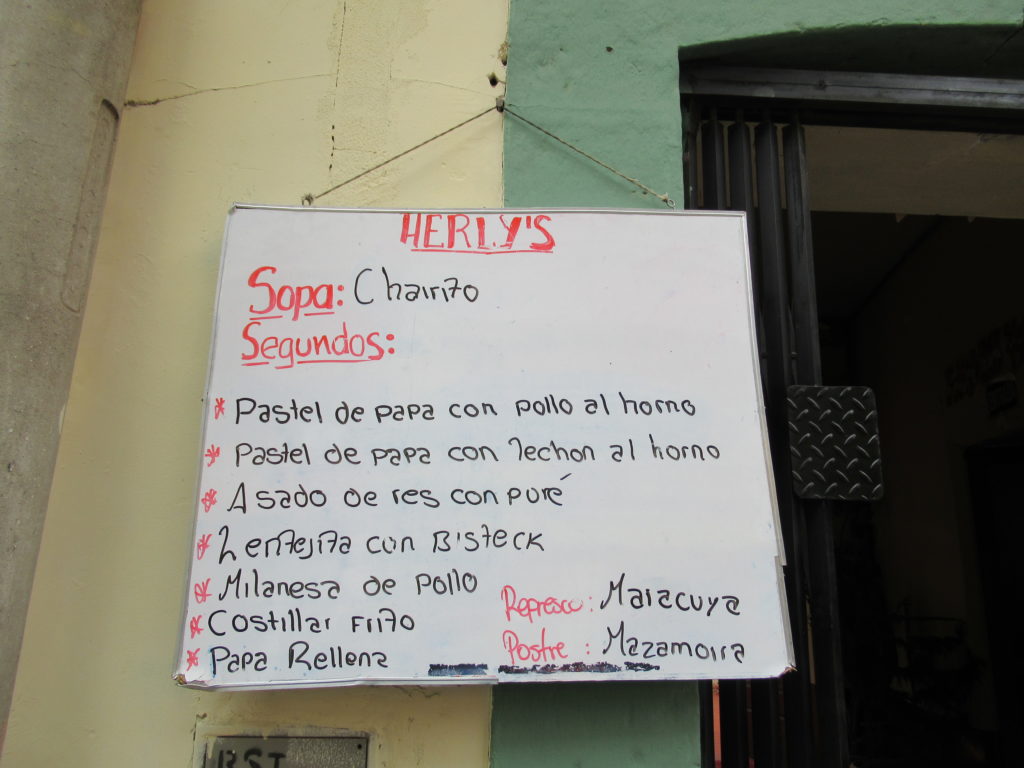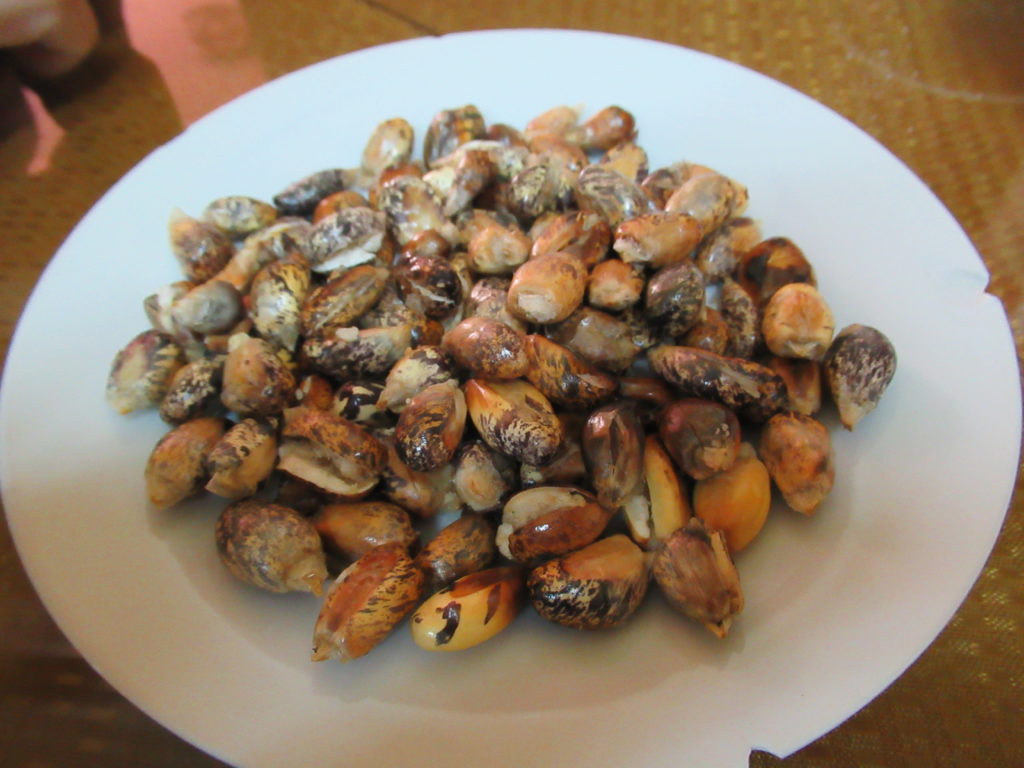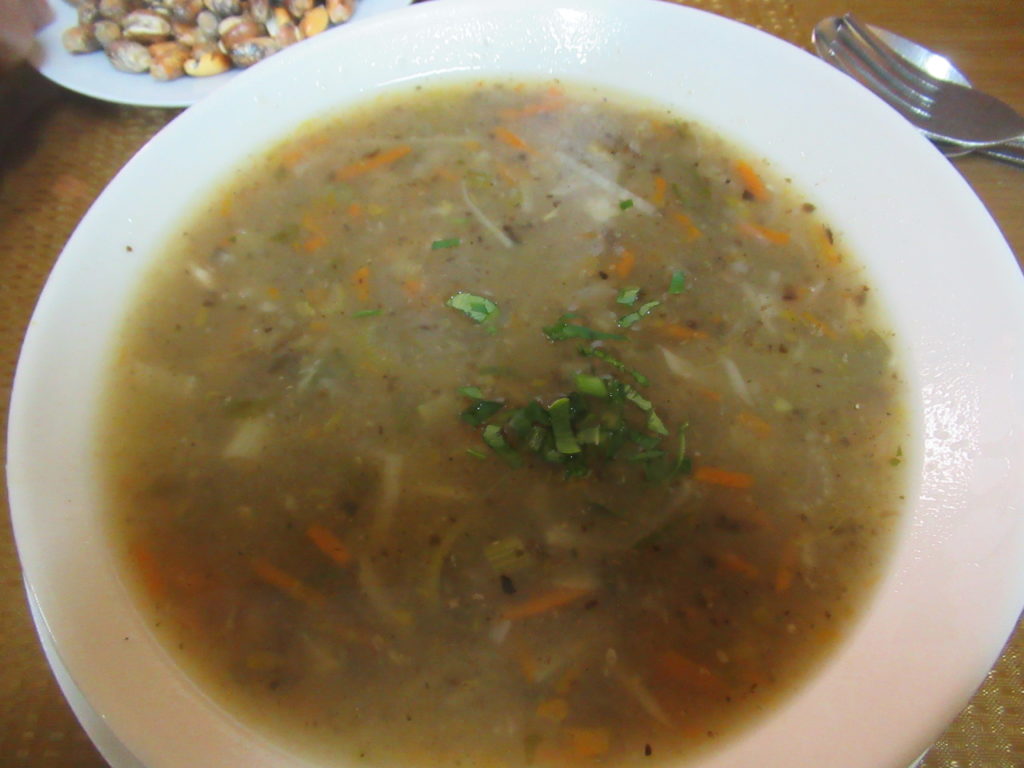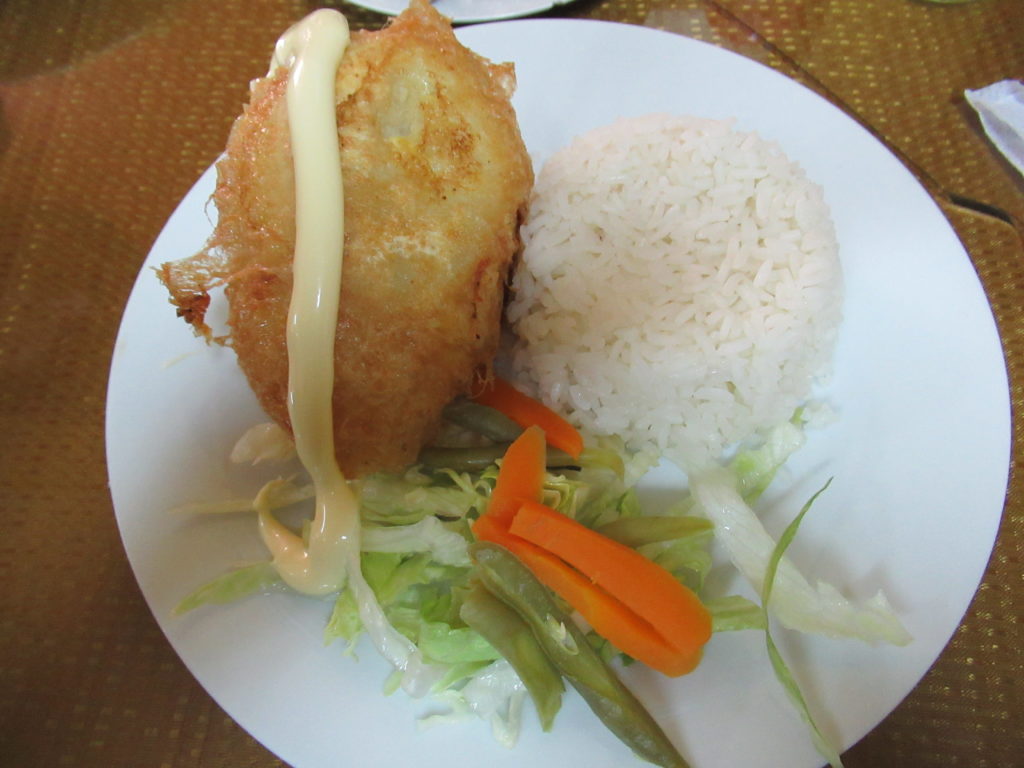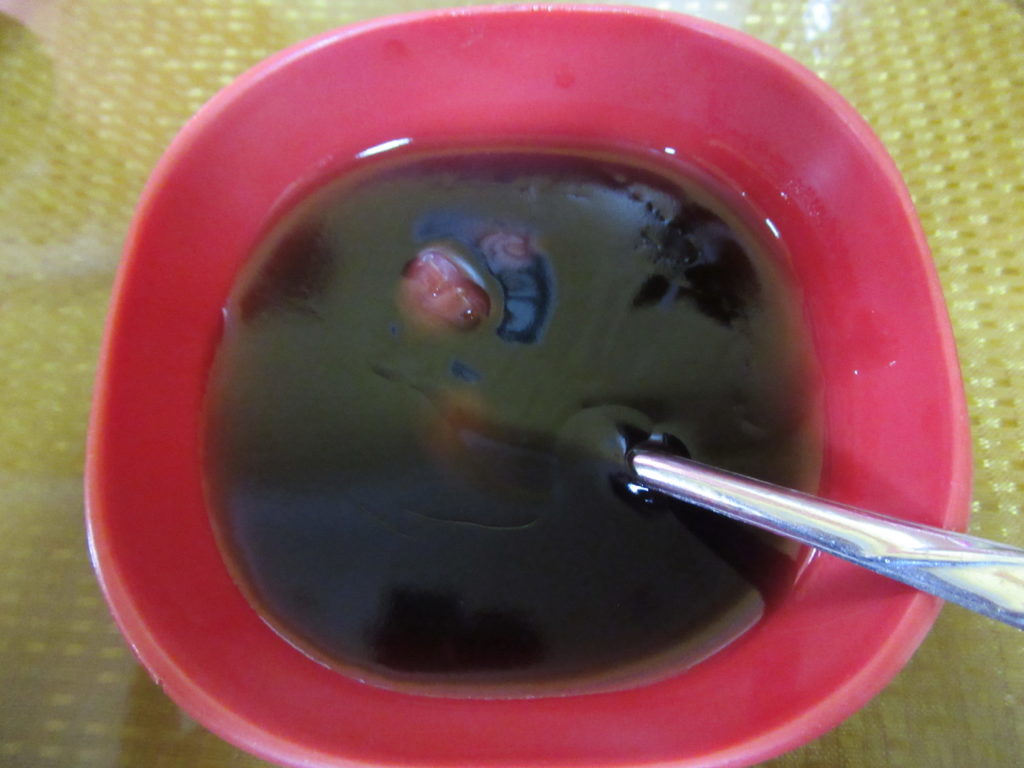 Lunch 3 – Arequipa (at the market)
This was a single course fish lunch – CC was NOT a fan – although I didn't mind it that much. CC's comment – 'this fish is horrible, it's like meat – and the green rice tastes weird'. The fish was a type of fish called 'Lisa' – that's not the name of the individual fish (although I supposed it could have been…), but rather it's a fish species in the mullet family.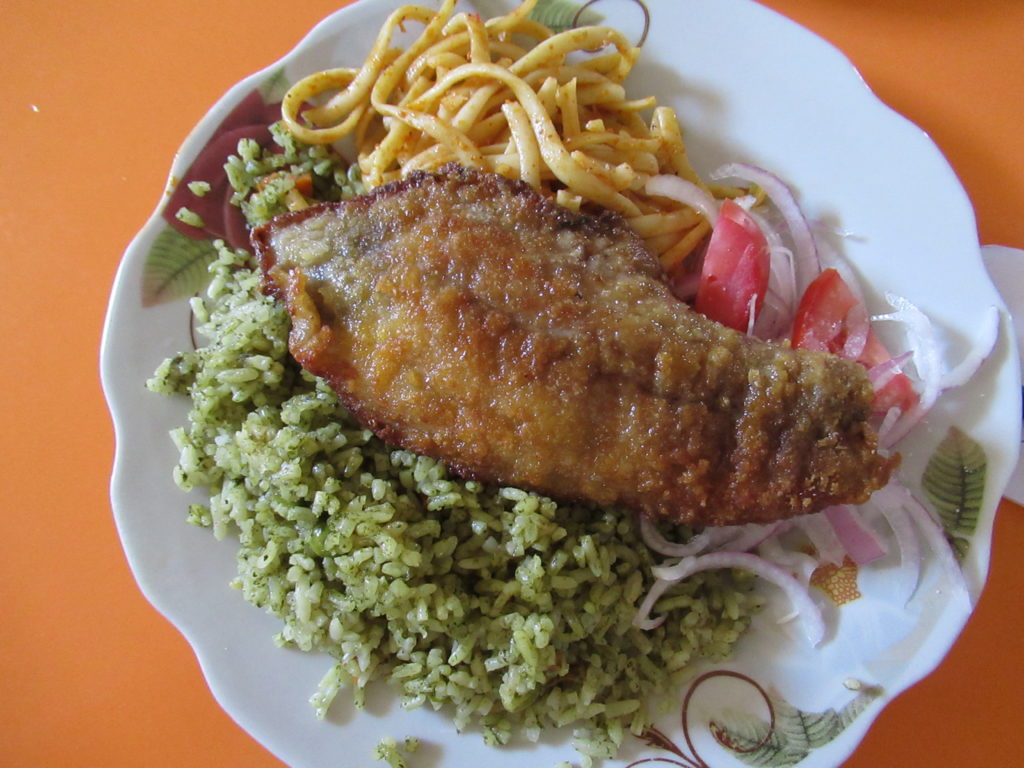 Lunch 4 – Cusco
This was the first 'good' lunch that we had in Peru! 🙂 It was minestrone soup, and 'tarwi with chicken'. Tarwi is a species of lupin that grows in the Andes – it is traditionally eaten in Andean regions. In this case, it came in the form of a thick sauce.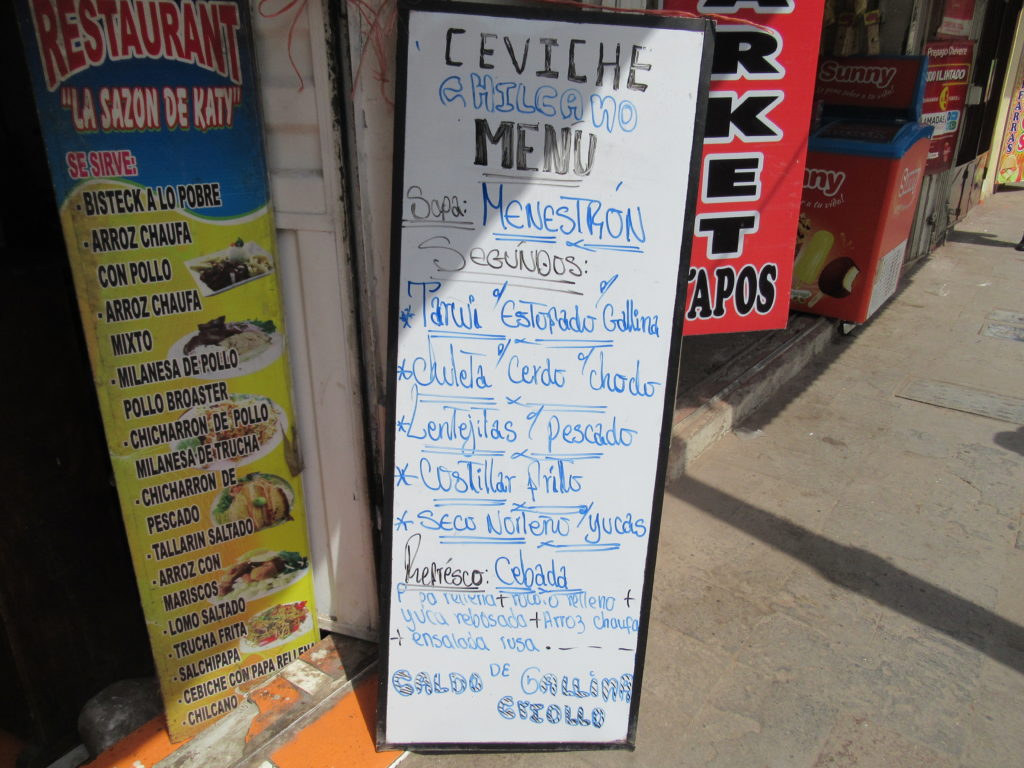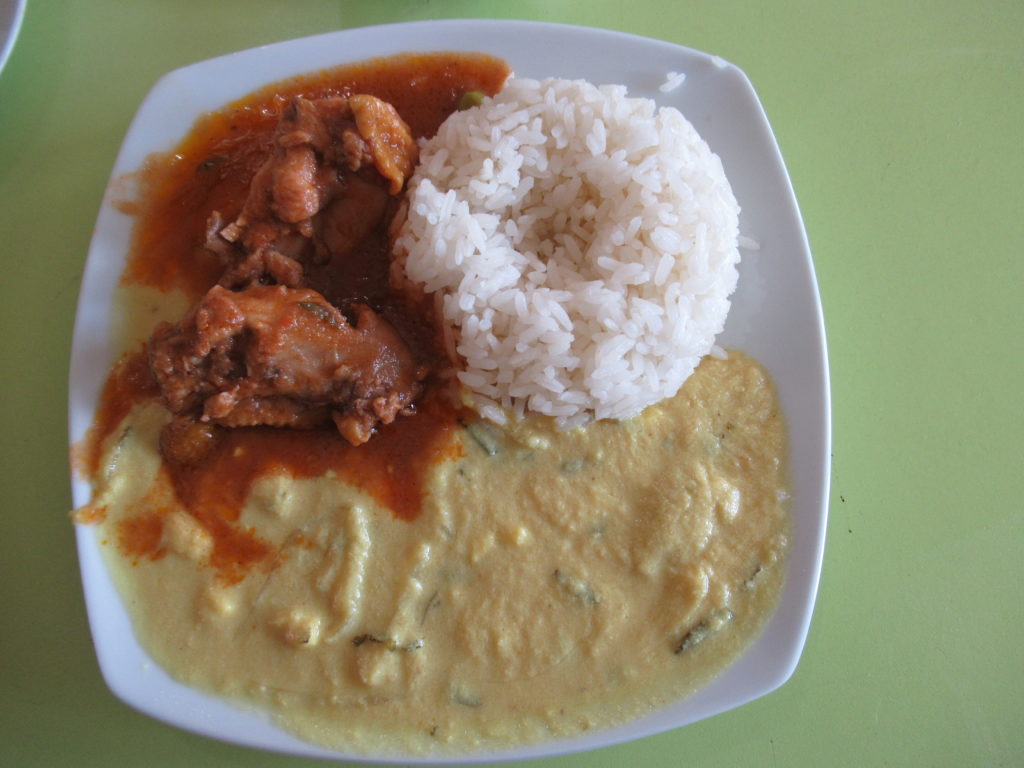 Lunch 5 – Cusco
This lunch was quinoa soup, with 'Rocoto relleno' and broad beans. Well, Cusco was doing well, as it provided another good lunch! 'Rocoto' is a type of chilli from Peru and Bolivia – so it was a stuffed chilli lunch!
Rocoto relleno is quite a famous Peruvian dish – but they actually deliberately cook the chillies in a way to remove a lot of the spice… yeah… why?! The chillies were a little bit spicy though, and very tasty 🙂 The chillies are usually stuffed with a bit of a mixture including beef – in this case, it wasn't very meaty and CC enjoyed her lunch! 🙂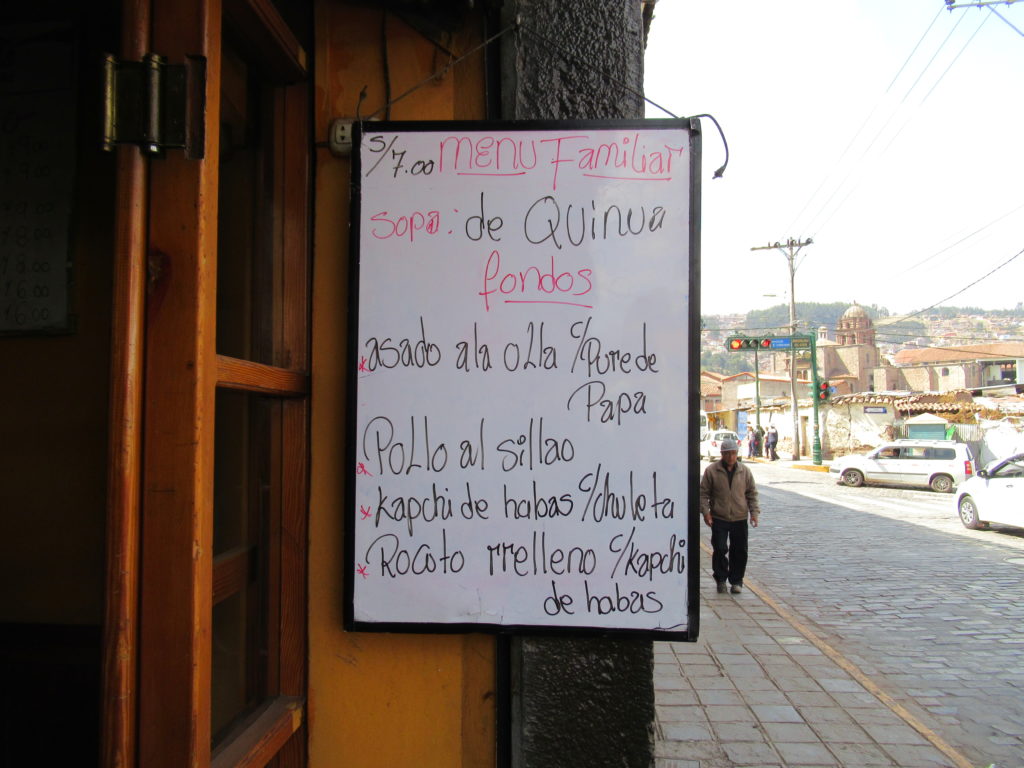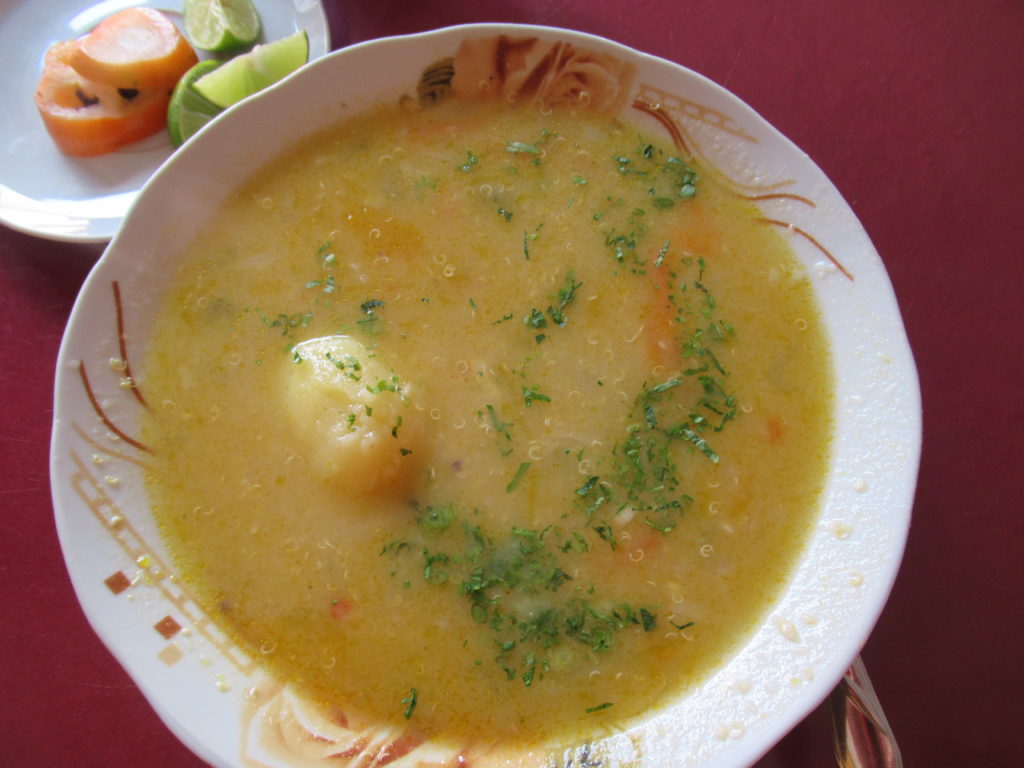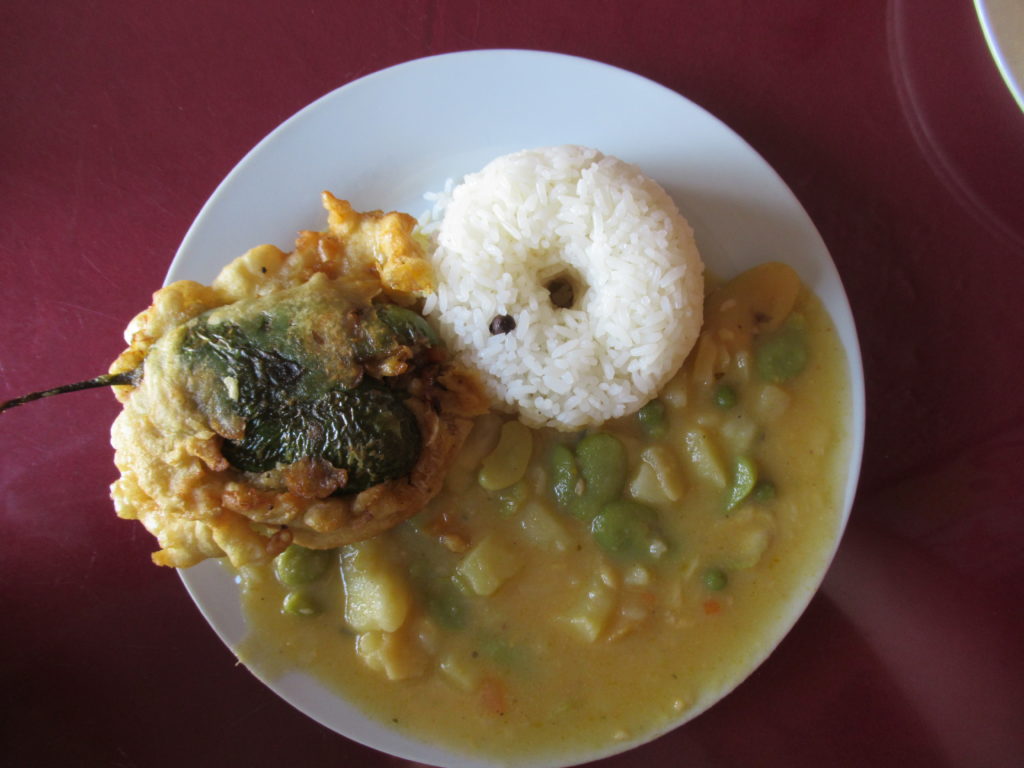 Lunch 6 – Ollantaytambo
This lunch was capsicum [pepper] soup, and 'Aji de Gallina'. Aji de Gallina is another VERY famous Peruvian dish. It consists of chicken in a sauce made of yellow chillies, nuts, and herbs and spices. It has potential to be excellent – the first one that we tried was not bad at all – mildly spicy and nutty.
Unfortunately after that, it went slowly downhill with each one that we had – until eventually we gave up on the dish entirely. The main problem was usually tough, disgusting chicken – but often the sauces were very bland as well.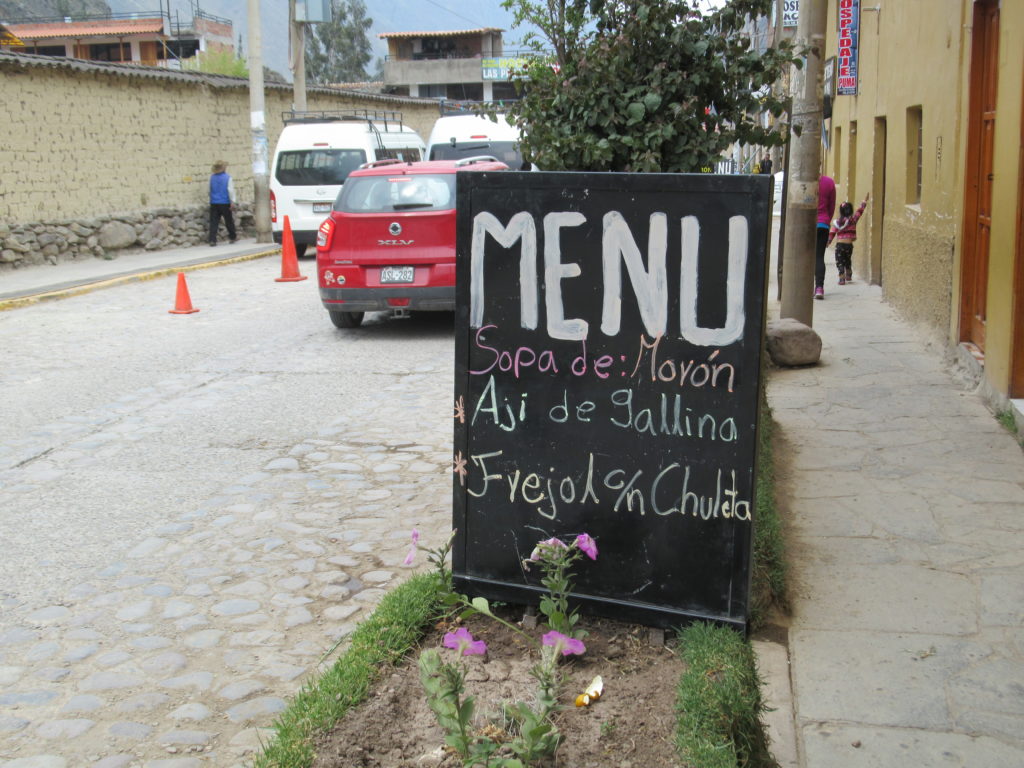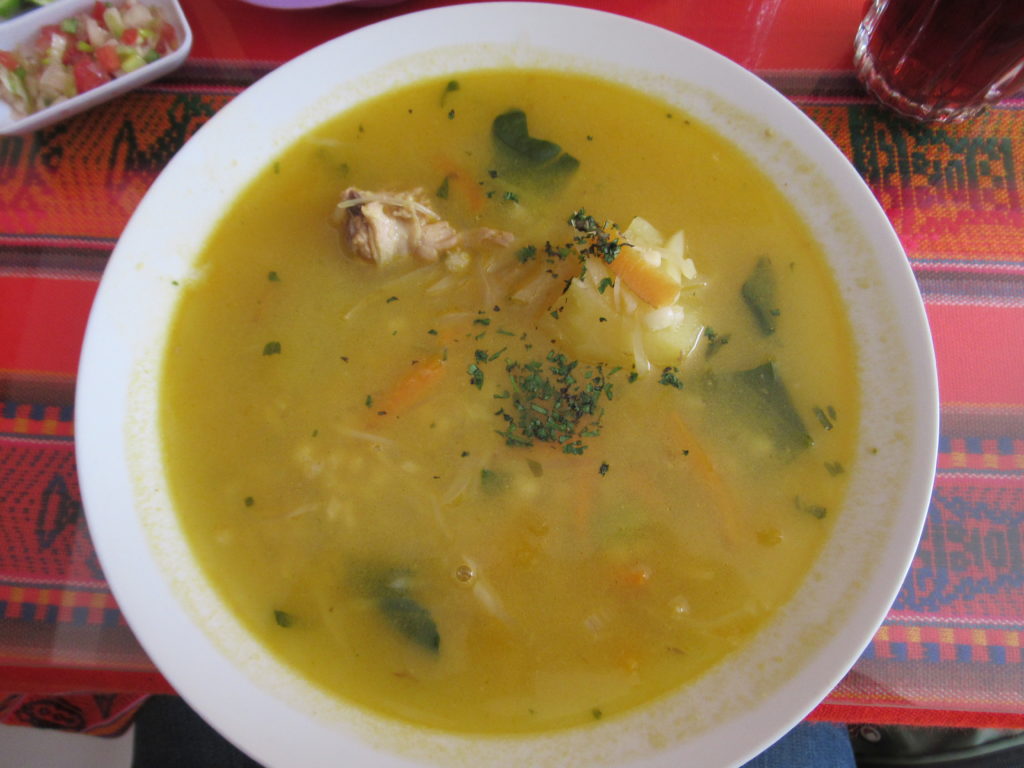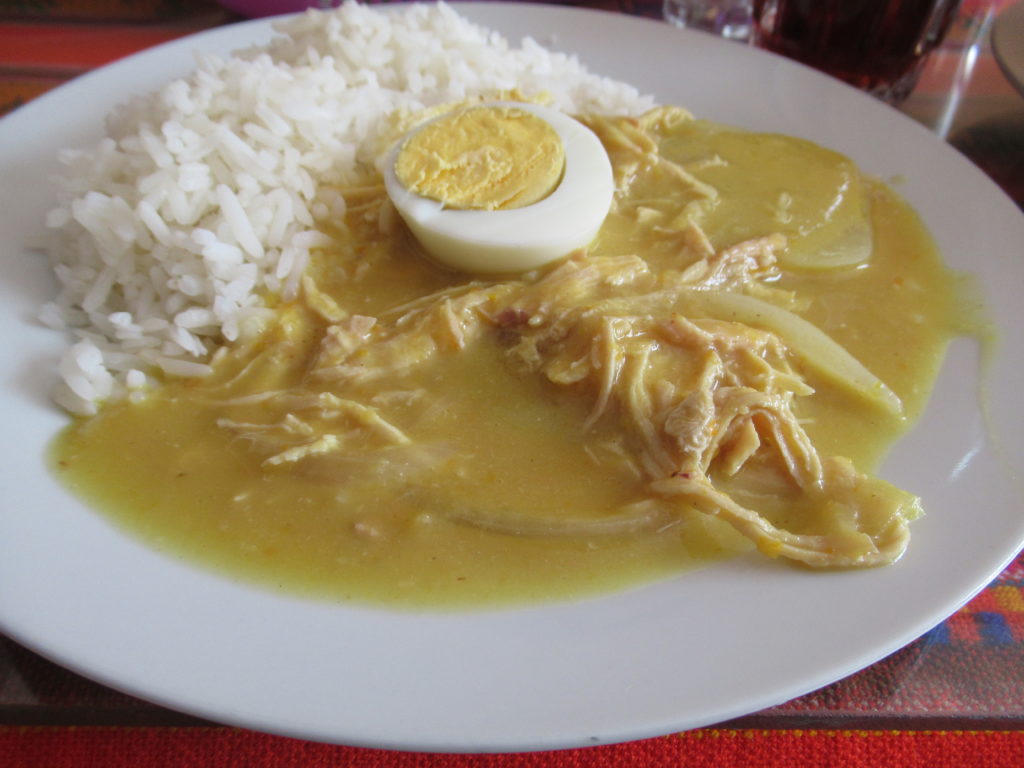 Lunch 7 – Abancay
We actually ate this lunch at dinner time – but it was still a lunch in our minds…. yeah, a pretty rough Aji de Gallina…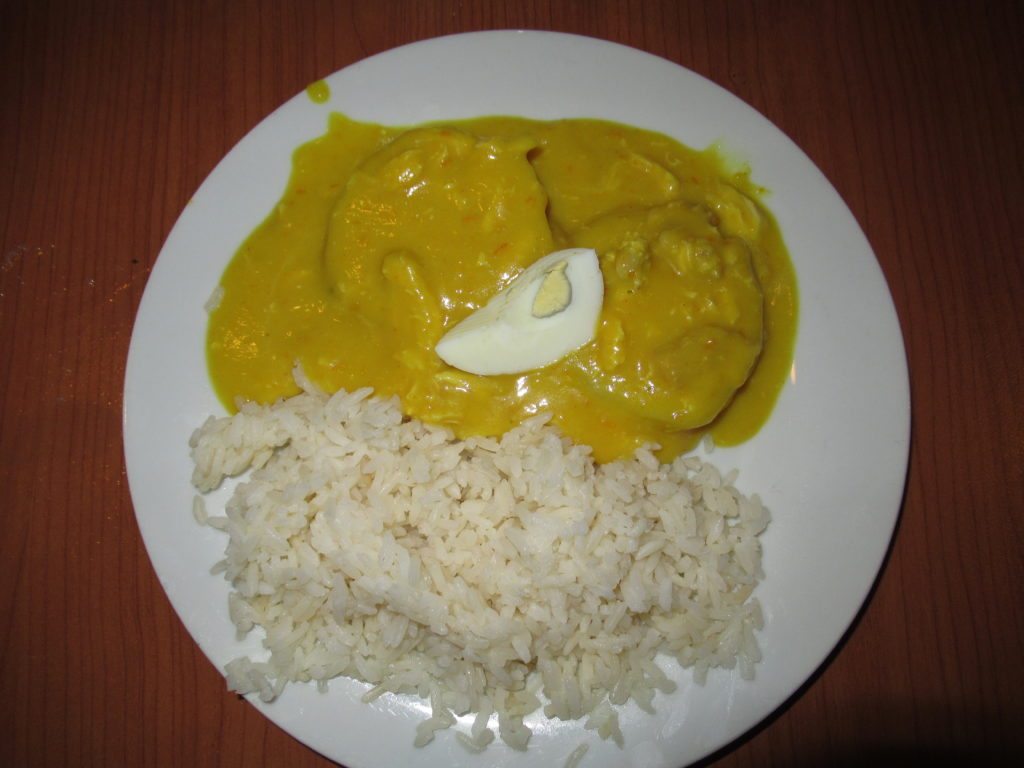 Lunch 8 – Nasca
This lunch was called 'Quinoa chicken'. We were somewhat surprised when the quinoa came in a mushy sauce on the side of a piece of chicken – not the greatest…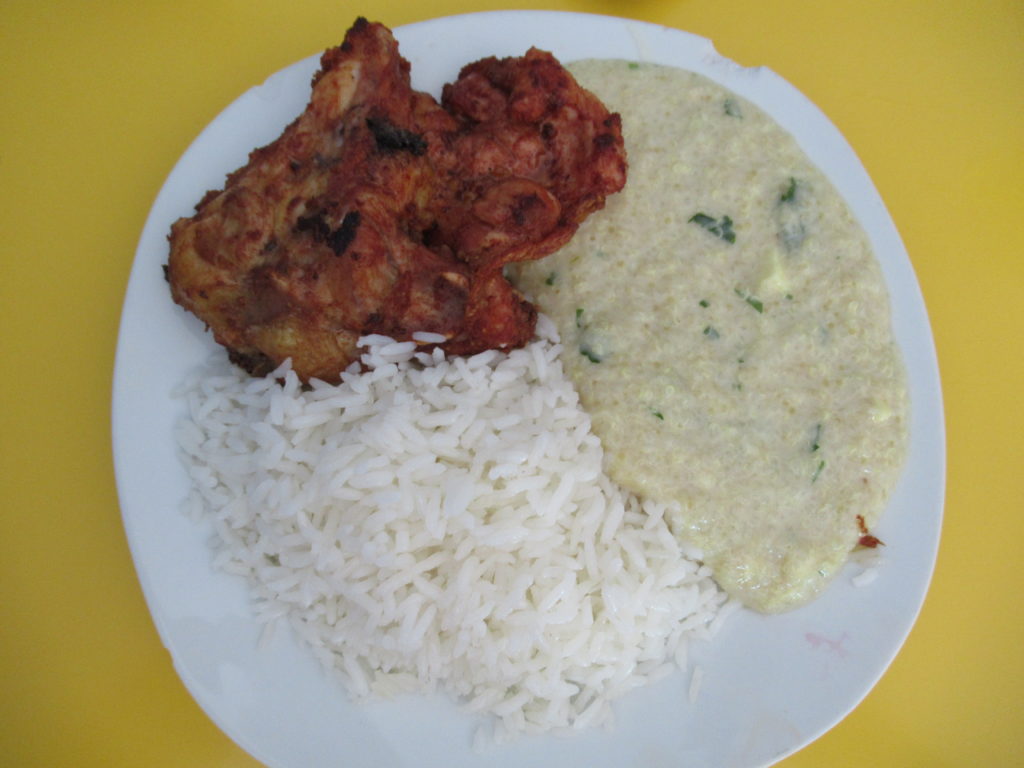 Lunch 9 – Nasca
This lunch was 'papa a la huancaina' for starter, and 'saltado de pollo' for CC, with 'seco de pollo' for PB.
Papa a la huancaina is yet another famous Peruvian dish. It is boiled yellow potatoes in a spicy, creamy sauce called 'huancaina' sauce – named after the city of Huancayo, but created in Lima – apparently it was first served on a train between the two cities (ALLEGEDLY…) Anyway, it's a 'passable' dish in my view, but it doesn't even make that qualification in CC's view – she scraped all the sauce off it! I wouldn't want to eat it every day though…the sauce is kind of 'slimy'!
'Saltado de Pollo' is a chicken version of another famous Peruvian dish – 'Saltado de Lomo'. It's a stir fry with onions and chips – hard to go wrong! 🙂 Usually these are pretty good – only the serving of cold chips lets it down – sadly very common in Peru though…
'Seco de Pollo' is pretty unpredictable – it could best be described as 'chicken in a sauce to be determined at random by the chef'.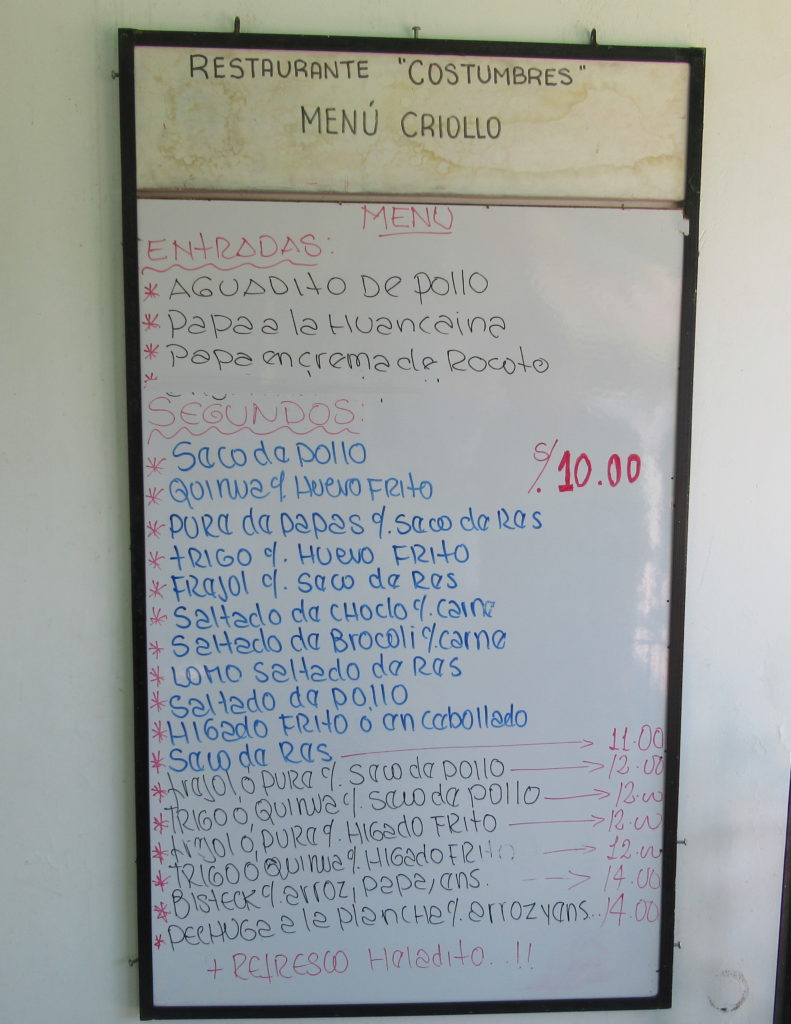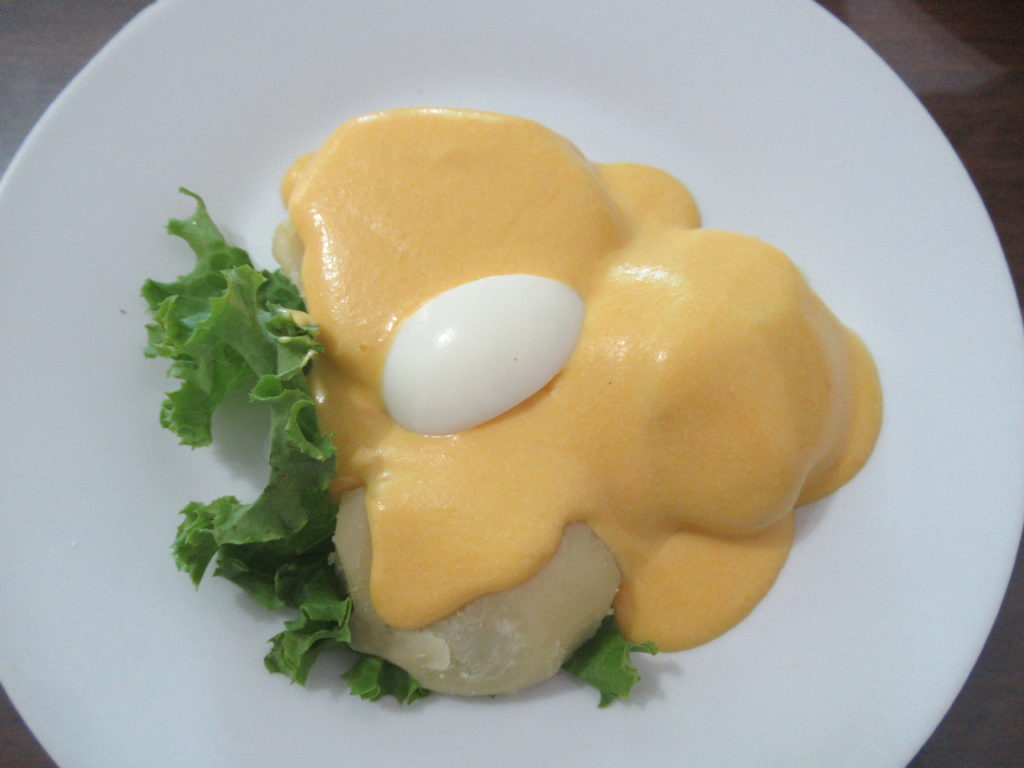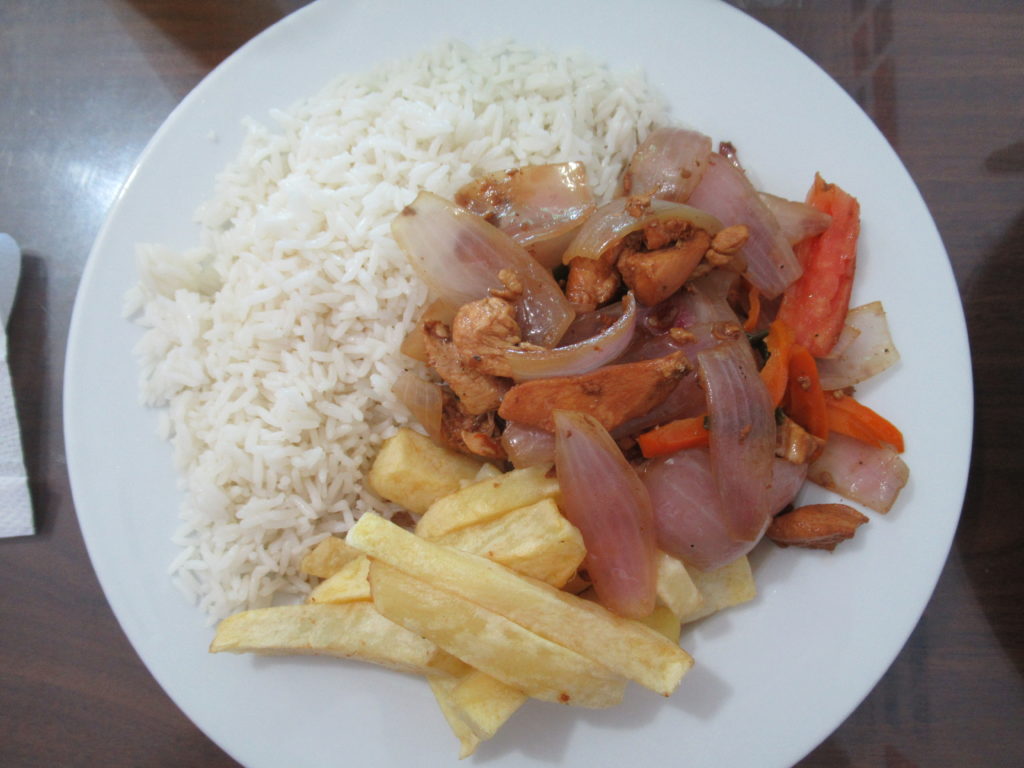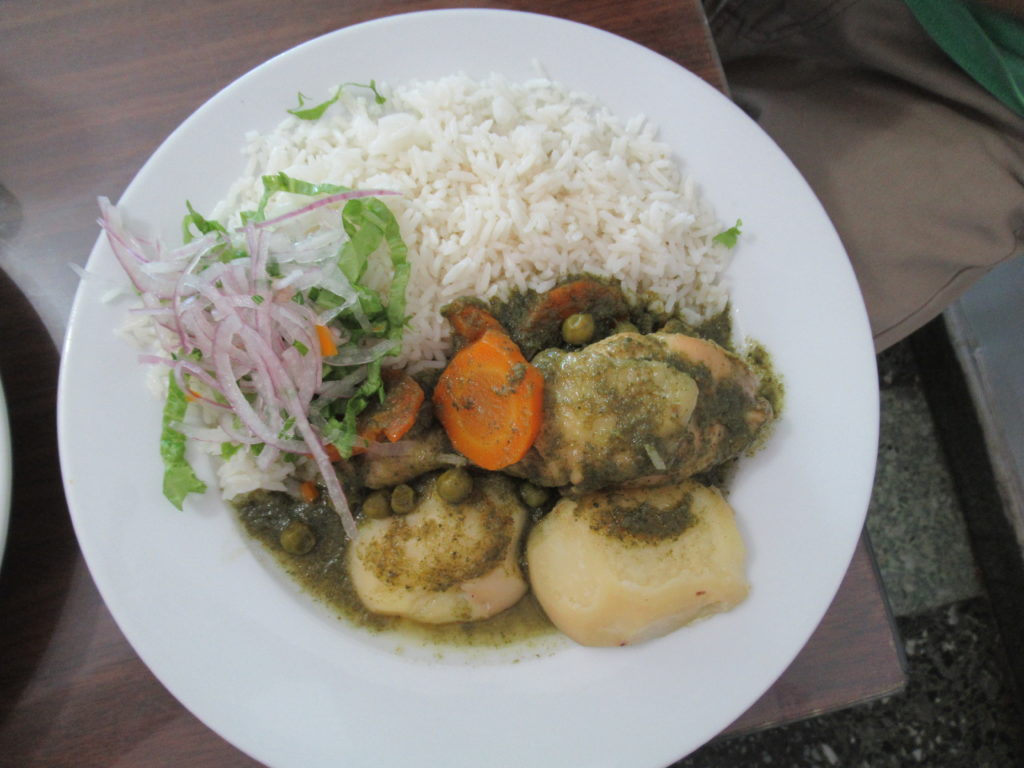 Lunch 10 – Lima
This lunch was 'lomo saltado' for PB, and 'seco de pollo' for CC. Unfortunately although these dishes are usually pretty good (see previous lunches) – in this case, the meat and chicken was so tough we could barely chew it 🙁 FAIL 🙁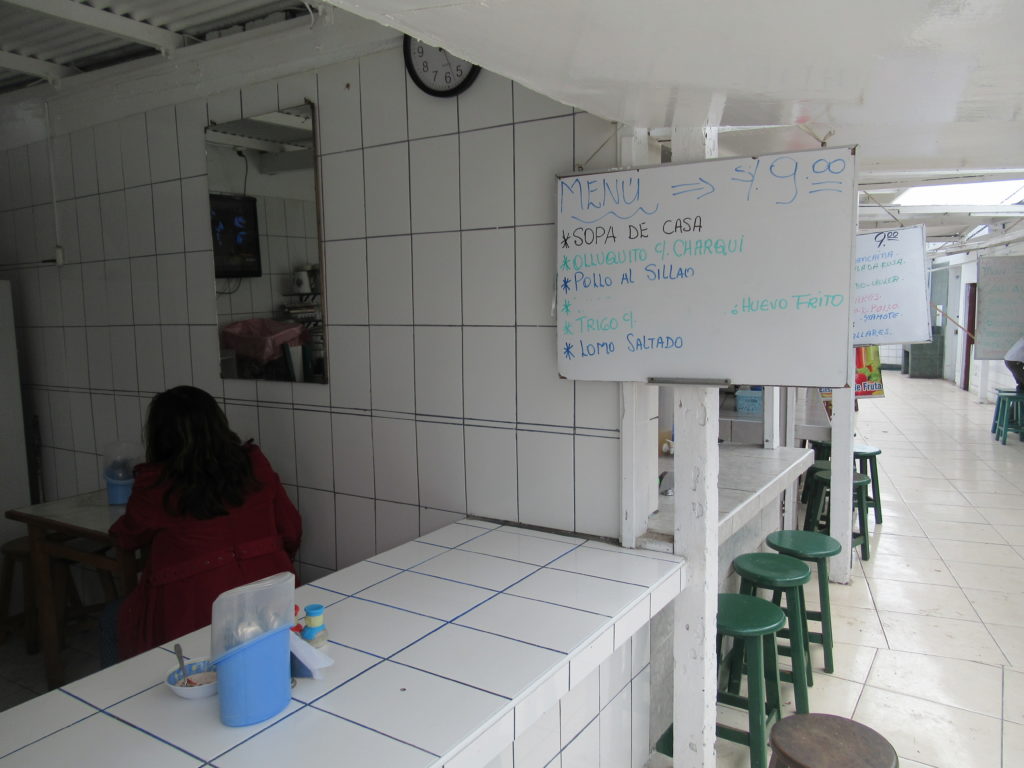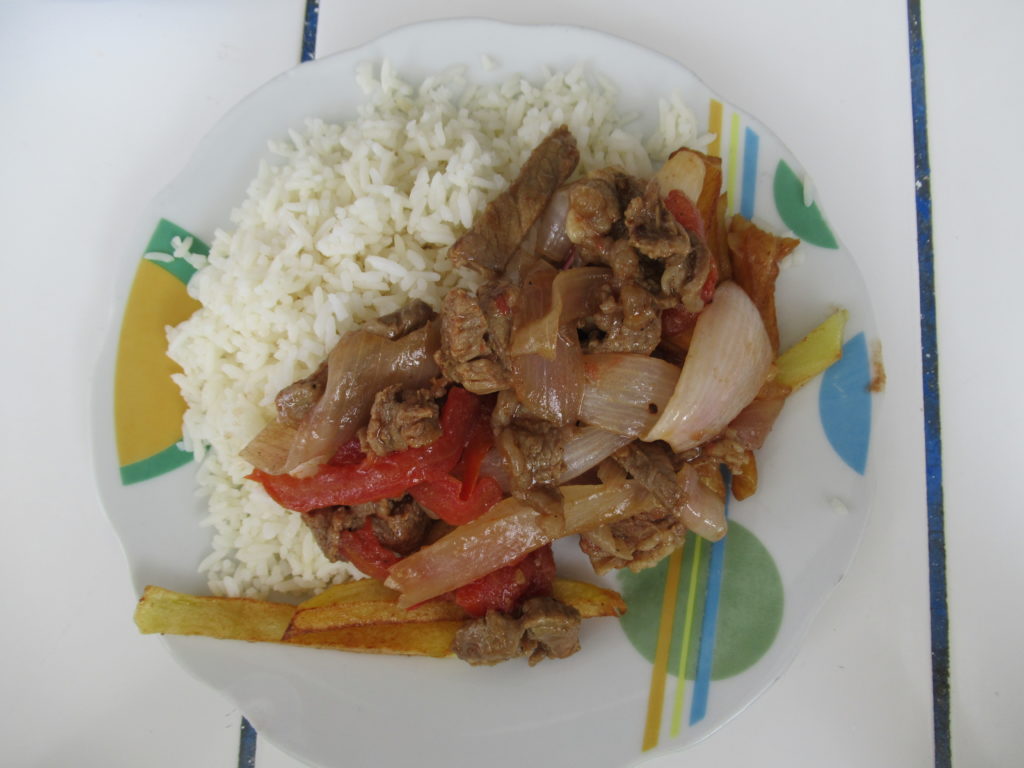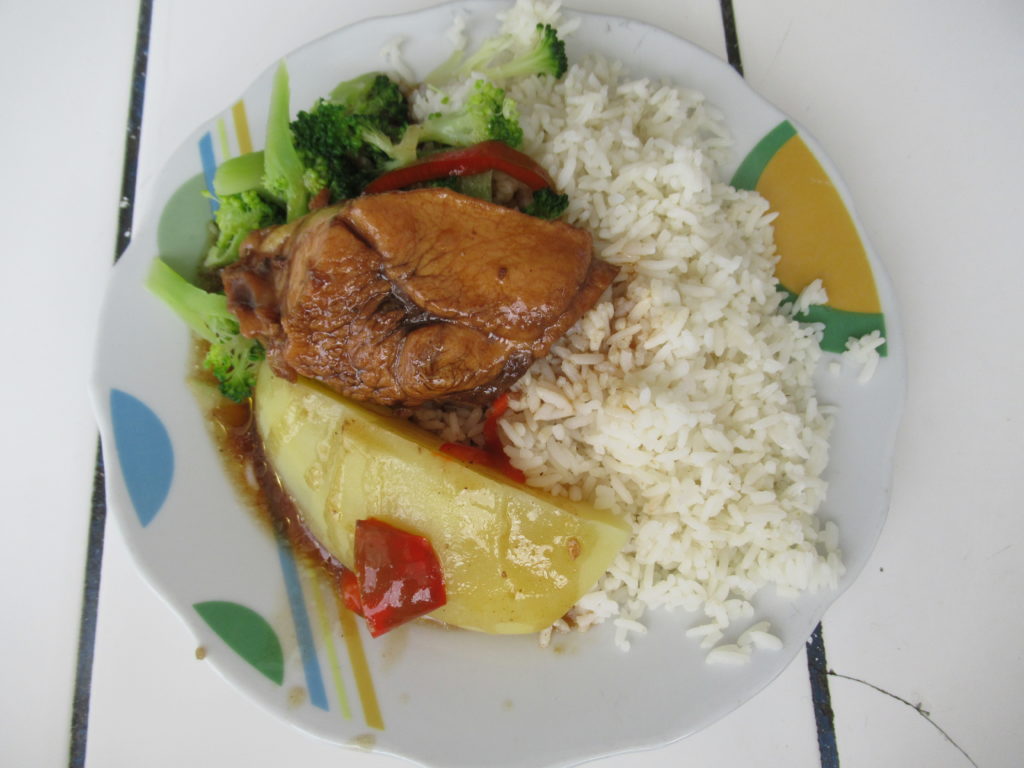 Lunch 11 – Lima
We picked this lunch as we still needed to try 'causa de pollo' – another Peruvian speciality made from potatoes, yellow chillies, and a few other bits and pieces. YES – it DOES seem that most of Peruvian cuisine is YELLOW! 🙂
It's a starter, and it didn't go down that well with CC. So much so, that she gave most of it to me. I gallantly ate almost a double portion of causa de pollo…. and guess what…. I spent the next THREE days feeling VERY sick and occasionally throwing up  🙁
I'm not saying it was the 'causa' that 'caused' it…. but CC wasn't sick….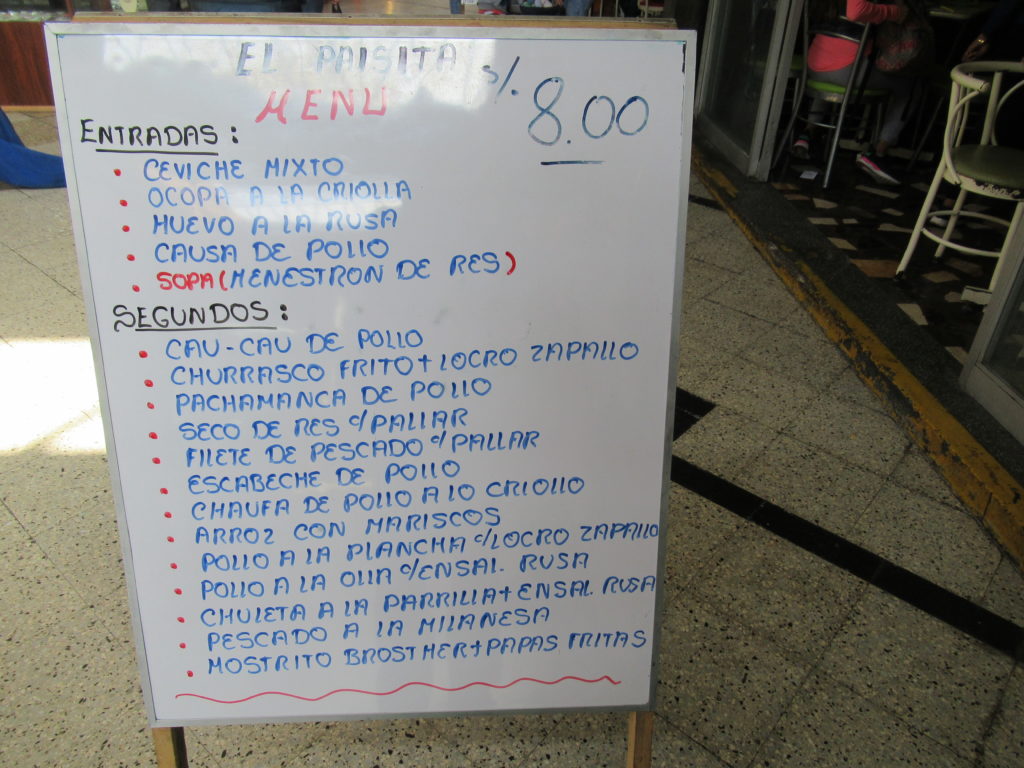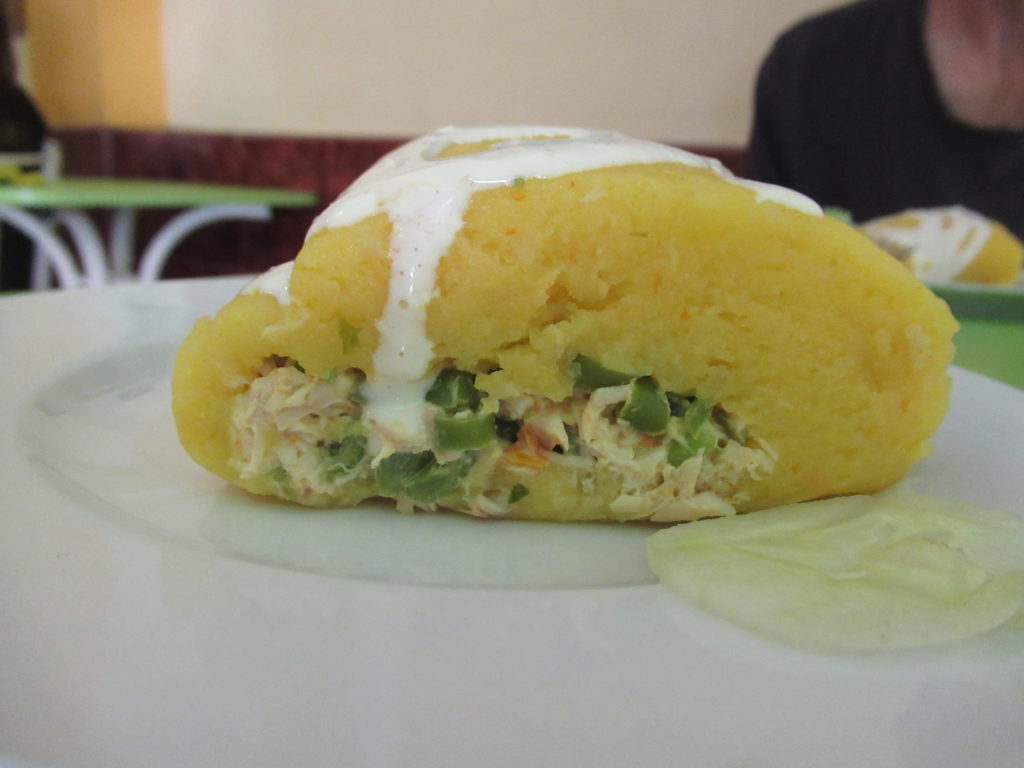 Lunch 12 – Trujillo
Now that we were on the coast, we needed to check out some famous Peruvian coastal dishes – the most well known of these is ceviche.This is a raw fish dish with citrus and spice. Sounds good! 🙂
Actually the flavour is REALLY good – tangy lime, and actually pretty spicy – ABOUT TIME PERU! Sometimes the fish has a kind of weird texture though – but you can't have everything! 🙂 It tends to be more expensive than normal lunches as well.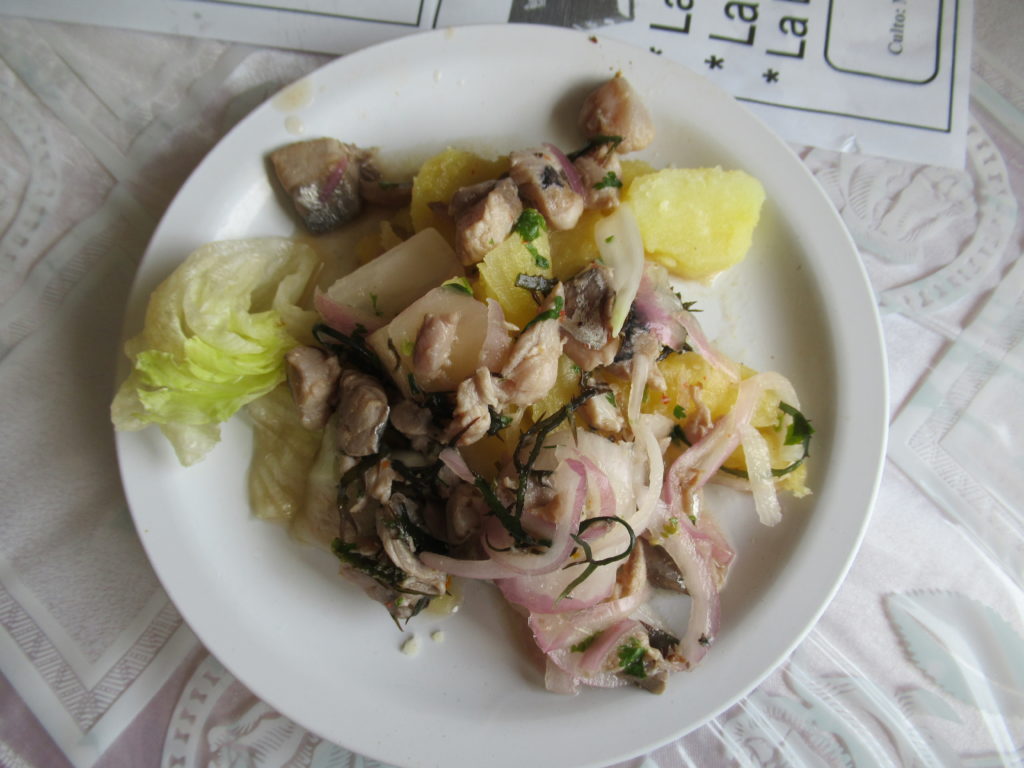 Lunch 13 – Chachapoyas
Here we found an interesting starter called 'Platano con Queso' – plantains with cheese. We were intrigued as to how it would be made. It turned out to be literally some slices of plantain and some slices of cheese! Fair enough, it was pretty tasty.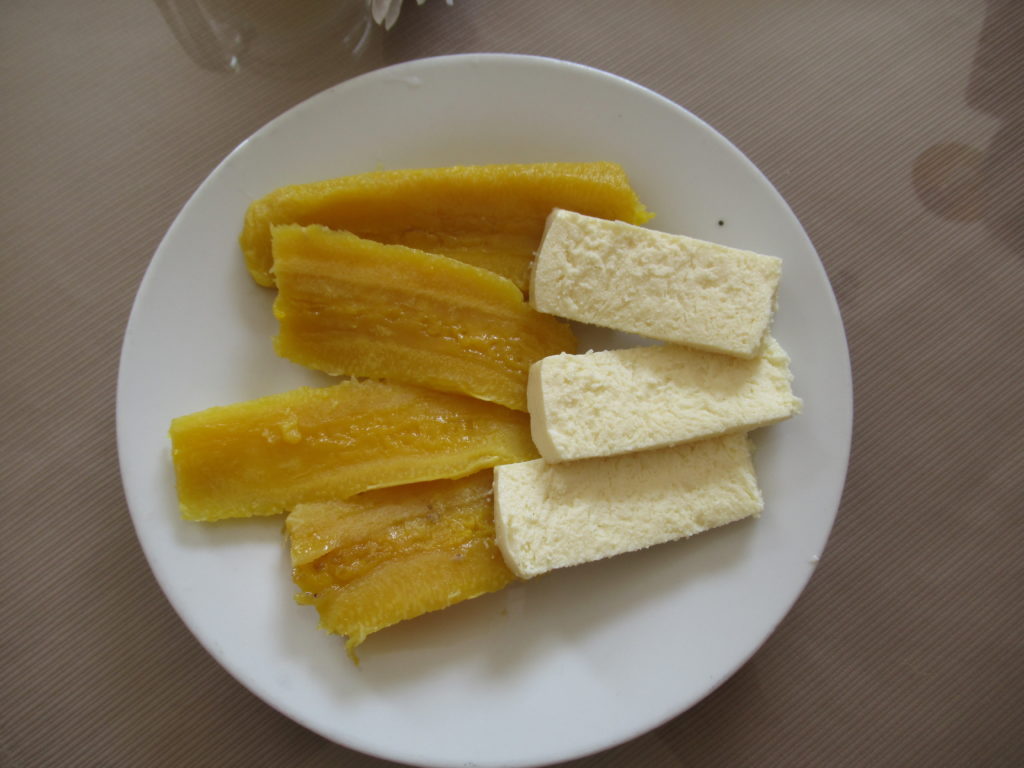 Lunch 14 – Chachapoyas
Northern Peru was turning out to be a little better in the lunch stakes, and we had a very nice Pollo Saltado in Chachapoyas.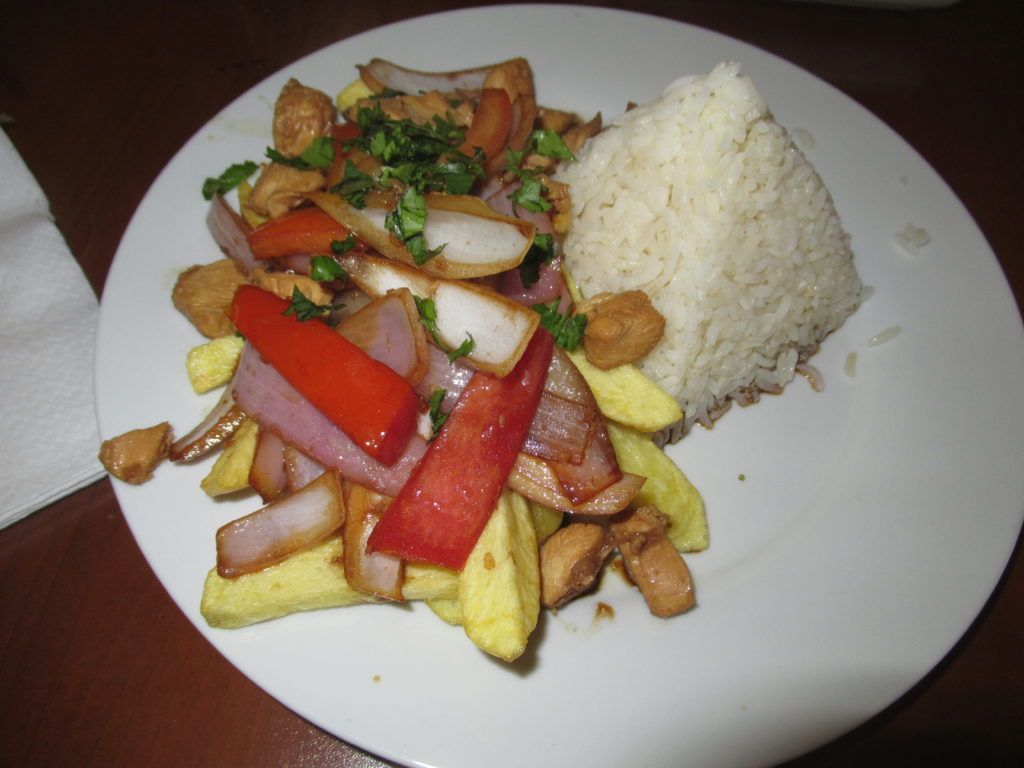 Lunch 15 – Luja, Chachapoyas province
We were starting to think that the lunches had improved a little in the north of Peru because we had started 'splashing out', and spending a dollar or two more on some of our lunches. But then we had a really EXCELLENT lunch in a small town on the way to see some sarcophagi – which was also very cheap.
This lunch had BEANS?! Yes, and the rice was cooked properly, and the chicken was quite nice! We were shocked…. later on in the trip we realised that it was probably because of the Ecuadorian influence – as we were getting close to the Ecuadorian border…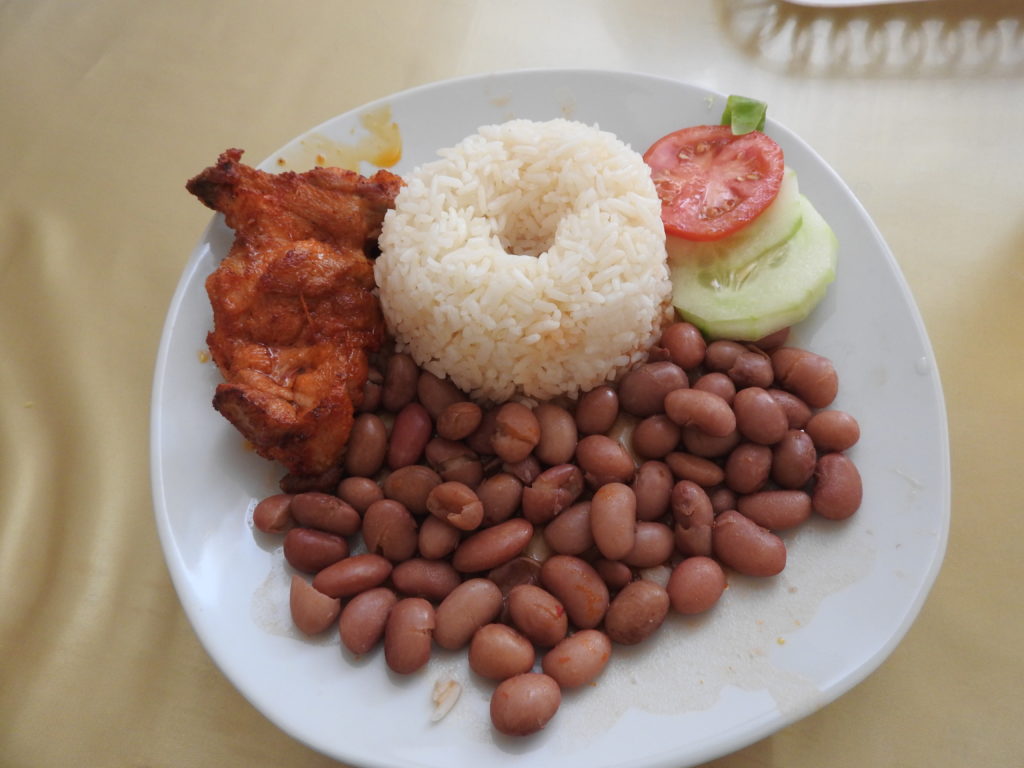 Lunch 16 – Piura
This was our last menu del dia in Peru. We had crema de rocoto and fish. We thought that 'crema de rocoto' might be a kind of rocoto (chilli) soup – but it turned out to be a kind of creamy sauce on top of potatoes – yes, in Peru you are never far away from a creamy sauce or a potato…. at least this sauce wasn't yellow 🙂
The sauce actually had quite a nice flavour, and the fish was not bad either. It also came with lentils?! Yes, the pulses were making an appearance in northern Peru.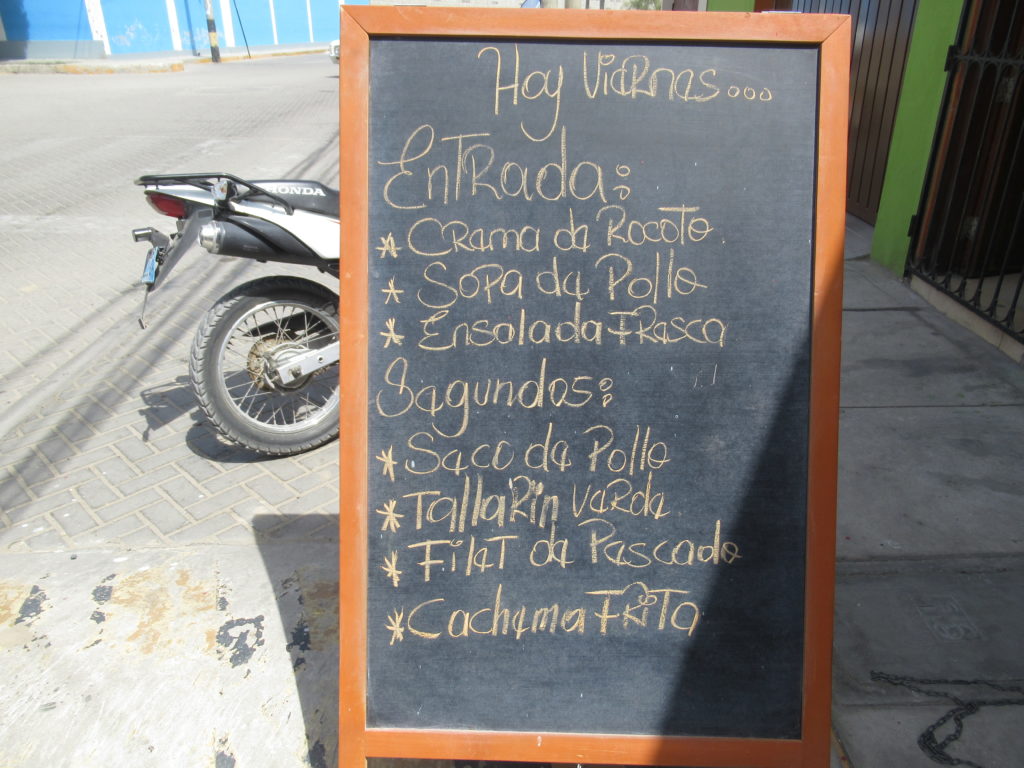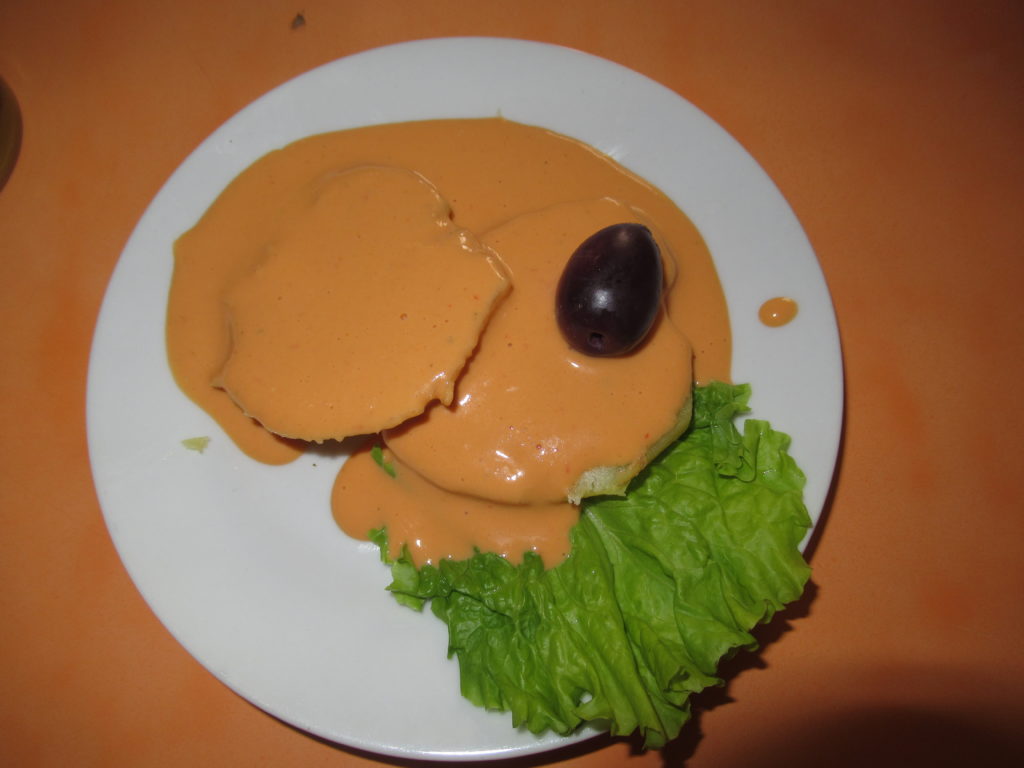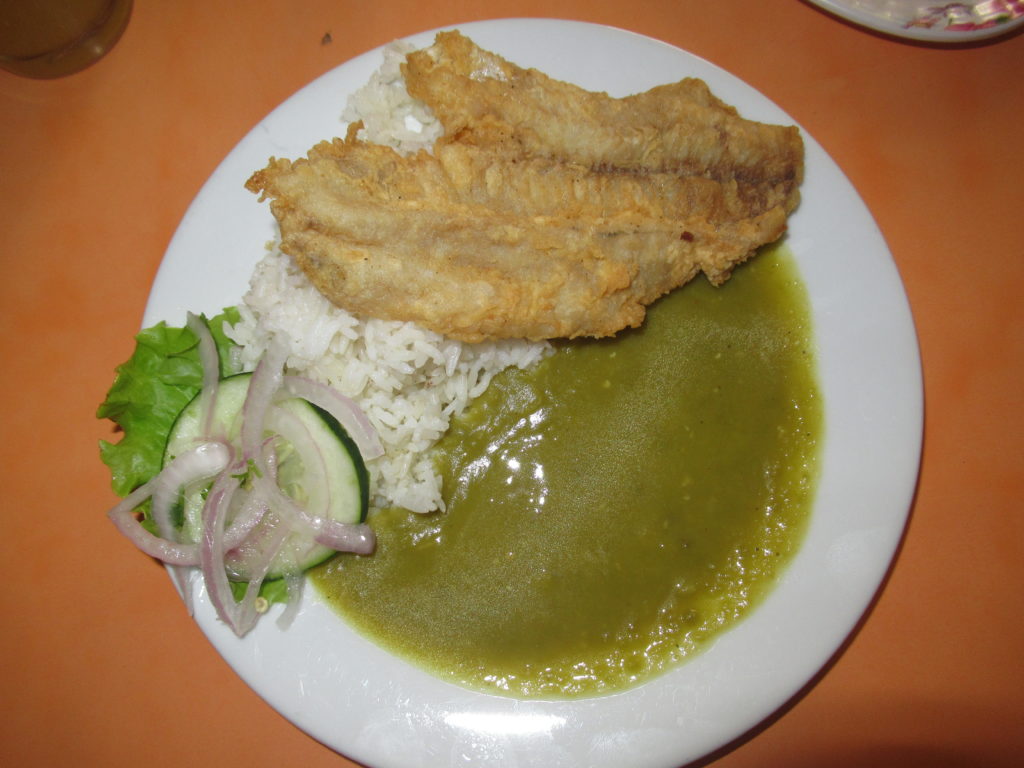 So, there you have it – a tale of sixteen lunches. Overall it was not very impressive.. the best lunches clearly had either a Bolivian or Ecuadorian influence!
Aside from the set lunches though, Peru did have some good stuff in the eating and drinking stakes… more to follow…