Quilotoa Loop – Isinlivi to Chugchilan – Day 2
It was time for our second day of walking – and we were on the road at around 9am. Today's section was a little bit longer in time and distance than the first day – with a descent into the valley, a walk alongside the river, and an ascent out of the valley at the end. We would be starting at 2900m altitude, and finishing at 3200m.
Today's walk was a little more scenic than the first day, and we had good weather all day AGAIN! 🙂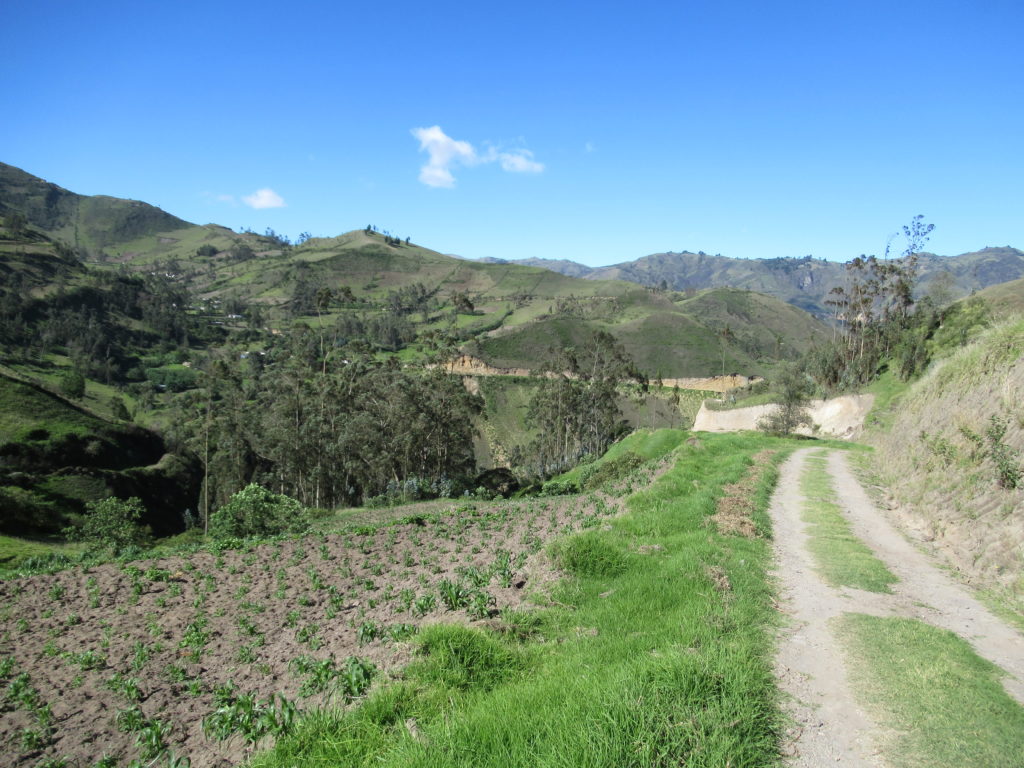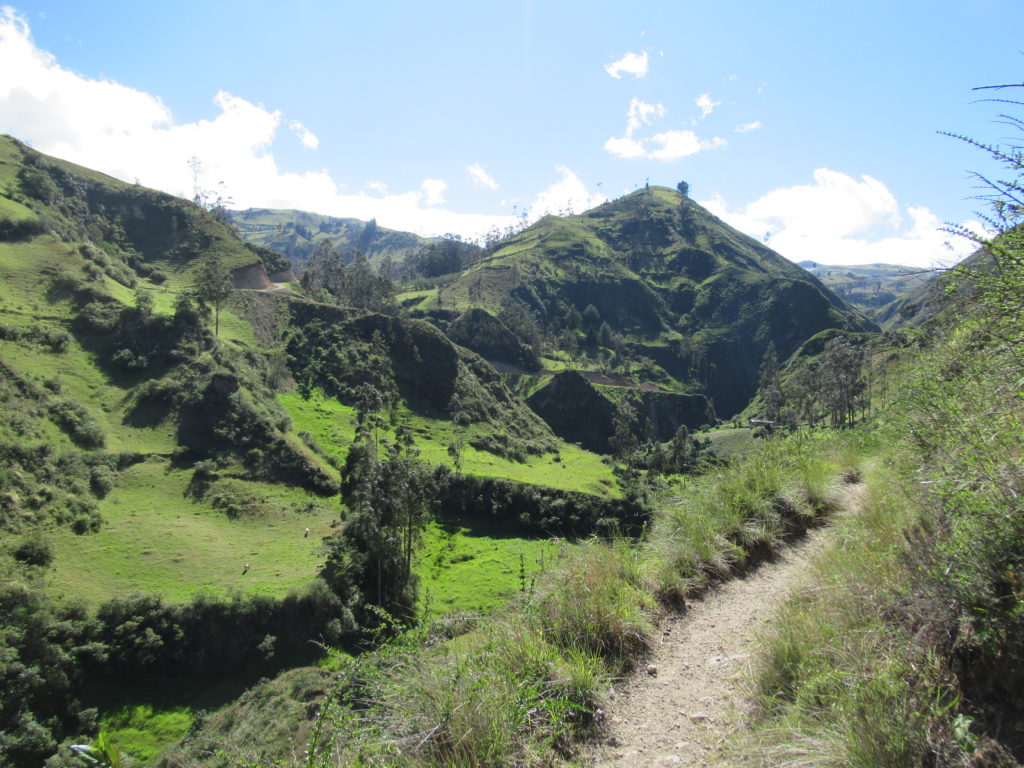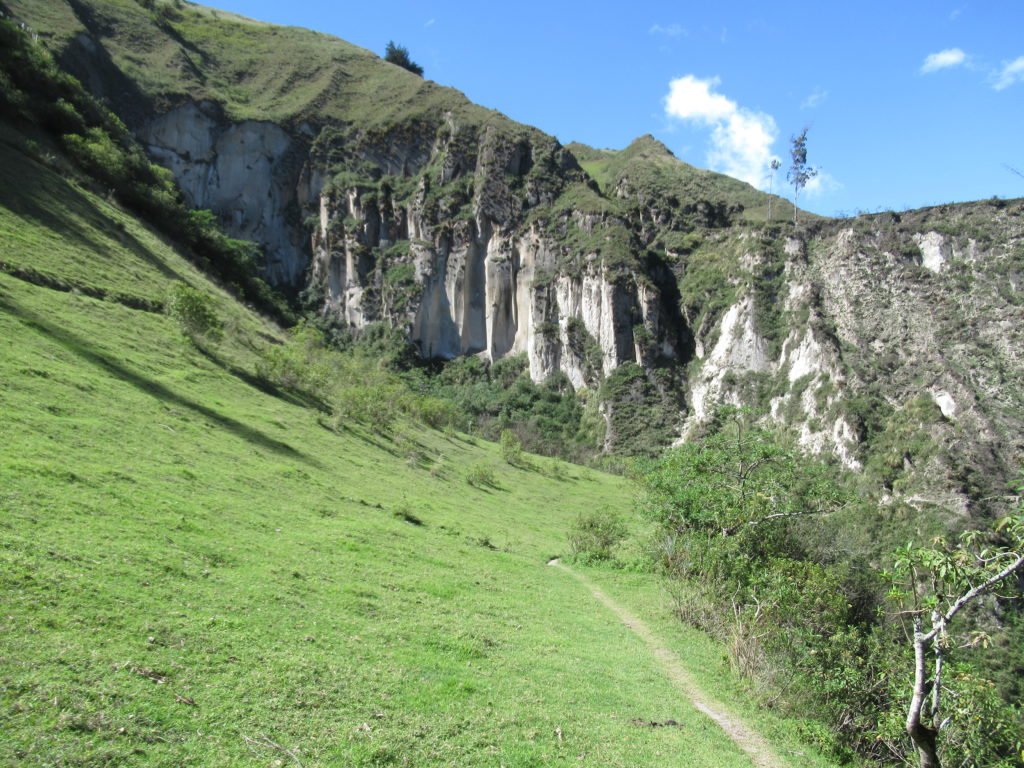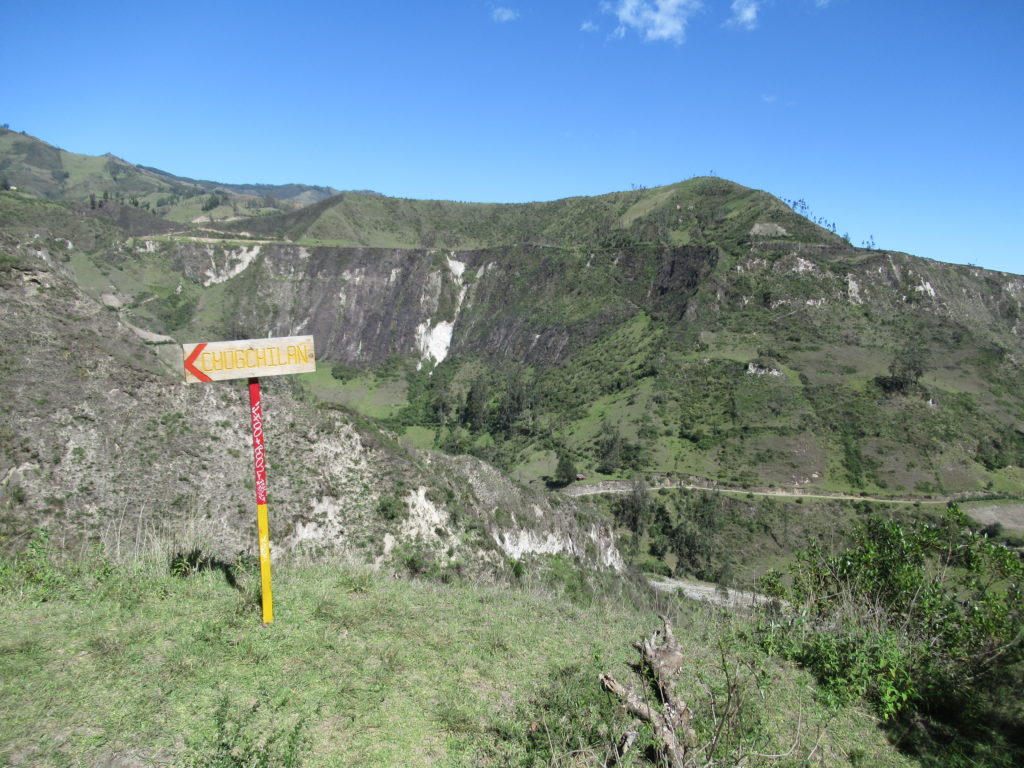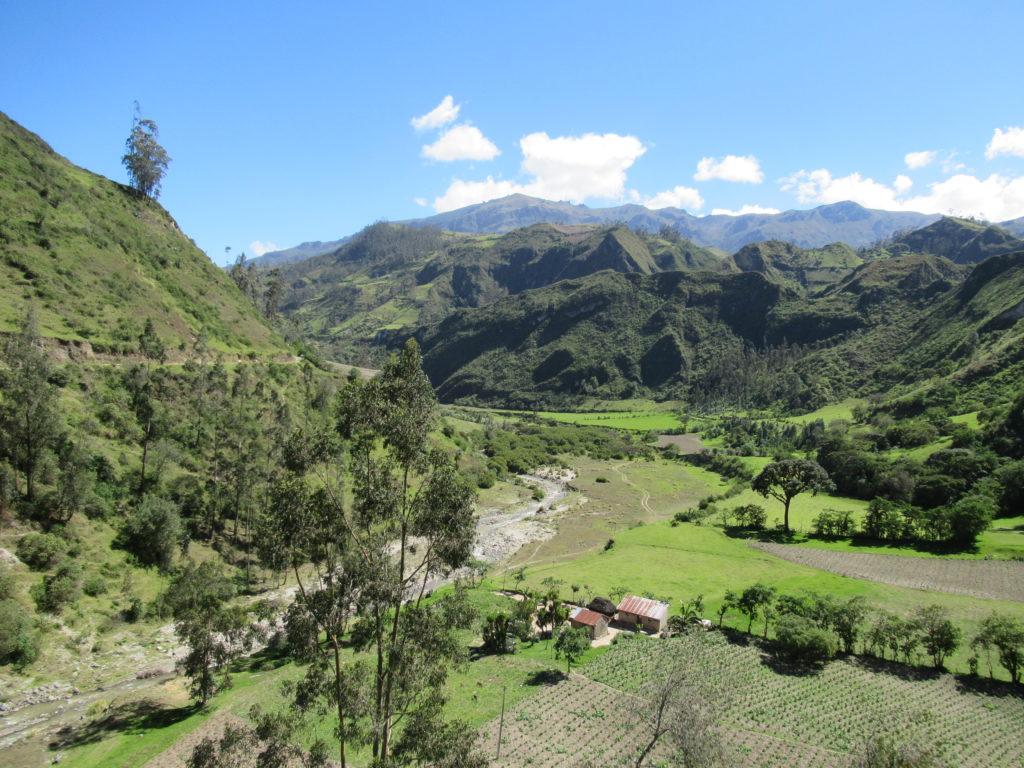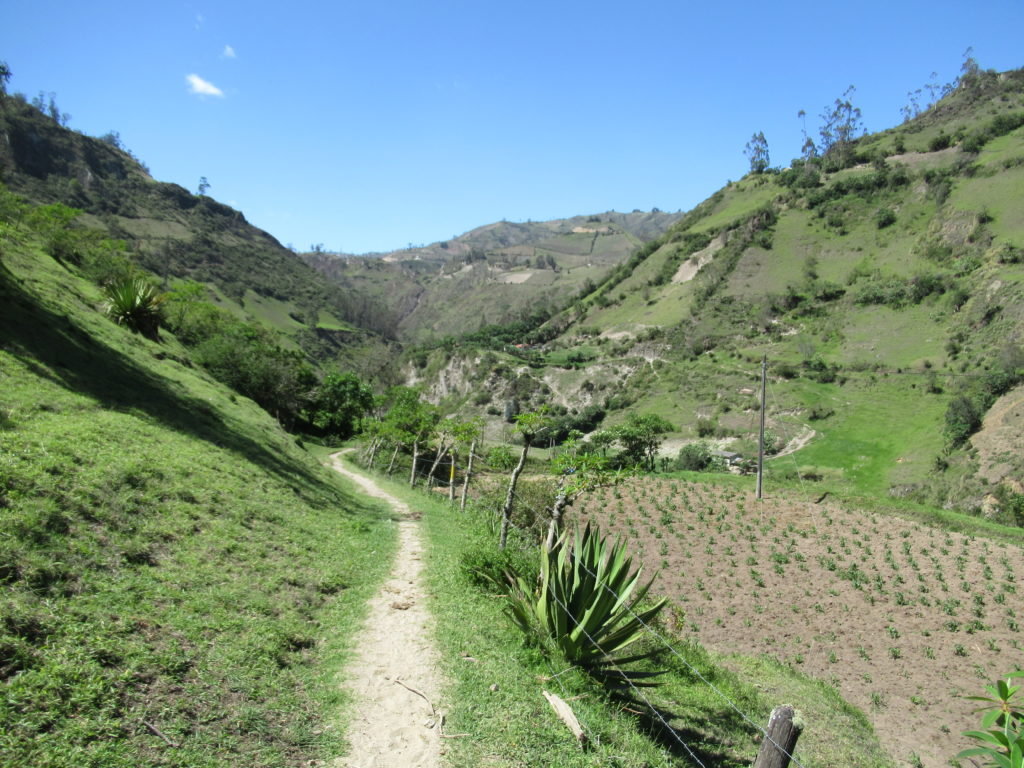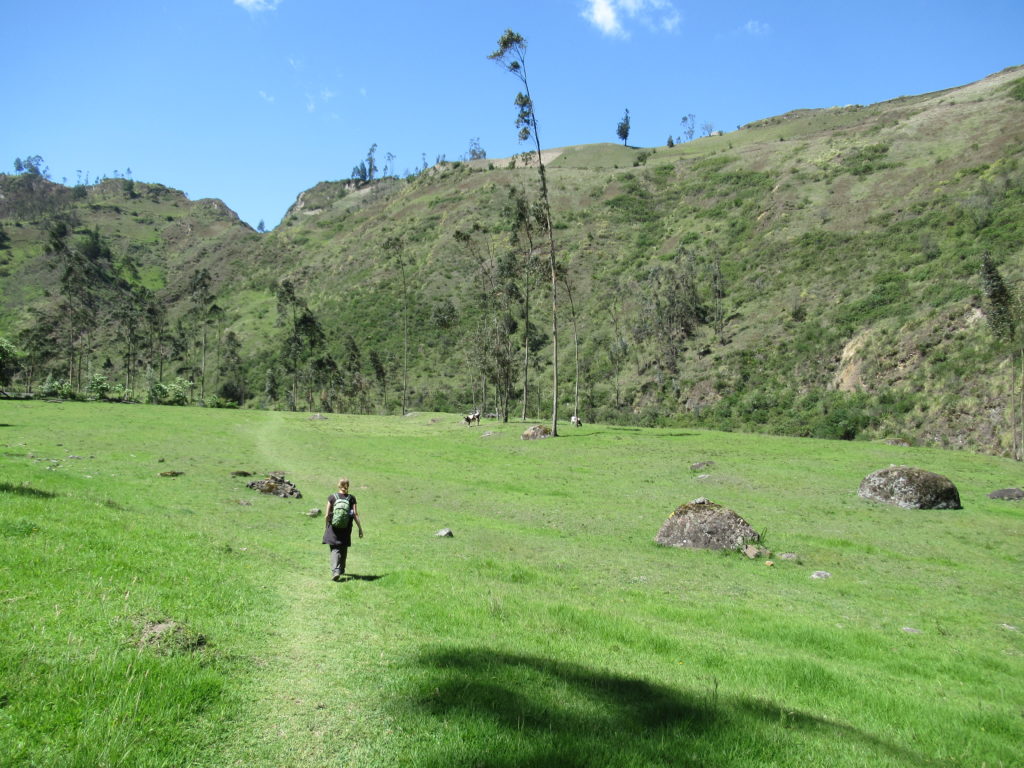 We completed the downhill part of the trail without too many problems – a couple of times we weren't 100 percent sure if we were in the right place, and we also had to get past a couple of scary dogs. Farm dogs are the biggest hazard on this walk – they protect their territory very aggressively, so you have to be careful where you are going at times, and show no fear! This is pretty hard when you have seen someone's leg with a chunk bitten out of it, as we had done in Bolivia 🙁
At the river there is a 'famous' log bridge. The bridge is 'famous' because for a time the handrail on it was broken – so it was a bit of a daredevil balancing act to get across it. When we arrived though, the handrail was intact, and it was actually pretty easy to cross. 🙂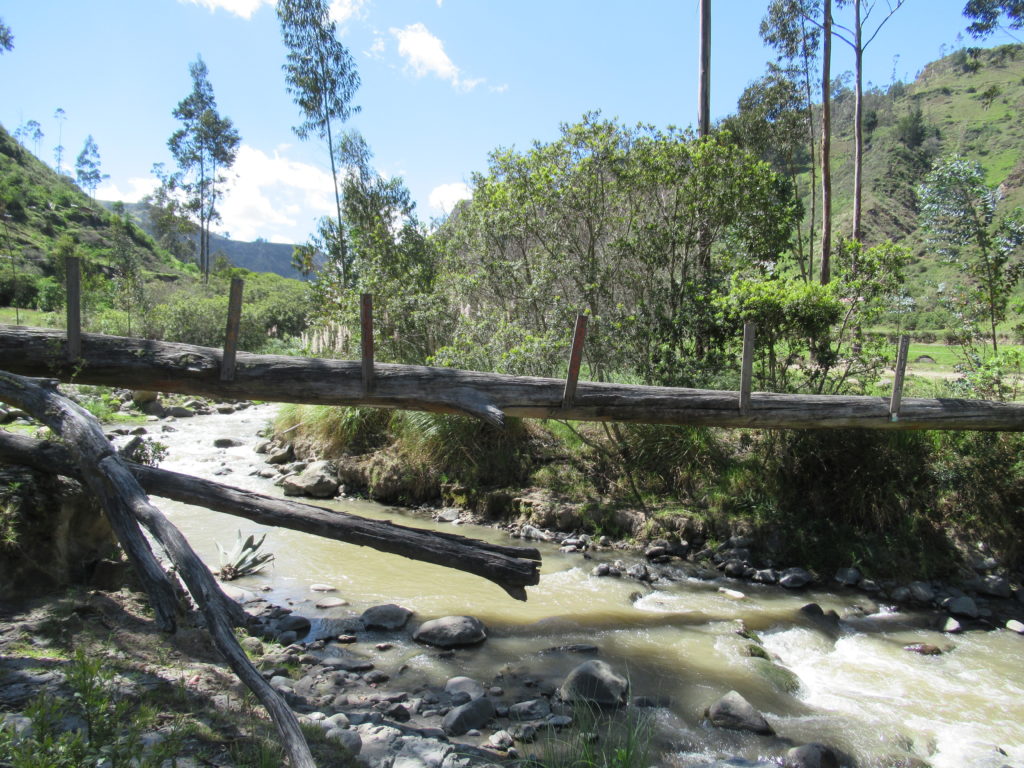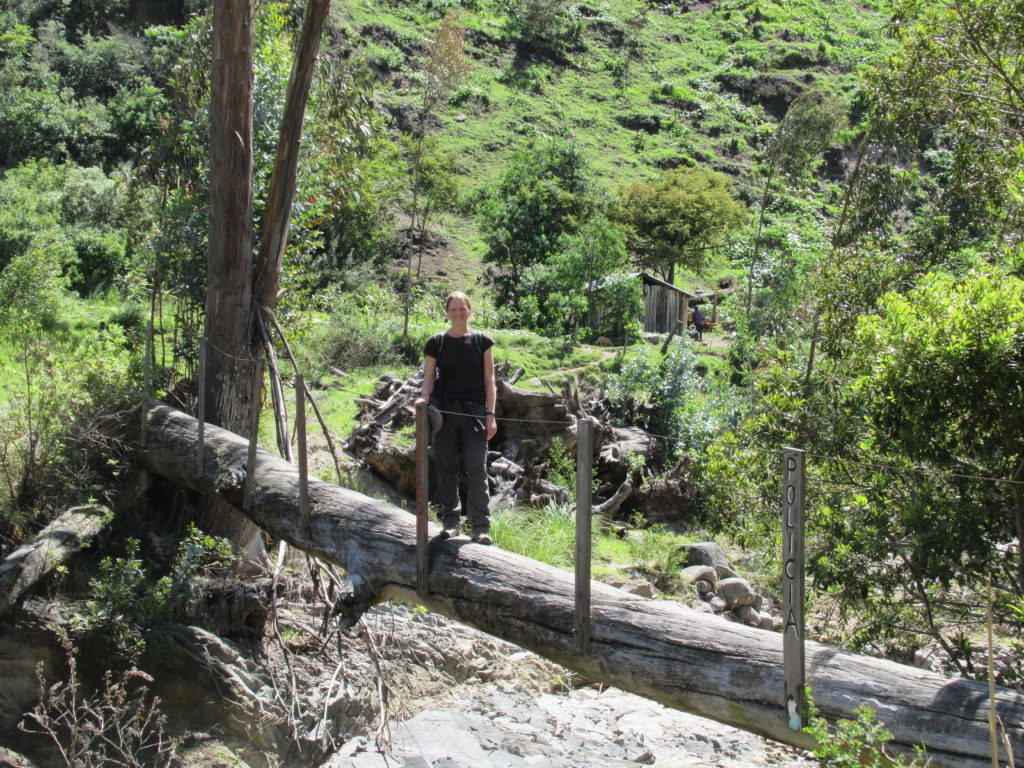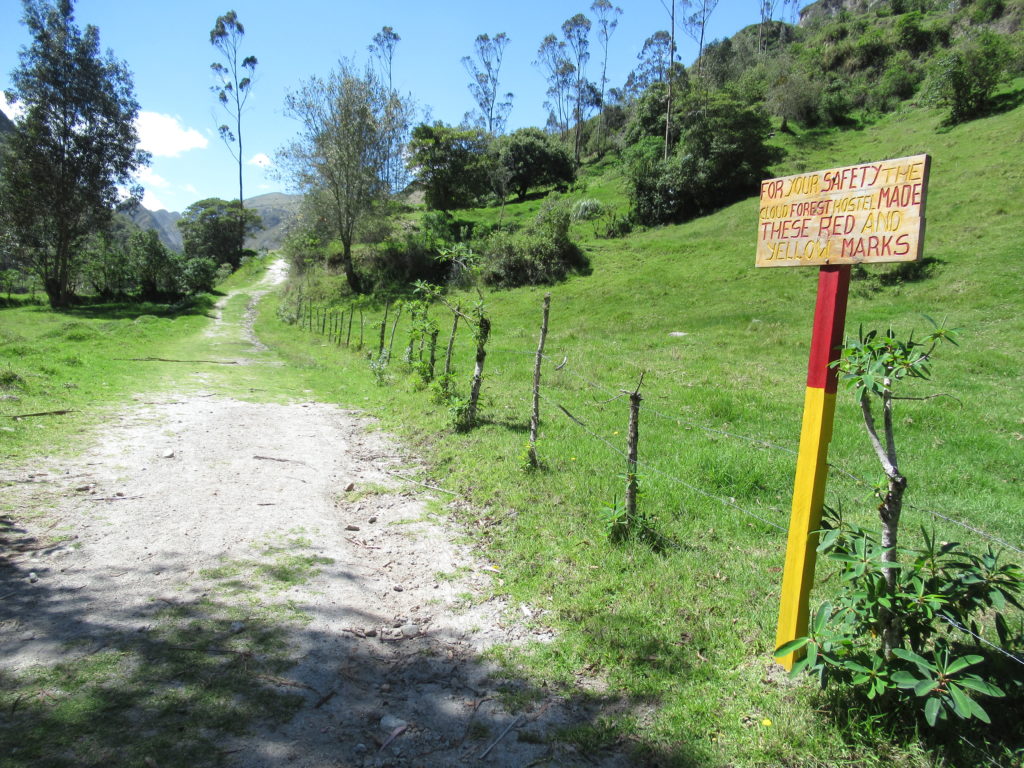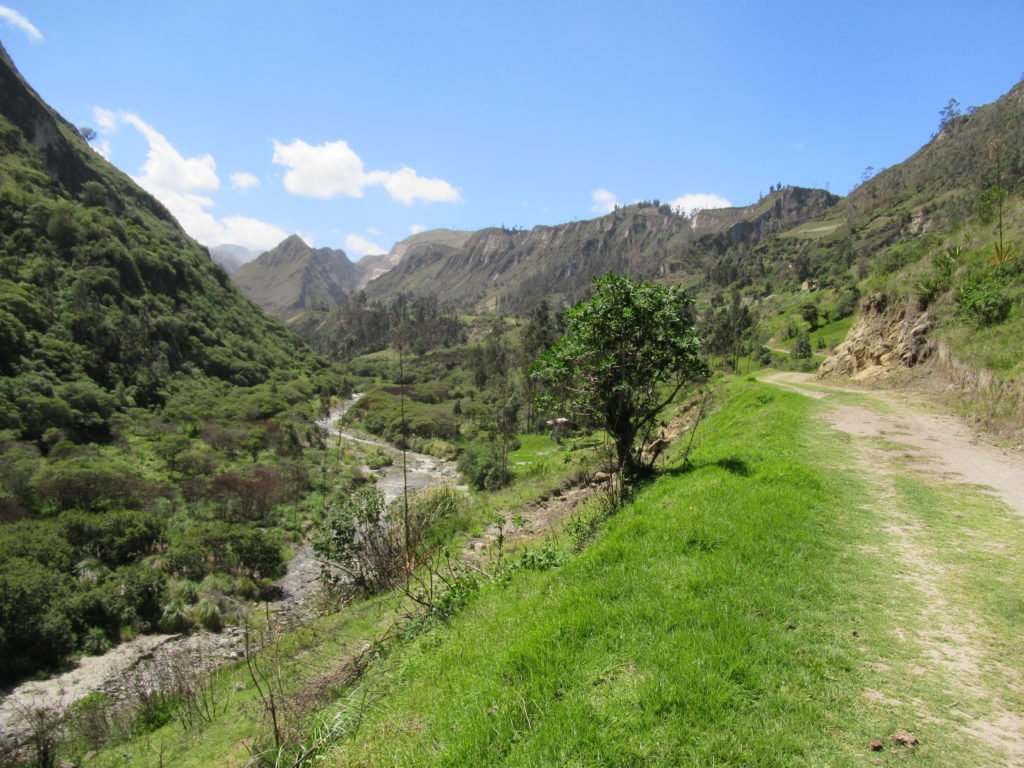 As well as the main overnight stopping points, there were quite a few VERY small villages along the way – villages with less than ten houses. Even villages this small tended to have a great big church – yes there is no escaping churches in South America!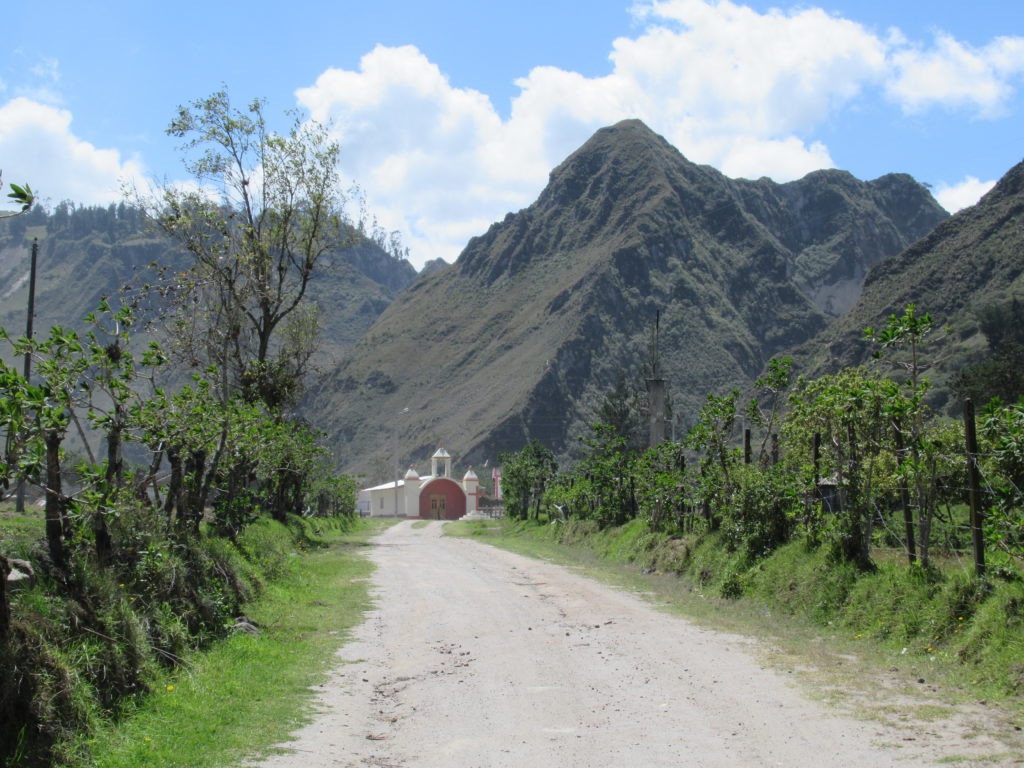 The village that we arrived at just before our ascent out of the valley was TINY – but guess what? It still had a shop! 🙂 Inside the shop was an old lady who was weaving. I think that selling drinks to gringos on the trail was more of a sideline for her… but it suited us! We had a nice thirst quenching soft drink and a sit down.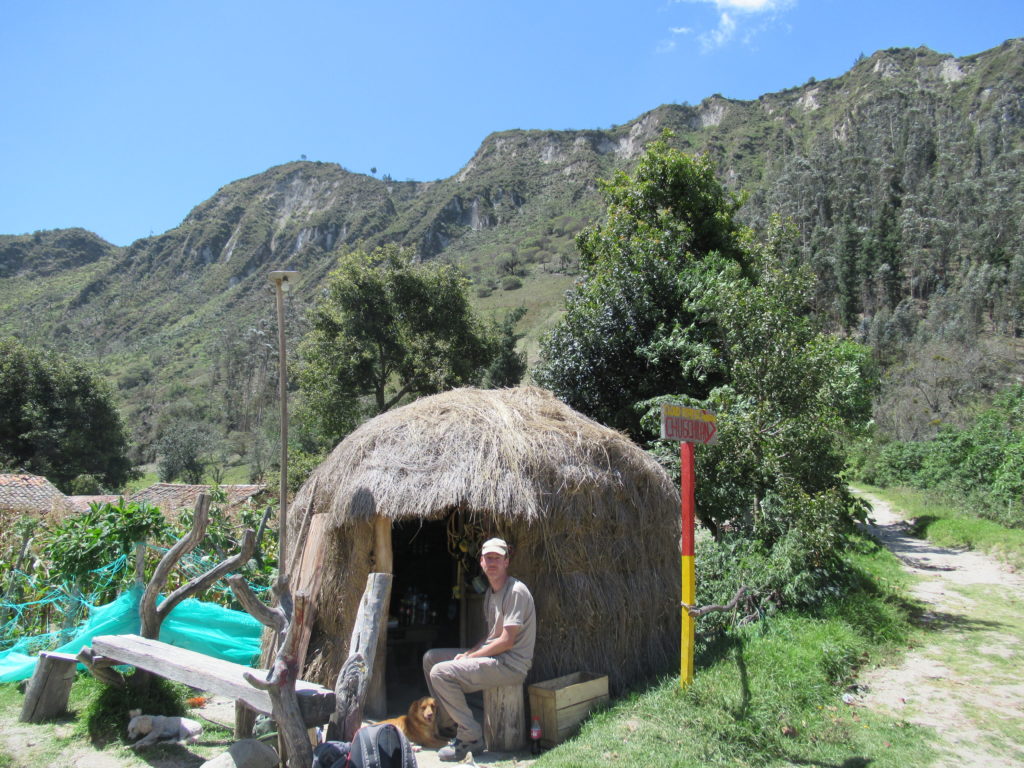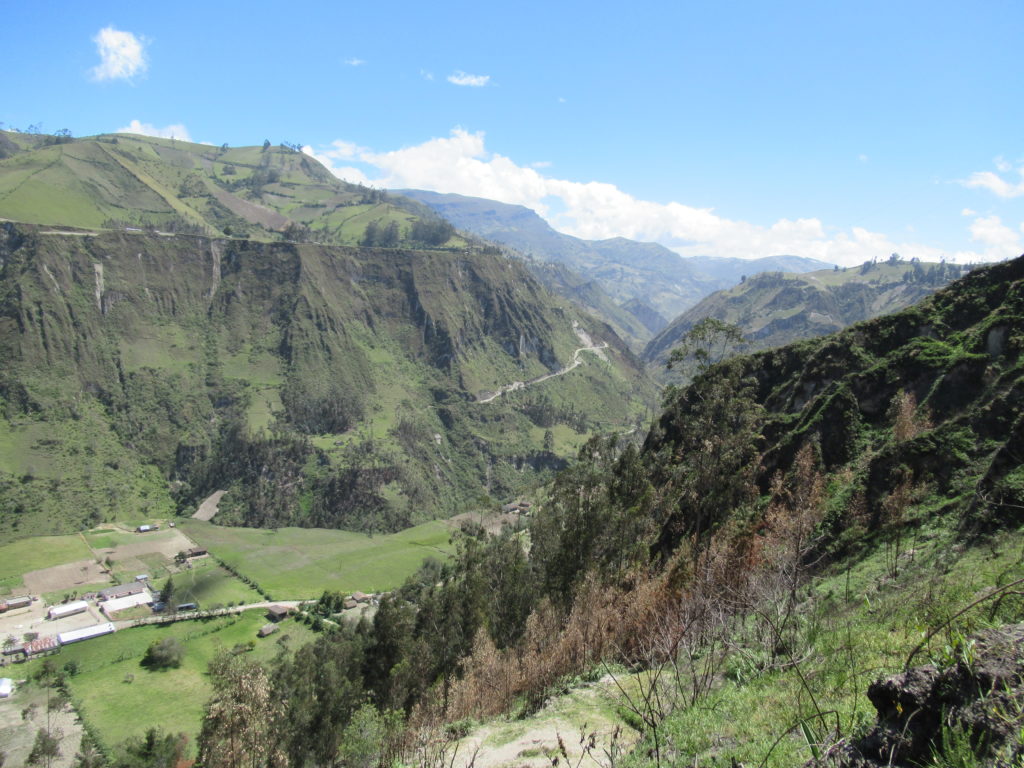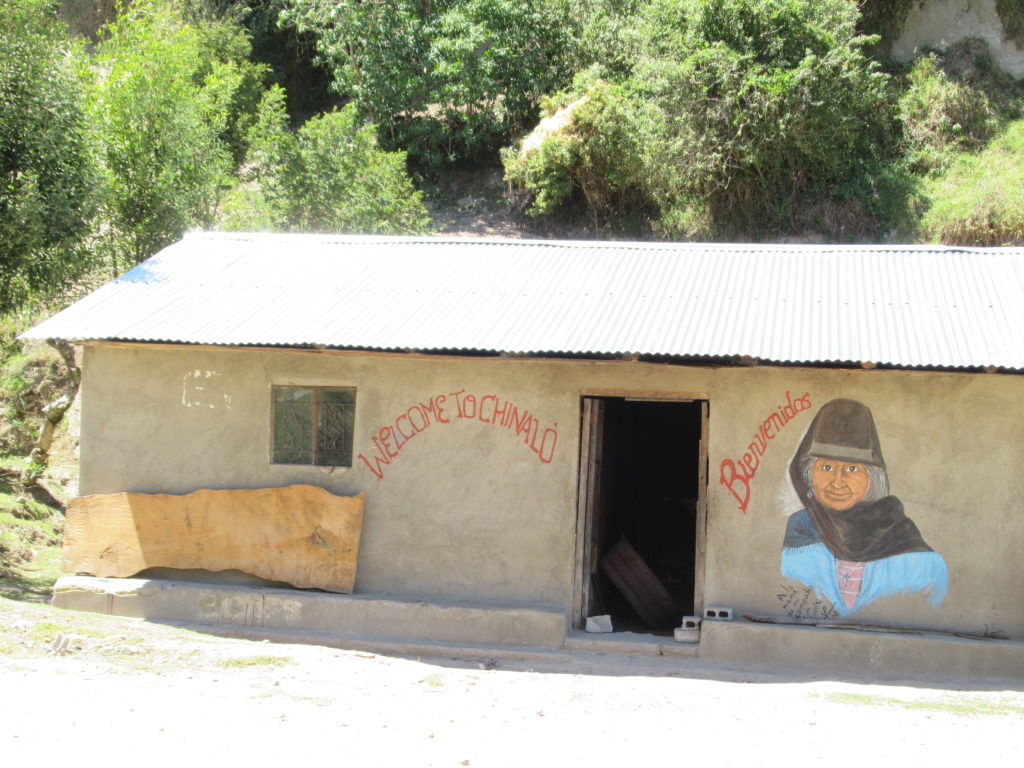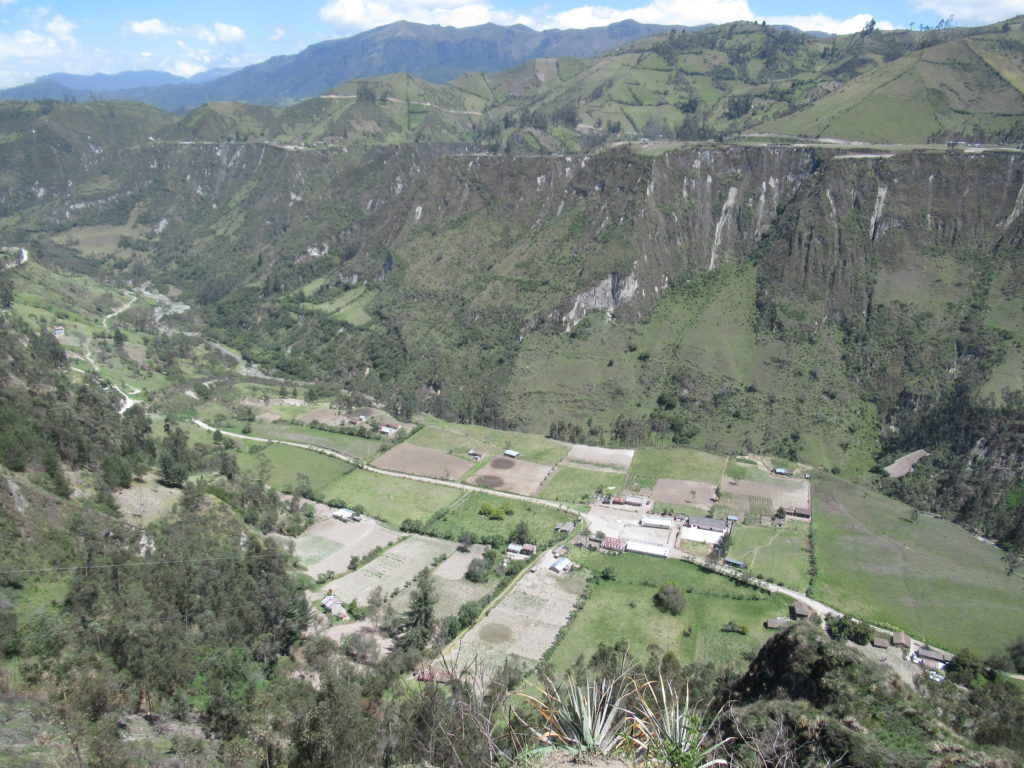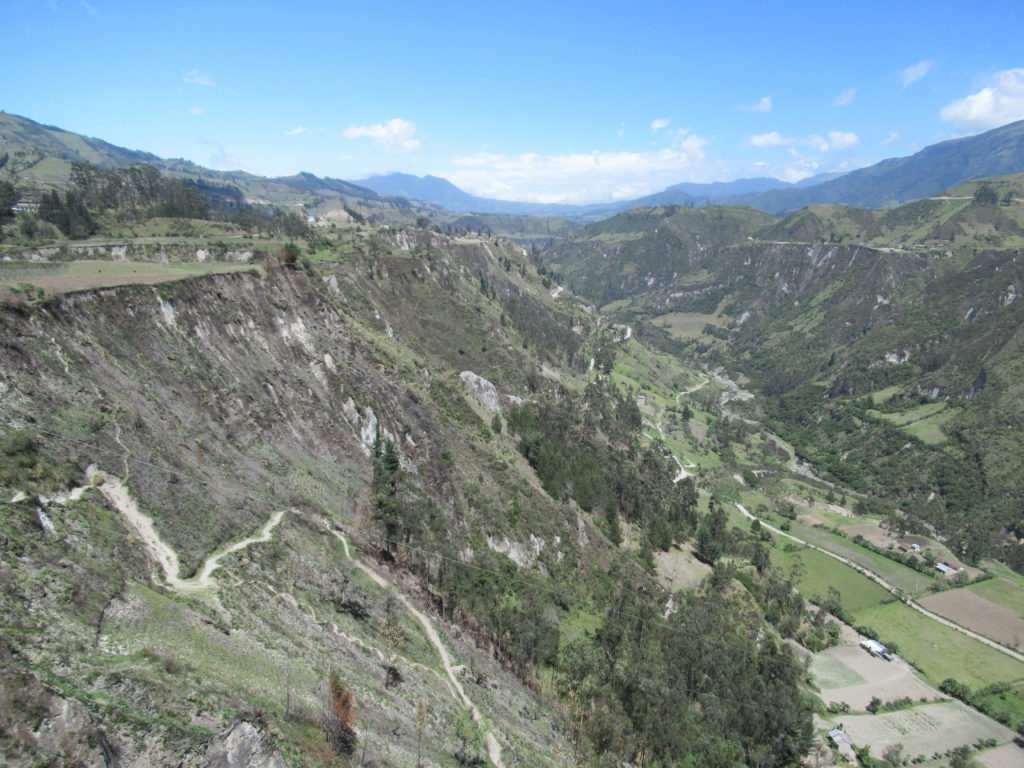 The village at the top of the ridge was so small it didn't even have a church! The trail then continued along a grass track until it joined the road to Chugchilan.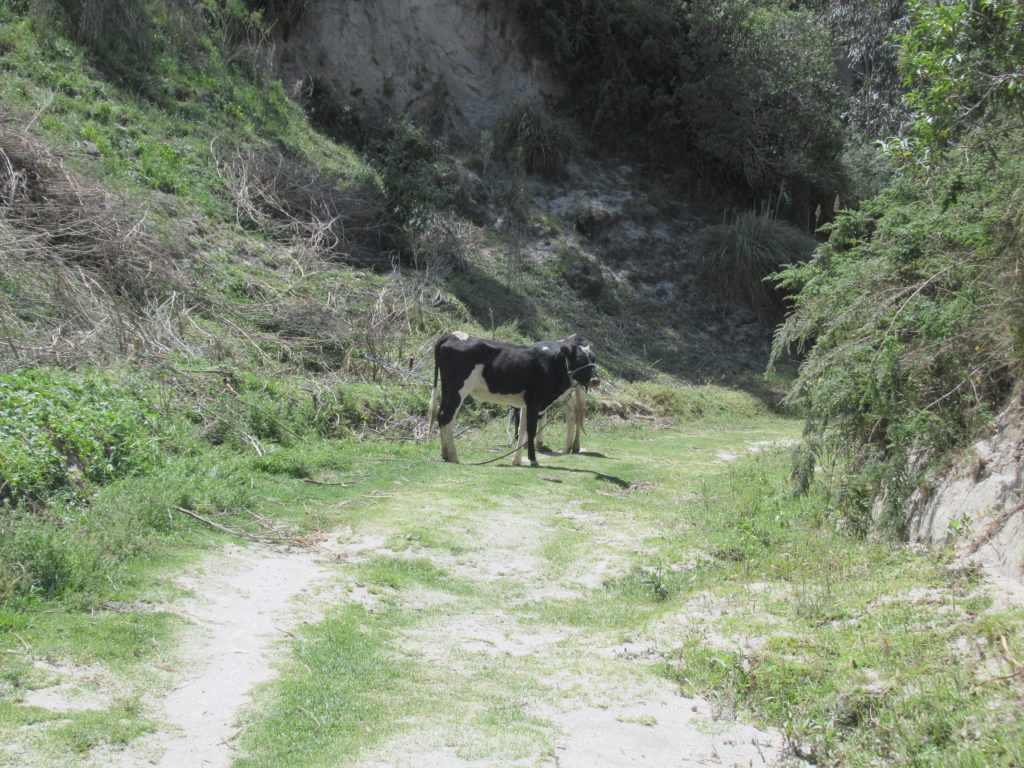 The last part of the walk was the least enjoyable – the road to Chugchilan was paved and not very scenic. We wondered if in the old days it was a nice gravel track alongside the forest…. ah well – it was a hot 40 minute walk to Chugchilan on the main highway. We voted this section the worst part of the whole loop.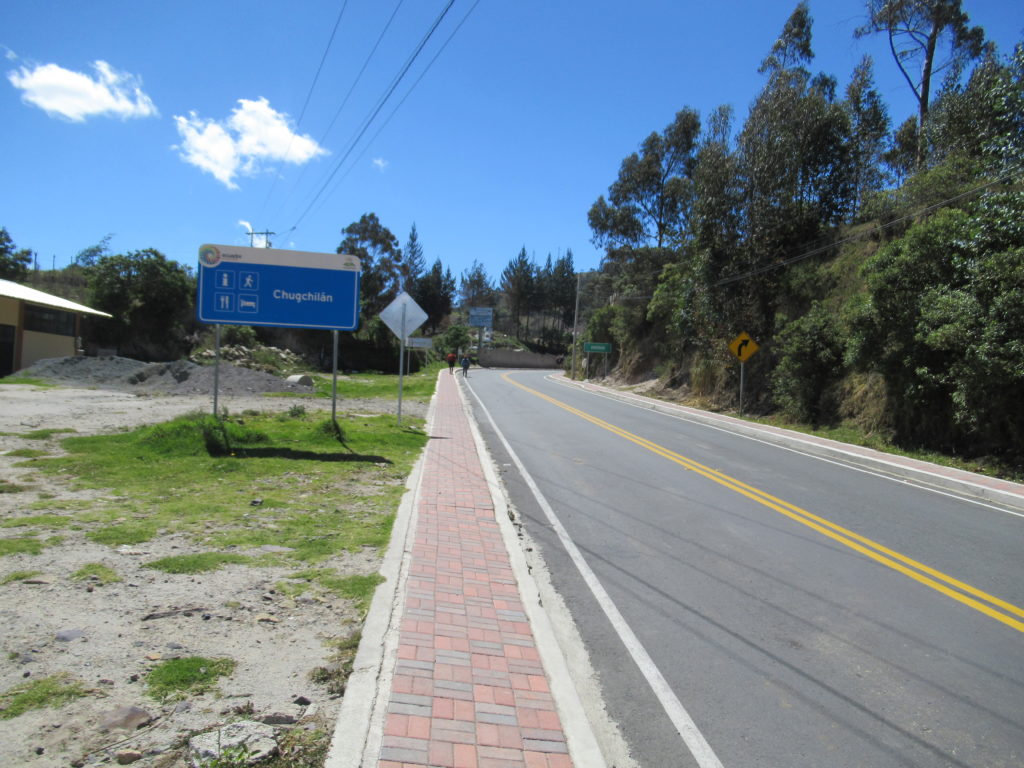 Our hostal tonight was the Cloud Forest Hostal. This was the hostal that had put up all the red and yellow trail signs. It wasn't quite so serene and scenic as our first night's hostal – but it was still pretty nice.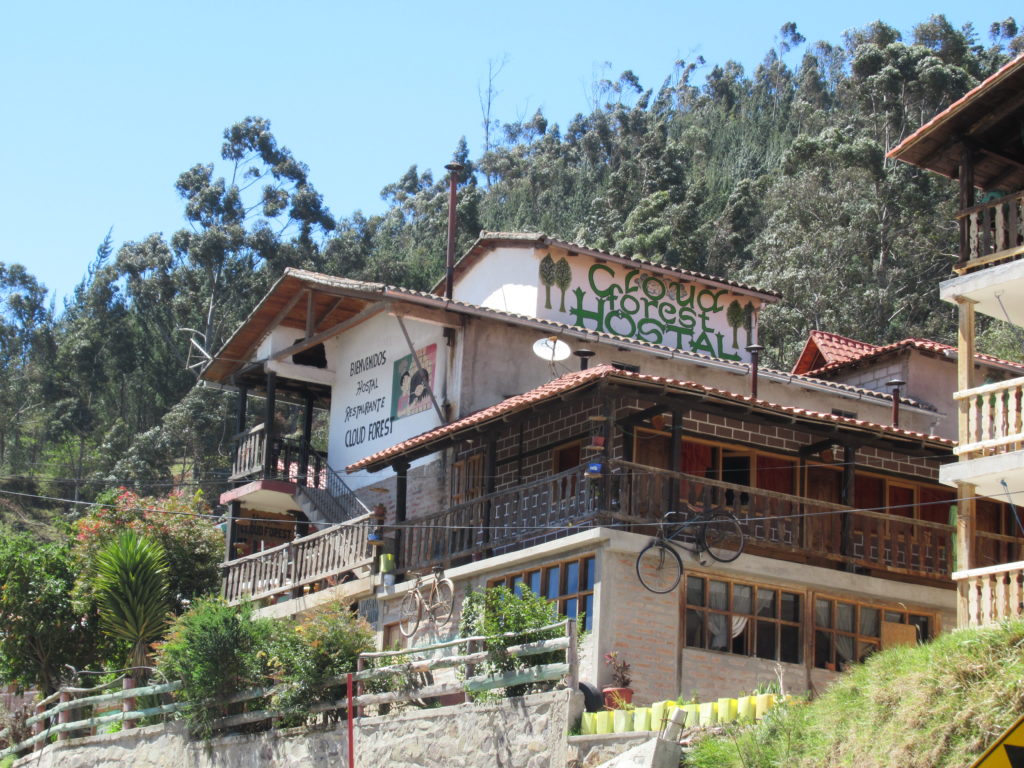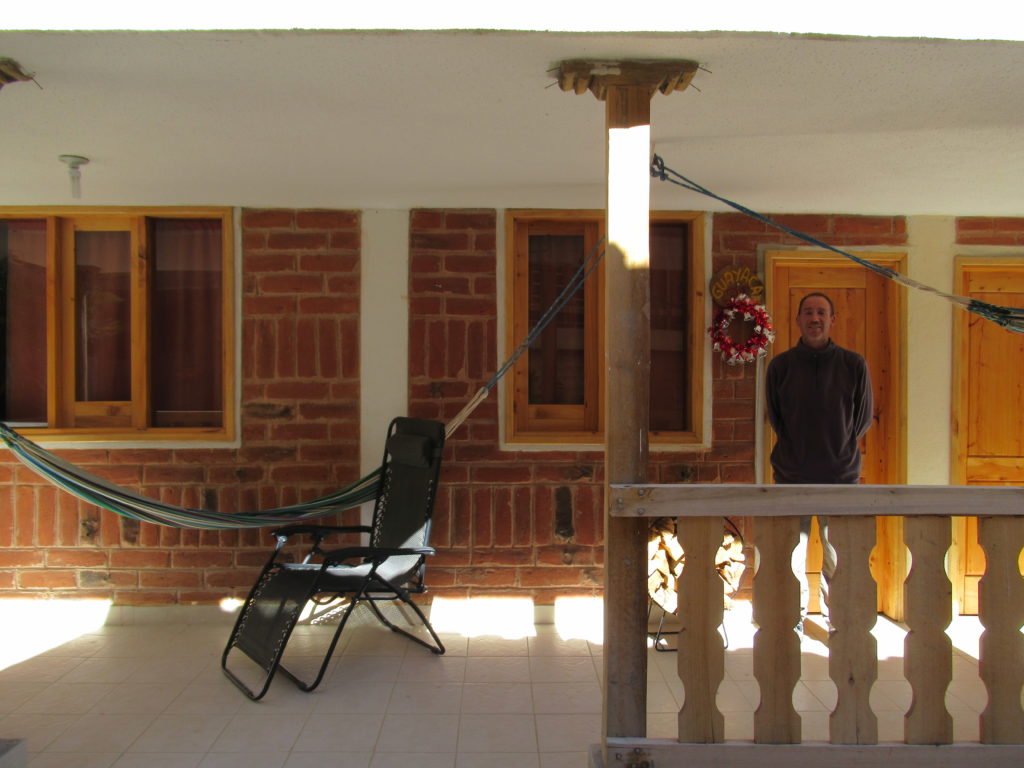 The walk today had taken 4 hours and 30 minutes – so a bit longer than on day 1 – but still not too strenuous really! 🙂
We figured that we deserved a snack – so we headed to 'central' Chugchilan to check out the main square and see what food was on offer. The answer was – not much! There was a pleasant square and church, but Chugchilan is still pretty small.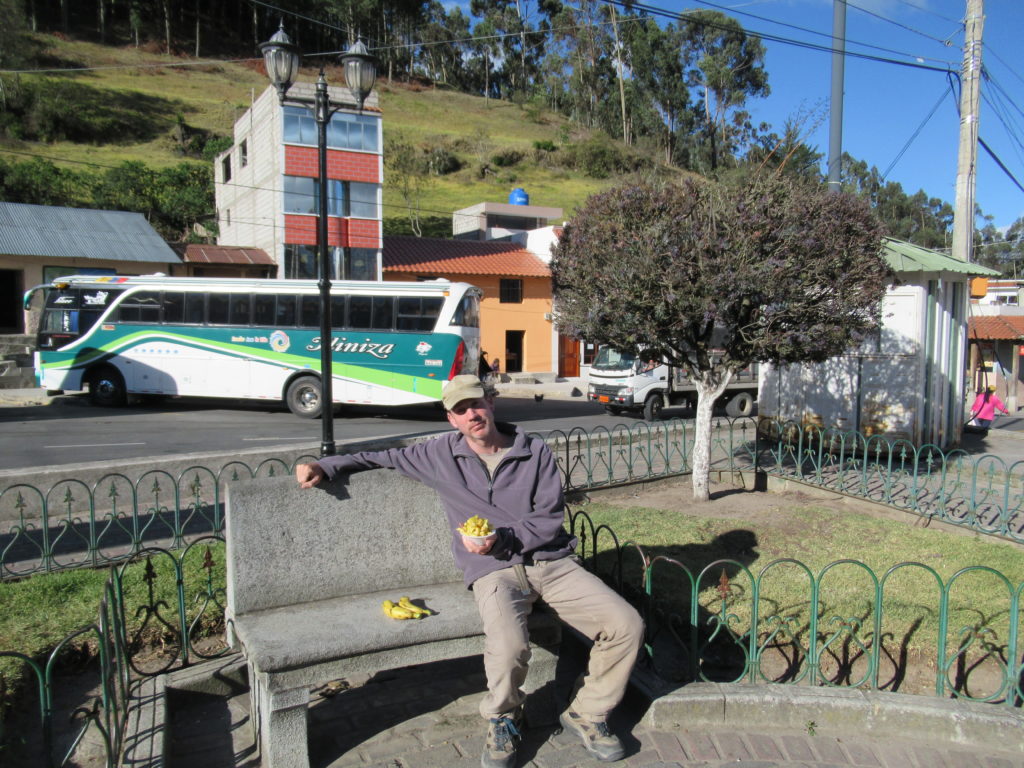 There were two very cool things about our hostal… the first was that it had a games room! Yes, there was table tennis, pool, and table football. It looked like the equipment hadn't been upgraded for about ten years – the table tennis bats had most of the covering missing, and the cues and pool tables were in a pretty ropey state! But we were the only people using it, and we had a great time! 🙂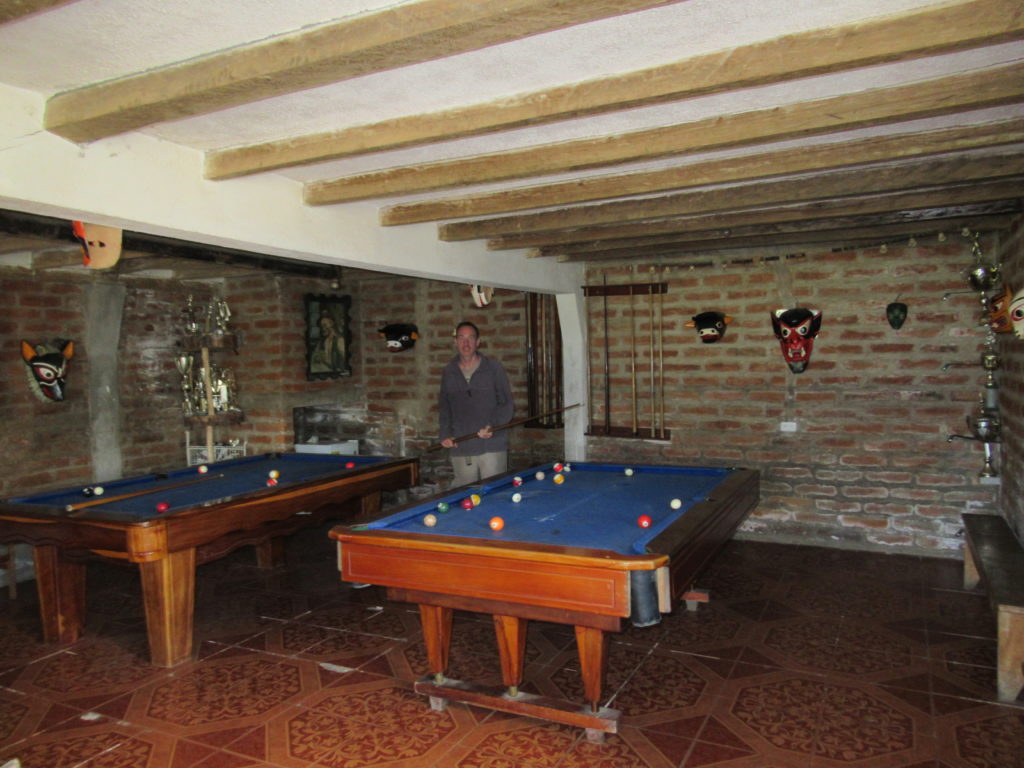 The other nice thing about the hostal, was that there were wood fires INSIDE the rooms! 🙂 Yes, we got our very own wood fire to keep warm at night! How cool is that?  What's more…. you don't even have to light it yourself! They come around just before dark and get it going for you. After we finished playing pool, we returned to our room to find the fire lit and the room all warm and cosy. 🙂 A very nice end to the day.