Even though we were no longer in Australia, it was time for our yearly Christmas Road Trip! WHOO HOO…
The reason being, that we had arrived in Trelew, which is in a part of Argentina where there were a couple of areas that we really wanted to see – but no public transport. In general, anywhere with no public transport doesn't make it to our itinerary unless there is a reasonable-looking tour available.
In this case there were tours available, but we wanted to spend longer than the tours allowed, and also spend a couple of days in Peninsula Valdes. There were also a few nice looking areas not too far away which were only accessible by car.
So… it was time to get a car!
We worked out roughly where we wanted to go, and came up with 8 days car rental – which just happened to take us over the Christmas period. We would be handing the car back on December 27th. CHRISTMAS ROAD TRIP IS ON!
Of course, this is a very busy period and so when we went to book the car, they only had manual transmission available…. so….we booked it anyway 🙂
Our brief hesitation was because I had calculated that it had been over 7 years since I had driven a car with a gearstick, and in that time CC had only done it a few times. Also it had been around 10 years since either of us had driven on the right hand side of the road. Hmmm – hope this wasn't going to be too difficult!
We had to pick the car up from the airport at Trelew, as that was the only location available, and so we had the bright idea to walk the 5km to the airport… unfortunately the highways on this side of Patagonia tend to be built for cars not walkers, so it was a noisy, difficult walk along the highway. The man at the car hire desk was surprised to see us, as all the flights had been cancelled – and so was not expecting two people to walk into the airport and hire a car.- even though we had a reservation in the system, he hadn't looked at today's reservations because all the flights had been cancelled.
So even though he had found our reservation, instead of hiring us the car he told us he had to go URGENTLY into town, and would be back in 20 minutes. So off he went, leaving the desk unattended, with us waiting there. (This is actually fairly normal for Argentina)
He came back after around 30 minutes and we finally got our car, which was a Toyota Etios – for those of you interested in such details….
We needed to work out who would be driving, and also make sure that we could remember how to change gears… so we had a couple of turns each at driving the car around the airport carpark. After not hitting anything and only stalling the car one time each – YAY US 🙂 we decided that CC would be the best (or perhaps the 'least worst….') person to start the driving and do the 'difficult' bit through town back to where we were staying.
We had observed the driving in Argentina and determined it to be not too terrible – just a bit of extreme tailgating and reckless overtaking….and in fact there weren't any problems with other drivers, just those of our own making – as it was the road signs and lack of road markings that caused us all the problems…. you kind of get used to having a white line on the road to stop behind at traffic lights and stop signs. In Trelew they like to have traffic lights, stop signs, and one-way streets – but perhaps they have run out of white paint as white lines on the road were extremely lacking. HOW are you supposed to know where to stop if there's no line painted on the road???! (Yeah, I guess you could work it out, I suppose…..)
Anyway, I counted that we committed a mere three traffic offences during our time with the car (OOPS) – which we blamed on a lack of lines on the road (and on the locations of road signs)
In the end, all went well – and CC was designated the 'City Driver', I was designated the 'Gravel Road' driver. And we both were the 'long straight highway' drivers.
Although we really enjoyed our time with the car, going to lots of places which would have been inaccessible – we were never really friends with this car… it was an irritating car which made funny noises sometimes (even when we didn't accidentally crunch the gears…) and most annoying of all – whenever you locked or unlocked the car it beeped REALLY LOUDLY, not once, but twice. I don't mean that nice 'meep meep' noise you get with a normal car – I mean like a FULL ON HONK, so whenever you lock or unlock the car, everyone within 100 metres turns around and stares. And if you are close to the car it makes you jump (YES I KNOW, we should expect it if we are the ones pressing the lock button….)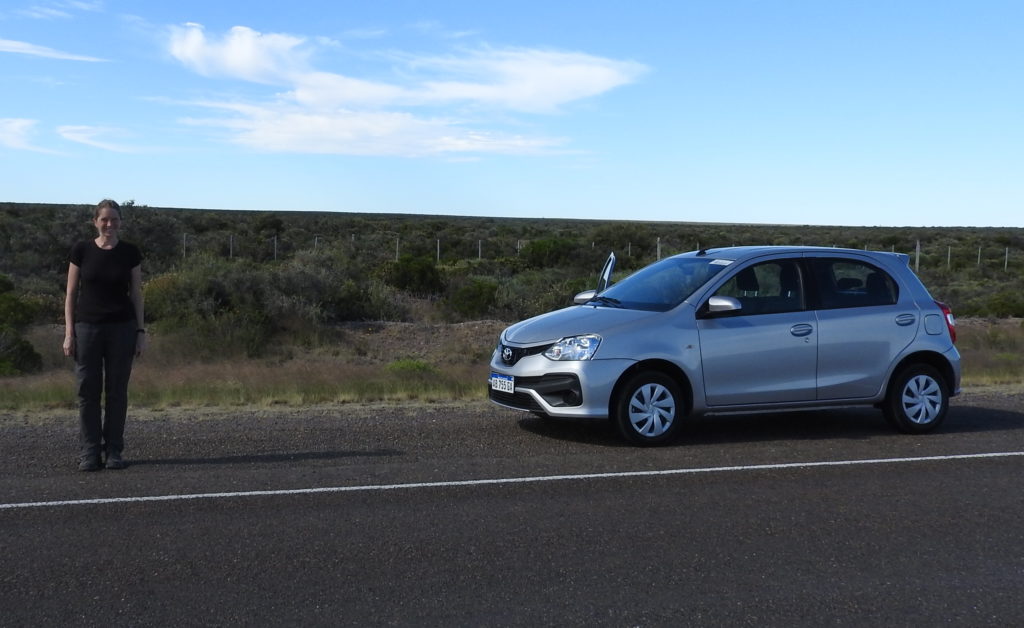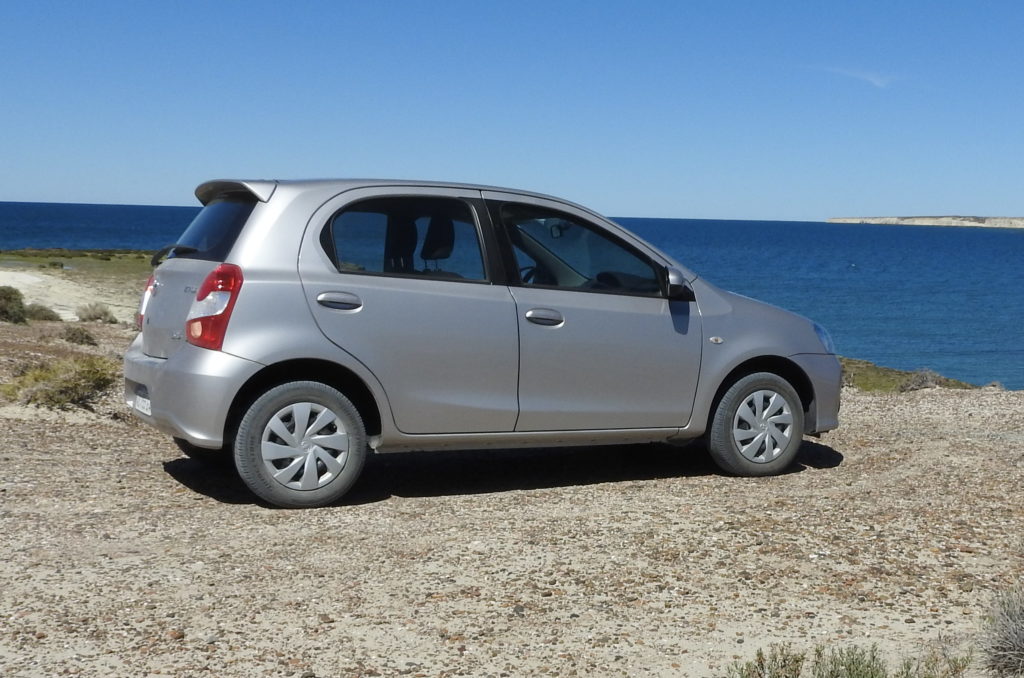 The other main hazard of Argentina is that when you are trying to park the car in a city street, lots of stray dogs come over and start barking really loudly and running all around the wheels in order to make it just a little bit more challenging. We didn't actually run any dogs over though (even though some dogs were definitely asking for it…)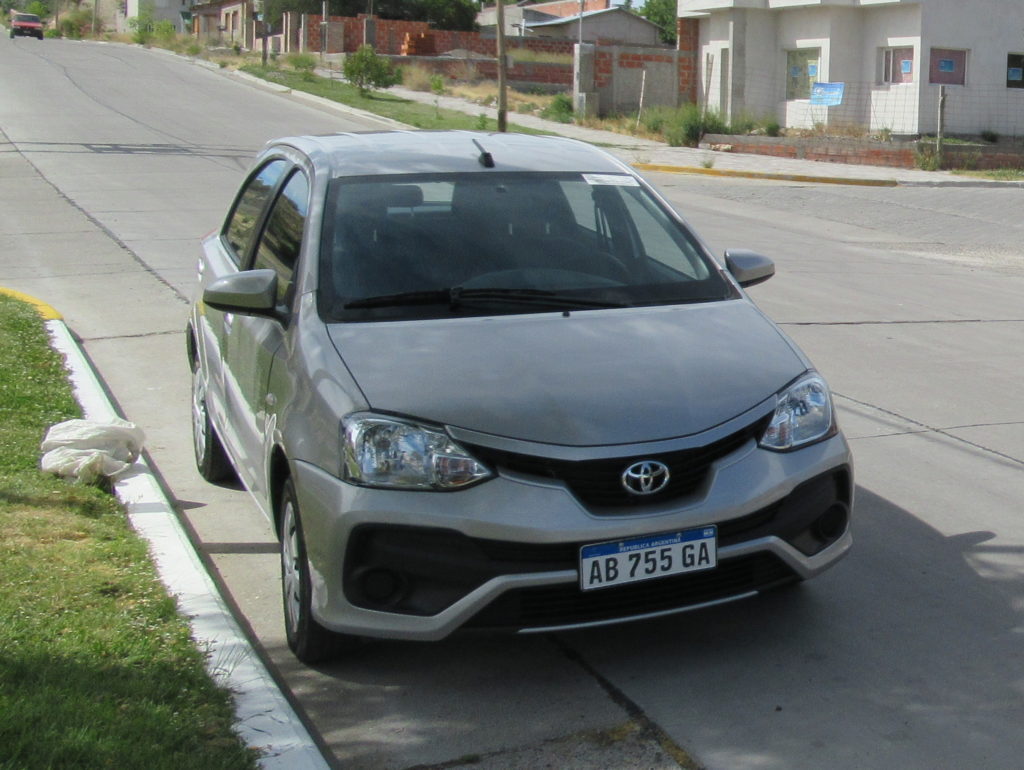 The car hire ended on a high note, as when we took the car back to the airport, the man behind the desk offered to give us a lift from the airport to the bus station – RESULT 🙂