One of the reasons that we went to Iquique, was to go on a tour to see an old Saltpetre works (known in Spanish as saliteras), and some geoglyphs. That probably sounds either strange or un-exciting (or both!), but actually both things are very INTERESTING!
So let me start by telling you about Saltpetre – otherwise known as nitrate….
This is a very important substance that is used in fireworks, food preservation, and fertiliser – amongst other things. Up until the late 1920s it was obtained from the ground and processed in factories – and Chile had pretty much ALL of the raw materials required for this process. Chilean Nitrates were a massive global commodity, and hundreds of saltpetre works were created in Chile
Then a process was discovered that meant that the nitrates could be created using a chemical process – and so all of a sudden, all the saltpetre works in Chile became economically unviable – and they were abandoned. It's possible to visit many of these abandoned saltpetre works to see how the process worked, and also what life was like for the people working there. The two best preserved ones are called Humberstone and Santa Laura – Humberstone still has many of the original buildings from the 'company' town where the workers lived, and Santa Laura has much of the processing equipment remaining.
In Spanish, they were also called 'oficinas', and the way that they worked was that all the workers lived on the site, there were schools, shops, and all the facilities of an entire town. The workers were paid with 'tokens' that could only be used in the store in their own salitera, and exploitation of workers was rife. There were many protests by the workers to try and get more workers' rights, and these were often met with violence from the authorities.
In the grounds of Humberstone and Santa Laura there are a few buildings used as museums with information about these massacres – particularly one that took place in Santa Maria School in Iquique.
Originally Humberstone and Santa Laura were in Peru, but there was a war between Chile and Peru and Bolivia (the War of the Pacific) over this territory, and it became Chilean. To this day, this is still a sore point in Bolivia, as Bolivia lost its access to the coast in this war and has never regained it.
If you have read all the links so far in this post, then you probably now have some idea about what happened…. and you are also VERY DEDICATED to learning history! 🙂
We spent around three hours of the tour in the oficinas, and between our guide's commentary and the information boards in the buildings, we learned a great deal about this period of history, and also about how the nitrate manunfacturing process worked. We may have learnt EVEN MORE if it wasn't all in Spanish! 🙂 🙂 But we made up for the bits we didn't understand by looking it up on the internet later…:-)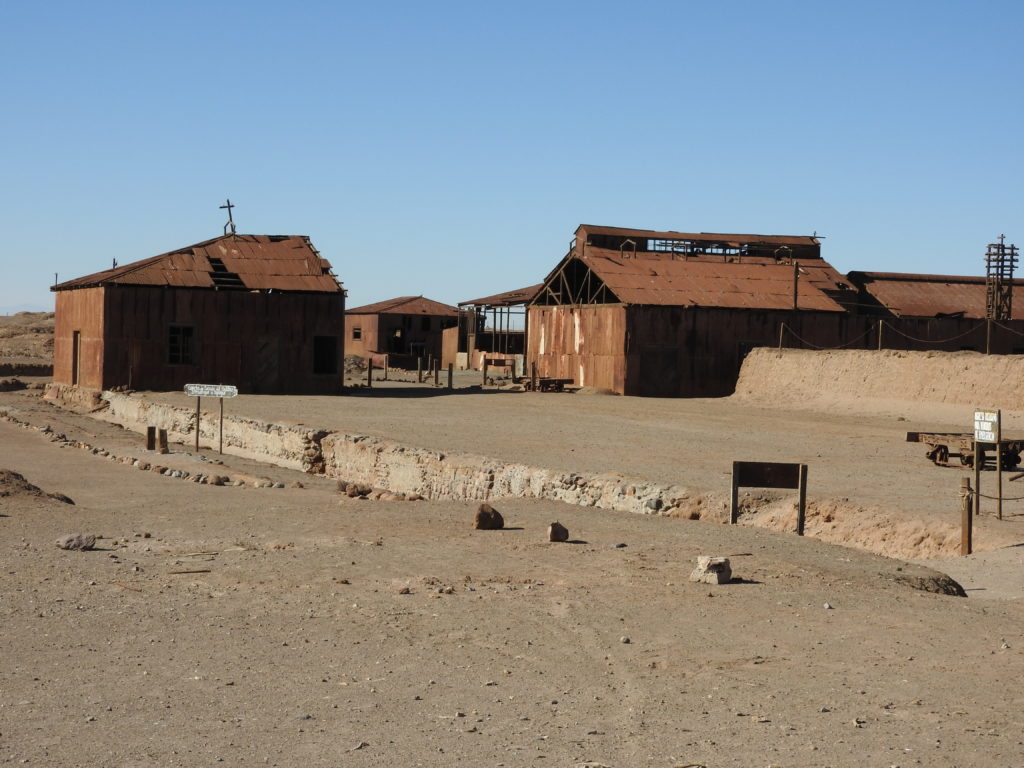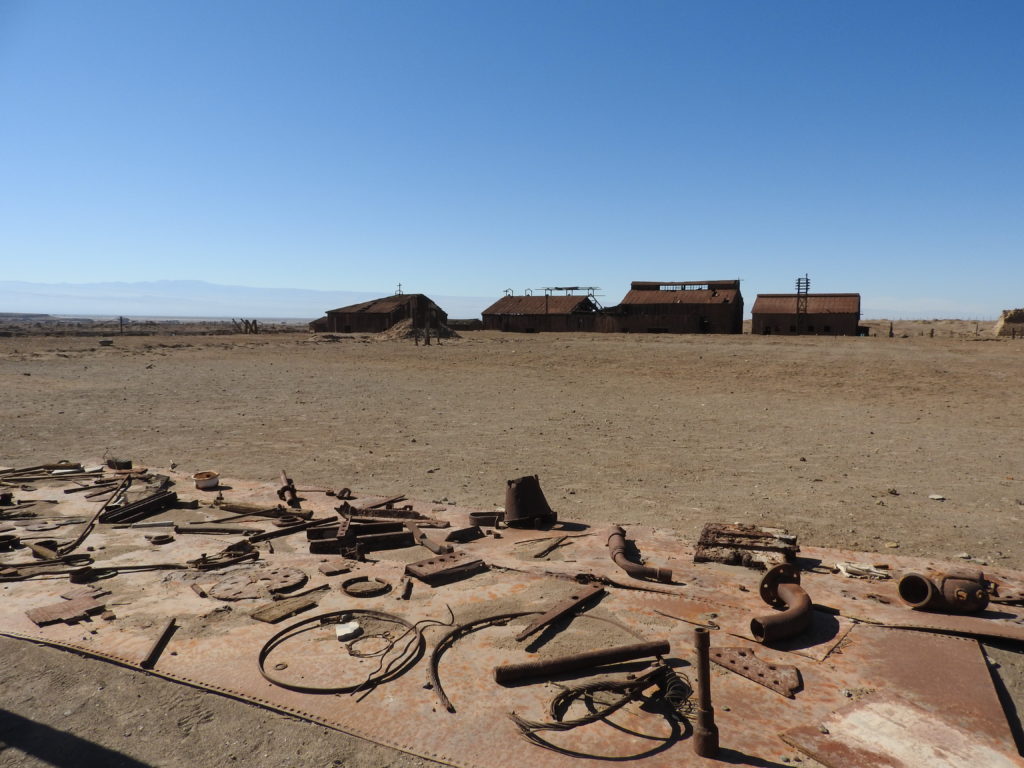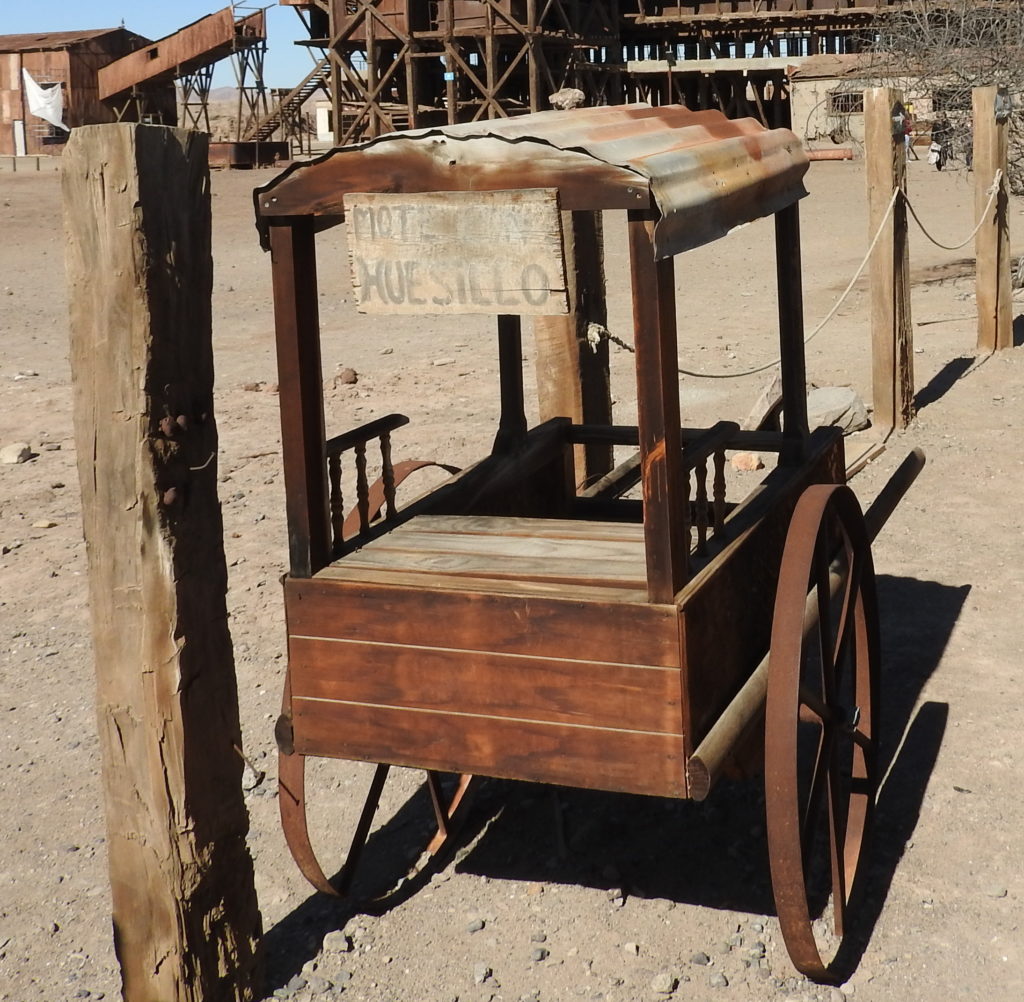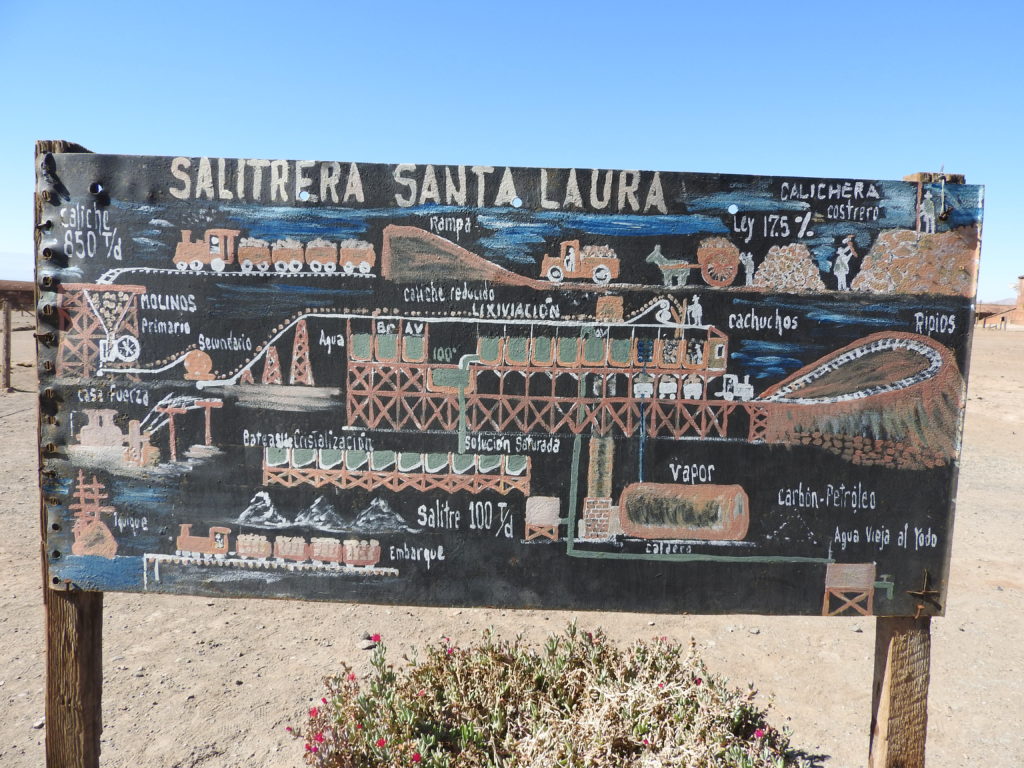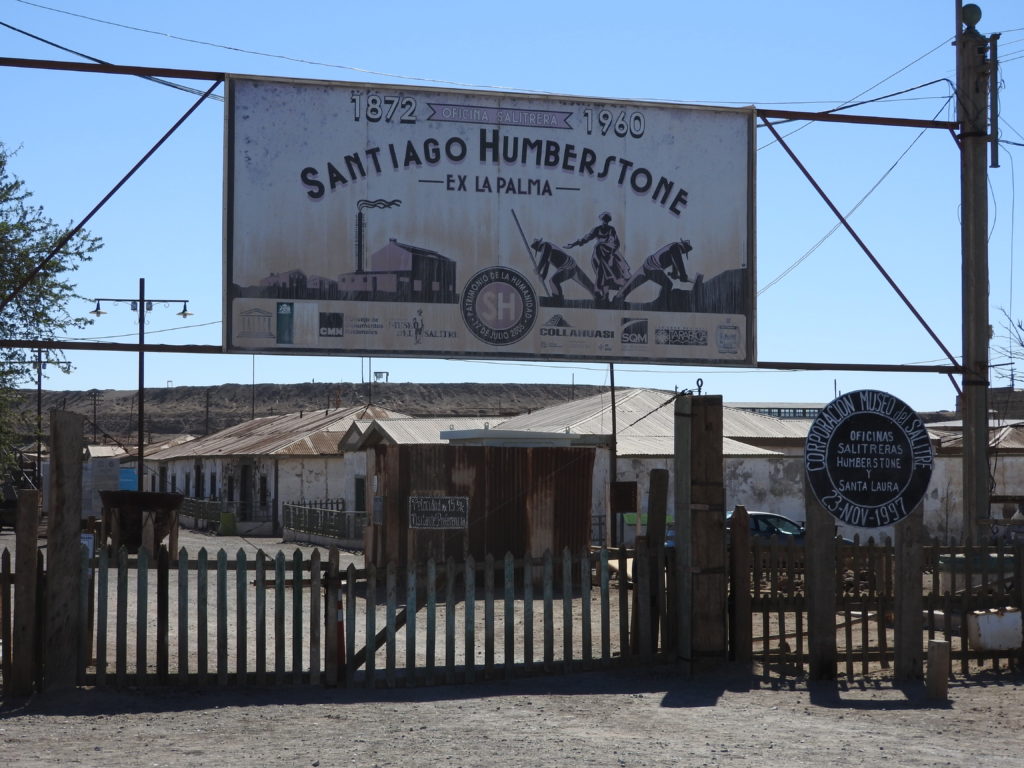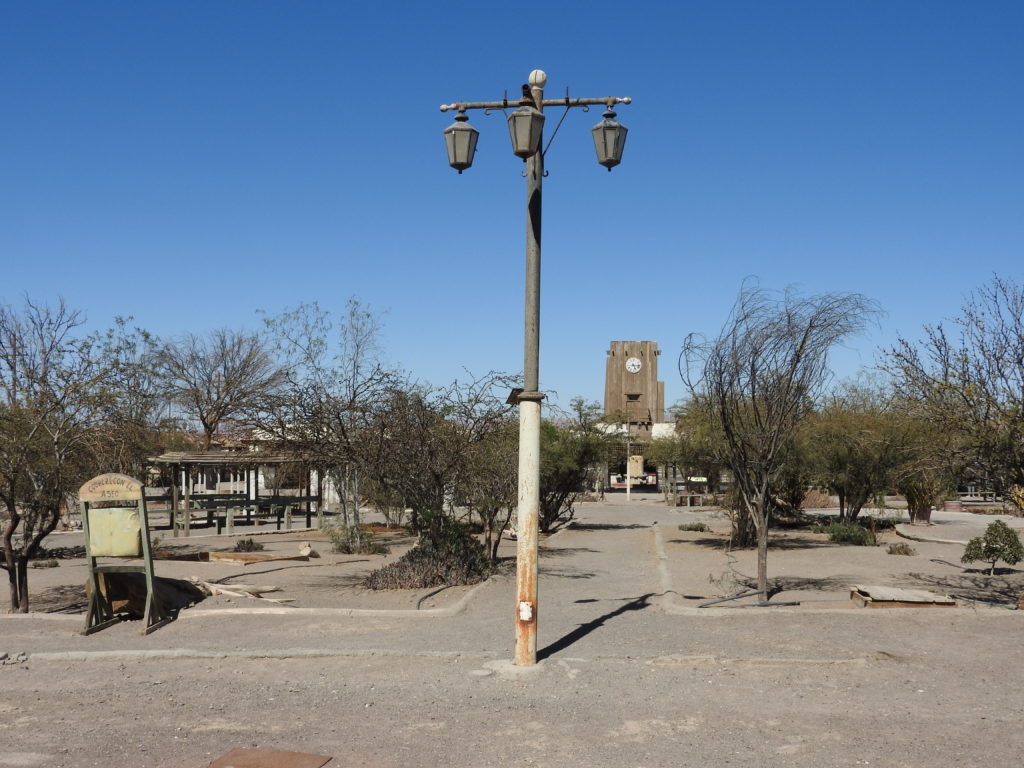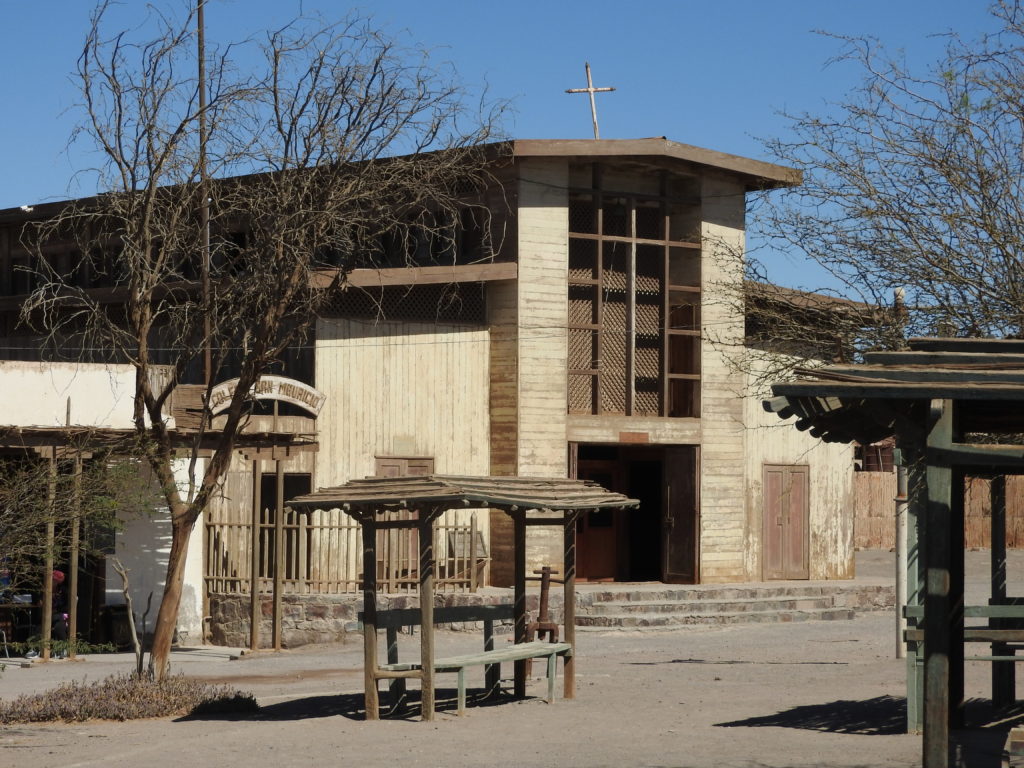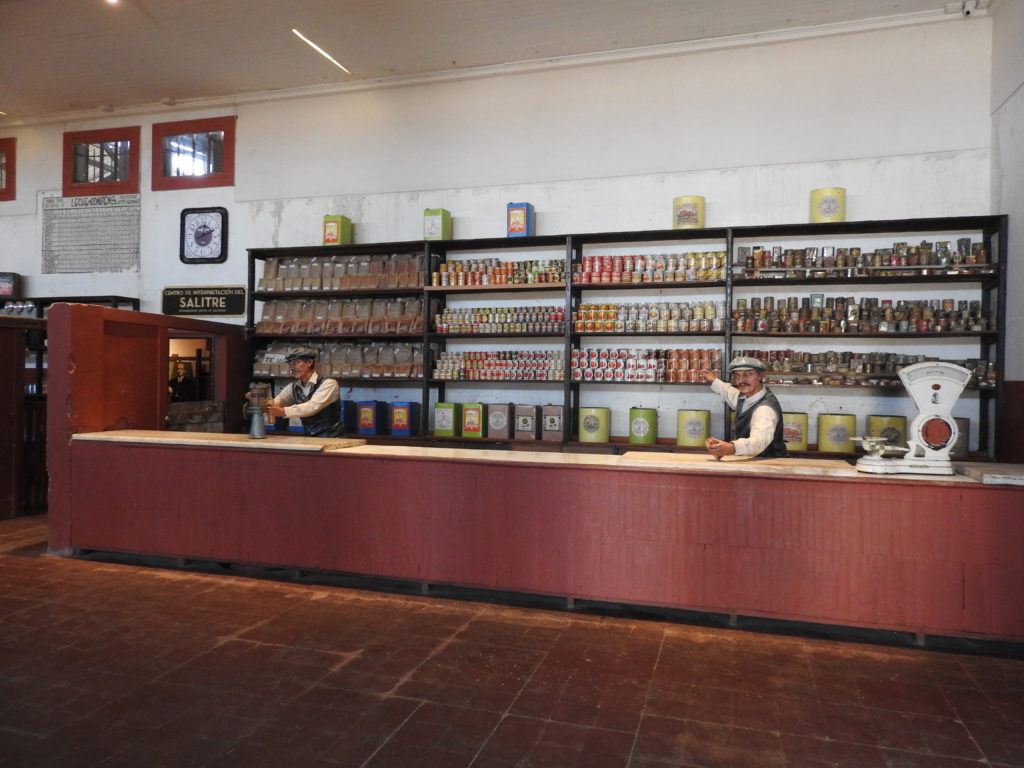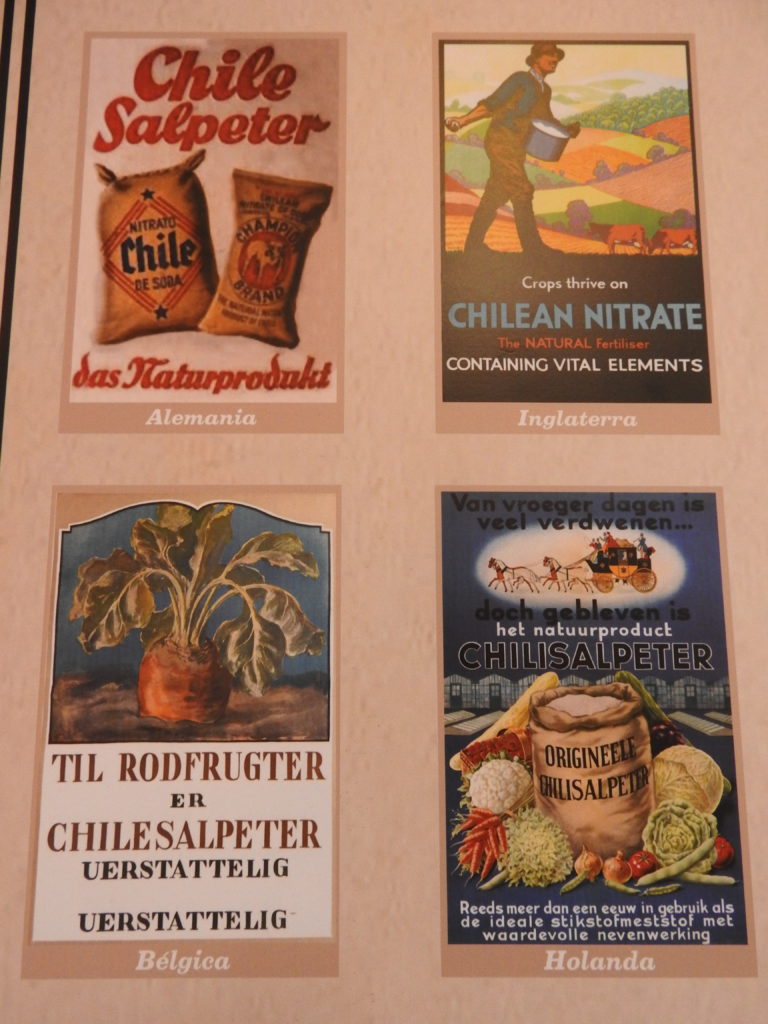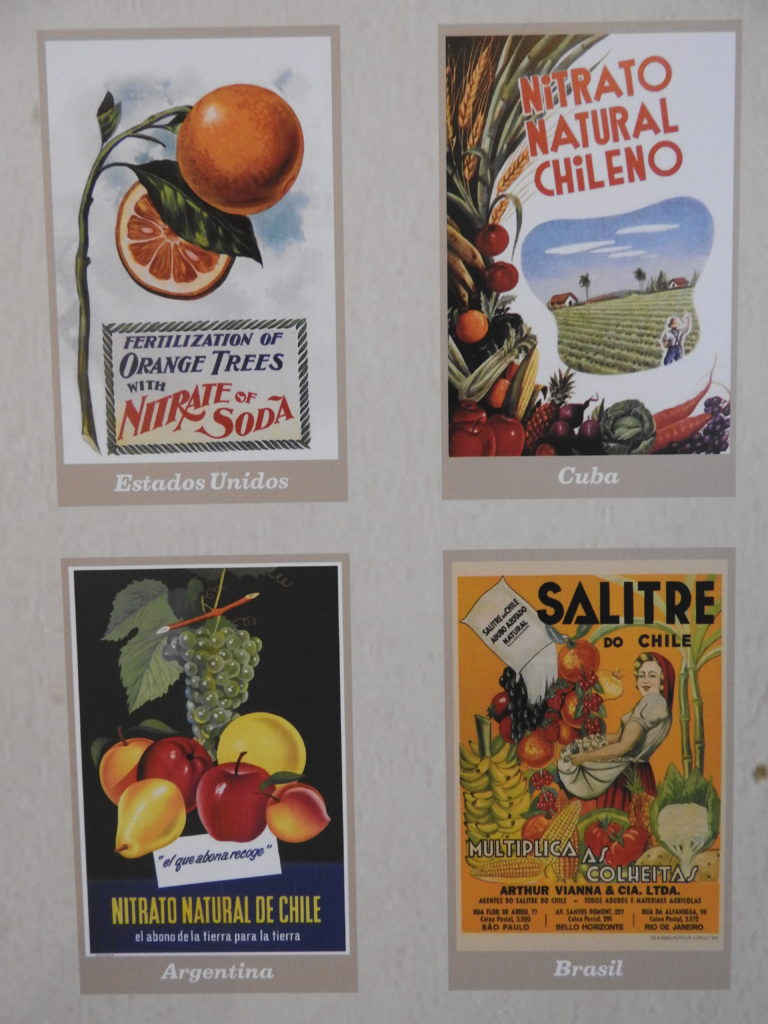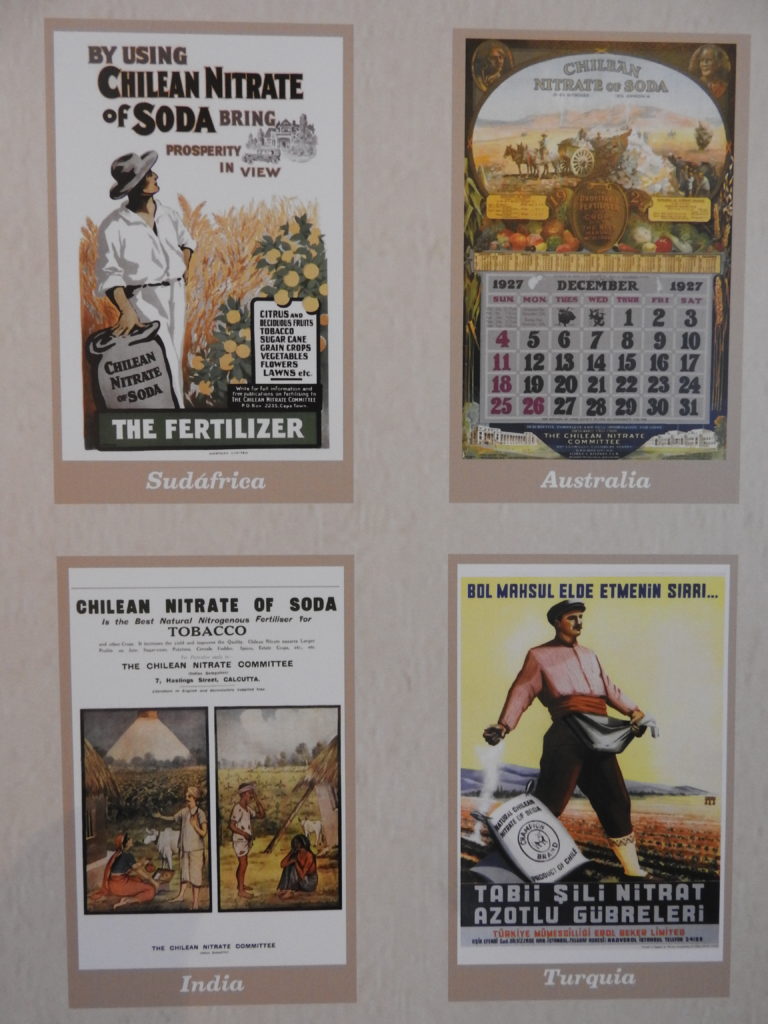 After the saltpetre works, the next stop on the tour was to see some ancient geoglyphs. Famous examples are the Nazca lines in Peru, or the Westbury White Horse in the UK. The most famous example in the area that we were in is the Atacama Giant – BUT sadly only the long tours up to the altiplano stop in this location, as it's a bit out of the way – so we had to settle for the slightly less-famous Pintados Geoglyphs.
HOWEVER – the geoglyphs were EXCELLENT, and whereas the Atacama Giant is just one design, at Cerro Pintados there were lots and lots.of different geoglyphs spread across the hills – in fact it is the largest group of geoglyphs in the world apparently. The latest theory is that they were put there as kind of 'traffic signals' to guide ancient llama caravans across the desert. There were many many different shapes and designs on the hills, and it was fascinating to try and pick them all out.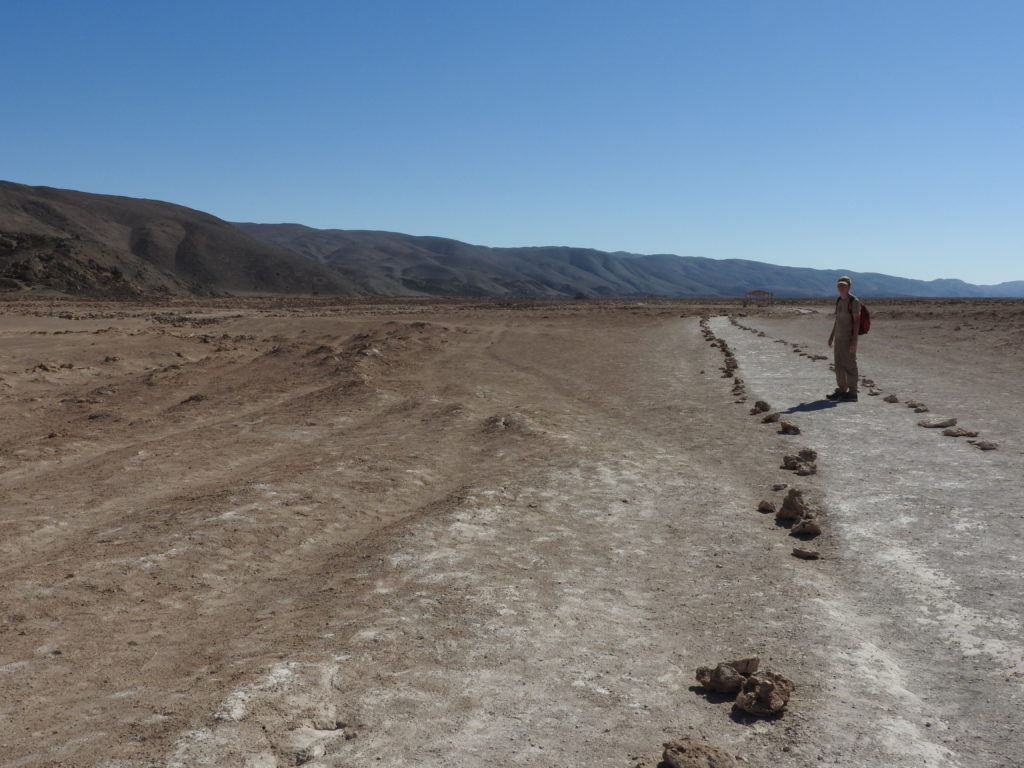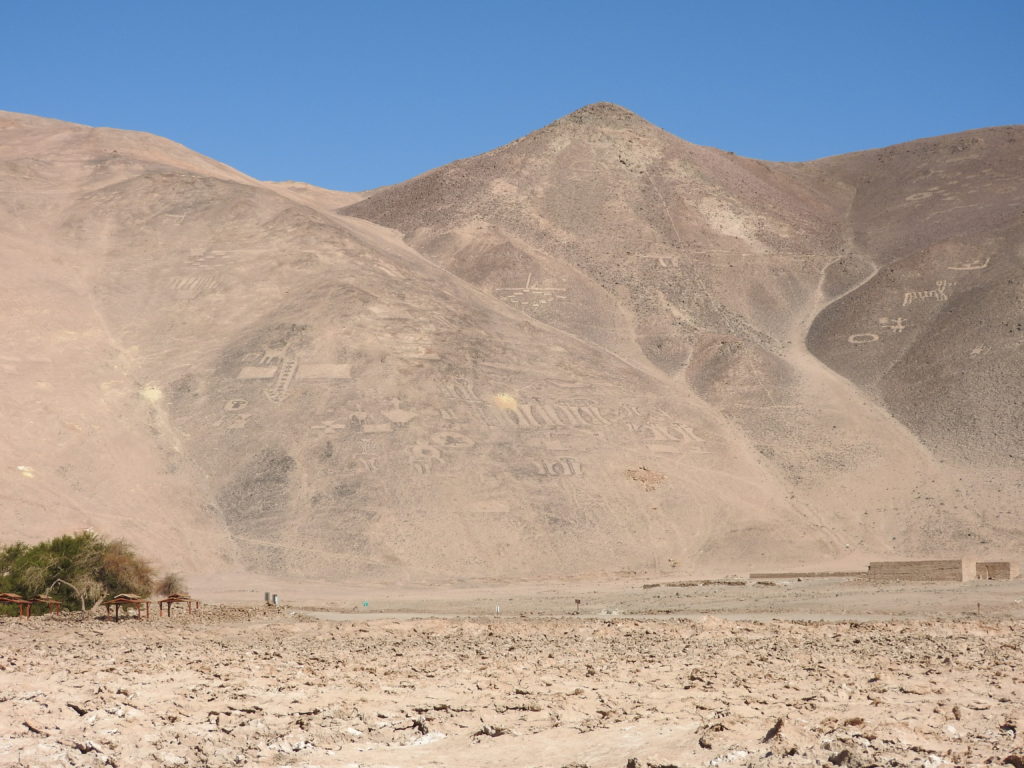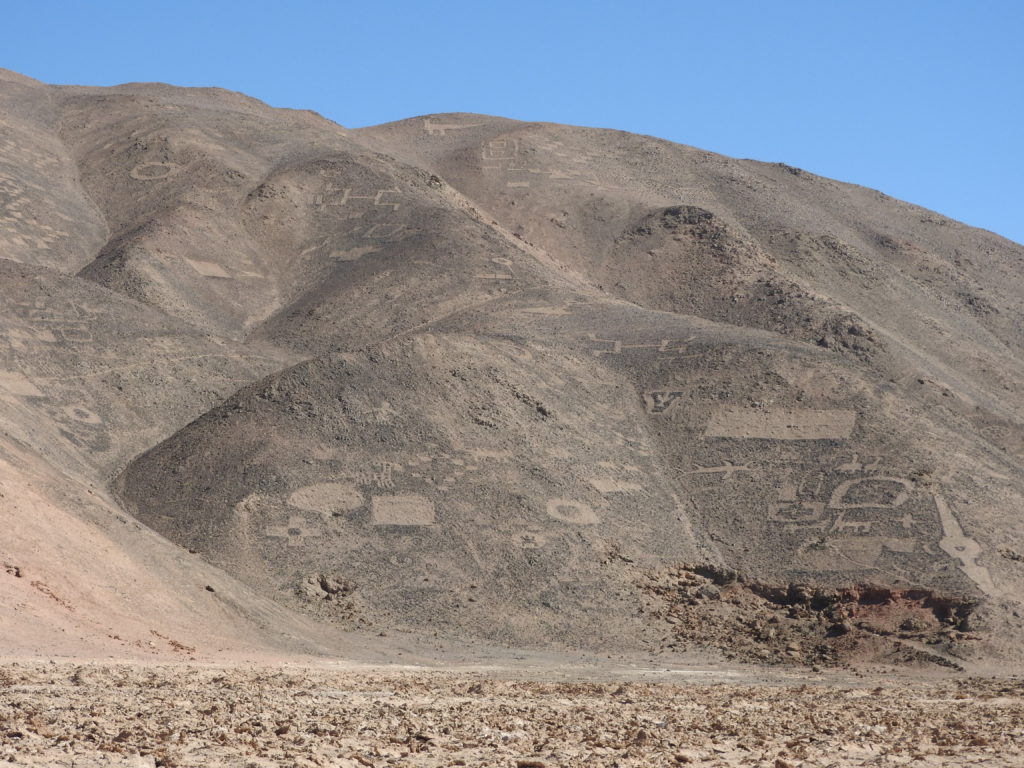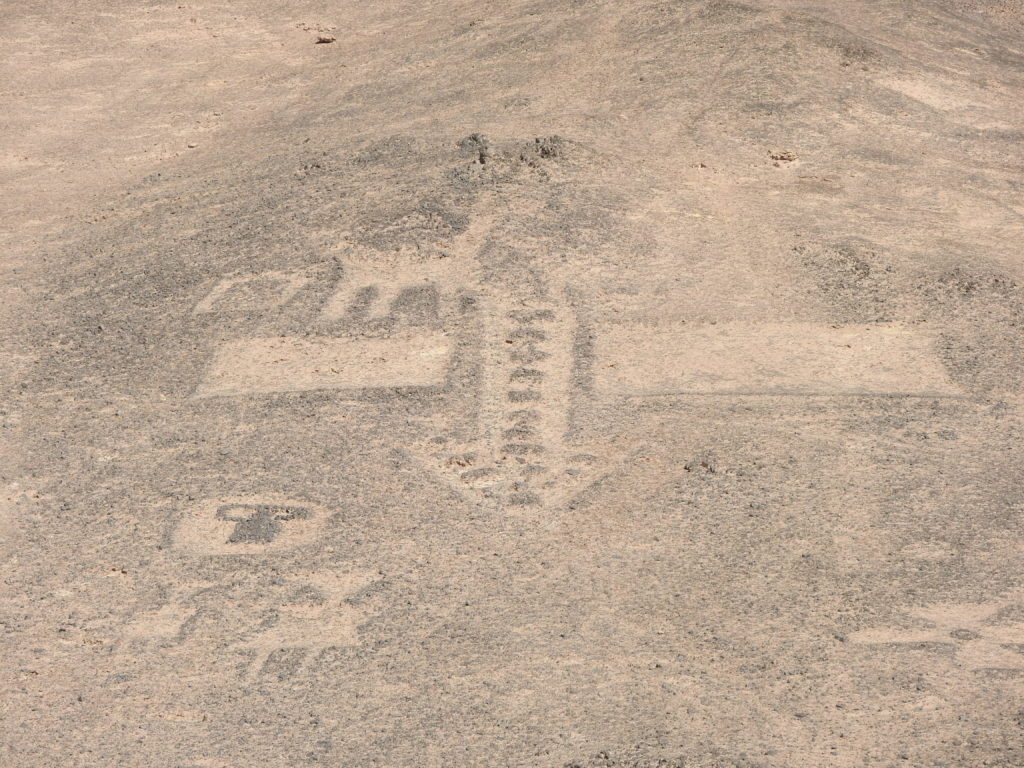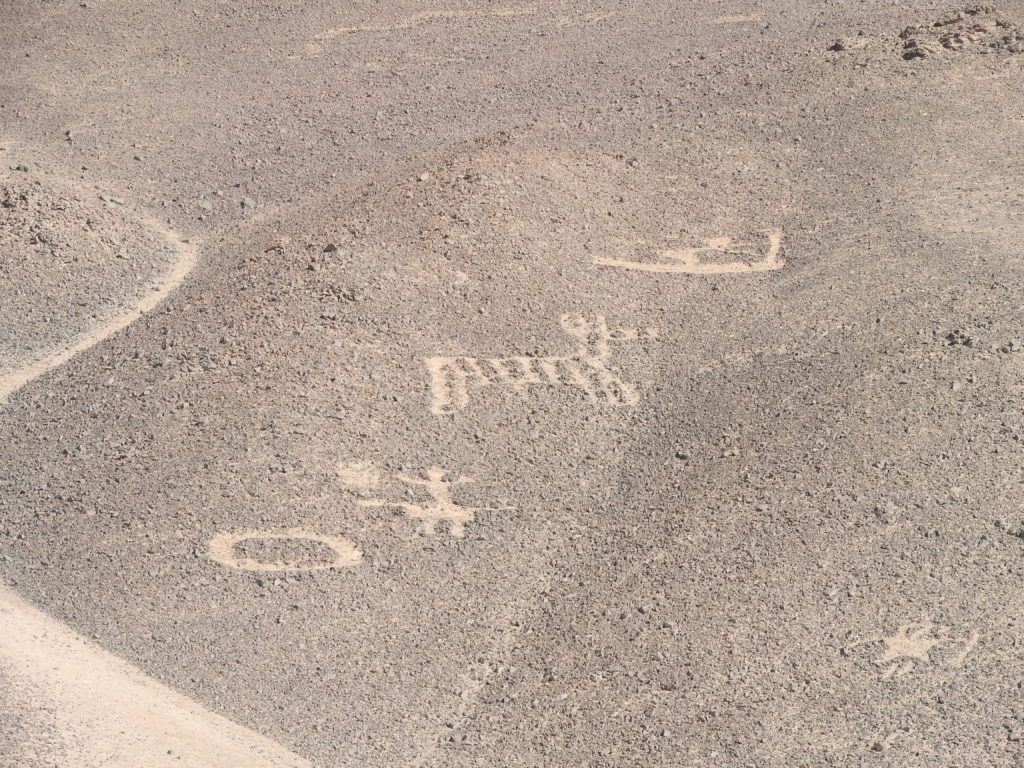 After the geoglyphs, we were off again. There was a brief stop to look at a church in Matilla, which is just outside the town of Pica, and then it was time for lunch in Pica (a rather late lunch at around 3pm…!)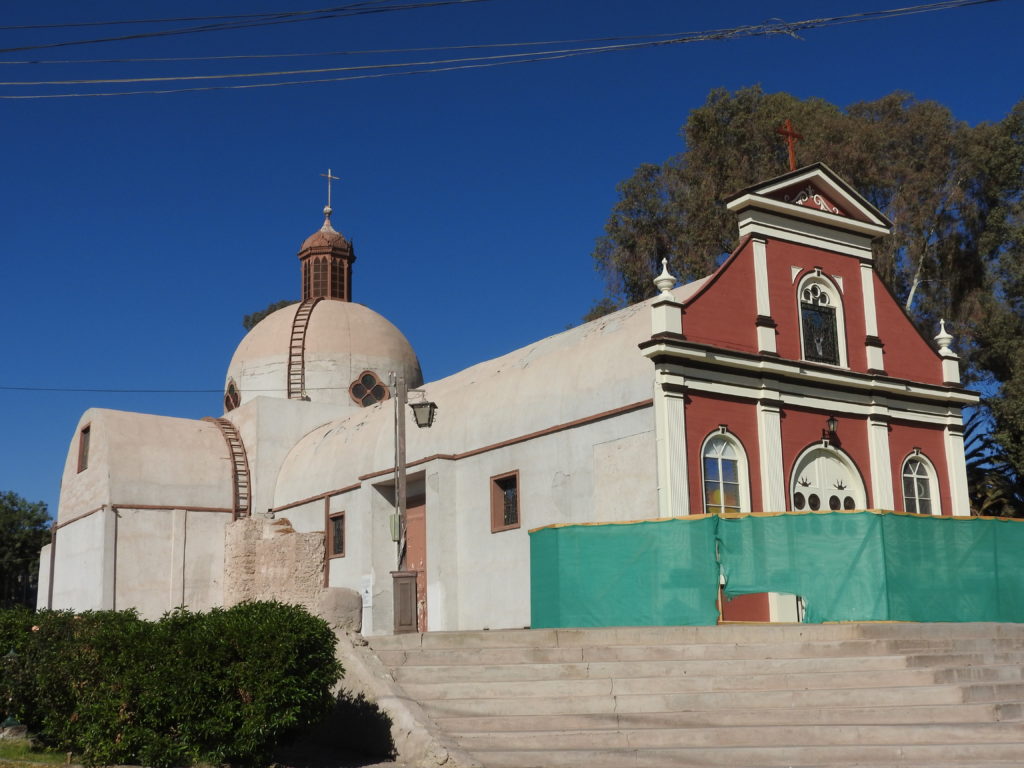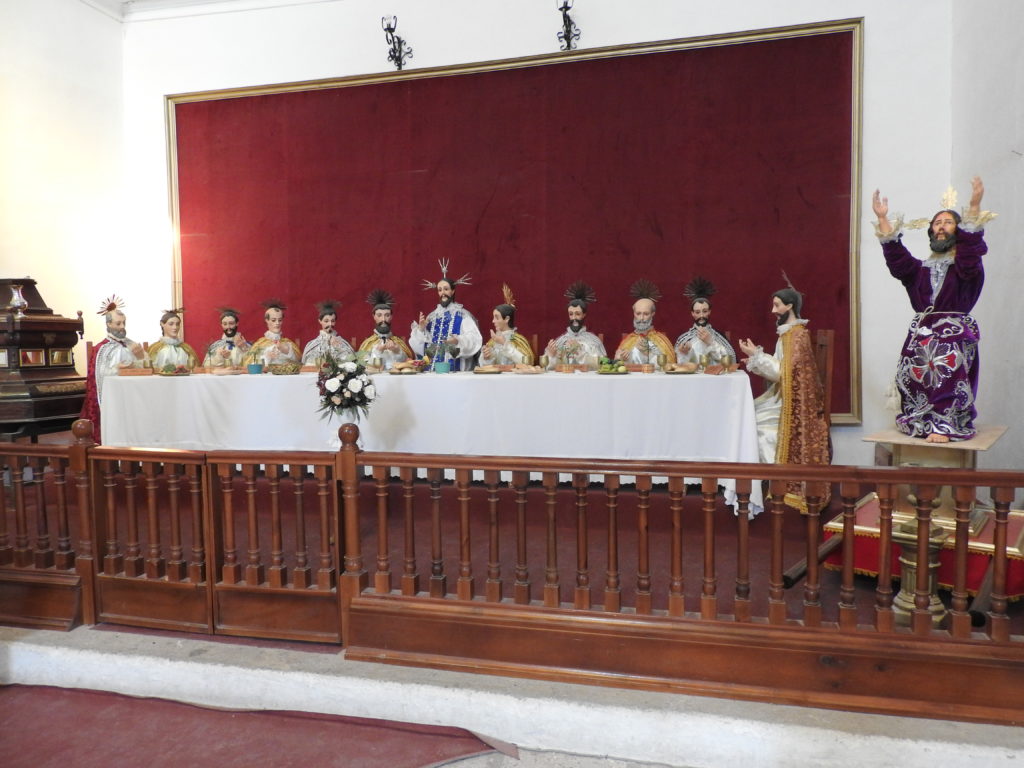 Lunch was provided in a restaurant as part of the tour, and was pretty good – but there was an unexpected intrusion attempt…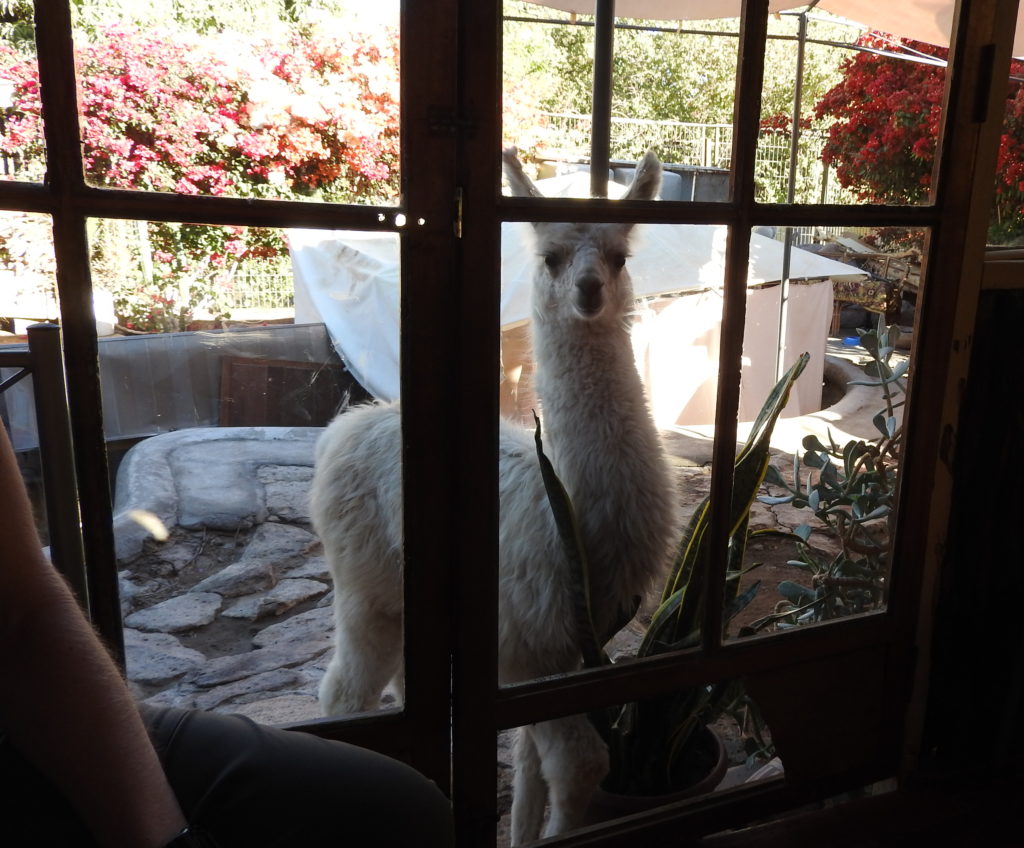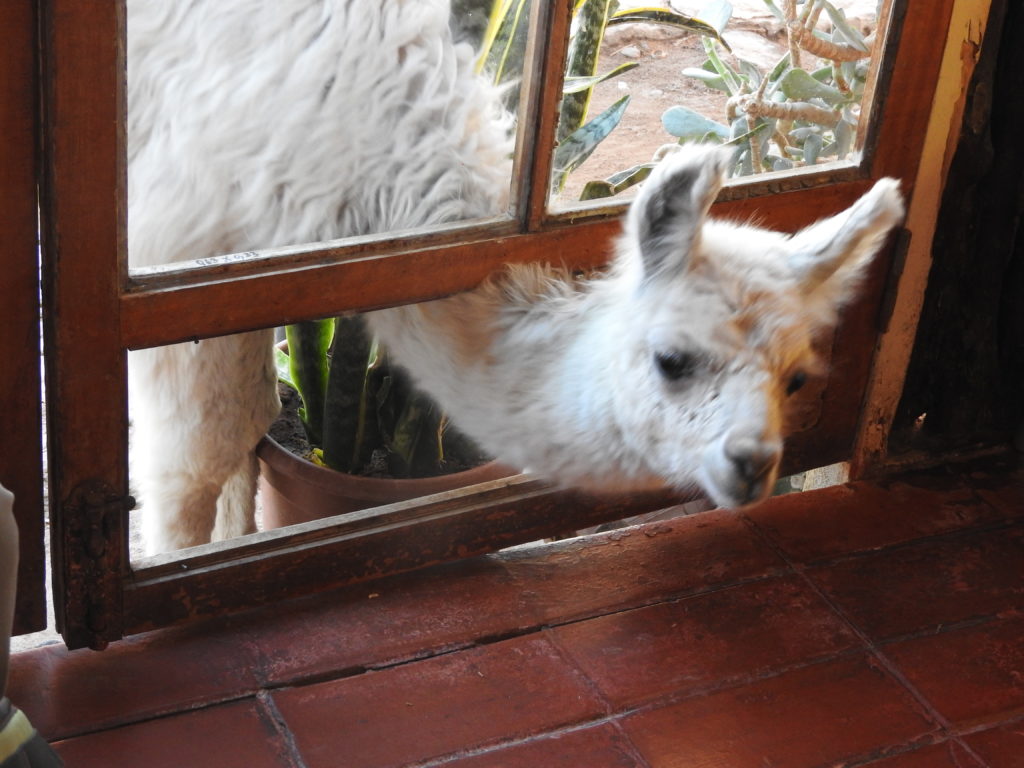 After lunch, there was time to have a look around Pica. Pica is an 'oasis' town in the Atacama desert – e.g. it is surrounded by desert – and it is famous for growing lemons, and for its hot springs. There was an option to go in the hot springs or to have a stroll around the town – yes, you guessed correctly – we went for a stroll around town – these days we are professional hot springs avoiders…!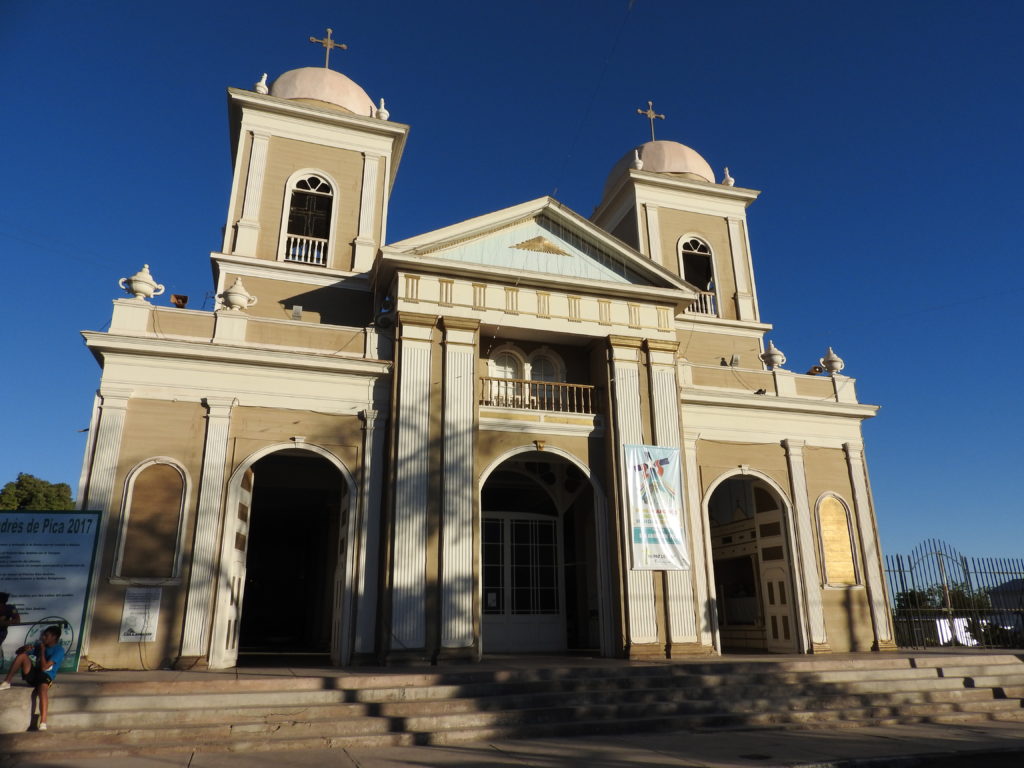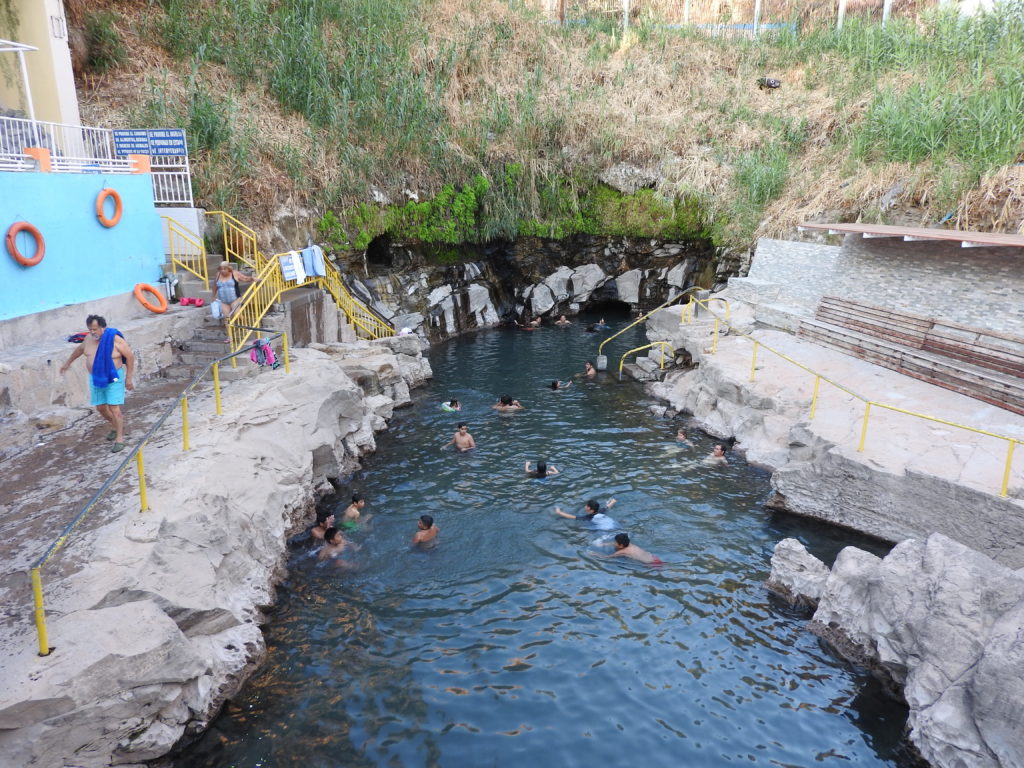 After Pica, there was one more stop on the way back to Iquique. The tour was running somewhat late by now, and being winter there wasn't that much daylight left. So our last stop, to a church in the town of La Tirana, was in the dark!  It was still a nice place to visit though.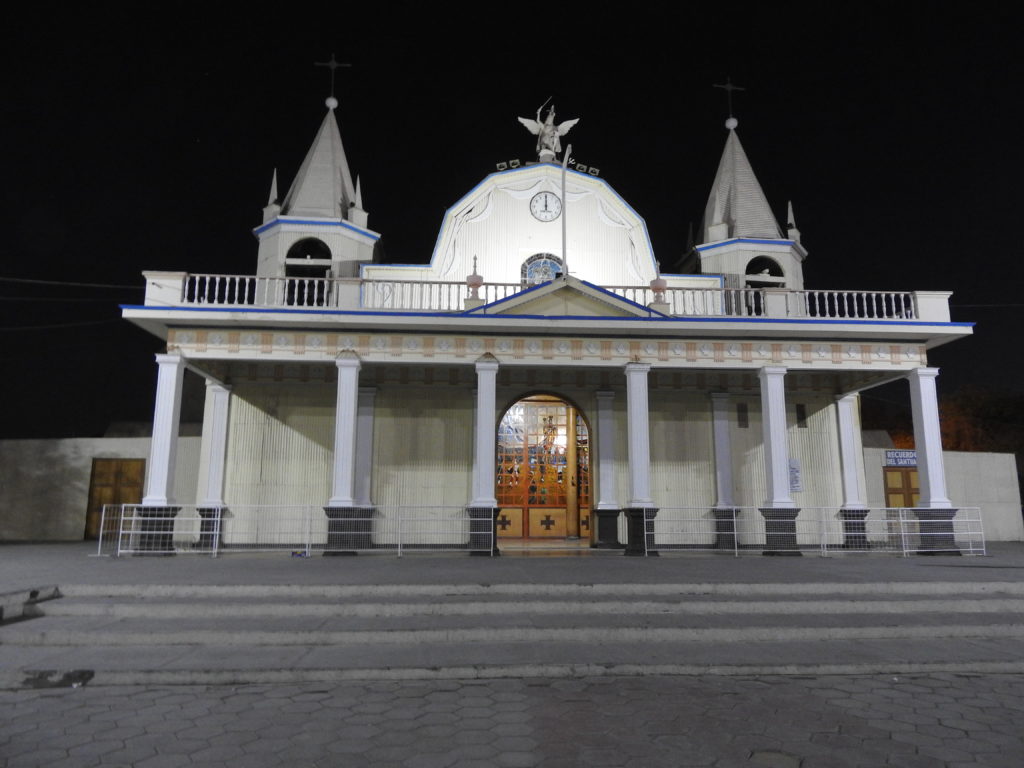 We got back to Iquique at around 7.30pm – after a very long, but satisfying day.