The conclusion of the Mate journey….
You may remember that earlier on in the trip we went on a 'Journey of Mate', which came to its conclusion in Paraguay – the historical home of Mate – with a visit to a Mate factory and the purchase of some Mate drinking equipment. Well it turned out that that wasn't really the end of the Mate journey. After we crossed into Brazil, the Mate journey was on hold for a little while – but not over…
Mate is drunk in southern Brazil, but it's not as prevalent as in Argentina and Paraguay. So although we did drink Mate, we could only drink it in places where we had access to a kettle – as we didn't have a thermos that we could get filled with hot water. So we were only sporadic consumers of Mate in Brazil. However, once we crossed into Uruguay, things changed dramatically….
My conclusion, which may be controversial, is that Uruguay is the TRUE home of Mate, and this is for several reasons:
– in Uruguay it is not possible to spend a day without seeing somebody drinking Mate. In Paraguay and Argentina it's fairly common, but you could go about your normal business during the day and not see anyone with Mate. However in Uruguay, even if you stayed in the house all day you would have to avoid looking out of the window as you would be bound to see someone with Mate in the street. You would also have to avoid watching TV, as even on news programs you might see the presenter or interviewee with Mate – during panel discussion programs people are sitting there with Mate in front of them, as well as the usual glasses of water.
This mural sums up what Uruguayans think about Mate…. It says 'Yesterday, Today, and Forever'. This mural was done by school children and was on a school wall! That's dedication to Mate! 🙂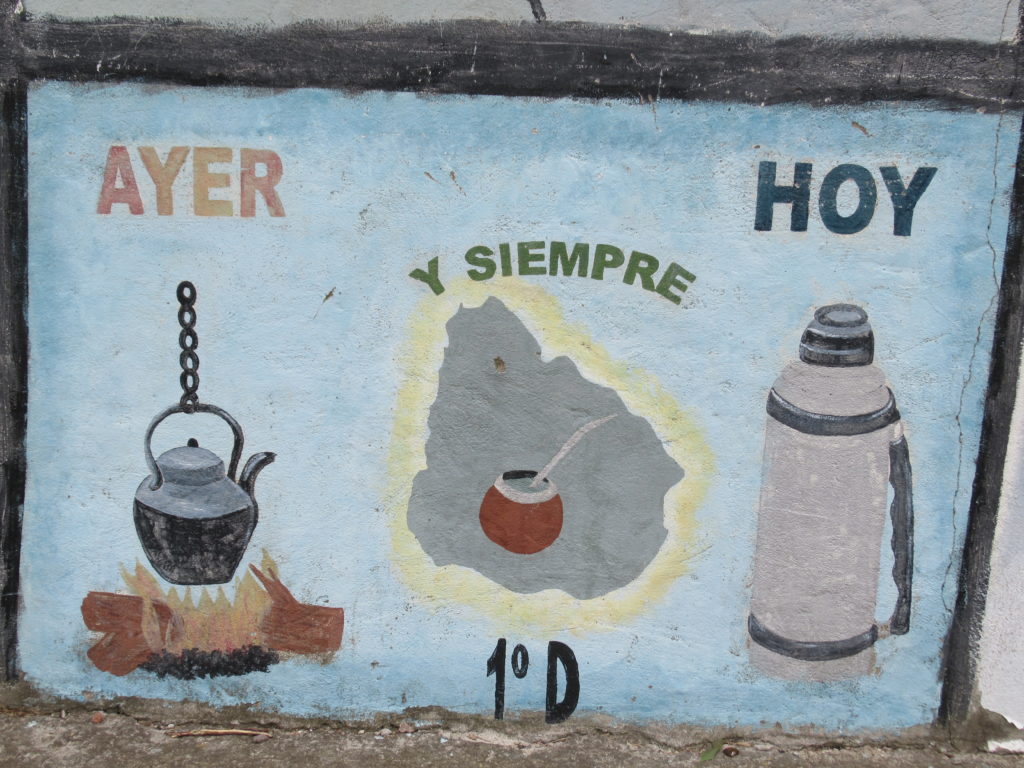 – In Uruguay, Mate is so important that you HAVE TO CARRY IT WITH YOU EVERWHERE YOU GO! And you also have to be able to drink it while you are walking down the street. YES – Uruguayans can drink Mate while they are walking along. There is a special way that you have to carry your Mate when you are walking along the street, which is with the thermos under the same arm as the Mate container, so you have one arm free. Here are some pictures of the official carrying style, and street-drinking activity: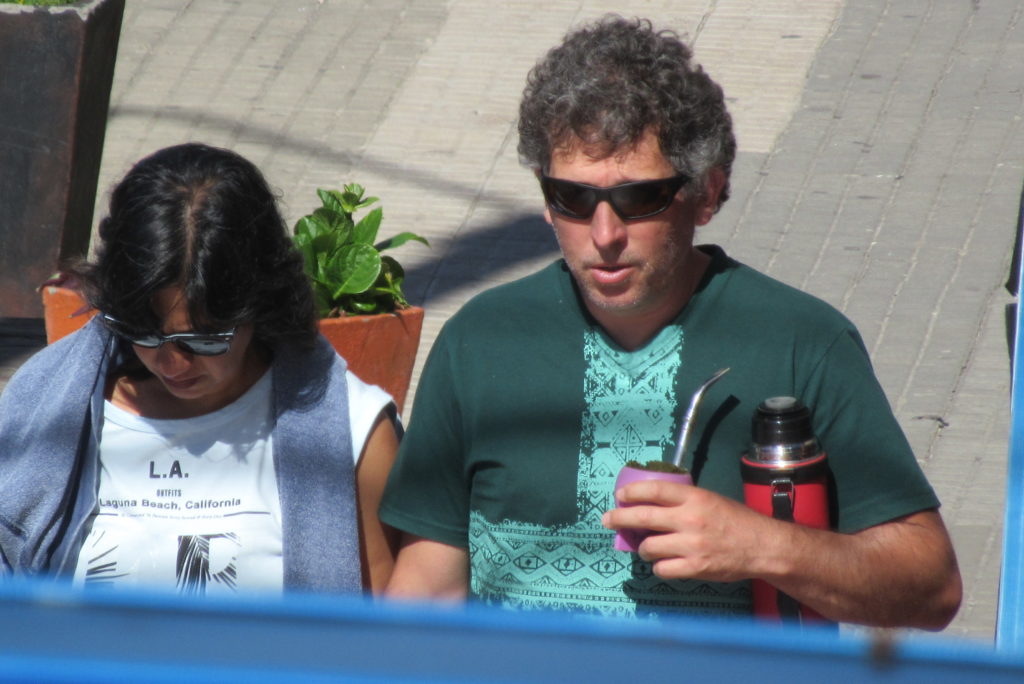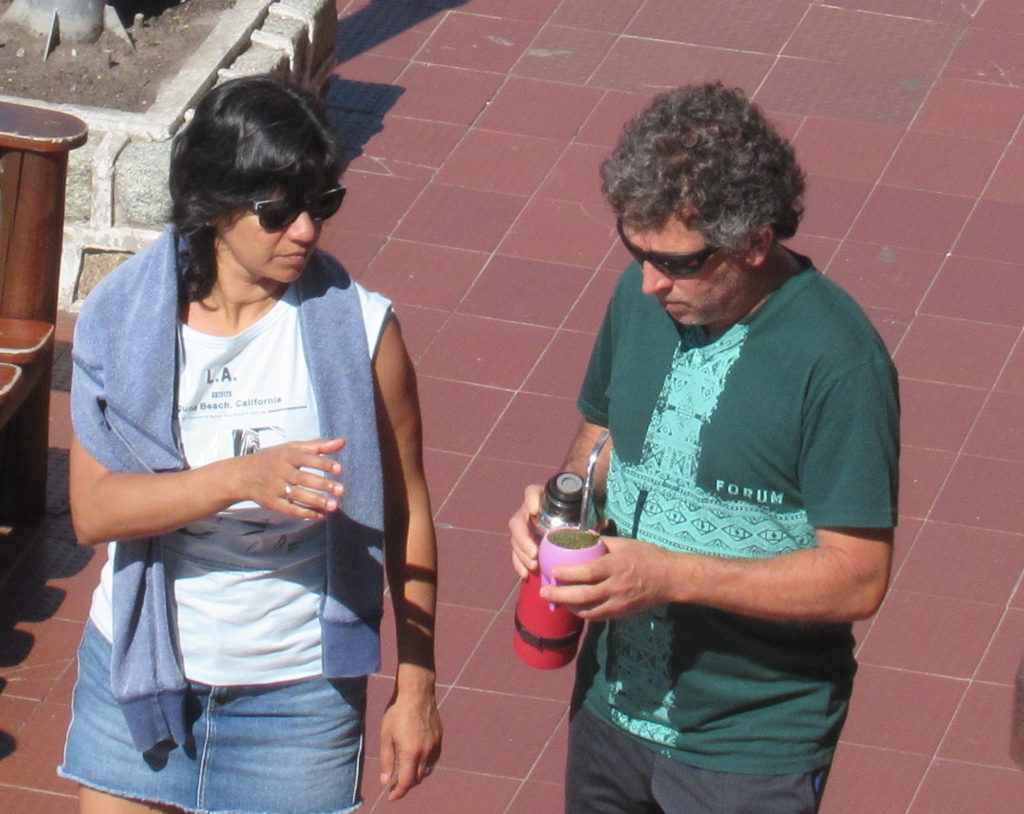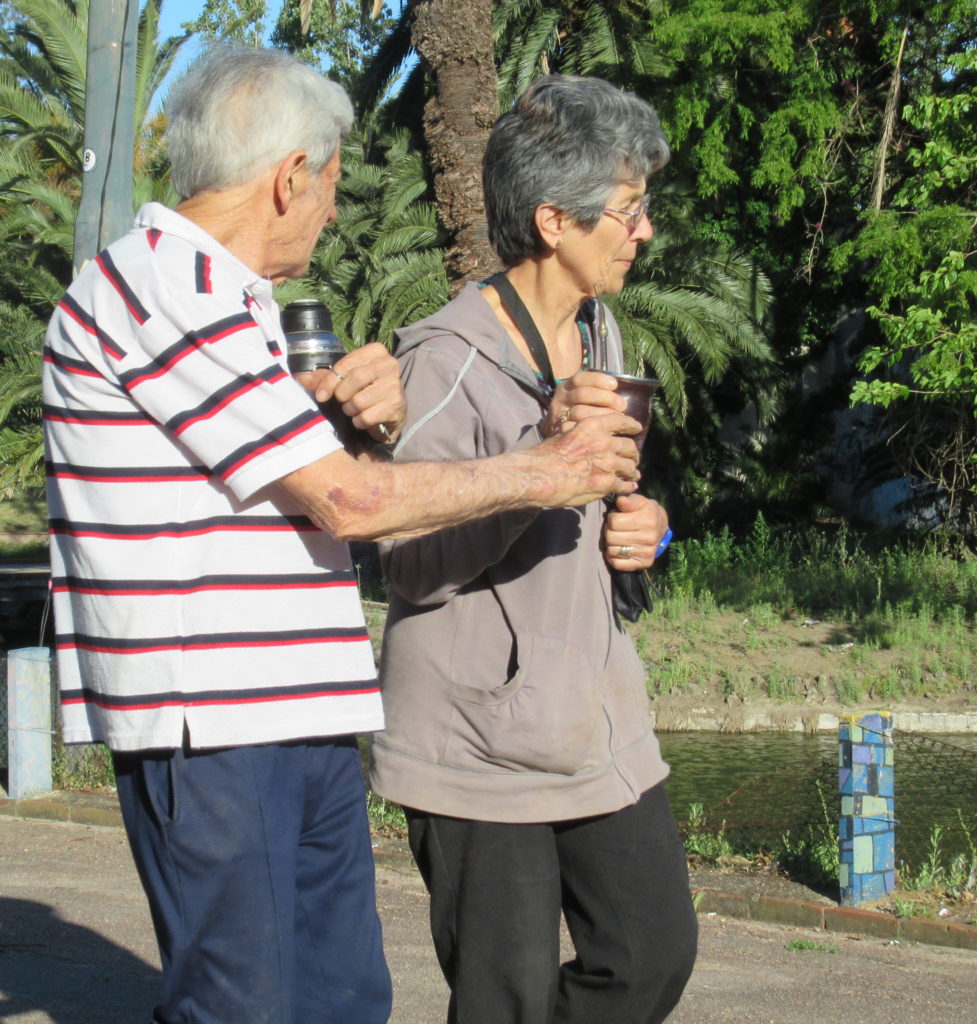 – And the most controversial conclusion of all (probably not controversial to Uruguayans…) is that the Mate in Uruguay simply tastes better! Yes, we bought some Uruguayan Mate and it tasted better than the stuff from Paraguay. After we left Uruguay and went to Argentina, we bought some Argentinian Mate, and it also wasn't as good in our view.
This is some Mate from Uruguay – it is delicious 🙂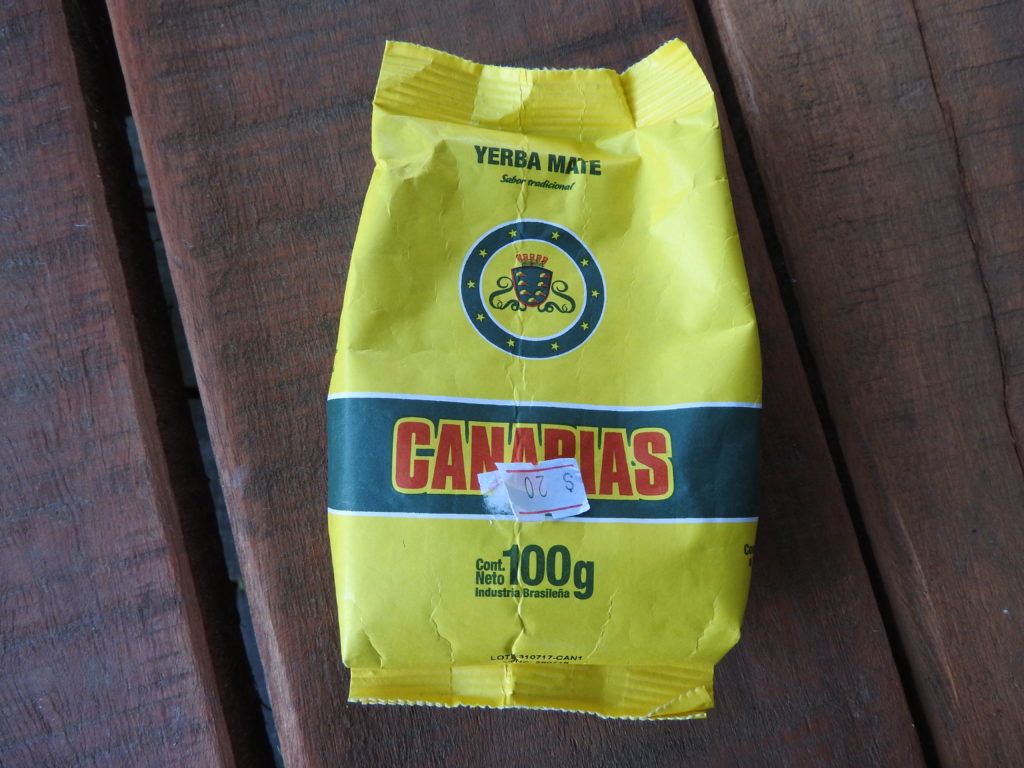 This is some Mate from Argentina – it's not really as good…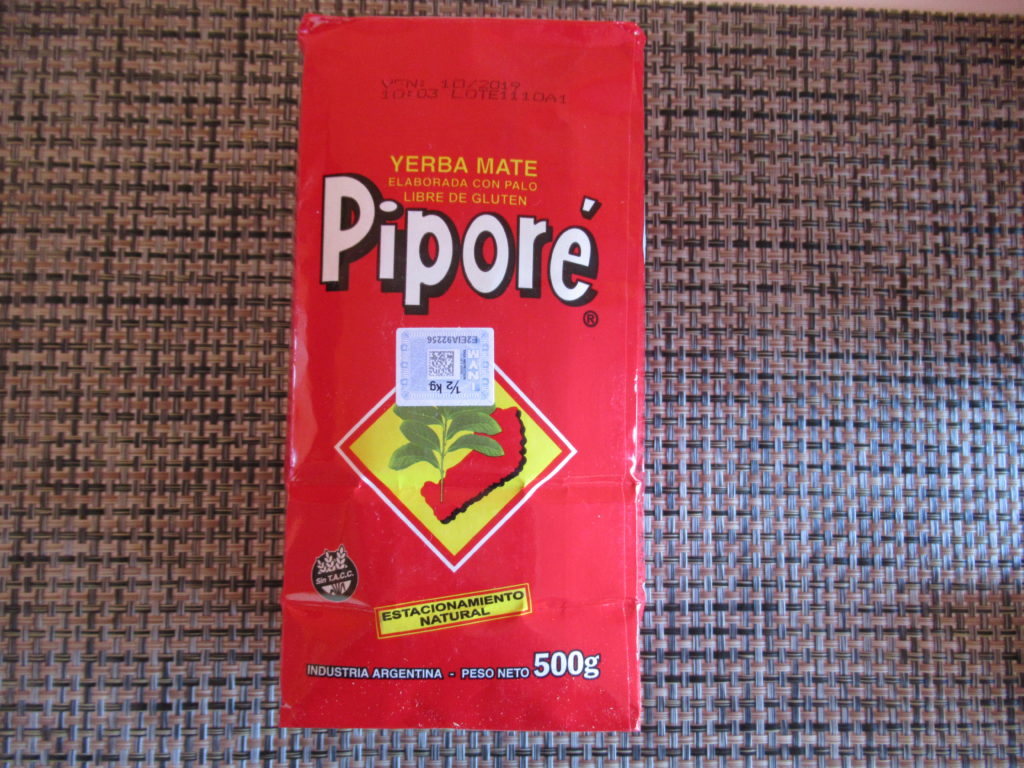 So of course, surrounded by all this Mate drinking it was only a matter of time before we had to purchase a thermos. This has 3 main benefits:
1) The water stays at a constant temparature, which gives the best flavour
2) You can fill it up and then go and drink Mate wherever you like! 🙂
3) Most hotels will fill it for you, so you can have Mate even when you don't have access to a kettle.
Check out our lovely thermos: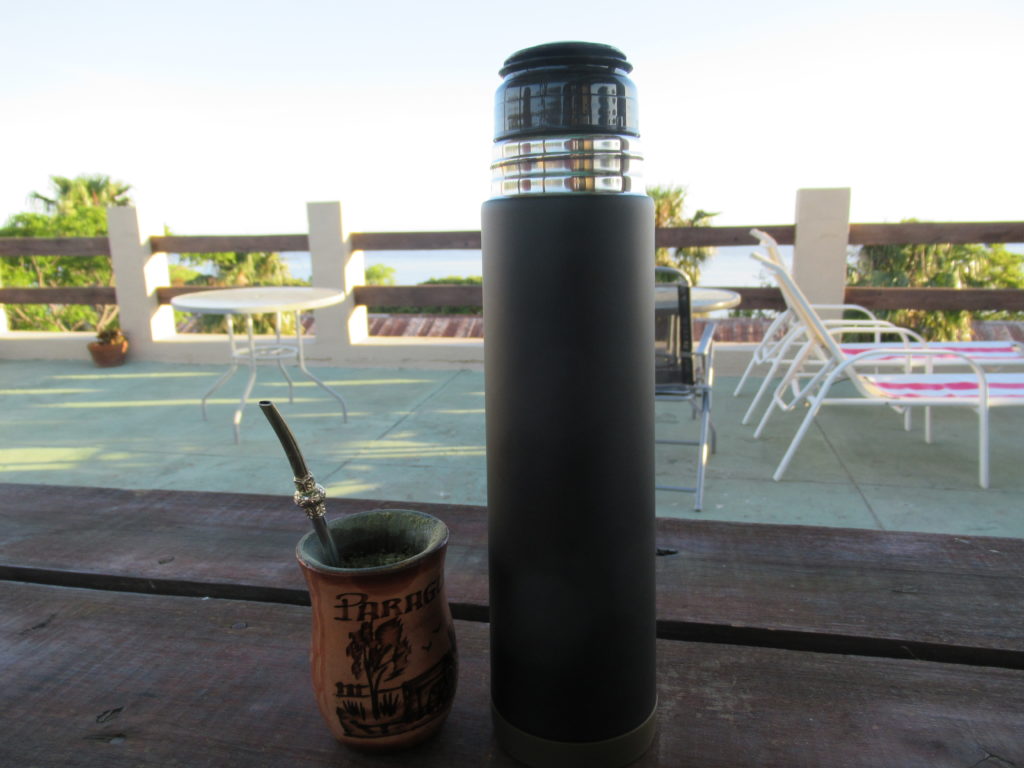 We also knew that if we were carrying it in the street, we would need to carry it properly in order not to get funny looks from all around us. It was bad enough that our Mate container said 'PARAGUAY' across it, but we managed to conceal this as we carried it so that nobody was too offended.. 🙂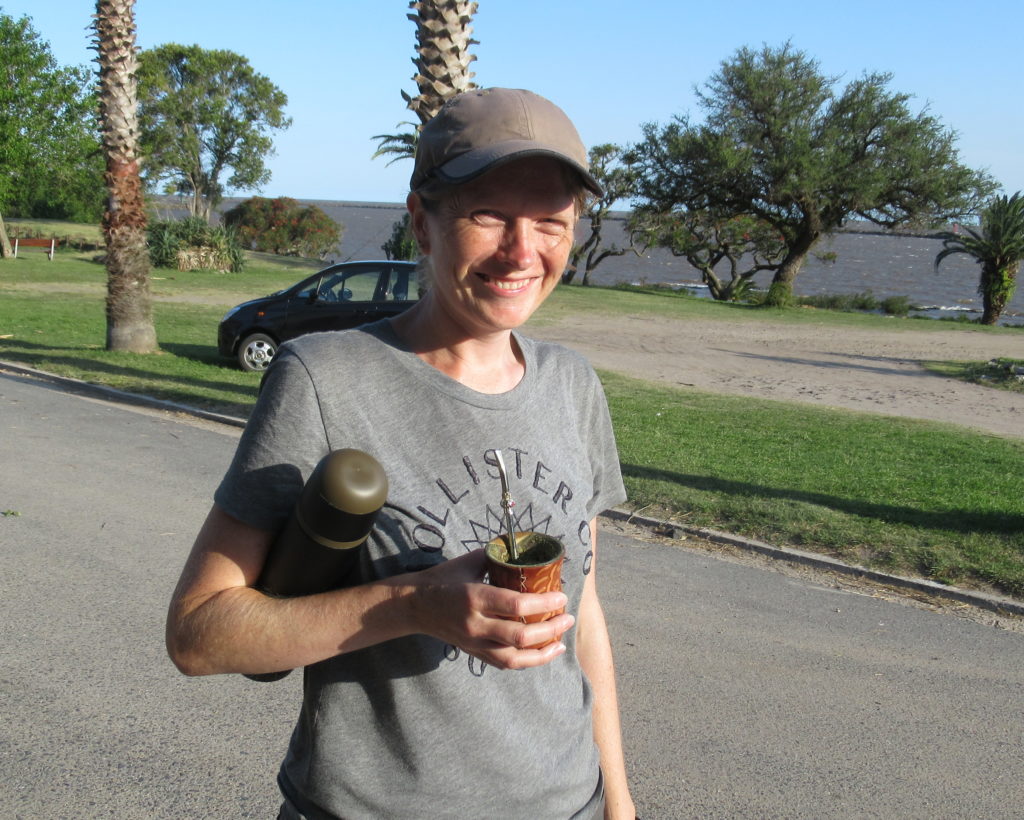 Now that we had our thermos we could drink Mate wherever we wanted, including at historic ruins…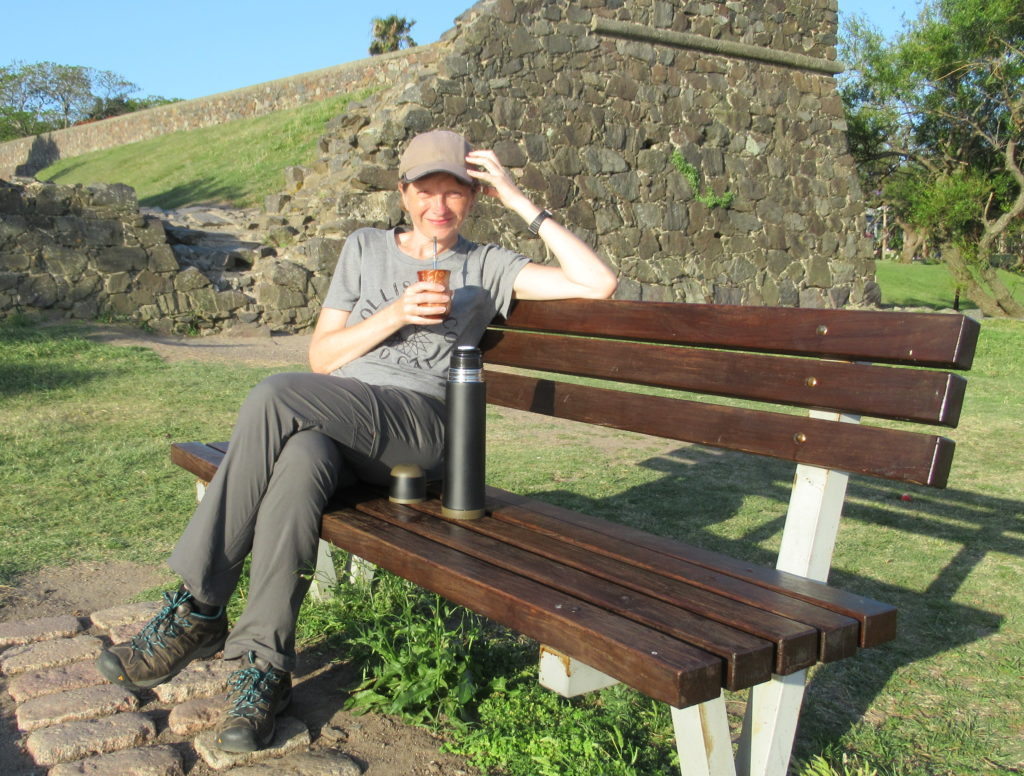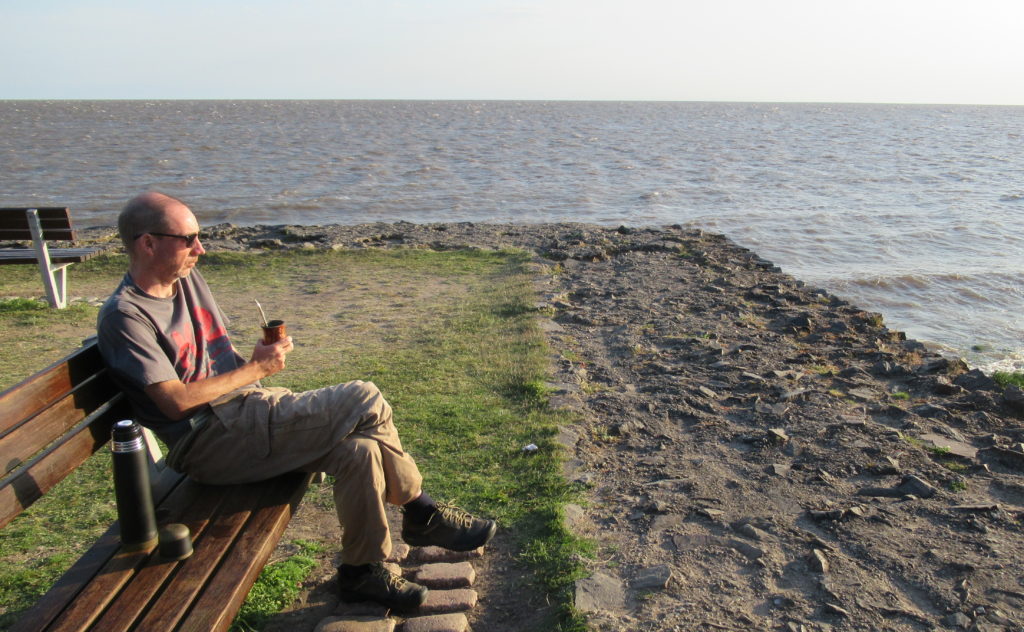 and CC can even drink Mate while cooking! 🙂 (PB can't because he's no good at multi-tasking…)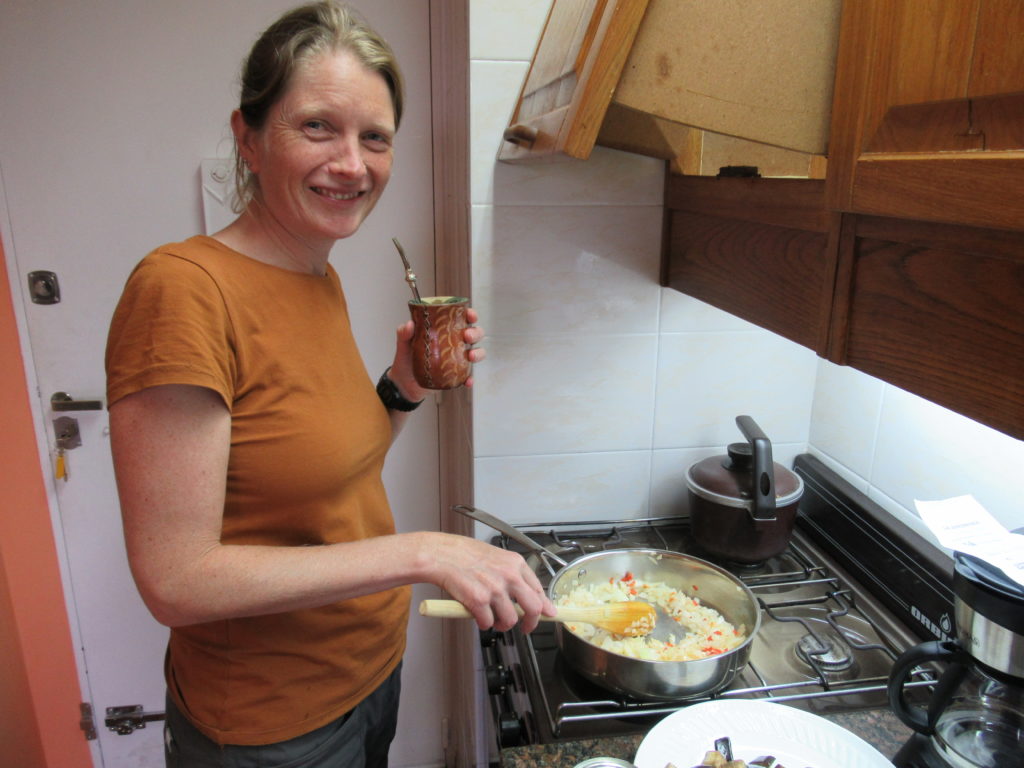 So….. our Mate journey TRULY was COMPLETE – we knew that Uruguay was the TRUE home of Mate, and we looked forward to many days of Mate consumption in the future….