'Brazil?' I hear you saying, 'that was a long time ago…' – well, yes the custom is to write the food blog posts around 2 months after leaving the country in order to have had time to fully savour the nuances of the cuisine…. yeah right..  now I have to try and remember what it tasted like – fortunately we have pics to remind me…
So, let me start by saying that on the whole it was a great place for food. Not so much because of the interesting flavours or regional specialities, but because food options were always easy to find, always had some reasonably healthy options if required, and were generally good value. On long bus journeys there was ALWAYS a 30 minute stop to get off and have a sit-down lunch, as opposed to Argentina where everyone seems to enjoy 9 hours on a bus eating crisps and chocolate without getting off once…yes, the Argentina food blog post is still to come….
So, we already know how exciting and good the Brazilian breakfast is from a previous post, and we already know about Acai and good cakes.. so what is left?
Well, the main joy of food in Brazil is the buffets. These are mainly for lunch, but sometimes open for dinner, and come in two main varieties:
– all you can eat for a fixed price
– pay per kilogram
They also often have different pricing for meat or non-meat, and sometimes the 'non-meat' buffet actually has quite a bit of meat available… but not REAL meat – eg. not juicy steaks etc, but things like meatballs and chicken, which I guess is less expensive than the prime cuts of meat which they do in Argentinian/Uruguayan asado style (don't tell the Brazilians I wrote that – the south of Brazil has it's own slightly different Asado culture)
The range of items, quality, and price of the buffets on offer varied a lot across the country – but you could always get salad items, beans (including feijoada – the Brazilian national dish), and rice. This meant that CC the non-meat liker always got something to eat, and so had a happy face 🙂 during Brazil lunchtimes as Panchos were off the menu, and salad and beans were on it!
There was often fish as well, and sometimes there was a huge variety of assorted items, including chips, manioc, cooked veggies, and battered aubergines. We ate nearly every lunch in Brazil at one of these buffet type places – it was great! 🙂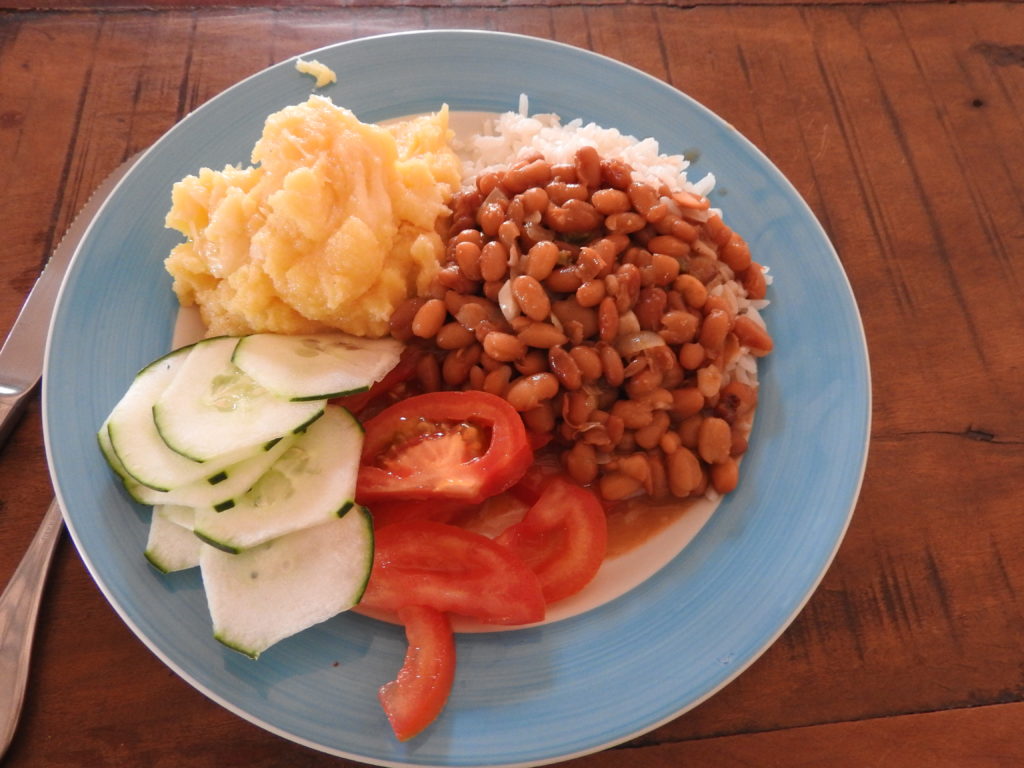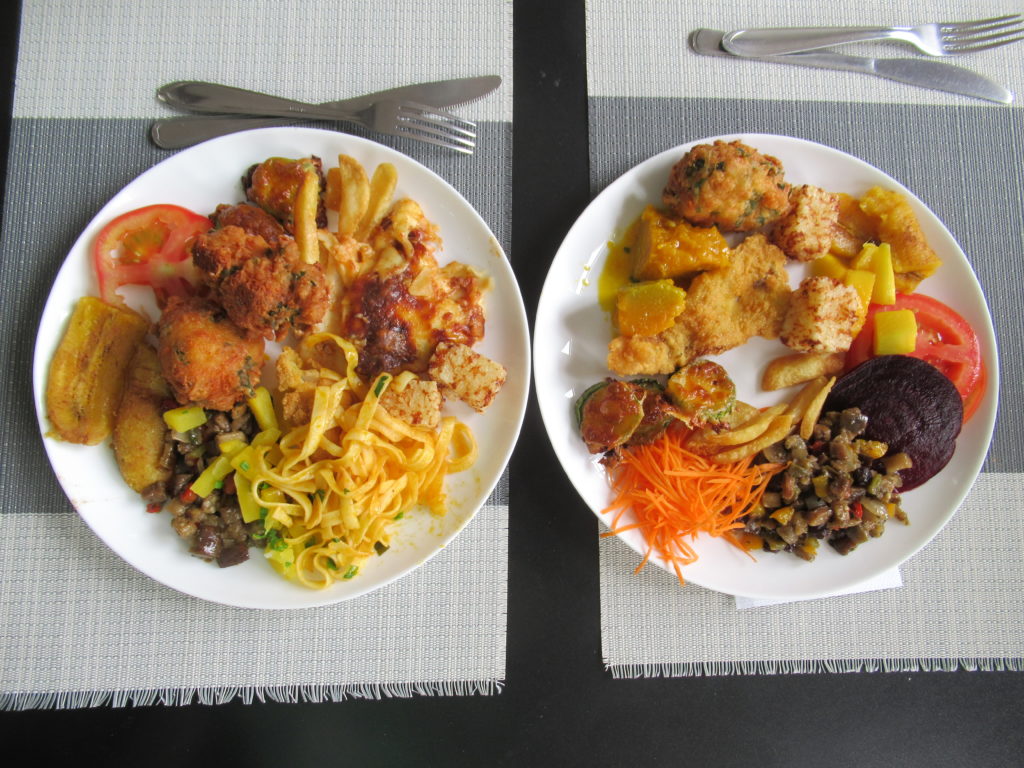 You could generally identify the locations of buffets by looking through the window and seeing all the food inside – but they were also often to be found in large supermarkets.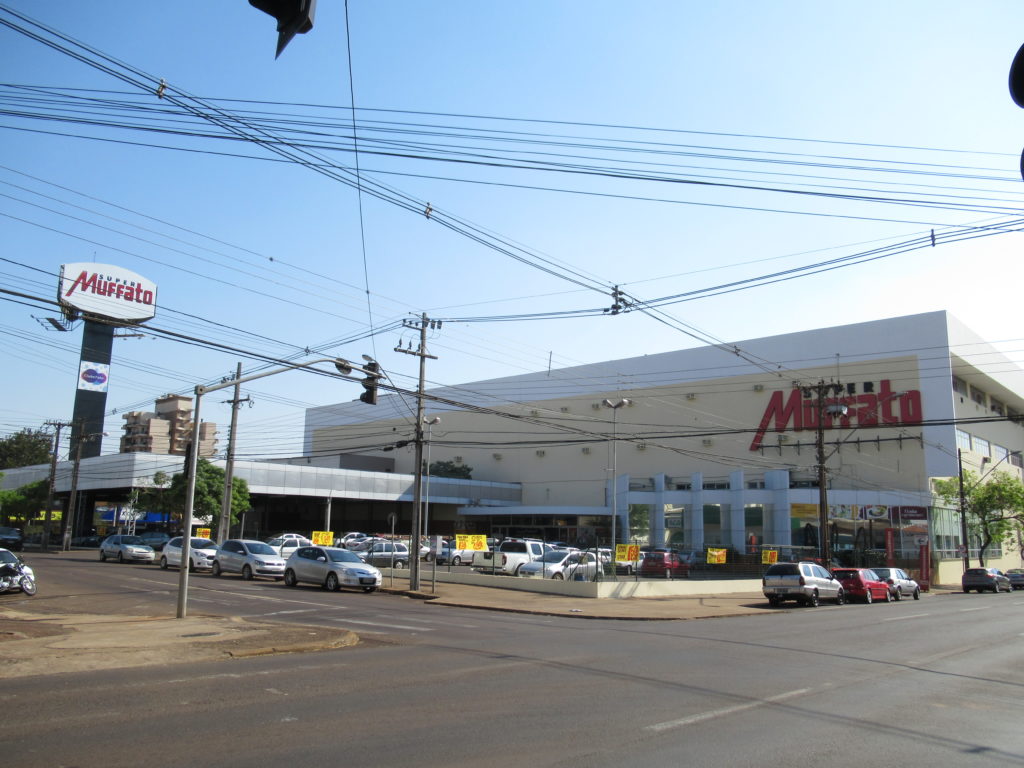 Generally speaking, the bus lunch stops were at buffet restaurants – but occasionally you had to make do with 'fast food'. This was usually empanadas, pastries, chips, and anything deep-fried – but a special mention should go to Coxhinas, which are available everywhere and are made from chicken and supposedly look like a chicken leg… yeah, perhaps a mutant chicken leg… but what's inside only just tastes like chicken, so fair enough (even CC can eat it, so it must taste nothing like chicken…….!)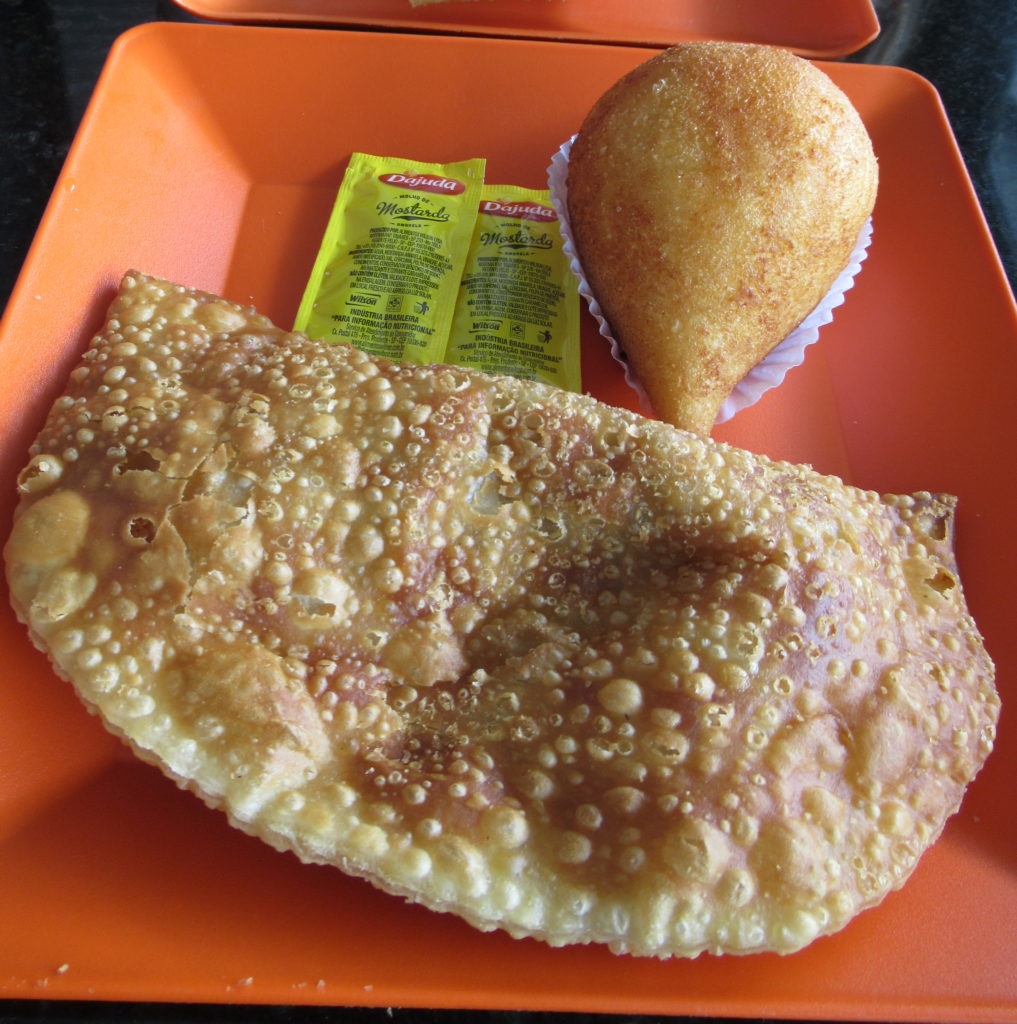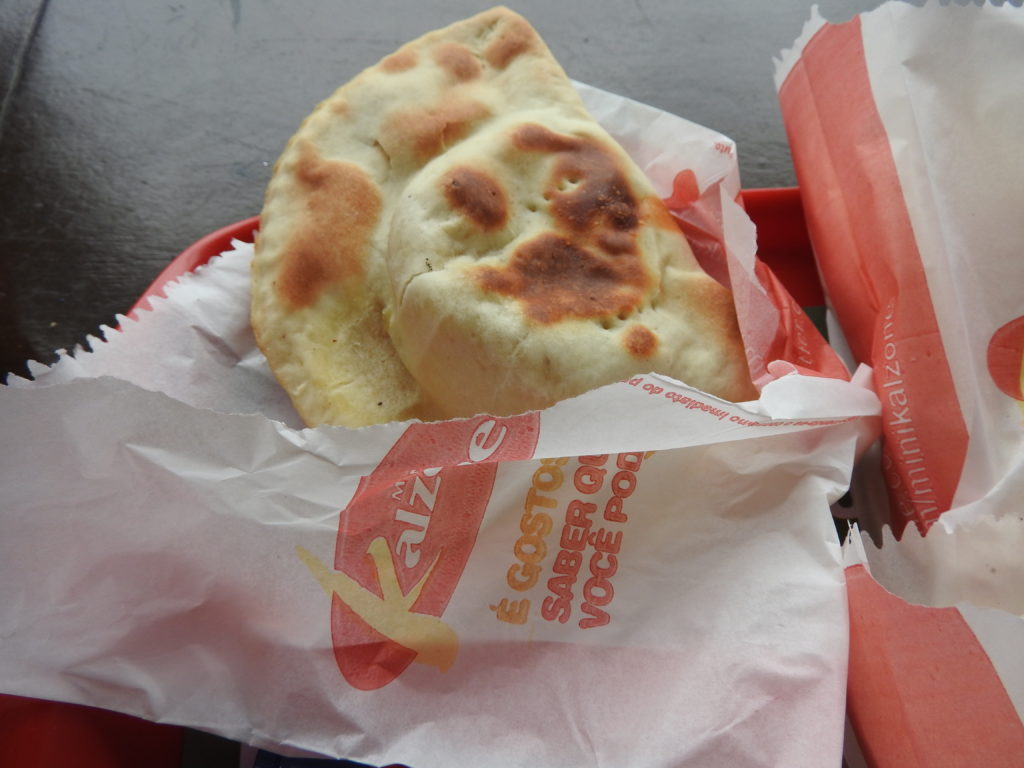 Moving on to snacks – we come to Pão de queijo which are absolutely everywhere in Brazil. At first we were excited, because we thought they might be as good as Chipas from Paraguay, but they turned out to be around 30% as good. We still ate them quite a lot, but we performed a special ceremony lamenting the loss of Chipas each time we had them. This involved saying 'Not as good as Chipas' repeatedly whilst eating.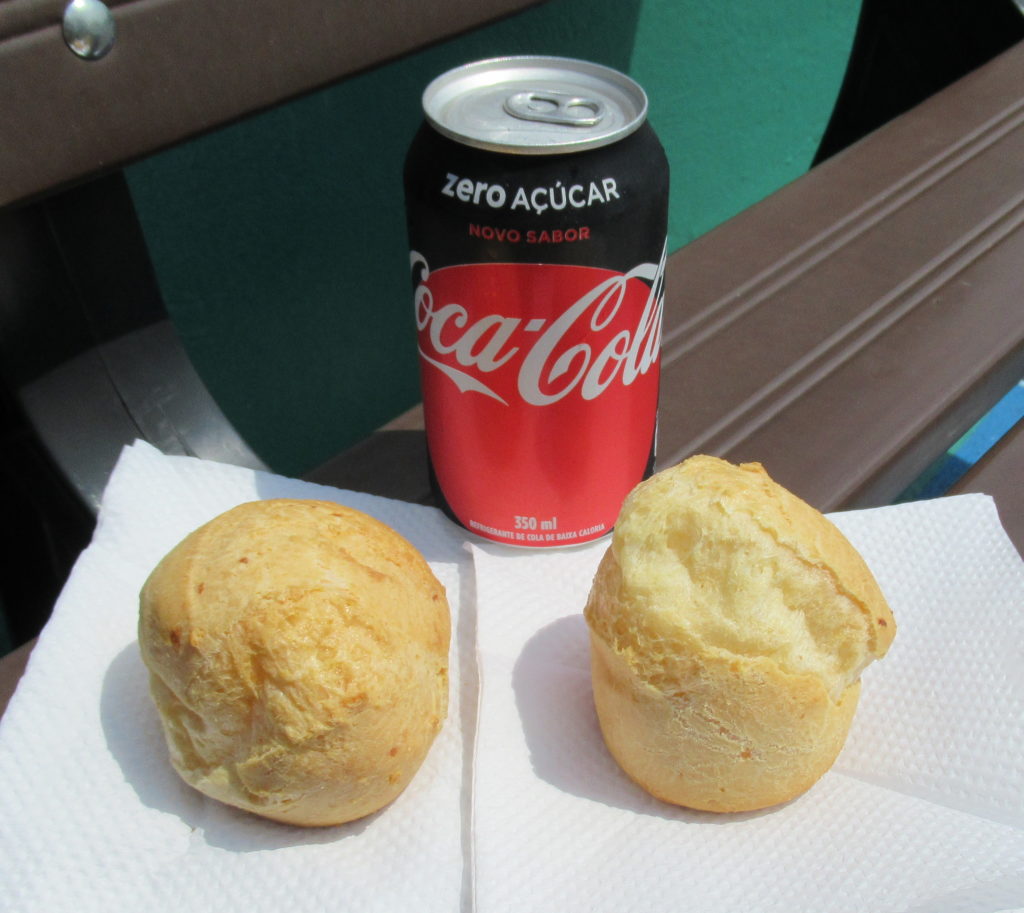 Although not as good as Chipas, Pão de queijo were a decent enough snack compared to some. For example – things that diguise themselves as onion-ring type crisps, but are actually made of some weird stuff called Polvilho.They are in all the supermarkets, and loads of people eat them – but to us they just tasted 'strange'.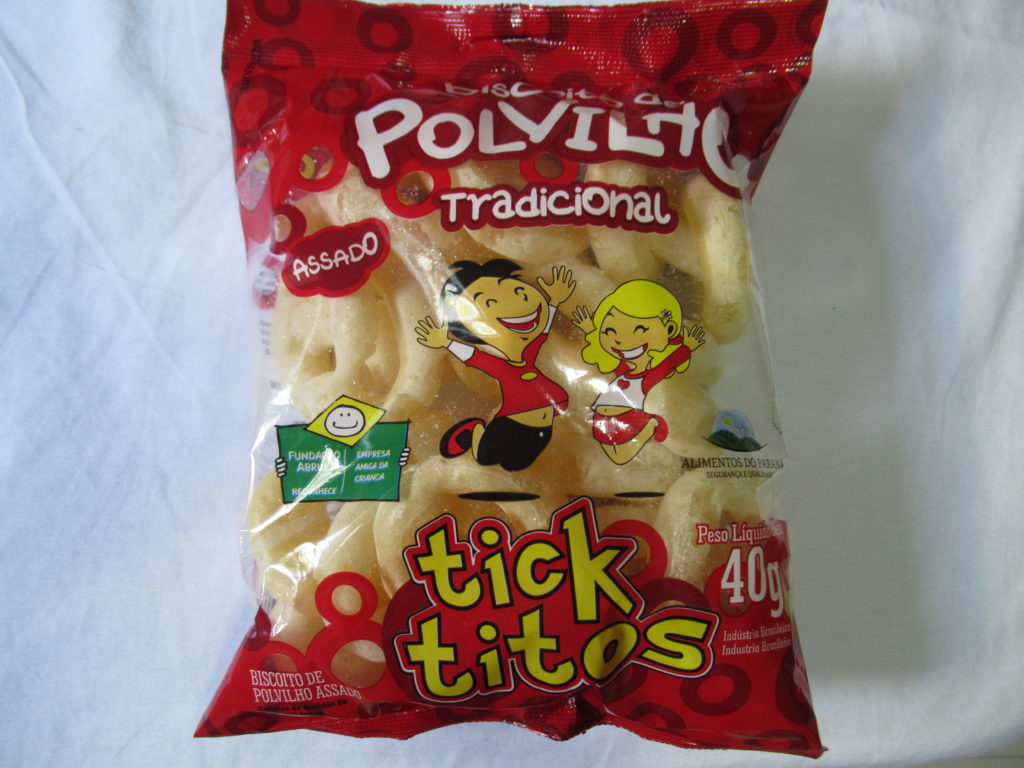 Other snacks were a bit hit and miss…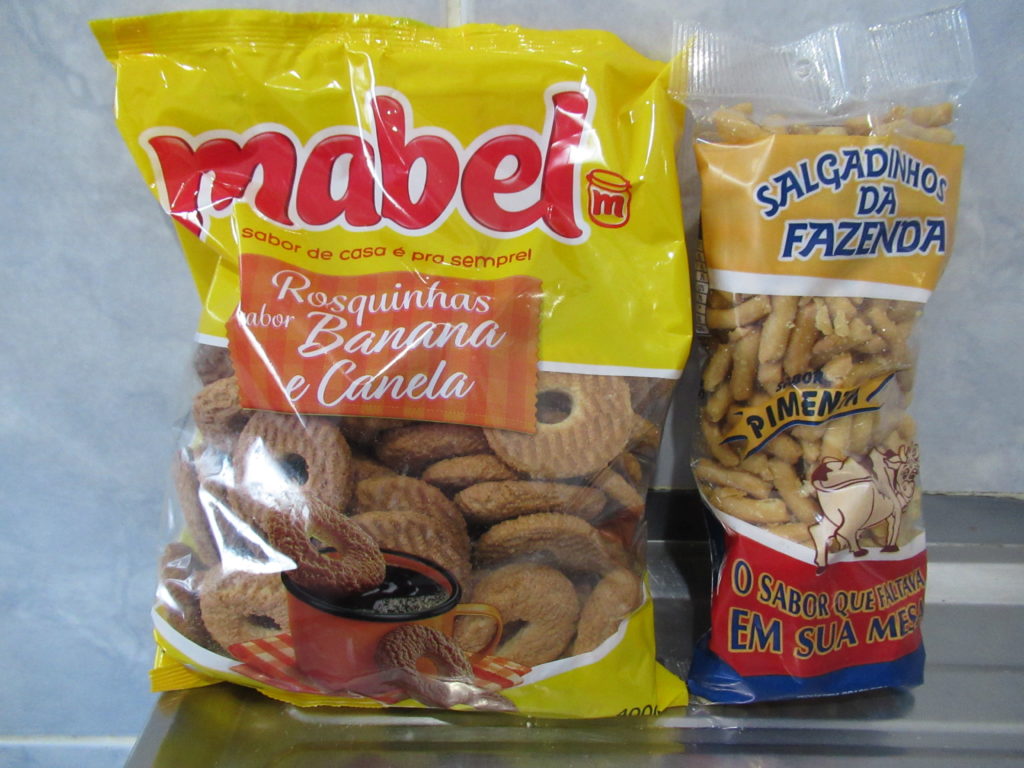 Baked goods were generally pretty good, and we ate things from bakeries and supermarket bakery sections whenever time was short and/or buffets were not present.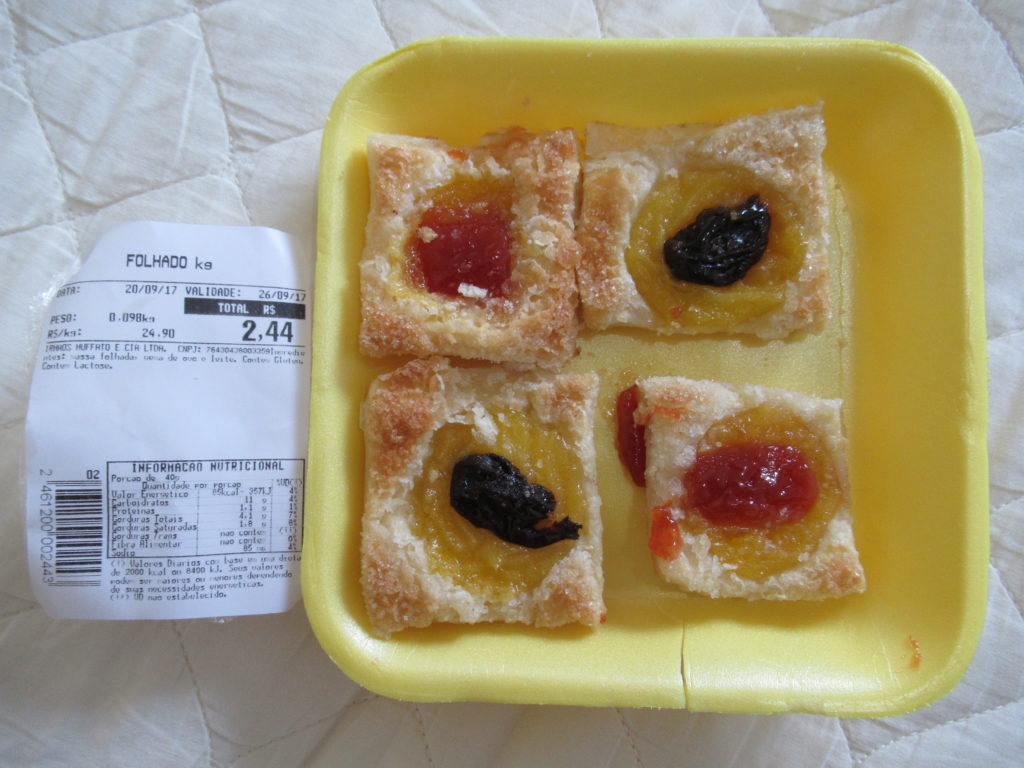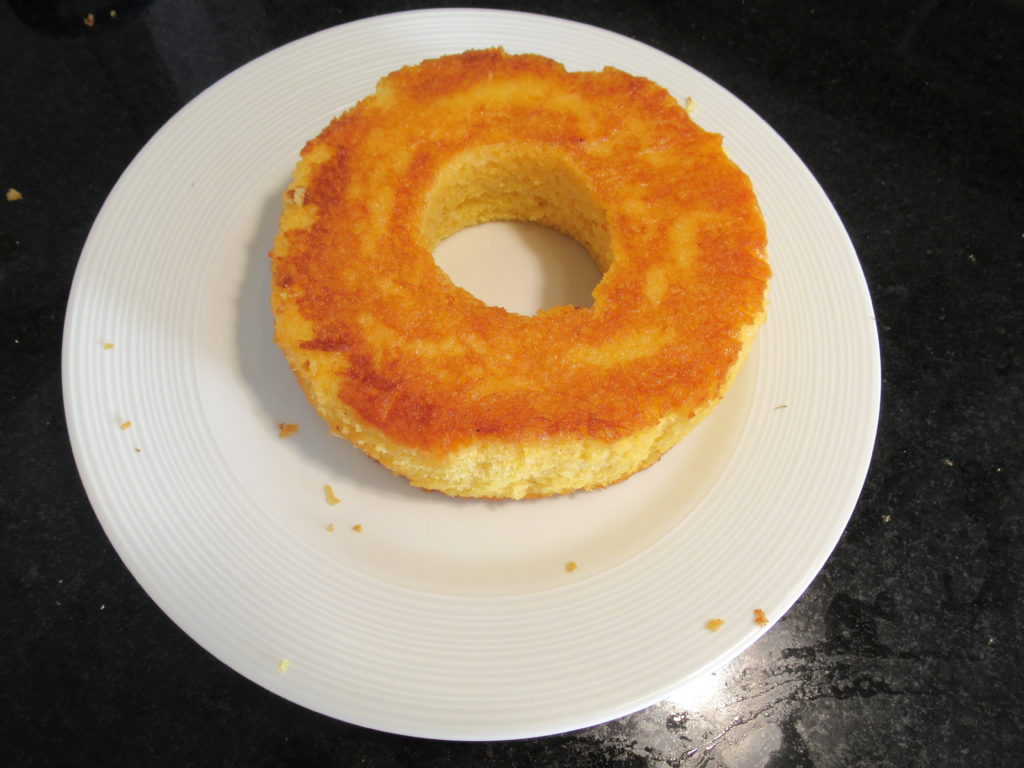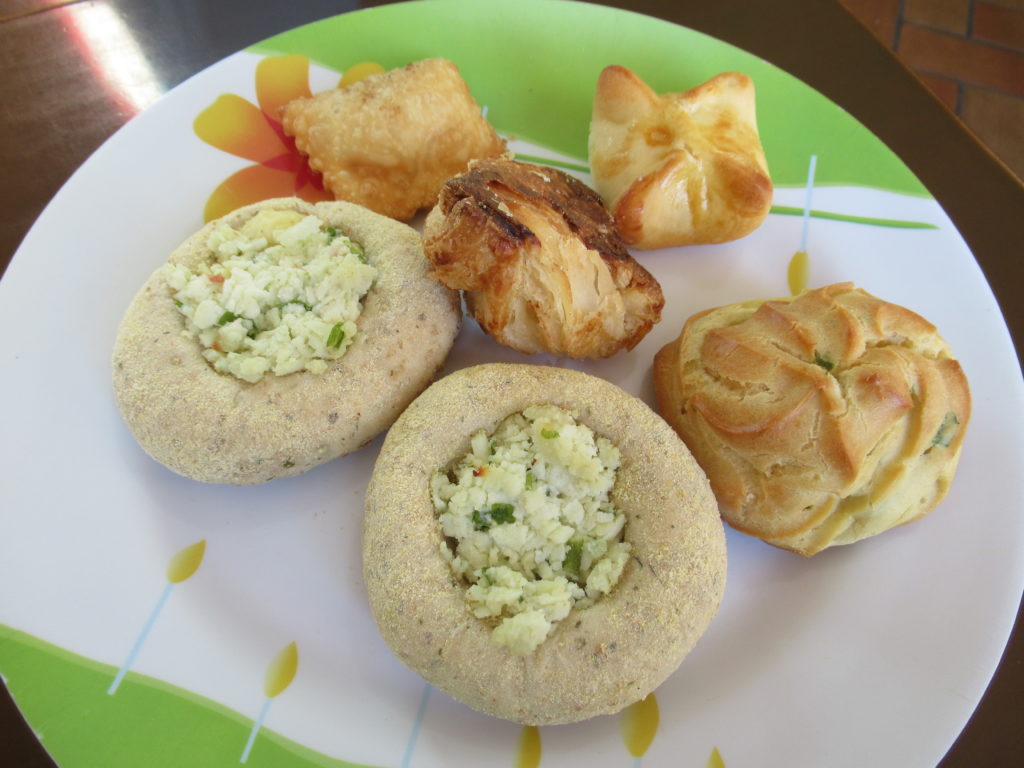 Finally, we move on to drinks… we tried whatever we could find that we hadn't had before, and some were good, some not so good…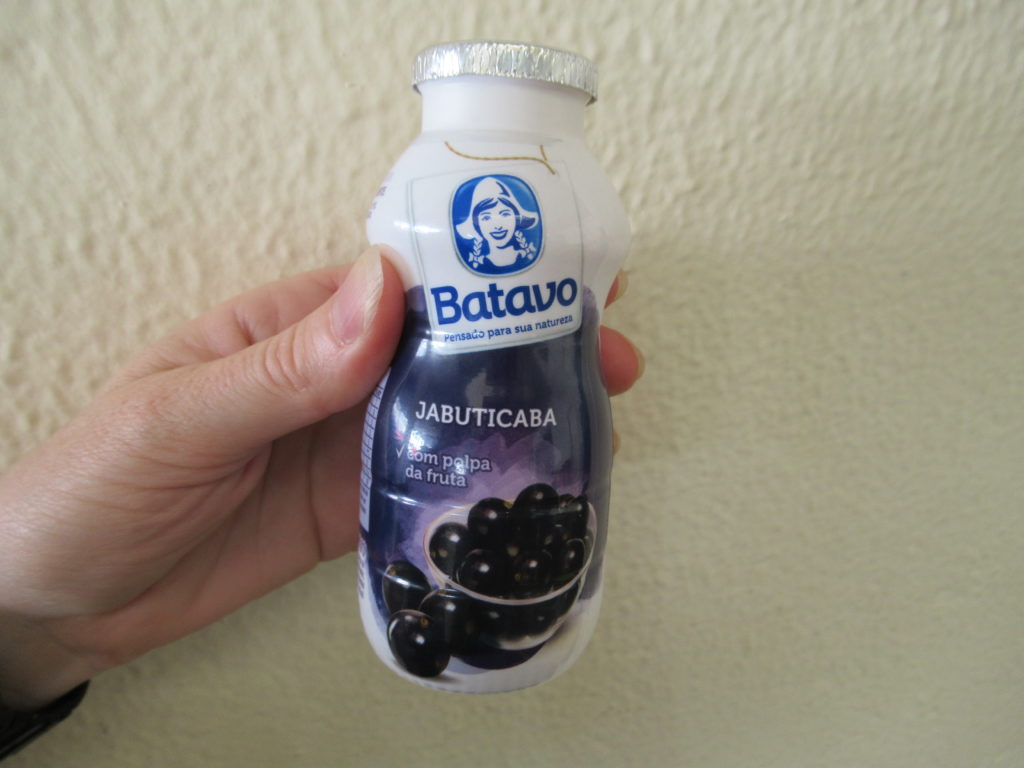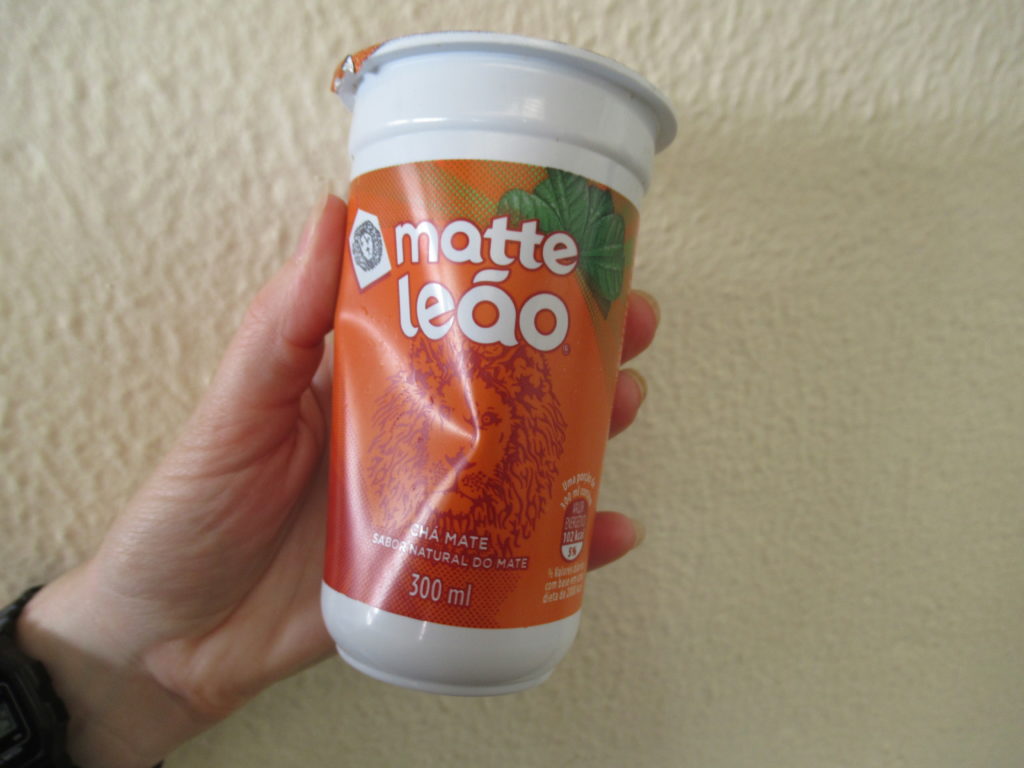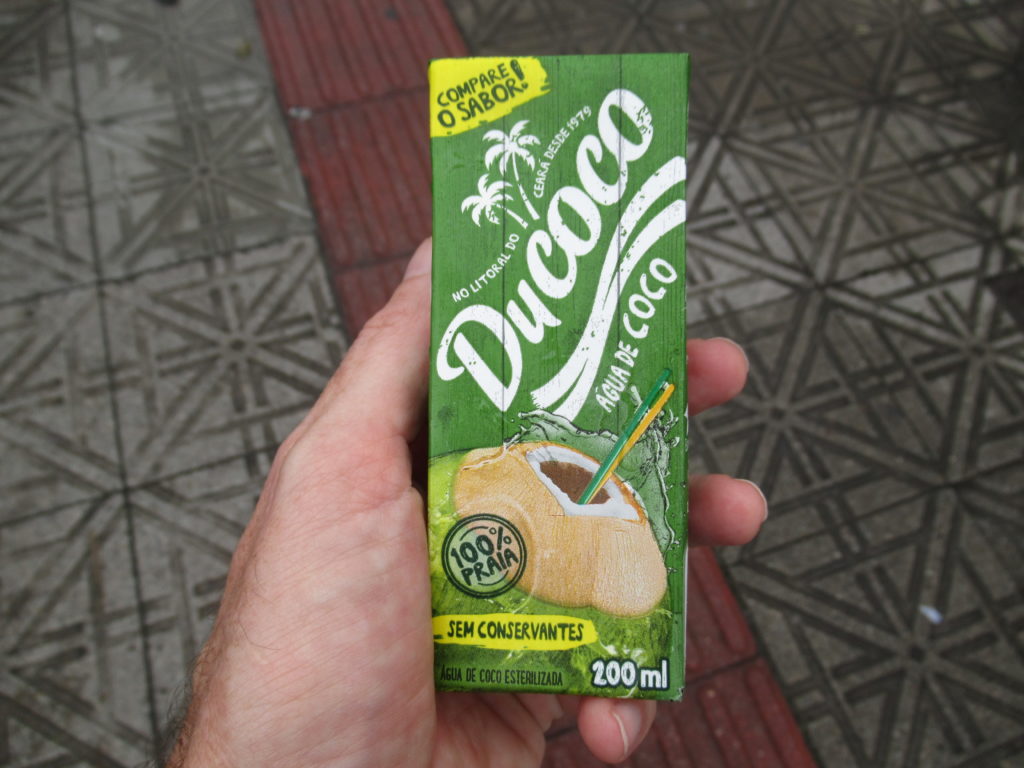 A special mention should go to Guarana drinks which are very popular in Brazil. They are caffeine-based energy drinks.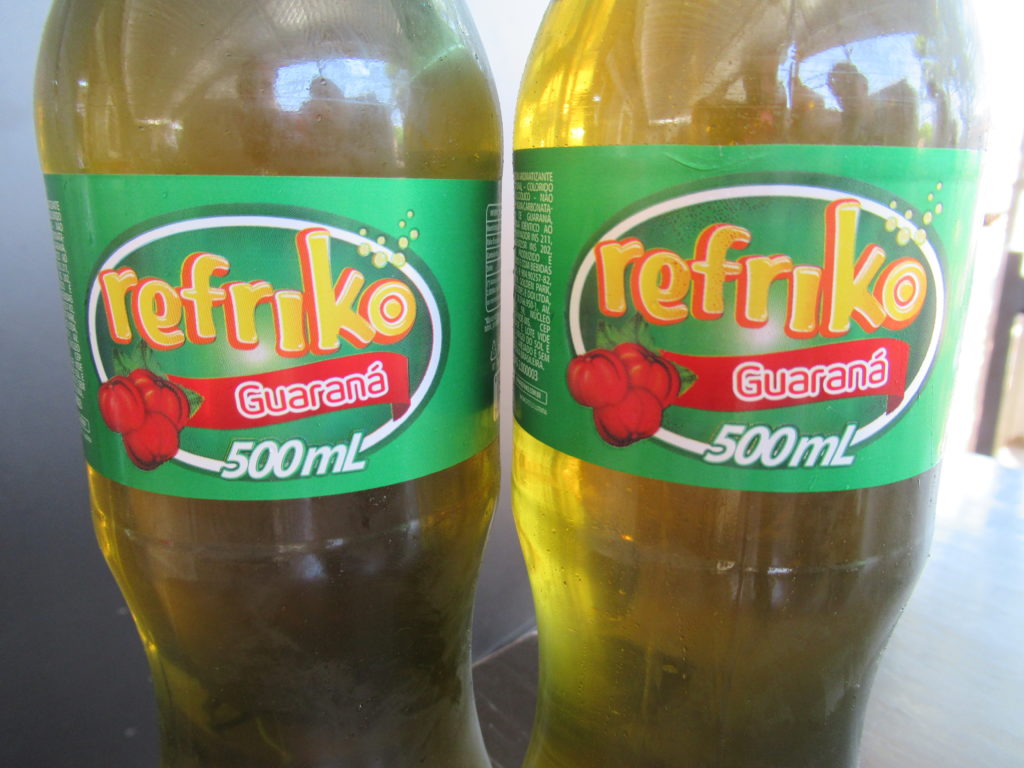 Moving on to the alcohol, there was plenty of beer available
but craft beer was actually more expensive than in Australia?!, so we eased off on that front and stuck to the cheap stuff.
It also turns out that Brazil makes wine! YES! So we thought we had better try it. It was actually pretty good, even though we bought the cheapest bottle that didn't just say 'table wine'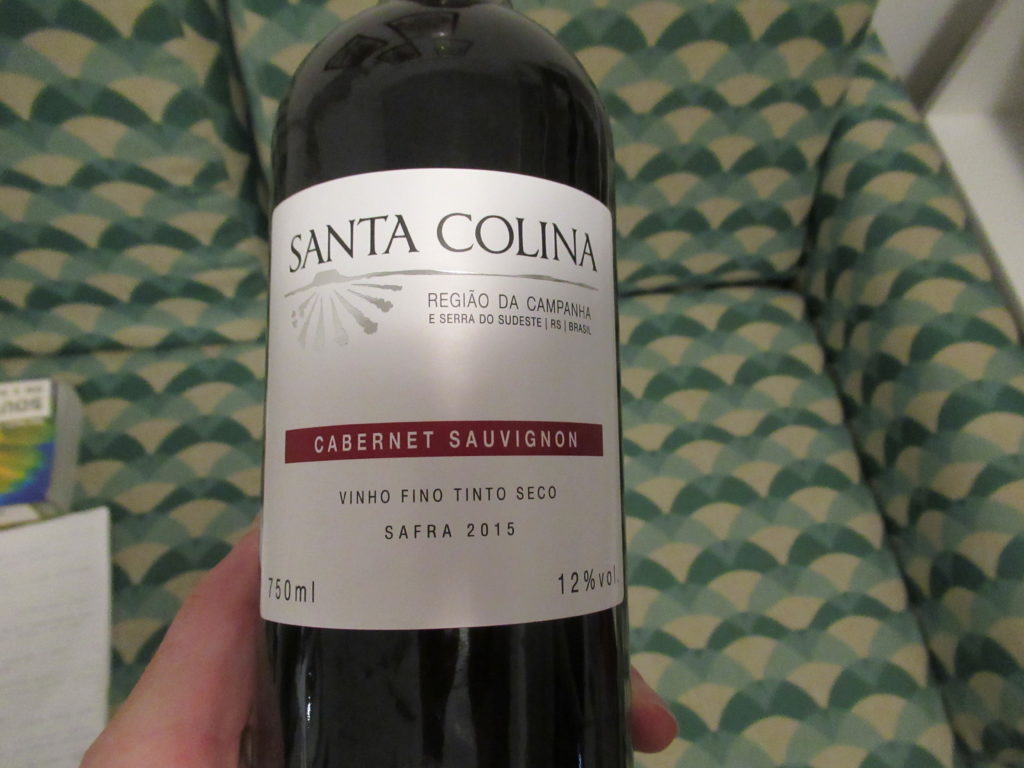 And finally…. drum roll… BRAZIL'S NATIONAL DRINK….. Which is…the Caipirinha, which is a cocktail made from Cachaça – which is Brazilan sugarcane spirit. It's kind of like rum, but it's pretty strong. We ordered them one night after pizza, and I don't think they are very strict with their measures in Brazil as it tasted extremely strong. I quite liked it, but CC wasn't too keen..
The next day CC didn't feel too well, and she blames the Caipirinha. In fact she felt unwell for quite a few days afterwards, and the Caipirinha took the blame. We never ordered it again….. Although I didn't mind it, it was not the quality of a Pisco Sour in my view.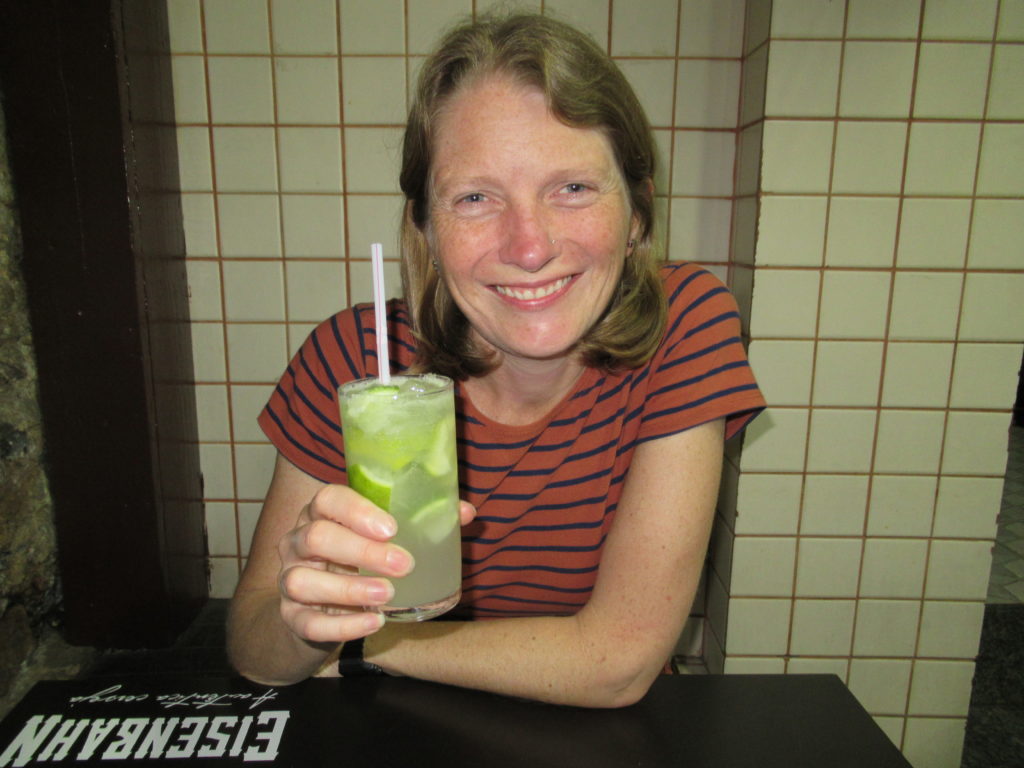 All in all though, the good far outweighed the bad – and Brazil got a big thumbs up for eating and drinking.