So the first thing to say about Food in Mexico is that it was AWESOME! 🙂 Yes, we had a great time eating and drinking our way around Mexico. As is often the case on this blog, there is so much stuff (or really I mean that we took too many pics) that there will be more than one food post…
So let's start at the start as they say…
Breakfast
Mexico has a range of traditional breakfasts which vary from region to region, but mostly we ate the same old type of stuff in whatever hostal we were staying in. Around half of them had breakfast included, and in the rest of them we made use of our long-serving breakfast kit, and made our own breakfast.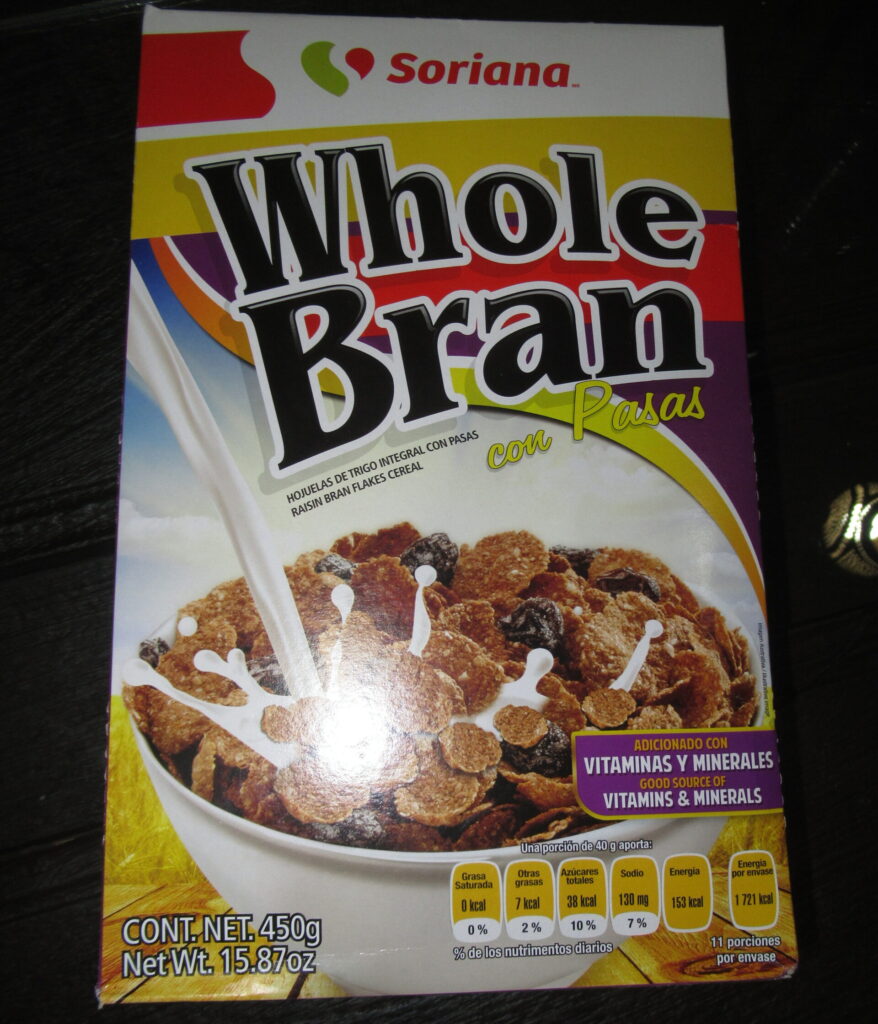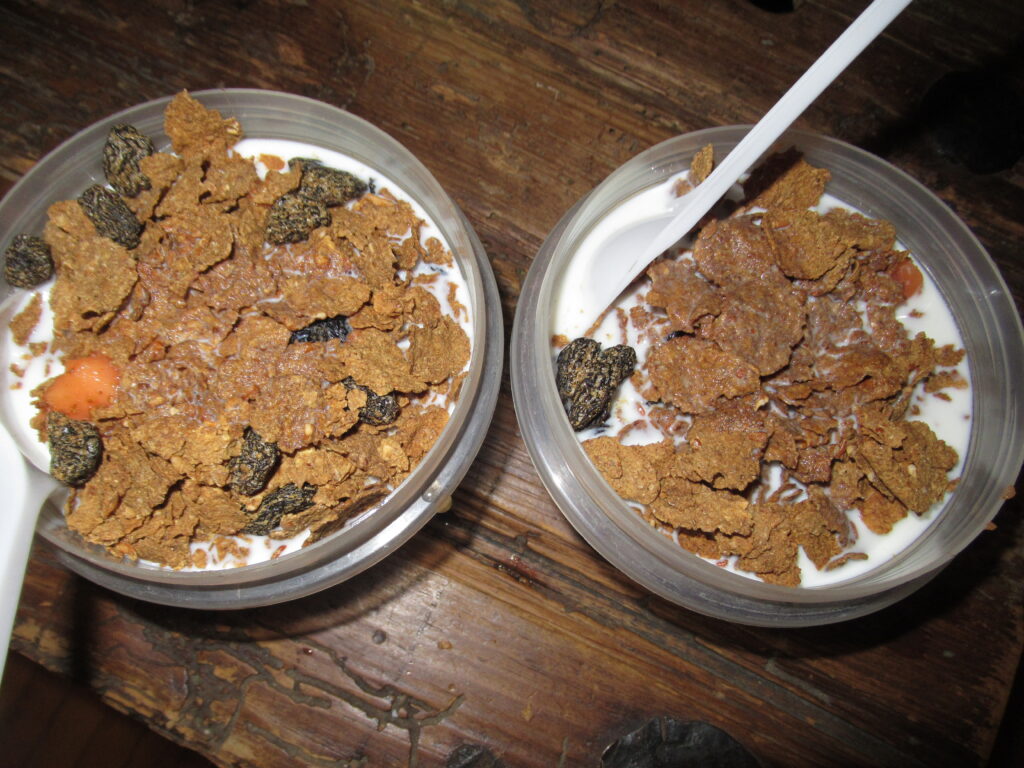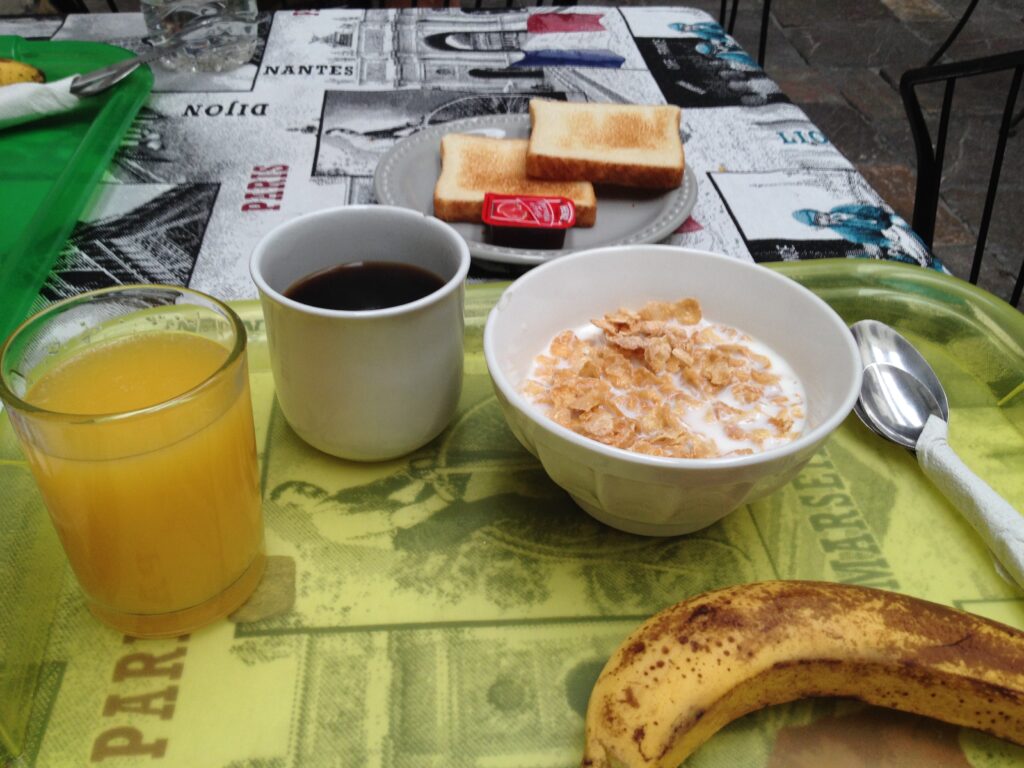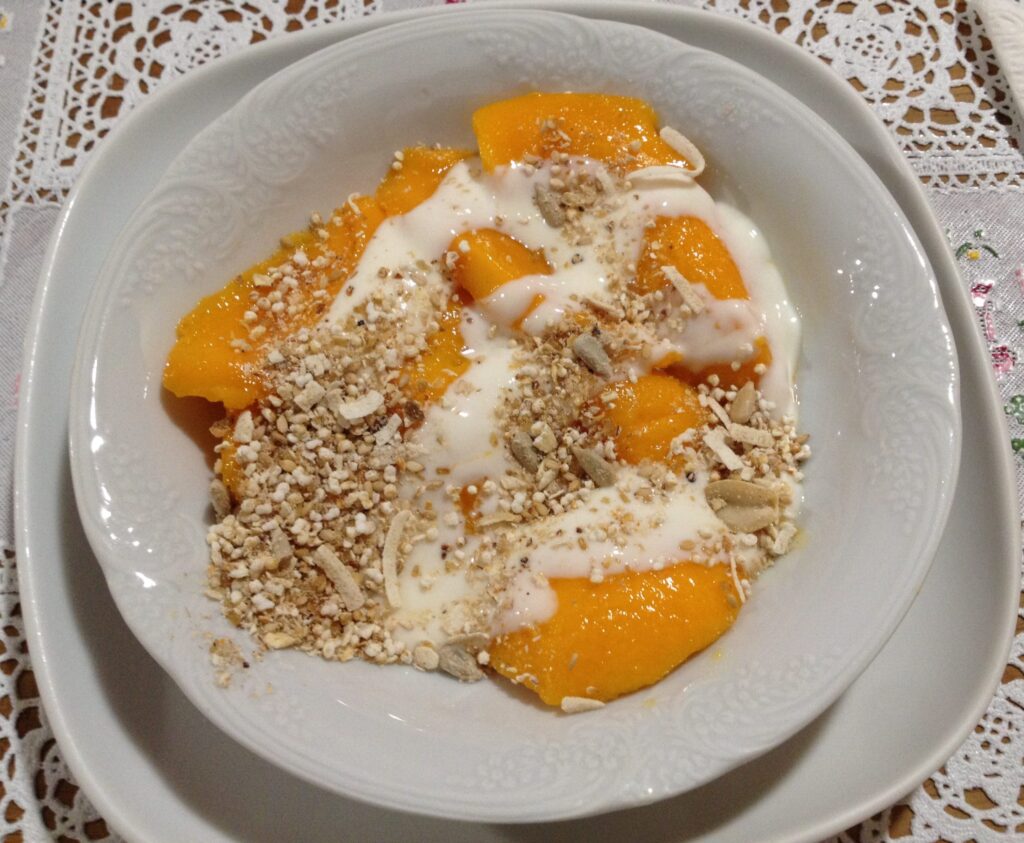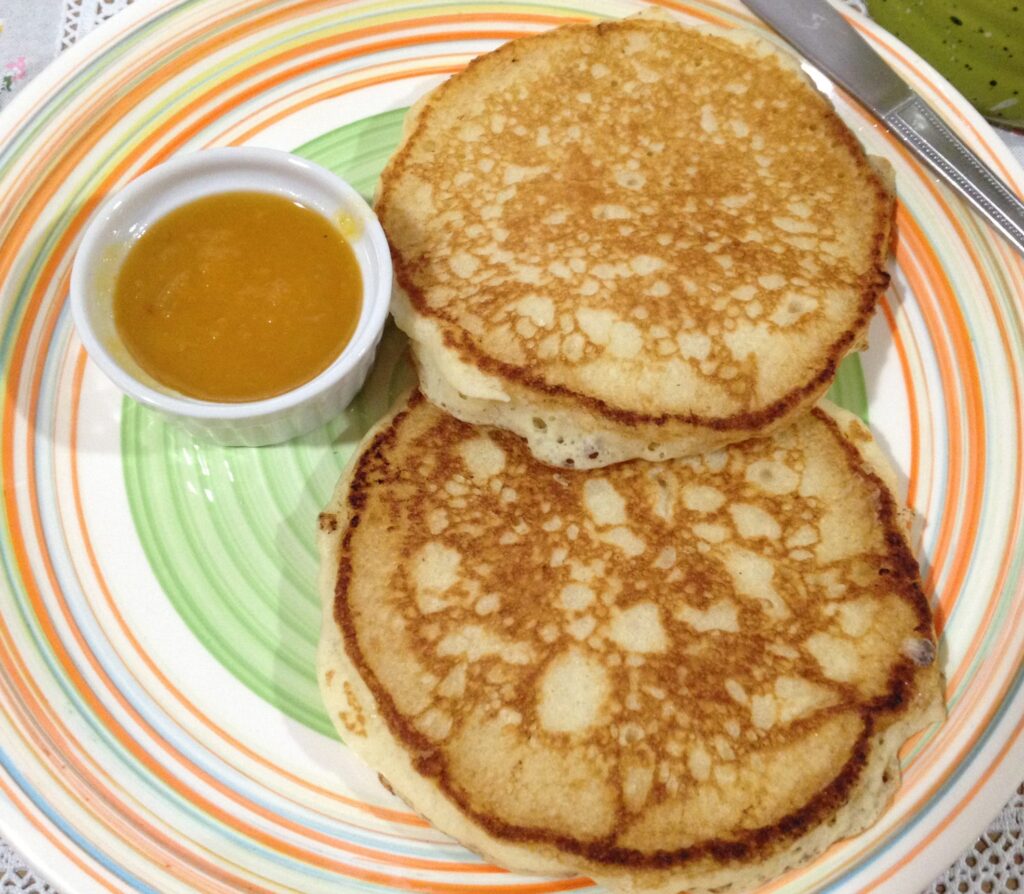 You may have noticed that these all look like 'western' breakfasts 🙁 Yes, quite tasty but not very exciting… Most of the hostals opted for these type of breakfasts – I guess they are quick and easy and everybody likes them….  BUT, a BIG HATS OFF to the place we stayed in Oaxaca for providing us with awesome Mexican breakfasts the whole time! 🙂 Inexplicably, we don't have any photos of these breakfasts – we must have been so overwhelmed with excitement that we didn't take photos (yes, very unlike us…)
So the best of these breakfasts was chilaquiles – these are fried corn tortillas covered in a spicy sauce – it was pretty exciting for us to get something so spicy for breakfast :-). Then in second place was molletes – bread with refried beans and cheese and also some spicy sauce – yes, what's not to like 🙂
Next up, all the food for the rest of the day except for drinks and snacks… 🙂
Lunch and Dinner
There was an awful lot of variety going on in Mexico, and half the time we didn't really know exactly what we were ordering. As we moved up through the regions the names for things changed a little – but at the end of the day when it came to food from a taquería it was nearly impossible to go wrong. A taquería is basically a 'taco stand' – traditionally a stall on the street, but could also be in an actual building. Food from taquerías was cheap and delicious, and there was always plenty of spicy sauces available. So from the taquerías, I bring you: panuchos, sopes, salbutes, gringas, and tacos.
I'm not going to explain what each of those things are, I will just leave you to read the linked wiki articles and look at the pictures below :-). Yes, that's much more fun than reading my descriptions… 🙂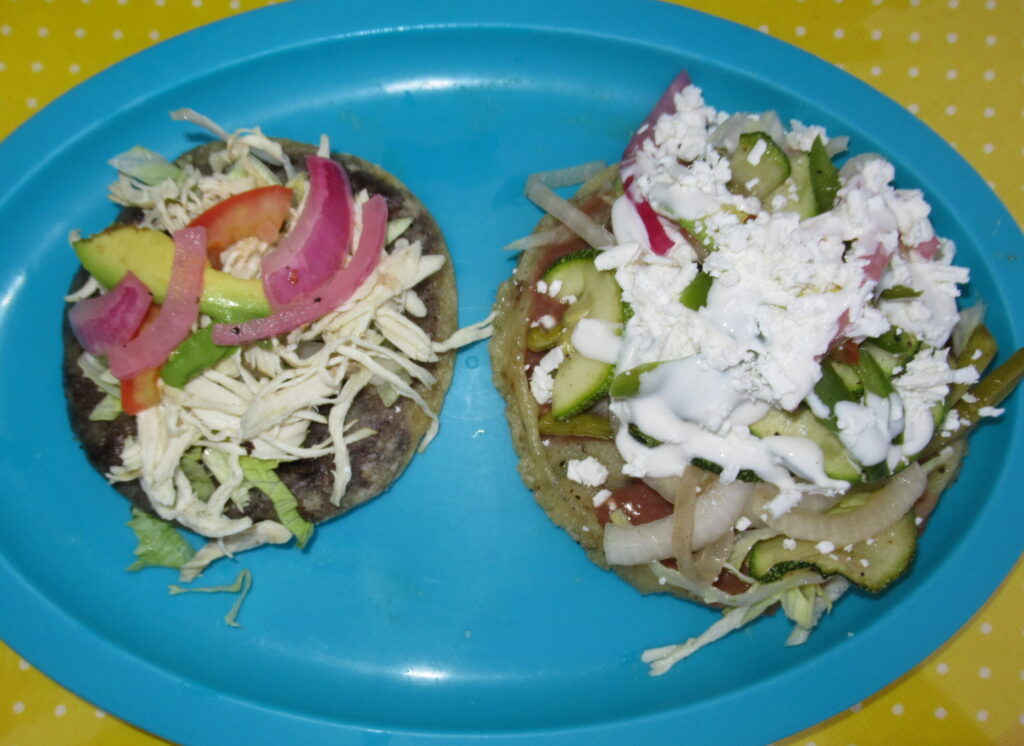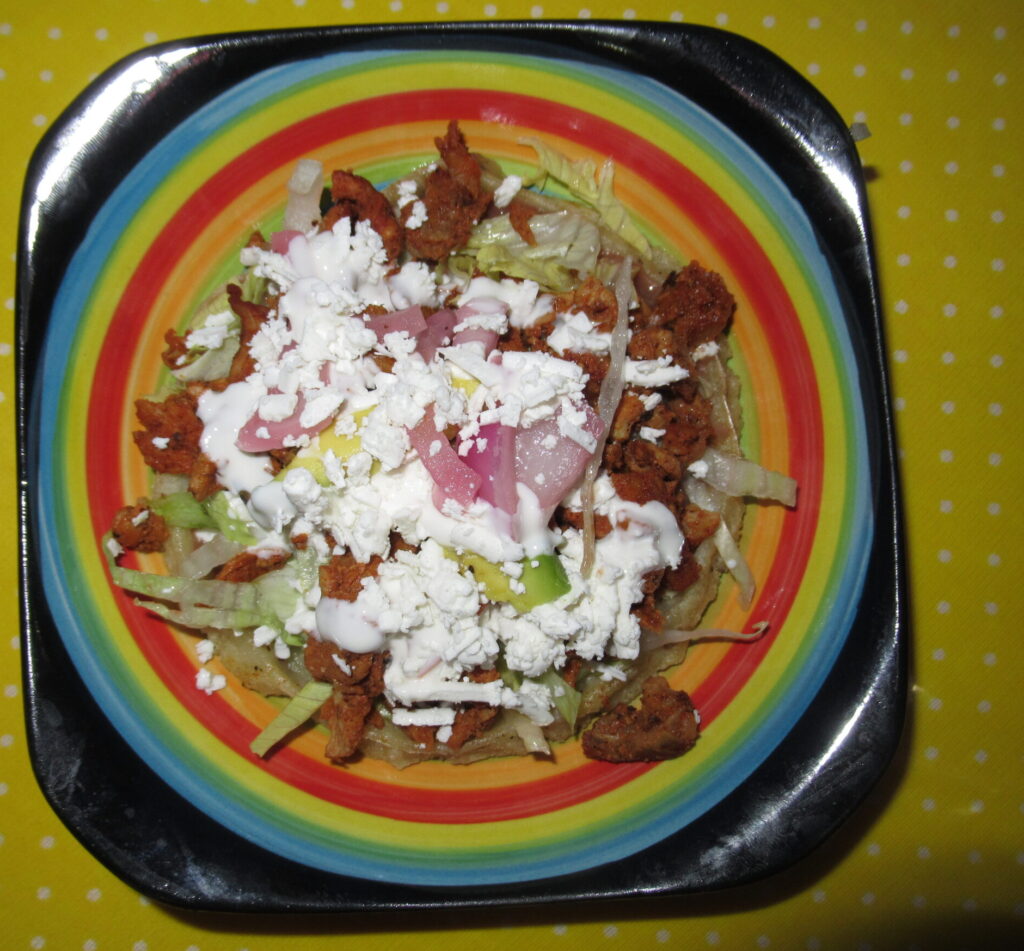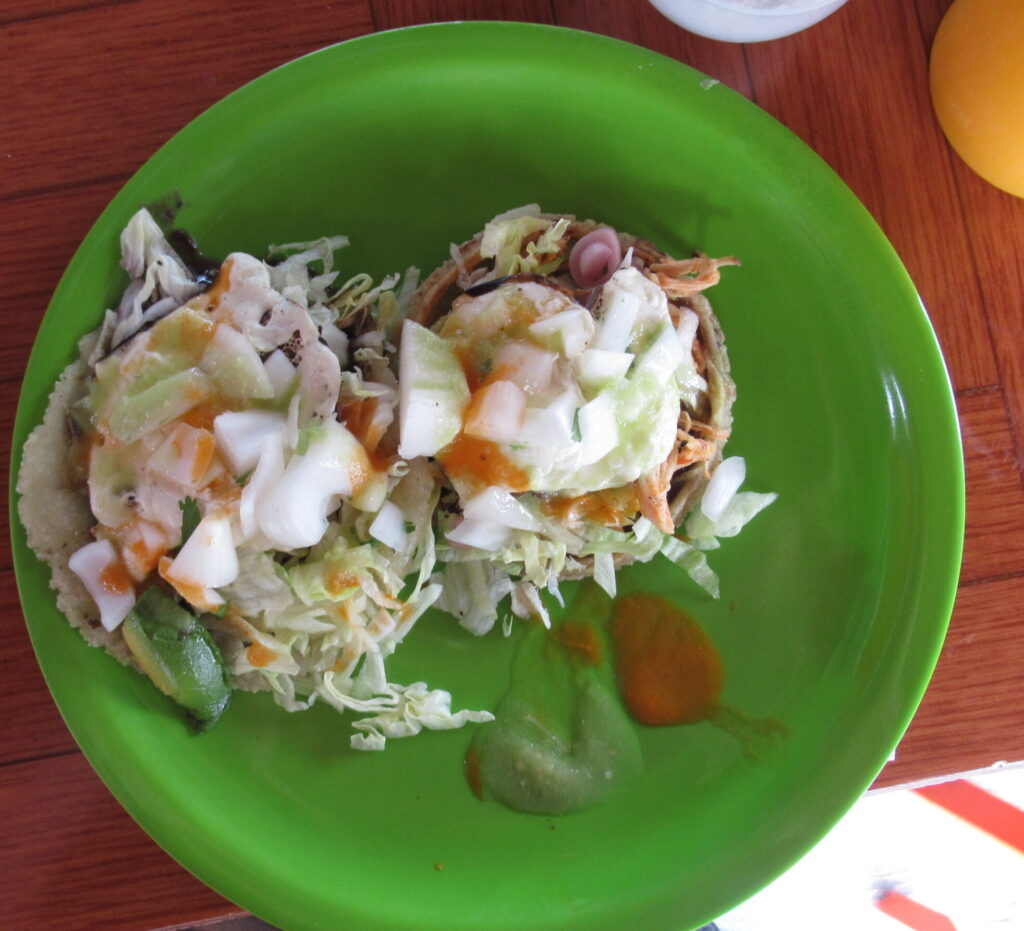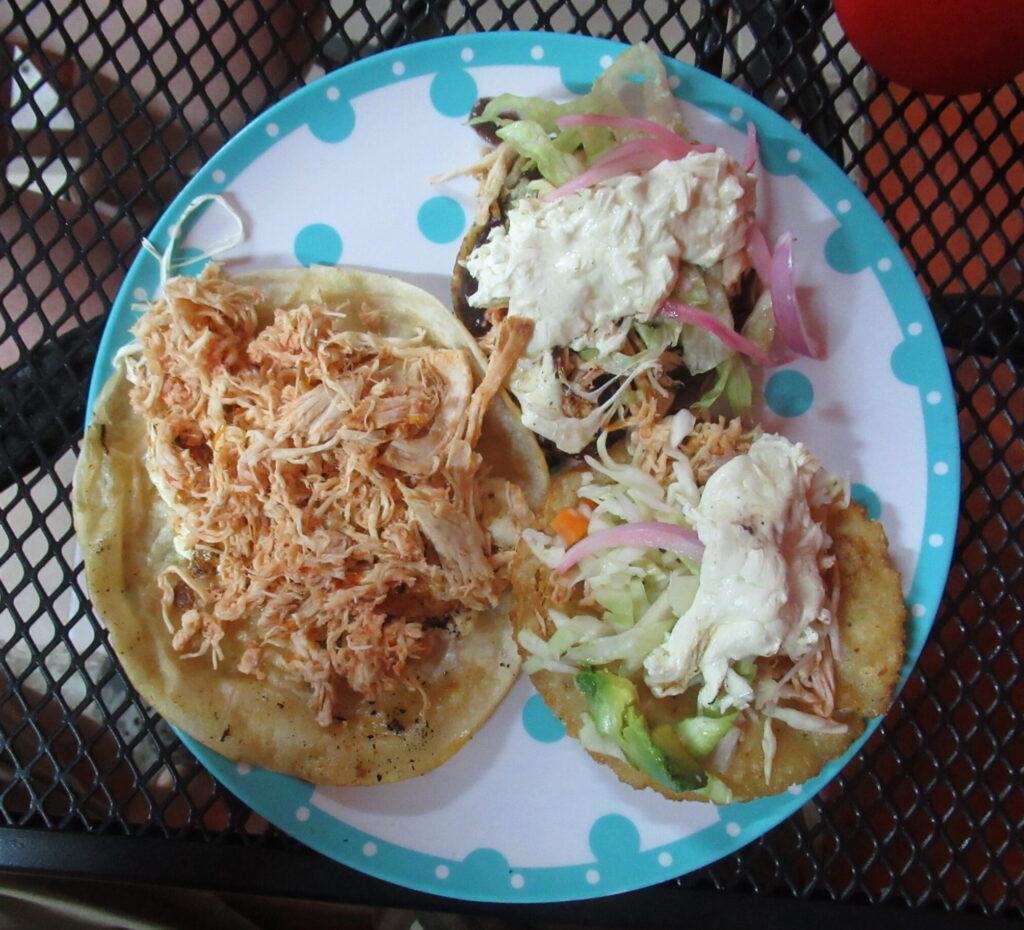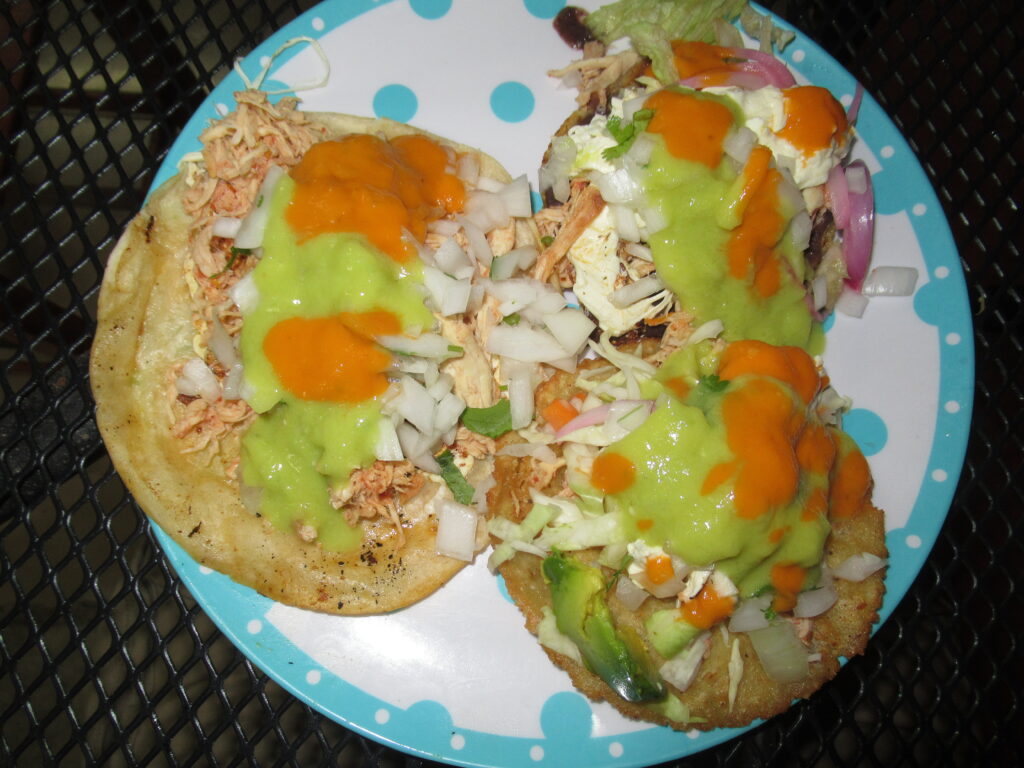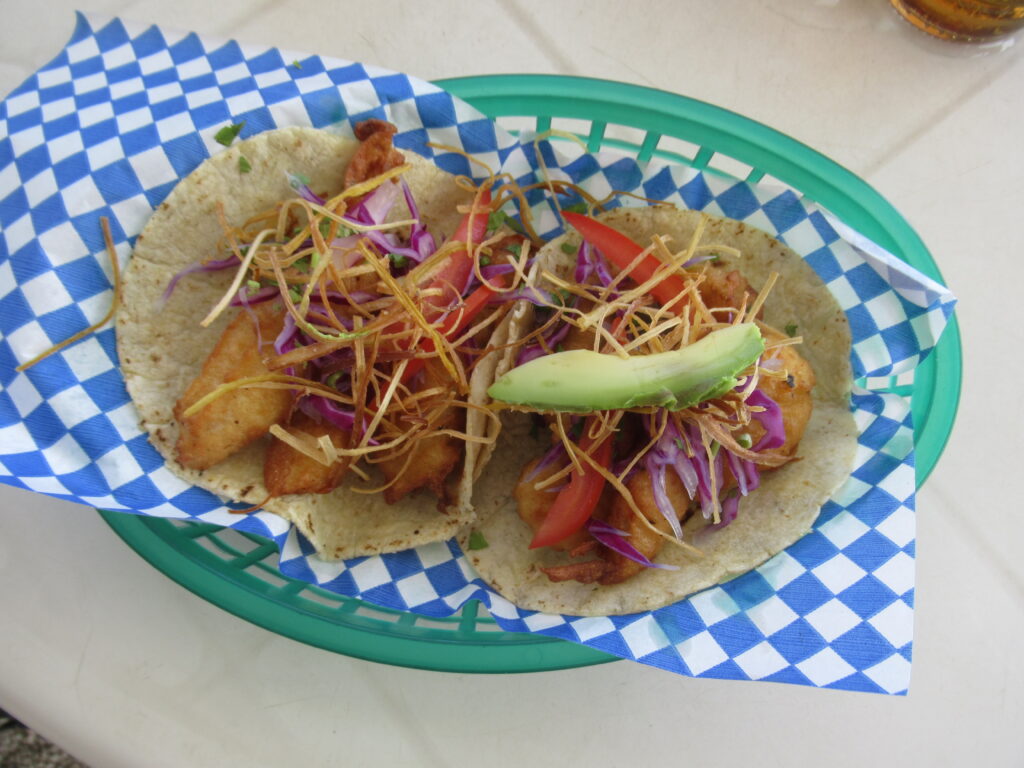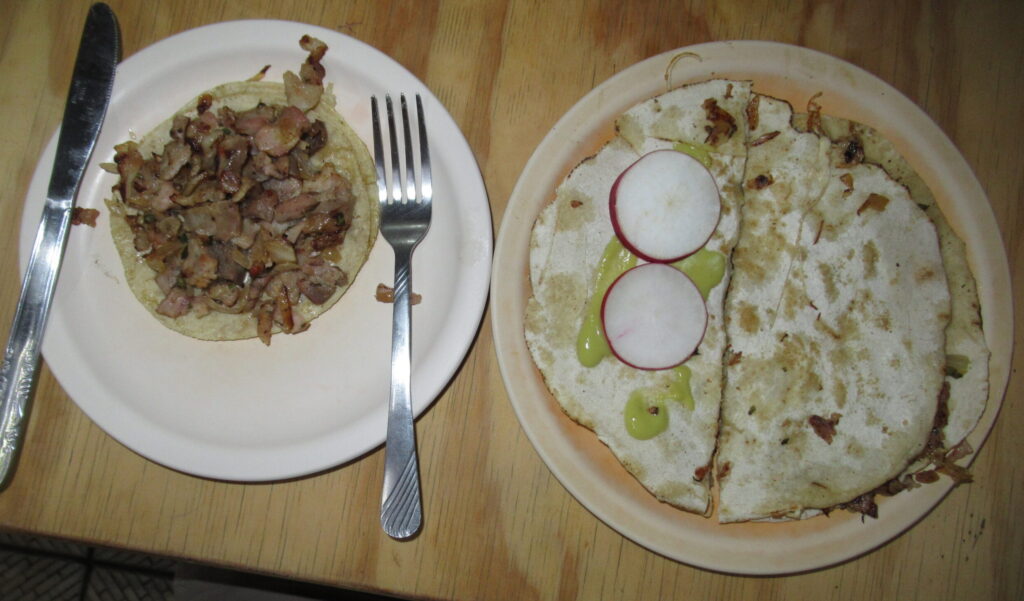 Menu del dias were also around in Mexico – although we didn't have many because we were addicted to the taquerías 🙂 Each region in Mexico had many of its own specialities, and we sampled a few of them here and there. Of all the countries that we went to on this trip, probably Mexico had the most consistently good variety and quality of food – there was always something new to discover! 🙂
So, let's have a look at a few that we tried – first of all a very bog standard set menu – still delicious with plenty of tortillas available on the side 🙂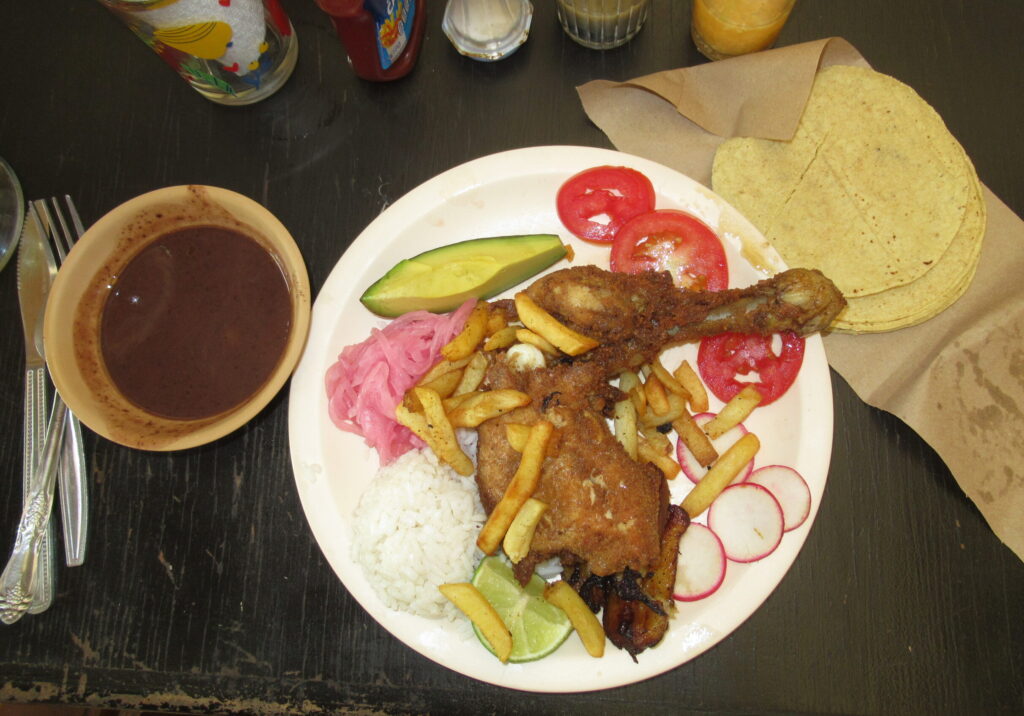 Then we have something delicious from a more 'upmarket' place (well, upmarket for us anyway 🙂 )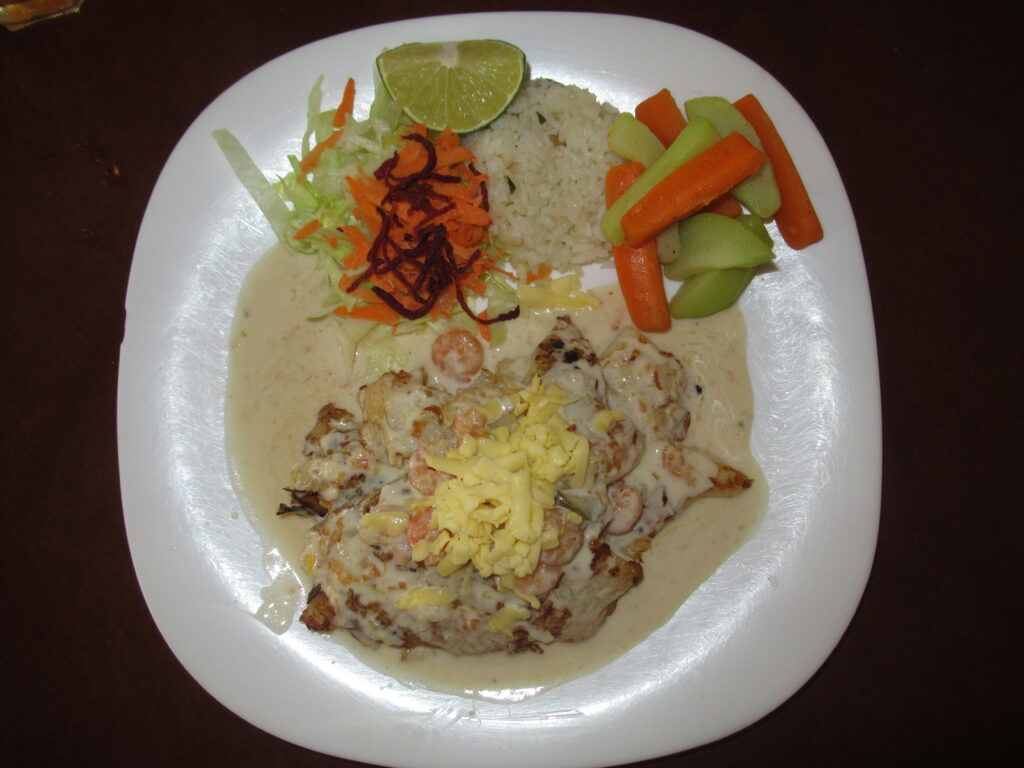 Moving on to a few specific Mexican items, we start with 'mole'. Mole is very famous in Mexico and the word comes from the Nahuatl language and means 'sauce'. There are apparently many many types of mole and its origins are disputed. Mole sauces typically contain at least one type of chilli, and usually chocolate. Other than that, it seems that they can include everything under the sun and have 20 – 30 ingredients. The two most famous areas for mole are Puebla and Oaxaca.  Even though we visited both of those places, we somehow managed to have mole somewhere else instead…. Yes, perhaps that's why we didn't think that much of it…  and therefore we didn't order it again after that. Probably we made a big mistake!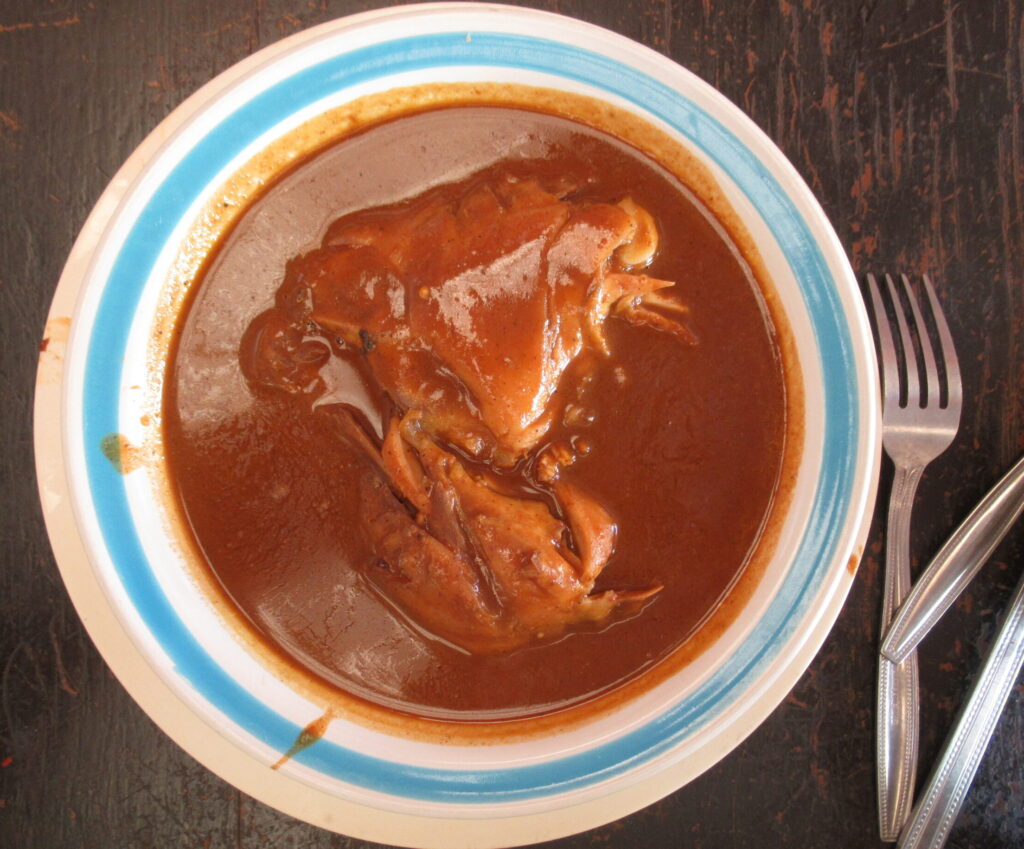 OK, so now it's time to mention gorditas and nopales. A gordita is like a stuffed arepa. What's an arepa I hear you ask?
Gorditas are made with corn dough and stuffed with all kinds of delicious fillings – which brings me to the nopales – which are the pads of a prickly pear cactus – YES, cactus is delicious – honest! 🙂 We found a gordita place in Merida that was so good we just kept going back – yes give us those nopales!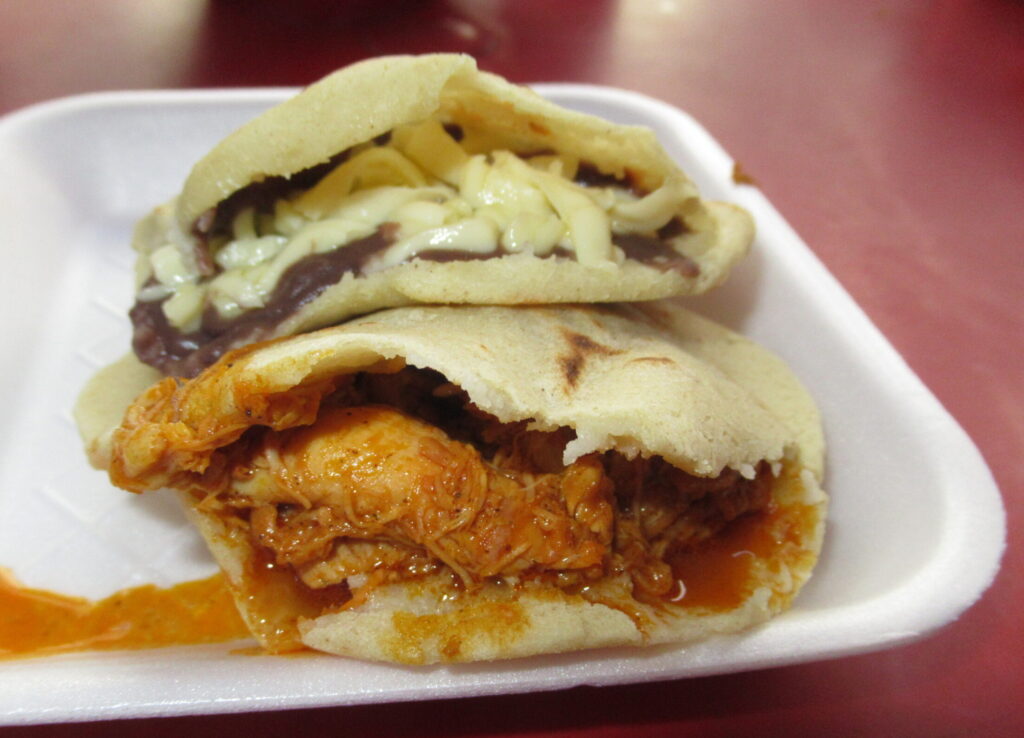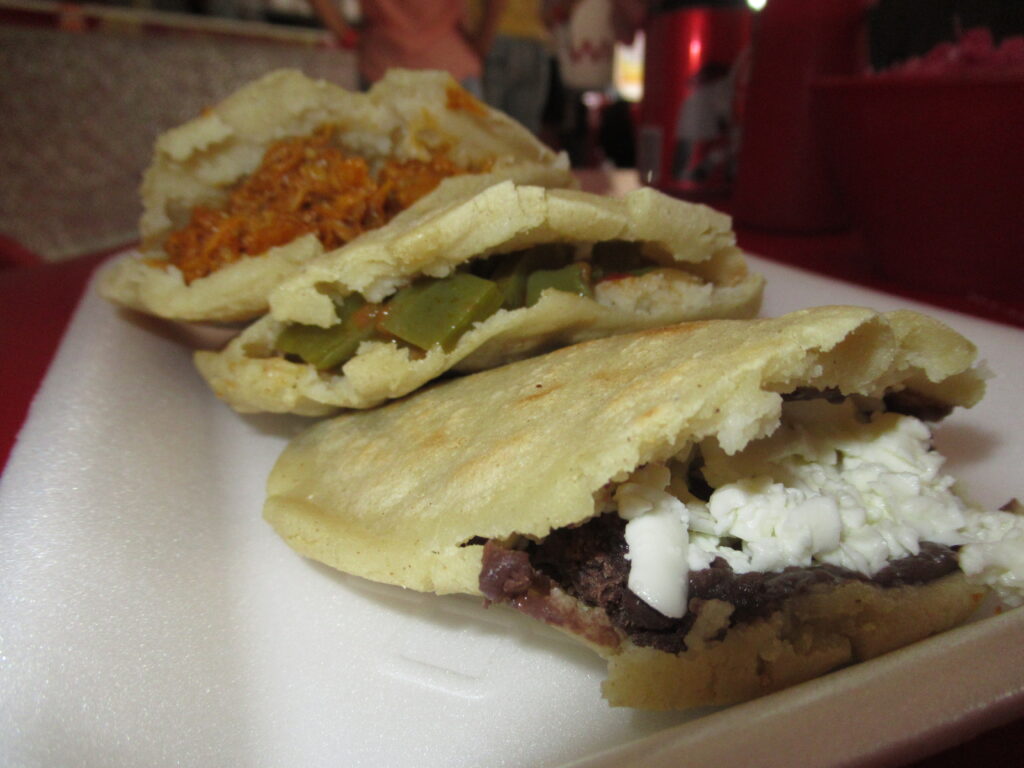 As I mentioned, each area of Mexico had its own name for things, meaning that we had to enquire about pretty much everything! For example, for some reason in Campeche a sandwich is called a 'tranca' (elsewhere it is called a 'torta' – which is even more confusing as 'torta' means at least 4 other completely different things in other Spanish speaking areas…..) Anyway, once we worked out what a tranca was, we thought we would try it out. It was pretty good!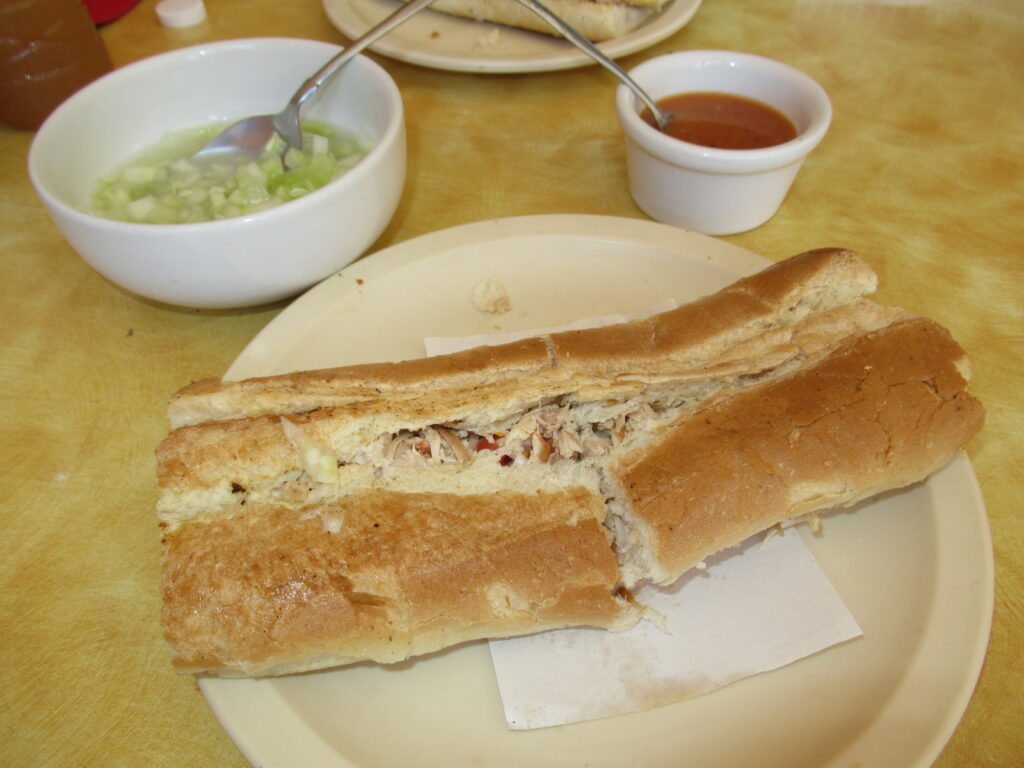 Next up we have some soups – more specifically some famous traditional soups called 'pozole'. Pozole comes in white, red, or green varieties depending on the type of sauce used. We found a famous soup restaurant in San Cristobal called La Caldera and partook of a red and a green. Both were very tasty indeed..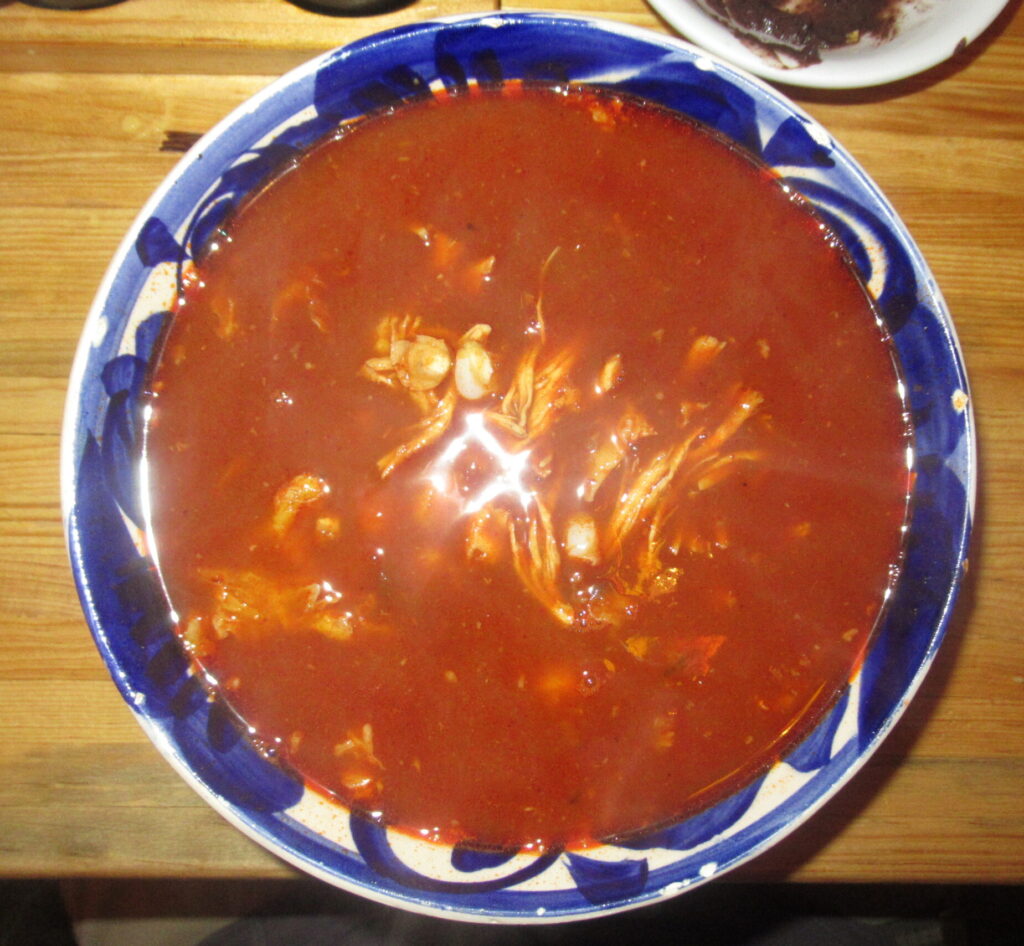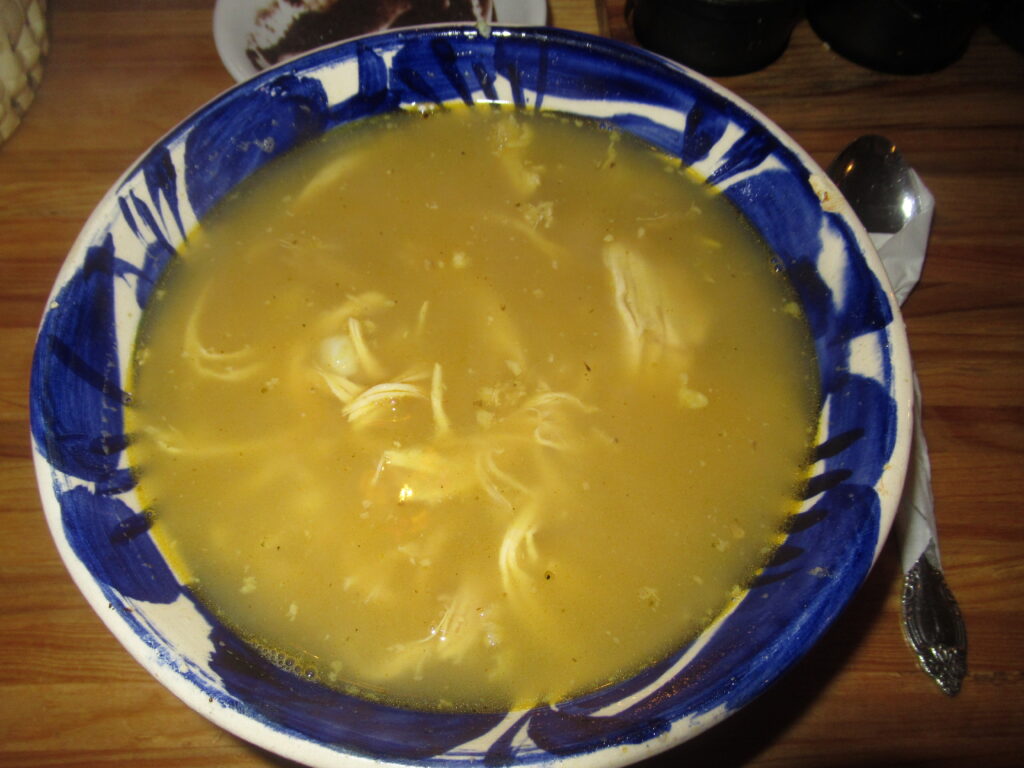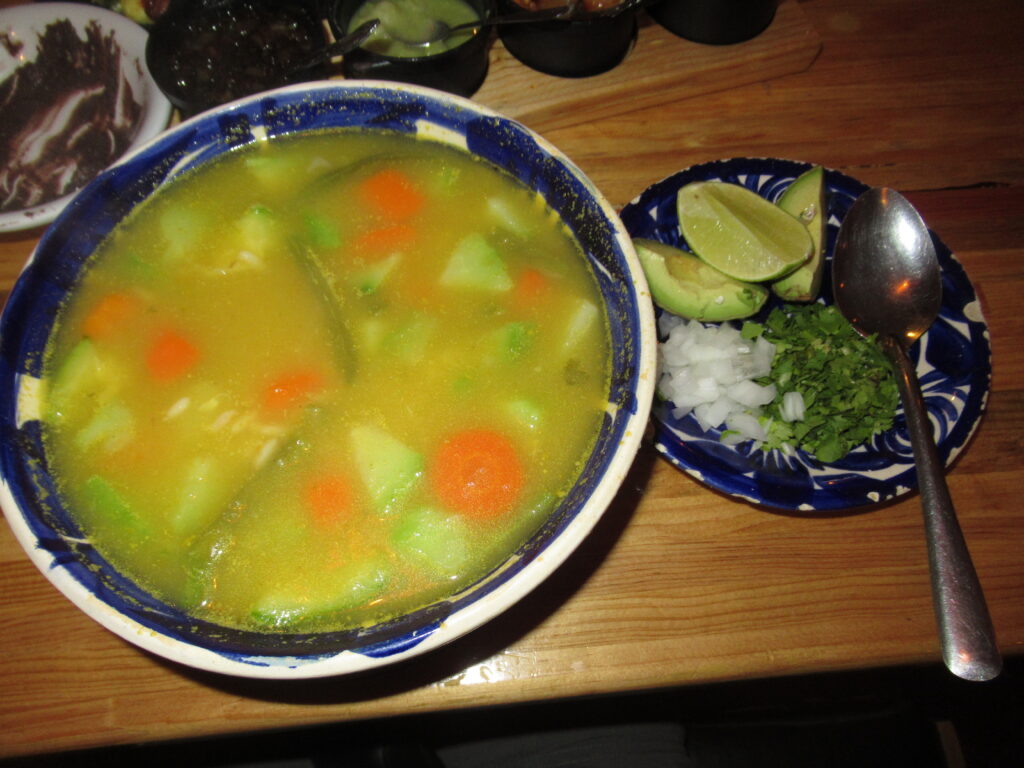 Moving back to fillings, we have another great filling, which is called 'rajas con queso' – which literally means 'strips with cheese'. The strips referred to are strips of poblano chilli – these are mild chillis, so it's not a spicy filling – but it's still delicious 🙂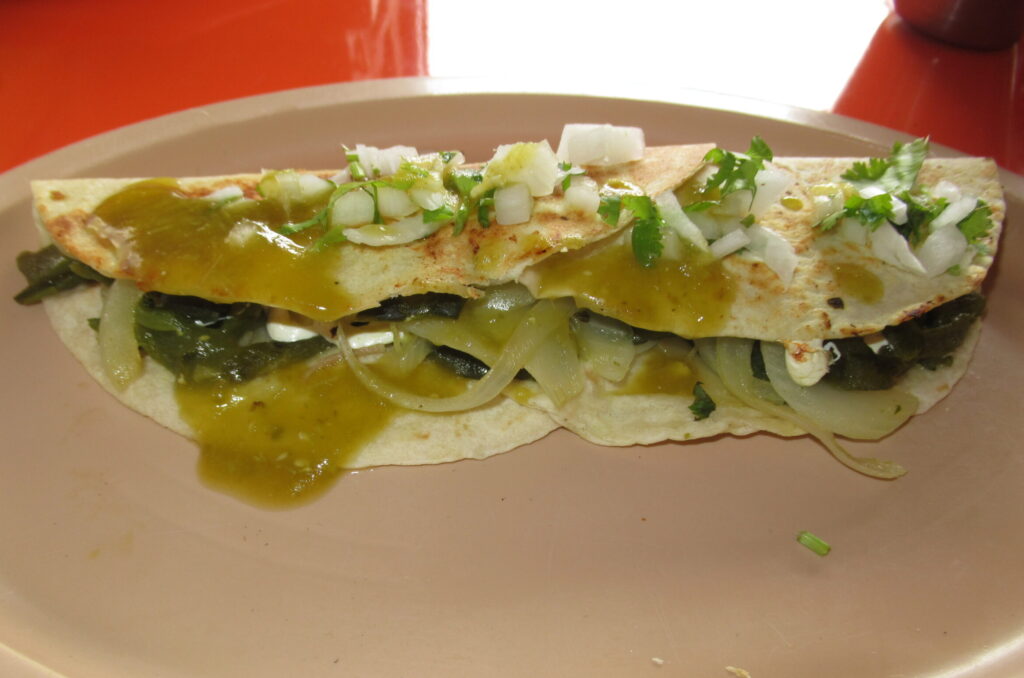 Still with fillings, there is another one called 'flor de calabaza' – which means 'pumpkin flower' – and that is exactly what it is! It's not my favourite, but it's quite nice for a change – it tastes kind of 'flowery' – yes, not surprising really… 🙂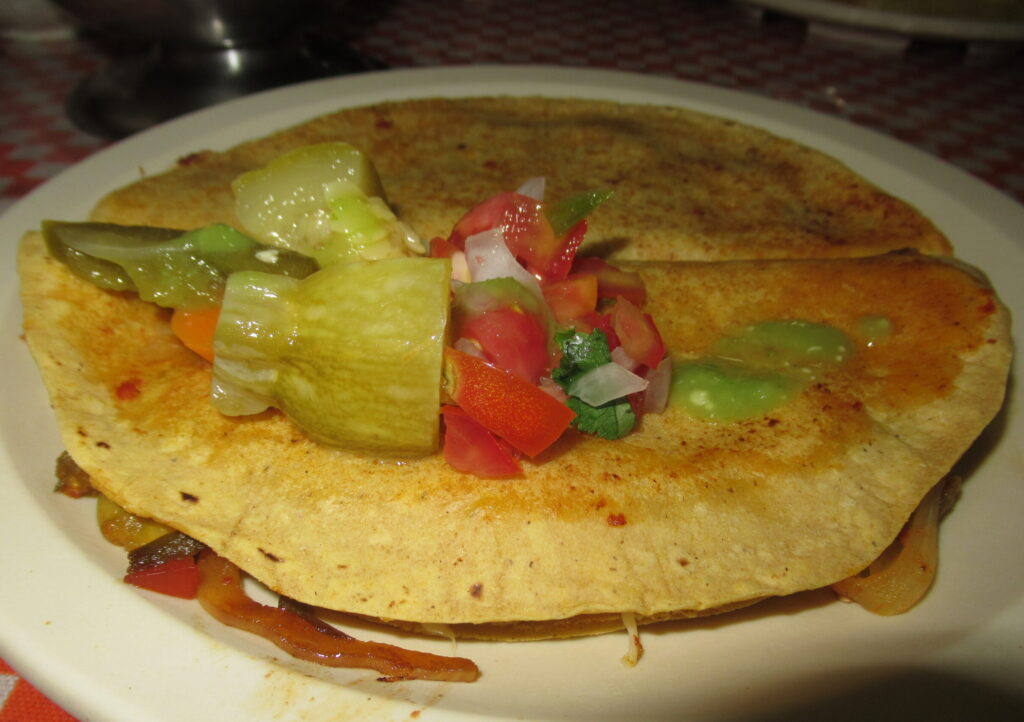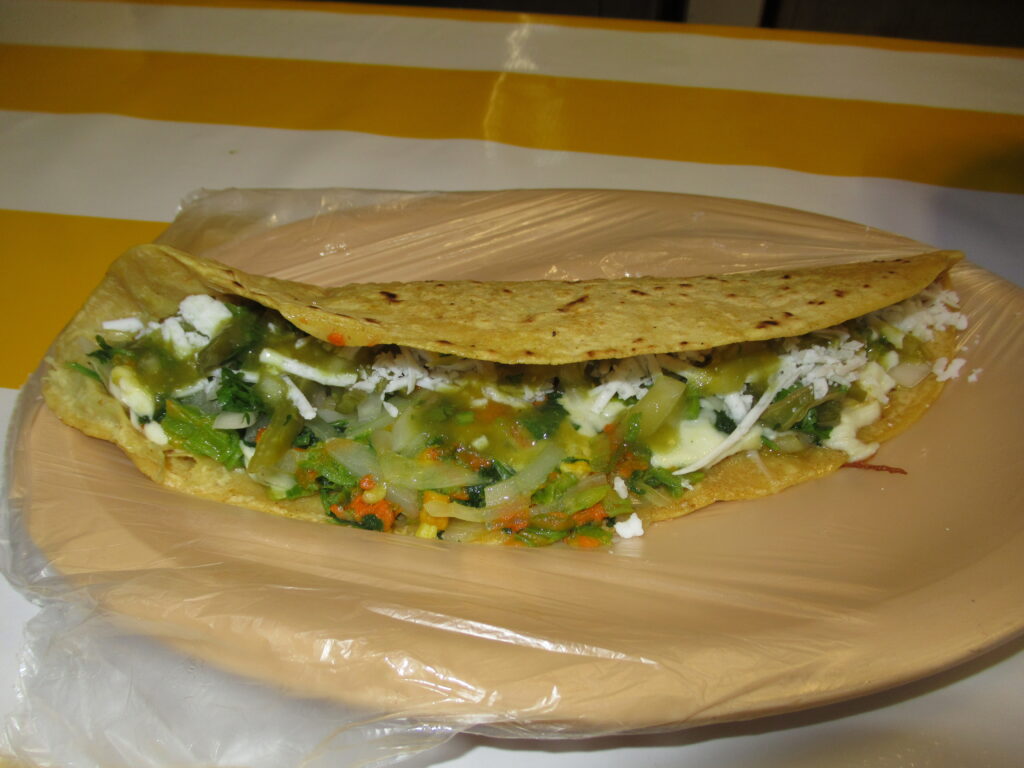 And just for good luck, we have one more pic featuring the ever-present nopales – purchased from a place in Calle Uruguay, Mexico City that we would walk 30 minutes to just because they had the best quesadillas we could find (and they were also very cheap… 🙂 )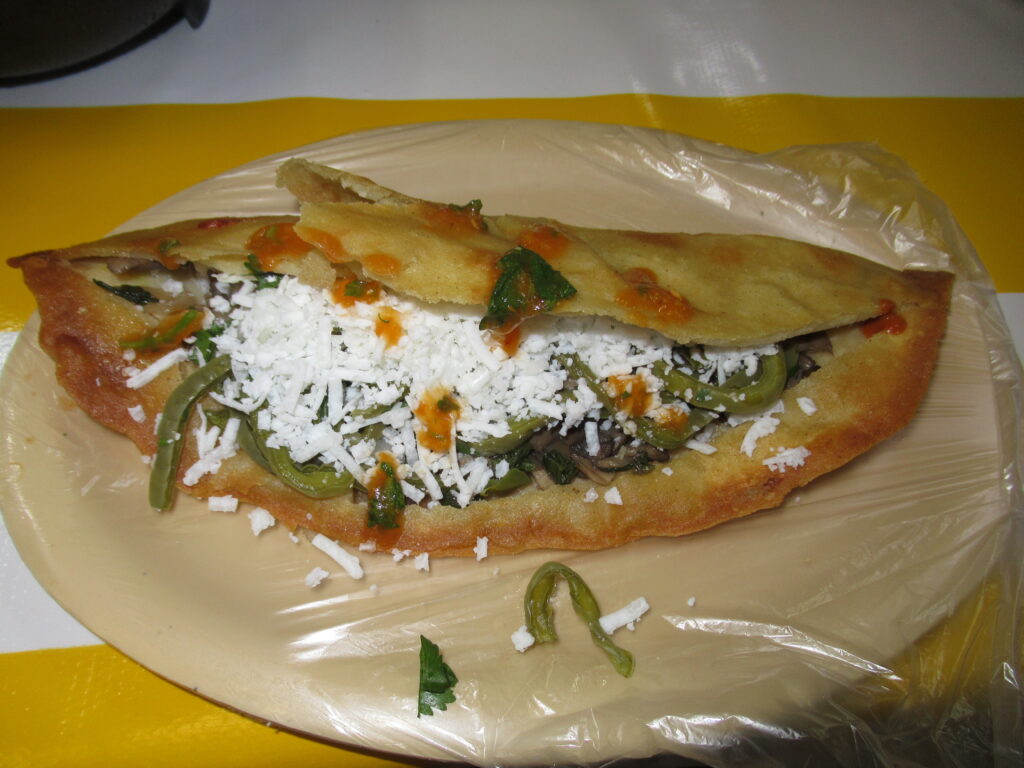 Finally – on fillings – another favourite of ours was 'chicken tinga' – made with chicken, tomatoes, chillis, adobo sauce, and onions – very tasty, but we don't seem to have any photos.. ah well, you will just have to imagine it…
OK, so now there's just a few odds and ends left – starting with red and green enchiladas. Enchiladas are basically just tortillas plus 'anything else you would like to add' (that's my definition… 🙂 ), and in this case the 'red' and the 'green' refer to the sauce that it is literally totally covered with. Both versions were pretty good – as you can see there was no holding back on the sauce… 🙂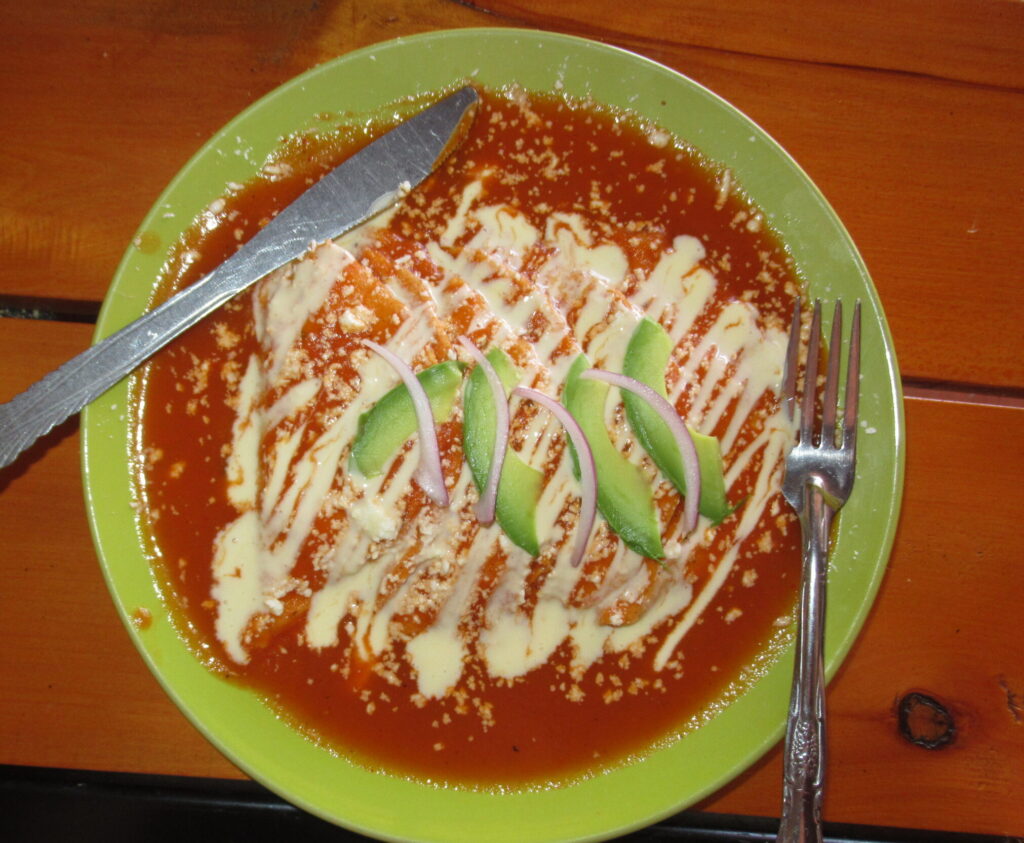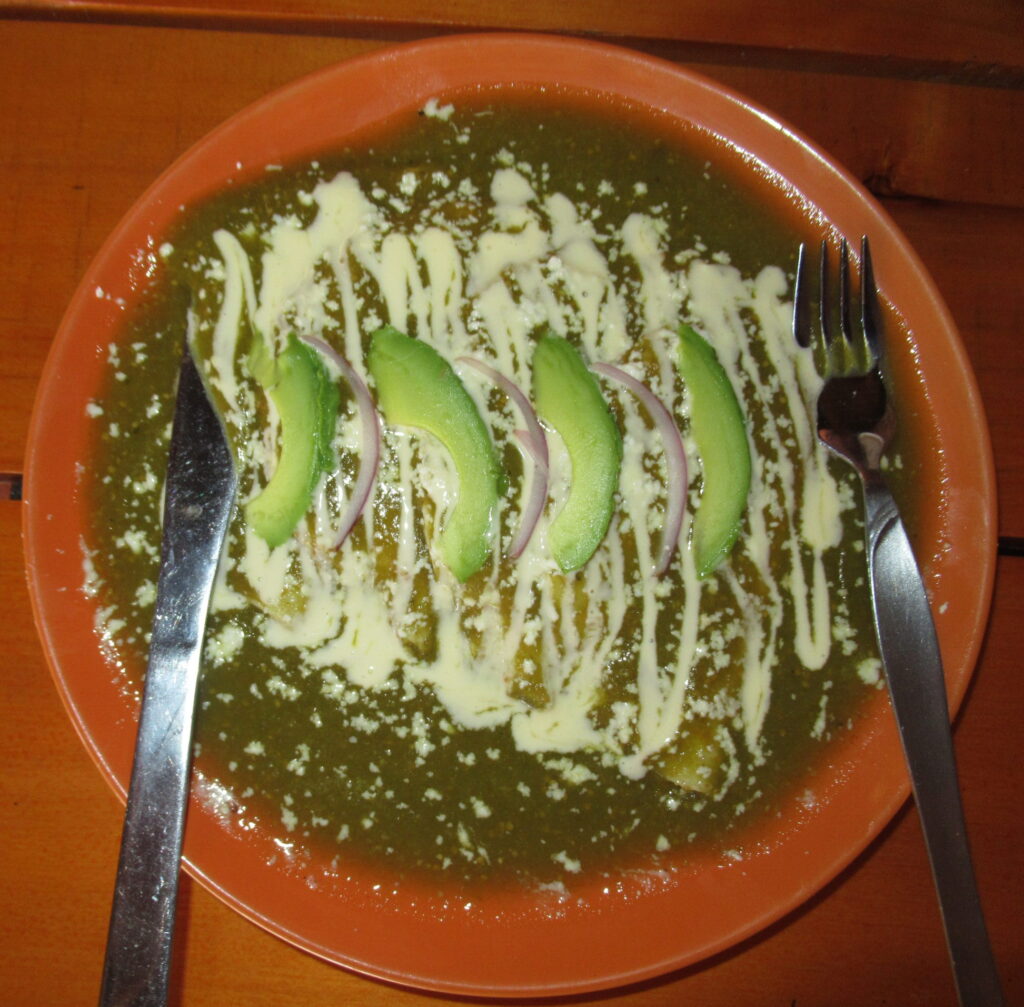 Next up, something called 'bean soup' – which turned out to be more like 'tortilla and bean juice soup topped with cheese'. ANYWAY, it was delicious.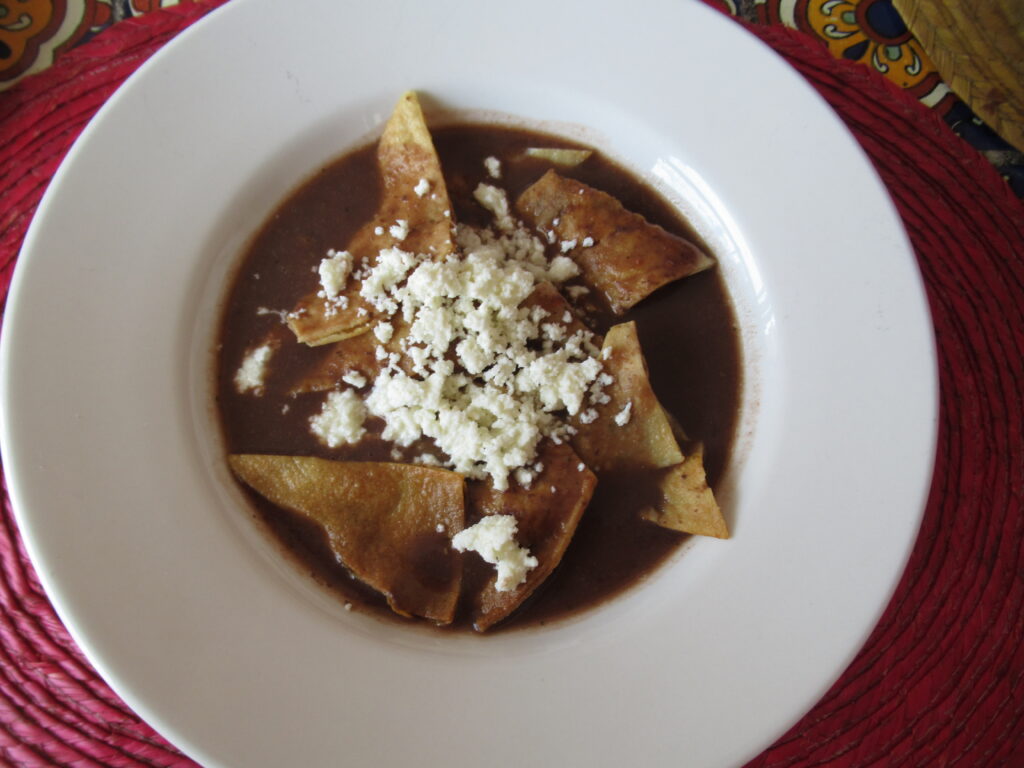 Sadly, there was one occasion where Mexico missed the mark for us… we blamed it on the fact that it was a restaurant very close to a famous tourist site in Cholula, Puebla (we couldn't find anywhere else open…).  We purchased 'chalupas' – which are in fact a speciality of the exact tourist spot that we were in…. What was wrong with them? They were very greasy and a bit tasteless…. 🙁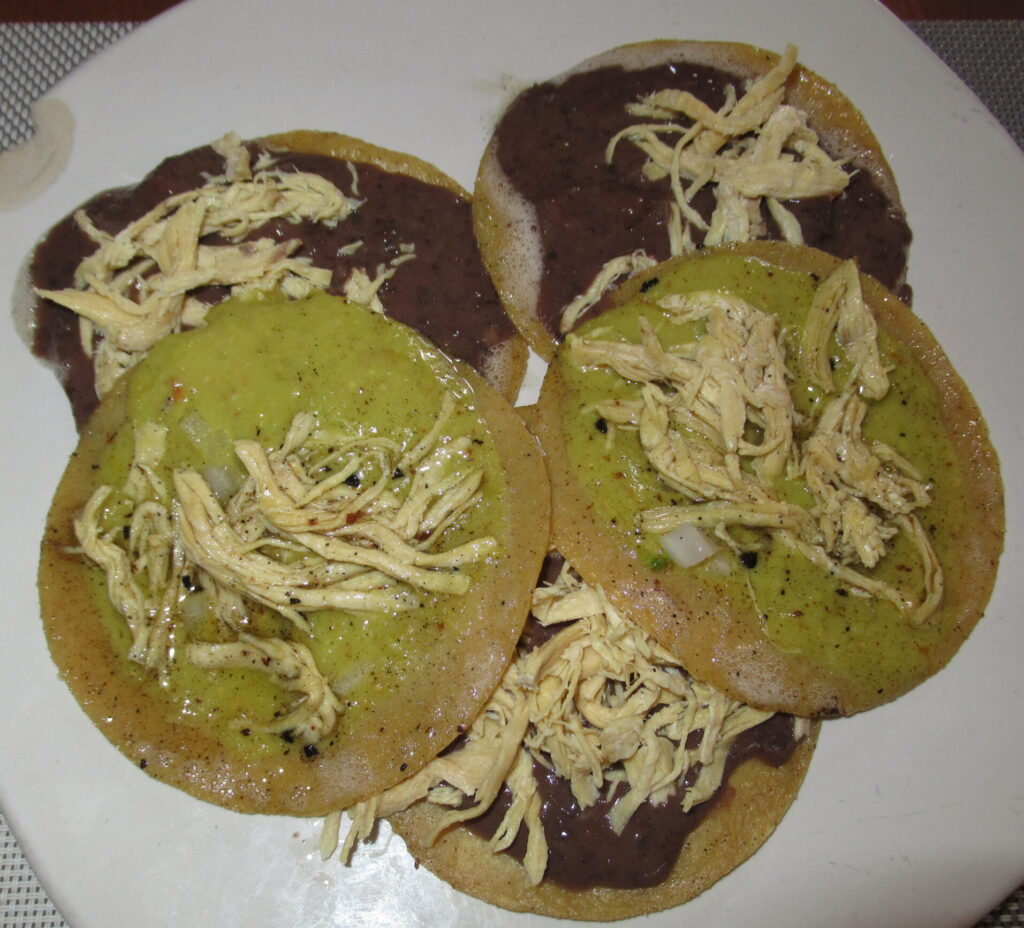 Our previous excursion into 'sandwiches' in Campeche had proven to be a big hit, and so we definitely had to try 'Torta adobada' – which is commonly sold from street stalls in Mexico City. It literally means something like 'marinated bread' – which clearly it isn't…. but it is a delicious jam packed sandwich… 🙂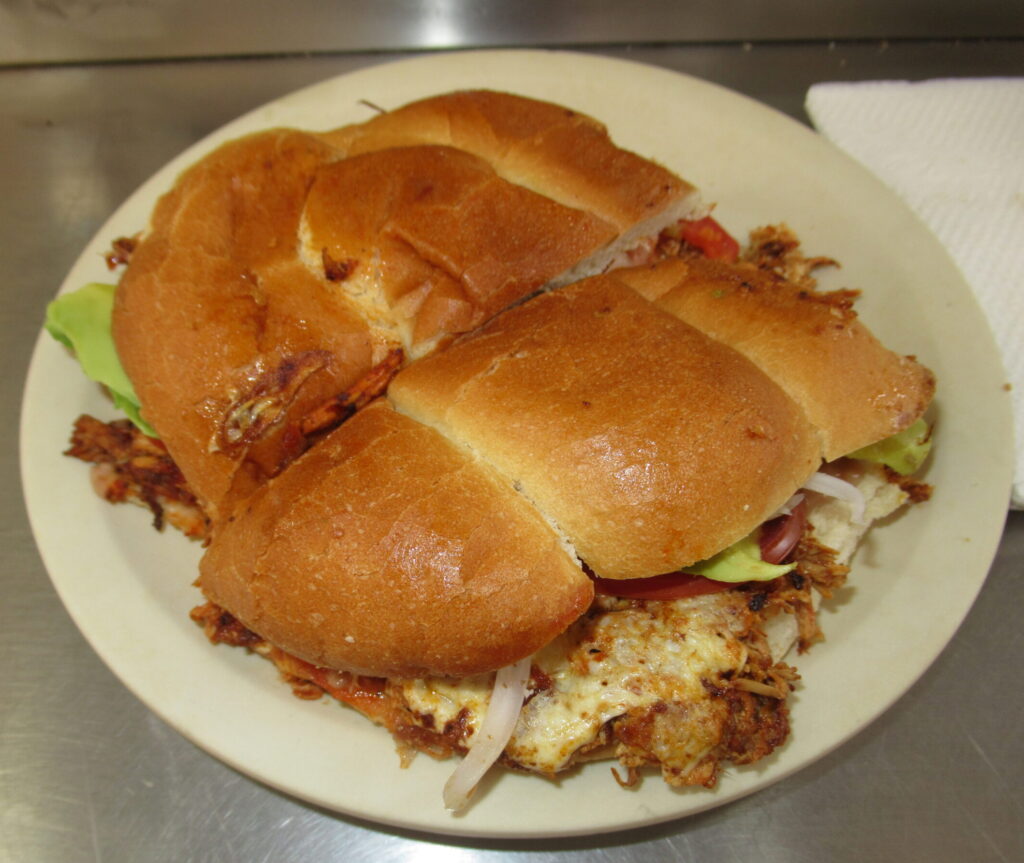 And last but not least, a very special mention to the restaurant around the corner from where we stayed in Mexico City – where we had at least three meals – including our very last meal in Latin America… sob sob 🙁
So I leave you with 'fried rolled tacos' – also known as 'tacos dorados', 'flautas', or 'taquitos'…. Thanks Cafe La Pagoda – it was nice knowing you…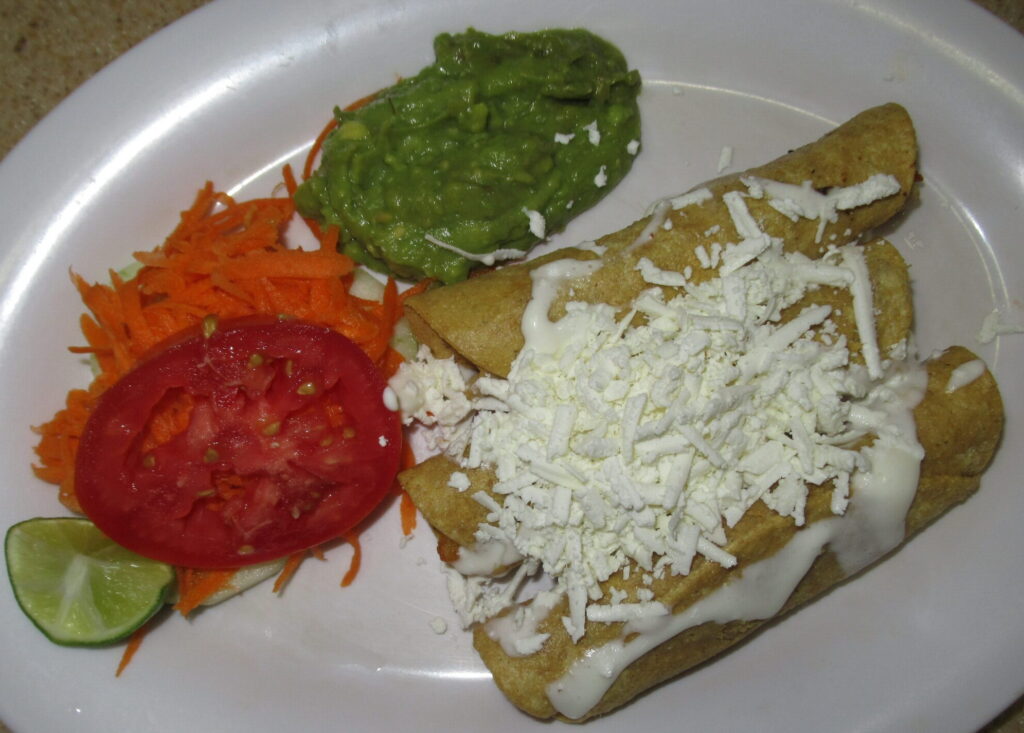 Next up… SNACKS!