Food in Peru… the final installment…
OK…. now that the mediocre lunches and the large variety of soft drinks are out of the way – what else does Peru have to offer food wise? Well, quite a lot – and it's mostly good – it seems like 'set menu lunches' are Peru's weak spot. and the rest is not too bad…
So let's start with a few bits and pieces that can be found on the streets of Peru…
First off – mazamorra and arroz con leche. We had mazamorra a few times as dessert on set menus – and if you remember, it was not much of a favourite of ours! We always wished for arroz con leche (a kind of rice pudding) instead (it never seemed to be on set menus…) as it was WAY more delicious (but not as good as in Argentina…)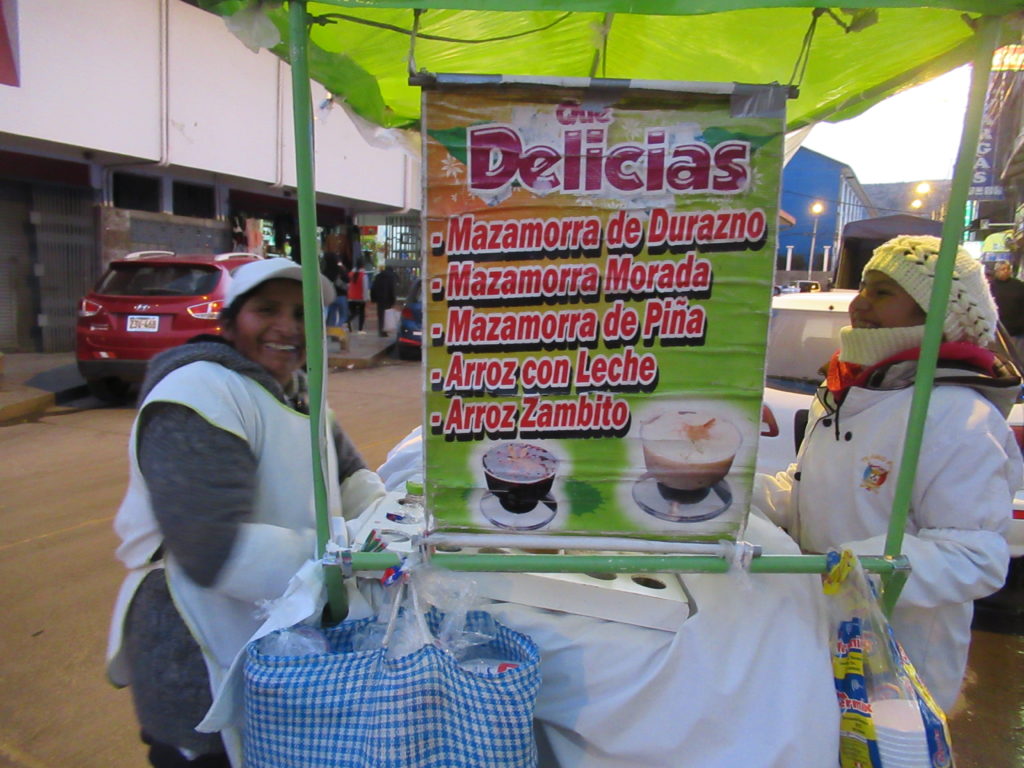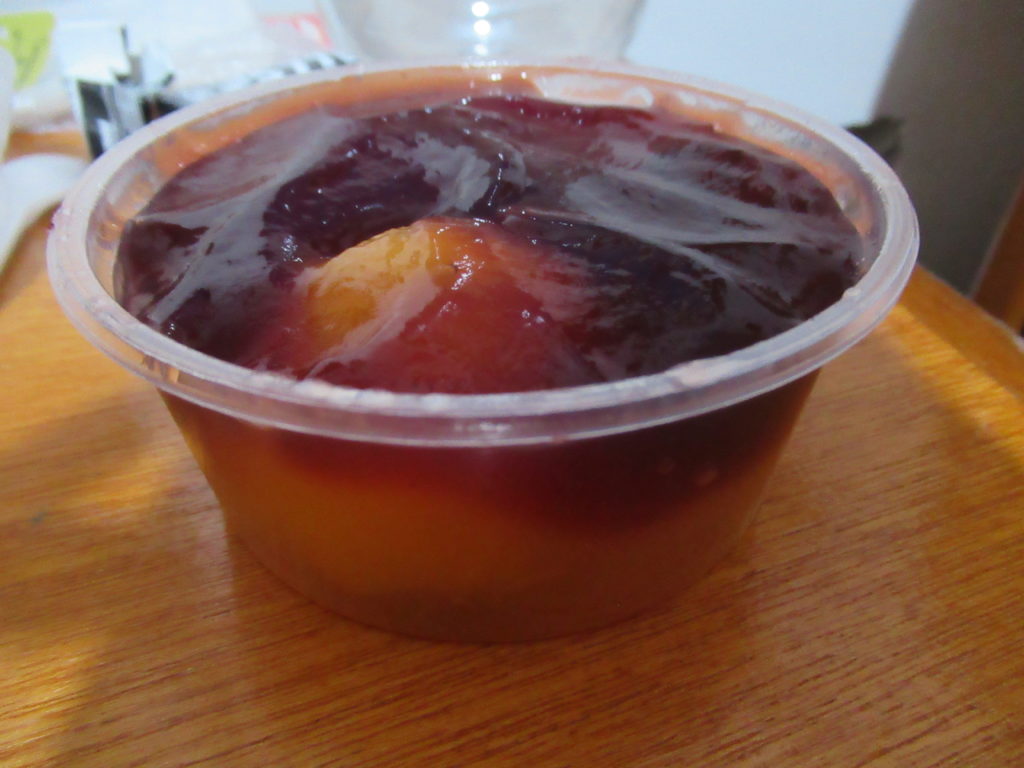 In Arequipa, they have a local speciality called 'Queso Helado' – which means literally 'cheese ice-cream' – yes, it may sound weird – but it's AWESOME! 🙂 In fact, it doesn't contain any cheese… it's made from milk, condensed milk, and cinammon. It has been made in Arequipa since the 16th century. Apparently nobody knows why it's called 'cheese ice-cream'… it's a mystery…!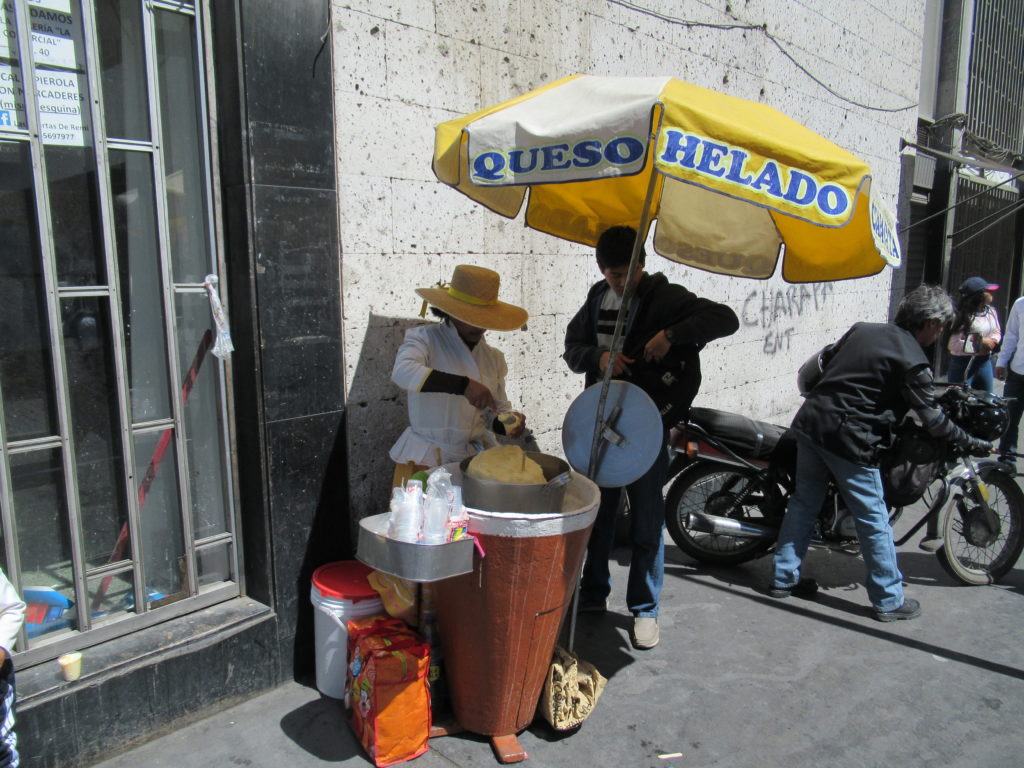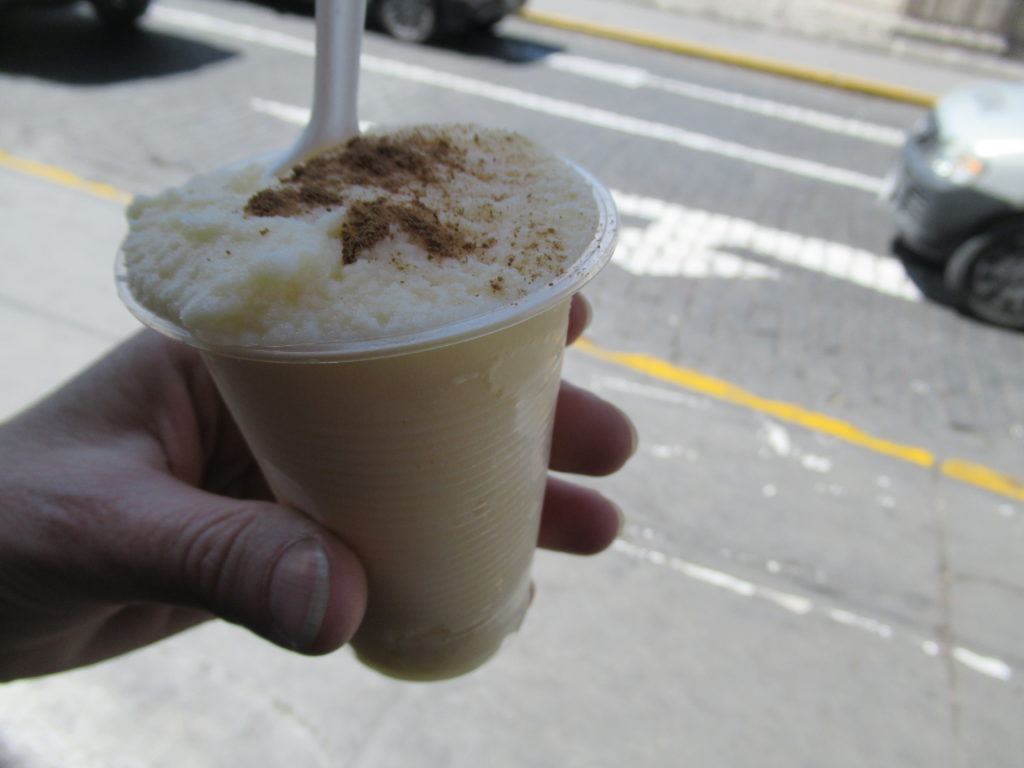 Next up, some street snacks – good stuff was actually harder to find than we expected – there seemed to be chicken and chips everywhere – but we found a few nice treats.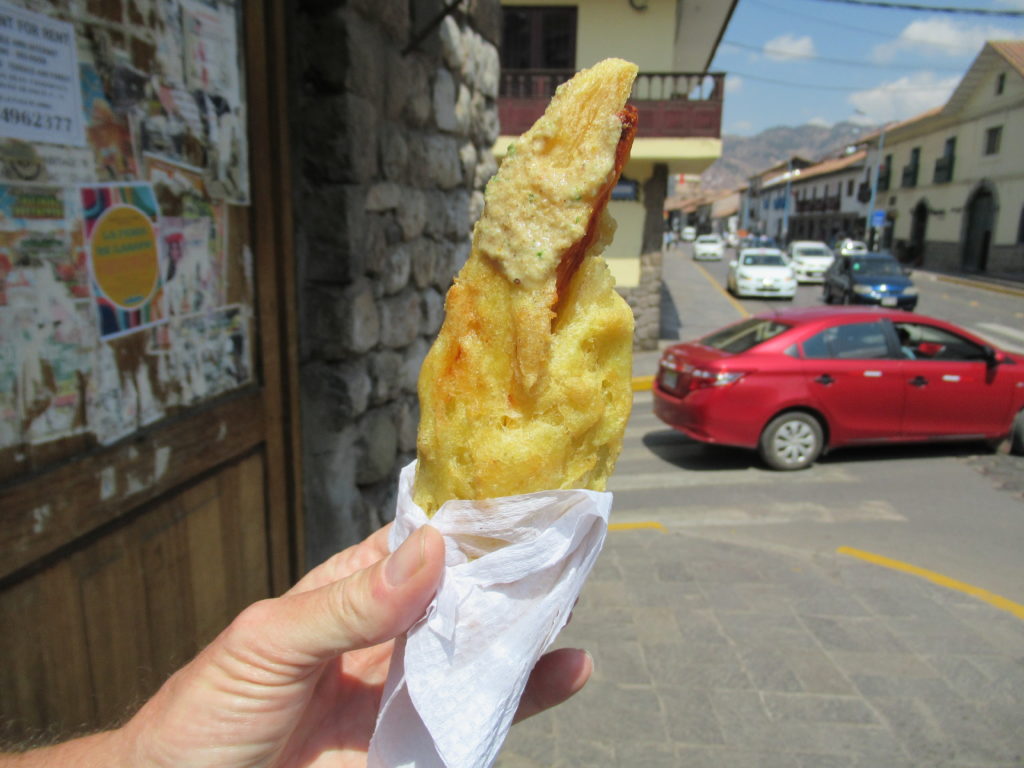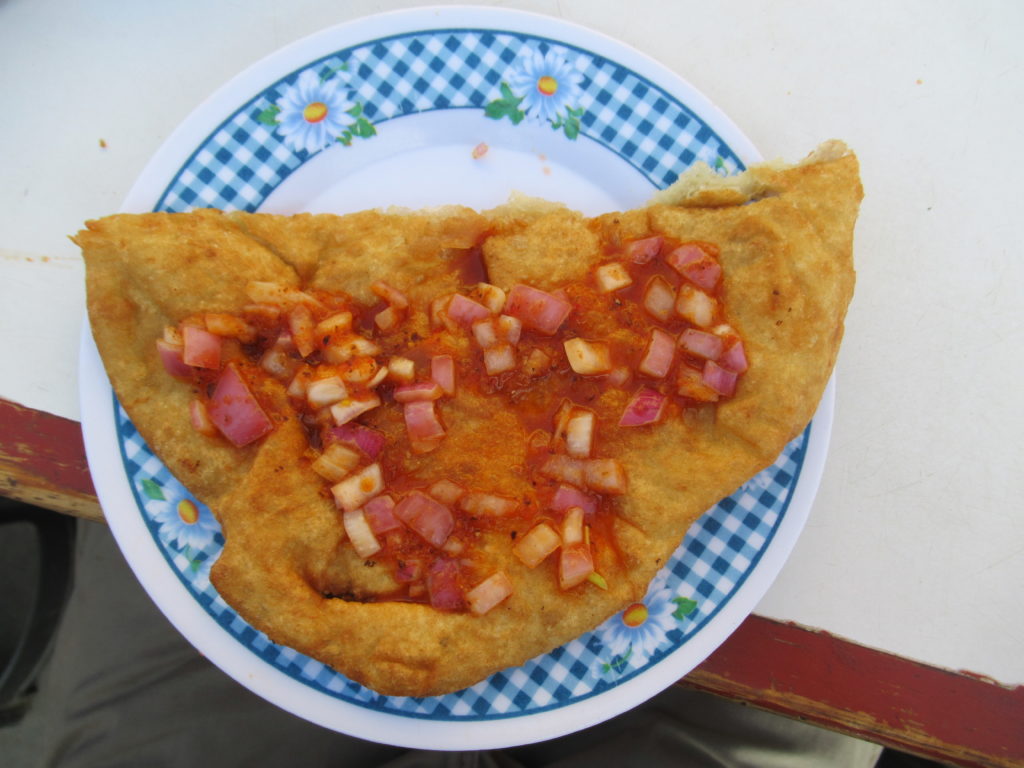 Our favourite and most-eaten snack in Peru was toasted corn. You could buy it in bags almost everywhere, and we were almost NEVER without a supply of it. We stored it in our room, and ate it as soon as we arrived back from anywhere.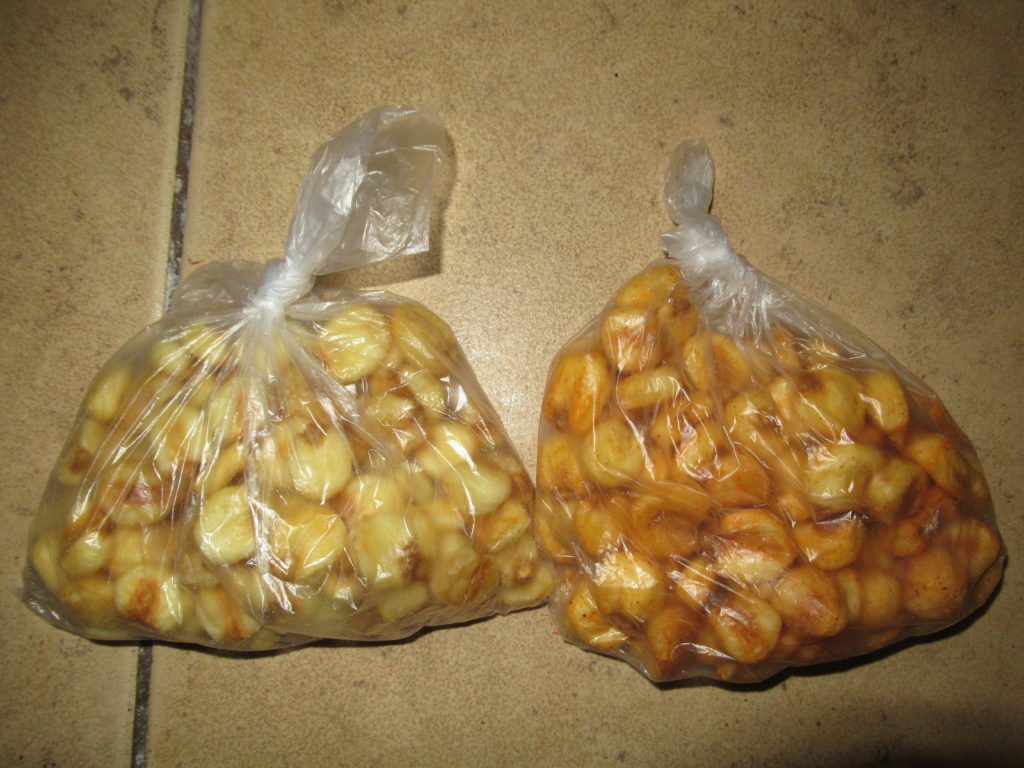 Plantain chips or 'chifles' were also a good snack – these only really appeared in the north of Peru though. (Clearly we will eat anything that is fried…!)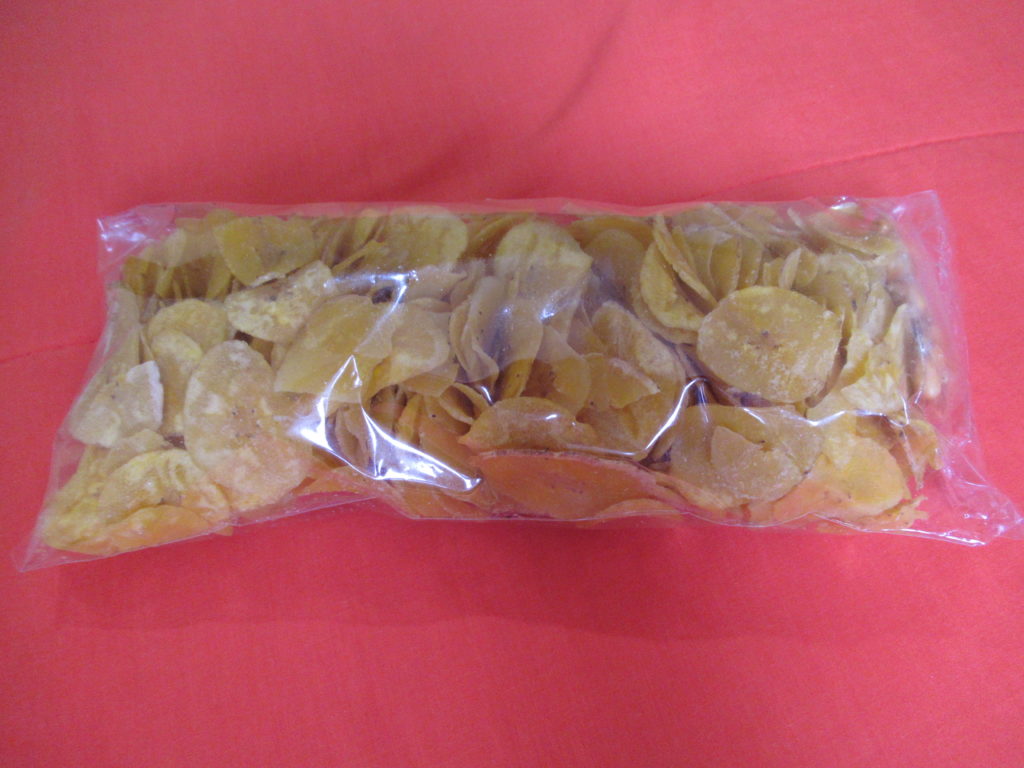 Moving on to more healthy snacks, we come to a fruit that we especially liked to eat. Part of the reason for our fondness of this fruit was the way that you eat it. You crack it like a hard-boiled egg and pull off the hard skin on the outside. Inside is gooey mush of flesh and seeds. With half of the skin removed, you can put your mouth over the top of it, and suck out all the flesh and seeds. VERY SATISFYING! 🙂 The fruit is called Grandilla, and it's a type of Passion Fruit.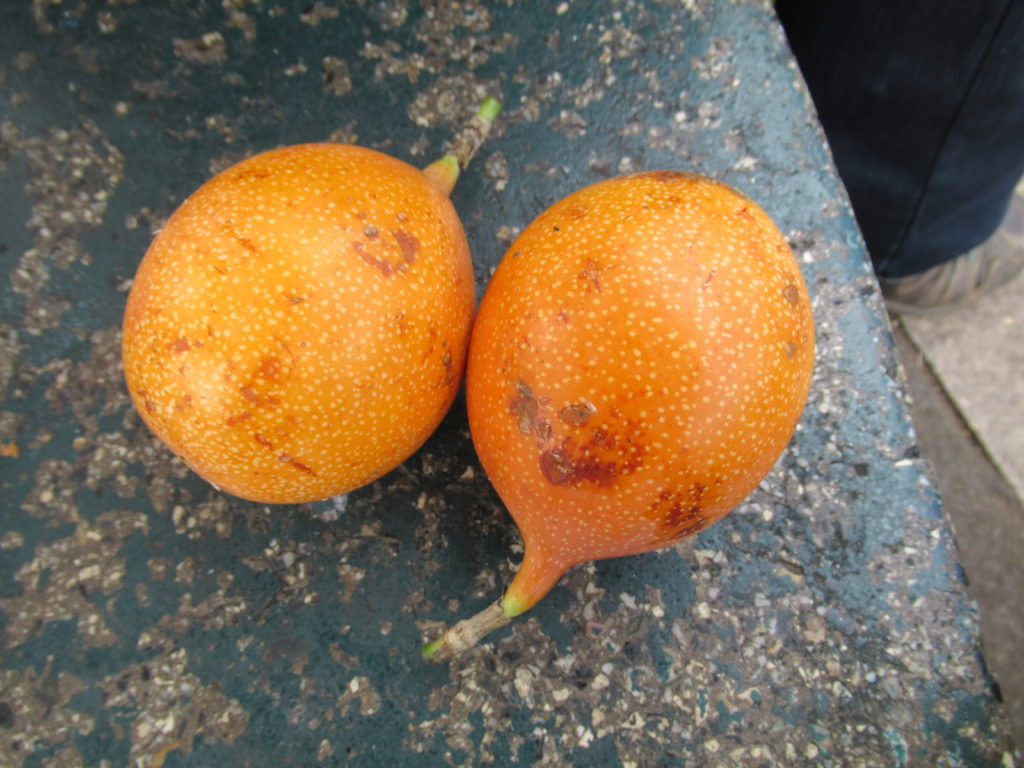 I will also give a special mention to 'fruit salads' – which are available in a lot of Peru from places that also sell cakes and drinks. What you are imagining as a 'fruit salad' probably doesn't match what you will get in Peru though! 🙂 They do contain fruit, but they often have a whole ton of other ingredients too – such as nuts and grains.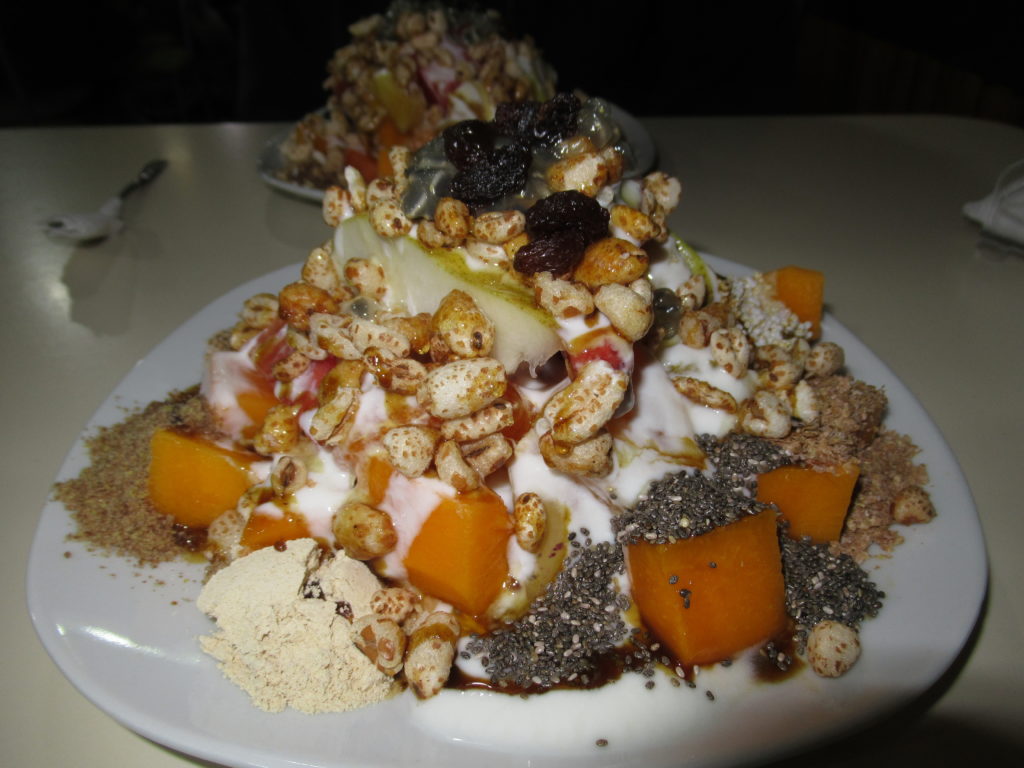 All of this brings me to cakes…. yes CAKES!  Yep, Peru is FULL OF CAKE. It really is – there are cake shops EVERYWHERE, and the cakes are generally pretty good. We ate a LOT of cake in Peru – it was our compensation for the lousy set menus 🙂
Our favourites from Peru were the 'budin' – which is bread and milk pudding (with various other additions depending on the recipe), and 'tres leches cake' – this cake is soaked in milk, condensed milk, and evaporated milk – hence the name ('tres leches' means 'three milks'). A good tres leches cake is AMAZING! 🙂 …yum yum
So without further ado – here is a gallery of cake… (including some things that might technically be called 'pastries' :-))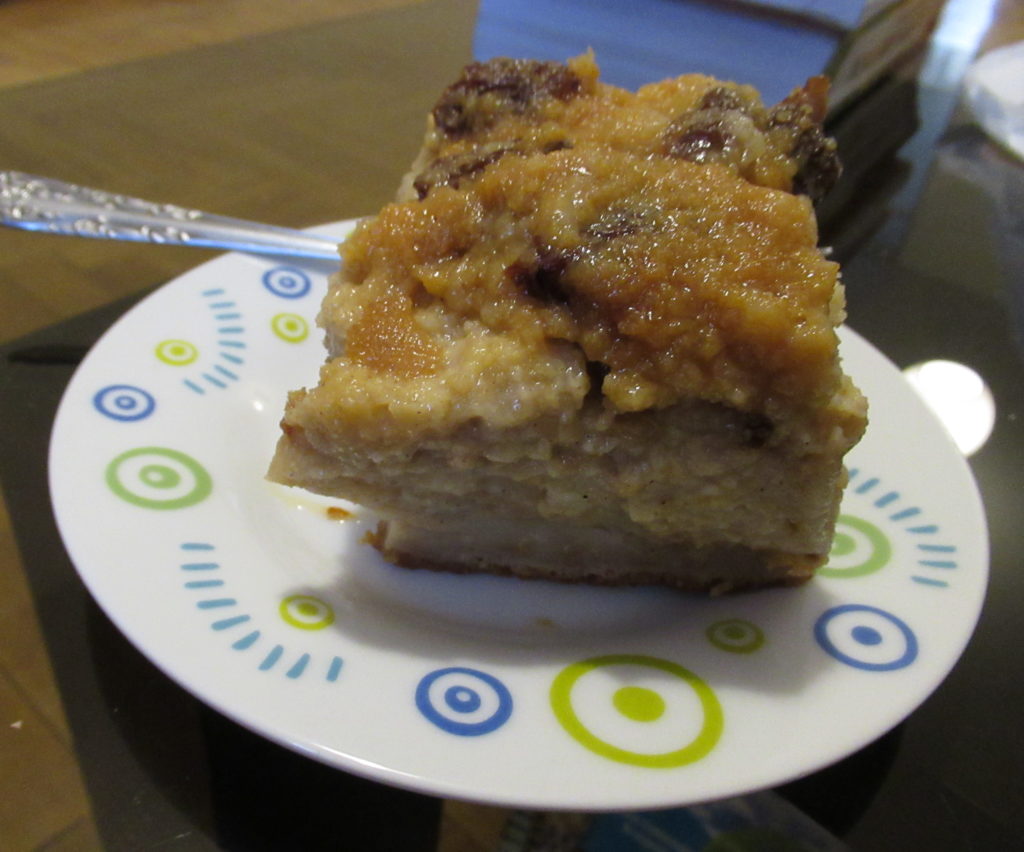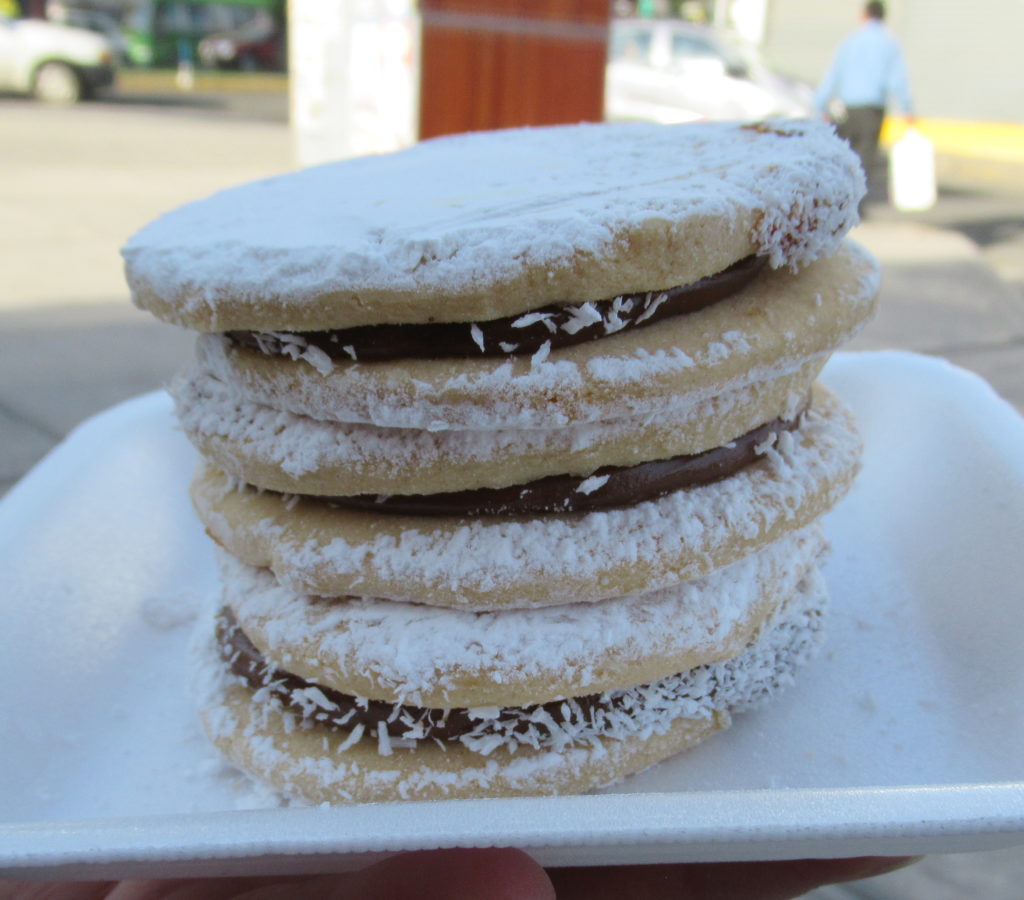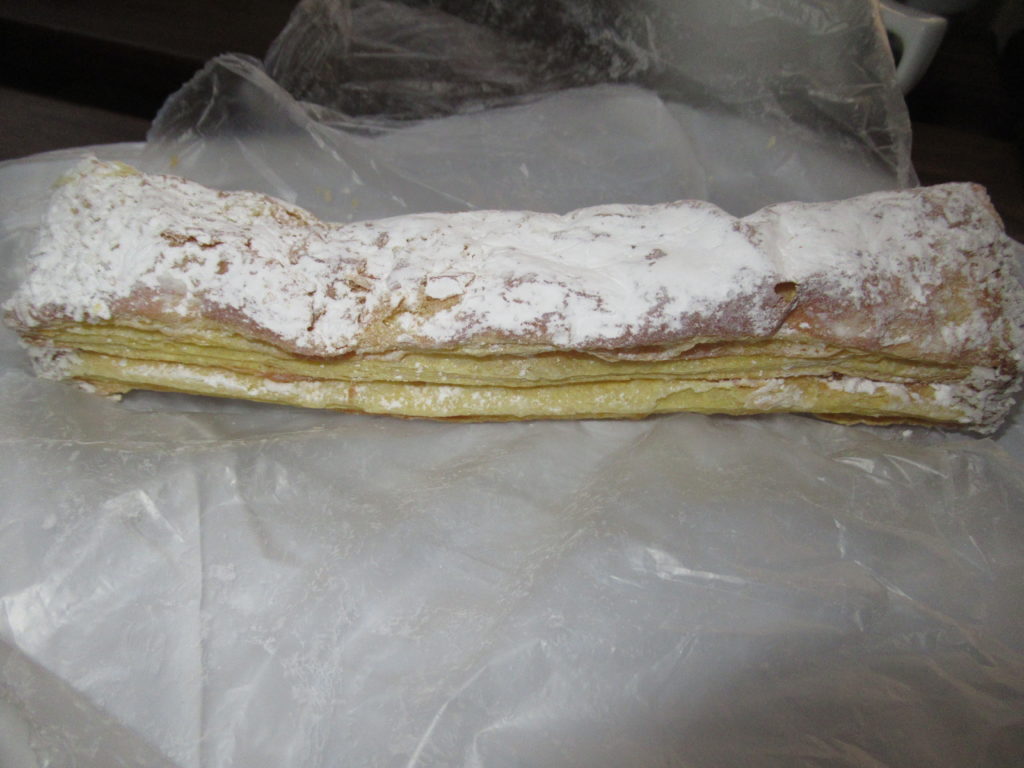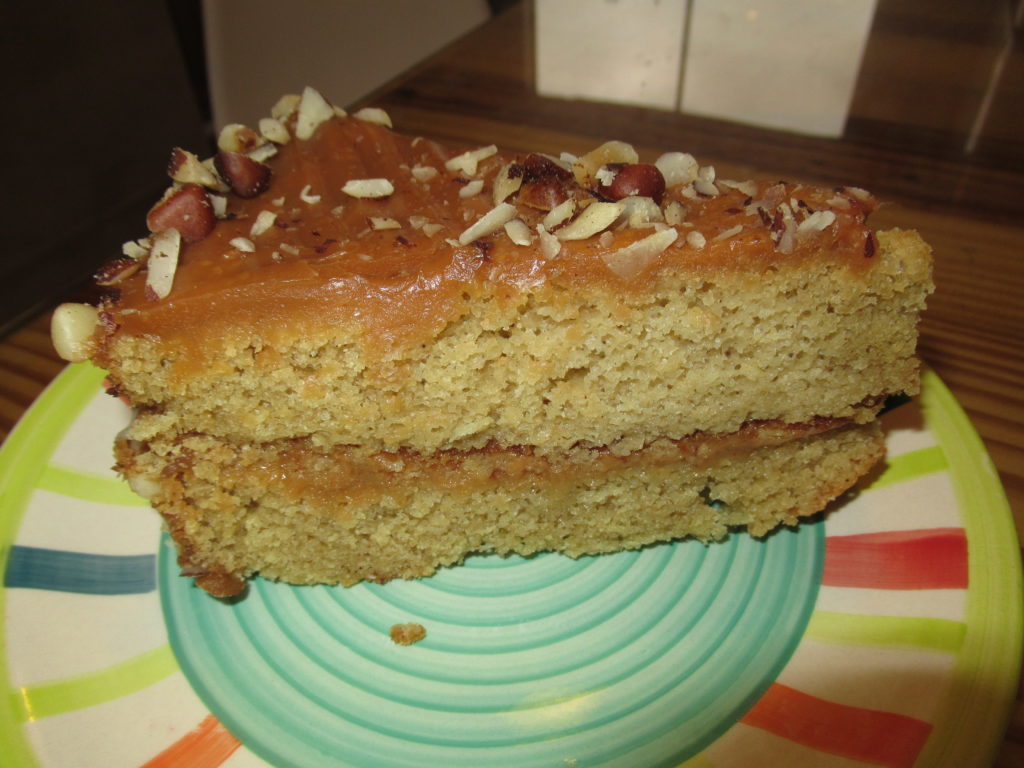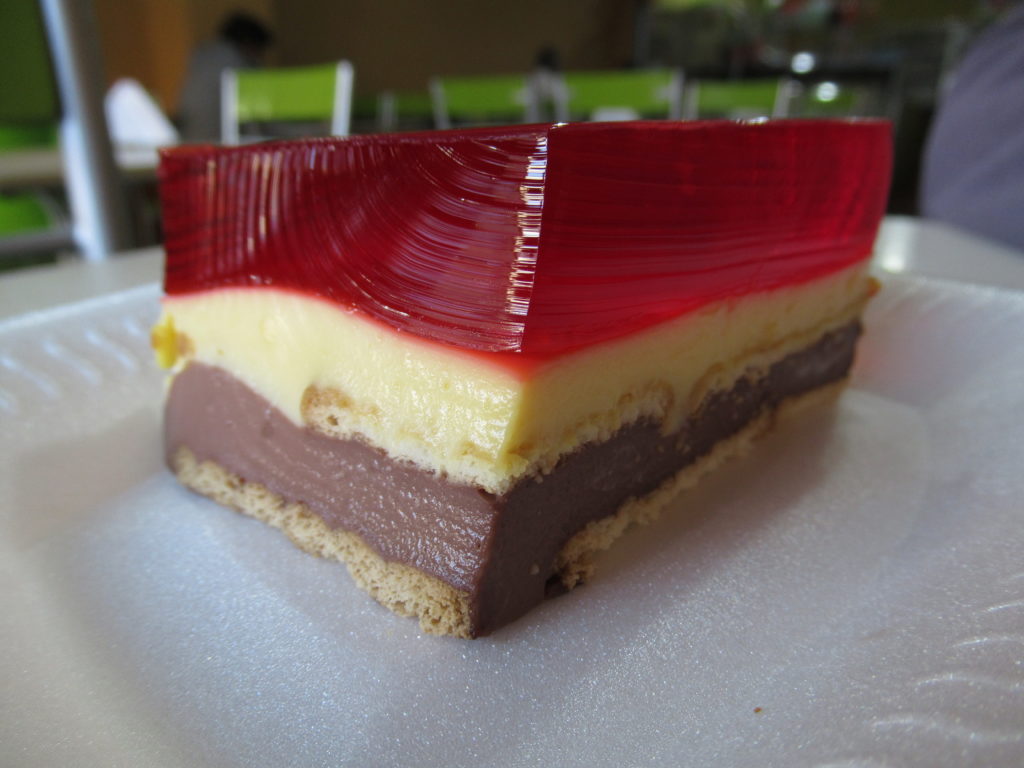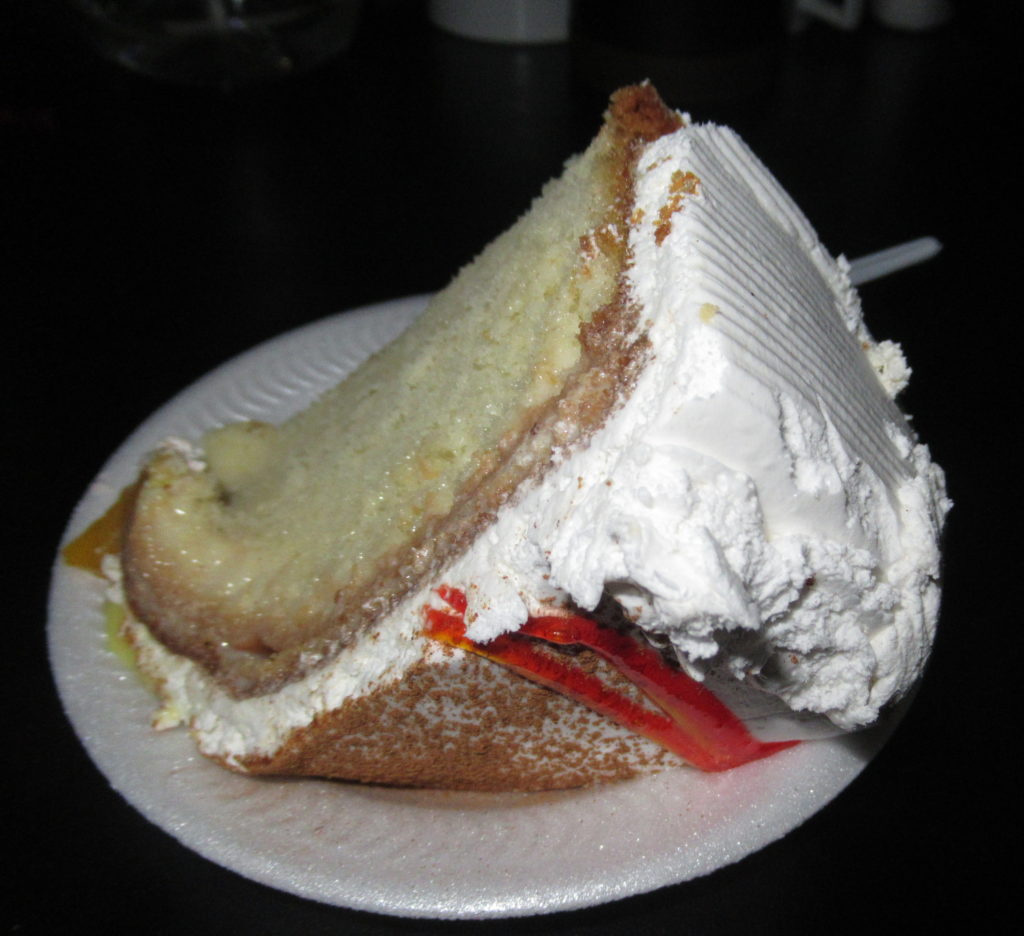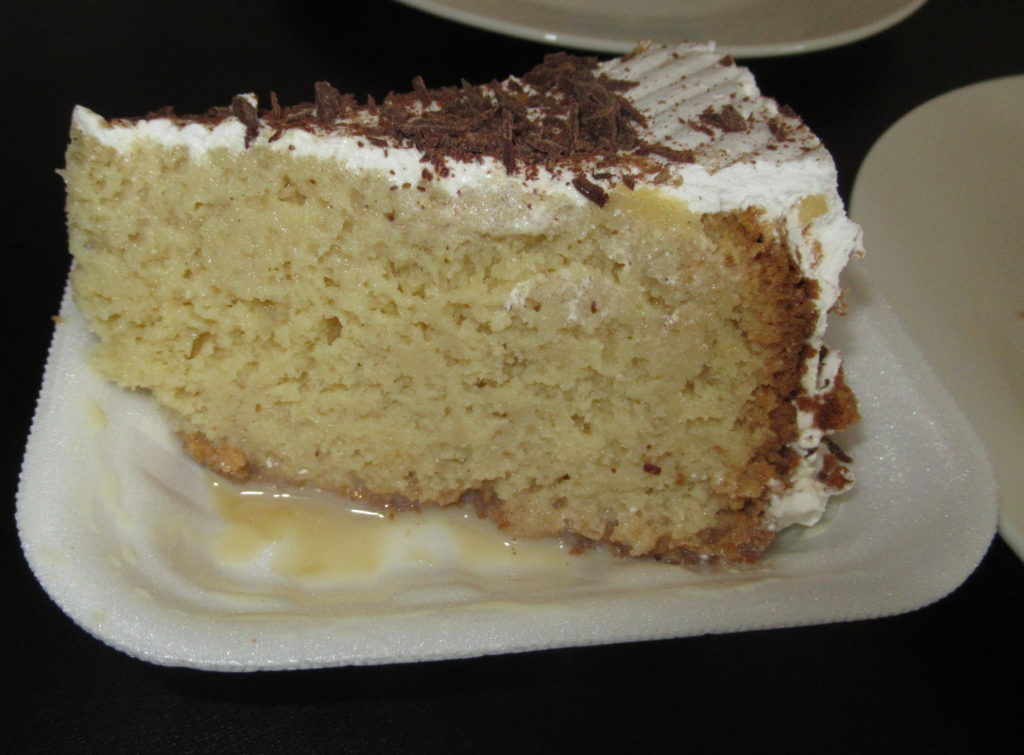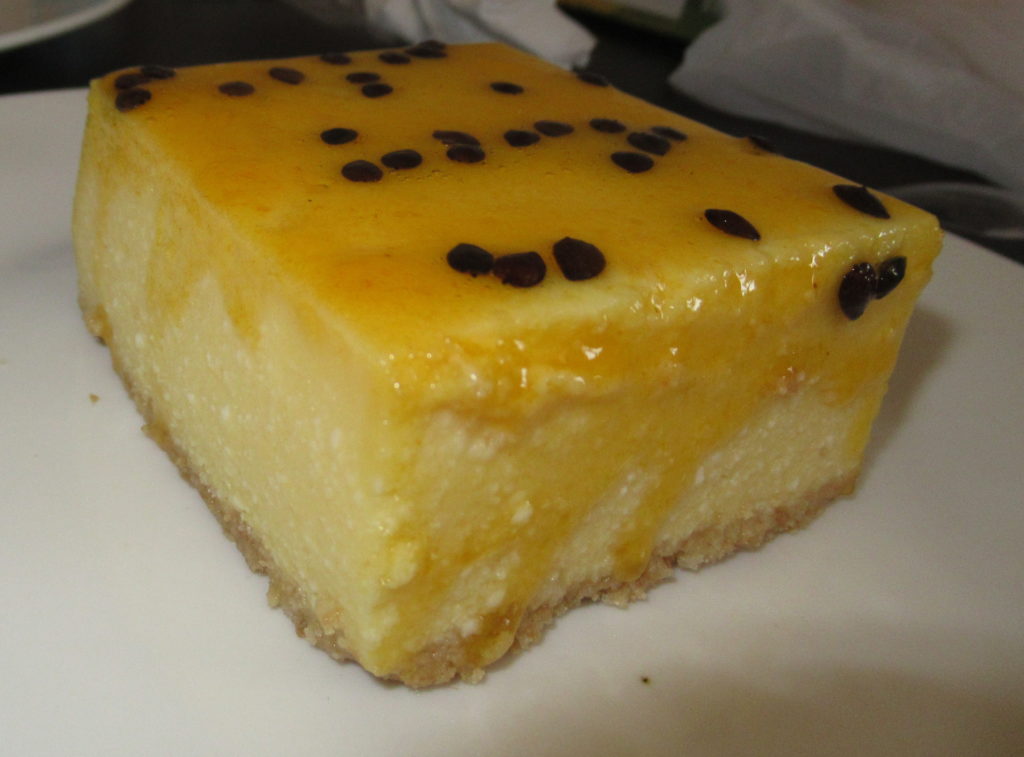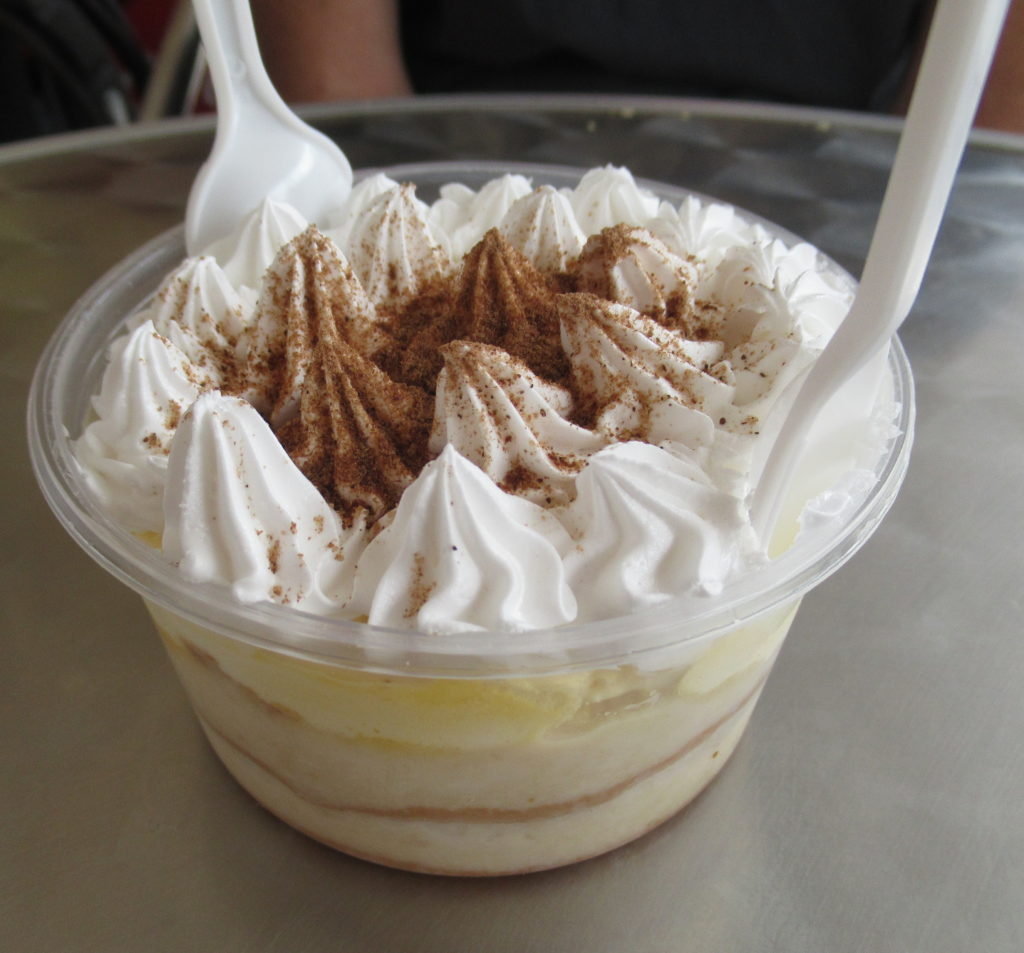 When we weren't eating cakes, we did a fair bit of self-catering in Peru as well, and I can also happily report that it was usually possible to find bran cereals for our breakfast – yes, a bit of bran for breakfast goes a long way! 🙂
Peru even had its own local, cheap fibre cereal product – which was our bran of choice when we could find it. It wasn't sold everywhere, so we had a 'try three supermarkets and then give up' policy put in place by the cereal committee (PB and CC).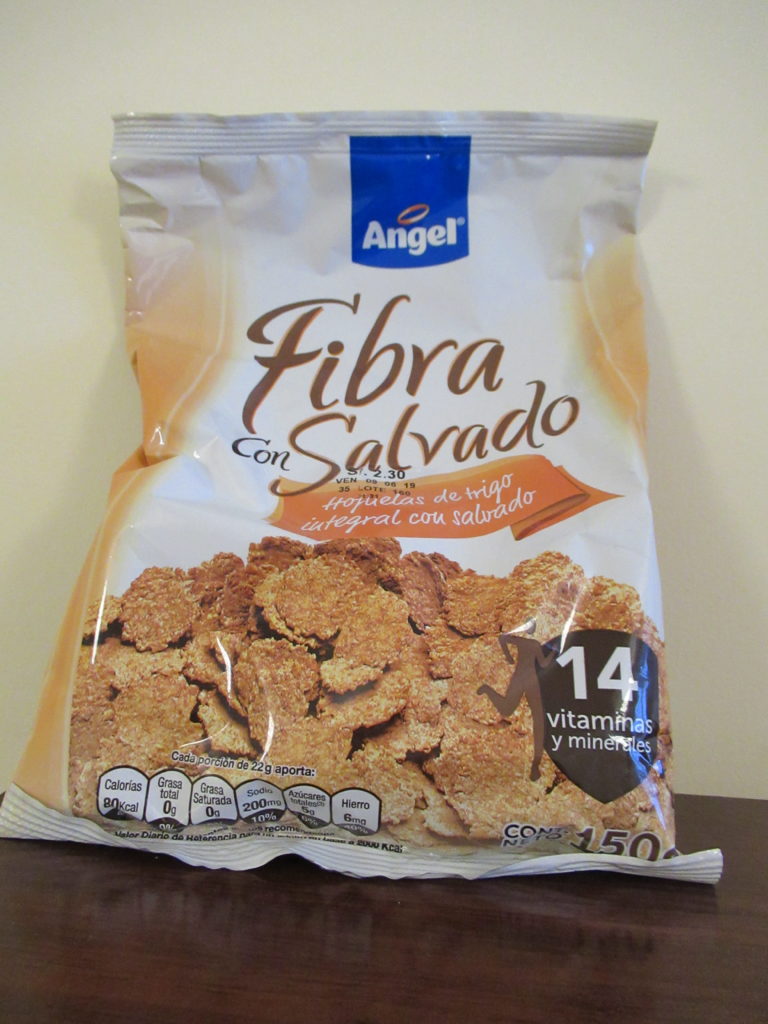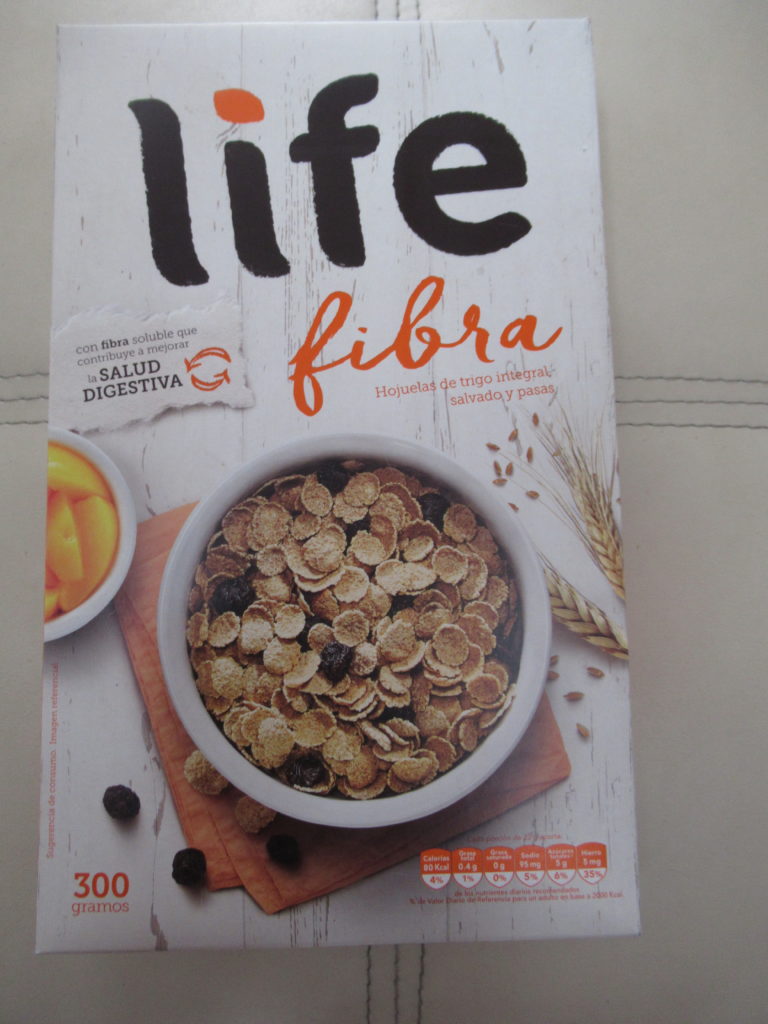 When in hostal shared kitchens (as opposed to an airbandb), generally it's good to keep the cooking simple (due to dirty kitchens, too many people, only one pan.. etc…) We found a couple of 'heat up and go' type options that were actually not bad at all.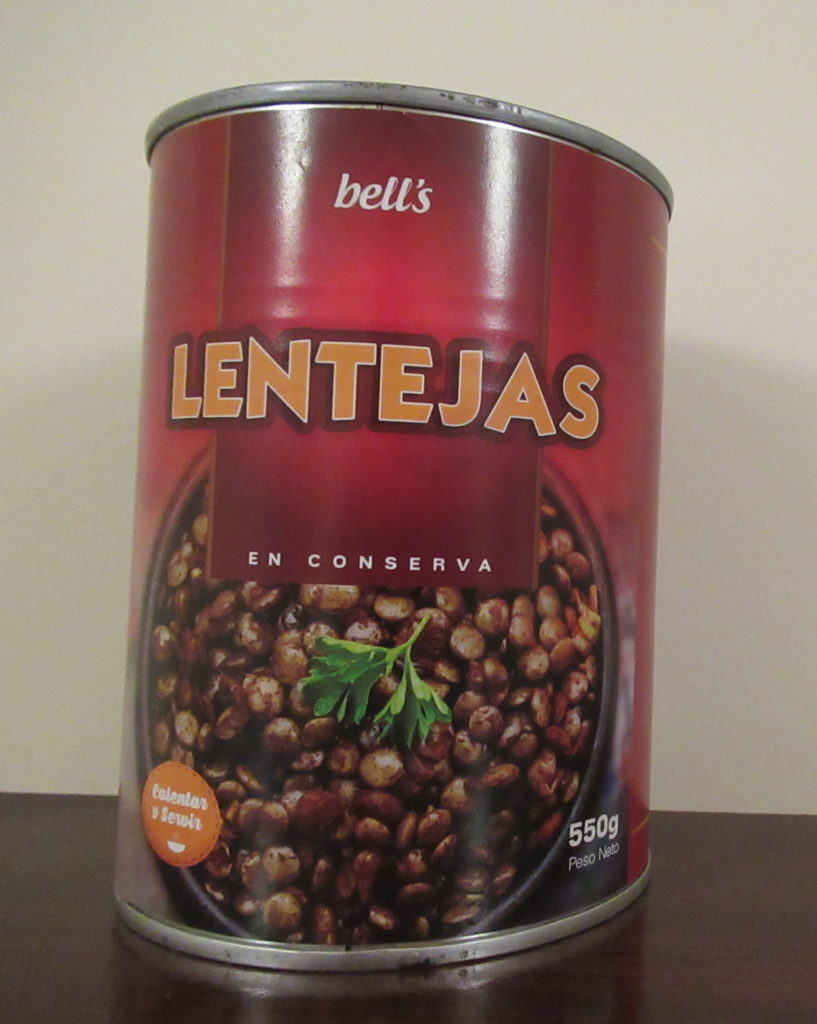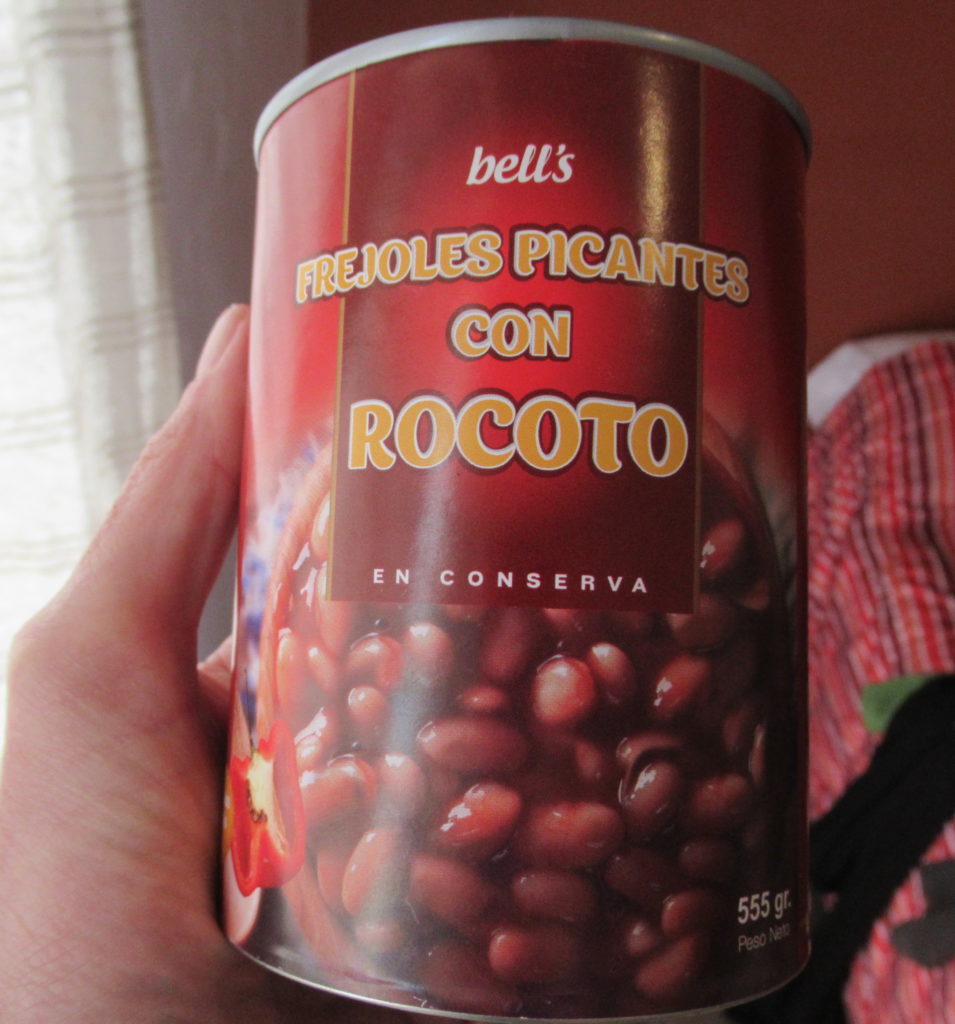 Now let's talk about some drinks… the national drink of Peru is of course pisco. The pisco in Peru was pretty good – we did some tasting in Ica.
Coffee in Peru was along the usual South American lines of 'most people just drink Nescafe'….. BUT we found our favourite instant coffee of the trip in Peru! (Yes, how times have changed for us…. we have a favourite INSTANT coffee…. 🙂 ) It was a little more expensive than the other instant coffees, but the coffee committee (CC and PB) approved additional budget expenditure.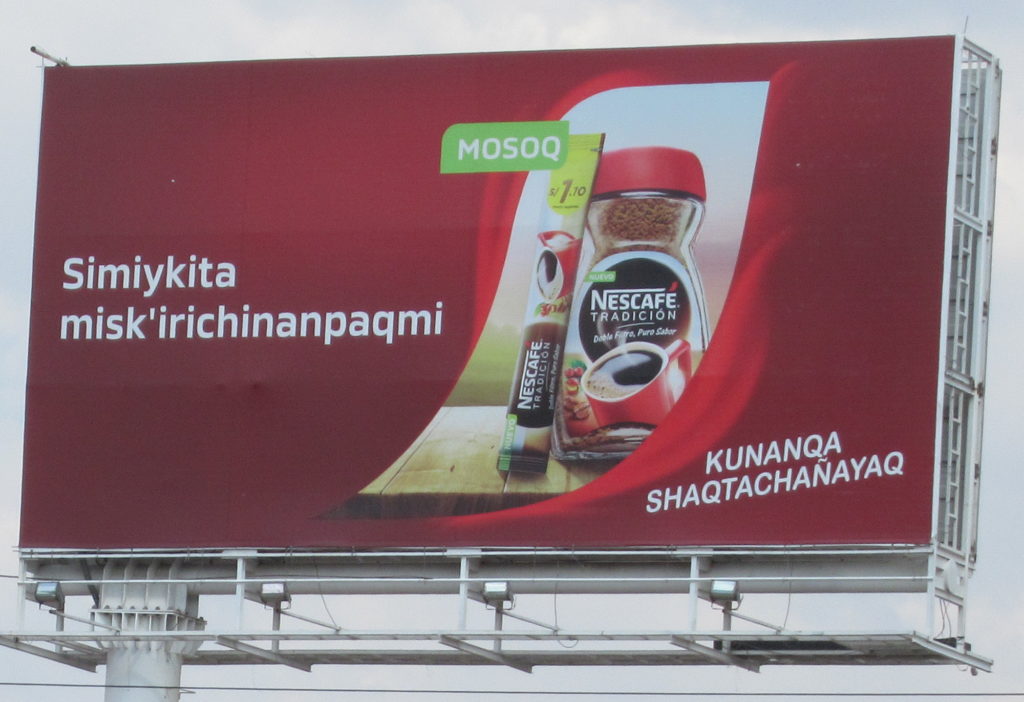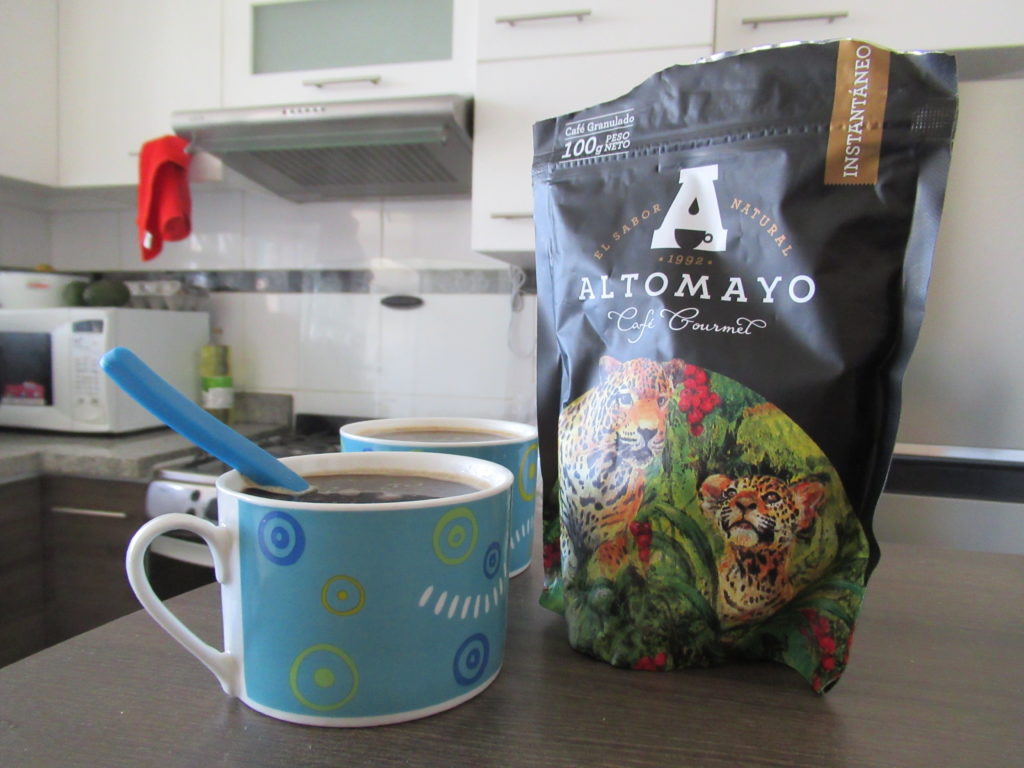 Peru actually makes a fair bit of wine as well – but it's a bit of an acquired taste, as it's VERY sweet. In the interests of scientific research we tried a bottle – it was a bit sweet for our tastebuds, but could have been worse…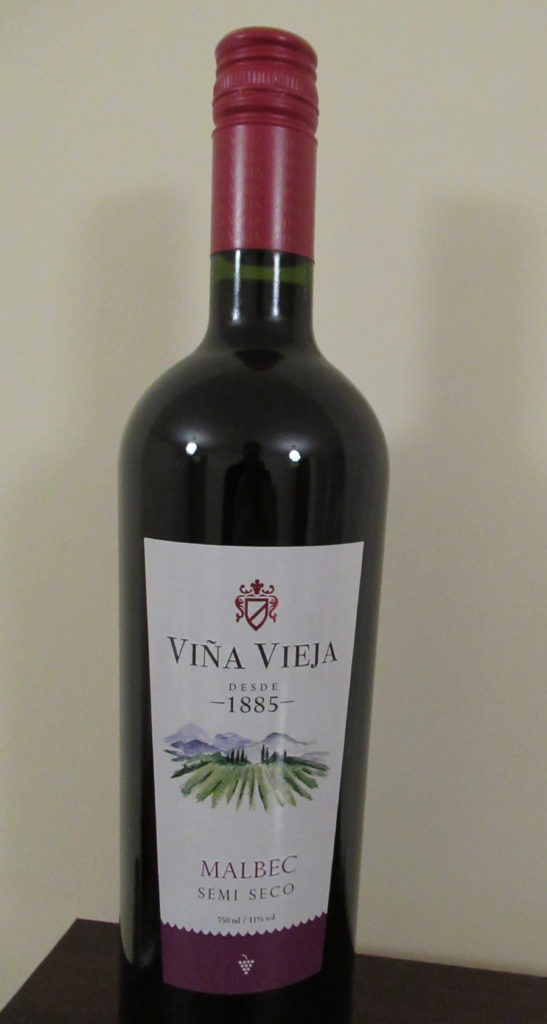 Moving on to chocolate… well, after the delights of Bolivian chocolate, we figured that Peru would be able to do great chocolate as well…. BUT NO! We were disappointed by chocolate in Peru – we tried three different kinds before we gave up and decided that Peru sucked at making chocolate.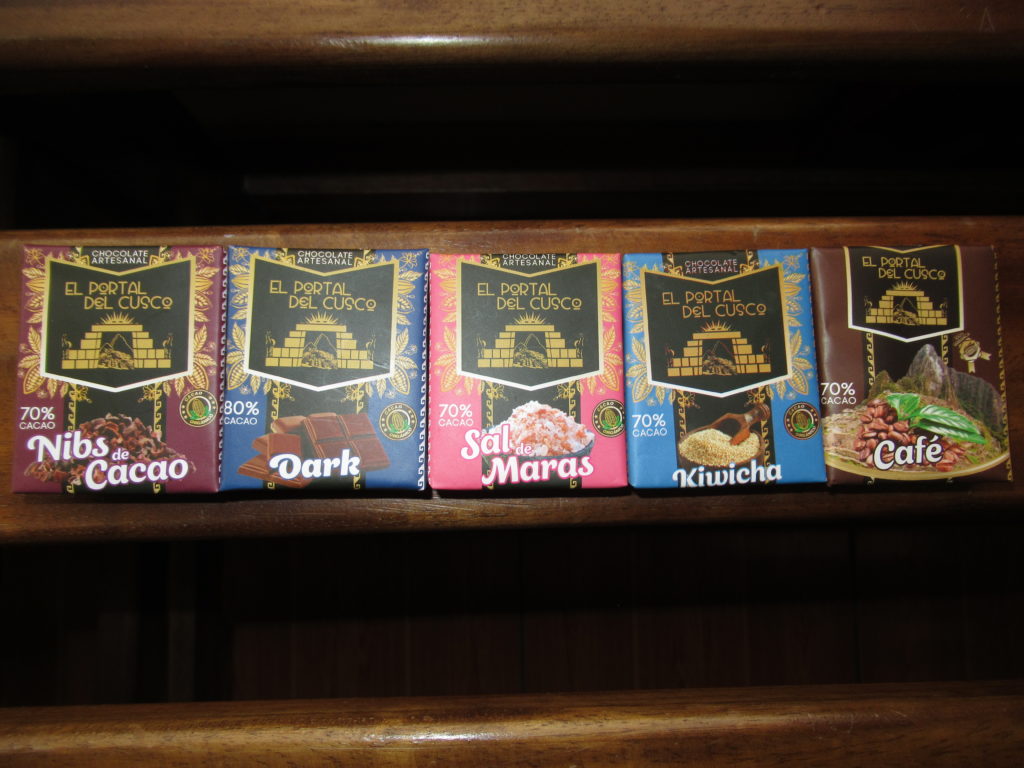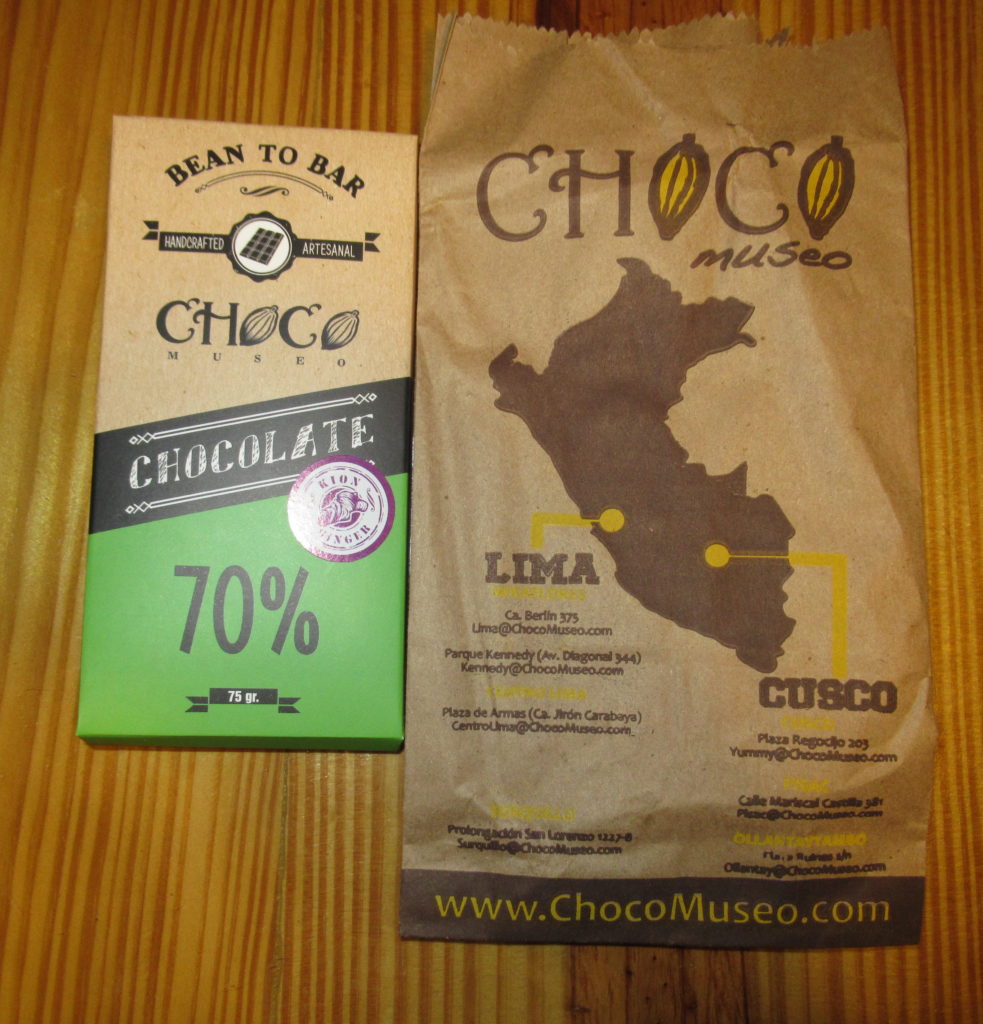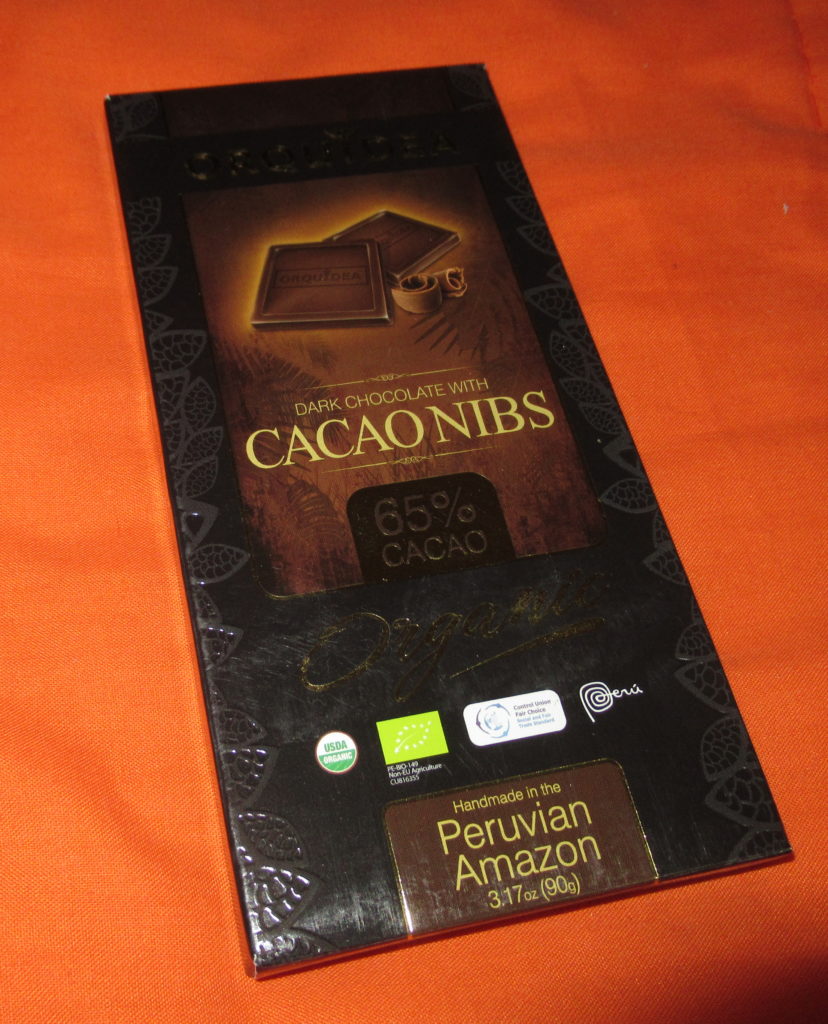 So, having given up on the 'proper' chocolate, we moved on to the cheap supermarket chocolate and tried a 'Sublime'. Sublimes are a Peruvian institution, and are made by a comany called D'Onofrio, which has been around since 1859. Of course like everything else, it's now owned by a giant multinational (Nestle) …..
We really liked Sublimes and started eating them EVERY NIGHT 🙂 Although the chocolate part was a bit rough, they are full of nuts which made the flavour OK with us! 🙂 Sublimes came in milk chocolate and dark chocolate varieties. Confusingly the milk chocolate version was called 'smile', and the dark chocolate one called 'bitter'. The dark chocolate one was far superior – but quite a bit harder to find. The 'smile' thing is part of their very LARGE marketing campaign – they had billboards everywhere.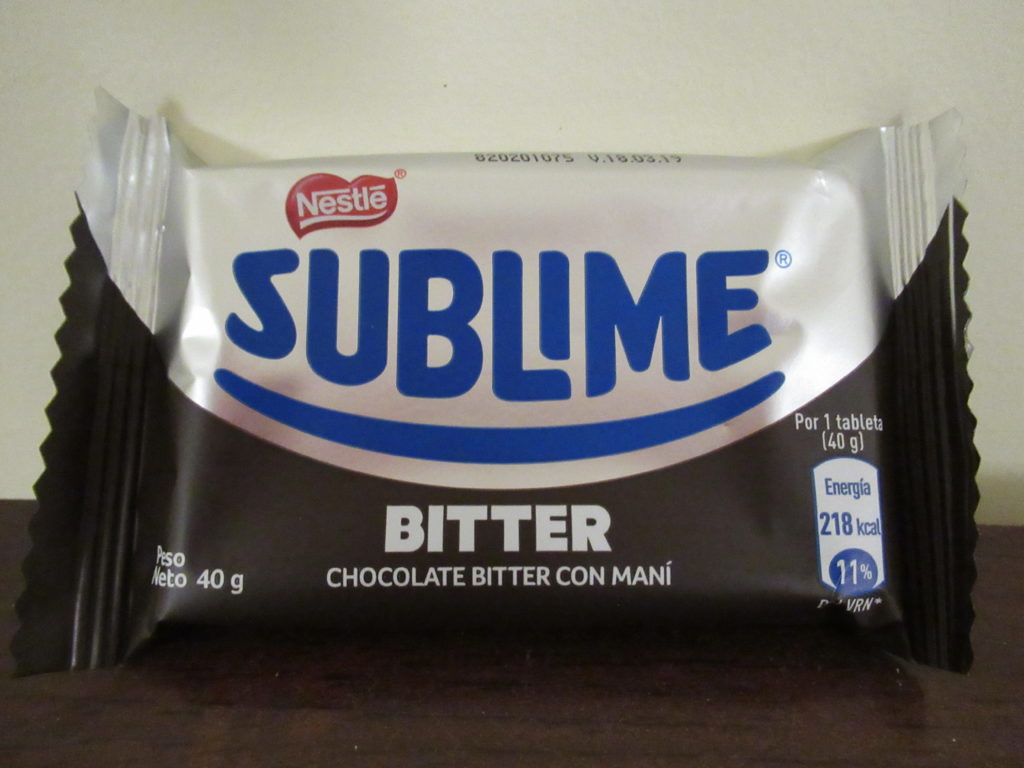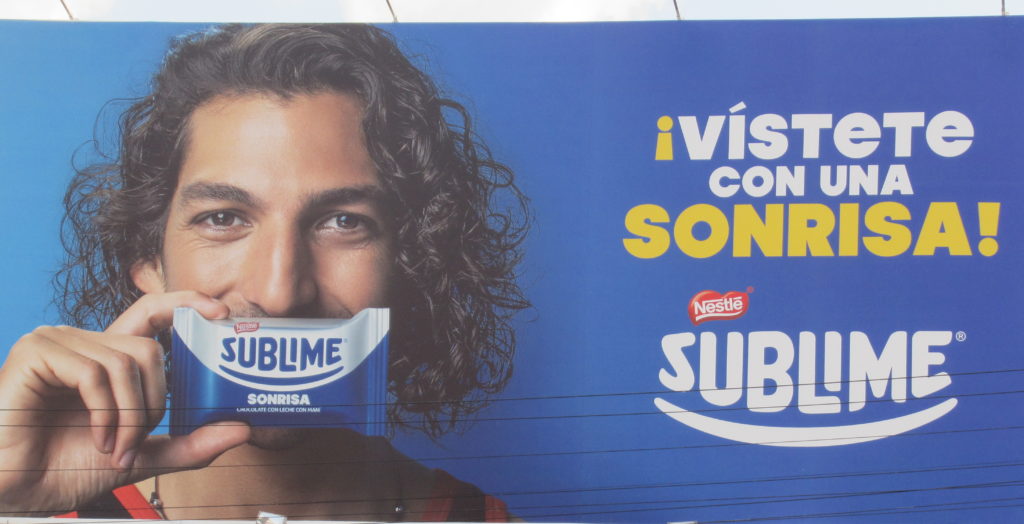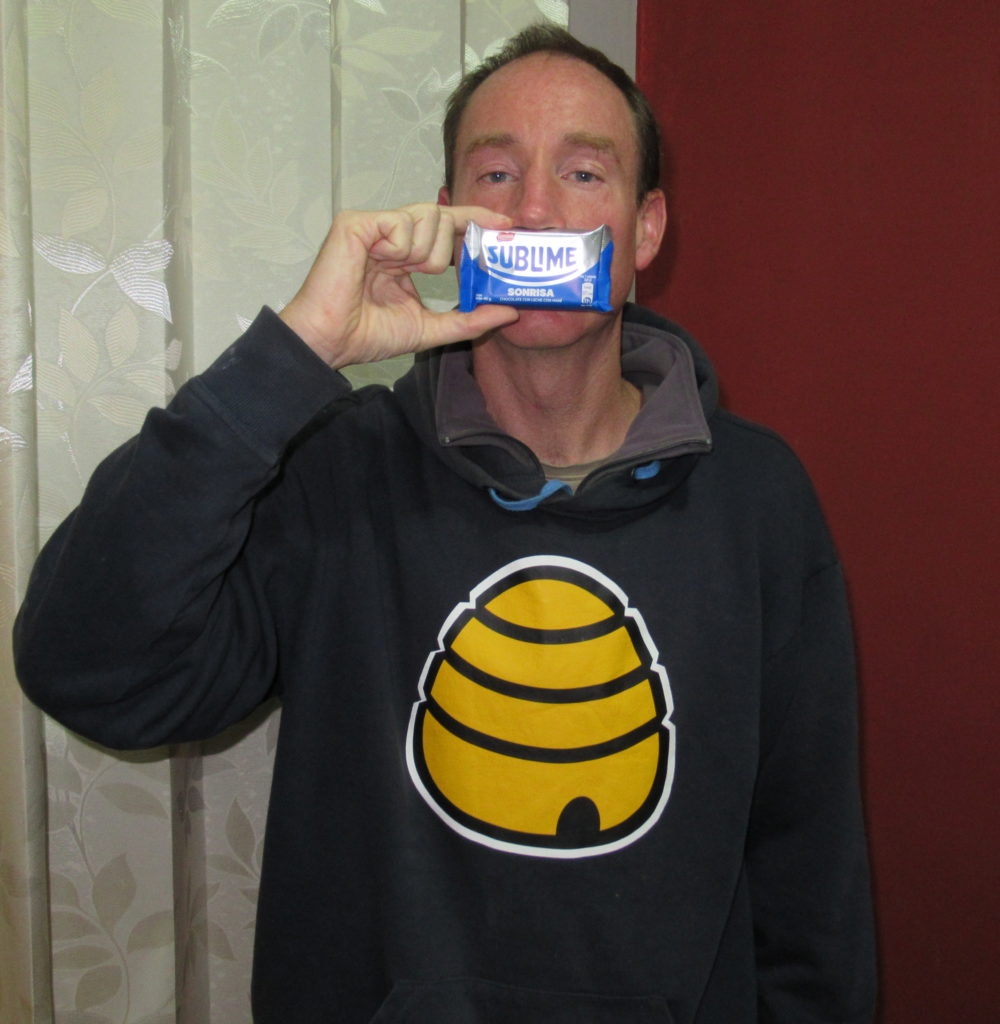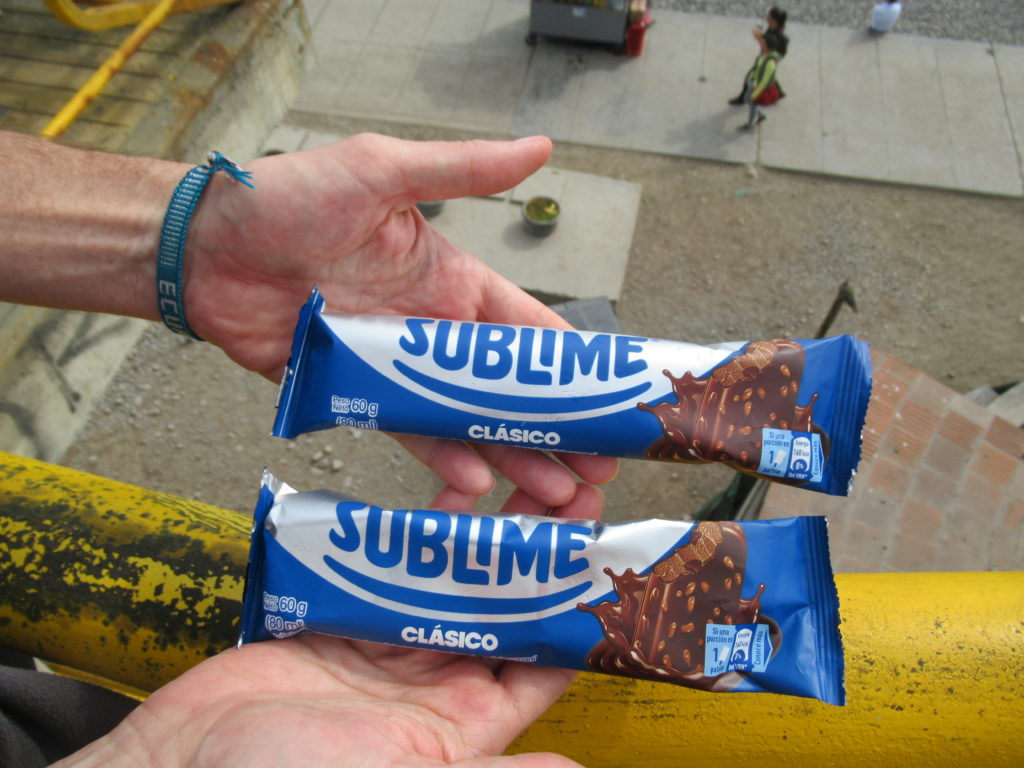 We tried a few other cheap sweet treats, but only one other one made the 'quality shortlist' – small caramel filled 'mecanos'.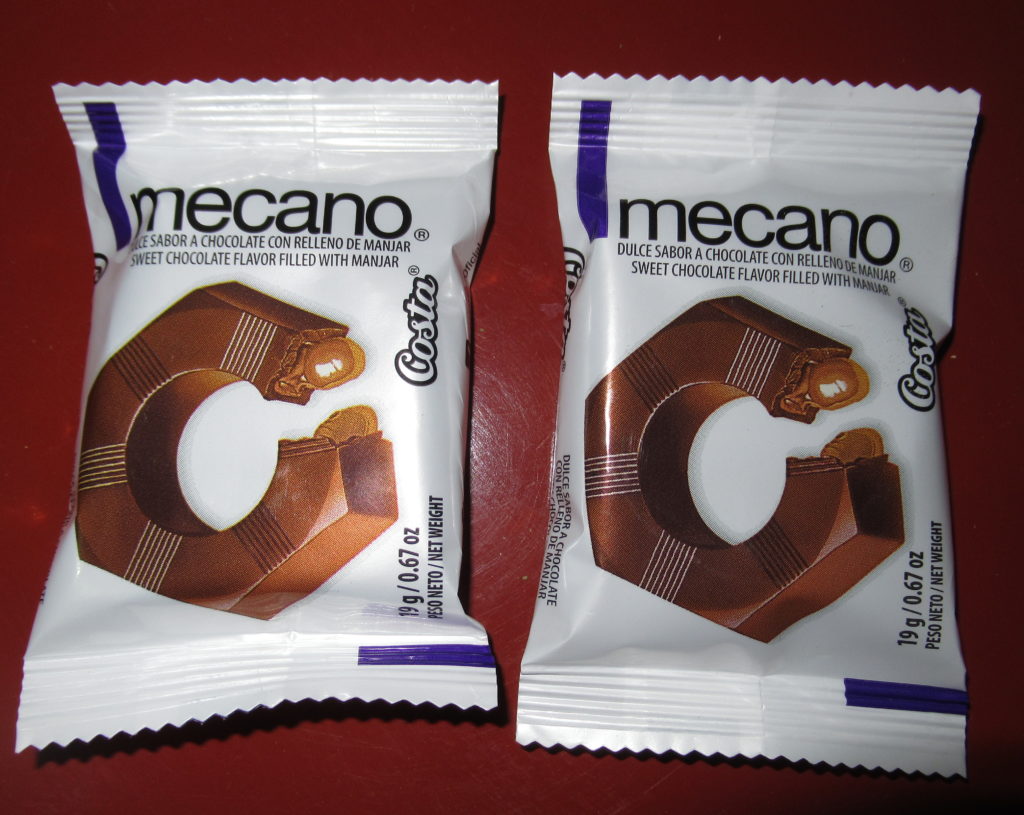 The tradition of products made from coca leaves that was in Bolivia, continued in Peru. Generally speaking they were not very awesome, but we had a packet of coca sweets to suck on high-altitude bus journeys – as they supposedly helped with altitude sickness.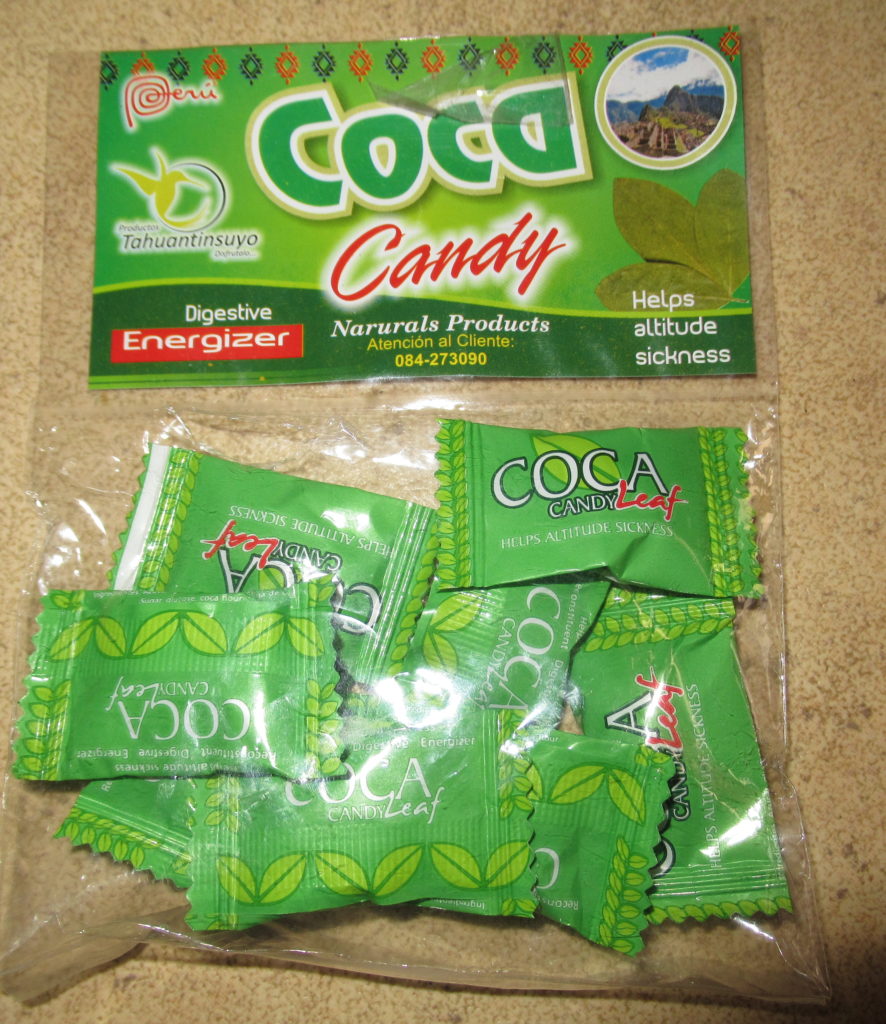 So… there you have it! A bit of a mixed bag from Peru… but always something new to try!